Decked & Styled Spring Tour
Hi friends, and welcome to the Decked & Styled Spring Tour!! If you are coming over from my dear friend Megan of Honey We're Home, welcome! I just love Megan along with everything she does and am always inspired by her blog so I am super happy to be following her in this fun tour today!! I'm also super excited to be doing this tour with a great group of girls that represent home, fashion, and organization (yes, some of my talented friends do both:)!  At the bottom of this post I will be directing you on to the next stop on the tour so stay tuned for that but there will also be a total of 10 other bloggers you can link to from my page and I hope you will visit them all in the coming days for your spring inspiration this year.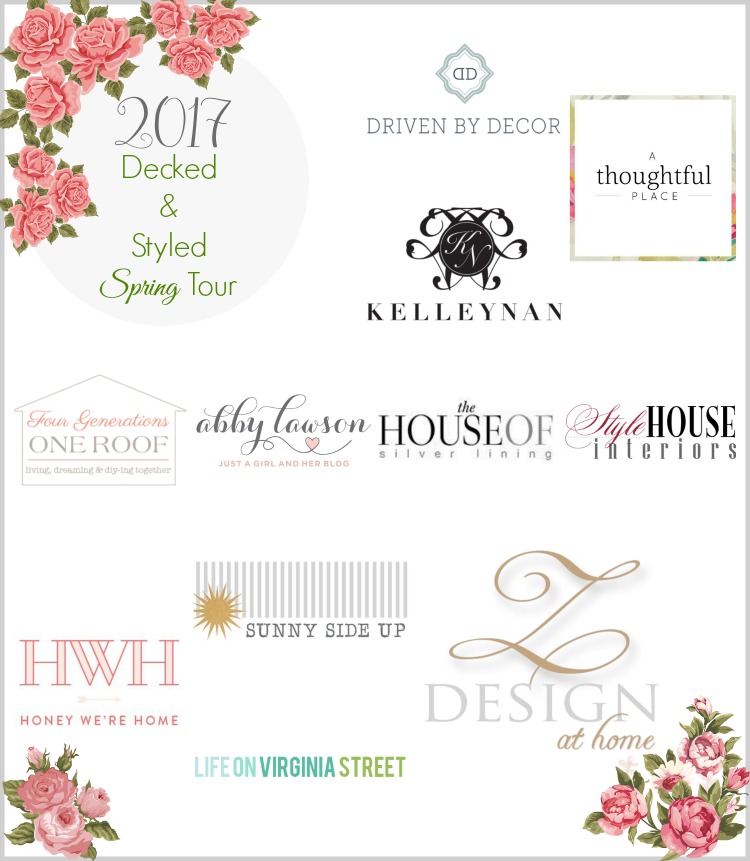 So let's get started!  We all know that spring is a time of renewing and refreshing and for me is the very most fun time of year for decorating!  I grew up at the beach (I'm sure you've heard me talk about this before) and decorating for this season just feels right to me (and this is when I feel the most comfortable in my home) since my coral and other fun, springy items reappear each year.  I feel the most calm since things are feeling clutter free after Christmas and that's what this year's theme is all about so I hope you will enjoy the tour and watch out for some fun pillow and other updates along the way (affiliate links used in this post).  If you missed my  8 Chic Ways to Incorporate Spring Into Your Home you can catch that HERE along with my spring tour from last year HERE.
When you come into our home the dining room is the first thing you see and it pretty much stays the same since it doesn't get used that often but I do change out my table decor in here quite often, usually with the flowers of the week.  I have been bringing tulips home since right after Christmas and have enjoyed every single minute of them.  I usually buy a couple of 15 stem bunches and sprinkle them around the house which has welcomed us into spring rather early around here this year but I love it.  Love the large white tulips in here in the clear vases for a little something different…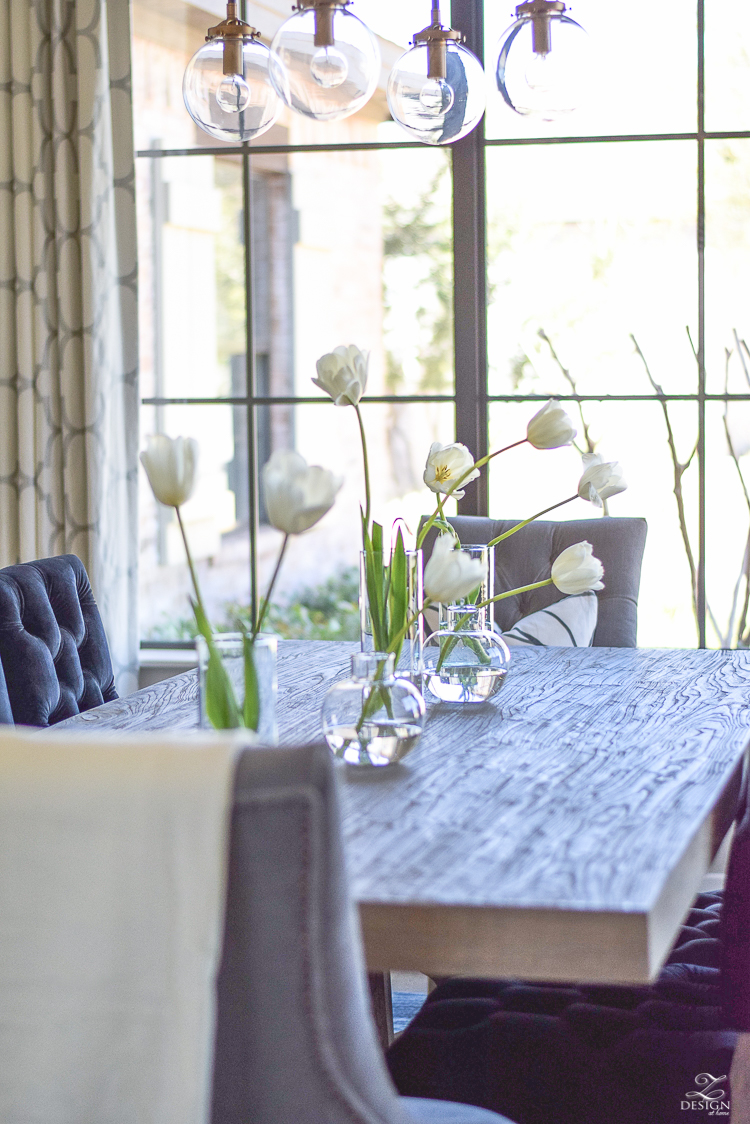 I also switched out my chunkier throw on the back of the captian's chair here for a much lighter weight throw.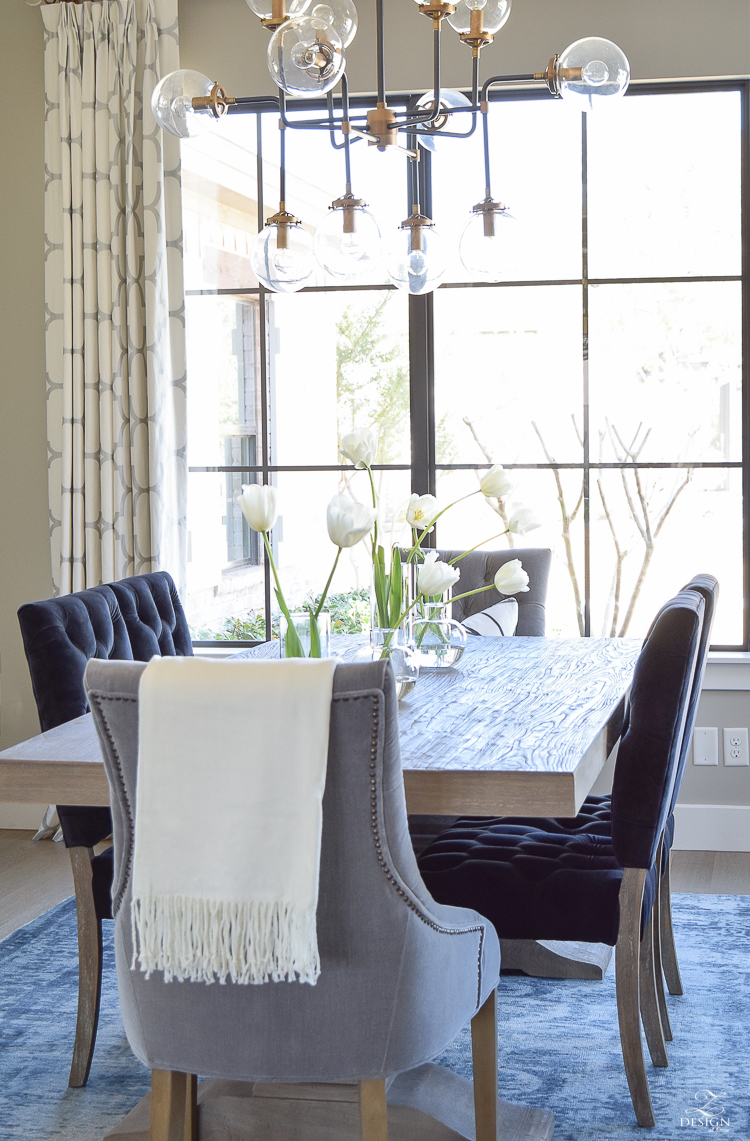 A fun new addition that I'm just smitten with for spring is a new pair of neutral floral pillows from my friends over at Spark Modern.  They have the most beautiful pillows for the modern home and the quality of construction is superb!  I wanted a new floral in here for spring but didn't want much color in the print so this Schumacher print in shades of cream, white, charcoal, black, and blue/gray was the perfect fit for my space.  The blue/gray picks up on the color in my rug and the pattern is so chic and classic, which I love.  You'll see a little more from Spark Modern as we move into the living room in a moment.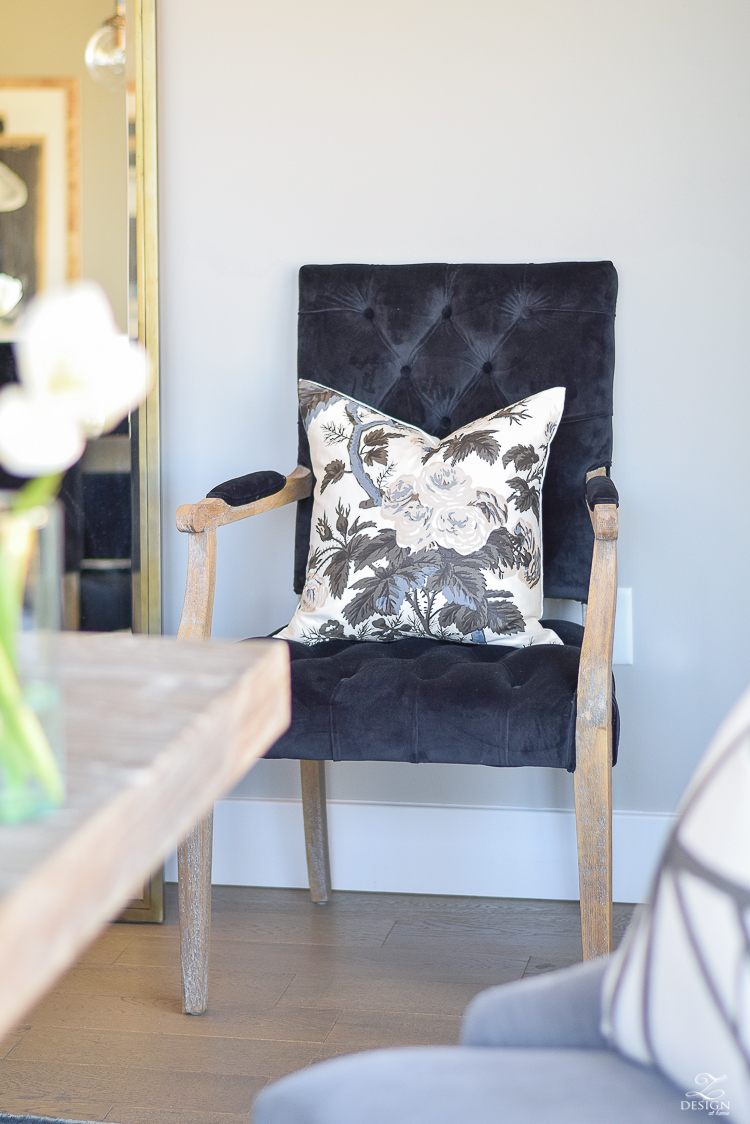 Also for spring in the dining room were some art updates in case you missed that a few weeks ago.  I did a full  blog post that you can find HERE all about new art around the house (+ some practical tips for hanging art) but my favorite part is this burl wood frame from Framebridge.  By the way, Framebridge is offering my readers 15% off with code ZDesign through May 31, 2017 so don't miss out if you have a project coming up soon!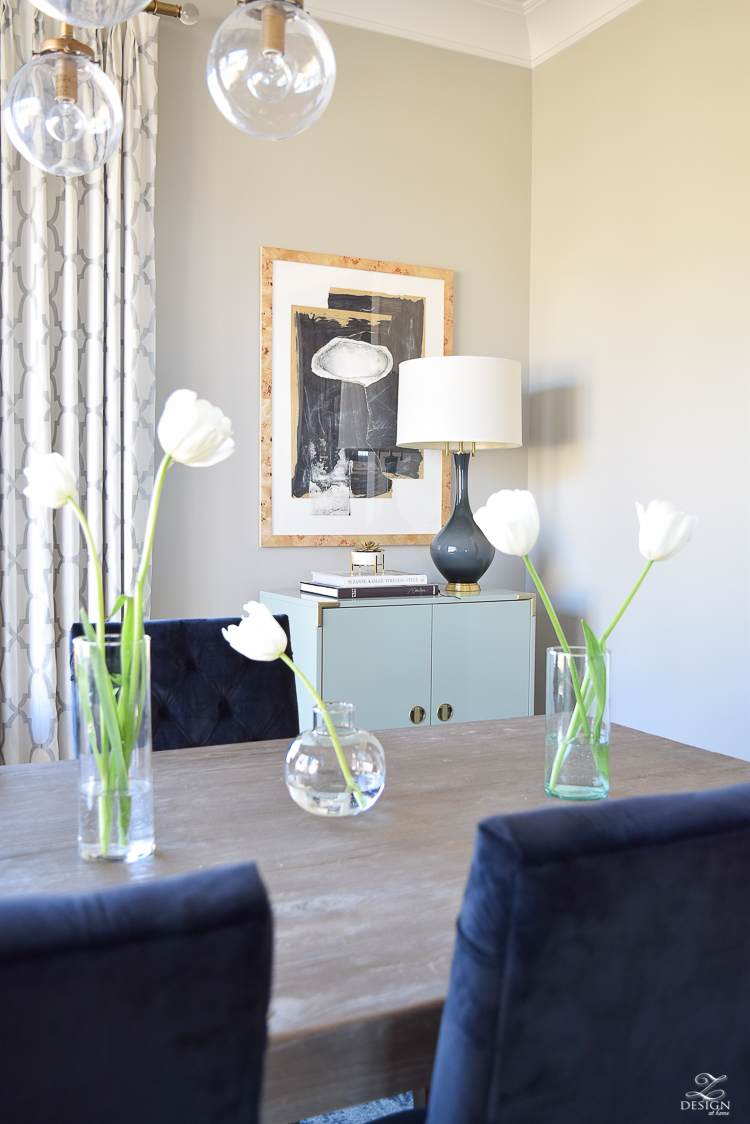 Moving on to our spring living room now!  I have to say that I think I love our living room now more than ever before.  I'm making things much more neutral this year and am loving the ease and simplicity of it.  And of course, pillows are the major season changer around here for spring and I couldn't love my spring pillow collection any more than I do now I don't think!!  The leather pillow (below) is a fun new addition this season that brings such a warmth to the space but still feels so fresh for spring this year.  My husband used to have a leather chair and now I'm realizing just how much I miss it.  The black and white pillow in the center (below) is also from Spark Modern and it's my favorite!!  I love that it has a boho vibe to it but it's done in an elegant, chic way.  It's black and white linen and just makes my living room feel so fresh!!!  You can find it HERE.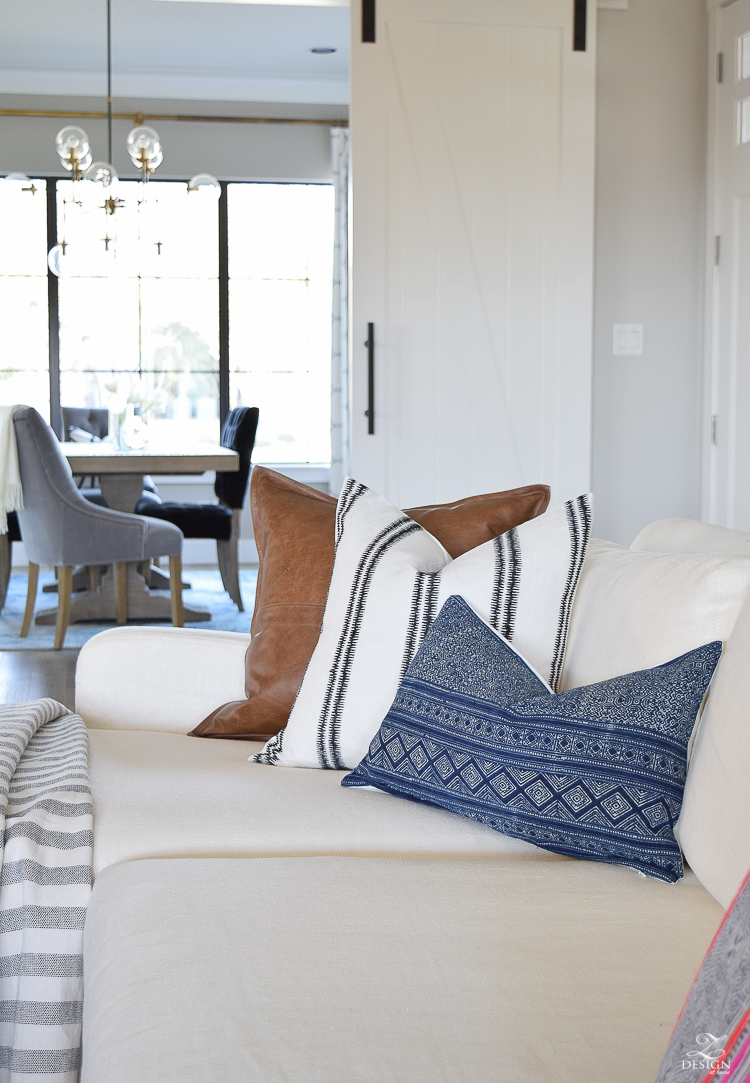 I also really love the navy lumbar pillow from Danielle Oakey Shop.  Her fabric patterns and textures are simply amazing and again, the pillow love is running deep over here!!  Danielle's pillows are top quality and each and every pattern she sells is unique and fresh…definitely pillows for the modern home as well!!  Since these come in limited quantity my exact pattern in the navy lumbar is no longer available but you can find two similar pillow options from her shop HERE & HERE.  I also use this lumbar insert in a 12×21 for this size pillow cover.
Here also below is another favorite…the Hmong pillow from Danielle Oakey Shop.   Although subtle, I love the pops of pink and orange and it makes my living room feel like spring for sure.  I carried my light weight navy velvet pillows over from fall/winter and the two make a perfect combo.  Again, my exact pillow is no longer in stock but Danielle has other very, very similar pillows HERE & HERE.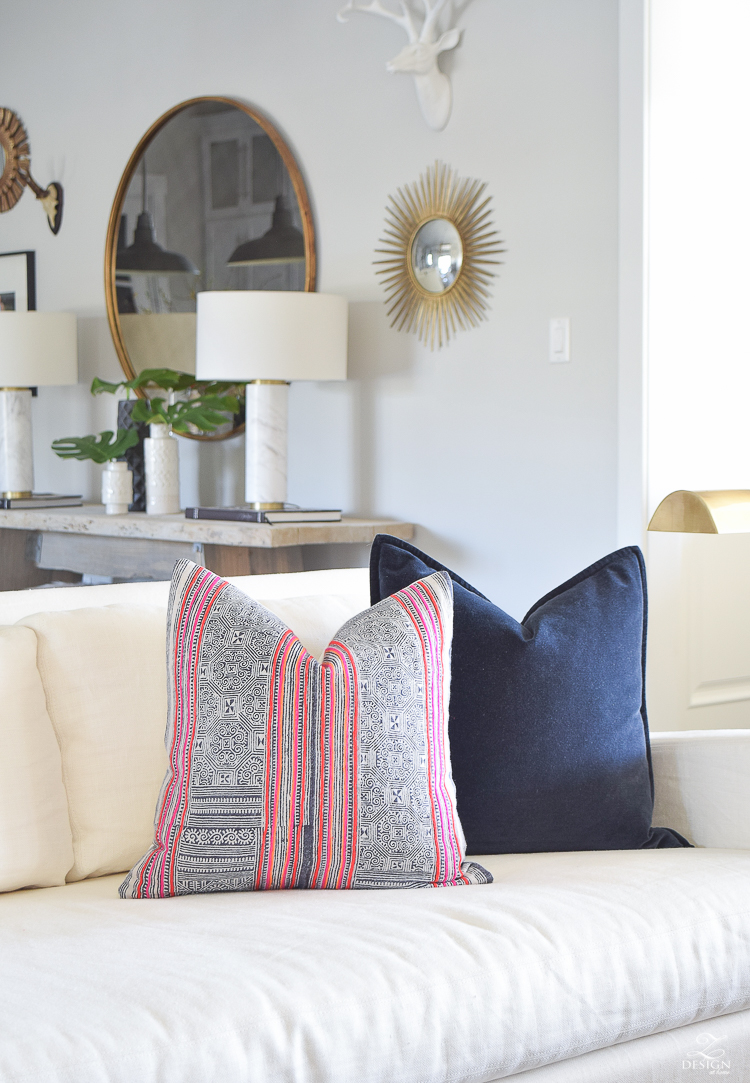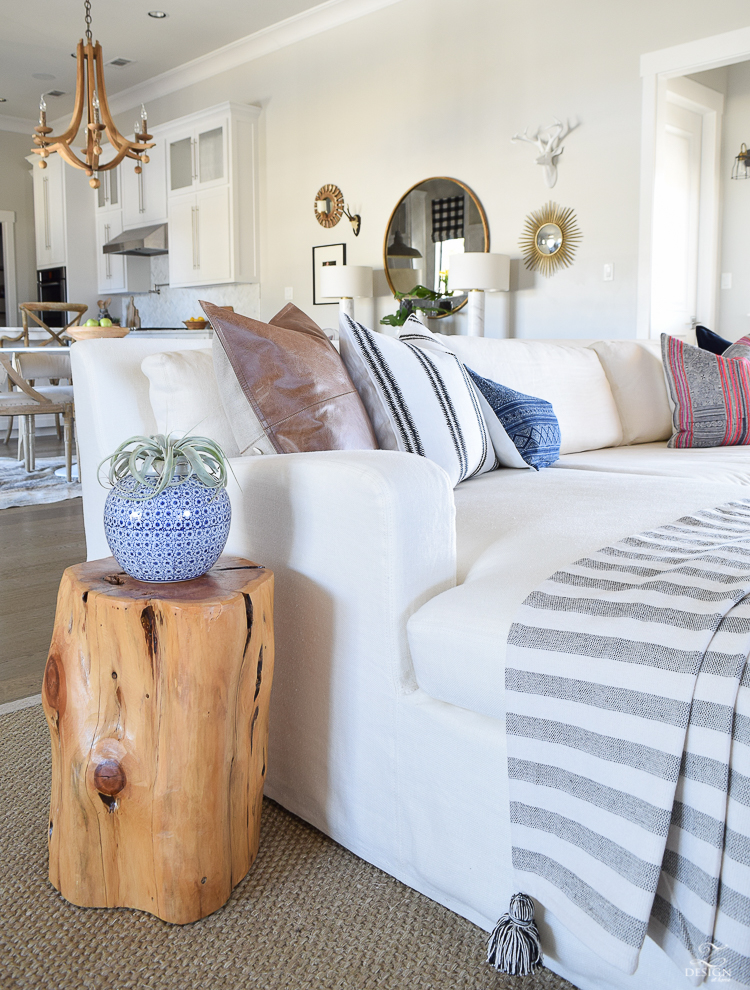 The final spring update to the sofa area was this black and white tassel throw, and it's perfection in every way!!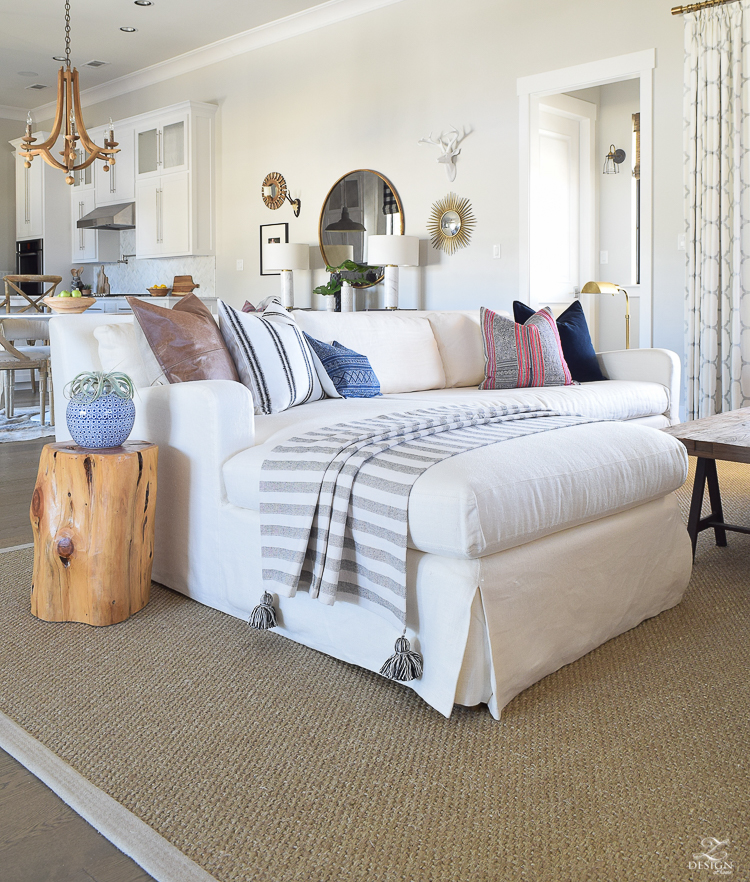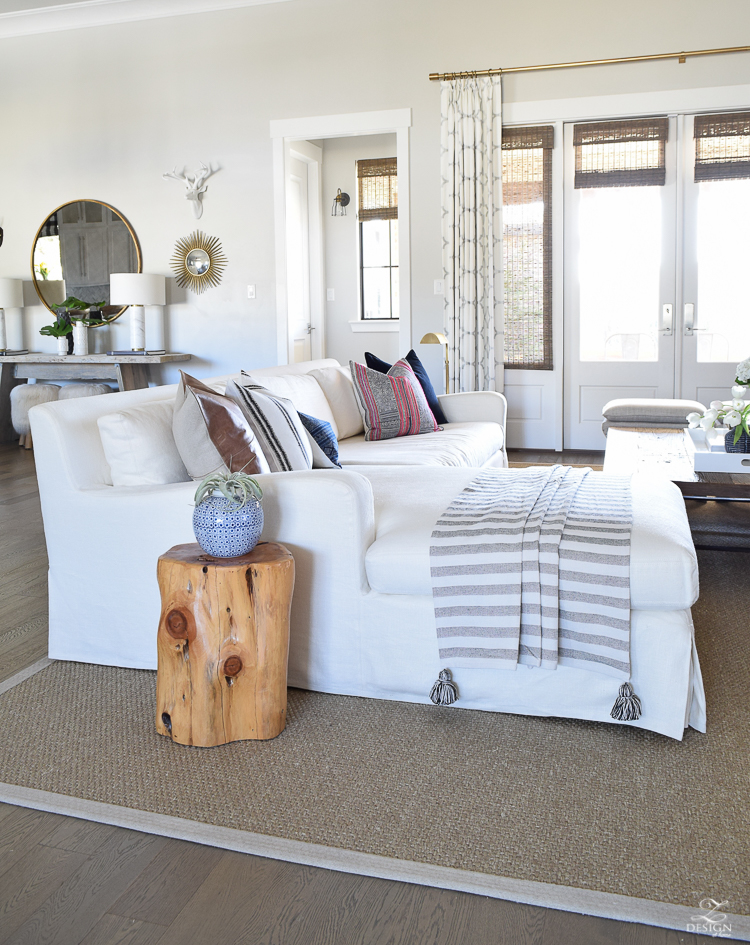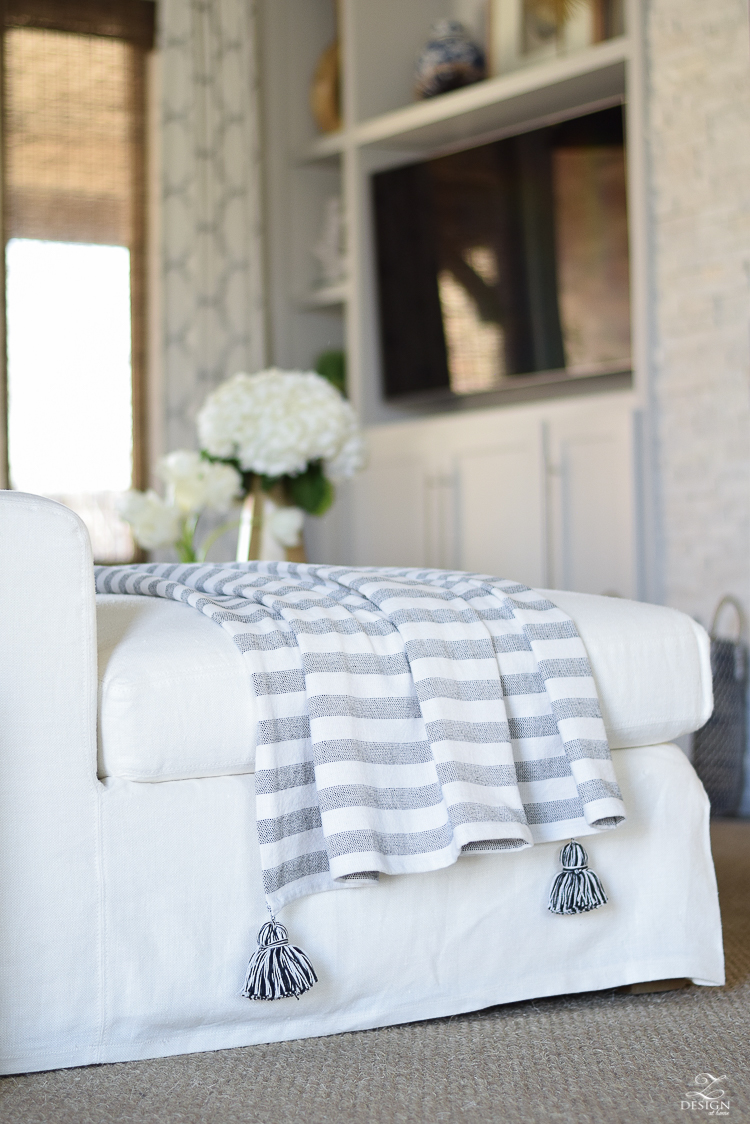 And of course you know Gracie had to stop by to say hello and do some sun bathing with the sun coming through the window.  For those of you that asked last time, she is a rat terrier and a major part of our family!  We used to have 3 dogs as little as 3 years ago (yes, in this house) but have lost two of them over the past 3 years to old age (both black labs).  Losing them was so heartbreaking and Gracie will be turning 12 in March but I think she has a long life ahead of her still;).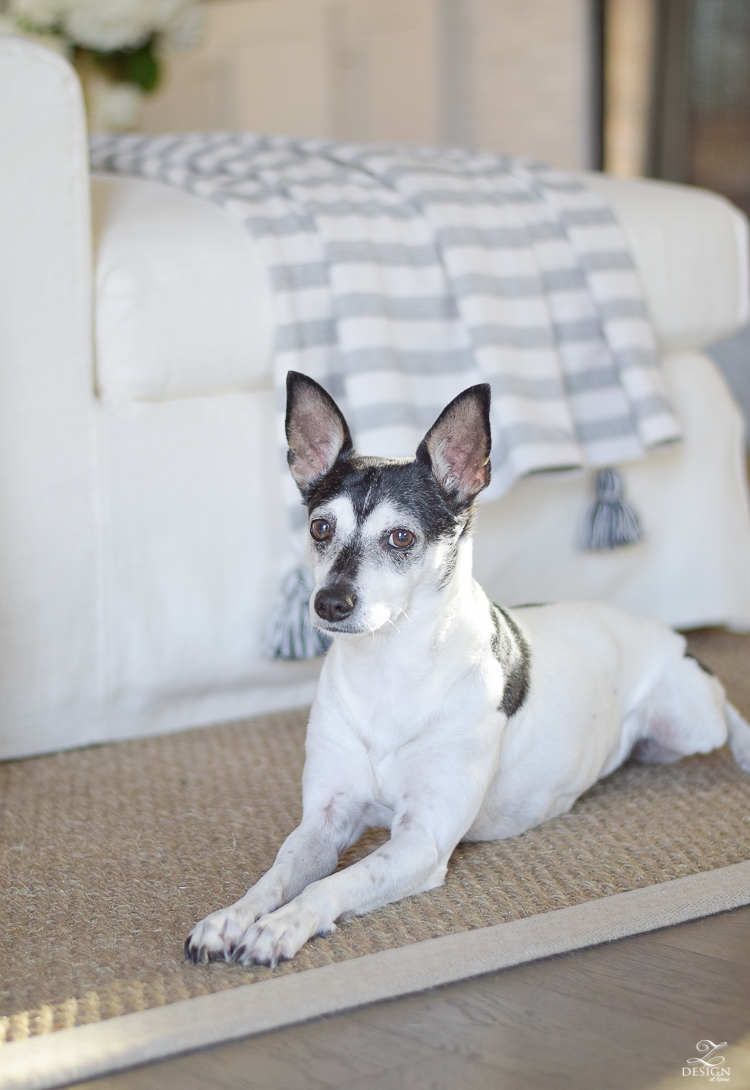 Next I turned my attention to the plants and flowers.  I recently picked up this air plant and love the color, texture, and natural aspect it brings in.  I also shared a little about decorating with air plants in my 8 Chic Way To Bring Spring Into Your Home if you would like to catch up on that post…you can do so HERE.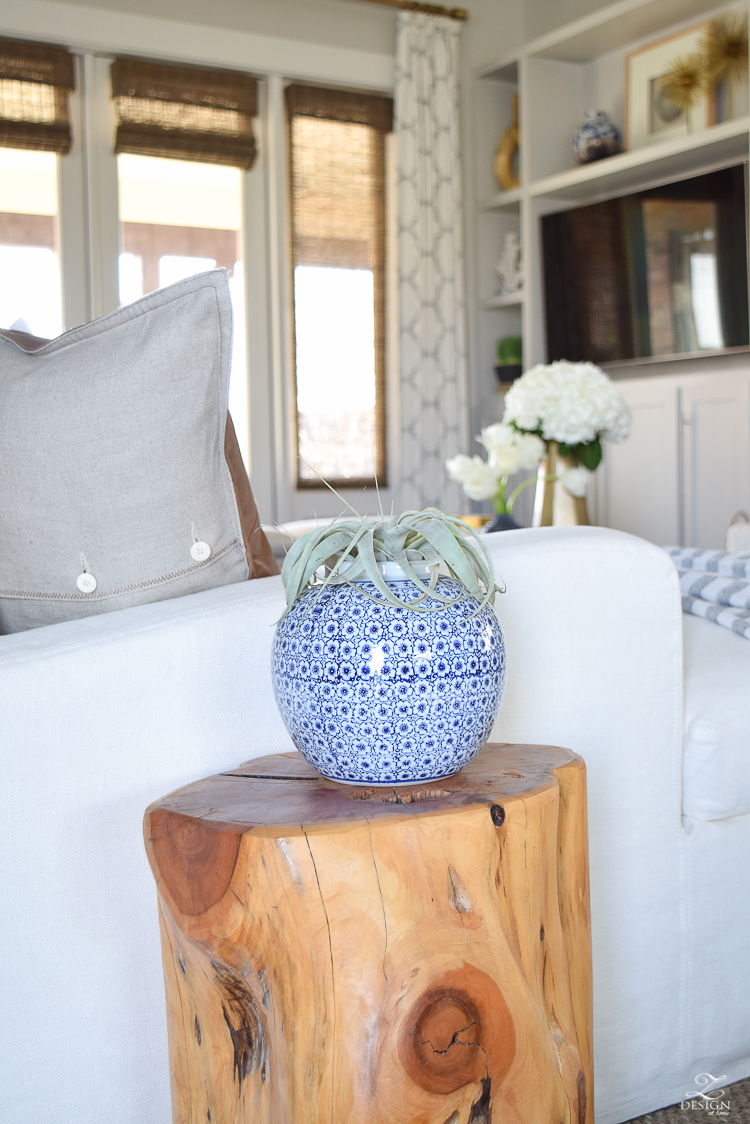 Next I wanted to share my left for dead fiddle leaf fig with you.  Last summer I put this little guy outside and kind of left him for dead like I said, with the exception of a little water every now and then but then he started to thrive again so when fall arrived I brought him inside and then recently put him in this new planter for spring since he was outgrowing the plastic pot he came in from the nursery.  He still has a few brown spots but is doing well…please cross your fingers for me that he will be around for a long time to come.  He now lives in the filtered sun over by the barn doors now (you can read all about our barn doors HERE) and seems to be very happy here.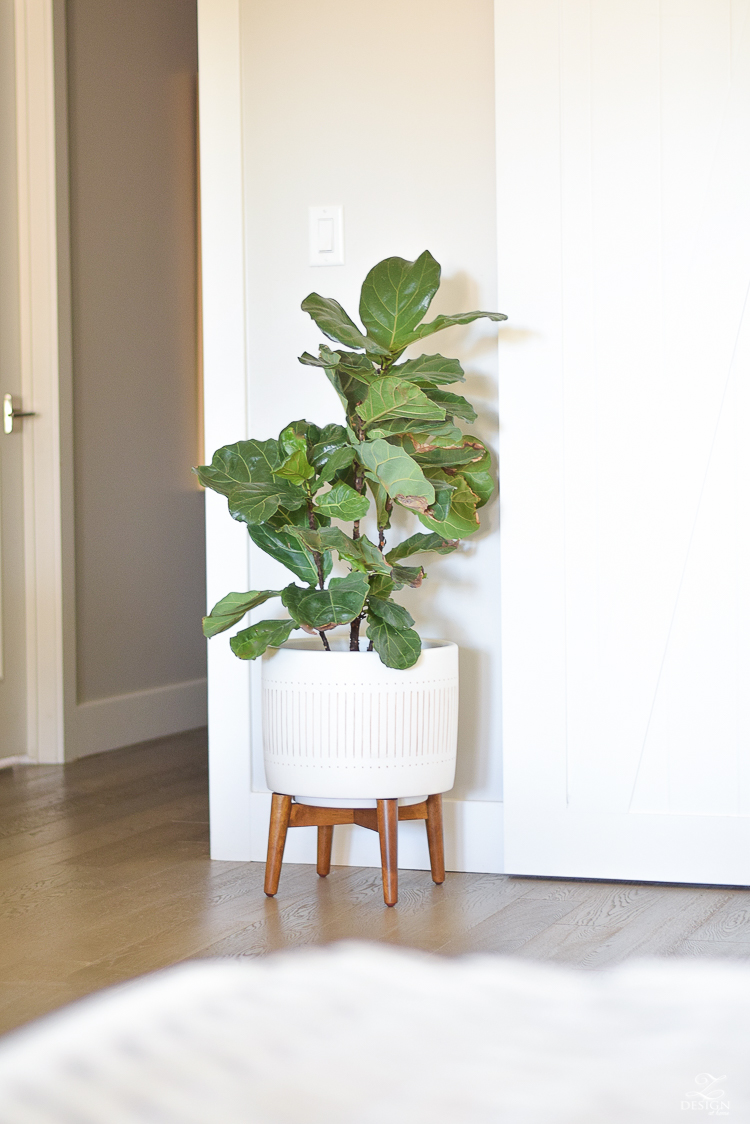 On the coffee table I used some of my favorite vases.  The brass faceted vase is probably my favorite at the moment but to my vase collection I added this blue patterned vase for spring for a pop of color here.  I also have this vase in plum and used it a ton throughout fall and winter.  The blue vase with white tulips feels fresh and perfect for spring, don't you think??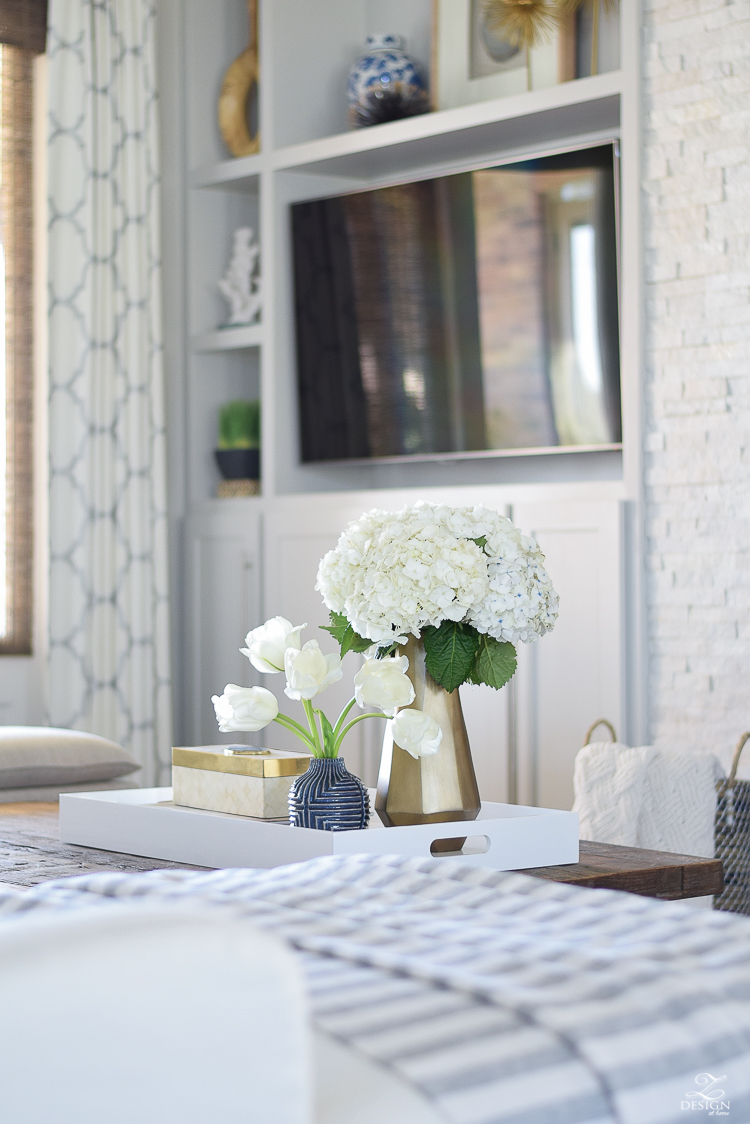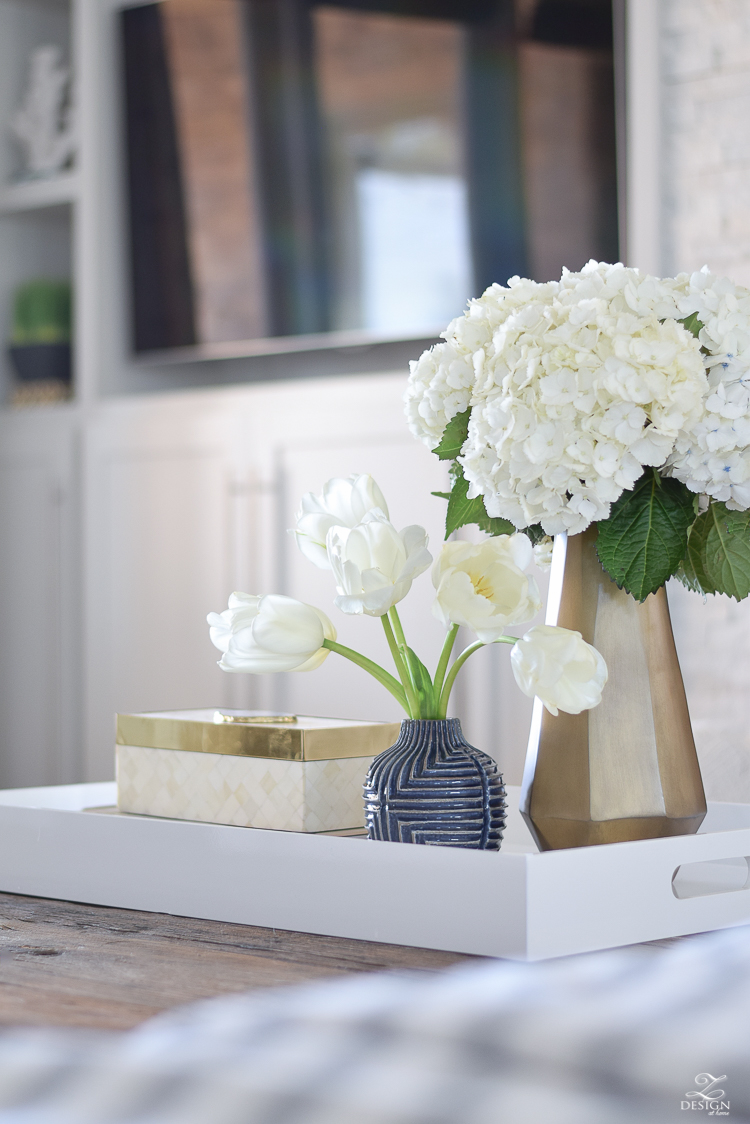 After Christmas my mom and I took a trip to Pottery Barn together and she bought me this beautiful bone inlay box with gold accents that I've been keeping on my coffee table ever since (similar here & here).  I also used a blue agate coaster (here) to adorn the top of it for a pop of spring color.  Everything here is just kind of simple and fresh and I'm loving it for the new season!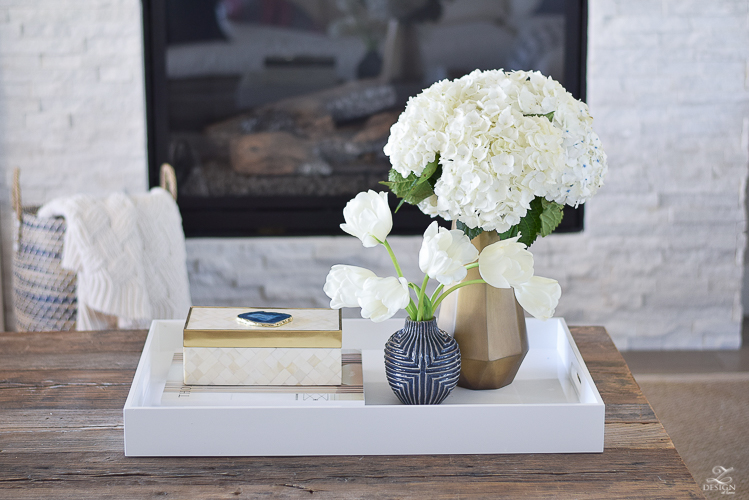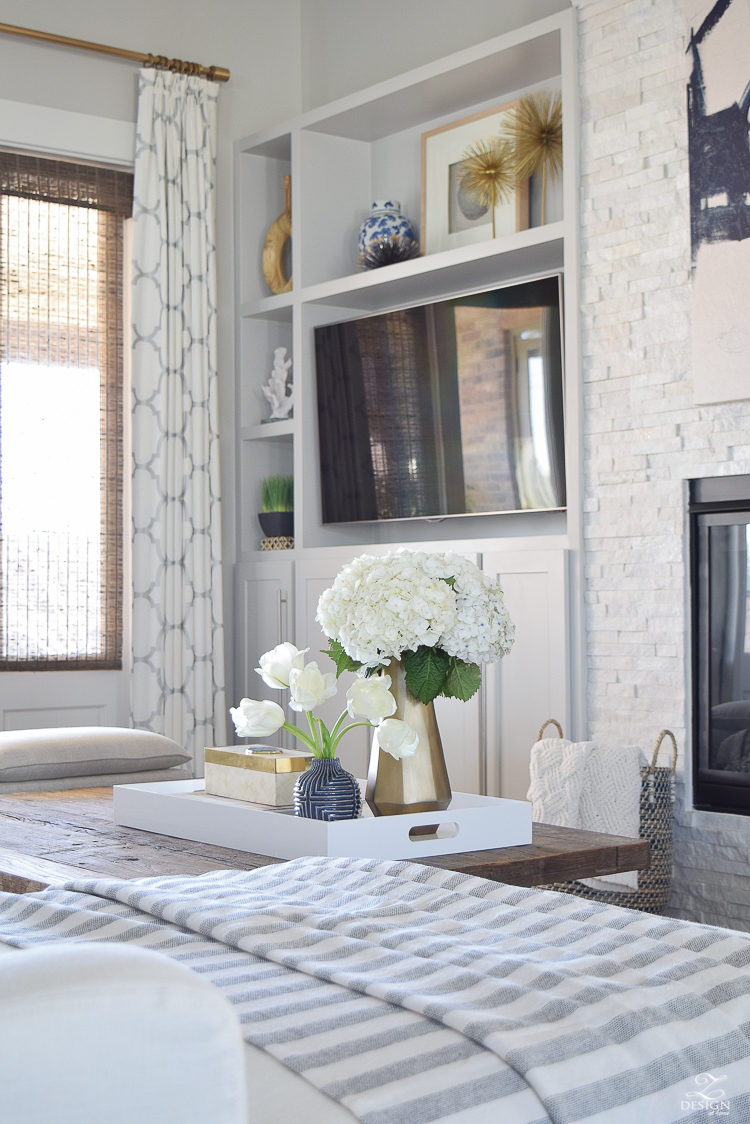 The bookshelves were styled simply but with the season in mind.  I brought a piece of my coral back in (similar here) and just used other items I had on hand to restyle this space.  One of my favorites is the agate art (similar here).  You can shop all of these resources below and don't miss my post on how to style shelves and consoles HERE if you haven't seen it yet.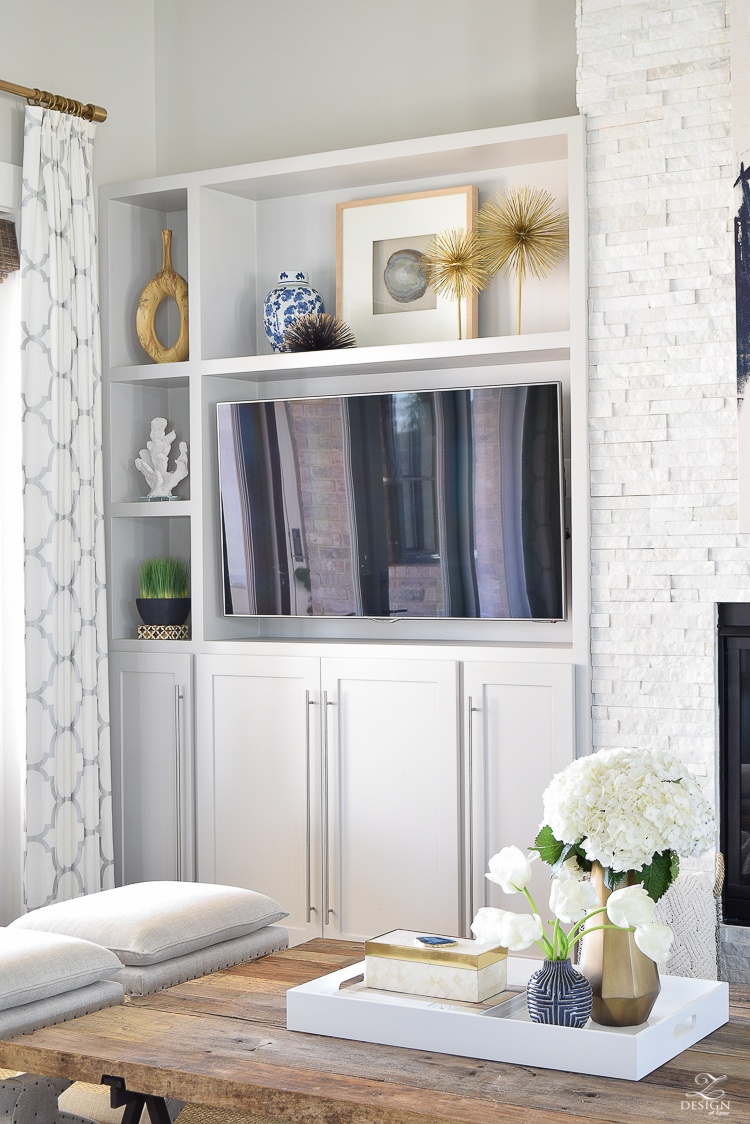 I also brought my x-benches (similar) back in from the dining room for extra seating.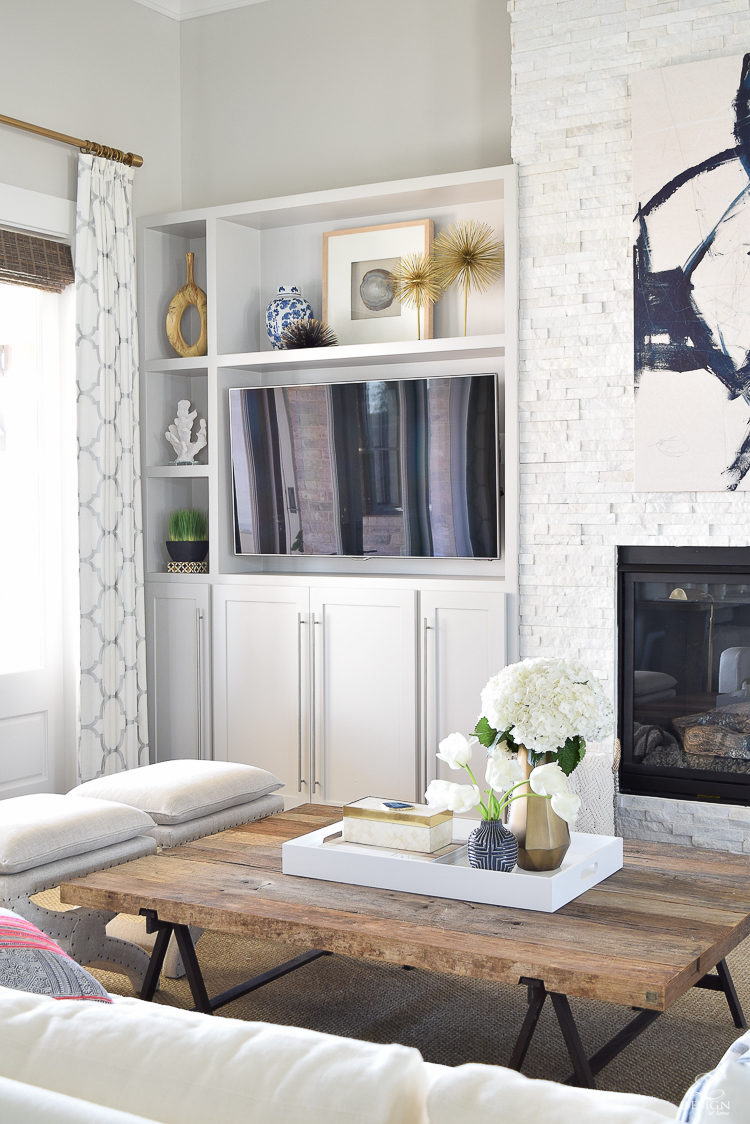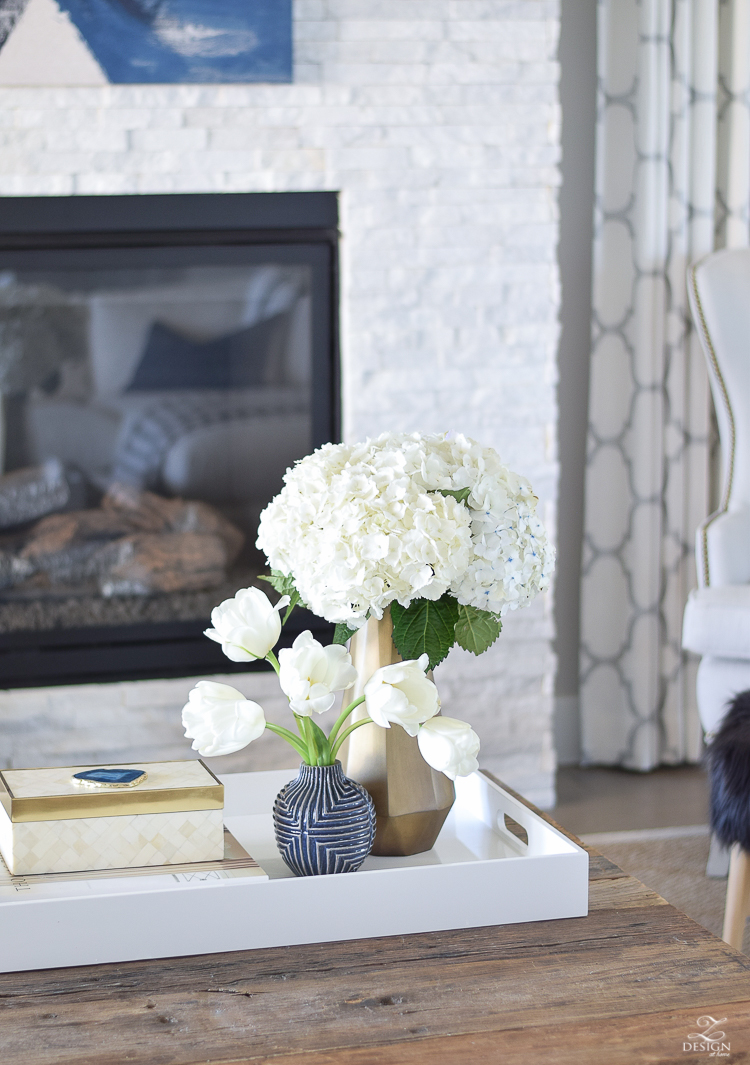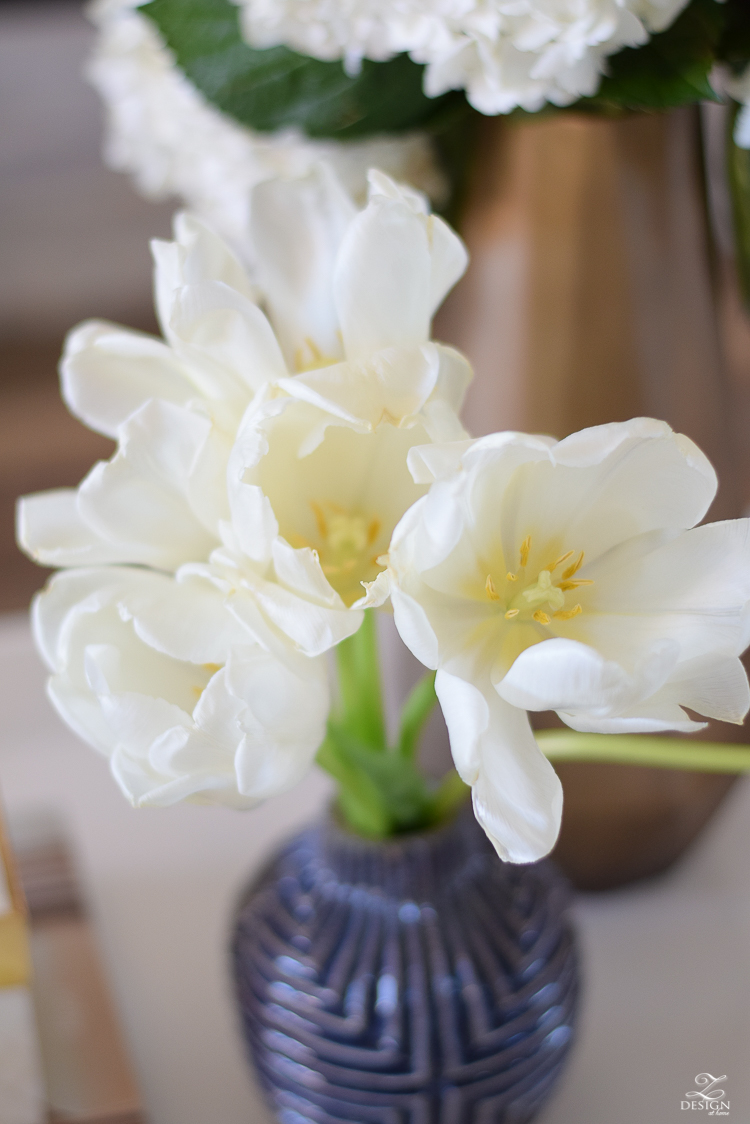 Next I turned my attention to the wing chair in the room.  I have a fun post coming out soon about how to update a traditional chair for today's styles but essentially what I've done to get me headed in the right direction for spring is to add another leather pillow to marry this space to the couch and, I added this super fun stool.  The one that was here before (which I still love and it will reappear in the future I'm sure) was taking up a little too much space and I recently ran across this one at HomeGoods and knew it would be perfect.  I was able to source it here for you but the fur (even though it's black) makes things feel fresh for spring (along with the leather) and the contrast that it brings to the space was much needed!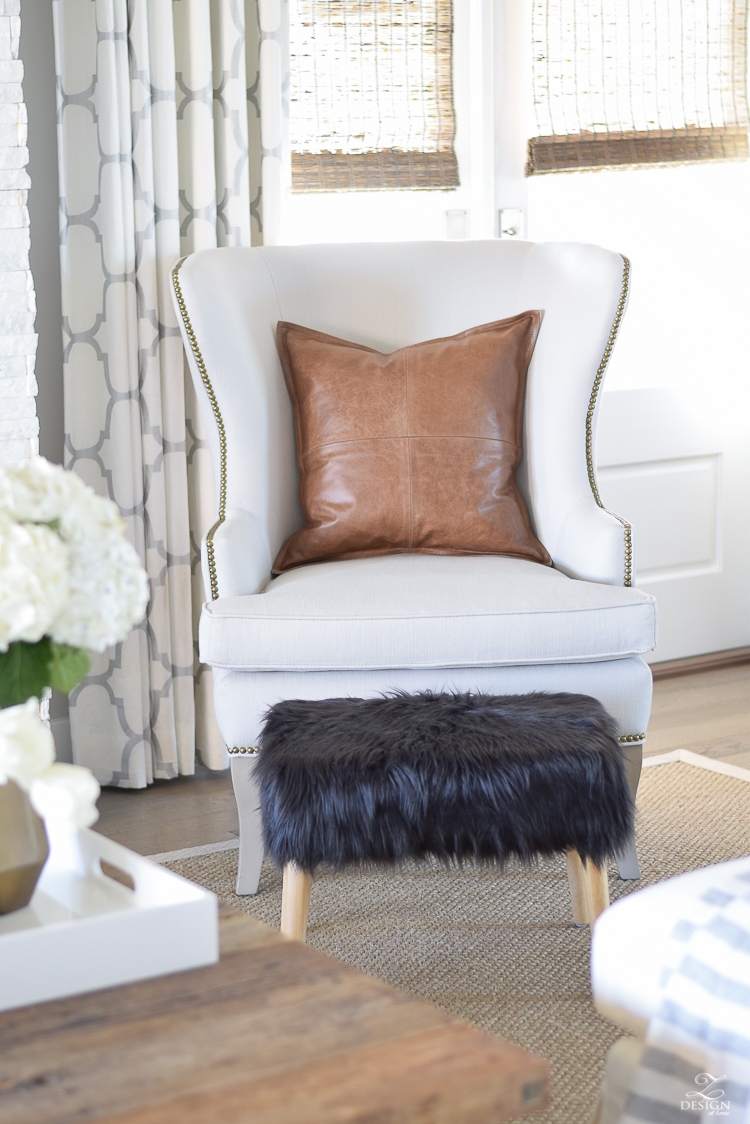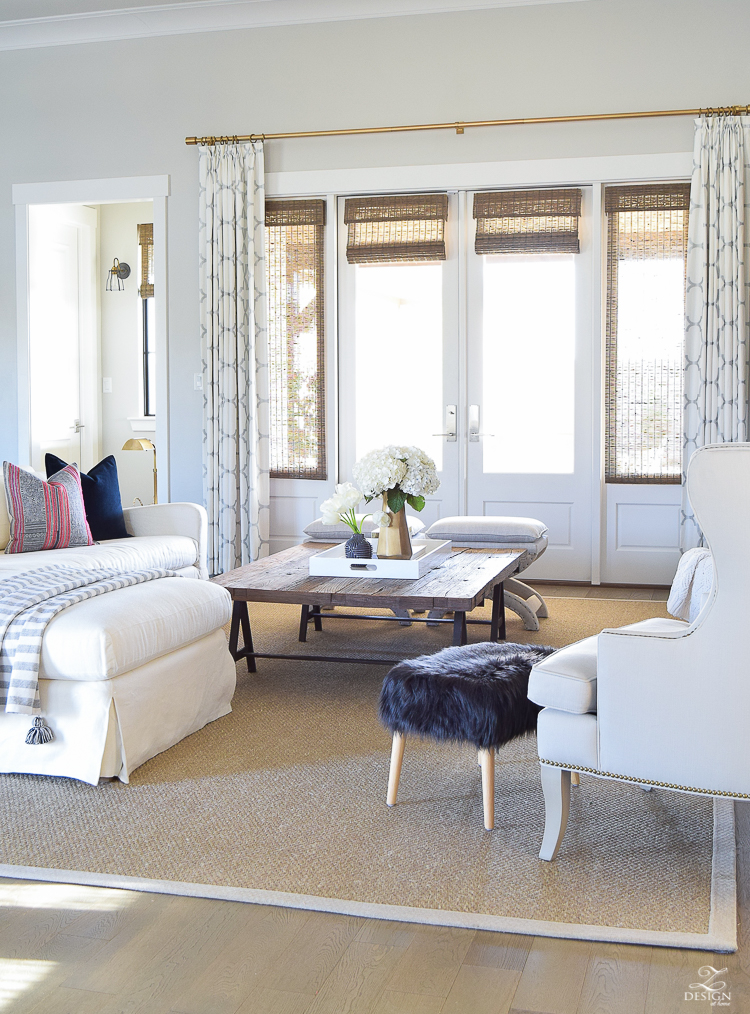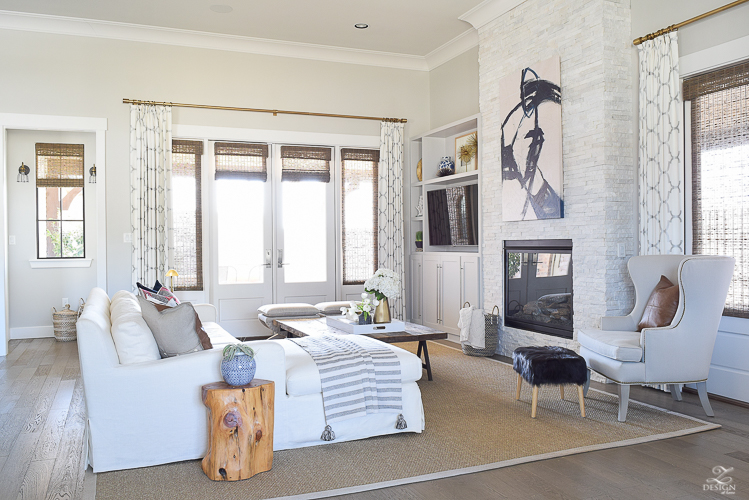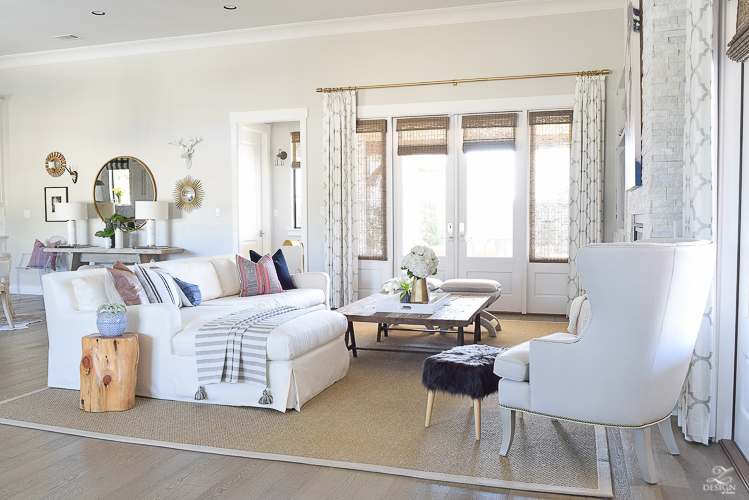 And the area that I consider to be the heart of our home received some lighter updates as well.  I used my Christmas money (from mom again…bless her!!)  for these marble and brass lamps with white linen shade.  You probably know by now that I LOVE marble and I had had my eye on these lamps for a while so when I saw them recently at the store on a big sale I snatched them up and couldn't be more excited about them.  I love the gray lamps that were here before (seen most recently here) but moved one of them to the dining room recently (seen here) so these marble beauties were just perfect in their place (and P.S. you are here by forewarned that they are crazy heavy if you decide to get them, but they are worth every single pound)!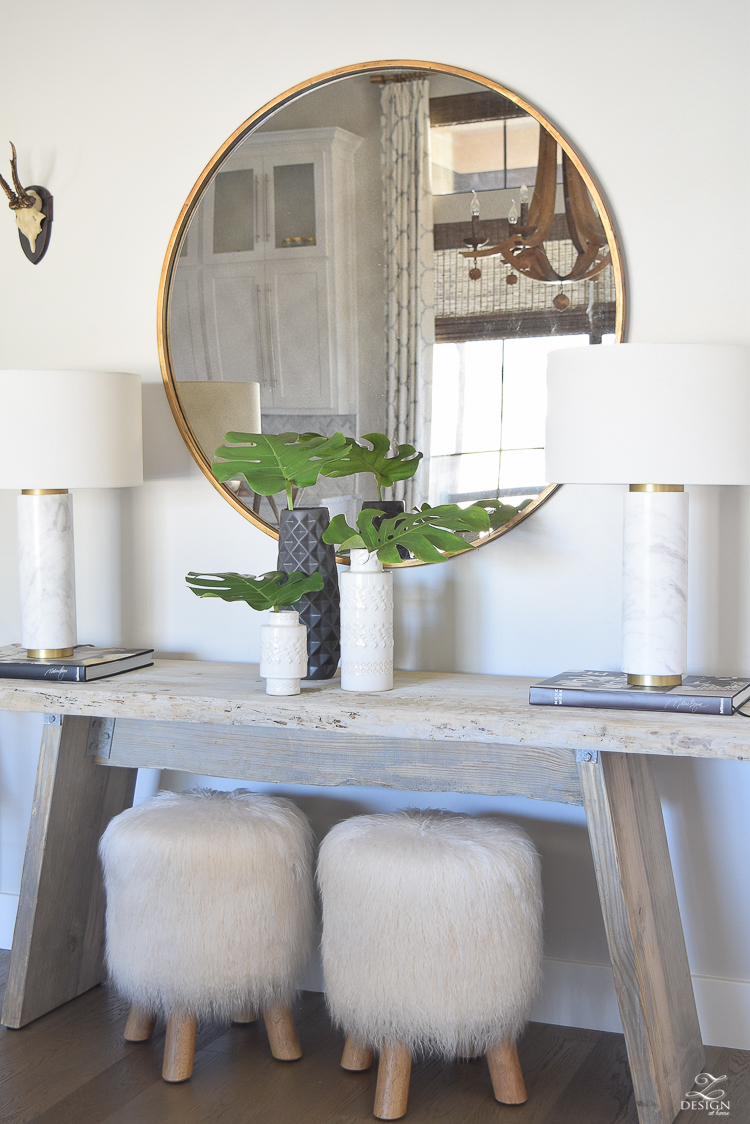 I also used one of Danielle Oakey's fabulous Hmong pillows in this area to tie the living and kitchen area together.  You can find a similar one here in her shop!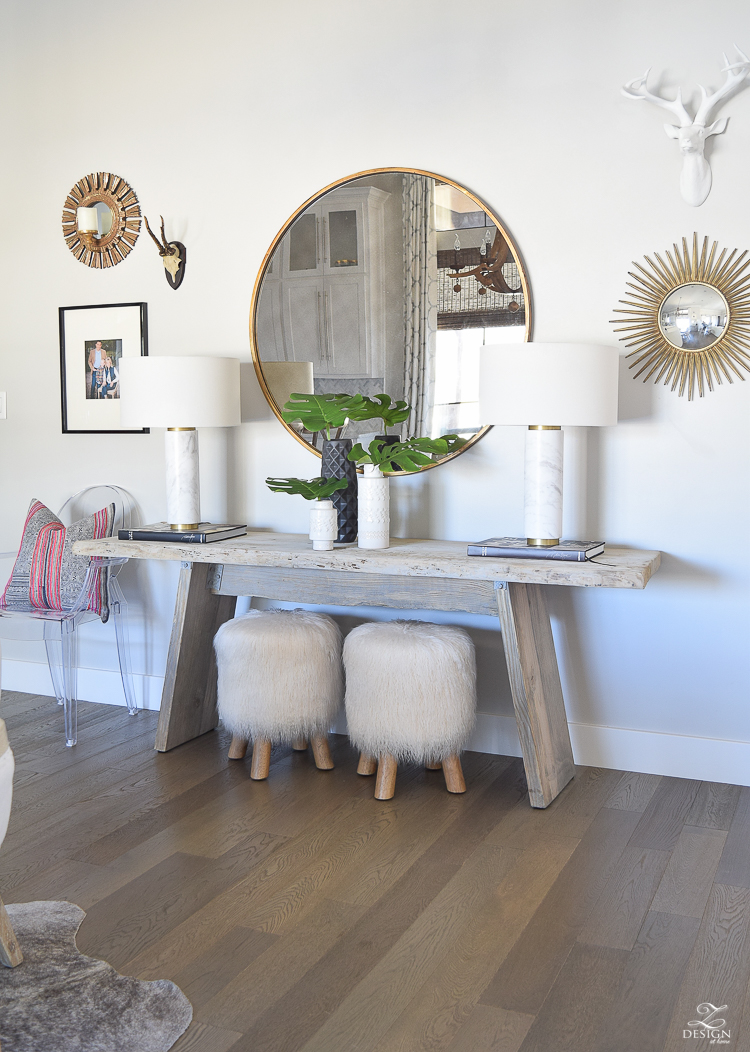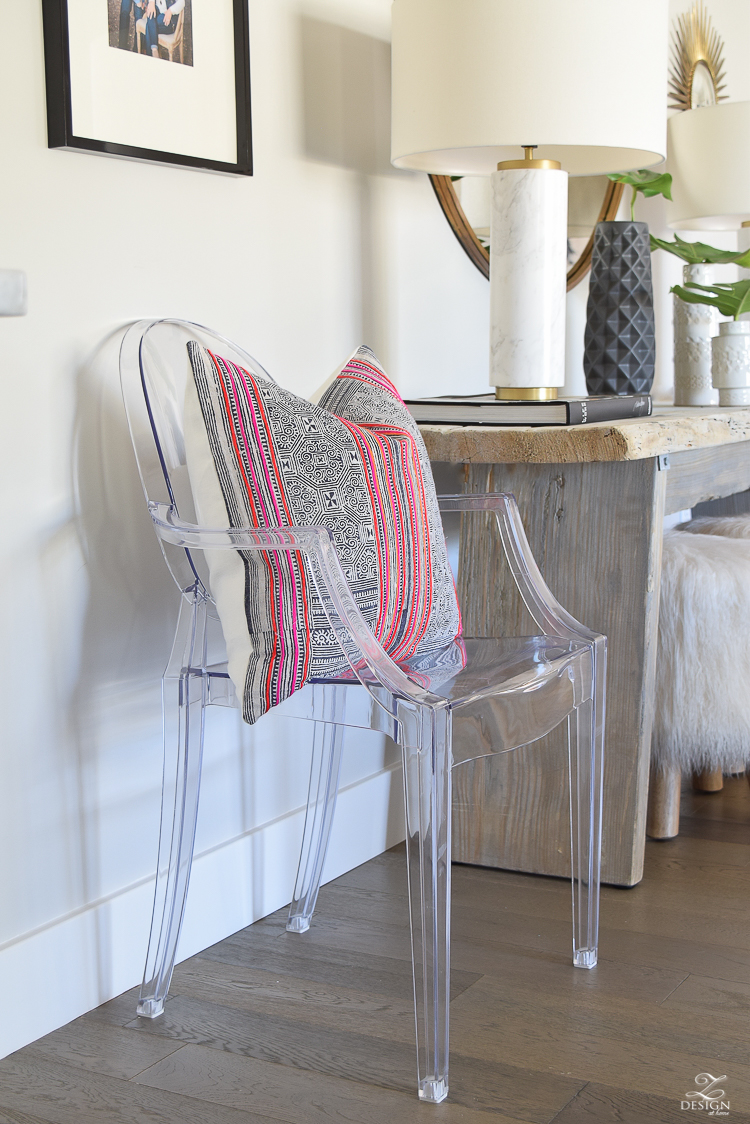 These white patterned vases had me at hello!!!  The were also picked up when I got the lamps.  The philodendron branches are from my local florist and have been alive and kicking for over a week now. Keeping my fingers crossed they'll stay this way for a while because I love them here!!!  The black vase has my heart too and you can find it here.  The black and white feels so fresh for spring this year with all of the white and gold accents around!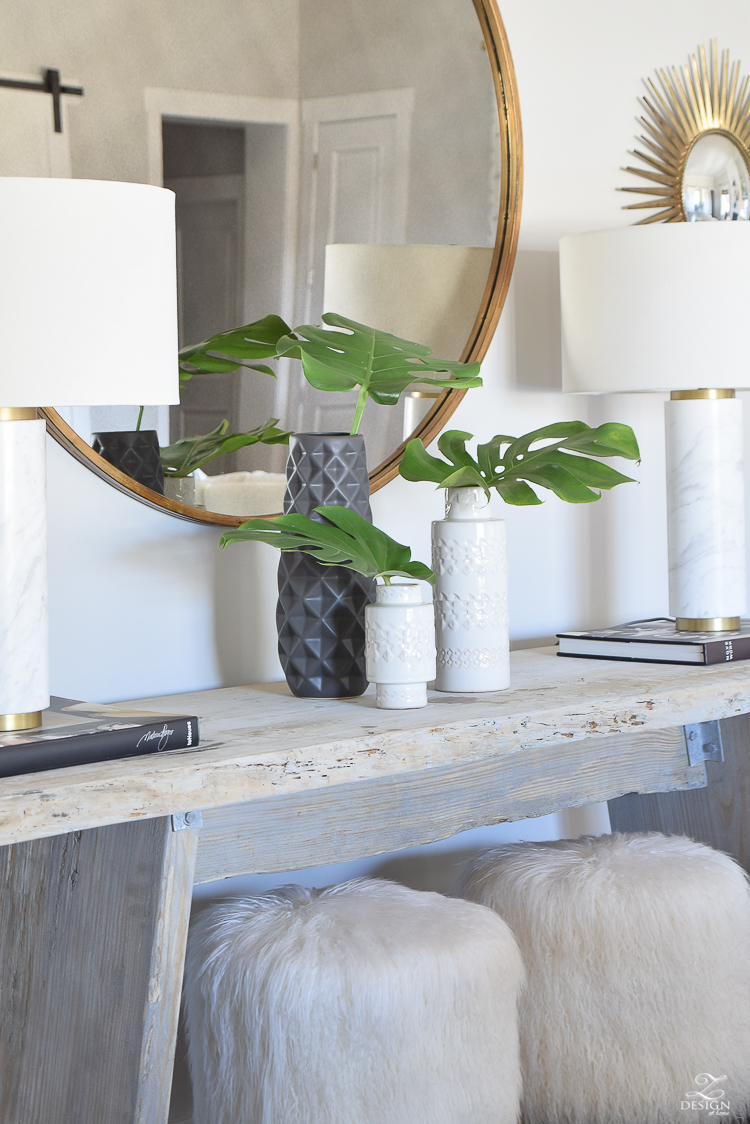 And these darling fur stools that get moved around ever so often made their way back over here.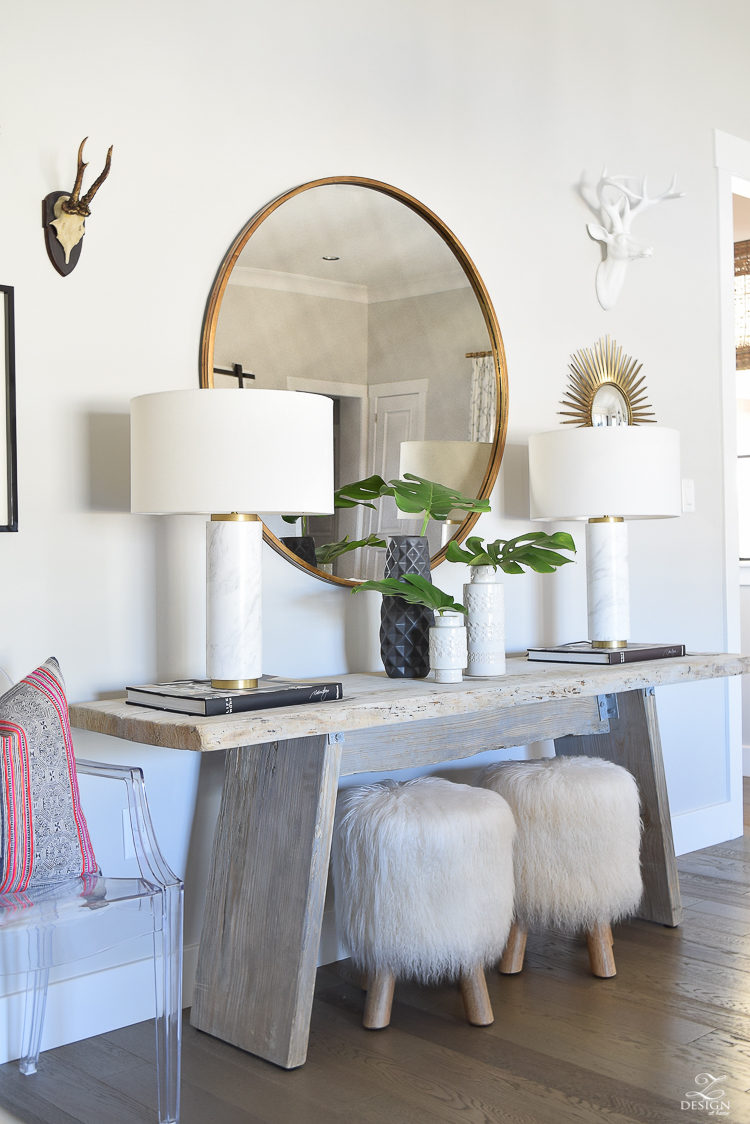 Now turning my attention to the kitchen which received minimal updates with the exception of flowers and another new vase that I'm using for a utensil holder (I kinda went a little vase crazy this year).  Again, I'm keeping things clean and simple this year and am loving the simplicity of the space.  Oh and yes, I forgot, I have one large update on the other side of the kitchen…more on that in a moment but it was very much needed for my poor tired feet at the end of a long day;)!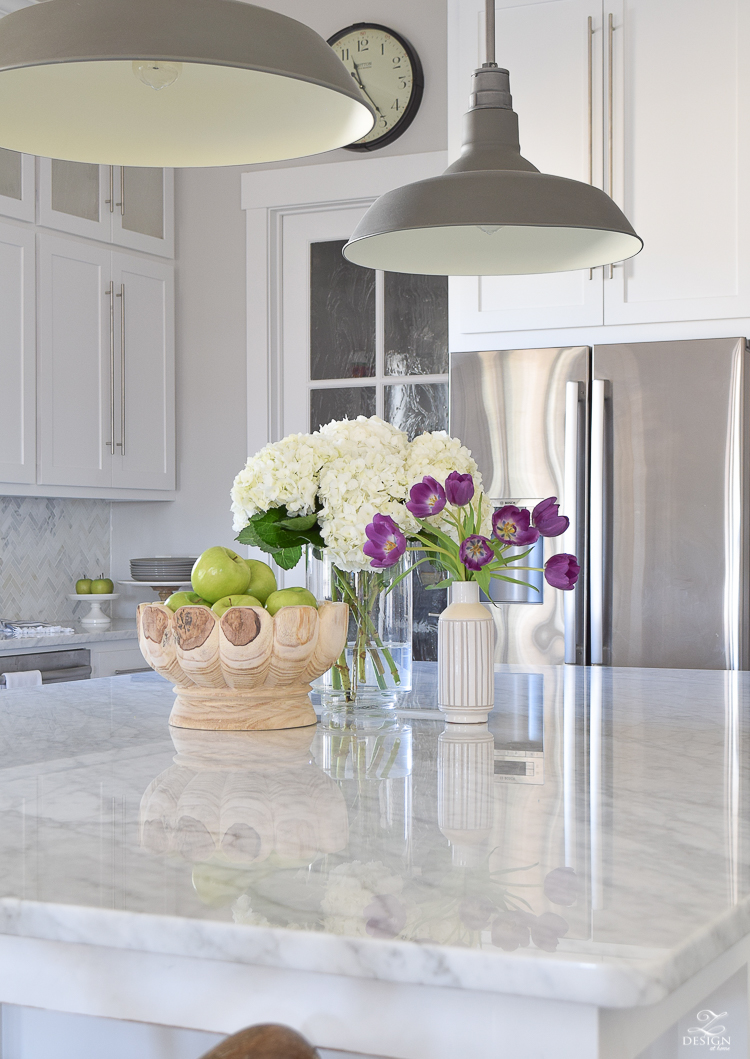 You can see a peek of it here on the lower left…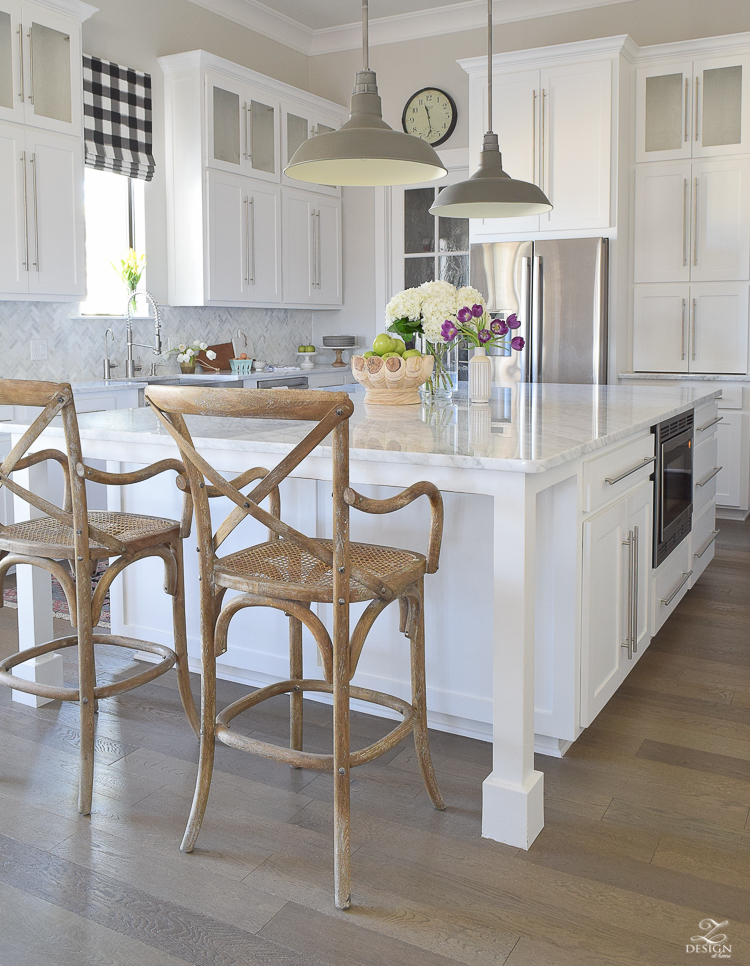 Green apples and wooden bowls always make an appearance here this time of year as well.  They are so pretty and just pop on my white tulip table and counter tops…perfect for spring and they make me so happy!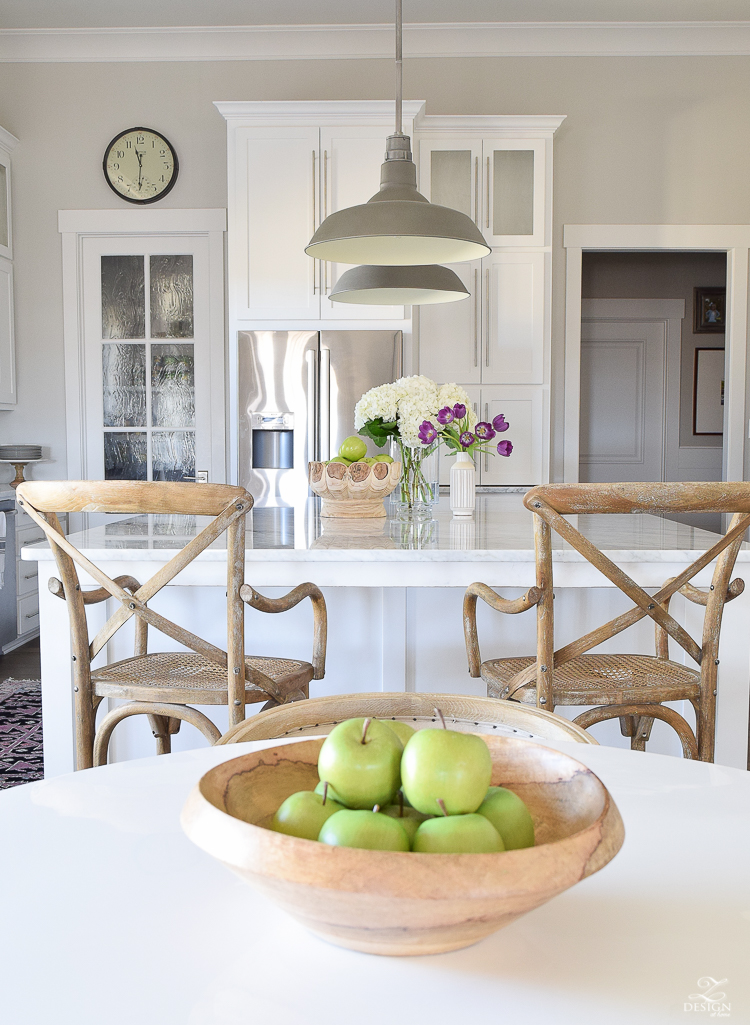 Another fun vase I'm crushing on is this white line vase.  It's perfect for small pops of color with florals and adds a fresh, modern vibe to any vignette.  And of course I'm using hydrangeas on repeat already (in my large clear vessel) now that the temps are warmer and we're on our way to full on spring!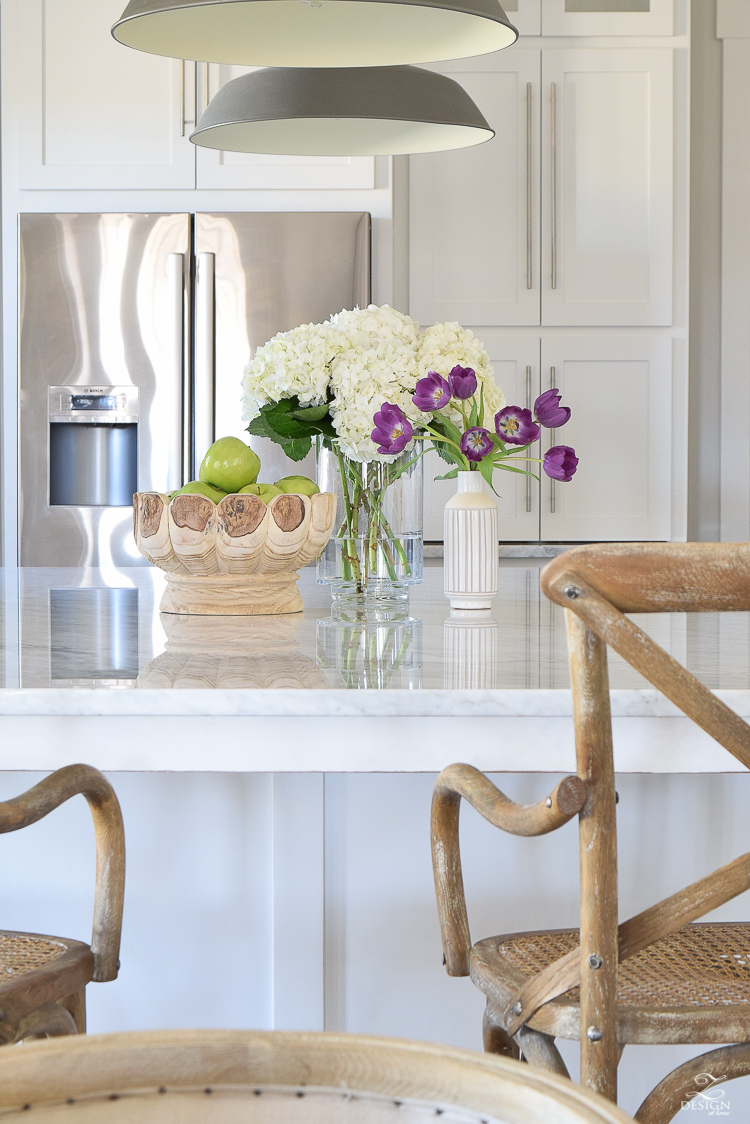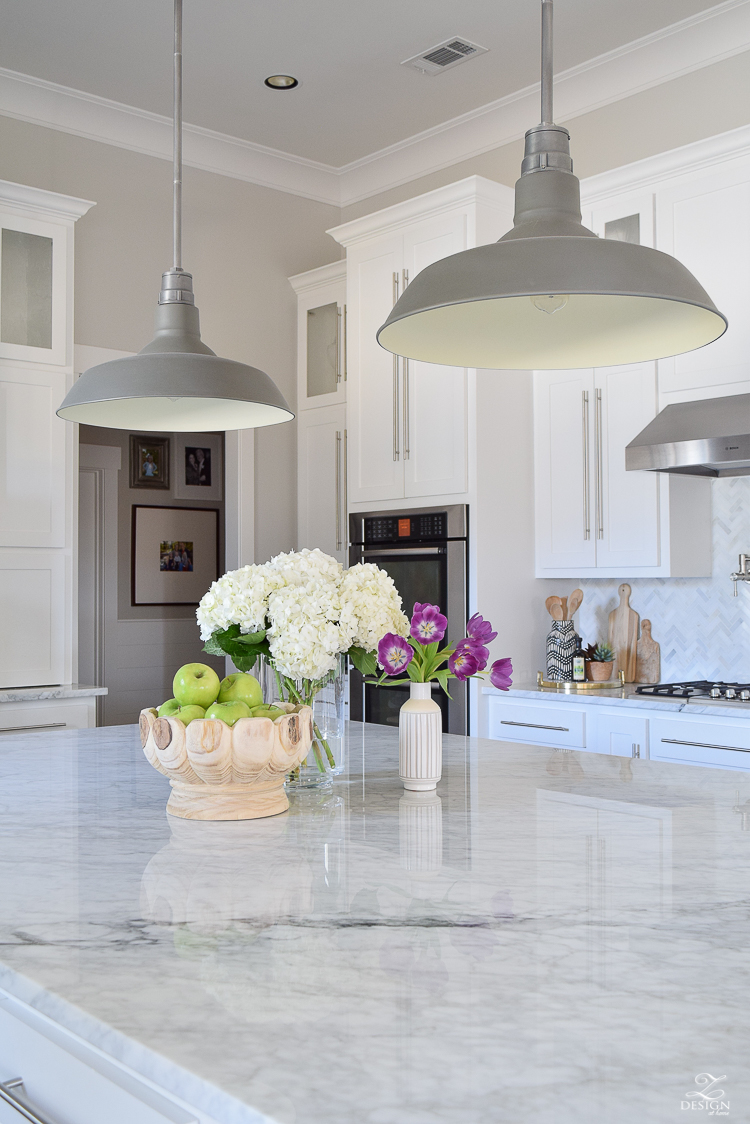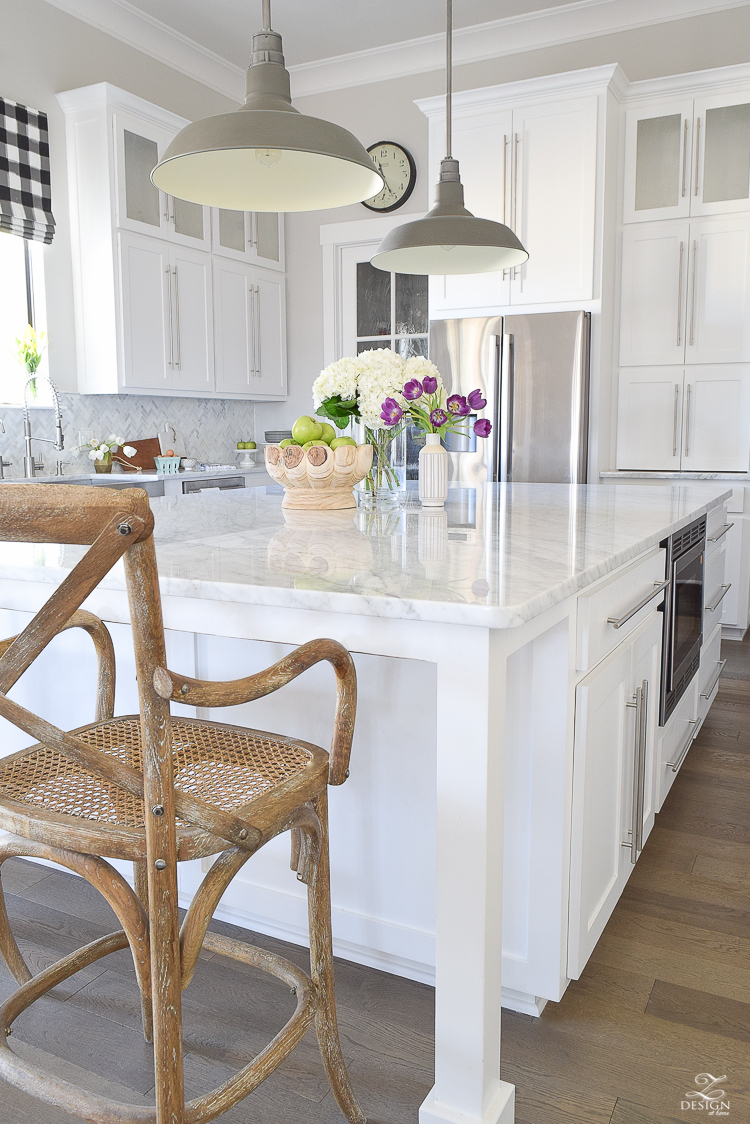 Loving this globally inspired vase so much as well that I'm using as a utensil holder at the moment!!  It's perfect here in this little corner of my counters atop this marble and brass tray along with some faux succulent stems to complete this little area.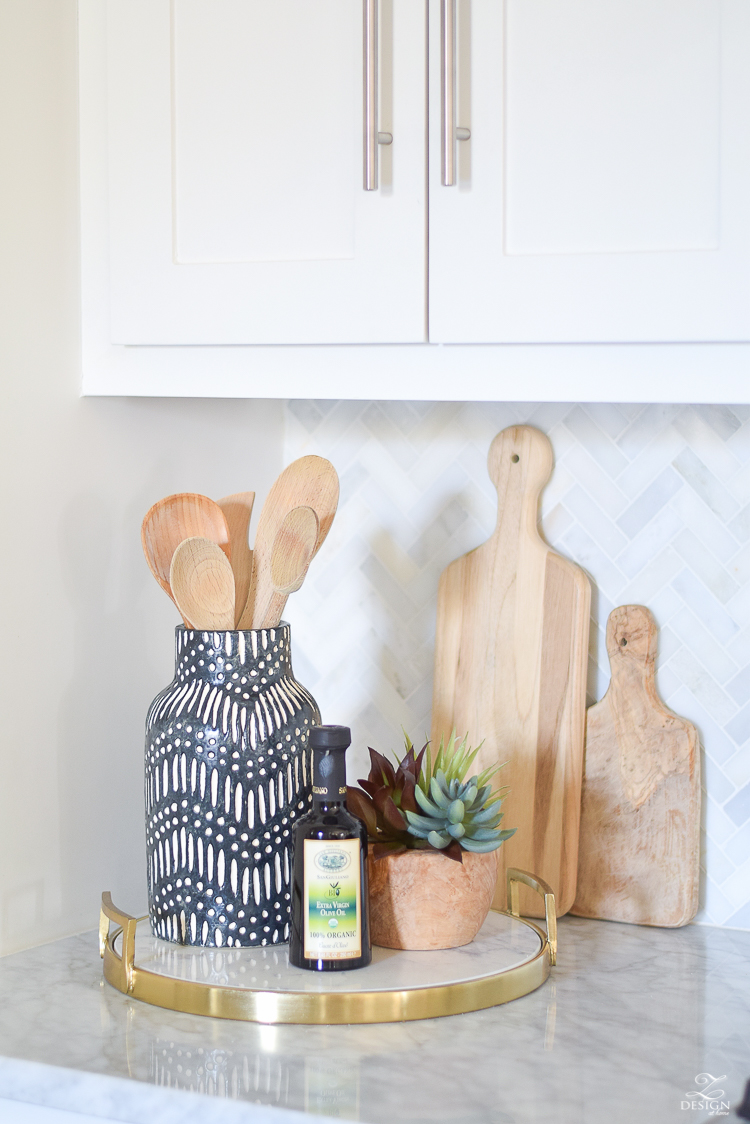 Fresh eggs, a marble cutting board, and  another of my favorite brass vases here to spiff things up by the sink for spring (oh and more tulips…in yellow this time;)!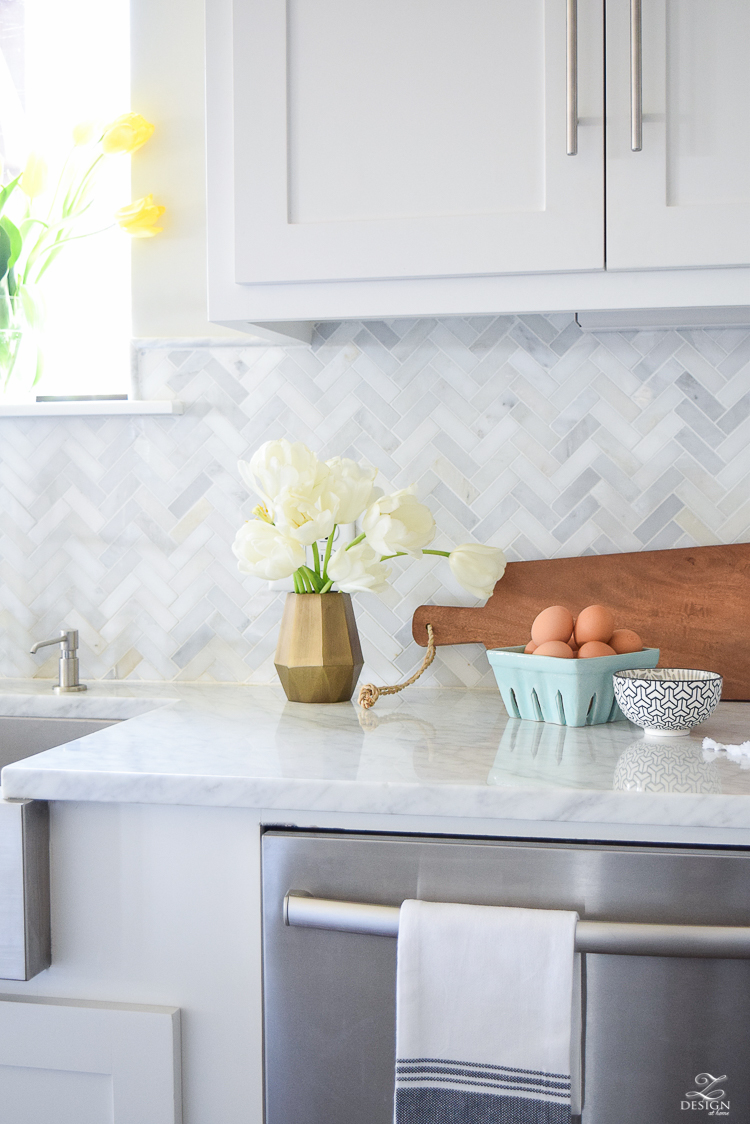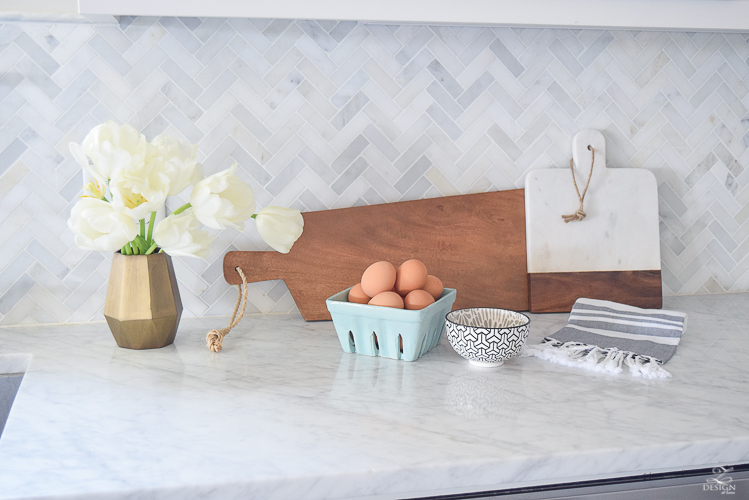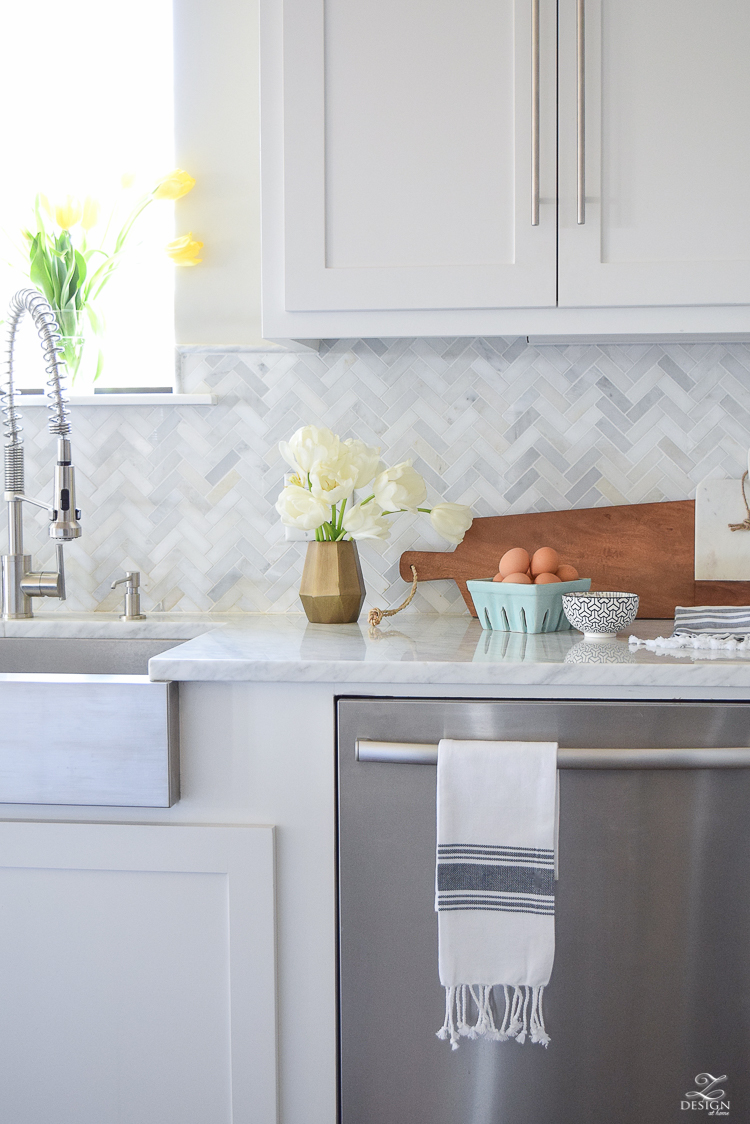 Do you see the new addition on this side of the room peeking out again?  More on that in a moment…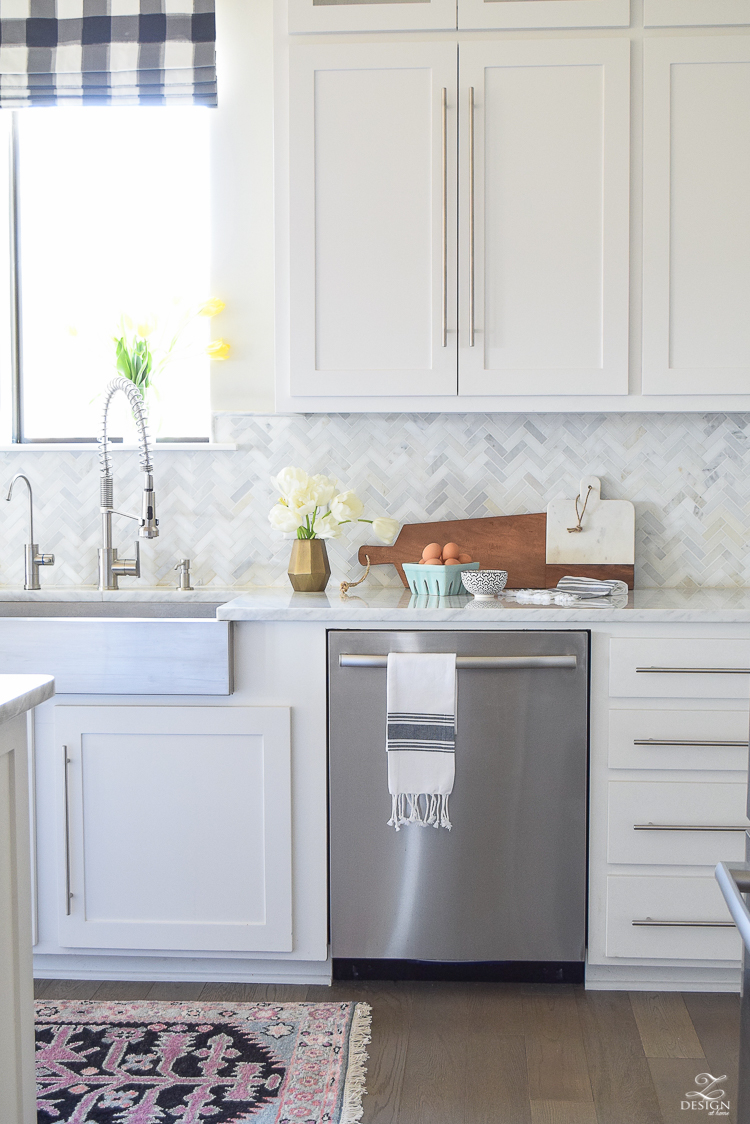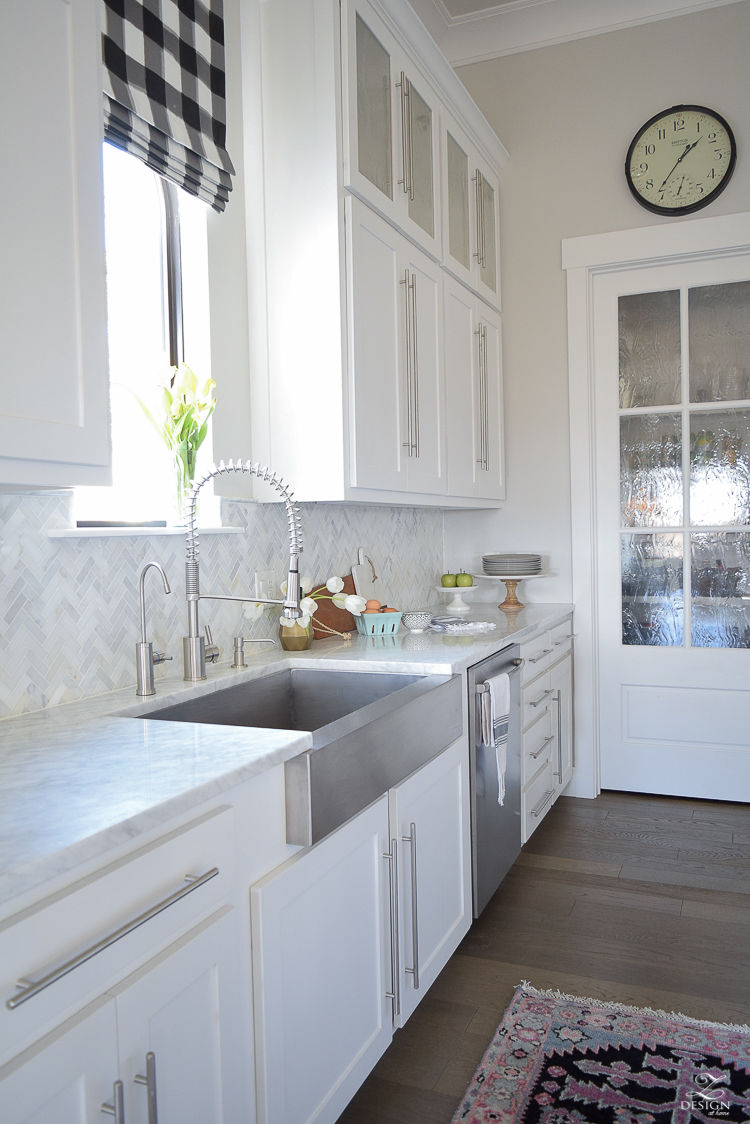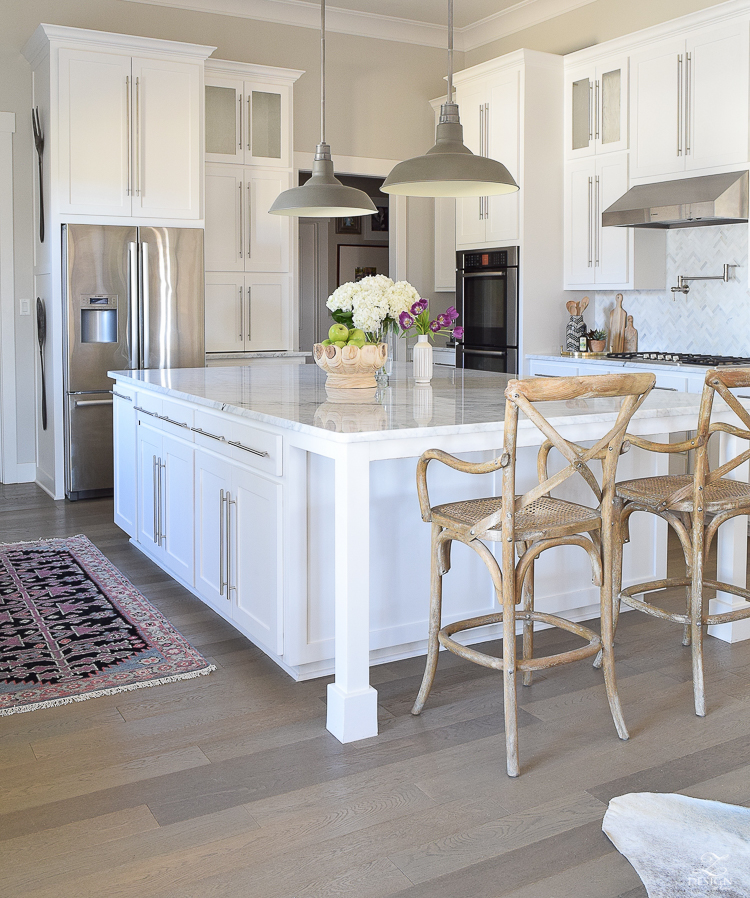 Late last year when I added this black and white buffalo check faux roman shade (you can read all about that HERE + tips for designing and incorporating your own faux roman shade into your home) I knew this rug would be perfect in front of the sink to stand on at the end of a long day.  Now, don't get me wrong, I do like it but I'm not sure I'm in love with it here in this spot as it seems like I keep tripping over it (#notgood).  I love the color and pattern but for this spot it may be a bit thick so I may move it to my back hall.  We'll see if it actually stays here or not and I'll just have to keep you posted on that one.  It's by Caitlin Wilson and you can find it here and, I'll also list other similar rugs below in sources.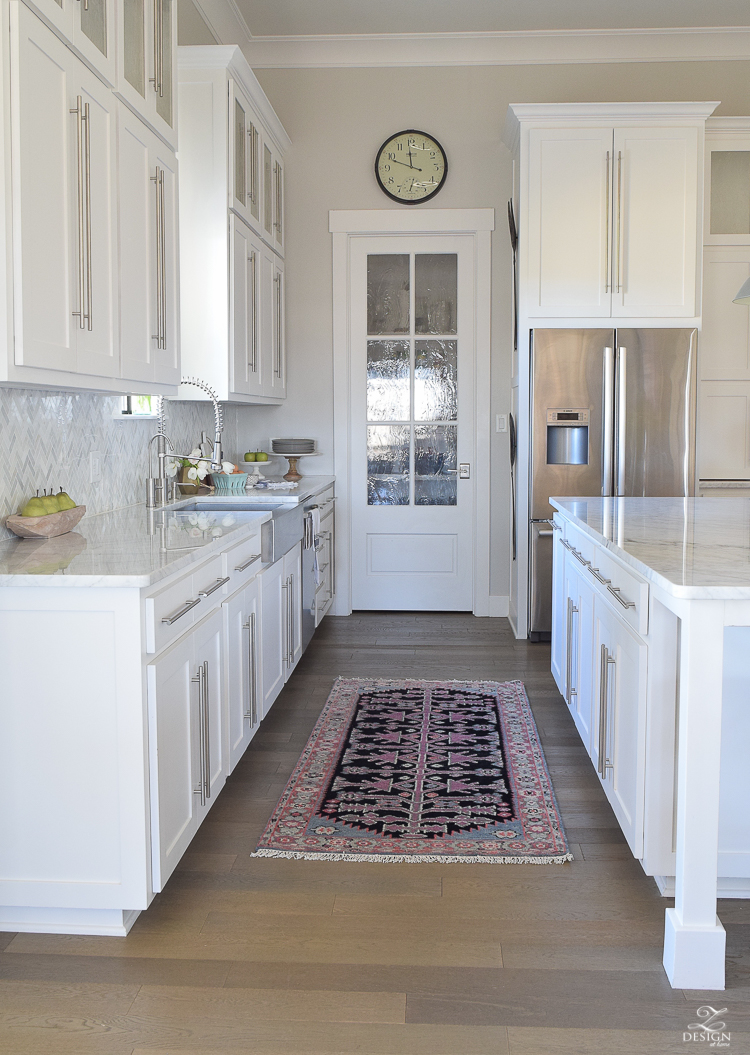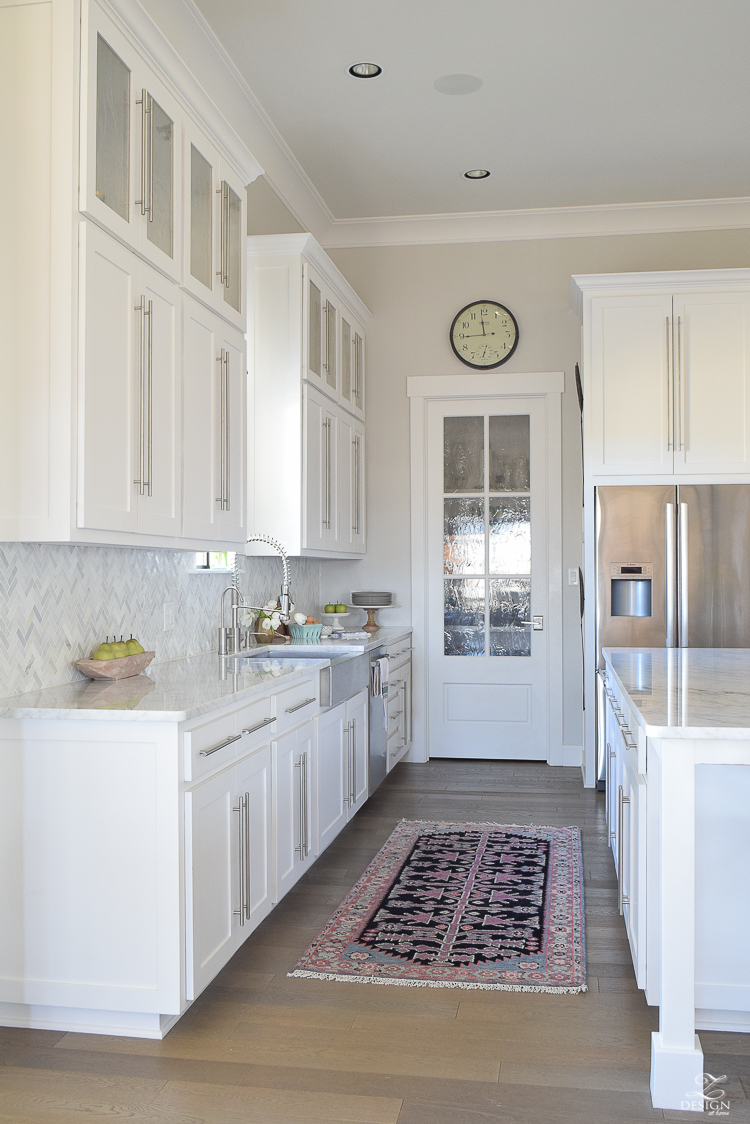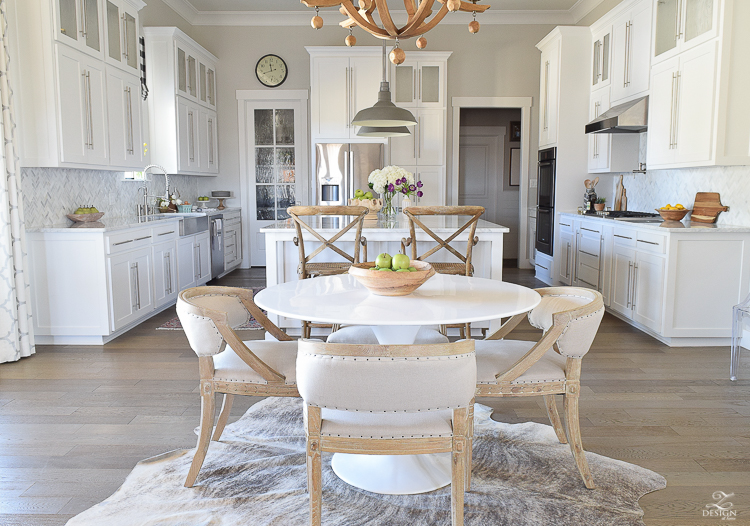 Thank you for stopping in to the Decked & Styled Spring Tour and now I'd like to send you on to my very special, talented friend Abby of Just A Girl And Her Blog.  You will love her new home and how she's decorated for spring along with everything else Abby does.  Please also see the list below Abby's photo for a full line up of participating bloggers and their spring tours that you can visit today and throughout the rest of this week.  Happy spring, friends!!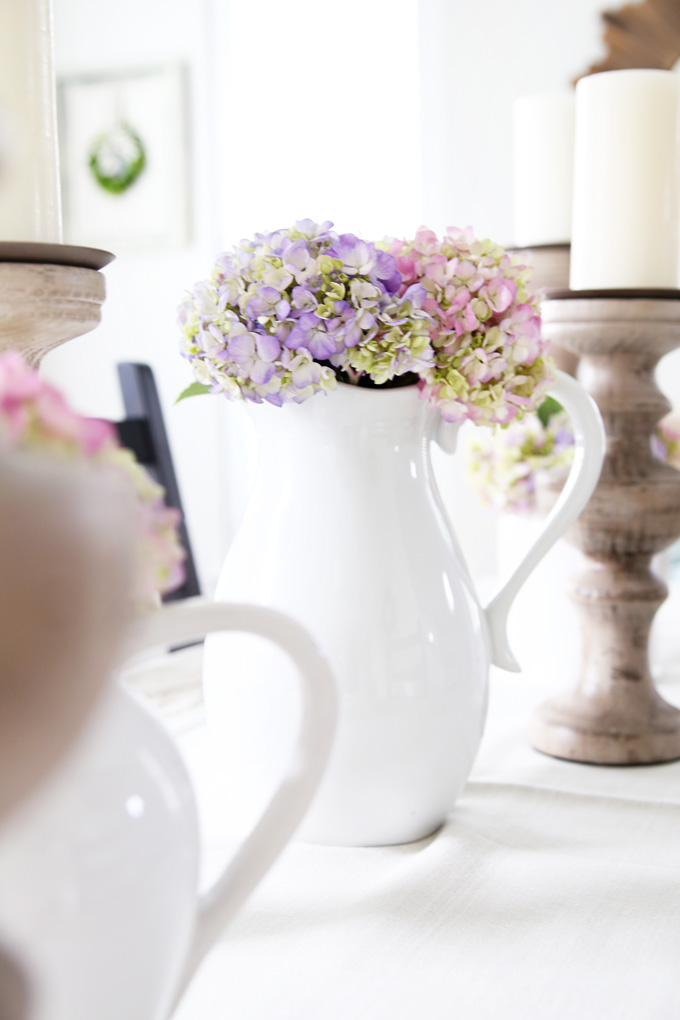 Abby at Just A Girl And Her Blog
Sunny Side Up
The House of Silver Lining
Four Generations One Roof
Life On Virginia Street
Driven by Decor
Kelley Nan
A Thoughtful Place
Style House Interiors
Honey We're Home
Full Dining Room Tour & Resources available HERE
Full Living Room Tour & Resources available HERE
Full Kitchen Tour & Resources available HERE