The Cottage Primary Bathroom Renovation Details & Reveal
Hi, thanks for stopping by to see another room Reveal of The Cottage! This time it's The Cottage Primary Bathroom Renovation Reveal and I'm super excited to share it with you! If you missed it you can catch The Cottage Guest Room Reveal HERE and The Cottage Kitchen Reveal HERE.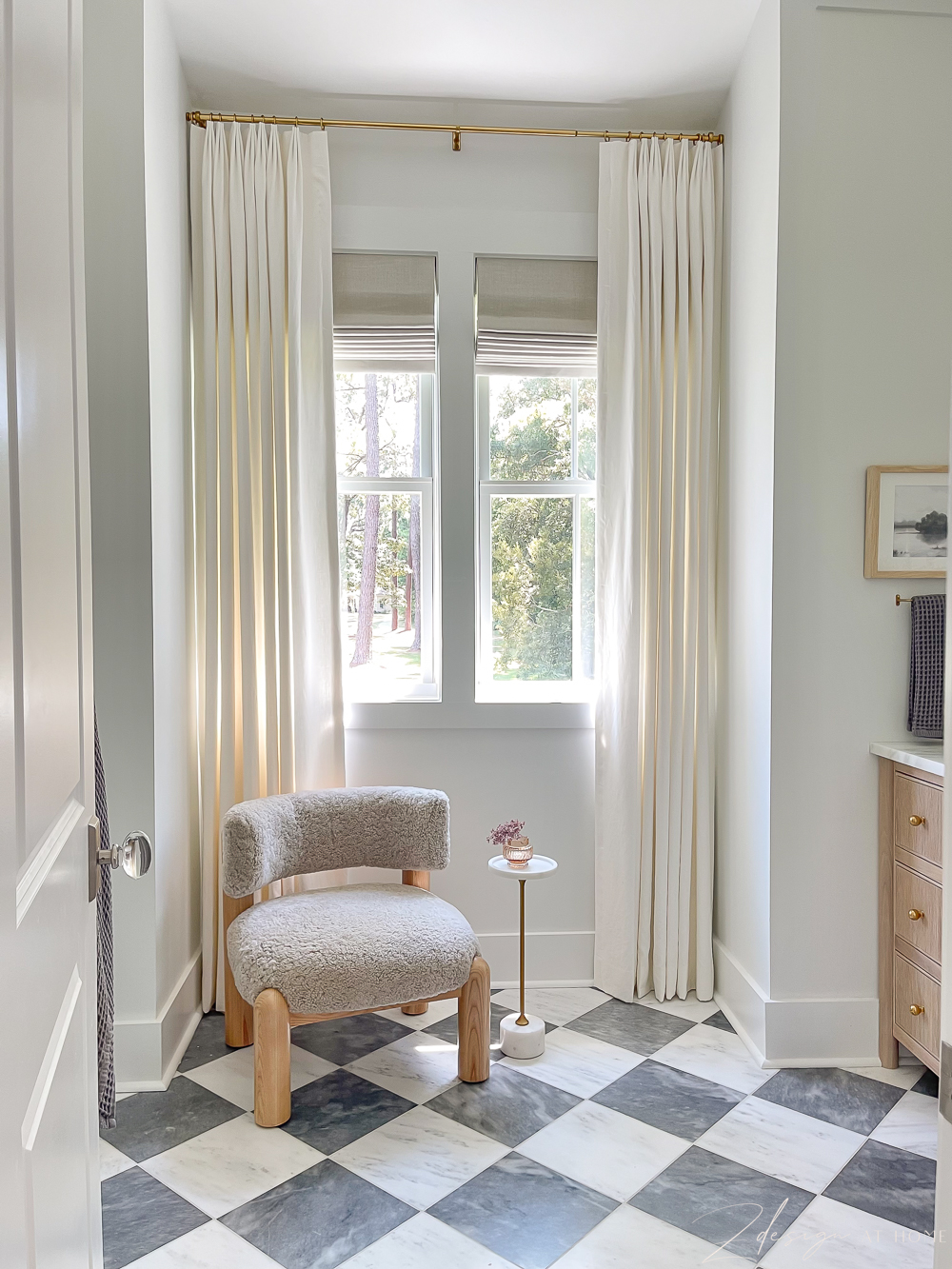 I have to say this beautiful light filled space is (I think) my favorite in the whole Cottage. I love the kitchen but the real beauty of this space is the view out to the water. It's a very established oversized pond with trees, shrubs and lots of wildlife sightings around so there is always something fun and/or beautiful to look at from this space.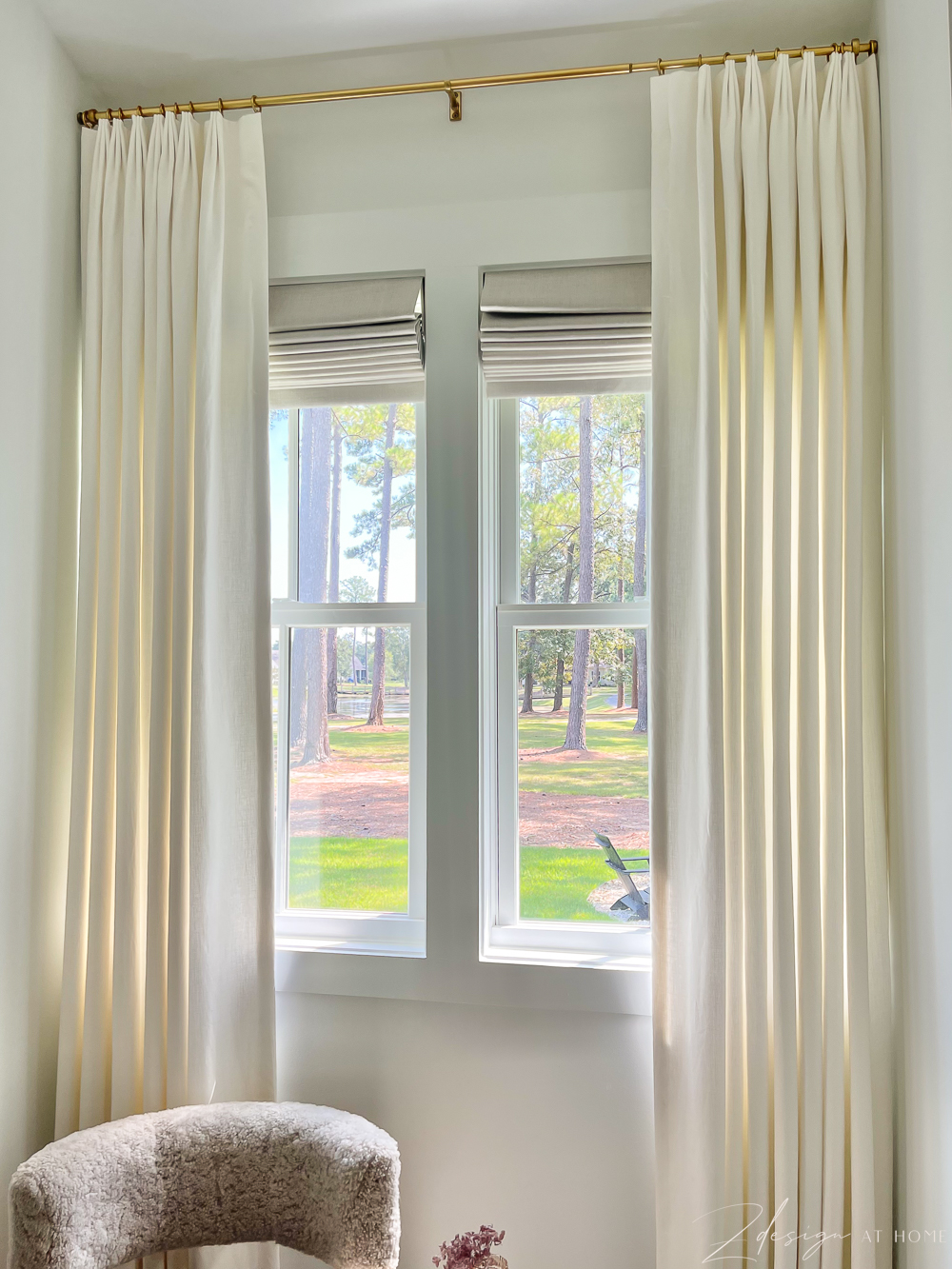 To catch you up to speed, we bought a quaint little cottage located in a coastal Alabama community last fall and although the interior was cute it wasn't quite what we wanted for our personal taste so we decided to make a "few changes" that ended up being a "little" more than we anticipated (isn't that the way it usually goes:). Anyway, the primary bathroom ended up turning into a full renovation that in the end we are super, super happy about! I feel like a queen every time I set foot inside it!
Here are some real estate photos of the BEFORE & DURING!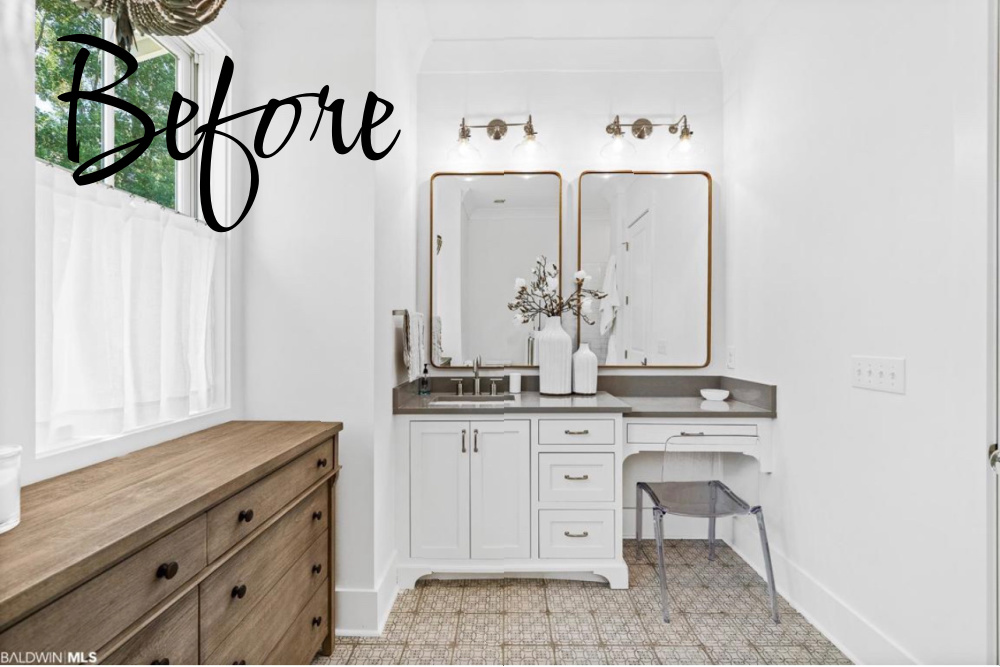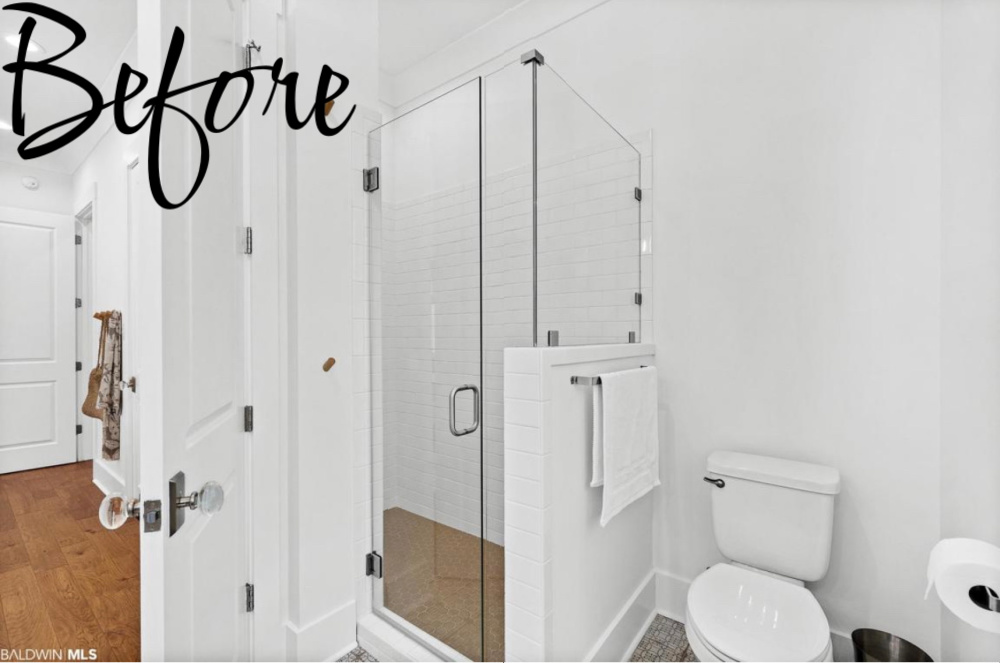 Very cute but just not what we wanted for a long term solution with only one sink plus, we had some ideas we wanted to implement to transform the look, feel and functionality of the shower.
Here are a couple of photos that show DURING the process. At this point we had already had the floor laid and had re-plumbed for the wall mounted faucets we'd be using.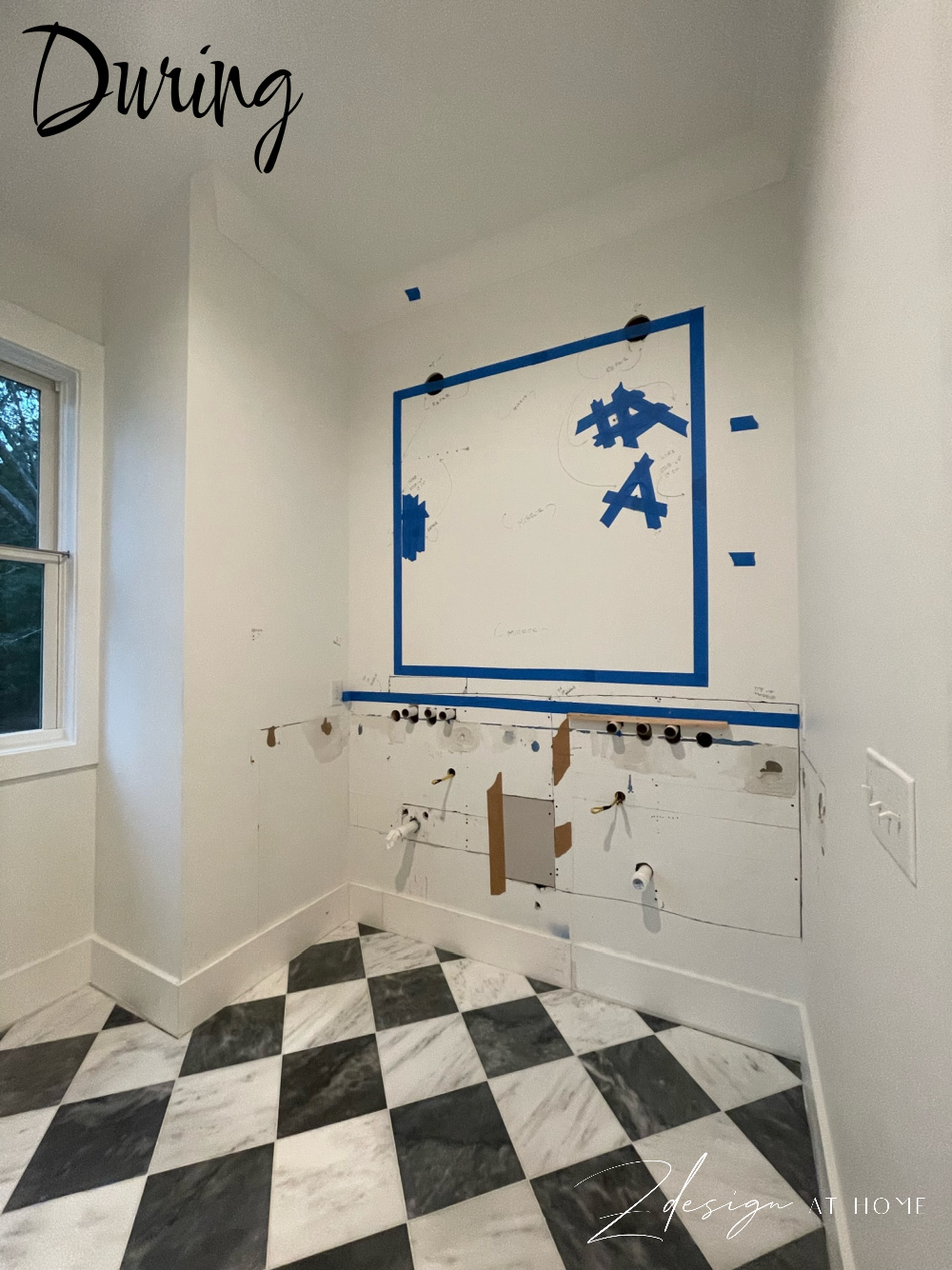 Below, the shower had been completely ripped out (pre-floor install) and this was before the additional framing, etc., went in for the enclosed shower.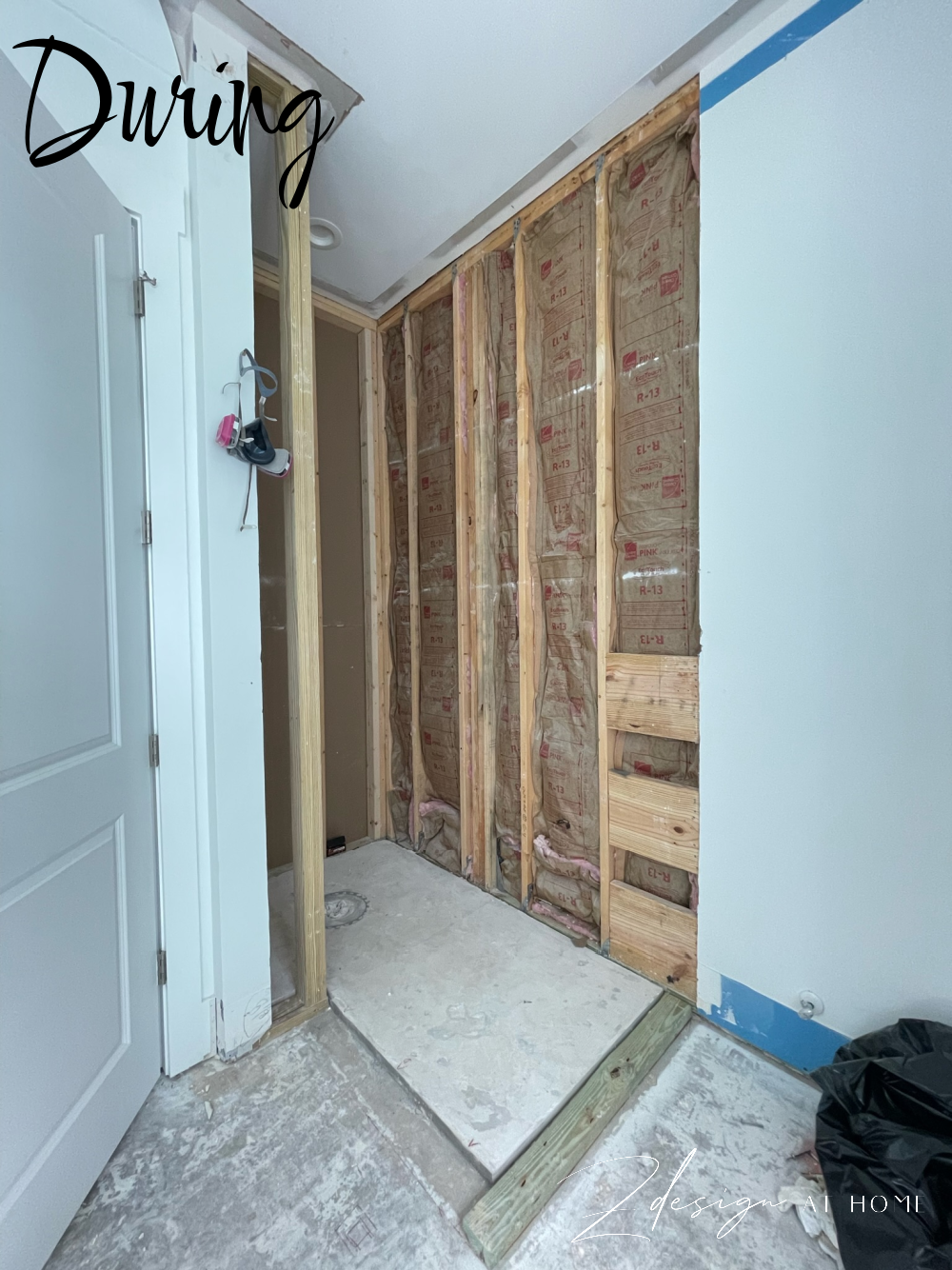 And here is what the vanity area of The Cottage Primary bathroom looks like today!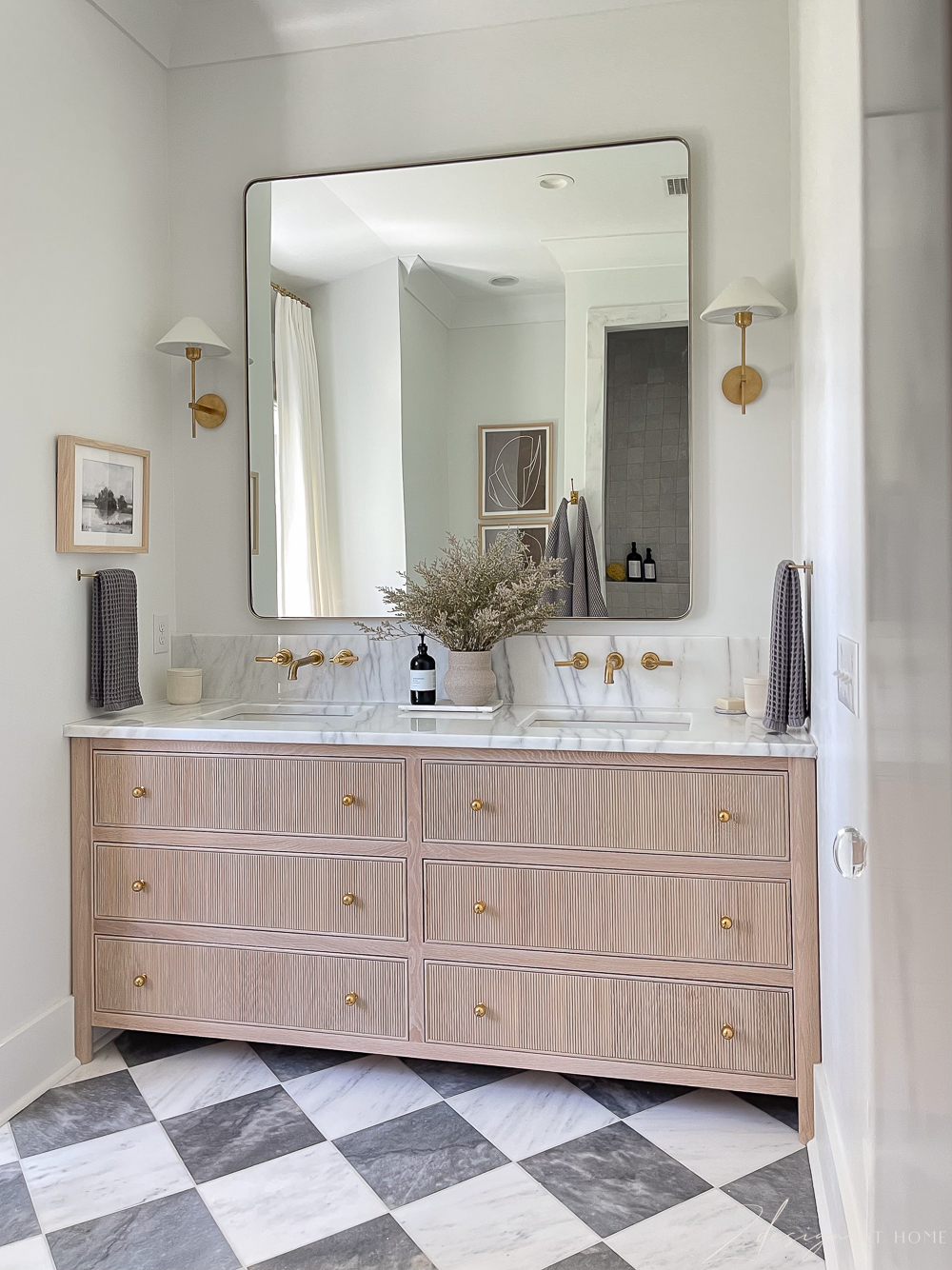 I knew I wanted large drawers for our vanity (no cabinets) and I wanted them to be fluted in white oak. And because the space is small I wanted it to have a furniture style turned leg getting it off the floor to create the illusion of more space so, I worked with the local cabinet company that initially did the cabinets in this home to design this new vanity for our bathroom.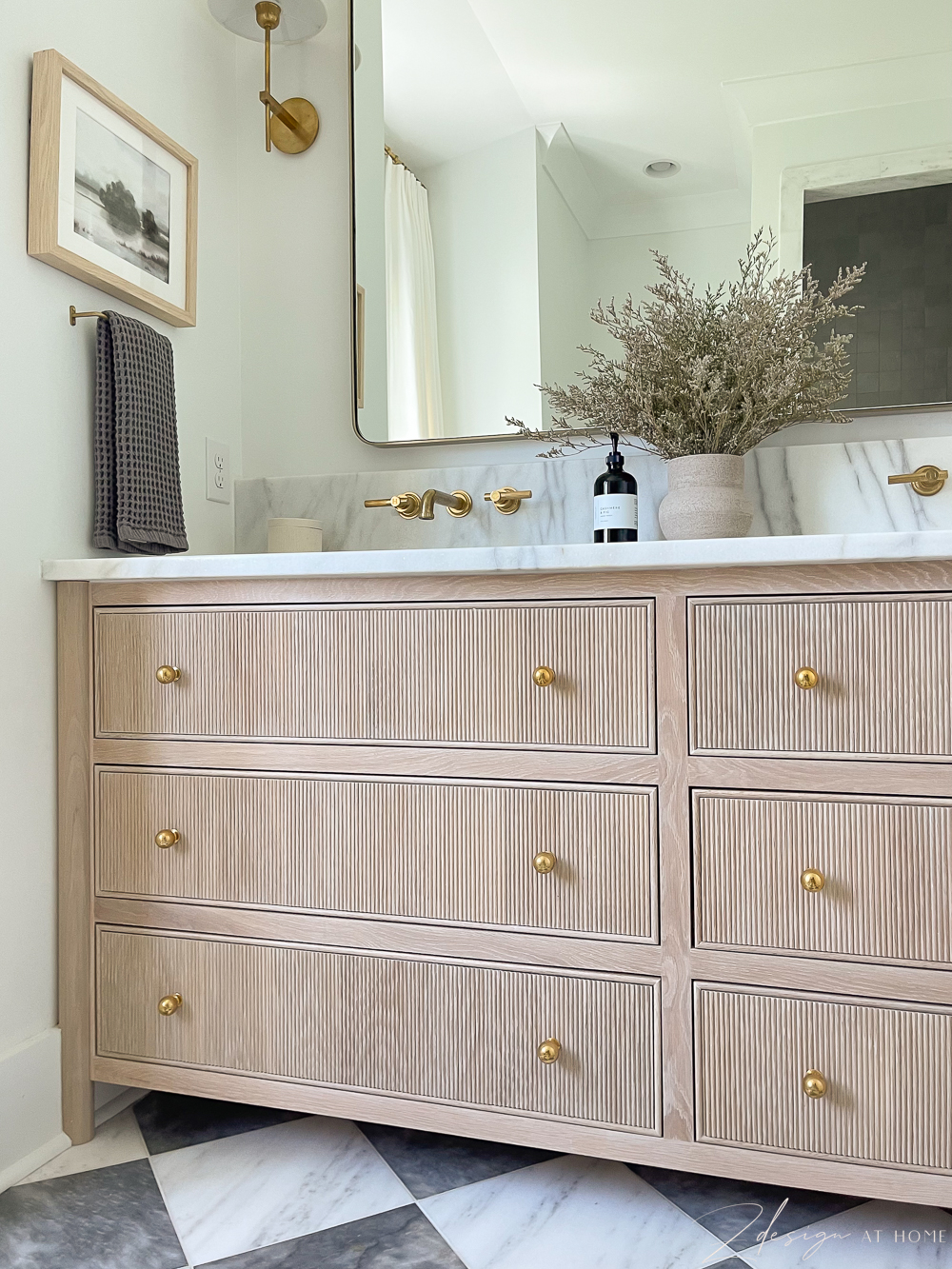 I used this brass ball knob that I'm using all over the cottage in two colors. The cabinet stain is by Milesi and the color is called Beige Gray...it's the perfect stain for white oak in my opinion and has UV properties as well. In our previous home my painter had to custom mix our stain for our white oak so it was nice to find a stain that is meant for white oak I feel.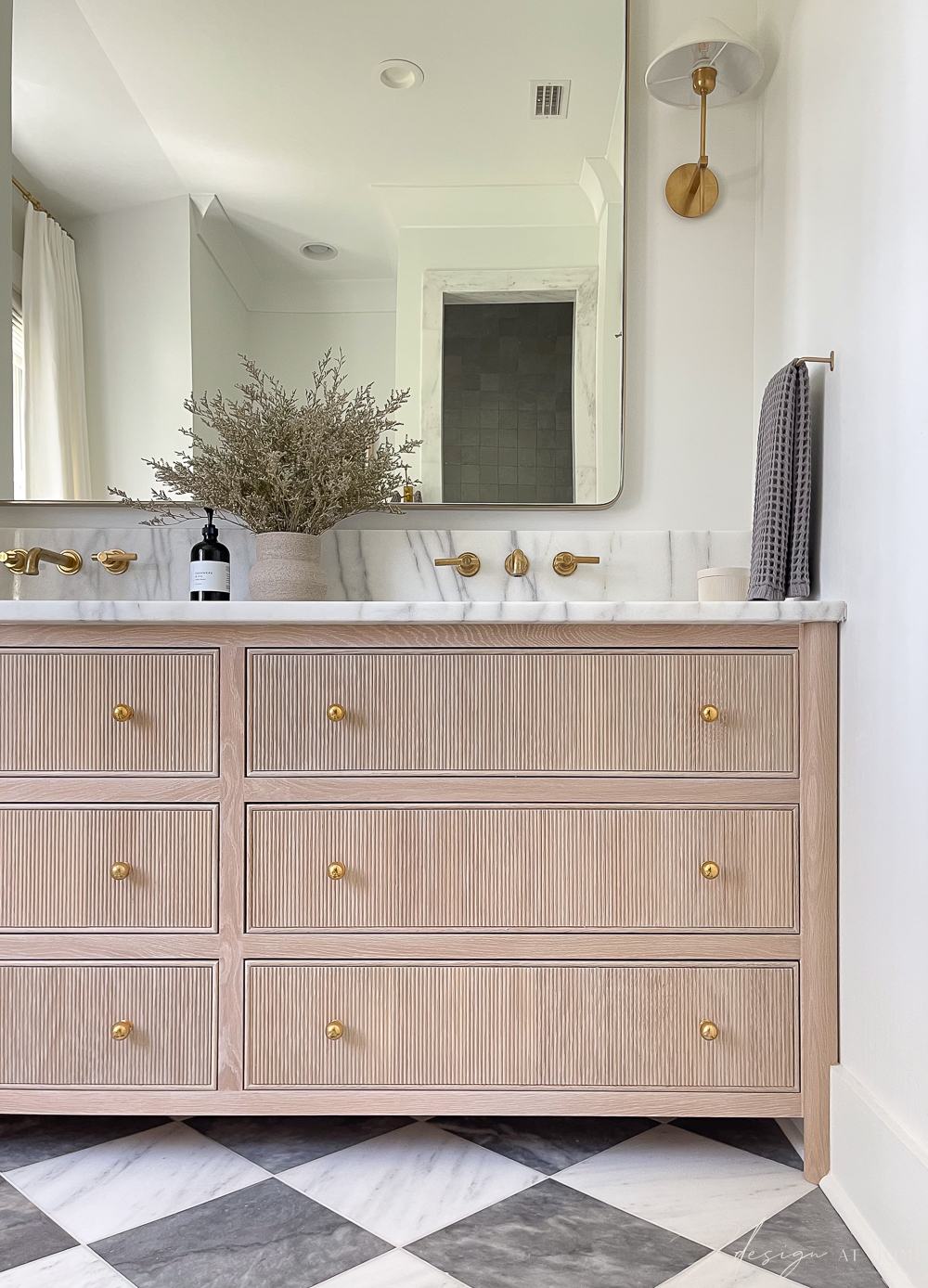 I went with an 8″ backsplash to accommodate the wall mounted faucets. My only regret is that I didn't do the ledge above the backsplash that was planned for but the first one arrived broken and then at some point I decided to pass, but wish now I hadn't. The mirror is brushed brass. I was so fortunate to find a mirror this size because it left just enough space on either side for sconces (it's 54″ sq). The Sconces are a heavy solid brass and I just love how they finish this side of the bathroom.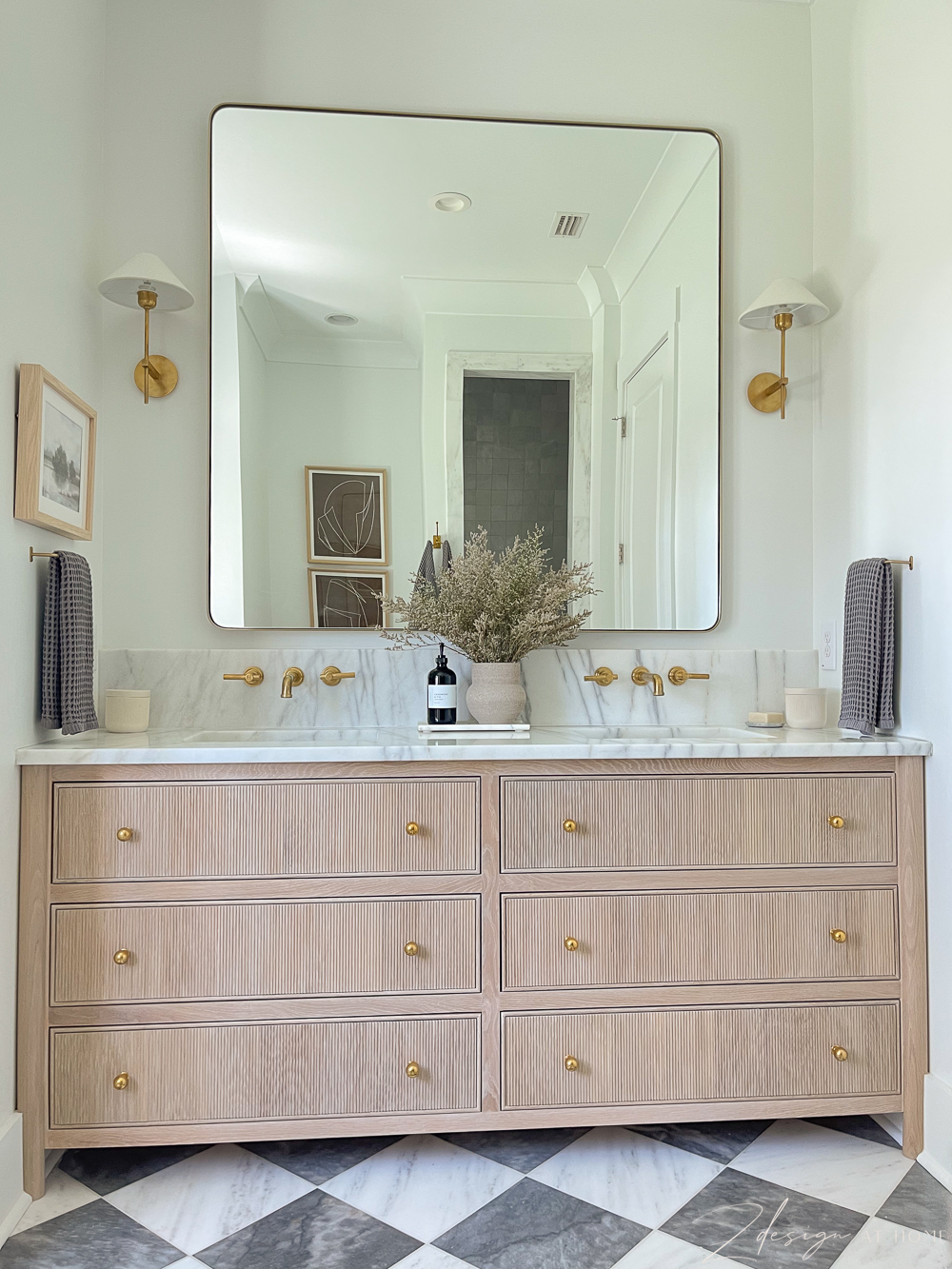 We used a remnant piece of Egyptian White Marble (also used this marble in our laundry room – it's harder than Carrara and doesn't get the stains and scratches that Carrara does). The finish is polished but all of the other marble in the space is honed so even though I didn't plan it this way, I'd say you can mix those finishes if done right. This is actually the 3rd slab that was installed because the first slab broke in three places when set in place and the second slab was cut slightly too short by the fabricators. The first one was honed and I didn't like that finish at all for this space so I asked for the replacement to be polished and I'm very happy with it. The art print reminded me of the view outside to the pond – I love it!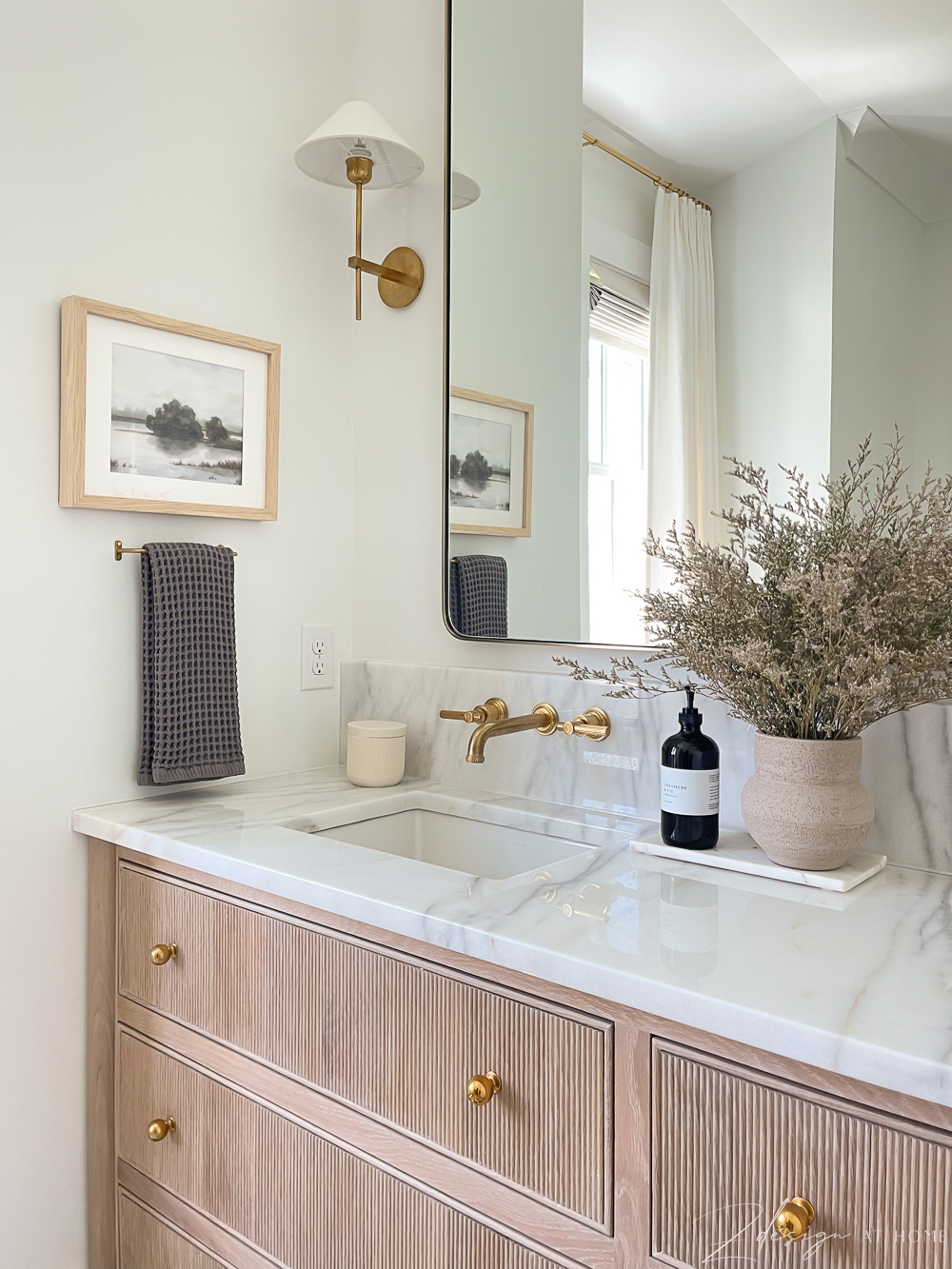 I ordered them locally so I don't have a link but the faucets are the Kallista Central Park wall mounted faucet in unlacquered brass. They are truly stunning and I love the patina they are beginning to develop.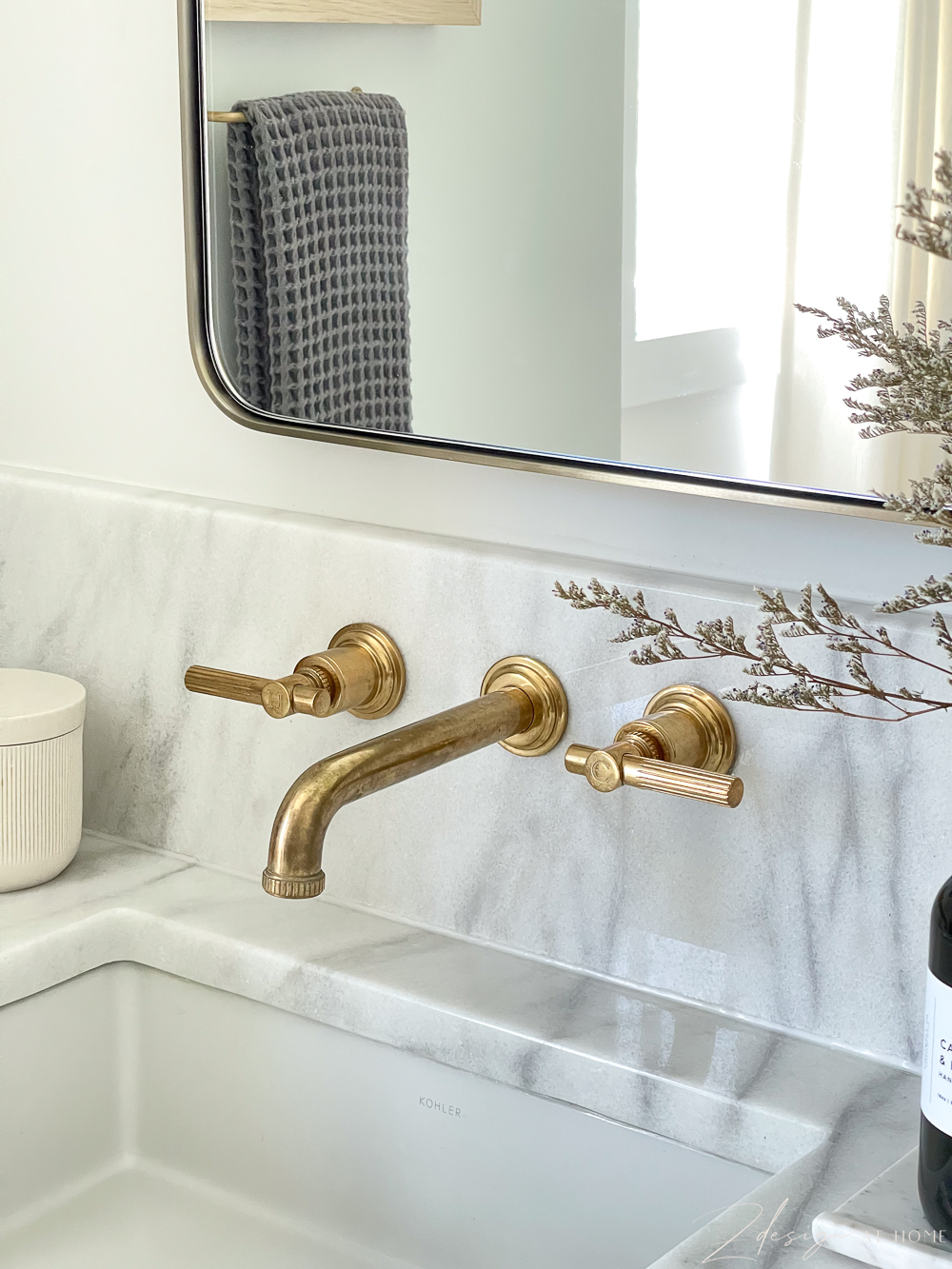 LOVE these simple, modern Hand Towel Bars too and these gray waffle weave hand towels. We have the waffle weave bath towels as well and love them both so far!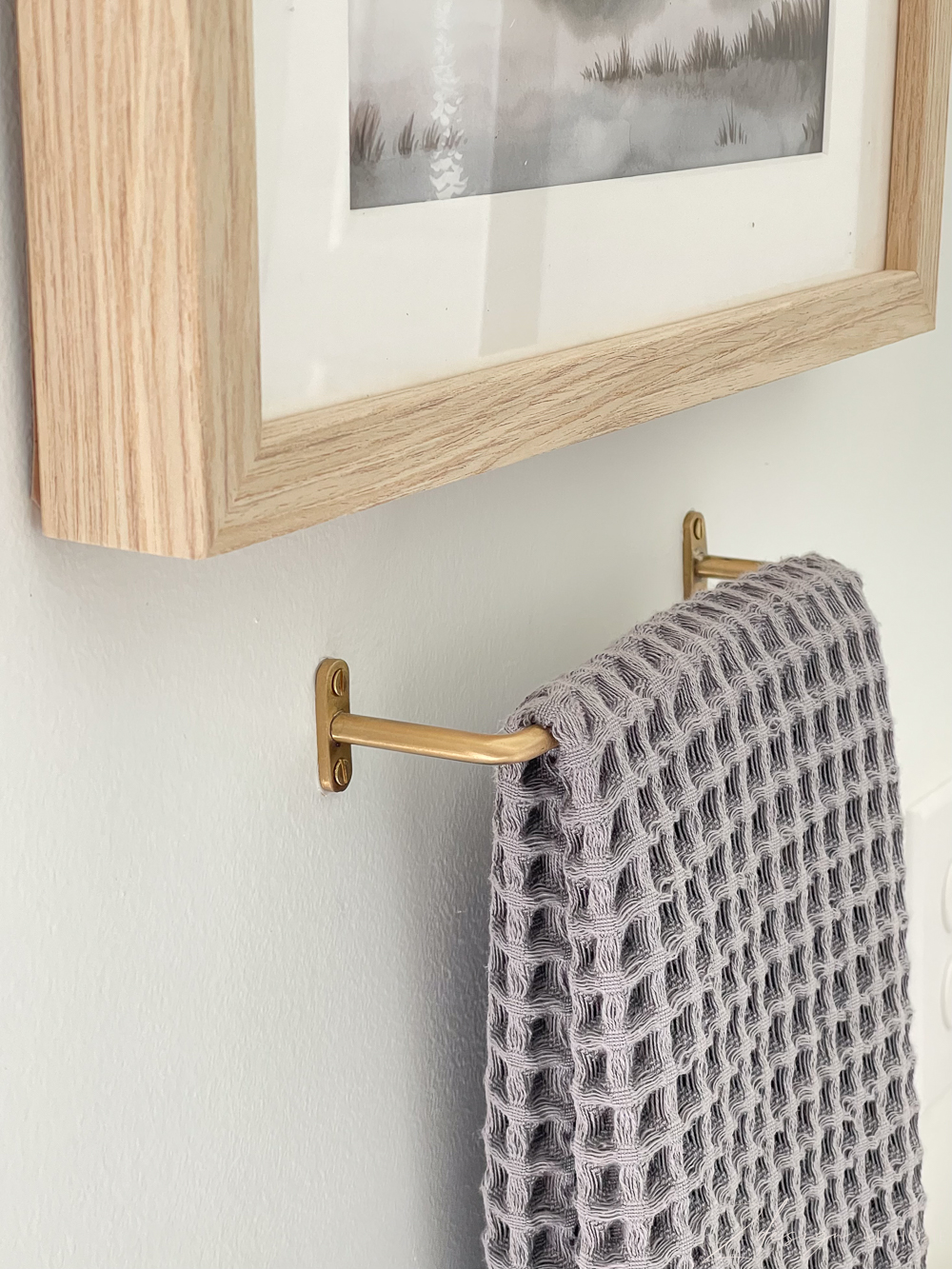 In the primary bath I like to splurge on nice hand soap and fell in love with this Cashmier & Fig soap. It smells amazing!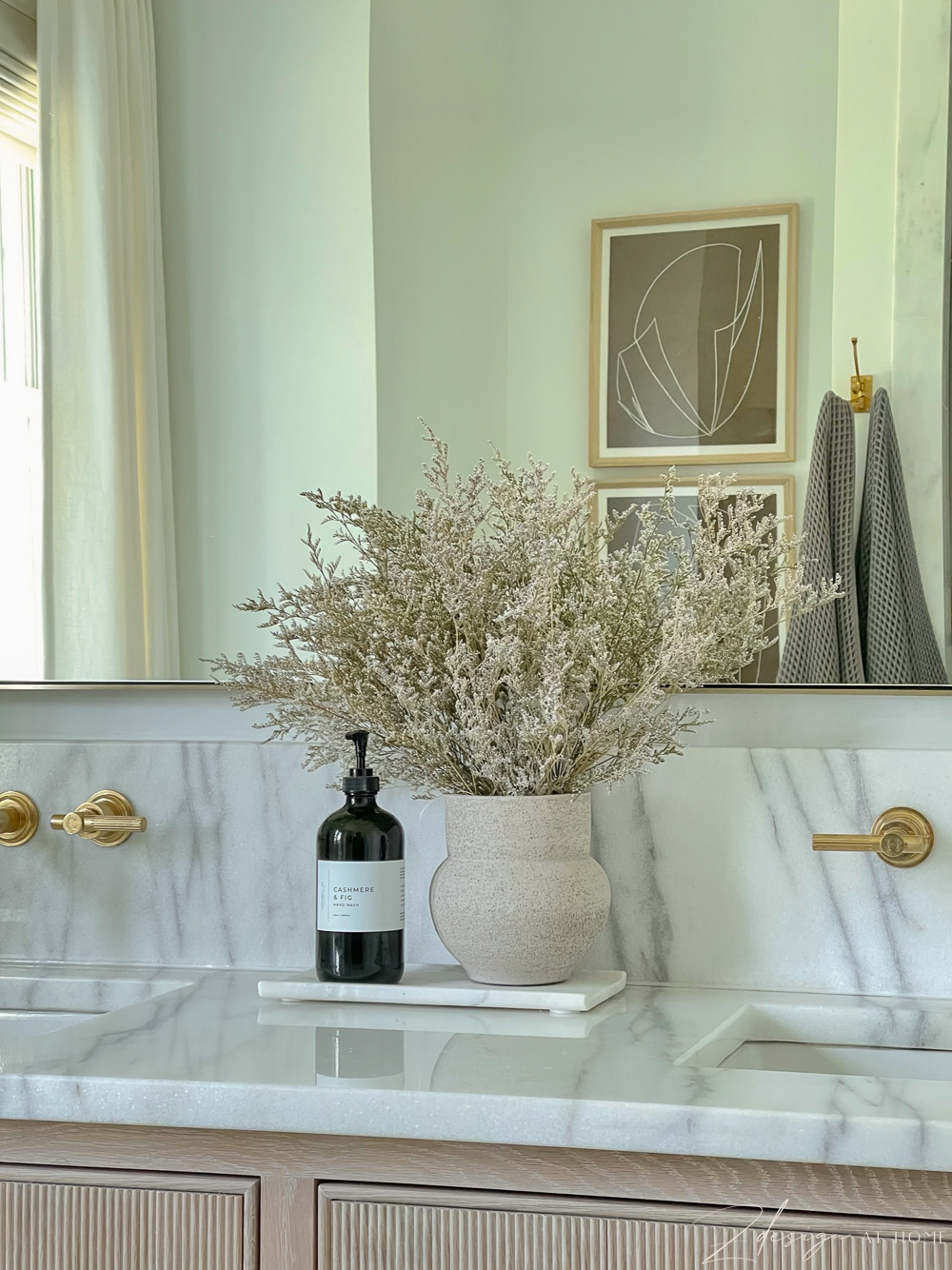 Our cottage is a Southern Living house plan called Sugarberry Cottage and I assume this area of the bathroom where the window jets out is where the architect had in mind for a tub. We are shower people so didn't see the need to add the expense of a tub to the renovation since it would only make the bathroom feel smaller but, my vision came quickly for this area when I began to design this space.
I knew I wanted full length curtains (previously there were café curtains here) in The Cottage Primary bathroom plus we needed blackout shades but I also wanted a small chair in front of the window so that I could sit down to put on makeup, etc., if I wanted to. The curtains and motorized shades were purchased through one of my trade accounts so I don't have a shopping link for these but these blackout shades & these curtains are very similar. I used a rod similar to this one.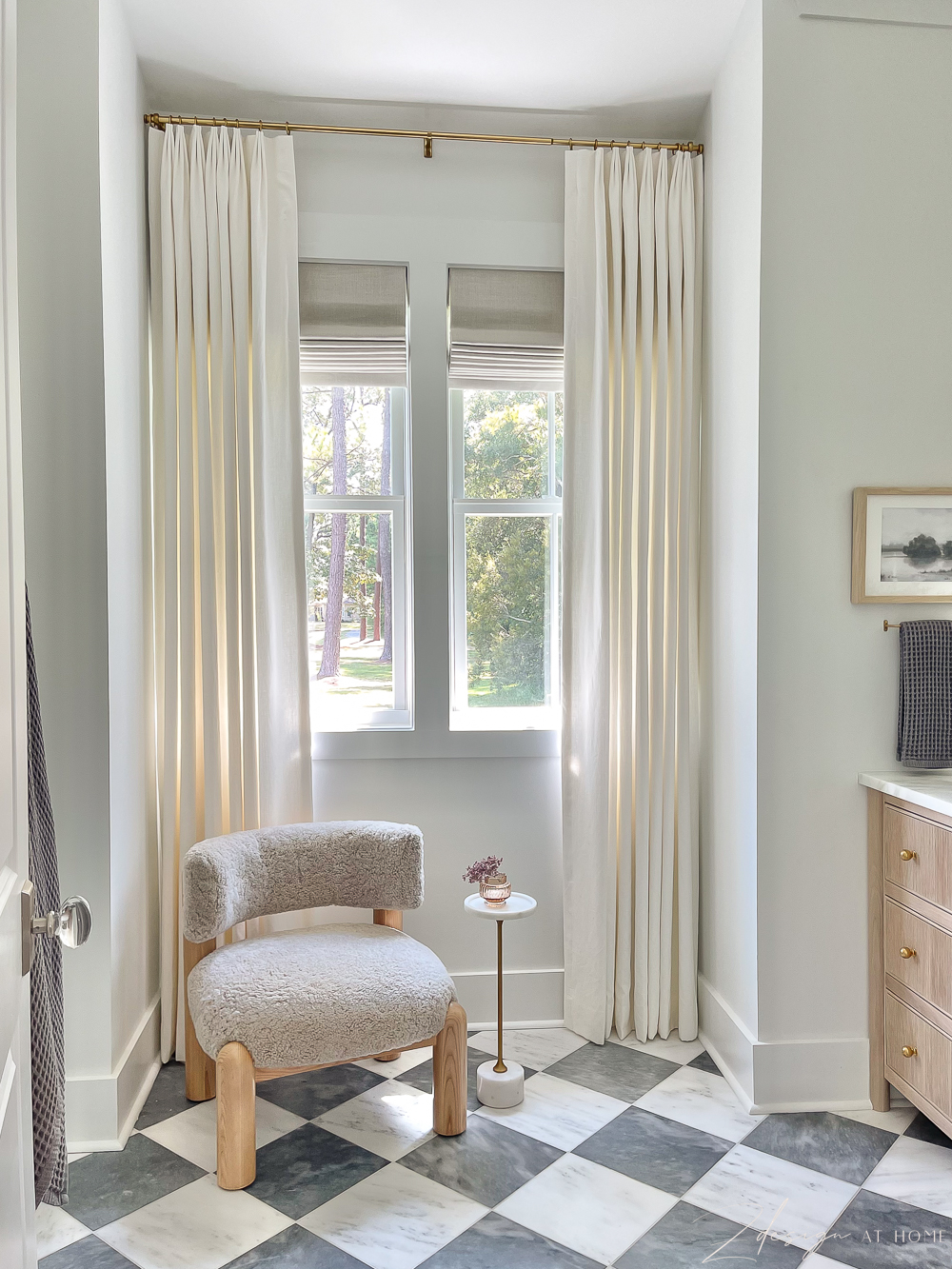 This shearling petite chair was the perfect style and size for this space! Same goes for the marble and gold side table and adorable amber colored petite bud vase.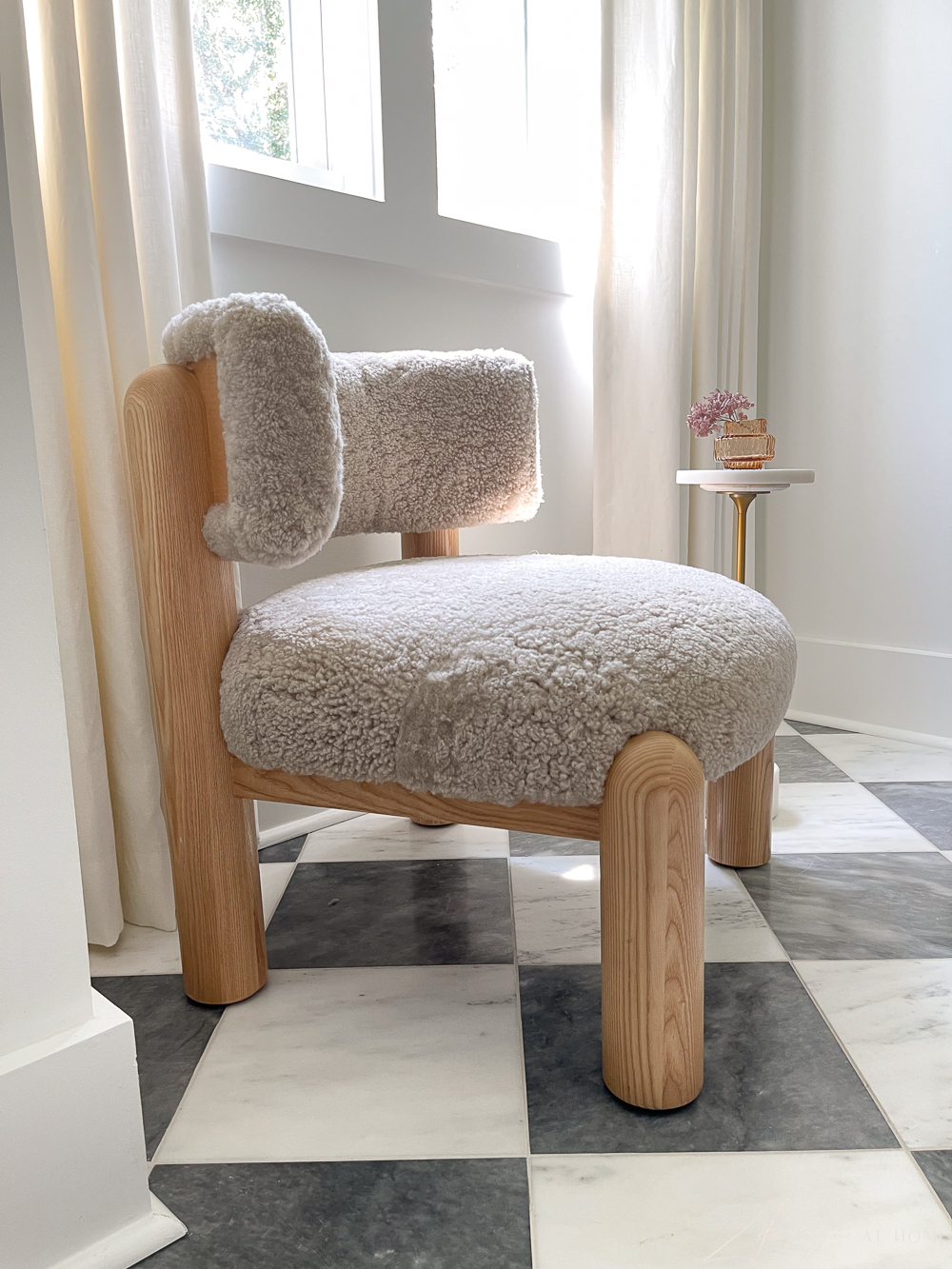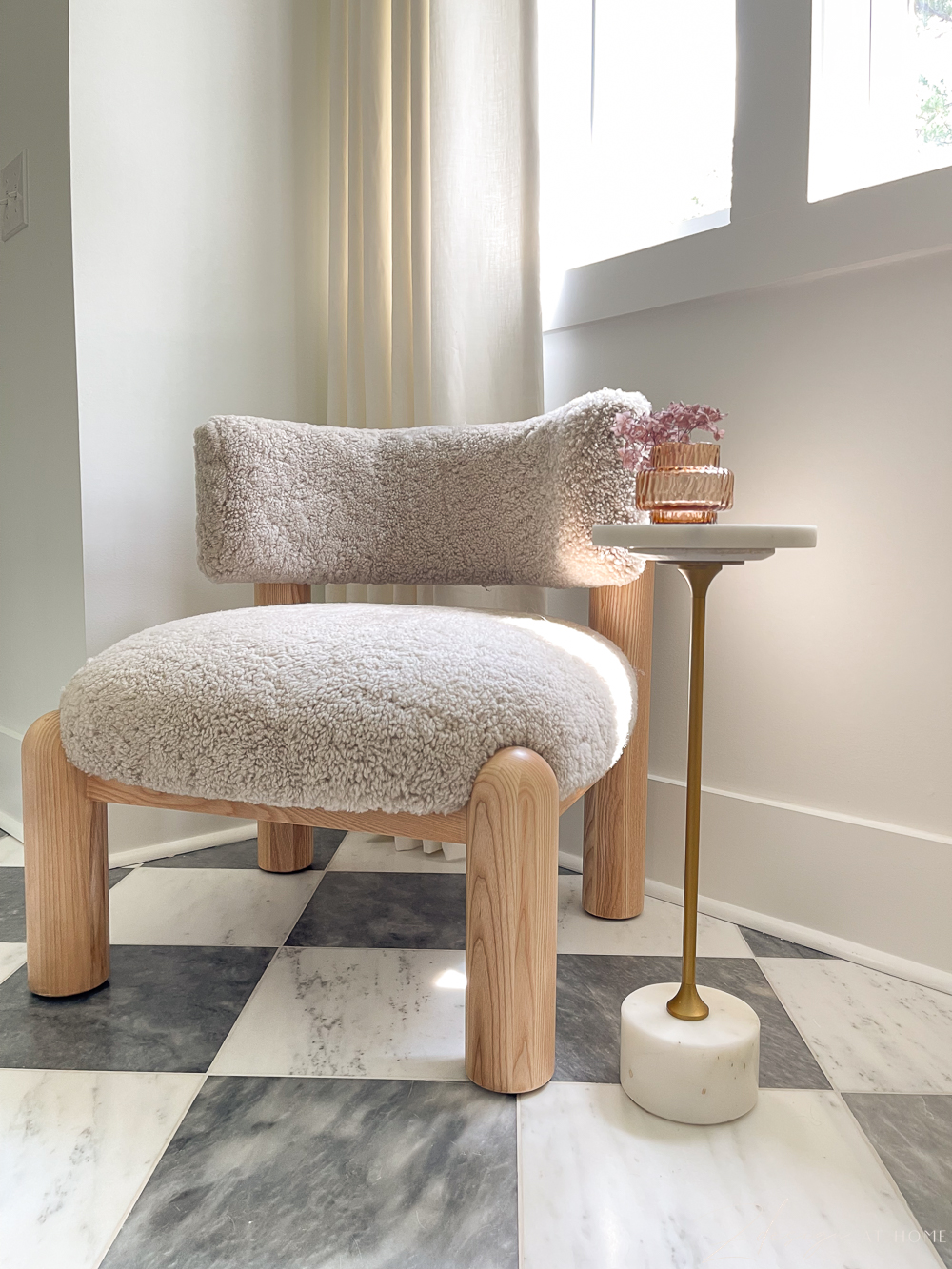 You also might be wondering about the floors by now?! In recent years we've seen this classic checkered / harlequin floor pattern come back in style and I couldn't resist for our bath remodel! I used a 12×12 honed gray Bardiglio marble tile and a White Honed Bianco Carrara 12×12 Tile for this look and I'm so happy with the way it turned out.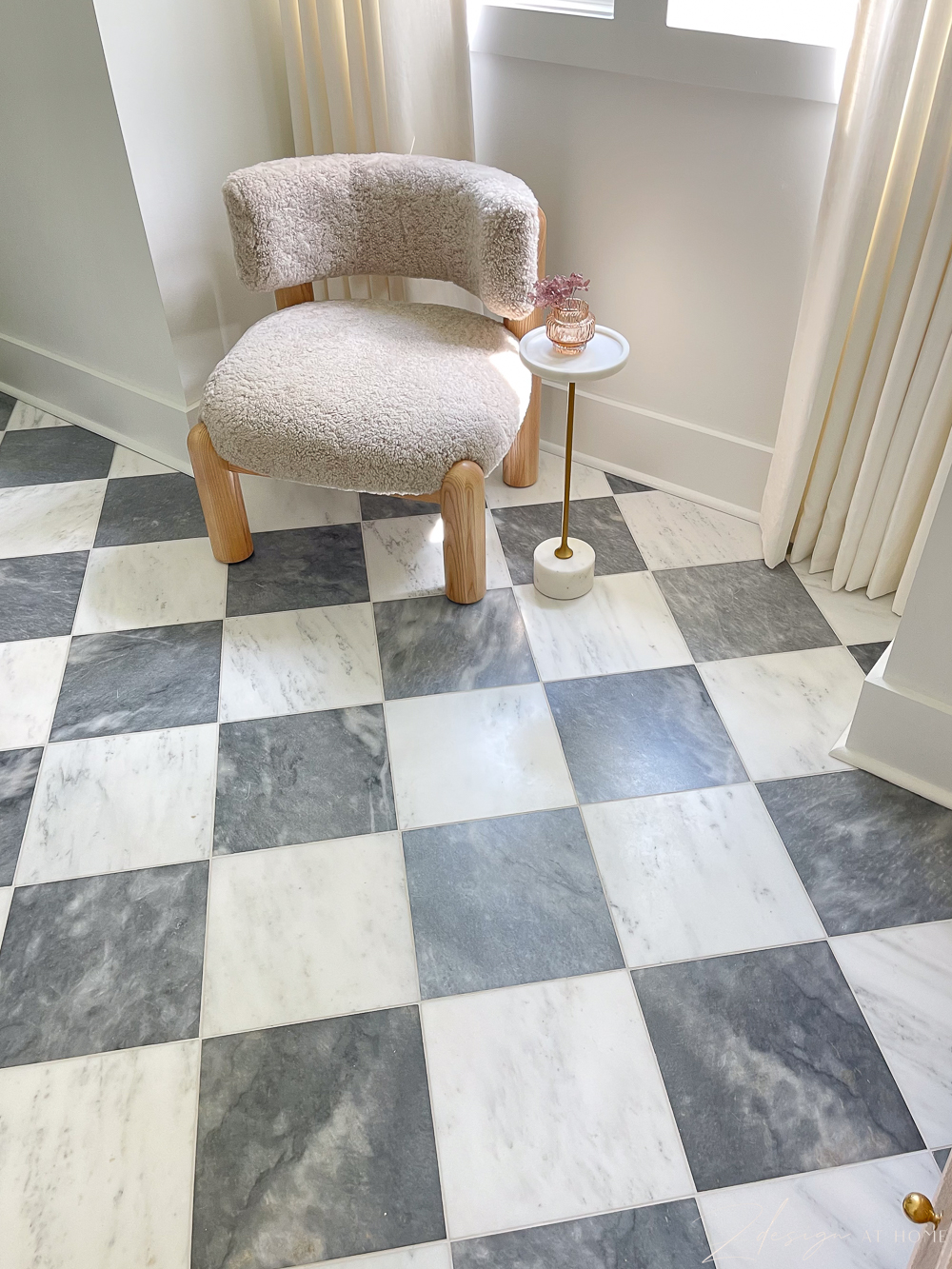 My inspo for how the threshold was laid was from a beautiful hotel we stayed at in Savannah, GA last summer with the same bathroom floors. For this application we used the exact same honed gray Bardiglio marble but in a 12×24 size.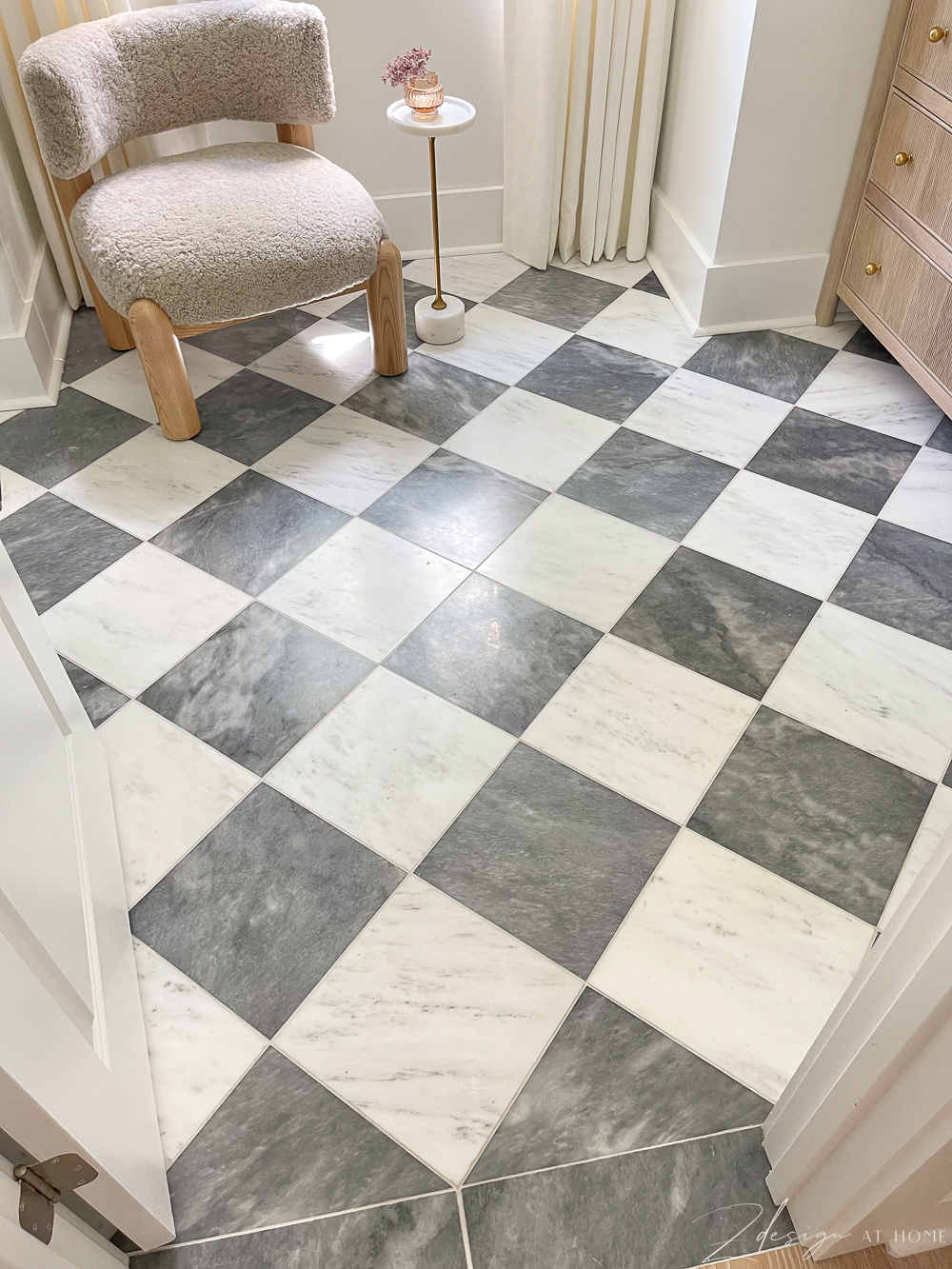 The opposite side of the bathroom from the vanity is the toilet and shower. The only downside to the bathroom if I can find one is that there is no toilet room but that's ok, we've learned to live happily without it. I have used this Kohler Toilet in all of my homes but this time I changed out the dual flush button on top to match the rest of the fixtures in my space. I also chose these gorgeous art prints (print 1 & print 2) for over the toilet, and this wastebasket.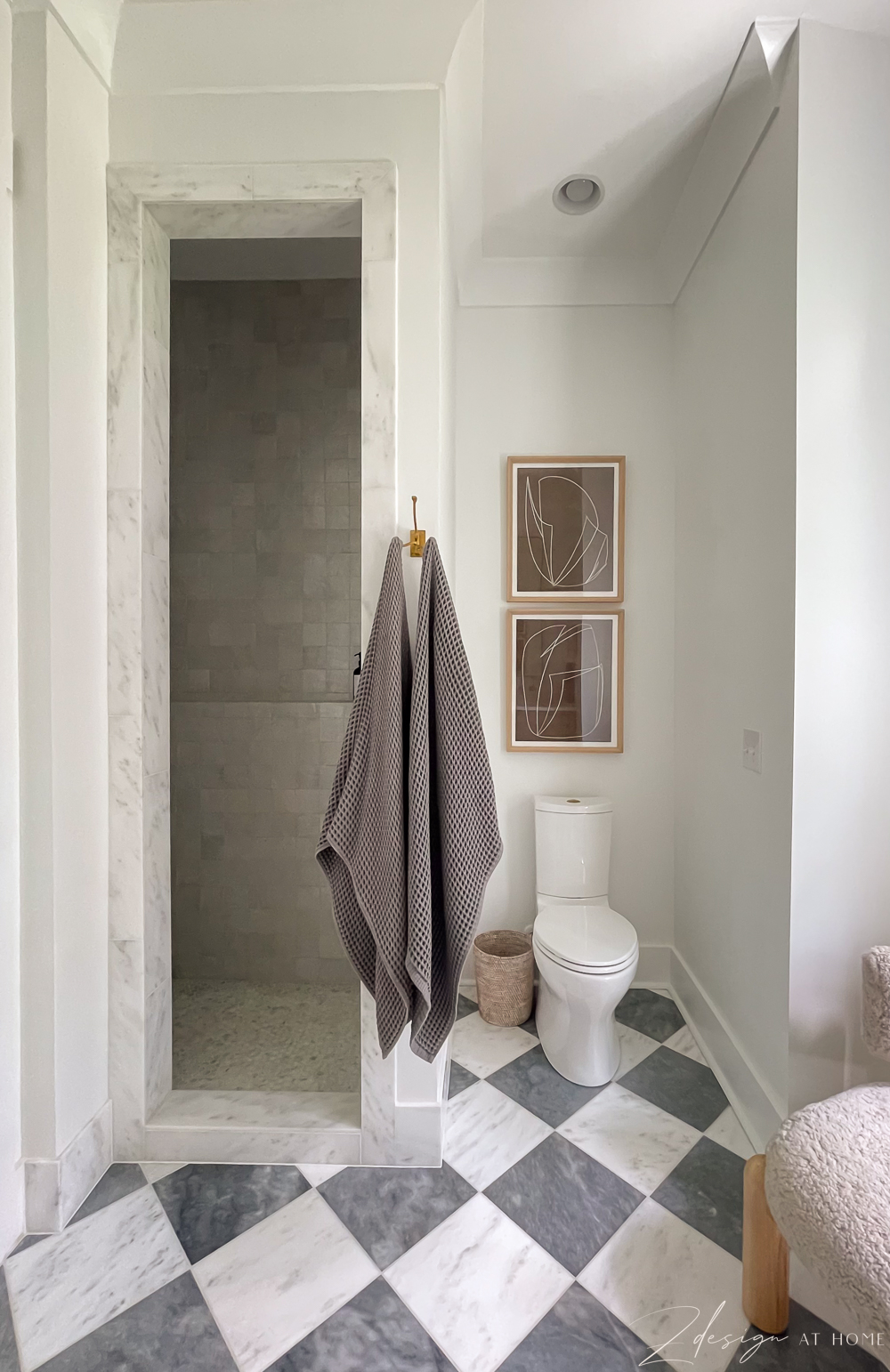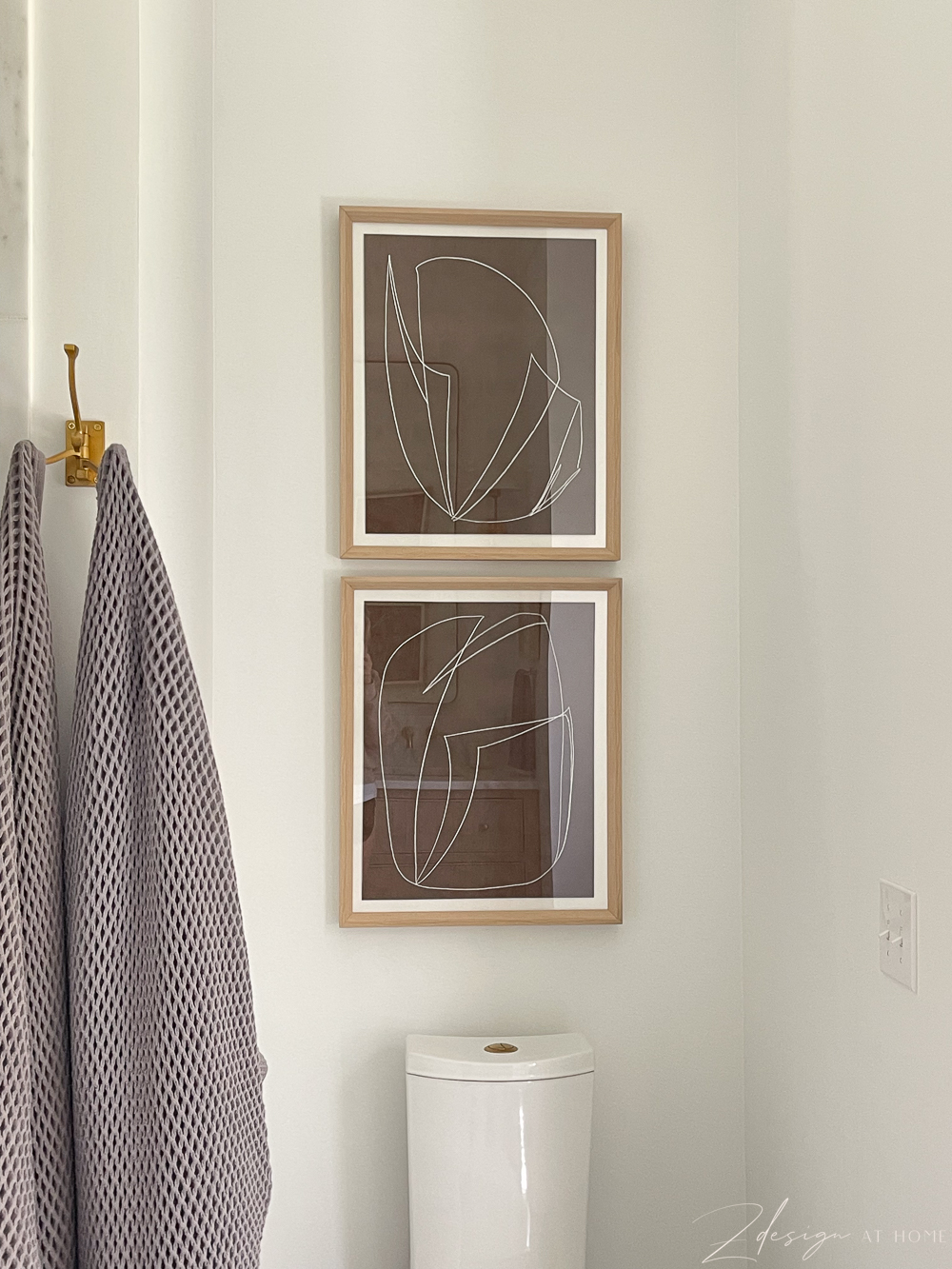 I also used my favorite toilet paper holder that I used in every bathroom in our previous home as well.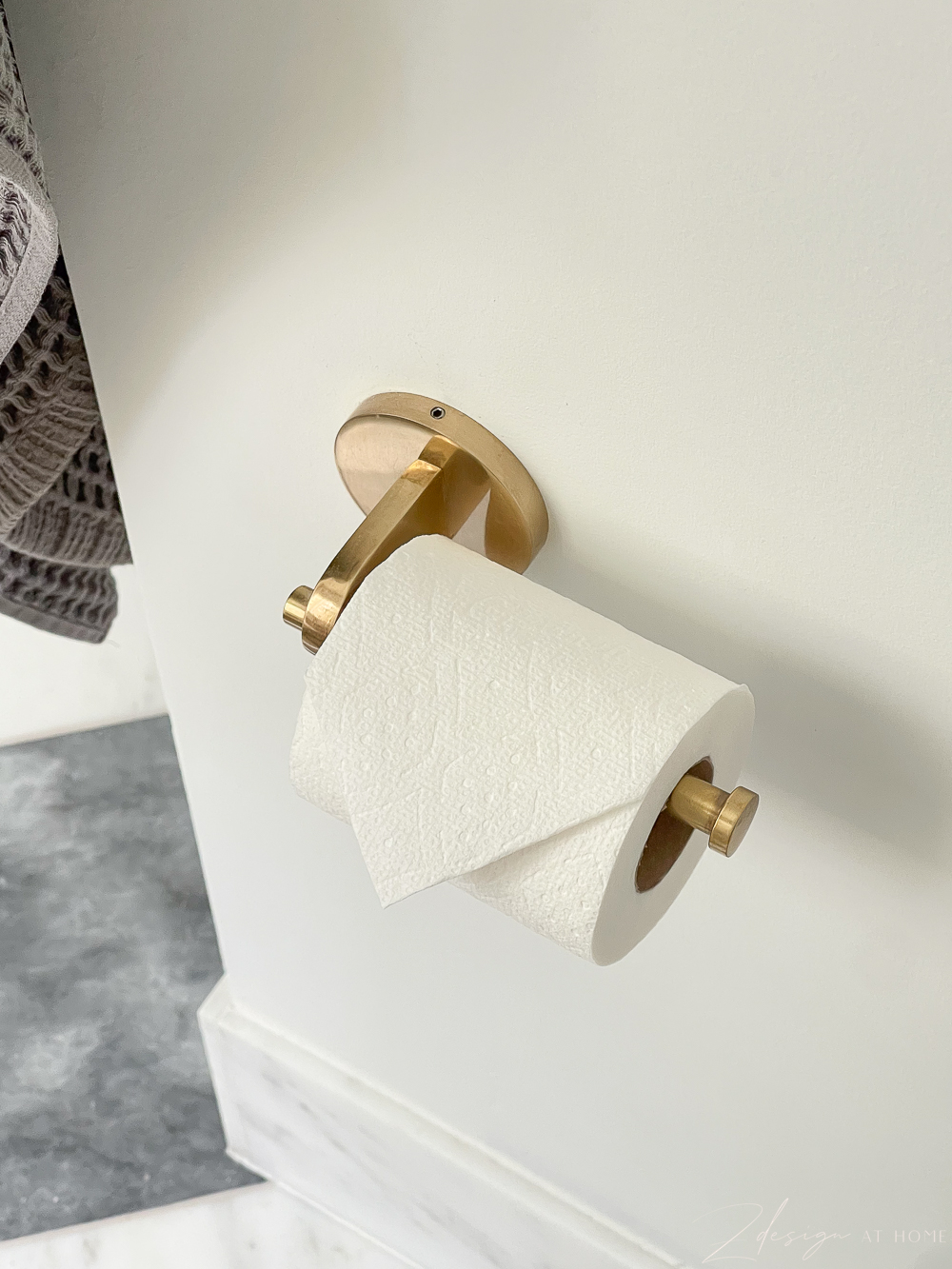 For the shower tile we used a Zellige tile in a soft white that we actually brought over from our Houston home (that wasn't used there). I had to order more to finish the job but it was so worth it! I also knew I wanted a marble surround on the face of the shower and of course a marble threshold for this renovation. We used a 12×24 Bianco Carrara for this and my installer cut it length wise to make the marble go further. It turned out perfect I think! The marble surround is 3 3/4″ wide and the threshold is 4″ high.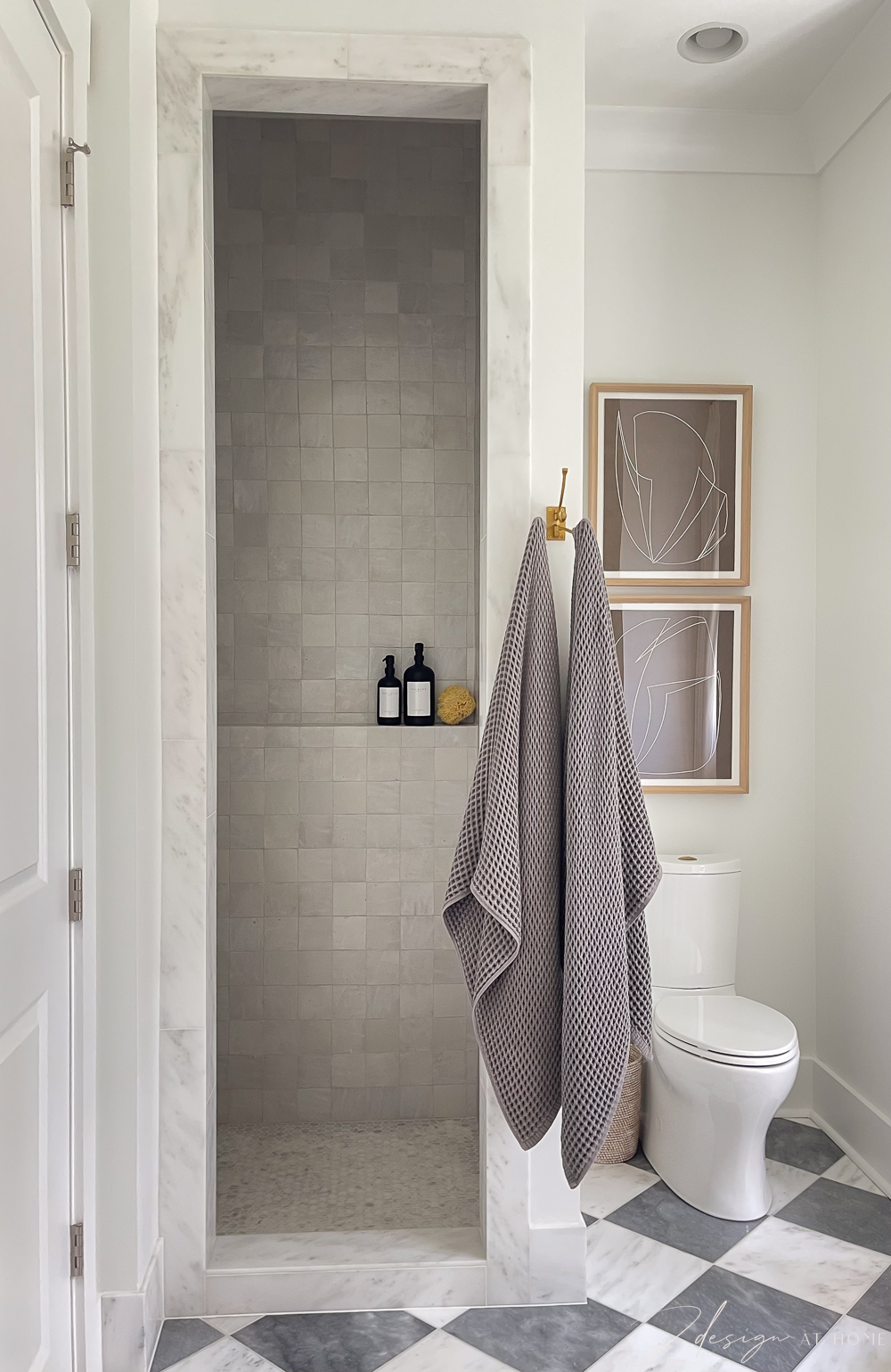 I really love this gold swivel 3 prong towel/robe hook to hold our waffle weave bath towels. The soft white Zellige tile is just perfect – I don't think I could ever get tired of this tile or this shower! These are my favorite shampoo bottles that also come in white and other finishes.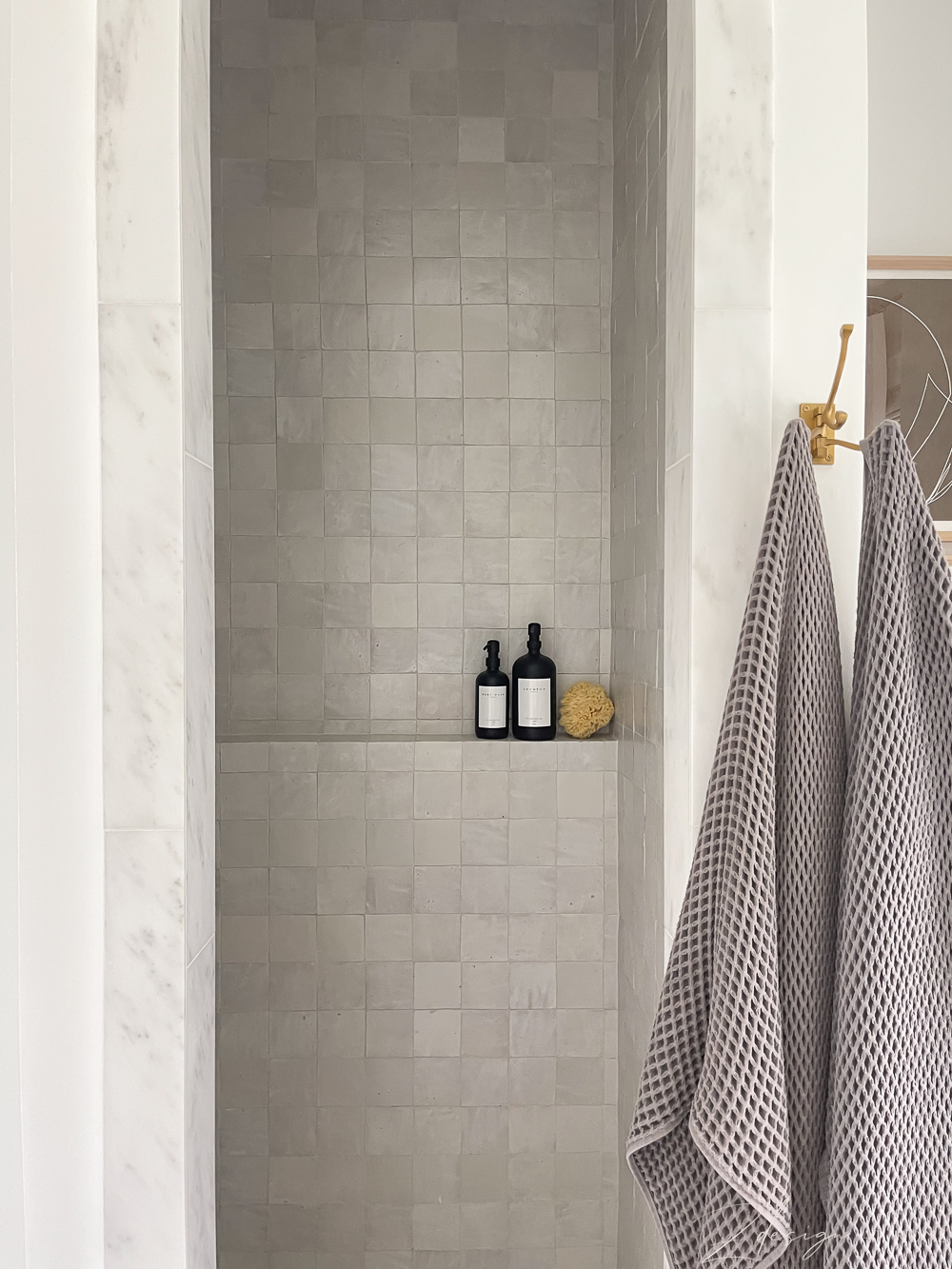 On the shower floor I used a Bianco Carrara marble penny tile.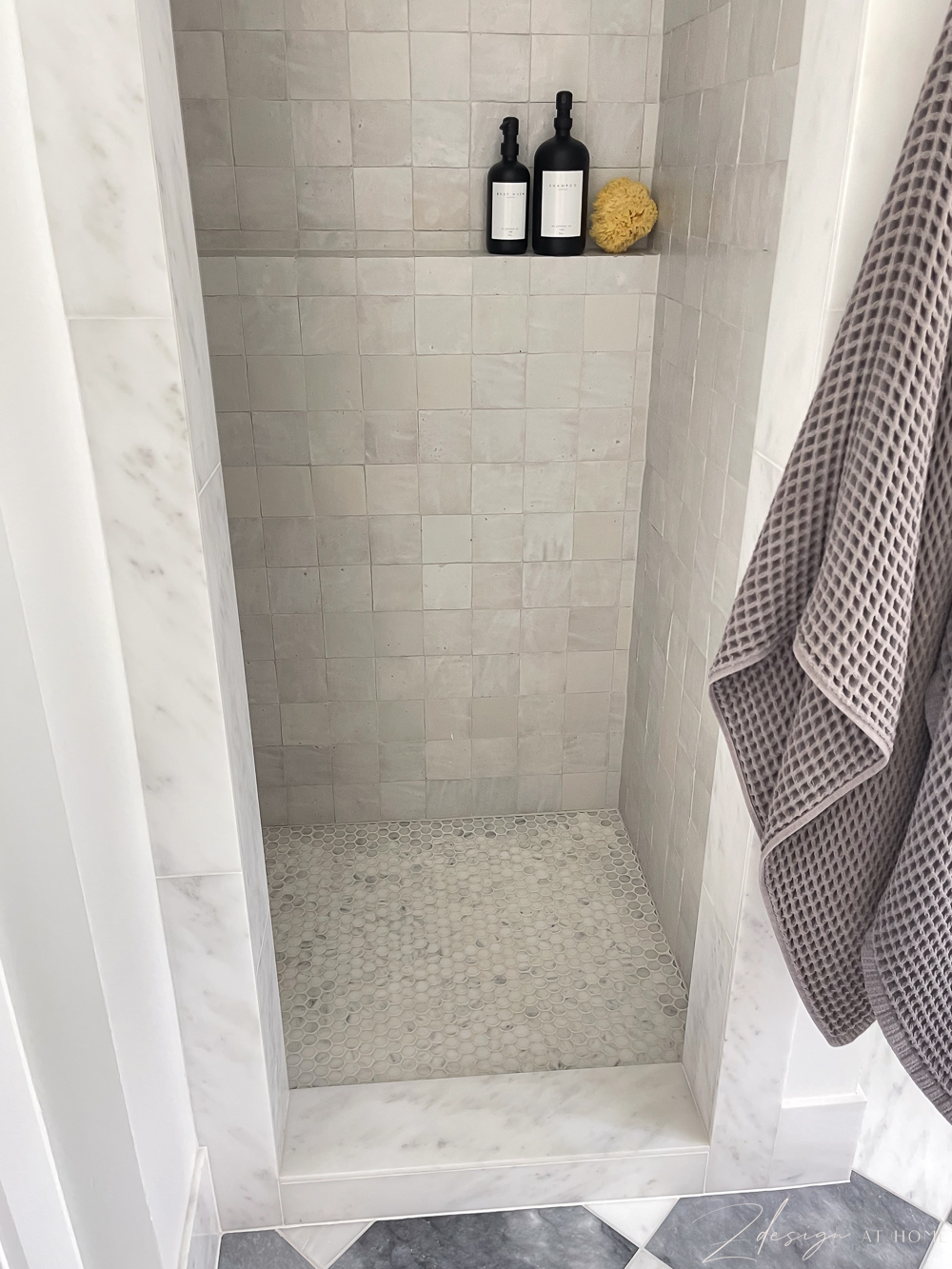 I designed the shower with a ledge and foot niche (for shaving your legs if this is new to you). I did the ledge for a different look from the typical shower niche for shampoo bottles. The ledge itself is 4″ deep but the tile is thick so it takes up about 1/2″ to 3/4″ of the ledge, but that's still enough depth for large shampoo bottles. The foot niche measurements are roughly 3 1/2″ high x 7 1/2″ wide by about 3 7/8″ deep. The Zellige tile is uneven and undulates so all measurements are close but approximate:).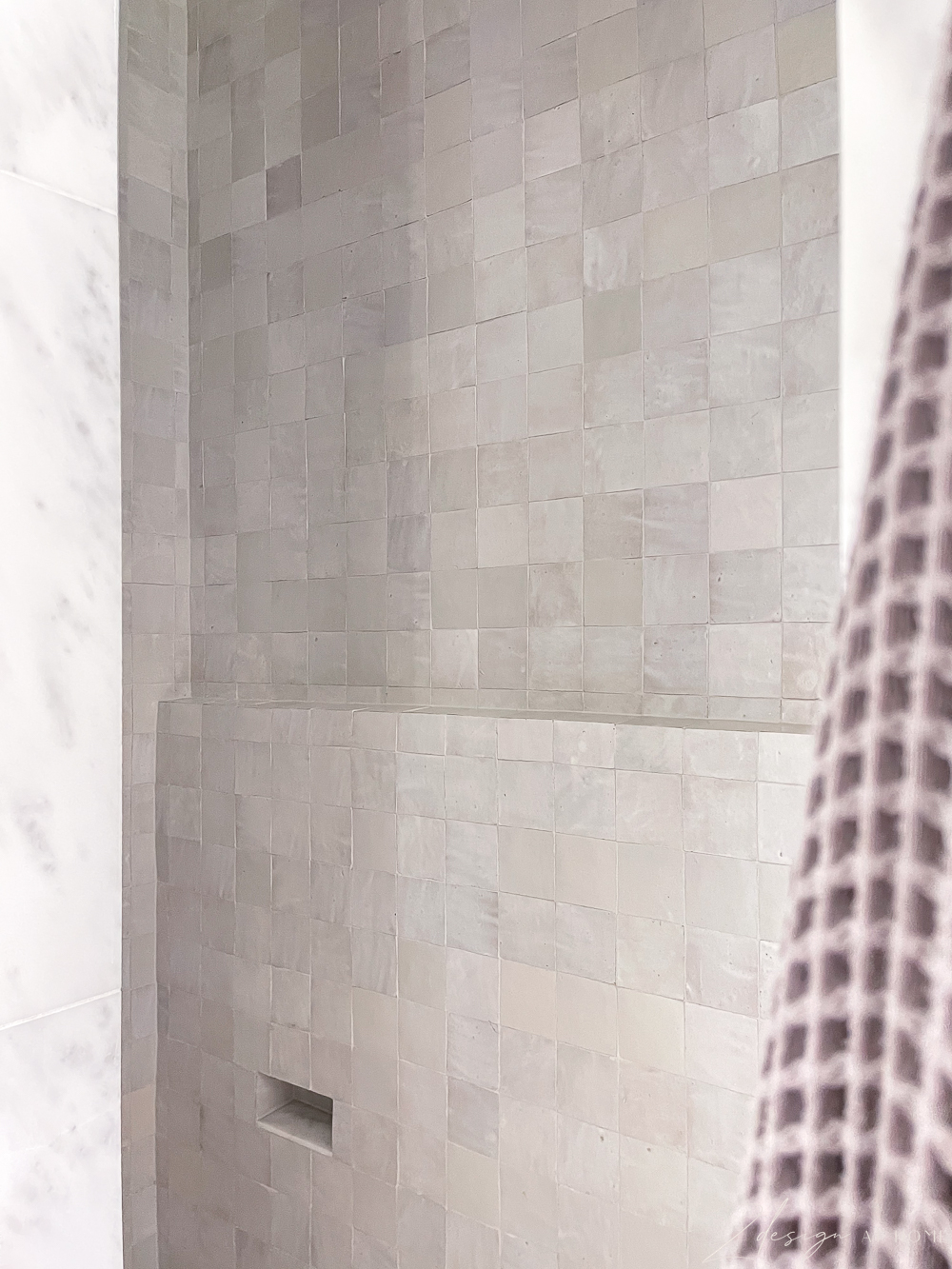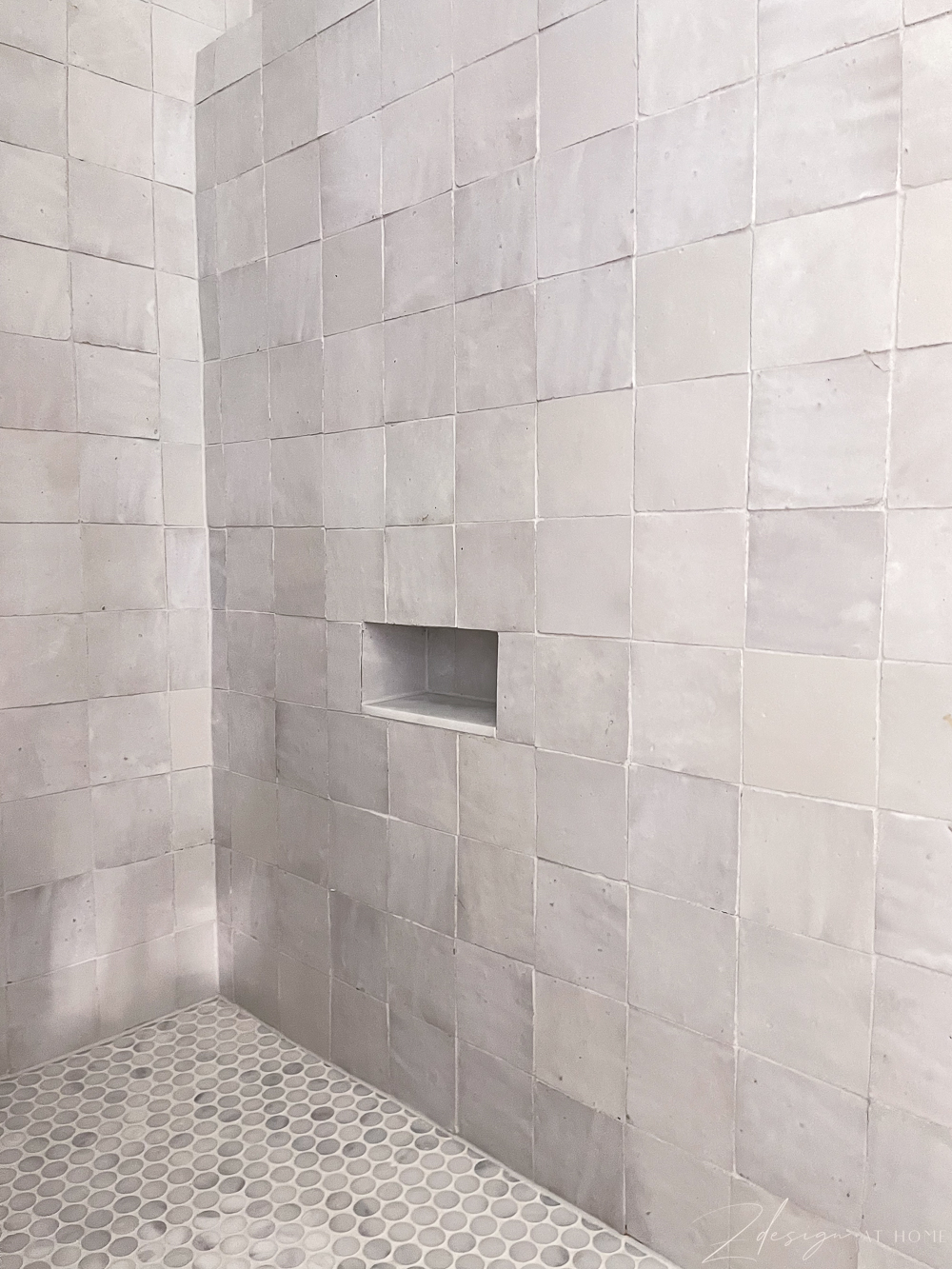 The shower after this point turns to the left and is almost impossible to photograph plus, I plan to replace the shower fixture (currently it matches the faucets) because I was in a rush when I purchased the shower trim and really we need a one piece shower system with wand so I'm currently looking for a different fixture. I'll update this post once I get that done so stay tuned:).
We absolutely love our newly renovated bathroom and have enjoyed this space so much! Here's a final look…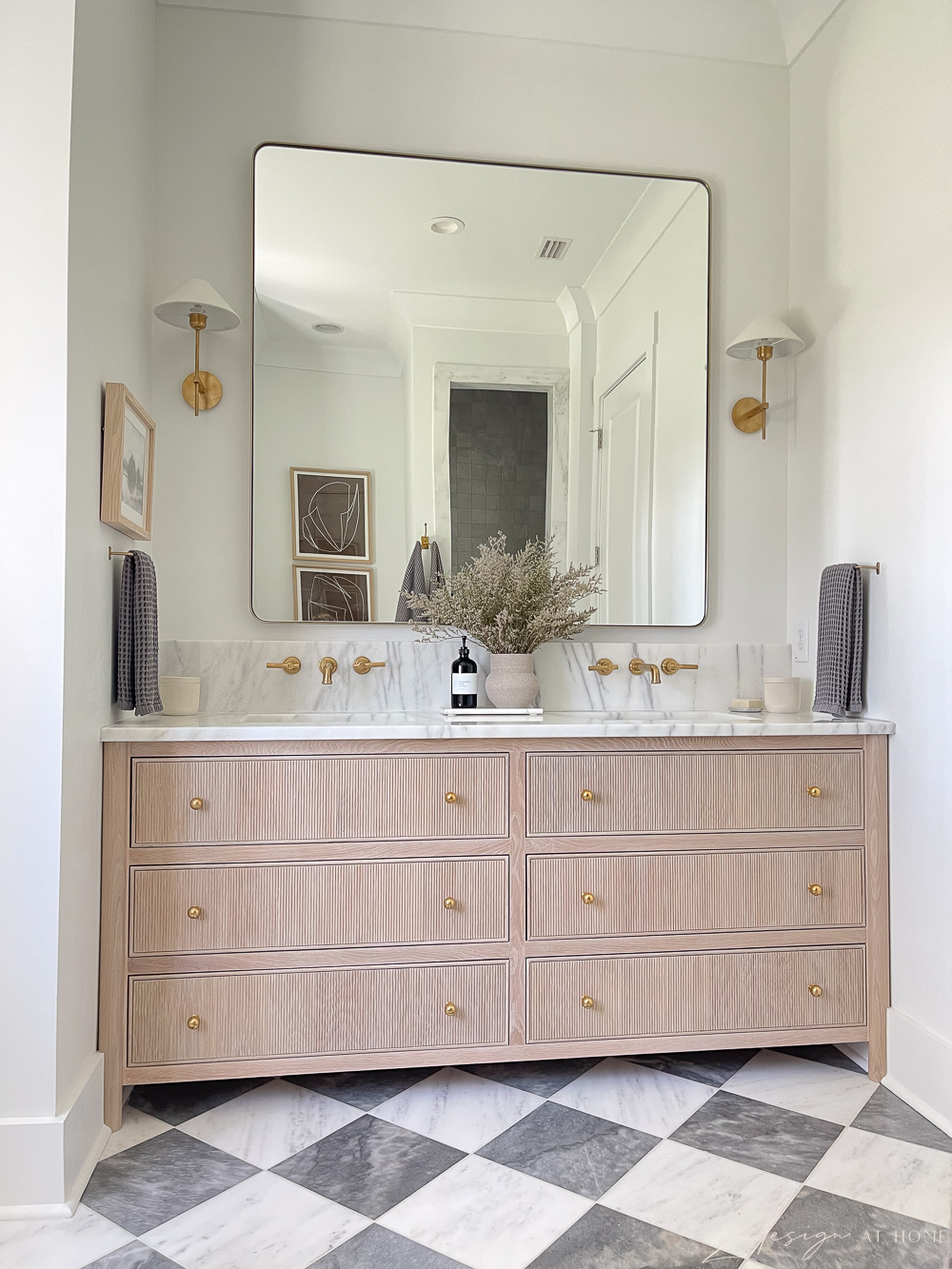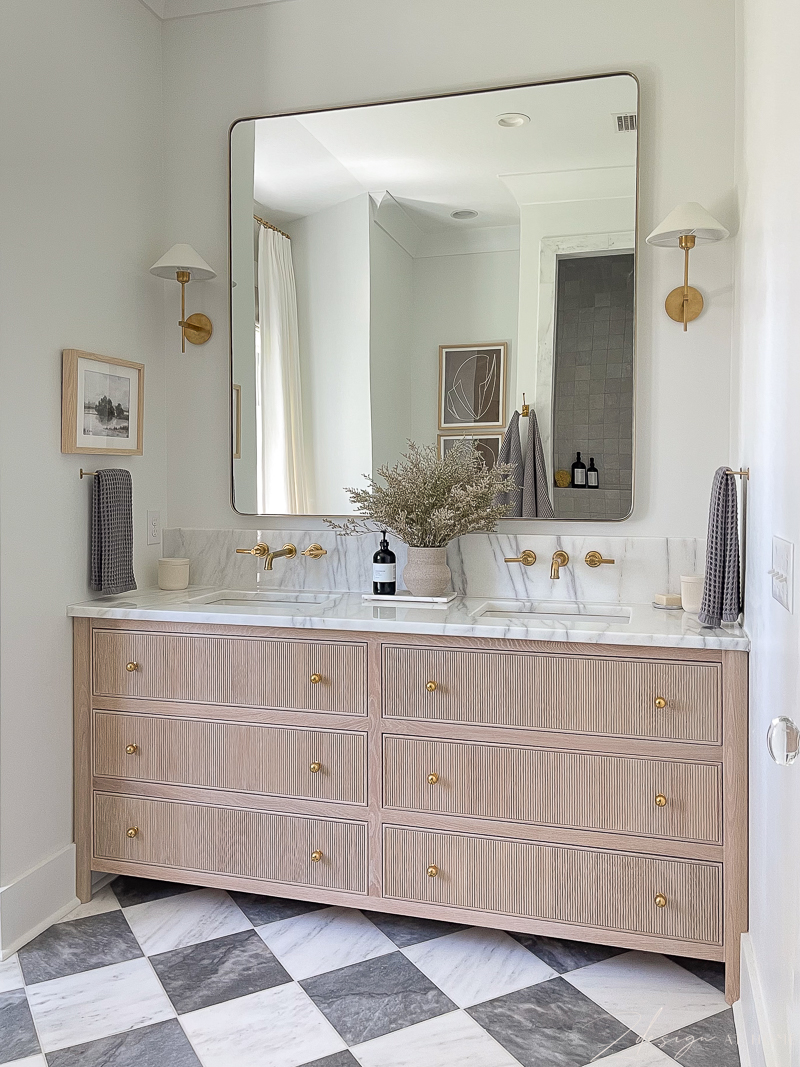 I hope you've enjoyed the tour of The Cottage Primary Bathroom Renovation Details & Reveal. Please leave any comments or questions you might have in the comments section below and thanks for stopping by!

The Cottage Primary Bathroom Renovation
Fluted Vanity – Custom |Faucets – Local | Similar Faucet | Unlacquered Brass Ball Knobs | Mirror | Hand Towel Bar | Waffle Weave Hand & Bath Towels | Canisters | Marble Tray | Hand Soap | Dried Florals | Sconces | (Similar) Gray Bardiglio 12×12 Tile | White Honed Bianco Carrara 12×12 Tile | White Binaco Carrara 12×24 Tile | Honed Marble Penny Tile | Zellige Tile in shower | Similar Blackout Shades | Similar Curtains | Similar Curtain Rod | Marble Side Table | Amber Bud Vase | Shampoo Bottles | Shower Sponge | Toilet Paper Holder | Kohler Toilet | Brass Dual Flush Actuator | Art Print 1 & Art Print 2 | Art Print Over Vanity | Gold 3-Prong Towel Hook | Handwoven Rattan Wastebasket | Shearling Petite Chair