ZDesign At Home Kitchen Reveal, Tour & Sources
Hello and welcome back for the next tour of many more to come!  Our Kitchen is finally DONE and it's time for the big Reveal!  Can you believe it!?  We've been in our new home exactly 8 months and I couldn't be more excited to share it with you so hold on for the ride.  I have lots of photos in this one so I'll probably be brief with comment except to explain about our cabinet stain and a few other fun things!  If you missed it, you can catch our entryway tour HERE and our Laundry Room Tour HERE.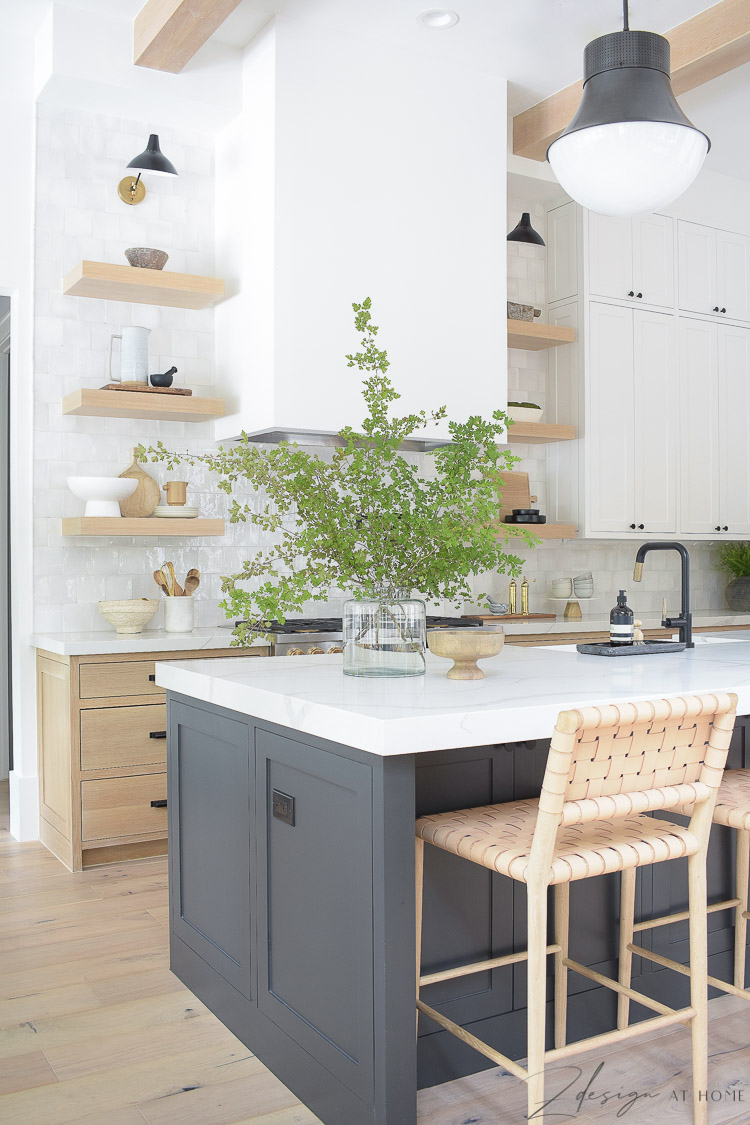 Designing this kitchen was a massive labor of love!  One of the biggest comments I receive about it is the use of three cabinet colors.  This decision was a HUGE risk but I think it paid off.  We love it and it's somewhat unique in that regard I feel!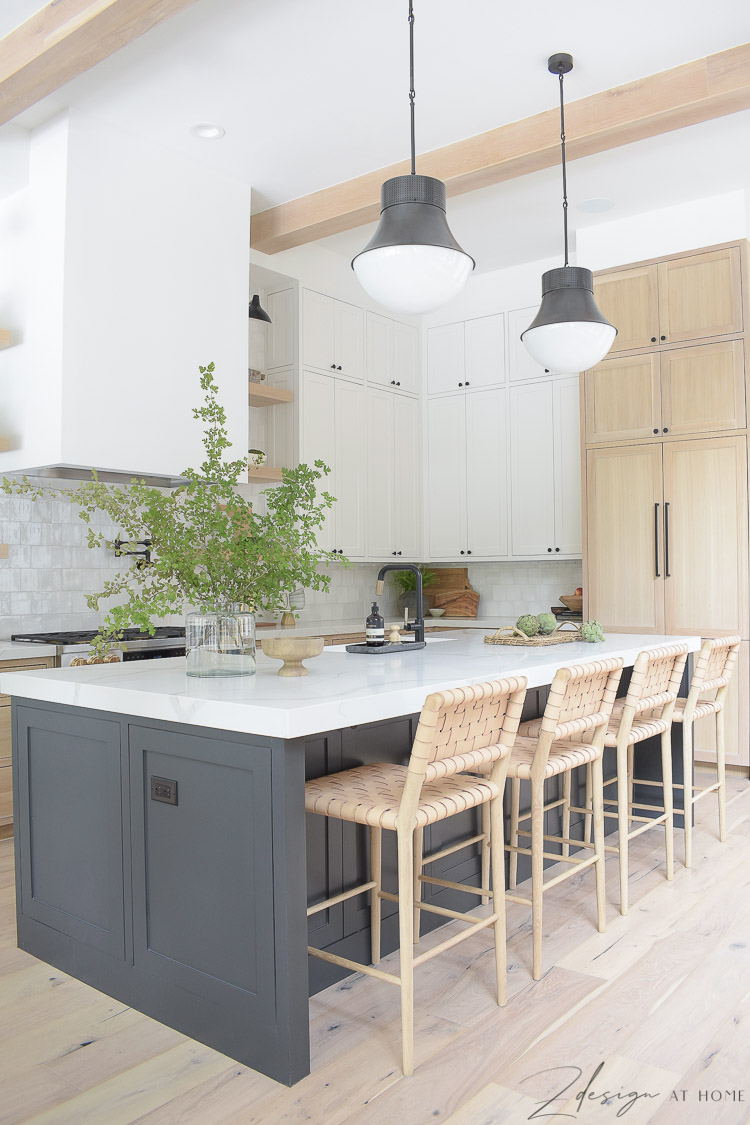 I didn't want this kitchen to look like any other kitchen which nowadays is so hard, and I knew I wanted a black island and the rest of the cabinets to be white oak but, to set it apart from the rest I had to do something a little different hence the black island, white uppers and white oak lowers.  And, all of the black hardware and plumbing fixtures tie it all together perfectly I think.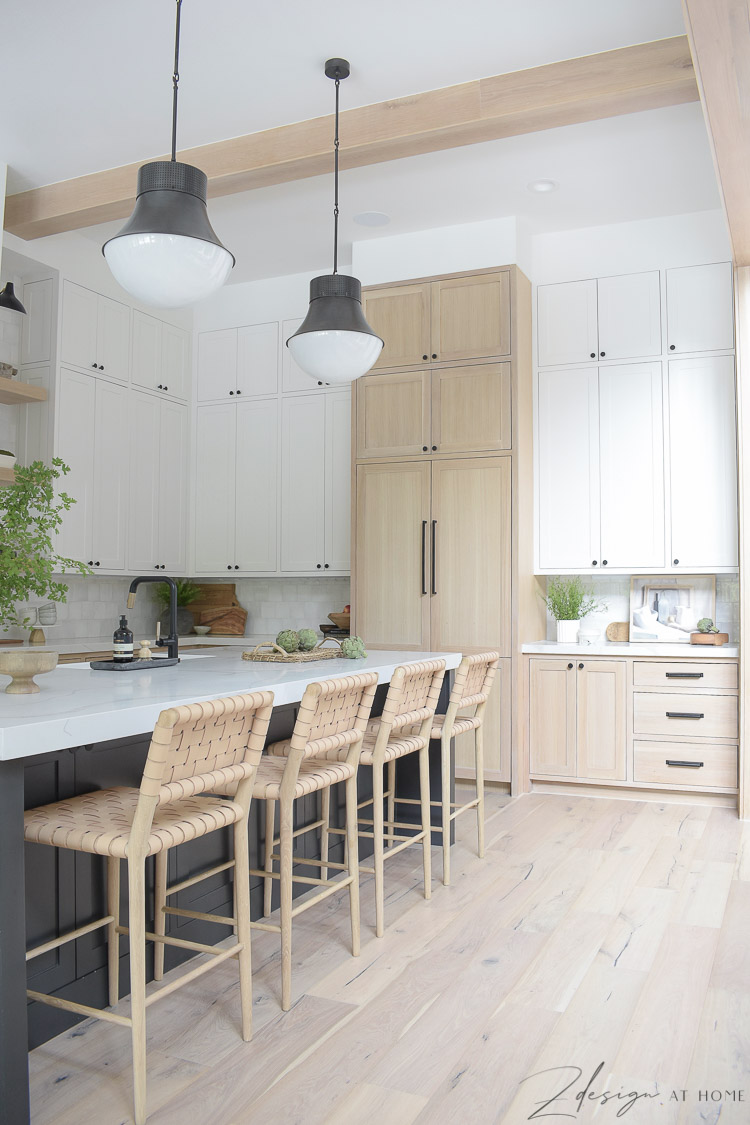 The contrast of the black hardware, lighting and plumbing fixtures really tie it all to the black island and the black fireplace wall (HERE) in the living room that is adjacent to this space.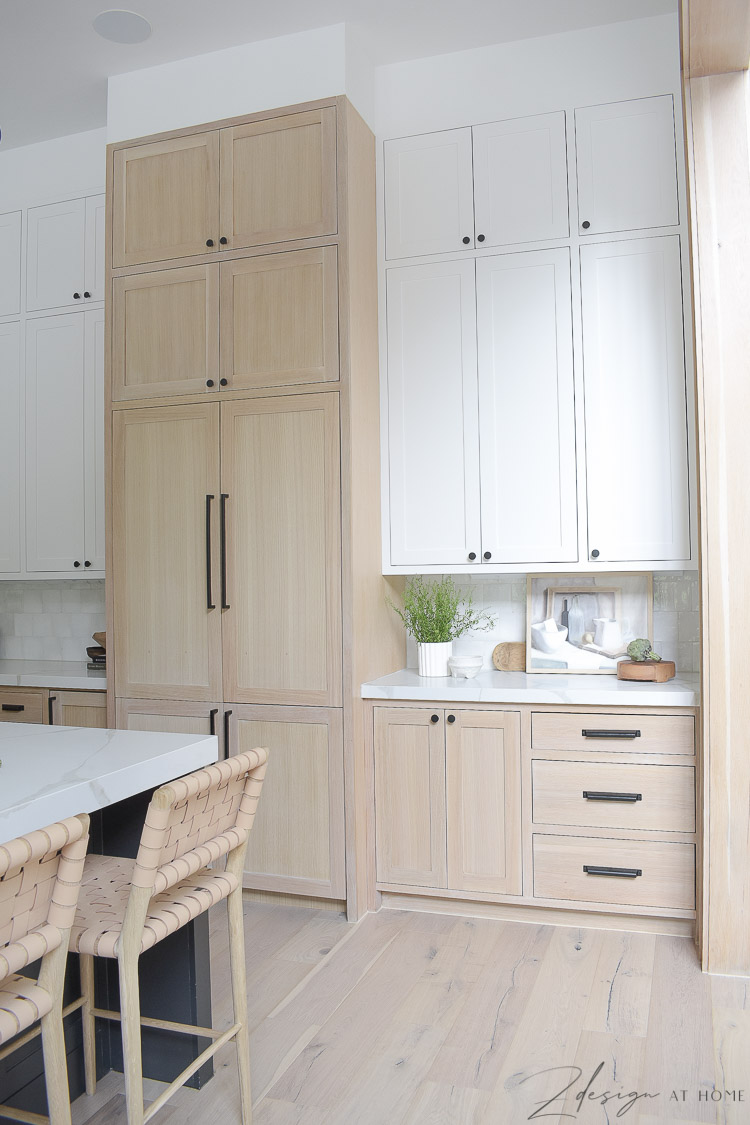 Styling these countertops has been so fun!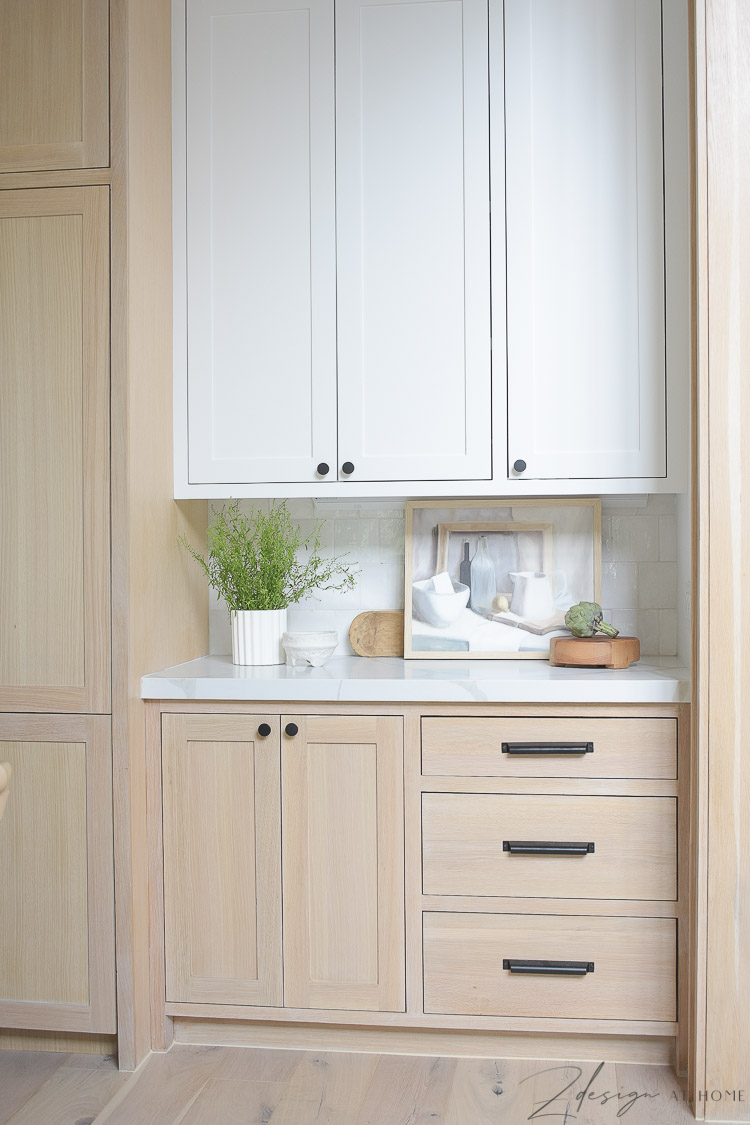 Our fridge is by Dacor and is panel ready.  I took the white oak all the way up to the fur down for a more dramatic affect that ties into the white oak shelves on the other side of the kitchen and the box beams.  I used Emtek hardware for the handles.  The larger doors are 18″ and the smaller doors are 12″.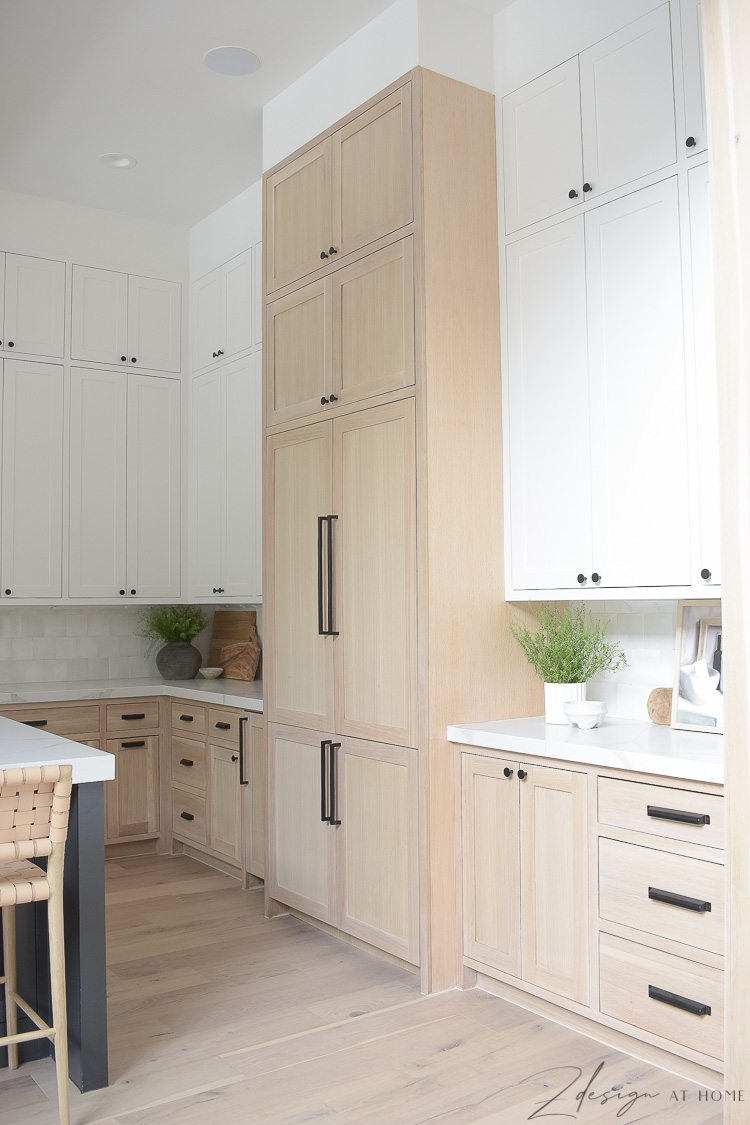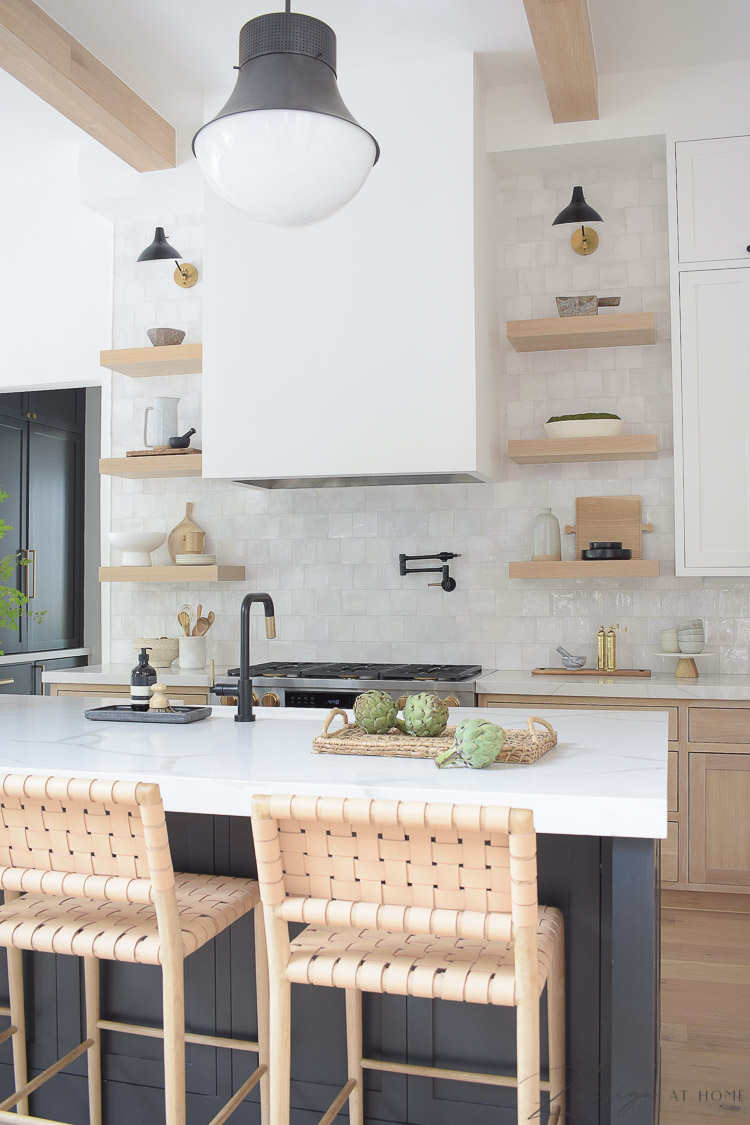 I really love these shelves.  They're a solid three inches thick and have been so fun to restyle over and over!  They were made onsite by our cabinet maker but I found some HERE that are very similar and available in different sizes and stain colors.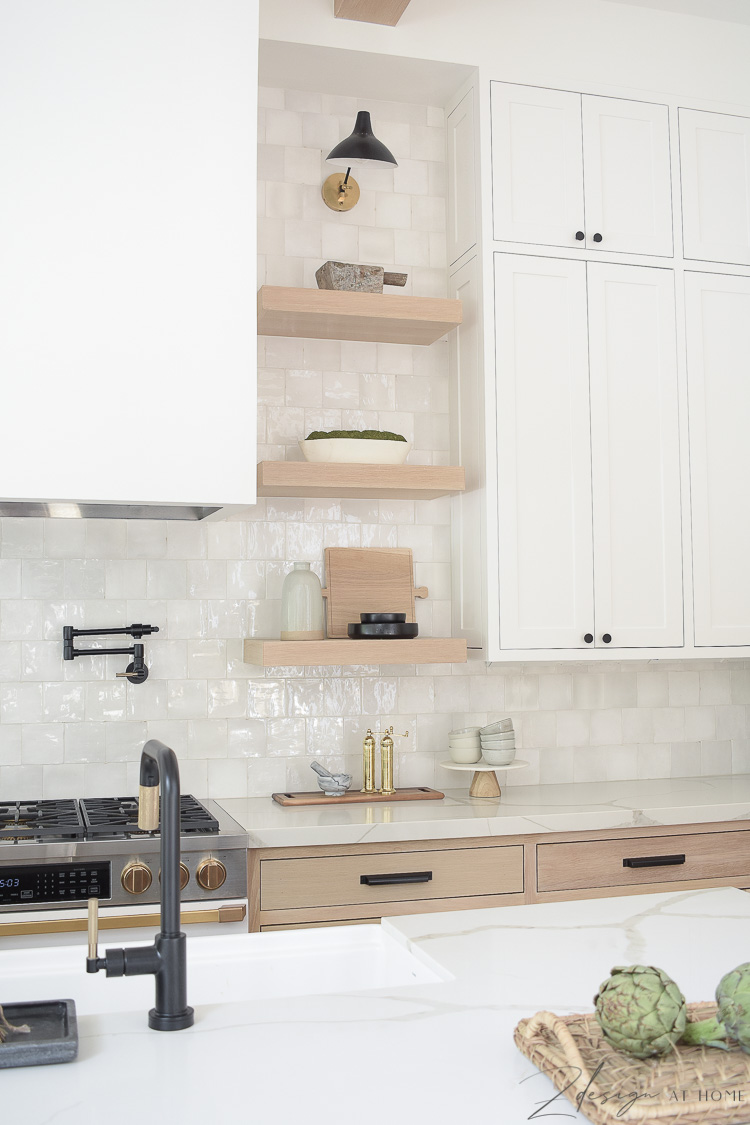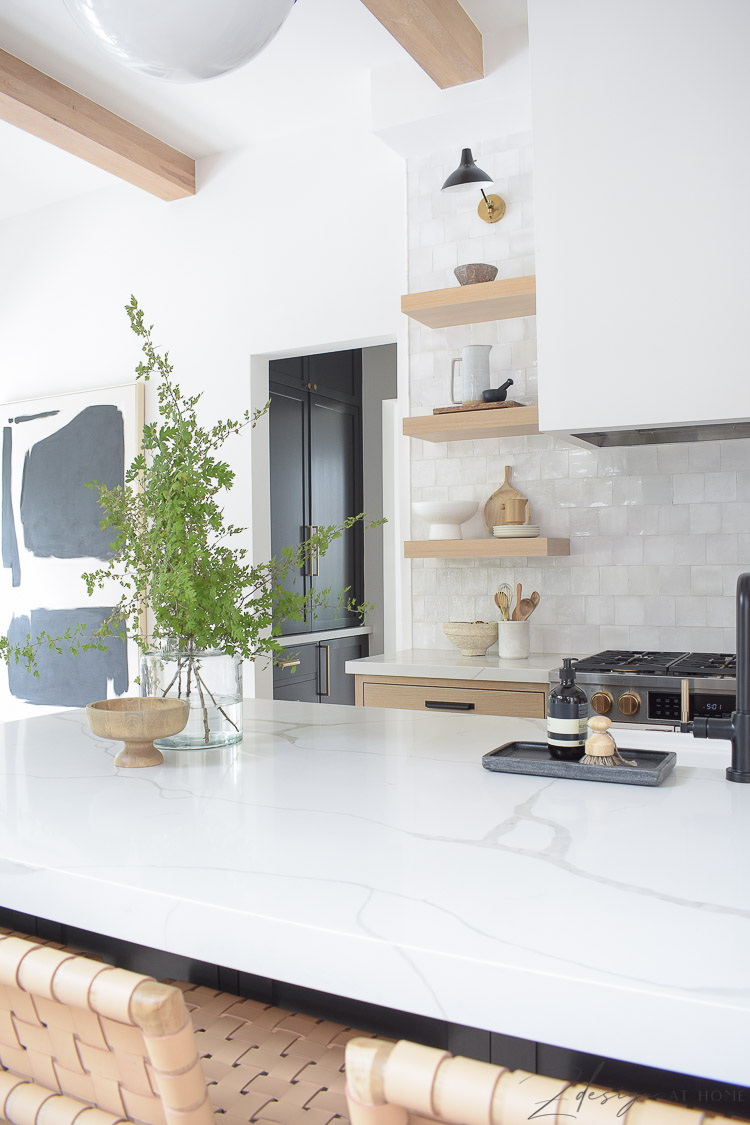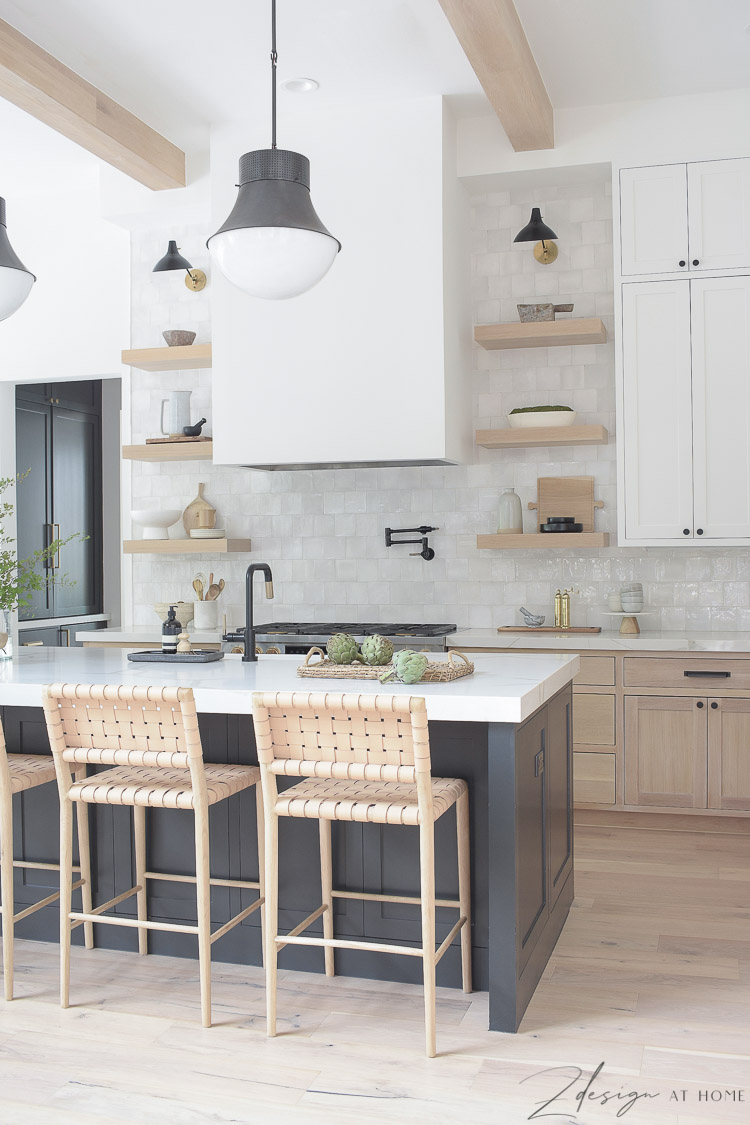 The backsplash is my absolute favorite thing in our kitchen!  At first I had planned to take the countertops all the way up the wall but the material they use to do that with wasn't matching up to the countertops just right so in a last minute spin I chose this 5×5 ceramic tile.  It's made to look like the authentic handmade Zellige tile but I actually like it better because it's not as uneven which works better with my OCD design brain.  Each tile however varies a little from the next and you will see some variation in shade from white to a very light gray.  And it's much less expensive than the real thing which is always a plus!  You can find the tile HERE.  I love that it almost has a glossy glaze to it that dresses up the space and I chose to do a butt joint with a skim coat of grout over it to fill in the cracks.  I used bright white for my grout color.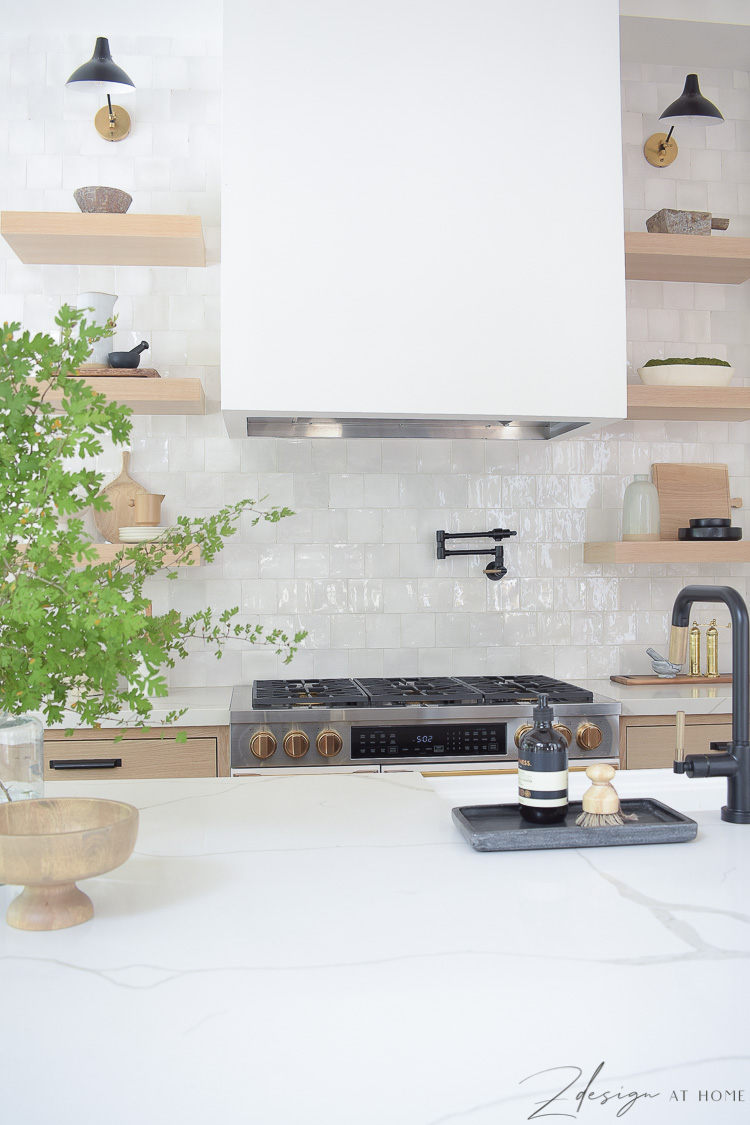 I love that it's still a little uneven to give it that authentic feel but here's a fun (not so fun, haha) fact….I actually did purchase the authentic Zellige tile from CleTile and even though I purchased it in white, when it arrived it came off as very, very gray so right now it's sitting in my attic since unfortunately it just wouldn't work – boohoo (yes I even ordered several samples of the white)!  But no worries, I'll get around to using it at some point I'm sure.  I may redo a shower upstairs that I'm not crazy about the way it turned out or use it in my powder room downstairs as an accent wall behind the vanity.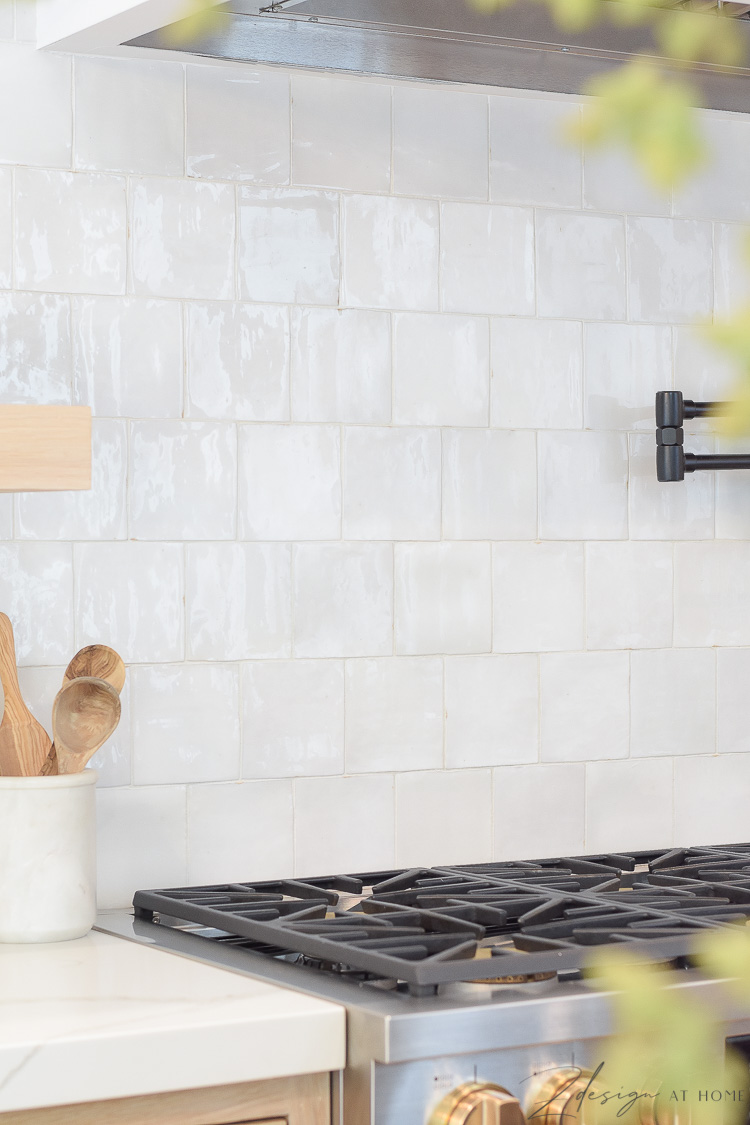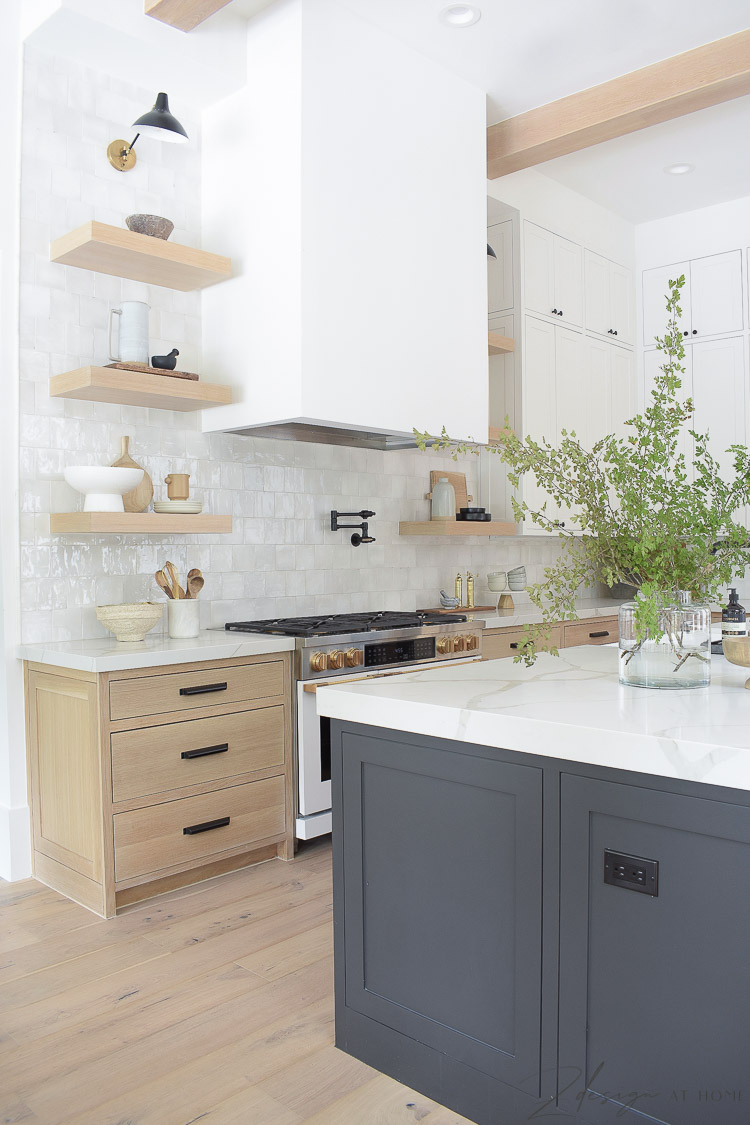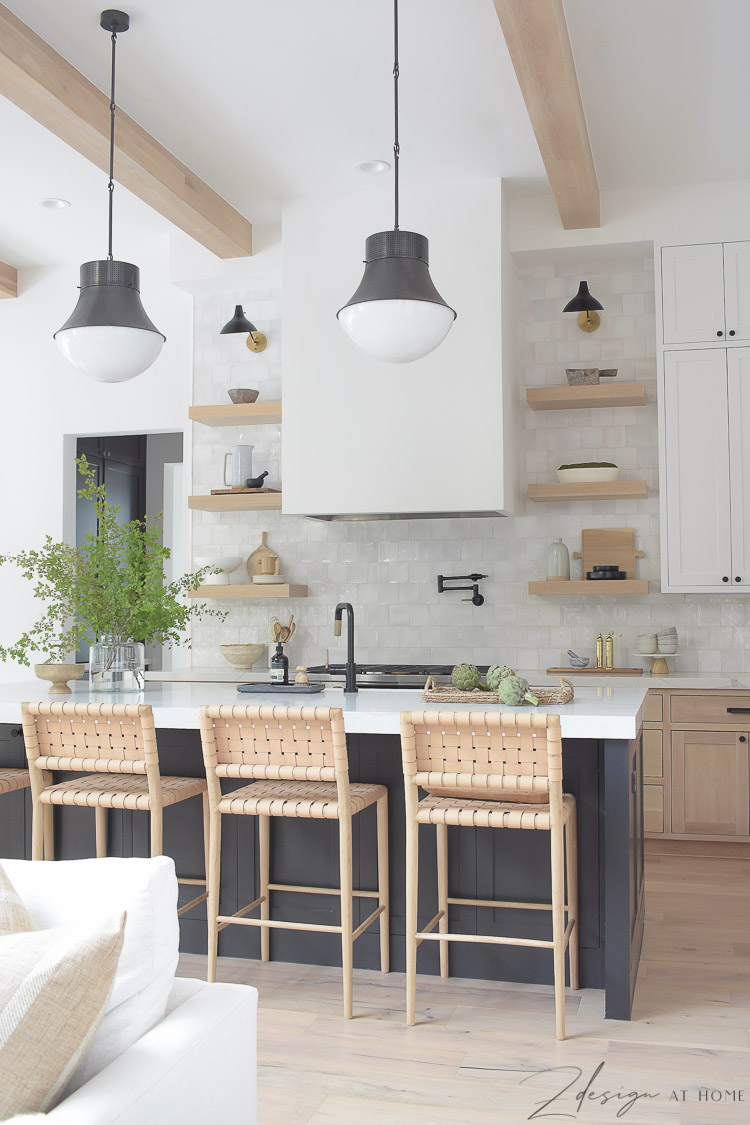 I've had a ton of questions about our range hood..it's literally just a simple box wrapped in sheetrock and painted white – nothing more!  I love how simple it is and so glad I did this, and it was super affordable too as far as range hoods go.  There are so many other things going on in this kitchen that it becomes a nice place for your eye to land and rest, and it allows the backsplash and white oak shelves to shine.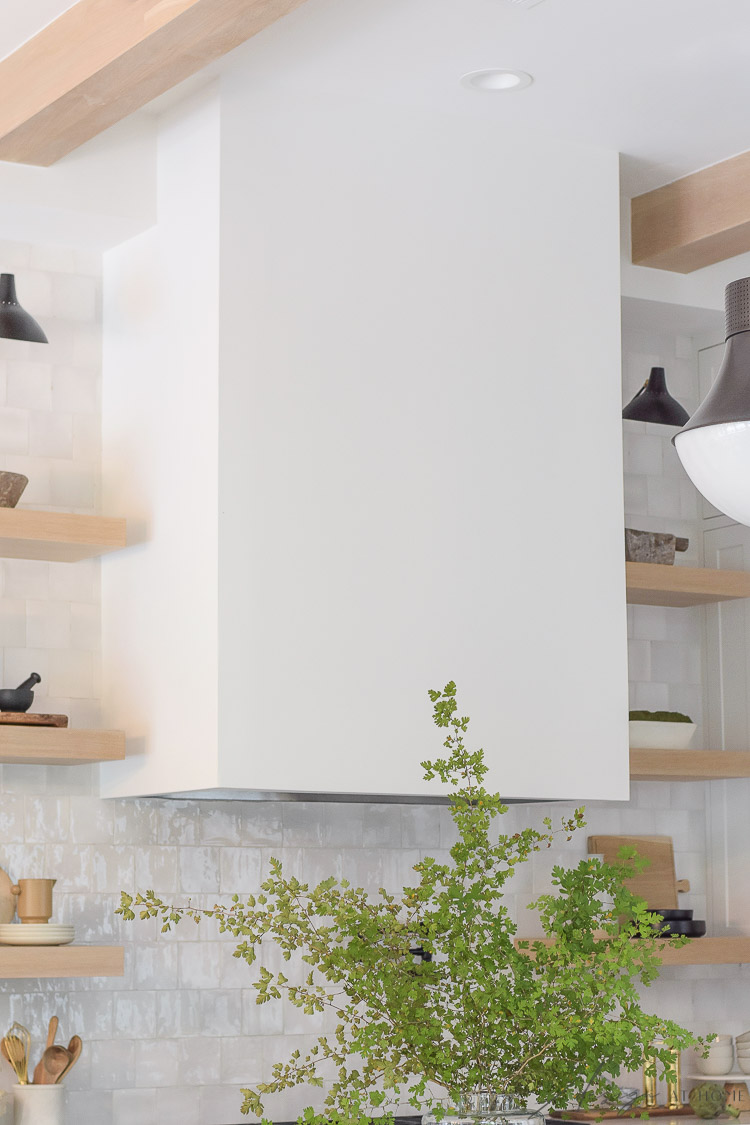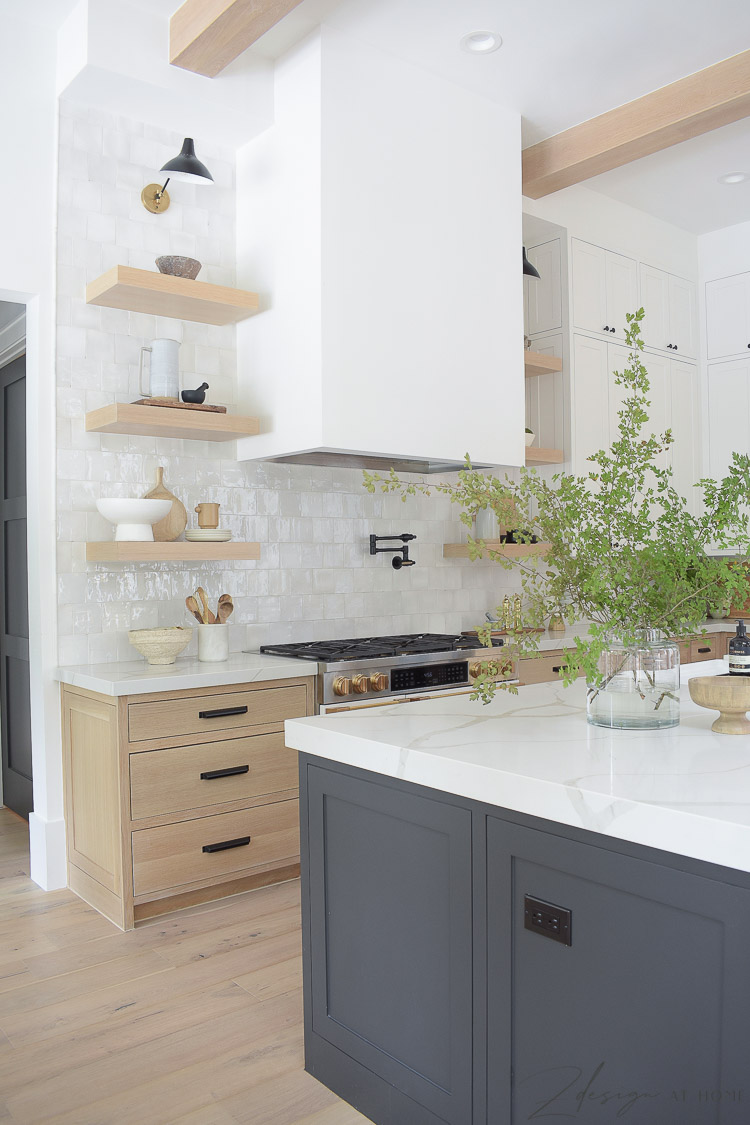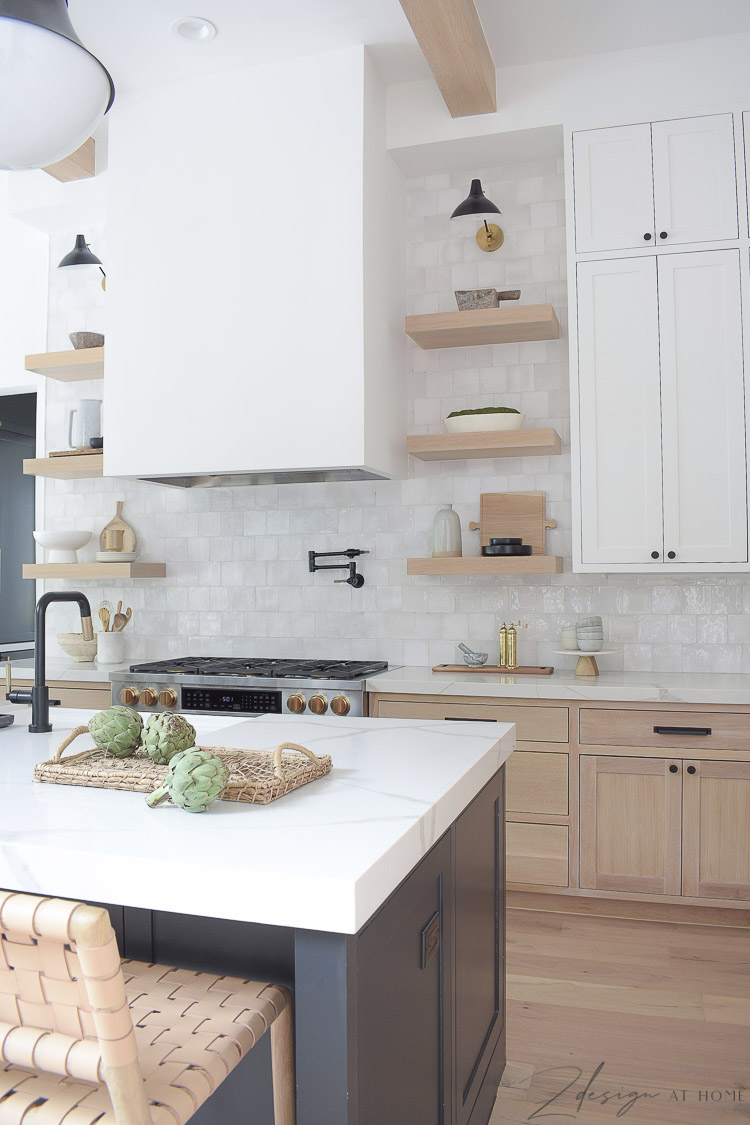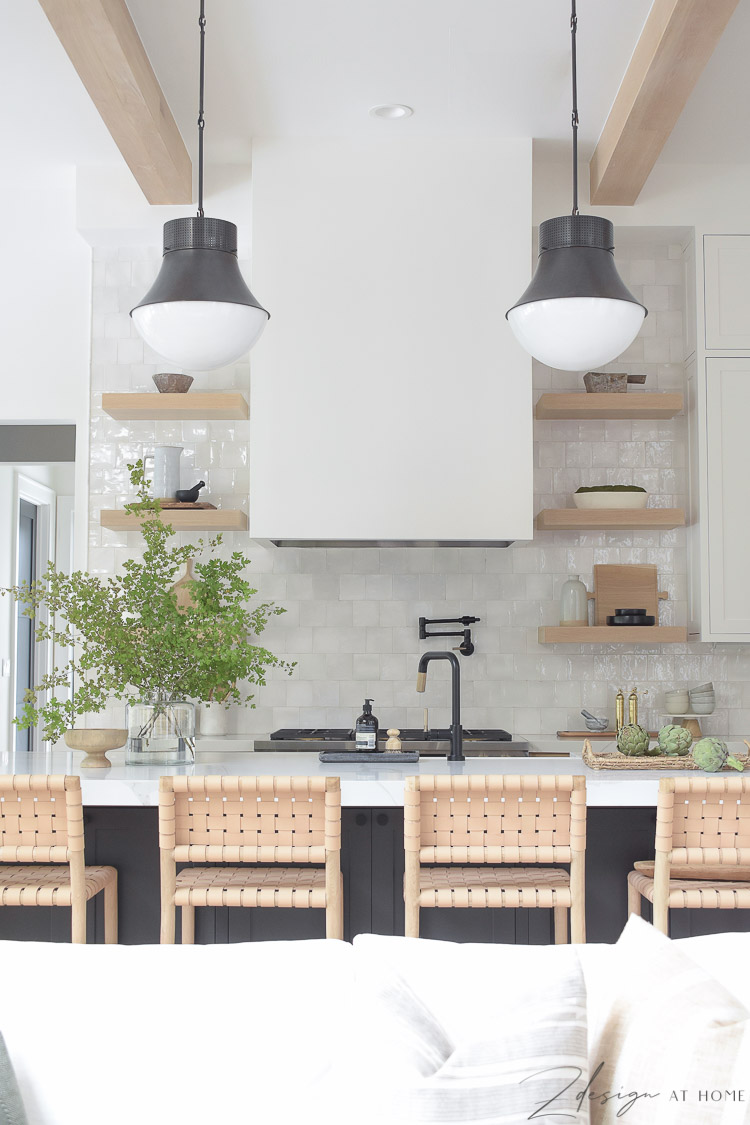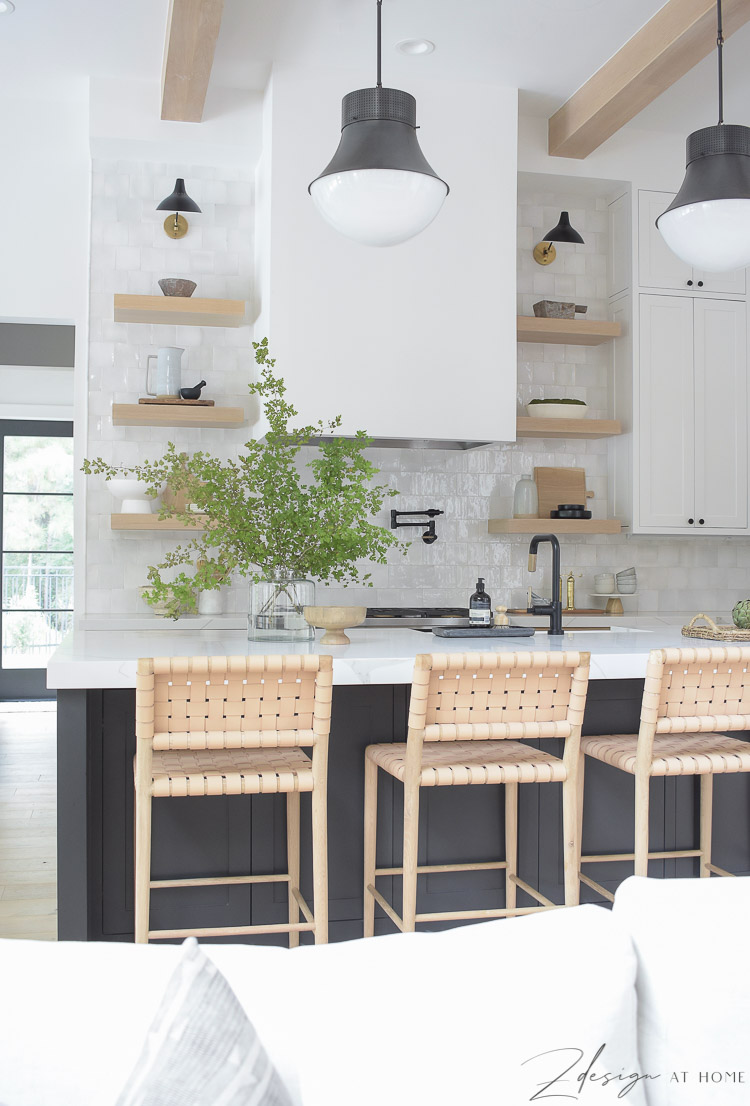 For pendants I chose the Kelly Wearstler Precision pendant.  Love these so much and they also come in brass.  It was a hard choice to decide between the two colors but the black works perfectly with the hardware and plumbing fixtures I chose (the color is actually called bronze).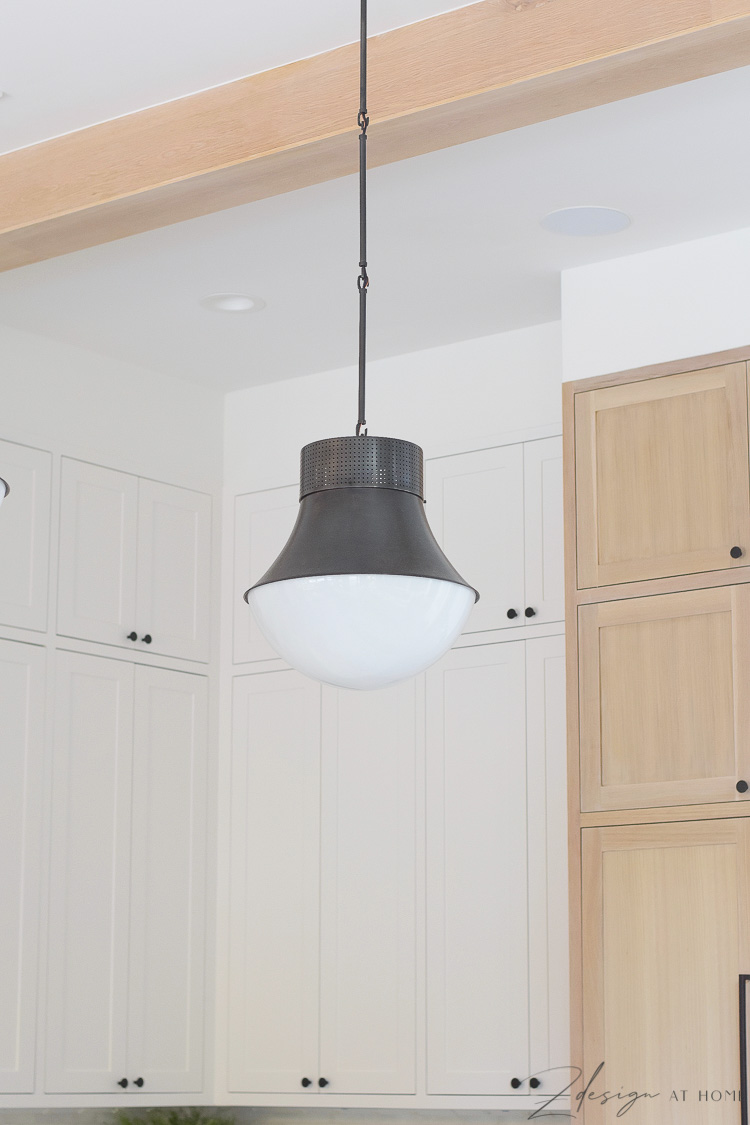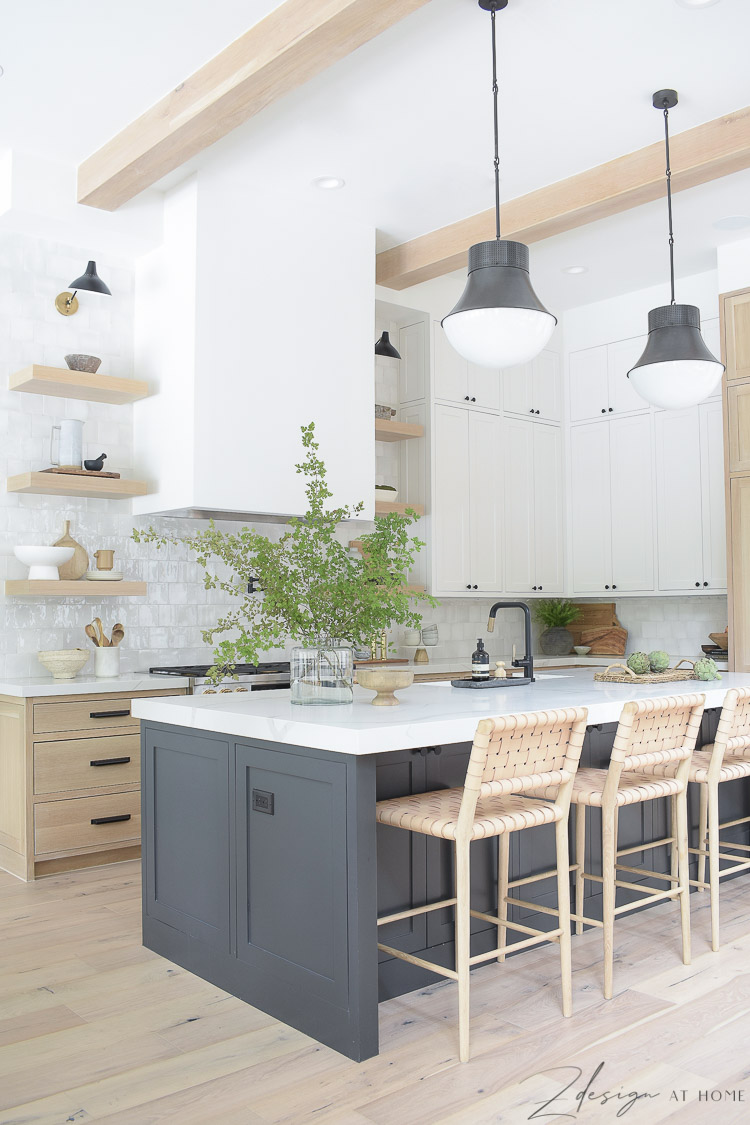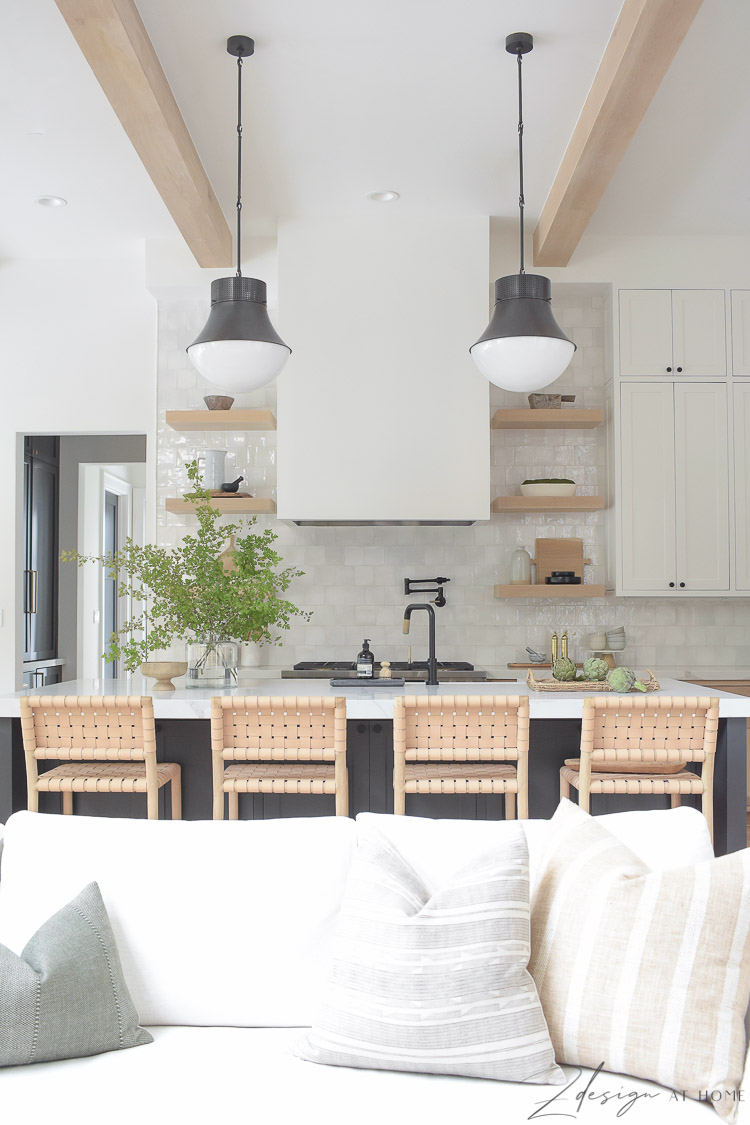 Our white upper cabinets are painted Sherwin Williams – Snowbound, just like the rest of our home.  We did inset cabinets and the hardware is by Top Knobs.  I did all knobs on the cabinet doors and these modern cup pulls on the drawers in varying sizes depending on the width of the drawer.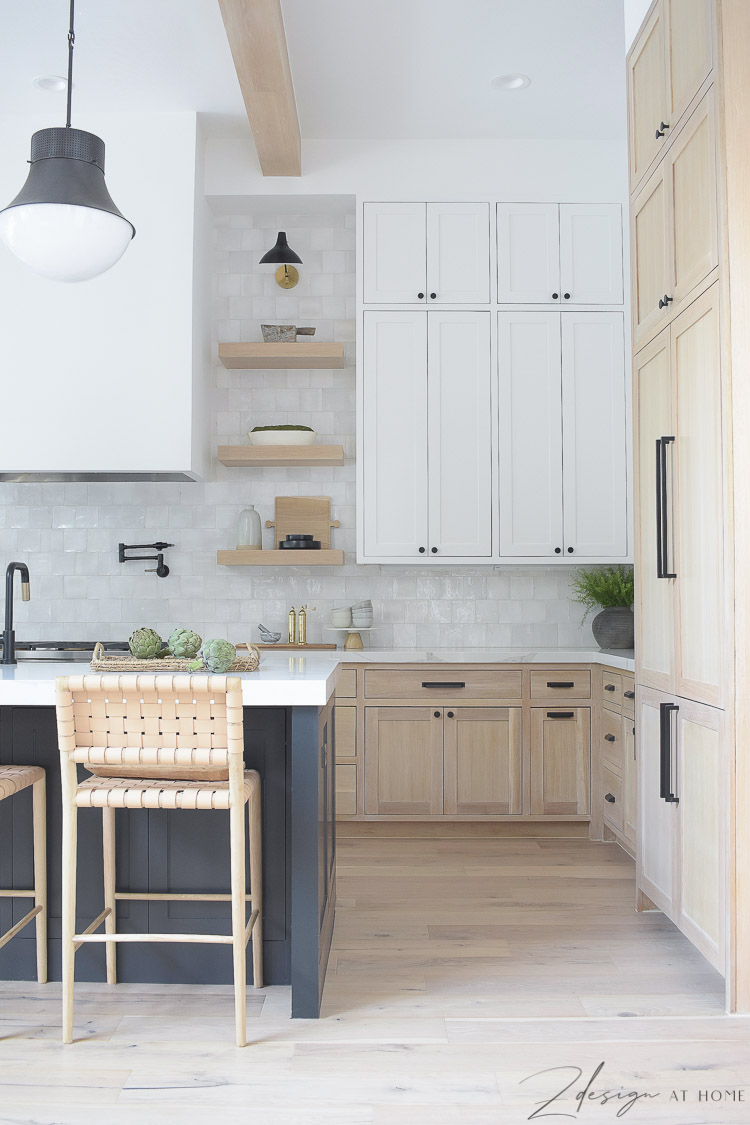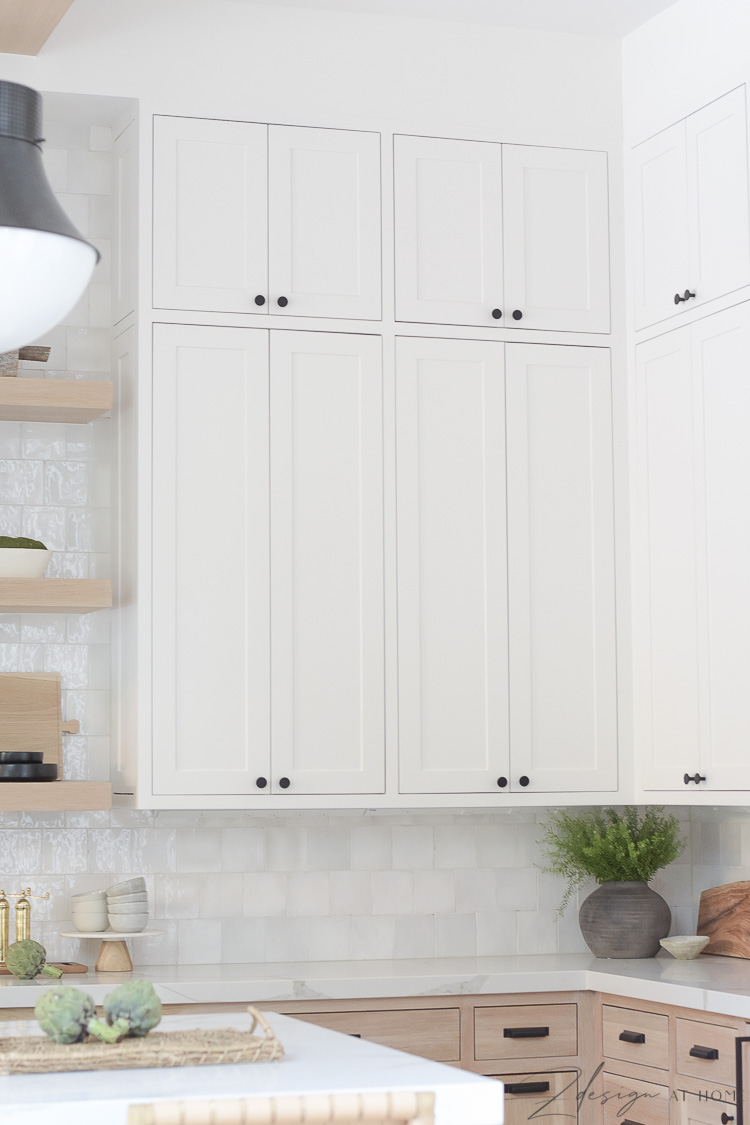 The other side of the kitchen…I'm still looking for just the right runner – it's a challenge, I'm sure you can relate!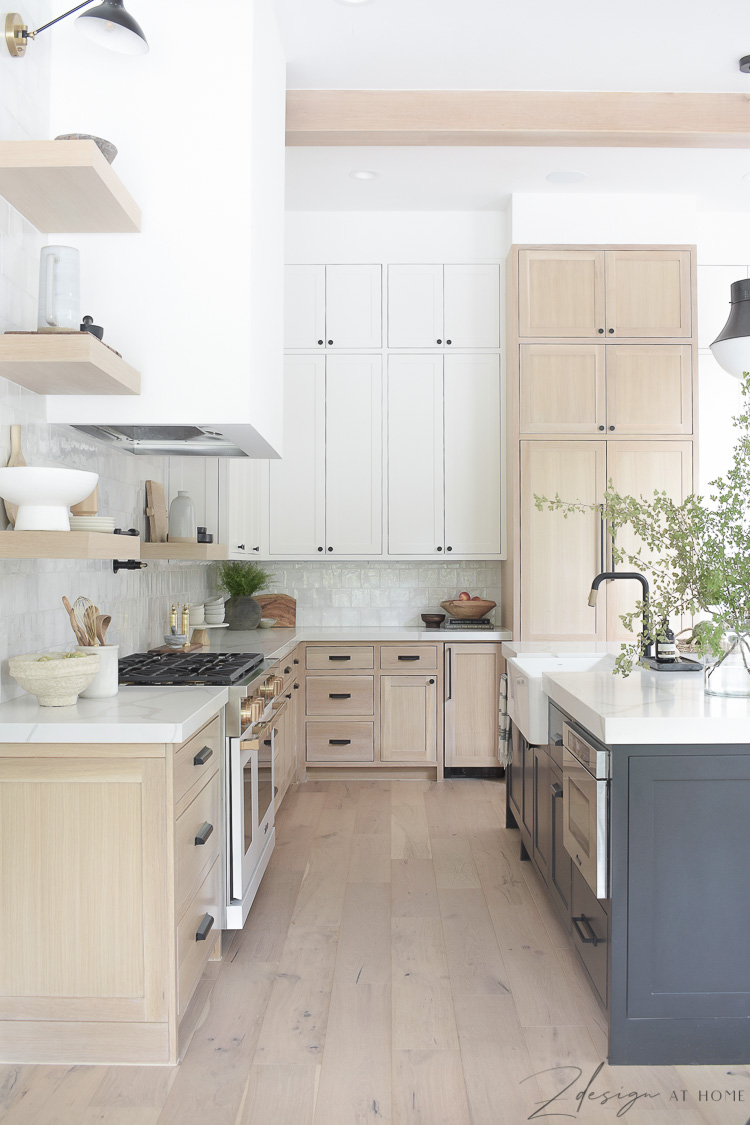 The island is painted Sherwin Williams – Iron Ore, just like the rest of the black in our home.  It's a soft black and a nice way to introduce yourself to black paint if you have been wanting to try this trend.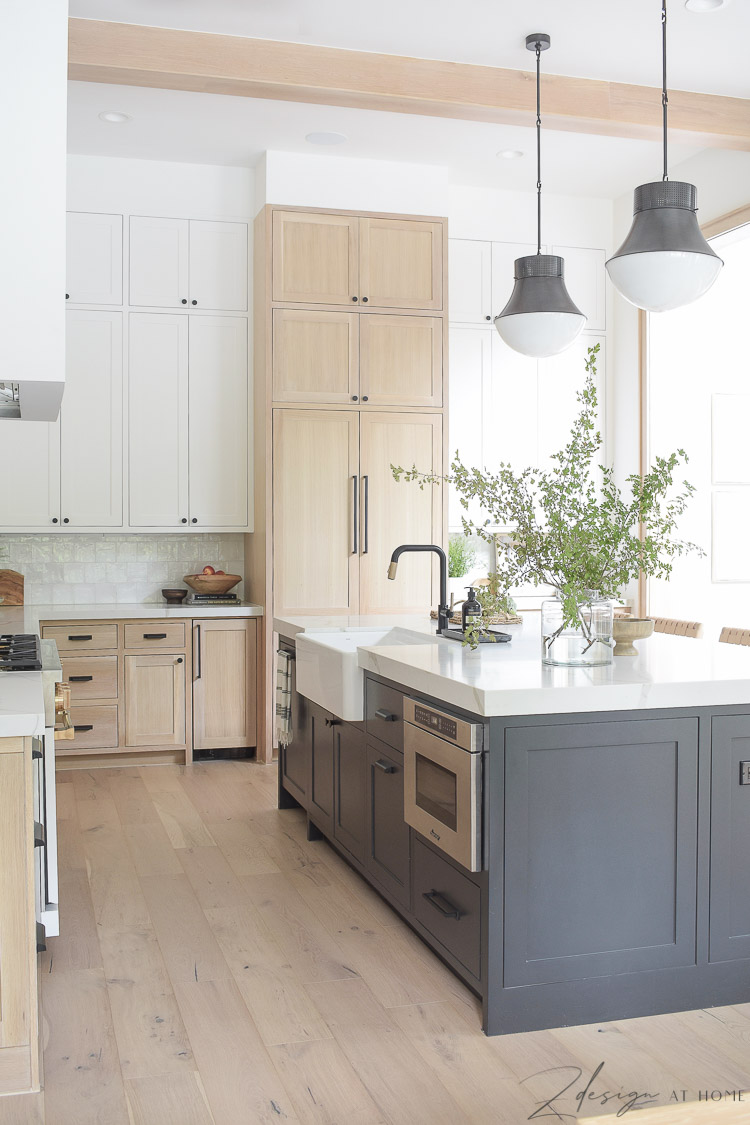 We chose the 36″ Blanco Profina Fireclay apron front sink.  I can't say enough good things about this sink.  It's amazing and makes a beautiful statement in the island!  And a BIG thank you to Blanco for providing it!  I also chose the Brizo Litze faucet for my kitchen, a different version of what I did in my laundry room.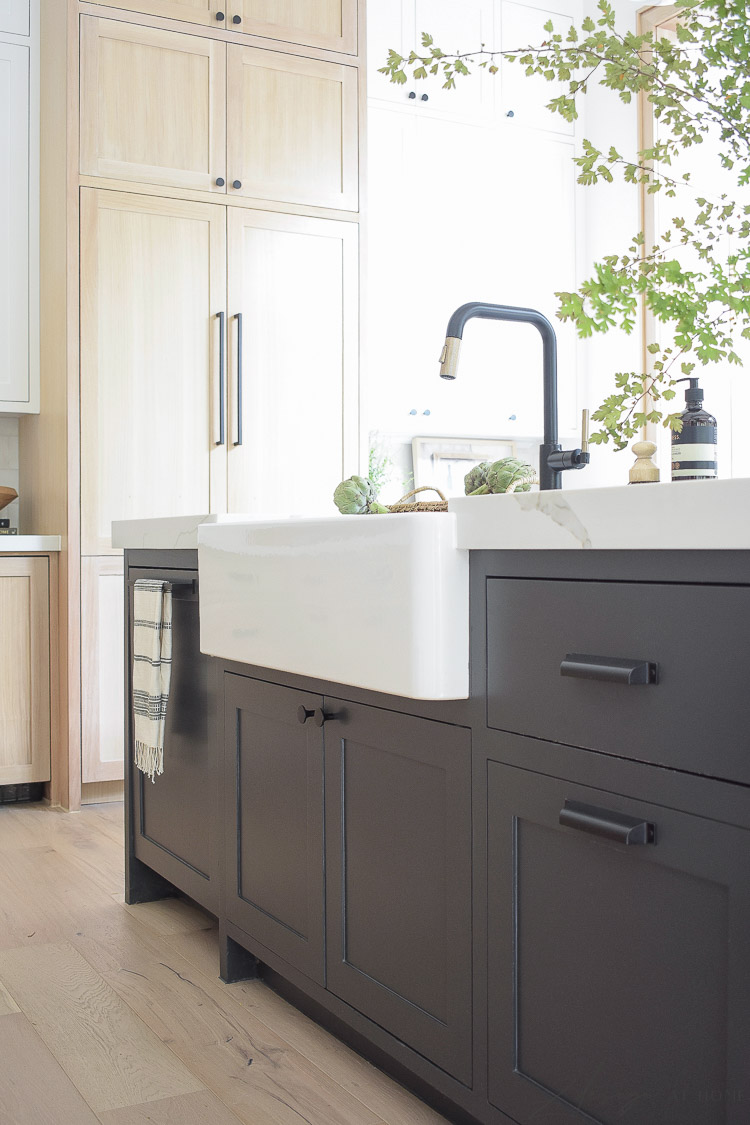 I thought I wouldn't like the black hardware on black paint but I actually love it!!  I considered going with brass hardware on the island but I've never been a fan of different cabinet hardware colors in one kitchen.  Our coffee bar and appliance cabinet have brass hardware but that's fine for me because it's just around the corner.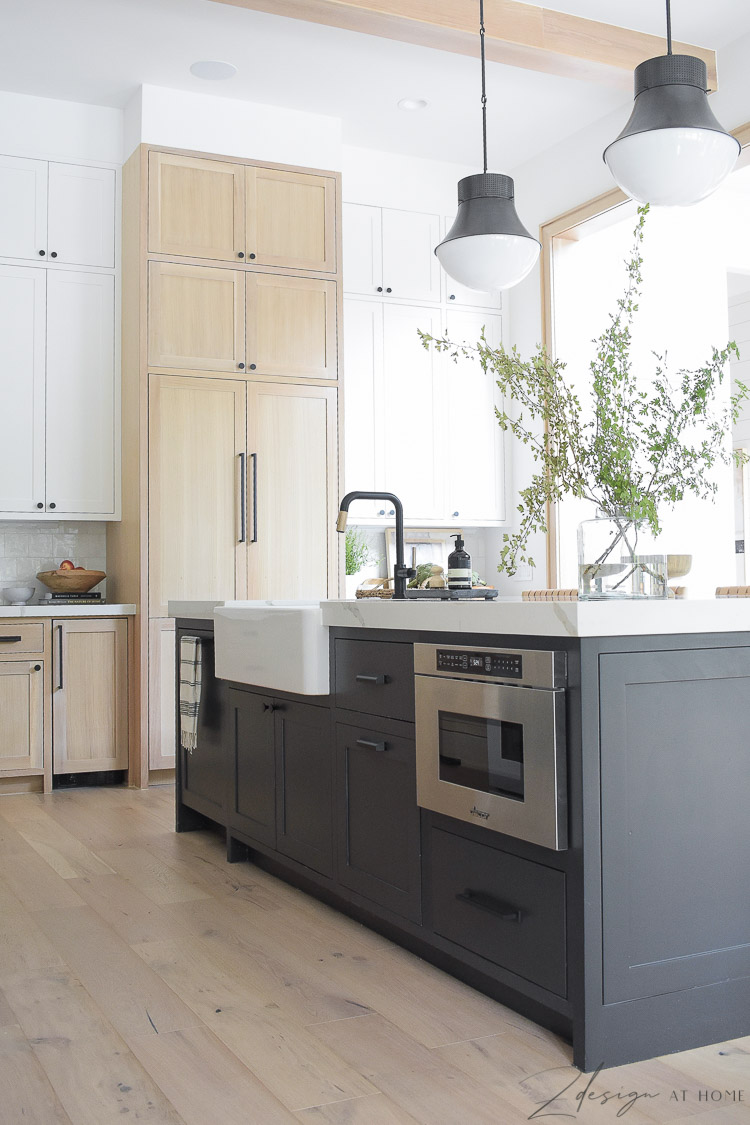 I chose to go with the Dacor range in a custom color match to the SW Snowbound paint on our cabinets.  It's fabulous and we love it – I swear it makes everything taste better!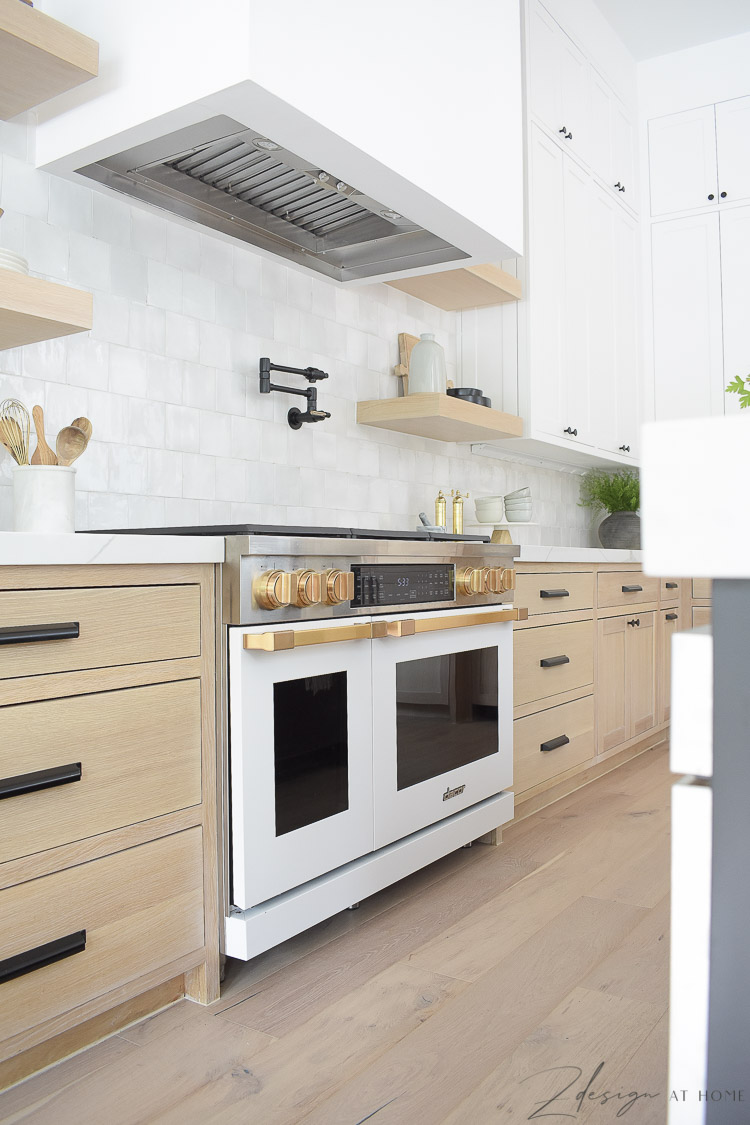 The brass fittings are beautiful and really dress up this side of the kitchen.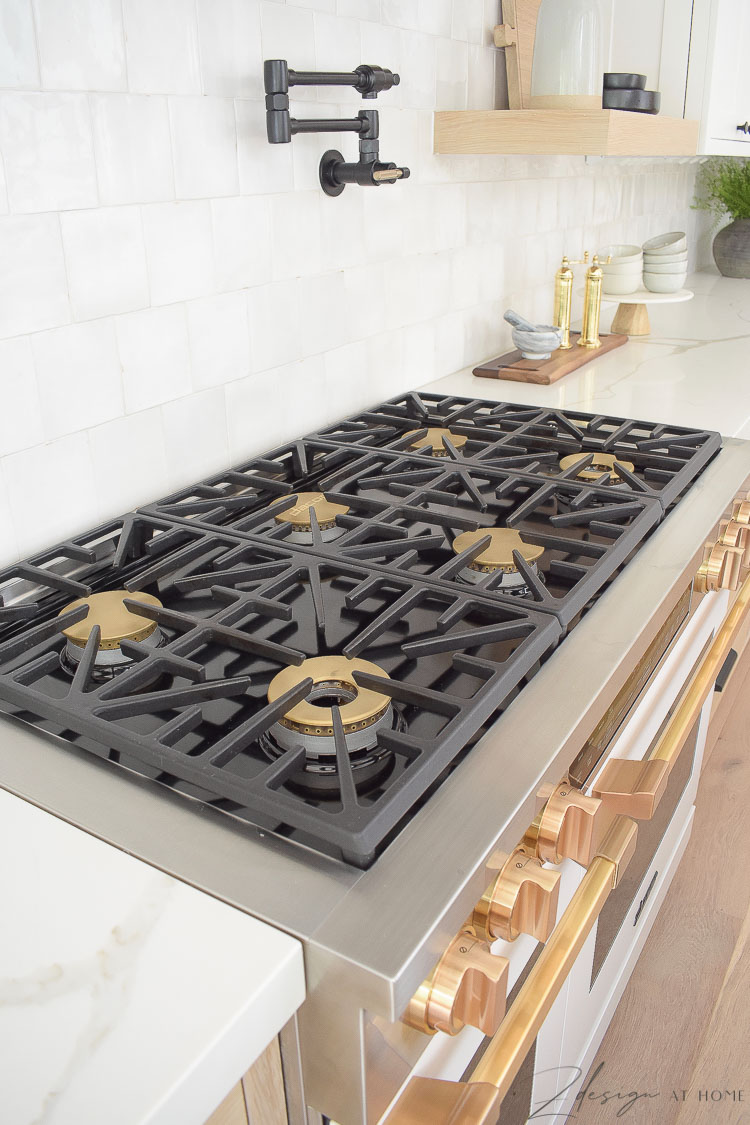 Our white oak cabinets and shelves were stained in a clear stain with a little bit of white paint mixed in.  My friend Shauna at The House of Silver Lining helped me with the stain but basically there is no perfect formula and if you are looking to stain white oak like this you'll need to work with your painter to get the formula right.  Again, it's a clear stain with a little bit of white mixed in and then mine have 3 coats of a clear matte lacquer to seal them and finish them off.  I chose a matte finish because I didn't want them to have a sheen.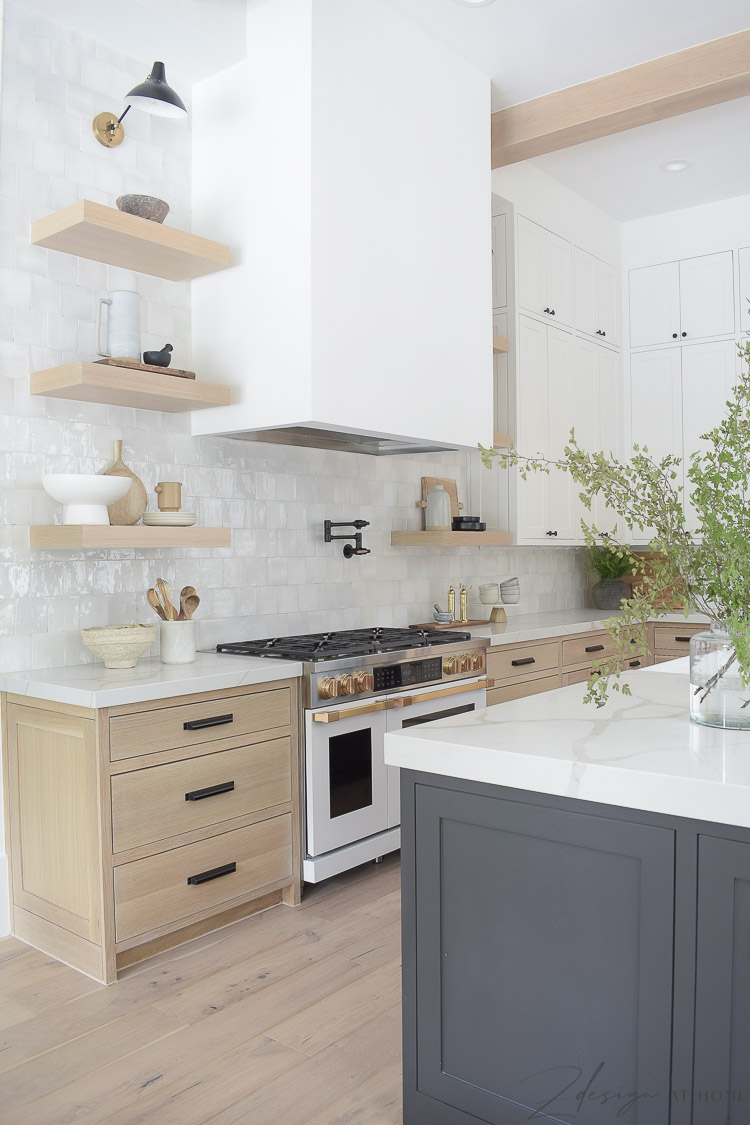 A few new fun kitchen accessories that I love!  That pot and small distressed bowl…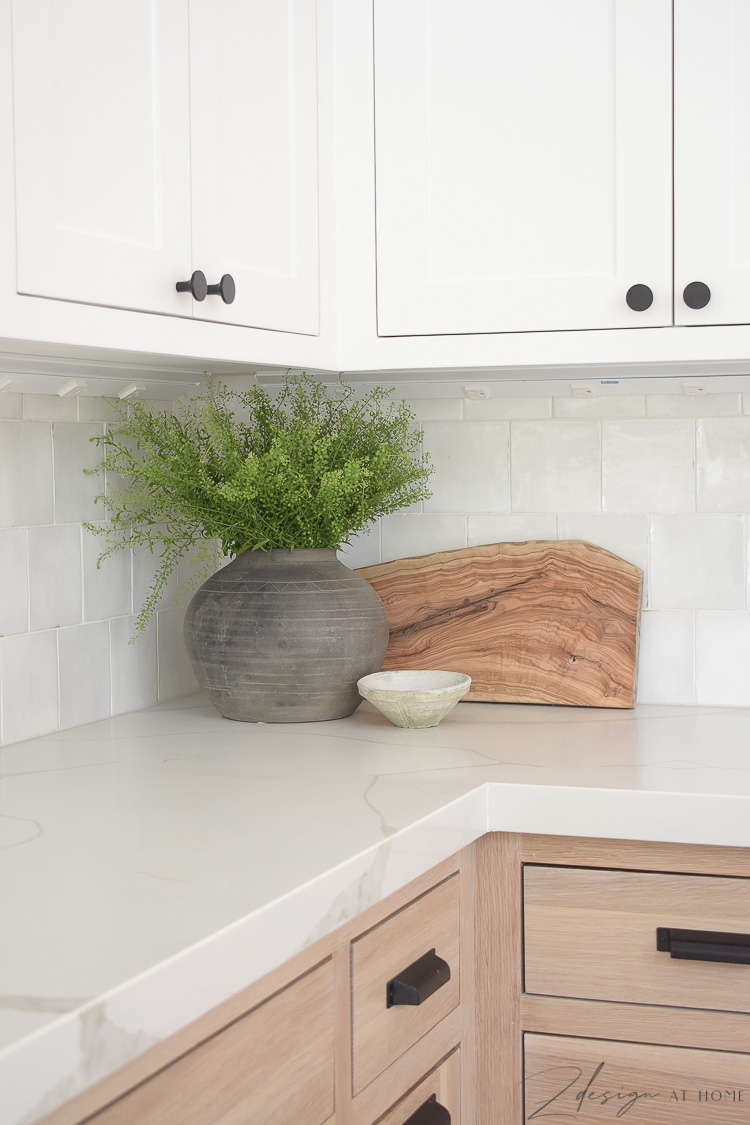 The prettiest brass european salt and pepper mills…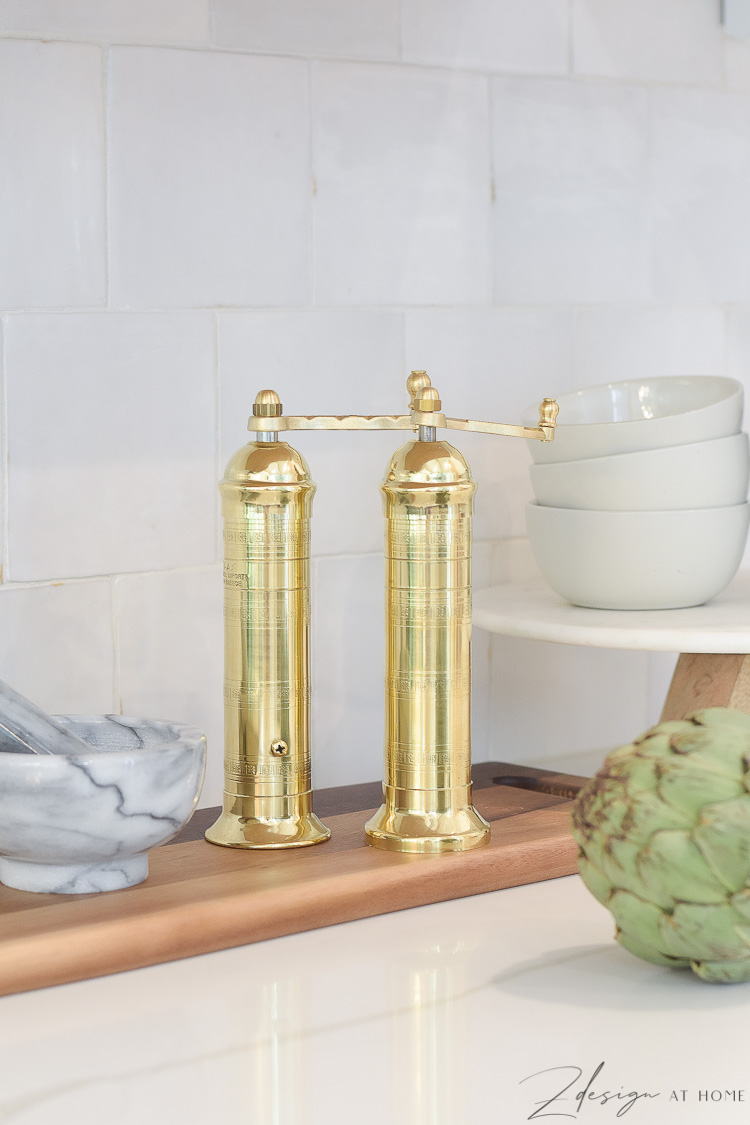 The countertops are quartz.  They are by Color Quartz and are the Calcutta Novus color.  I did them in a polished finish.  The bar is mitered to 2.75″ thick and the perimeter is 2″ thick.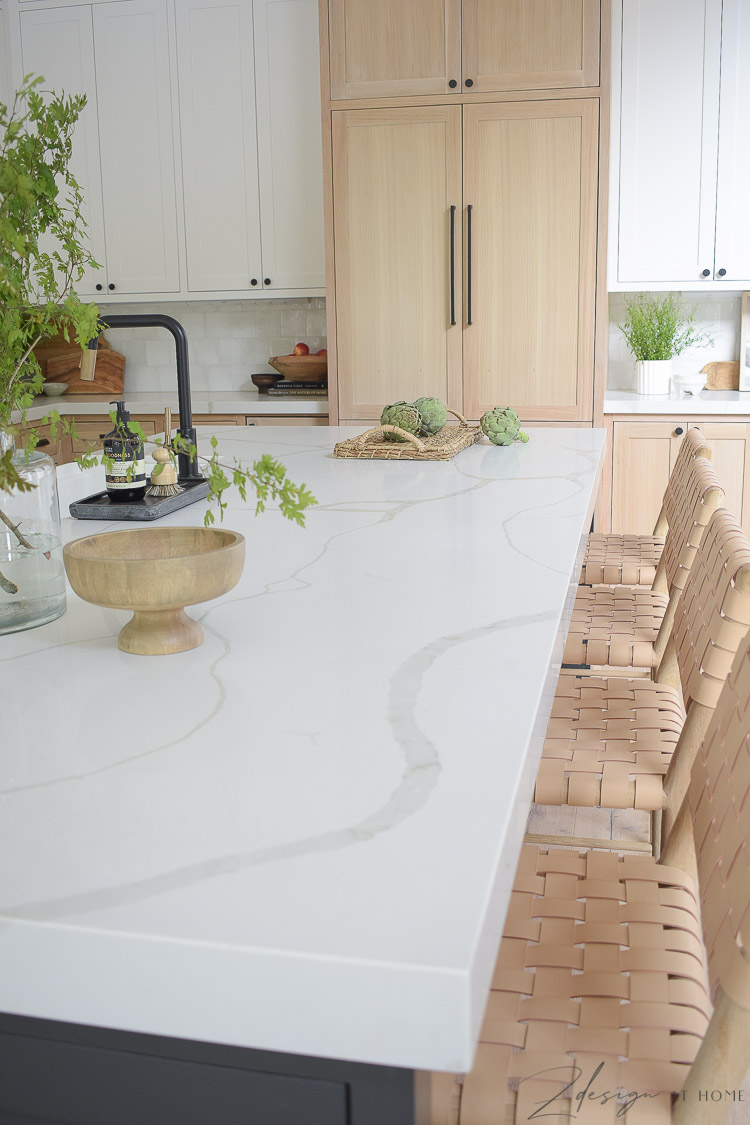 I love the veining and just overall love the functionality of them.  I don't have to worry about etching, scratches, stains or anything.  Before we built I thought I'd use marble again but I'm so glad now I went this route, and so far so good.  I can't say enough good about them!  Also love this basket tray with the artichokes in it!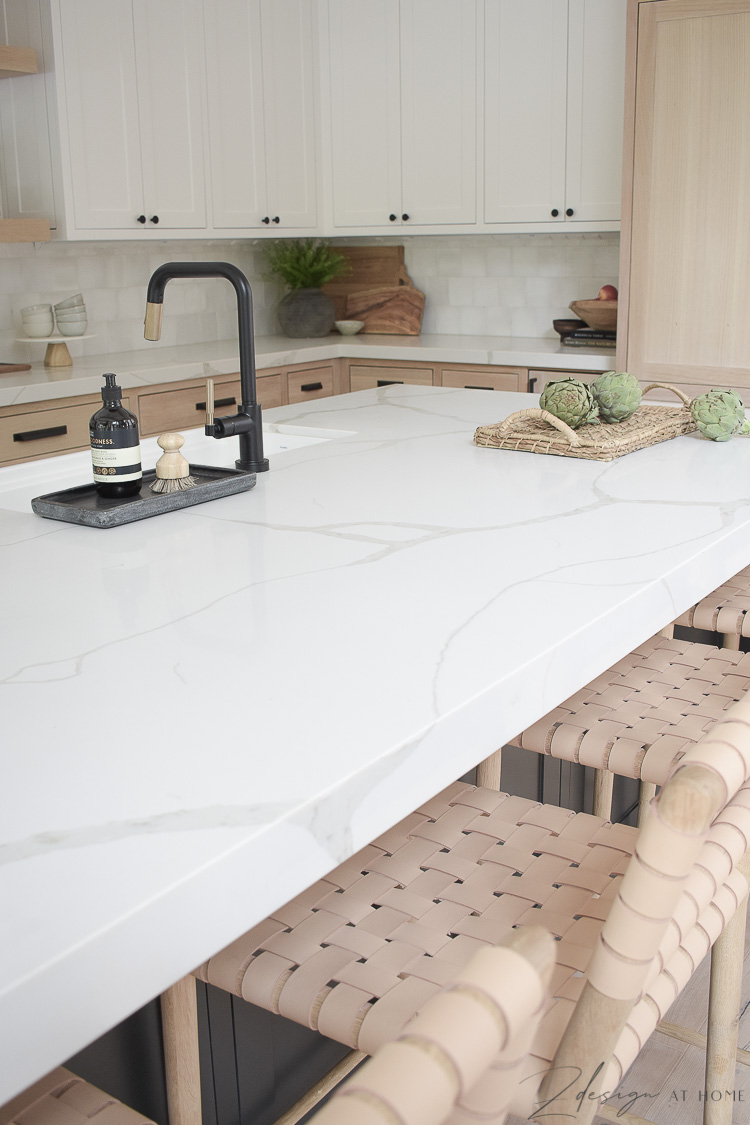 Our barstools are amazing!  Not only are they great quality, they hold up to a busy household with kids.  Well, I only have one but he does have friends over and they have stood the test of time so far.  And they are extremely roomy and comfortable, not to mention very handsome.  We use them everyday, sometimes 3 times a day and I can't say enough good about them!  Side note:  I also put cabinetry on this side of the island for extra storage – of course I store my ever growing vase collection here:).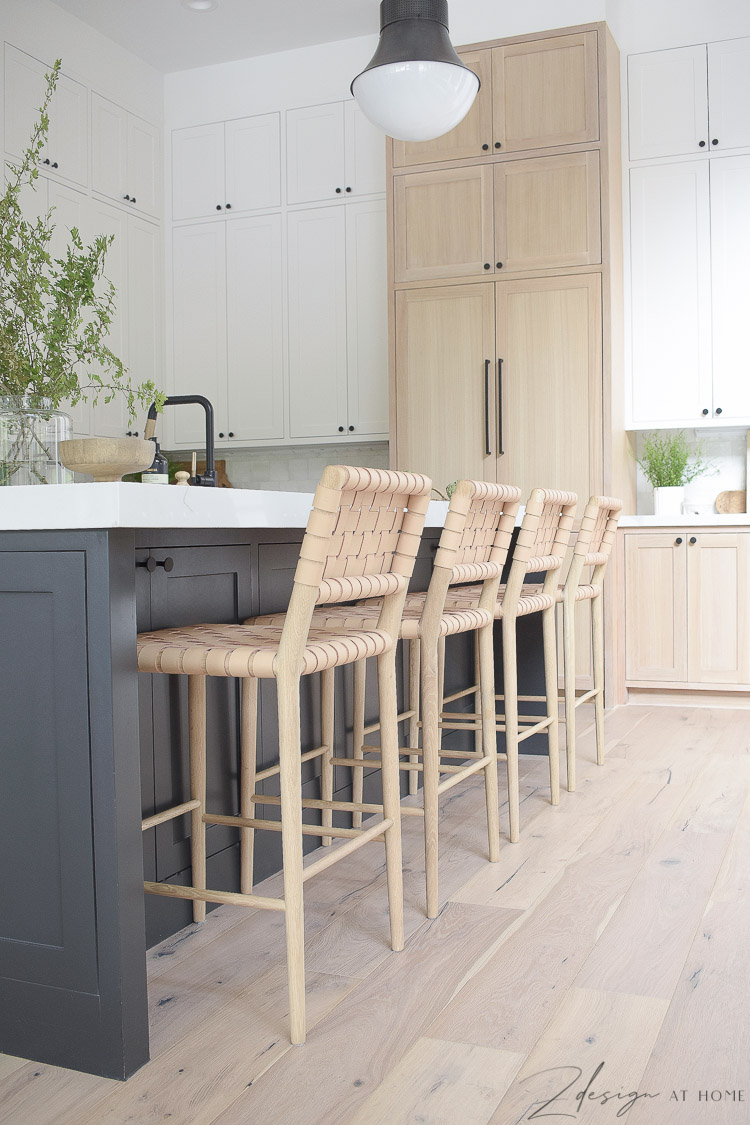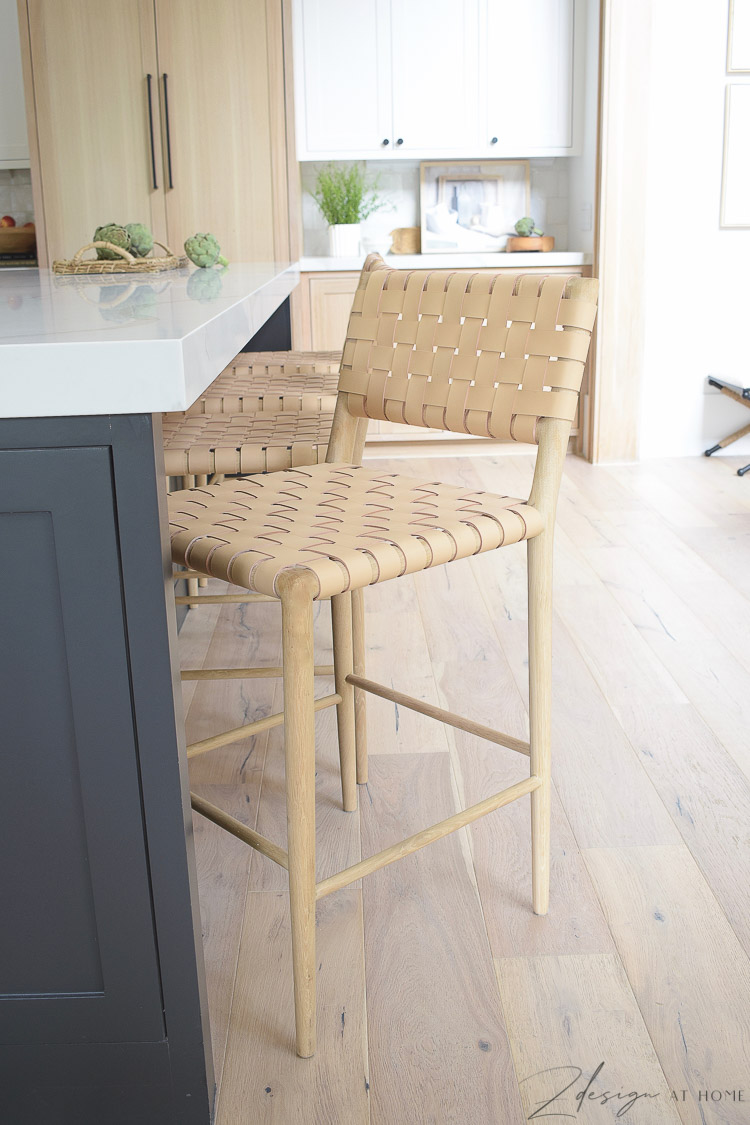 A few more fun shots of our kitchen!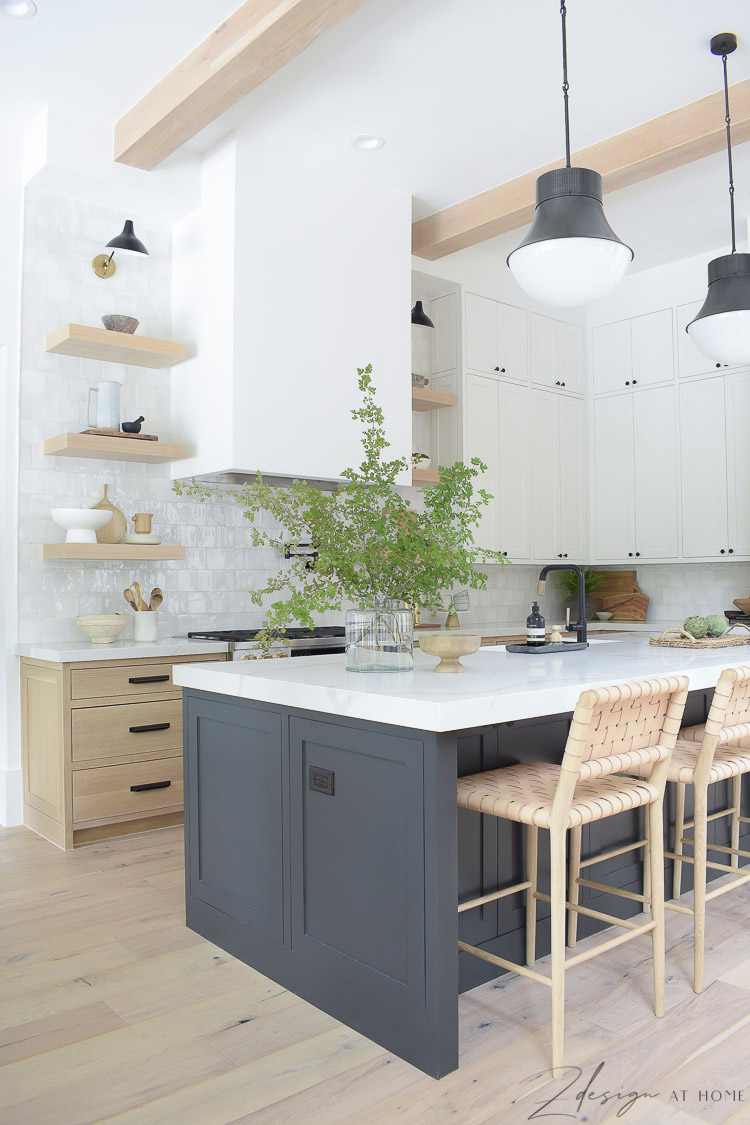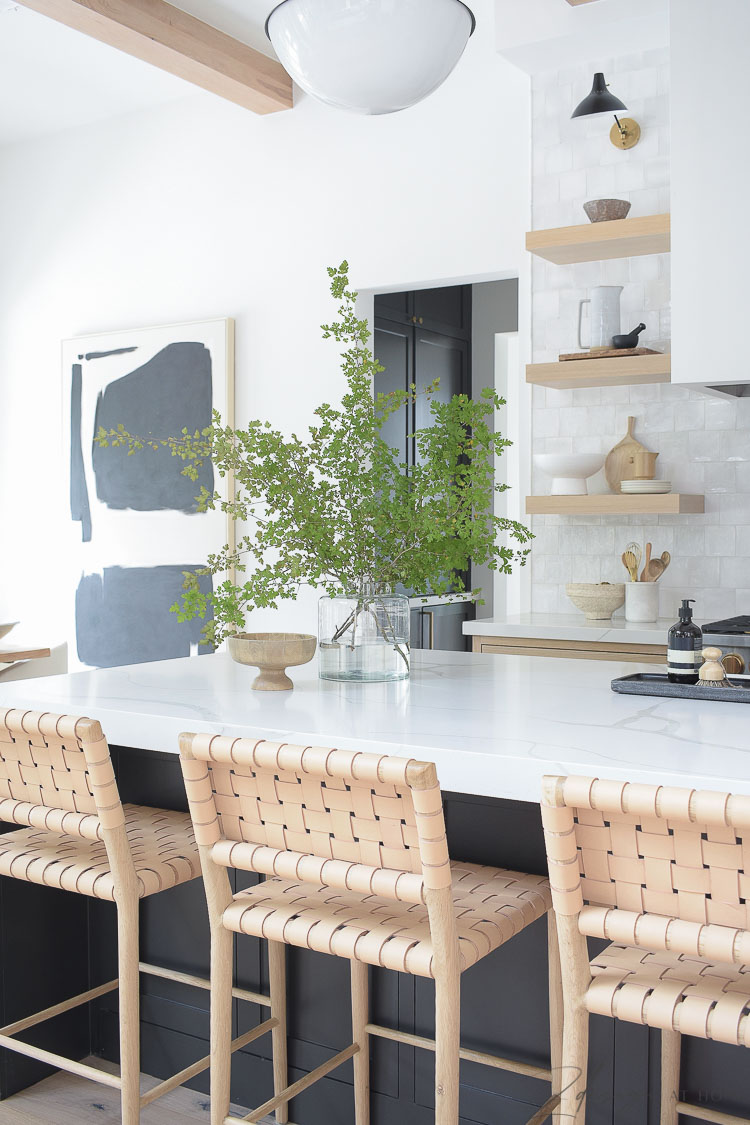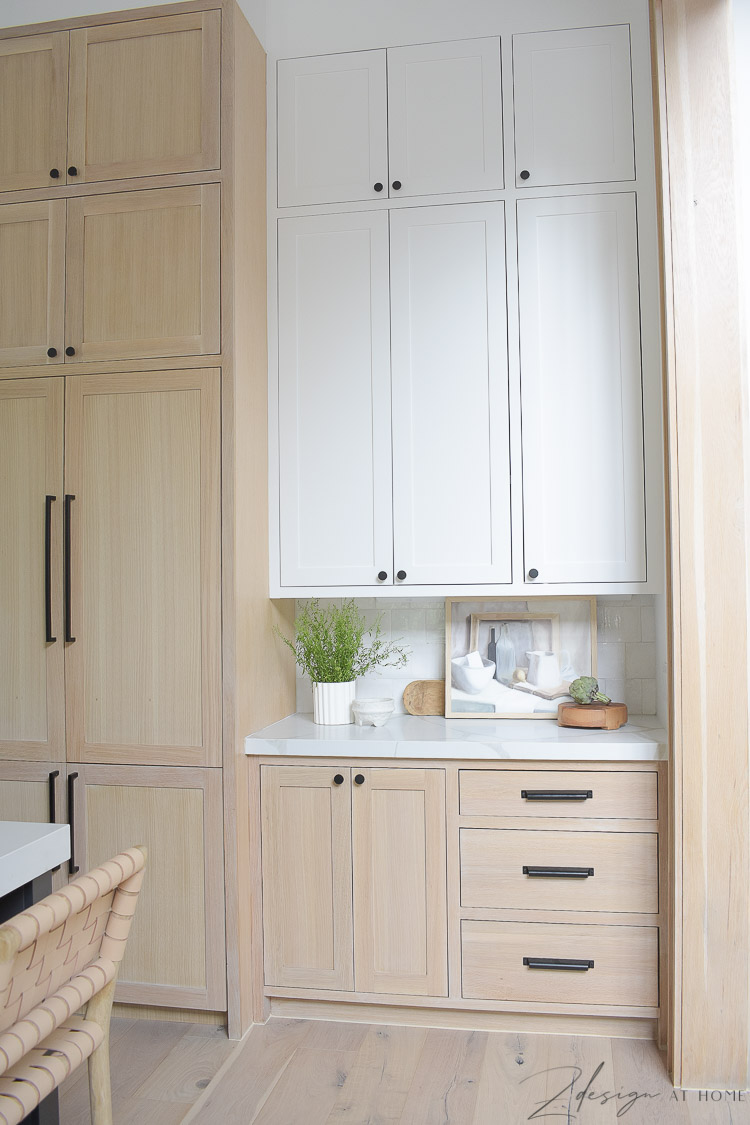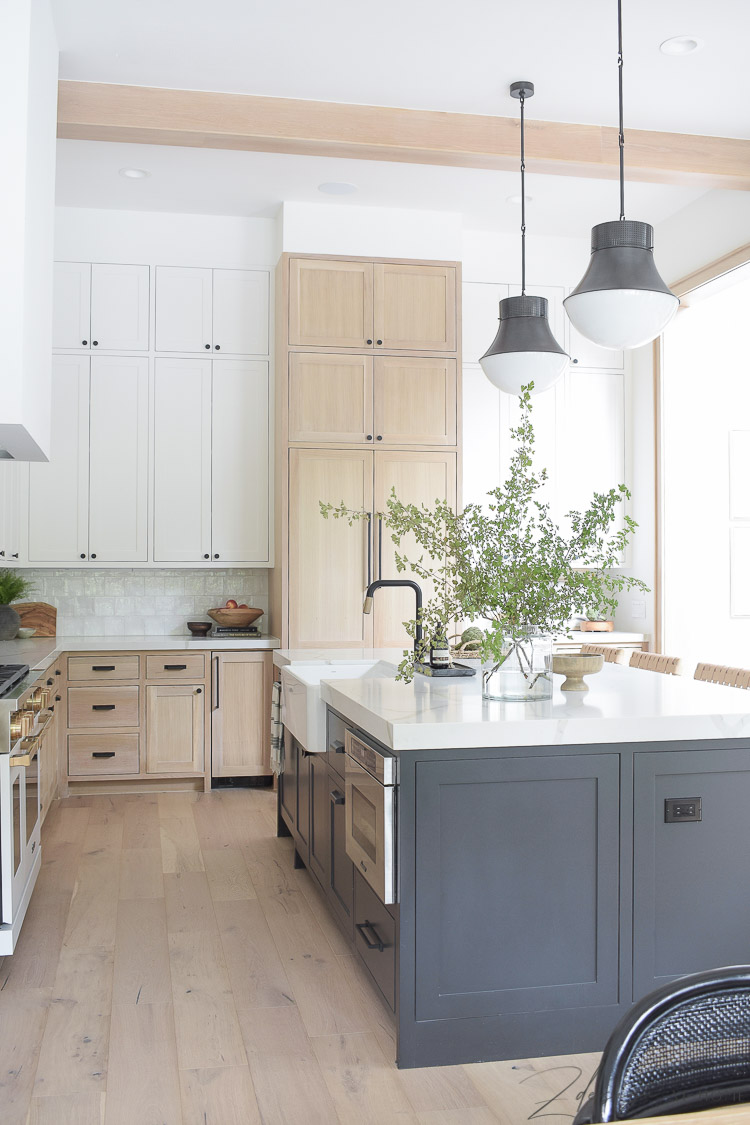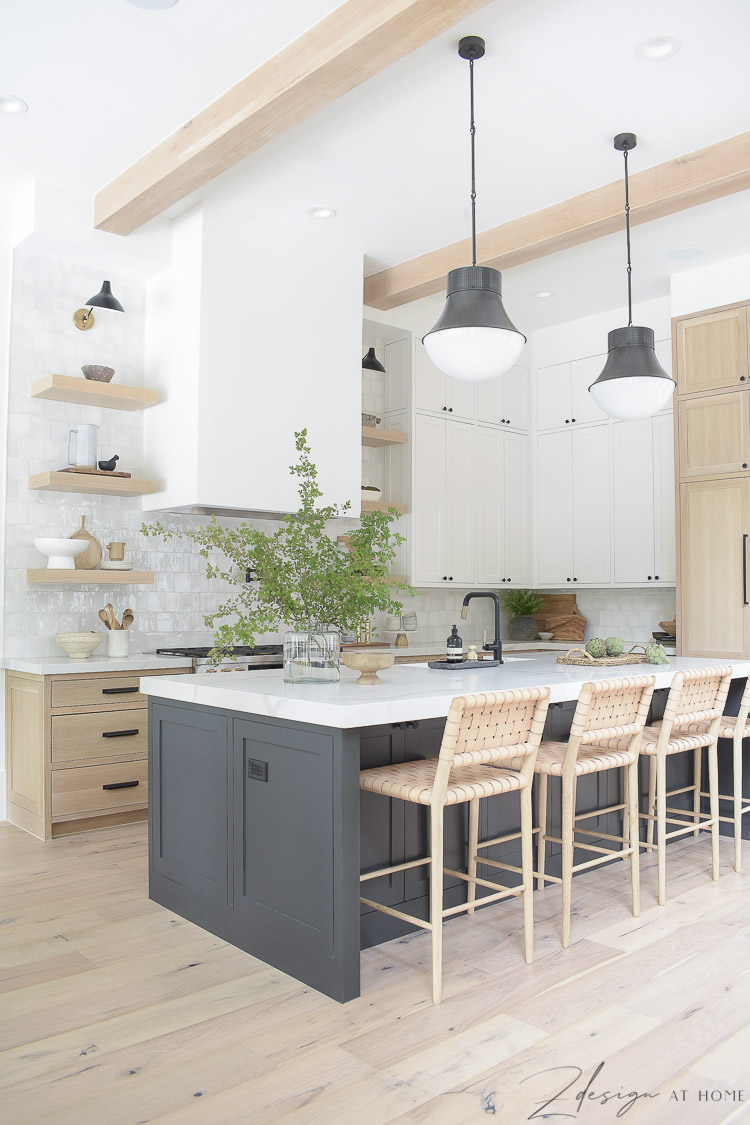 You can kind of see our coffee bar/appliance cabinet beyond the kitchen in this shot – sorry I failed to get a good shot of it.  The pantry is directly across from it so behind the range wall running the full length of that wall – I'll share that one day when I get around to it!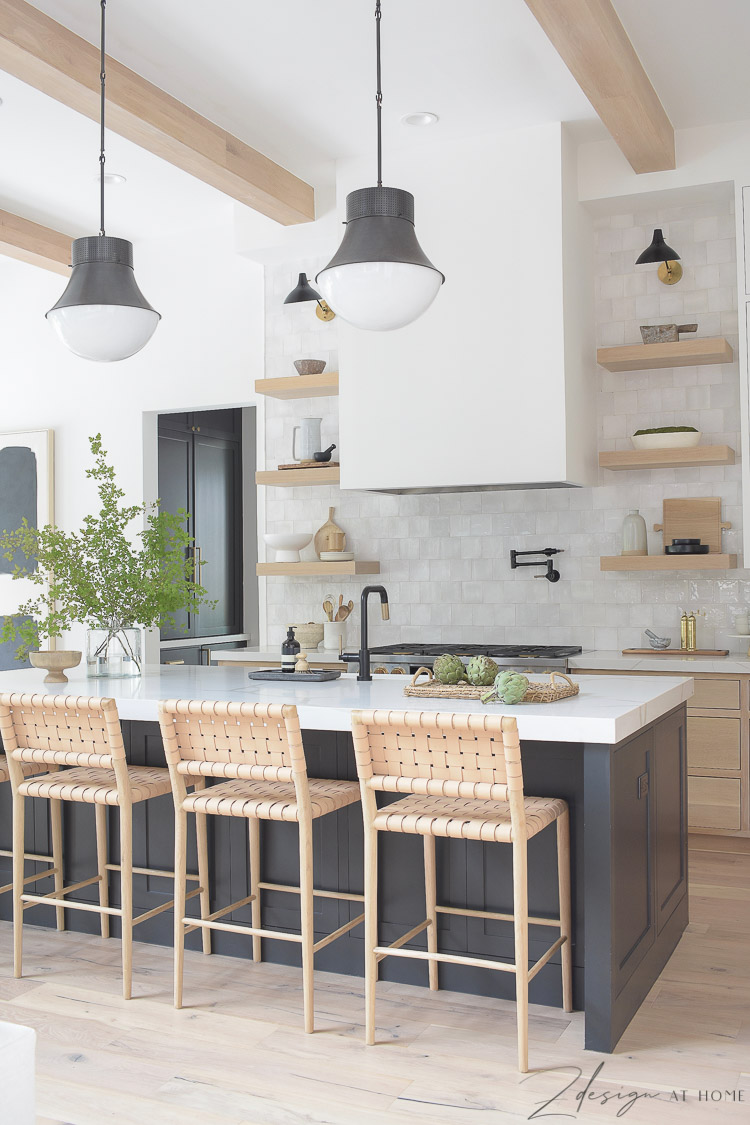 Well, that about wraps it up here for our Kitchen Reveal!  I have all of the sources and details listed again at the bottom but please feel free to leave any other questions in comments below, or just leave a comment to let me know what you think!  Thank you for stopping in and I hope you enjoyed the tour as much as we've enjoyed our new kitchen!

Kitchen Sources
Barstools | Pendants | Sconces | Faucet | Pot Filler | Sink | Fridge Hardware 18″ & 12″ | Similar Black Jar/Pot | Small White Distressed Bowl | Olive Wood Cheese Board |  Clear Vase on Island (canister) | Wooden Footed Bowl on Island | Basket Tray on Island | Salt & Pepper Mills | Black Marble Hand Soap Tray | Hand Soap | Similar Dish Brush | Marble Mortar & Pestle | Gray Pitcher | Mango Wood Rectangular Pedestal | White Footed Bowl | Round Wooden Handle Tray | Marble & Mango Cake Stand | Kitchen Art | Small White Footed Bowl Paper Maché Bowl | Large Paper Maché Bowl | Marble Utensil Holder | Round Wooden Pedestal |Similar Vintage Wooden Trough | Similar White Oak Shelves | Backsplash Tile | Square White Oak Cutting Board |  7″ Cup Pulls | Cabinet Knobs
Let's stay connected…
Pinterest | Facebook | Instagram | Linkedin