Teenage Boys Bedroom That Will Grow With Him + Reveal
Hi all! I'm back with another room reveal. I know they've been slow to come but I'm getting there as fast as I can! Today I'll be sharing my Teenage Boys Bedroom That Will Grow With Him + Reveal and I couldn't be more excited! There is something so special to me about decorating your child's room ~ this is where they will spend a lot of their years at home with you and you definitely want their bedroom to be not only beautiful but comfortable as well, right?!
*This post was sponsored in part by Saatva for my son's mattress. Saatva is a brand I truly love and have three of in my home so I can't wait to tell you all about it! This post also contains affiliate links. Please find my full disclosure policy here.
The first item I purchased for this space was the bed, which was before we moved in and it's a good thing I did. With the delays in the supply chain lately it has taken so long to receive so many of the items I ordered for this space, but we do love this bed so much. It has a masculine feel to it and the high headboard is perfect for the 12′ ceilings in this space.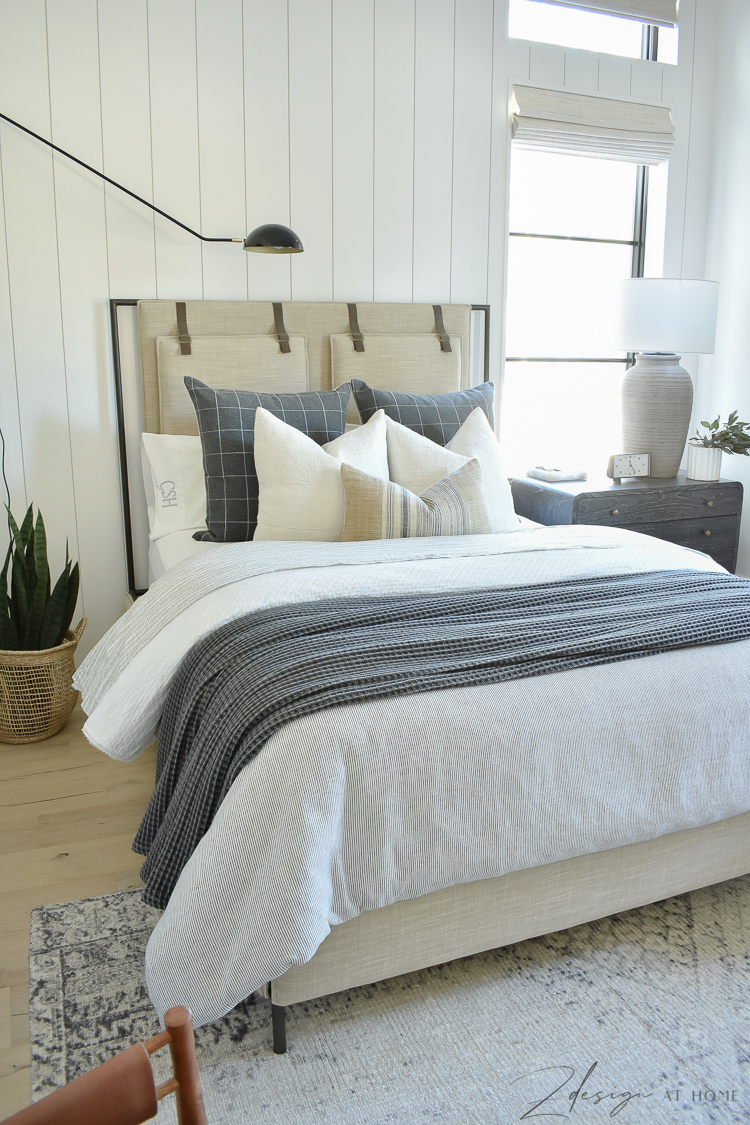 For bedding and pillows I chose a mix of charcoal gray and white and love the soothing palette it brings to the space.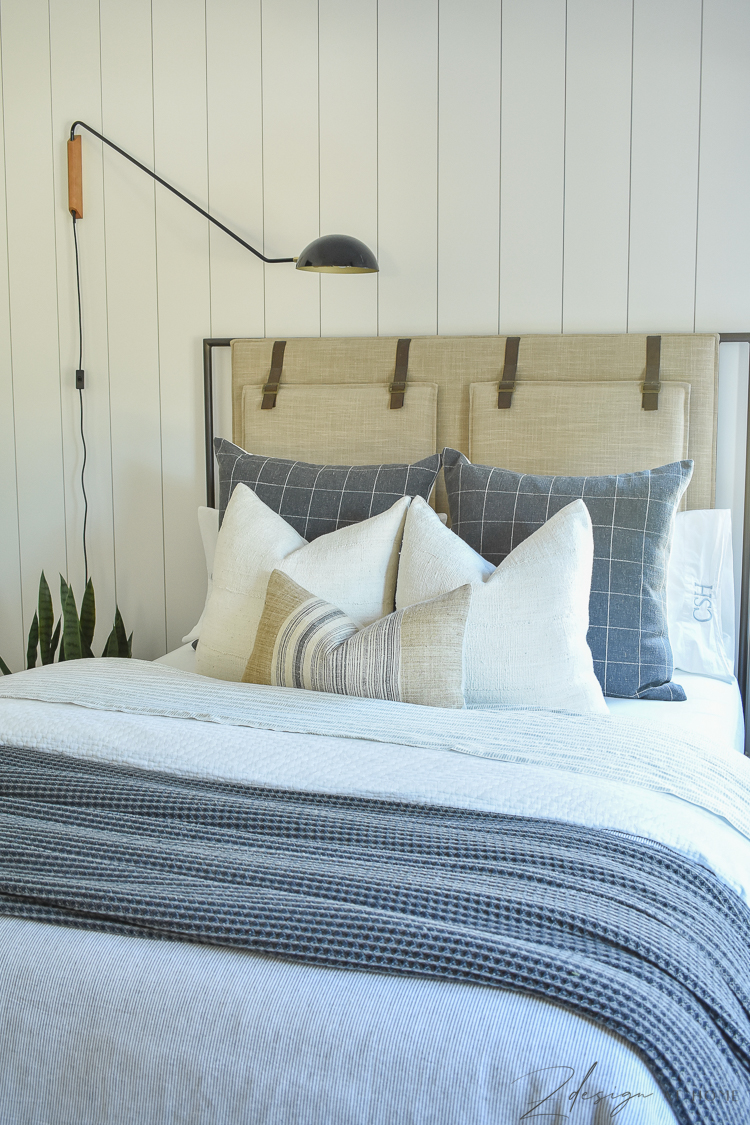 I love the charcoal windowpane pillows in the back and the Hmong White Textured Pillows in the middle. The lumbar pillow in front ties it all together in straw, white & charcoal.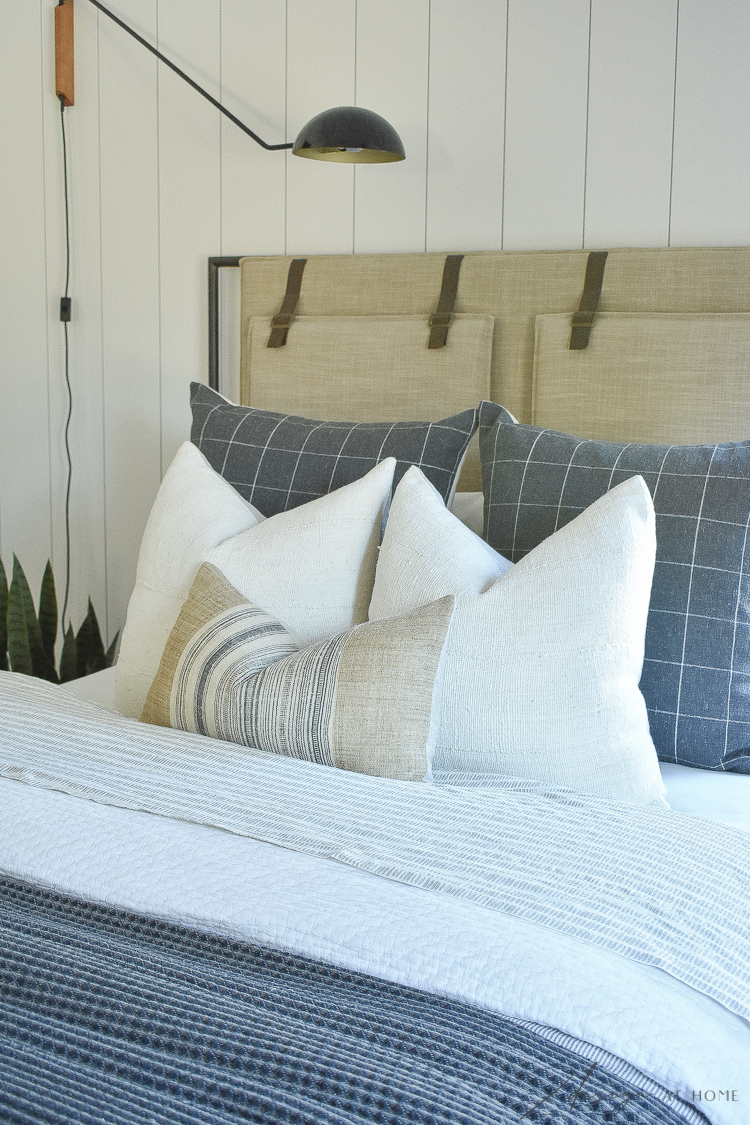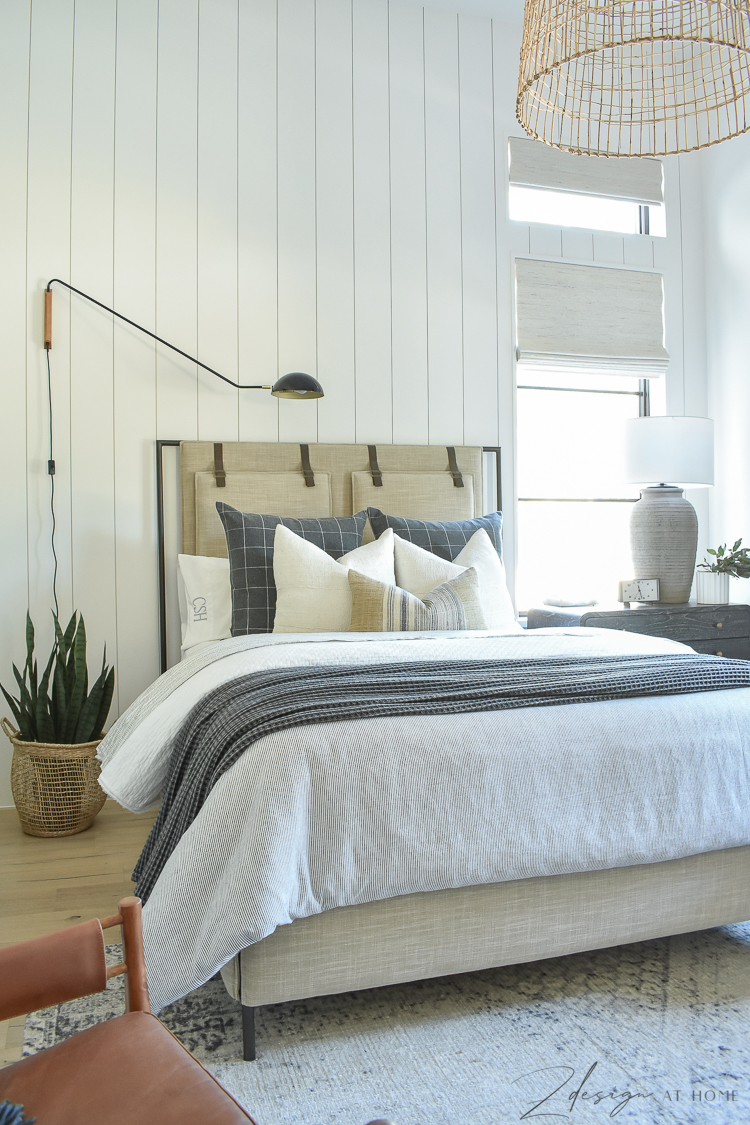 This throw blanket at the end of the bed is a distressed waffle weave blanket that as soon as I saw it I knew it would be perfect for my teenage boy themed bedroom! It's cozy and soft and looks like it belongs in a boys room, but is also comes in a few colors. Also, I didn't do a great job of showing it but I chose this frayed hem quilt for his bed and love the relaxed feel the frayed hem gives off.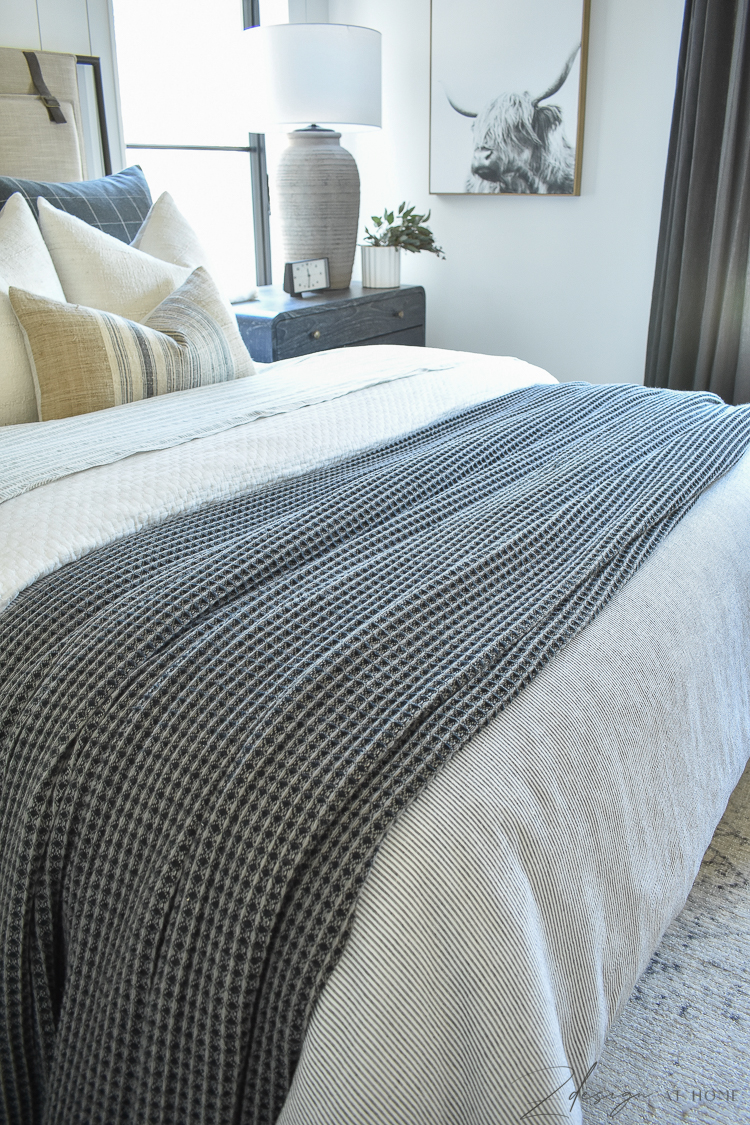 The duvet is a blue/gray pin stripe and was another piece that as soon as I saw it knew it was going to be perfect for this space.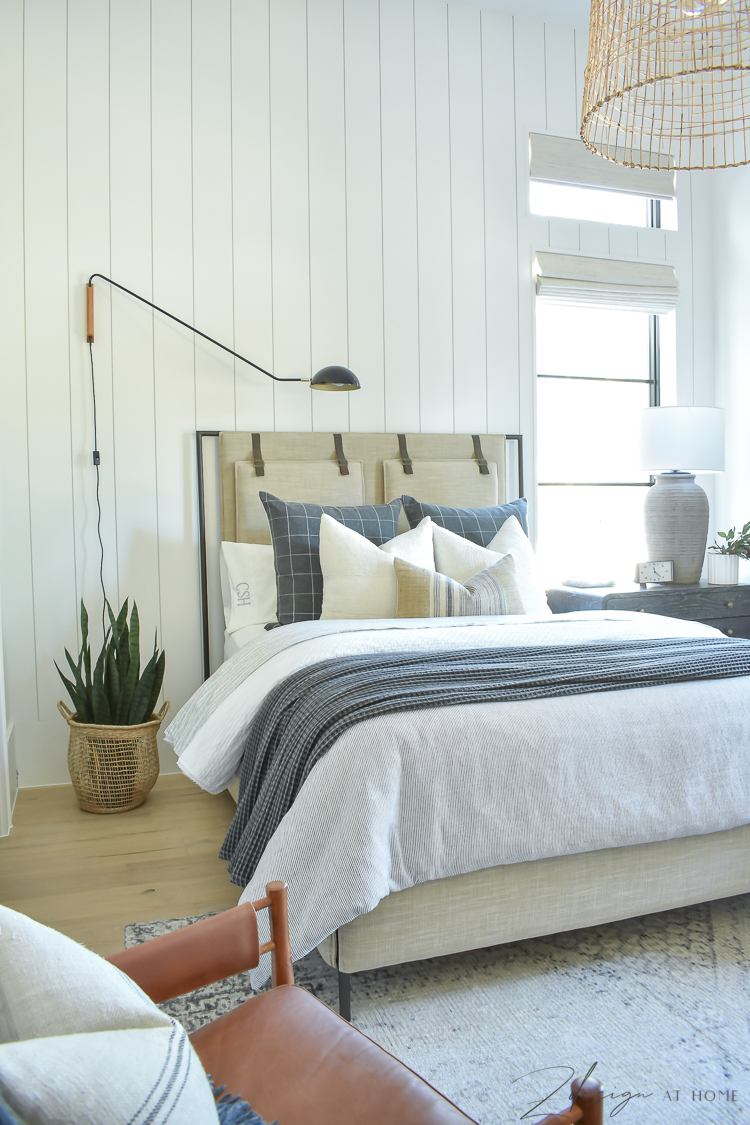 Let's talk about that articulating wall sconce to the left of the bed and the vertical tongue & groove wall behind the bed…I needed something large on this side of the bedroom to help balance the space with the drapes on the right hand wall, and short of a gallery wall that I didn't want to do because I didn't want to cover the wall or take away from the bed, this sconce was the perfect idea. Plus it's functional. He likes to lay in bed and read at night so it's very useful as well as good looking!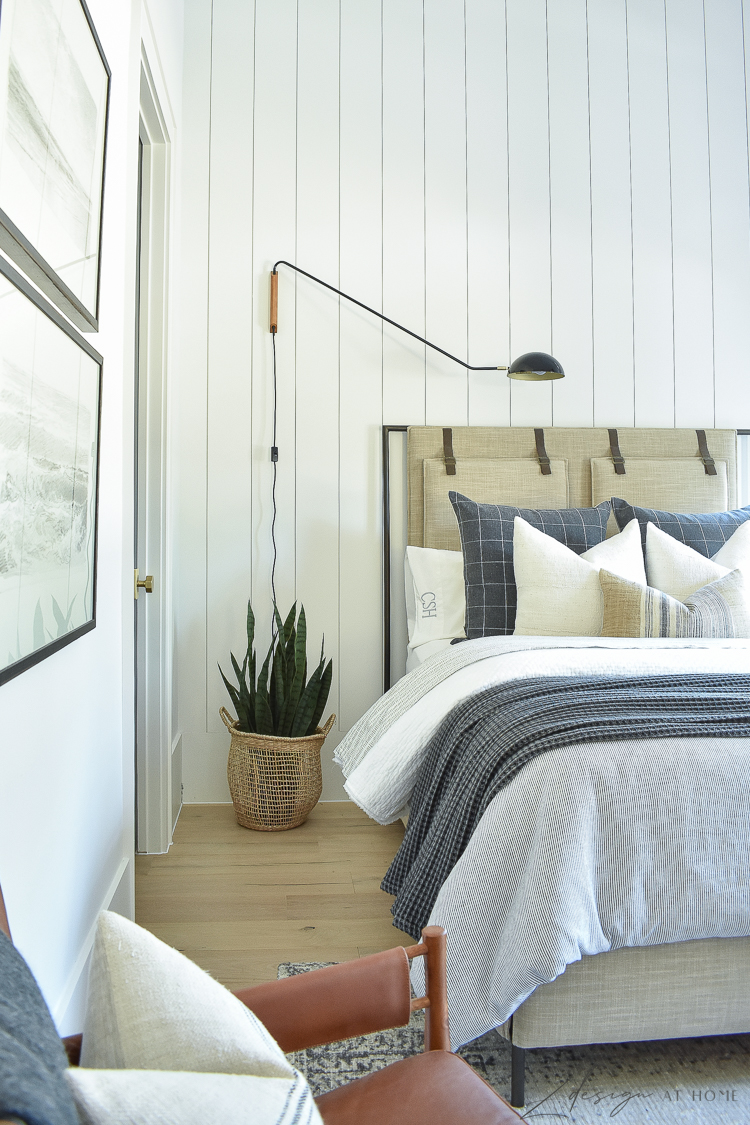 Also really, really love this faux snake plant. It's the best one I've ever seen but the purpose of it here is to hide the plug from the sconce, plus it adds a pop of greenery over here on this side of the bed.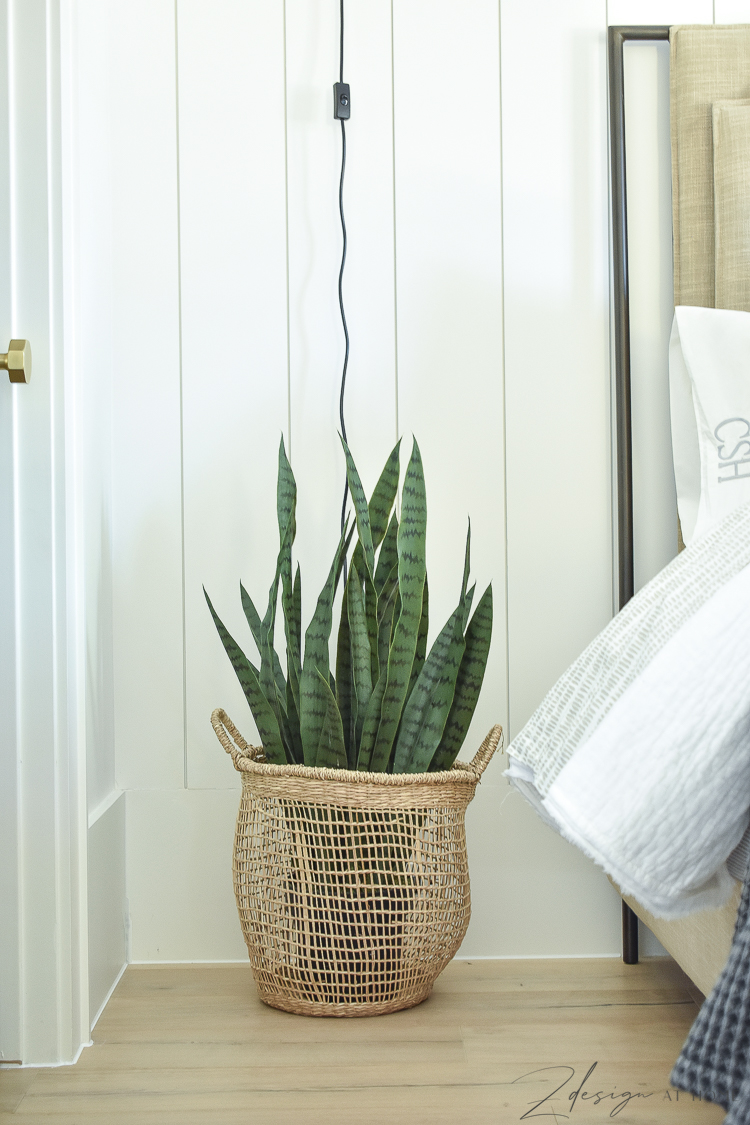 As mentioned before, the vertical tongue & groove was to help balance the space with the incredible drapes on the wall to the right of the bed wall. I knew I couldn't hang drapes on the bed wall because there simply wasn't enough room on either side of the window so I did the tongue and groove on that wall and trimmed out the window and transom to finish it all off and balance it out. I love the end result and how everything turned out! I also love the oversized basket pendant (similar) and the x-bench under the window (I have a pair of them in this room).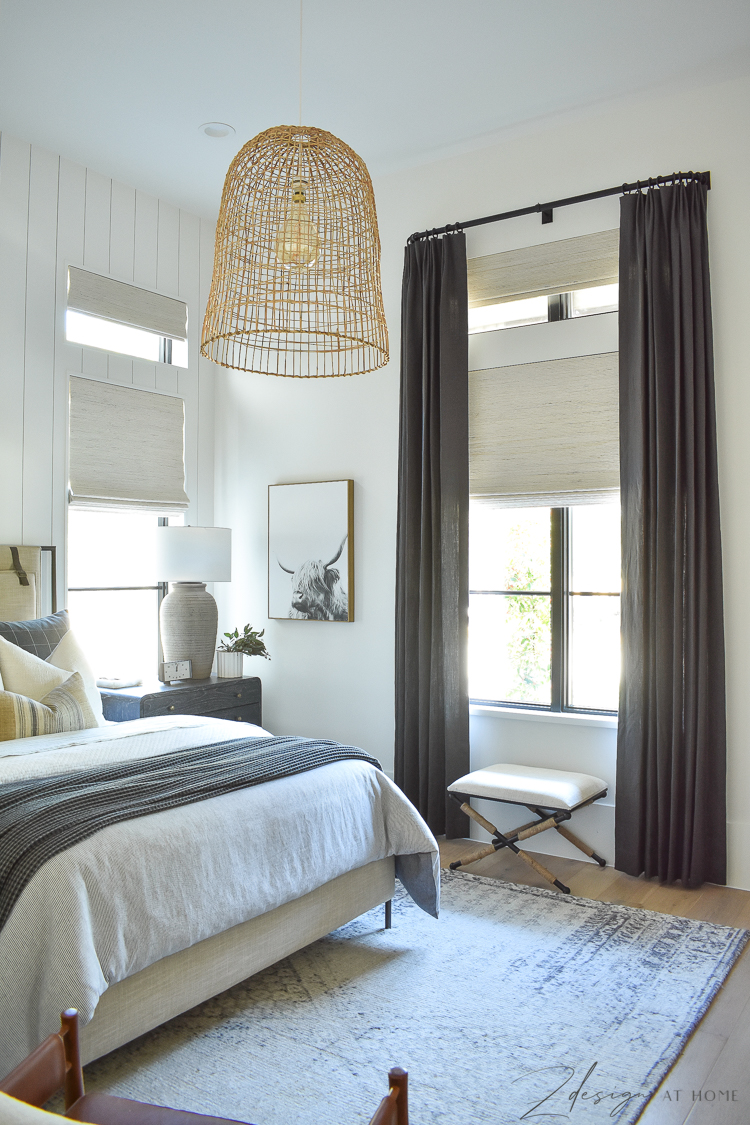 I used one of my all time favorite room darkening rods, and the curtains were custom made by Willow Bloom Home. They did an amazing job and I absolutely love how they turned out – I had them made with a single fan pleat up top and in a heavy charcoal gray linen. The shades were made and installed locally but are a woven material that is no longer available – I've linked something similar here that I also love the look and quality of. On the note of the shades, during the building process we had our builder to wire the windows that we needed automated shades for so make sure to remember to do this if you are building and have rooms you need automated shades in like bathrooms and bedrooms, but think hard about which rooms you need them in because they can get pricey. We only did automated shades in my son's room and the primary bedroom & bathroom.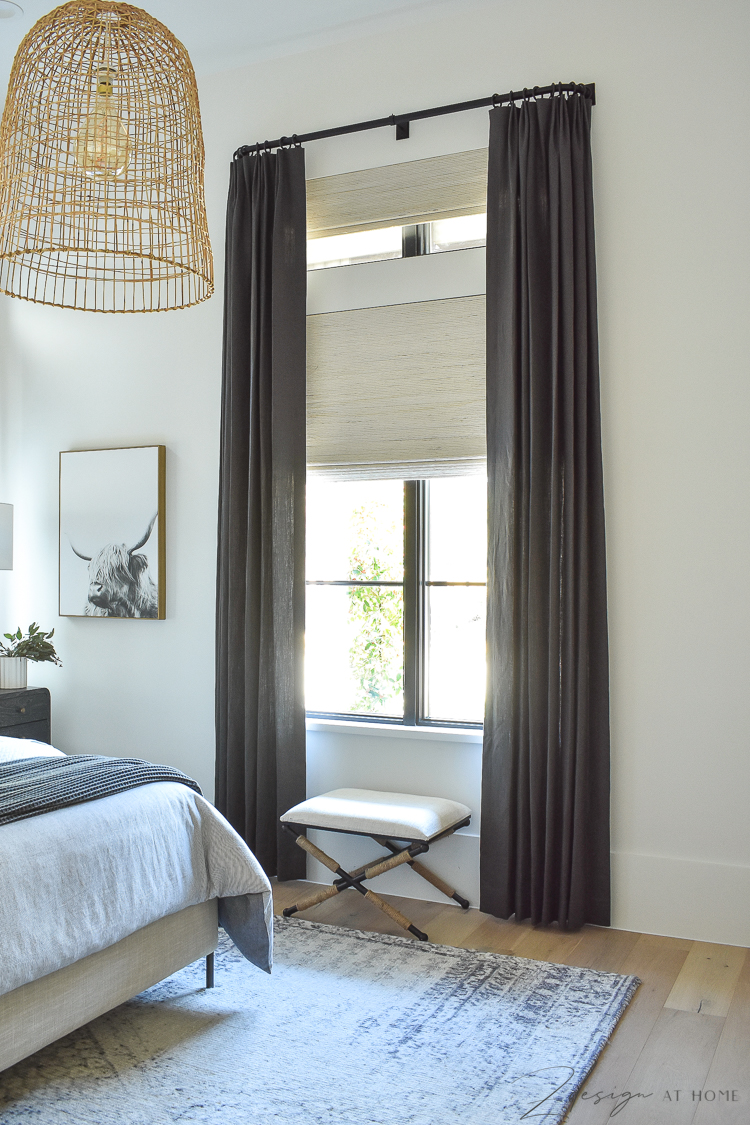 Here is a closer look at the right hand side of the bed…I absolutely love the oversized nightstand/chest. It holds overflow books that won't fit in the cabinet over his desk and and bookshelf in his closet and well, it's just over all a great piece of furniture. The gray distressed lamp is fabulous (it's large and in charge!) and I just love that little old school clock too! Can't really see it in the photo but I found this agate catchall that is perfect for his remotes, and to charge his phone at night, etc.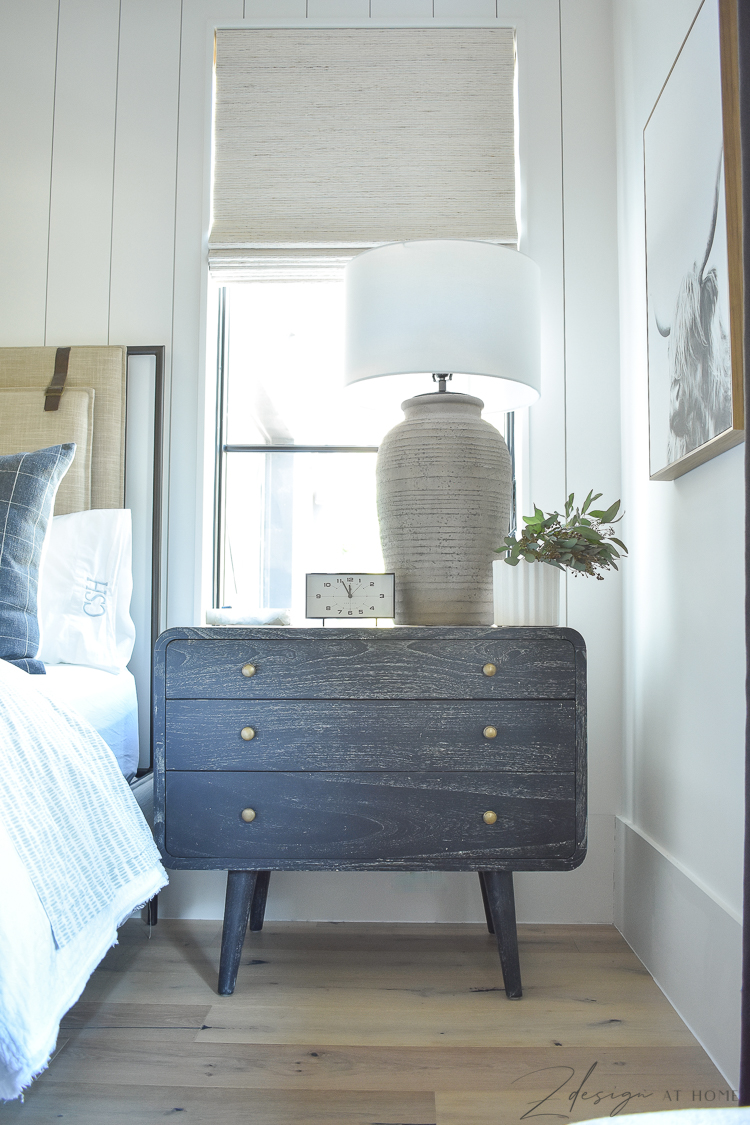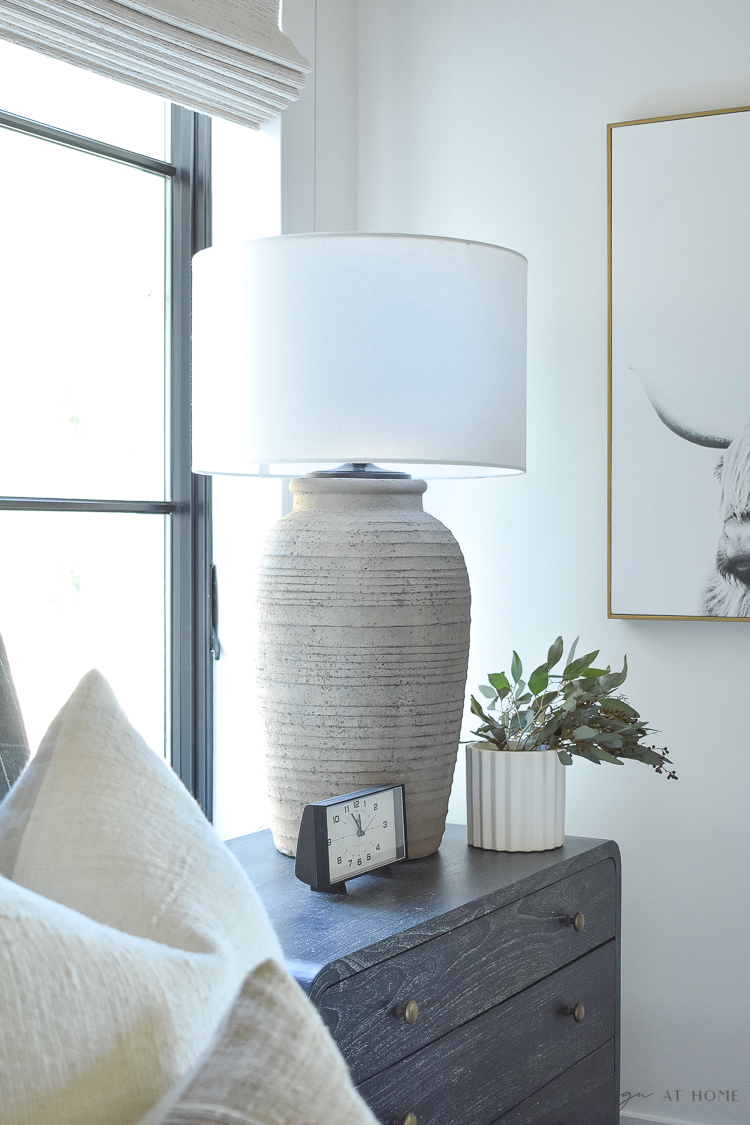 On the opposite side of this space there is a fabulous leather chair and some great art, and my son's closet. My son really loves the black and white sketch art (top & bottom) as much as I do and a good chair is always a necessity in any space, if for no other reason that to hold the bed pillows at night – anyone else know what I mean? Ha!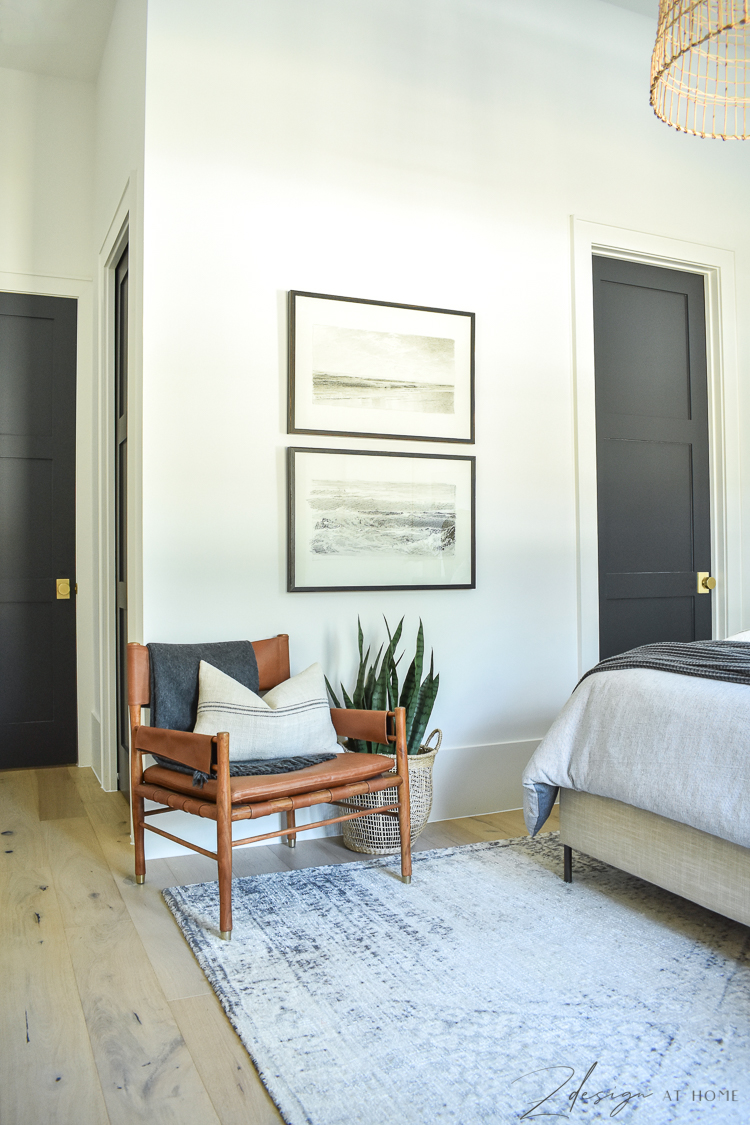 I am kind of obsessed with this chair though! It's actually very comfortable and is a piece that will go off to college with him, along with just about most everything in this room. That's the beauty of not just decorating for the moment when designing a child's room – I always make sure when I design kid spaces that all furniture and accessories are carefully selected with the future in mind so that they don't outgrow them in three, five, or yes, even ten years.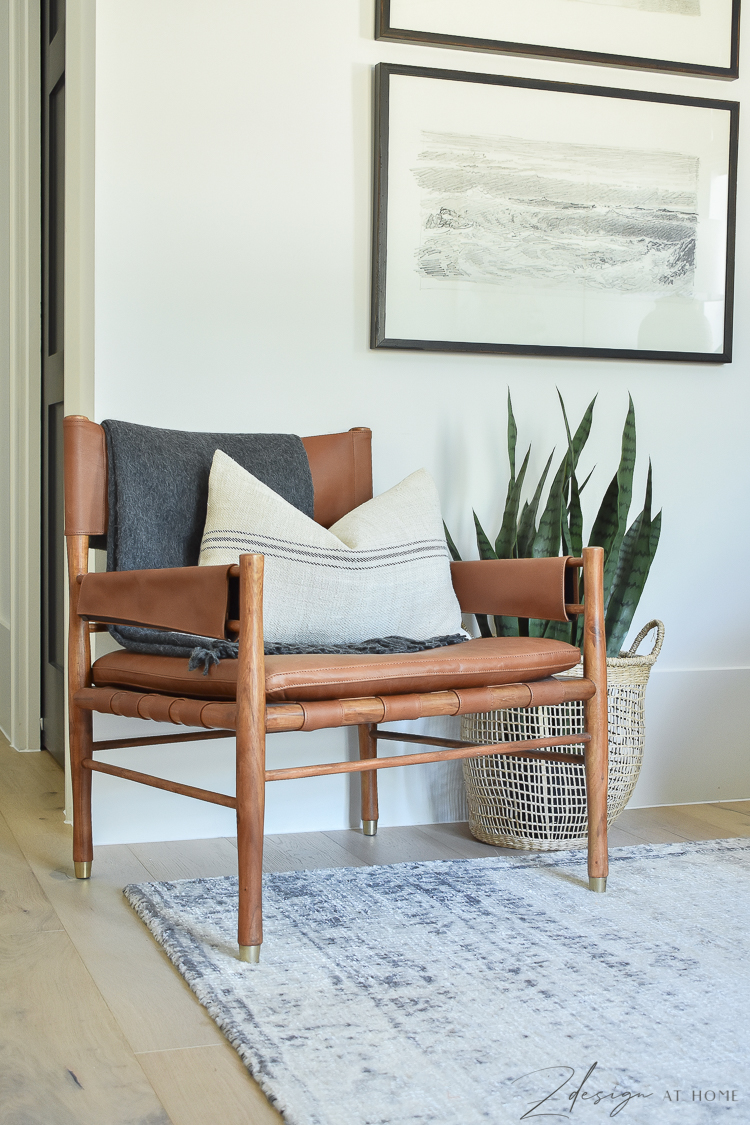 The rug is a distressed gray and soft white pattern that goes perfectly in the space. It's soft and doesn't seem to shed at all. This was one of my best purchases for the space hands down!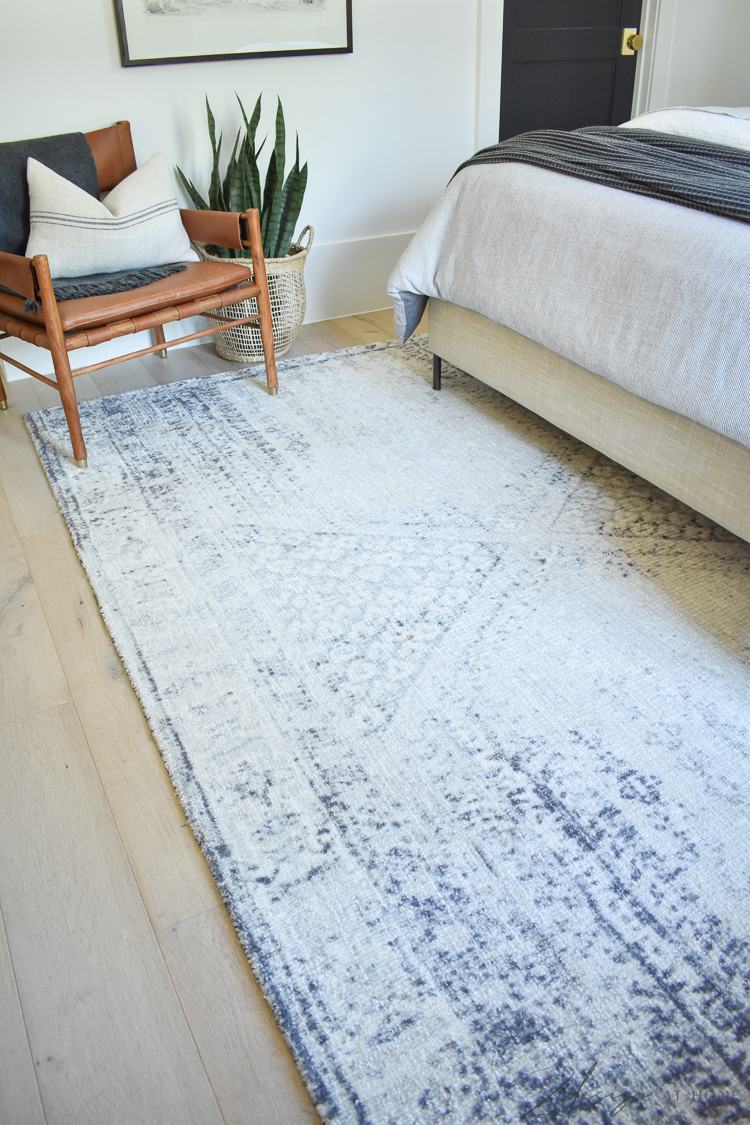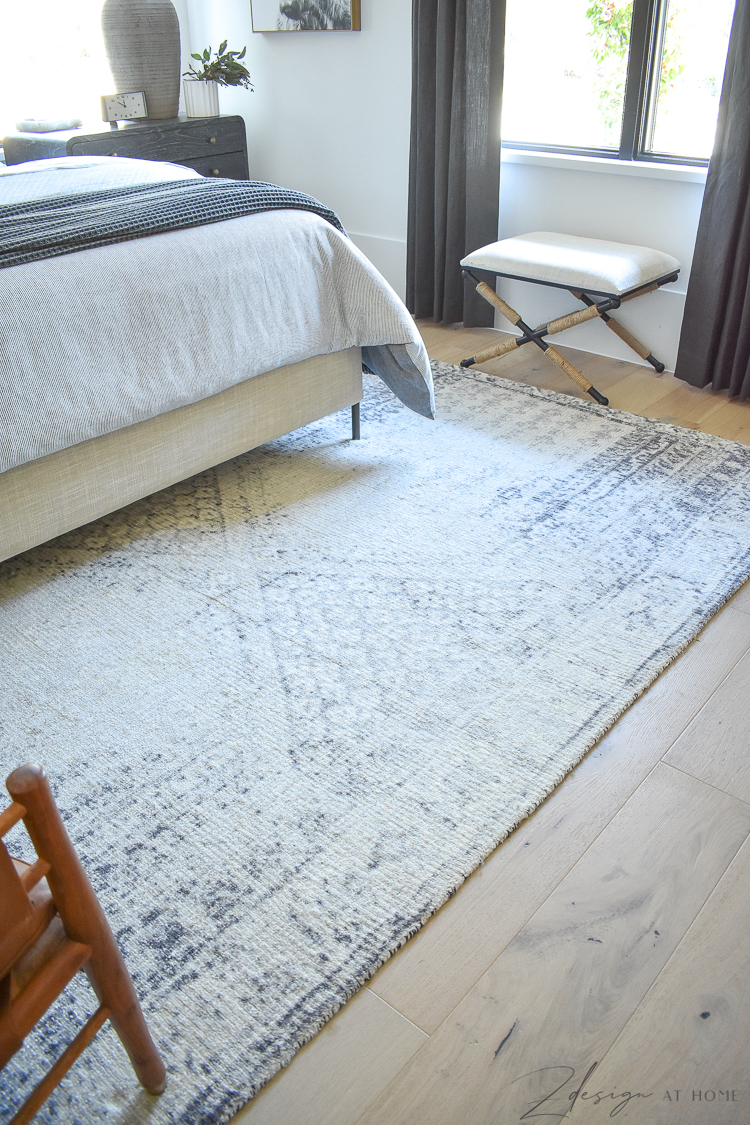 Opposite the bed wall is a beautiful white oak dresser white oak dresser, round mirror that I've had for years, and his study nook. When we moved into the house it was during (early) Covid and my son was still remote learning so this little study nook really came in handy. We added this at the last minute during construction – we noticed there was some extra space behind where the wall was supposed to be there so we had them to build this out adding the white oak desk top, drawer and cabinet above, with a sconce above that for task lighting.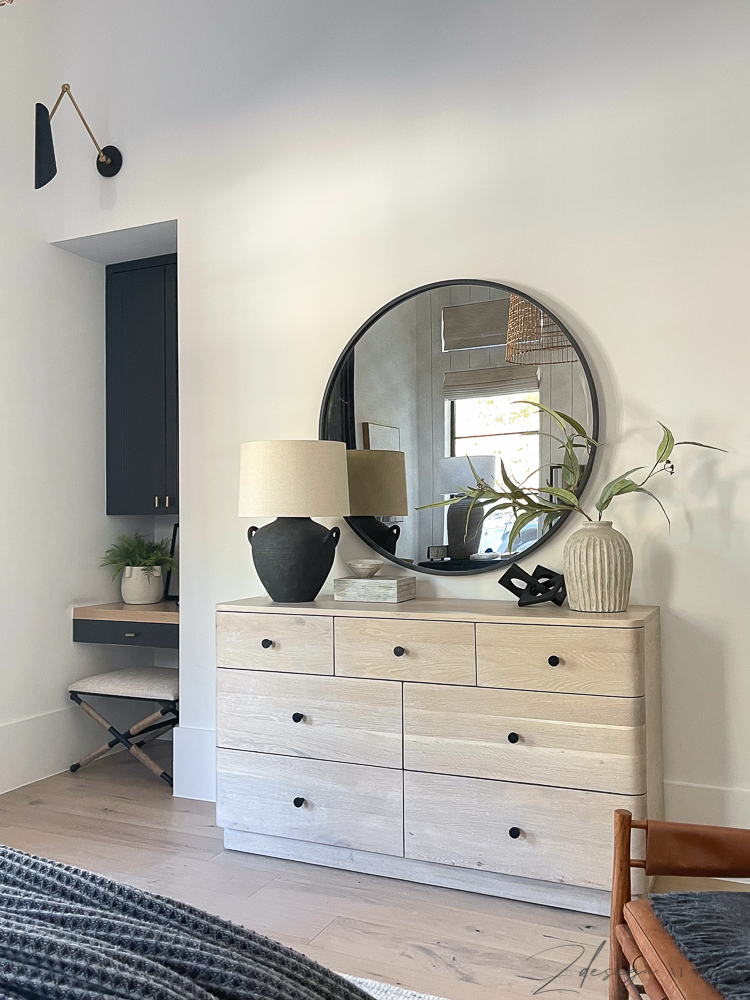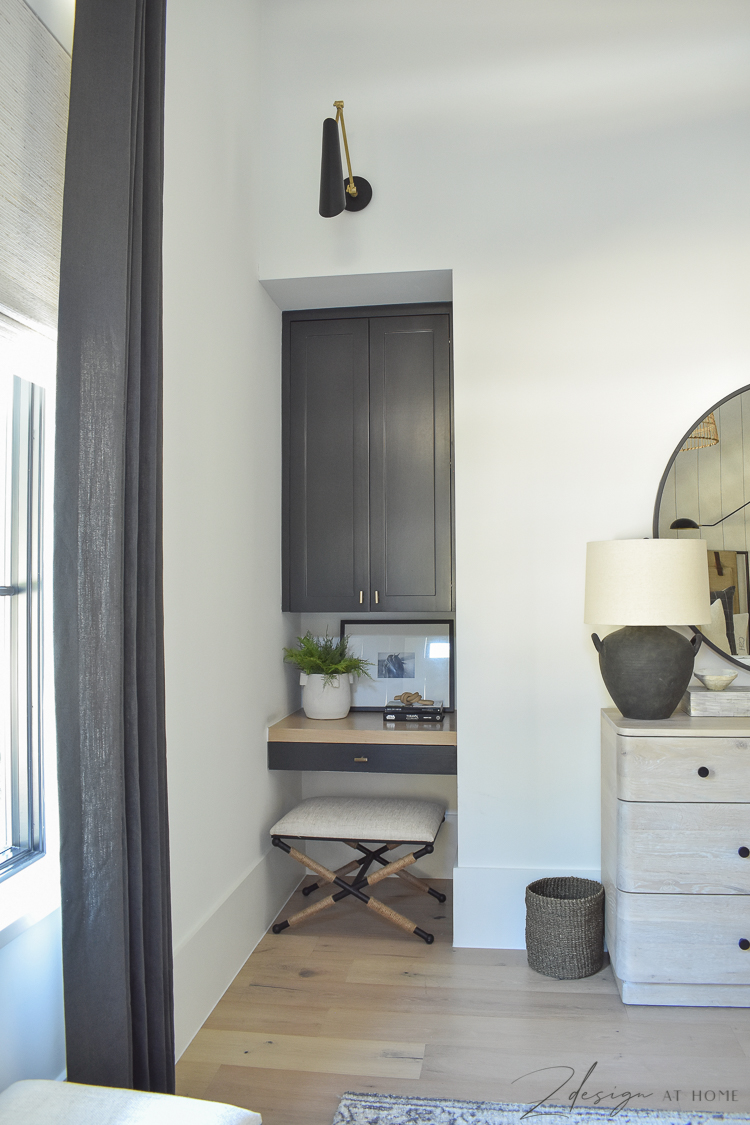 And last but not least is his amazing new mattress from Saatva. This was our 2nd mattress from Saatva (and now we have a 3rd in our guest room that I'll be sharing soon) but he loves it and this again will be something that he'll take off to college with him one day. And, I will have the comfort of knowing he'll be comfortable with a great quality mattress while he's away at school.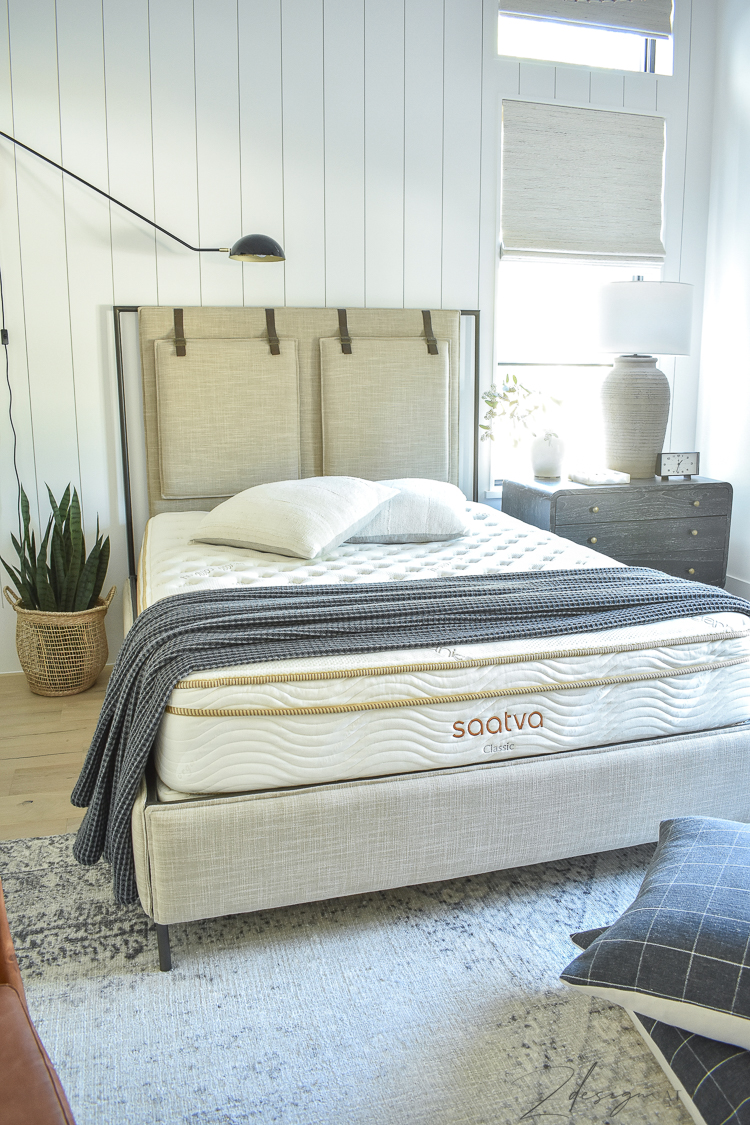 A few years back my husband's chiropractor recommended the Saatva mattress for his back pain. I immediately began to research them and it wasn't long before we had one in hand (that was our first one, hence the decision to now have a second and third one). I love that Saatva mattresses are handcrafted with high quality materials like antimicrobial organic cotton and eco-friendly components. I also love that they have FREE white-glove delivery and that you get to try your mattress in the comfort of your own home for 180 nights.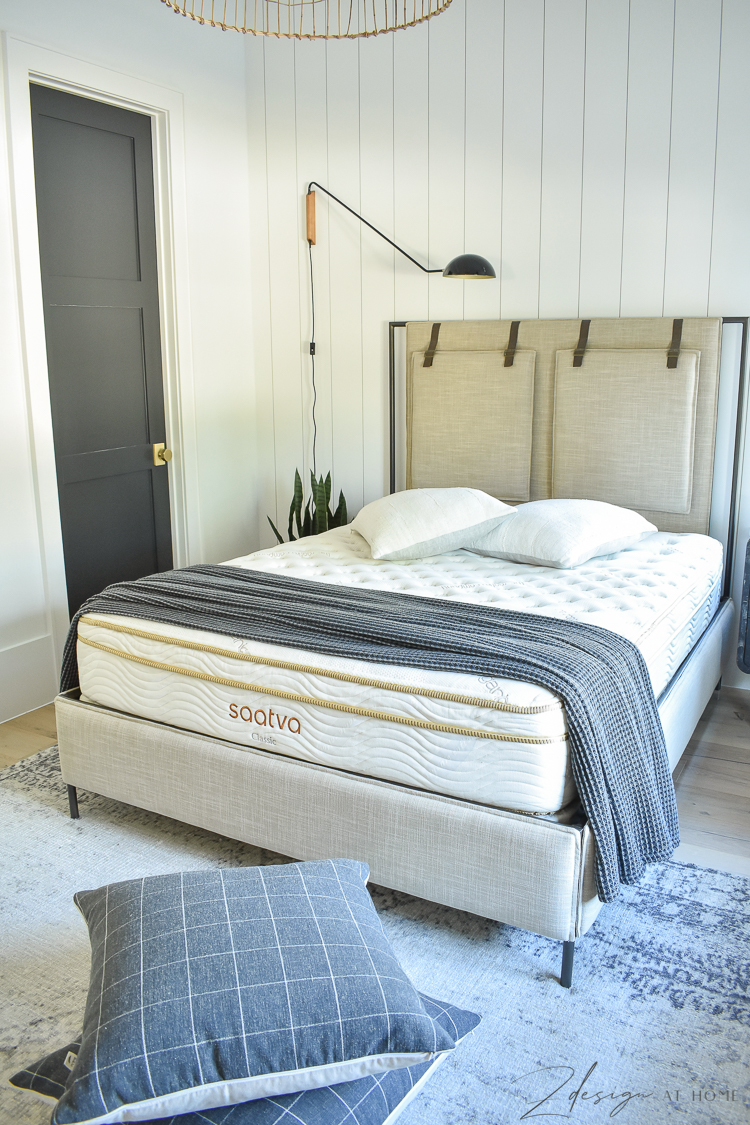 We chose the 11.5″ Queen Saatva Classic for my son's room in the Luxury Firm. We also used the 8.75″ Queen Foundation Foundation since one was required with his bed.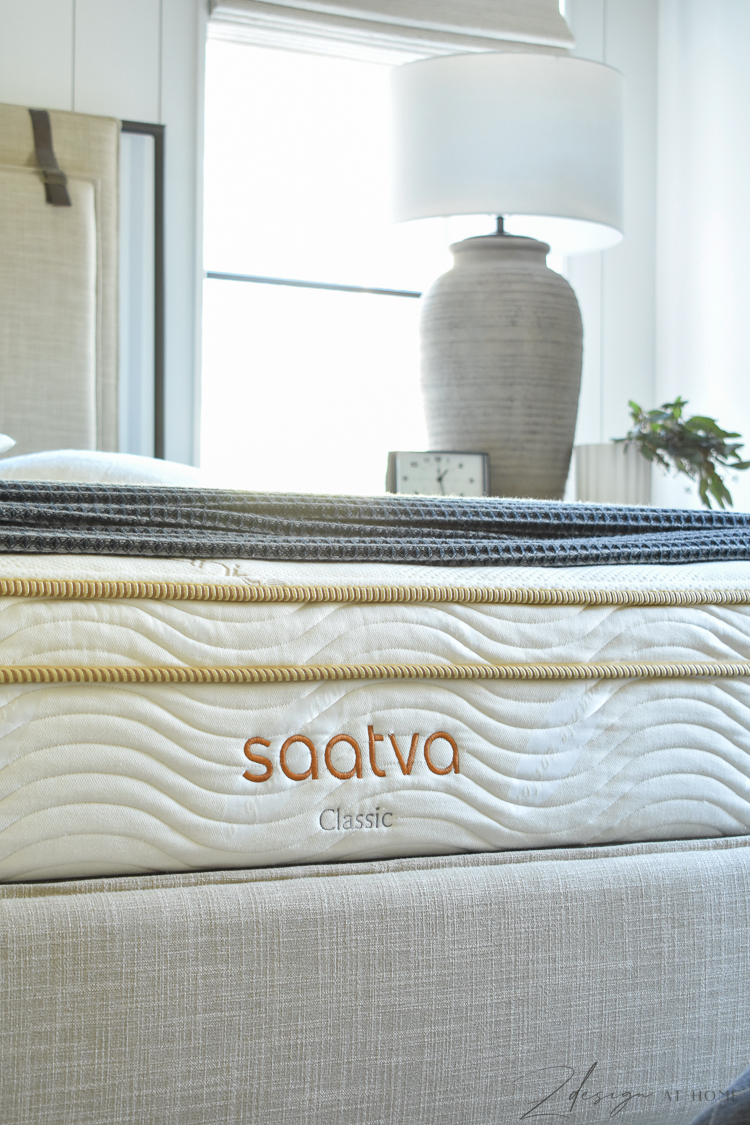 Thank you for stopping by to see our Teenage Boys Bedroom That Will Grow With Him + Reveal. I hope you love it just as much as we do! See below for sources and please drop me a line to let me know what you think. I hope this post was helpful if you are working on decorating a teenage boys bedroom too!

Teenage Boys Bedroom Resources
Mattress | Mattress Foundation | Bed | Rug | Leather Chair | Lumbar in Chair | Black & White Sketch Art (top & bottom) | Nightstand | Large Gray Lamp | Clock | Dresser | Mirror | Vase on Dresser | Black Decorative Knot | Black Lamp | X-Bench | Curtains | Curtain Rod | Curtain Rings | Duvet | Freyed Hem White Quilt | Charcoal Waffle Weave Blanket | Charcoal Windowpane Pillows | White Hmong Pillows | Lumbar Pillow on Bed | Faux Snake Plant | Plant Basket | Articulating Sconce over Bed | Sconce over Study Nook
Anything not listed above will be shown below for shopping…just tap the image to shop…

Let's stay in touch…