New Home Entryway Tour + Sources
Hi and welcome to the Entryway Tour of our new home!  Honestly I can't say it's complete, there are some things I'm still looking for but I can't wait forever, right?!  If you follow me on Instagram you've probably already seen this space but today I'll be sharing all of the details for not only on the decor but also about our hardwoods, shiplap walls and more.  I'll also be sharing all of my sources as well throughout this post and at the bottom!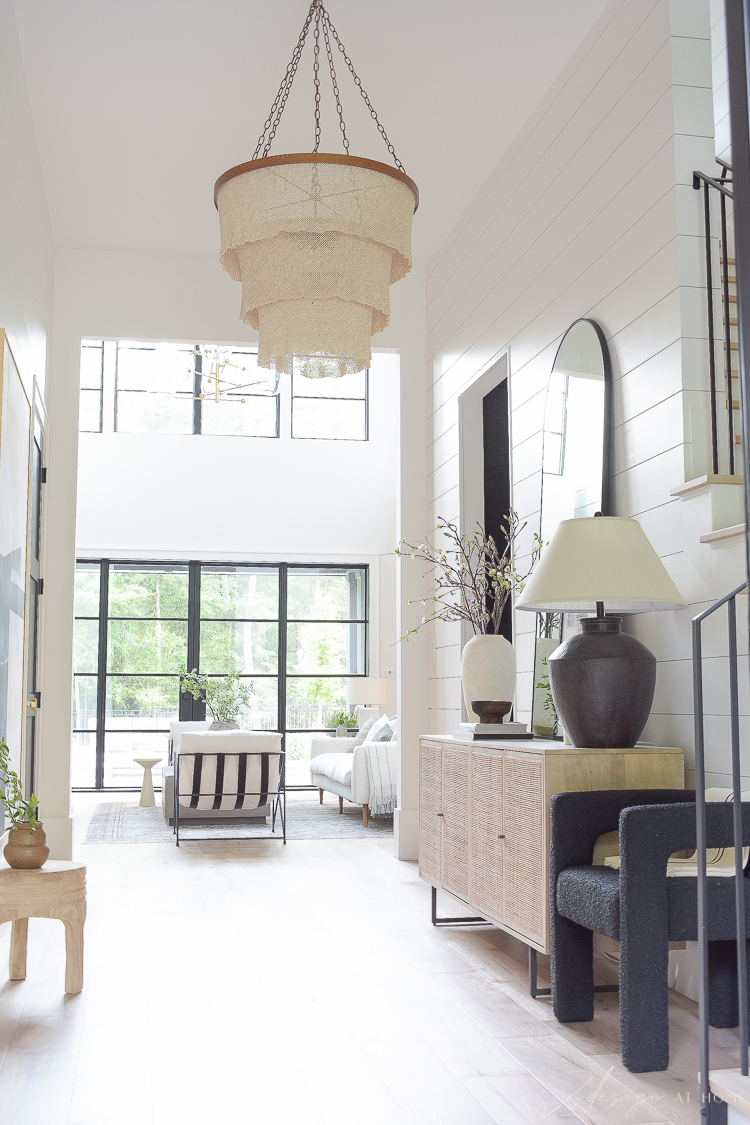 The Entryway
As you enter the front door we have a grand entryway hall with 12′ ceilings.  It's about 24′ long so it commands a lot of attention in our home.  Of course it feeds into other spaces, mainly our living room.  To the right is our new cane console topped with a large mirror, art and decor.  This piece was an immediate falling in love moment.  It's light and airy and best of all has storage – I actually store my vase collection and some of my commonly used faux florals I'm not using at the moment here.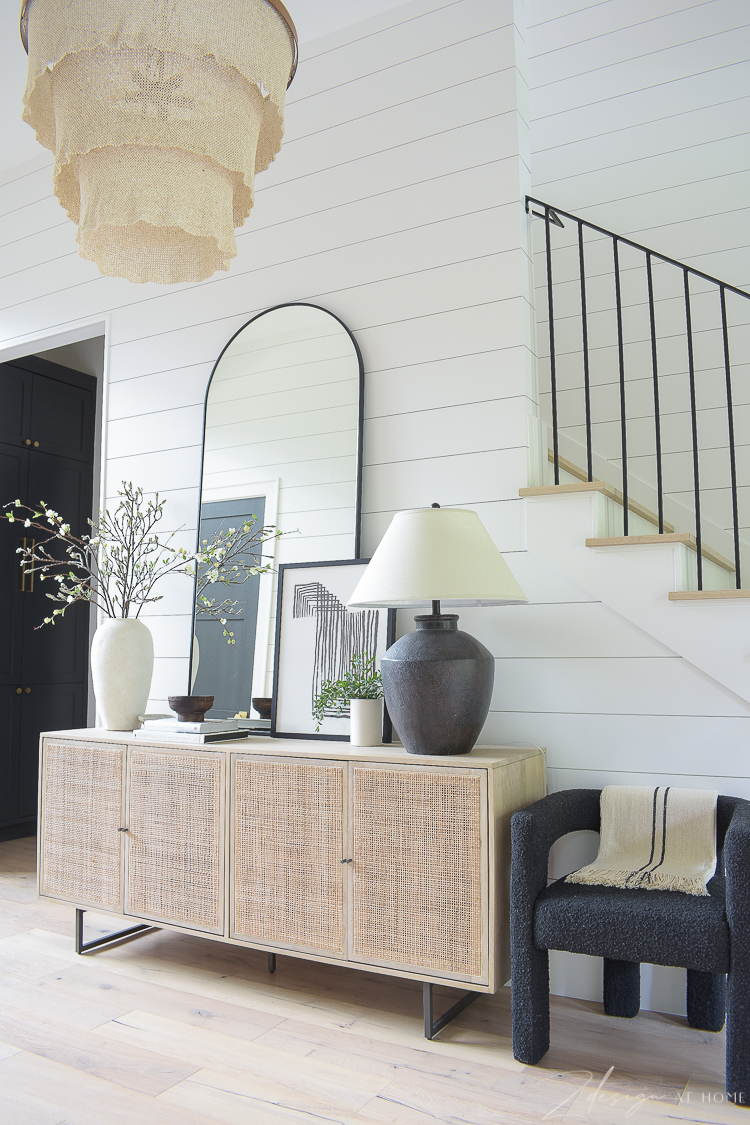 I'll get to the decor in a moment but wanted to review this console for you 1st – you could also use this piece as a buffet.  It has a lot of storage and is made well.  The iron legs add a nice contrast and the cane accents are perfect for today's decor.  I like that the wood is light, almost having a slight whitewash to it that keeps the golden undertone under control.  Here is a close up or two for you…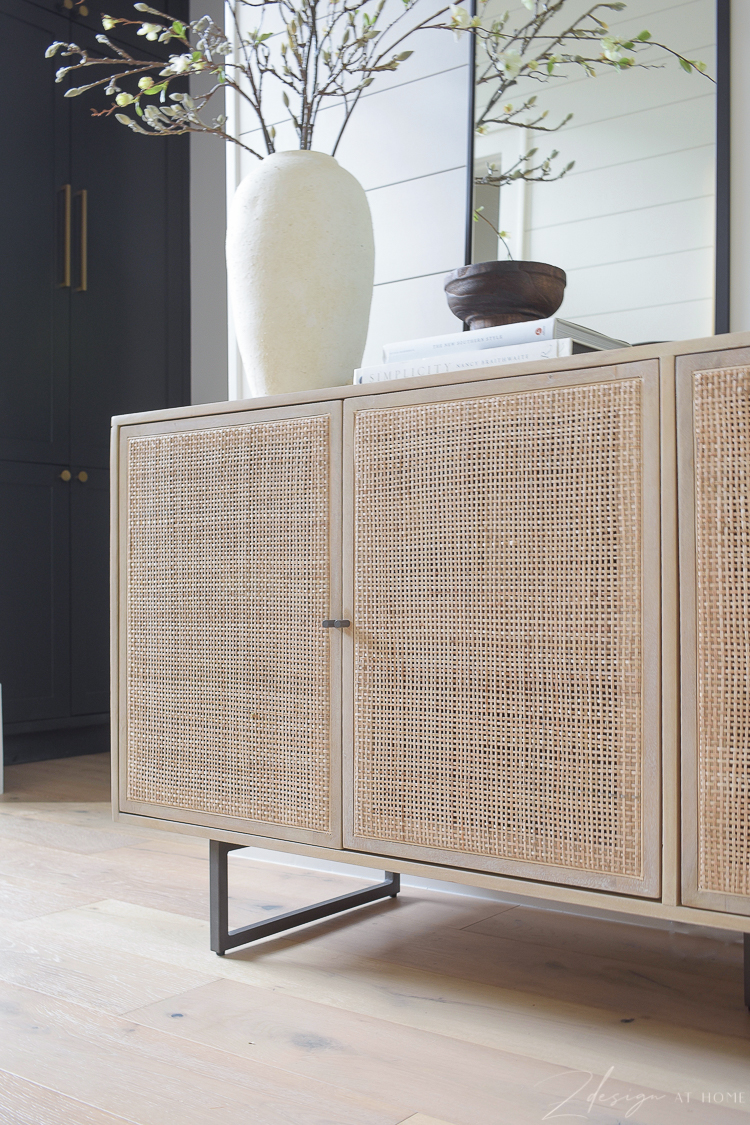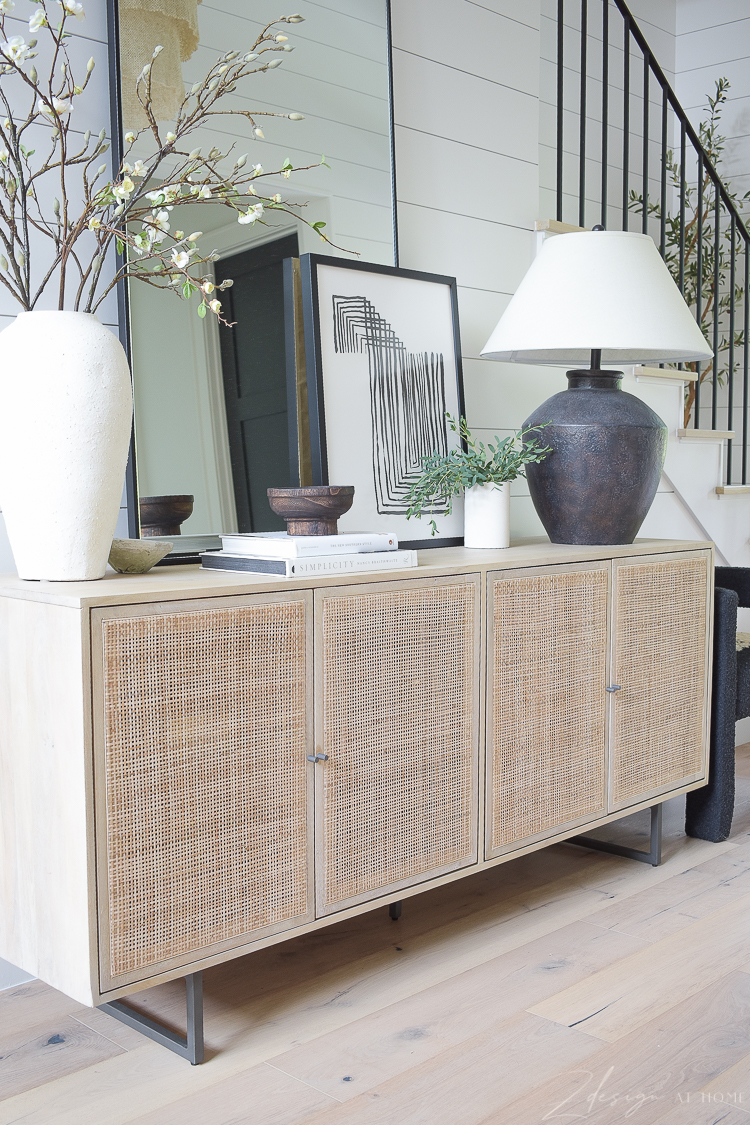 Moving on to the decor – I chose to put this large arched mirror atop the console to open the space up even more.  Mirrors always make a space feel larger due to the light reflecting off of it.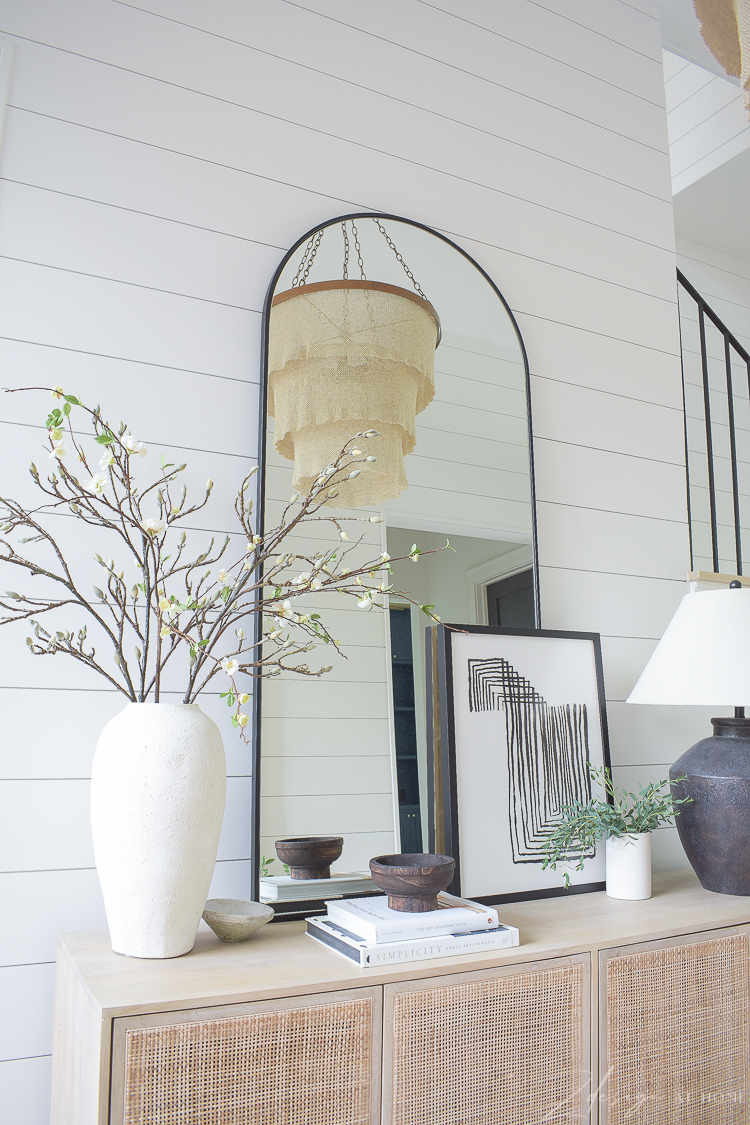 I truly love this mirror – it's 67 x 30 and really commands and nice presence in the space as well.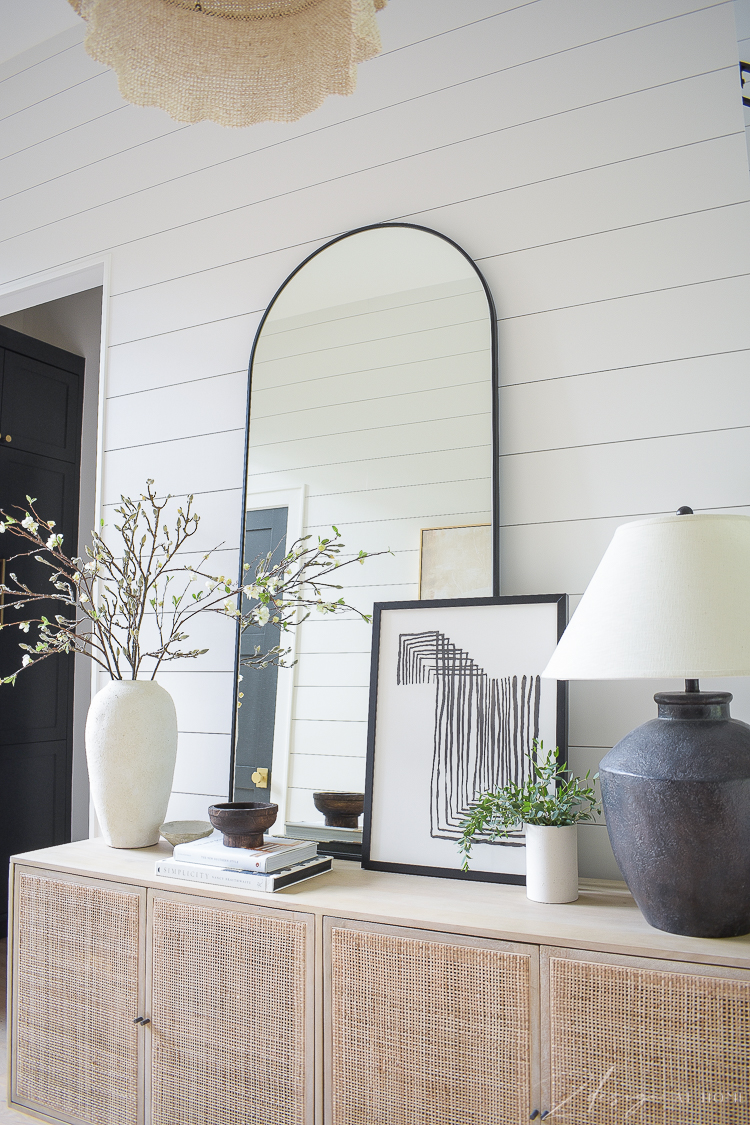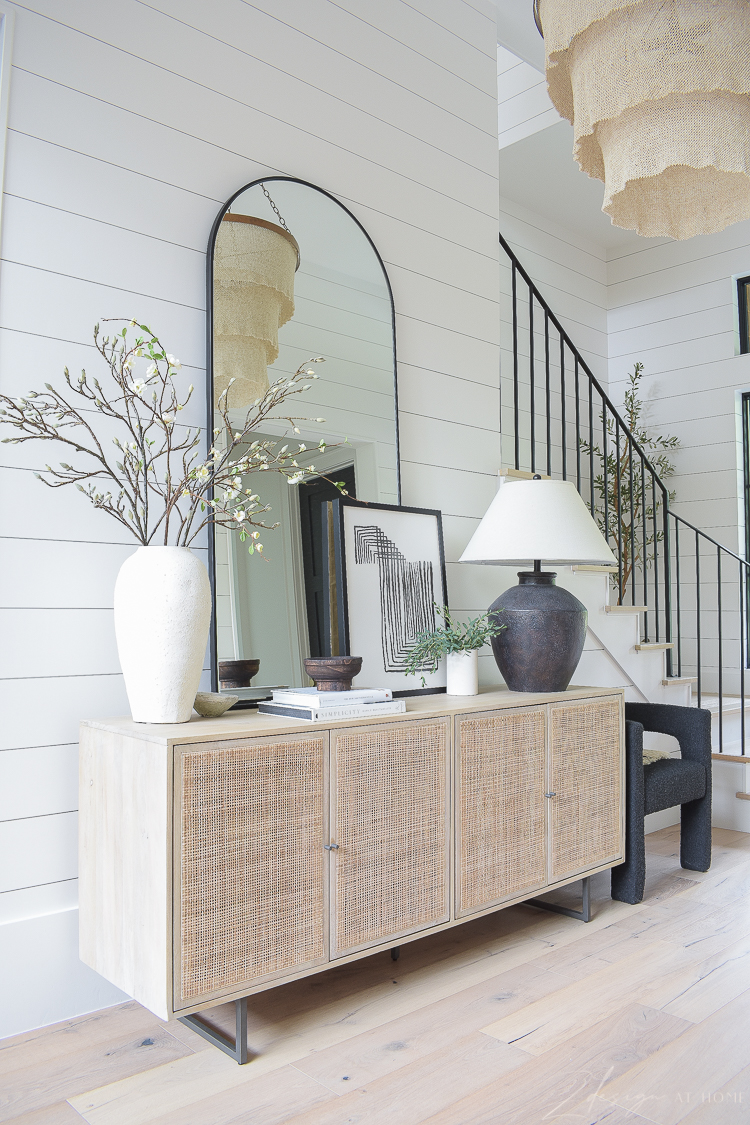 The black and white artwork is called "In And Out" and is from Minted.  Minted has been a long time source for me for art prints throughout my home.  This one fits into my decor perfectly and compliments the larger piece I have on the opposite wall that I'll share in a moment.  They have such an array of pieces from talented artists all over and it's always been a favorite place of mine to shop for art!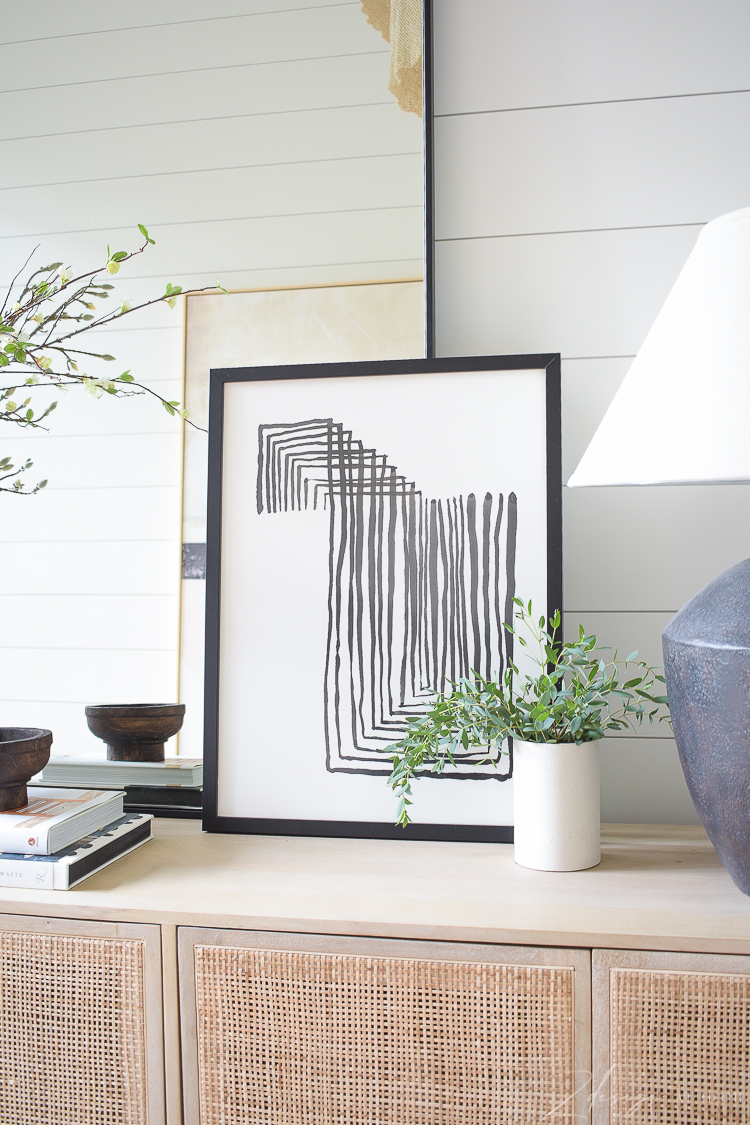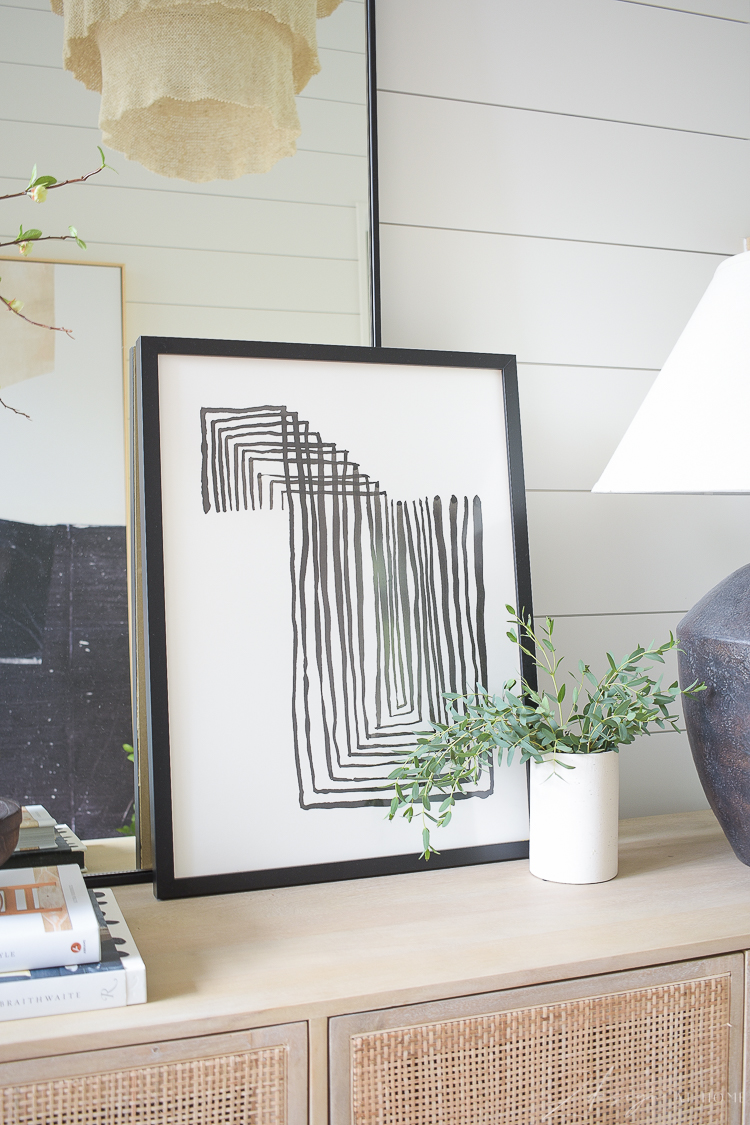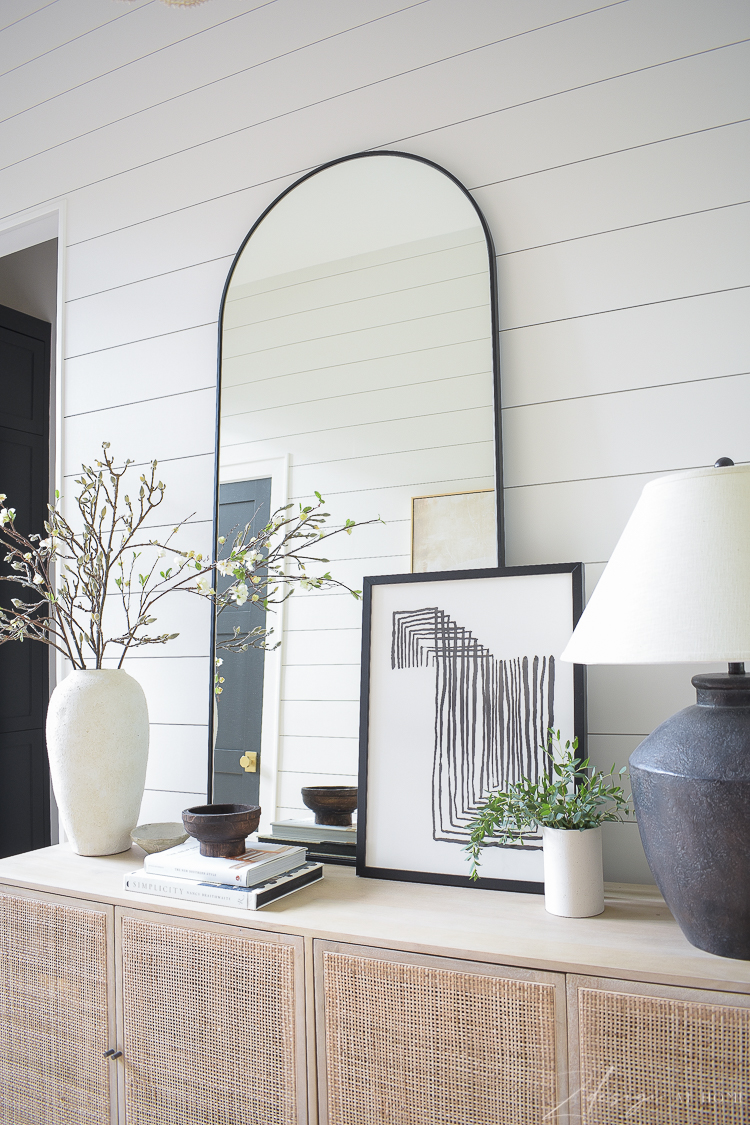 You may have seen this lamp already but I love it too!  It's black and bold with a brown undertone, with texture.  Love the tapered shade too – it's such a great look right now!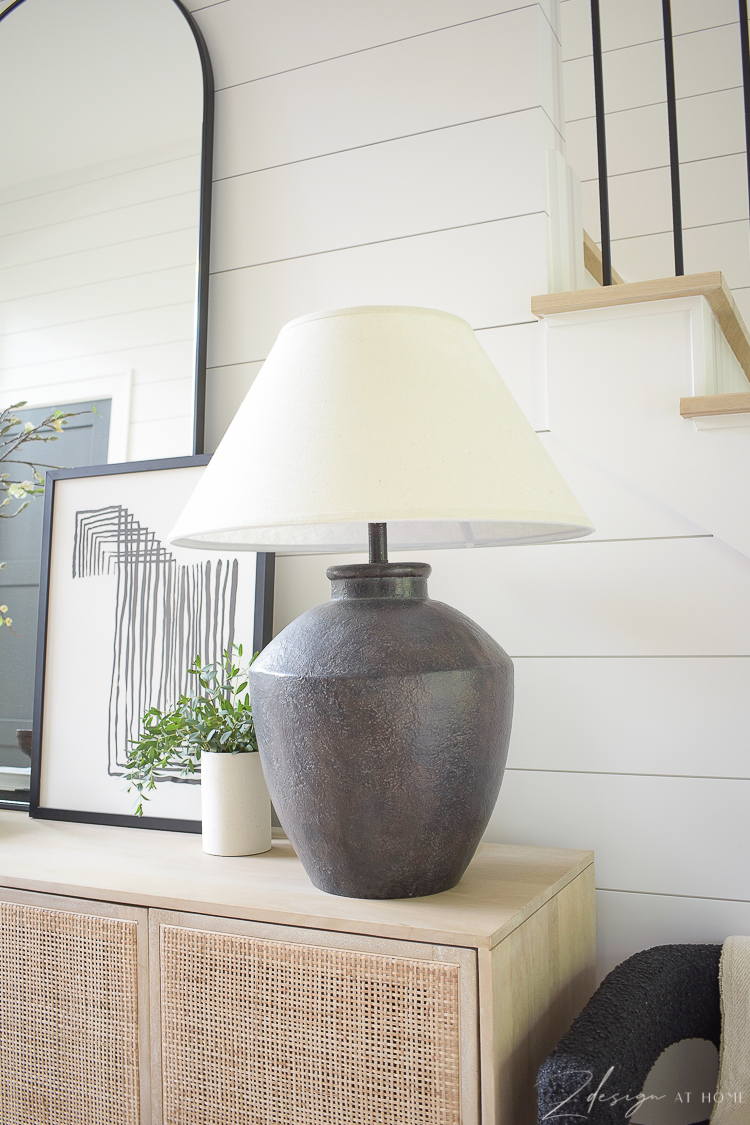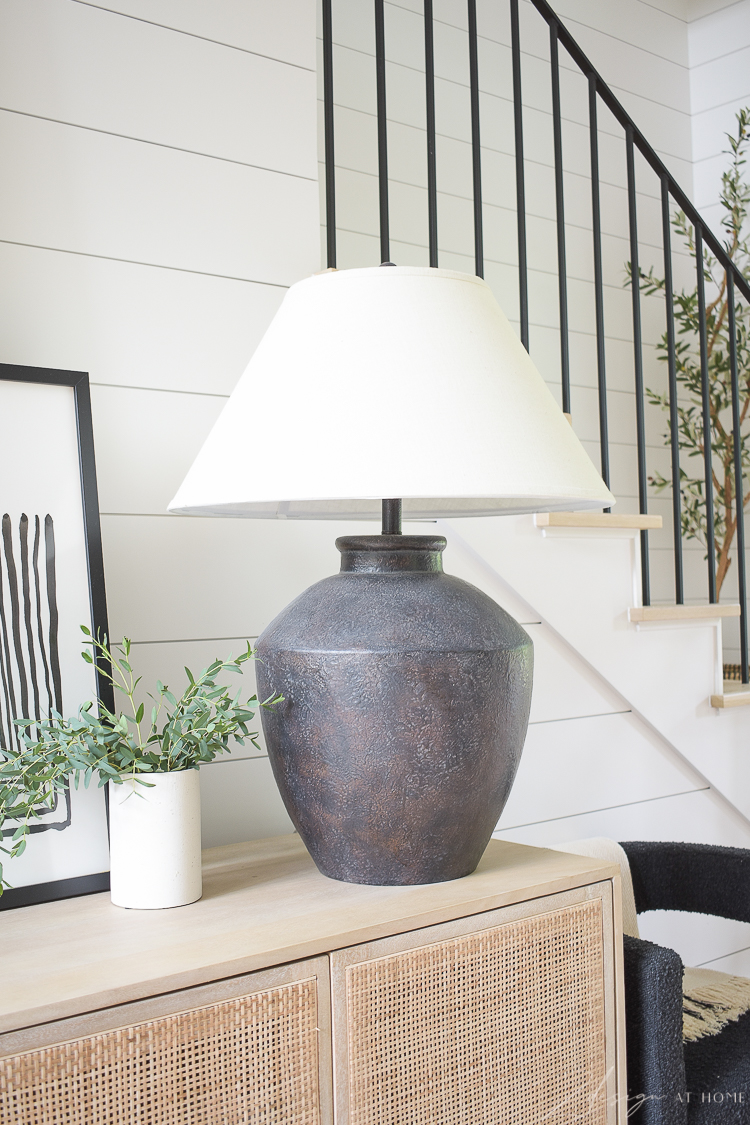 Back to the opposite side of our cane console I found this gorgeous textured white to cream vase and used some faux quince and faux magnolia bloom stems in it.  These are such good quality and I love how they look in this spot!  I also really love the texture on this vase!  These actually aren't in the post but I have another post HERE with all of my favorite faux stems and vases and vessels + styling tips this year.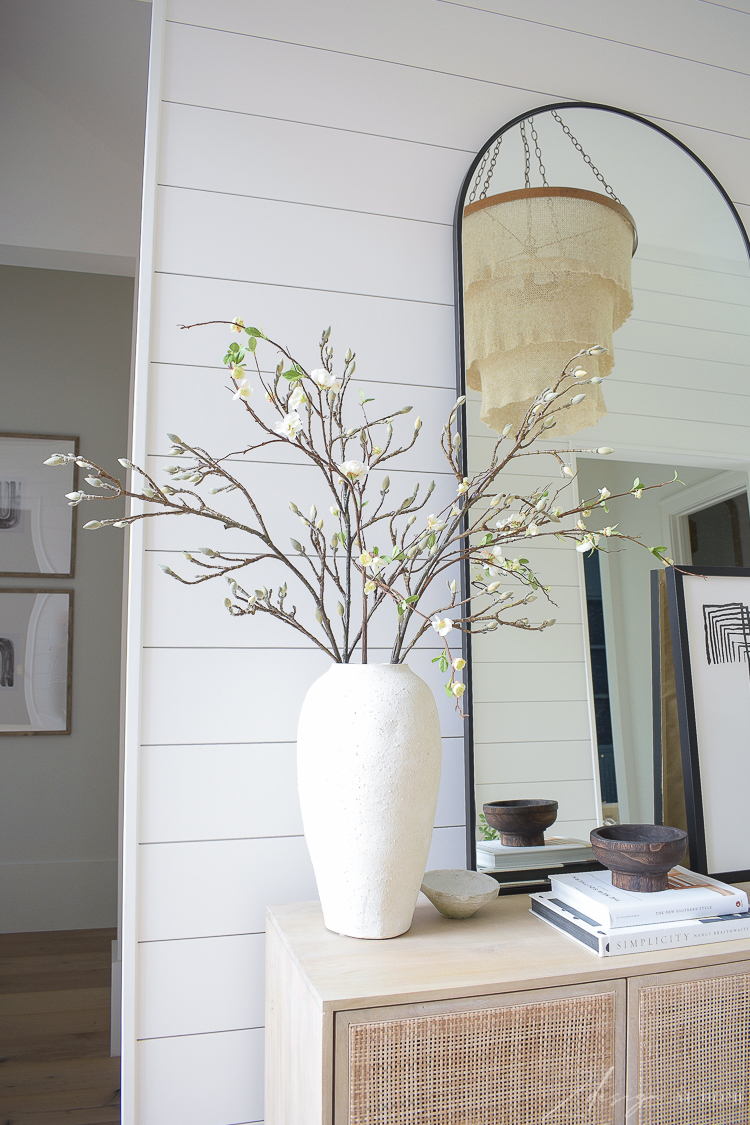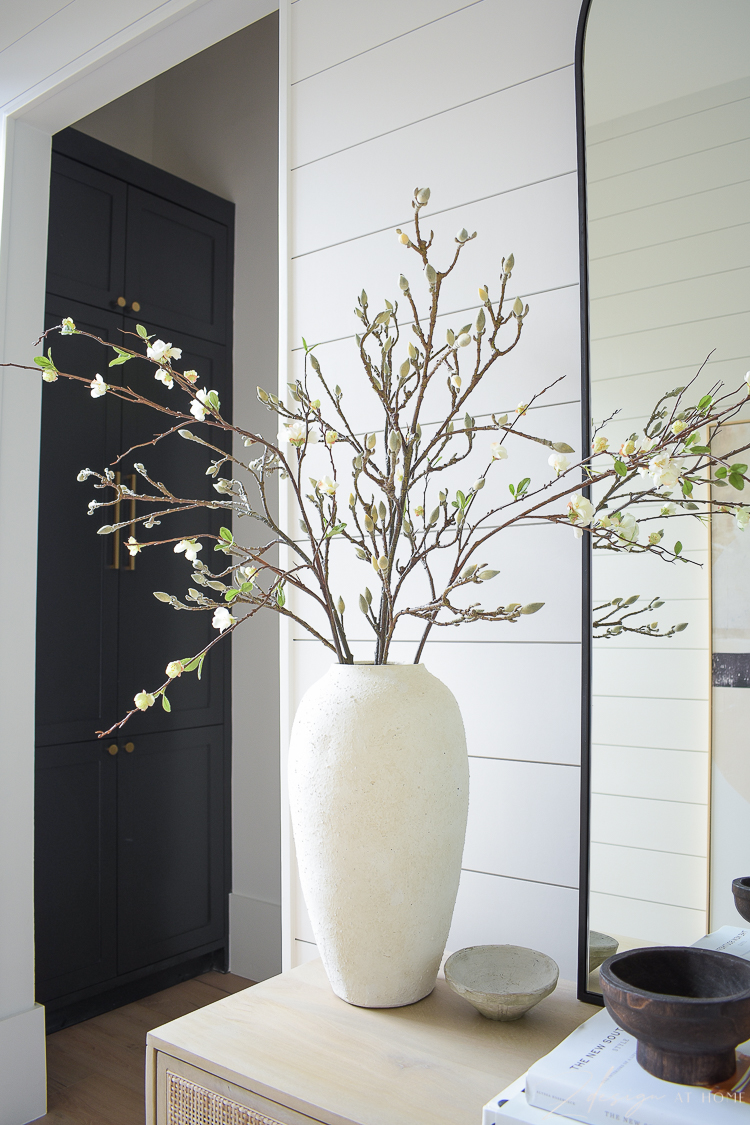 Again the texture is too good on this vase.  It will be a classic in my home for years to come, I have no doubt!  And it was pretty affordable for what it is.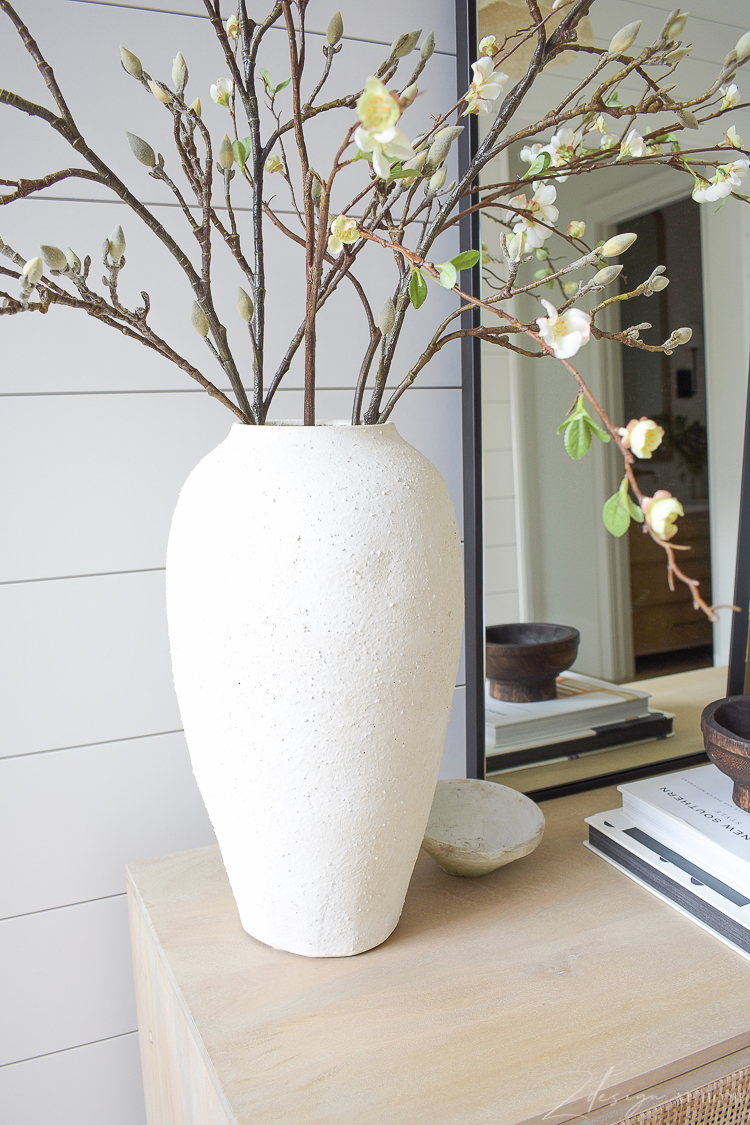 The stems are high quality and I love the mix of the magnolia bud and the quince tougher, which has subtle small, white flowers.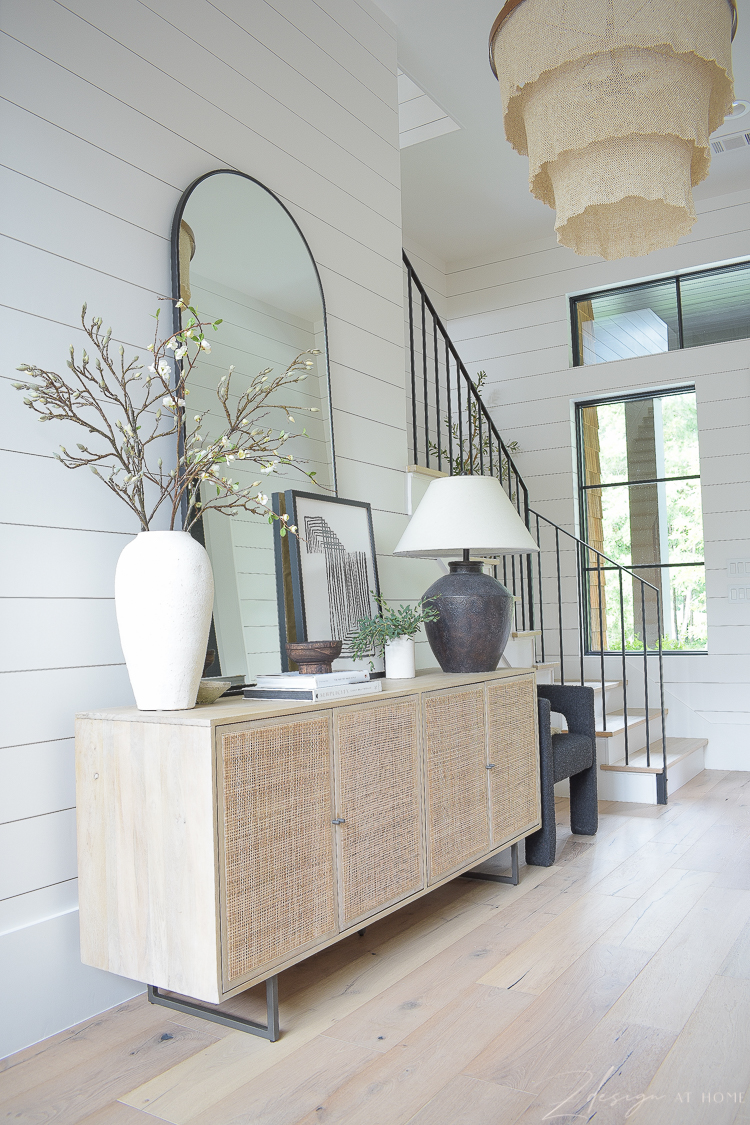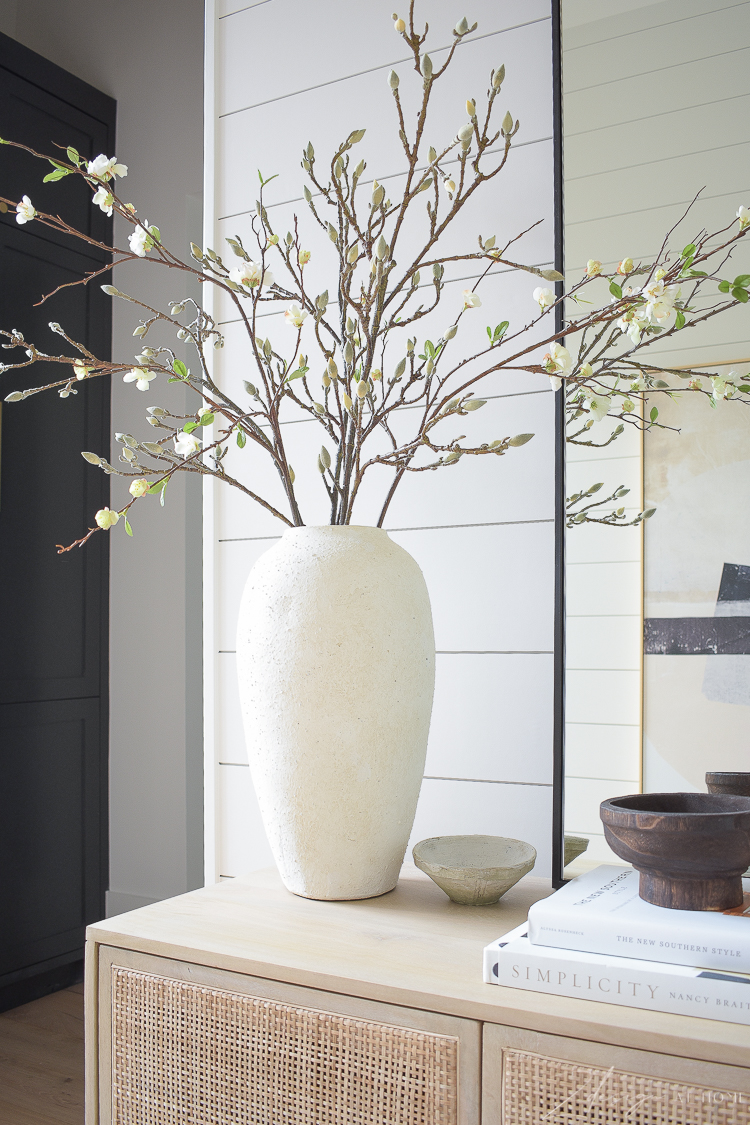 Another new favorite trinket I picked up is this white distressed terra-cotta bowl.  Again great texture and helps to fill in the gap with styling but I love how lived in it feels with the distressing and texture, just as though I've had it forever.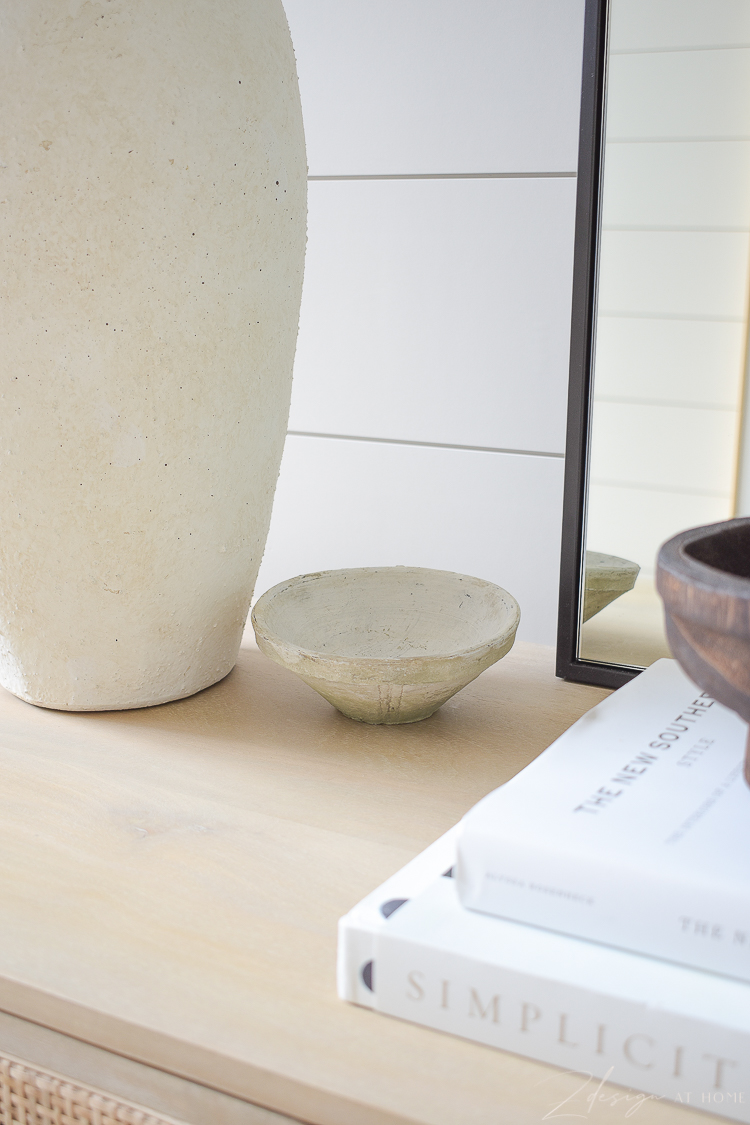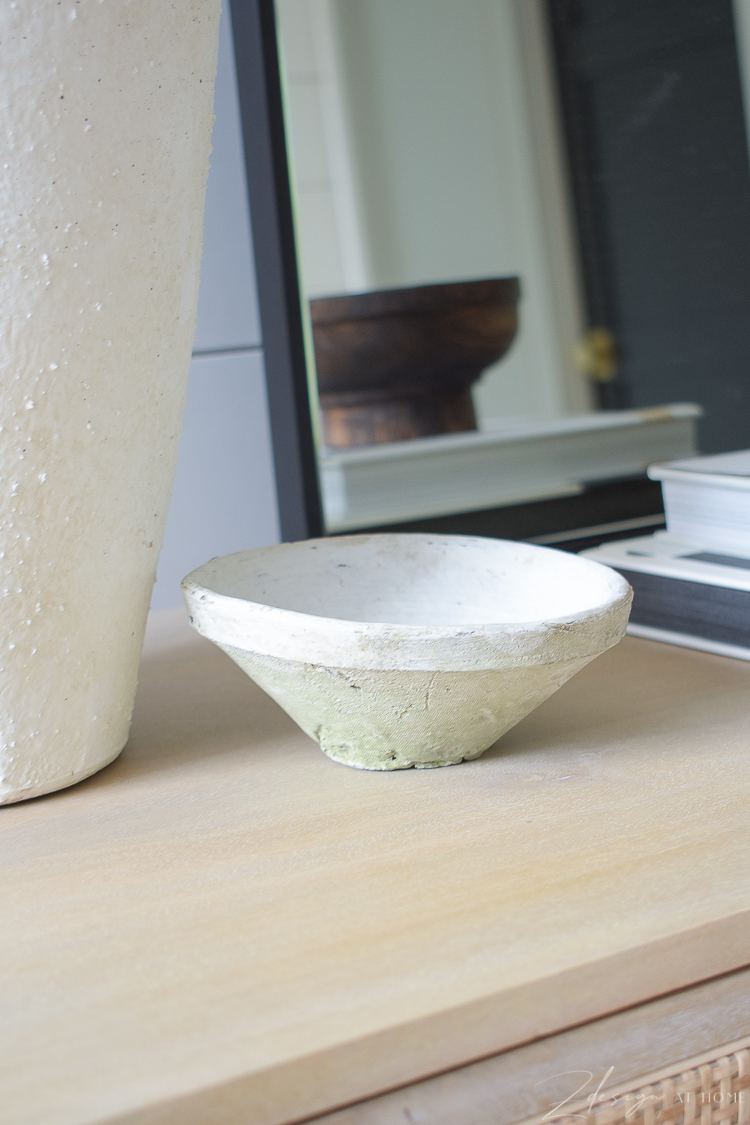 Of course I always use books to style my shelves and usually any surface where one will work.  I topped these books off with a pedestal handmade wooden bowl.  The New Souther Style book is a new favorite as well!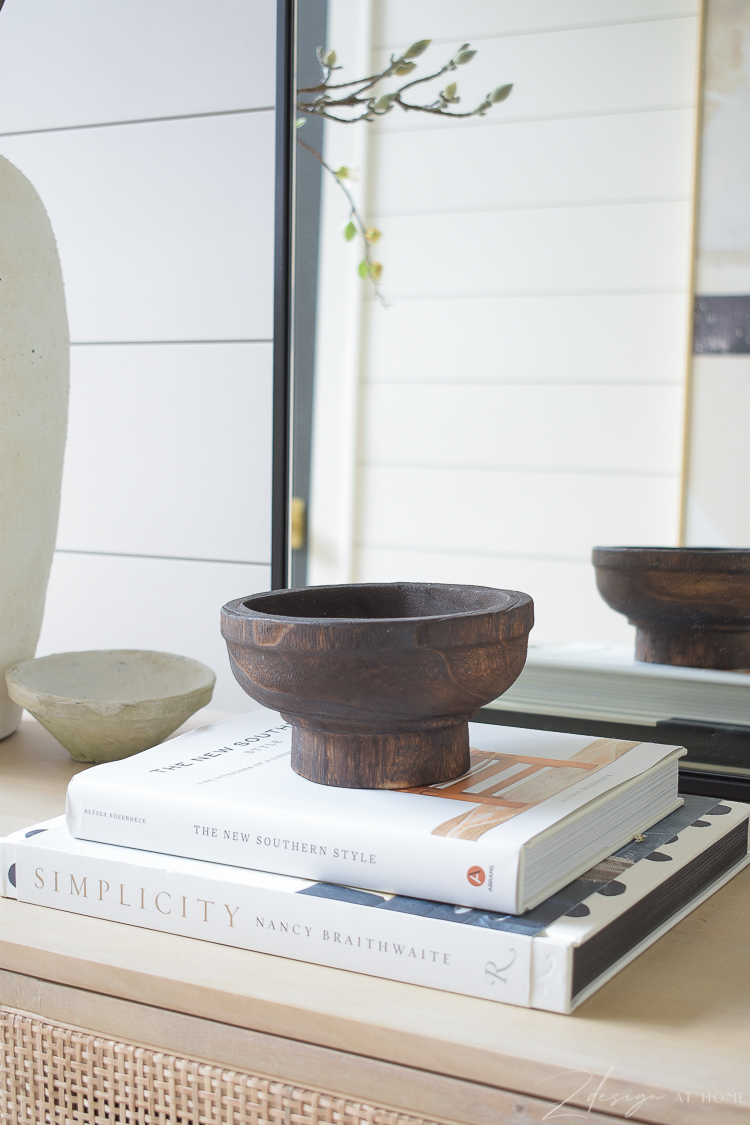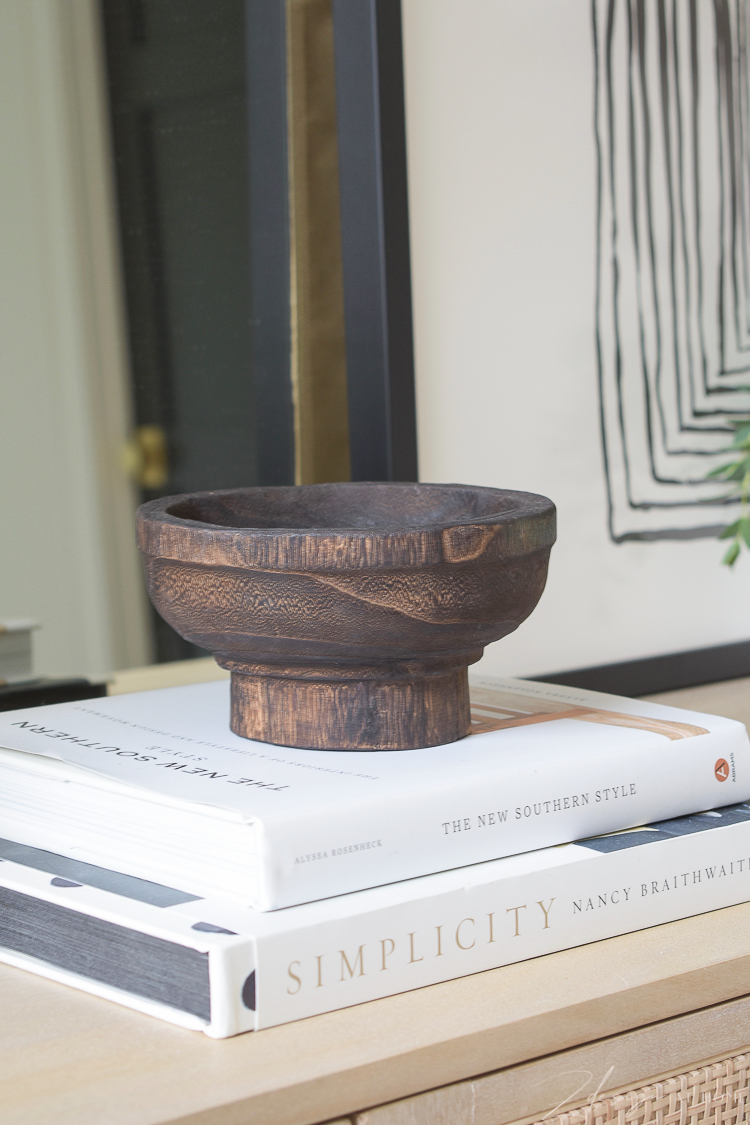 Last but not least for table decor is this speckled white vase.  It's simple but has great texture and is perfect to help add a small touch of greenery.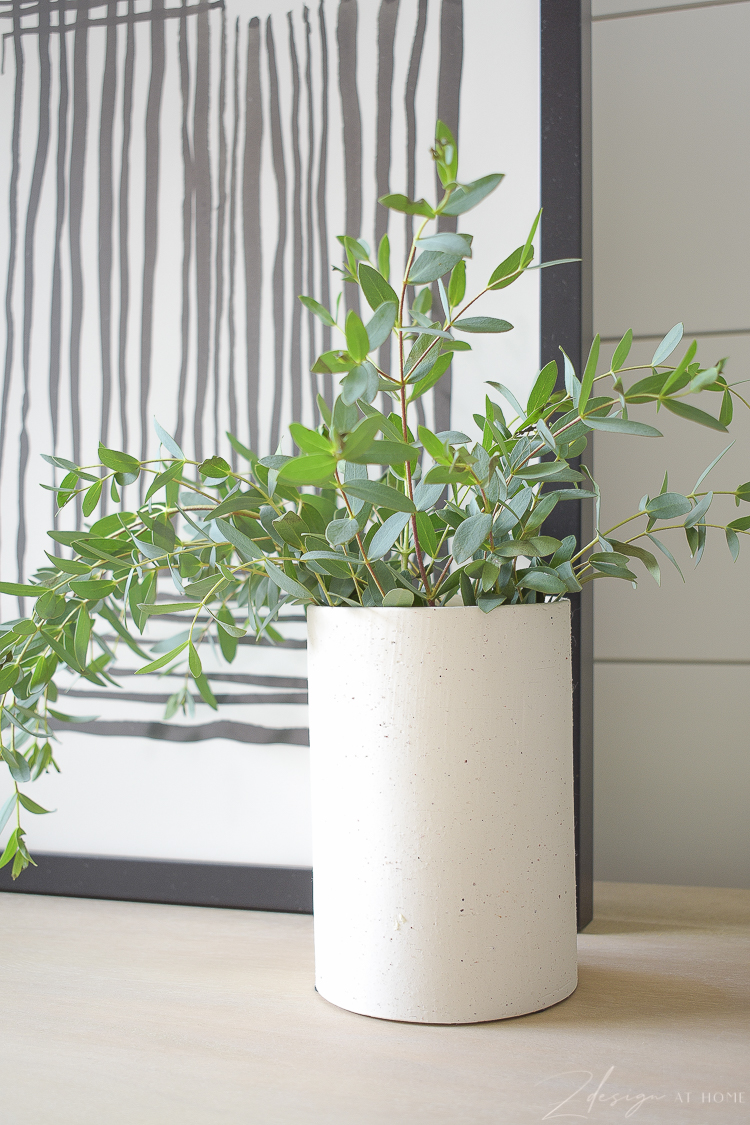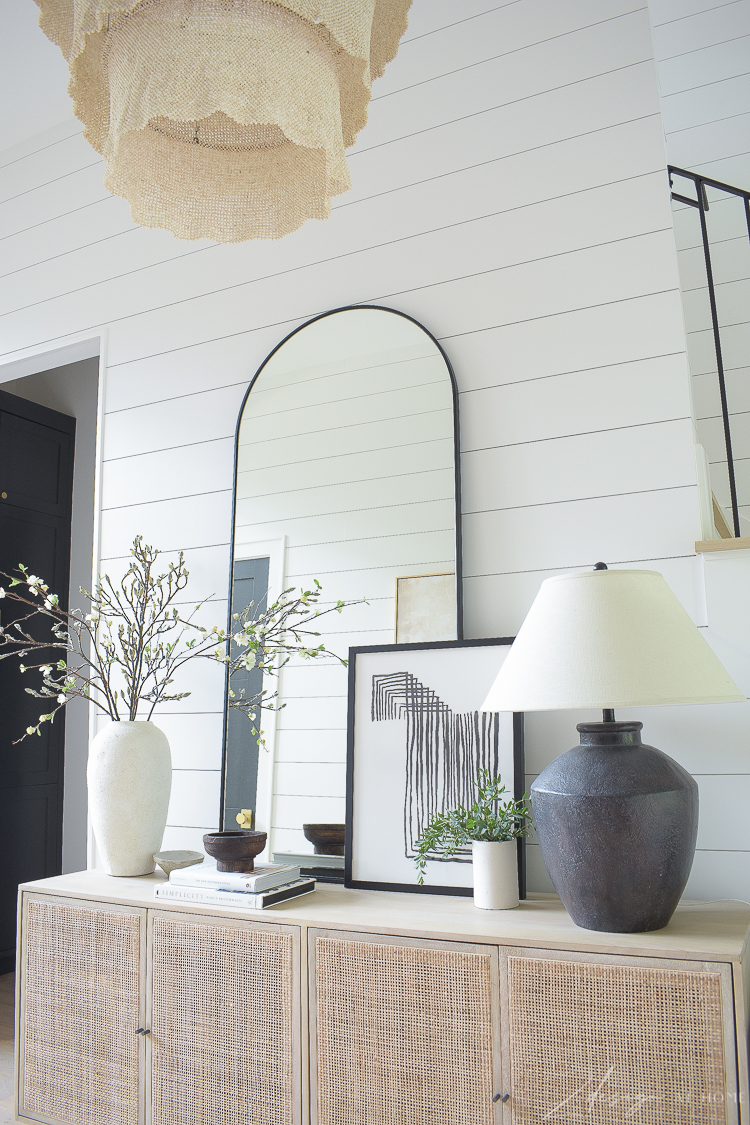 For lighting in here at first I did not go with this chandelier and the one I chose initially was just all wrong for the space (sorry I don't have a picture of that one) but once I started looking and found this cocoa bead 3-tier chandelier I knew it was the one.  Sorry, I didn't get a photo of this either but at night it's truly stunning how it lights the space up, adding just the right amount of light for a beautiful glow.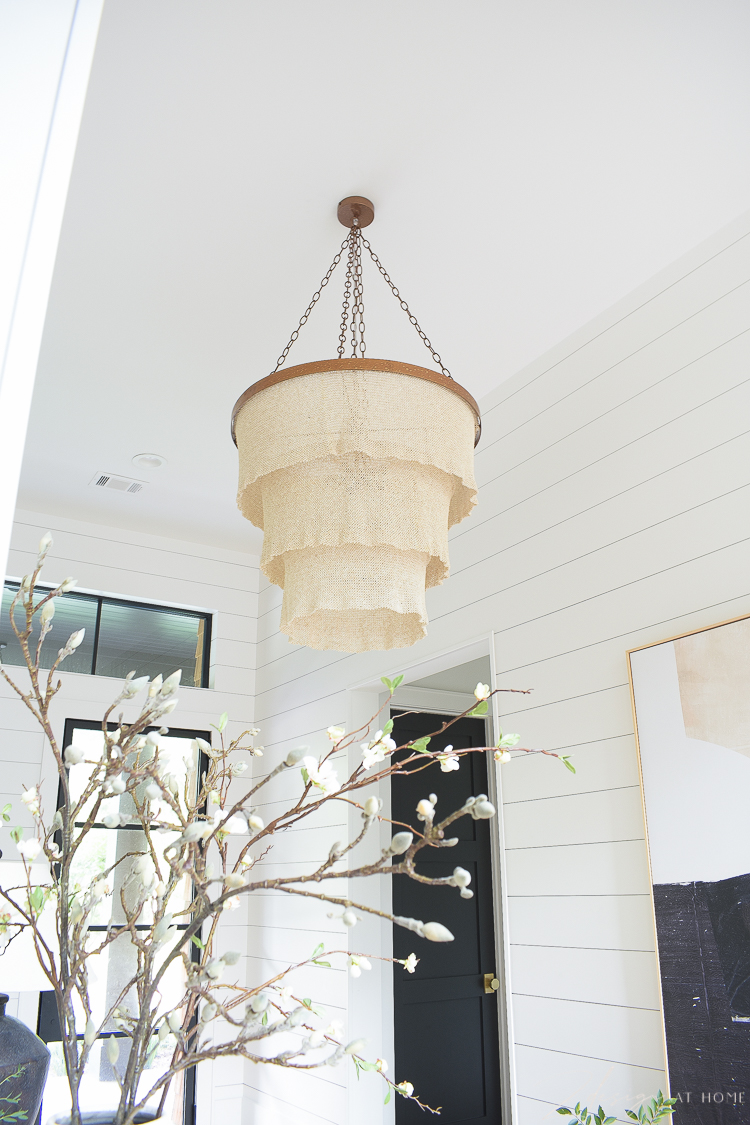 It was just perfect to soften all of the hard lines in the space and is truly gorgeous ~ I also absolutely LOVE the reflection in the tall mirror!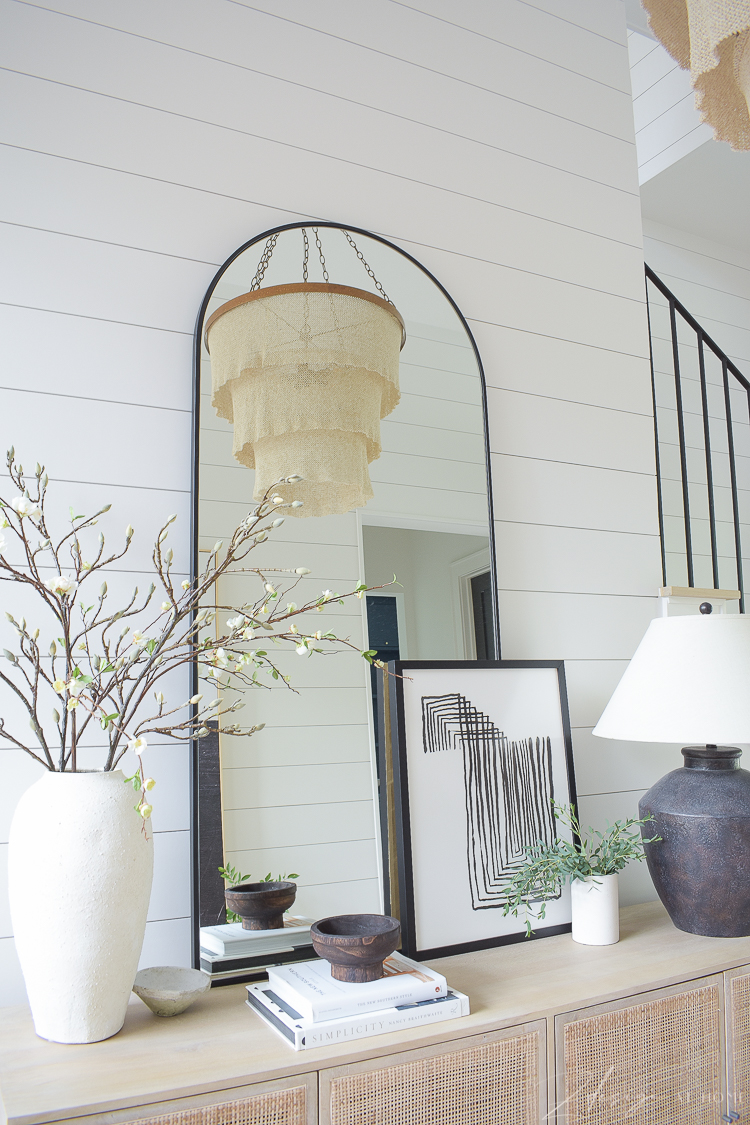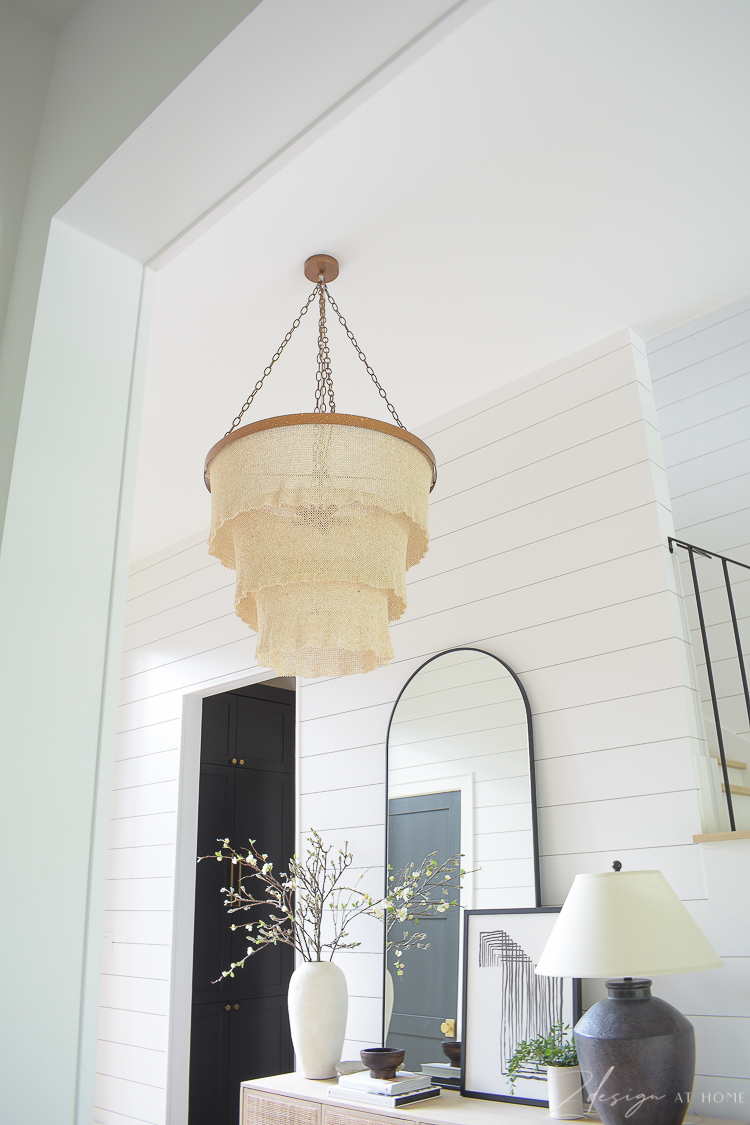 Here is a view of it and the rest of the space from the living room side of the hallway.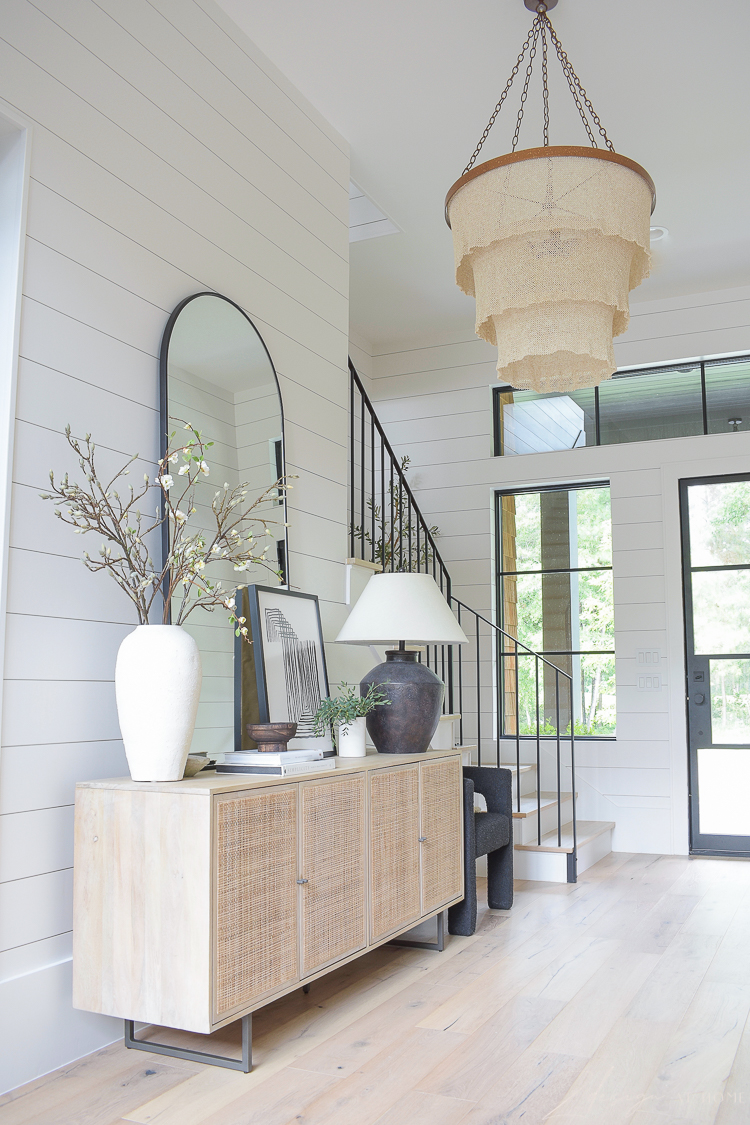 Moving on to the chair next to the console which is covered in a black boucle fabric.  Boucle is an uneven yarn of three plies one of which forms loops at intervals (source: Merriam-Webster).  It's soft and unique and this is my 3rd piece of furniture covered in bouclé.  I needed something on the small side and it just worked perfectly for the space.  I also love it's unique shape and rounded back.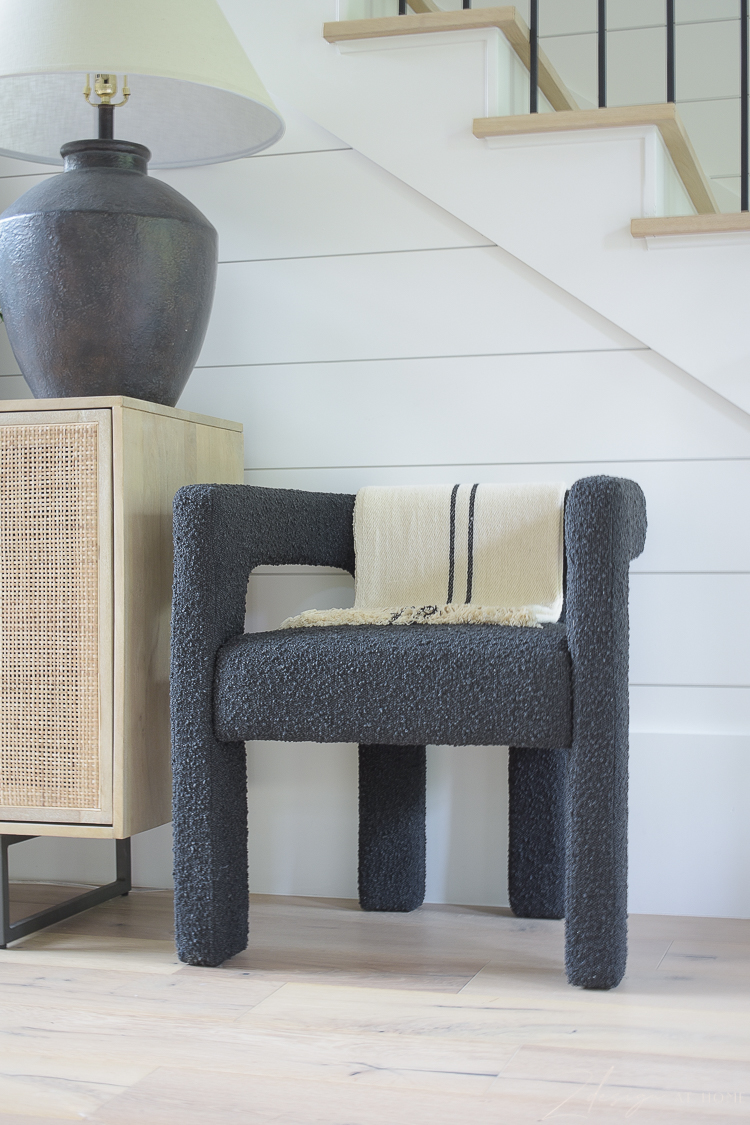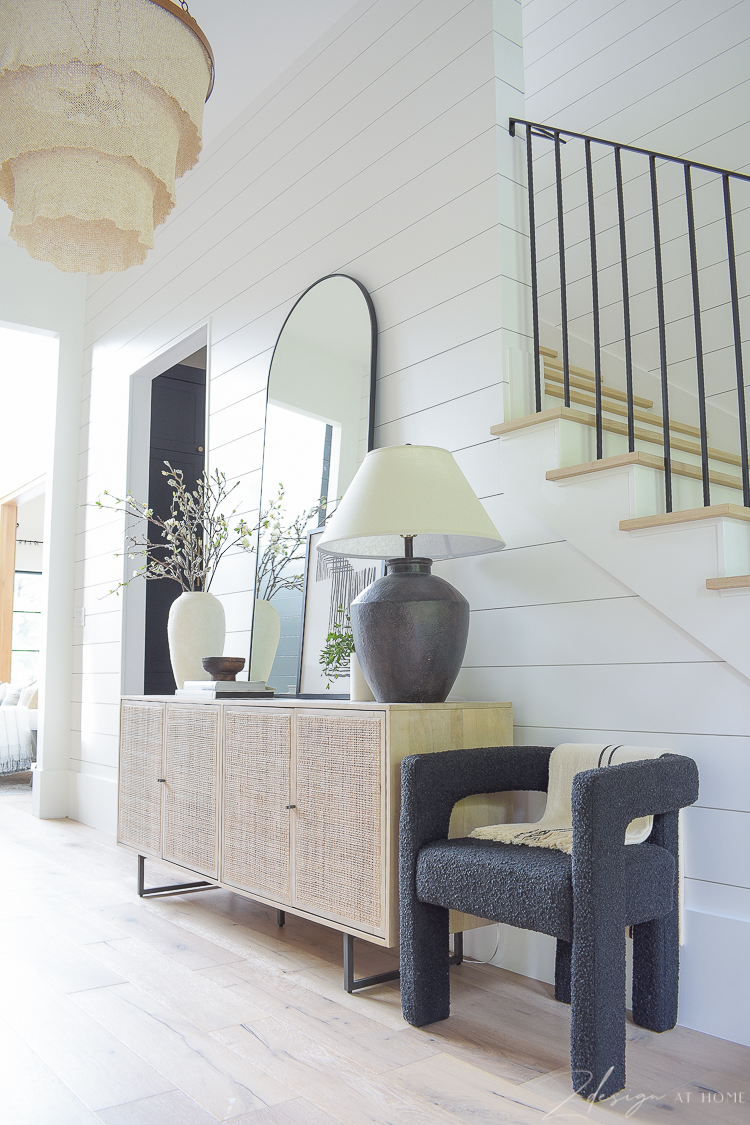 Across the hall on the other side from the console there is just one thing and it's fabulous!!  Now before I carry on about this amazing piece of art from Minted called "Last Tuesday", I have to share that I've really struggled with this spot.  The hall is just wide enough that it feels like there should be something on this side (under or beside the art) but everything I try to put here then makes the space feel closed in and like it's in the way (I've tried stools, benches, plants, lidded baskets, you name it – ugh!).  I've ordered one of those Chinese wooden benches (that I have at the end of my bed) that are very slim so we'll see if that works but if not it will stay like this for now.  I'm also on the lookout for a nice runner but that's also been quite the challenge as I need one that's about 14′-16′ long and the pickings are slim at that length.  But, I think the art is just enough on this side…what do you think?  I'm extremely happy with it!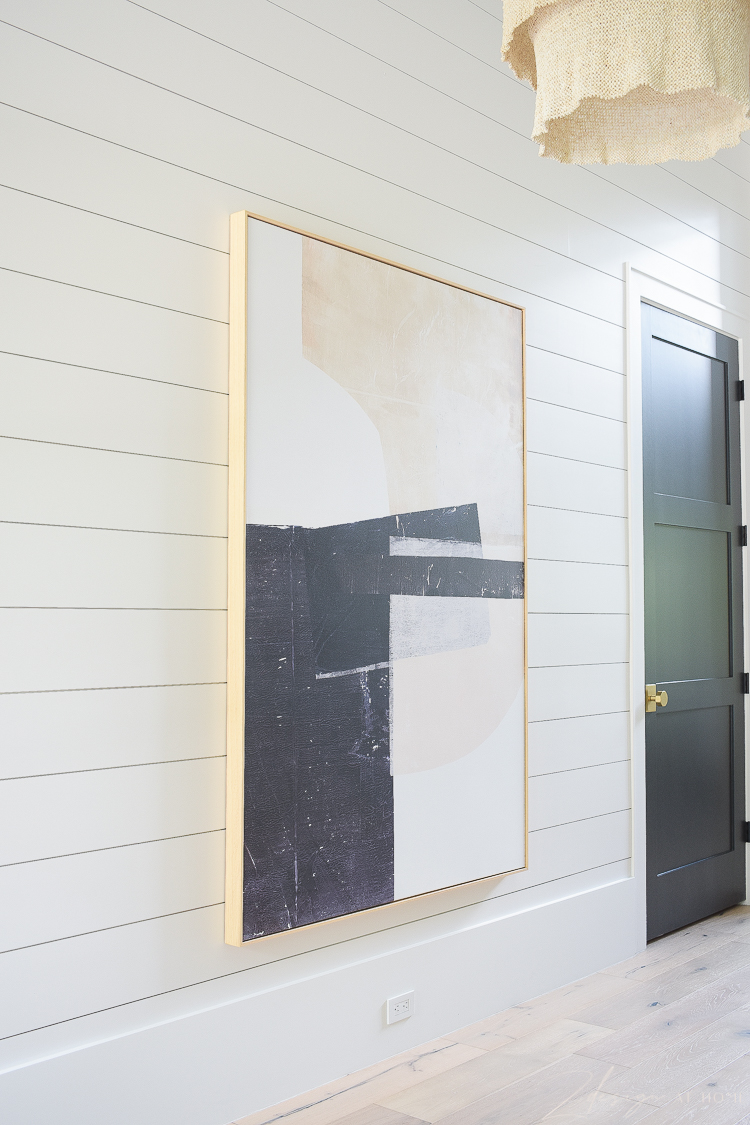 This piece is oversized but comes in many different sizes.  I chose to do it on canvas with a natural wood frame.  It makes a beautiful statement in our entryway and we couldn't love it more!  My hubby hung it with some heavy duty command strips linked below.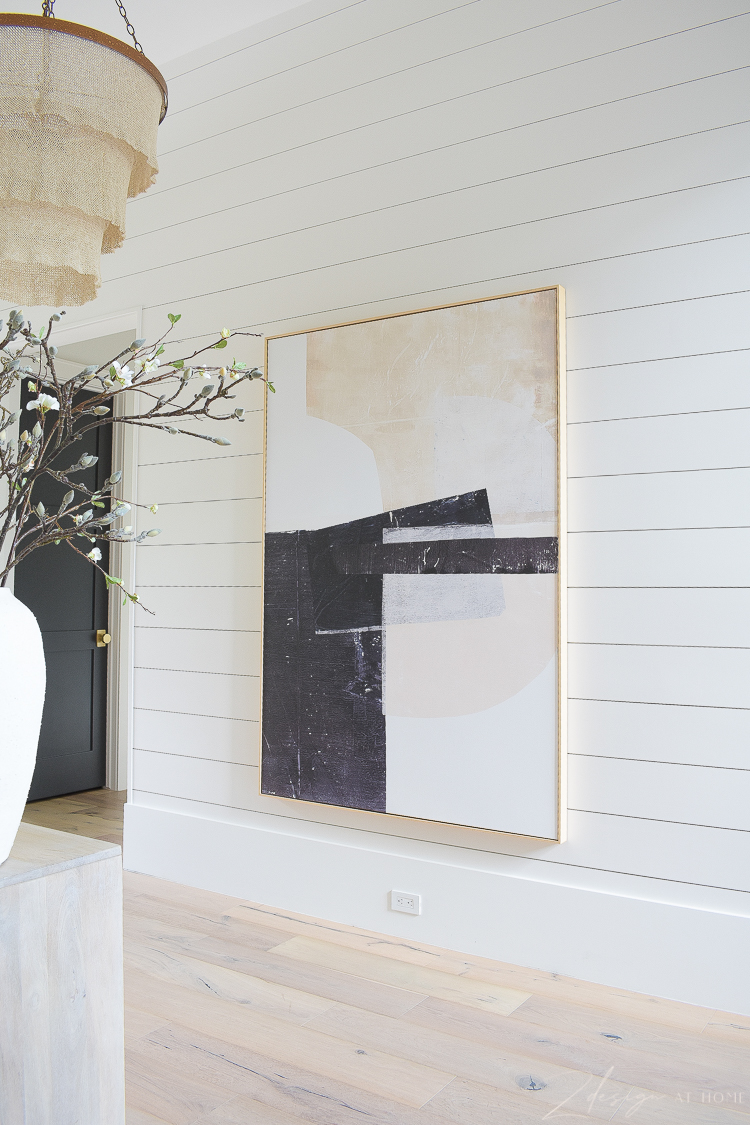 The Shiplap
As you enter the door to the right are the stairs.  Our shiplap isn't actually shiplap, it's tongue and groove.  The boards are 7″ and the gap is 1/8″.  I've had a lot of questions about how the vertical seams are covered where two boards meet…our painters puttied the seams and then painted over them.  It's painted in 3 coats of Sherwin Williams Snowbound and finished off with a matte varnish finish (matte finish because I didn't want it to be shiny).  The nail holes were puttied and sanded 3 times before it was actually painted – gosh it seemed like it took forever.  I'll also be talking about our custom iron hand rail in a minute too!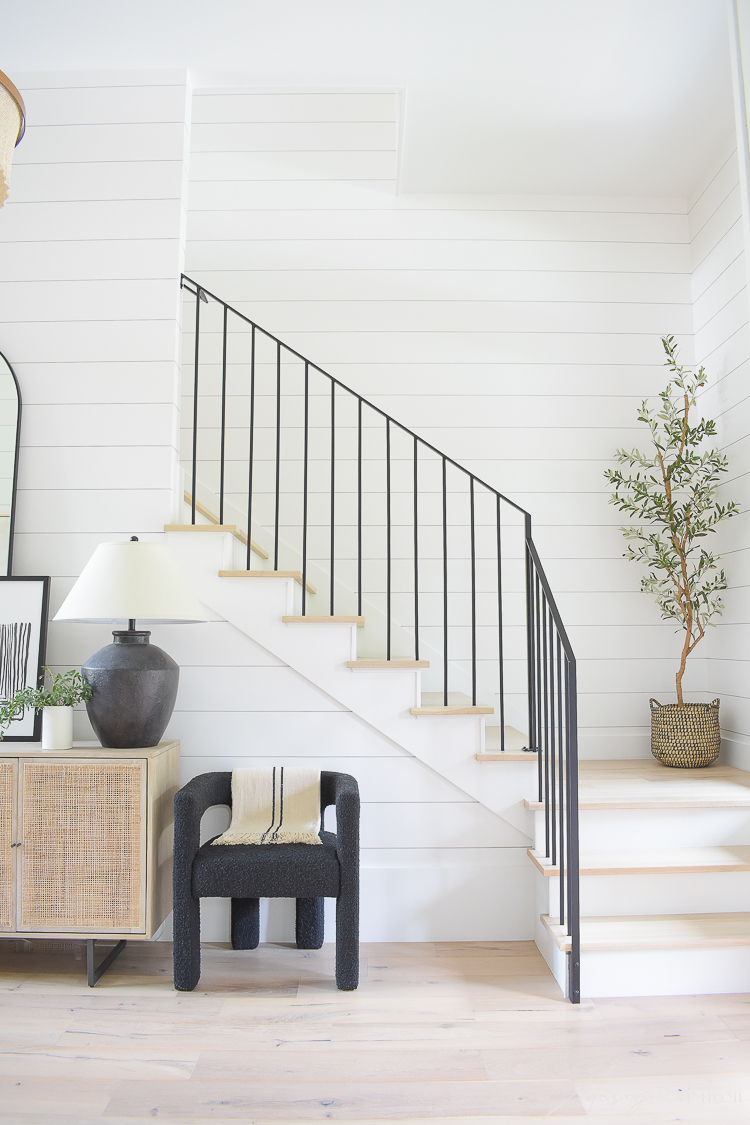 As you go up the stairs I found the perfect tall, slender olive tree.  And I used a basket I've had that is perfect for a faux plant size base.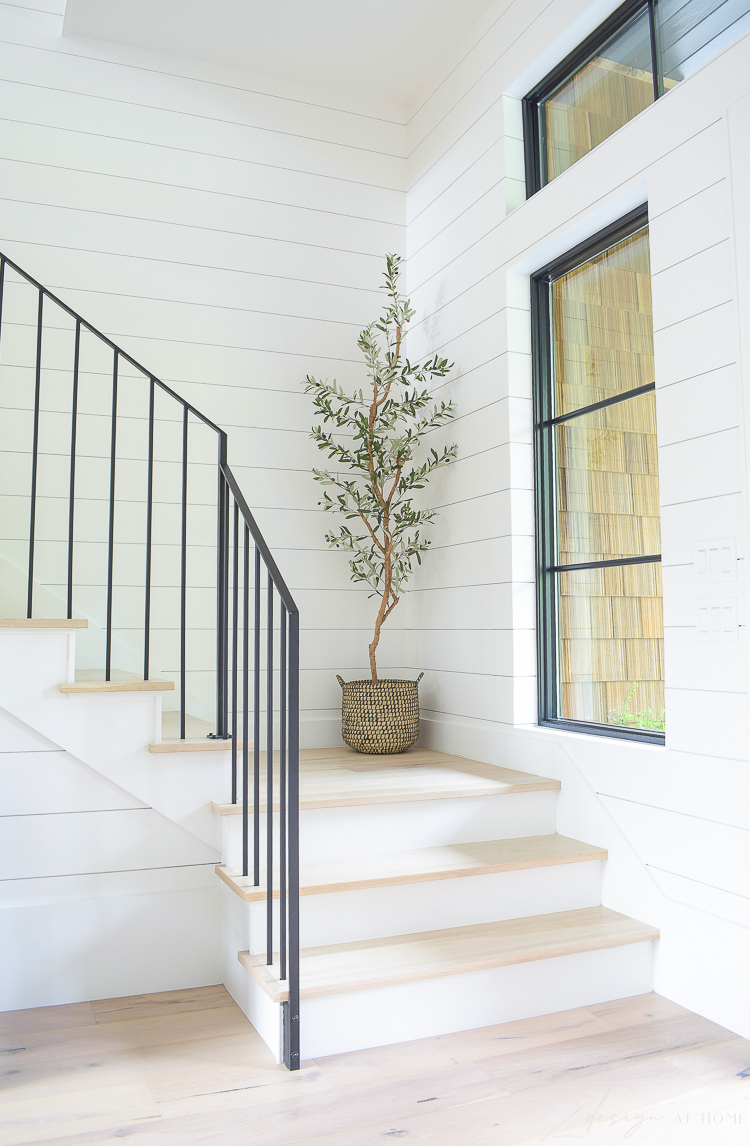 This olive tree is very nice quality and is pretty affordable for one this tall too.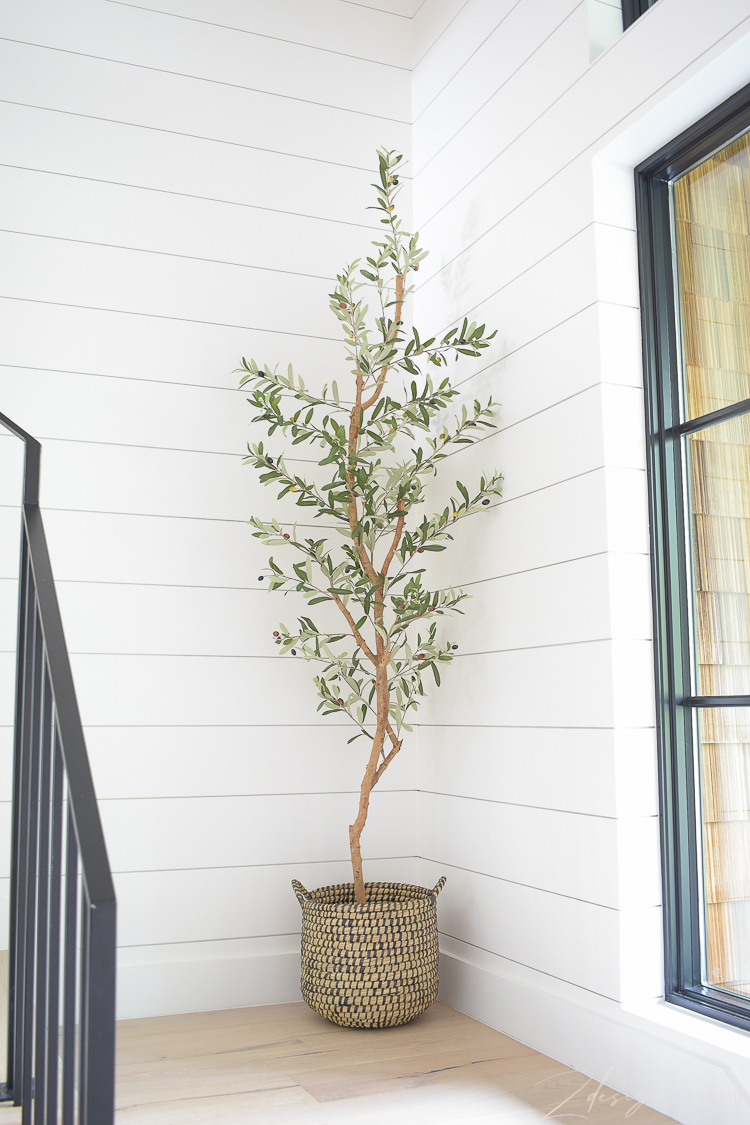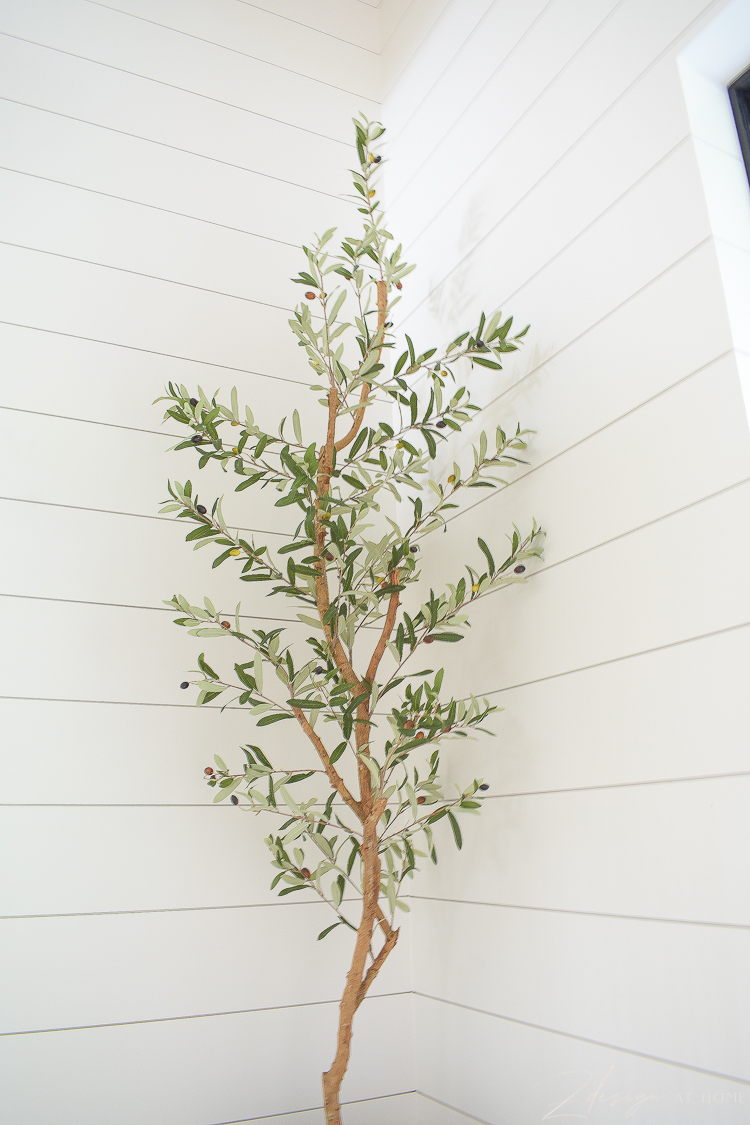 This basket is great and comes in two sizes.  Mine is the small sized basket.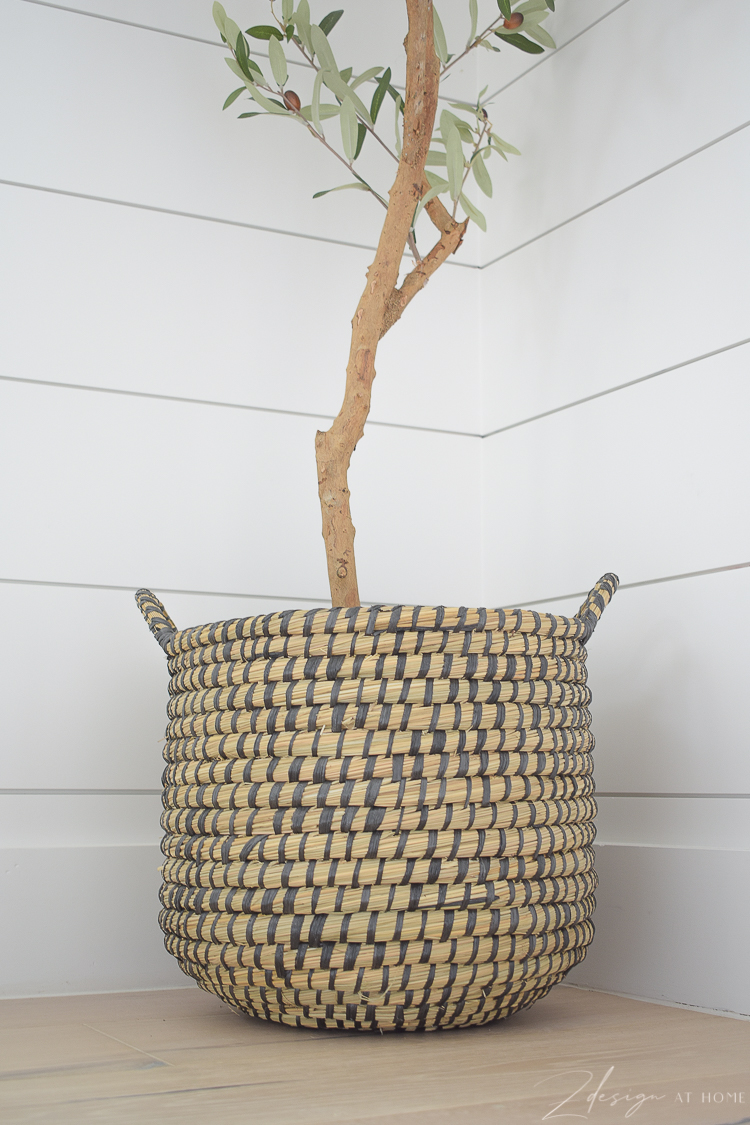 The Stair Rail
Next up is our stair rail.  I've received so many questions about it.  It was custom fabricated on site and is just a simple modern style. I gave the fabricators some photos of what I was looking for from Pinterest and after a couple of tries, they got it right.   I could do a whole blog post on this but just to quickly give you the details ~ the balusters are square and go down into the wood stair treads, and are roughly 5.5″ apart.  The support balusters of course screw into the wood.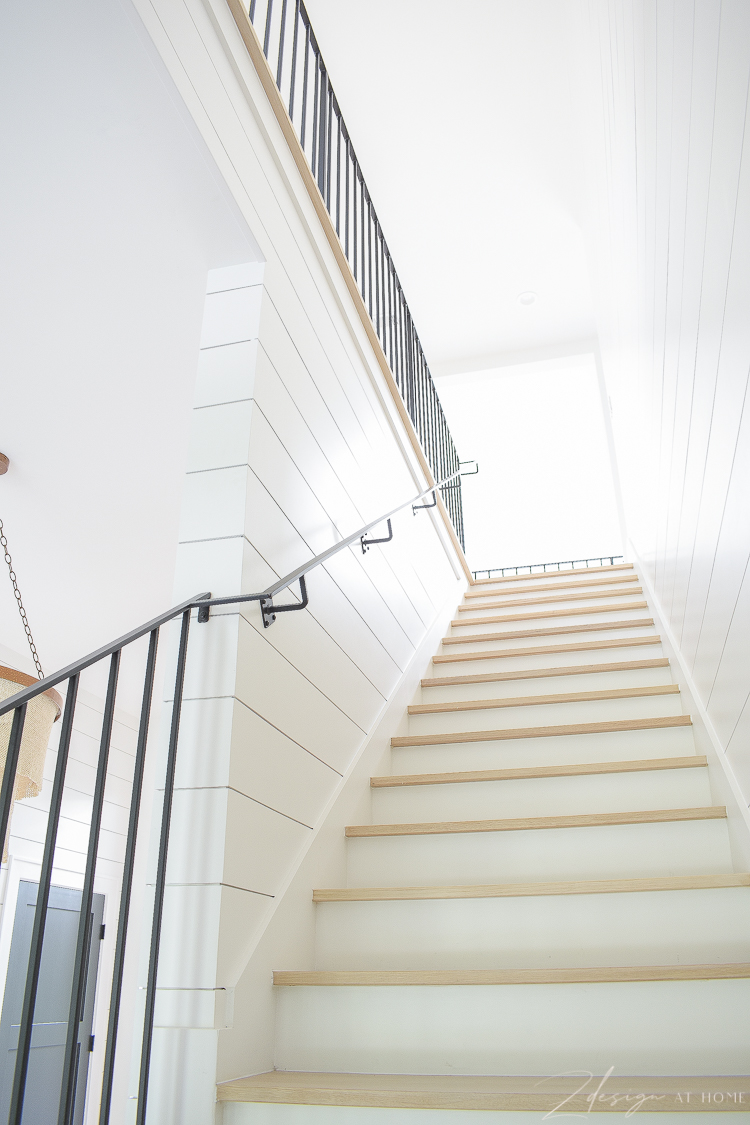 The support brackets are simple and square, just the way I wanted them with the arm from the rail to the base of the bracket made at a 90 degree angle.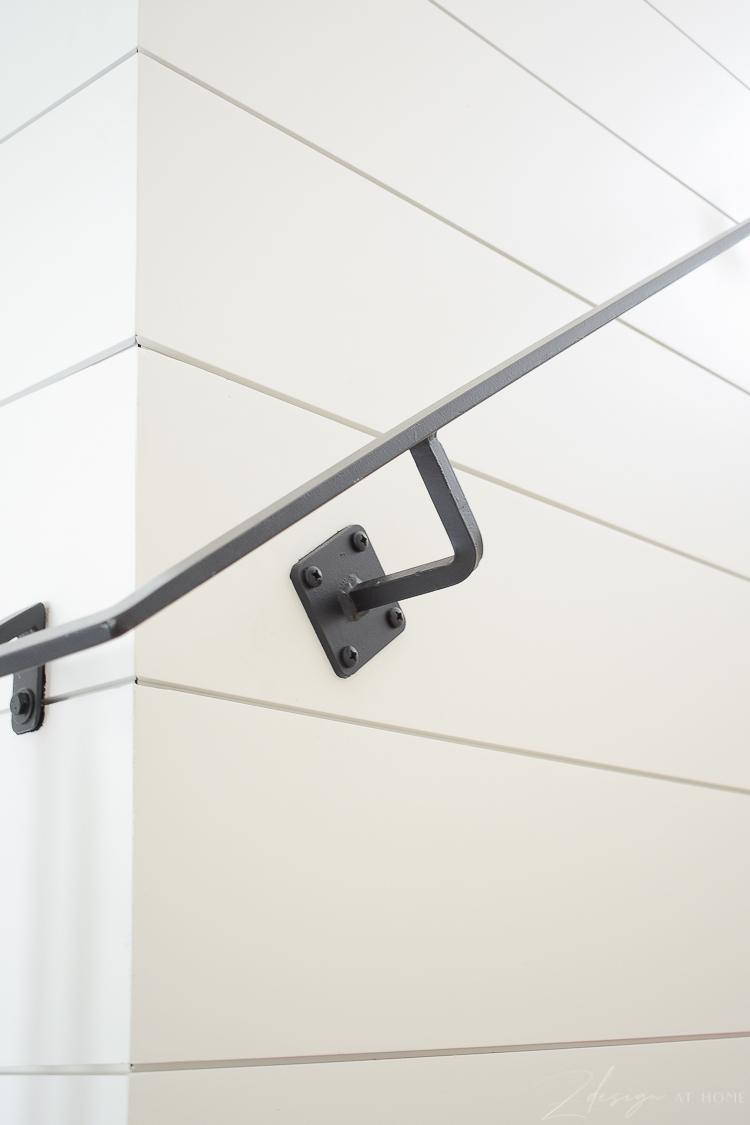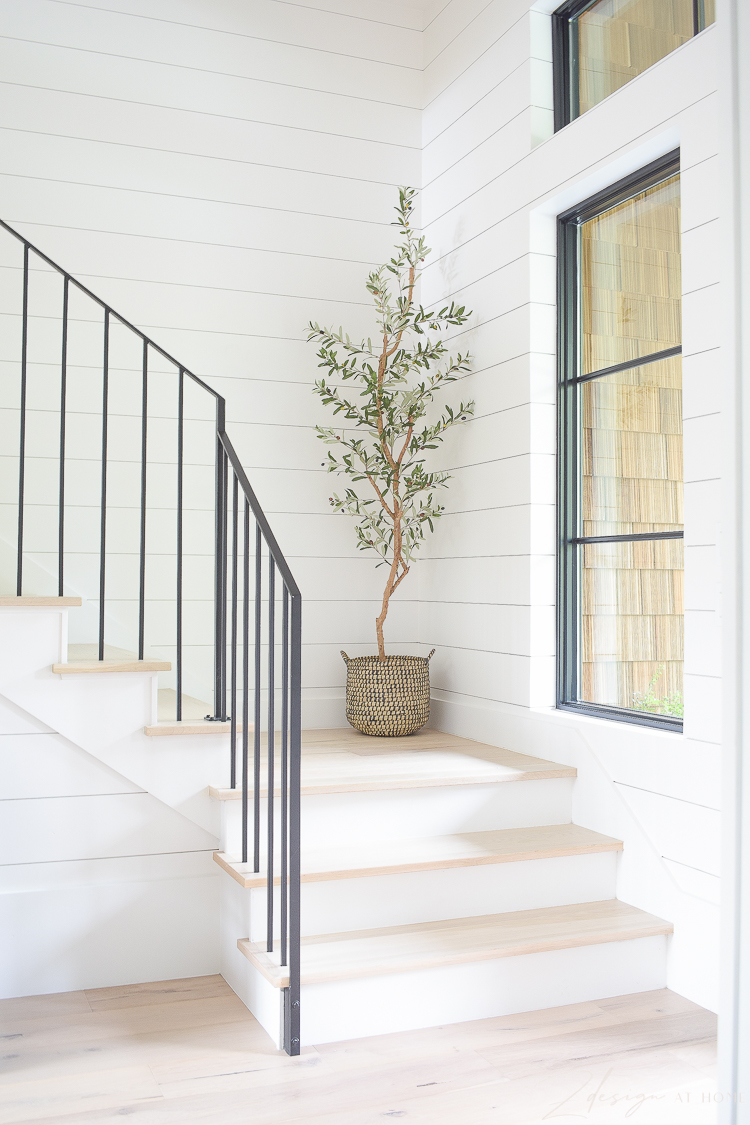 This is my favorite view of this space…in the alcove there you'll see some cabinetry I added during construction that would have otherwise been an empty nook.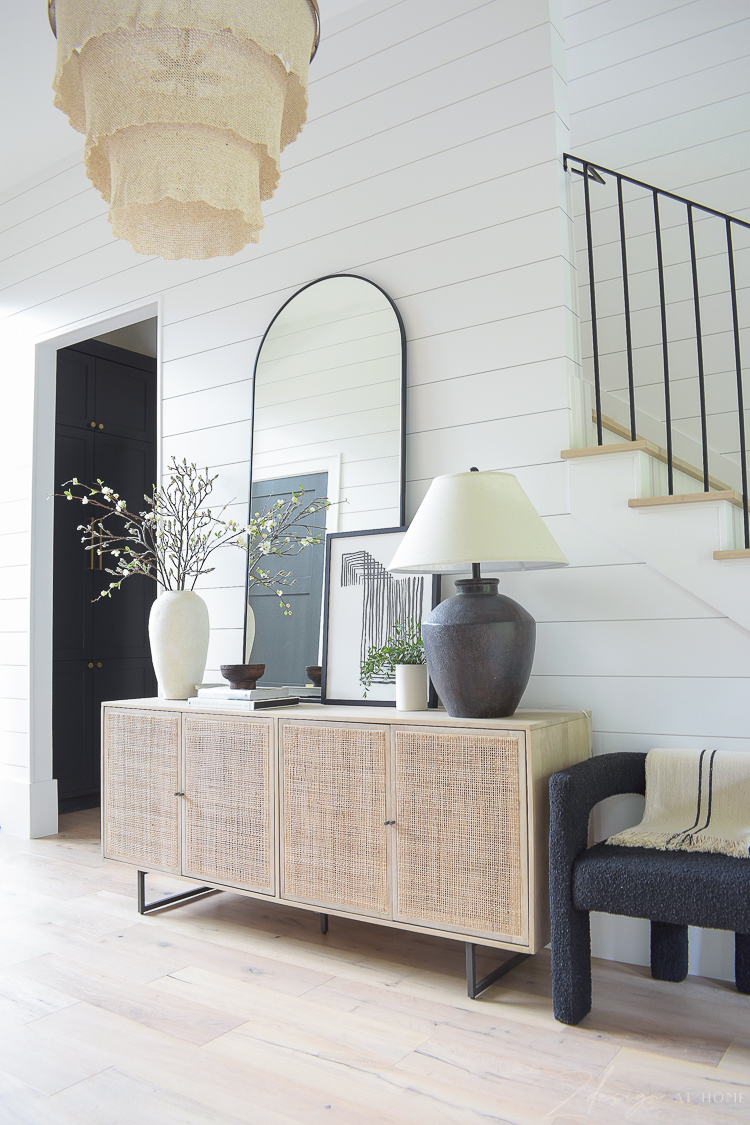 The view back to the living space…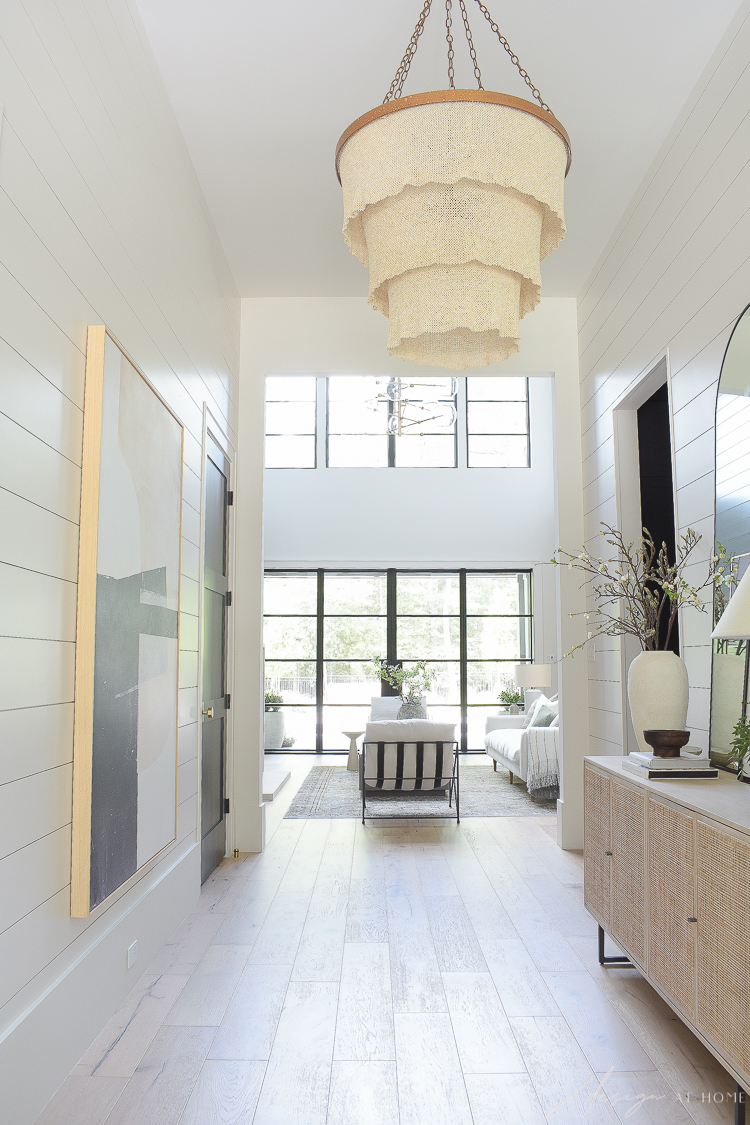 Here are some last looks – I always take too many photos;)!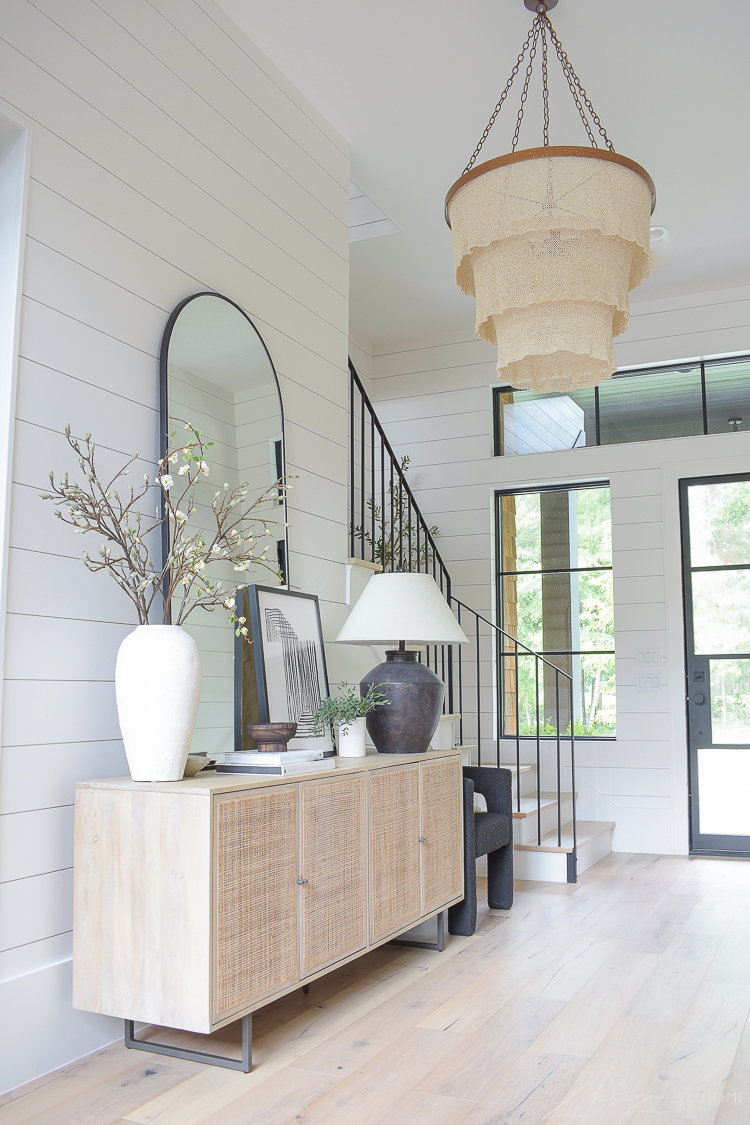 The Hardwoods
Here is the view from the living room back to the front door.  I also get a ton of questions about our hardwoods.  They are a French Oak by Bella Cera.  The collection is Monza and the color is called Villalba.  They are a white oak with a tad of white washing and some knotting, and are engineered.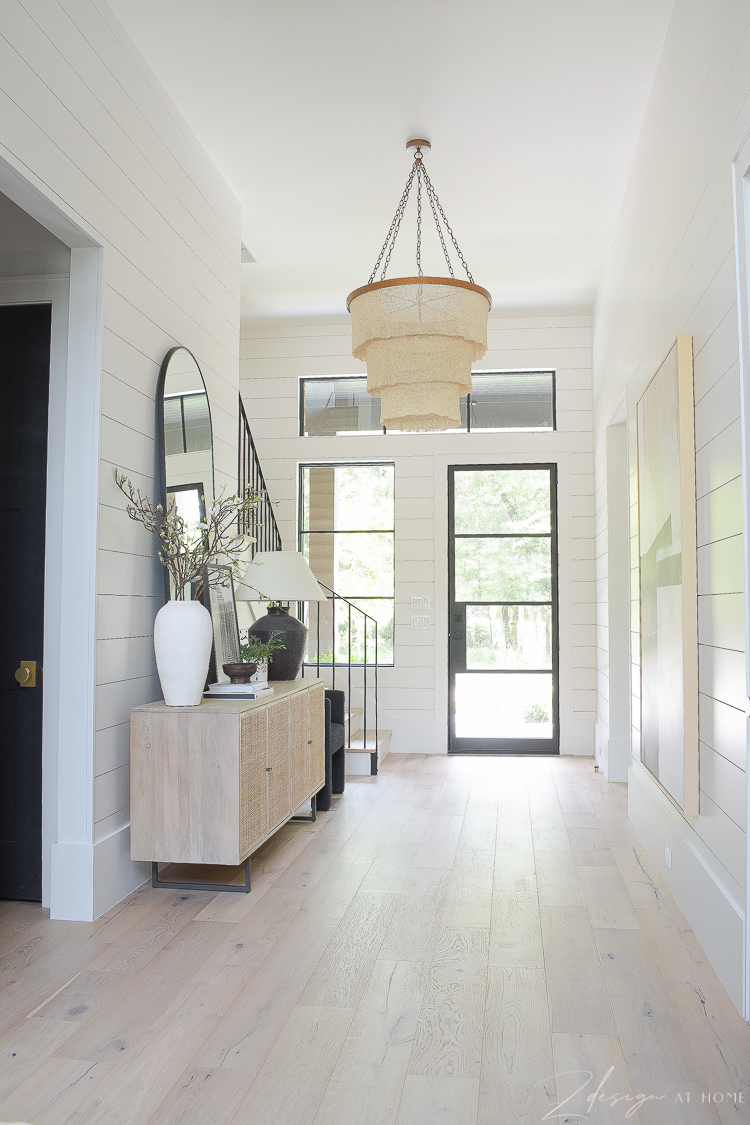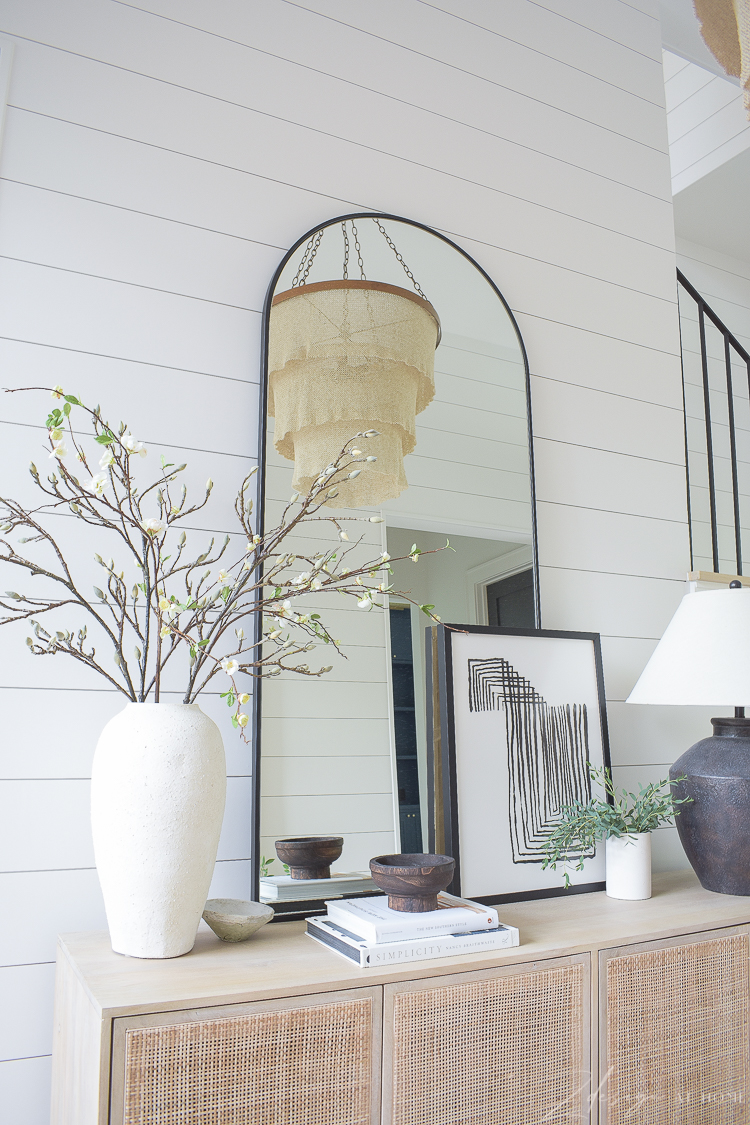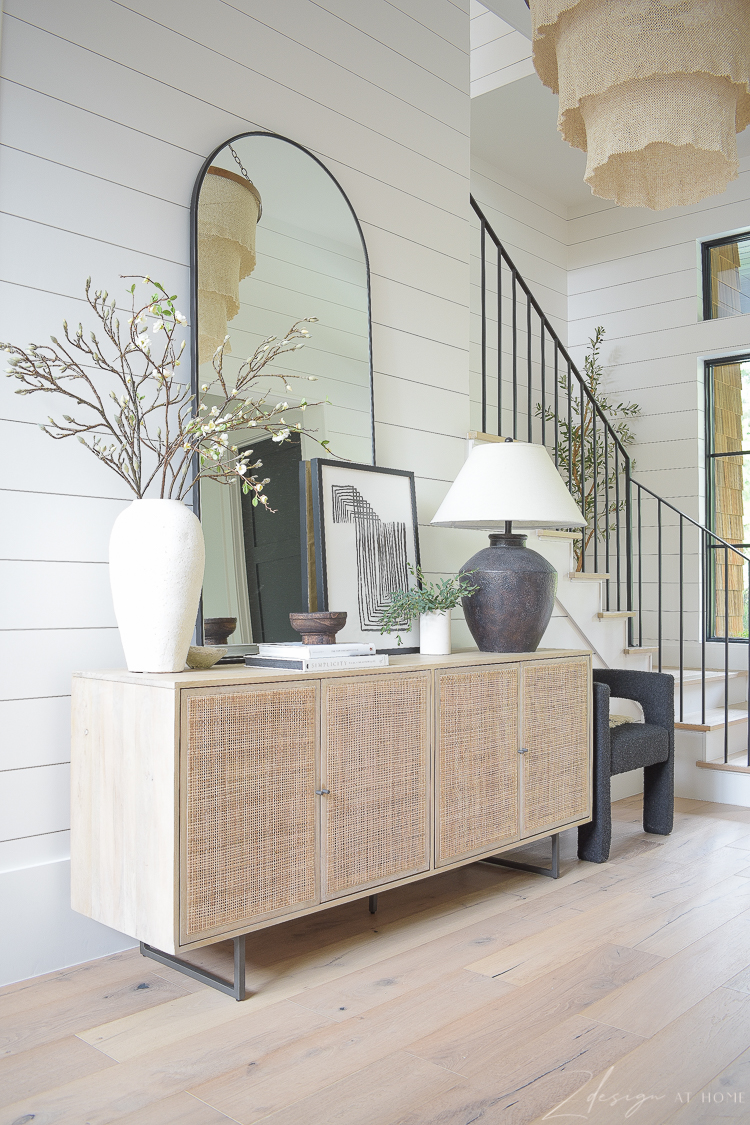 Thank you so much for stopping by to visit our Entryway Tour ~ I hope you've enjoyed it and please let me know in the comments below if you have any questions!  All of the sources are located below as well!

Sources
White Paint:  SW Snowbound | Closet door and cabinet color:  SW Iron Ore | Front Door: Custom steel front door – local
Oversized Minted Art | In And Out Minted Art | Chandelier | Cane Console Table | Lamp | Large White Vase | Small White Vase | Small White Bowl | Wooden pedestal bowl | Book 1 | Book 2 | Faux Magnolia Stems | Faux Quince Stems | Faux Olive Tree | Plant Basket | Black Boucle Chair | Throw in Chair | Black Metal Arched Mirror

Let's stay in touch…
Pinterest | Facebook | Instagram | Linkedin