Tips to cozy your winter nest + A Bedroom Tour
Hi friends!  Thanks for popping in to check out my tips to cozy your winter nest + bedroom tour!  If you missed my winter living room tour last week + tips to ban those winter decor blues…you can catch that HERE.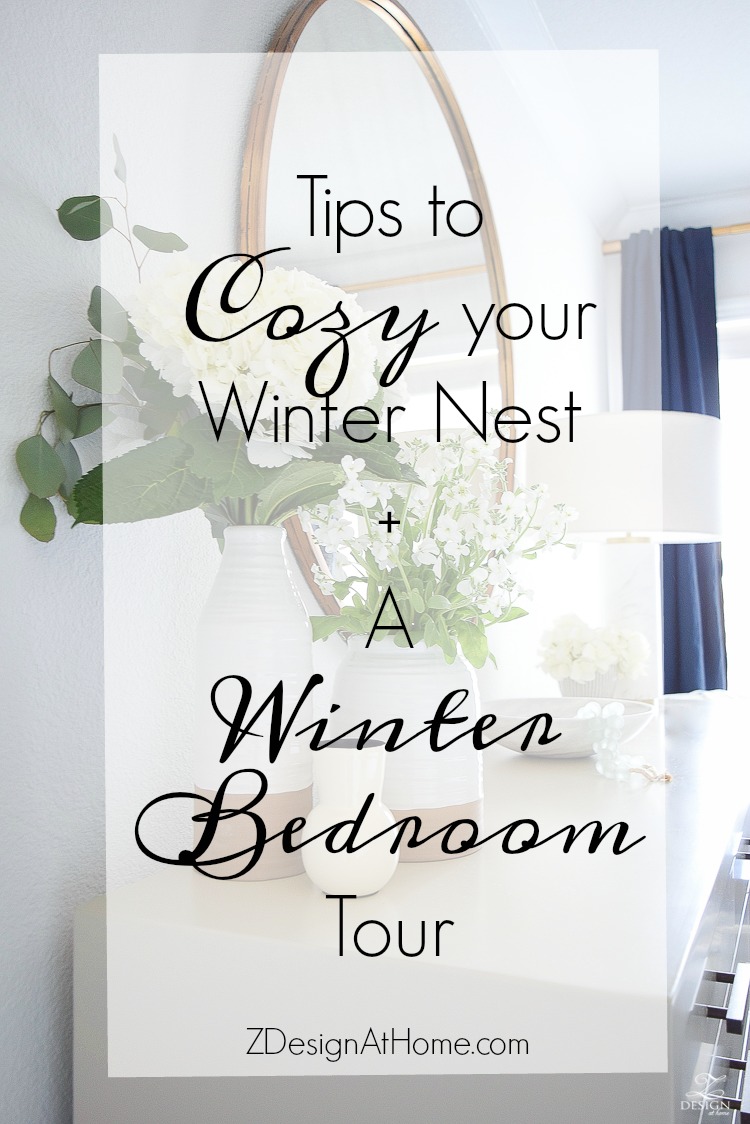 Every year after the holidays are over I like to makeover this space by shopping my home.  I actually could have kept my holiday look but was craving a change so after rummaging through my stash, I came up with a little something that makes us feel cozy in the space but that also provides a nod to spring to give us something to look forward to!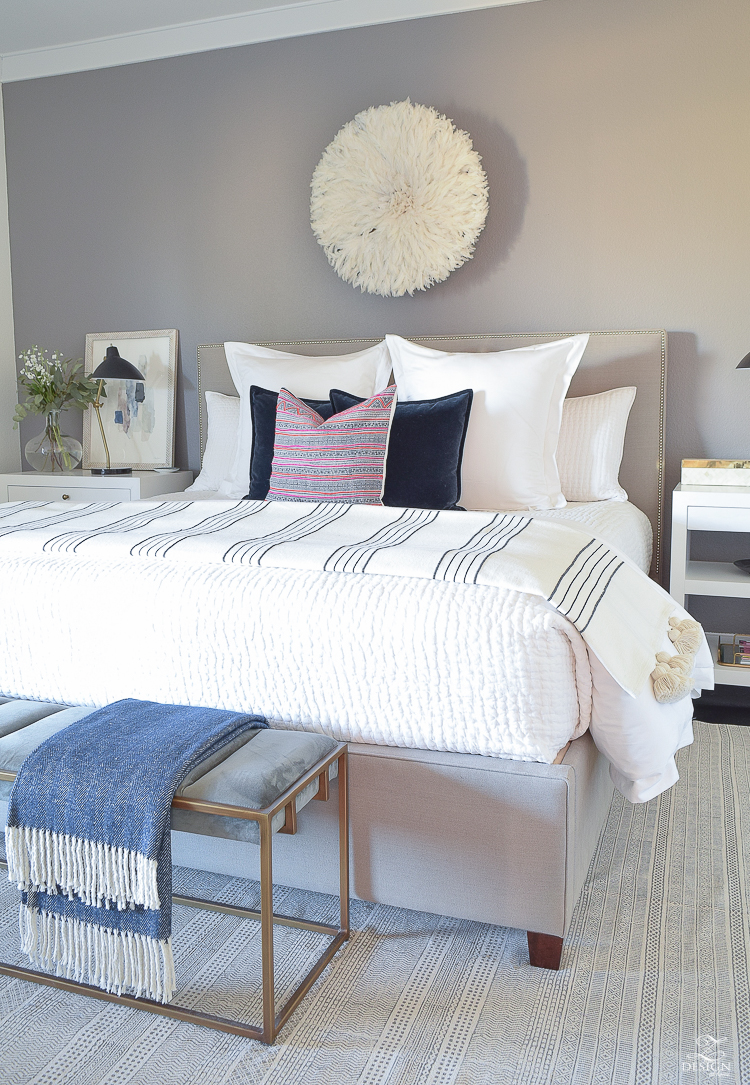 I shopped other areas of my home for wood and brass accessories to re accessorize the night stands.  And for a transitional piece, fresh pink and white roses give a nod to the colors of spring, which will be here before you know it.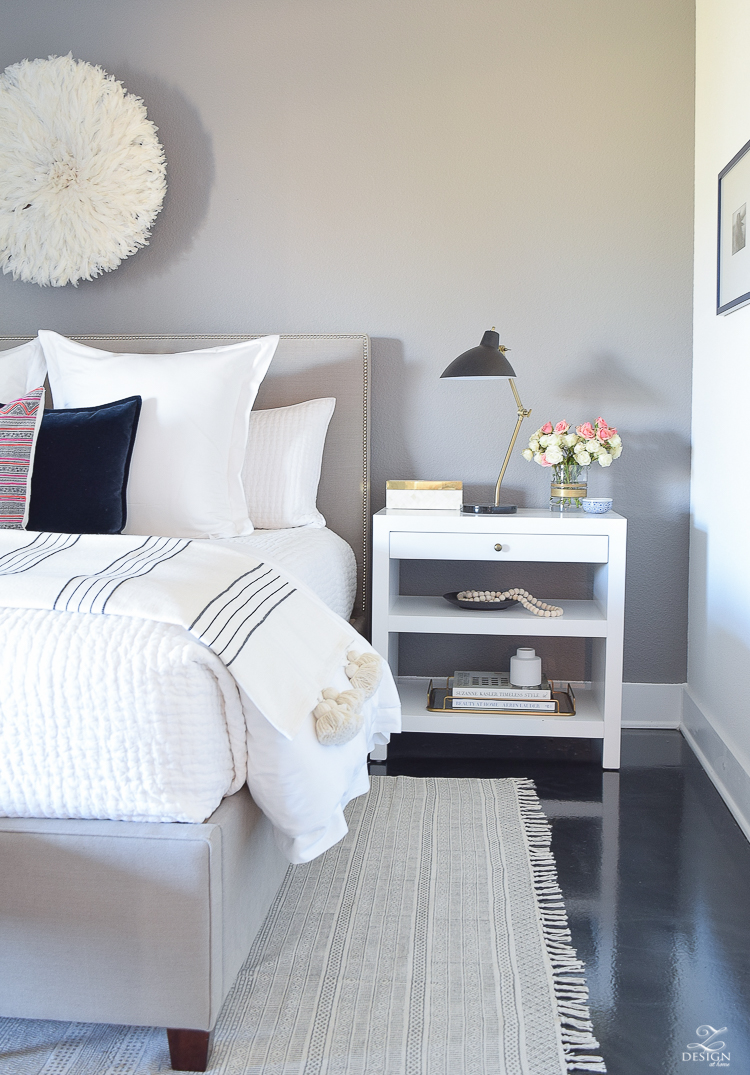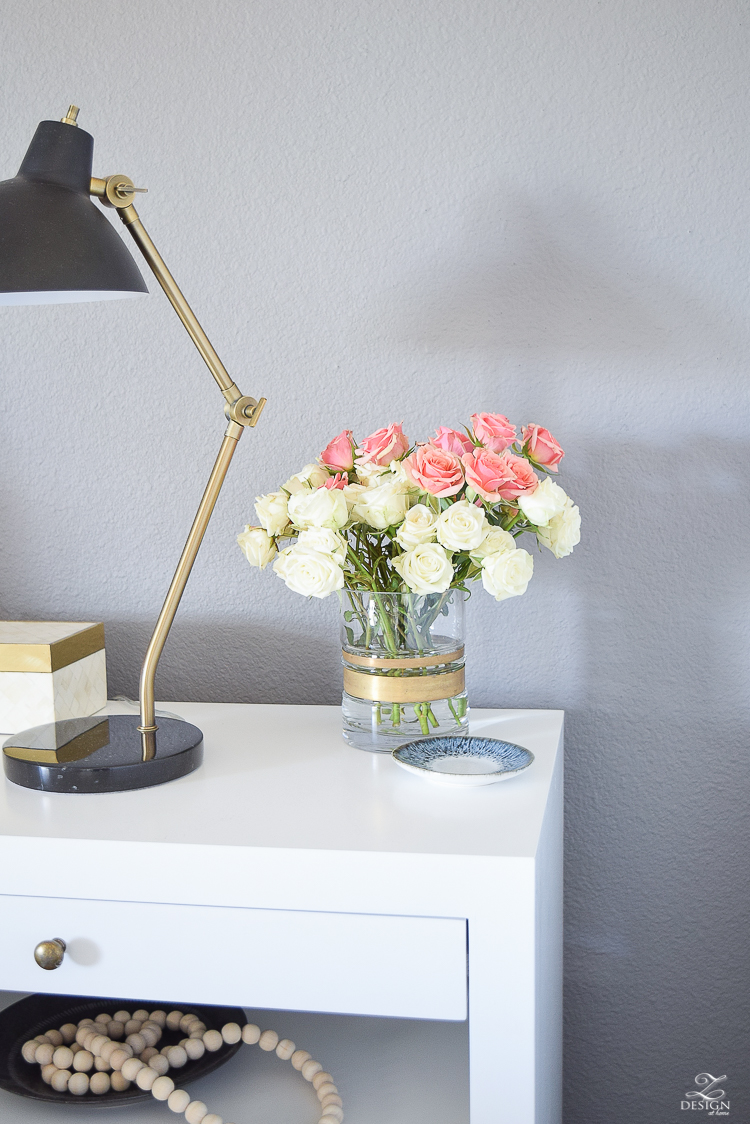 Layers, Layers, layers always make a space feel cozy for winter.  My layers are light because the temps have actually been comfortable here in Houston lately but layering the large striped, tassel throw over the duvet gives a cozy look and feel for any bedding ensemble.  And a navy throw (similar) over the bench adds a pop of color and extra layers.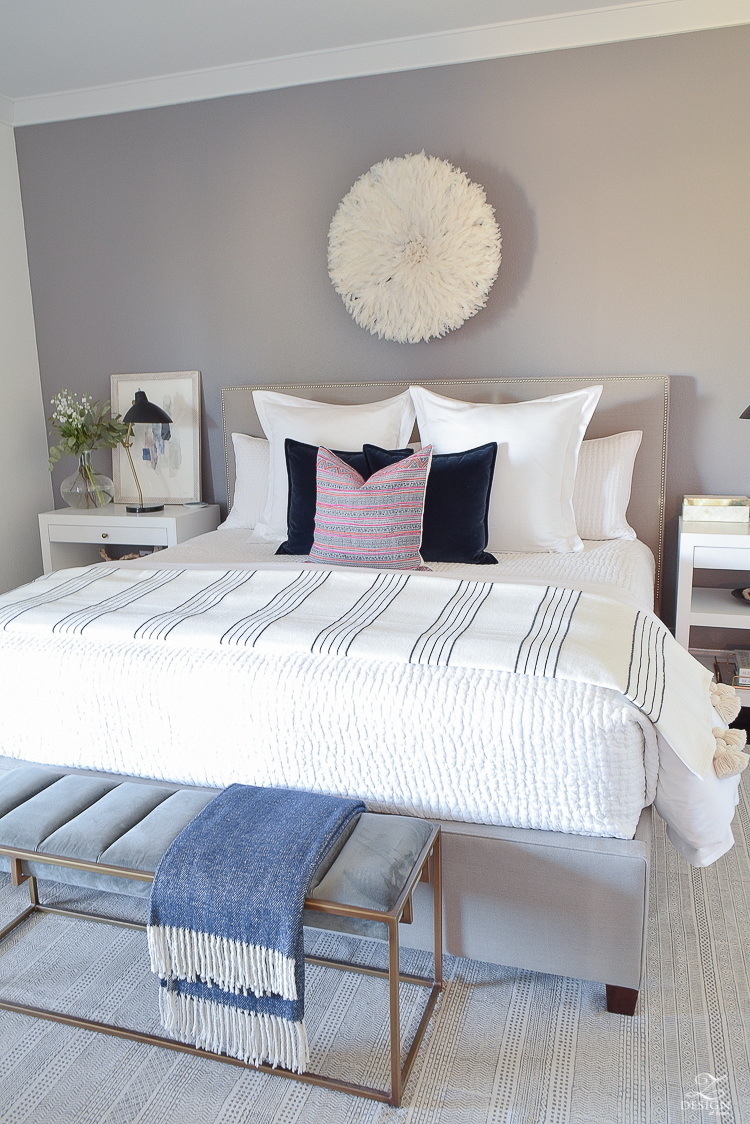 I've had this white-pic stitch quilt and shams on my bed since fall and plan to keep it here through spring!  The chunky texture is great and gives the bed a cozy look and feel.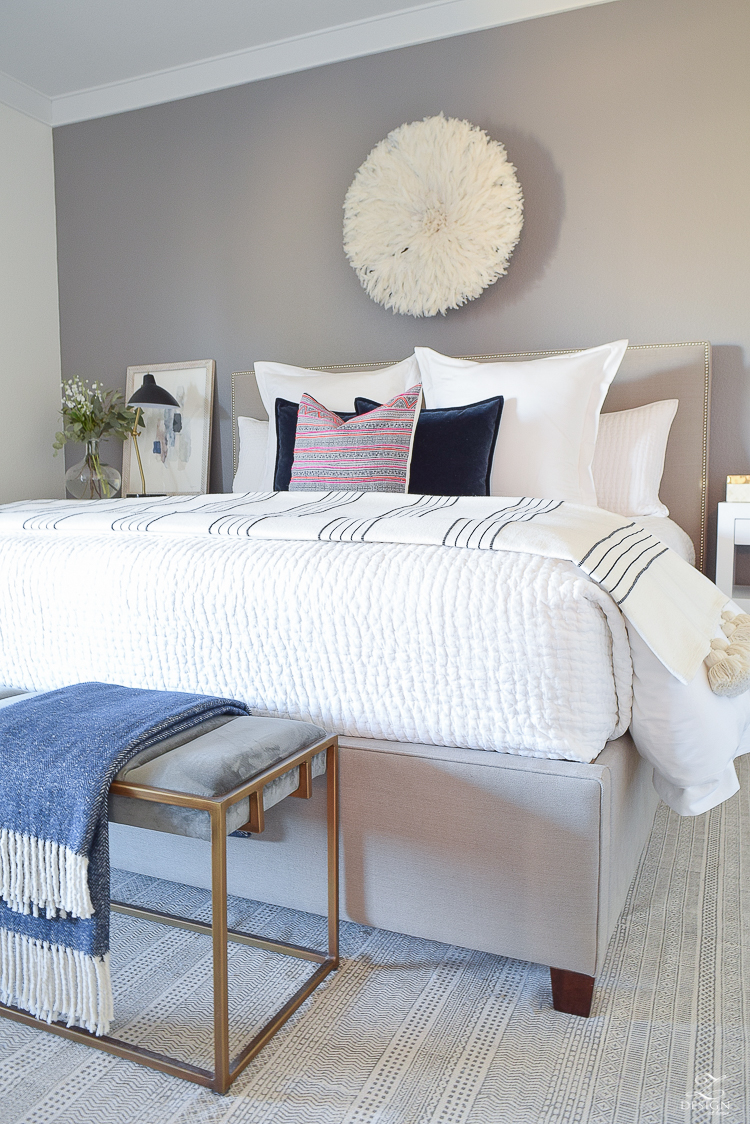 Adding fabrics like velvet can definitely cozy up a space, especially when you are using lots of white and neutrals like I am here so I pulled in my navy washed vintage velvet pillows that I've been using for multiple seasons now.  I also brought back my white euro shams.  It's always a good idea to keep great basic neutrals on hand like this for when you need them.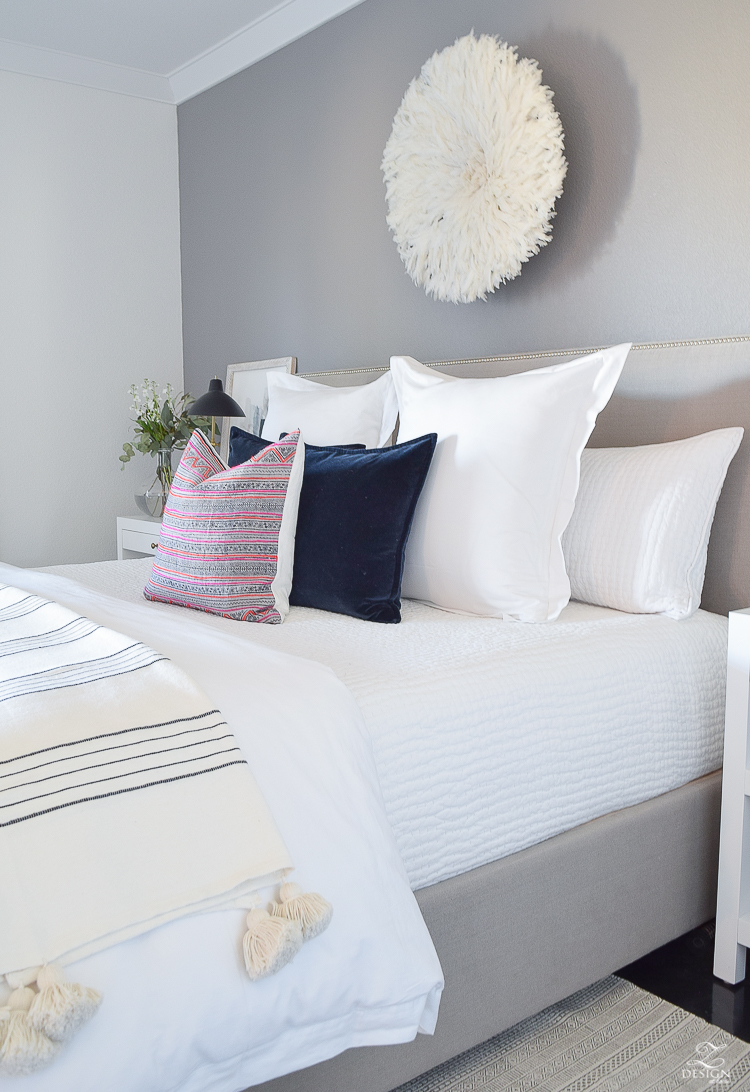 For an additional pop of color on the bed I pulled in my favorite Hmong pillow to cap off my pillow ensemble.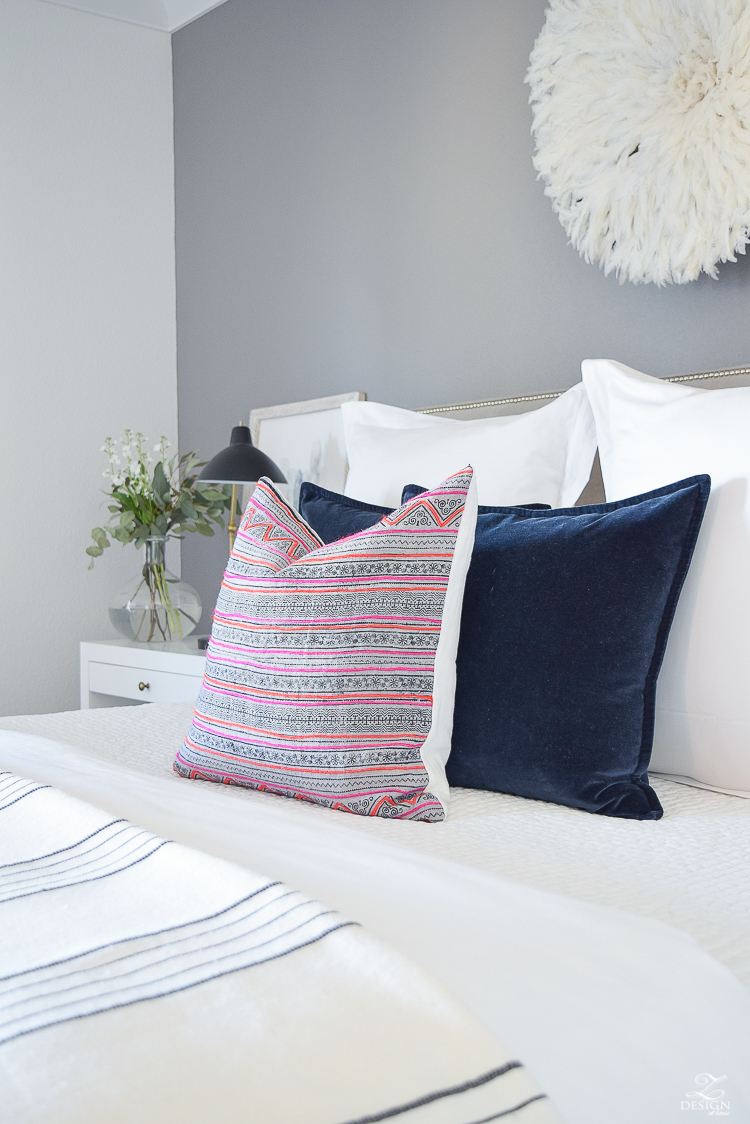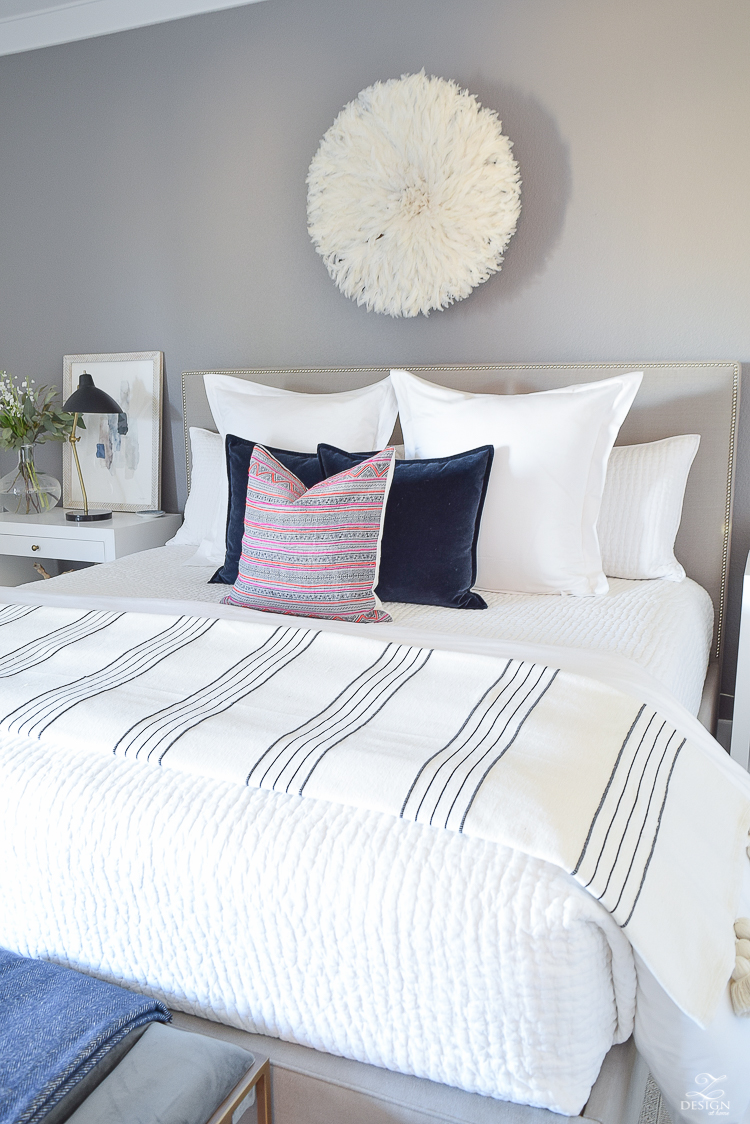 I always swap my accessories around the room and around my home at the start of any new season.  Over here I added some stoneware vases with a warm clay color on the bottom (this is the only newish thing in the room), moved my marble bowl over from the nightstand (which is a great spot to throw things like glasses, receipts. etc.), and added some winter white accessories and flowers.  Just moving your favorite things around can give your room a whole new look and feel so don't ever under estimate the power of doing so!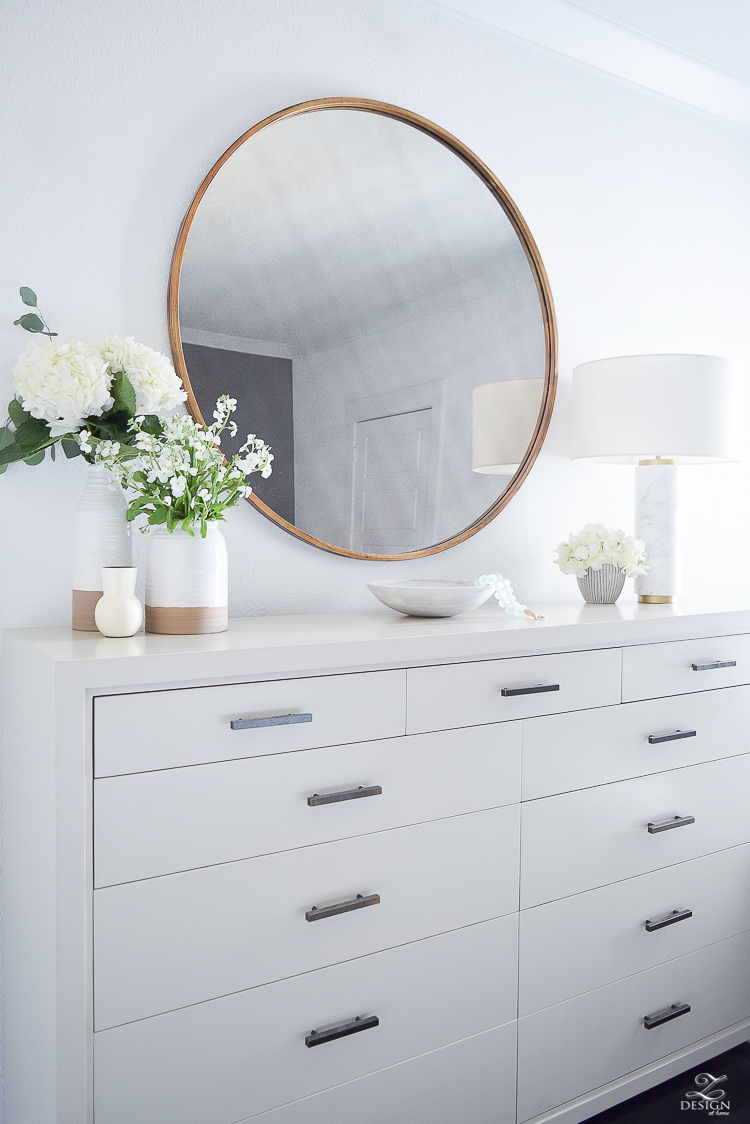 My versatile fur ottoman that gets moved about the house often made it's way in as well to add little warmth with the fur but also for a functional purpose.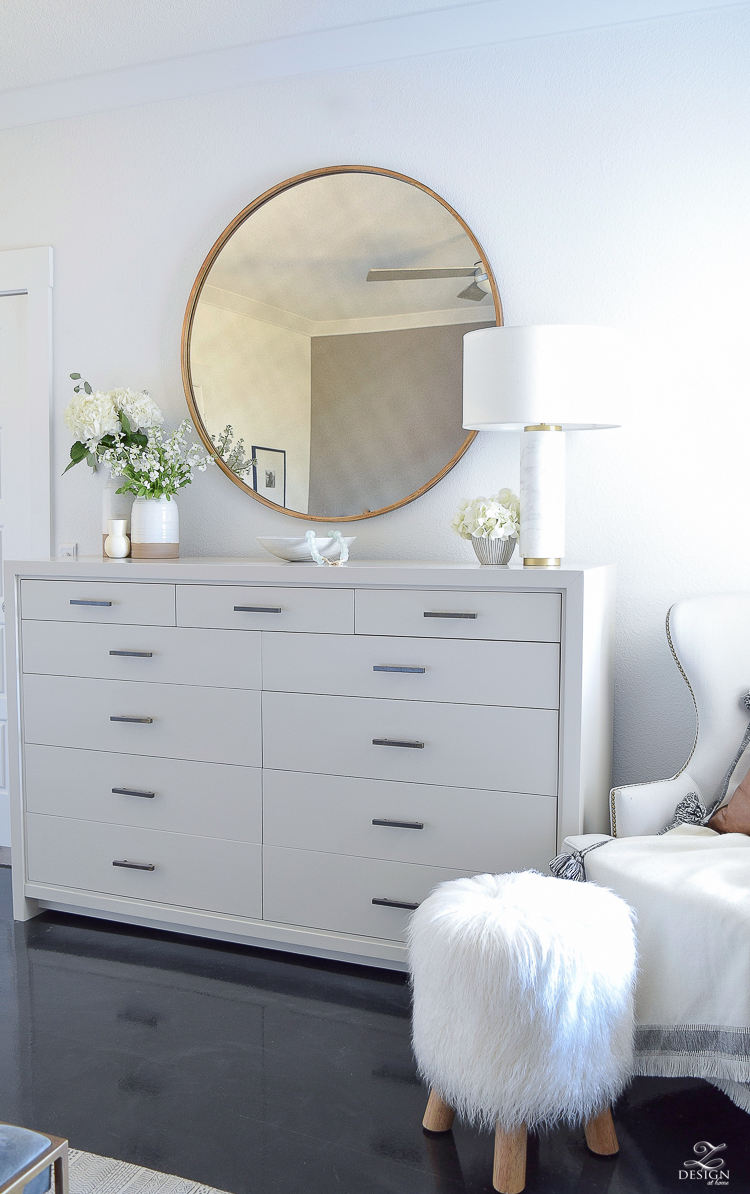 Really love these vessels and they'll work beautifully in my home as I move into spring.  If you love hydrangeas like I do, try adding eucalyptus to your hydrangea arrangements for a more fall/winter look during those cooler months.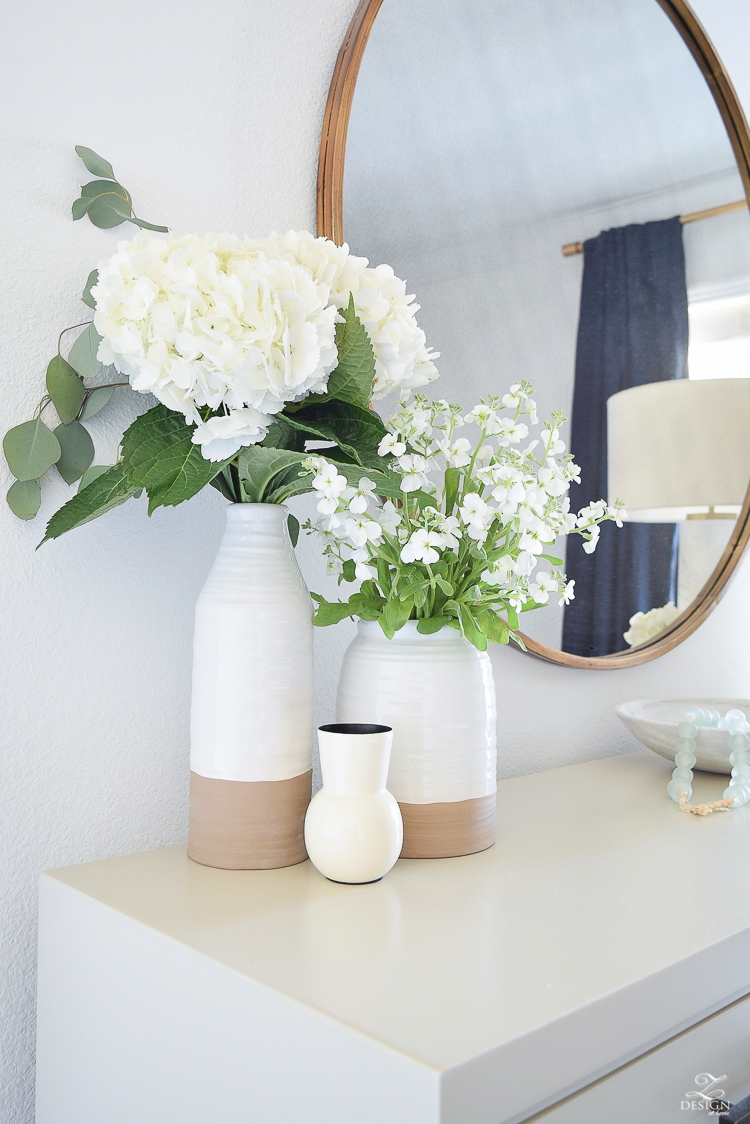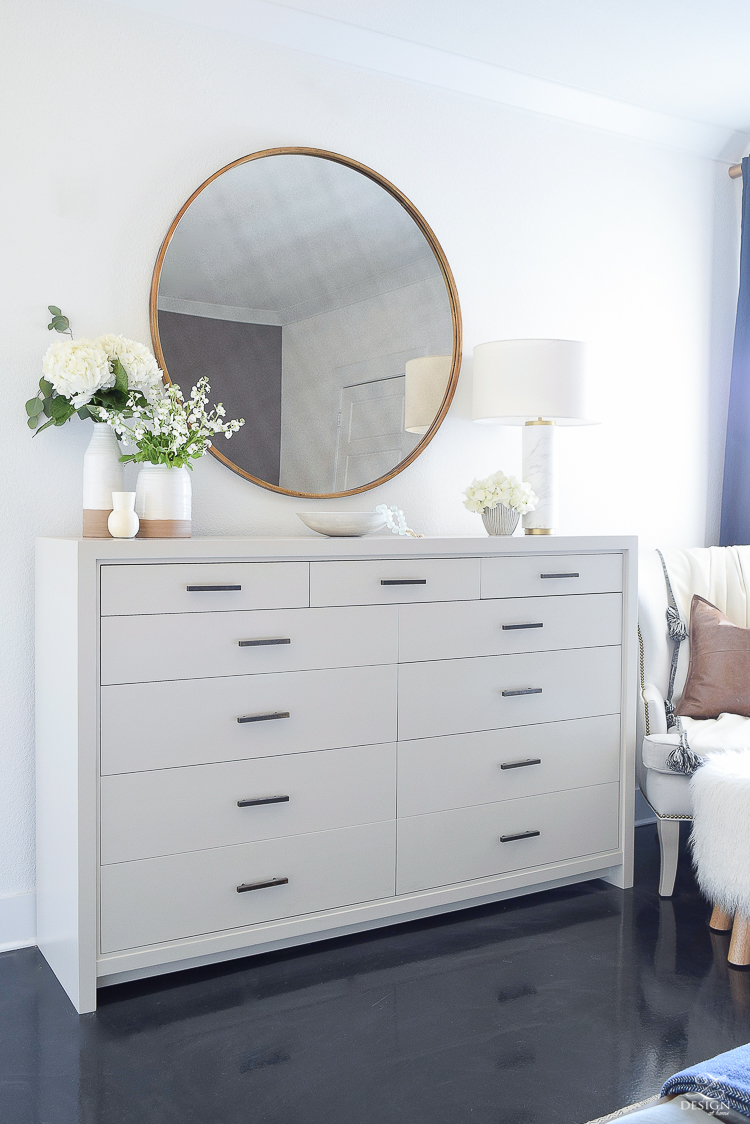 More wood (grape wood branch here) and warm tones (similar tray here) on the other night stand along with a nice arrangement to give us spring to think about right around the corner.  Eucalyptus is one of my favorite things to grab at the grocery since it can be used to fill any arrangement or alone to provide a nice pop of color in the room.  Plus a bundle of it is super cheap!  Also loving the art on the nightstand!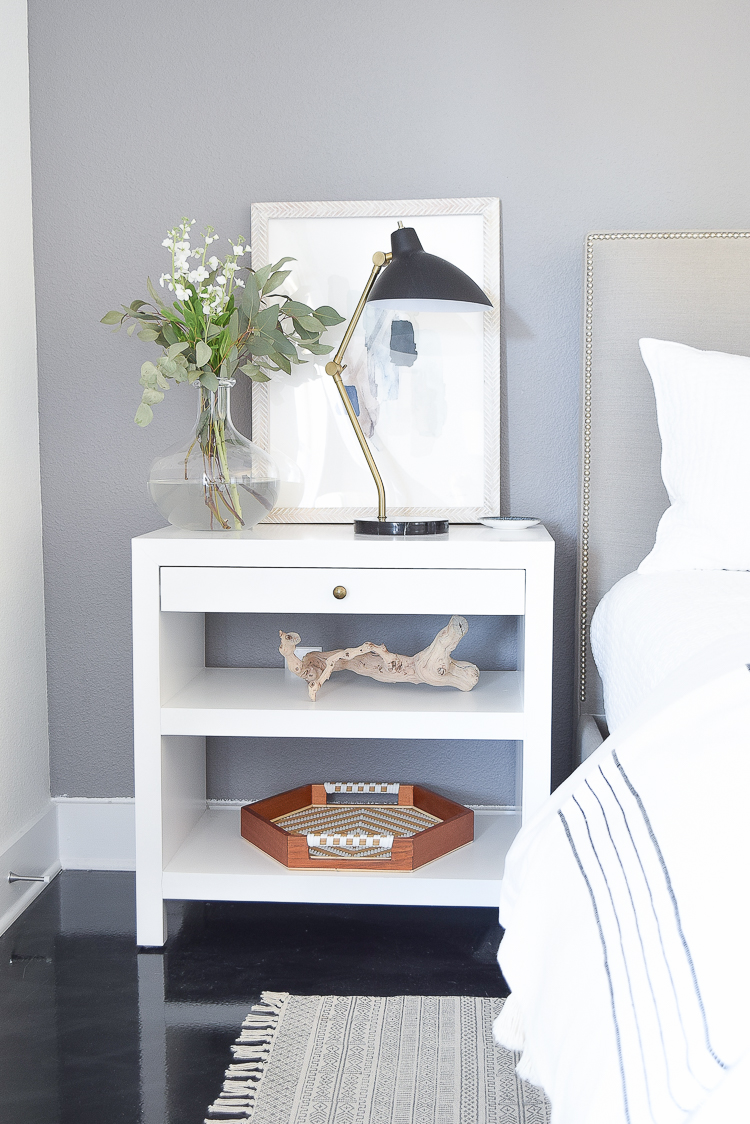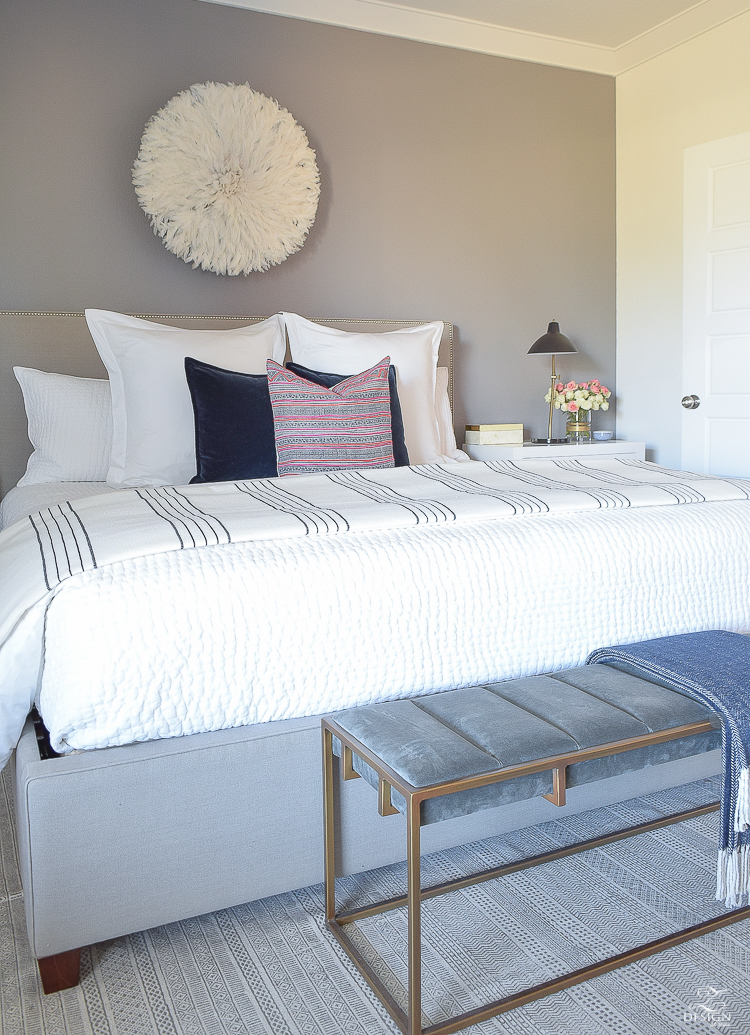 I also love that my gray velvet with brass bench at the foot of the bed keeps the space warm and functional as well.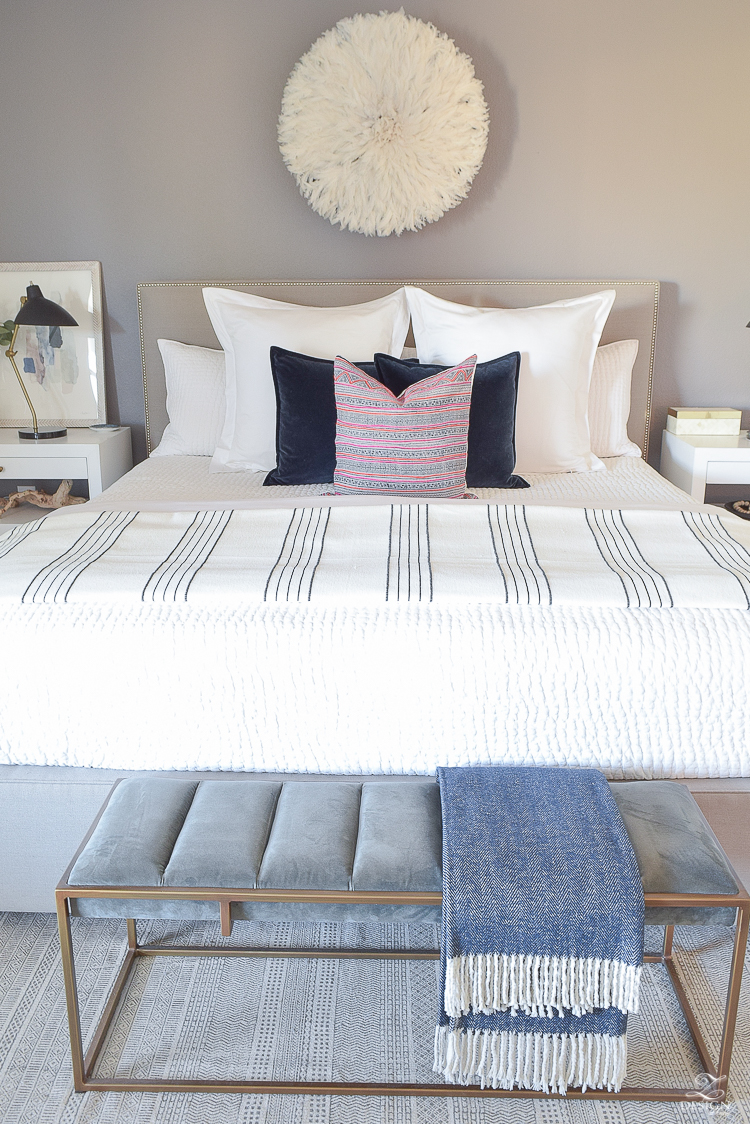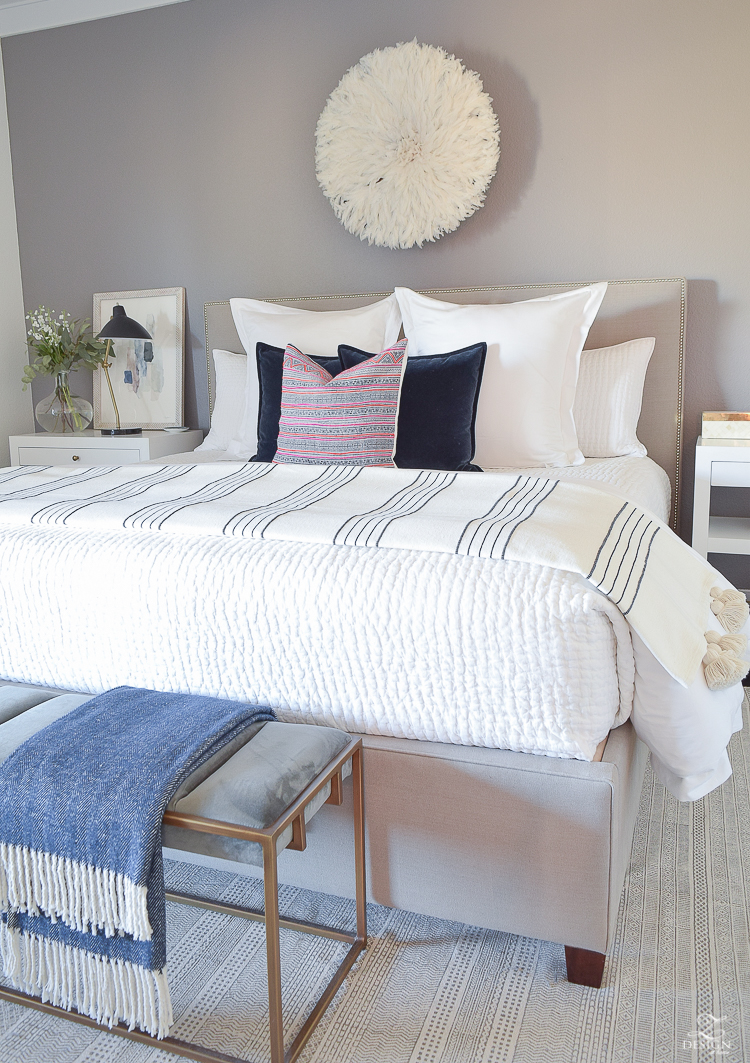 These wooden beads are a new favorite!  I found a couple of strands locally recently but I've sourced some here for you.  I also pulled out (and LOVE) this bone inlay box (similar), which is one of 2018's hottest accessories for the home.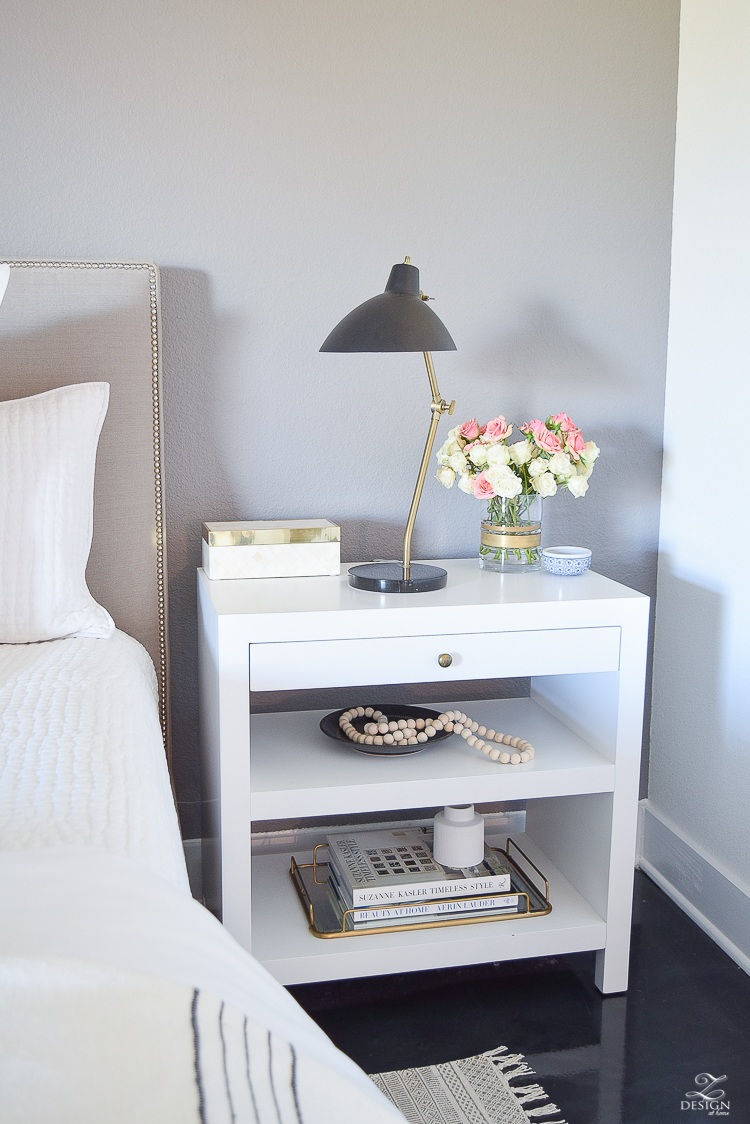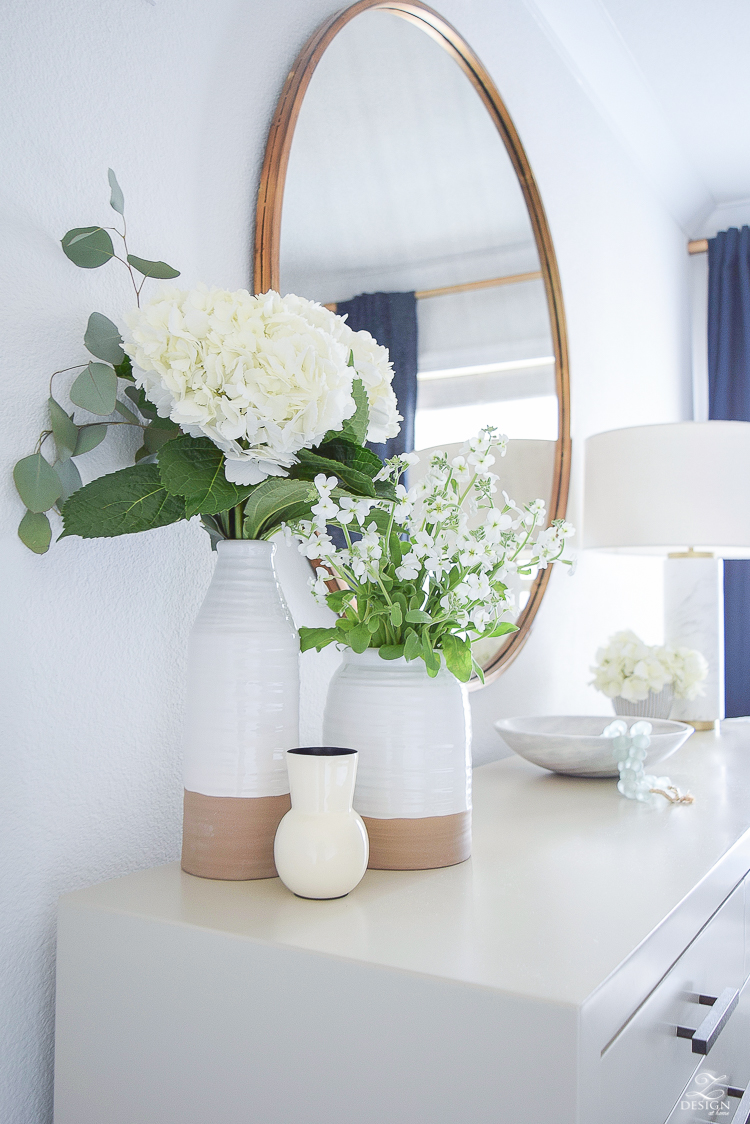 This blue herringbone, fringe throw is a favorite (similar)…I kind of borrowed it for my son's room but I don't think he'll mind:).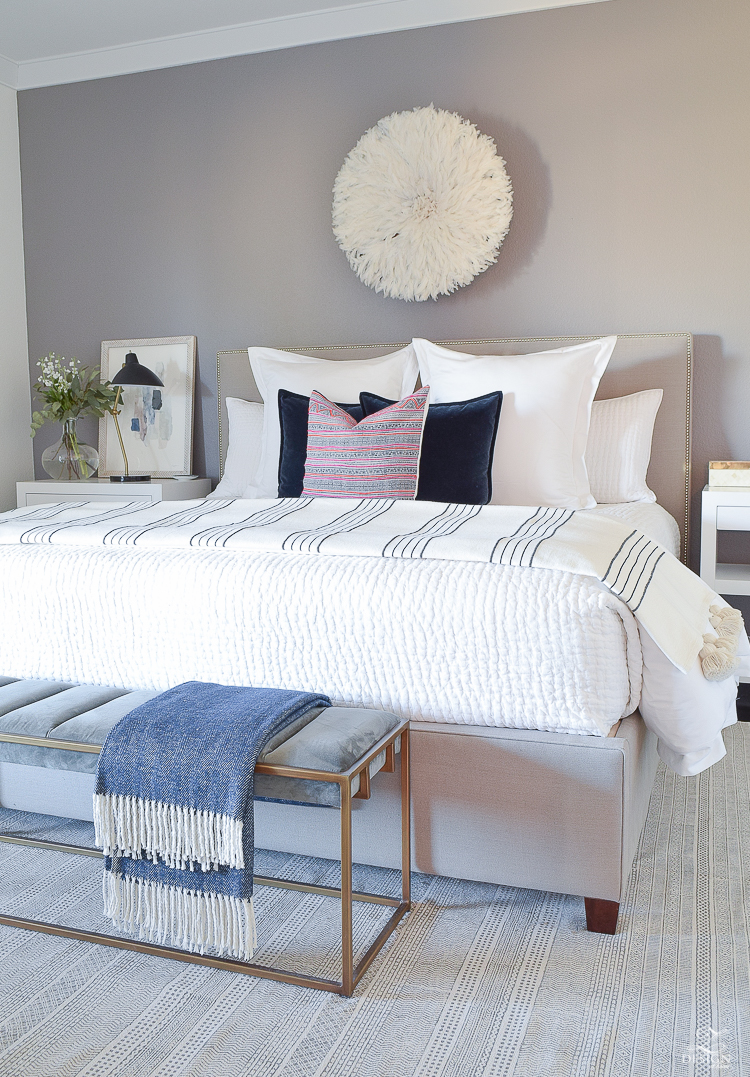 Bring in wood tones and brass to keep the space filled with warm tones
Use winter whites with a pop of color and texture to keep things wintery
Decorate with velvet and fur
Texture, texture, texture
Layers, layers, layers
Incorporate a nod to spring to avoid those winter blues
I hope you've enjoyed my tips for creating a cozy winter nest!  I also hope you'll come back next month where I'll be sharing my spring look with a great group of bloggers …can you believe it's almost that time already?!  It just seems like time is moving so fast these days!  Happy winter, friends!!
Xo,  Bree

Upholstered Bed | Feather Headdress Over Bed | Night Stands | Bench | Similar throw on Bench | Hmong Pillow | Navy Pillows | Similar Lamps | Round Gold Mirror | Marble Lamps | Marble Bowl | Glass Beads | Wooden Beads | Stoneware Vases | Rug | Striped Throw on Bed | White Euro Shams | White Pic-Stitch Quilt | Bubble Vase | Art | Grapewood Branch | Similar Rattan Tray | Brass Mirrored Tray | Similar Bone Inlay Box | Similar Dresser | Fur Ottoman | Similar Throw in Chair | Leather Pillow in Chair | Book 1 | Book 2 | Book 2