5 Tips for a beautiful fall front porch + a tour
I'm so glad you decided to join me today for a tour of our fall front porch! If you have not yet seen my other fall tours, you can do that here and here and here for some fresh, fun and easy ideas on fall decorating. Our front porch is not large but at the moment it's got a lot of personality and I'm excited to share it with you but first, a few words about the front porch. Creating  a welcoming entry for guests this time of year with a display of fall flowers in beautiful pots or urns, pumpkins abounding, and a touch of whimsy by using potted ornamental cabbage is my fall porch love language.  This is hands down my favorite time of year to spruce things up out front because when everything else in the yard is slowly dying off, the front porch is exploding with color and vibrance to welcome our guests, neighbors, or just passers by.  I'm a true beliver that first impressions are everything and if your porch is ready by saying hello and welcome to those stopping in or passing by, this leaves an impression on those around you that they are always welcome in your home no matter the time of the year.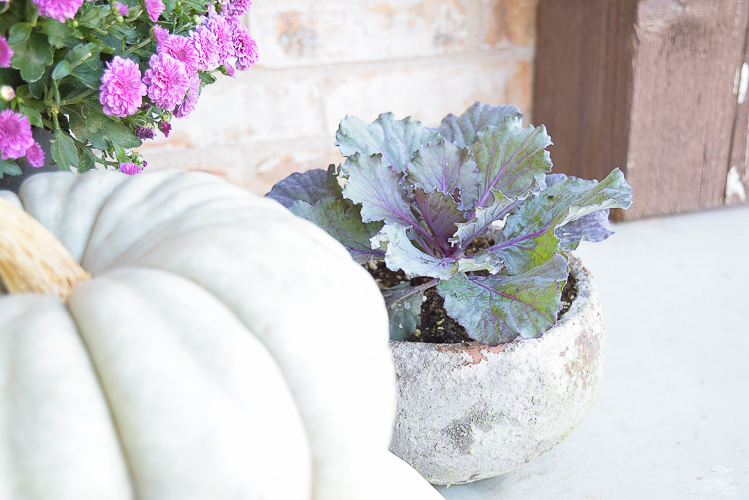 I am also a believer that cooler weather doesn't mean the end of outdoor decorating.  I like to have something planted by the front door all year round.  Of course during the summer I've go ferns (asparagus ferns are my favorite) in large planters by the door, in the fall I usually have crotons or mums, and then we transition into winter with these lit Christmas trees (similar) flanking the front door.  The only time of year I have nothing by the front door is during the harsh winter months of January through early March.  I also believe that during those months it's better to have nothing than to have dying or dead plants out front.  Having dead plants by your front entrance is like having a manicure that is way past it's prime and has come to the point where it's just best to take it all off and have nothing on than to have haggled, unkempt nails.  Don't you agree?!?  An option for the front door during crazy winter weather times is to have a small potted evergreen which is absolutely beautiful by the front door during the colder months.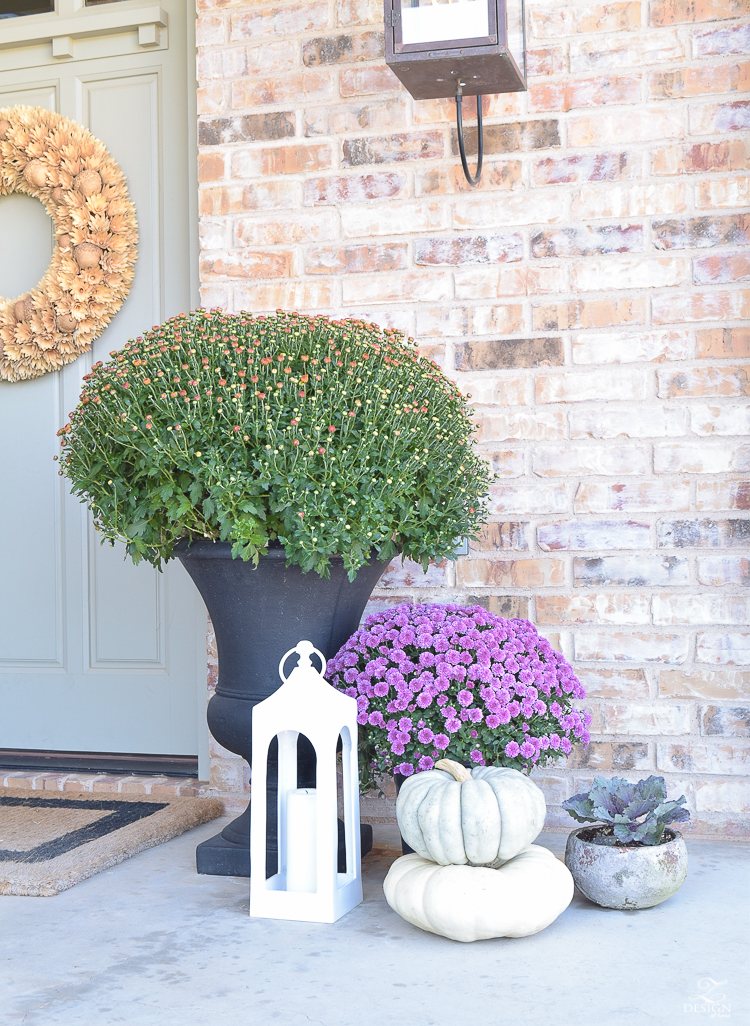 If you follow me on Instagram let me take you back a little to our front porch last year, and you may have also seen this year where I reposted this shot and was pondering whether I would go neutral or go with color this year.  Here's that shot so you can get an idea of how I did things last year and to get a comparison…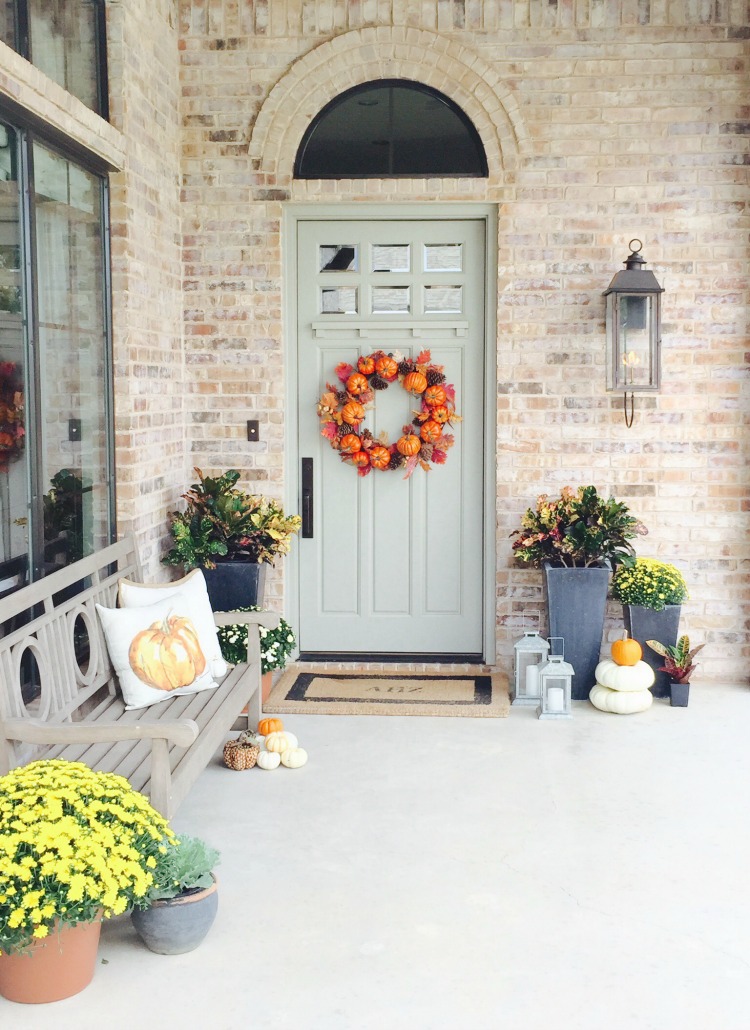 Before I get started on my porch design for this year, I've got five simple tips for you today to help you create your very own beautiful fall front porch and then I'll show you how I've incorporated all of these elements into my own porch to achieve these points.
Mix color with neutrals in your flowers & pumpkins for interest
Repot your fall flowers in pretty pots
Do groupings to add drama & interest
Use a variety of items such as flowers, lanterns, pumpkins, and pillows in your design
Add a bench when possible to cozy up the area and so that you can sit outside and enjoy the beauty of fall!
This year (like the inside of my home) I decided that the outside would be all about natural elements and neutrals with pops of color, even in my wreath.  I have to say that I am missing the contrast of the orange wreath on the front door this year but I also like the subtleness of the natural wood wreath that I recently found at HomeGoods (similar here).  So while I went mostly with colorful mums, I used these cream outdoor pillows, my white lantern, a neutral wreath, and some white pumpkins to get that nice mix of neutral with color pops that I like in order to achieve a nice balance of color vs. neutral.  I used white, purple, and yellow mums but unfortunately the jury is still out on the large mums by the front door since they haven't popped yet.  The tag says they are lavender but right now they look reddish orange, but I'll update you once they finally decide to pop.  I've done everything to get them to pop, including setting them out in the sun (recommended by my local nursery) and watering them with BR-61 but they are still holding out on me…Ugh!!  Oh well, hopefully soon!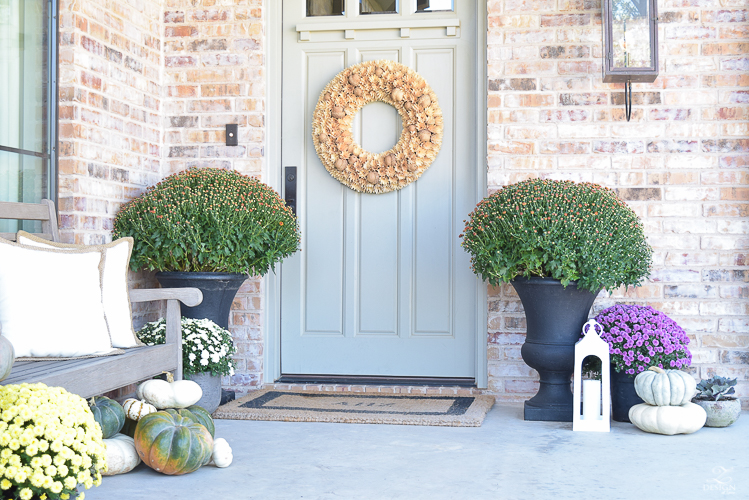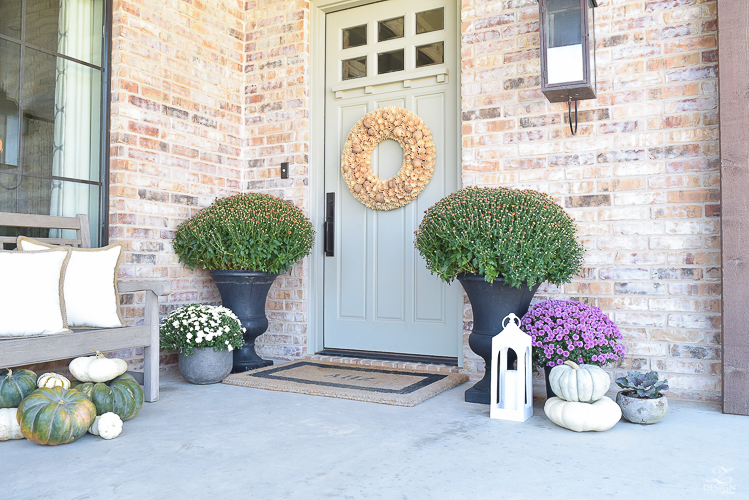 I really love these blue pumpkins (called Jarrahdale based on my research) and the personality they bring to the space but I bought one on a whim and then when I went back to get more (because I realized how much I loved their uniqueness) they were all gone (insert big 'ole crocodile tears here!).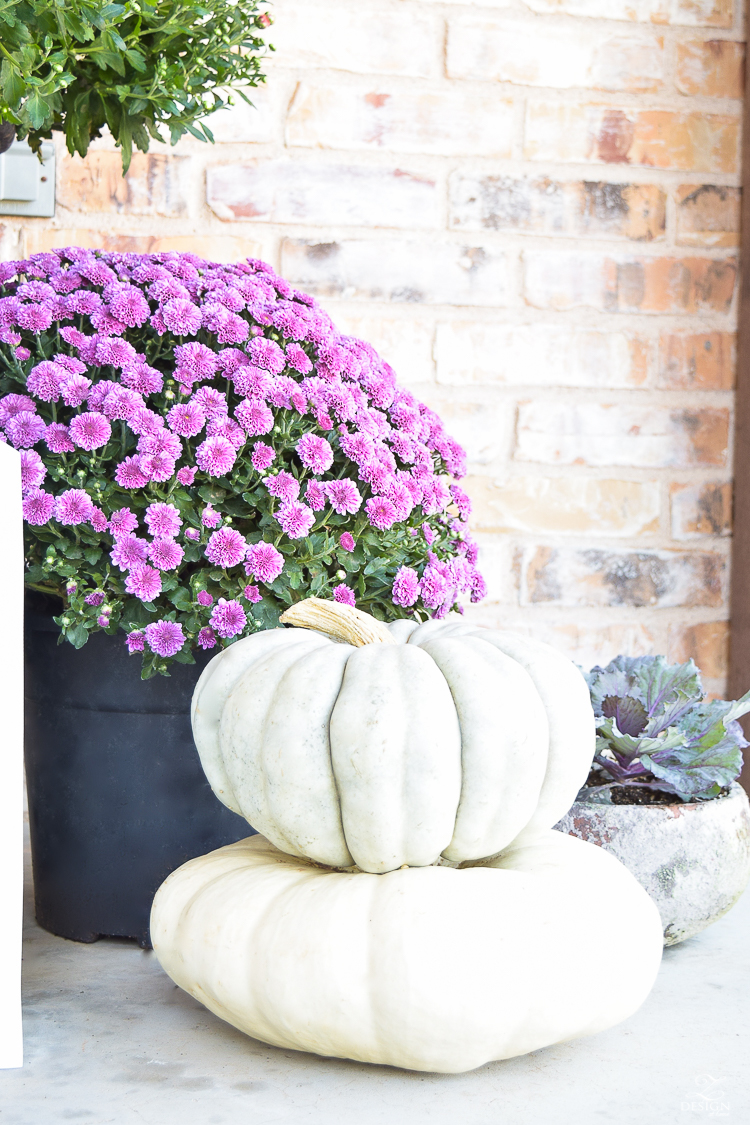 So the result was that I ended up getting these green and white ones on the right below.  They're fine but more of the blue would have made my heart sing if I'm just being honest;).  However, the grouping of pumpkins, flowers and pillows here on and around the bench adds a little drama and interest and says "hello fall and welcome to our home" to friends and neighbors as they approach our porch, and I love it!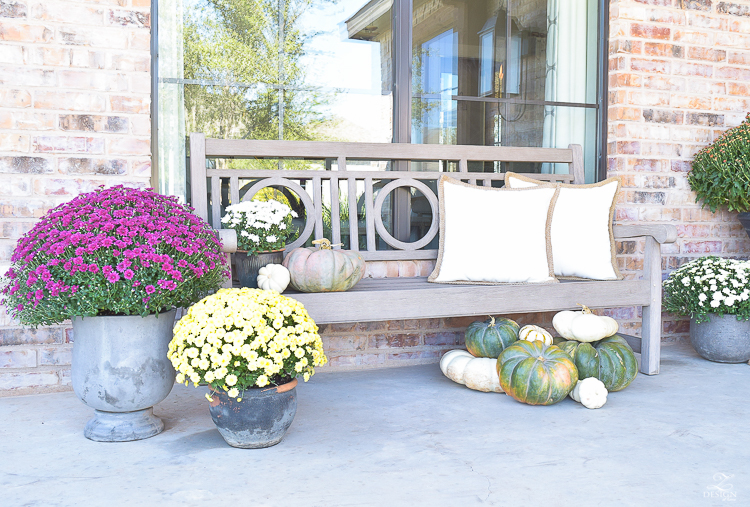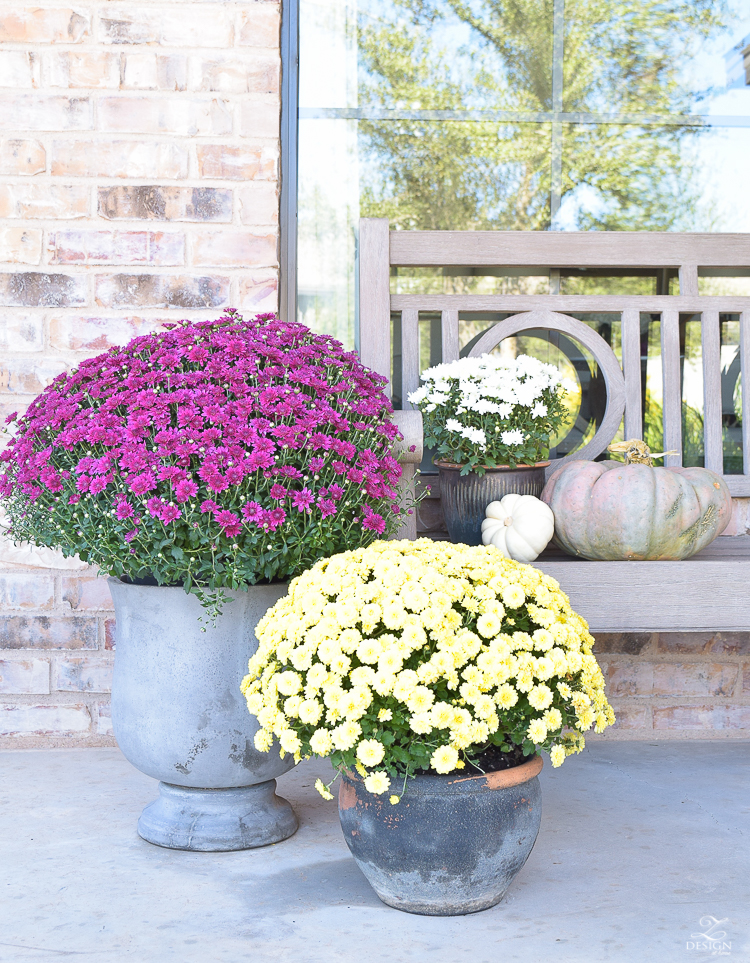 This bench (similar) at the front door has been one of the best things we did for this area of our home.  We live in a cul-de-sac and often sit out here to watch the kids play.  Sometimes my husband and I sit here and just chat as we enjoy the weather (and sometimes even when the kids aren't outside playing, haha…that's just how we roll and how much we like it out here).  It's nice for me too because it gives me another opportunity to do more decorating by using pillows and placing flowers around it.
Get the Look

At the front door, unfortunately I had to quickly get these new planters recently. We had had our existing ones for many years and when I went to move them recently the bottom literally fell out of them.  They were zinc (that I don't recommend) and honestly didn't hold up well to the elements so when I found these that were a hard molded plastic with a transitional shape, and in black, I knew they were the ones.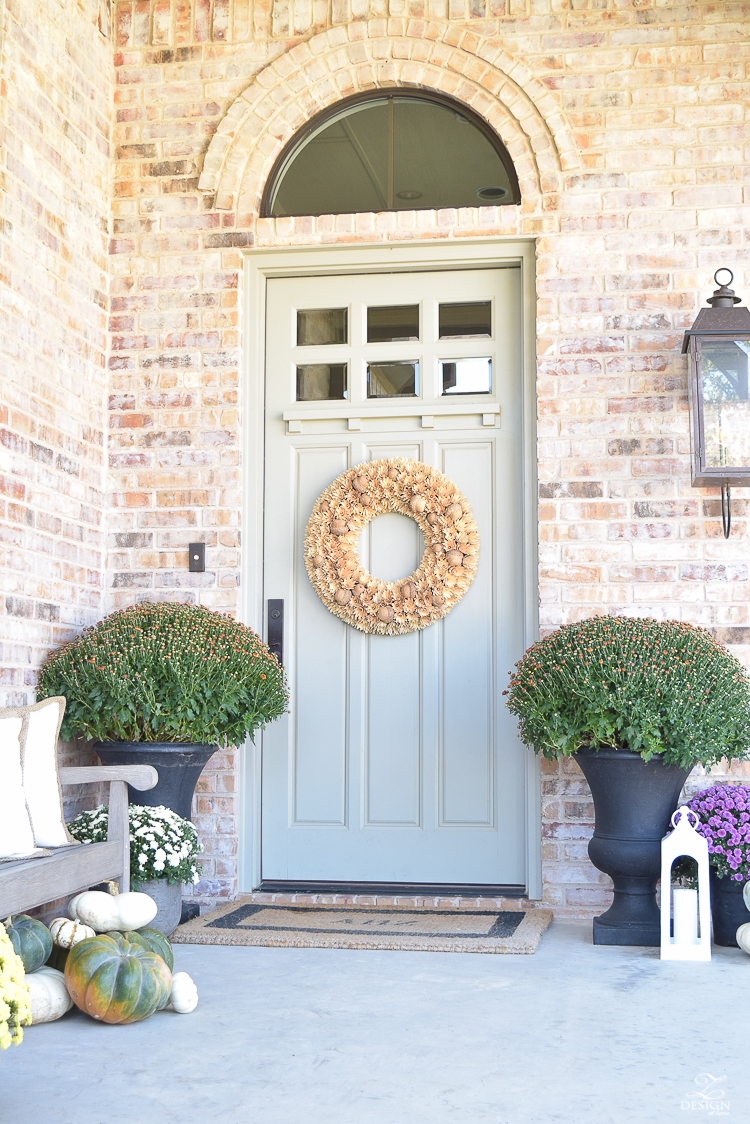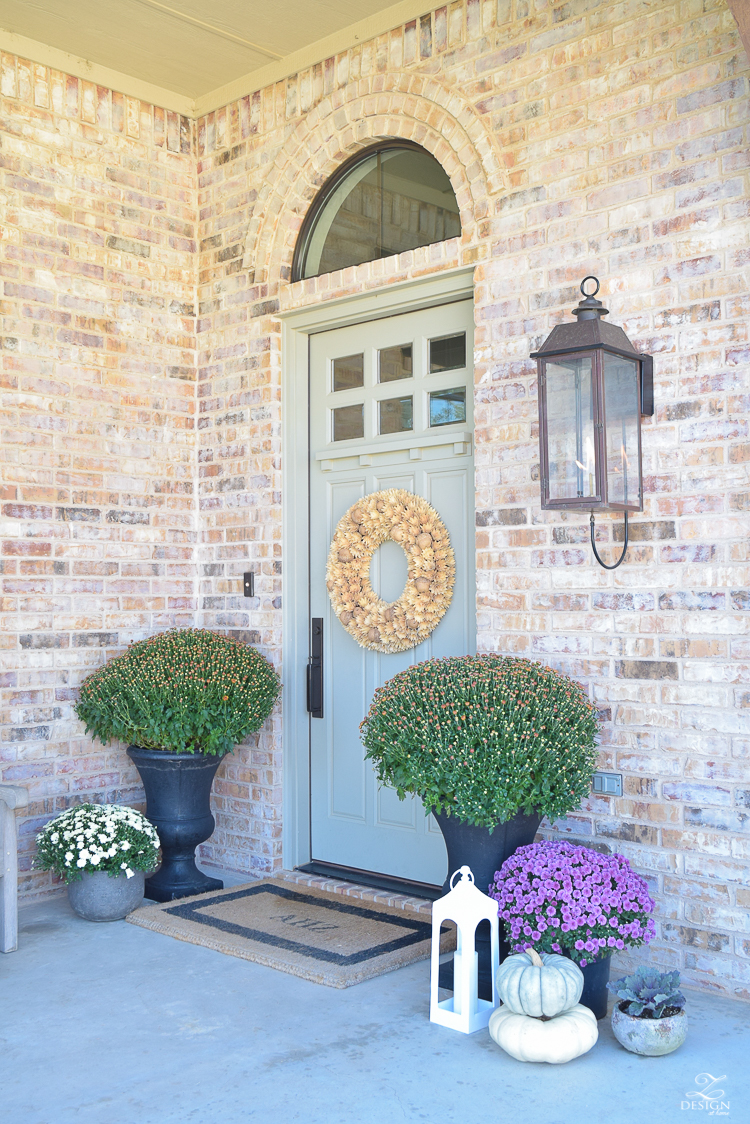 For the door mat, I stuck with my monogrammed coir mat as it's hard to find a fall festive mat that is large enough to span the width of our door but, one important thing we did this year was to replant the mums and ornamental cabbage in these nice pots.  Nothing says welcome more than having beautiful fall flowers planted in pretty pots…it shows you went the extra mile and will make your front door area look and feel more authentic than keeping the not so lovely plastic pots they arrived in.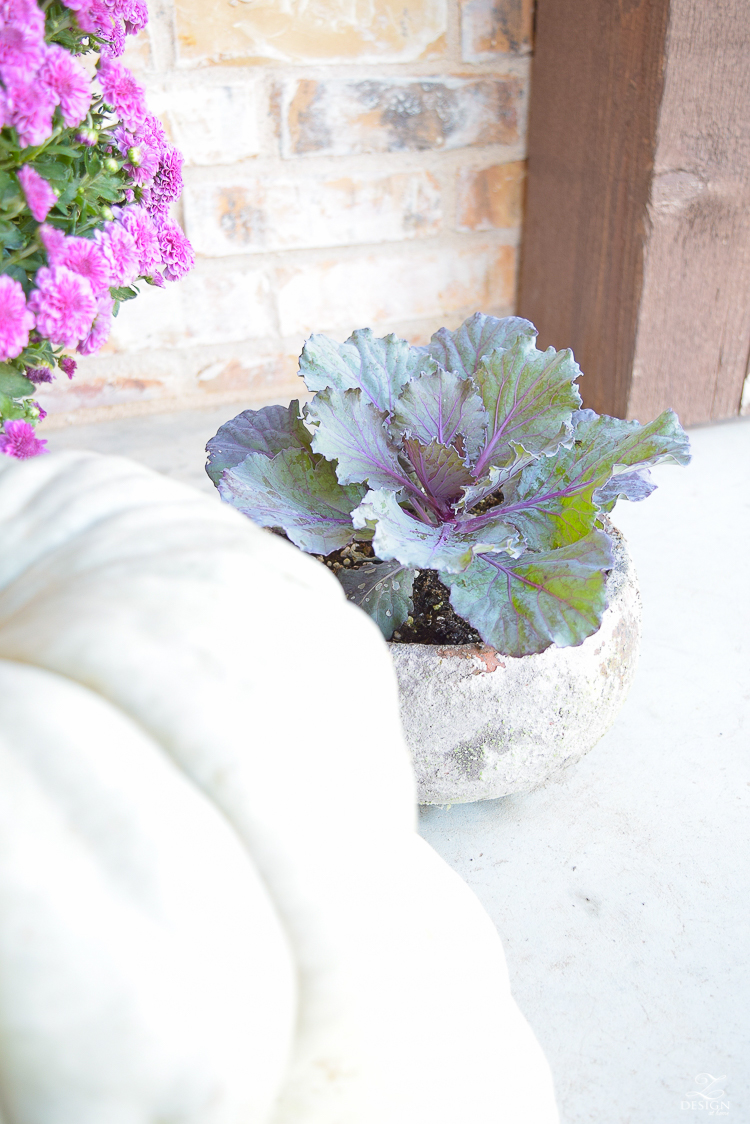 My husband was sweet to do the replanting for me and my fav is this gorgeous plum mum (my signature color this year that you can read more about here) in my absolute favorite gray pot!  It's shape mimics the ones by the door (I talk more about the importance of repeating patterns and shapes in my shelf & console table styling 101 post found here) and makes this spot even more lovely.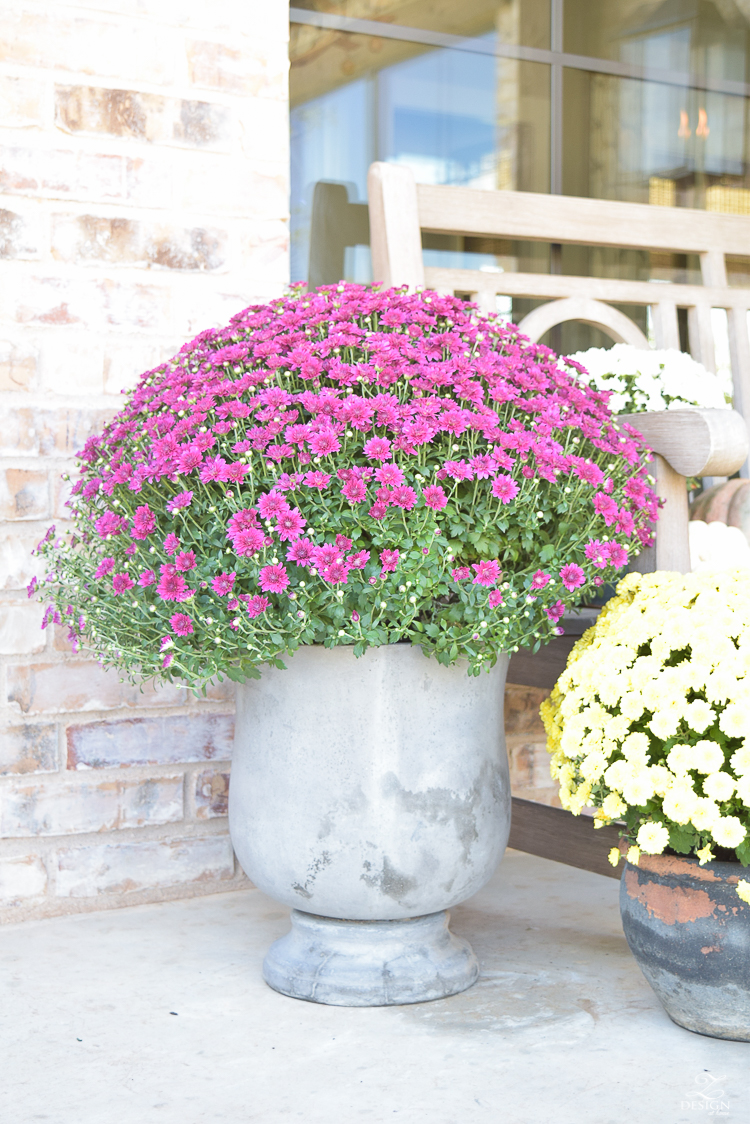 I hope you enjoyed the tour and tips and please let me know below if you have any questions!  Here is that full view you've been waiting on and don't forget to check out our pup Gracie at the end where I caught her taking a nap amongst the mums we have planted in the flower beds near by.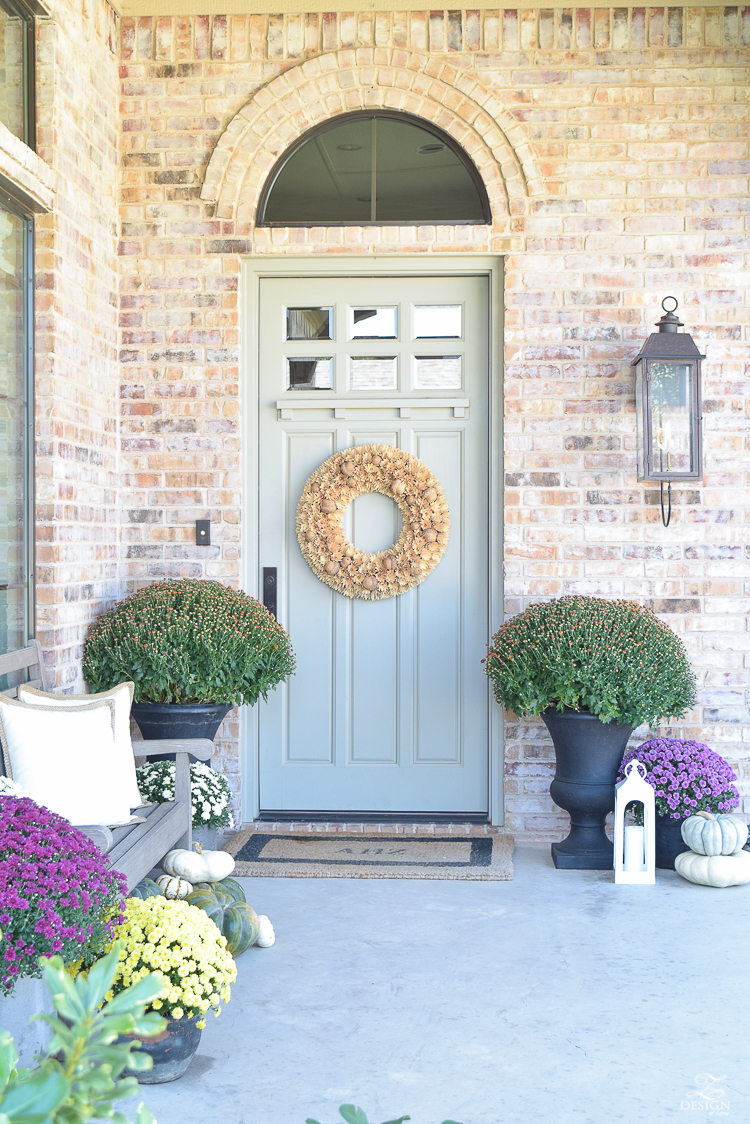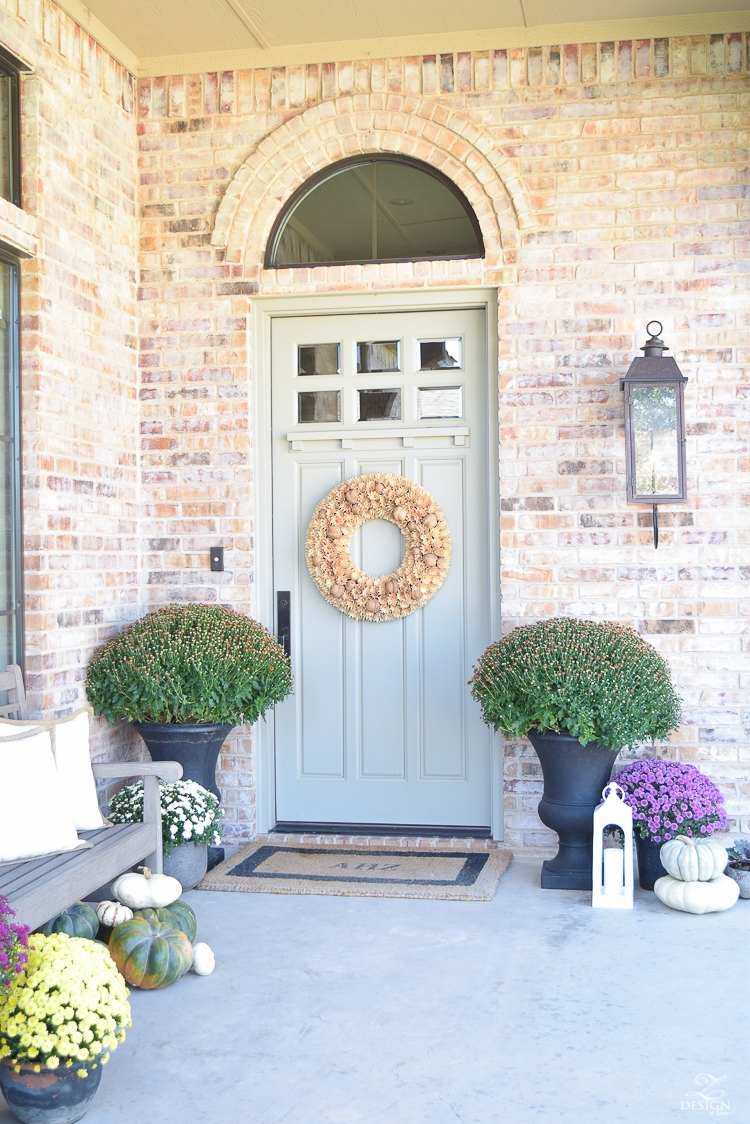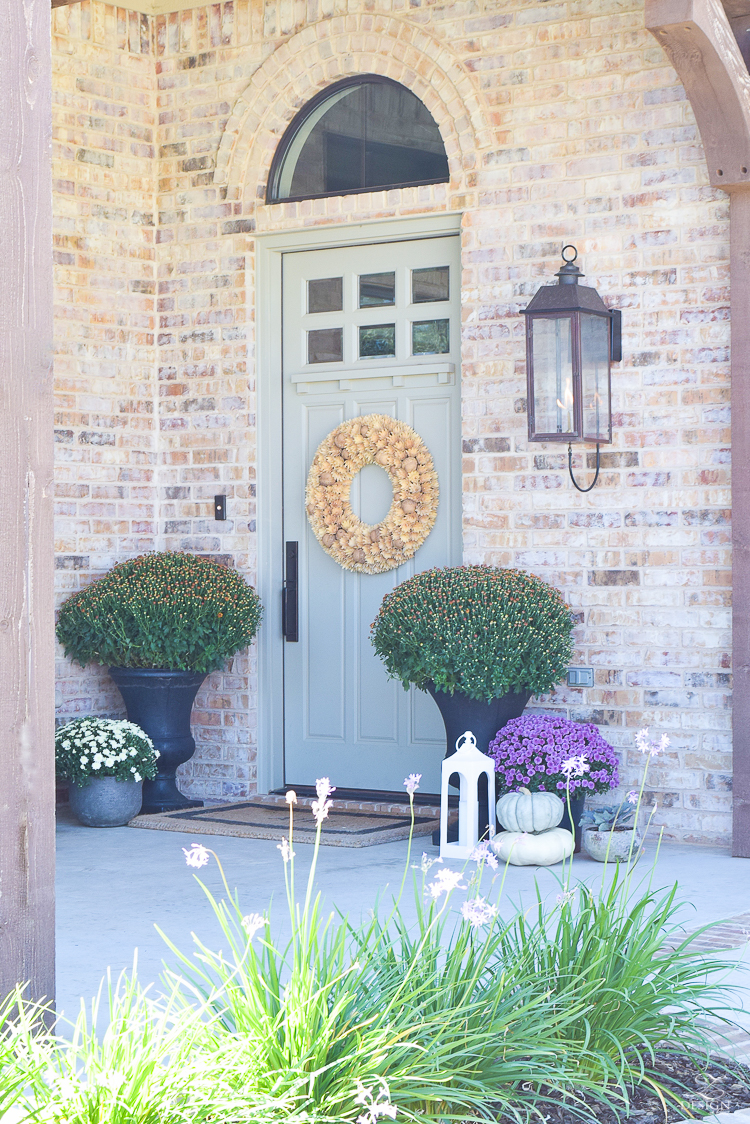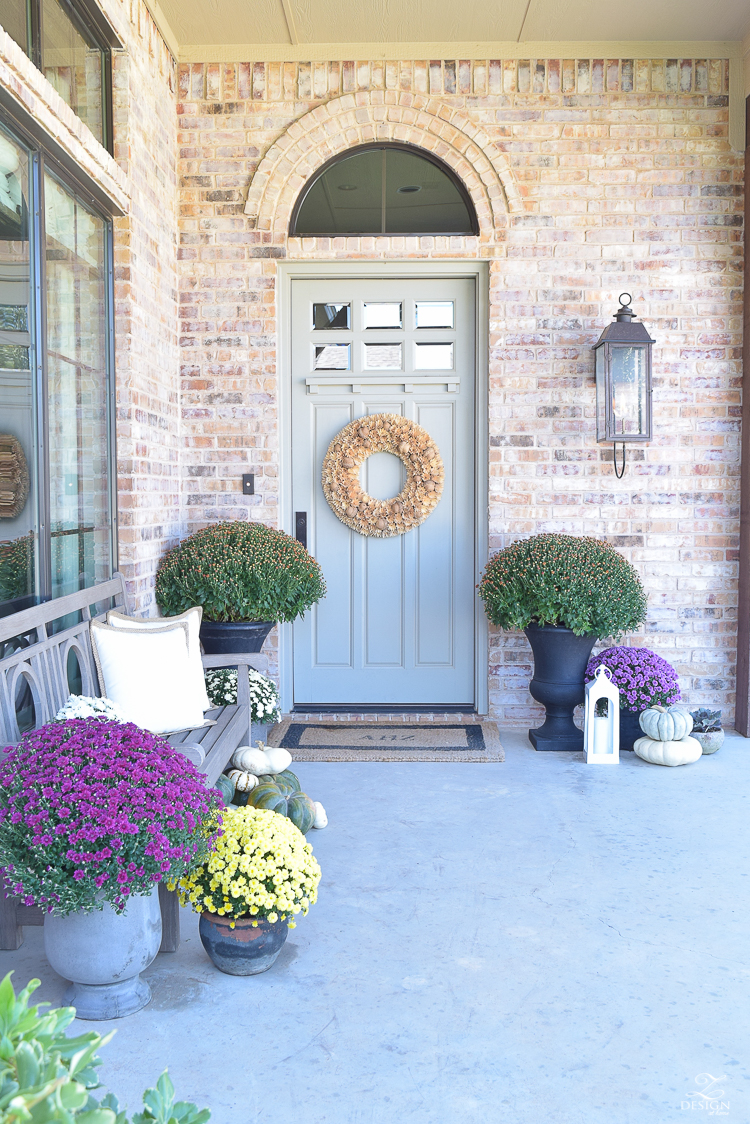 Get the Look

Xoxo, Bree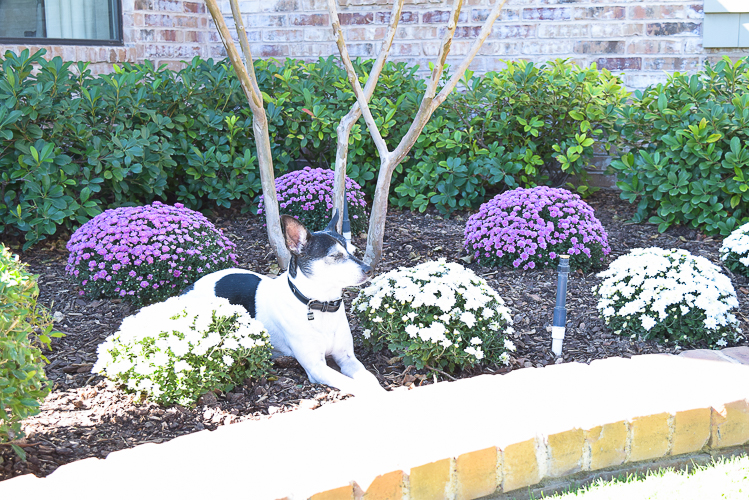 Additional Resources:
Pots & Urns:

Lanterns:

Mats:

Outdoor Pillows:

Benches: