Backyard Patio Party/Tour
Hi and welcome to the Bloggers Patio Party Tour hosted by the lovely and talented Kathleen of Lindsay Hill Interiors!  And a double welcome if you are coming over from the inspiring blog of my dear friend Randi of Randi Garrett Design!!  I'm so glad you've decided to join me and you will be able to link over to all of the other talented ladies in the tour at the end of my post.  So, go grab a cup of coffee, tea or which ever beverage you prefer at this time of day and settle in for some backyard party inspiration.  I just know you are going to love this fabulous tour and a big thank you to Kathleen for asking all of us to join in on the fun!!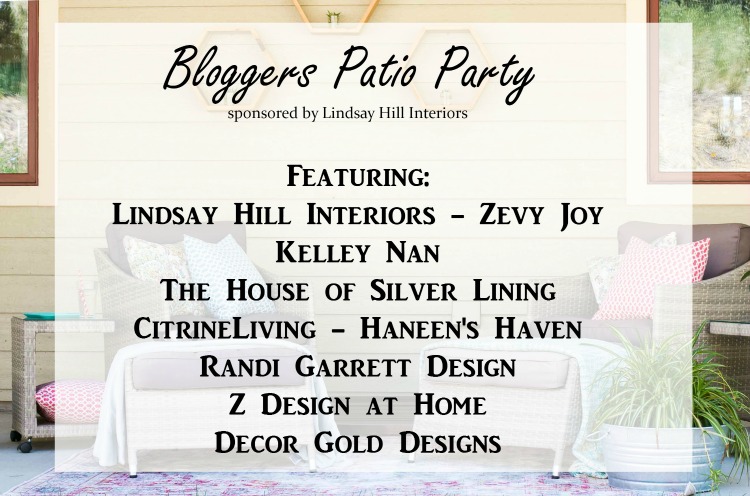 So I have to be honest and say that we haven't been able to do a ton of outdoor entertaining yet this year in this arid, desert climate we live in.  This year has either been too cool or too hot up to this point for spring/summer but for this tour I was inspired to pull my outdoor space together a bit and get ready for guests that we'll be hosting soon. I'll just have to hope and pray it's not too hot that day/evening or we may have to move the party inside but at least I can hope for now and show you how I will be entertaining for the occasion.   One of the very first things that comes to mind each year for our outdoor entertaining space is to bring in plants and flowers, and I mean lots of plants and flower to make the space feel cozy for relaxing and entertaining.  We've been working so hard on the inside of our home since we moved in that we haven't landscaped the back yard yet (with the exception of grass) so I brought in hibiscus trees and a myriad of other specimens to cozy up the patio until we can add some more plants and shrubs to the yard (probably this winter when it's optimum planting time).  We do love to hang out here though, although it's hard sometimes due to the fact that our back patio faces south west so the afternoon sun can be harsh which means we have to wait until the sun goes down.  It's always nice to sit out here or even have breakfast out here in the morning though so that is one upside to this dry climate we live in.
I knew this year I wanted to incorporate a bougainvillea and this one found the perfect spot next to the couch to pop against the gray fence.  I also love these vintage inspired olive buckets and use them throughout my outdoor space to hold flowers.  Here I also repurposed my son's step stool to use as a riser for my bougainvillea.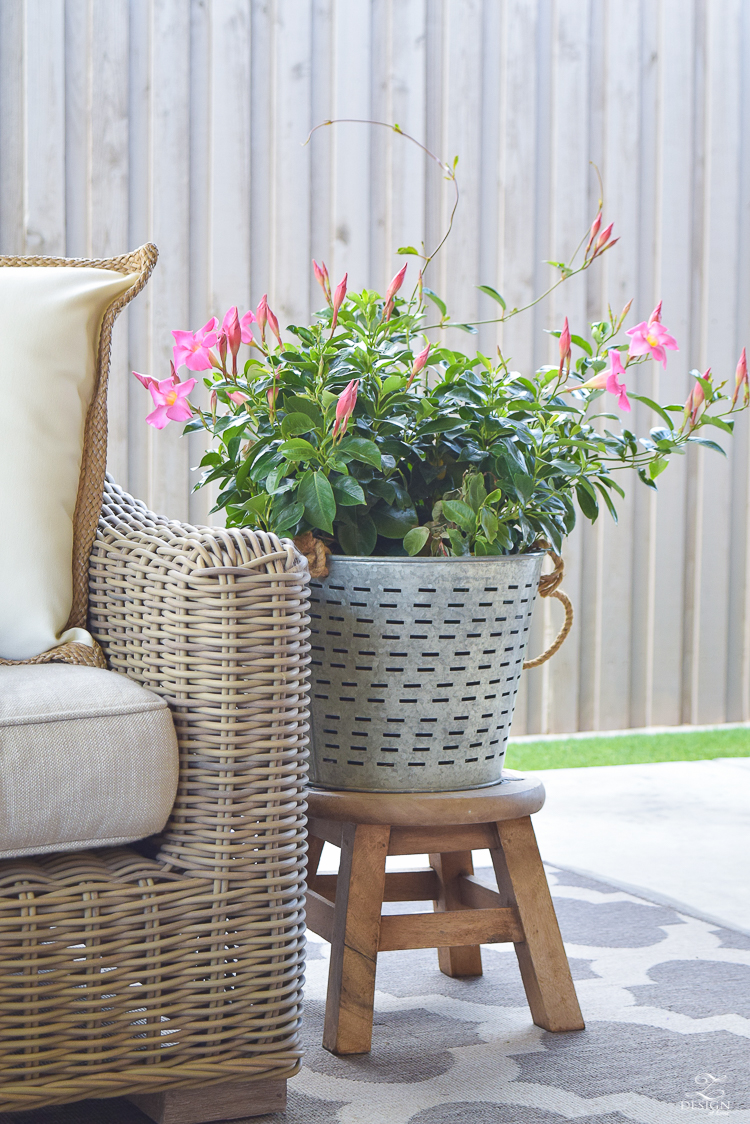 One of my favorite pieces I found last year at a local shop is this large flower market pot (similar sourced here).  This year it holds a banana plant in it with elephant ears in the bottom.  The height and color really cozy this spot up.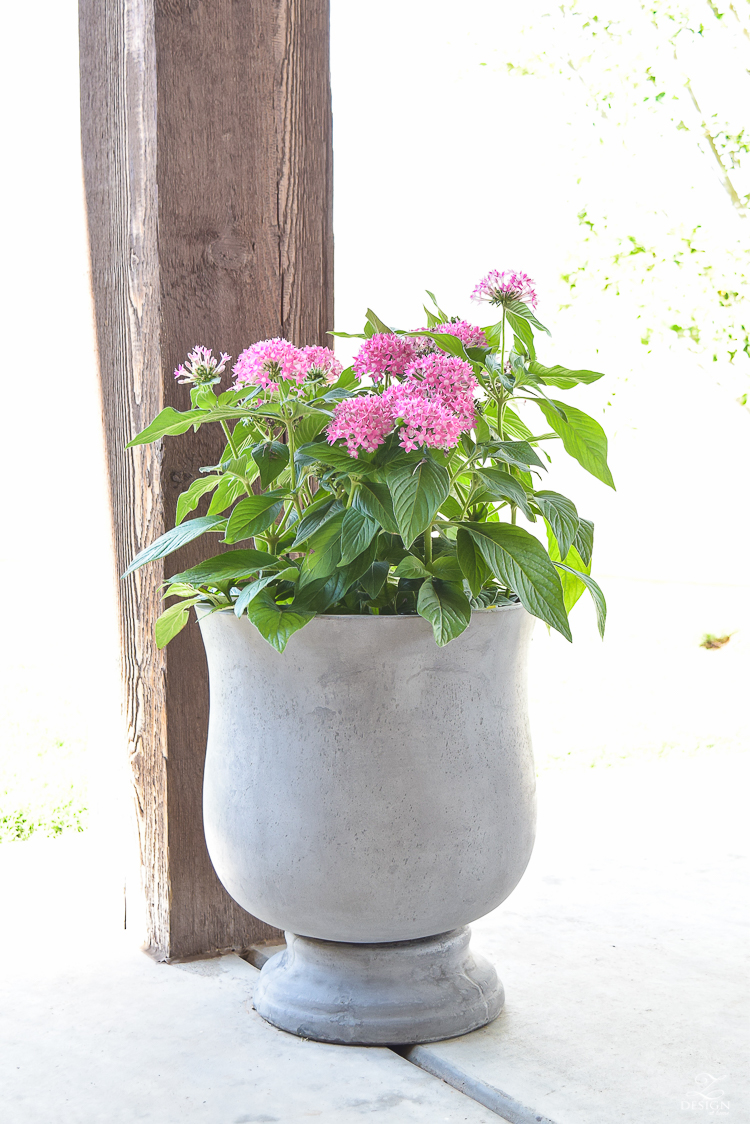 Artisanal Planter here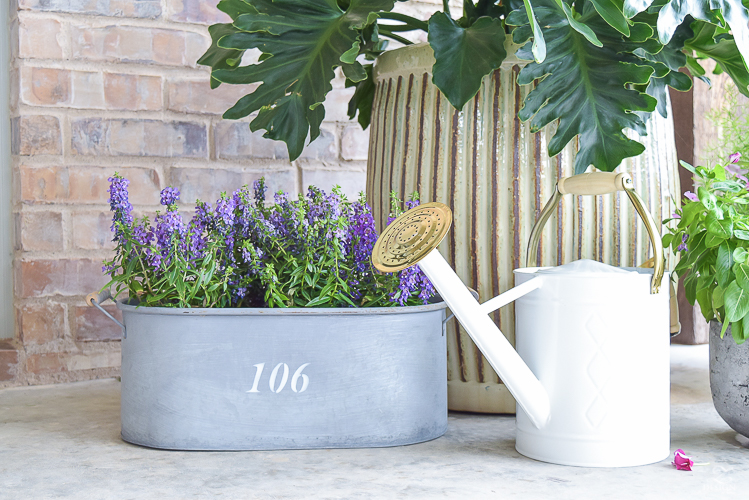 Galvanized bucket here
We cut this philodendron back each fall and over the past few weeks it has really taken off.  Another favorite of mine to cozy up the patio are asparagus ferns and I have a couple of these stationed around the patio.  They are hearty enough for the desert heat and such a pretty bright green that brings in some much needed color and vibrancy to this space.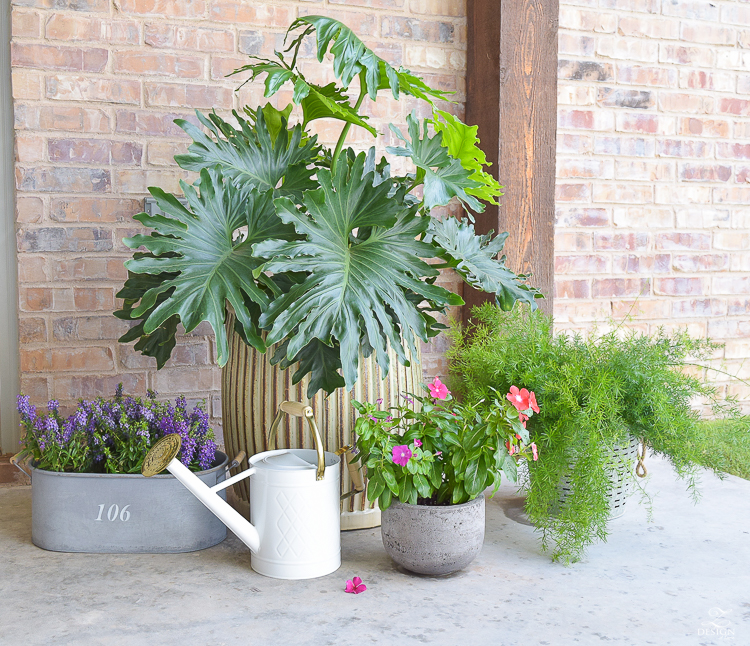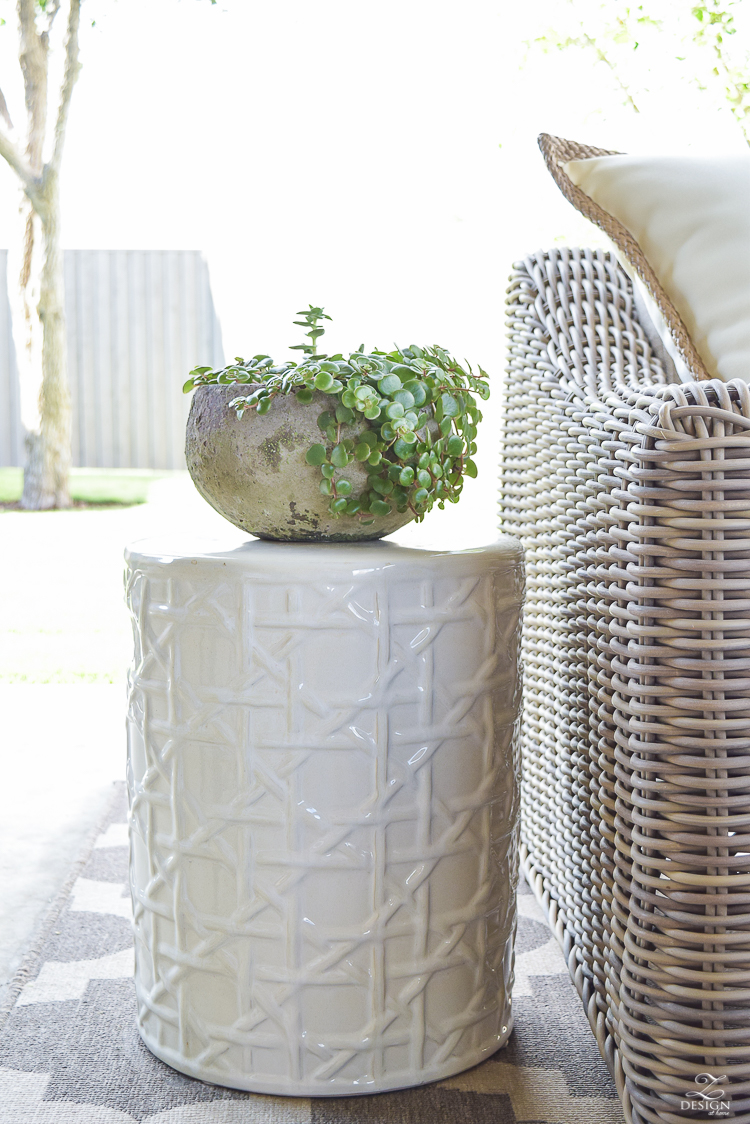 Get the Look

I had hoped my hibiscus trees would have more blooms at this point but it's just not quite ready yet for some reason.  They both have tons of buds so I'm hoping they'll pop out soon, especially by the time our guests arrive soon;).
Tip Time:  Before I added the hibiscus last year this spot felt boring and cold (if that's even possible in the hot desert sun) so I added these trees in a large pot behind the couch to draw your eye up, add a pop of color and interest, and to provide a barrier (or a stop) between the couch and the not so lovely fence.  I think it worked out well.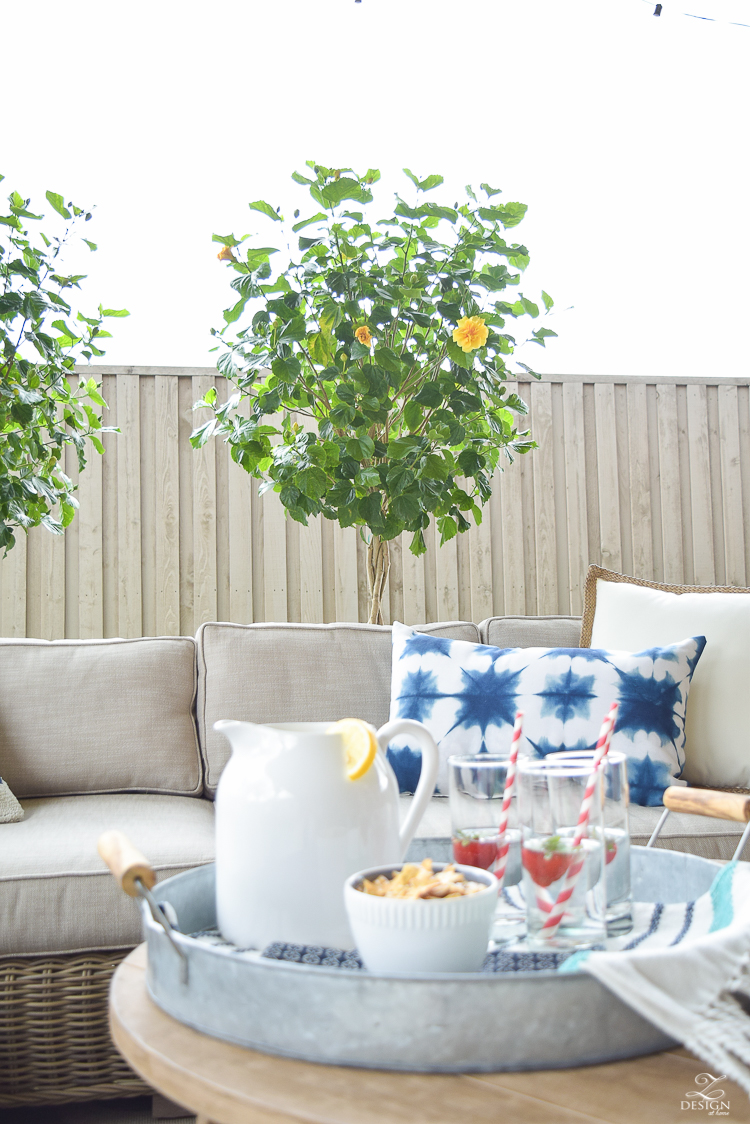 The only thing new I added this year to get my outdoor space ready for entertaining were these fun, fresh printed pillows.
Tip Time:  My color palette inside the home consists of a lot of navy blue at the moment so I carried that color into my outdoor space this year so that the indoor space flows seamlessly into the outdoor space.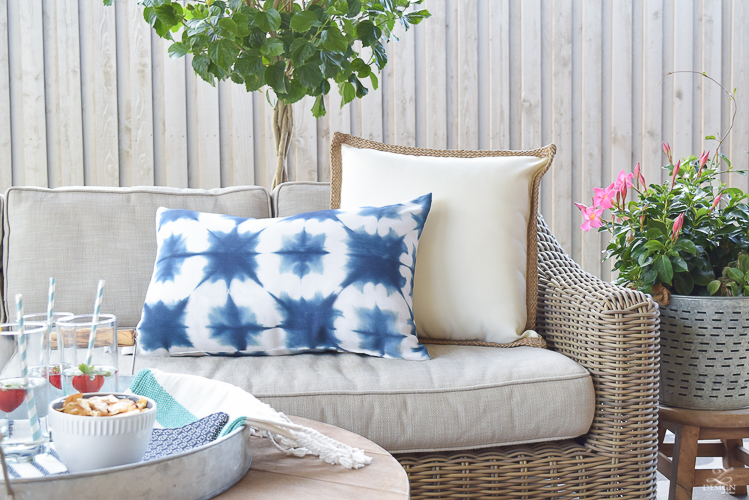 Oh, and I also found this darling anchor pillow at HomeGoods.  I've linked something similar here for you but I just love this fun crochet indoor/outdoor pillow for it's whimsical quality and that it reminds me of the beach where I grew up, and pastimes of boating, fishing and other water sports. We don't get to do a ton of that these days living in the desert so this little pillow is a sweet reminder of all of those fun memories.  I do the same thing inside by decorating with coral and I talk a lot more about that in my spring and summer tours that you can link to here & here.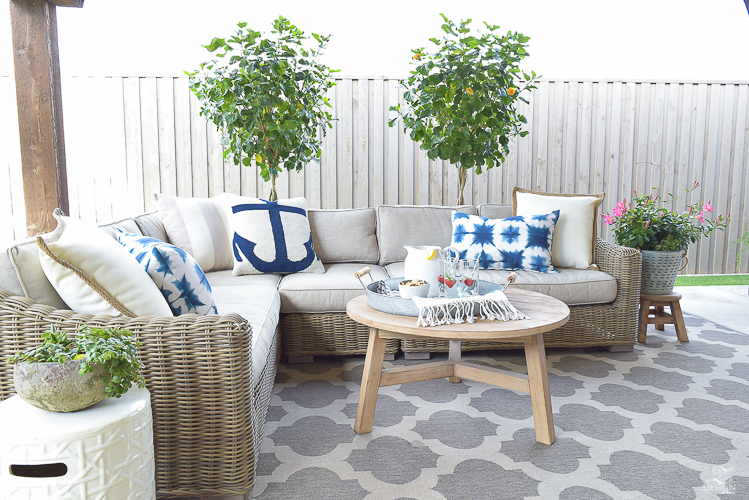 For pre-dinner snacks on the seating side of our outdoor space I just usually have something light, simple and refreshing since it's the hottest time of year, and so that guests don't get overly stuffed before the main course comes off of the grill.  I love this metal tray, fun napkins and fringed table runner that I used to line my tray to dress it up a bit.  And those little paper straws always steal my heart and I love that they come in so many colors to suit the mood and/or setting for my table scape or vignette!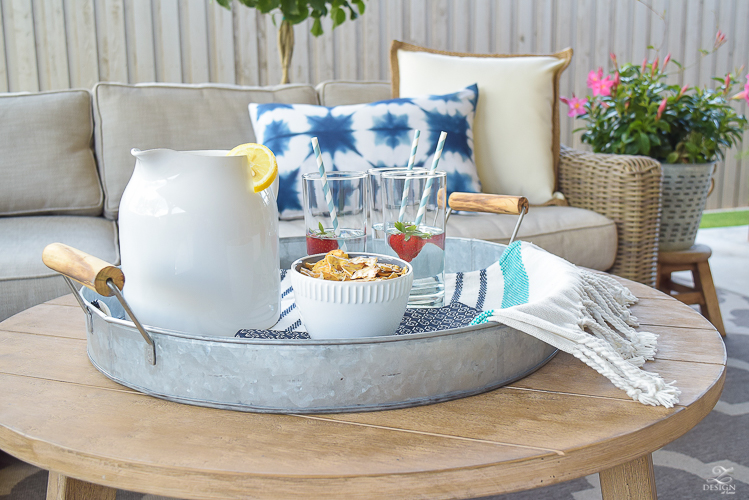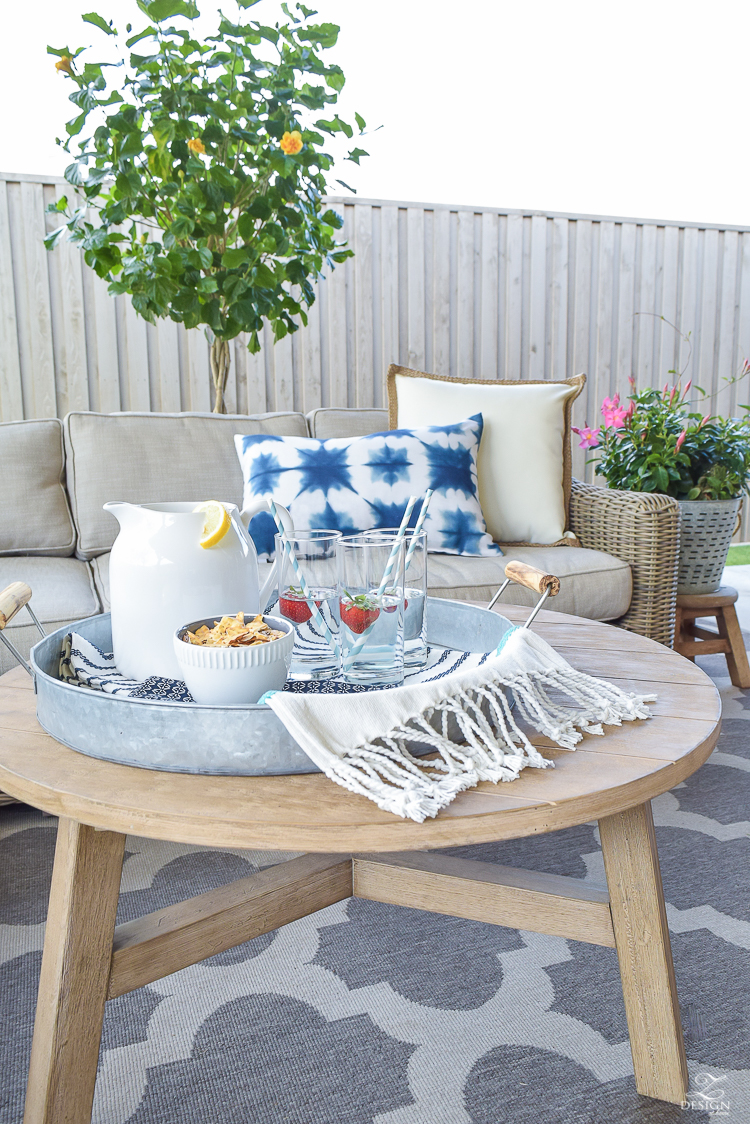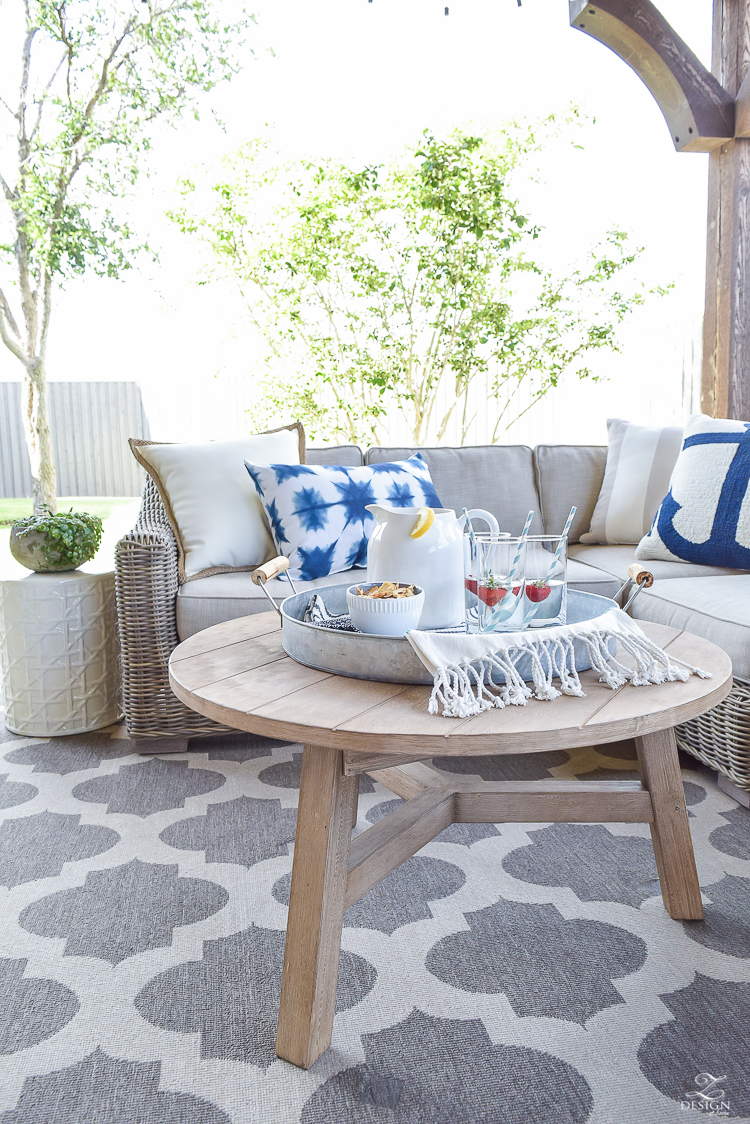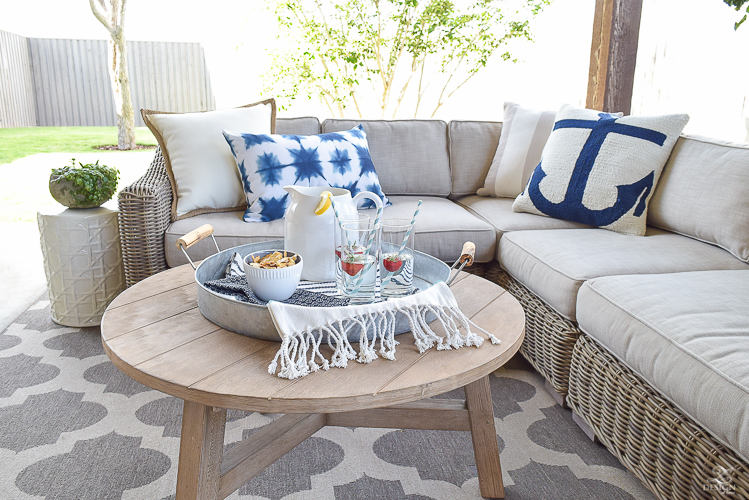 Get the Look

Next I turned my attention to the dining space where we'll be gathering to share a meal.  I started with this fun fish table runner and then these clear, acrylic outdoor dinner plates I've had for years, and then layered a salad plate for a pop of color.  I then toped it off with these fun patterned bowls from Target that I do so much with around my home, including organizing my refrigerator (which you can see more of here in my organized refrigerator post).  I used a different patterned bowl on each place setting to add a little interest to my table.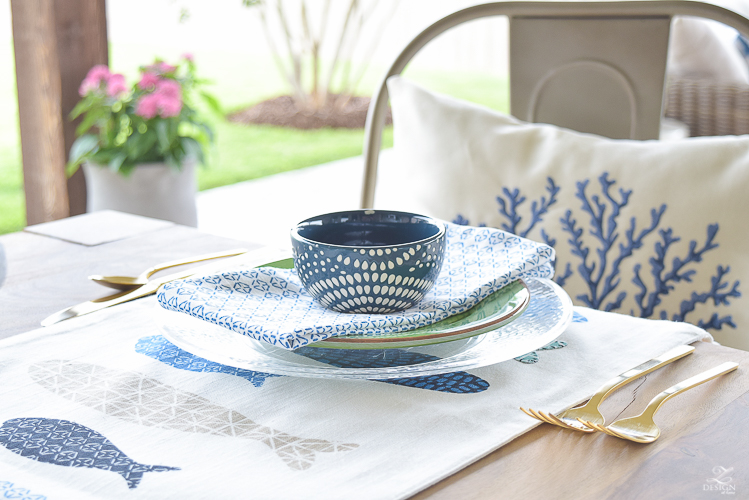 I also pulled out my gold flatware vs. using plastic.  It's always fun to dress things up a bit and they can't get broken so there's no harm in using them outdoors (Tip: And, you shouldn't be afraid to use your pretty entertaining things outdoors either!).  This gold flatware is one of my absolute new favorite things in design this year!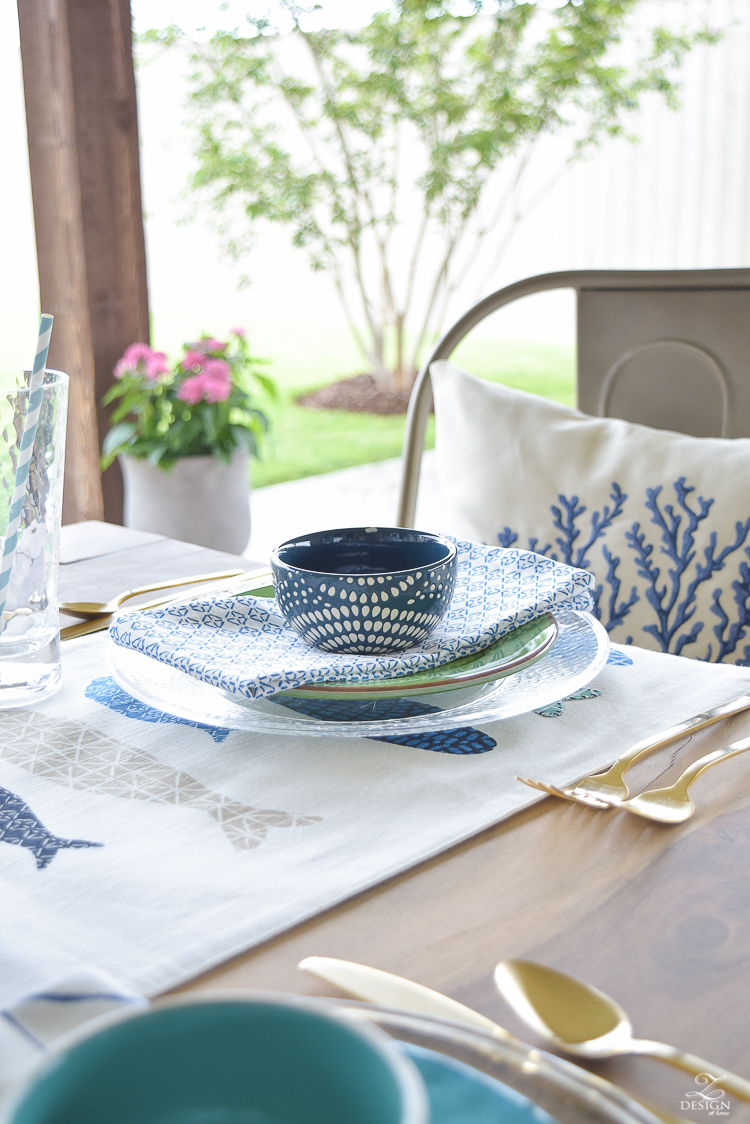 After my dishes, I brought in my favorite little faux olive trees along with this gorgeous white outdoor lantern to top off the table.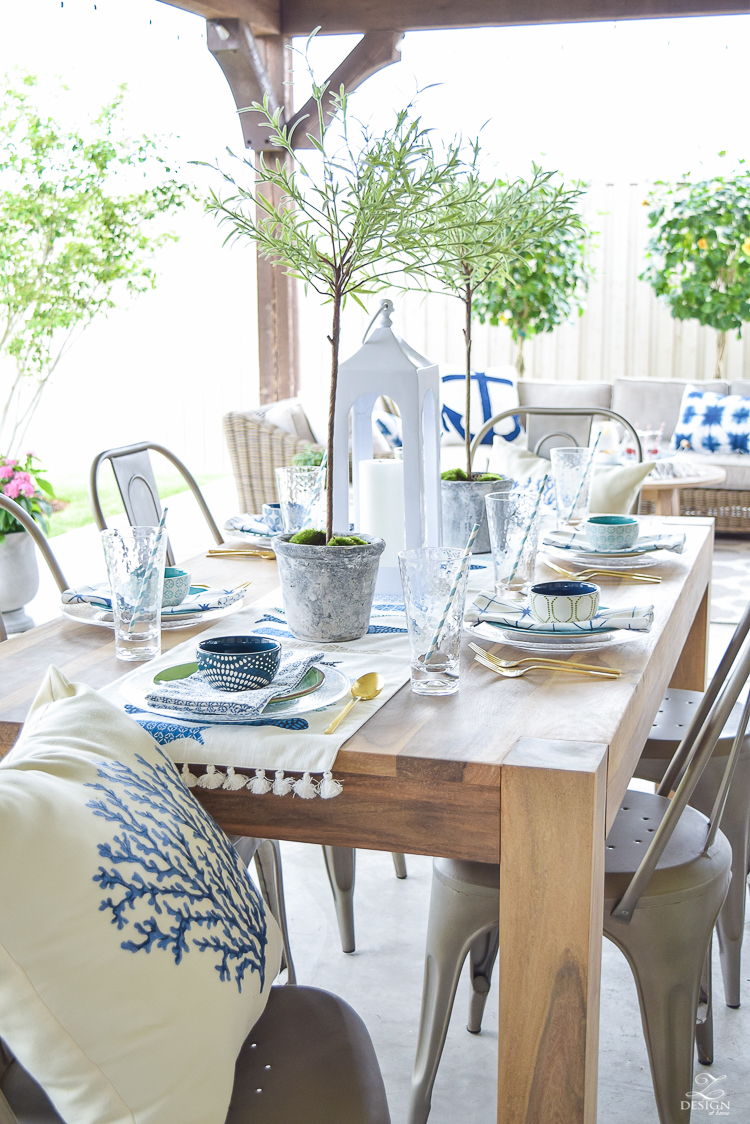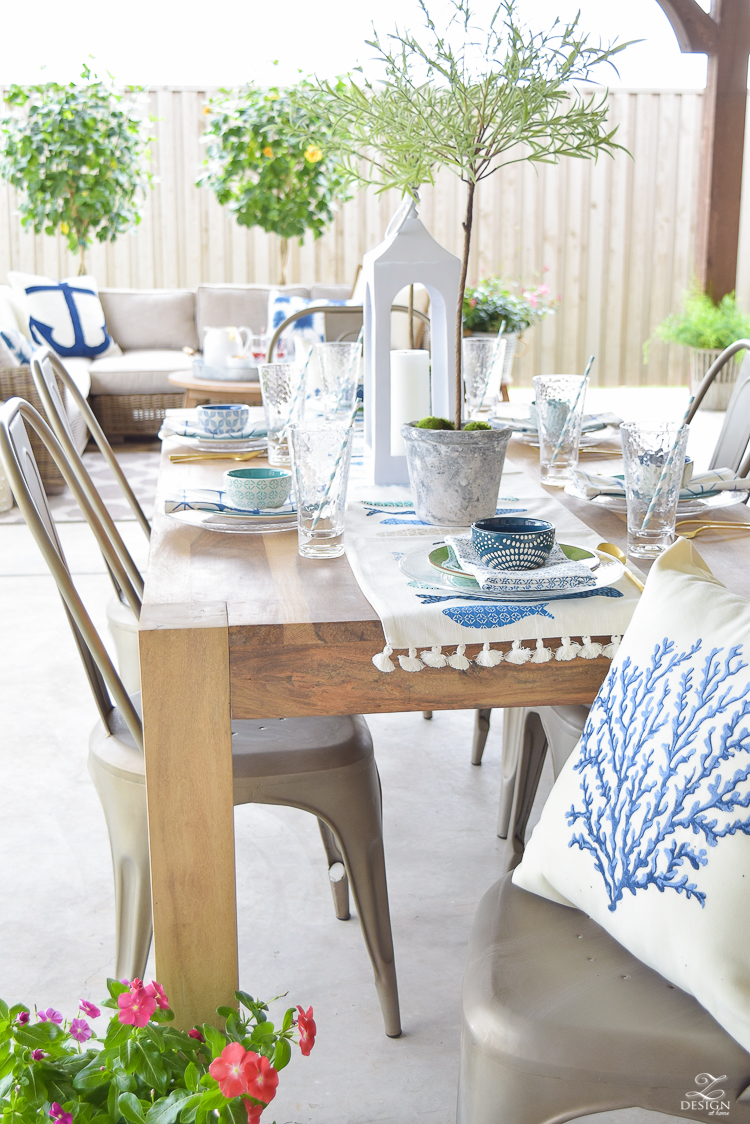 I also pulled out my favorite pillow find from last year for the head of the table, which is this coral pillow.  I found mine at HomeGoods but I've linked something similar for you here & here since I always get lots of questions about them.
Tip Time:  This may not be the best advice but regardless of what the washing instructions say on my outdoor pillows, I always wash them in the washing machine with detergent (I use Mrs Meyer's Clean Day Basil scent), Borax, and bleach if necessary.  I only add the bleach if they are mildewed and colorless.  I have a front load washing machine so if you do this, do it at your own risk but they come out squeaky clean for me every time!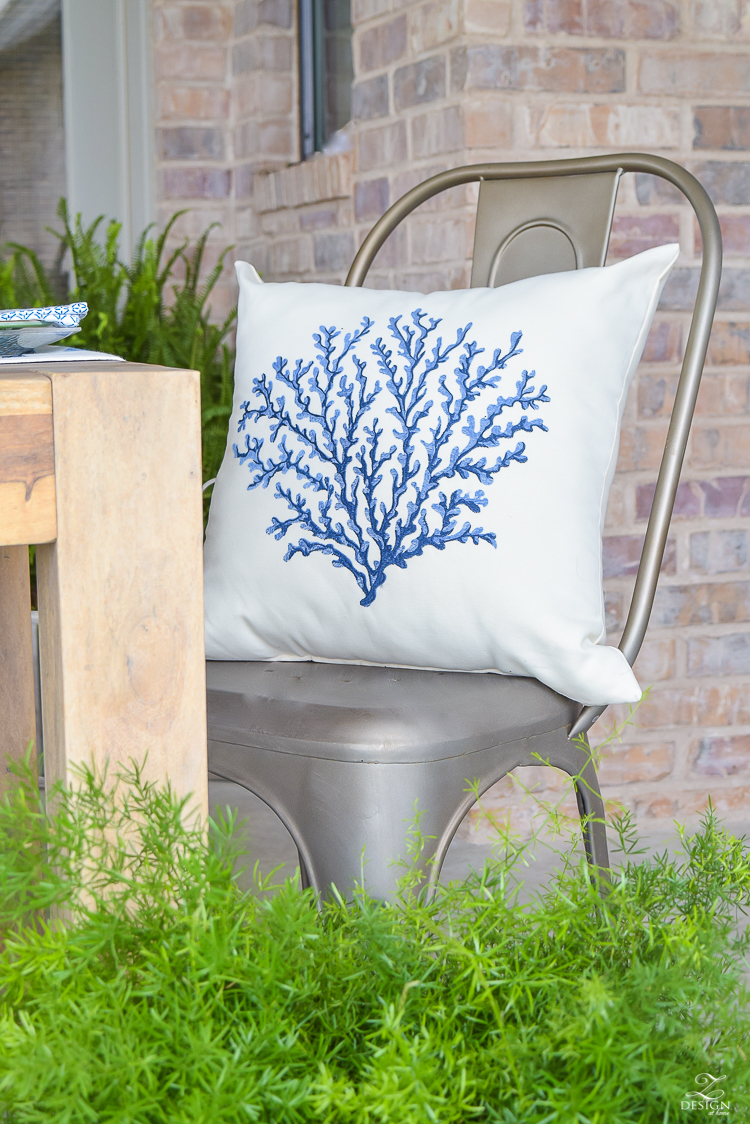 Get the Look

Our table was a great find from last year and it's not an outdoor table but it was such a great price (and the style we wanted) that we decided to go for it and we just put a coat of Thompsons Water Seal on it and I'm happy to report that so far it's doing great!  This table is no longer available but I've sourced an identical one here.  The chairs were also a great find last year and we love the juxtaposition in materials between the table and chairs. It definitely adds interest and character to the space.  the only thing I'm lacking here is a rug and I may just try to catch an end of season sale this year for that.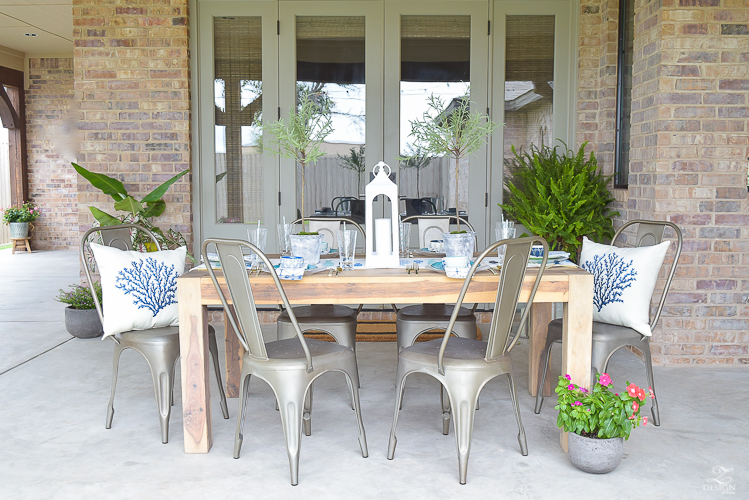 And excuse me while I take a little break from home decor but I had a little helper today that I thought I would share with you.  Her name is Gracie if you haven't met her yet.  I think I was keeping her awake and making her work too hard or maybe that look was about something else…hmmm;).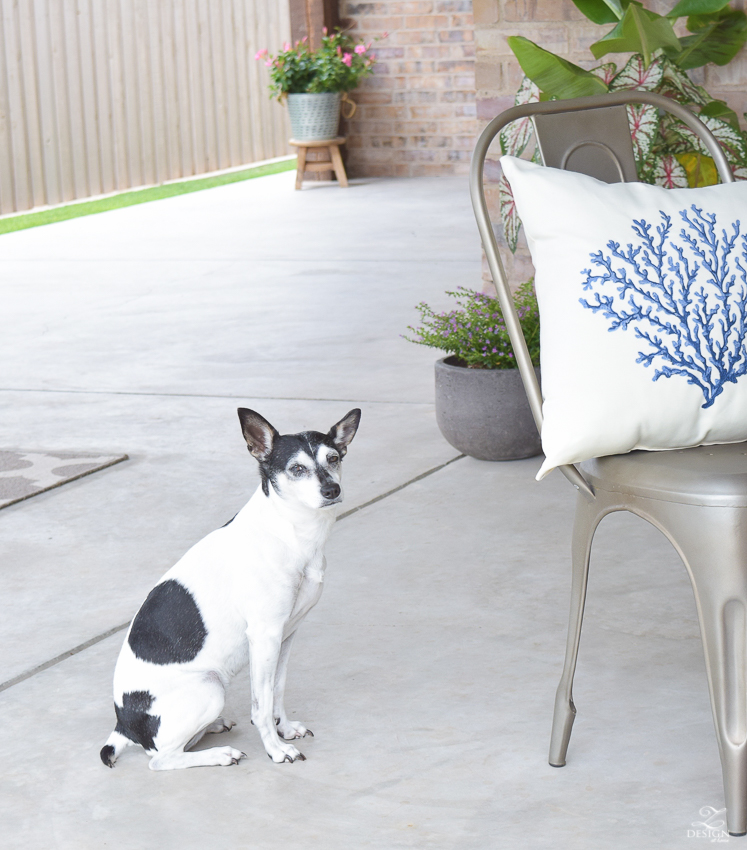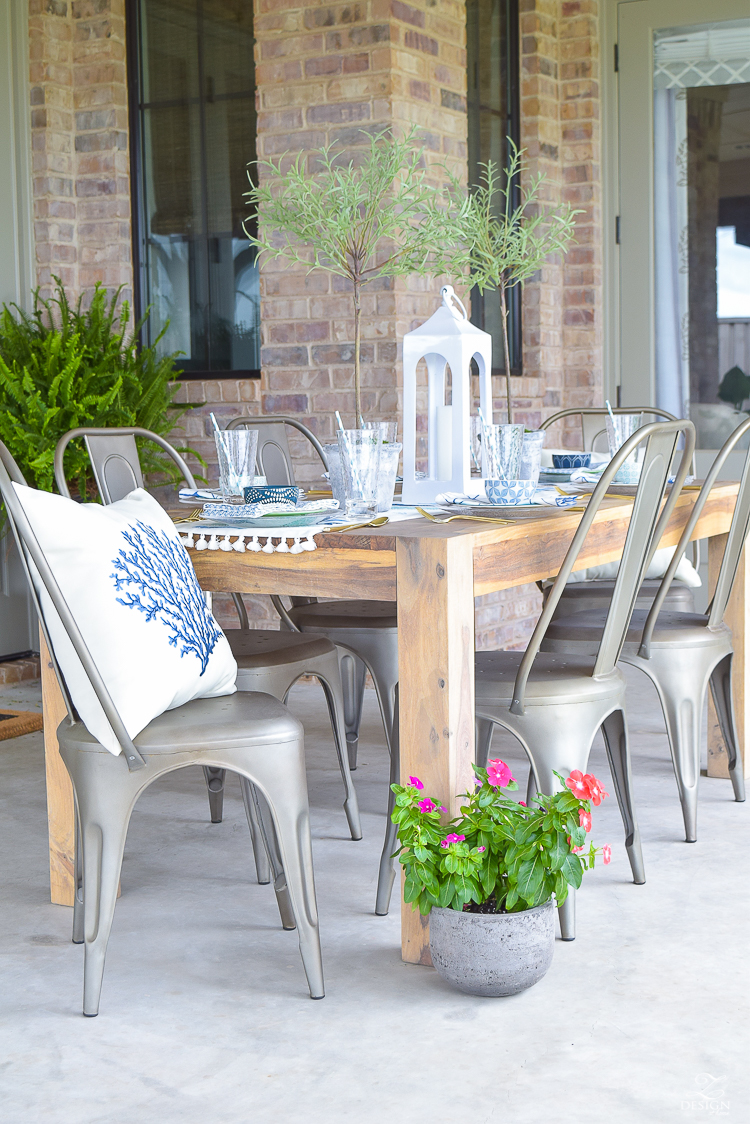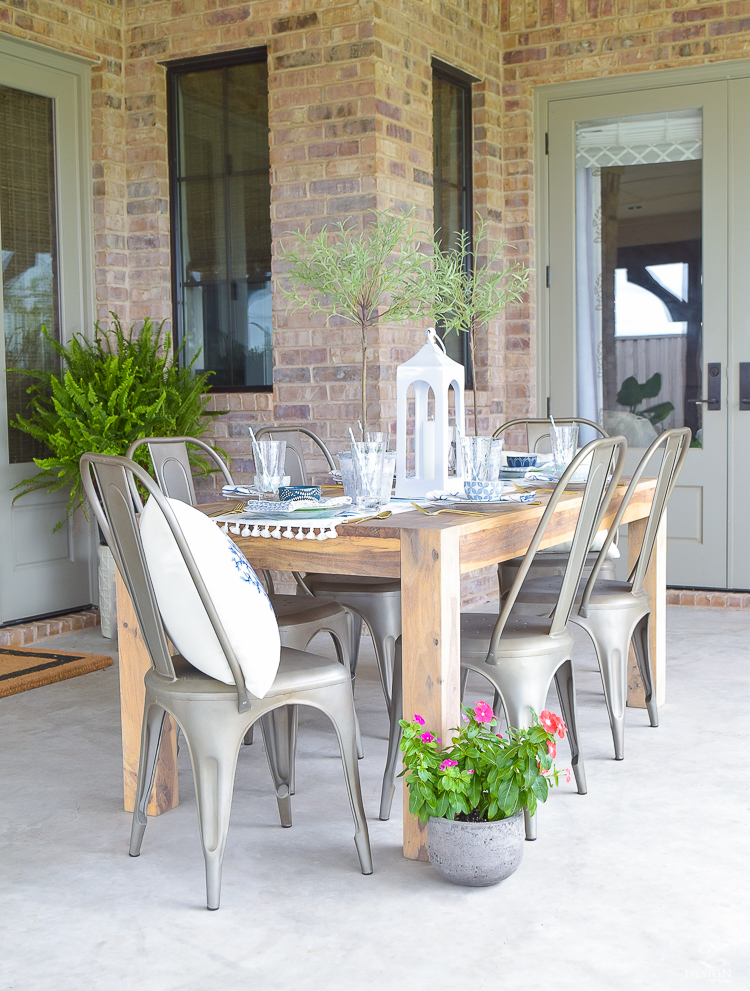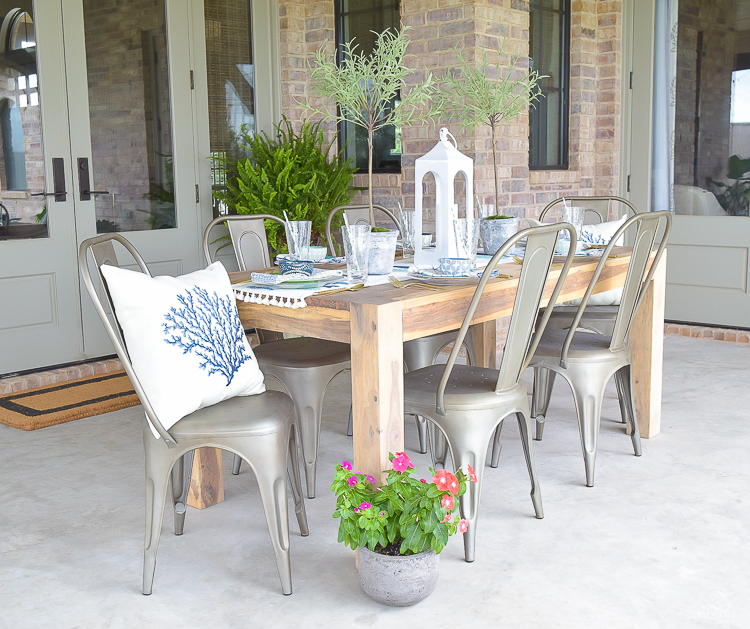 Get the Look

Now I think we're ready for our patio party and I wish I could have you all over to join us!  How fun would that be?!  Now just say a little prayer for us that it won't be too hot and that we won't have to take the party inside.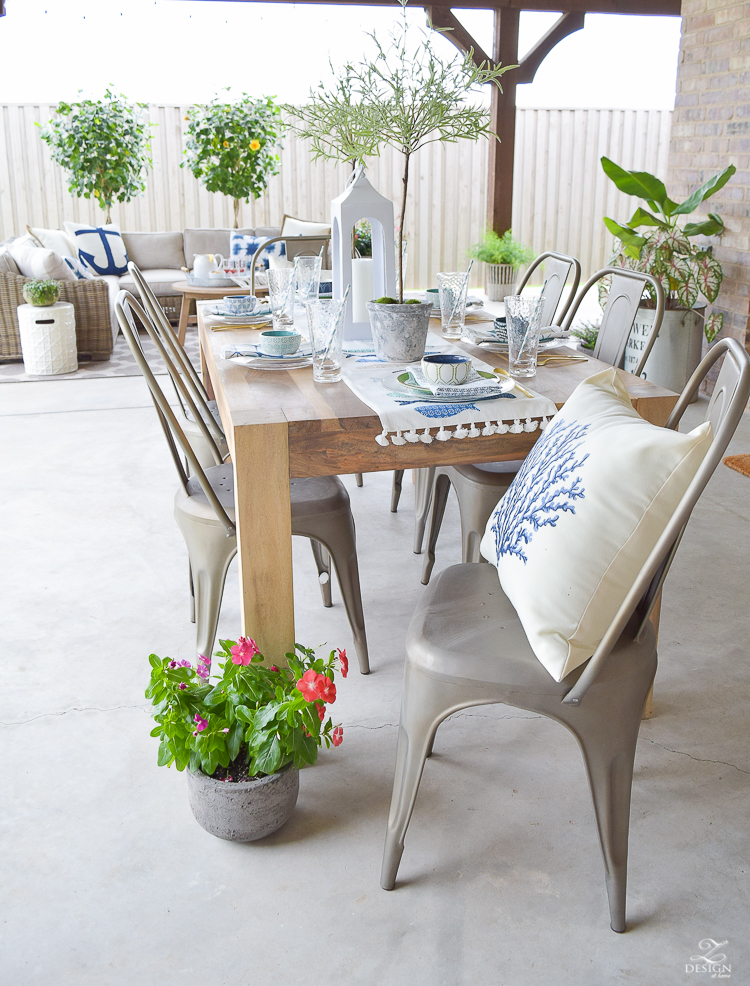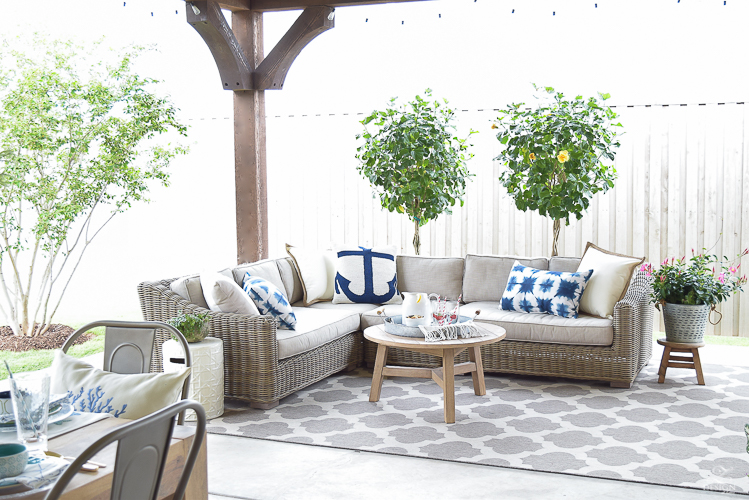 Get the Look

I hope you've enjoyed the tour and that you are now feeling inspired to get ready for your own patio party this summer. From here you'll head over to see my friend Jennifer at Decor Gold Designs.  Jen is a major sweetheart and everything she does is so inspiring so I know you'll enjoy visiting her today for her patio party as well! To follow below you will also find a full list of participating bloggers that I hope you will check out soon if not today. So much talent and inspiration to be had in this great group of ladies and thanks again for stopping by our fun tour! Enjoy!!
*Affiliate links have been used throughout this post and where an item is no longer available a substitute has been provided