A Summer Living Room Tour
Welcome to the Summer Home Showcase hosted by the lovely and talented Kelley Nan!  And a double welcome if you are coming over from the beautiful blog of Brittany at Addison's Wonderland!  Each and every single one of the ladies in this fun tour are so talented and inspiring so make sure when you get to the end of my post that you link through to see some of the others, if not all!  I know you'll love what you see!!  Additionally, thank you so much for stopping in to tour my summer living room…I'm thrilled to be included is this amazing group of women and so excited to have you tour the space I've decked out for summer!!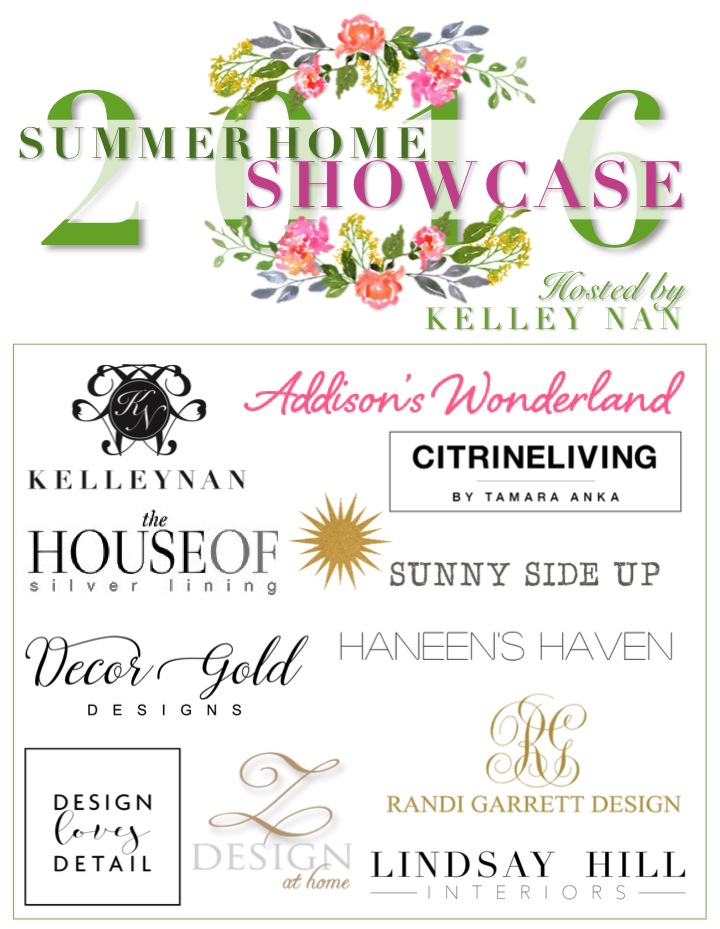 Summer has finally arrived around here and behind spring it's my favorite time of year to do some redecorating.  The reason I say summer (and not Christmas) behind spring is because it's an easy yet fun transition from one to the other and I've had a blast this year adding, deleting and over all changing some things around to suite the season in our home!  I also love decorating for summer because it reminds me of home and the beach which gives me an opportunity to add even more coral into my decor (which I adore since I grew up on the beach in Alabama).  It's a reminder of horseback riding on the beach, frolicking in the sand and surf with family and friends, and just over all great memories so I usually have to hold myself back from making these summer changes as long as I can (since I always want to make them sooner rather than later)!
The changes I've made have been simple and I mostly shopped my own house but am enjoying the change of scenery thus far.  This sounds silly but the first thing I did was to turn the floral pillow around that I keep in our wing chair.  One of the great things about the fabric on this pillow is (listen up, it's Tip Time) that the pattern is really large so when I ordered these pillows I had them made to where the front and back are different parts of the pattern.  Otherwise, they would have cost a lot more and I wouldn't be able to flip them around to reveal a whole new pillow cover for a nice change every once in a while (not to mention there was no cost involved here).  I also moved the stump/garden stool (more on the versatility of the garden stools here) from beside the couch to beside the chair so that I could add this  brass tray/bowl.  I am really loving the brass and gold trend  of late (that I'm pretty sure is here to stay!) and really just want to change everything that is currently chrome in my home to brass, but unfortunately we all know that's not possible.  I can however add some gold accents here and there so that's what I've done here with this darling  gold tray.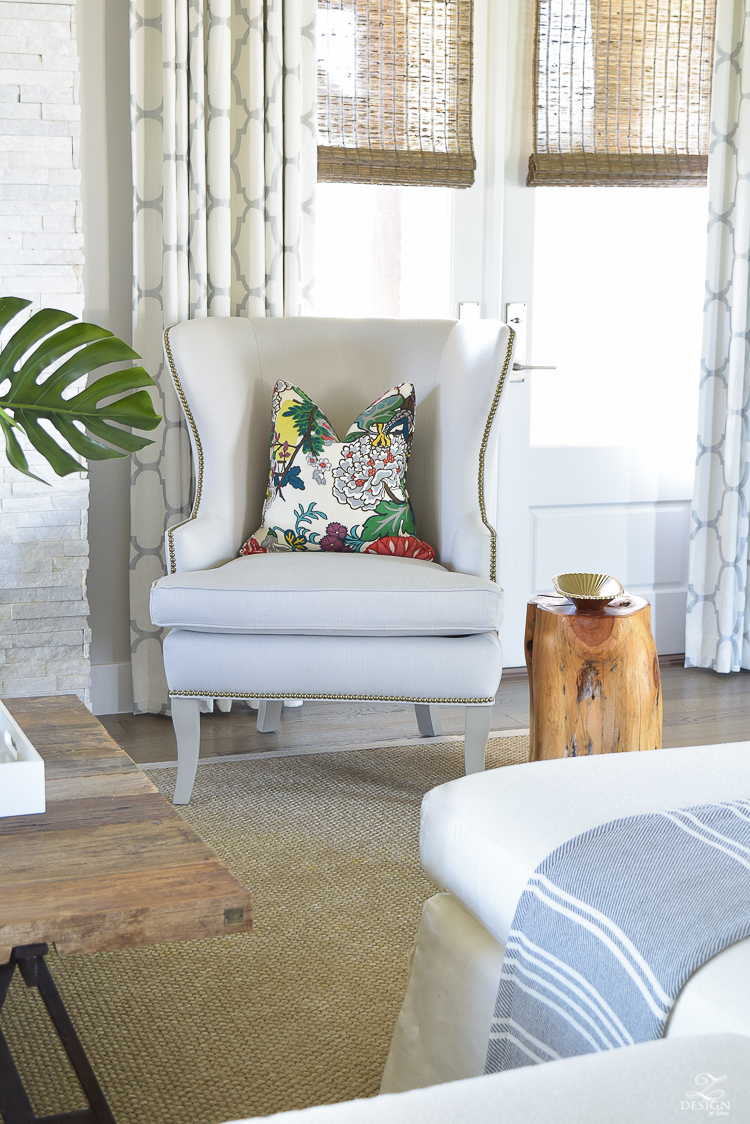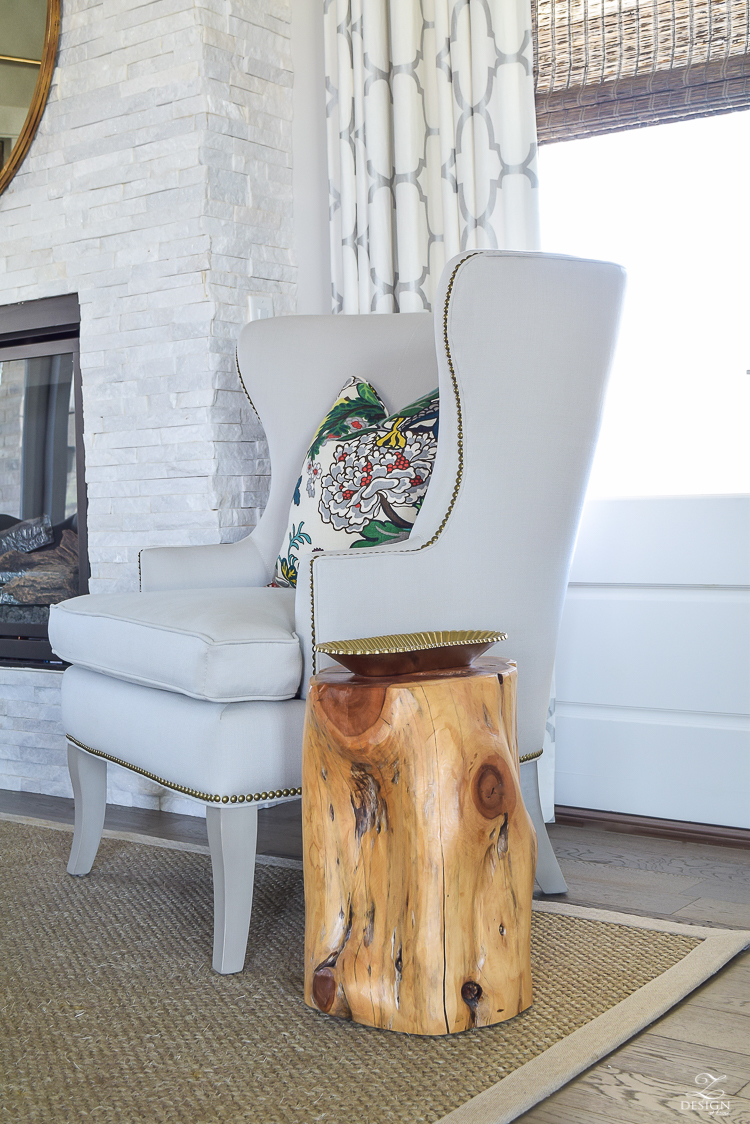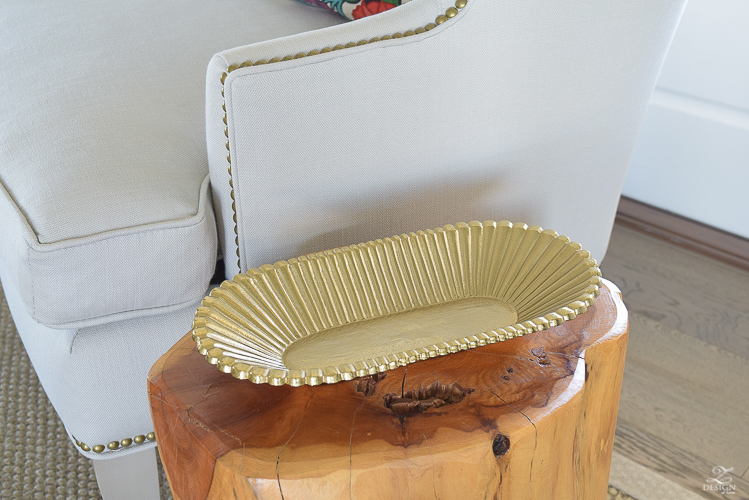 The next thing I did was to pull out some old Philodendron branches I've had for a few years, along with a tall cylindrical clear vase to hold them.  The branches gave our living room an instant summery feel because we have a Philodendron plant right outside on our patio that has grown at a fast pace since spring started so it was kind of like bringing a little bit of the outside in for summer.  These branches are still available and you can find them here.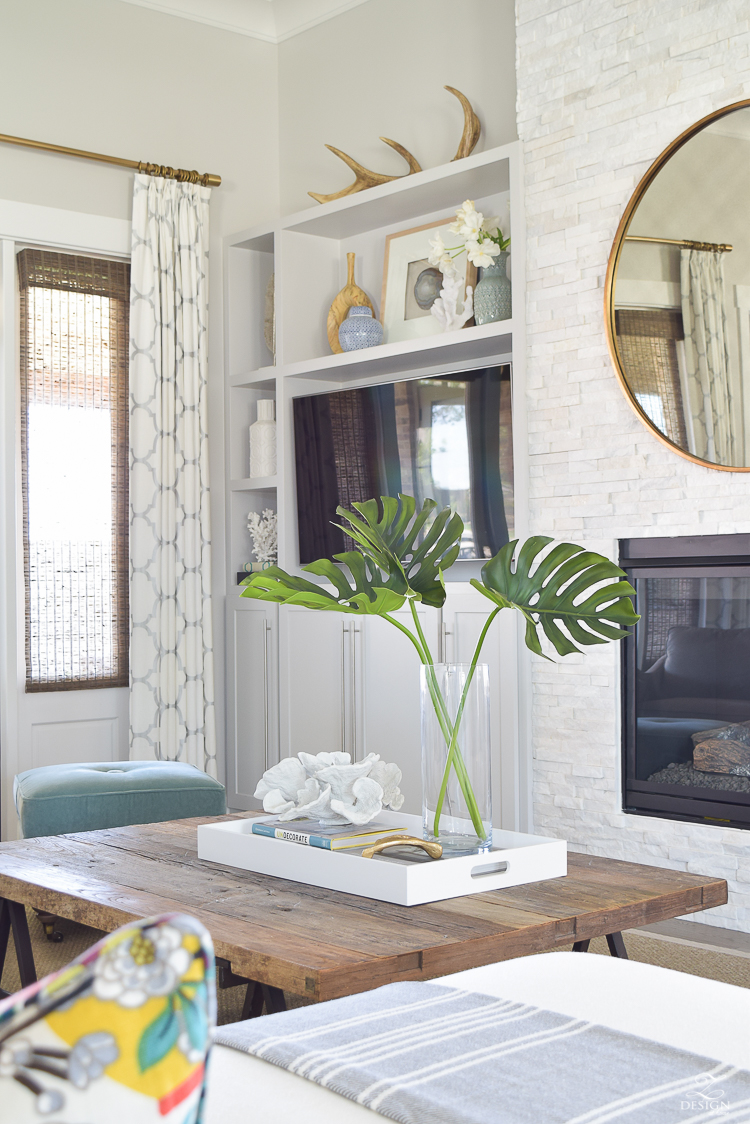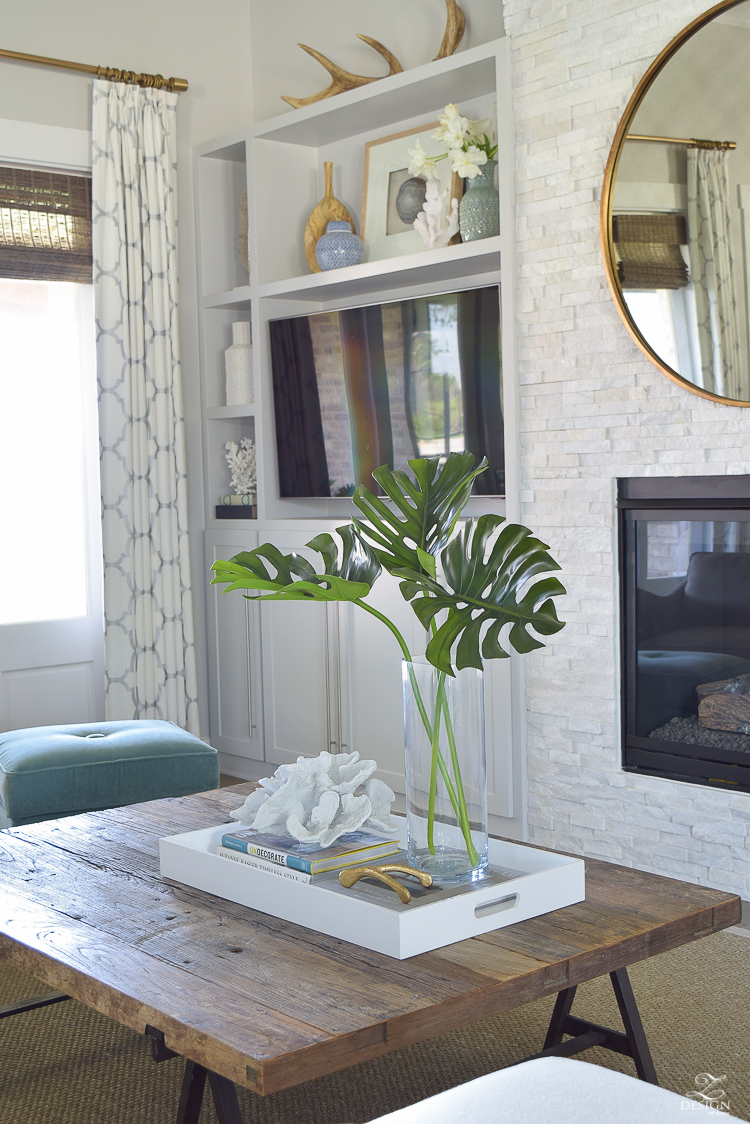 The next thing I did was to add more coral to the book shelves/tv area.  I found this agate art work that I absolutely fell in love with at a local shop (similar sourced here), along with the coral with acrylic base so I added them to my shelf collection.  The other porcelain items (sage colored vase and blue & white ginger jar) and the wooden look ceramic vase were other items I shopped my home for.  To me this is the most gratifying time in decorating your home when you can pull things out that you haven't used in a while, or pull them from another space in your home to make things feel fresh and new again!  I love all of the texture and visual interest these items bring into the space (I talk more about that here in my shelf styling 101 post) and am loving the light, summery changes here so far.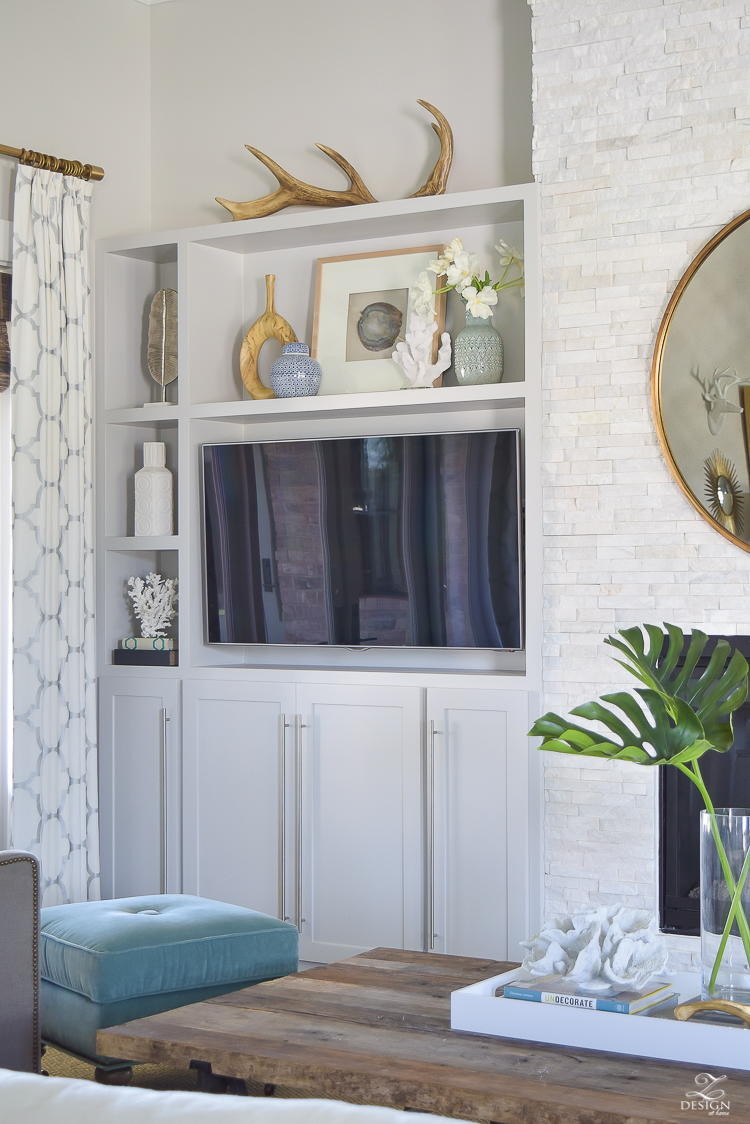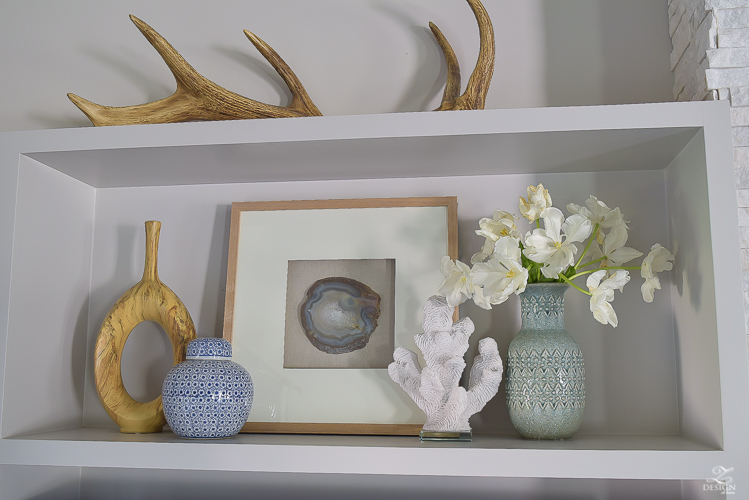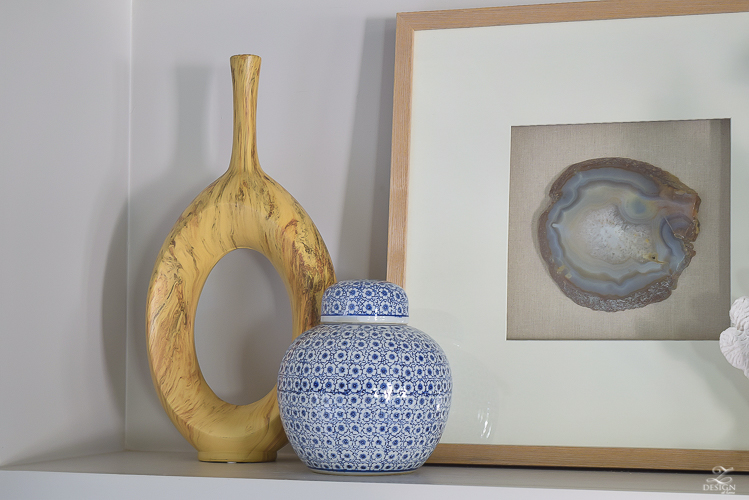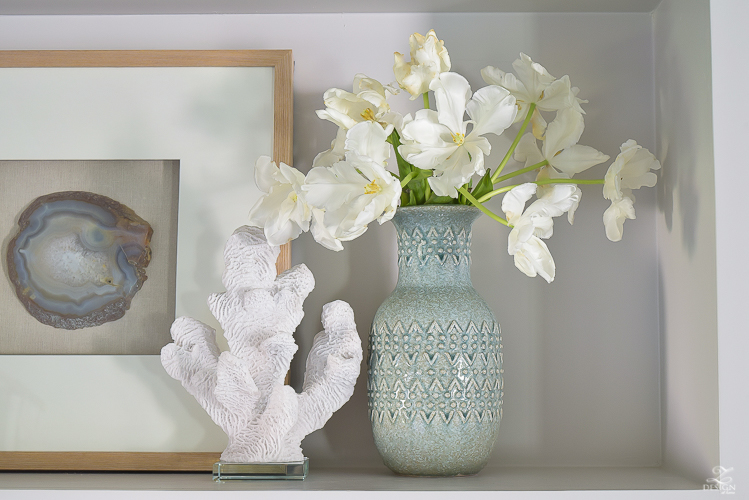 Back around to the couch side of the room is a new pillow in black and white (I talk a lot more about this pillow and others in my perfectly appointed pillows post from last week).  Oddly enough I've been adding black accents to my home for a few months now as we've moved into spring and now summer and I'm smitten with the change, and most of all the contrast it provides.  I love black and brass together as well and it's giving our home such a fresh vibe that I'm really enjoying!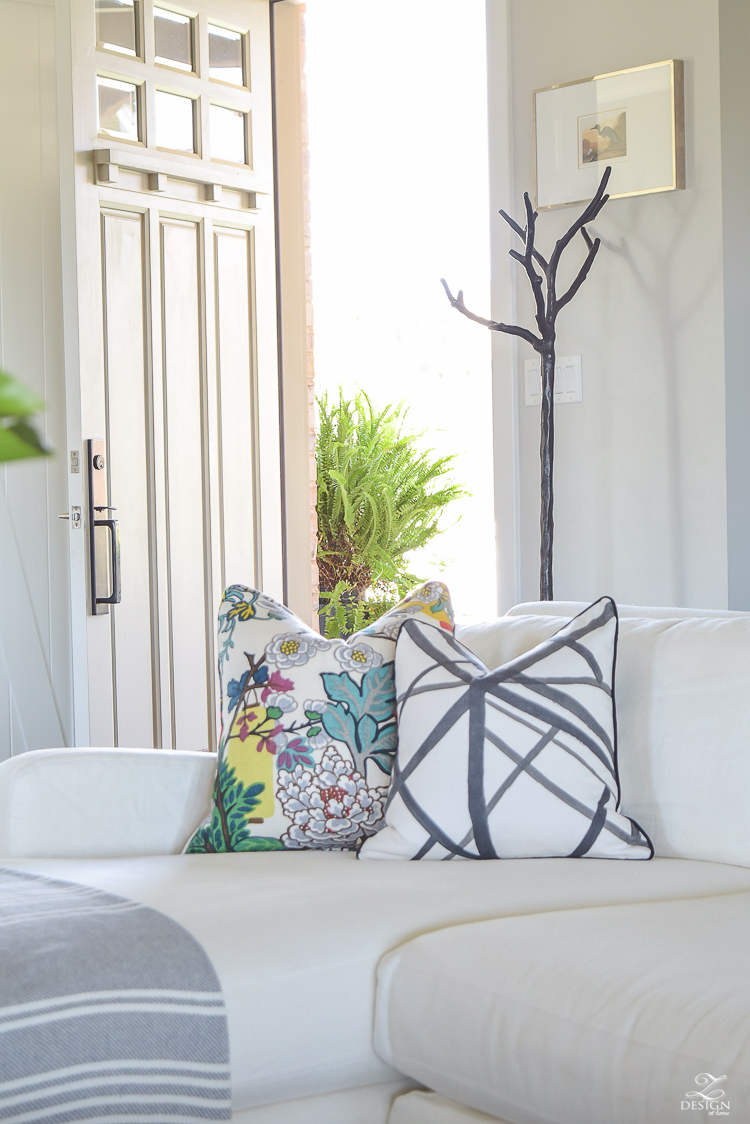 Another addition was this washed navy velvet pillow.  I actually ordered this pillow in 3 colors and settled on this color (sent the others back) because of the rich navy color that picks up perfectly on the blue in my floral dragon fabric pillow covers that I've had for some time now.  And for some reason the vintage washed velvet feels relaxed for summer and I'm loving it!  And I'm pretty sure this pillow will transition nicely into the cooler months to come as well.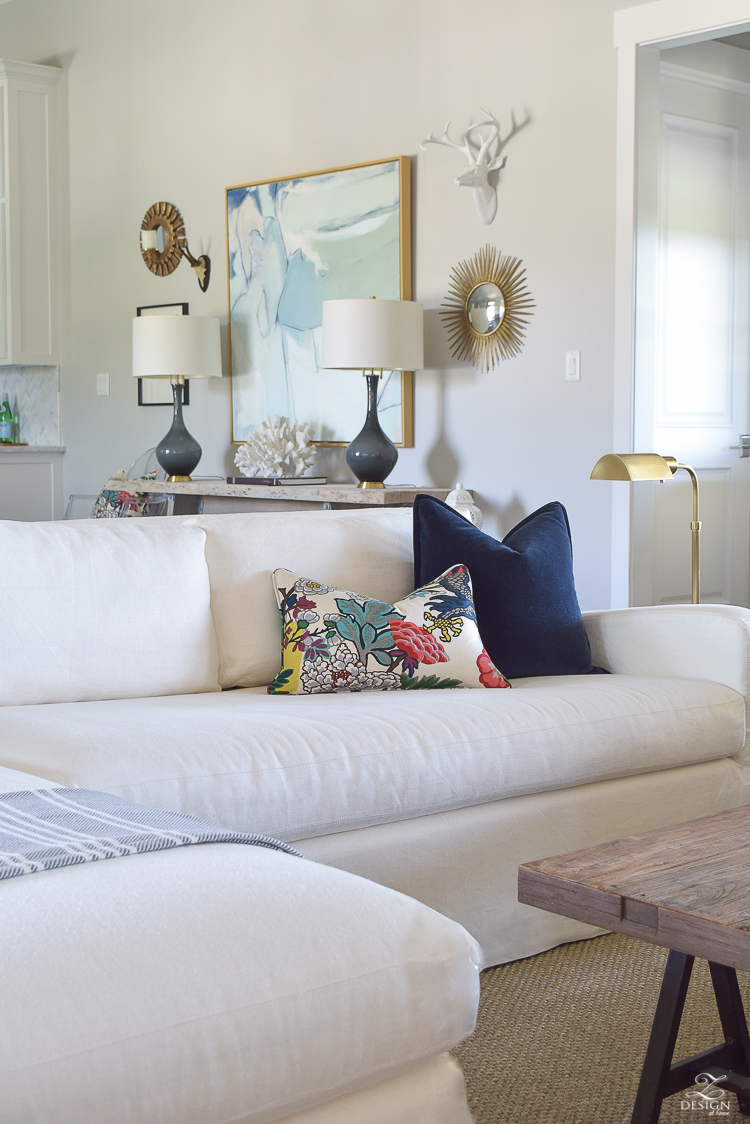 See how this pillow also has two completely different sides so that I can flip it around at will to reveal a new pillow each time?!  So fun to be able to make a small change like that and the best part is that it's free to me!! 😉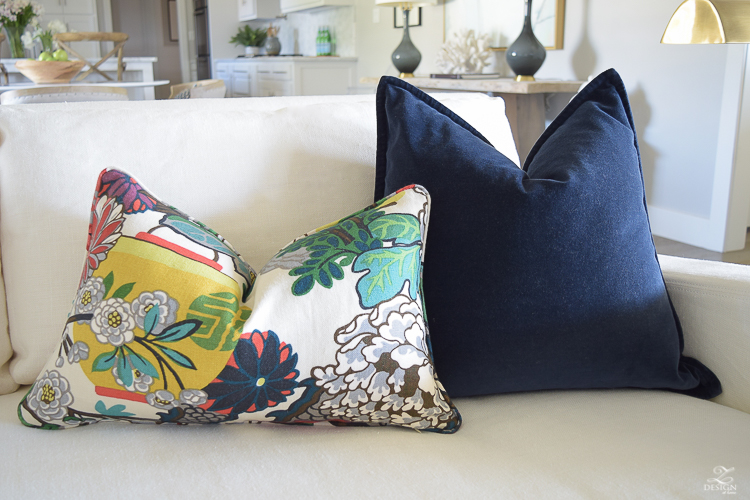 The last and final change I made was to add this throw to the chaise part of my couch.  It sports a summer bohemian flair married to a nautical tripe and I just love it!  And the fringe on this throw is the icing on the cake for me!!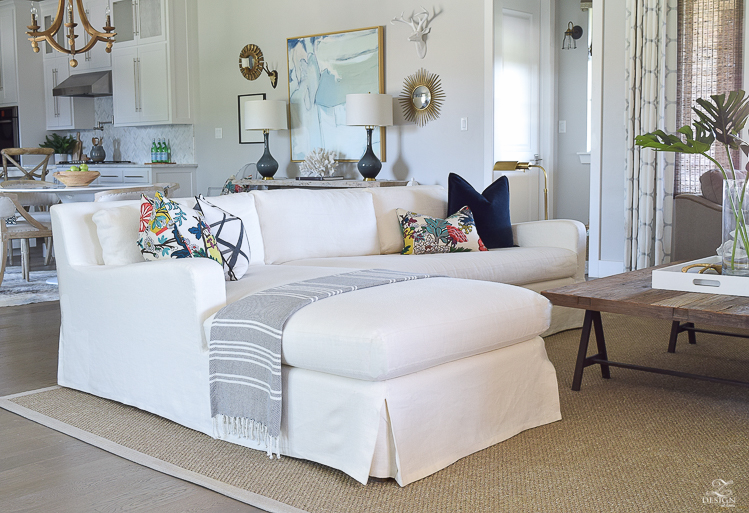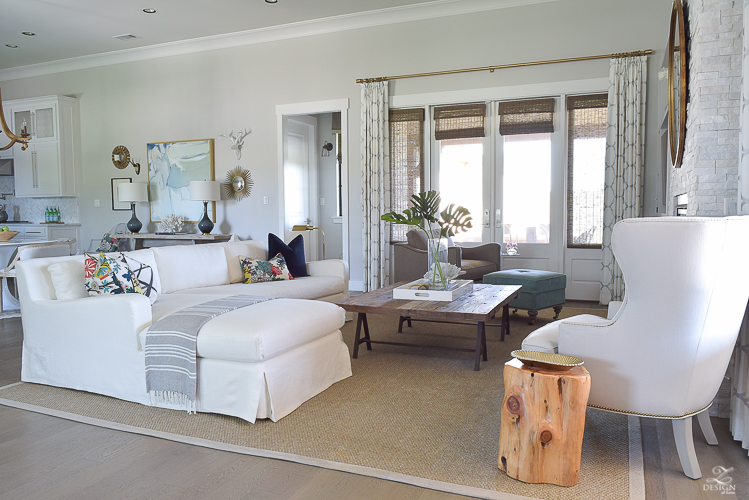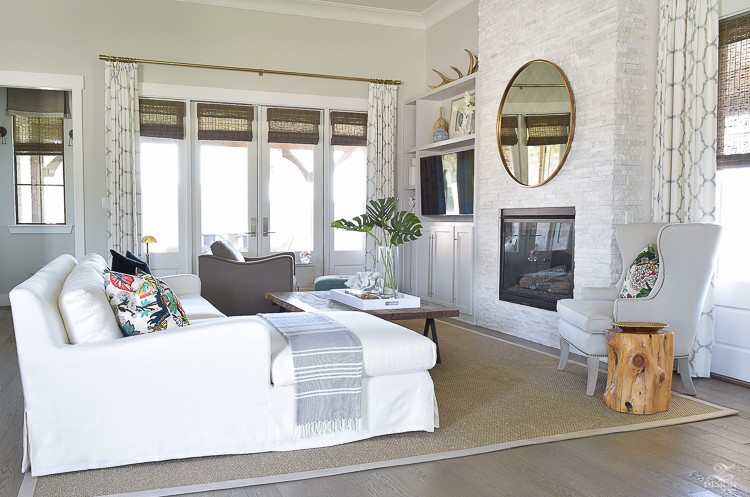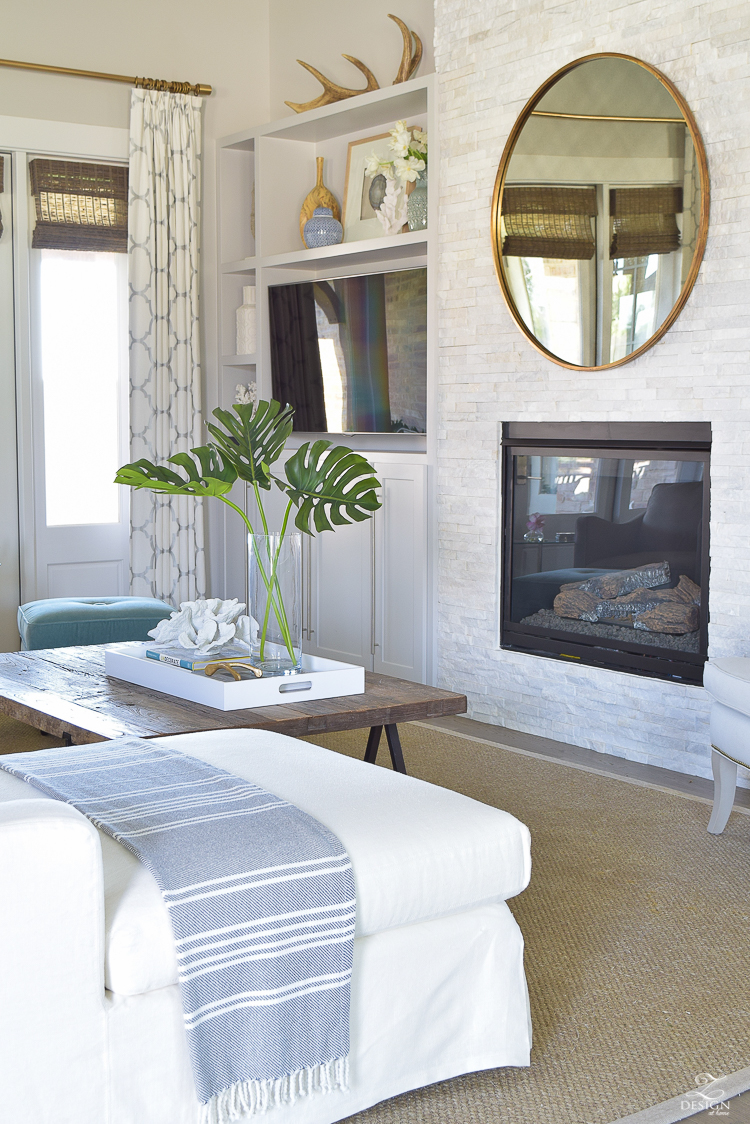 Some more gold accents with this wishbone and coral for the coffee table, along with some old books I pulled out…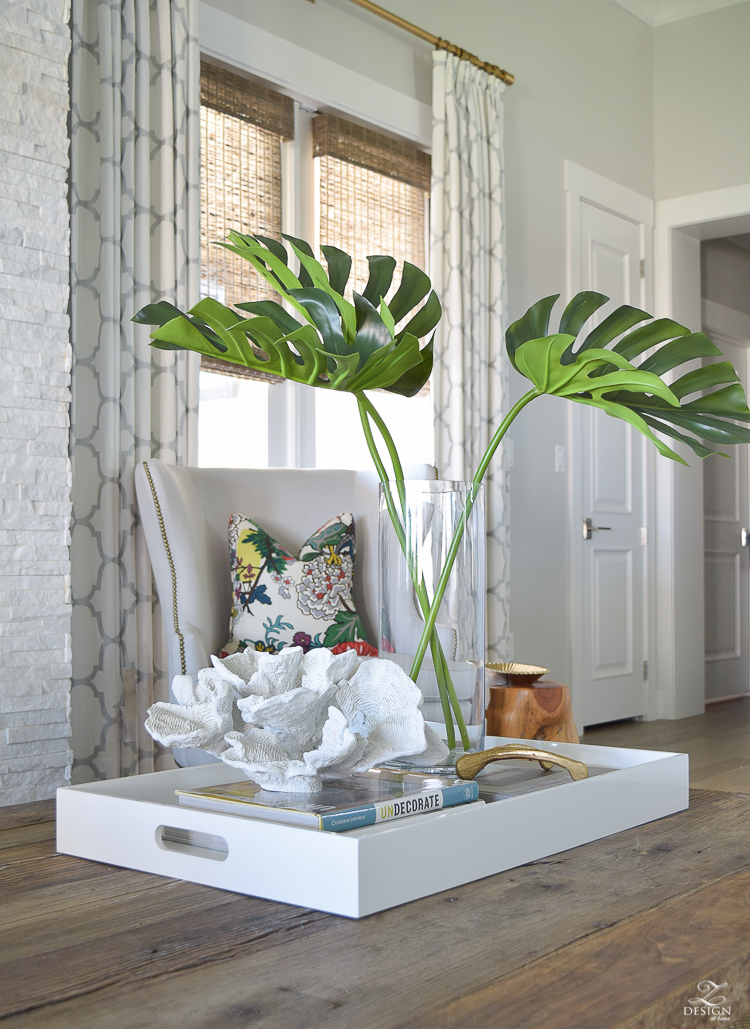 And here is a close up of that throw.  I found it at HomeGoods but sourced a couple of similar throws for you here and here.  And in case you were wondering, those barn doors are from ArtisanHardware.com and you can read all about our barn door installation story here!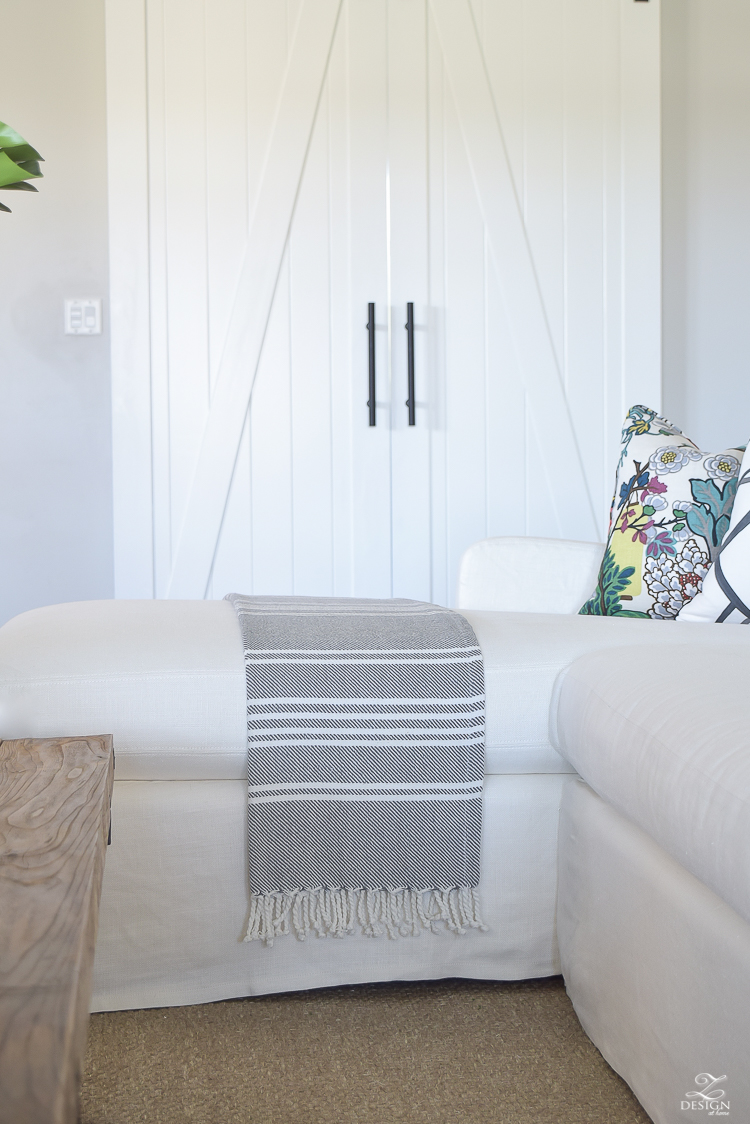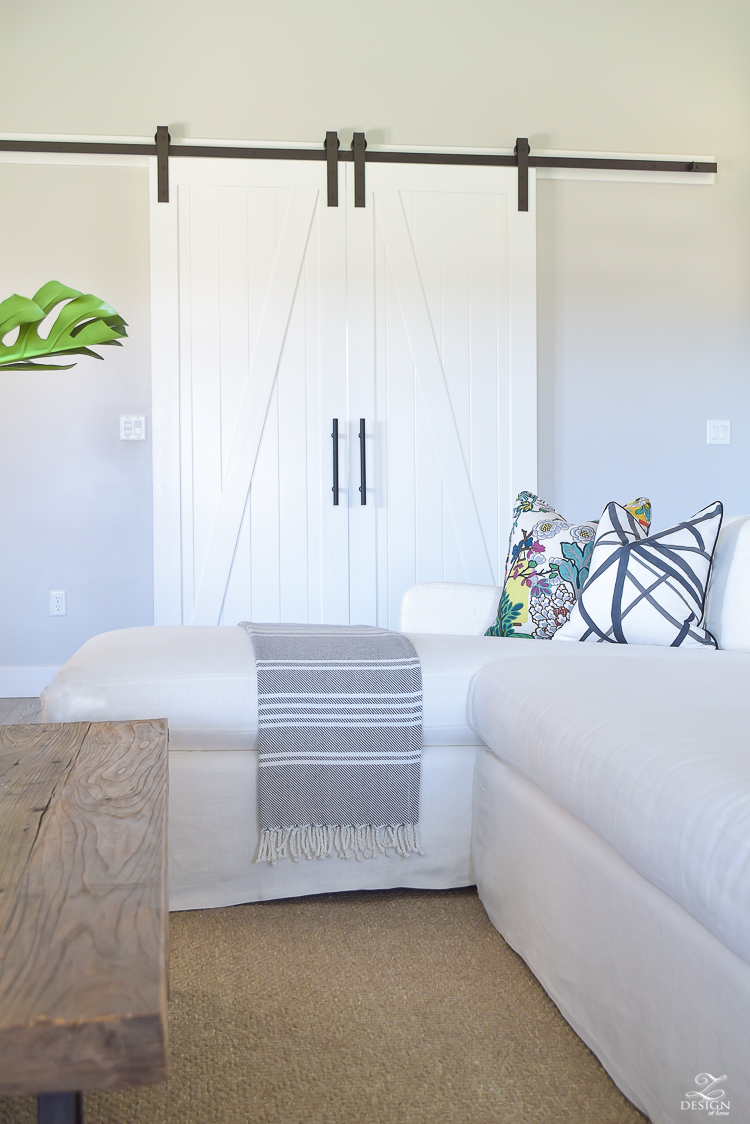 I hope you've enjoyed the tour and that you are now feeling inspired to do some summer decorating yourself.  From here you'll head over to see my friend Erin at The Sunny Side Up Blog!!  She is such a sweetheart and everything she does is so inspiring so I know you'll enjoy visiting her today for her summer tour as well!!  To follow you will also find a full list of participating bloggers that I hope you will check out soon!  So much talent and inspiration to be had in this great group of ladies and thanks again for stopping by our fun tour!!  Happy Summer:)

Fireplace Tile:

Furniture:

Textiles:

Mirror, lighting & Rug:

*Affiliate links have been used throughout this post and where an item is no longer available a substitute has been provided