A Welcome Barn Door Addition to Our Home
When I started this barn door journey I never thought it would end up the way it did and I'm super excited to share my experience with you today!  I have to tell you that initially I thought I would get my talented, handy husband to make the doors but he just wasn't quite up for the DIY task this time around.  The barn doors were to serve two purposes… #1 privacy & #2 to finish off our living/dining space.  You can't see it from the photos below but late last year we had neighbors move in to a newly constructed home directly across from us and, you can see into their home straight out of our dining room window (and they can see directly into our home).  And while I love my neighbors, I don't really want to share every private moment with them while spending time watching movies and relaxing in my living room with my family.  I checked on having window treatments made (other than curtains that aren't practical to open and close everyday) and due to the size and the amount of windows in our dining room (photo below is the view from the living into the dining room), it was going to cost into the several thousands of dollars to have them covered properly and to my liking for privacy.  So this is where the solution to our problem came in…with barn doors!  We had been wanting barn doors for quite some time and decided that now that we actually had a need vs. just a want, this was the time!
In my quest for the perfect doors of course the first step I took was to began researching different barn door companies on line and I quickly stumbled across Artisan Hardware.  Their website was super professional, they had many great options to choose from in doors and hardware style, and I saw where they will even paint the doors to your specifications with Benjamin Moore paint.  That was perfect for me because my trim and door paint are Decorators White by Benjamin Moore (but they can match any color you want) so I knew I could get the doors to be a perfect match to my door trim, which was super exciting and important to me!  The next thing I did was to reach out to them by phone and was lucky enough to get Amanda on the phone.  She was very professional, answered all of my questions, and offered to help us in any way possible.  After speaking with Amanda and watching a few videos on their site of doors being installed and of images from their manufacturing plant in America, of course I knew we could do it and that Artisan Hardware was the company for us!  They also have incredibly easy installation instructions on their site (found here) that walk you through the process like a breeze.  Another thing that was super impressive to me about this company was that once the doors were completed and prior to shipping, they sent me a photo of them to make sure they were to my specifications.  The doors arrived crated (which was awesome because we were able to use that lumber for other projects) to our door step within just a few days of shipping and were in perfect condition!  I hope you can see throughout this post just how easy and fun it was to install them and, just how gorgeous and what great quality craftsmanship the doors truly are (and I'm a tough customer so that statement isn't made lightly).  The doors have completely changed the look, feel, and functionality of our living space and we couldn't be happier with them and with the company we chose to purchase them from.  I knew it then when we made the decision to use them for our barn door source but I really know now that we chose the right company to do business with.  We couldn't be happier with the way everything turned out and I hope you enjoy the tour of our new Artisan Hardware doors!!
So because I know I'm killing you with anticipation, let me get on to what you came here for.  But first, these first two photos are of the space the way it was prior to installation…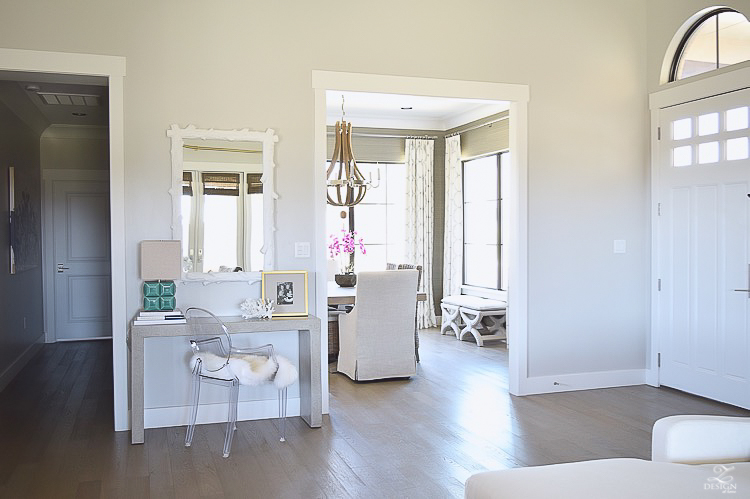 On this 2nd photo I wanted to point out that the business of this area always bothered me.  This wall to the left of the dining room entrance needed something so no doubt I had something there, but hated that when you looked into the dining space you saw a similar set up with the buffet, lamp, etc.  I was always changing my lamps and accessories around to come up with just the right combo of items but never could get it right so now I am proud to say that I am happily embracing this cleaner, neater, more organized look with our new barn doors that frame out the entrance to our dining room perfectly!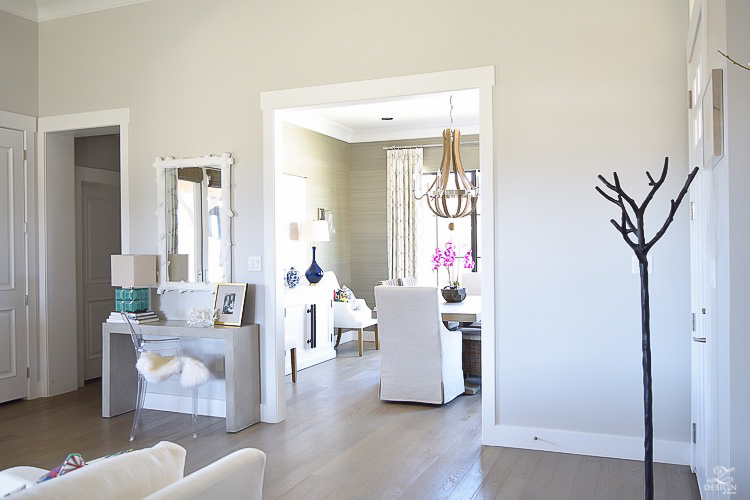 Get the Look

And here is where our installation work begins.  The first step we took was to lay out all of the hardware to make sure we had everything we needed.  Artisan Hardware sent everything neatly packaged so that it was easy to figure out what every single piece was based on their installation instructions, again found here.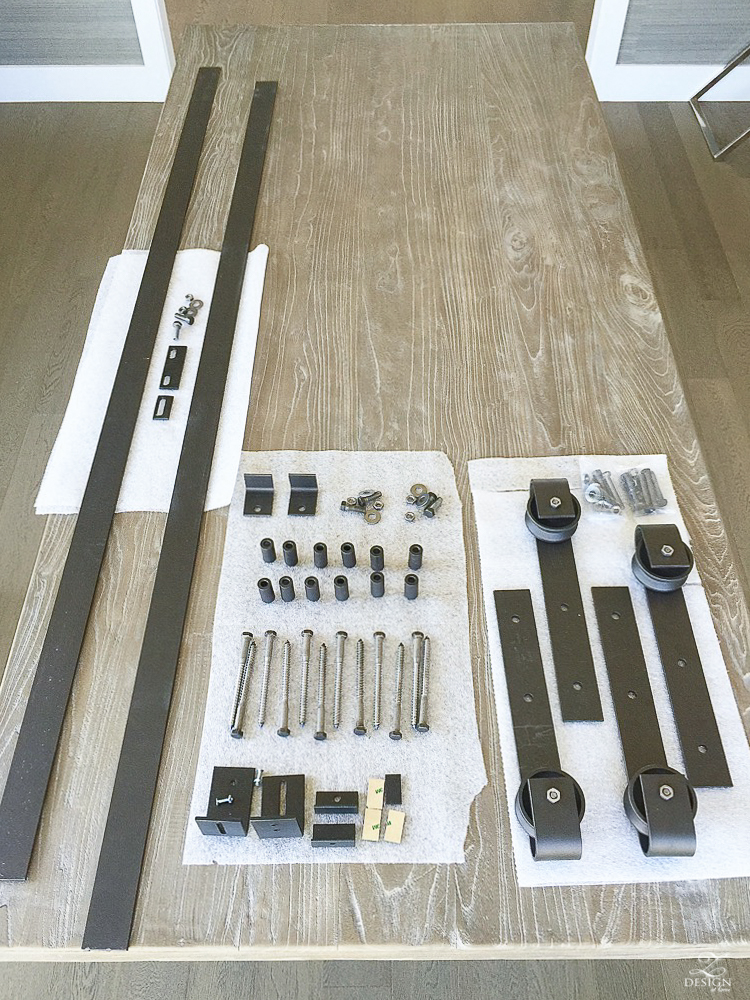 The next thing we did was to install the boards we needed to extend the door trim and to attach the track to.  The track is in the photo above, far left.  And, of course we nailed the boards to the wall as well after using liquid nails to apply them to the wall…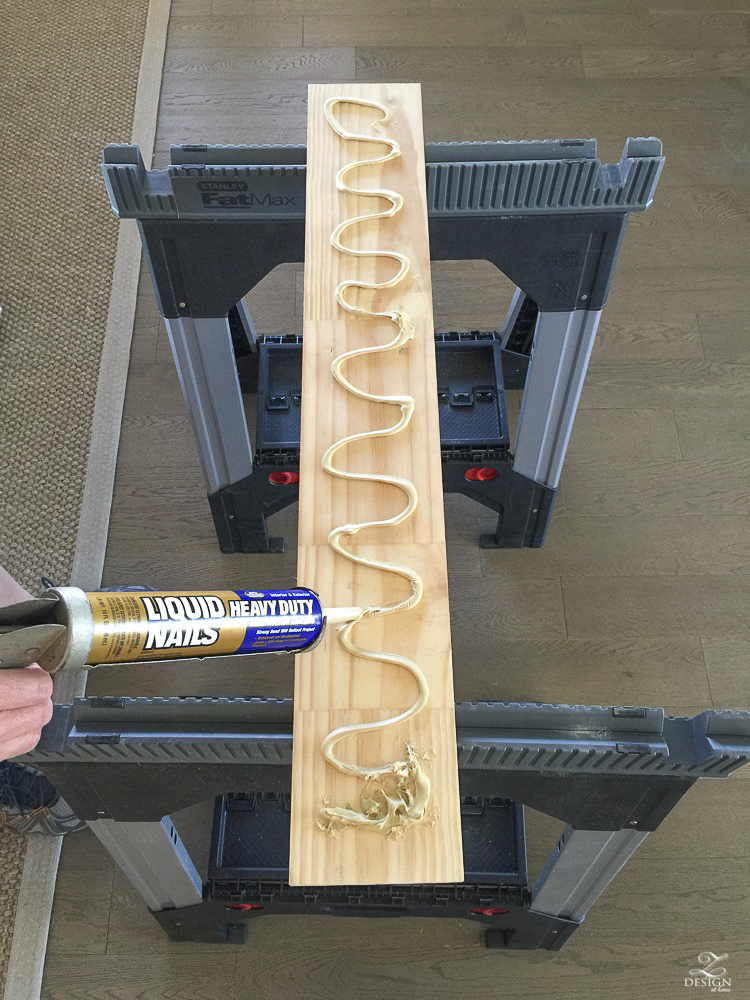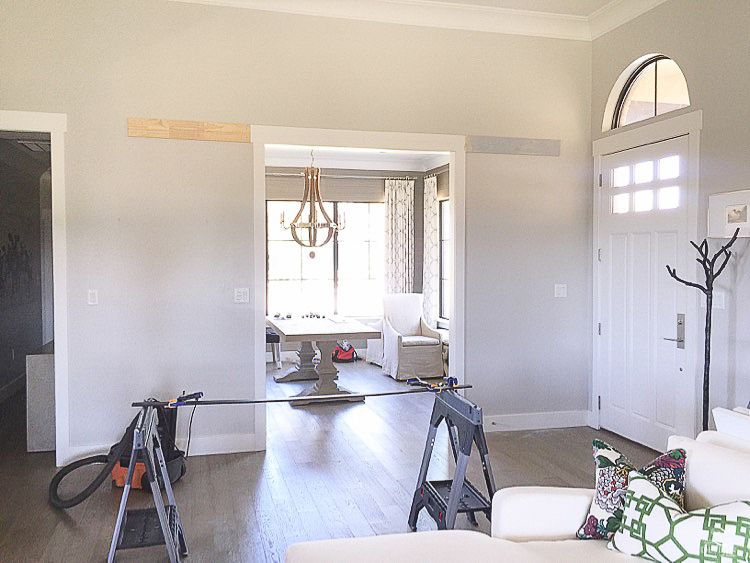 Then my husband took the appropriate measurements and drilled the necessary holes in the track.  If this is not something you are up for or if you don't have the necessary tools, no worries!  You can order your doors from Artisan Hardware with pre-drilled holes in the tracks which will probably make this part of the process even easier for you than it was for us.  If you need help with the proper tools though, you can find our drill here, saw horses here, grips here, and tool set with ratchets here.  And the shop vac can be found here.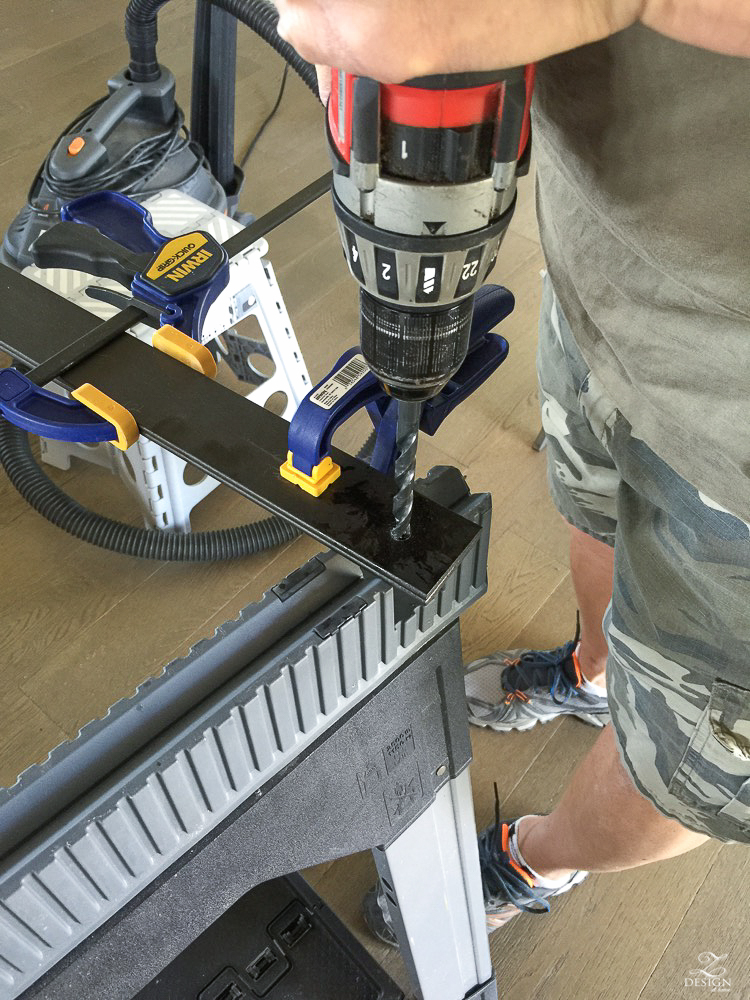 And once the tracks were up we did our first test fit to make sure our door measurements were correct and that once the door hardware was installed, everything would fit properly.  This next photo was just with the door leaning up against the wall before we installed the door hardware.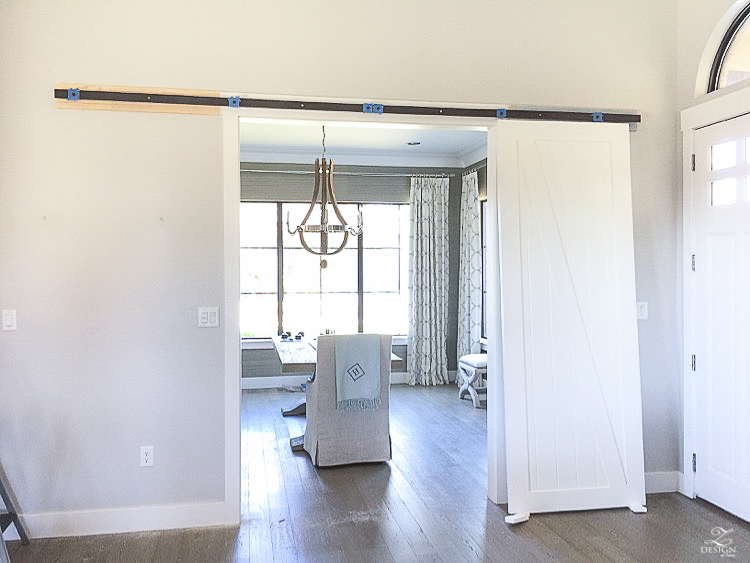 Tip Time:  I wanted to include a close up here of the track because I wanted to point out that we taped around the track screws so that the track wouldn't get scratched in the process of using the ratchet to tighten the screws.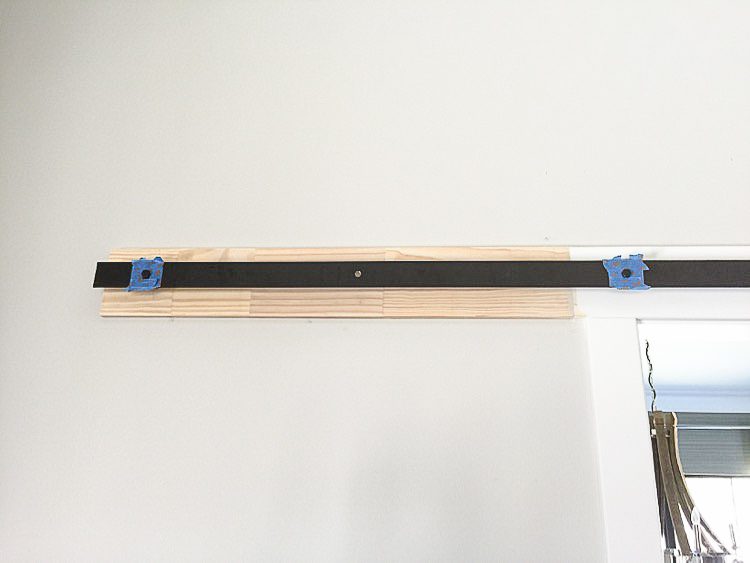 Next we installed the barn door hardware.  I chose the Classic Barn Door Hardware but Artisan Hardware has several great options to choose from that you can peruse by clicking here.  They also have over 20 gorgeous door styles that you can choose from here.  I chose the Z Sliding Barn Door for it's classic and timeless style, and because I felt like it would work flawlessly with my eclectic decor, and it does!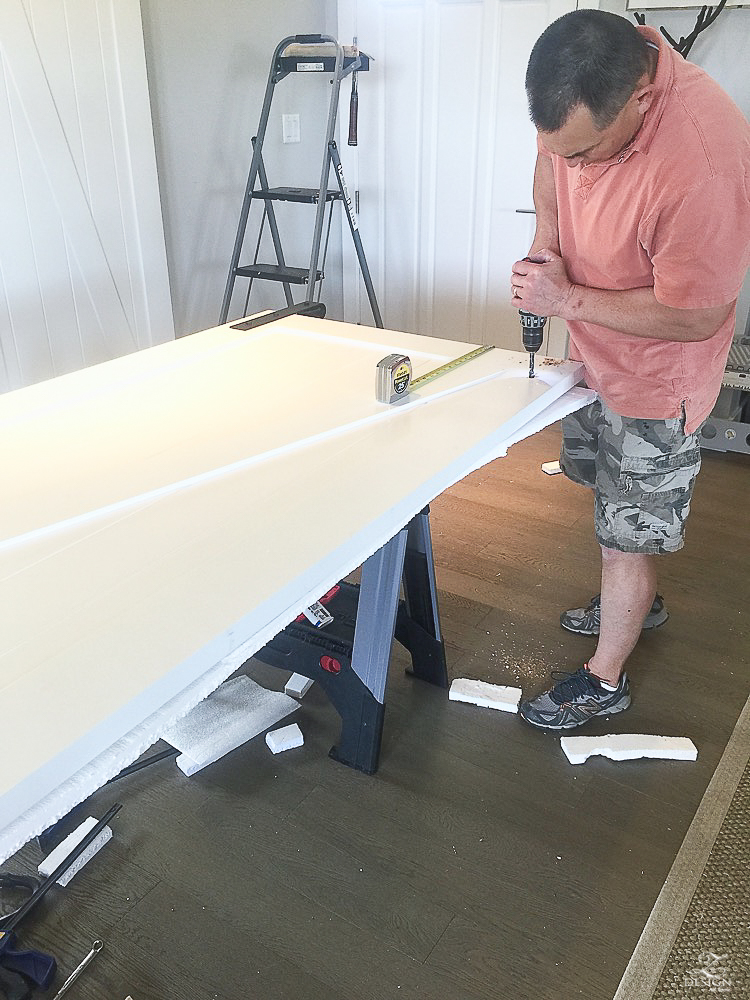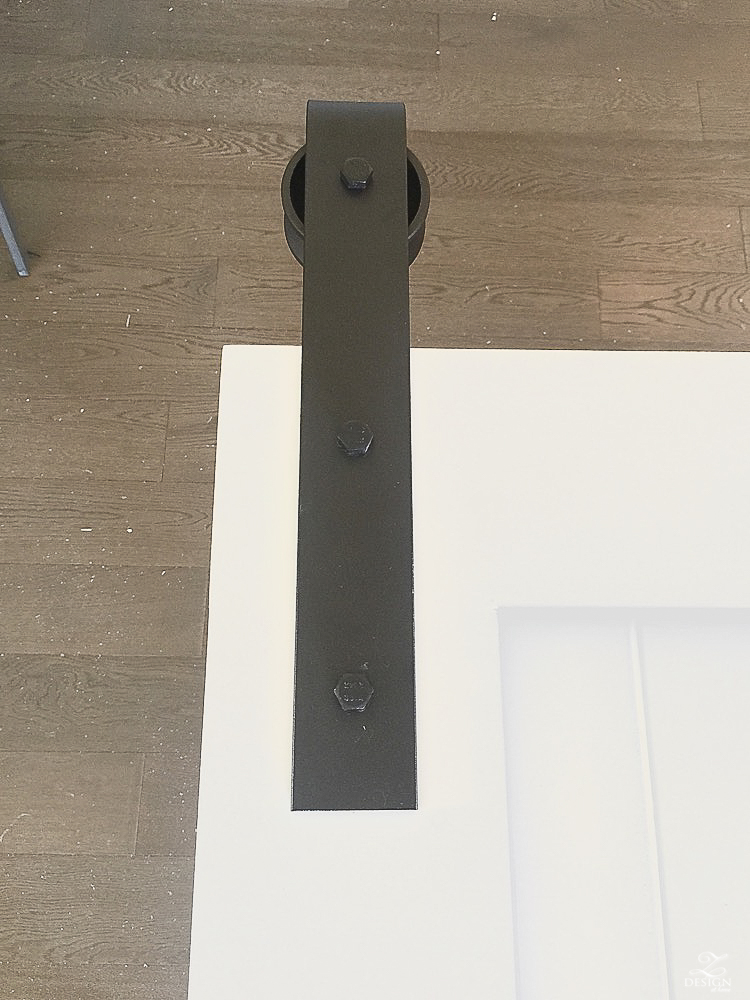 Once the hardware was finally installed we did a real live test fit.  The only thing that was needed after the test fit was for us to pull the doors back down, paint the boards, and then install the door guides.  And in case you were wondering, at this point I have still not decided on door pulls but will share that at a future time when I do.  Artisan Hardware has some great door pull options as well though, found here.  Additionally (and something important to note), their hardware products are designed, finished, and packaged in their American facility. Each piece is made with precision and then powder coated to attain the highest quality barn door hardware. Both the design and manufacturing team have spent years developing each style to ensure that the hardware is sleek, precise, and functions flawlessly.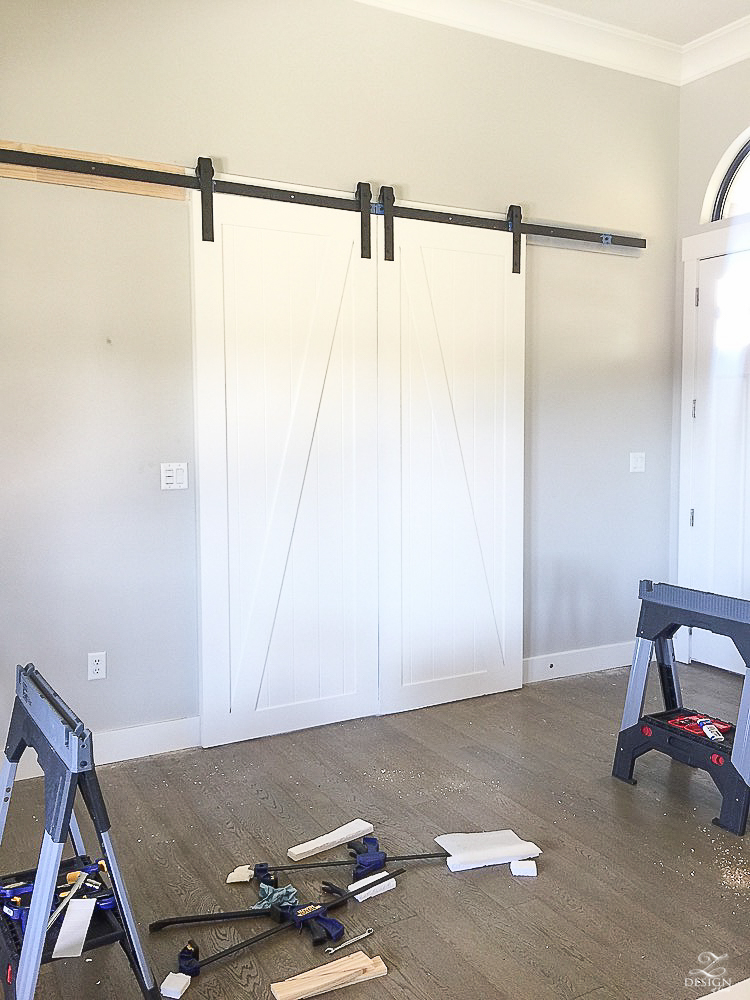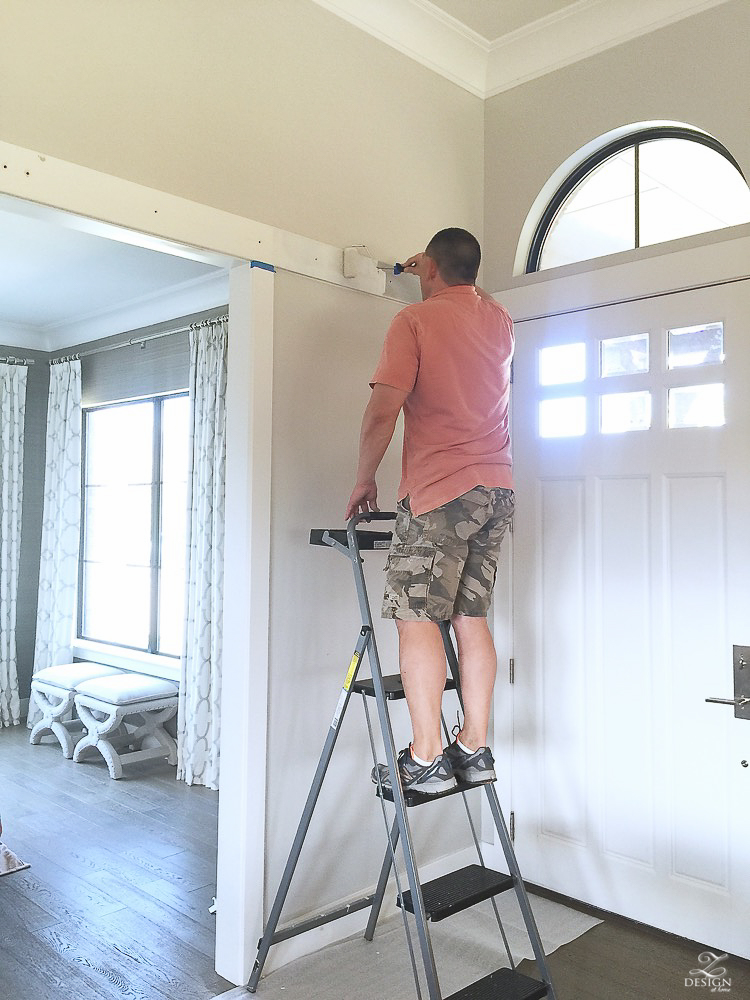 You'll notice in the next photo one of the door guides and I love that they came with little pads to protect the back and front of the door from scratches.  This was particularly a nice surprise for me since we use them daily and they would have been scratched like crazy if it weren't for these little pads they included.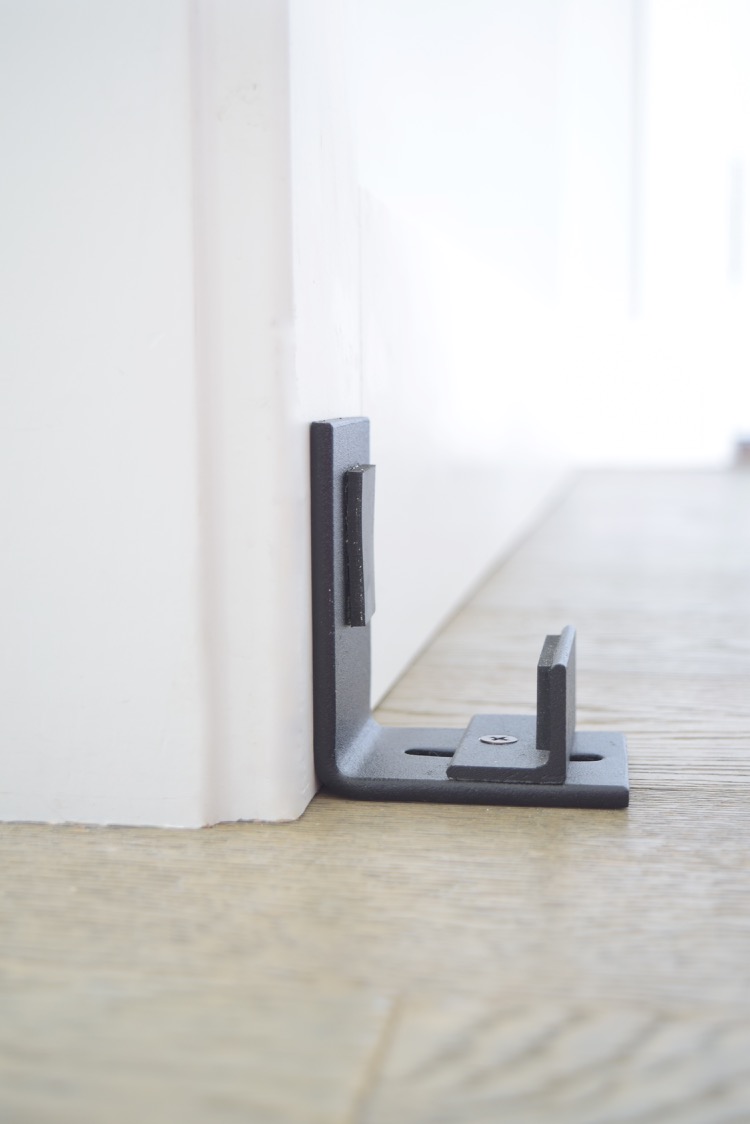 So without further ado, here they are!  I'm so excited to share them with you and I hope you love them as much as I do and that you will consider contacting Artisan Hardware yourself if you are in the market for barn doors.  I can absolutely promise you based on our experience that you won't be disappointed!  Enjoy!!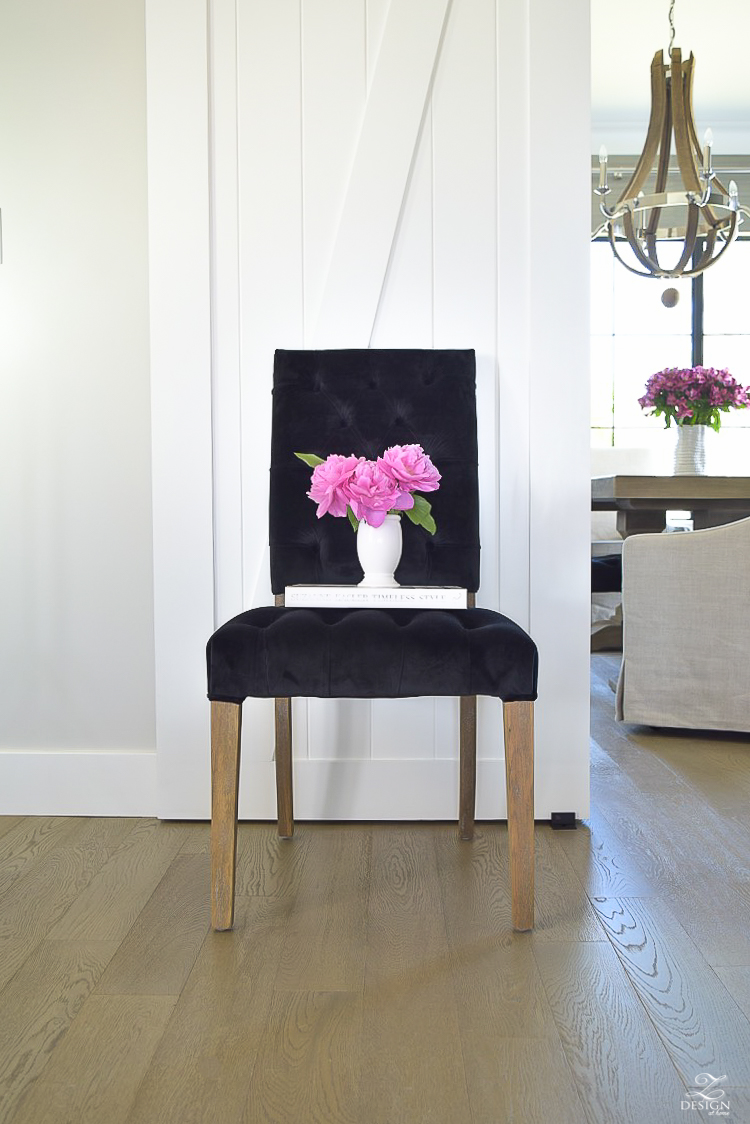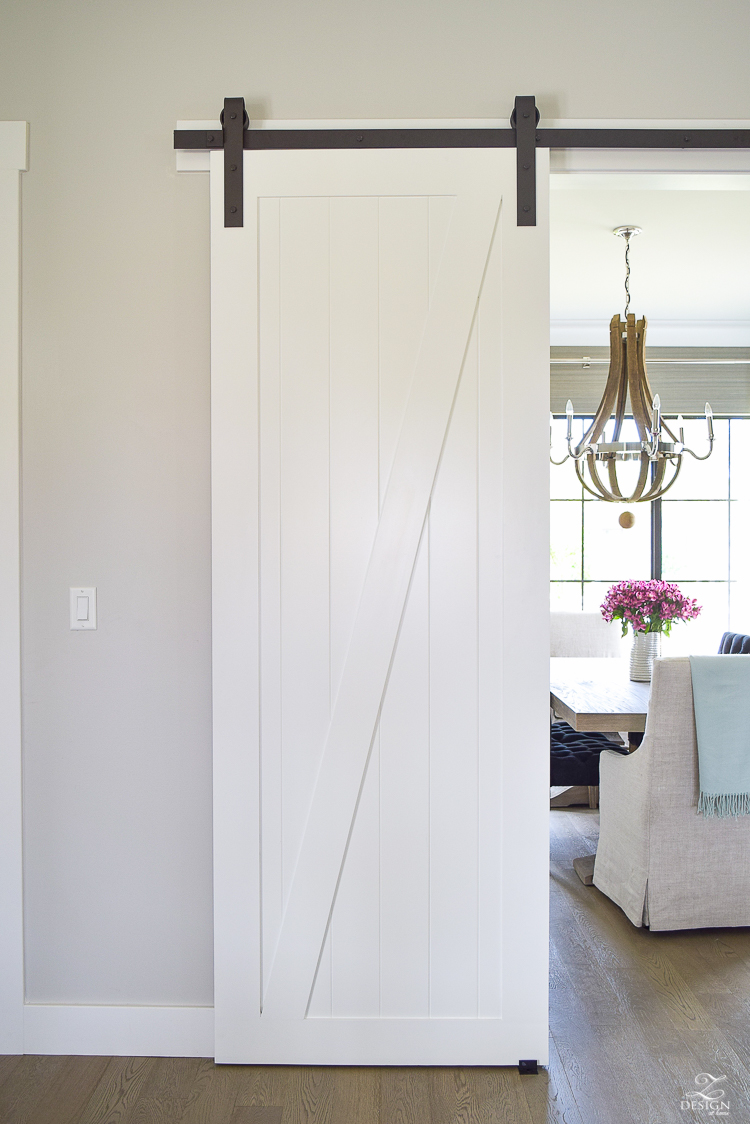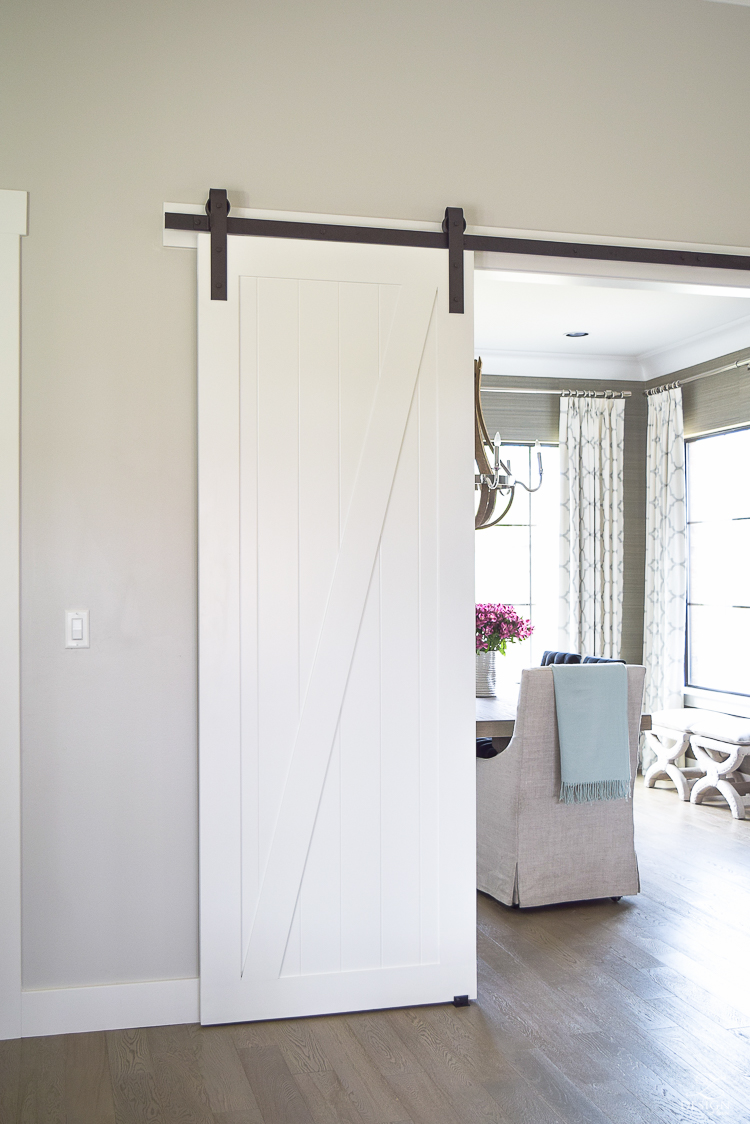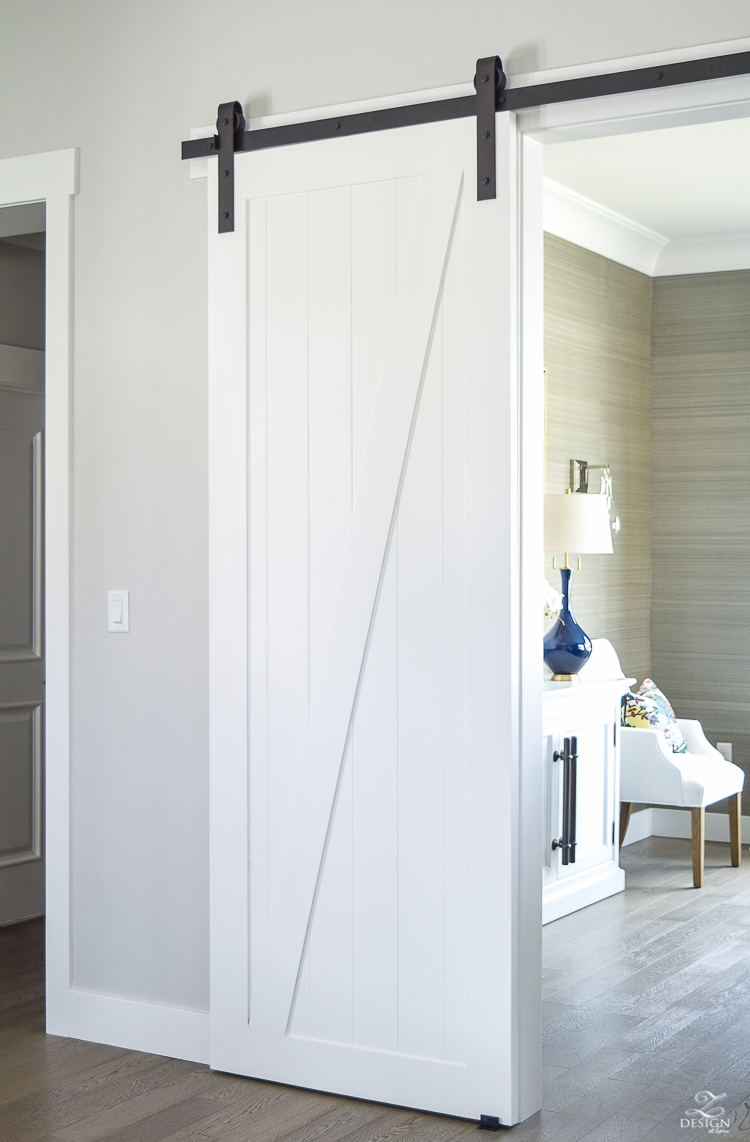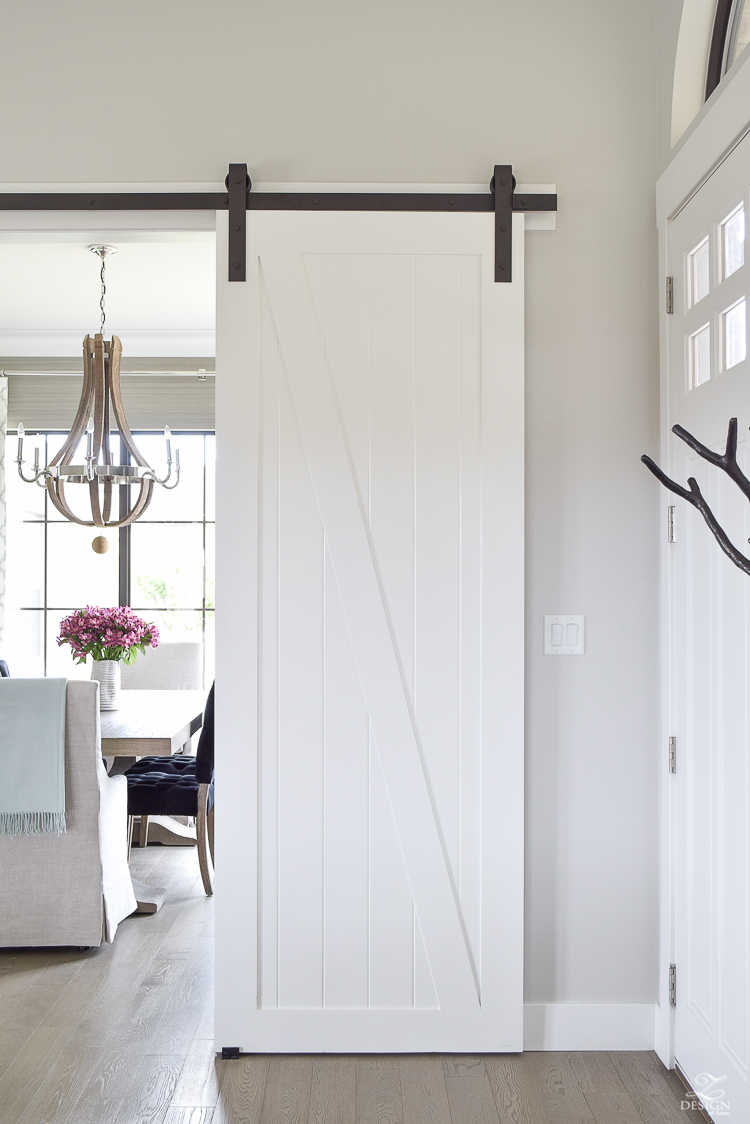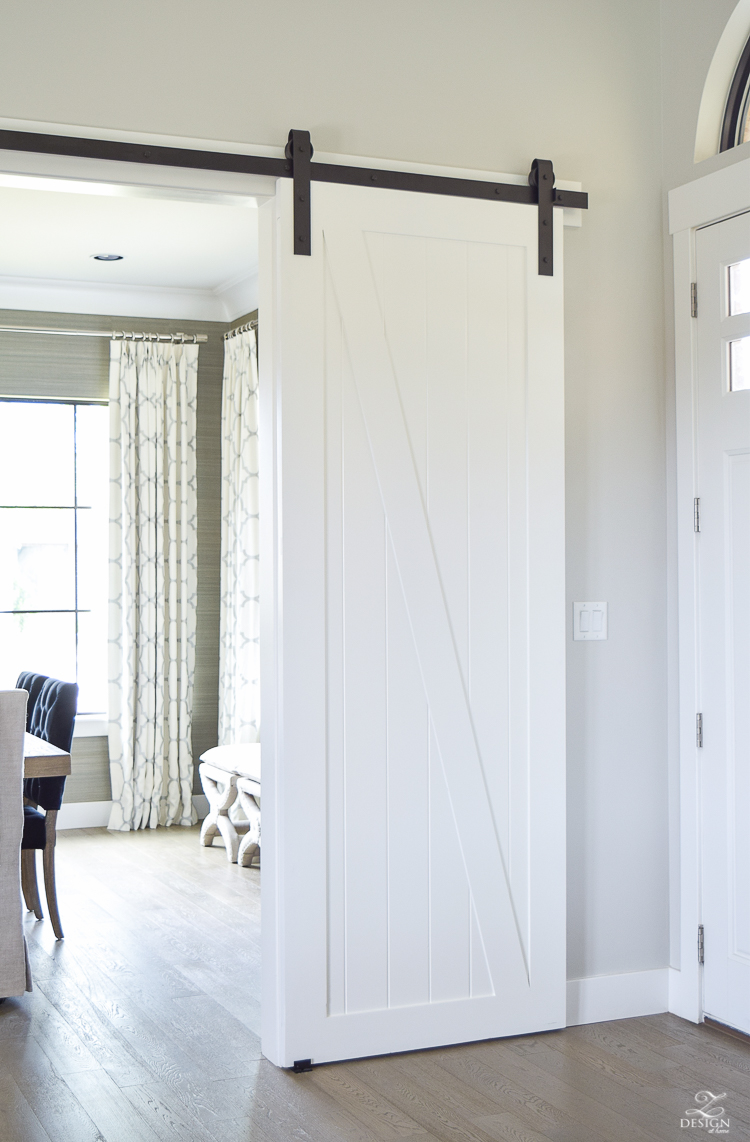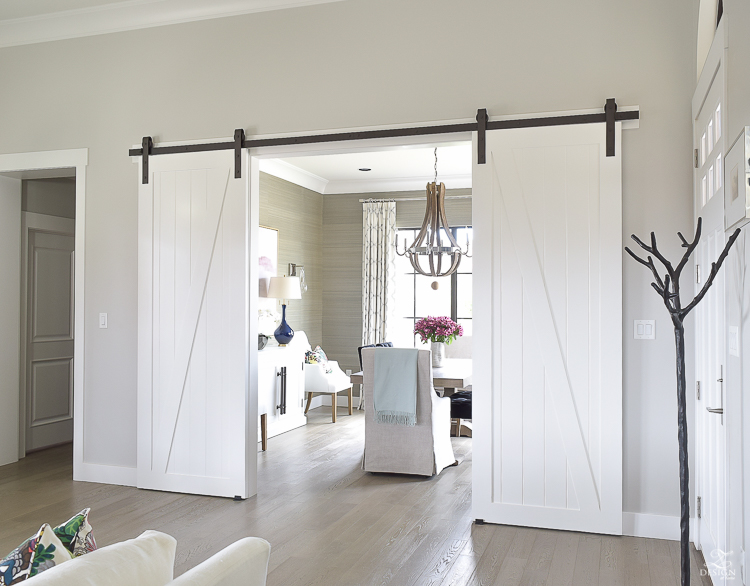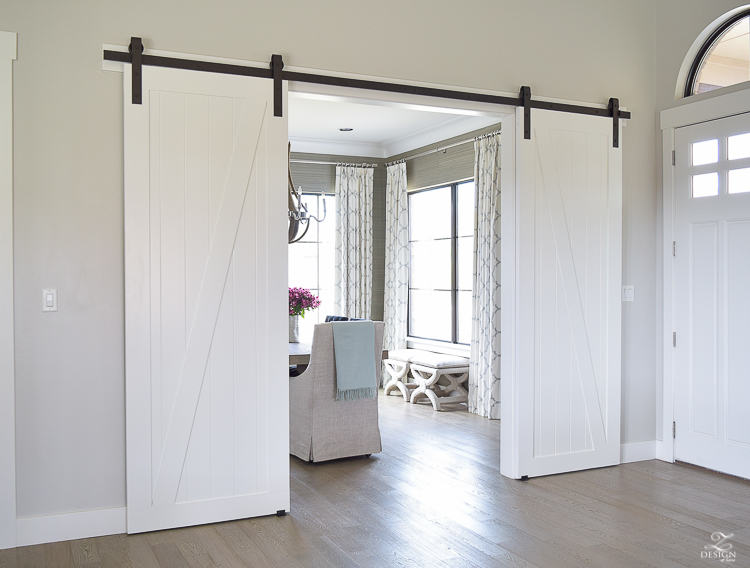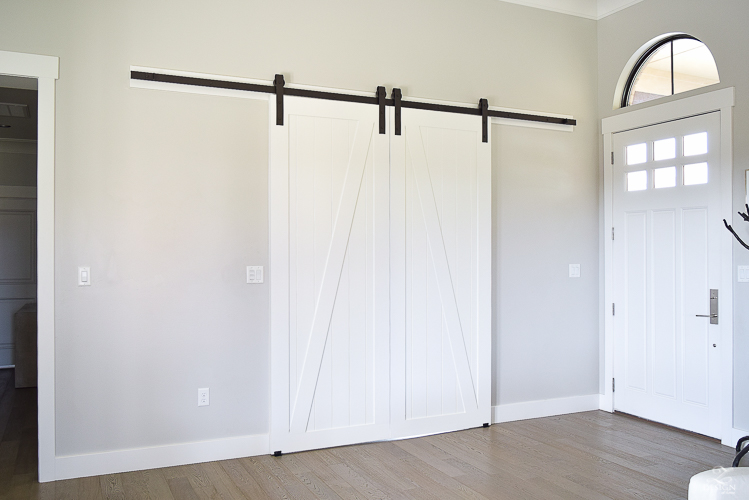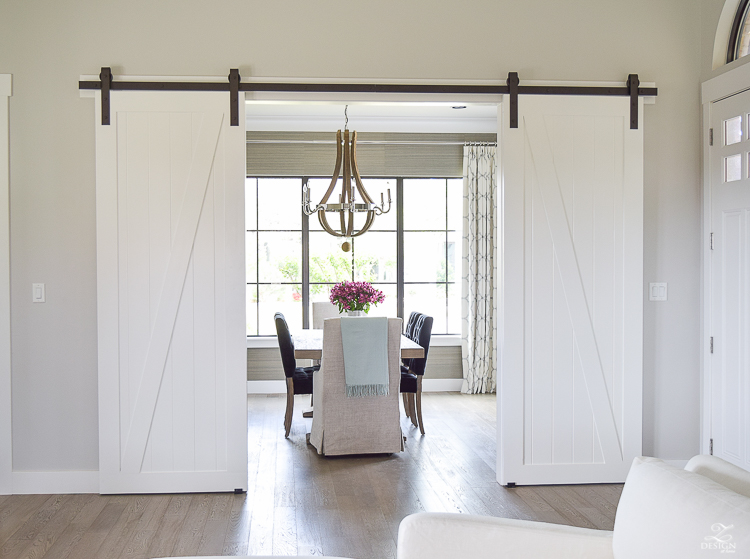 Get the Look

There are links all throughout this post that will link you directly to Artisan Hardware's website and to their individual products but just in case, you can find their contact info here:
Phone:  801-698-2641
Email:  info@artisanhardware.com
Thanks as always for stopping by and don't forget to leave a comment!  I love hearing from you and am always happy to answer any questions you might have, especially about our gorgeous, functional new doors!!!
Xoxo, Bree
*Affiliate links have been used throughout this post and where items are no longer available, a similar option has been linked