Dining Room Reveal, Tour & Sources
Hi!  I'm back for another tour and this time it's of our Dining Room! I'm so excited to share this space with you along with all of my sources!  If you missed our kitchen tour a couple of weeks ago you can see that HERE.
*This post was done partly in collaboration with Willow Bloom Home for the beautiful draperies in this space.  This post also contains affiliate links.  You can read my full disclosure policy here.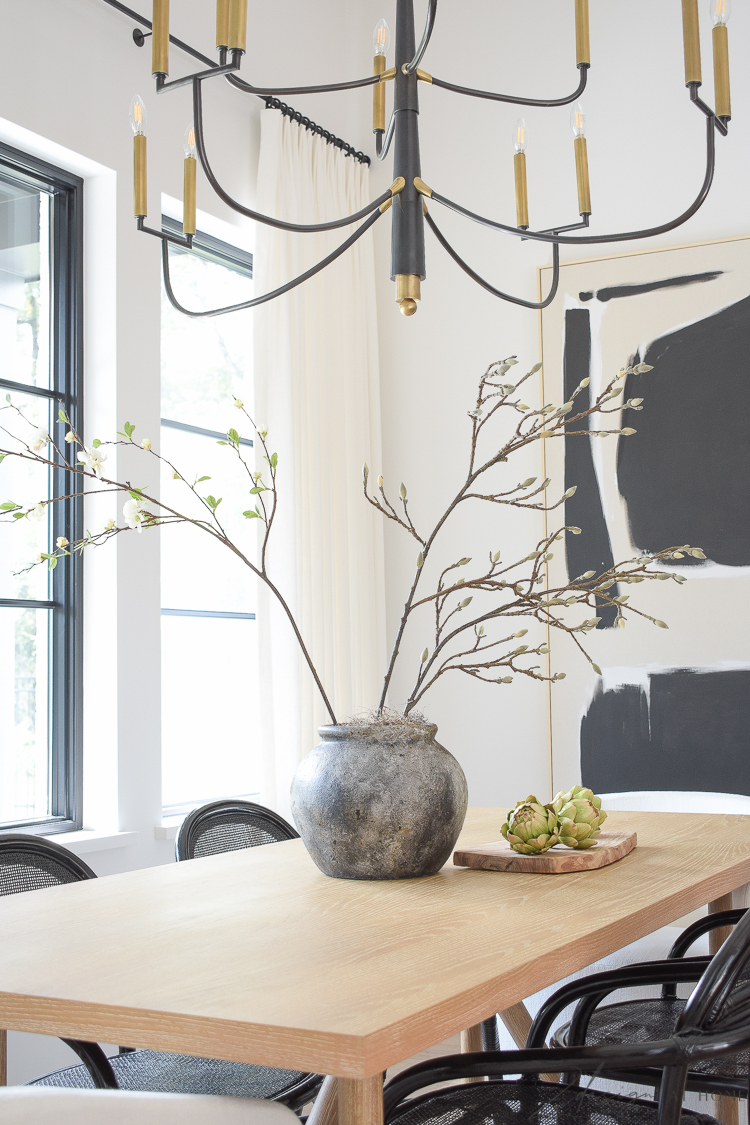 The very first piece I believe I purchased for our house (besides our bed and sofa) was an oversized gorgeous piece of black and white art for our dining room.  I knew this space would be black and white themed and really it sets the whole tone for the heart of our home.  The dining space is off of the kitchen and caddy corner to the living room.  We chose not to do a formal dining room in this house because we honestly have never gotten much use out of one in the past, and this was a much better use of the space for our dining and entertaining needs.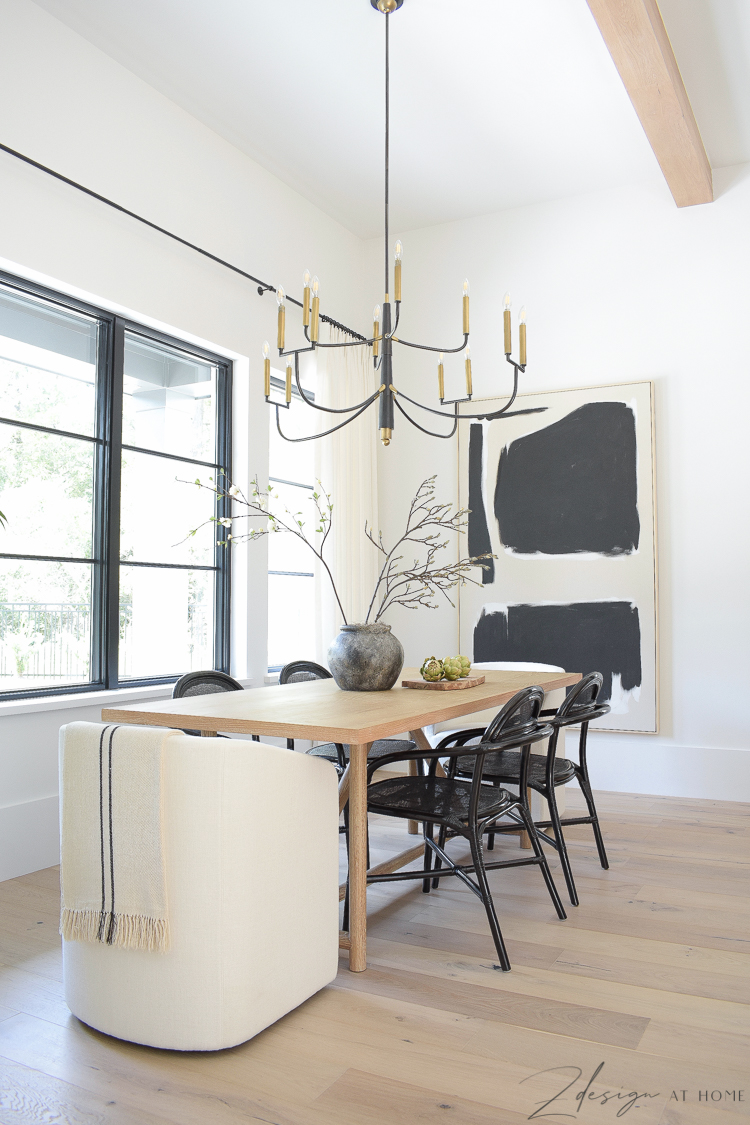 The design is simple but chic and relaxed.  And the black rattan dining chairs finished off in a high gloss lacquer really add some character and personality to the space – I really, really love these chairs!  The dining table is a simple, modern farmhouse table crafted from solid oak.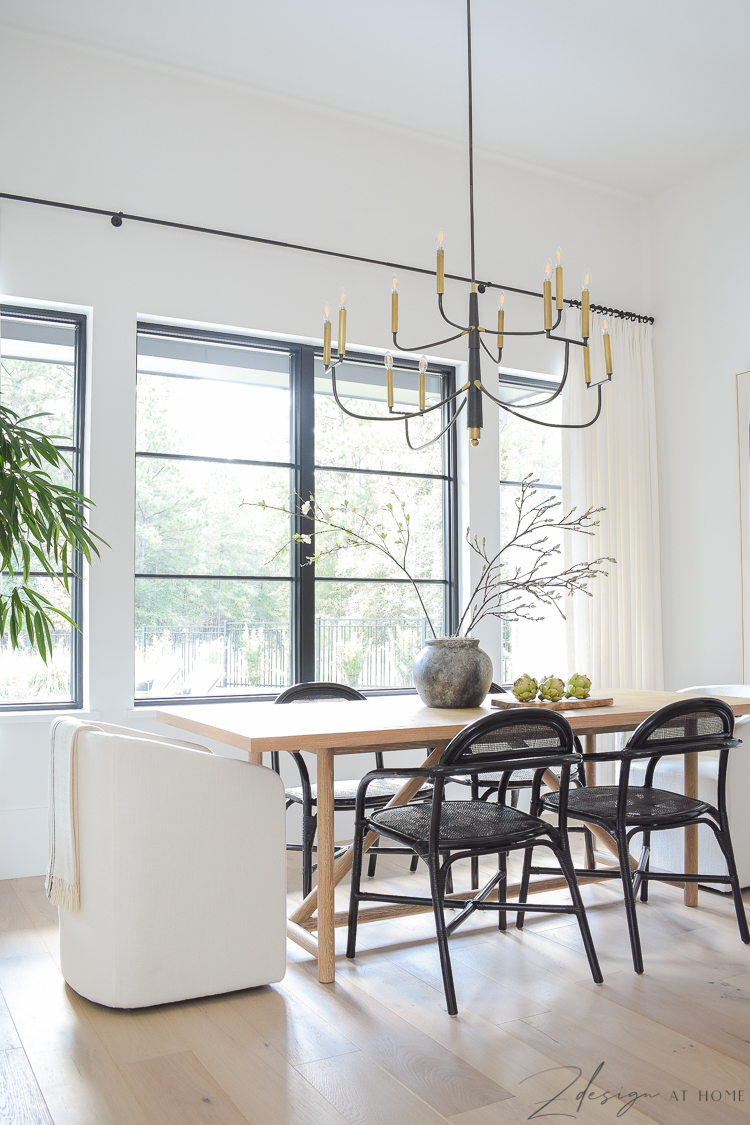 To the left I added a real Ficus Alii tree.  I have admired this tree for the longest time (a break from the popular olive and fig trees) and was so happy to find it at a place in Houston called Tall Plants.  If you are local I highly recommend this place for gorgeous high quality house plants and trees!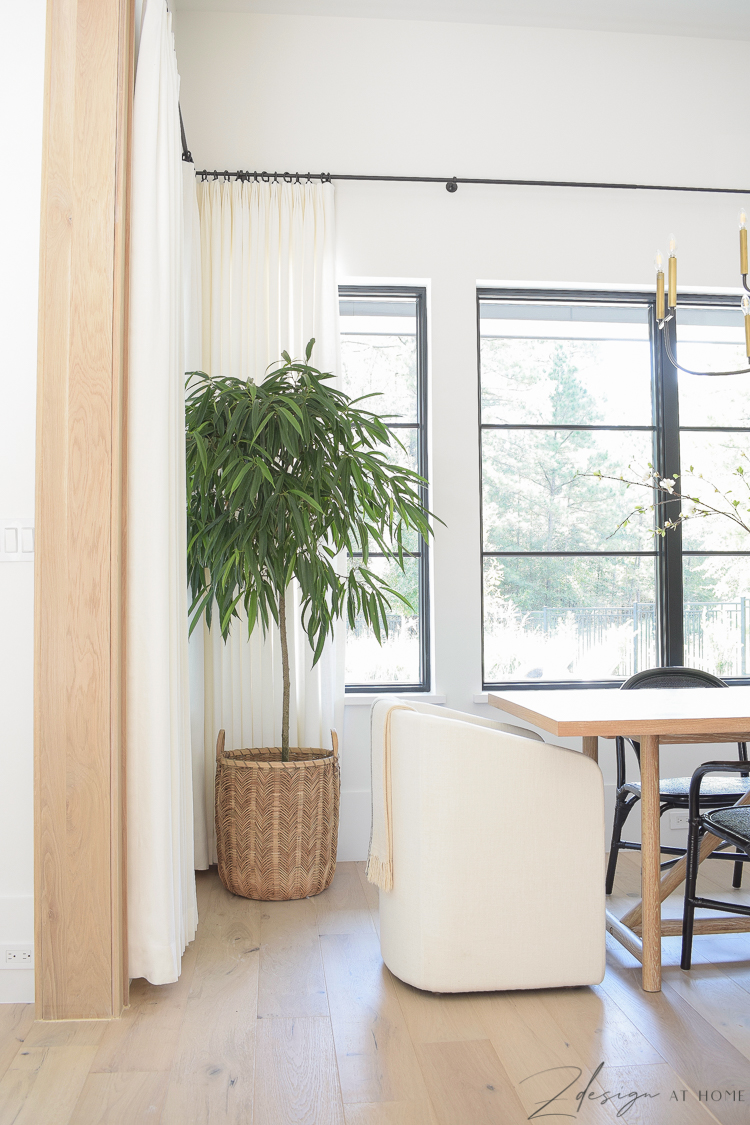 And, this herringbone basket I used to put it in is simply perfect for a tall tree!  It's a great basket if you need to elevate a tree also because it's 24″ tall.  My tree is around 6′ but I was able to elevate it to around 7′ due to the height of the basket.  I needed the height because we have 12′ ceilings in here.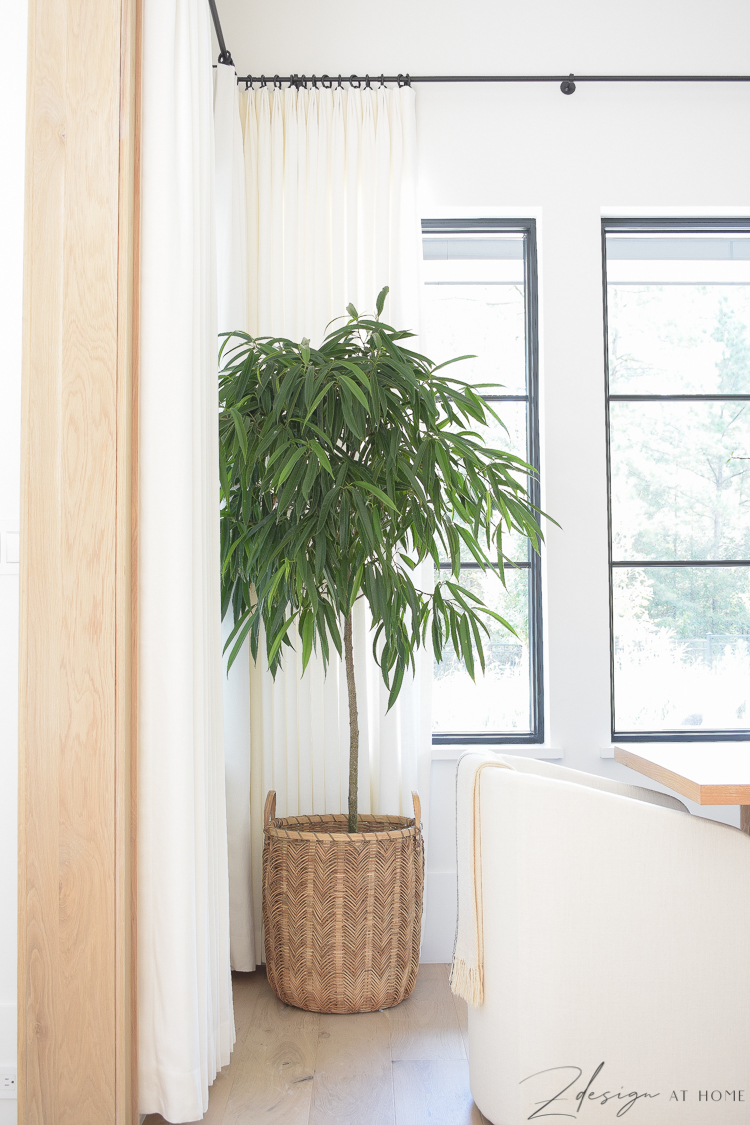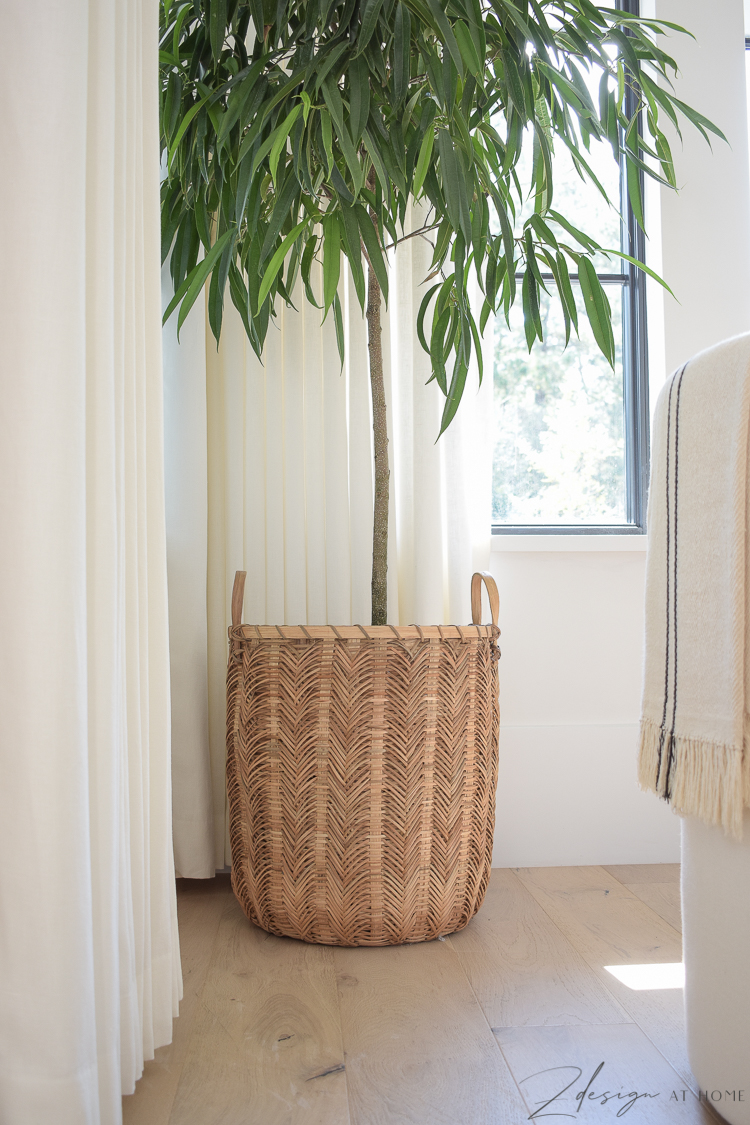 The leaves are gorgeous and it still hasn't gone into shock thankfully.  But this space gets lots of good light so fingers crossed!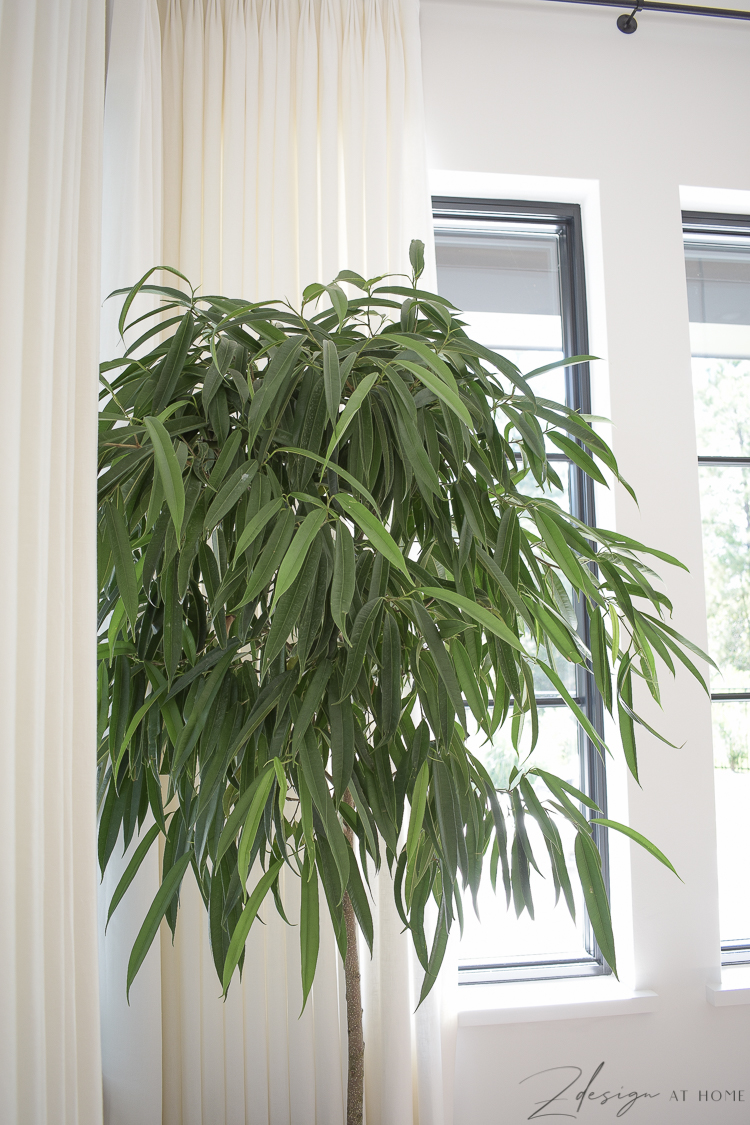 But I also found a gorgeous black basket that I love too.  Maybe you can help me decide by sharing which one you like best?  Please leave a comment below and give me your thoughts!  Of course I can switch them out seasonally, which is always an option.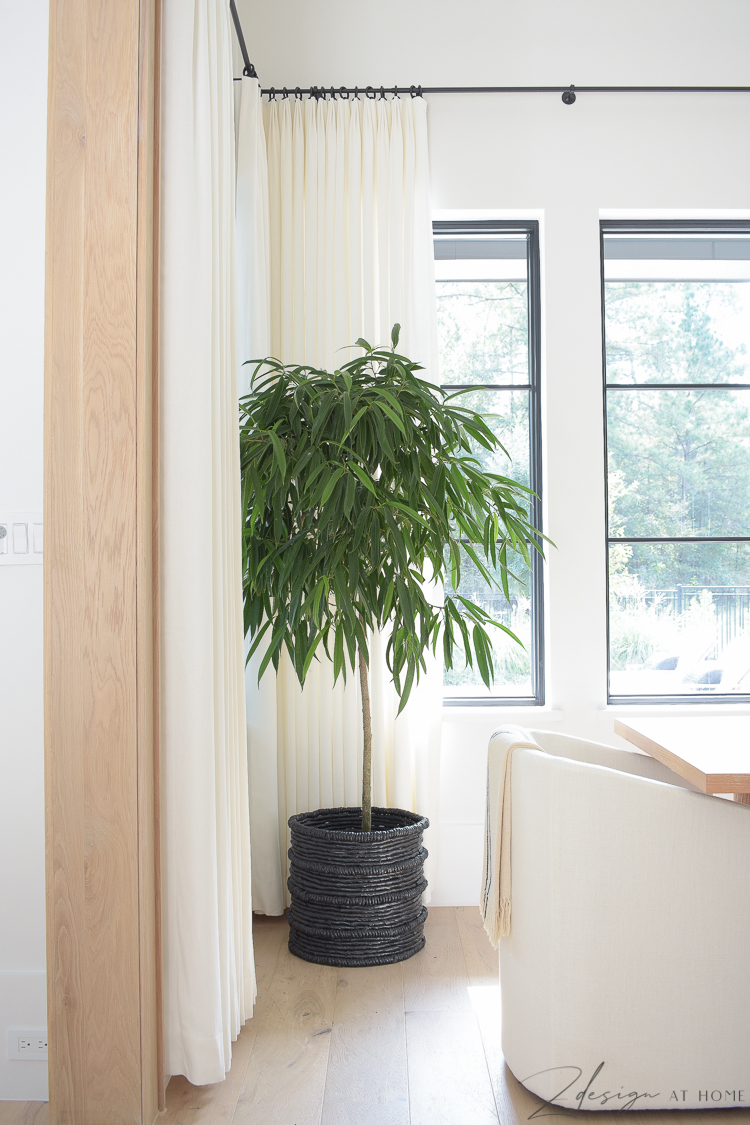 Which one do you like best?  I really love the texture and style of the black basket and how it ties into the design of my chairs but, I also love the light and airy look of the lighter herringbone basket.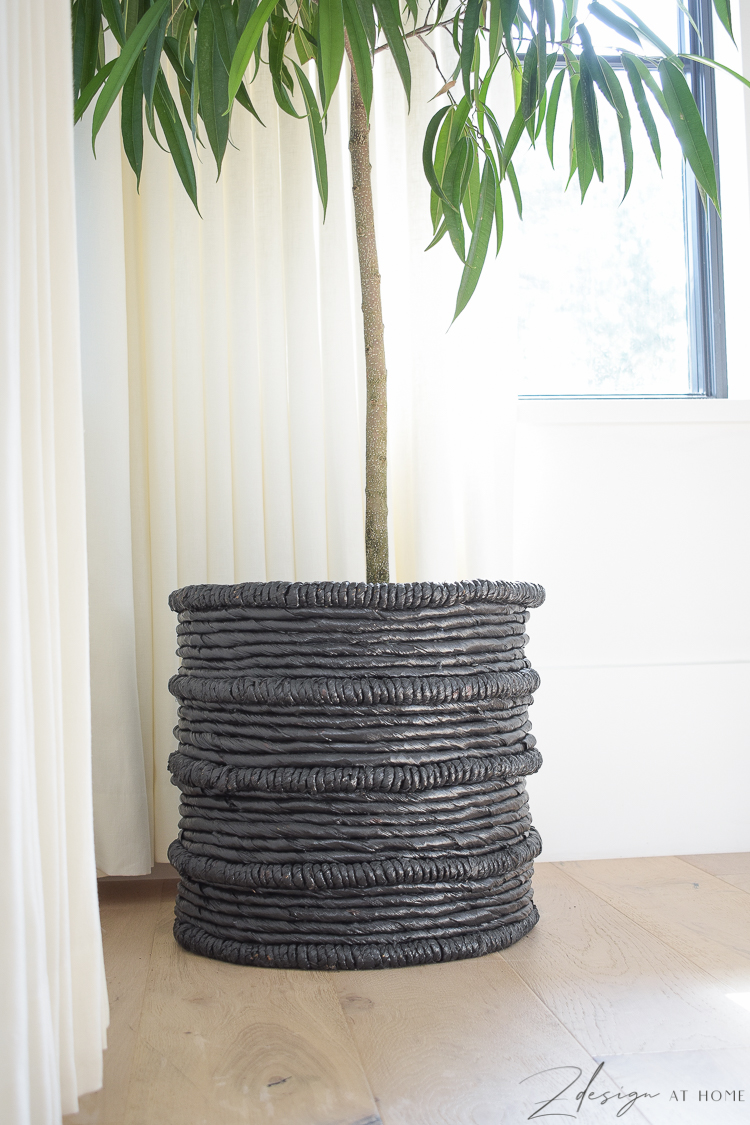 The end chairs are a soft white linen from RH.  I love the modern barrel back and so far so good on keeping them clean.  And it's no secret I love this light weight striped cotton throw!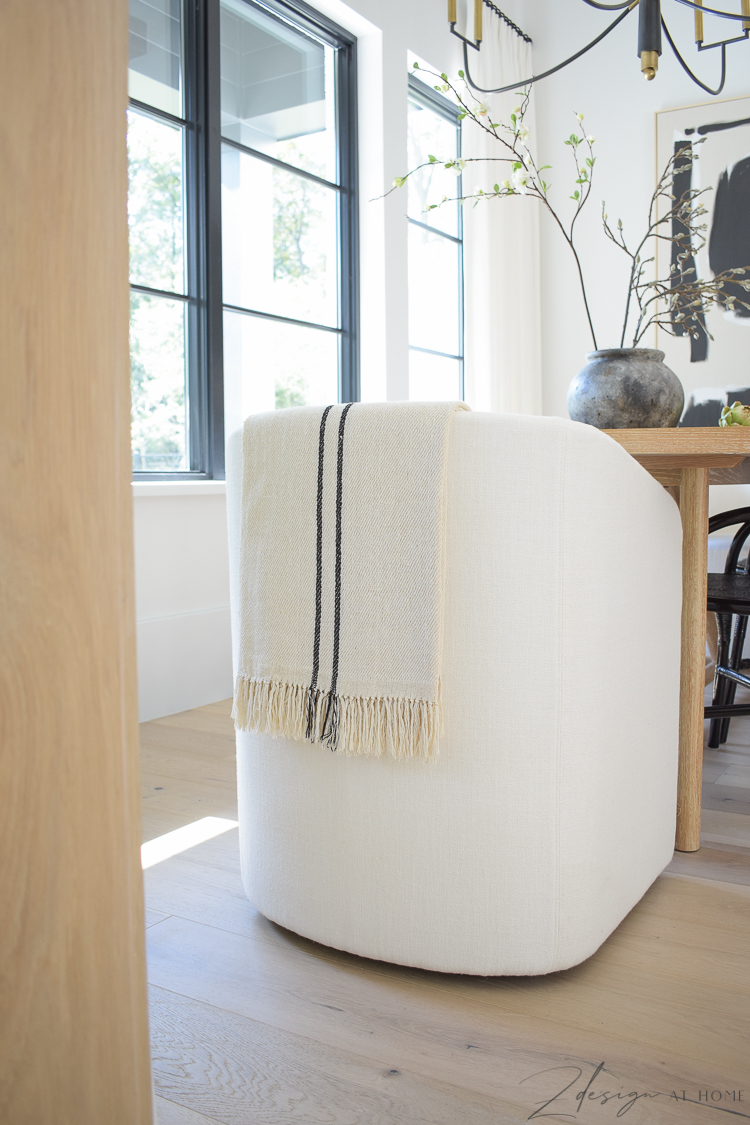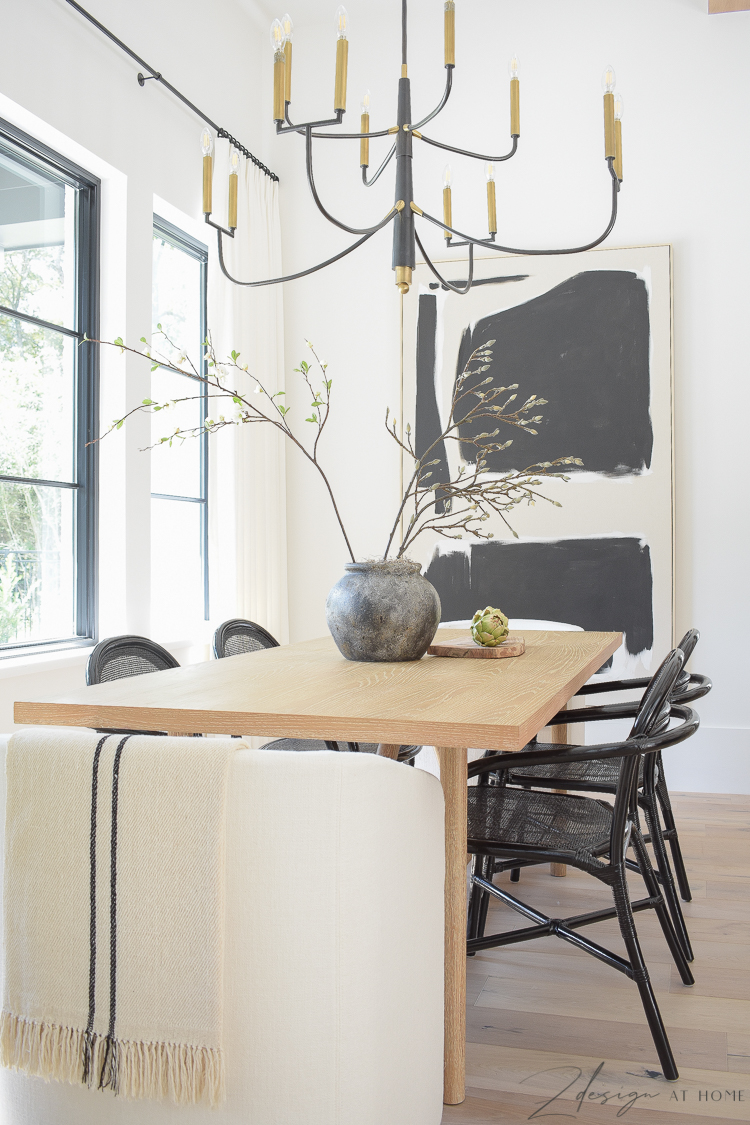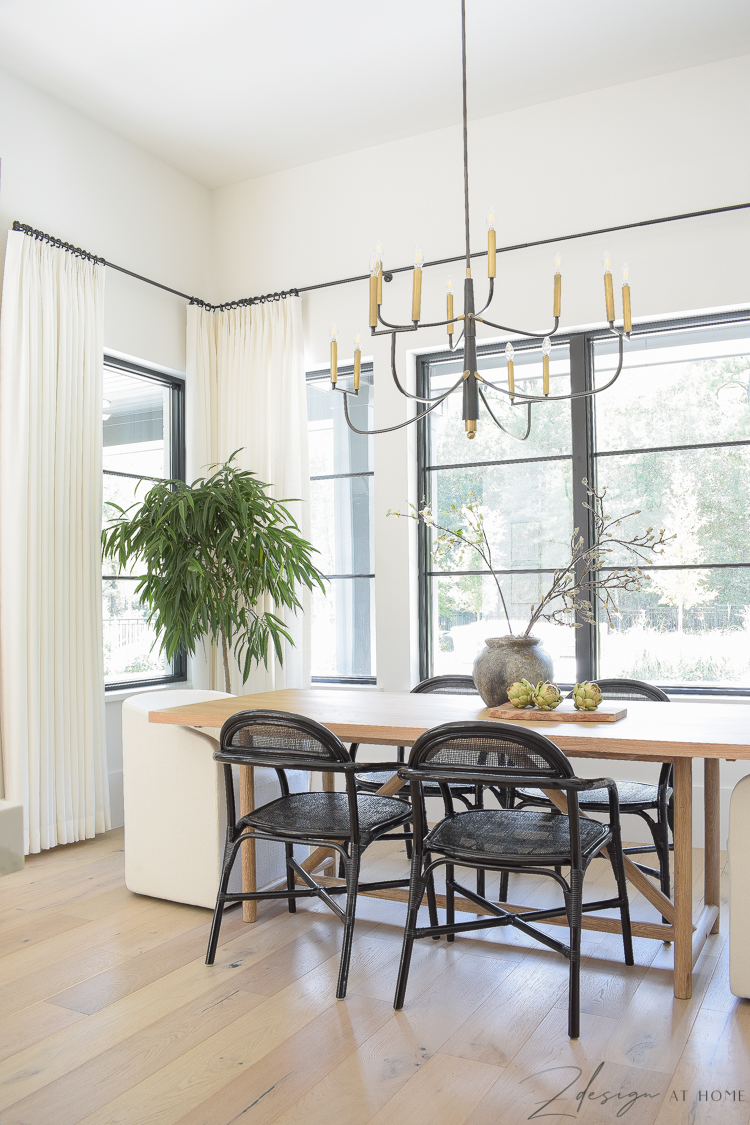 Our black rattan chairs are really comfortable with a wide and deep seat and when we have company over have been perfectly comfortable for hours of lingering conversation.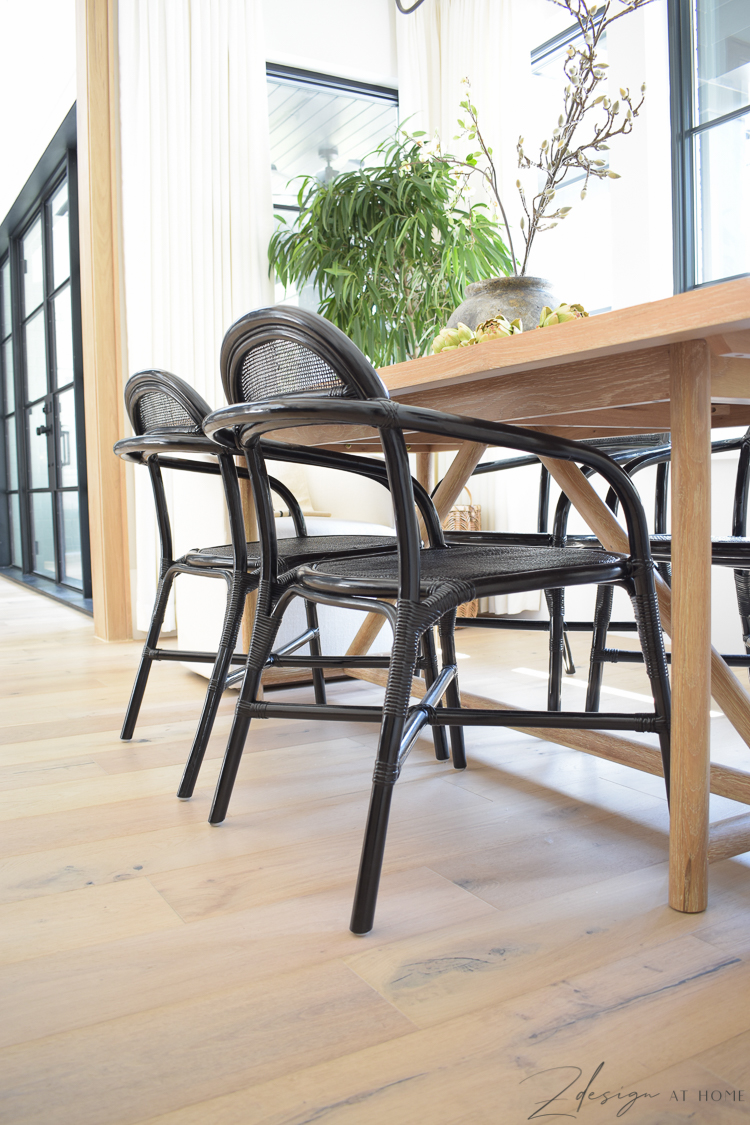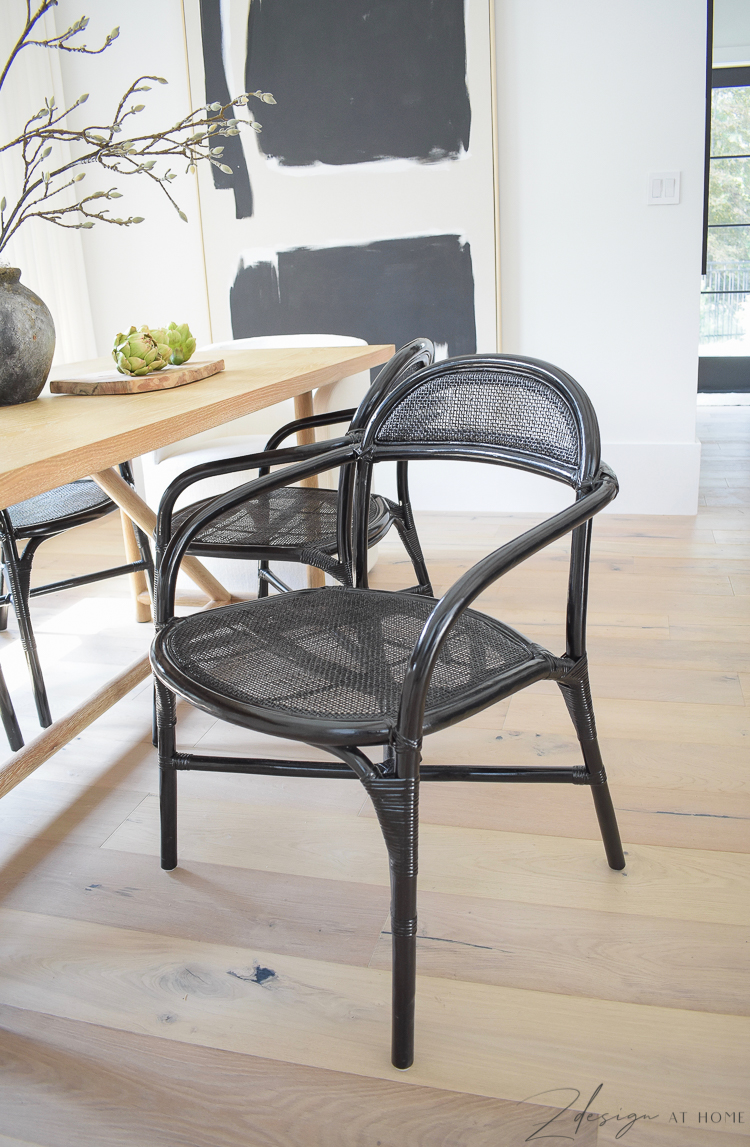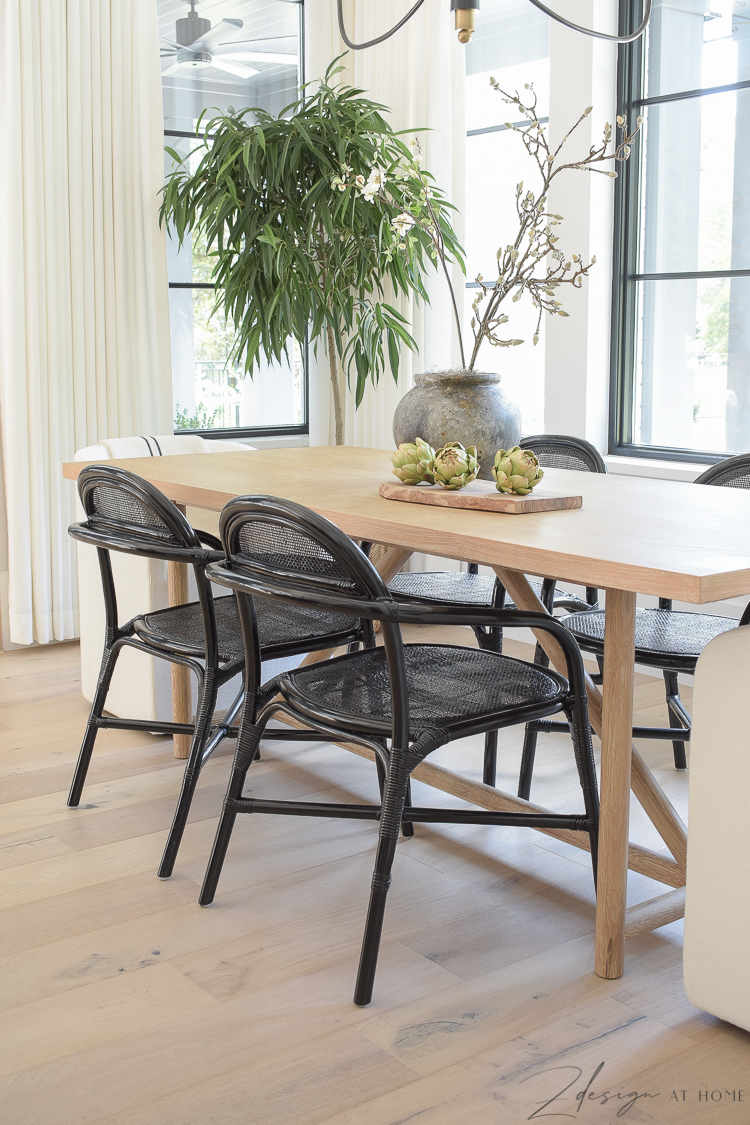 You may be wondering by now about our gorgeous drapes from Willow Bloom Home?!  They are absolutely stunning and I couldn't be more excited about them!  They really soften the space and make everything more beautiful and cozy in here and are my absolute favorite thing about this space!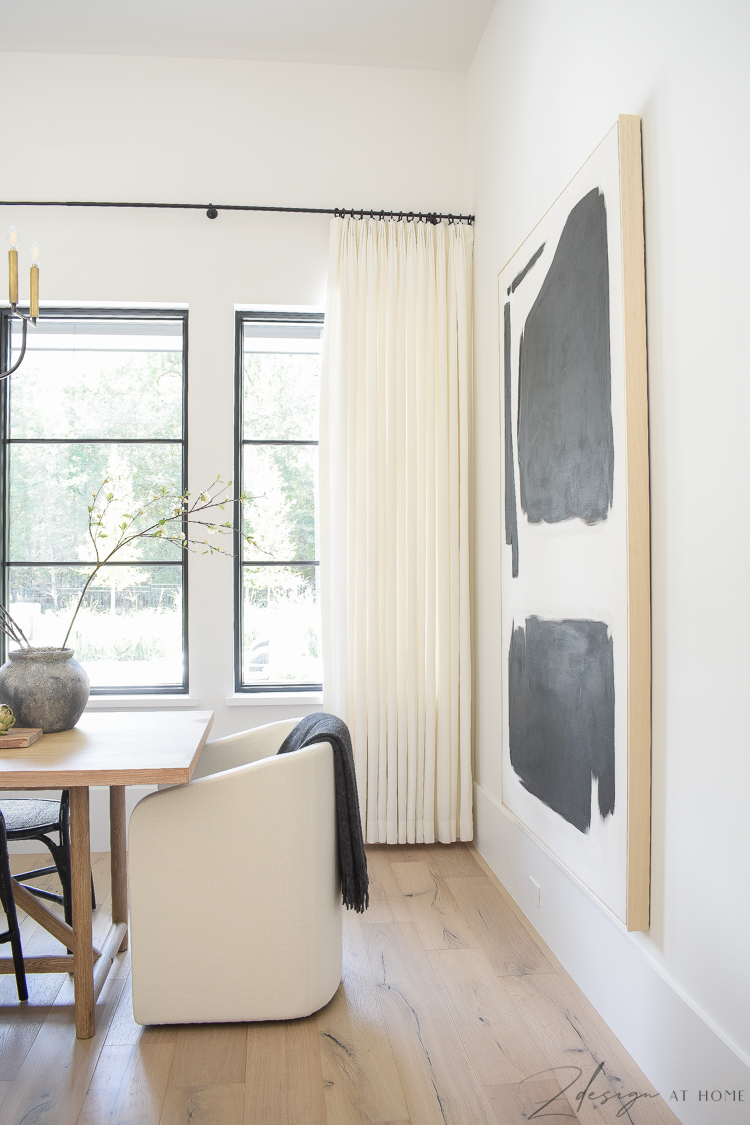 The team at Willow Bloom Home was such a pleasure to do business with!  I chose a white linen that is just a tad warmer than the walls for a bit of contrast but WBH was so wonderful about sending several samples and helped me to work through some of the details of width, etc., since they needed to be so wide (and in scale) with our wall of windows in here, and a corner to deal with.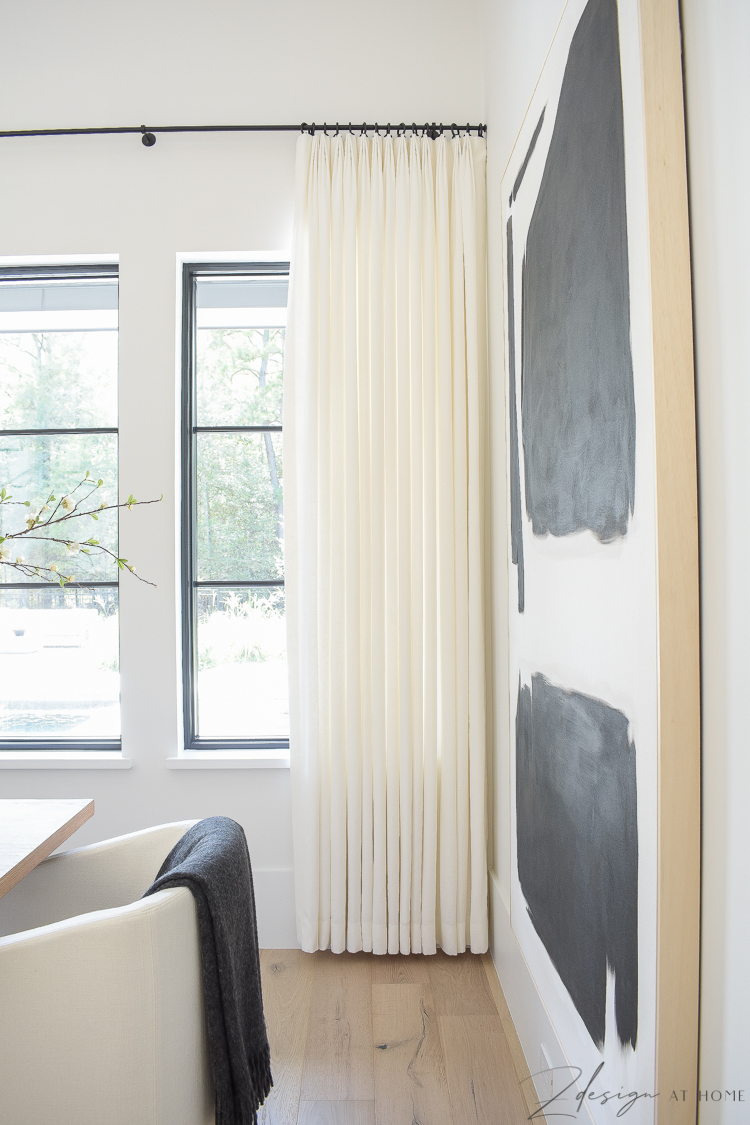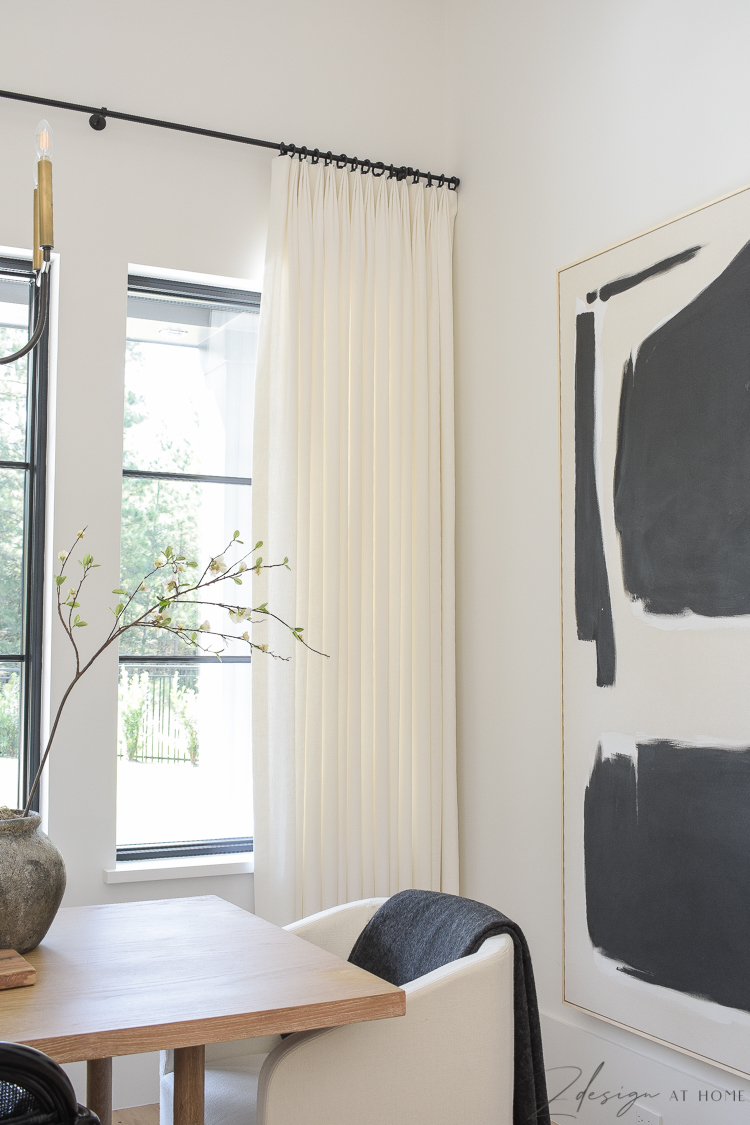 I did a Fan Pleat style with a privacy liner and an interlining for some fullness.  On their website they do not offer the interlining but it is an option that is available upon request.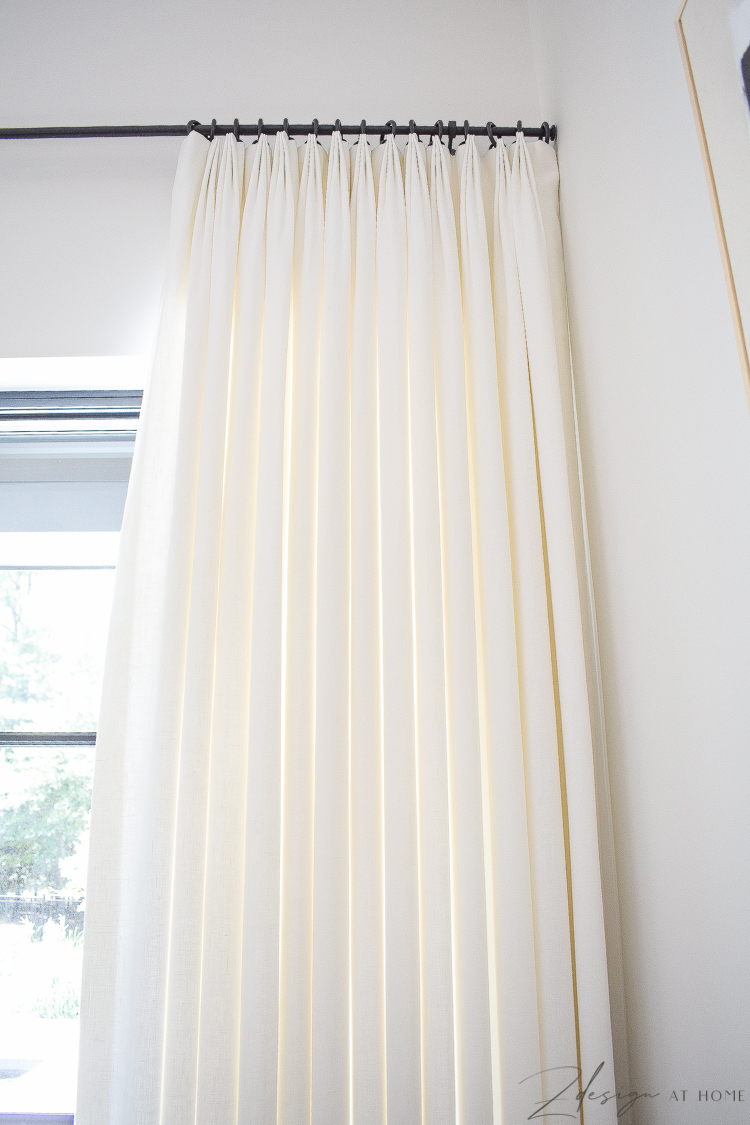 At each end the panels are 2.5 widths and the center drape at the corner is 3.5 widths wide.  The greater width at the corner was necessary so that there would be enough fabric to wrap the corner without the drape being too stretched out and looking different from the other two.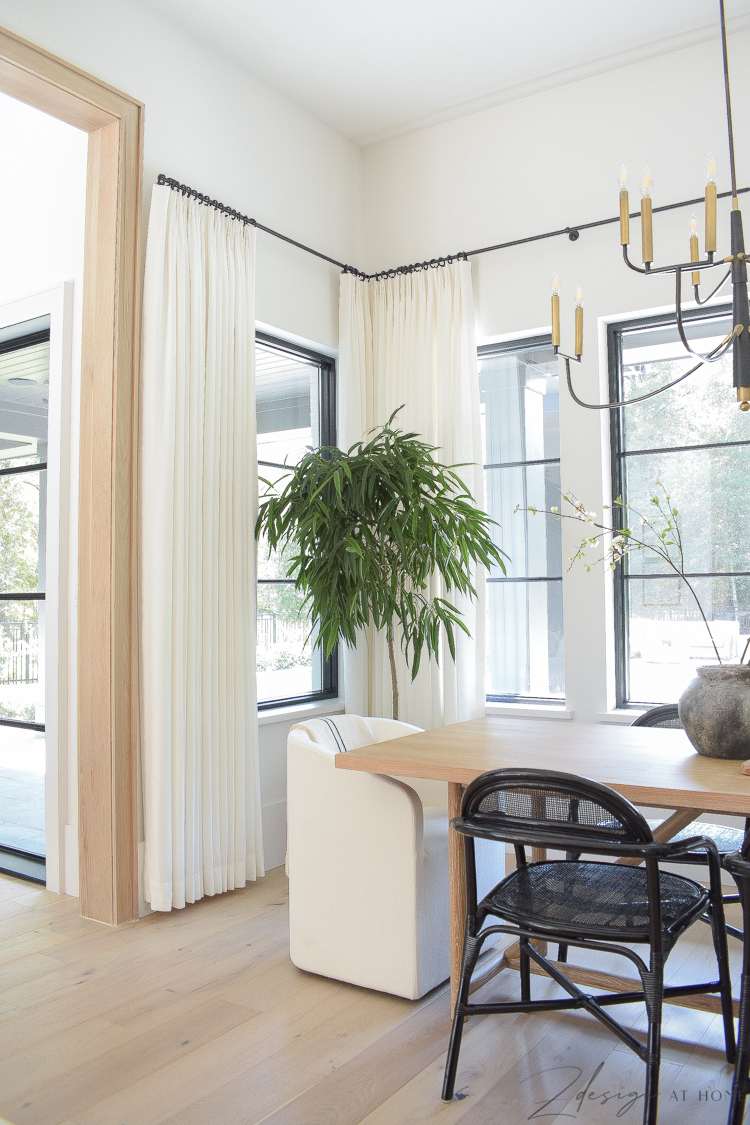 I had never done a corner before so it was a bit of a challenge but the hubby managed to pull it off.  I found this corner bracket that basically worked with my favorite black metal rod (long story – I'll spare you) and although my husband had to work with it, he finally pulled it off.  Additionally, we combined two large rods to span the width of the long window, and a medium rod for the smaller window to the left.  Also to note, I hung them a little high because they are 100% linen and with the humidity we get in the south they will drop a little over the next few months and be right where I like them, which is about a 1/4″ – 1/2″ off the floor.  It's a given this will happen with linen drapes down south.  You can find my favorite drapery rings here.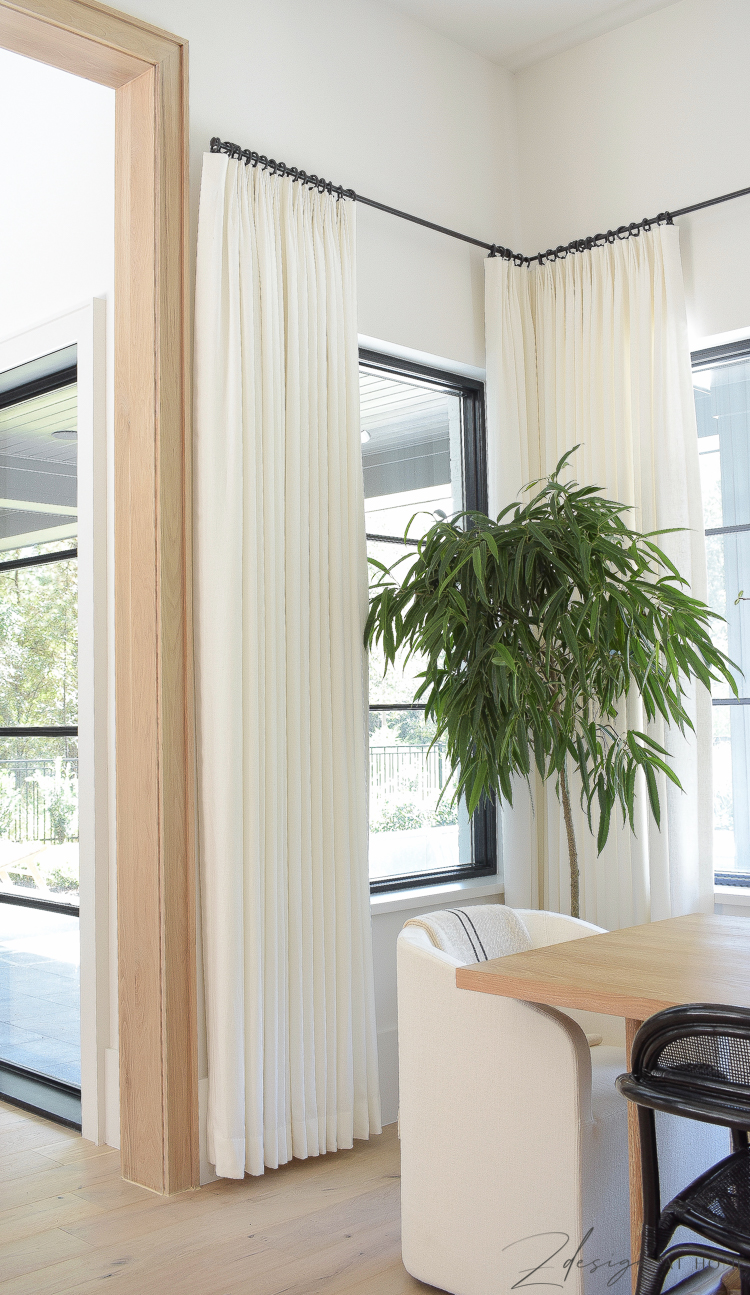 The team at Willow Bloom Home can help you work through all of the details of your new draperies (they also make beautiful pillows) such as height, width, the best type of lining for your needs, drapery style, and more so be sure to check them out and let them know what you are looking for!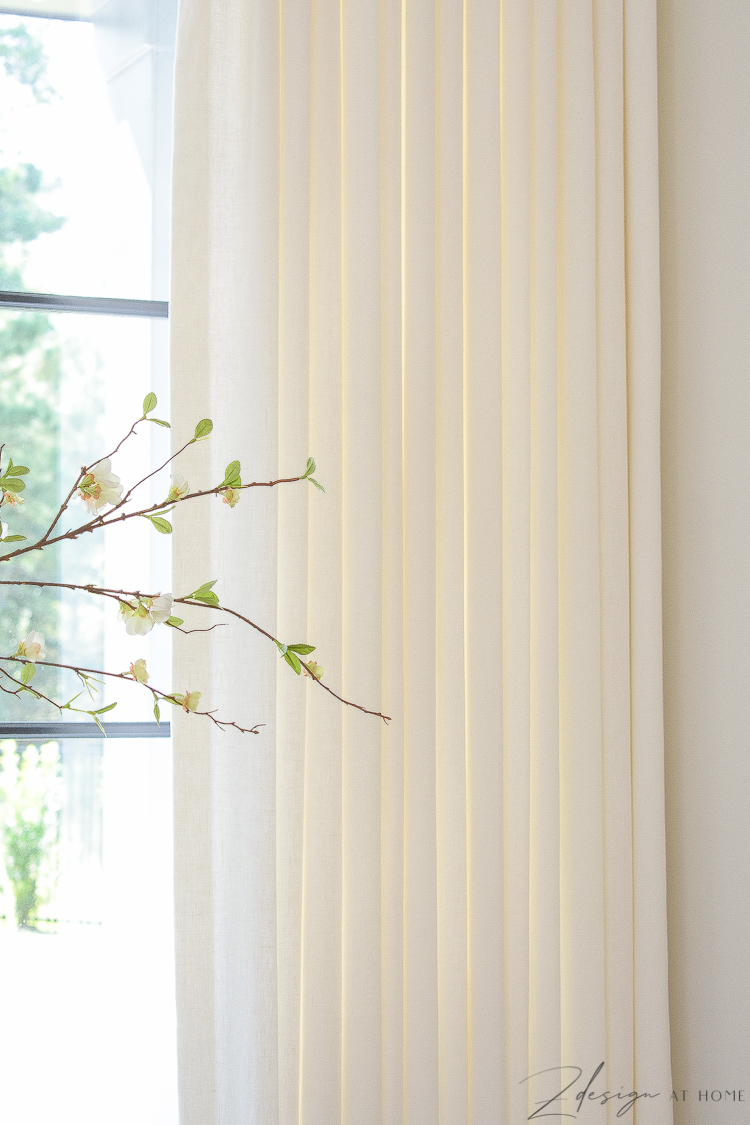 The quality is amazing and I couldn't be more happy with mine and the entire experience I had (and continue to have) with Willow Bloom Home.  I love them so much I'm having more made right now for my son's room in a deep charcoal color that I'll be sharing soon!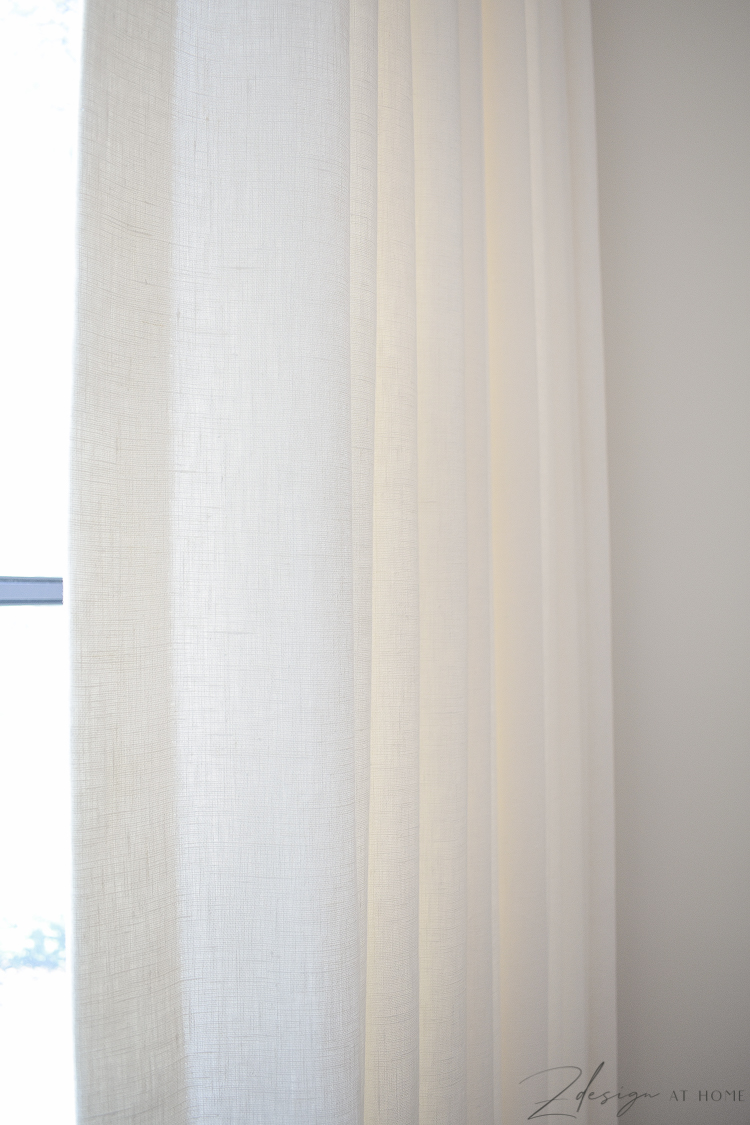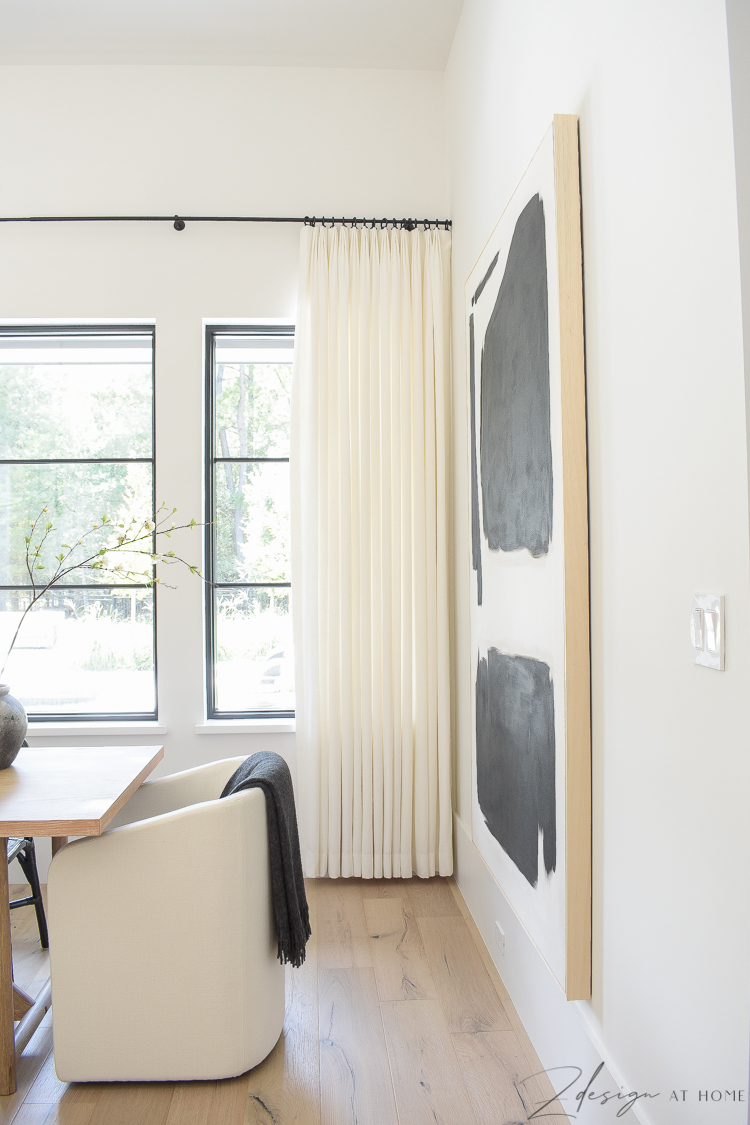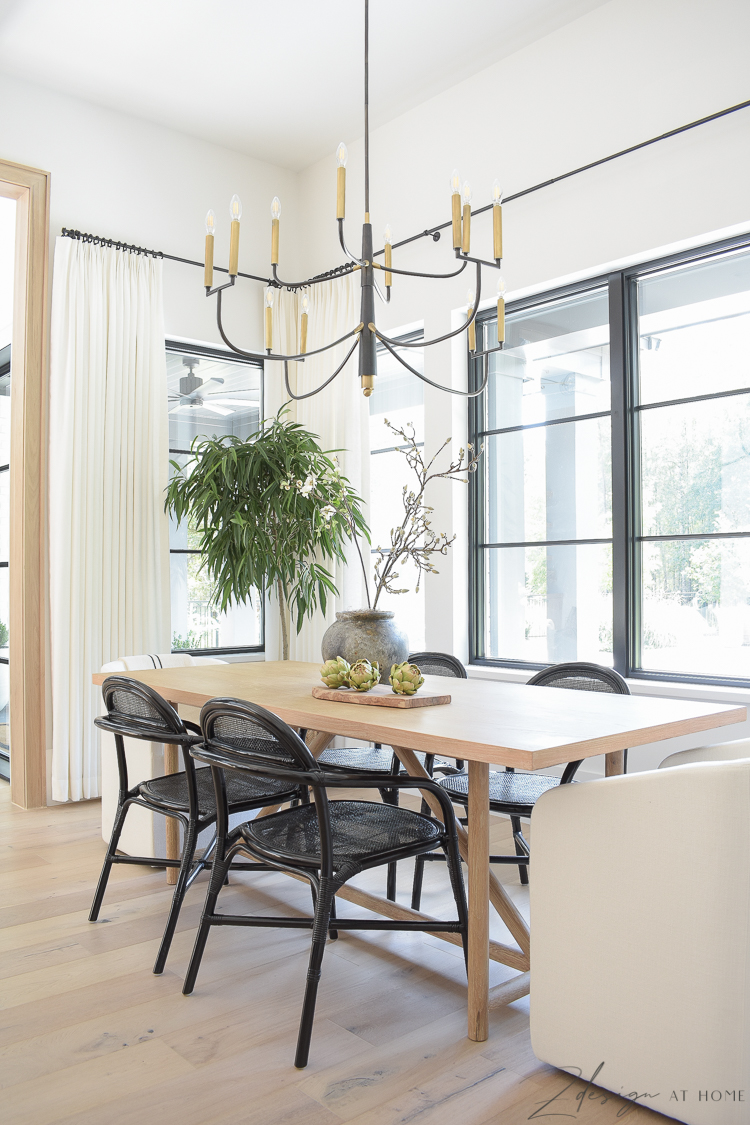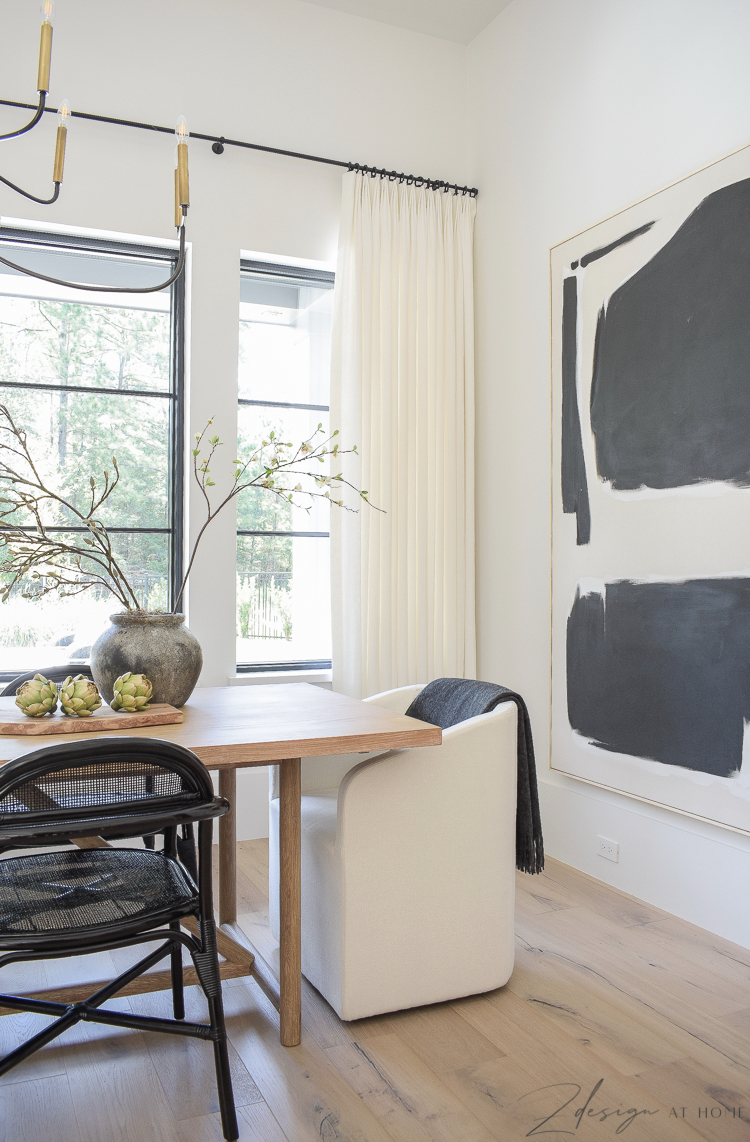 For the center piece I chose a gorgeous gray terra-cotta jar and used the faux quince and magnolia stems you may have seen in my entryway.  Of course this changes often but for now it will stay for a bit!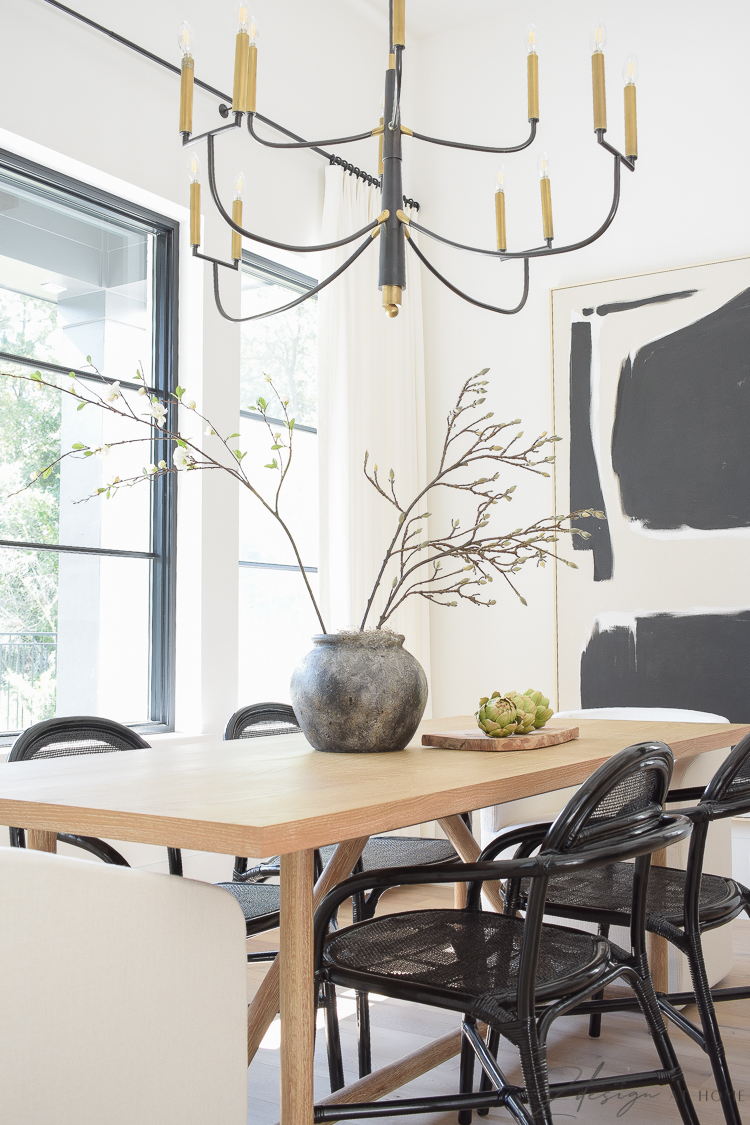 How gorgeous is this jar??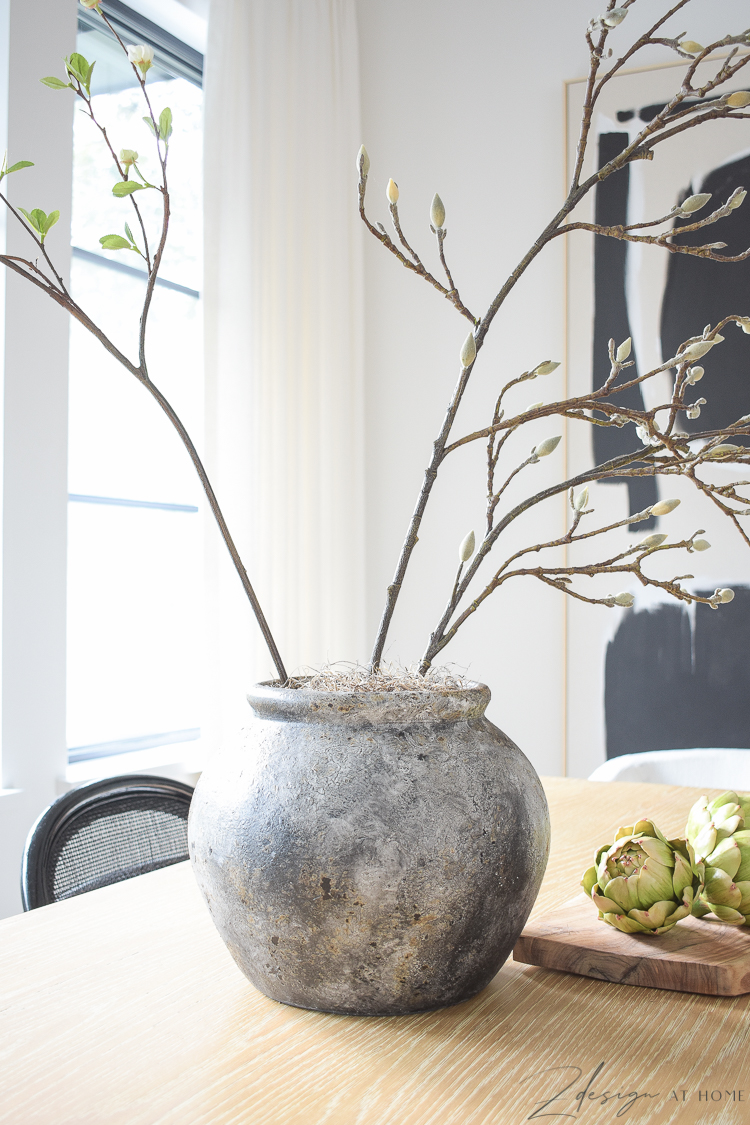 If you'd like to recreate this look just know that the stems are a tad heavy and require some anchoring if your vase has a wide mouth like mine.  I simply placed the stems in a clear glass vase down inside of the jar, added some bubble wrap inside the vase to help fill in the gaps and secure them in place, and then just added some moss I've had forever (that has greyed overtime) to the top to cover it all for a nice clean look.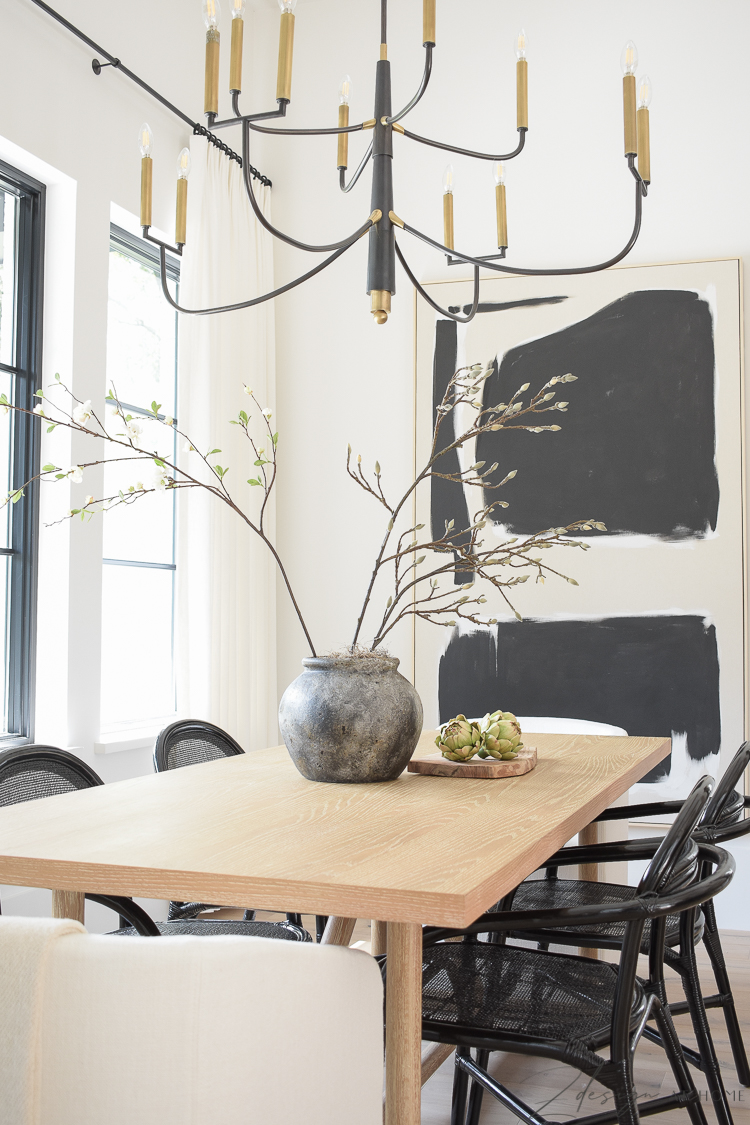 The faux artichokes are the prettiest I've ever seen.  I usually keep them in a paper maché bowl on my kitchen countertop but borrowed them for the dining room temporarily.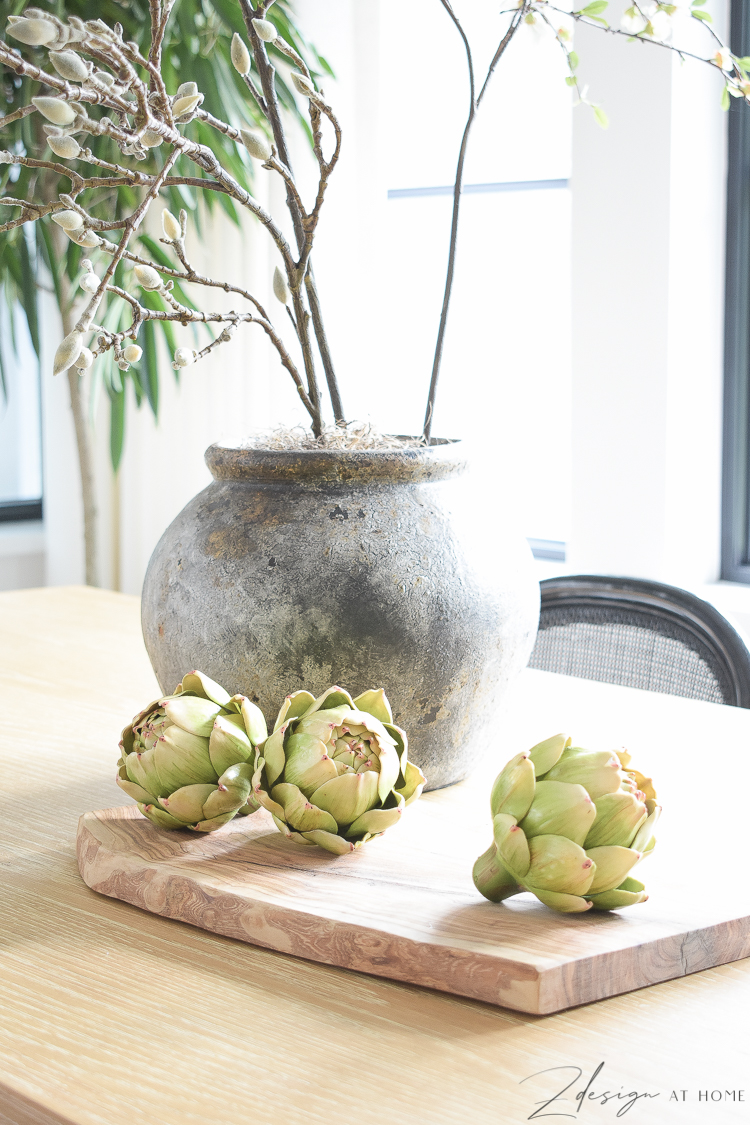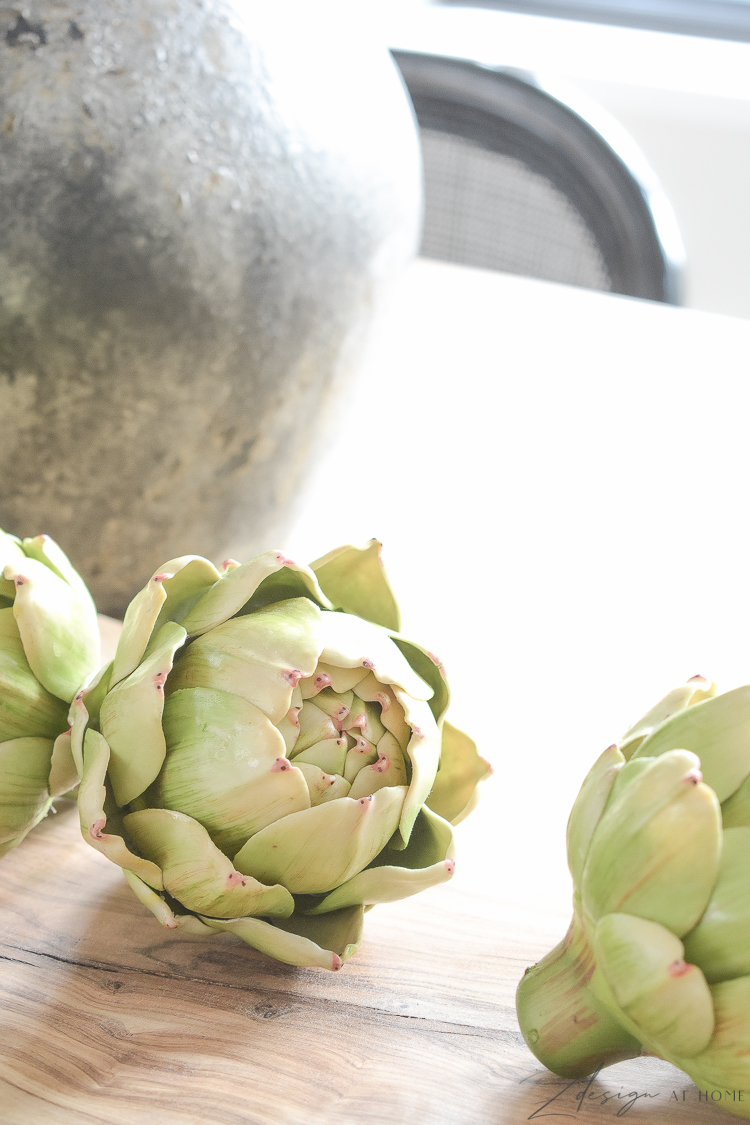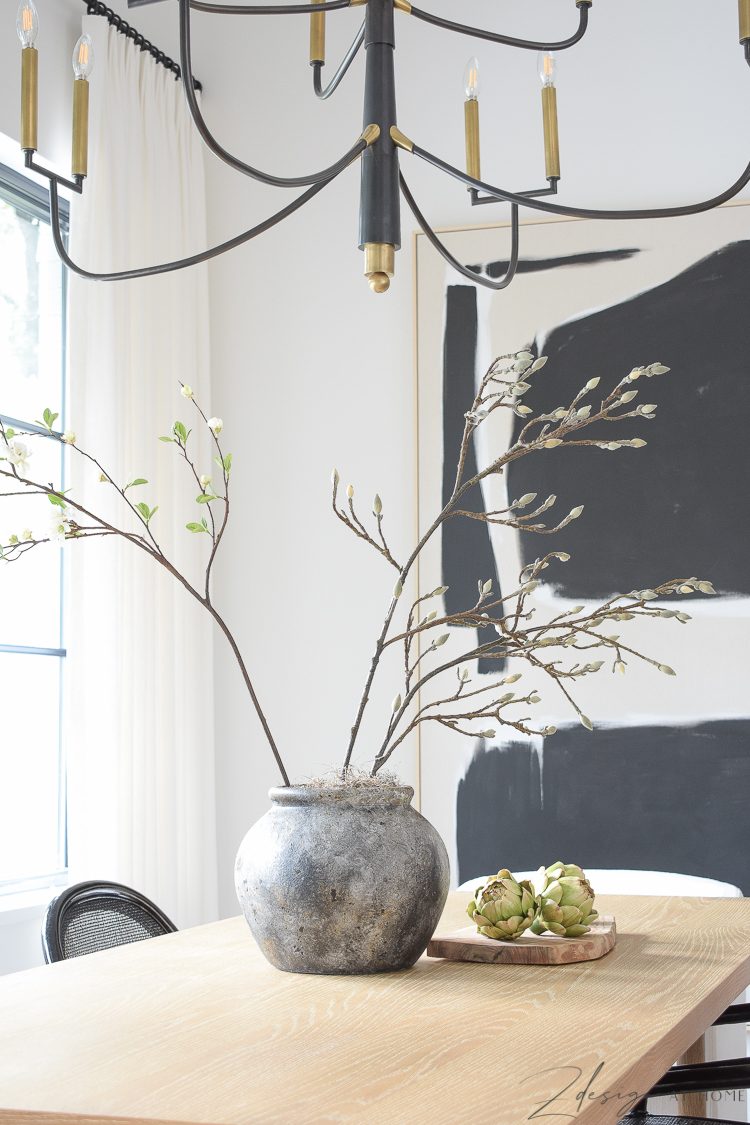 I almost forgot to tell you about the oversized canvas art in the space, and the chandelier!  The art is absolutely gorgeous and stunning and commands such a beautiful presence in our dining and living spaces.  The background is a nice tan color with black and white added to it and it has a light wood frame.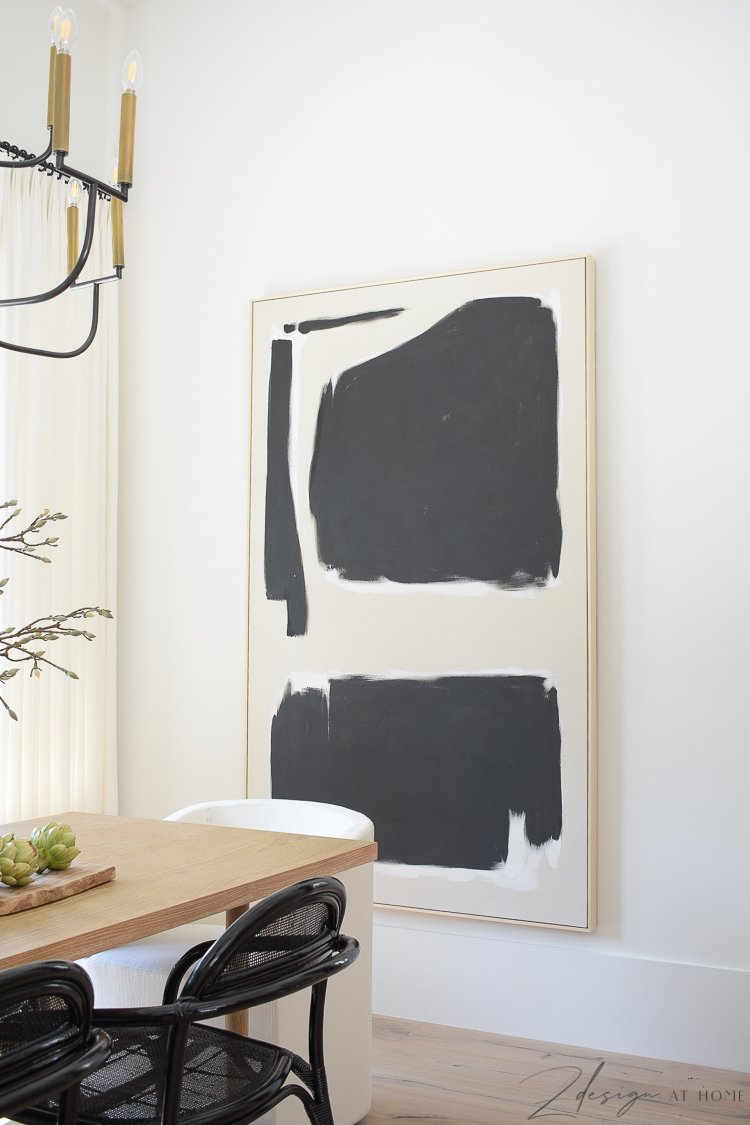 The chandelier was one that I've loved for a long time and was the obvious choice for me for the space.  It blends perfectly with our living and kitchen lighting that are right next store and I just love it.  It does come with some beautiful white linen shades but I chose to not use them for a more contemporary look.  It's also oversized for the space but since it doesn't carry a ton of visual weight it works perfectly.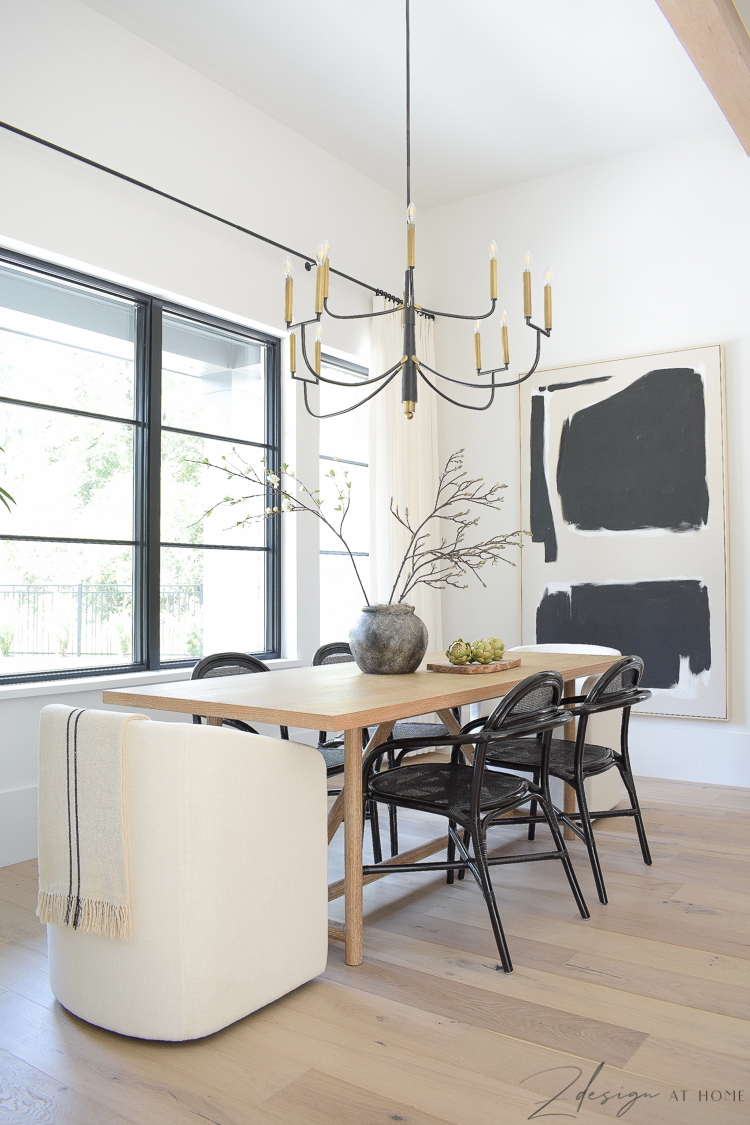 Well, I think that about covers it!  I've hope you've enjoyed our Dining Room Reveal & Tour!  You can find all sources throughout this post and at the bottom as well.  And don't forget to drop a line below to let me know what you think about my basket debacle, haha!


Dining Room Sources
Wall Color:  SW Snowbound
Hardwood Floors:  French Oak by Bella Cera | Collection:  Monza | Color:  Villalba
Baseboards:  12″ high
Windows:  Andersen Windows with horizontal grids
And everything else…just click on the words or image to shop…  
Willow Bloom Home Curtains/Drapes | Curtain Rods | Corner Piece Rod | Drapery Rings | Dining Table | Black Rattan Side Chairs | Similar Plant in Faux | Real Ficus Alii | Light Herringbone Basket | Black Basket | Oversized Art | Chandelier | Terracotta Jar | Quince Flowering Stem | Magnolia Stems | Clear Glass Vase for inside of Jar | Moss | Olive Wood Cheese Board | Faux Artichokes