A Cozy, Chic Guest Bedroom Retreat Update (Part 2)
Hi friends and thanks for popping back in this week to see part 2 of our cozy, chic guest room retreat update!  If you haven't been able to catch part 1 yet you can do that here and, if you haven't seen this room the way it was prior to it's recent updates you can do that here as well (and you will definitely want to see the "before" either before or after you start this tour).  One of the things that precipitated this whole redo was 1. I was really craving a fresher vibe in this space and 2.  If I'm just being honest here, this chair pictured below on the desk side of our guest room used to be upholstered in an ikat fabric and let's just say it was way past time for the ikat to be gone!
I have kind of gone head over heals for this Bianca leopard fabric from my friends over at Tonic Living and I knew it was the perfect fabric for this chair to stand the test of time, to be a great neutral in the space, and to add a little pizzaz to the room (they also make a pillow in this fabric found here).  Don't you agree?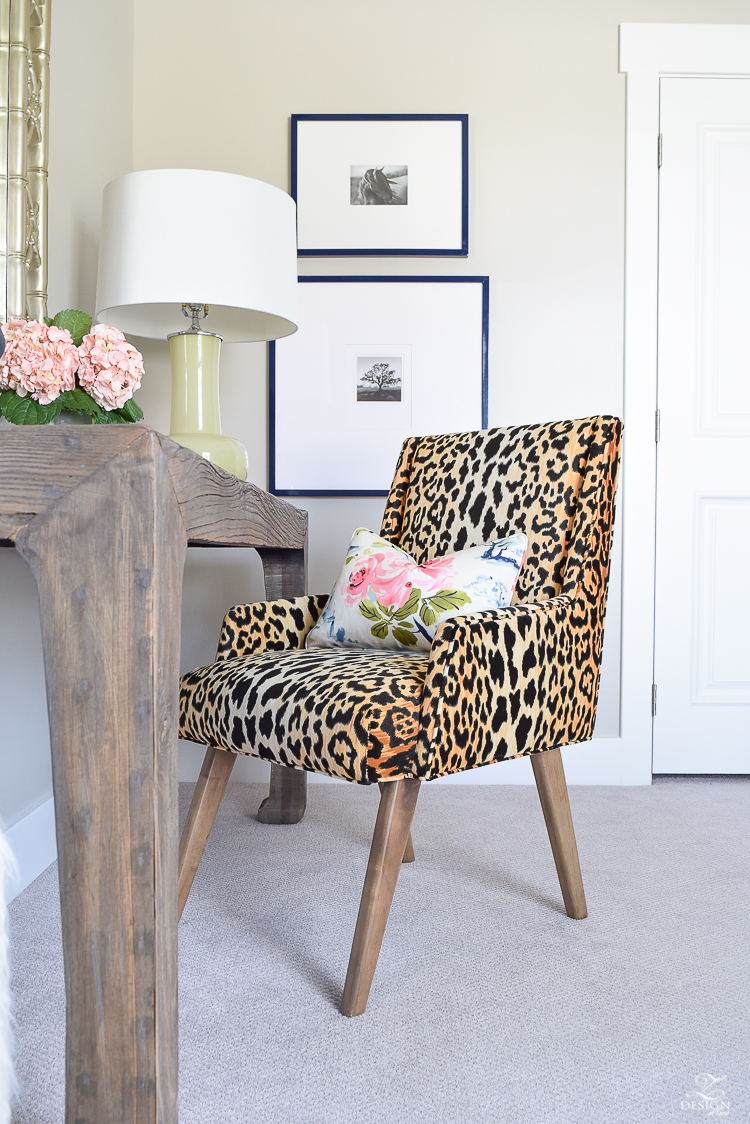 And of course I had to pair it with my new favorite floral pillow from Tonic Living as well.  You can see much more of this fabric on the bed in part 1 of this tour if you haven't seen it yet.  It's completely yummy, was perfect for this space and a perfect compliment to the leopard!!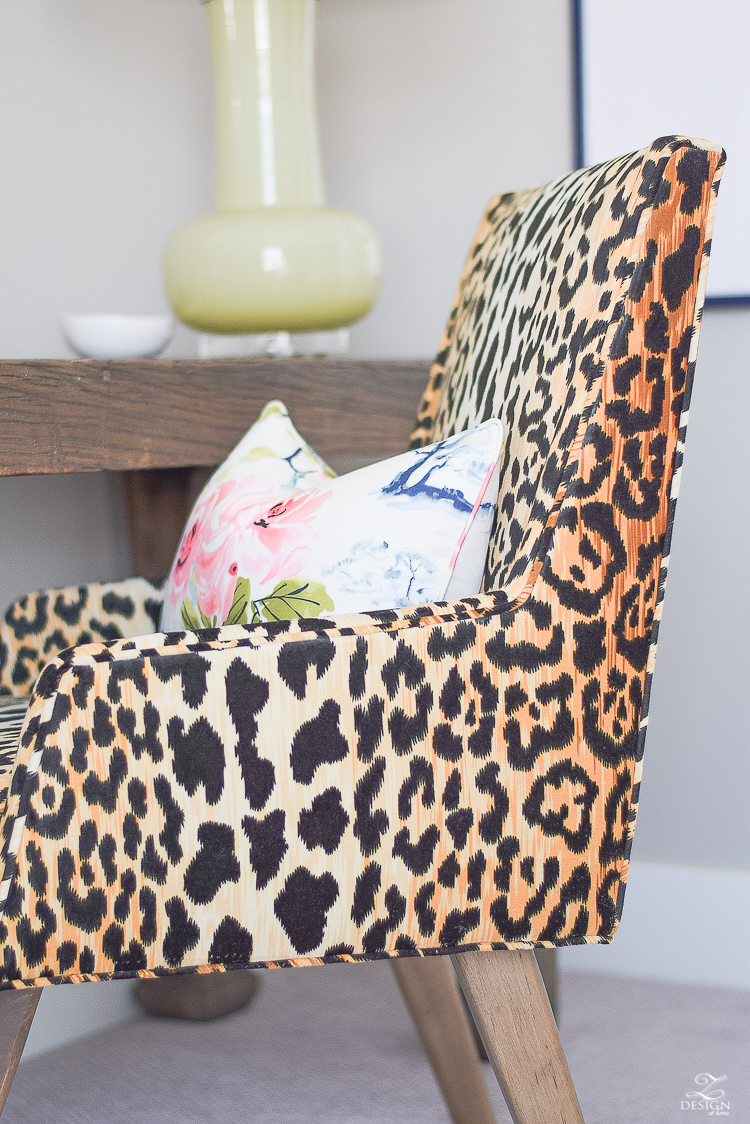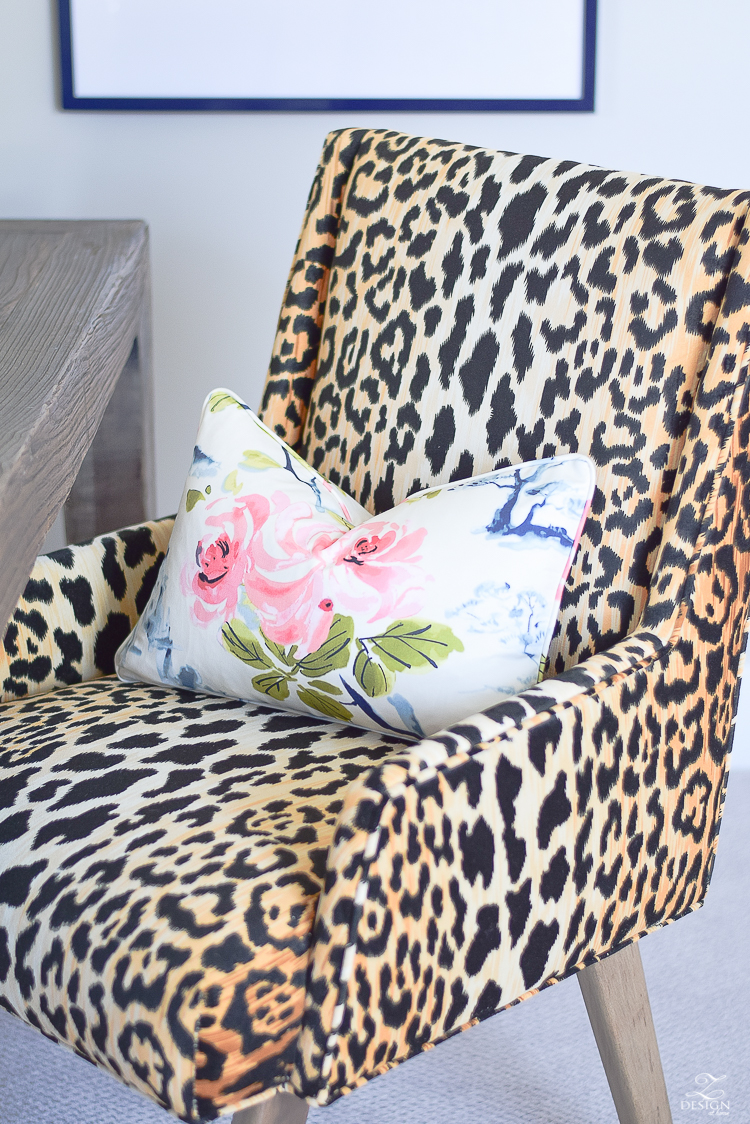 Now on to how and where I shopped my home for this project which is one of my favorite things to do!  Everything else I did on this side of the room didn't cost me a dime (except for a can of spray paint) and I'm absolutely loving the changes.  There is not much more rewarding in design than being able to pull items from other areas of your home to come up with a fresh new look that not only didn't break the bank, but that didn't really cost anything much at all.  The next two items were actually in my attic and I can't wait to tell you about them!
This mirror was purchased at HomeGoods right after we moved into our home a little over 3 years ago.  I stalked it several times not knowing exactly where I could put it and after I went back to look at it for the 3rd time I finally purchased it thinking I could always return it if it absolutely didn't work out somewhere in the house.  Well, it ended up in my dining room for a while until I recently made over that space which you can see more of here & here in my recent dining room reveals.  I absolutely love the lattice bamboo look for it's timeless quality, and for this project I loved that it was somewhat on the gold side in color.  It's gilt actually and initially when I pulled it from the attic I thought I might need to spray it gold to brighten it up a bit but ultimately I ended up leaving it alone.  It gives the room a more feminine quality that goes along with my theme for this space and it couldn't be more perfect in this spot.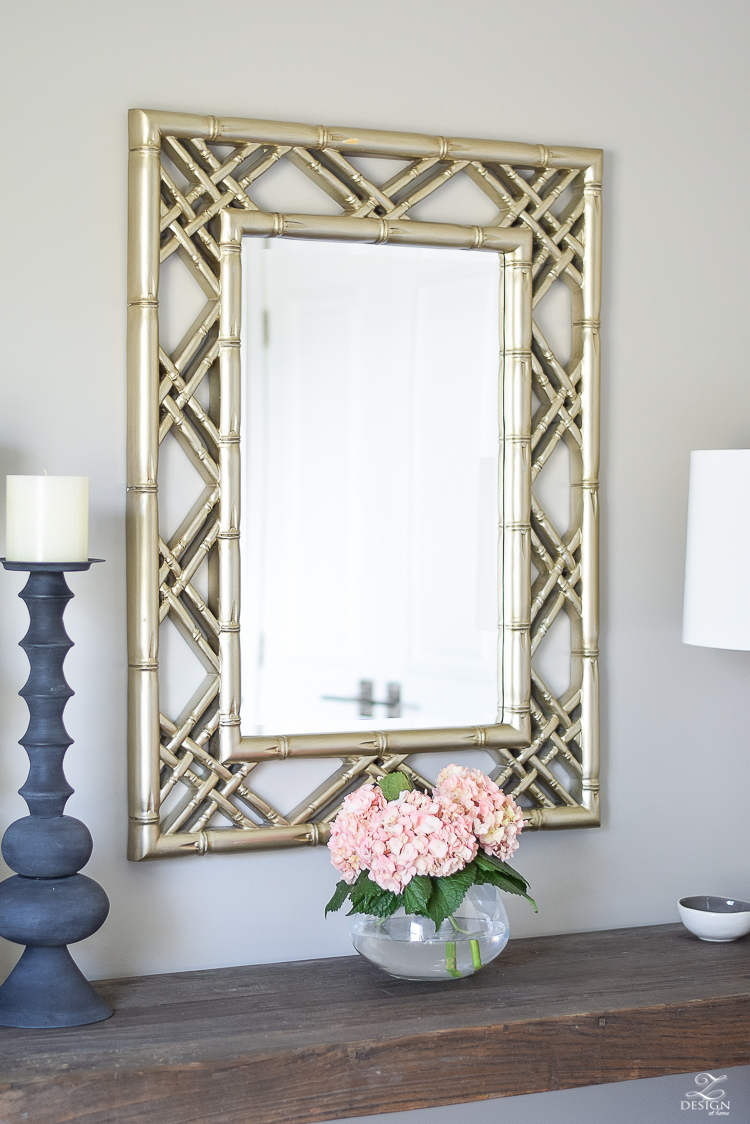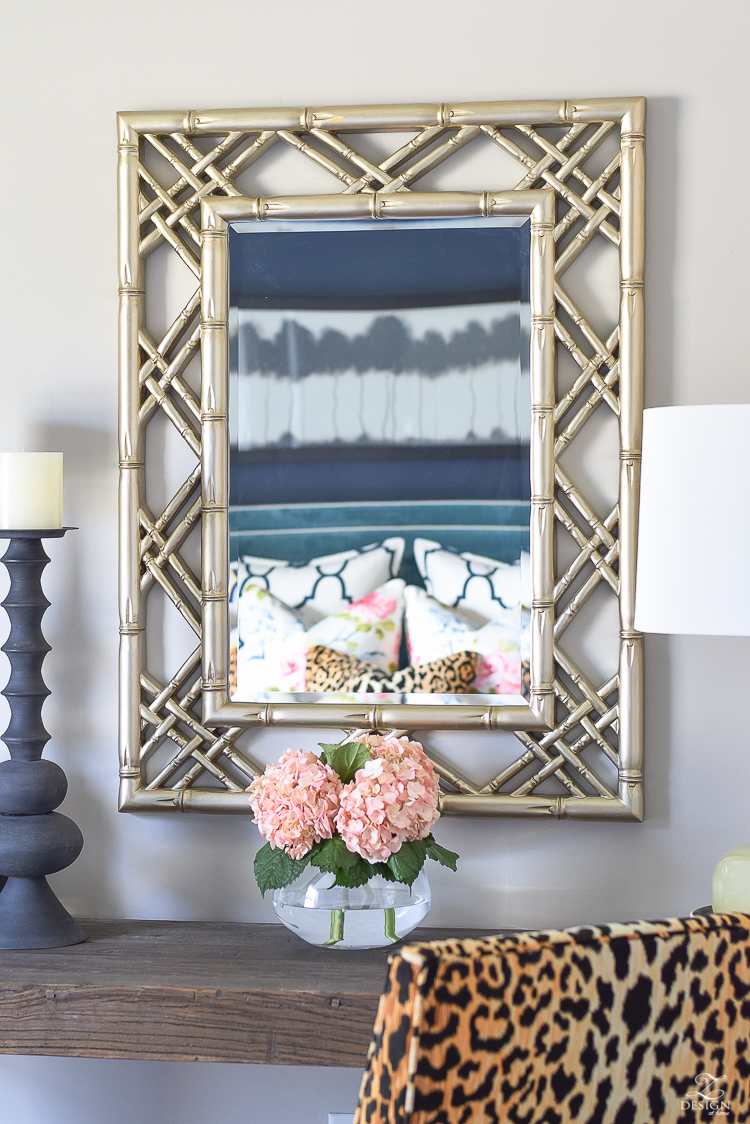 Shop similar Mirrors

The next item I pulled from the attic was this lamp that comes with a super fun story.  I also purchased this item at HomeGoods but quite a number of years ago (probably around 8 yrs. ago to be exact).  The lamp has a similar story to the mirror in that I stalked it over and over before I purchased it.  It's kind of a celadon color and I wasn't so sure about the color but I knew there was something special about this lamp, I just didn't know what it was at the time.  The shade was all beat up and dirty so I had to purchase another shade (this one) but it was well worth it to have this lamp package completed (little did I know at the time).  Skip forward about 3 years from the time I purchased said lamp and one day as I was dusting it I found the designer's name on the lamp.  I had never heard of the designer before at the time so I promptly googled the name and much to my surprise it turned out to be a Jamie Young lamp (similar here by Jamie Young).  Bear in mind that I only paid around $35 for the lamp (it was priced at $50 but I asked the HomeGoods store manager for a discount because the shade was in such disarray) so when I saw that the least expensive lamp of Jamie Young's (that I could find at the time) was around $450 I was completely shocked.  So, long story short…I kind of hit the lamp jackpot and wanted to tell you about it.  This one may come and go in and out of my home and back into the attic or closet from time to time but I will always keep it around.  I love it's quirky color now and I really love the acrylic base.  It's a floater as well but for now it will live in this room for a time.  I also especially love the way the green picks up on the green in my floral pillows.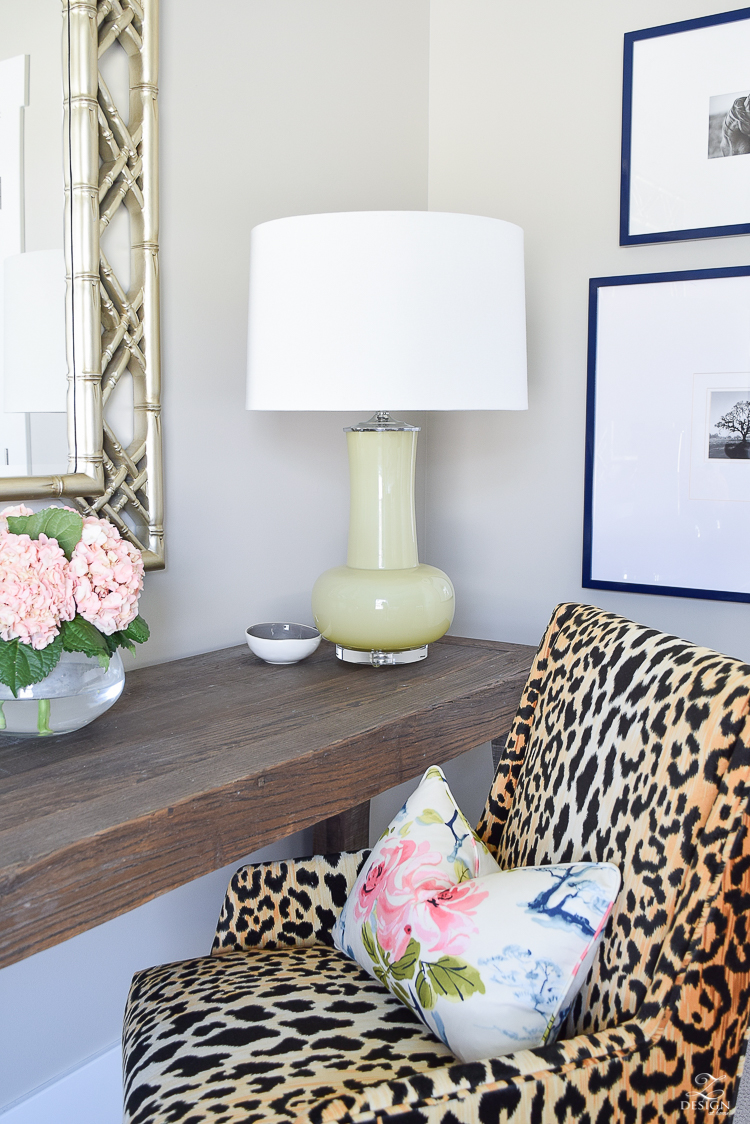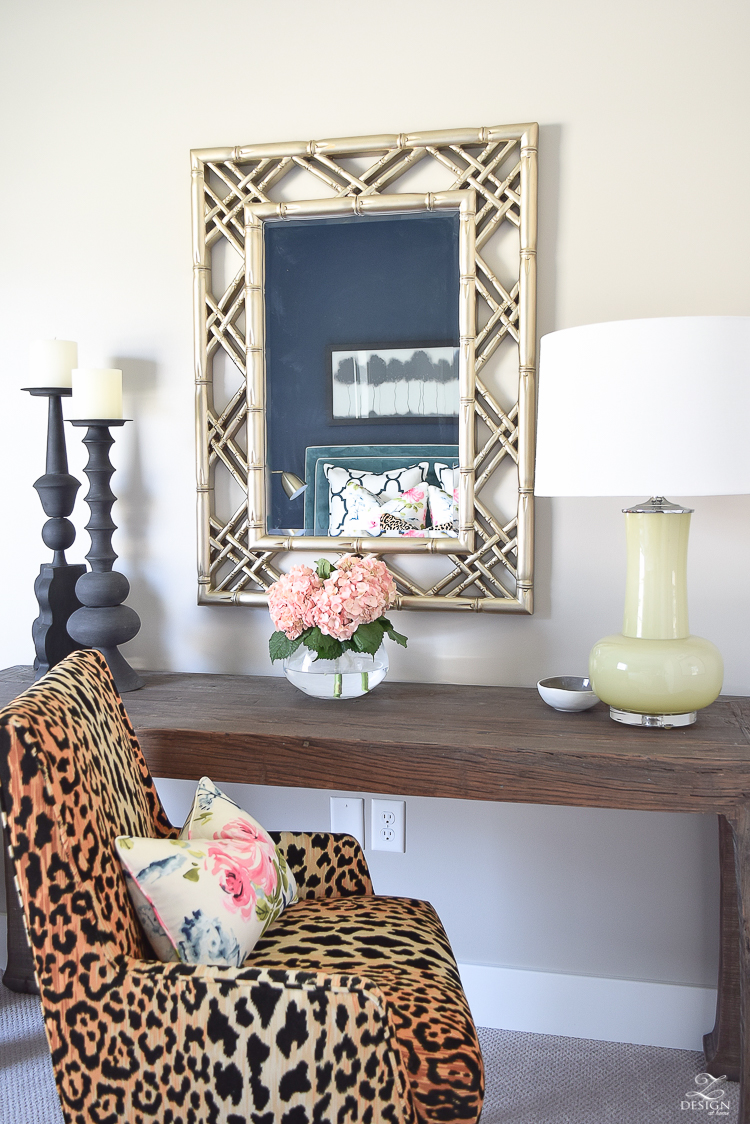 Shop similar Lamps

One of the final things I did in this space was to move these frames that were over on the side of the room where the windows are to this area by the desk.  These frames were hanging between the two windows (you can see more of that here) and they used to be black.  However, when I had the headboard reupholstered in teal in this room, I tried to match my spray paint to the teal headboard fabric and missed the mark by a mile…ugh!!  Well, I never repainted them and just sort of lived with them until now.  So, because navy is my accent color in here (and a predominant color in my floral pillow) I knew navy was going to be the right color for my frames.  I chose Rust-Oleum/Navy basically because it was the darkest navy I could find on the shelf at my local hardware store and fortunately it turned out to be the perfect color.  And, I even got it right the first time if you can believe that, lol!!  I still have an empty wall between the two windows on the other side of the room but I'm working on something special that I'll be sharing soon and will update this post when I make those changes.
I put the same prints back into the frames that were there before and it all worked out very well I think for this little corner.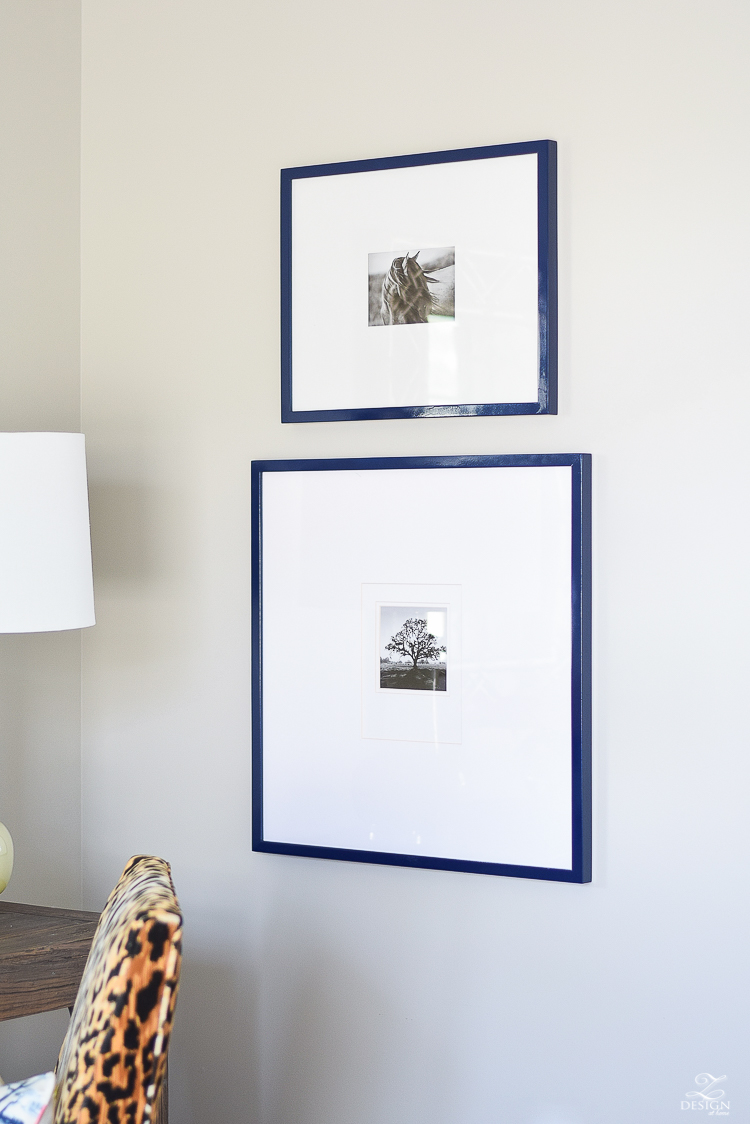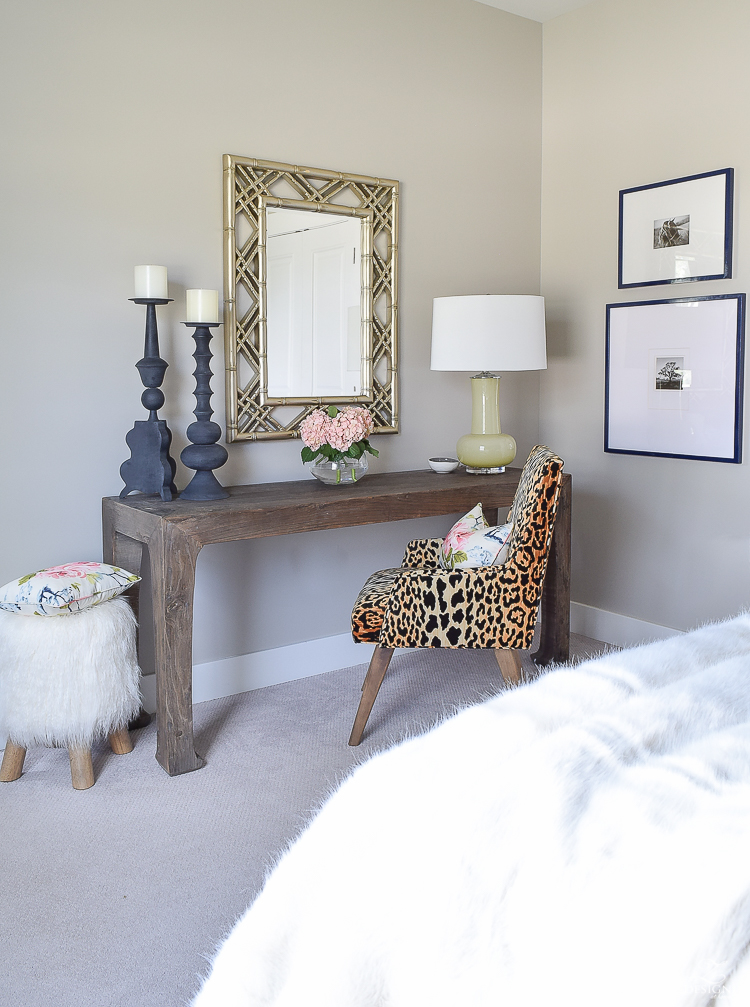 And last but not least, I pulled one of my little fur stools (found here) into the space.  I like to have a little something sitting here by the desk to drop your purse or other belongings to keep them off the floor, not to mention that it can be used as extra seating if necessary.  The fur is a great juxtaposition to the wood and it works perfectly in here.  Eventually I would like to have a desk in here that is not quite so rustic but that's another project update for another time:).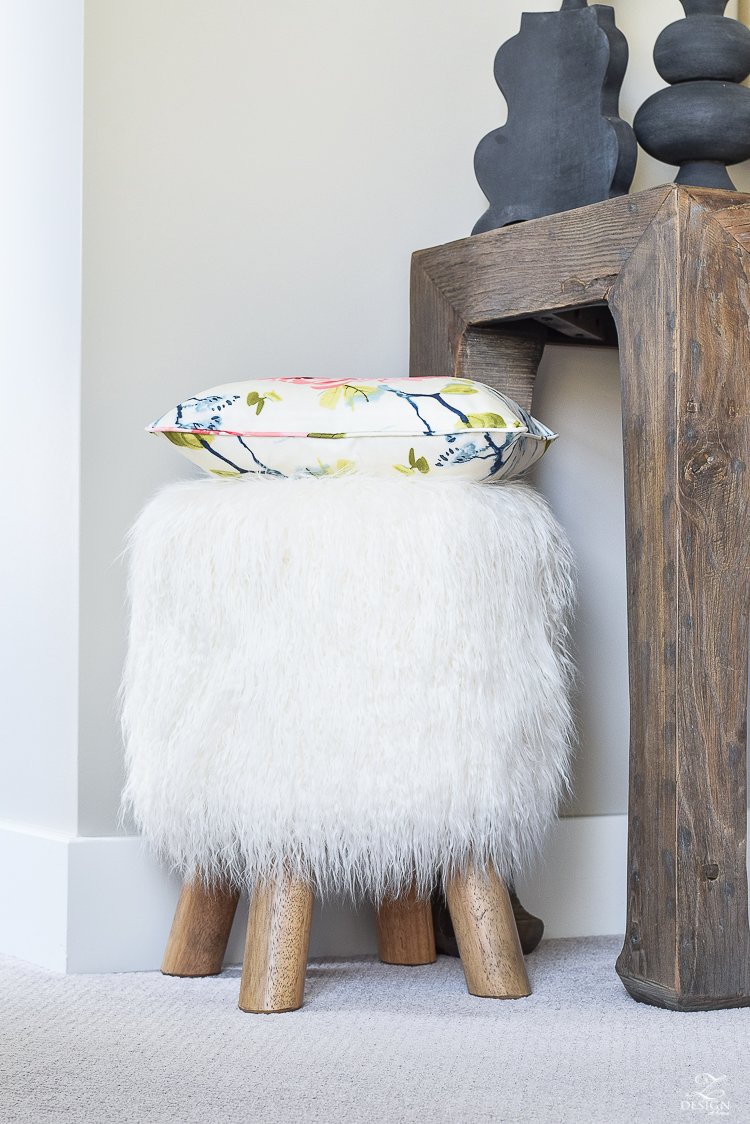 One thing I get a lot of questions about when I share this area of the room on Instagram is about the candle stick holders.  I purchased them years ago at Crate & Barrel but unfortunately they are no longer available.  I have sourced some similar ones here though if you love them just as much as I do…
Shop similar Candle Holders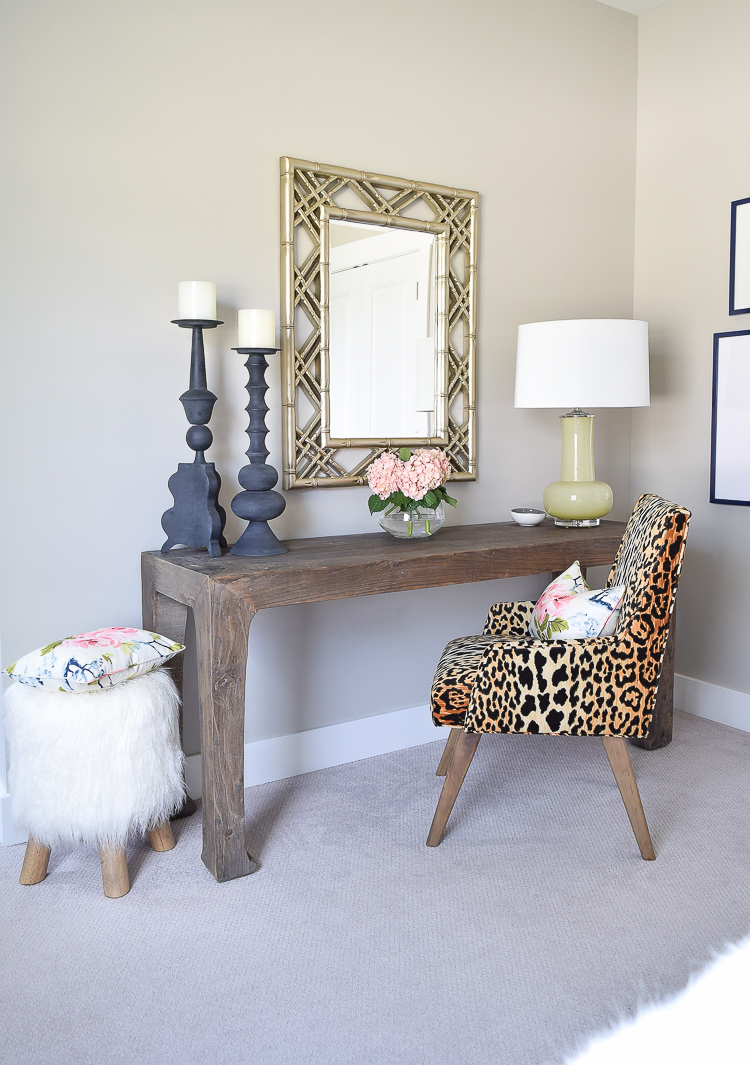 I hope you enjoyed the final part of this cozy, chic guest room retreat update!  Please let me know if you have any questions and don't forget to stop by and check out TonicLiving.com and Tonic Living on Instagram.  You'll love their fresh, modern products, their quality craftsmen ship, and their friendly way of doing business!!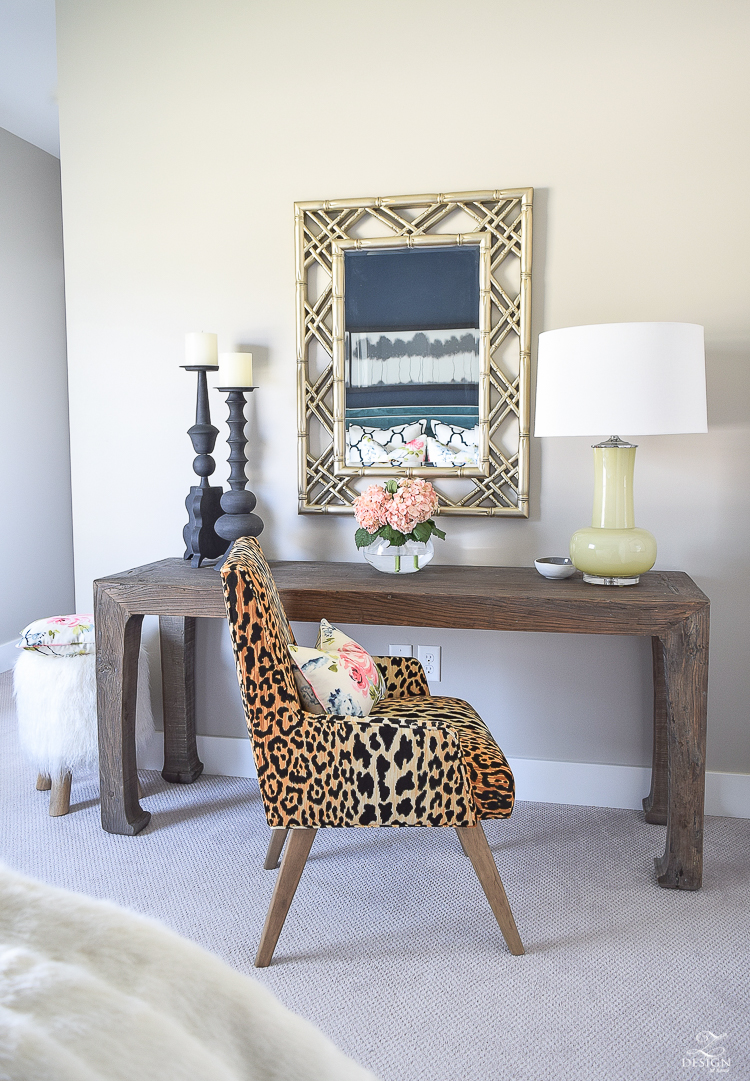 Finally, don't forget to stop by to see part 1 of this update reveal.  Here is a peak at part 1 and you can start your tour by going here!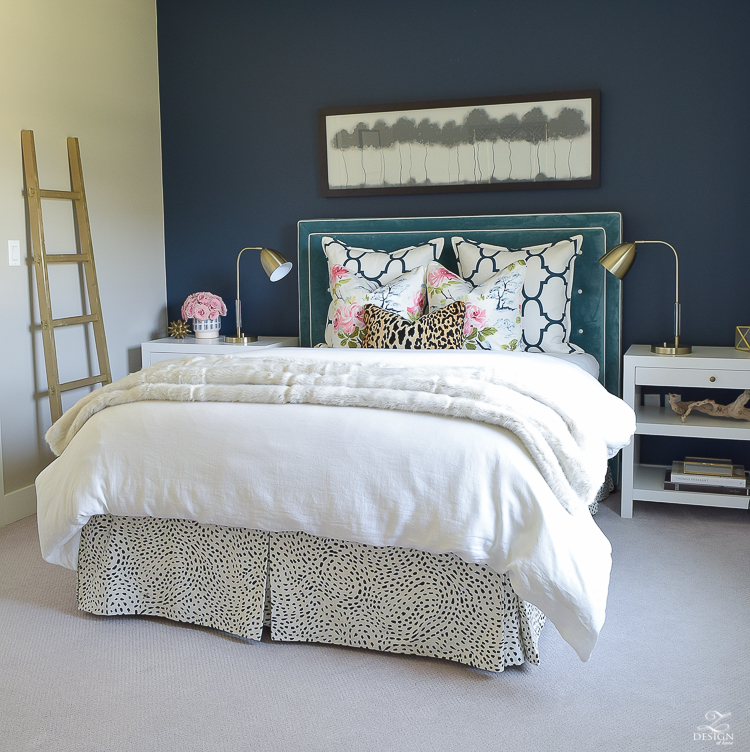 Tonic Living products mentioned in this post:
Similar Furniture & Lighting Options:

Frames & Similar Accessory Options:

Similar Mirror Options:

Navy Wall Color: Gentleman's Gray by Benjamin Moore
Light Gray Wall Color: Colonnade Gray by Sherwin Williams
*For a comprehensive list of ready to shop resources for this entire room please click HERE.
*This post contains affiliate links and where an item is no longer available a similar item may have been linked
*This post was done in partnership with Tonic Living however all opinions are my own