Happy Fall for real, friends!  Now that we are past the official date of the beginning of fall I'm beginning to feel a little more like decorating for fall, even though the temps are still somewhat high here in Houston.  I'm finally pulling out and adding some chunky wovens for fall that I can't wait to share with you today!
This post was sponsored by Walmart, a brand I love, and contains affiliate links.  Please read my full disclosure policy here.
I honestly feel like I'm the queen of rug swapping but the truth is, I like for our most lived in spaces to feel appropriate for the season.  The rug in my living room previously was great (and it will make a reappearance next spring) but for now I wanted to bring in something a little warmer and cozier for fall – enter this chunky, woven rug.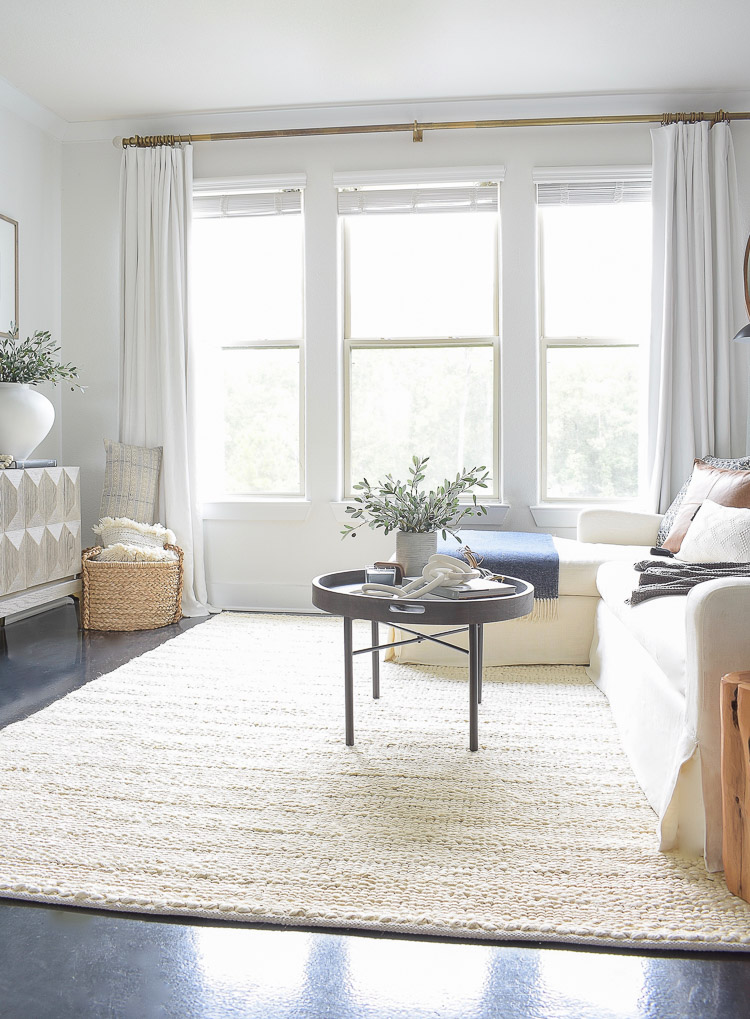 Love so much how the texture brings so much warmth and life to the space.  And I love that it will create a neutral back drop for my Christmas decor that is just right around the corner (can't even believe I'm saying that already – YIKES!).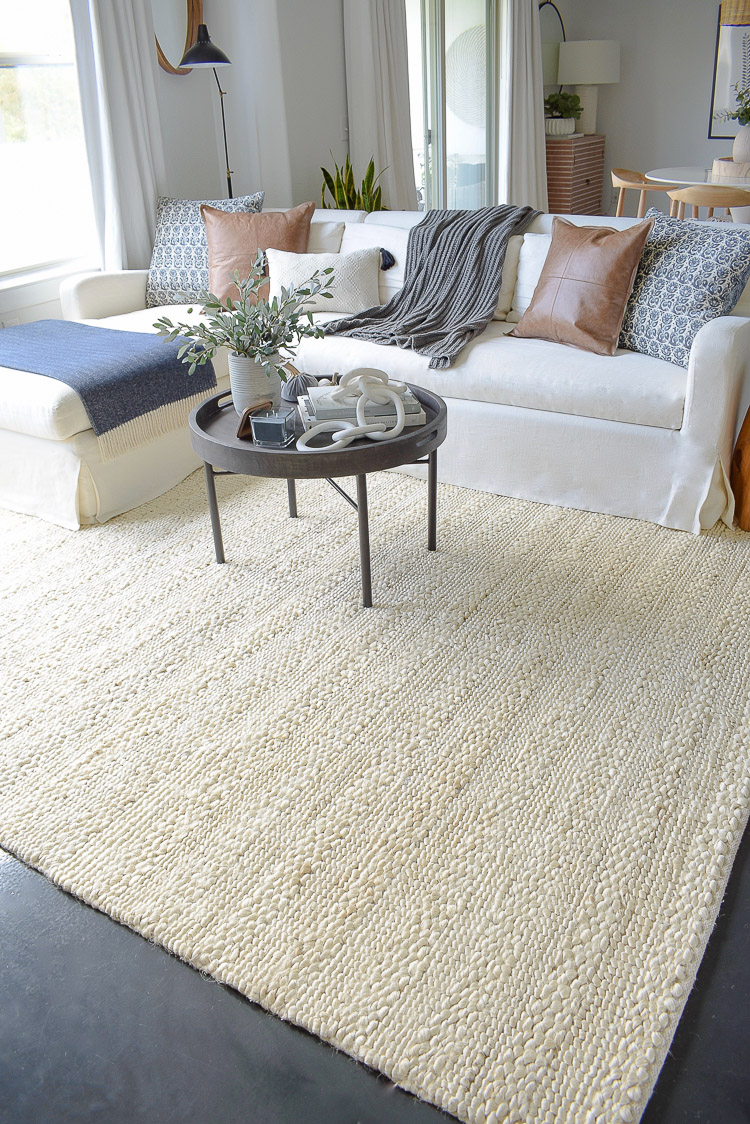 The great texture and pattern, where the chunkiness alternates in wide stripes from somewhat chunky to very chunky, adds so much interest to the space.  It has given our living room a whole new look overnight and it was only $270 for an 8×10, which is so amazing!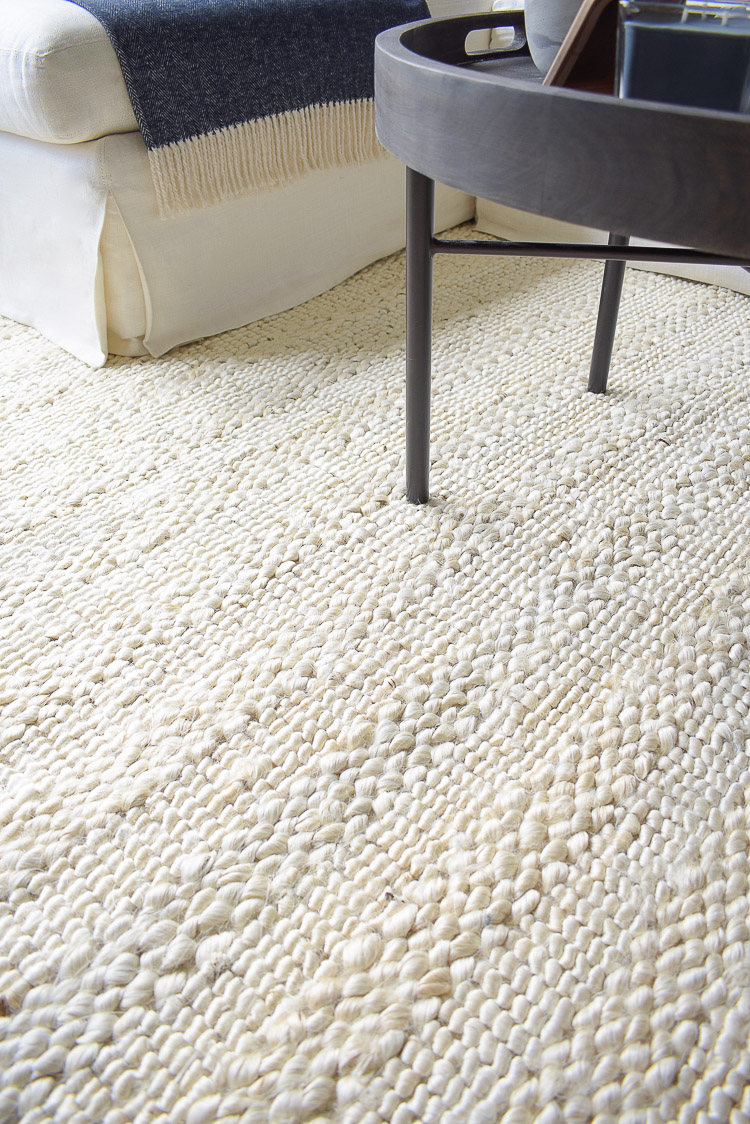 Again, love the interest created by the alternating stripes.  When decorating with neutrals, texture and movement are always so important so that things don't get boring and fall flat.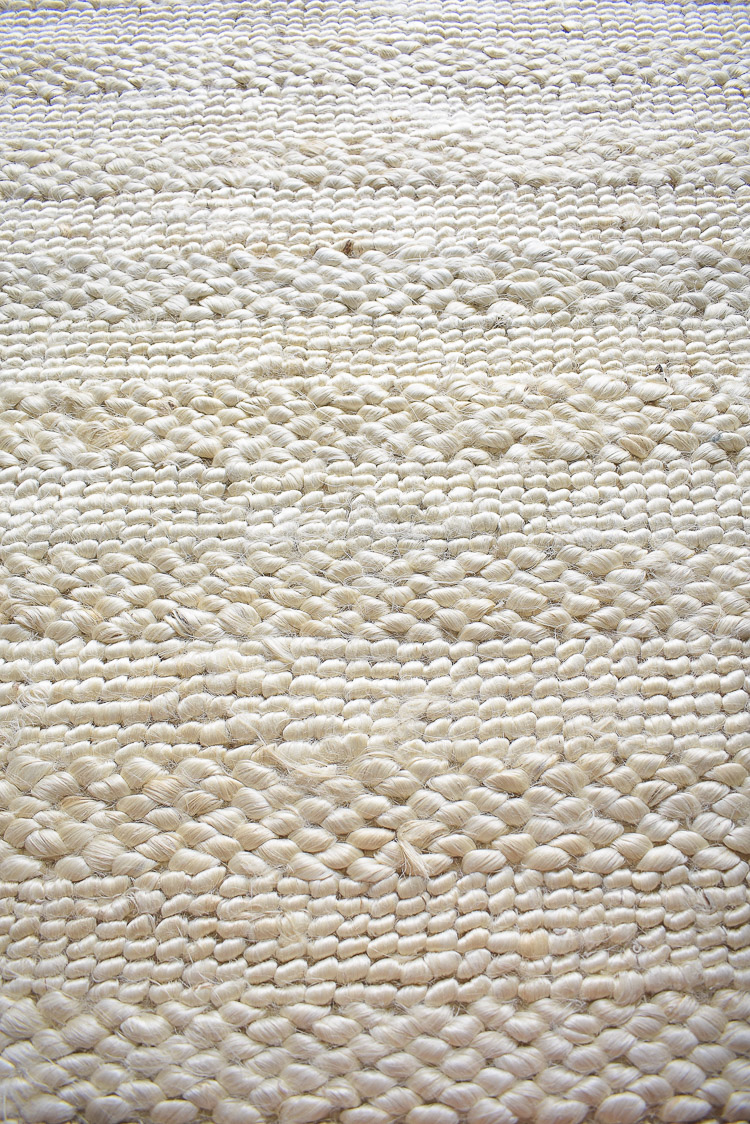 I also love that I can purchase anything for my fall home from Walmart with free shipping over $35 (and return to any store if need be).  I also love that I can now get anything and I mean anything from Walmart for our personal needs – for example, I just ordered a plethora of makeup from Walmart just yesterday that will arrive very soon.  I find that most items arrive within 2-3 days, if not sooner!
Additionally I added this super soft chenille throw blanket that comes in several colors. Love how chunky it is and how it instantly makes my white linen sofa feel much more like fall – again, yay to chunky wovens for fall!!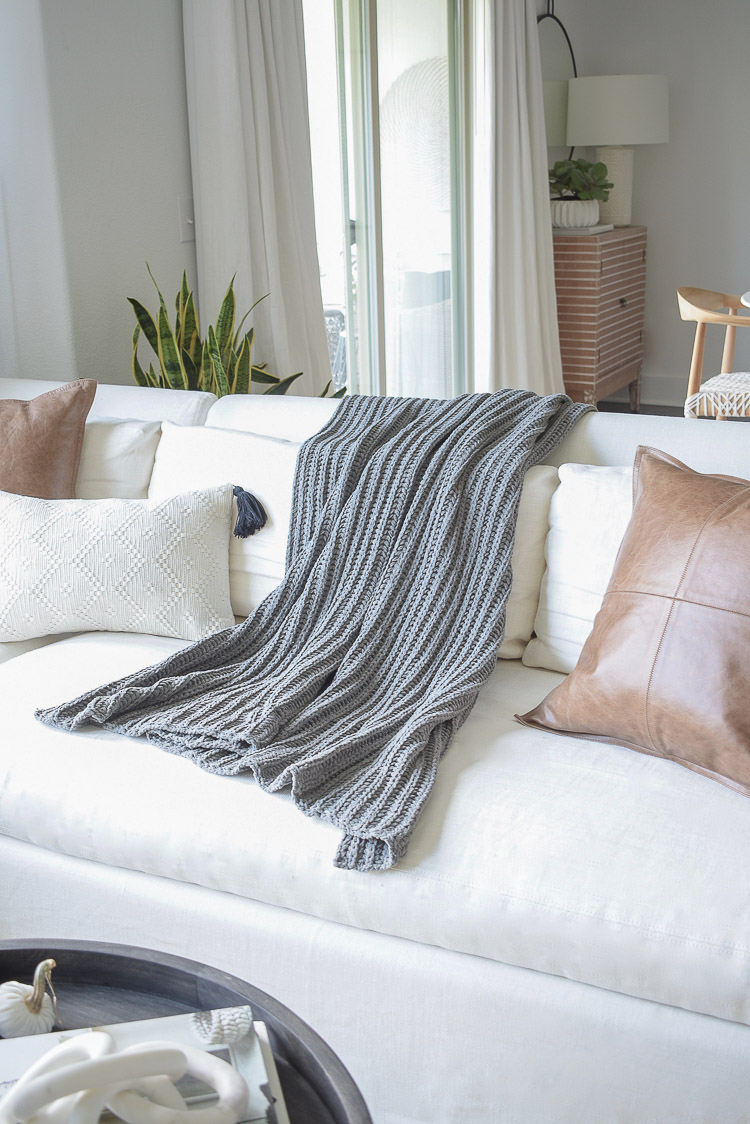 I also love it next to my recent favorite pillow find from Walmart – the textured white pillow with black tassels.  The quality in both of these pieces is truly great and both make my living room so cozy and inviting for fall!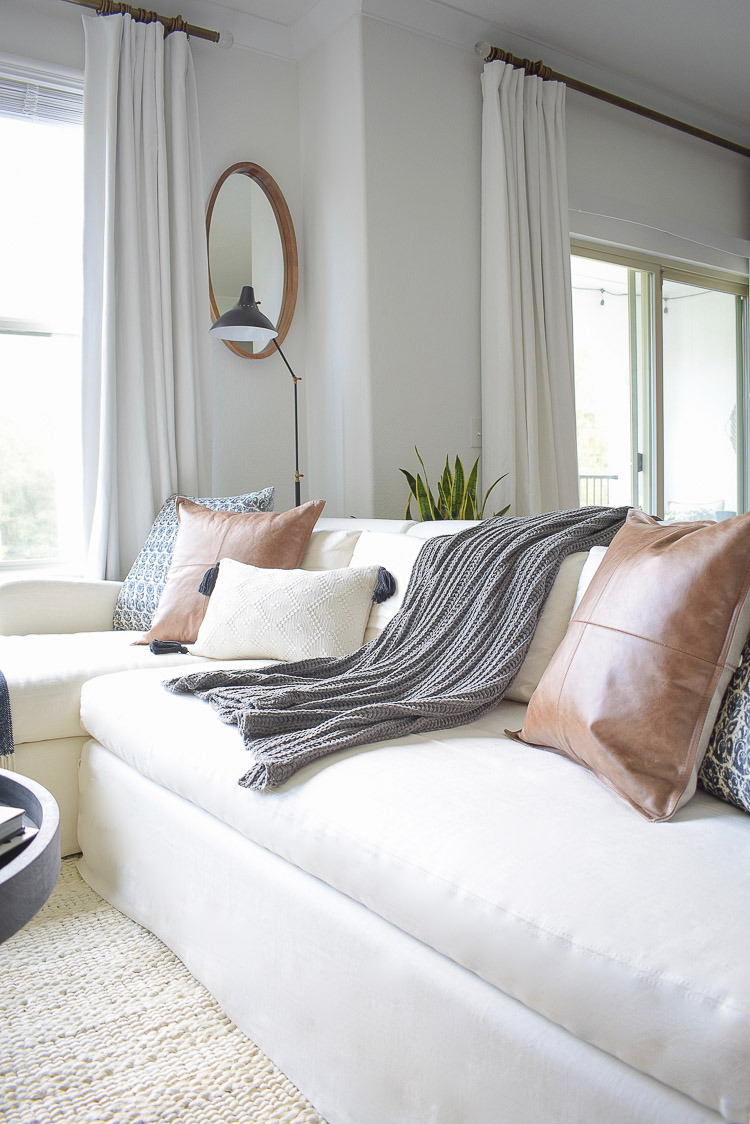 And in case you missed it in my 1st fall living room tour, I'm also using this throw that I already had from Walmart.  I'm using it in a different color on the patio as well – you can see my recent fall patio tour here if you missed that just last week.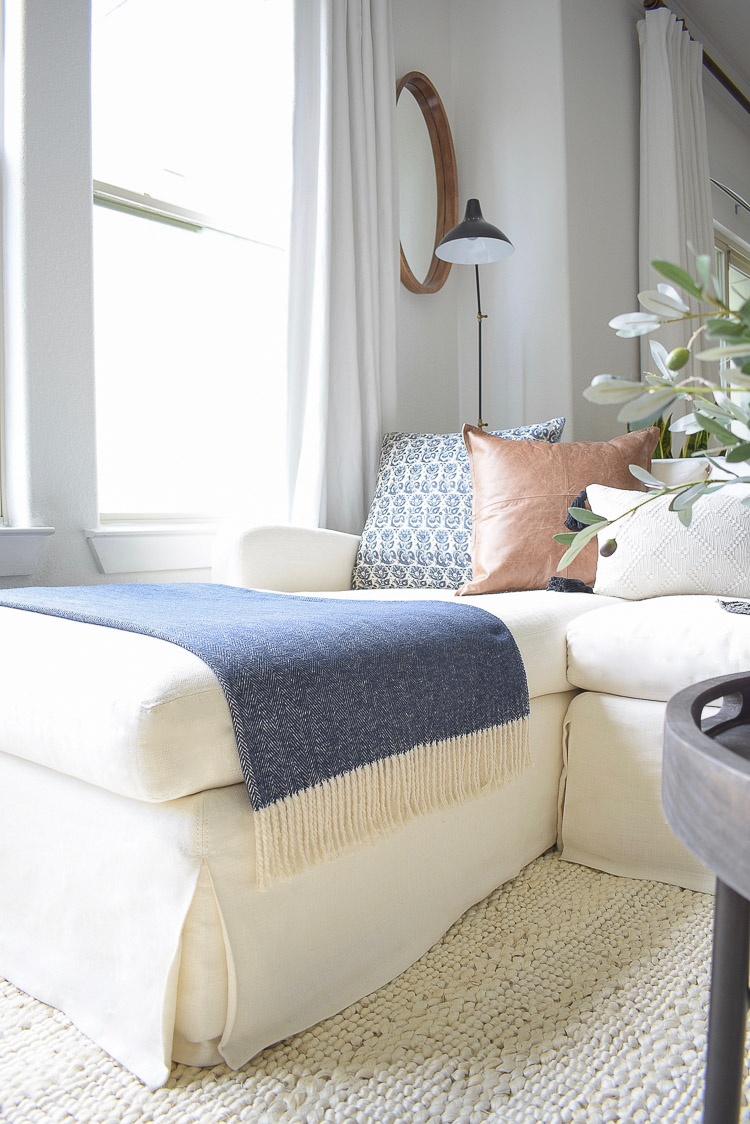 And of course candles – I haven't even had the opportunity to light this one yet but the scent is amazing in our home just from leaving the top off.  Love the dark and moody color of it for fall, and the rose gold top.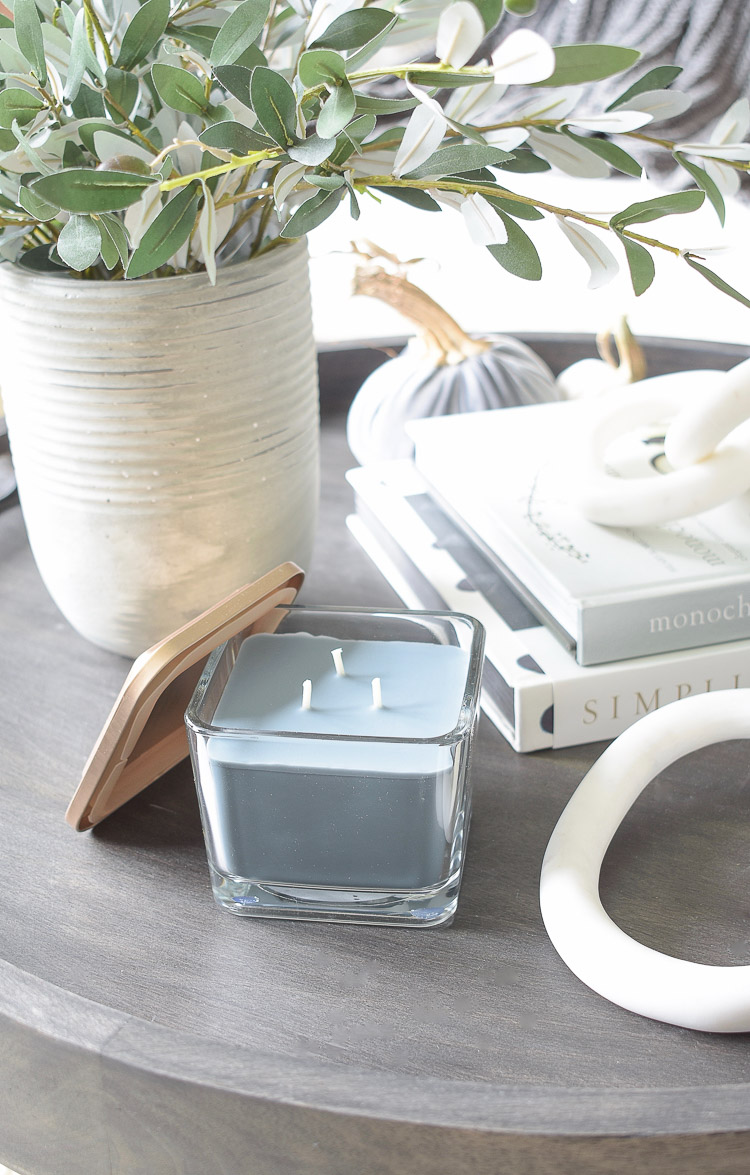 I also moved my cement vase to the living room for a few more dark accents and texture in here for fall.  All things cement and concrete in home decor are so on trend right now and I love how much use I'm getting out of this cement vase.  I used a great faux cement planter in my fall patio here just incase you haven't seen it yet.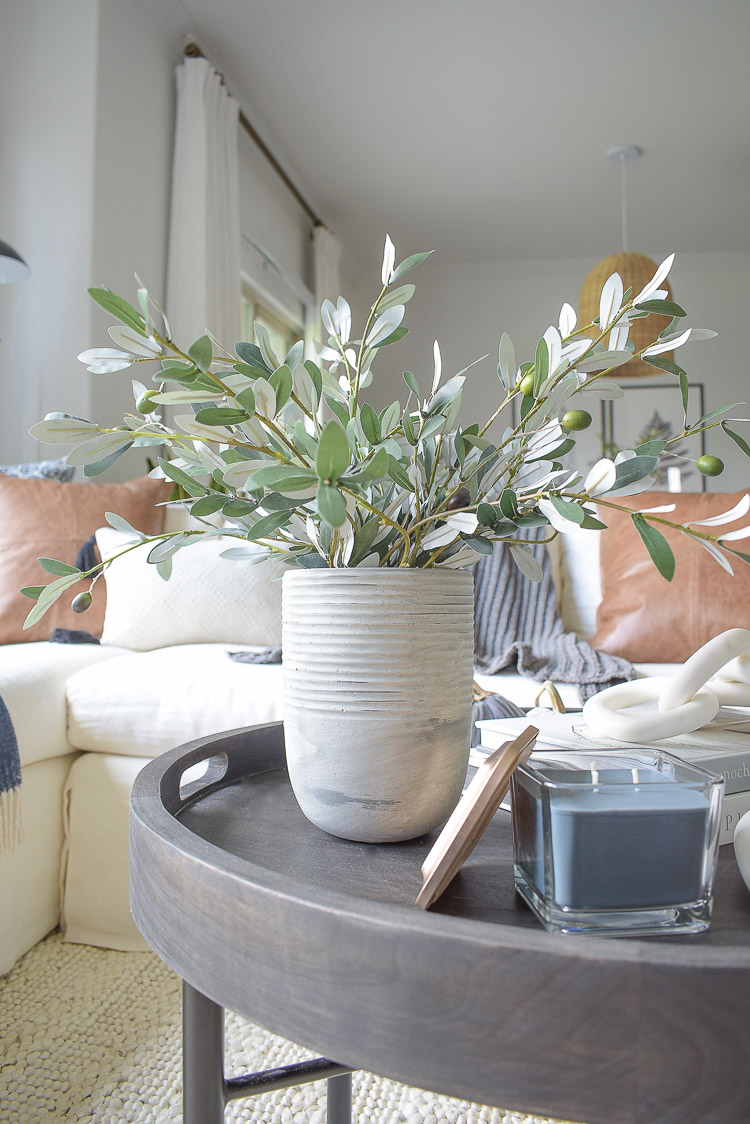 And yes, I even added some pumpkins for fall – can you believe it, haha!  Love them!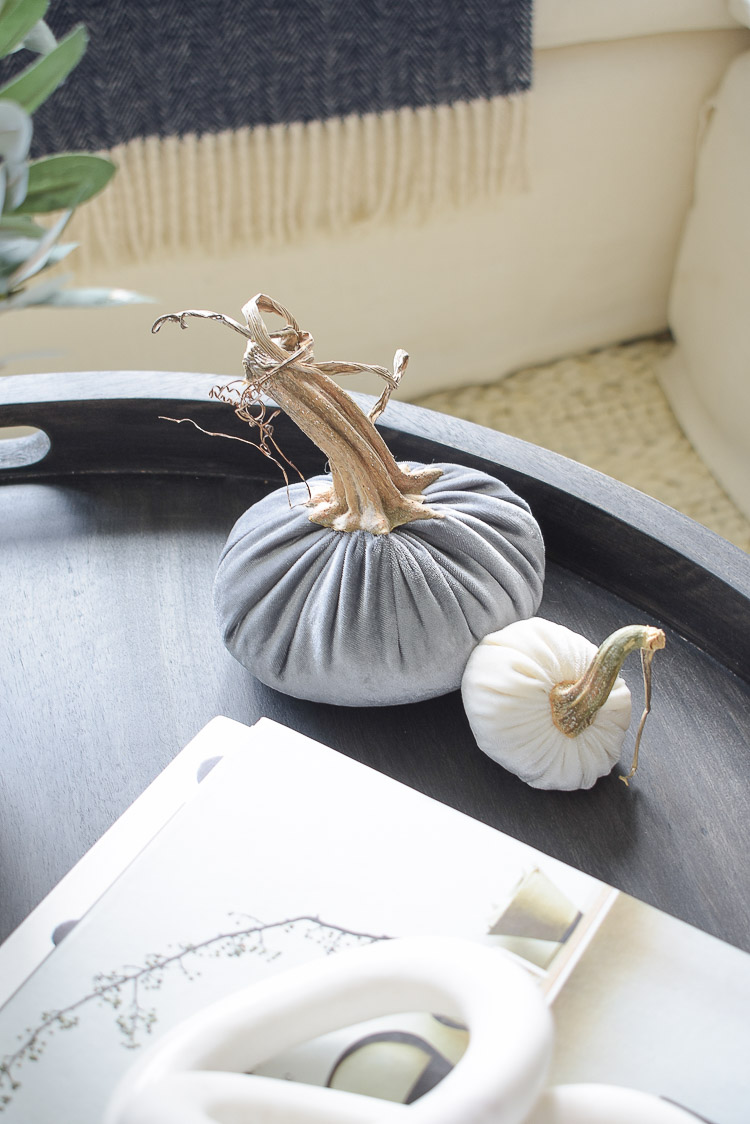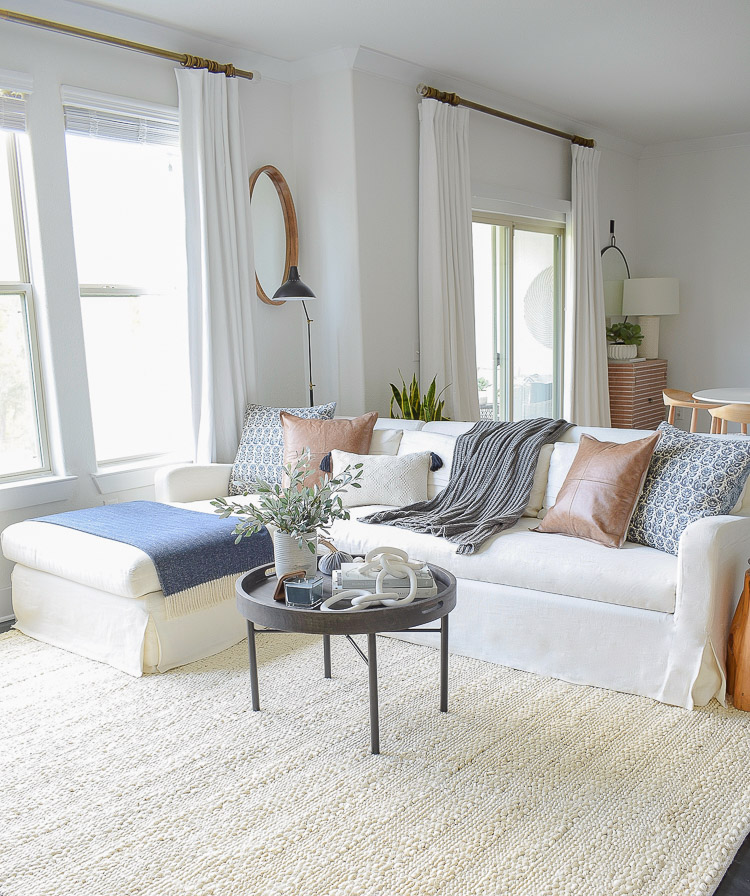 One last chunky woven item I added to make my space feel more like fall is this basket.  What I love so much about this basket first is that it looks very similar to a much more expensive one out there on the market, but at l/3 the price.  Love the braided handles and I love to use baskets all fall and winter long for extra throws and pillow storage.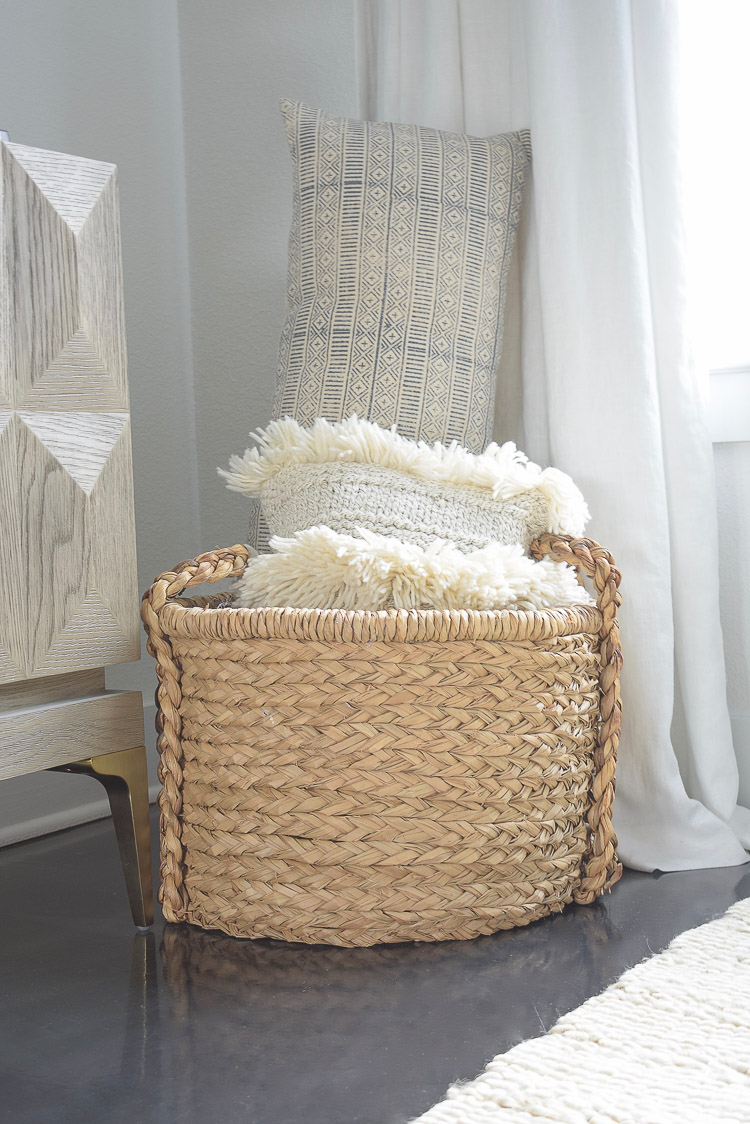 Love, love, love the braided handle!!!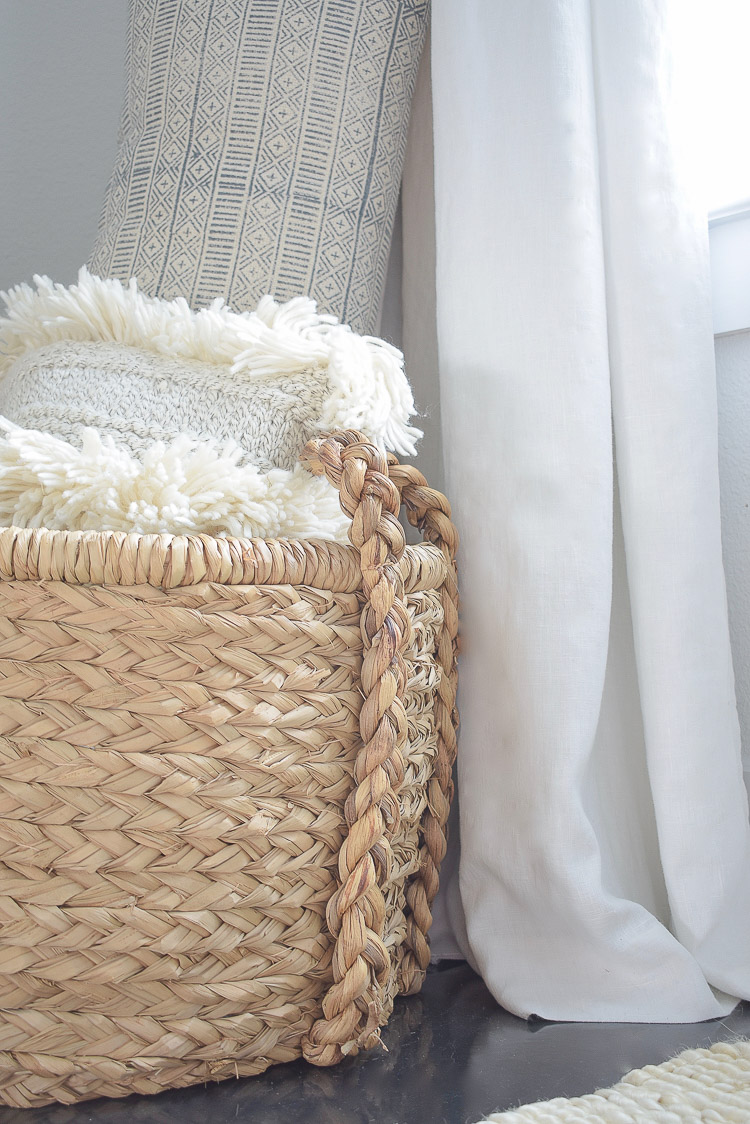 I hope you've enjoyed the fall updates in our living room now that things are feeling more like fall around here.  Chunky wovens for fall are always what makes the season feel authentic in decor around here and I'm so happy you stopped by.  Check out this gorgeous rug one more time – it's truly stunning, and great quality.  I also love how thick and soft it is (and no shedding)!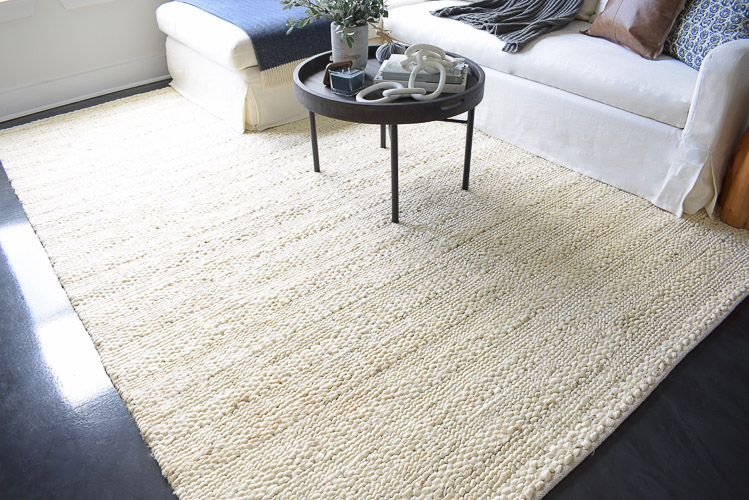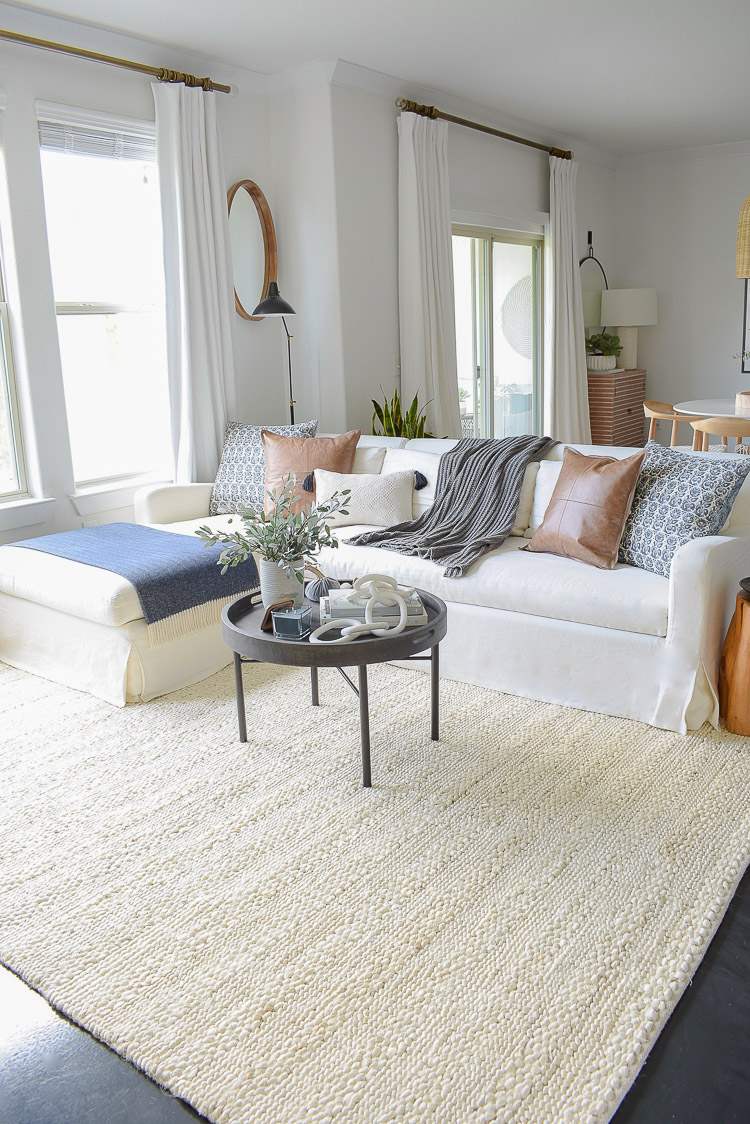 Shop My Favorites Chunky Wovens & More For Fall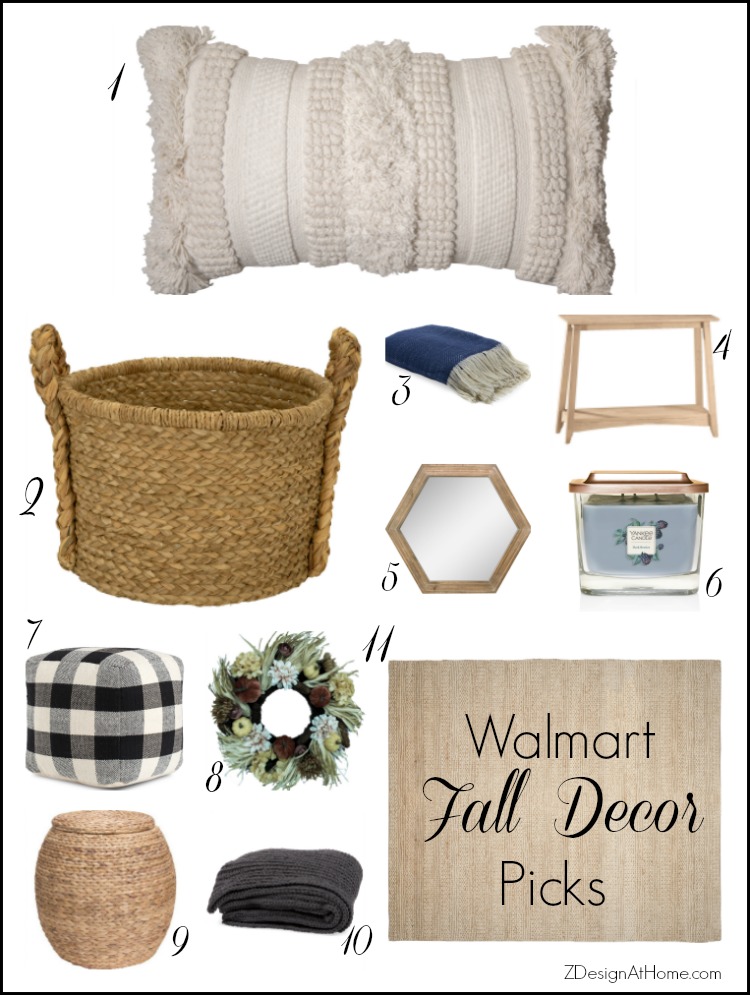 1 | 2 | 3 | 4 | 5 | 6 | 7 | 8 | 9 | 10 | 11

Let's stay connected…
Pinterest | Facebook | Instagram | Twitter