12 Bloggers of Christmas with Balsam Hill – A Mixed-Metal Christmas Tree
Hi friends!  Christmas is finally starting to make an appearance around our home and we are all absolutely loving the beautiful new evening glow with our mixed metal Christmas tree this year.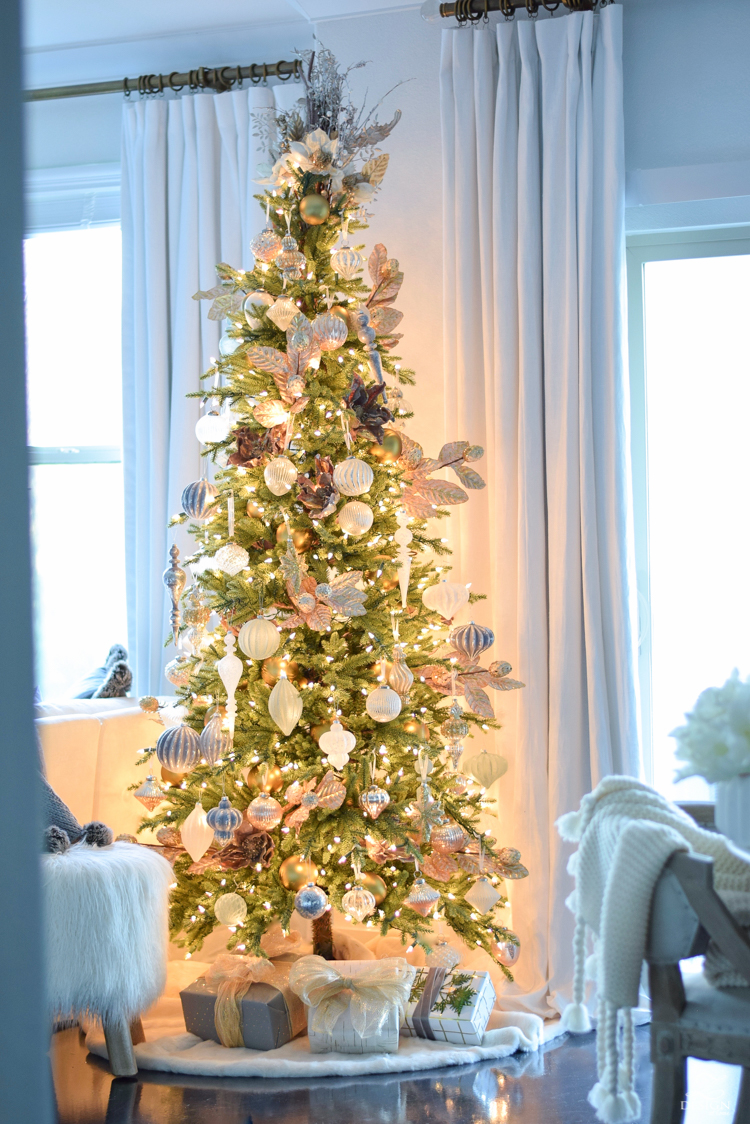 You see, this year is extra special because we recently found out all of our belongings in storage in Houston were badly damaged during the hurricane late summer (Harvey, some of you may remember him) and this is why I am super excited and thankful to be partnering with Balsam Hill for this post, 12 bloggers of Christmas, to begin restocking our Christmas decor!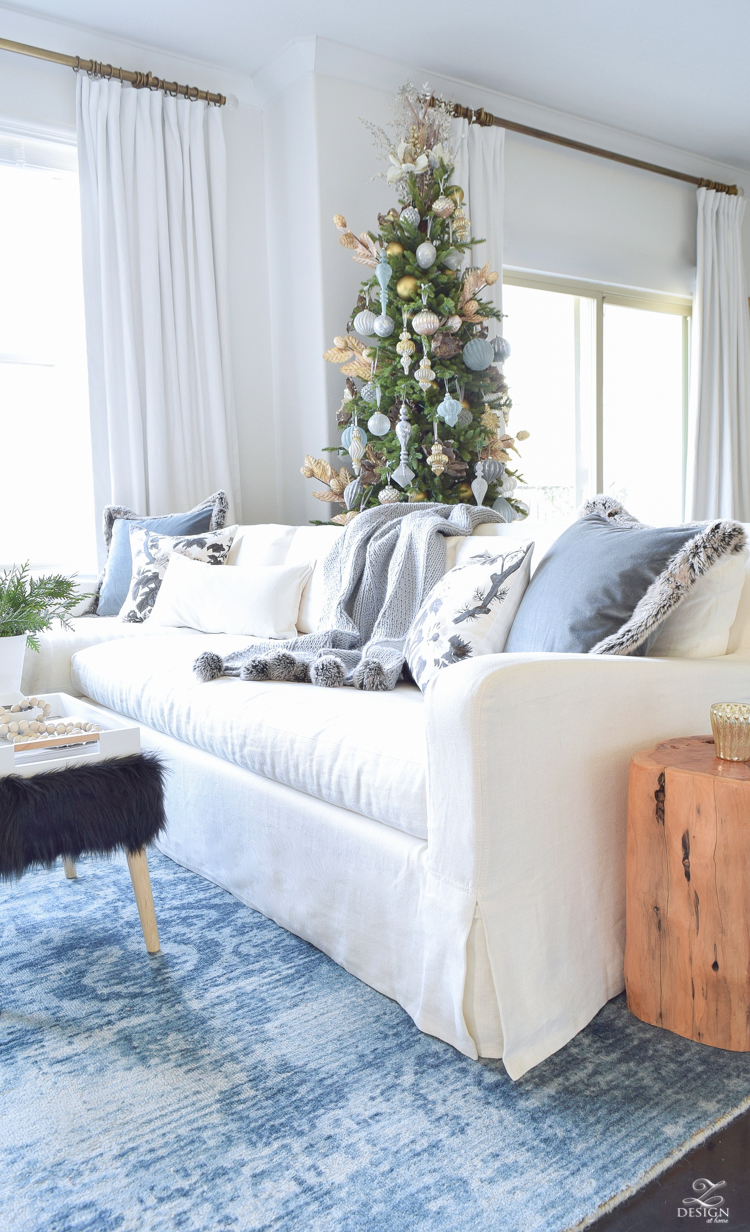 We are currently living in approximately 1500 square feet of space while we build our dream home (you can get caught up on that later here) so we are starting from the ground up and needed a nice, slim tree for our small space plus lots of beautiful ornaments and picks to create our mixed metal tree theme this year.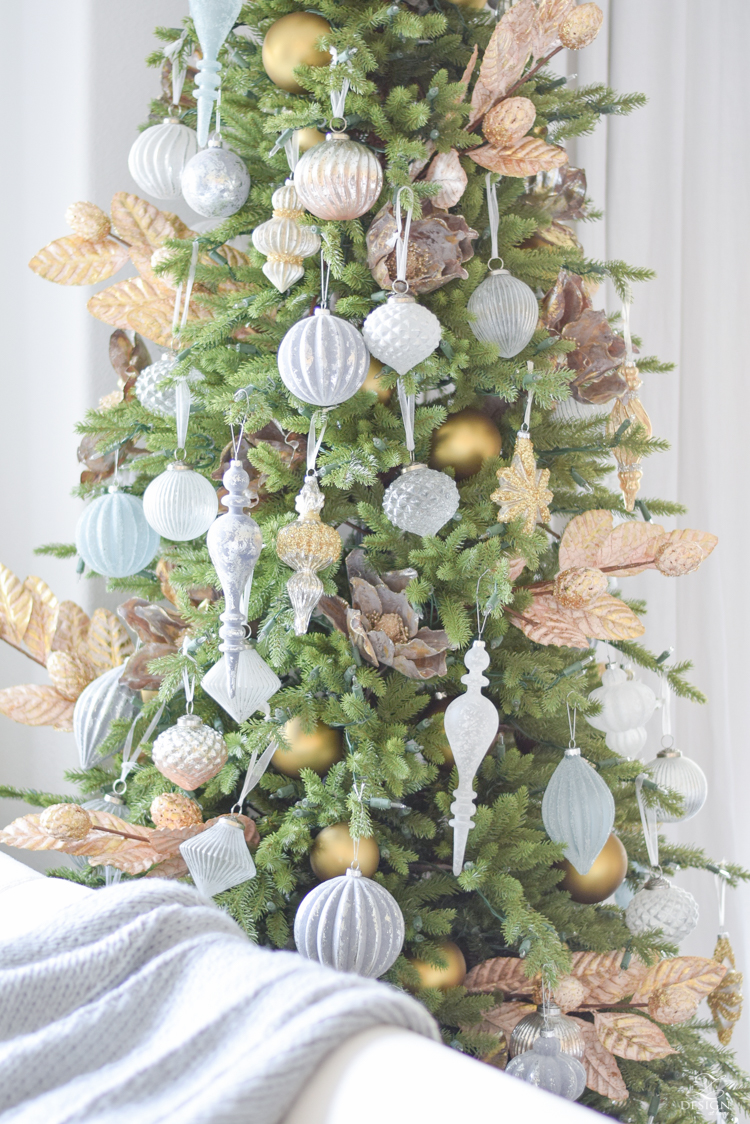 Speaking of nice, I have always dreamed of having a really nice tree like this but my husband and I were both truly amazed at the beauty and quality of this tree when it arrived.  It is so authentic looking and it's irregular shape makes it perfectly imperfect.  If you are in need of a slim tree, this Red Spruce Slim Tree is definitely a beauty to behold!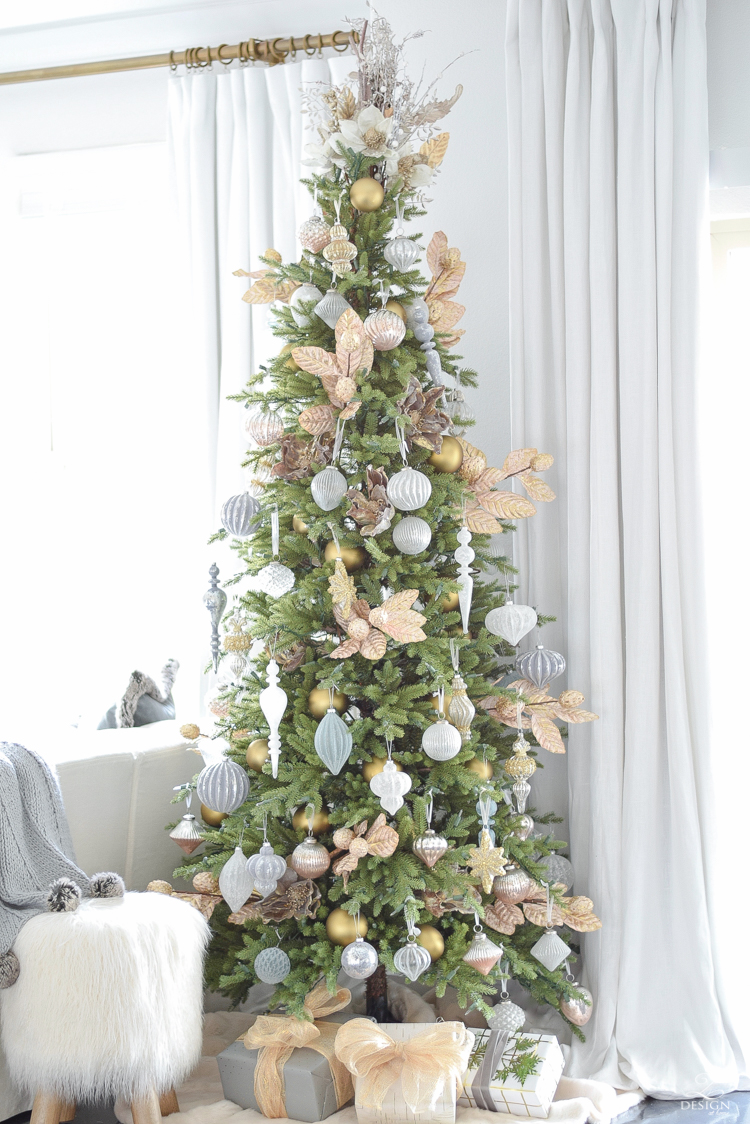 Another thing I really love about this tree is that it comes in several heights (mine is the 7 1/2′ since our apartment ceilings are 9ft) and next year when we are in our new home with higher ceilings I can grab two more of the same tree in varying heights to create a trio of trees that will make an amazing statement in our living room – I'm getting giddy already for next Christmas just thinking about it!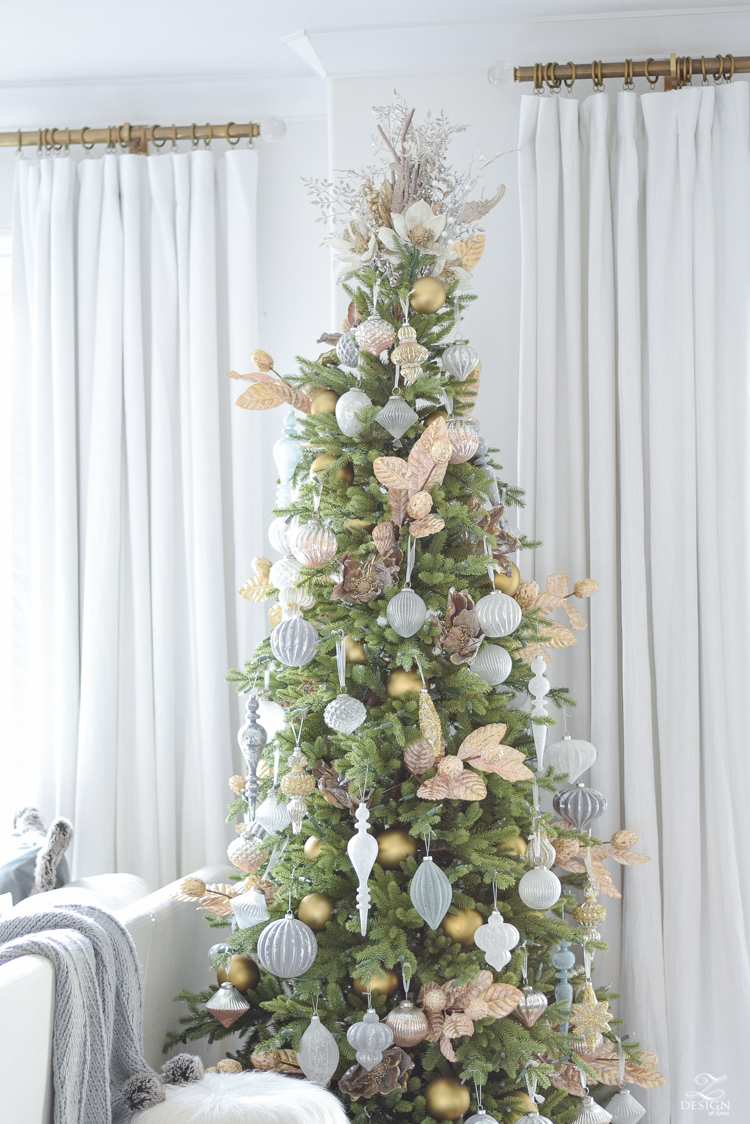 Another fun thing I started my Christmas decor collection off with is this Lodge Faux Fur Tree Skirt.  It's super luxurious and comes in four diameters and three colors.  It will be hard to resist using this one on the couch for a snuggle blanket and I'm sure our sweet pup, Gracie will find her way onto here at some point as well:)!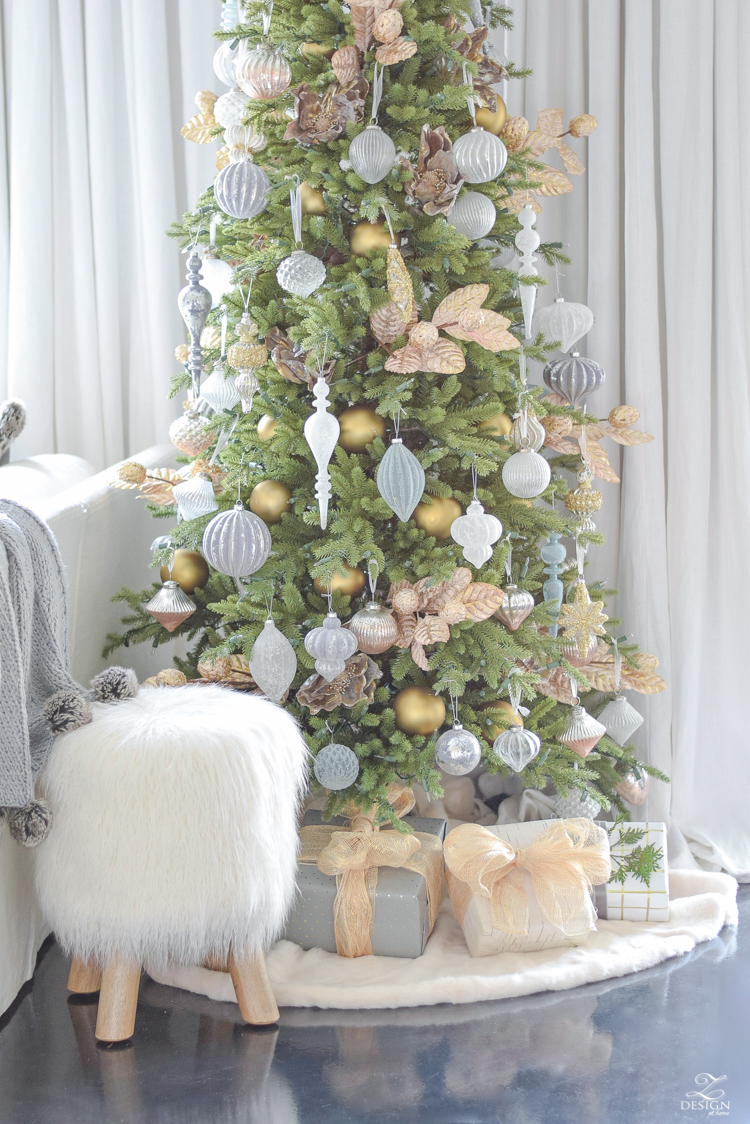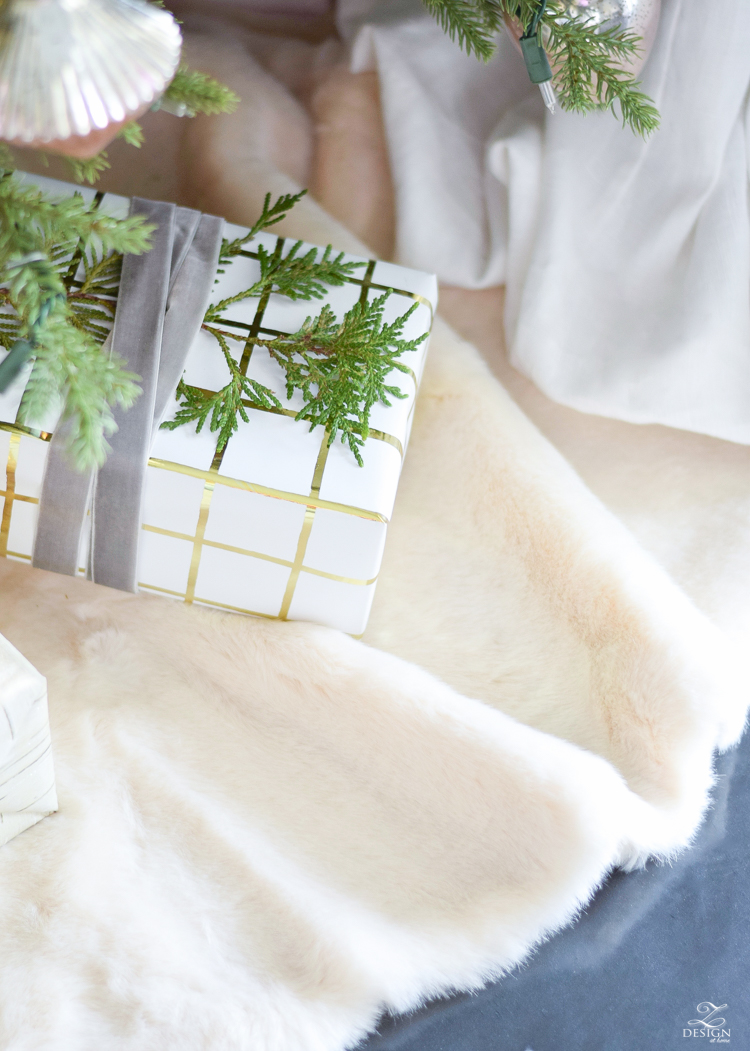 Also chose this flexible woven decorating ribbon in gold that can be used on your tree or on packages like I used it here.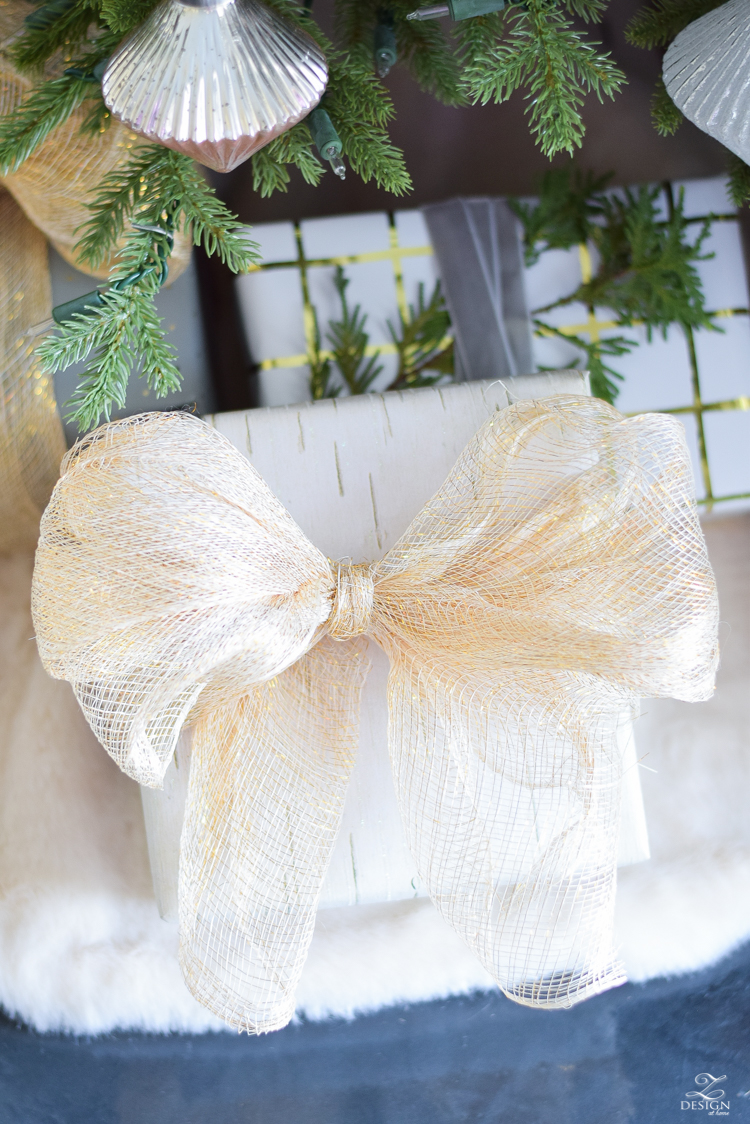 I chose a mixture of ornaments and picks to create an eclectic mixed metal tree that is interesting and beautiful all at the same time.  My favorite thing on the tree I think are these silver and gold leaves picks.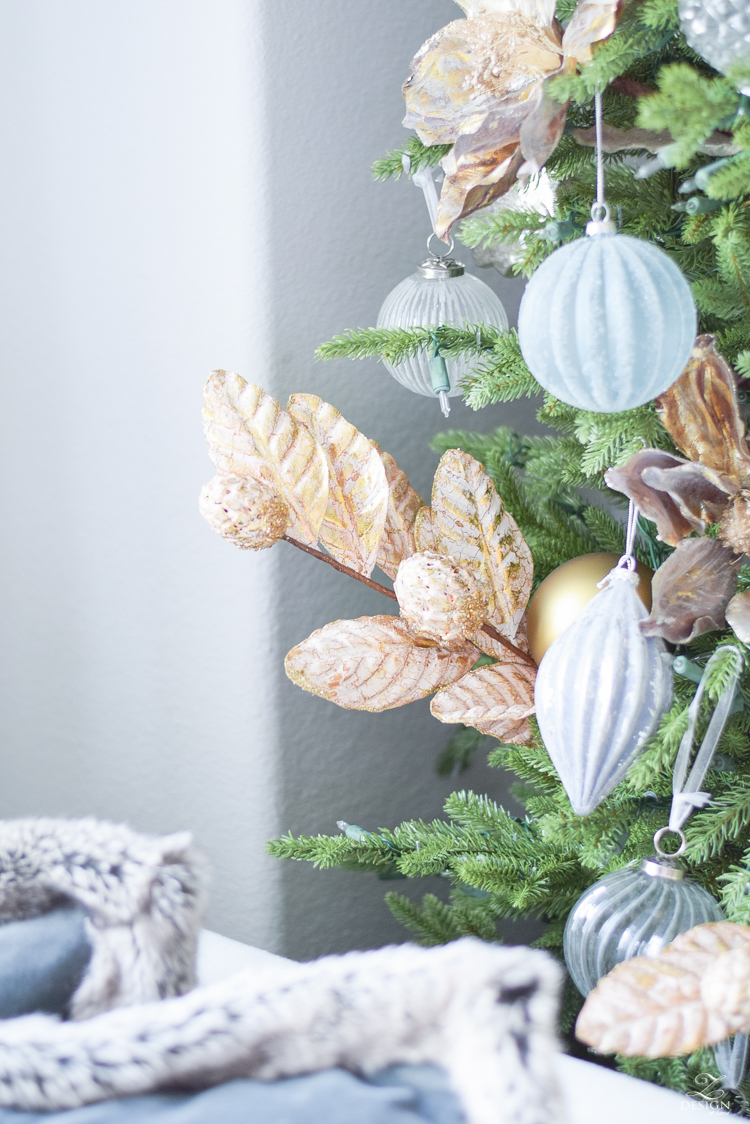 And then of course all of the beautiful ornaments were chosen in a combo of gold and silver to create a mixed metal theme (see full source list at the bottom of this post).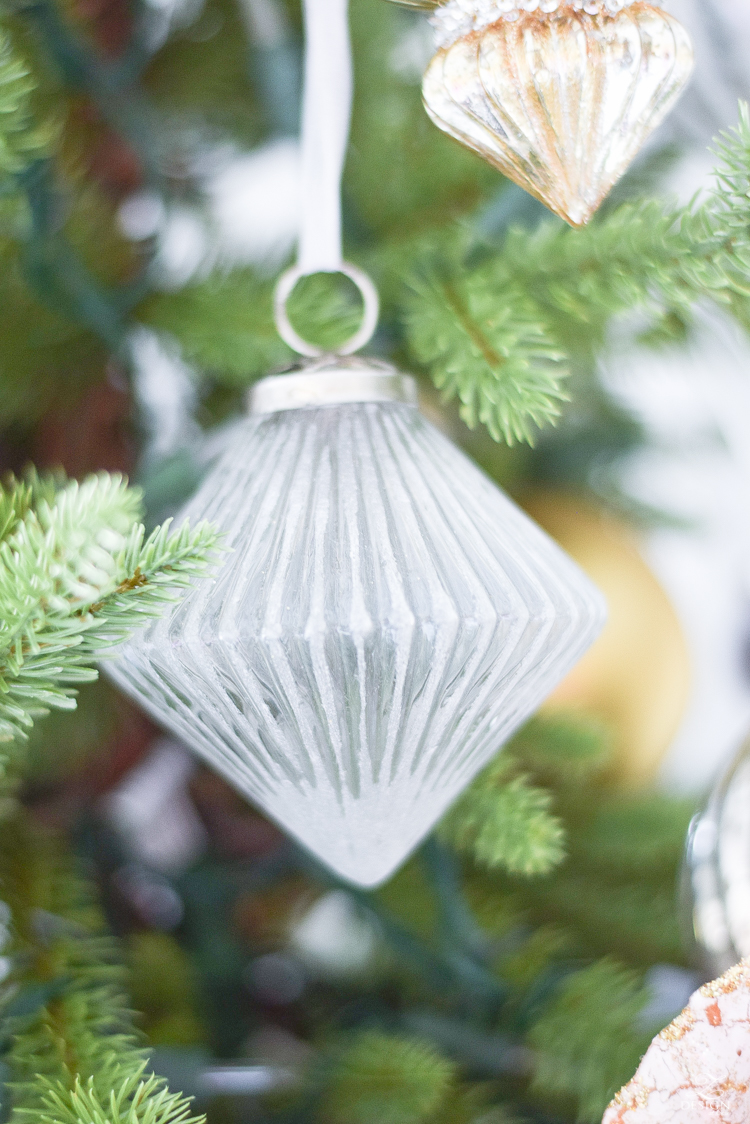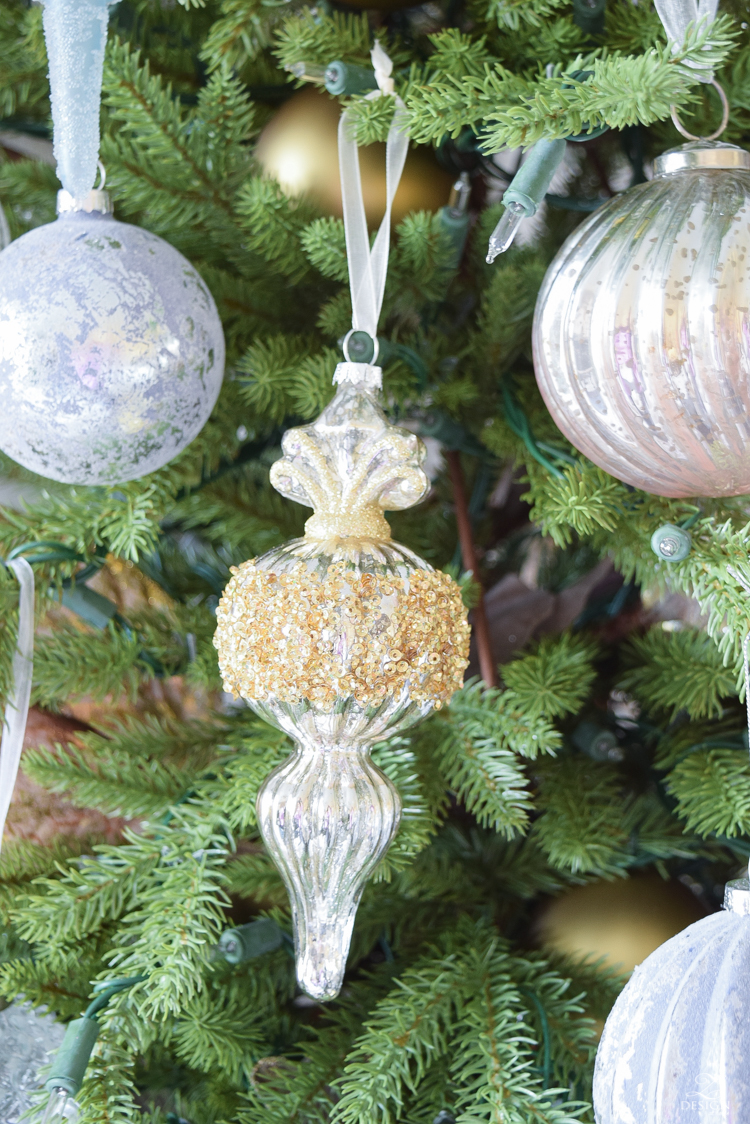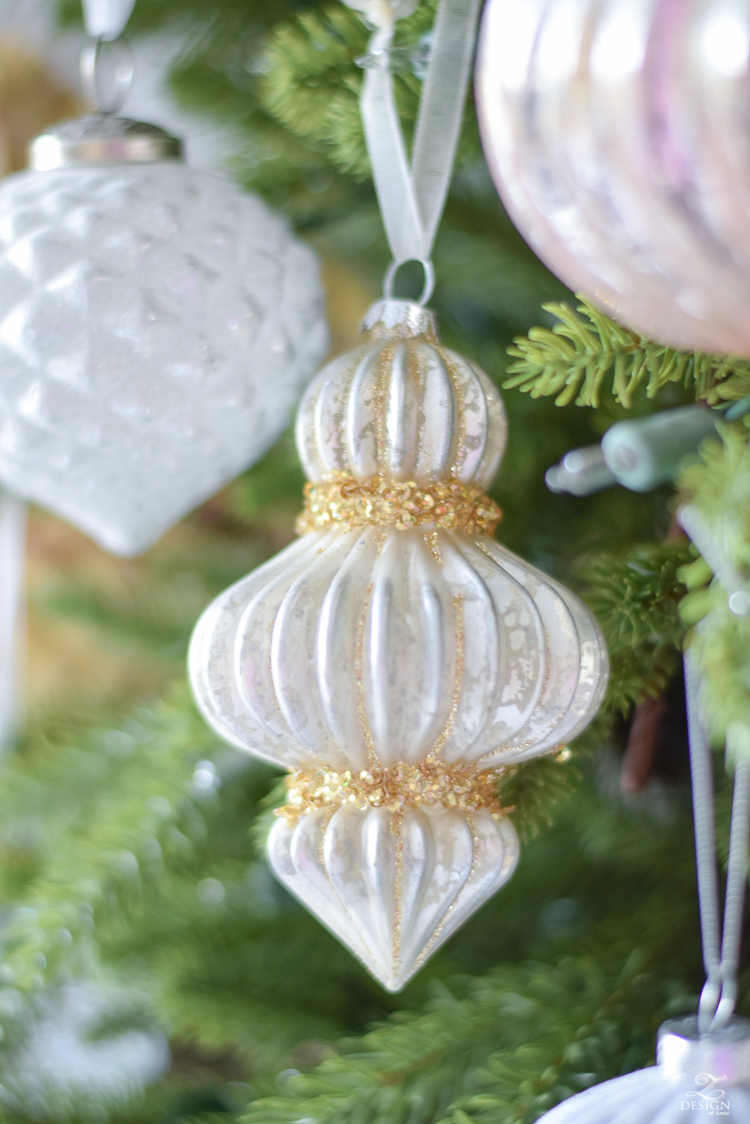 These French Country ornaments in Ombre are a personal favorite as well!  They have a beautiful pink tint from the bottom up.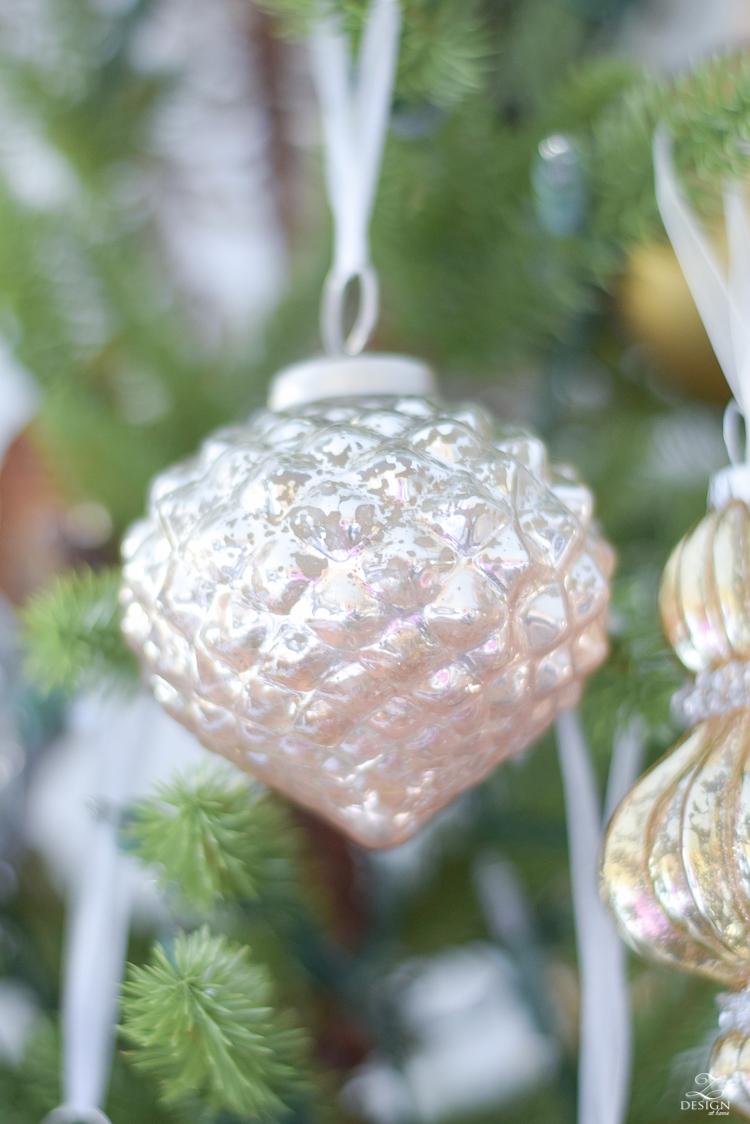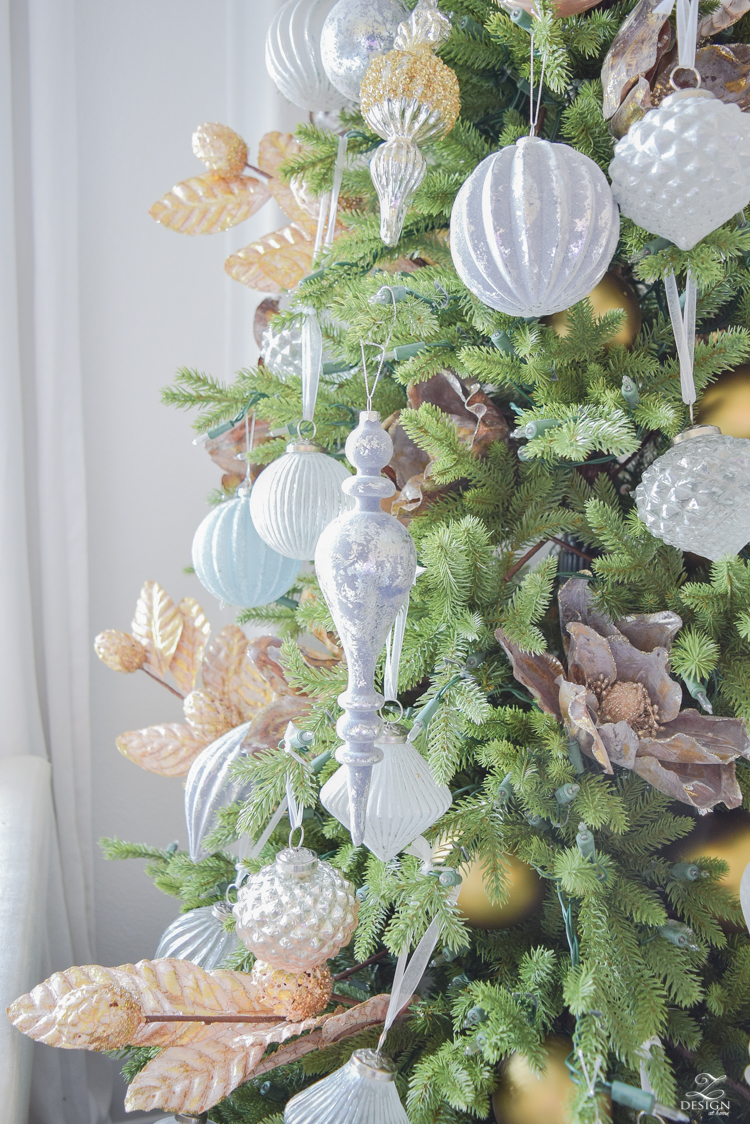 I also chose this neutral Christmas bouquet tree topper.  In the past I've always just used single picks to make a topper (which usually turned out to be a disaster, btw) so this spray was great for that perfect topper look!  It also has a mix of silver and gold that work well with my theme this year.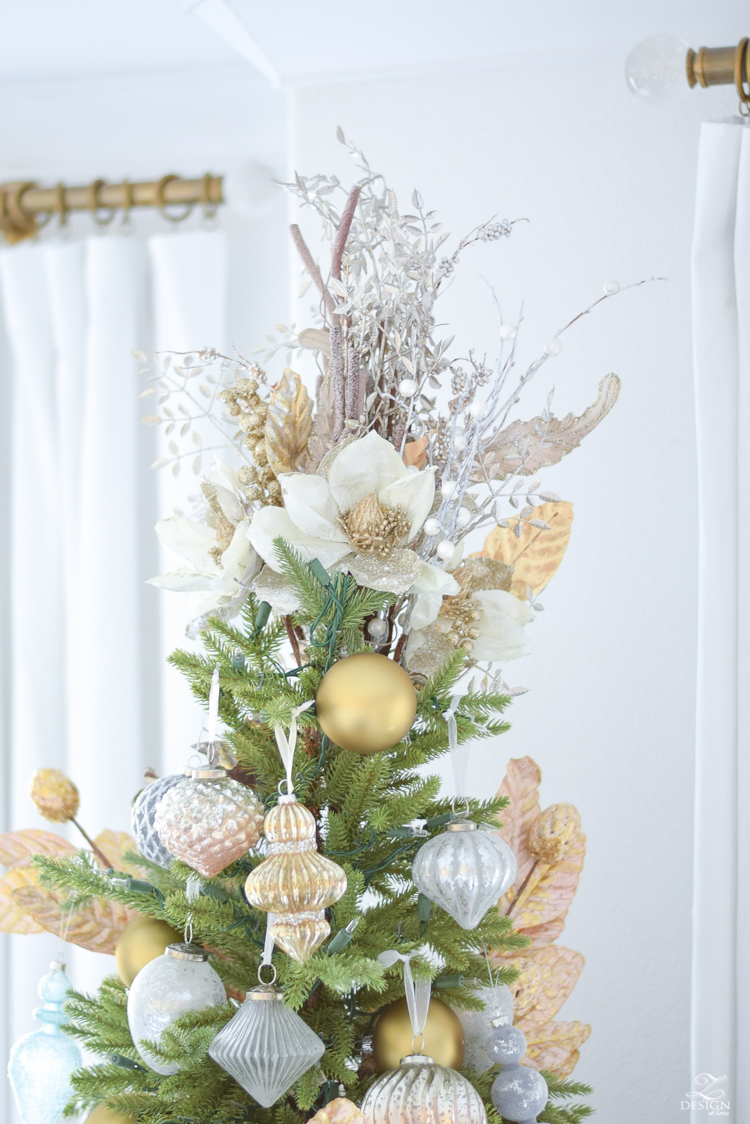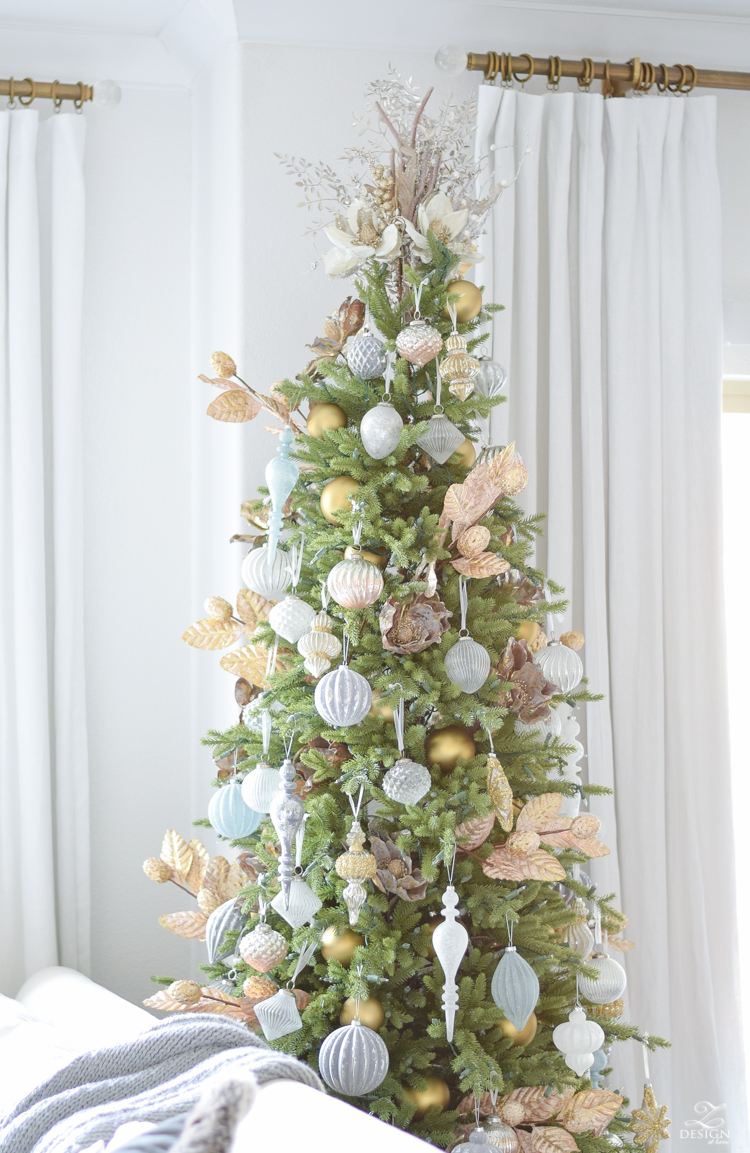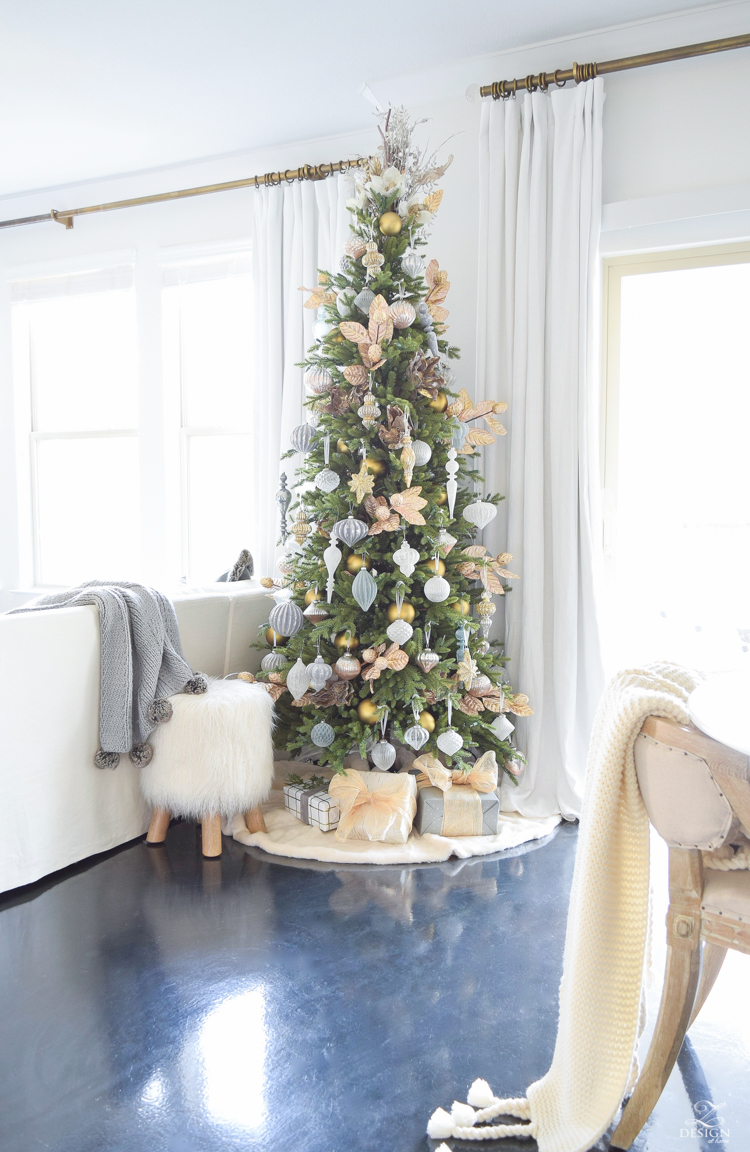 One thing I really like to do if I have left over ornaments is to fill a vessel or bowl with those extra pretties.  It helps to tie another area of my home to my tree plus it creates another little Christmas moment for us to enjoy.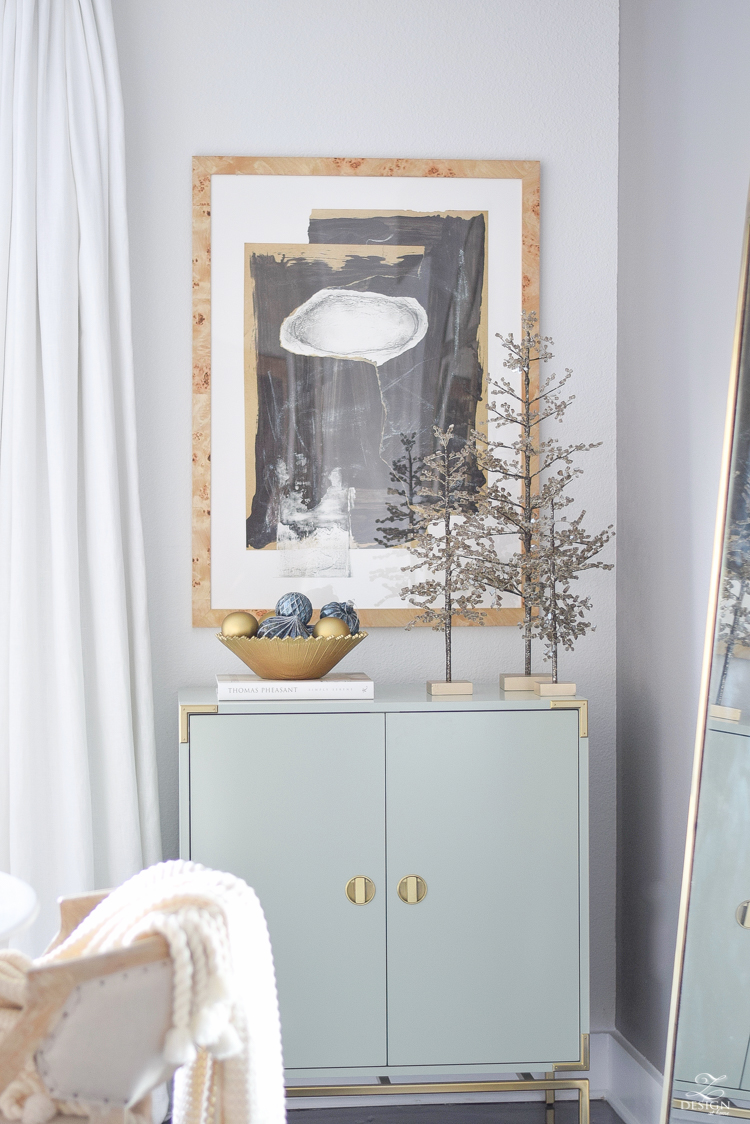 Again, I used gold here and even threw in some blue with hints of silver this time for a pop of color.  These ornaments are a combo of the matte gold and the Midnight Frost Ornaments.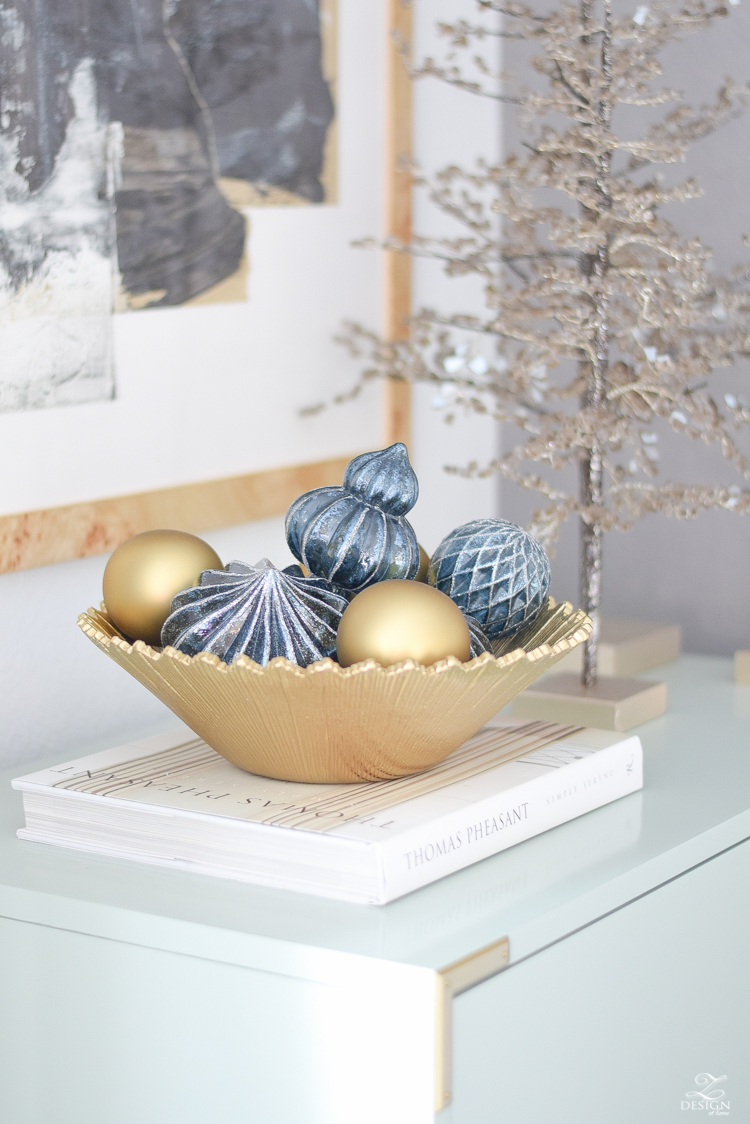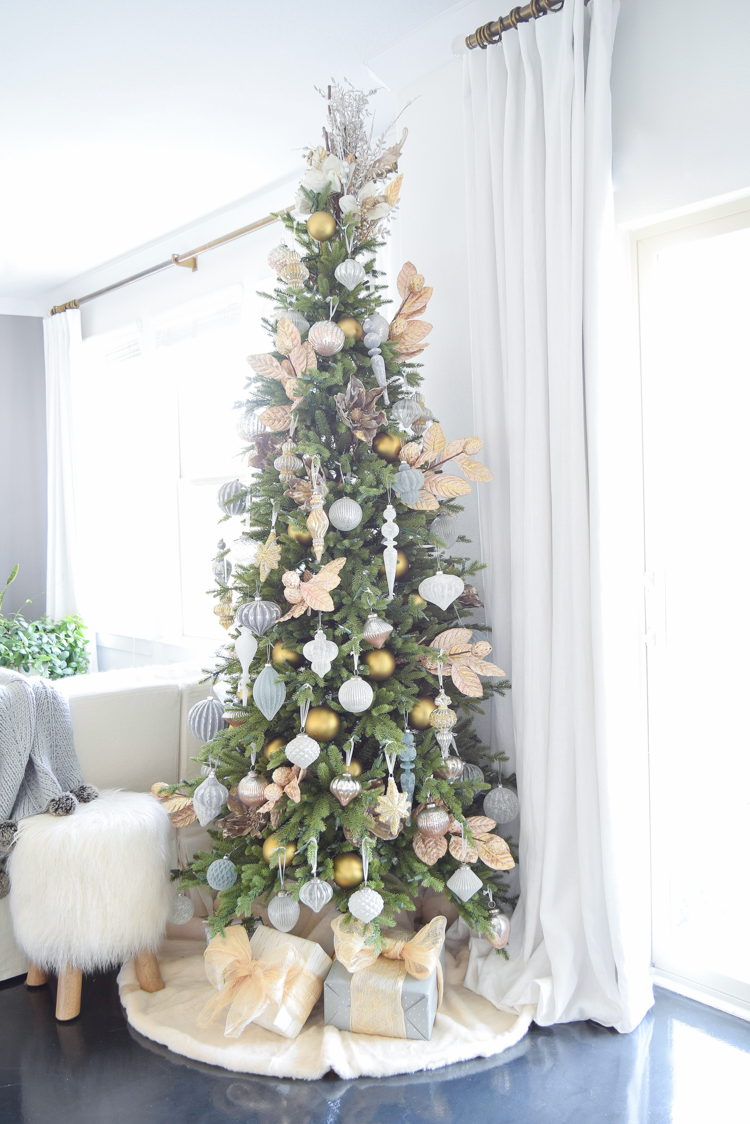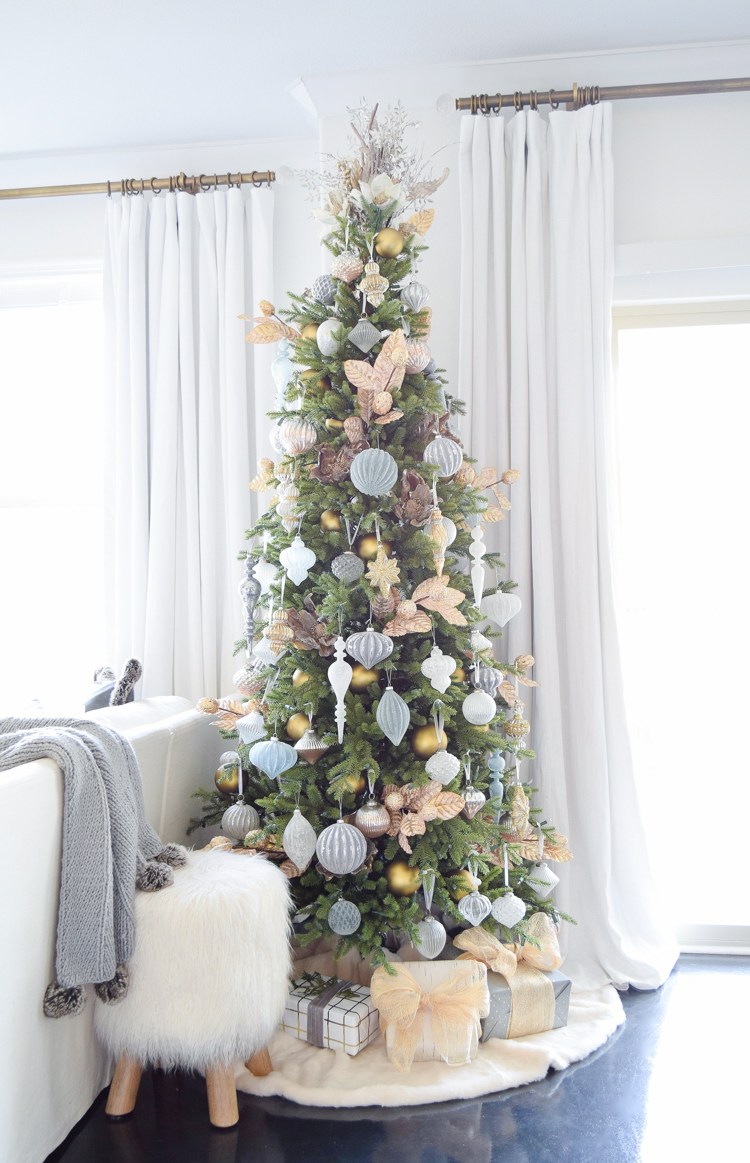 And here are 3 simple Tips for creating your own mixed metal tree this year…
Gather ornaments and picks in silver and gold (or at least a minimum of two metals of your choice).
Use at least one ornament or tree decor item such as a tree topper or picks that have both of your metal choices included (for example, some of my ornaments are both silver and gold and my tree topper is silver and gold).
Decorate to your heart's desire strategically placing your mixed metal ornaments evenly throughout your tree and enjoy!
I hope you've enjoyed the tour, friends!  Please read on below for more information about how you can experience the full tour of the 12 Bloggers of Christmas with Balsam Hill this Christmas season along with a fun BH giveaway!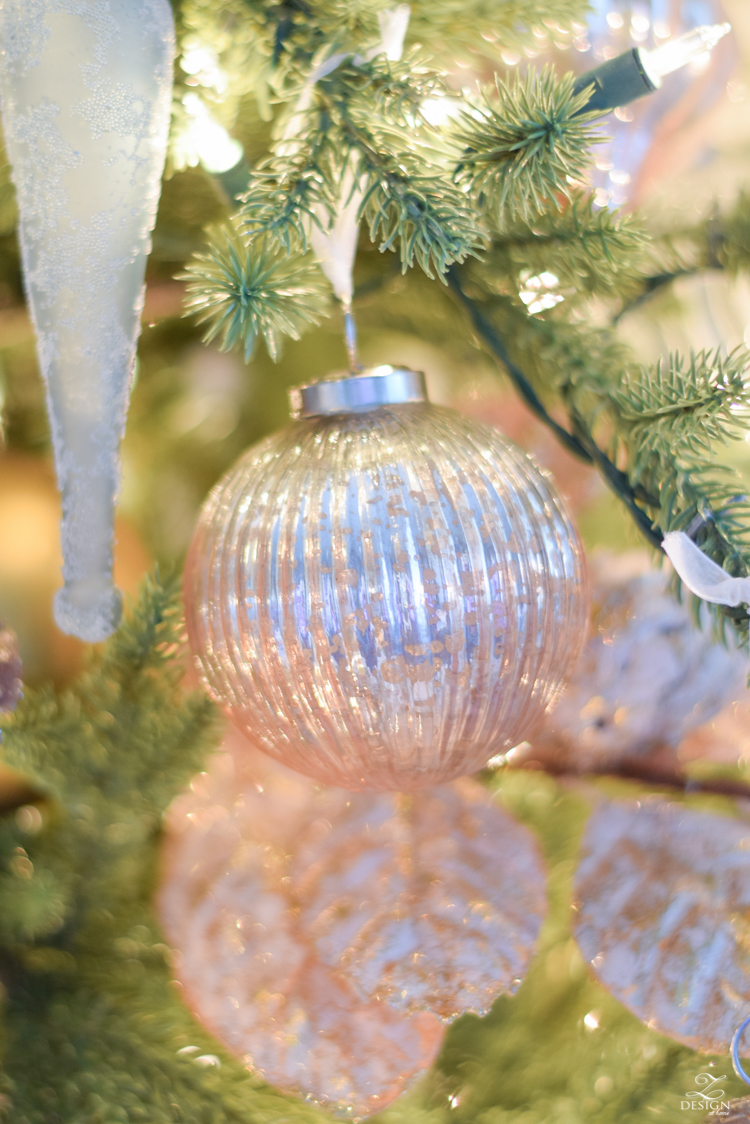 This is only the beginning of this amazing tour, 12 Bloggers of Christmas with Balsam Hill, running November 15th all the way through to November 26th.  Make sure to stay tuned each day for a new blogger added to the tour – here is the BH line up for this year…
You may also want to enter to win Balsam Hill's daily giveaway HERE.  The grand prize is the BH Classic Blue Spruce, and many more items are up for grabs through this fun giveaway!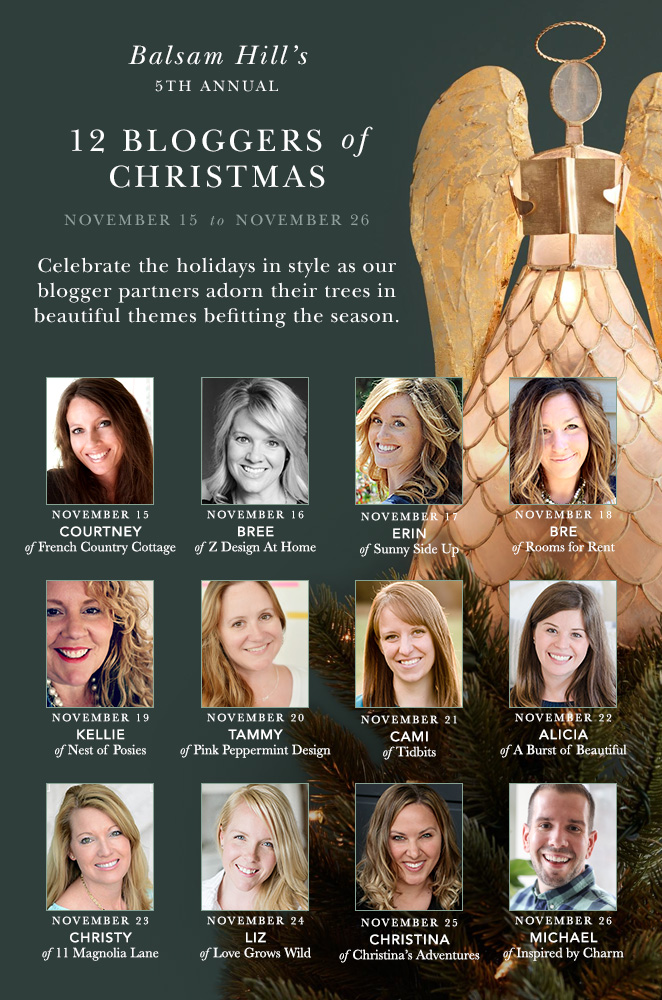 Red Spruce 7.5′ Slim Tree | Midnight Frost Ornament Set | French Country Ornament Set | Silver & Gold Glass Ornament Set | BH Essentials Gold Matte Ornament Set | Silver & Gold Picks | Flexible Woven Decorating Ribbon | Lodge Fur Tree Skirt | Christmas Bouquet Tree Topper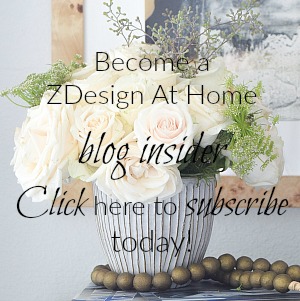 *This post was done in partnership with Balsam Hill however, as always, all opinions are my own.  This post contains some affiliate links but at no additional cost to you.