Glam Christmas Living Room Tour + Tips for Easy Holiday Decorating
Hello friends and Merry Christmas!  I'm so excited to be doing another home tour with Marty at A Stroll Thru Life so thank you for stopping by, and thank you for having me again, Marty!  If you are coming over from Tammy at Pink Peppermint Design, welcome!!  Don't you just love Tammy's blog…I really love her tips and ideas for decorating that anyone can use in their home. Today I'll be sharing with you my Christmas Living Room Tour + Tips for Easy Holiday Decorating.
Also, this tour is comprised of 30 homes in 5 days so don't forget to check out all of the other bloggers at the end of my post and throughout the week as more tours go live for some of the best Christmas inspiration in the blogosphere this year!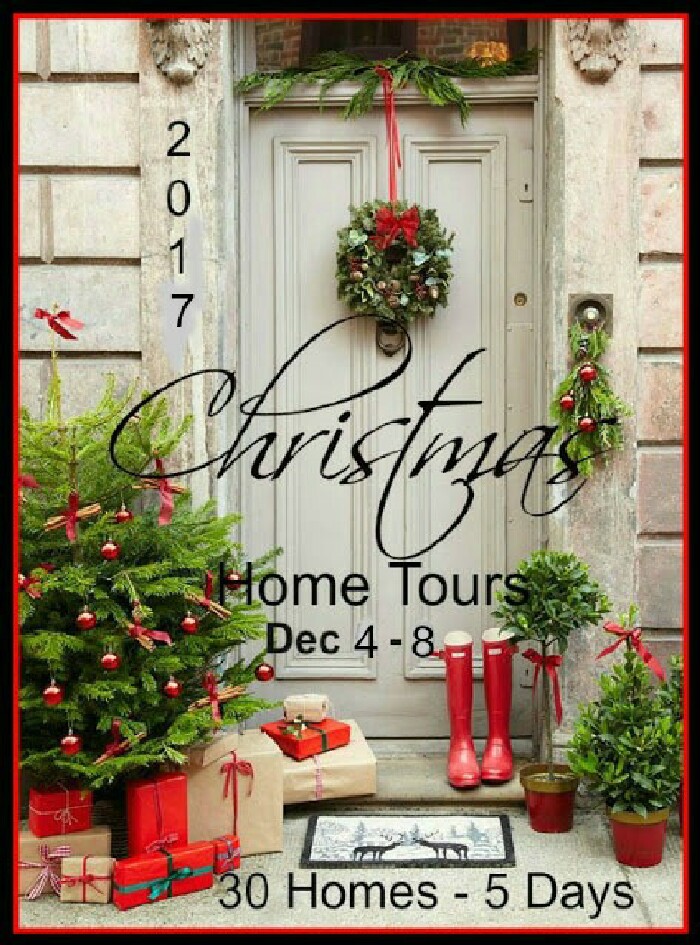 *Affiliate links used in this post at no additional cost to you.
The inspiration for my Christmas Living Room started with some new pillows from my friends over at Tonic Living….my go to source for updating my pillows all throughout the year!  I already had the luscious green velvet pillow from Tonic Living from my summer collection that I reused but for Christmas this year I added the black and white wool plaid that I'm mildly (crazy) obsessed with (and when I say it's amazing that is completely an understatement, people!!).  What I love most about this pillow combo though is that I will be able to use it beyond Christmas and through the remainder of winter.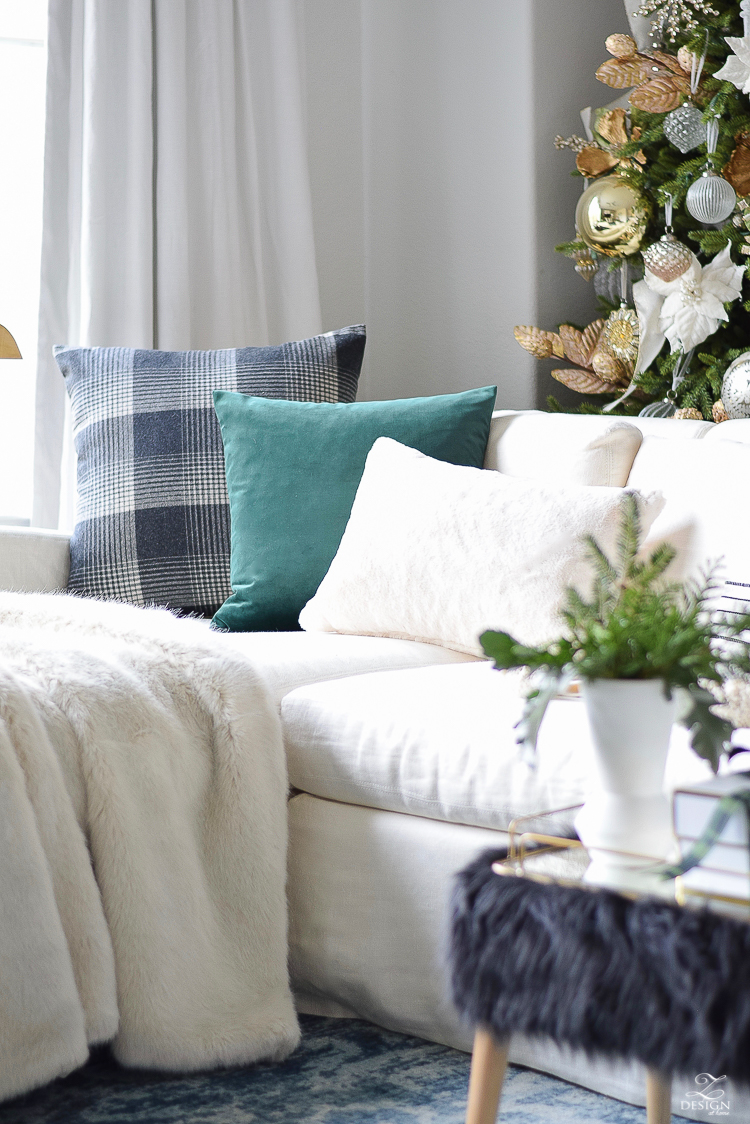 It's still warm here in Texas so just this little touch of wool, velvet and fur are perfect for making our living room feel like the holidays have actually arrived.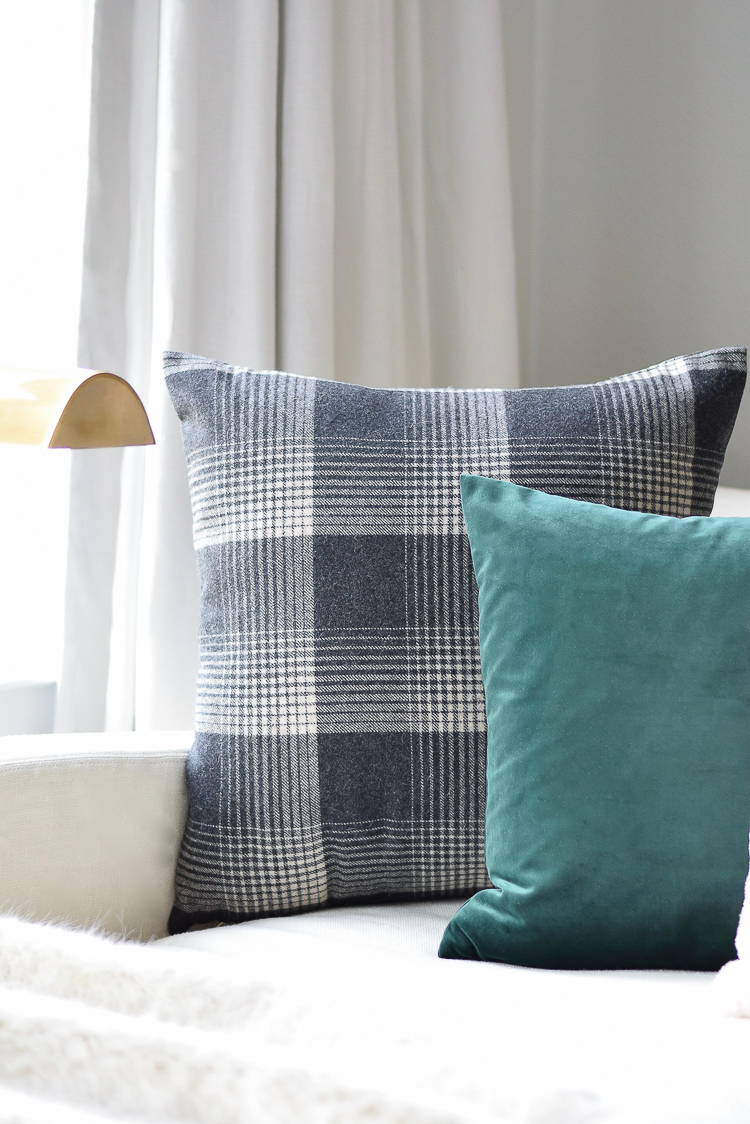 The green velvet pillow cover is crazy soft and adds a much needed pop of holiday color.  Everyone knows that this is the perfect time of year to use green but the jewel tone green is a hot trend right now and this pillow (with it's awesome gold zipper) is a great way to try out this trend if you are more of a neutral loving person and skittish about adding a little color.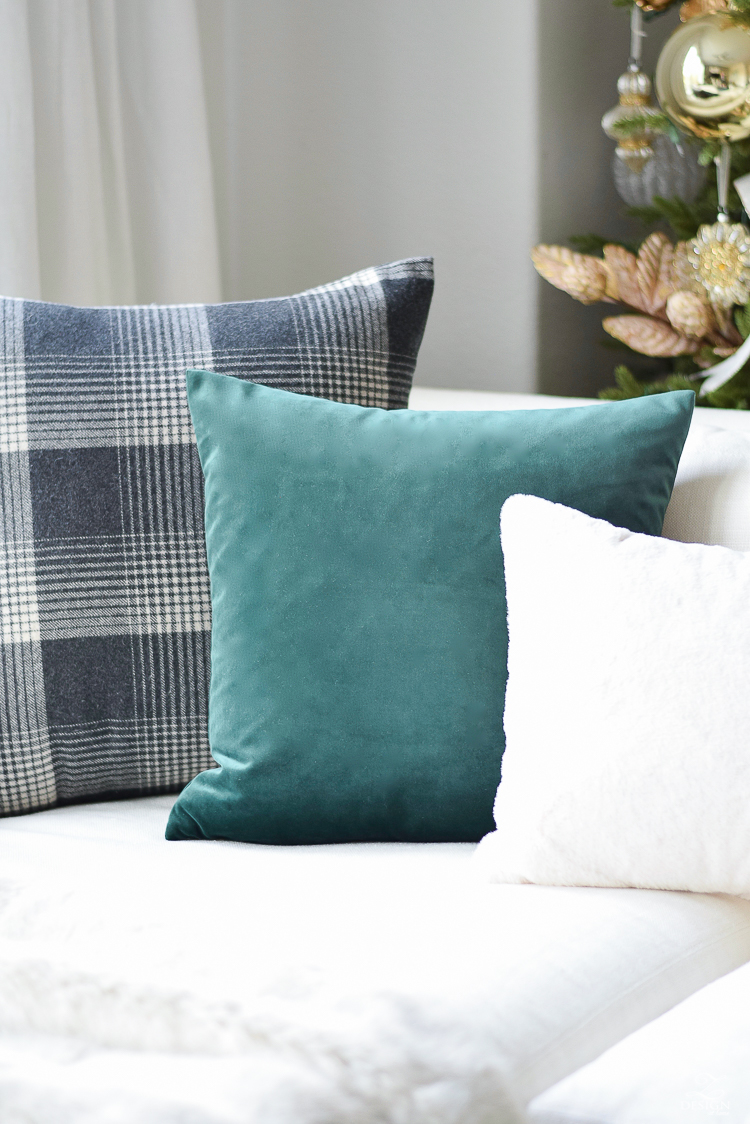 I also added this faux fur lumbar.  It's insanely soft and blends well with my oversized faux fur throw.  I always like to add a lumbar somewhere on the couch to mix up my sizes which makes things more interesting in my pillow collections!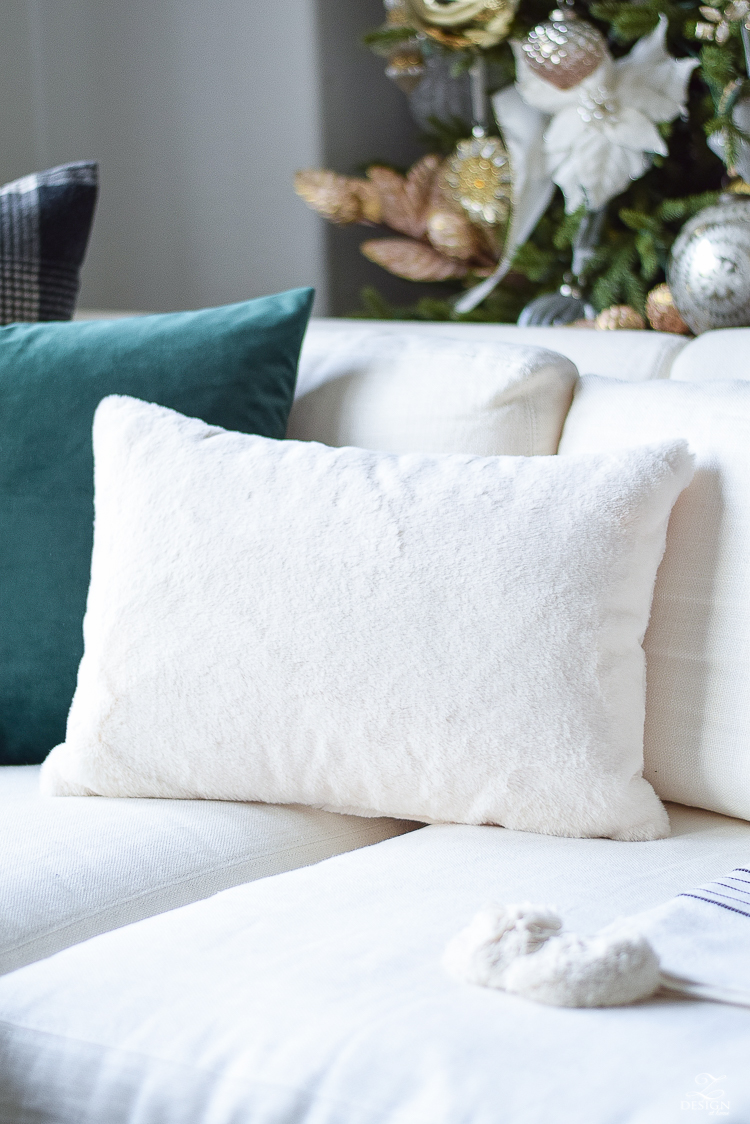 The black and green carried over into the rest of my decor since I pulled out my black faux fur stool and I'm using a decorative gift box as decor with a green and black plaid ribbon from the new Hearth & Hand Collection by Magnolia.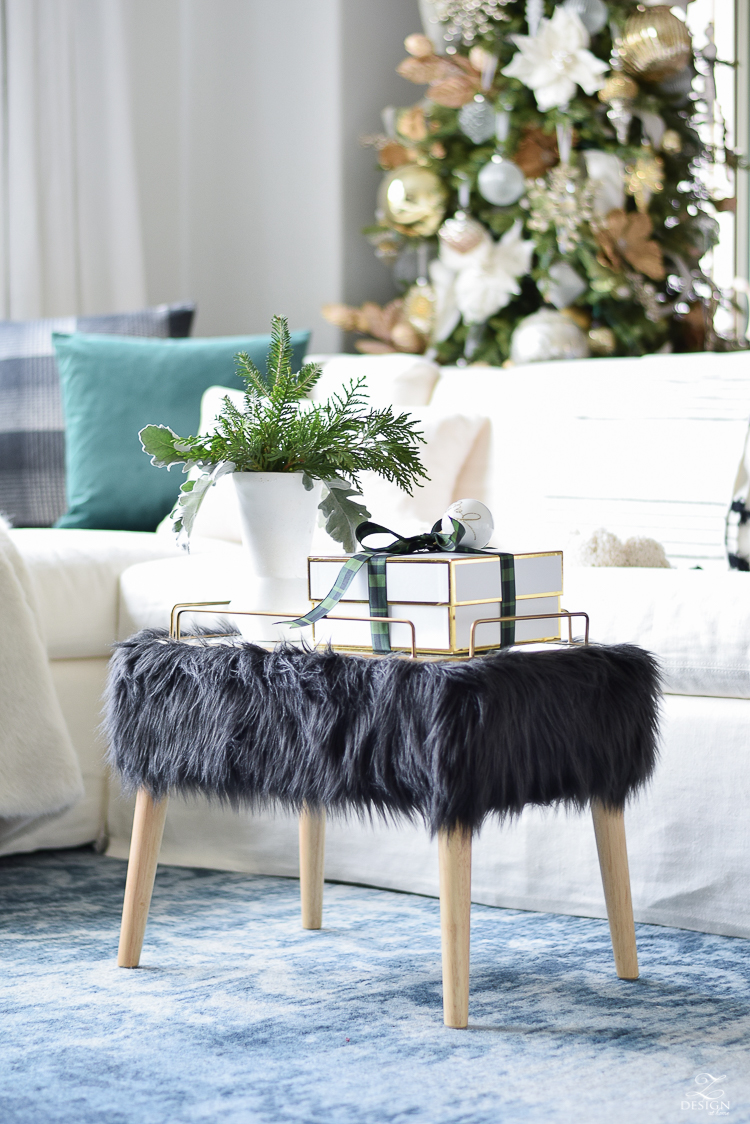 One of my favorite tips that I'll talk more about at the end of this post is to add ornaments to your packages to dress them up a bit! You can find this cute Falala ornament here.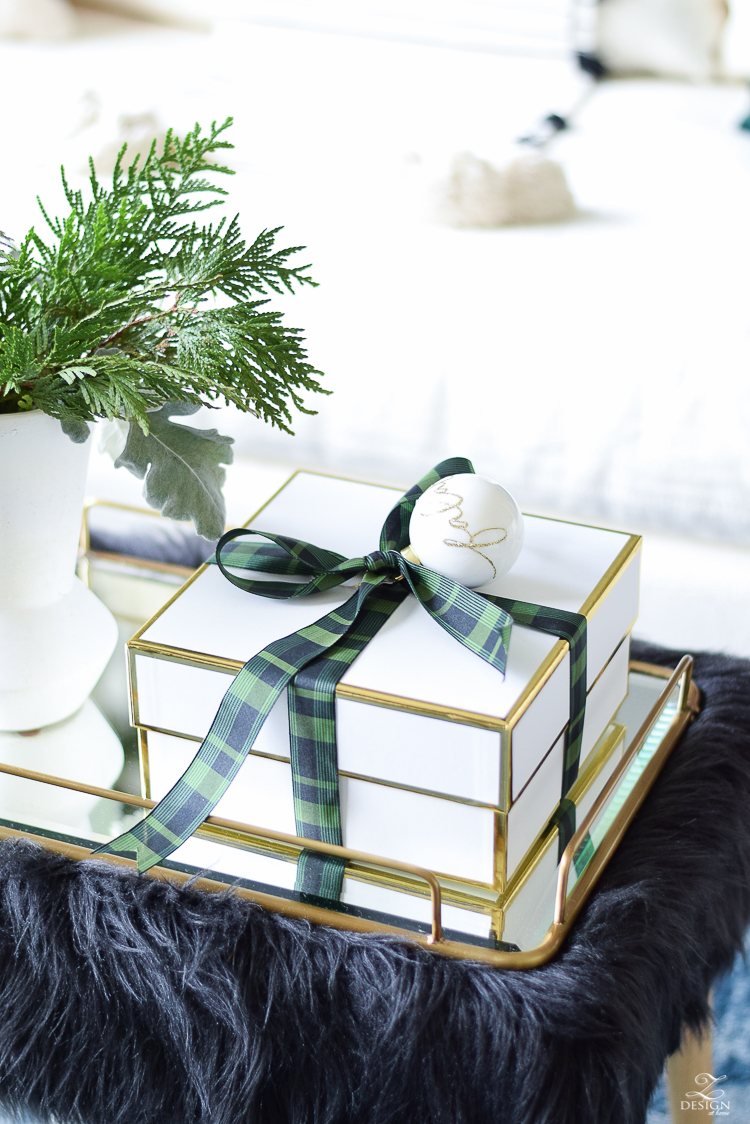 The faux fur throw that was repurposed from our previous guest room has been a perfect addition in here for the season.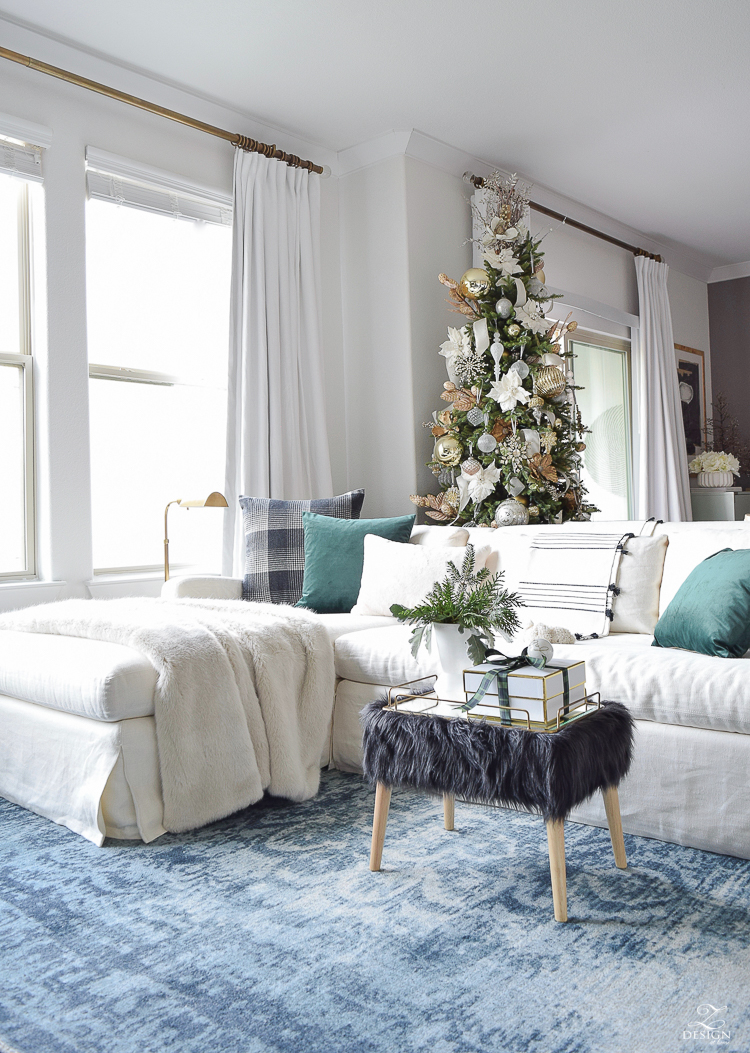 I also added this black and white striped pom pom throw to give the space a little boho chic vibe…something I've been enjoying lately in other rooms of our home.  You can see my boy's boho chic bedroom here & touches of boho chic in the master bedroom here.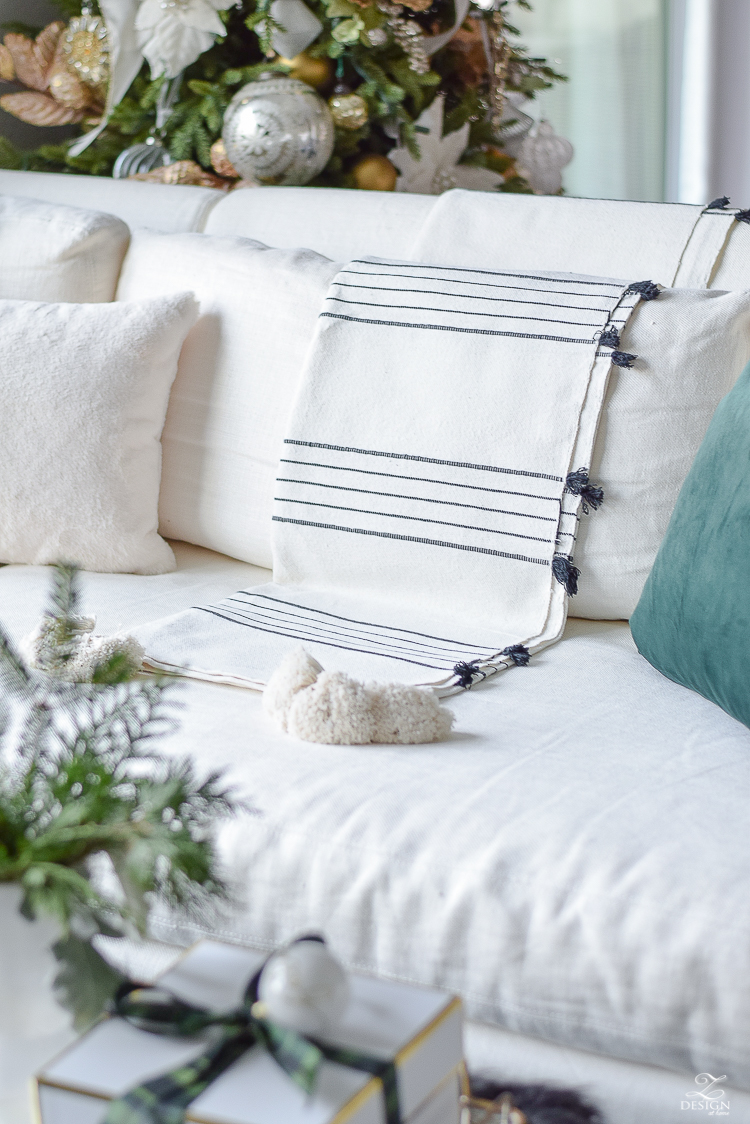 We're enjoying the subtle changes in here for the season that are creating more snuggly nights while watching family Christmas movies!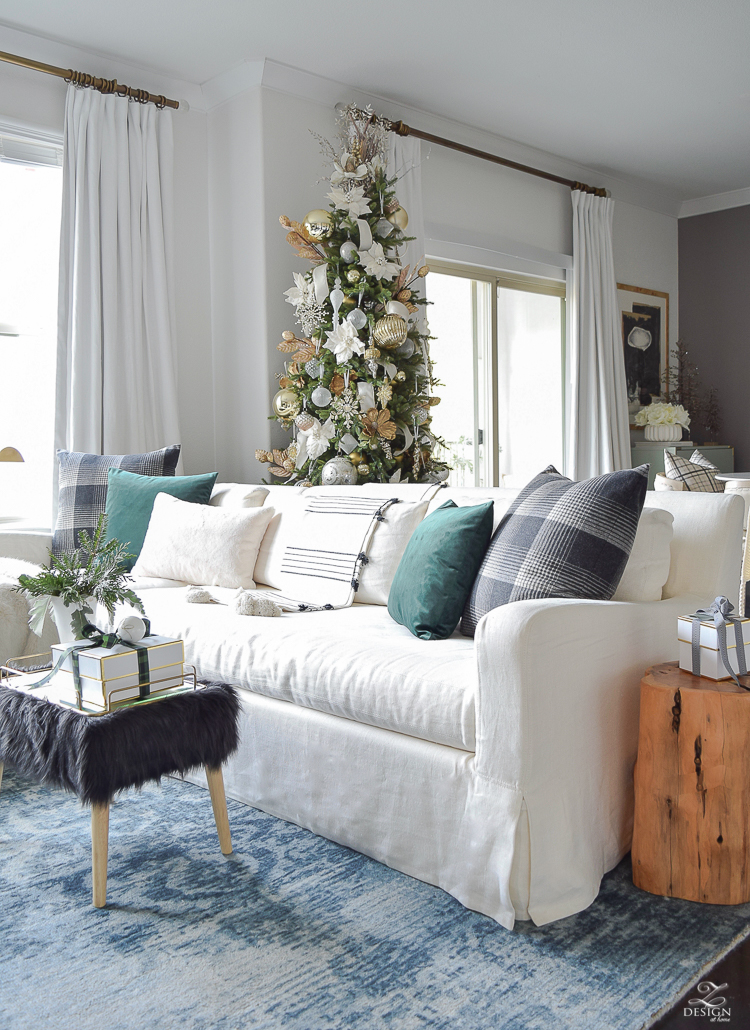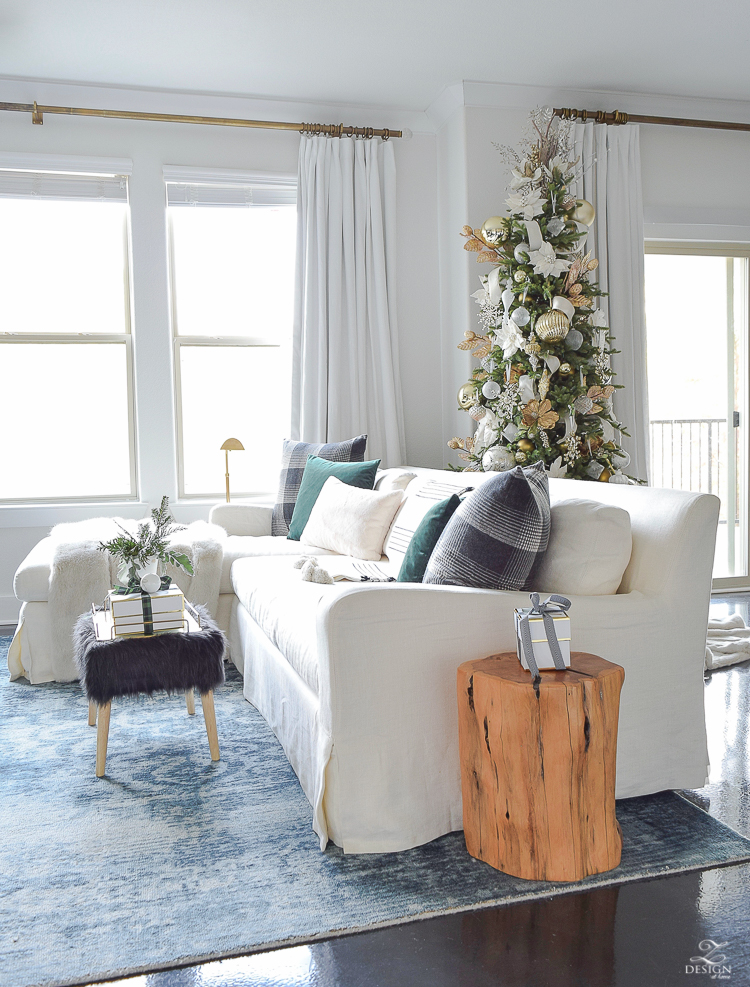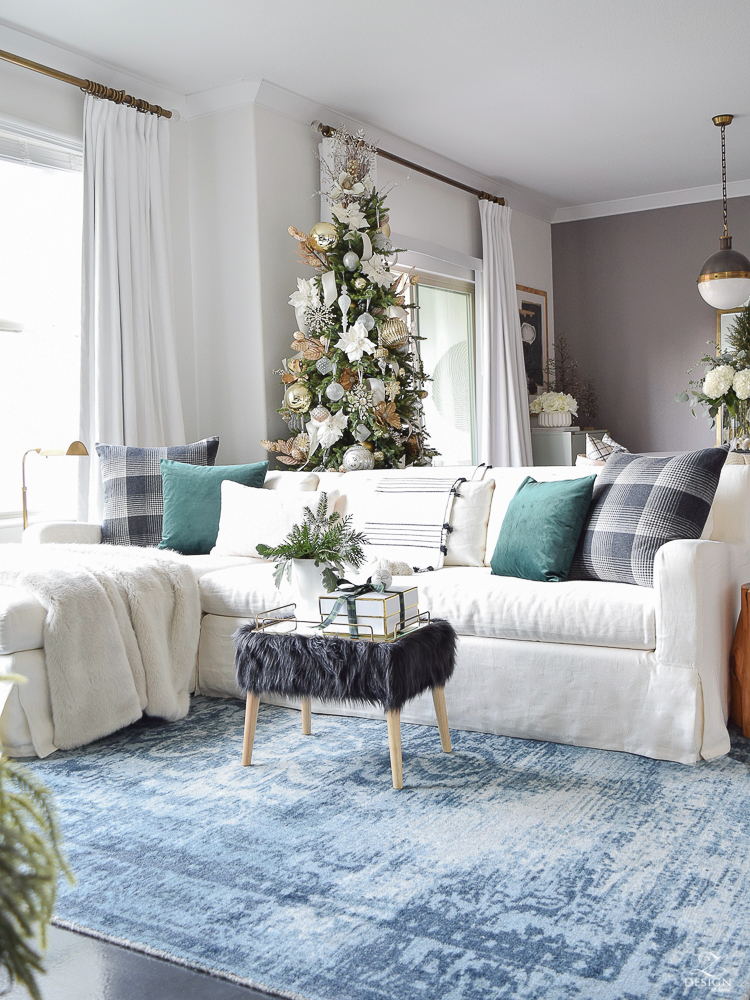 *See pillow sources above and at the bottom of the post


Before I talk about our tree I thought I would take you around to the opposite side of the space that received the most updates and I might add I had a blast fixing this spot up for the holidays!  This is always the space in the house where I can go crazy and do whatever suites me for the season.
I started with some unexpected Christmas flowers, garland, some simple, modern glass trees and the most amazing oversized cable knit stockings!  I also moved one of my marble and brass lamps in here and added a pot for a small Christmas tree in the corner.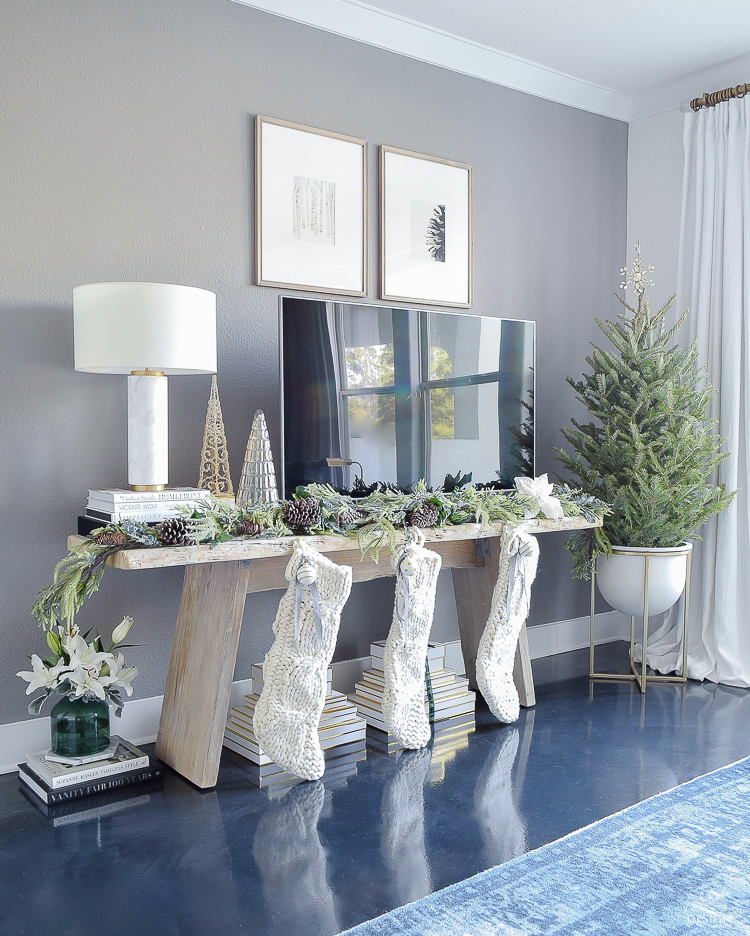 I love using these gift boxes that I'm sure you've seen everywhere for added holiday decor.  They are super stylish and affordable for a set of three!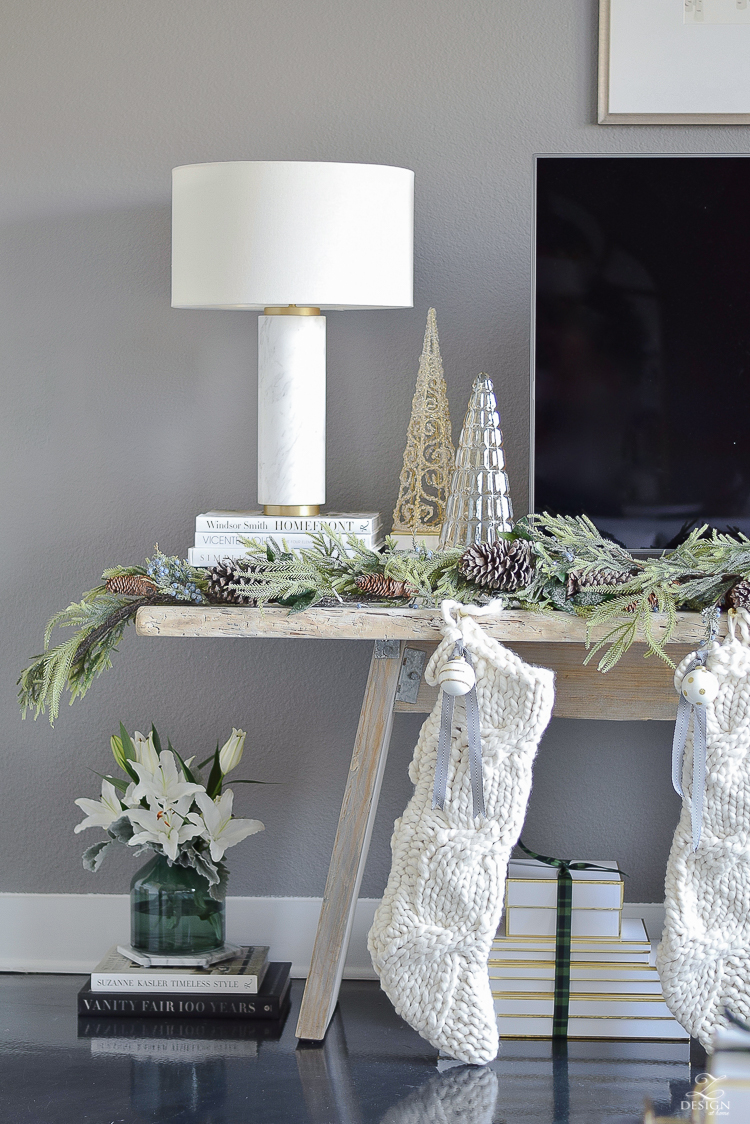 I usually pick up my decorative glass trees at HomeGoods but managed to source a few here & here for you.  They are the best accessory this time of year.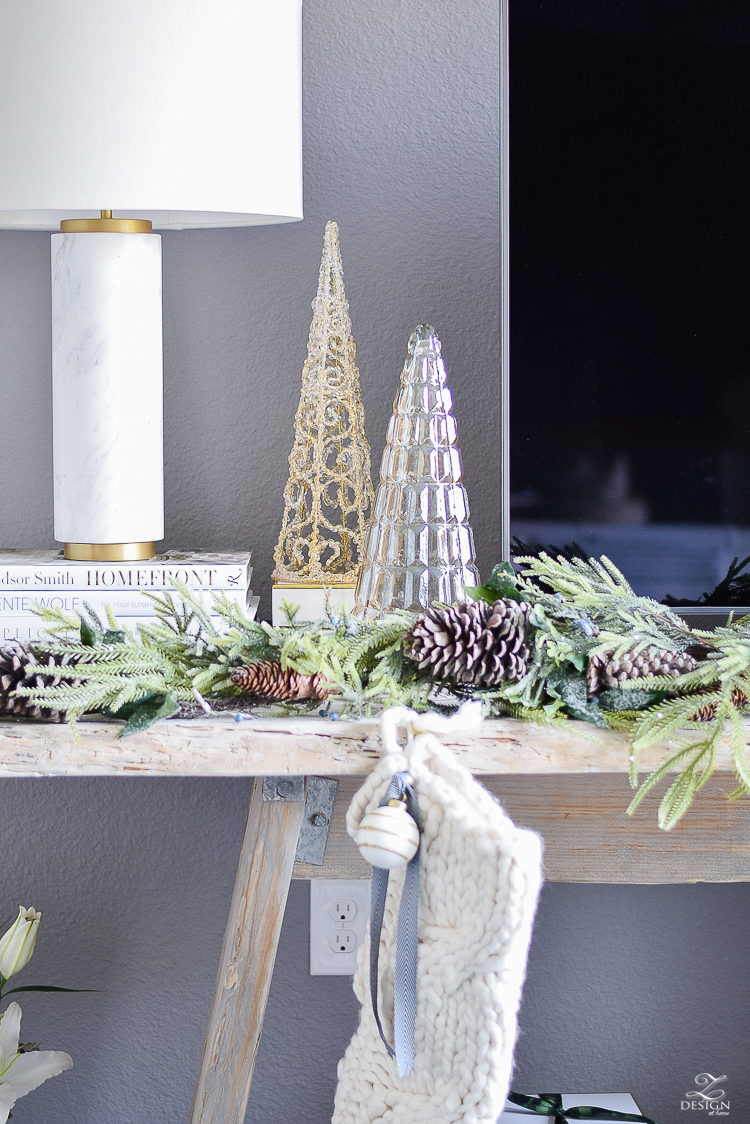 A favorite new accessory I've been using all over the house to elevate accessories and my flower vases is this marble trivet.  They are about 6×6, come in round and octagon shapes and would be a great gift for the home decor lover or cook!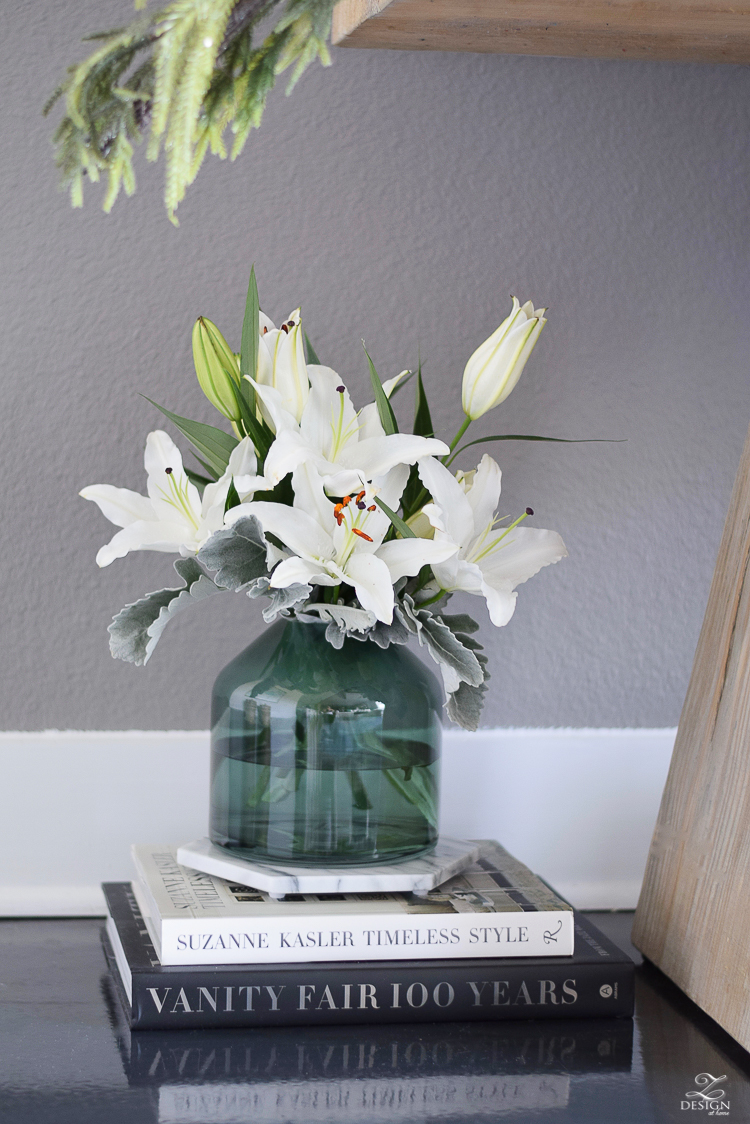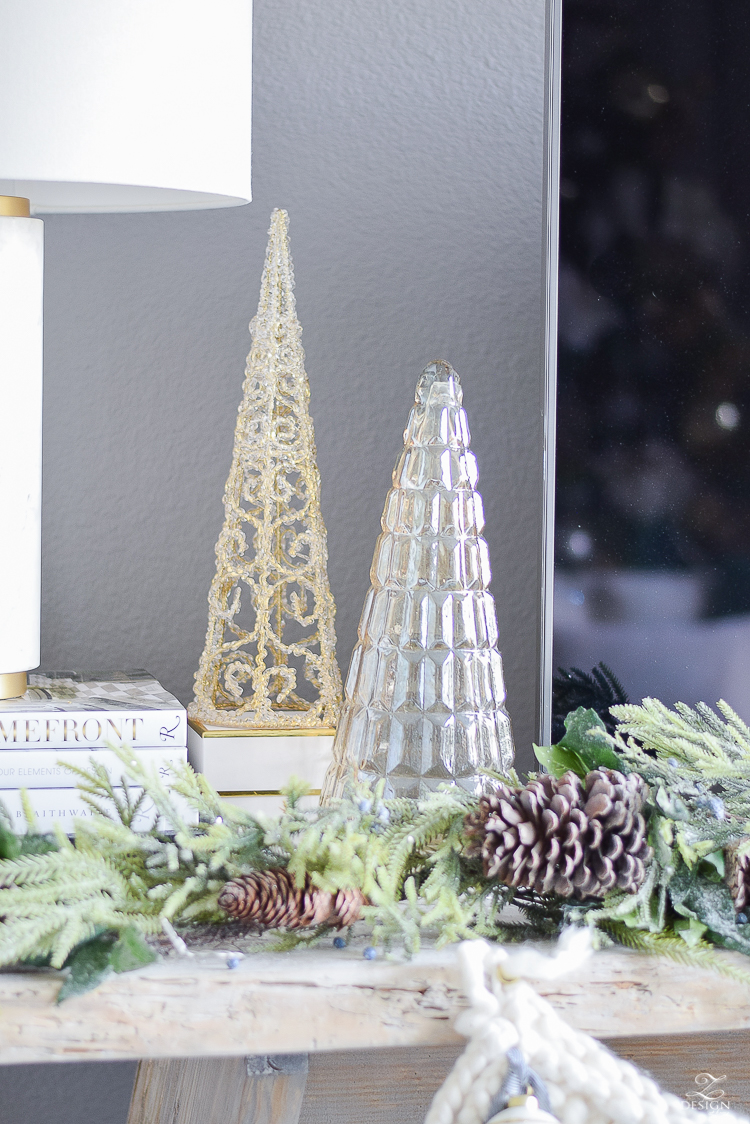 The cable knit stockings were an unexpected find because I honestly didn't realize how large they were when I ordered them but they turned out to be perfect for this spot since they hang all the way to the floor.  We currently don't have a fireplace because we are in a rental while we build our dream home (you can read the latest update on that here) but these cable knit stockings are amazing and I can't wait to see them on the fireplace in our new home next year!!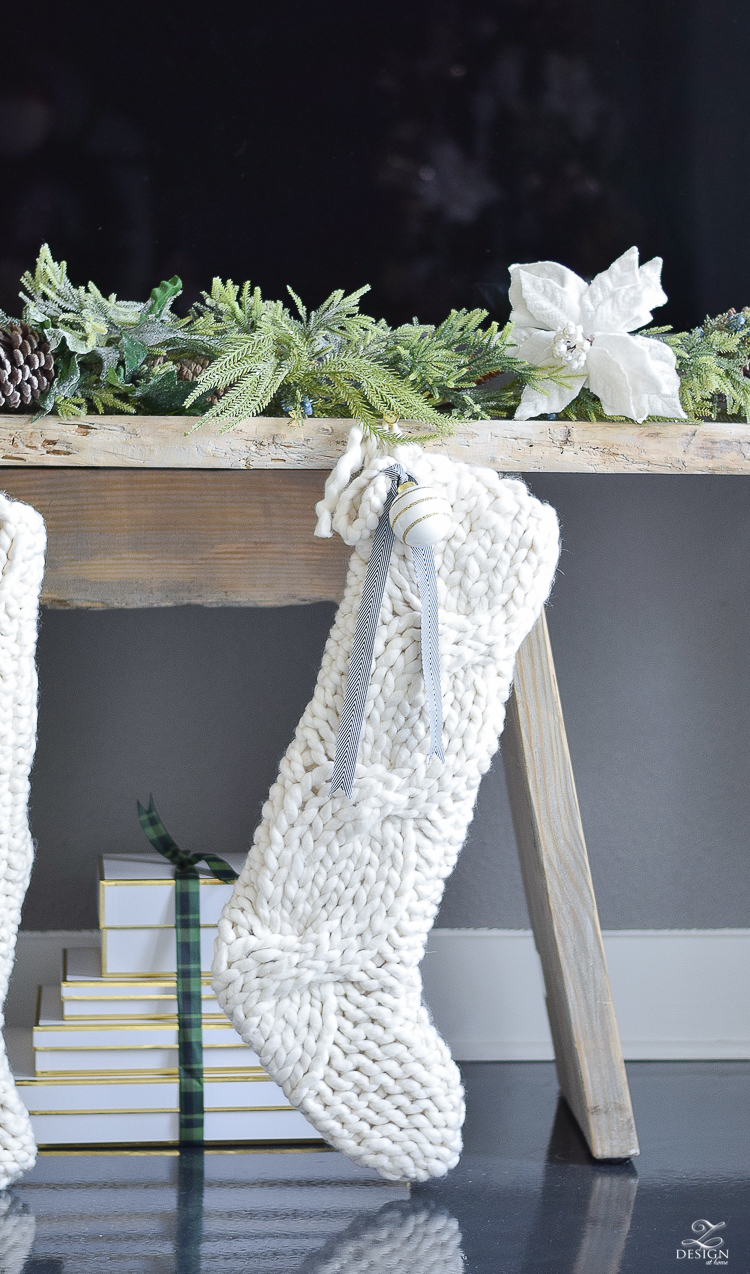 I also added an ornament to my ribbon to dress up the stockings and to create some of those special (what I like to call)  "Christmas moments"!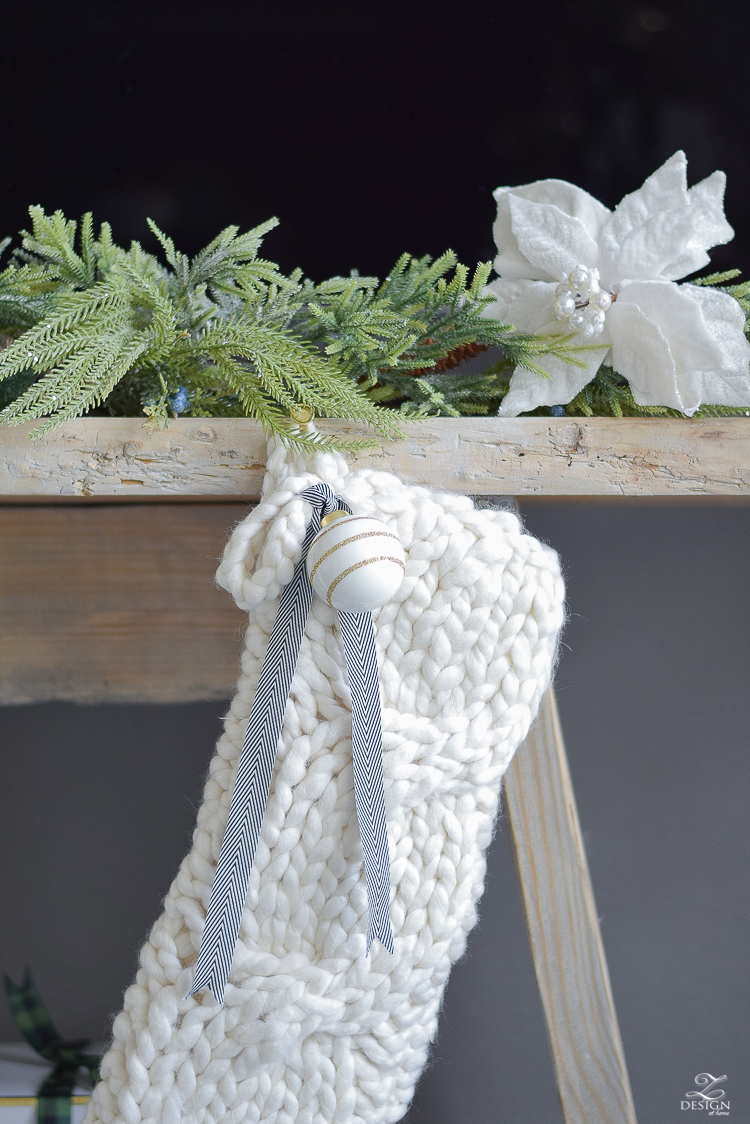 The white poinsettia is a favorite Christmas pick that I carried over from the tree to the garland on my console.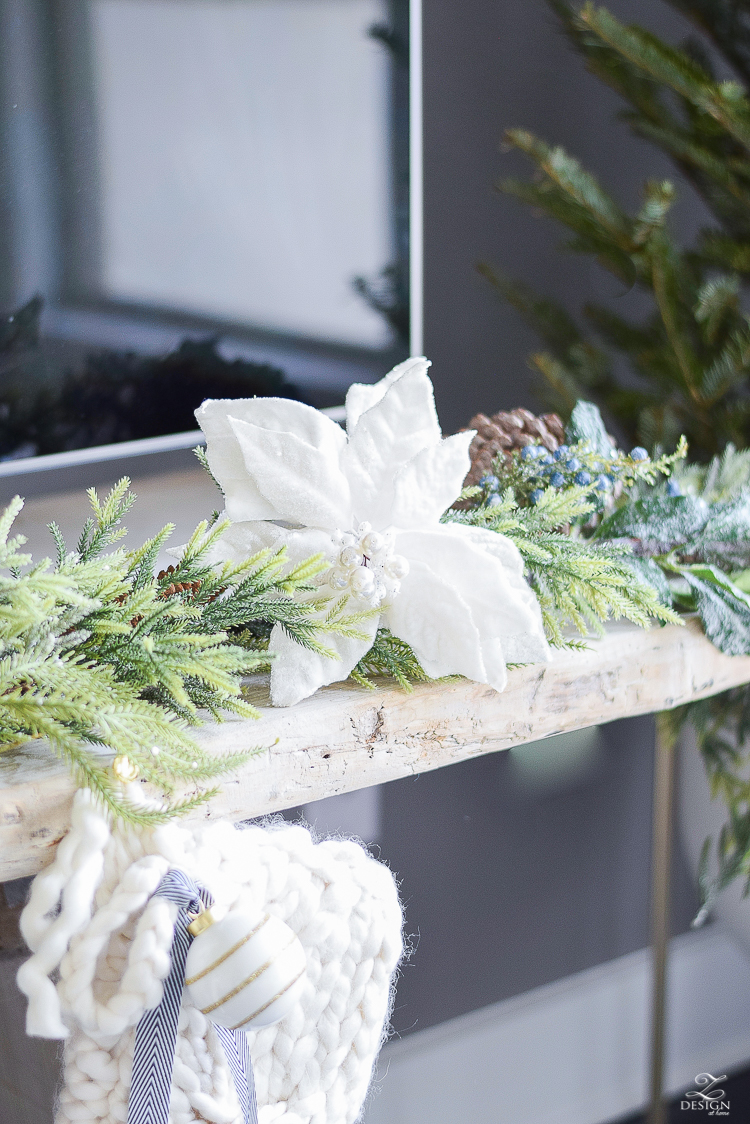 I have had my eye on a similar pot like this forever (a much more expensive version actually) so when I recently found these that were much more affordable I had to spring for them while they were on sale because I have the perfect spot for them in the new house (they can be purchased as a set).  In the mean time I knew one of them would be perfect for a small tree in this corner for the holidays.  I like an artificial tree but my husband and I really love a real tree so this was the perfect opportunity to add one to our home this year.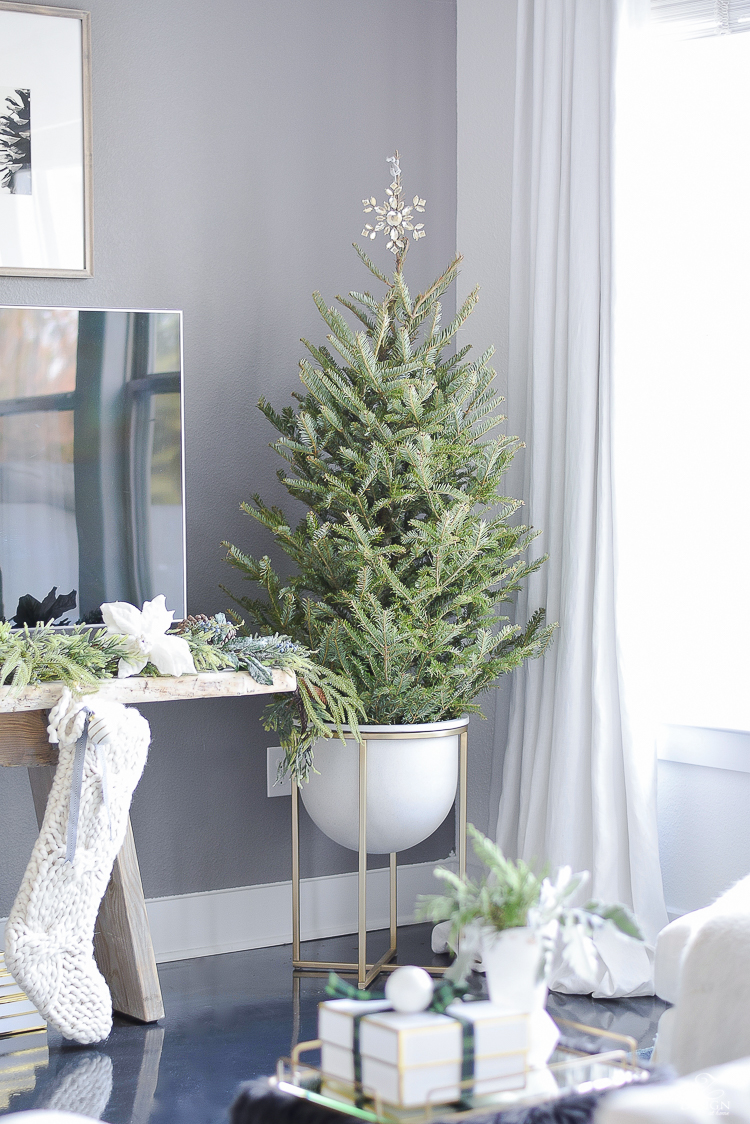 And in case you didn't notice I left it bare with one simple ornament used as a tree topper.  This was all this cutie needed (plus the fabulous pot) to steal our hearts!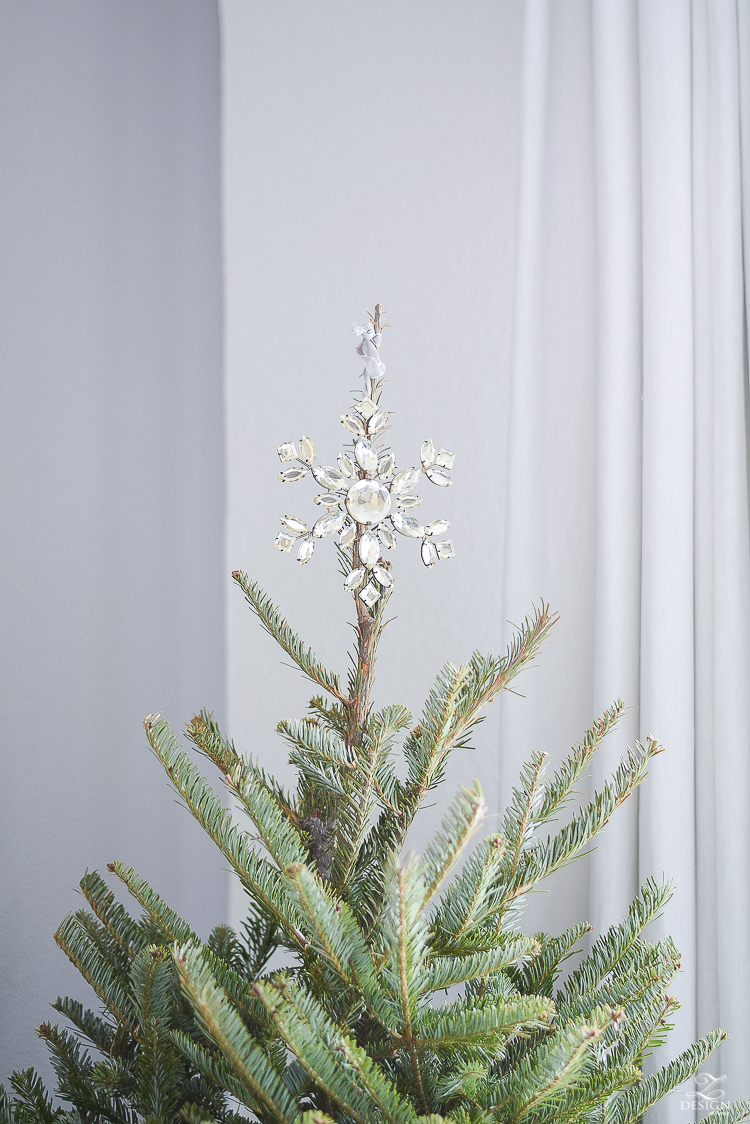 My friends over at Minted.com were kind enough to send along the art prints for over the TV to switch things up for the season.  The Pine Cone by artist Alexis Arnold and Birch Woods in Winter by Four Wet Feet Studio were a perfect fit for the space and for the holidays but they are both so cute that I have a feeling they will stay here far beyond the holidays!  Minted is always my go to place for good quality art prints at affordable prices plus, I love that you are supporting a fellow creative when you purchase from Minted.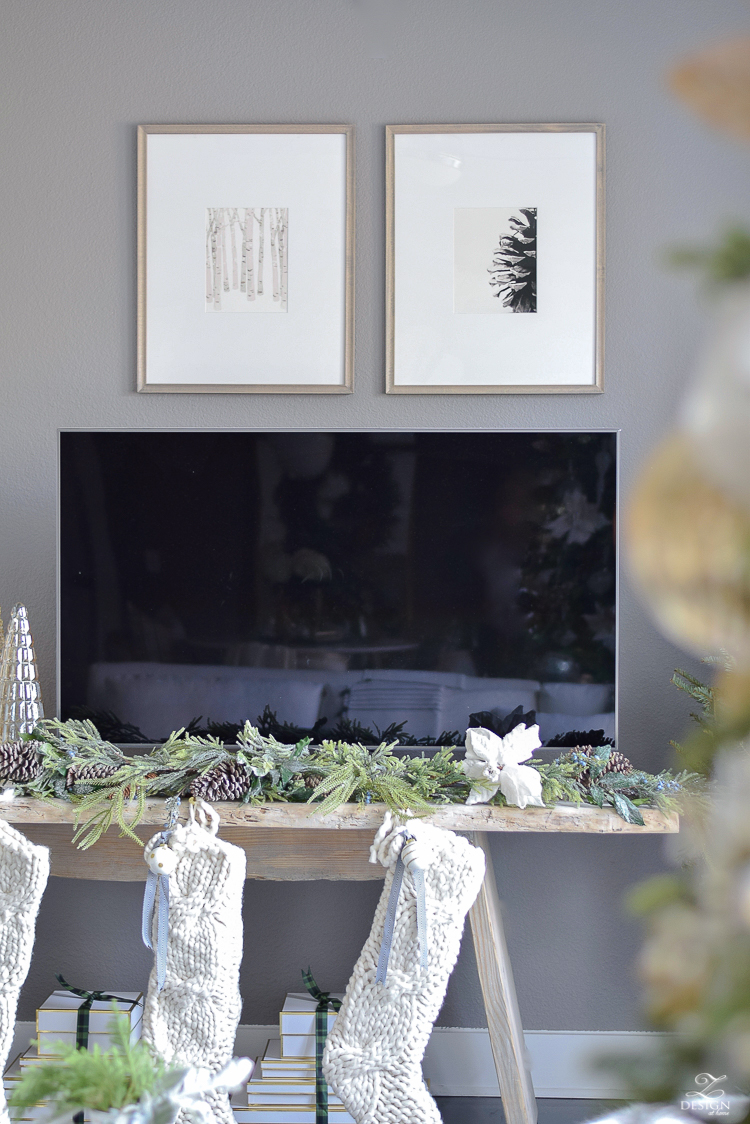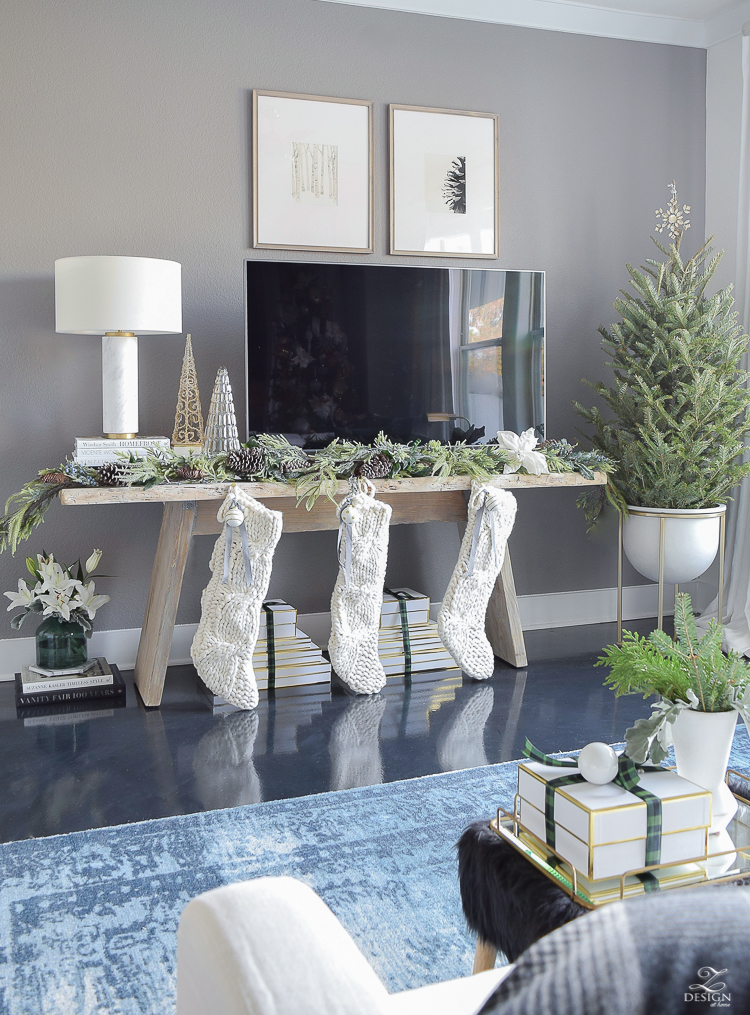 I always keep fresh flowers on the kitchen counter and a fresh mix of hydrangeas, red berries and pine stems are a simple addition to add a little Christmas cheer in here.  I'm a sucker for a pretty vase so I've added this green one for the holidays…it's the mate to the one you just saw in my living room.  You can find the marble trivet here.  I use them to elevate flowers like mentioned before but I also use them for their intended purpose in the kitchen.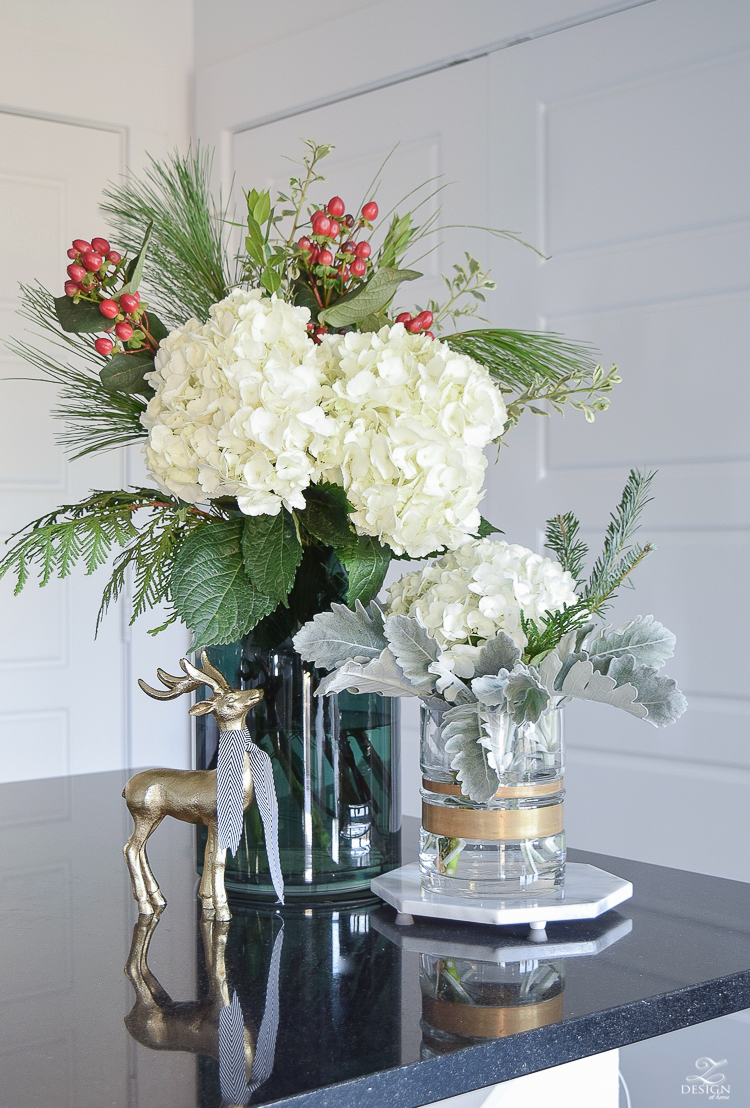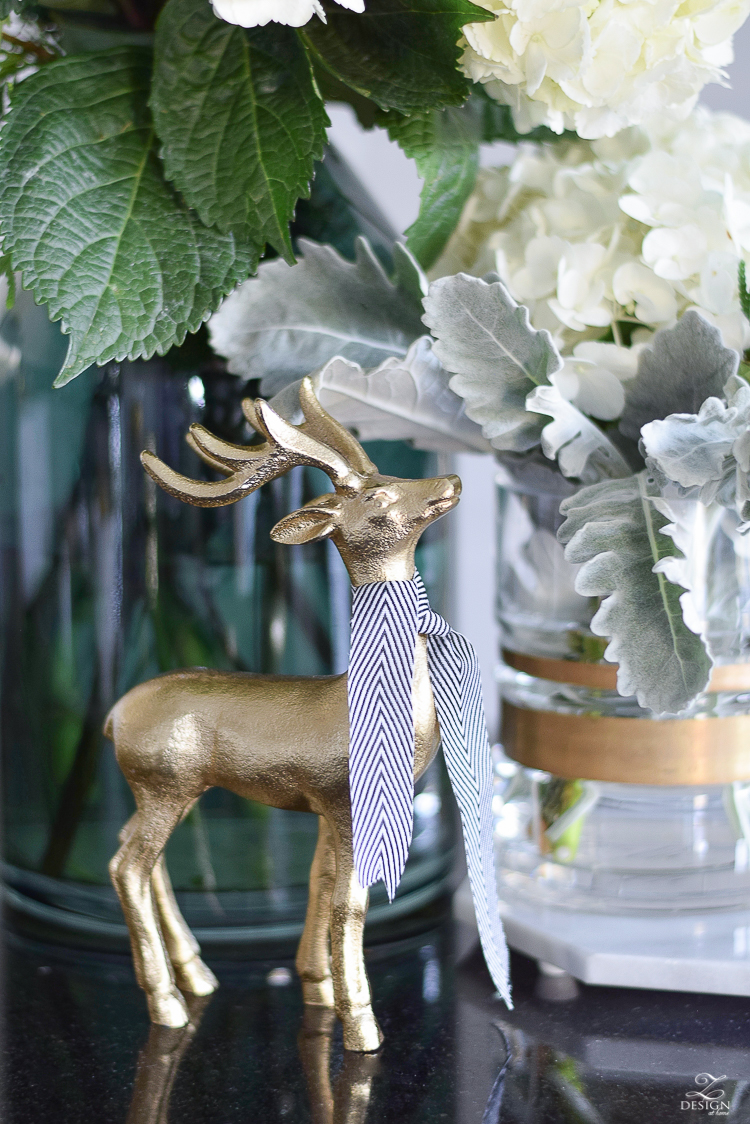 Now back to the star of the show this holiday…the Christmas tree!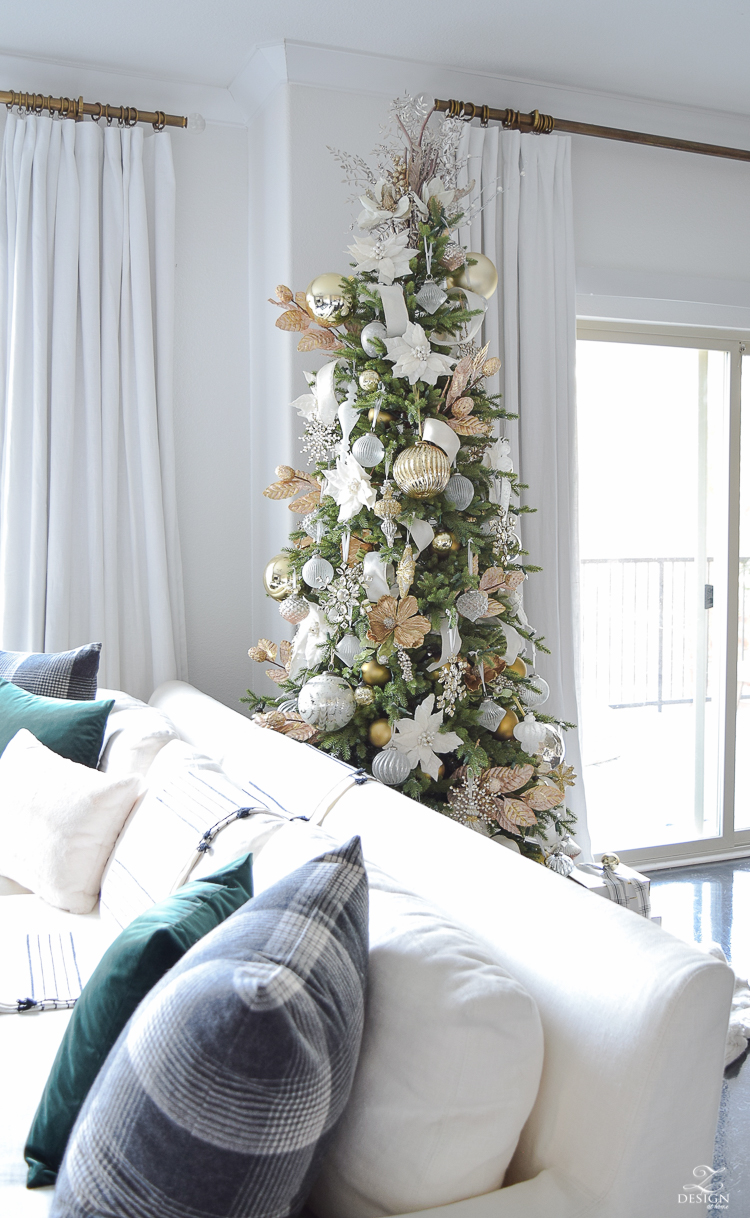 You may have already seen my tree in a post I did here in partnership with Balsam Hill earlier this season and saw where I mentioned that most of our things were lost during Hurricane Harvey while they were in a corporate storage facility in Houston.  Well, I'm happy to report that we finally had an opportunity to go through all of our things in storage just last week and unfortunately while it was about a 70% loss, we were able to salvage a few things.  It was an emotional 3 days of going through our belongings with the storage company and a remediation team simultaneously but I was happy to not only return home with the most important of our family photos, but also a few boxes of Christmas decor that were spared.   Needless to say (and feeling thankful for the mercy that was extended to us for the spared items) I promptly added those pieces to my tree as soon as we got home:).  Let me also say that my heart goes out to all that lost everything or anything during the storm and our thoughts and prayers are with you!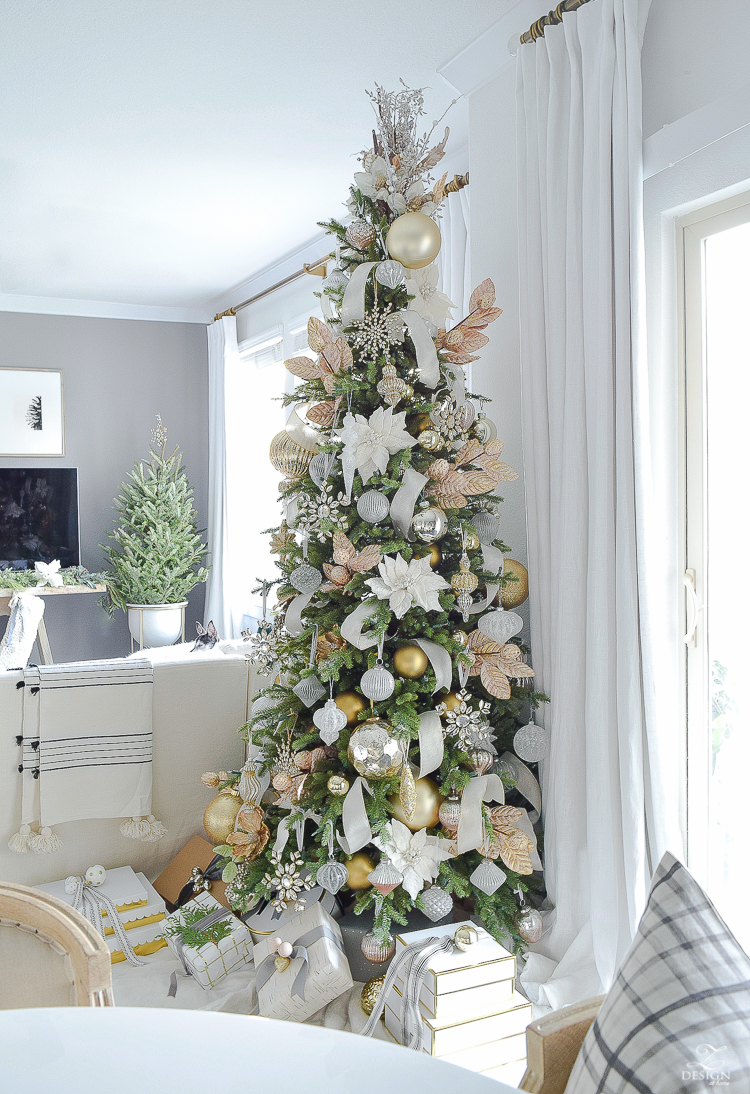 P.S.  Can you see Gracie taking a cat nap in the background of the previous photo?  I'm pretty sure she's the most spoiled dog I know of, and rightfully so…she's a sweetheart and our family wouldn't be complete without her!  She really loves lounging on the faux fur throw in the living room!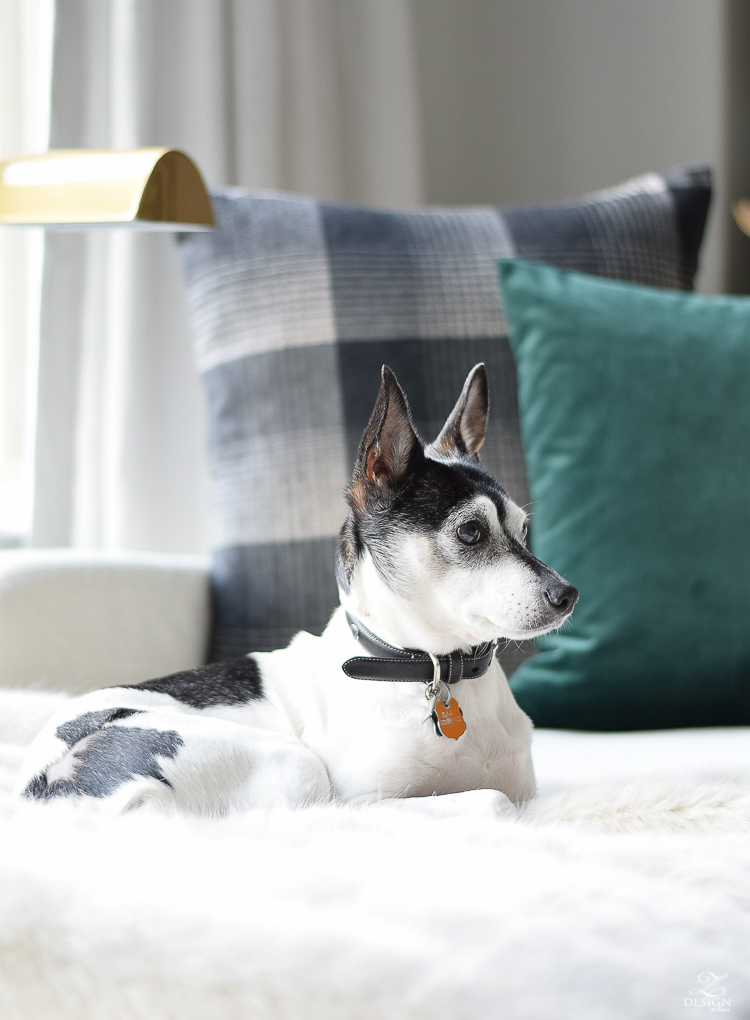 I added some of my large gold and silver ornaments, some white and some gold magnolia picks, some large crystal ornaments (person faves – boy was I happy these made it through the flood!) and my absolute favorite are the velvet poinsettia picks!  I was on the fence about this one but I did go ahead and add some sheer, white ribbon with gold trim that I found at Michael's for 70% off.  I like the little bit of polish and glam the ribbon adds to the tree and I'm finding I might just be a convert for ribbon after all:).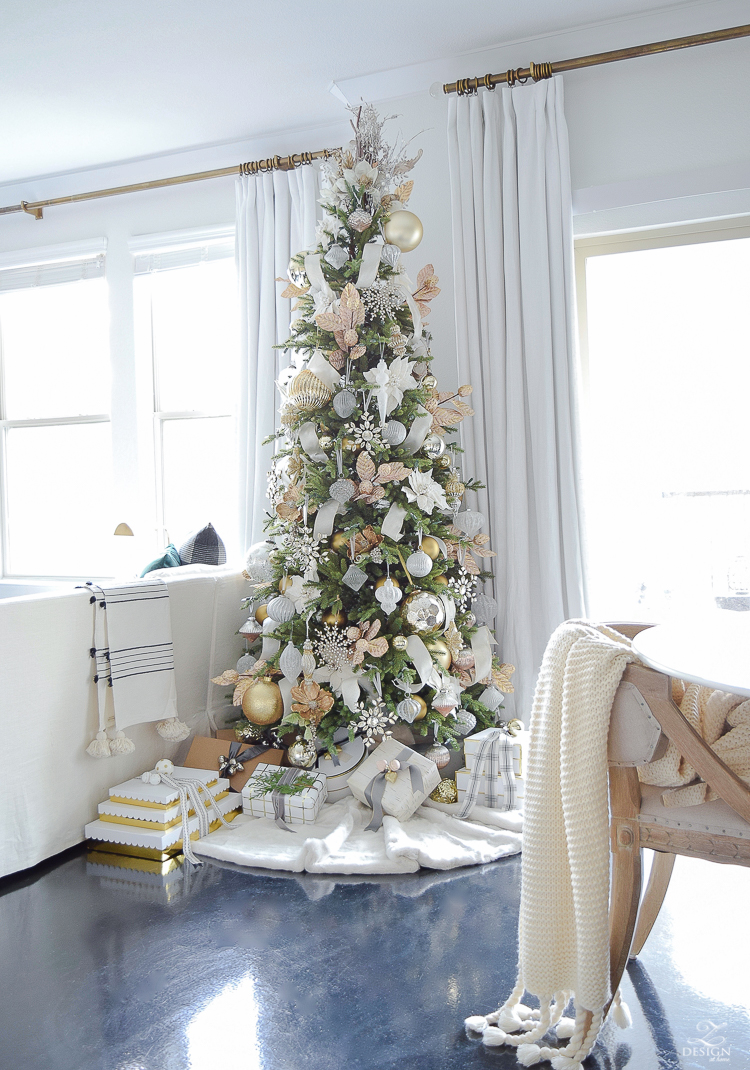 I've also had a chance to do some wrapping with some of my favorite wrapping supplies this year.  Love this black and white ribbon, again from the Hearth & Hand collection.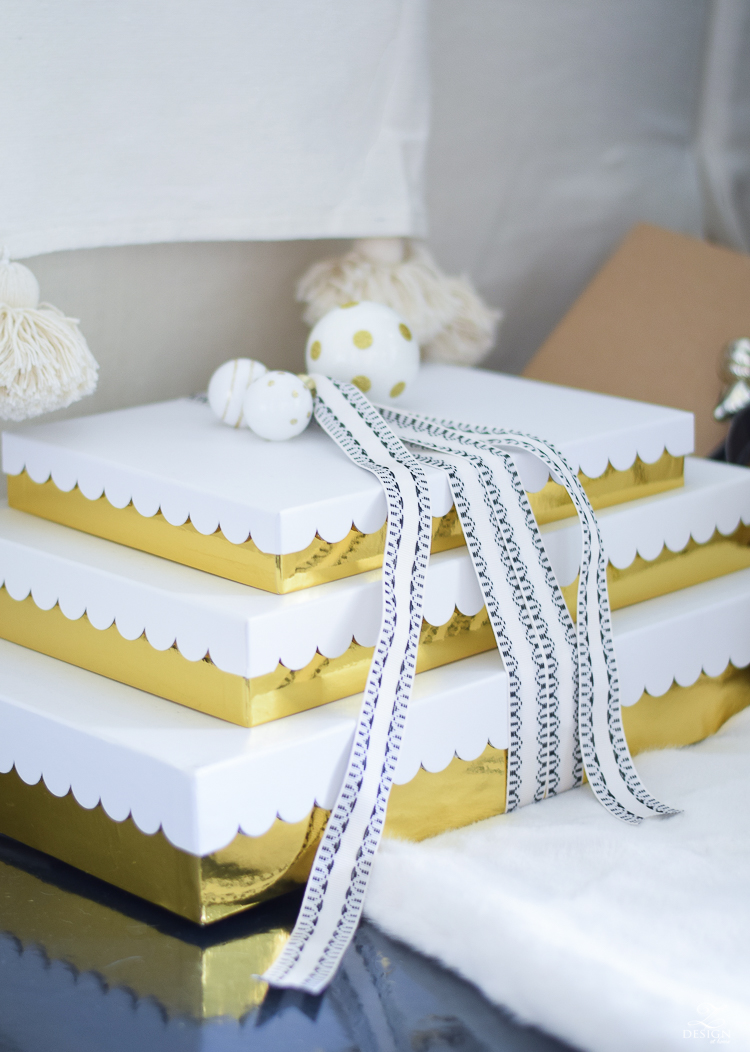 Gray velvet ribbon on window pane wrapping paper with a snippet of nature added is also a favorite way to dress up my packages!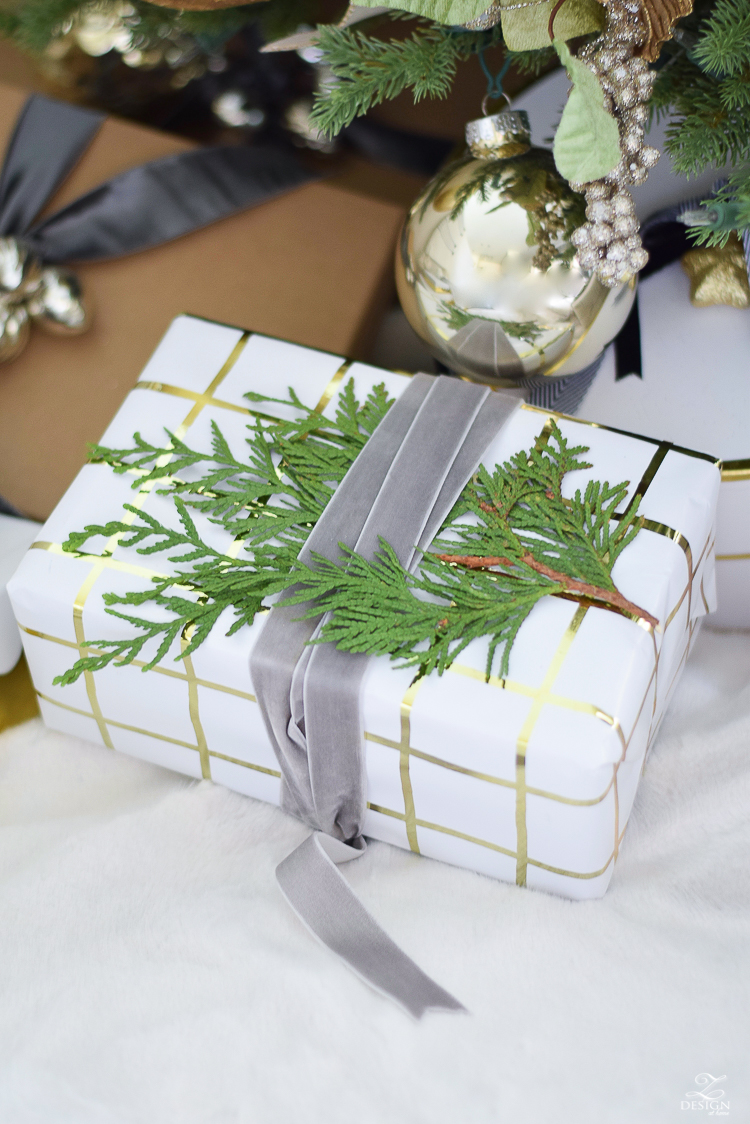 I really love the birch paper with this gray w/ gold trim ribbon and some blush and gold ornaments tied on for added appeal.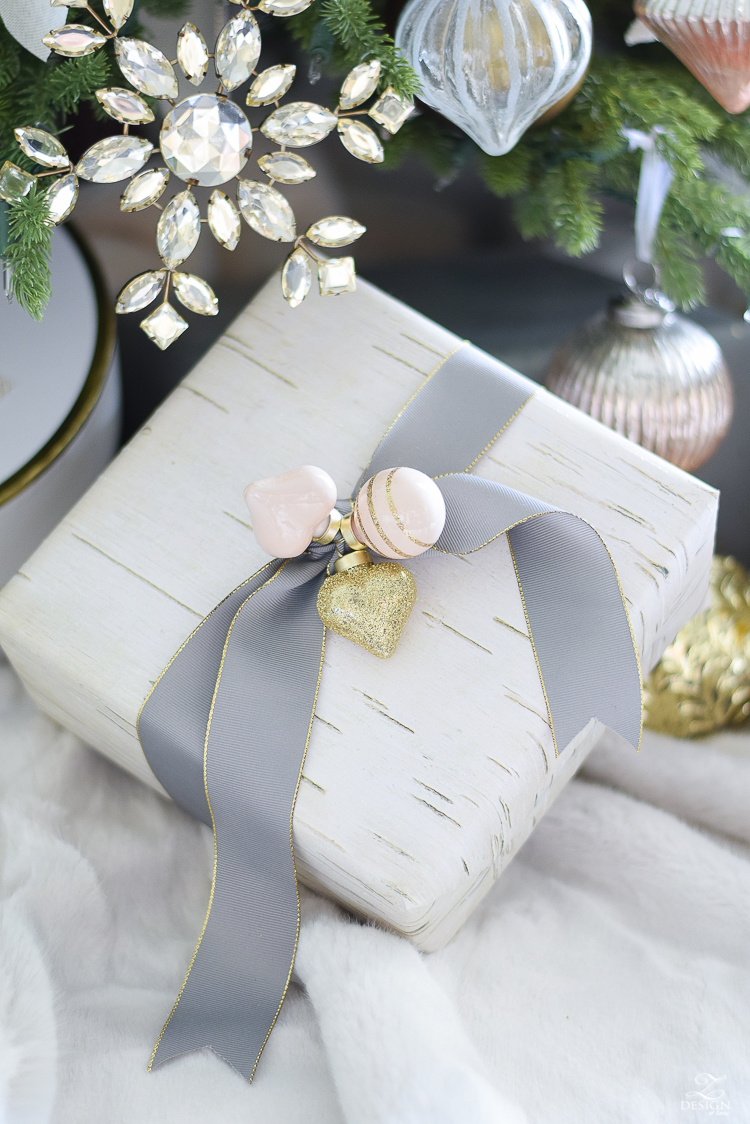 The black and white plaid ribbon is a heart stealer too!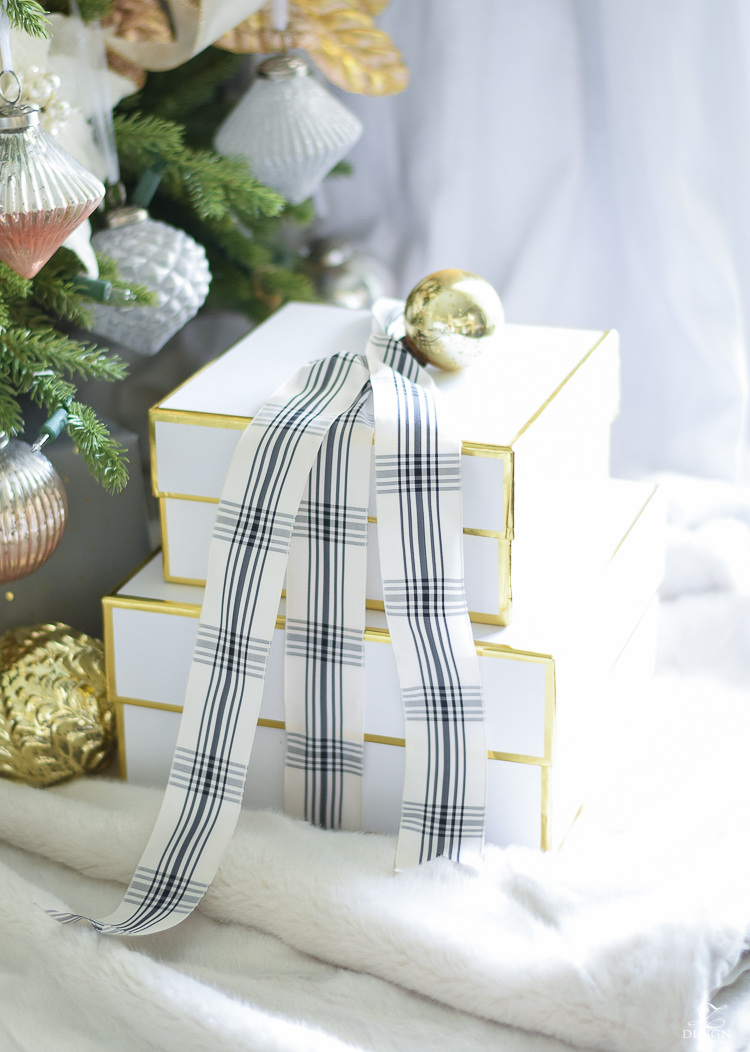 In the flood I lost most of my gold ornaments, lots of tree pics;-/, and two Christmas trees that were fairly new but one of the things I was excited to see spared was my faux fur tree skirt.  I already had one under the tree from my Balsam Hill post so I simply layered them up to create this dramatic skirt and I love the look!  I think I'll keep doing this from here on out!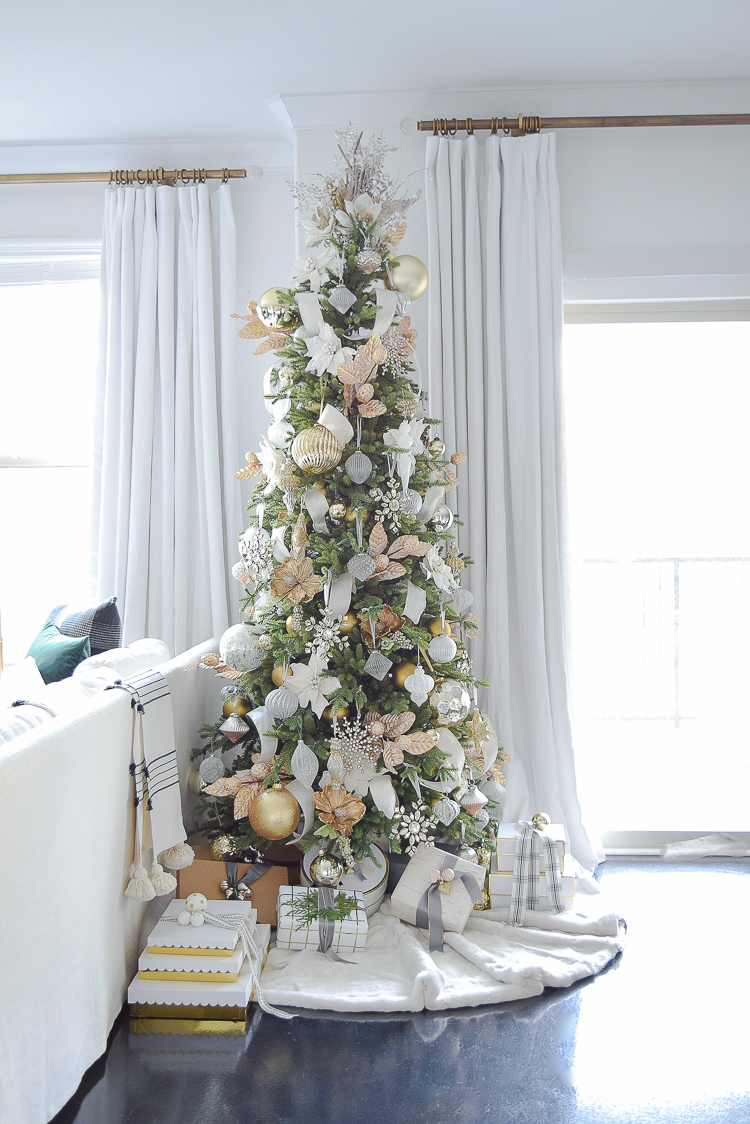 I love the luxury the two skirts combined bring to the tree…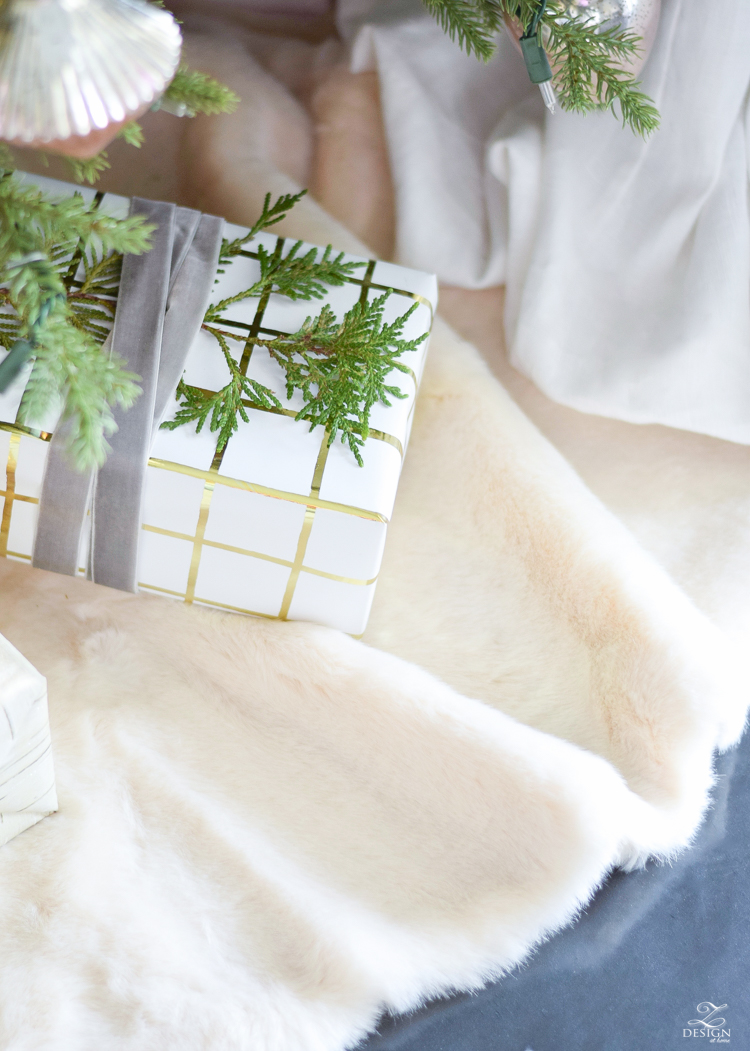 Now for those Tips for Easy Holiday Decorating.  I'm all about easy so I hope you'll find these tips to be simple ways to add Christmas cheer to your home this holiday season!
 Use stylish gift boxes or wrapped packages for holiday decor (and don't forget to include a pretty bow – hand tied or store bought)
Add ornaments to your Christmas ribbons atop your packages and on your stockings
Use pillows with color and texture that will work for the holiday but also for the rest of the winter season to get the most out of them
Use natural elements from the outdoors (this = free) on your packages and elsewhere to liven up your holiday decor – hit up your local Lowe's or Home Depot for free clippings you can use all over the house!
Switch up your art prints for a seasonal look
Add a small tree to a flower pot even if you don't decorate it to keep things easy and simple
Double up on your tree skirt (or use two sheep skin rugs like I did here) for a dramatic effect under your Christmas tree
I'll leave you with this view from the breakfast area to give you a snippet of what I'll be sharing next week – I hope you'll come back then on Dec. 11th when I'll be shareing my Christmas dining space and master bedroom!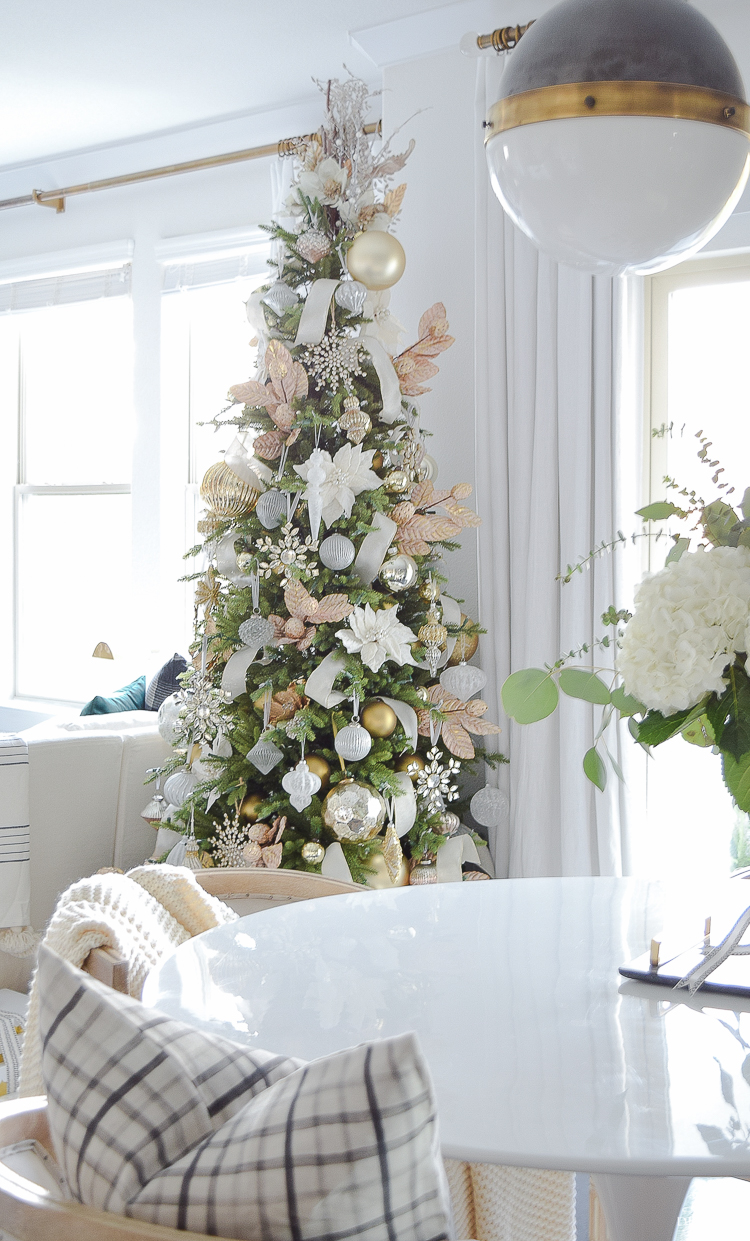 And one last look at the tree:).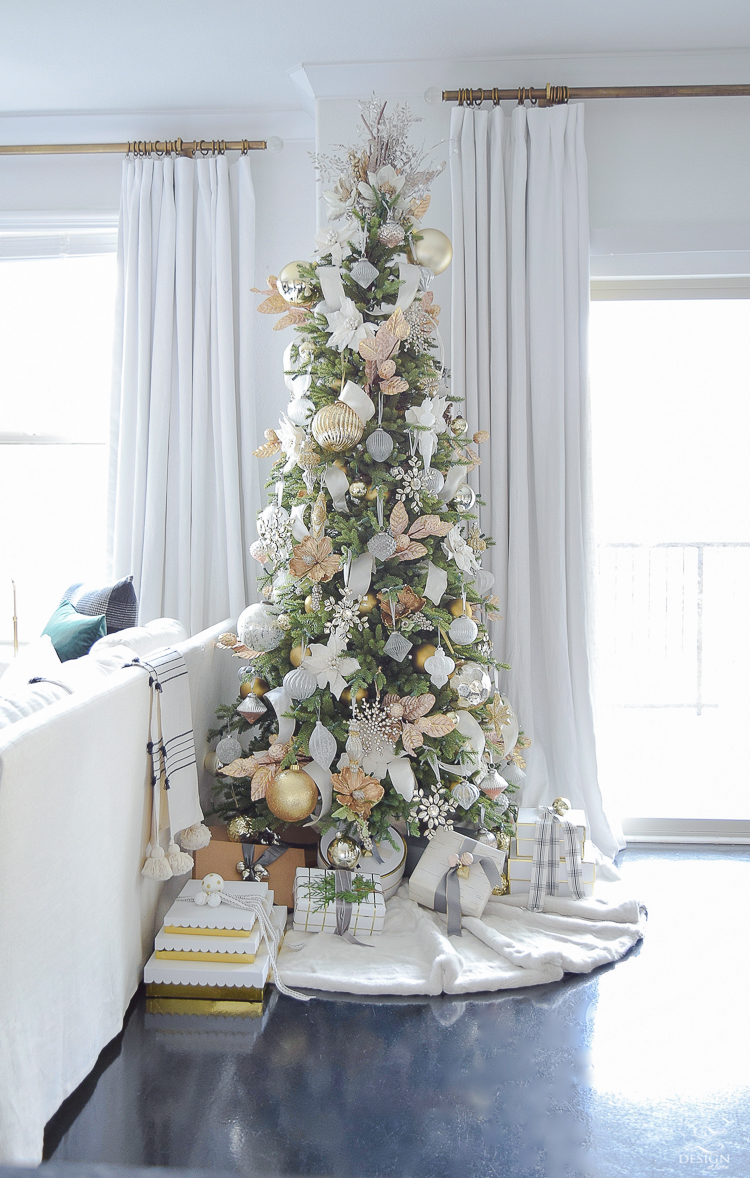 Pin it for Later!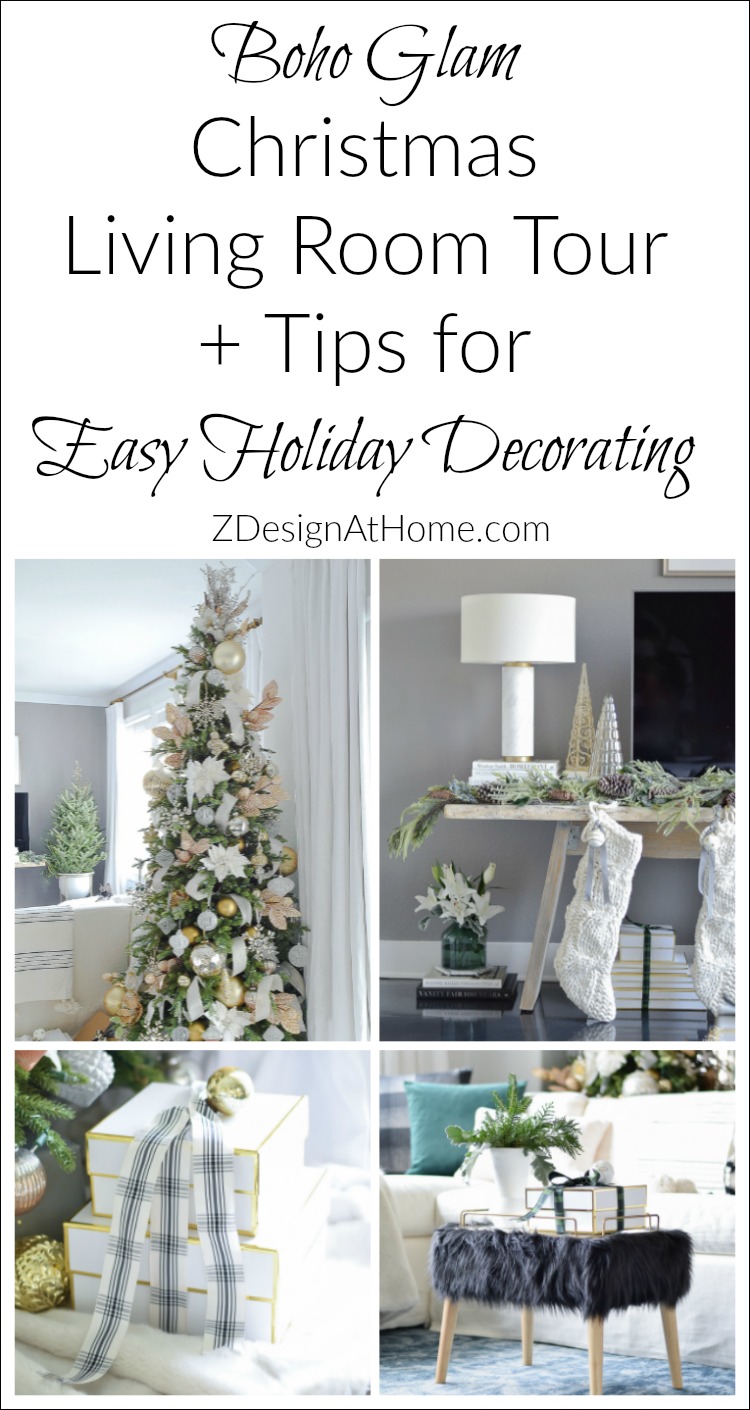 I hope you've enjoyed my Christmas Living Room Tour + Tips for Easy Holiday Decorating and that you'll head over to visit my cute friend Andrea at Life Love Larson next!  And then continue the tour after that to visit the other bloggers on today's tour along with making sure to stop back by later in the week as 5 more bloggers go live each day this week!
Monday – Dec 4th
Tuesday – Dec 5th
Wednesday – Dec 6th
Thursday – Dec 7th
Friday – December 8th

Console Wall
Console Table – no longer available (similar here & here) | Marble Lamp | Cable Knit Stockings | Pot w/ Brass Legs | Gift Boxes | Plaid Ribbon | Small Green Vase | Books – here & here | Similar Garland here | Frames | Minted Prints here & here | Similar Glass trees here & here


Sofa Area

Plaid Pillow | Green Velvet Pillow | Faux Fur Pillow | Black & White Stripe Pom Pom Throw | Faux Fur Throw | Fur Stool | Gift Boxes | Plaid Ribbon | Ornament on Package | Blue Vintage Inspired Rug | Brass Floor Lamp | Similar Sofa | Similar White Linen Curtains | Similar Brass Curtain Rods| Gold Tray


Kitchen
Large Green Vase | Small Vase w/ Brass Accents | Marble Trivet | Similar Gold Reindeer

Tree
Faux Fur Tree Skirt | Gift Boxes | Black & White Plaid Ribbon | Gray Ribbon | Black & White Ribbon | Small blush & gold ornaments on Package |  Similar White Poinsettia Picks & Here | Similar Gold Magnolia Picks | Gold Ball Ornaments here, here & here | Ornament Hooks | Small gold ball ornaments | Similar Tree Ribbon| Similar large crystal ornaments