Decked & Styled Christmas Tour – A Christmas Dining Room & Bedroom
Hello and welcome to the 2nd annual Decked & Styled Christmas Tour with some of my favorite gal pals and design bloggers!  If  you are coming over from my dear, talented friend, Kelley Nan, welcome!  I love everything Kelley does and feel inspired by her work and her beautiful blog daily…I'm sure you enjoyed her tour just as much as I did if you just left her amazing space in the blogosphere!  Today I'll be sharing my Christmas dining room & bedroom.
If you haven't been able to catch my other home tours this Christmas season, you can do that HERE & HERE where I shared some prelim details of our Christmas tree and then our Christmas living room (+ tips for easy holiday decorating) to include a fully decked out tree.  Here I also shared a super fun post entitled Fake It, Don't Bake It where a few of us shared several great ways to dress up a store bought dish for stress free holiday hosting!
*Affiliate links have been used in this post at no additional cost to you.  Read my full disclosure policy here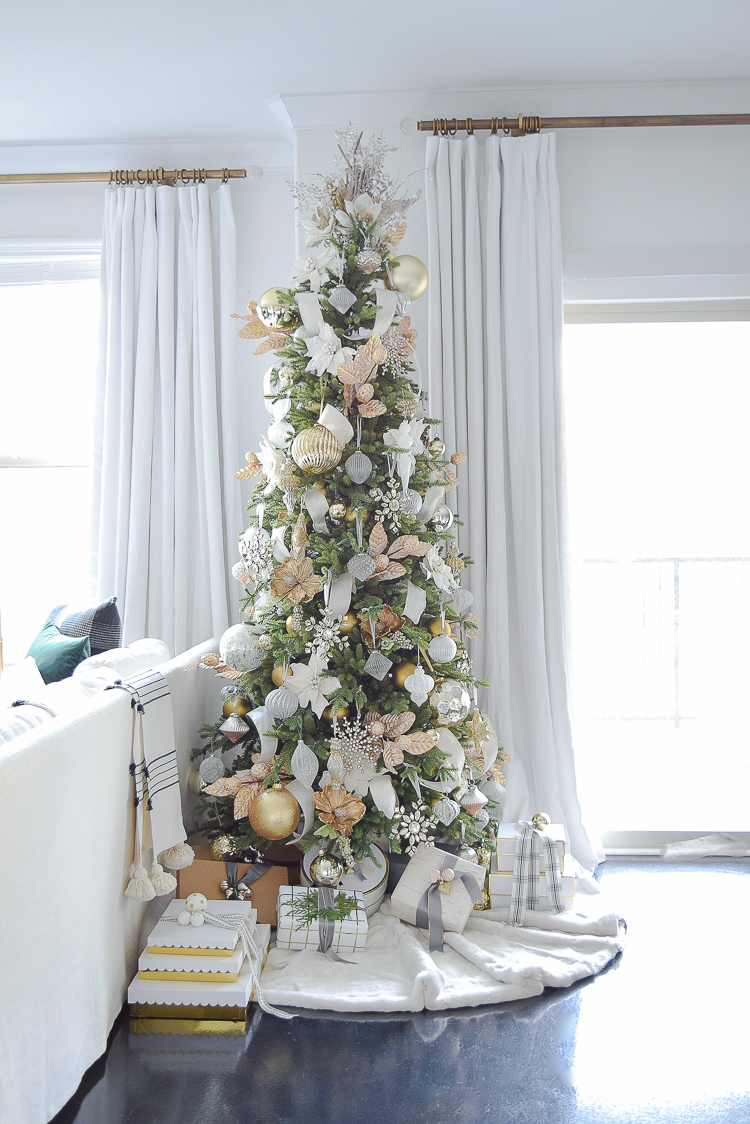 Today I'm starting by sharing my Christmas dining room.  In our tiny apartment we are renting while we build our dream home (get the latest on that here) the dining room is adjacent to the living room.  I had planned on revealing it last week when I shared our Christmas living room but I couldn't get it together enough with all of our new build stuff going on to include it in last weeks post so here ya go:)…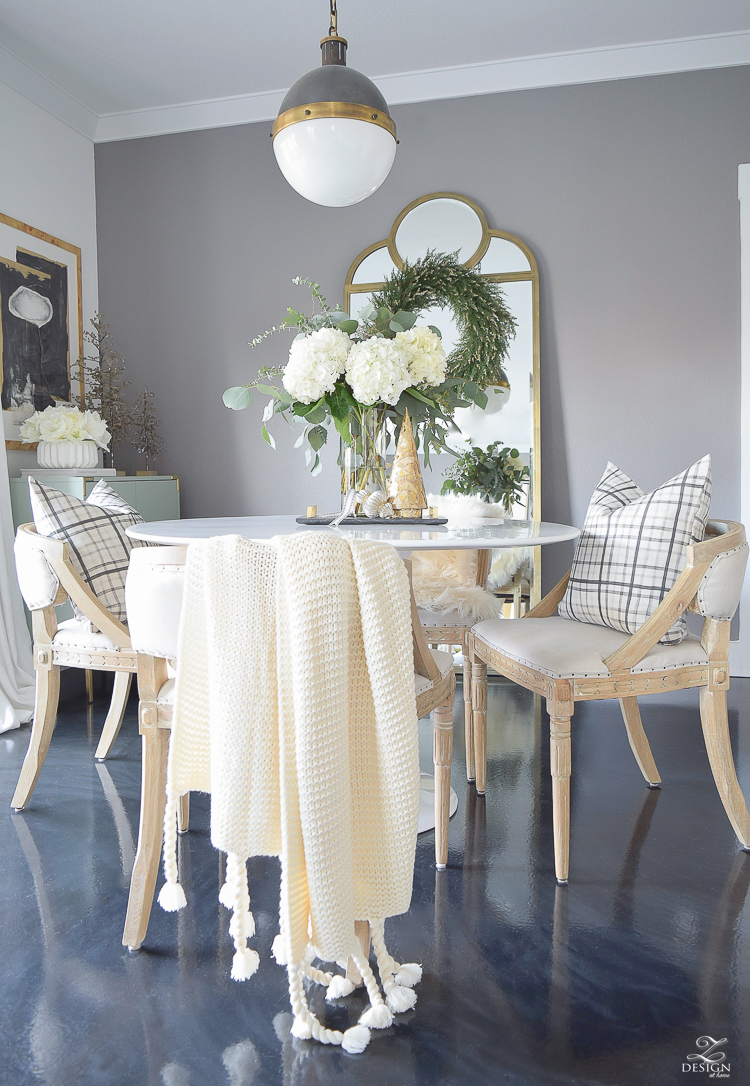 We're enjoying some of the Christmas moments I've spread around the space like simple Christmas flowers, an ornament adorned with black and white ribbon, and gold Christmas tree decor..these little trees (similar) are one of my favorite accessories to use during the Christmas season.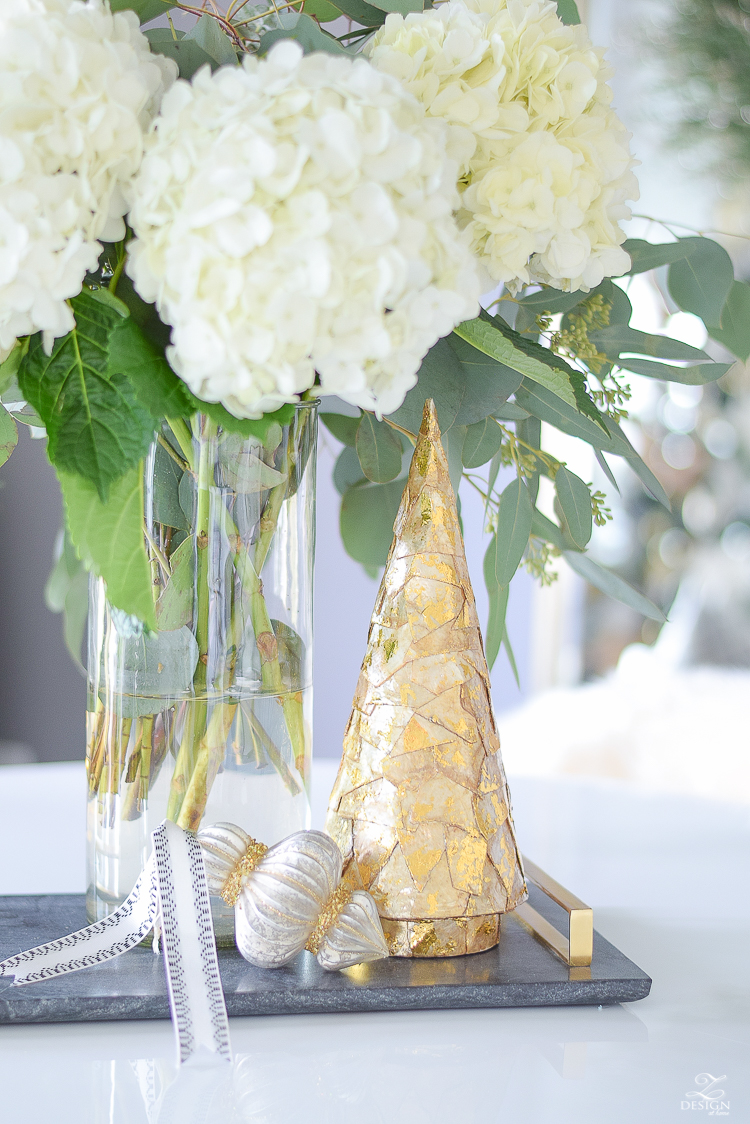 I have several tips for easy holiday decorating here but if you love hydrangeas like I do (a flower that doesn't necessarily remind us of Christmas) just add a simple bouquet of seeded and/or regular eucalyptus to give them more of a holiday/wintery feel.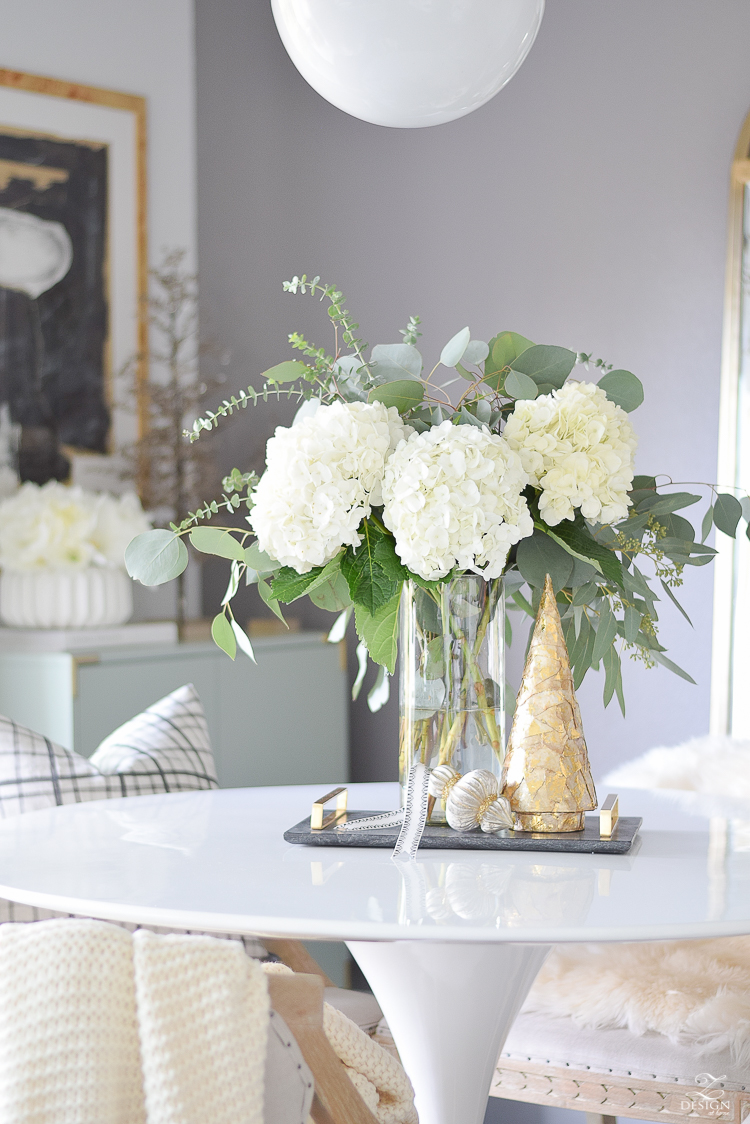 I LOVE this brass and black marble tray I'm using to corral all the pretties.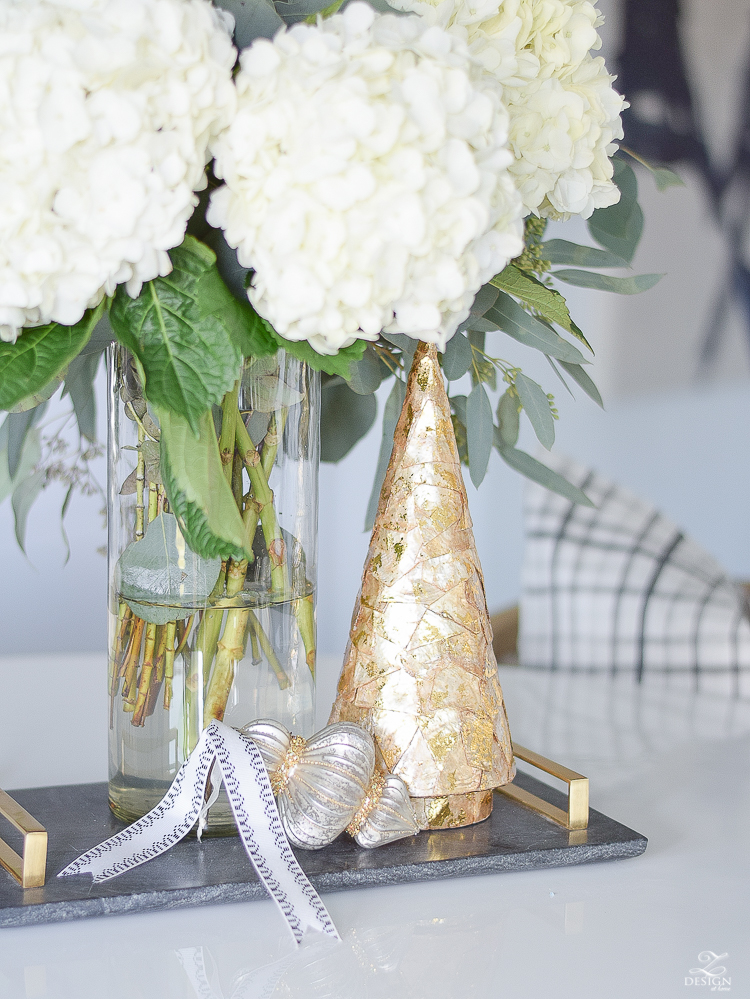 You may have noticed the black and white plaid pillows…I adore them and found that they were a perfect fit for this space once they arrived!  I've got black and white on the brain with the design of our new home and that's spilling over into all of the design decisions I'm making lately.  Black and white is classic, clean and chic and you can never go wrong with just about any decor item in black and white!
I added a simple wreath from Home Goods to the floor mirror (similar) and in case you were wondering, it was hung with a simple suction cup with hook.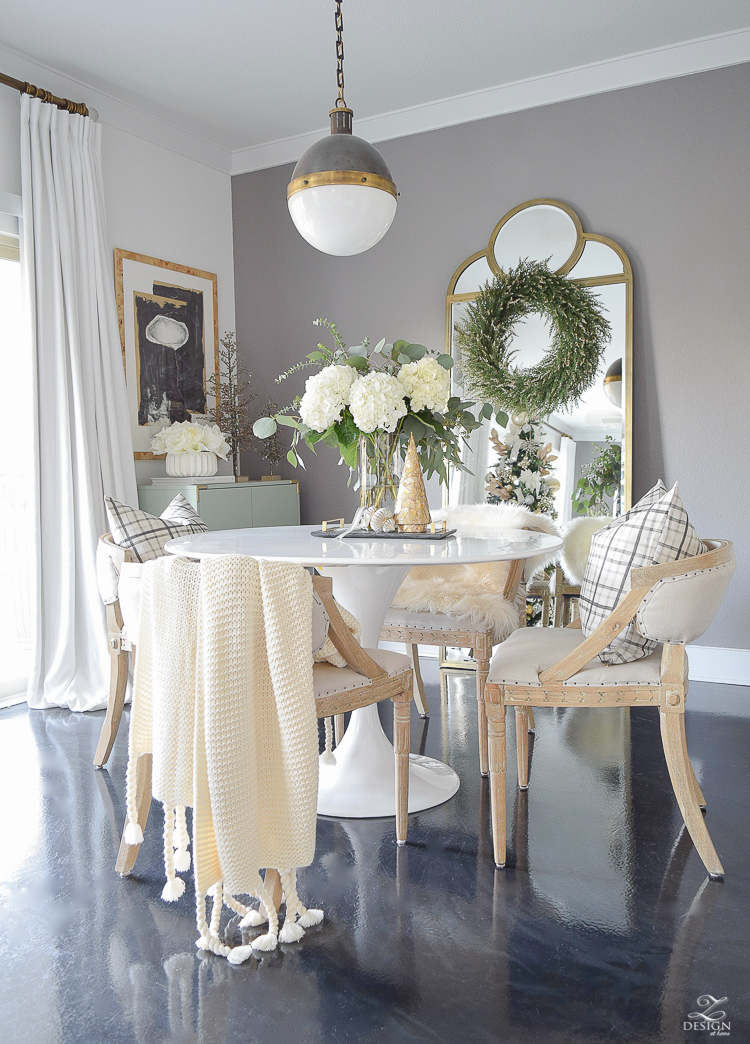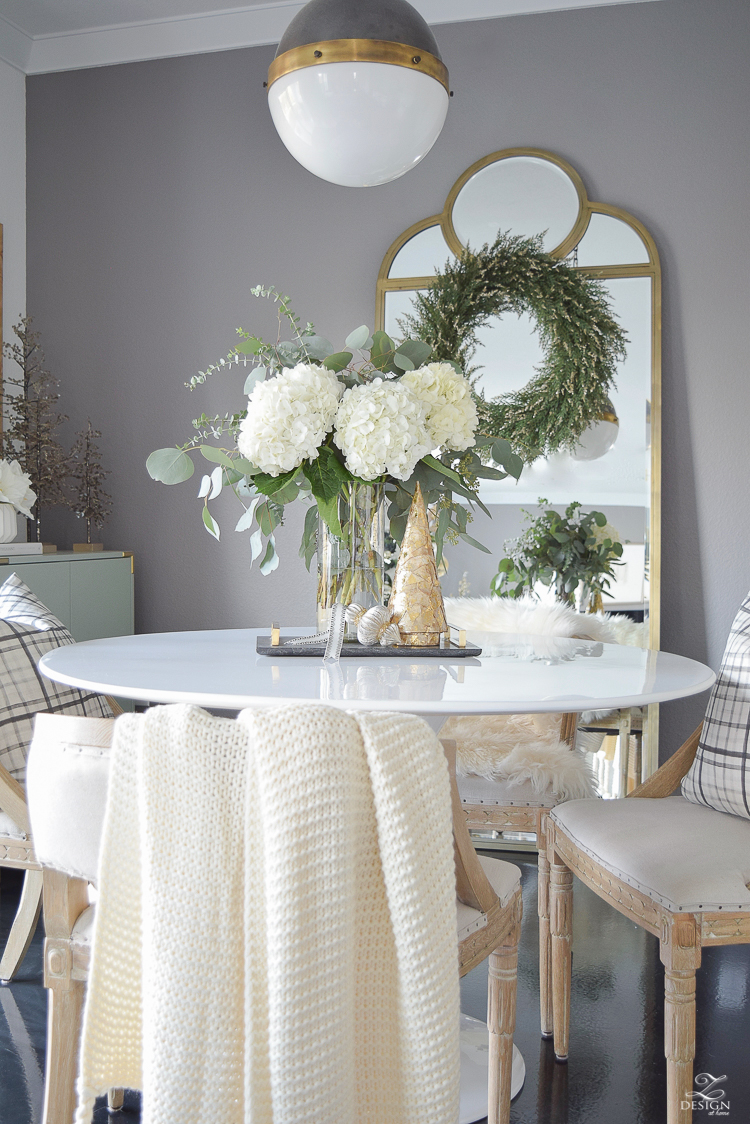 One of my favorite spots in the dining room to decorate seasonally is the bar cabinet area.  We are having to replace quite a lot of our Christmas decor this year since we lost so much during the Harvey flood (while our things were in storage – read more about that here) but one of my favorite new additions are these crystal faceted trees.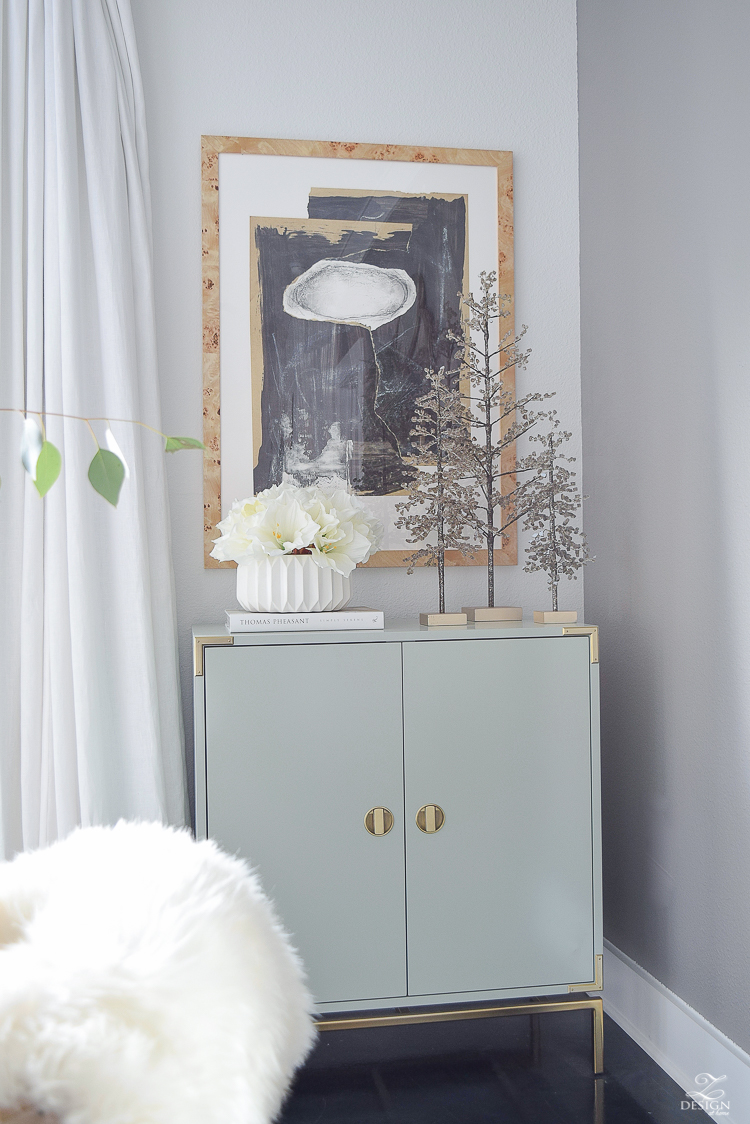 I also love this amaryllis bundle – I have 3 of them in my white fluted pot.  For a little something outside of the norm this is such a light and fresh idea for Christmas decor!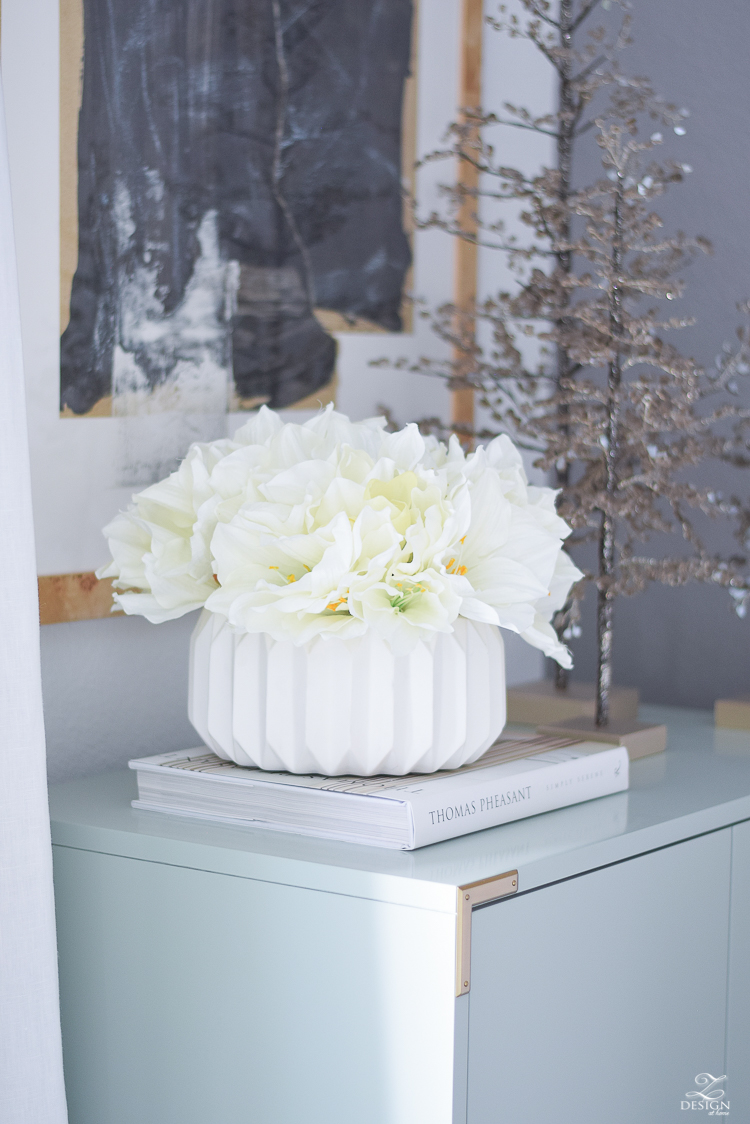 This little spot really brings a smile to my face every time I walk passed it.  The art print can be found HERE and the burl wood frame HERE.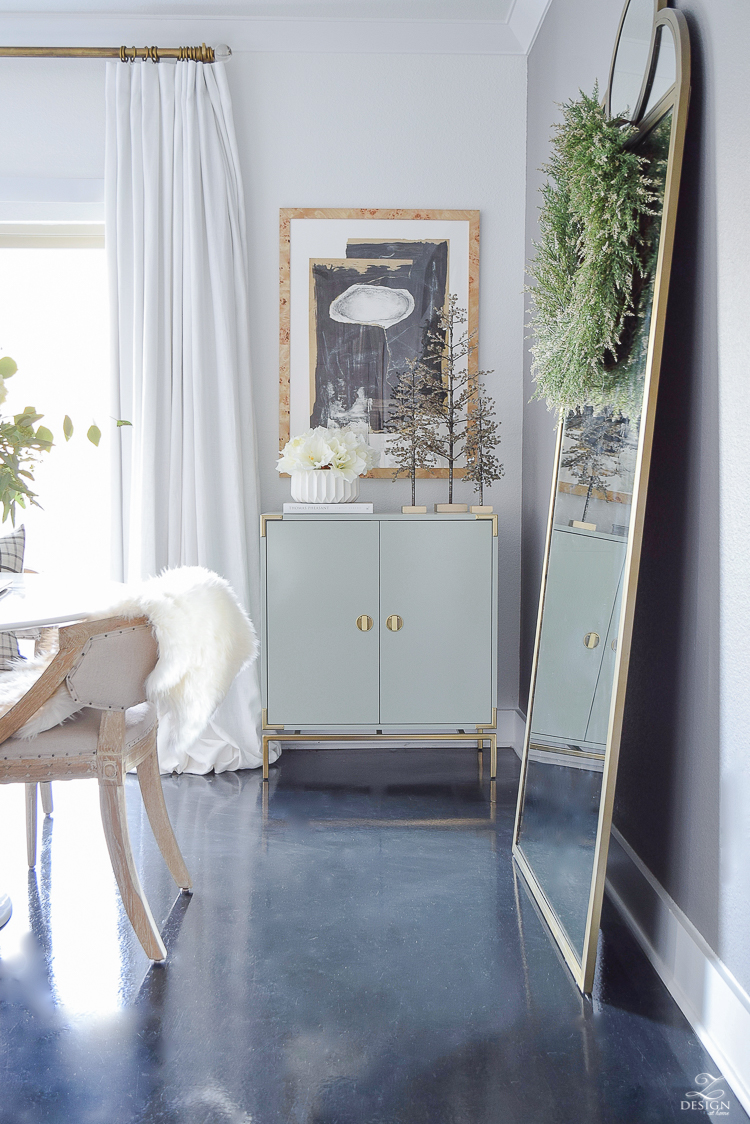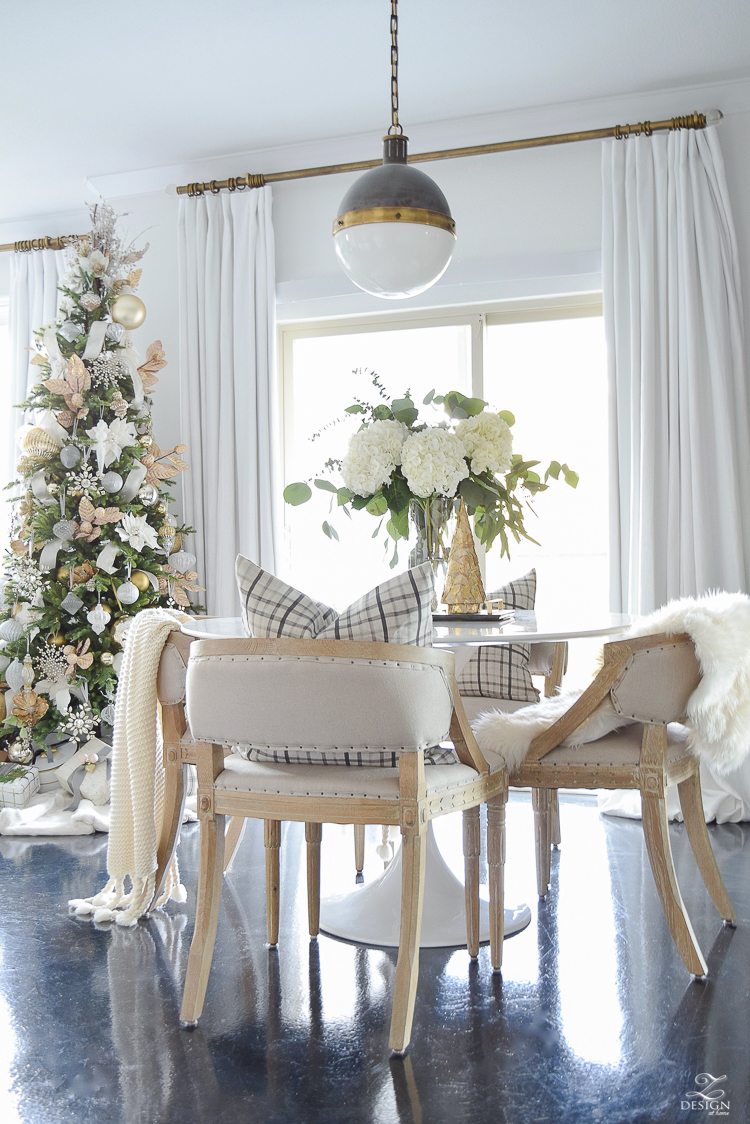 Moving on to the bedroom…blush and black were the inspiration for this room for the holidays.  Again I'm using my favorite pillow source, Tonic Living for the best and most unique pillows I can find!  Pillows are the one place I find it so easy to update my space giving it a whole new look and these beauties will carry me through until spring, with a few tweaks of course!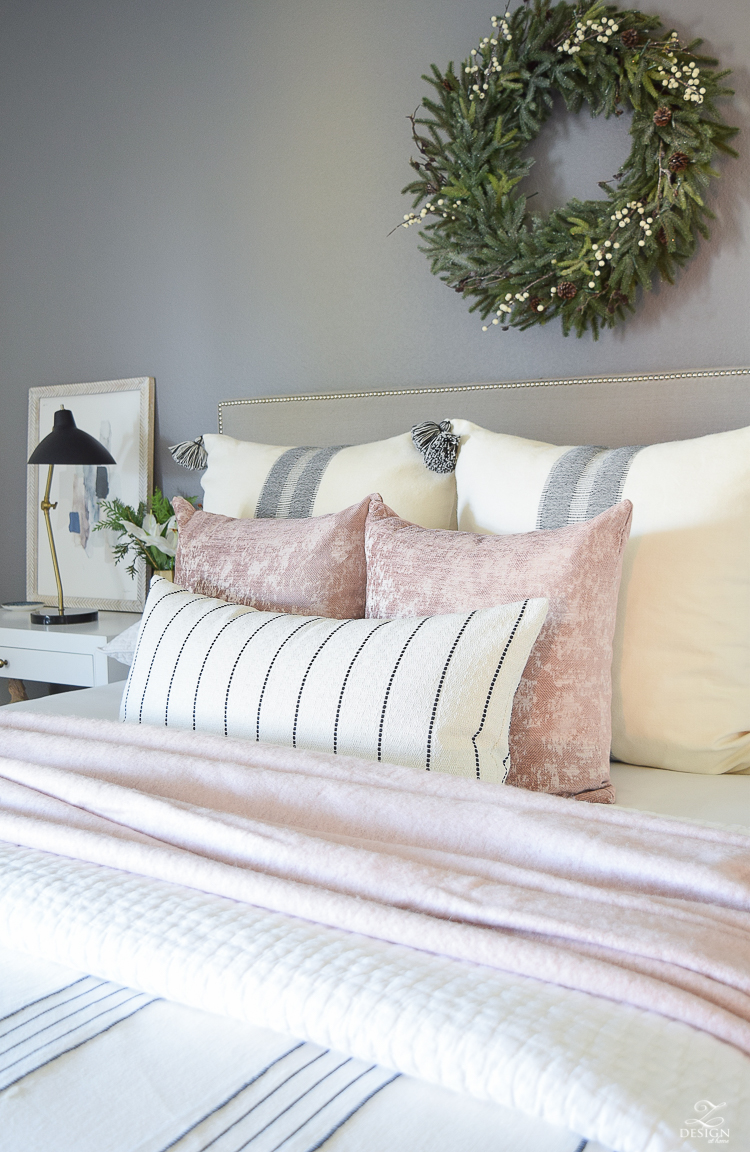 I love the texture and subtle pattern of these blush velvet pillows and you may remember that I used this black and white fabric on my cubes in the living room (seen here in summer & here in the fall) for this extra long lumbar pillow.  Large lumbars are all the rage right now in pillow decor and I can promise you this one doesn't disappoint!!  I also added this oversized, fringe throw that is the prettiest color of blush!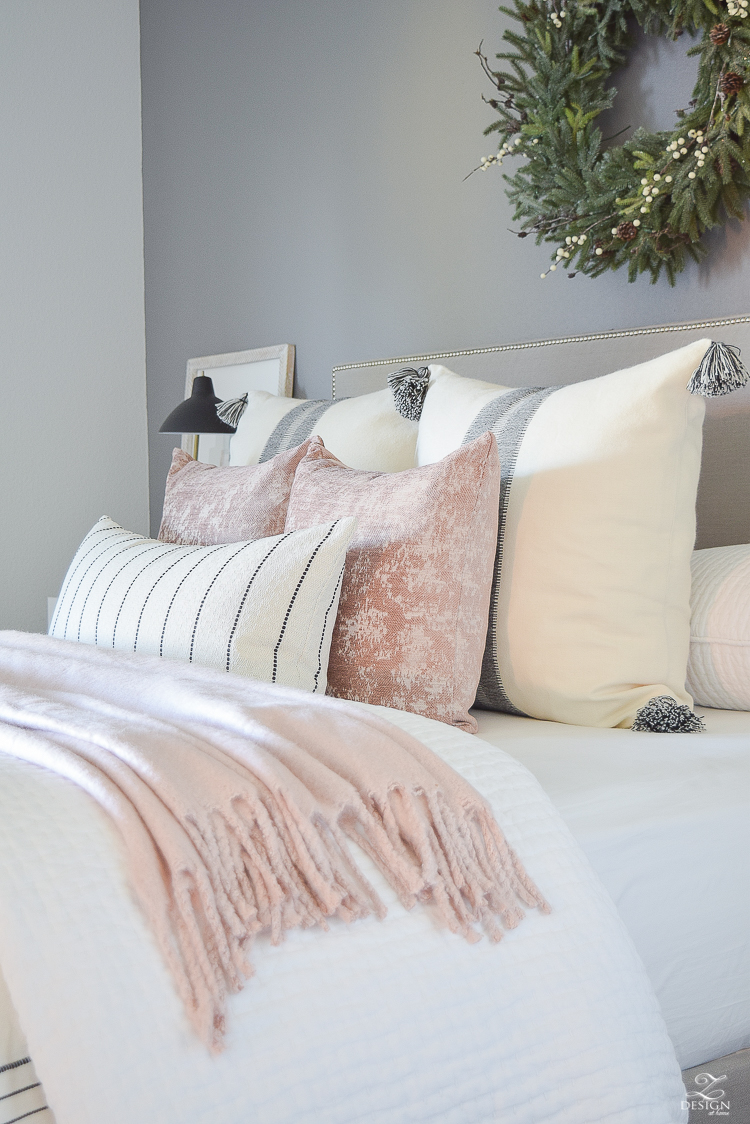 I also added this lovely wreath above the bed, temporarily replacing the feather headdress.  Mine is out of stock now but I've linked a similar one here that is also pre-lit.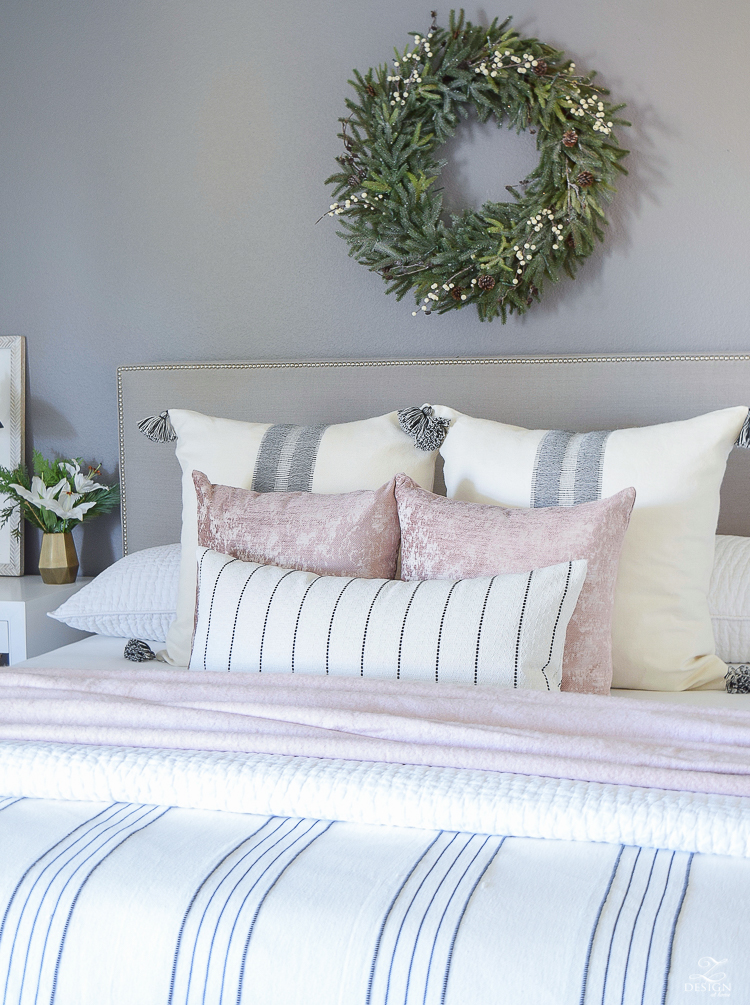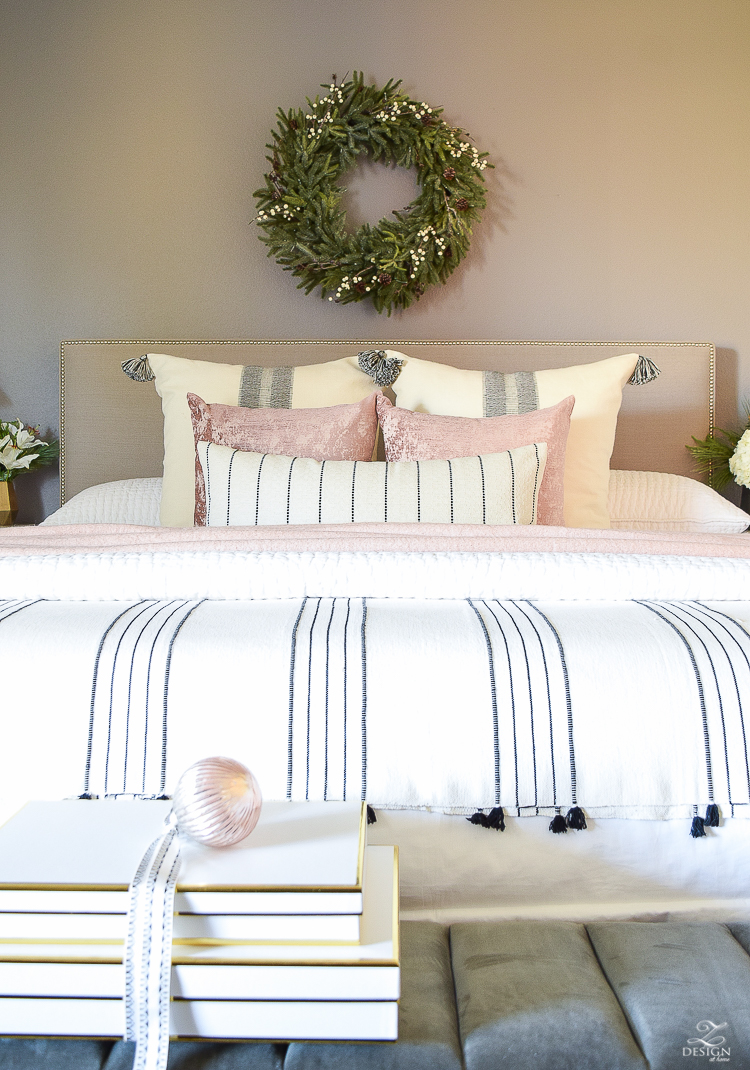 I also added this black and white stripe tassel throw blanket to the foot of the bed.  Yes, I know, it's similar to the one from my fall tour but that one has another purpose that you'll see in a moment.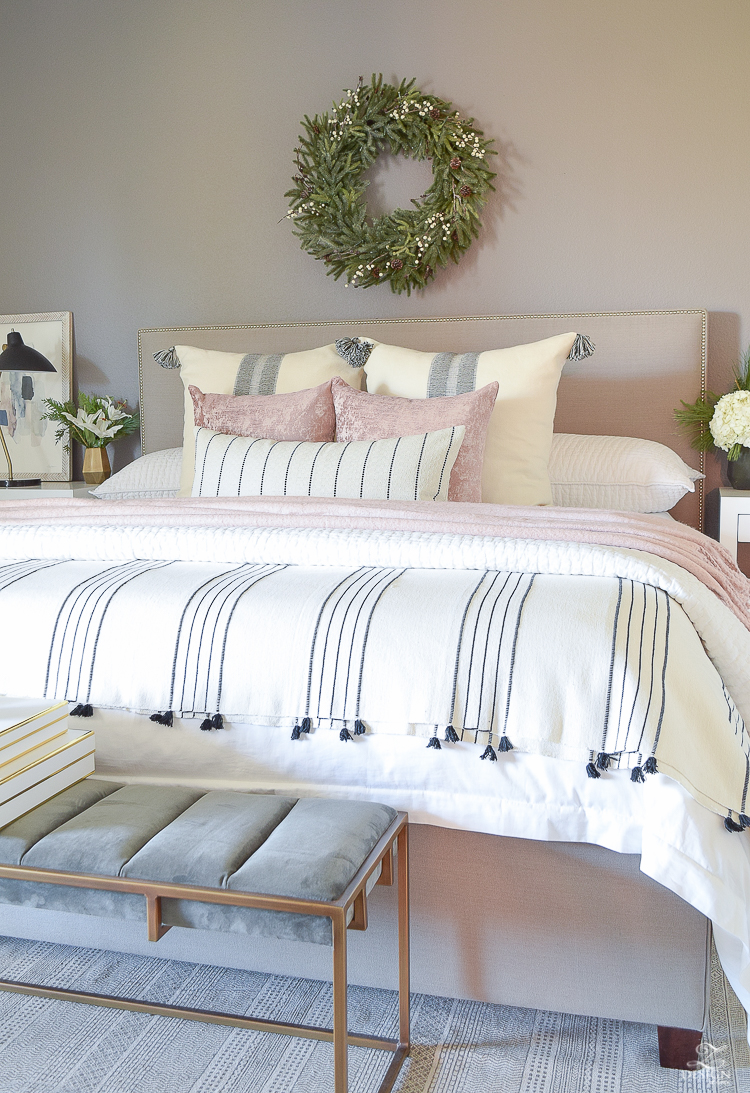 I always enjoy switching up the decor on the nightstands for a seasonal look.  A marble bowl full of ornaments and some pretty gift boxes with ribbon were all this spot needed to give it some Christmas cheer.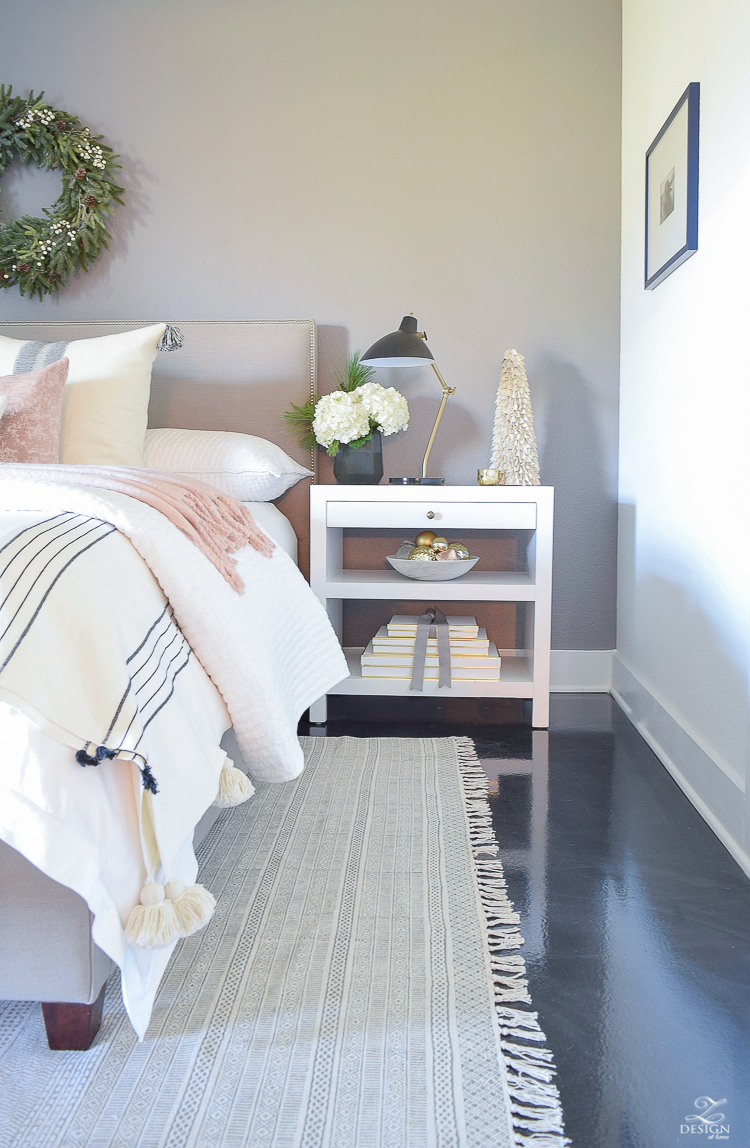 You may remember from my Instagram Stories that I recently shared about this planter.  Because we are living in smaller spaces these days the larger one is currently in my living room but they look best in pairs.  I have a plan for them in the new house that will let them live together in harmony though!  The medium one was perfect for a trio of poinsettias in here.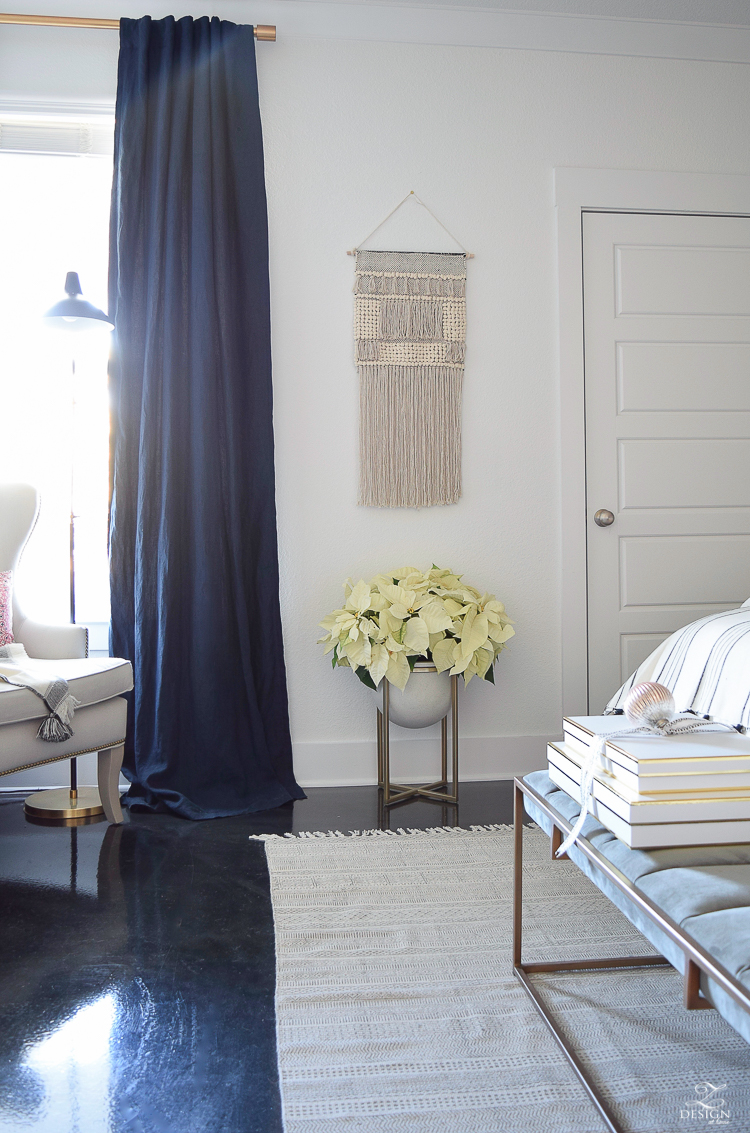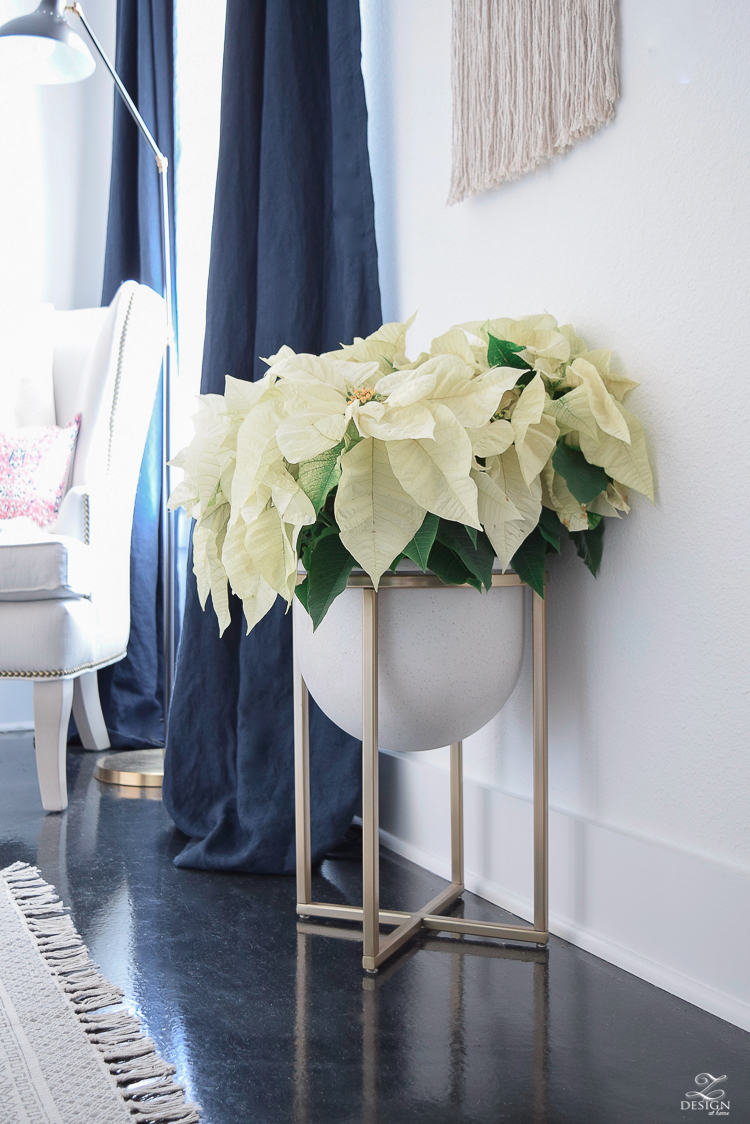 My favorite chair for stacking pillows at night (haha!) acquired the other black and white tassel throw (similar) and a favorite pillow in pink & navy from my fall collection.   I also had to move the new floor lamp from the living room in here once the Christmas tree went up.  See, sometimes it's just a matter of moving things around to get a fresh new look!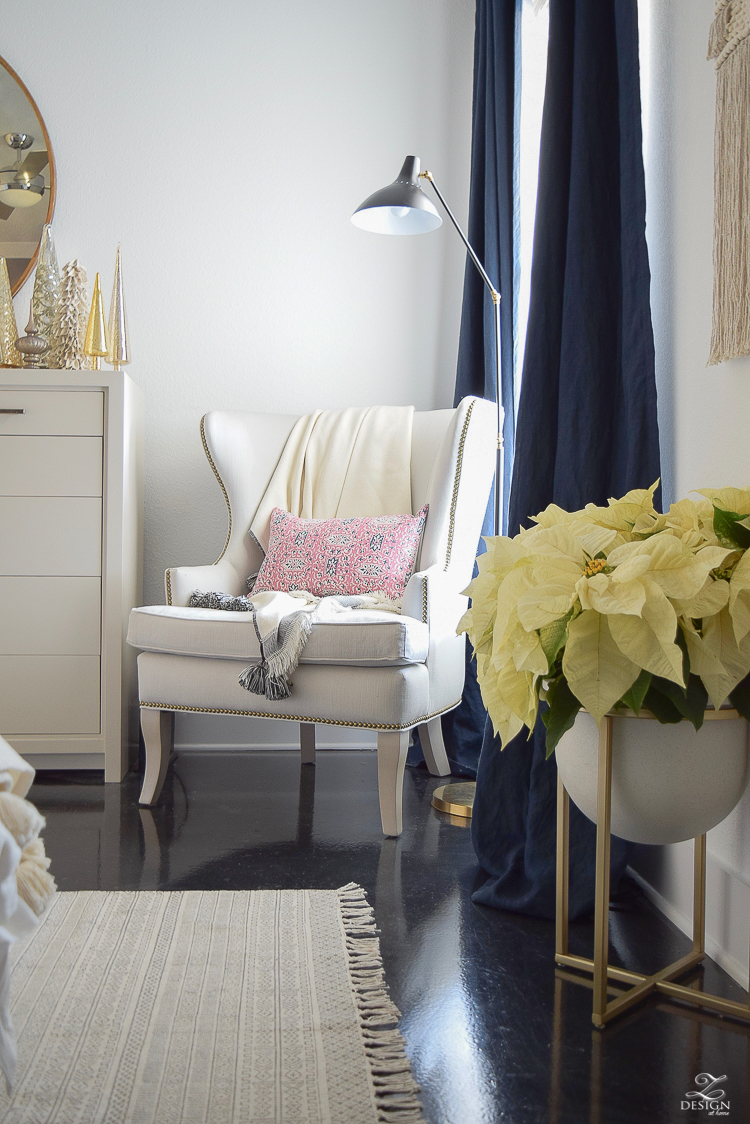 My collection of glass trees that was salvaged from our storage items went on the dresser…so fun to wake up and look across the room to see them gleaming in the sun light!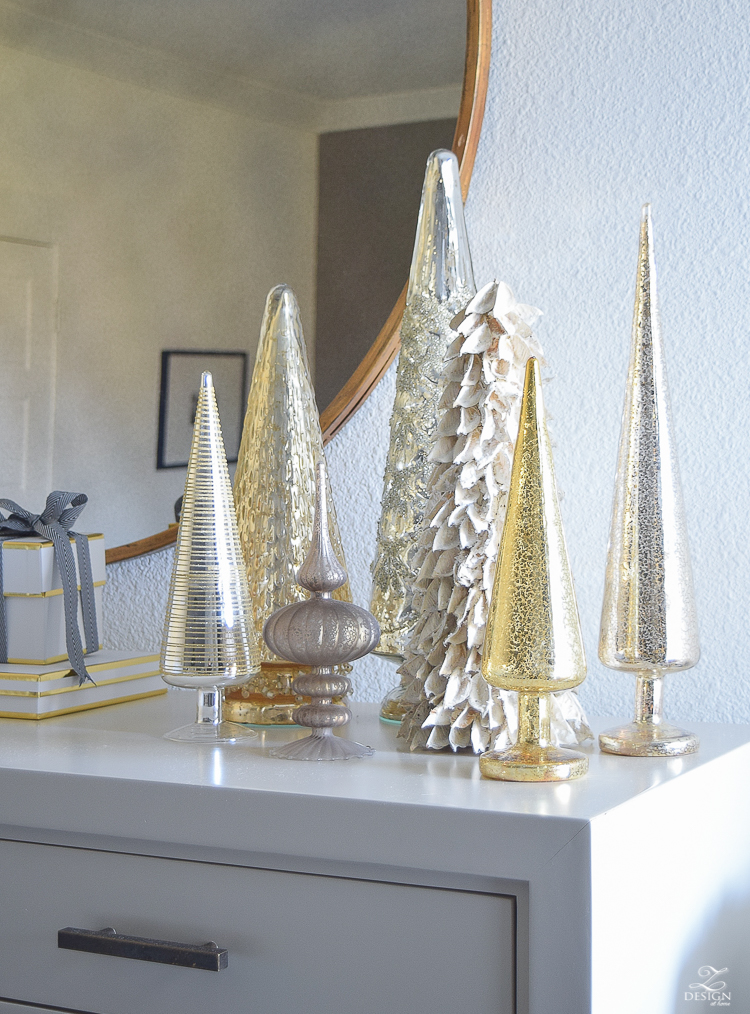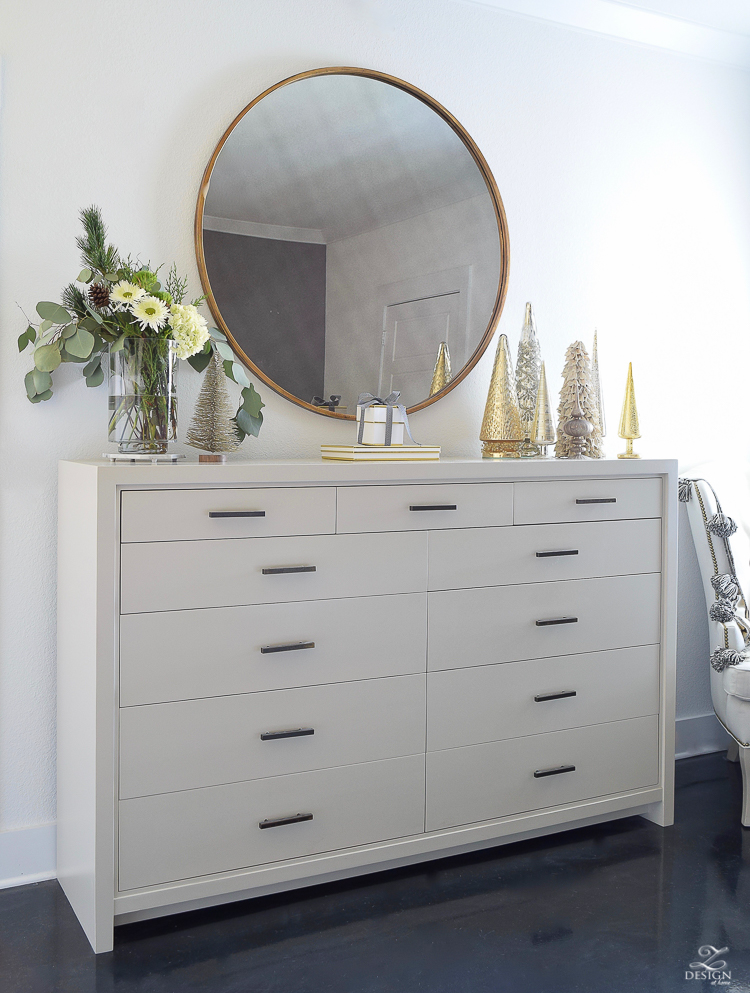 I hope you've enjoyed the tour!  I'll leave you with a few more images of the bed side of the room – I can't get enough of my new pillows from Tonic Living.  You can find the blush ones HERE and the oversized striped lumbar HERE.  You can also shop them below in my source list!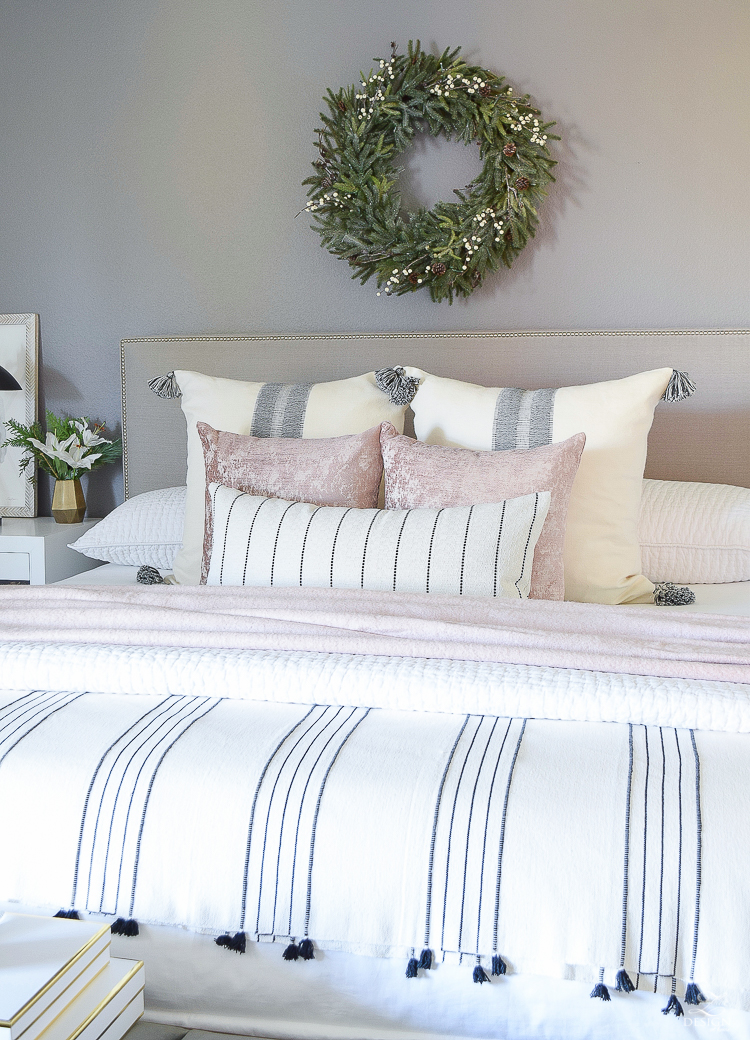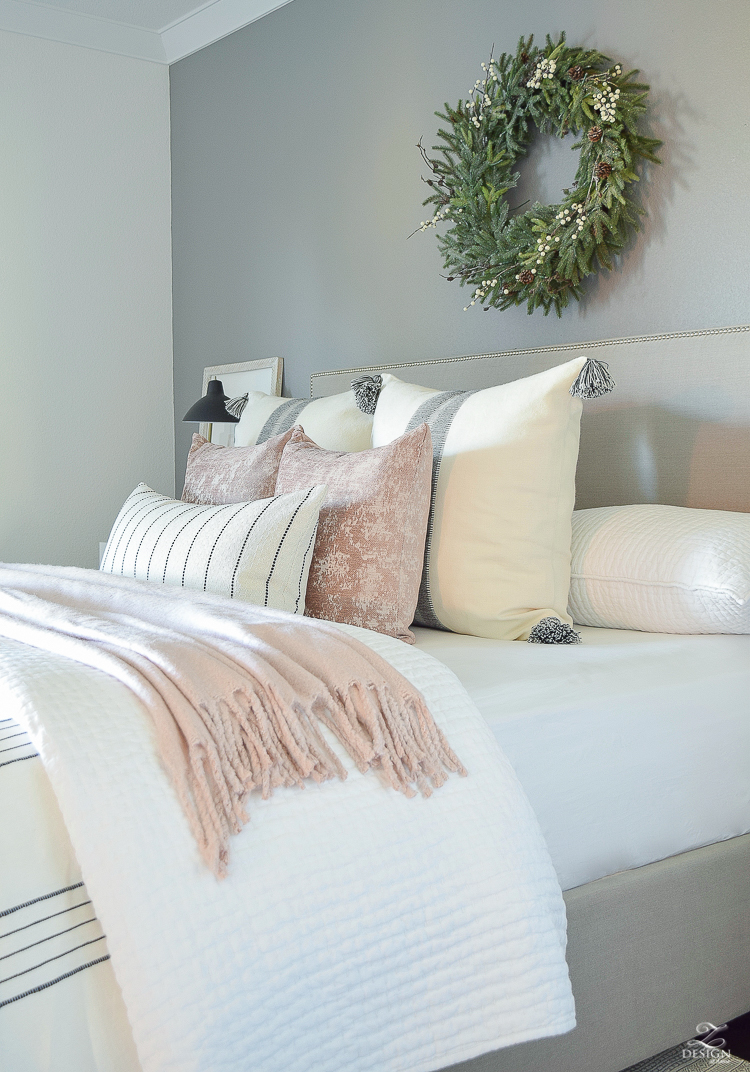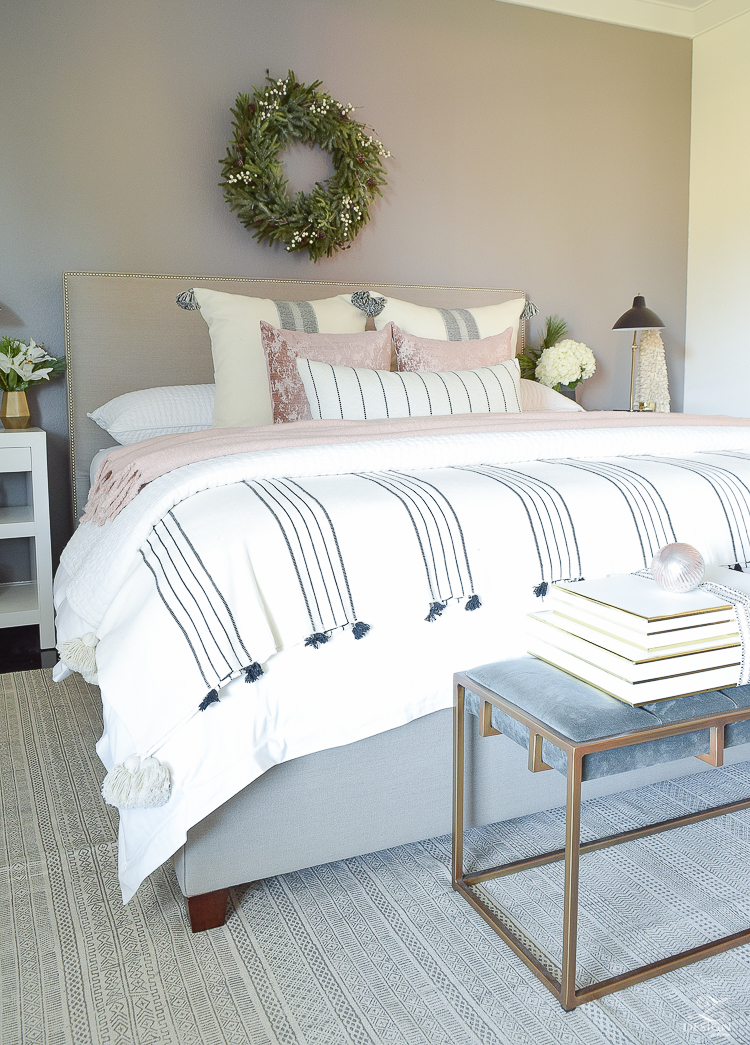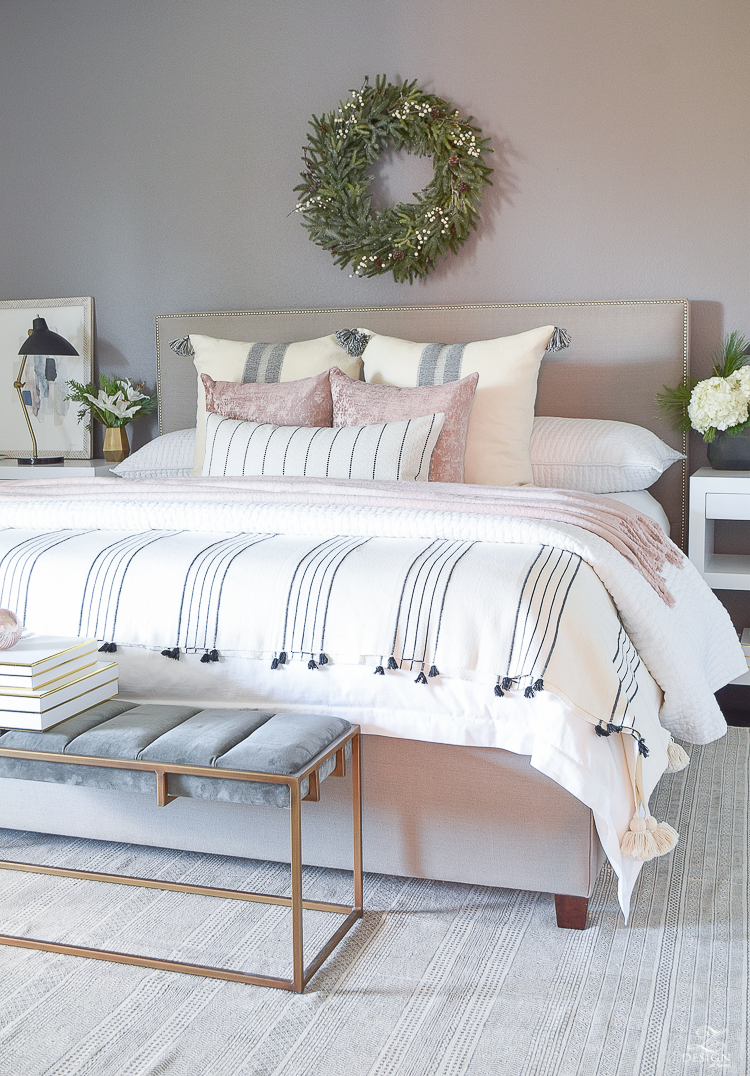 Thank you for stopping by the 2nd annual Decked & Styled Christmas Tour – we've enjoyed having you!  Next up on the tour is my cute my friend Sarah of Life On Virgina Street!  Sarah and I tend to decorated similarly sometimes so I just love everything she does and I know you will love her tour too, and her!!  Merry Christmas!!!
Life On Virginia Street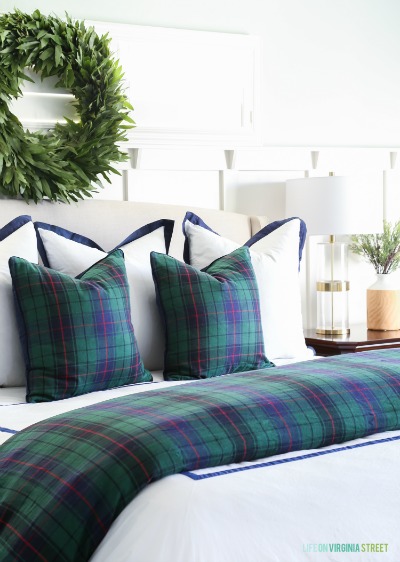 Please remember to visit my other amazing friends in the tour after you visit sweet Sarah!
Sarah of Life On Virginia Street
Shauna of The House of Silver Lining
Courtney of A Thoughtful Place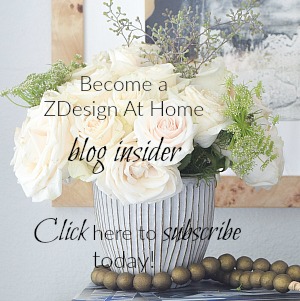 Table | Similar Chairs | Throw | Black Marble Tray | Amaryllis Stems | White Fluted Pot | Crystal Faceted Trees | Similar Bar Cabinet | Similar Mirror here & here | Similar Wreath | Sheep Skin | Pendant Light | Similar Curtain Rods | Similar Curtains



Blush Pillows | Black & White Striped Lumbar Pillow | Striped Throw | White Pic-Stitch Shams & Quilt | Similar Tassel Shams | Gray Bench | Rug | Planter | Similar Dresser | Chair | Pillow in Chair | Similar Throw in Chair| Wall Hanging | Art on Night Stand | Similar Glass Trees | Gift Boxes | Marble Bowl | Lamps | Similar Black Vase on Nightstand | Brass Vase on Nightstand| Night Stand