Fresh Ideas For Fall Home Tour
Happy Fall, friends!  Today I am so excited to be sharing two of my favorite spaces to make seasonal updates for our Fresh Ideas For Fall Home Tour but more importantly, I'm super excited to be doing this fun tour with some of my very best gals and some of the best home design talent in the blogosphere!
If you are coming over from the lovely Brittany of Addison's Wonderland, welcome!  I just love the way Brittany marries color and pattern and I can't get enough of her beautiful, eclectic style…I know you probably feel the same if you just left her blog?!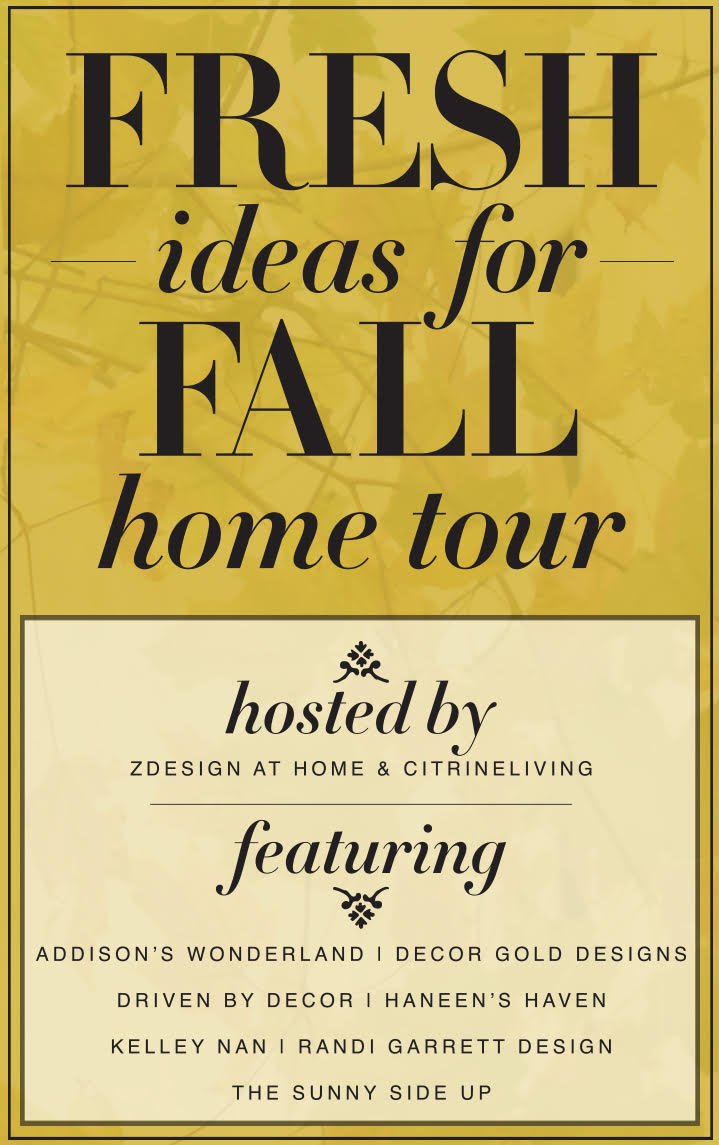 Today I'll be sharing the 2nd half of my fall home tour.  In my first fall tour this year I talked about easing into the season and since none of the leaves have even thought about turning here yet and we are still seeing very warm temperatures, I'm still easing in to put it lightly!
I'm keeping things light and neutral with not necessarily so much seasonal decor (yet) but more so just adding texture, layers, and colors that suit me for this season.  So let's get started with my fall living room!
*Affiliate links used in this post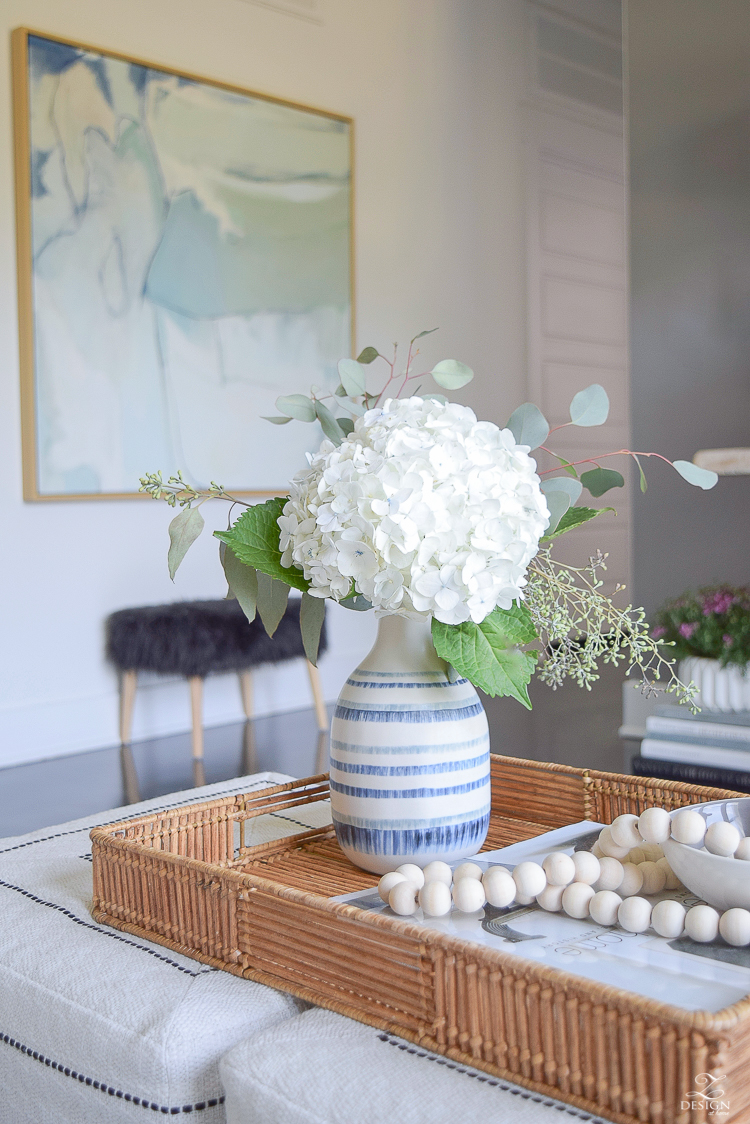 For my flowers this season I'm simply using white hydrangeas with some seeded eucalyptus mixed in, allowing navy and other neutral colors in my textiles to be the star of the show this year.  I found this darling strand of beads at my local Home Goods for $5 recently and I love the bit of texture it brings to my coffee table decor…what a find, right (similar beads here)?!  I also love that it can be used as garland around the holidays coming up!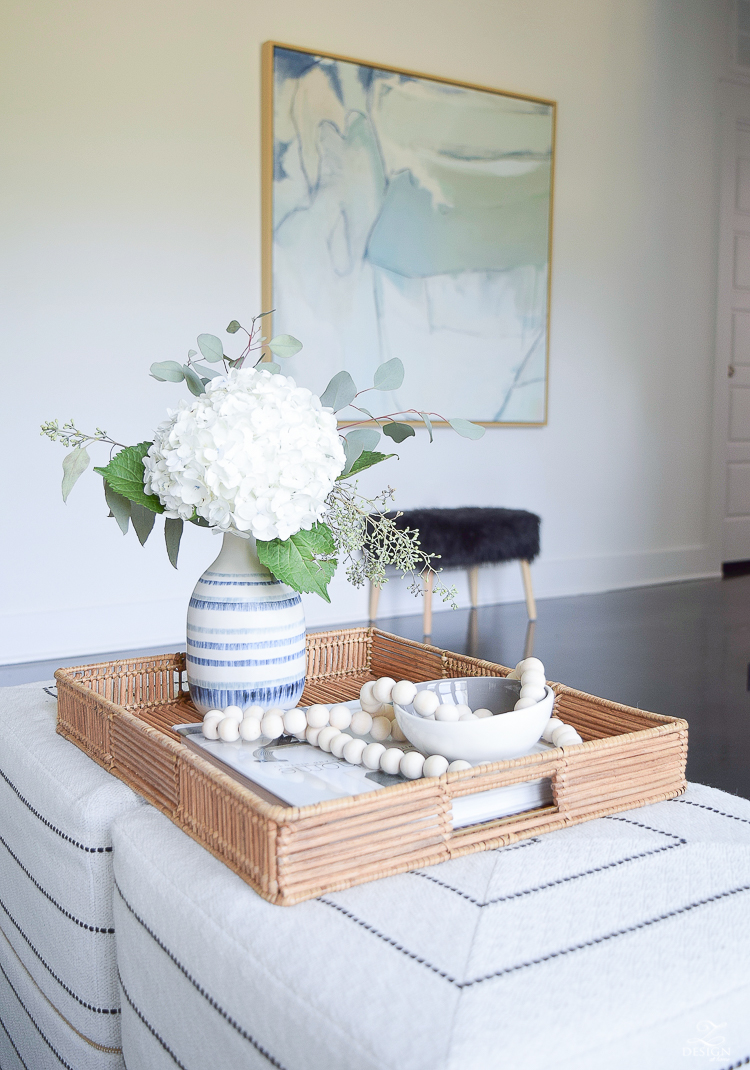 If you've followed me for long you know I used the cubes in the previous photo (and below) under my console in my summer tour/decor).  To switch things up for this season I'm using them together as a coffee table but they are especially functional as well for a place to prop your feet white watching TV.  You can find them HERE and I couldn't be more smitten with them, still!!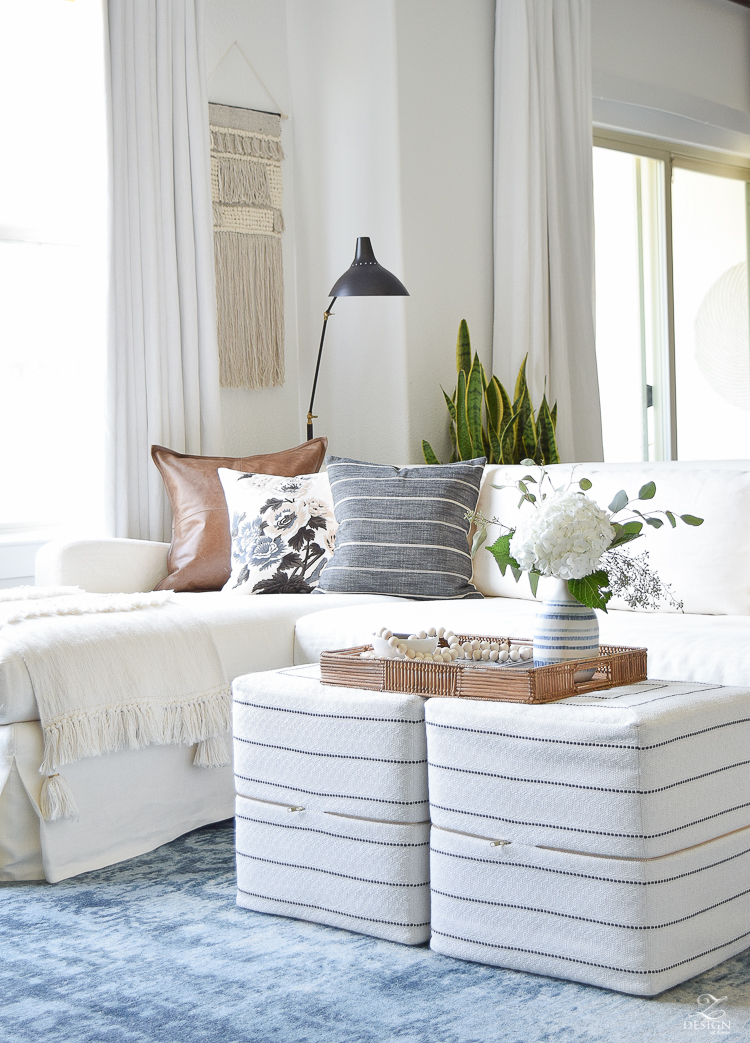 I added this throw for the season which is bringing in a lot of texture to my space.  If you love neutrals (which I'm loving more and more all of the time lately) then a throw or pillow like this with tassels and fringe can add dimension and interest to your fall/winter palette.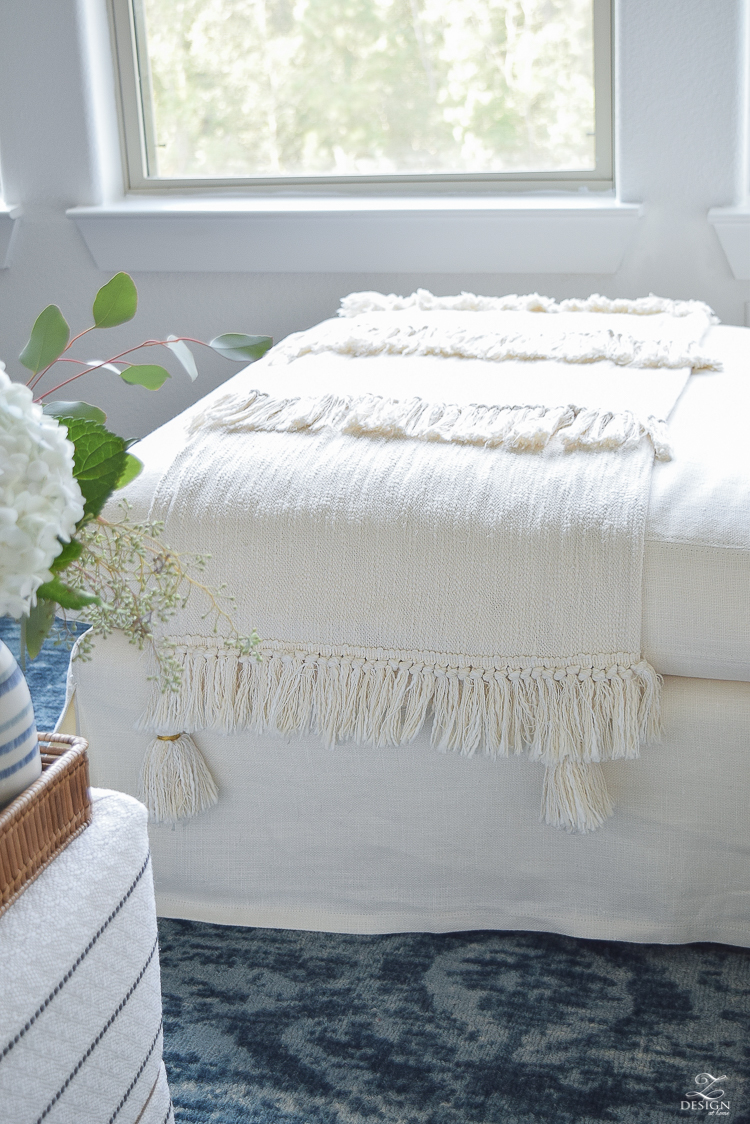 For my pillows I'm actually reusing one of my spring floral pillows that I still absolutely love!  If you are going to use a floral in the fall this is the one because it's a beautiful neutral floral with a hint of blue gray.  It also ties into my rug and washed velvet pillow in navy , that I've been using for the past 4 season by the way:).
I did add this distressed black with cream stripe that also ties into my floral pillow nicely and helped to add a pop of black to further warm up my fall pillow palette.  It has that mud cloth pillow feel without the price, which I love!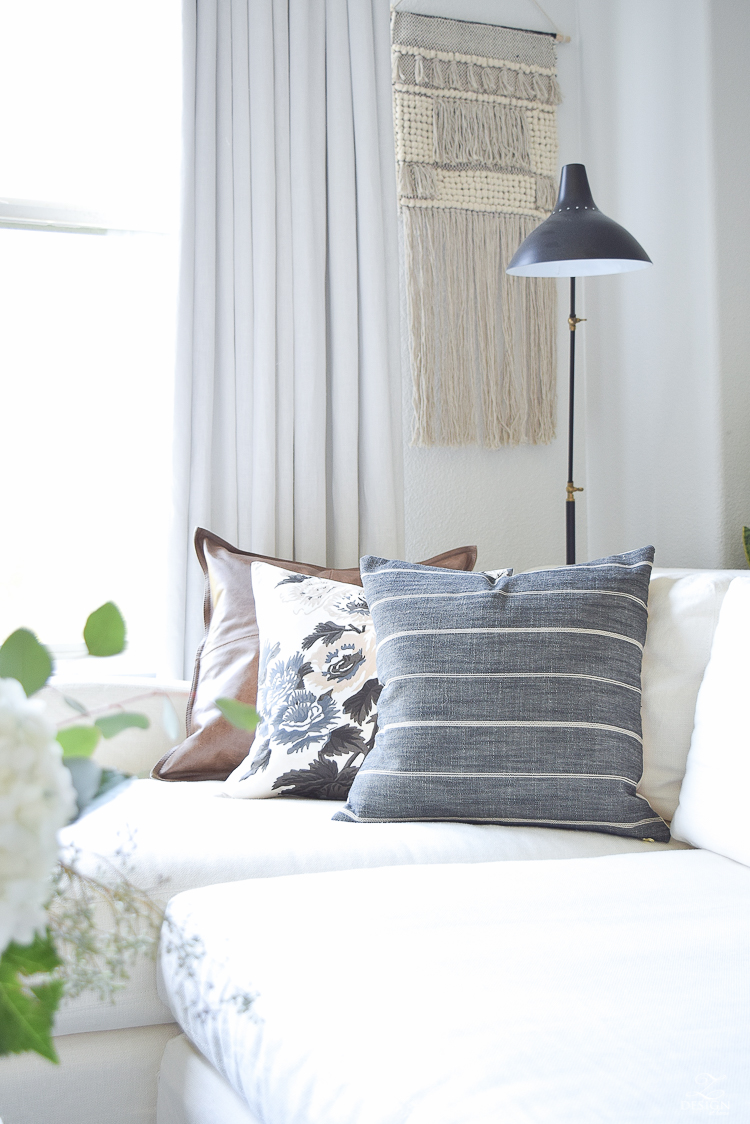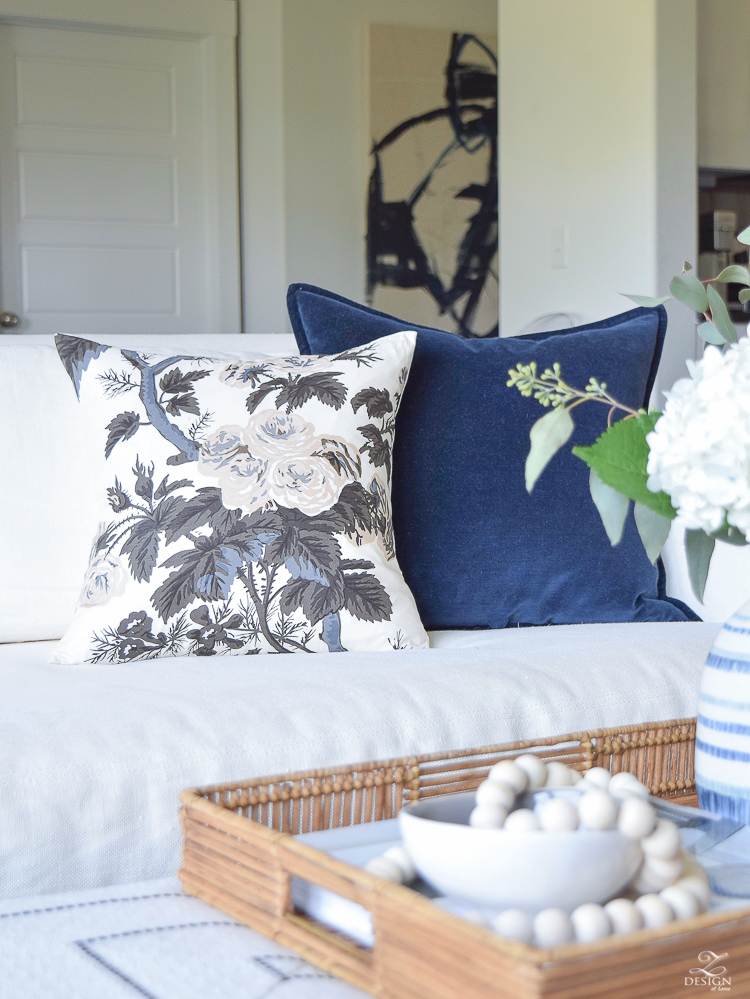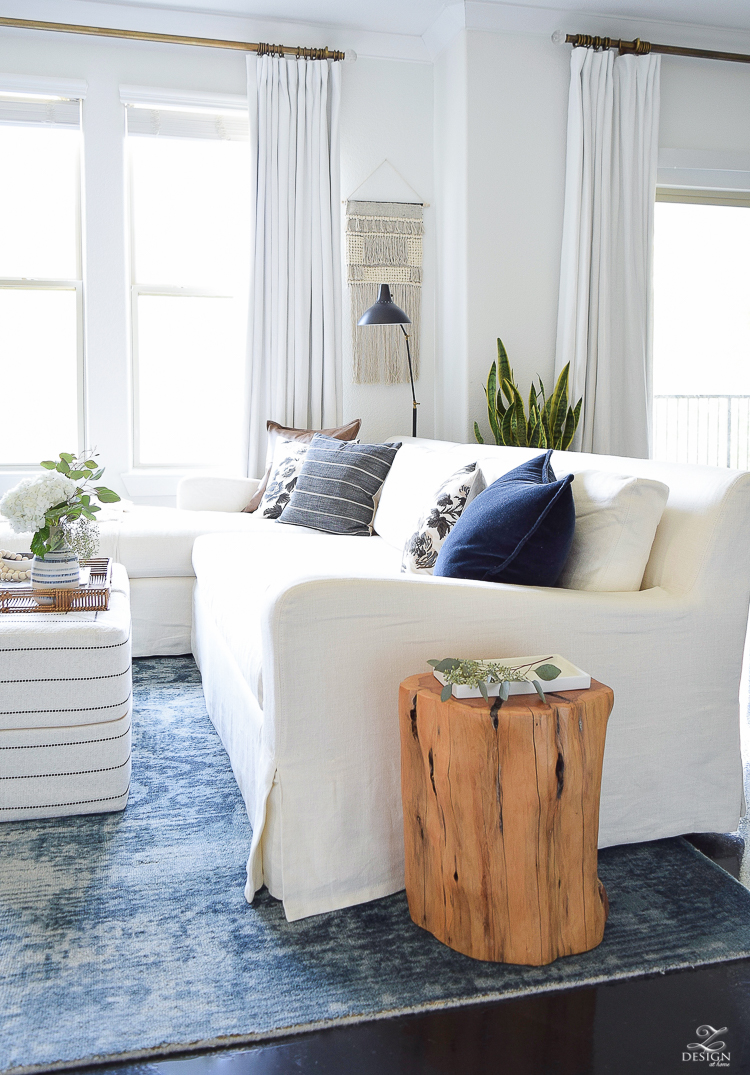 You may have also noticed I added a little something to the wall by the drapes.  I had been looking since we moved into our rental for something long and narrow for this space and had also been wanting to incorporate one of these wall hangings in my decor.  When I ran across this one recently I knew it would be perfect in this spot, plus it adds a little more texture to my space for fall and winter.
We also added this lamp here that gives off a lot more light than the previous one.  Don't worry, I have plans for the previous lamp  that was here in our new home (see our moving story HERE) but apartment living requires lots of lamps apparently since there are no can lights in any of the spaces.  I love the way the black and brass adds dimension and character to the room!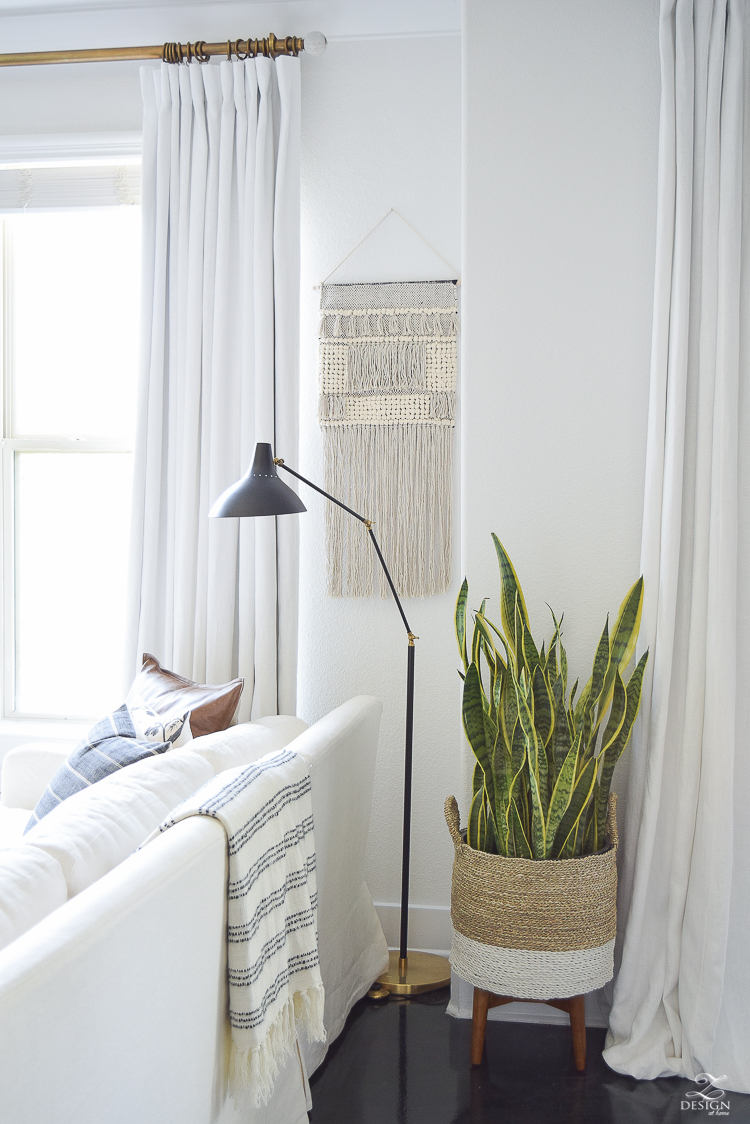 Turning your attention to the other side of the room, again I'm using hydrangeas with seeded eucalyptus in my flower spot next to the lamp.  You'll also noticed I switched my gold bamboo lamp for my gray and brass lamp (similar here & here) for a warmer look and I added a fun stack of coffee table books to the left of my console to balance out this wall (full post on decorating with coffee table books HERE).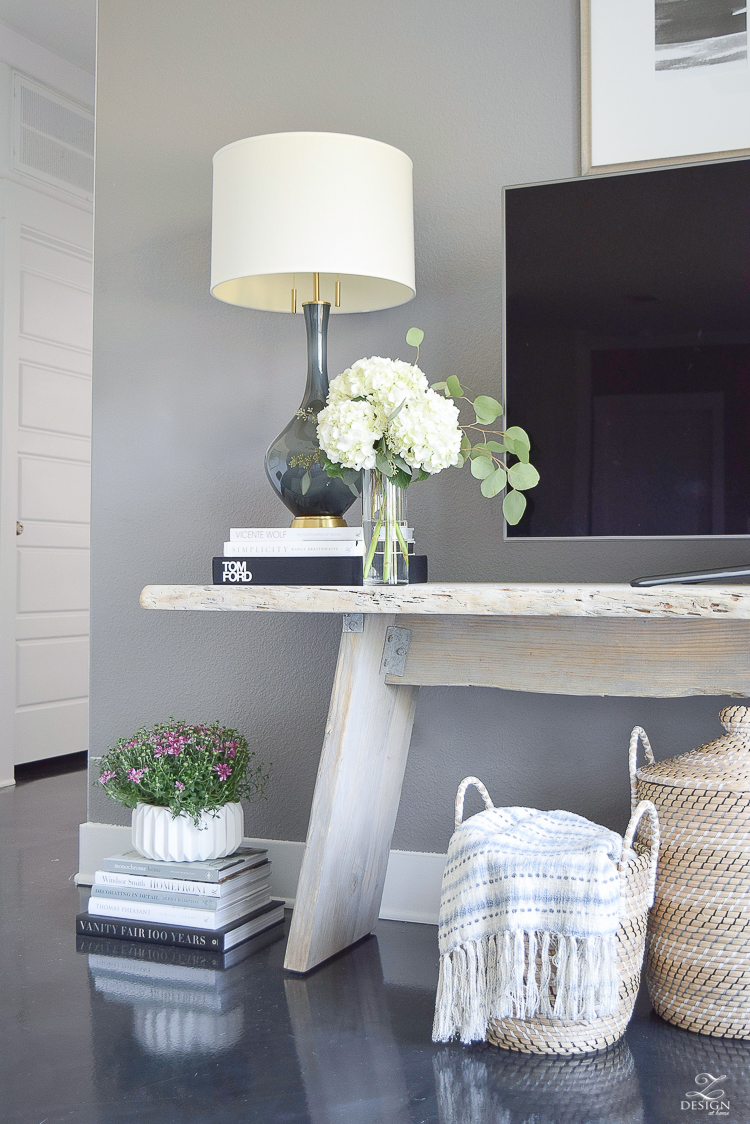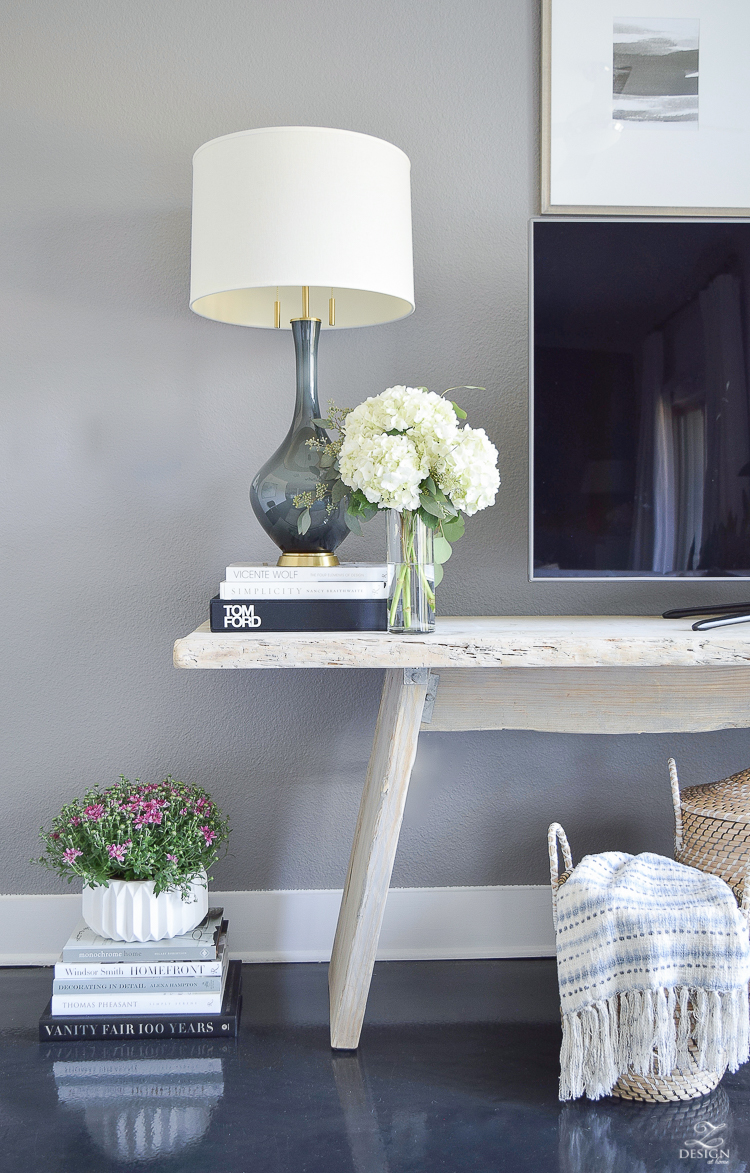 Speaking of balancing out this wall…we finally finished this wall by adding these frames above the TV.  There was a weird, awkward space over the TV and this addition finished this space off perfectly, not to mention it warmed up this area just in time for fall!  For now I just used some super affordable downloadable art from Etsy (here & here) but I may switch these prints out as we approach the holidays.  Love this wall now though!!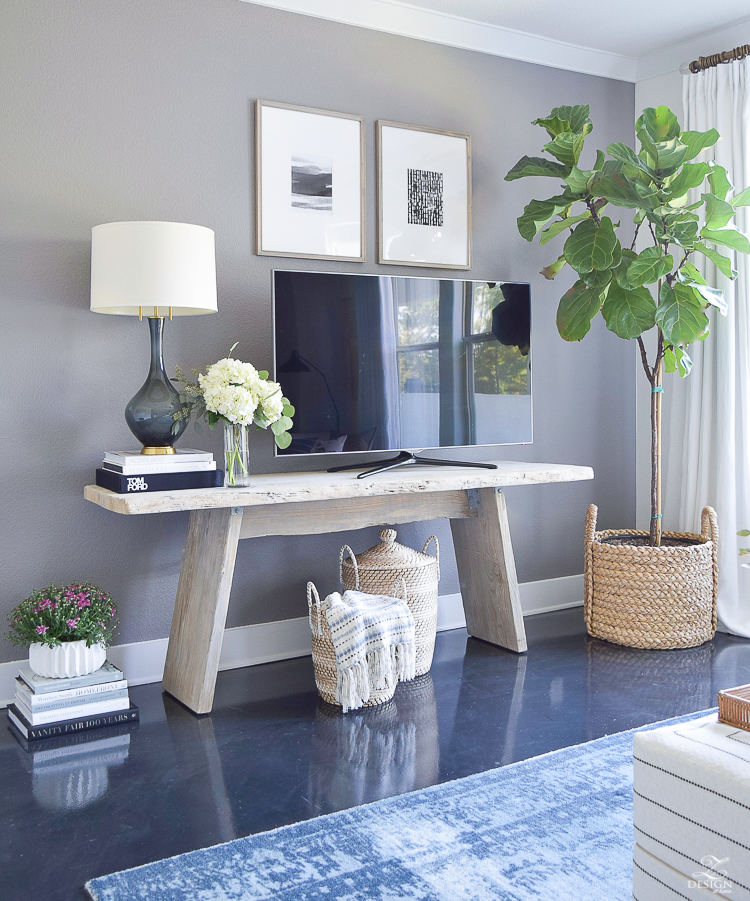 Love how our rental fall living room turned out and looking forward to snuggling up and enjoying the new season here with family!!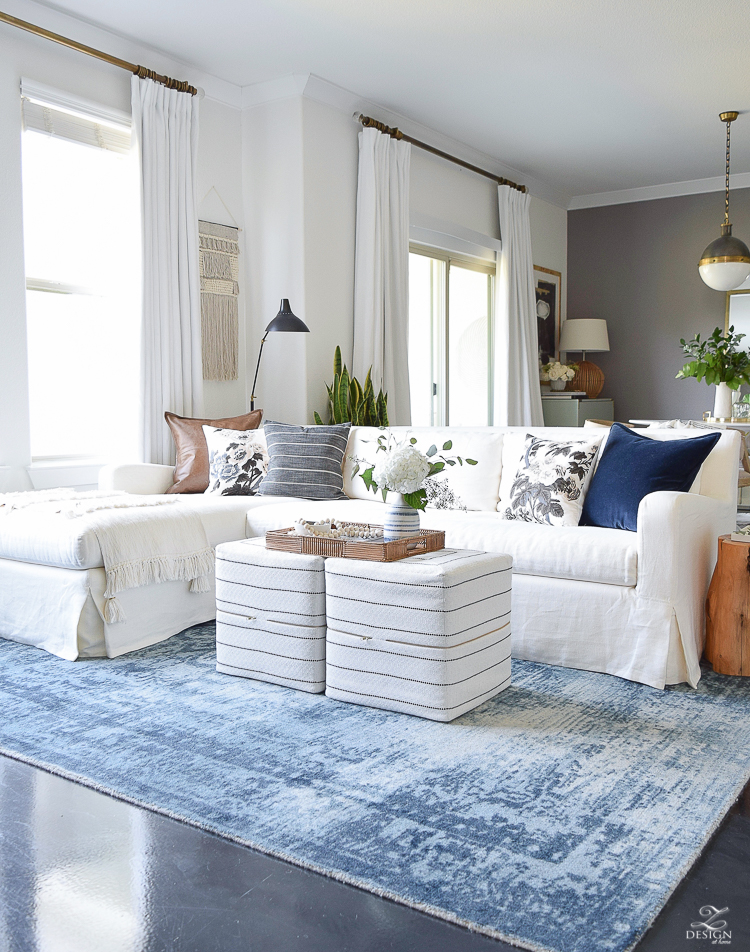 Before I move onto the bedroom I wanted to share a little tip that's been on my heart to share lately, along with a little bit of my own personal situation in regard to Hurricane Harvey.  Although I know it's nothing compared to what most have lost in all of the recent fires and floods (and even earthquakes in South America) and my heart goes out to all affected, but we also recently found out that we may have lost all of our things that were in storage in Houston (waiting now on the final word from our storage facility).  Thankfully most of our nice furniture is with us in our apartment but basically half of everything we own was in storage, including photo books I've worked on tirelessly over the years to create albums of our family memories. The photos from when my son was in the NICU at birth to 4 1/2 months are irreplaceable and unfortunately I didn't have most of those with an online photo service (like Shutterfly, etc) and, even the CD's I had my photos backed up to were in storage as well.  Things can be replaced but old photos cannot so I said all of that to say this…all of the seasonal decorating is so fun and I love pumpkins and mums and gourds just as much as the next home decor enthusiast but, if your heart is heavy now too due to a certain circumstance or recent event and you don't feel like loading up your front stoop or hearth or whatever just yet with seasonal decor, or filling every vase in the house with fall branches, then don't!  Do what feels best to you like I've done with light, seasonal decorating just to make a simple change that will put a smile on your face when you walk into the room.  Or, if those things I mentioned above will make you feel better then by all means do it!  Bottom line is that as bloggers we do this to share our creativity and inspiration (and because we love it and you!) but don't ever feel pressure to be fall, or spring, or any other season ready until you're ready:).  Again, my heart and prayers go out to all affected by all of the recent events and I pray God will provide comfort and healing for your situation, whatever that might be right now.
With that said, I've made minimal changes in the bedroom, again adding a simple arrangement of hydrangeas and a simple arrangement of eucalyptus to each night stand.  I love using eucalyptus this time of year not only because it feels fallish to me but also because I can usually grab a bundle for around $4 to $5 and they last for a long while, even looking fine once they've dried so you definitely get your money's worth out of them!
I also updated our lamps (found here) to add a pop of black in here and you'll see why I did that in a minute but, I do love the black and brass and they are the perfect mid-mod task lamp for reading from bed.  I moved my marble table lamps to other places in the house so have no fear, they are still in use:).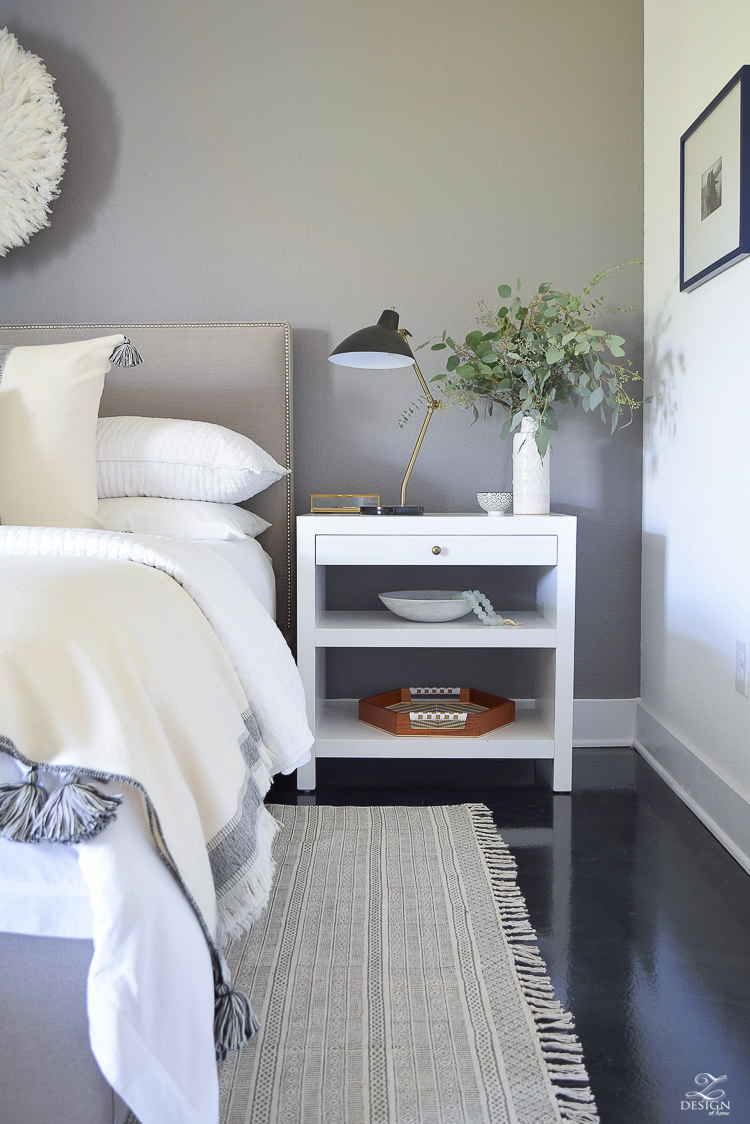 I also recently found a marble bowl at Home Goods (similar here) that I couldn't pass up adding it to my night stand for jewelry or other personal items, along with a rattan tray to add a little texture and warm color over here.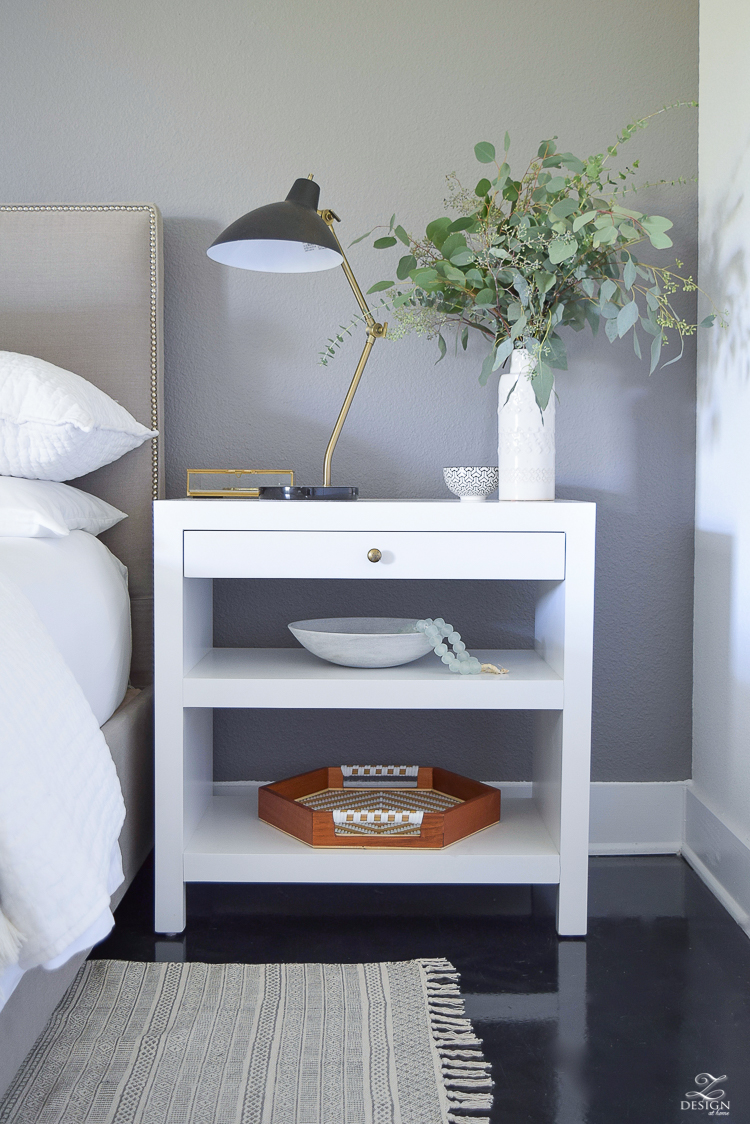 I kept my amazing hotel bedding that I recently talk about HERE adding to it some layers, textures, and for heaven's sake some color!  I can't get by without a little color in here and this pink and blue pillow paired with my navy washed velvet pillow was perfect to fit the bill this fall!  I also reused the pillow on the right (similar) from my spring tour found HERE.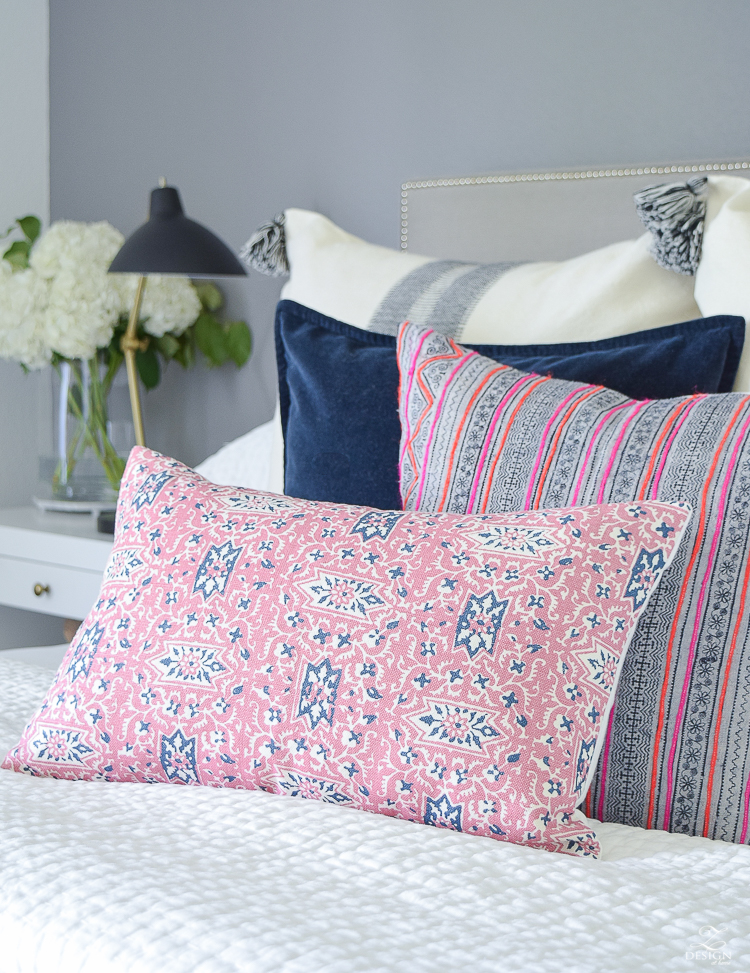 Do you see now why I added the pop of black with my lamps?  The black was a nice balance to the new addition of pink in here to make everyone that sleeps in here happy, haha!  My hubby is such a great sport though and really pretty much just goes with the flow with everything I do decor wise…gotta love a good man like that!! 🙂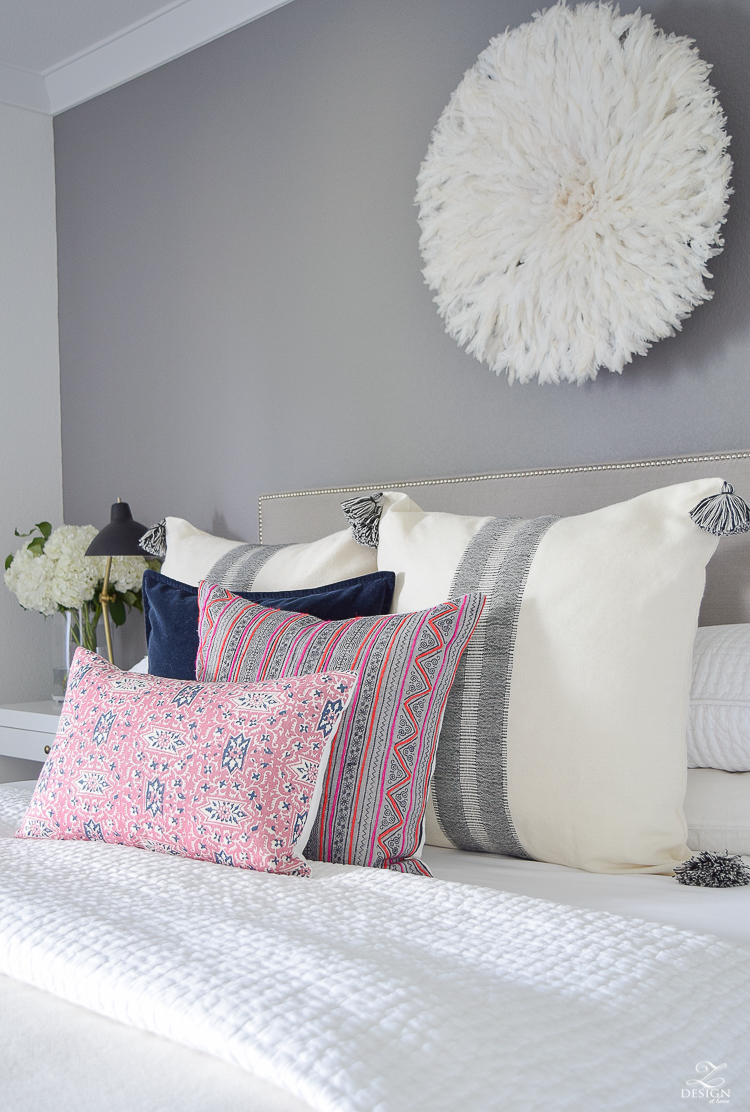 We were actually in need of a light weight quilt and shams so I recently picked up this pick-stitch quilt and shams on sale and we LOVE them for a great fall transition piece.   We may however end up using them through the entire fall and winter since we have such warm winters here in Houston.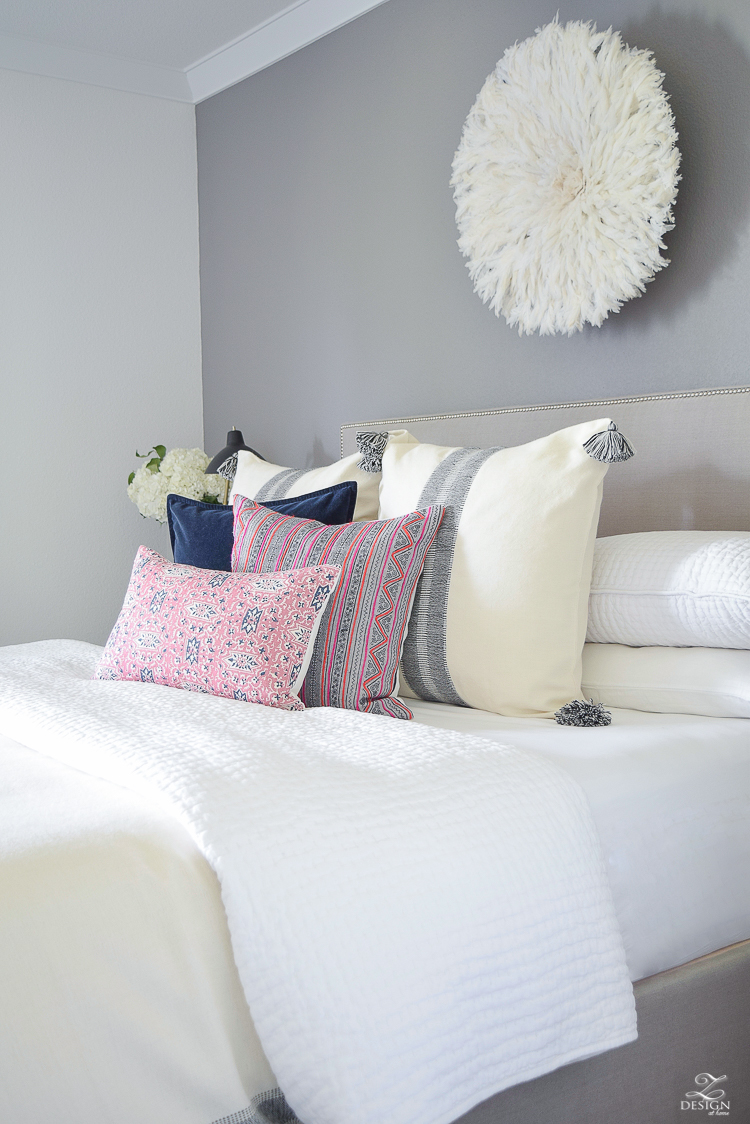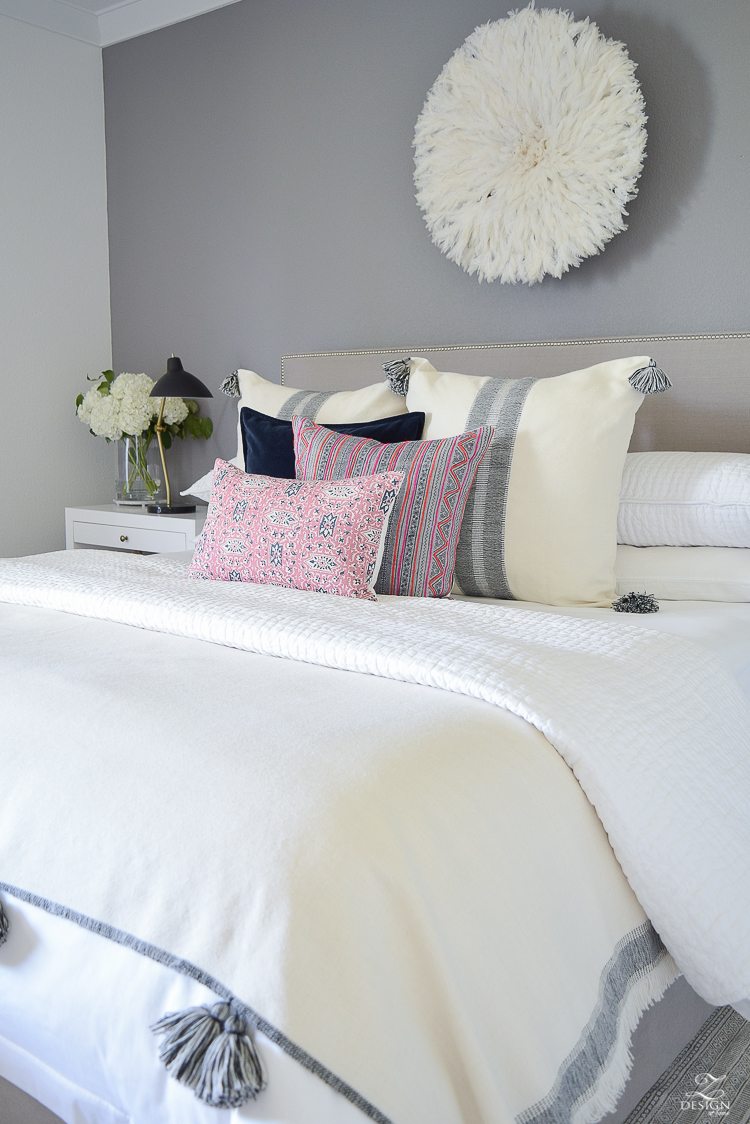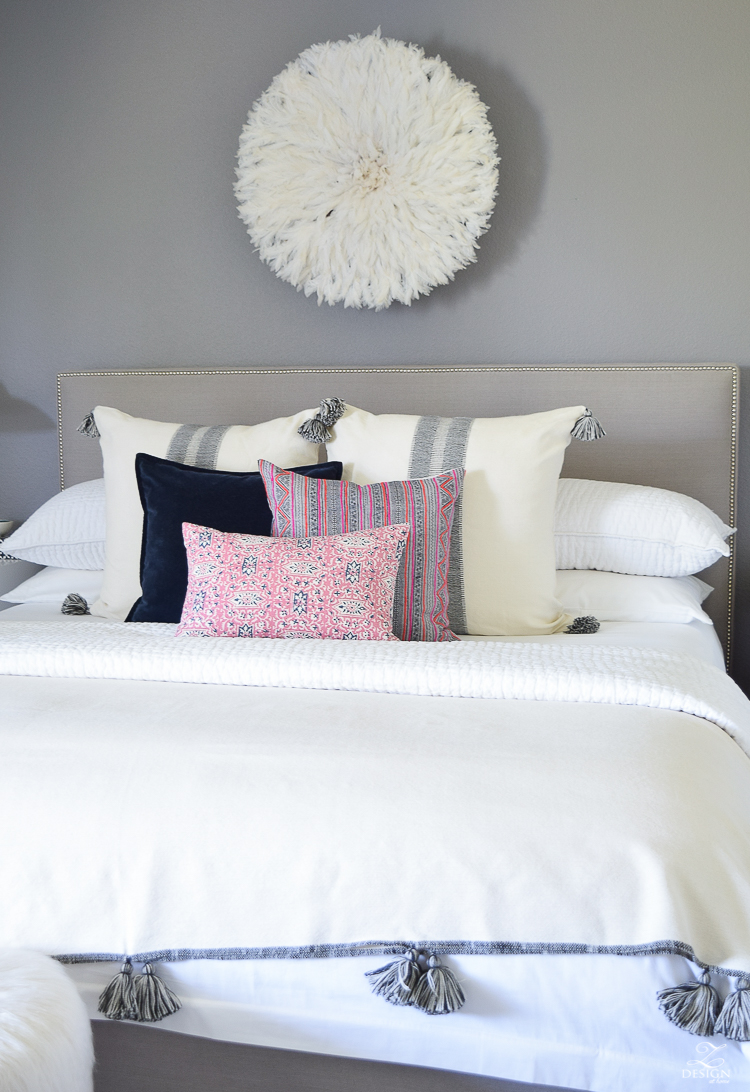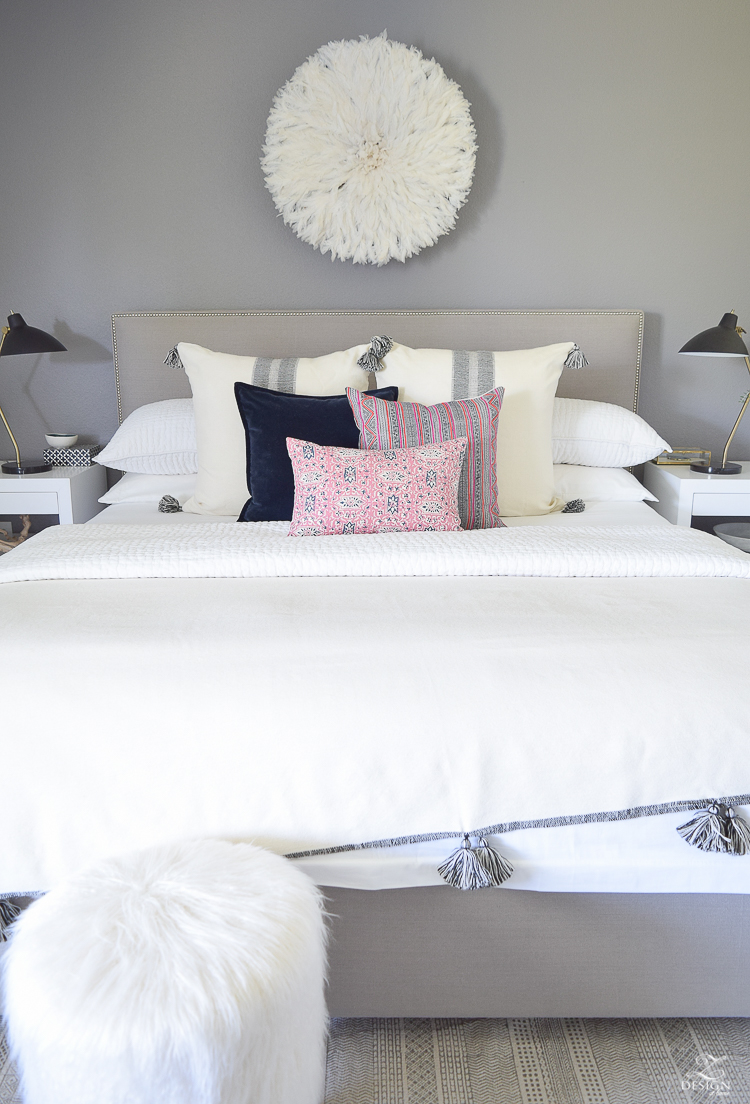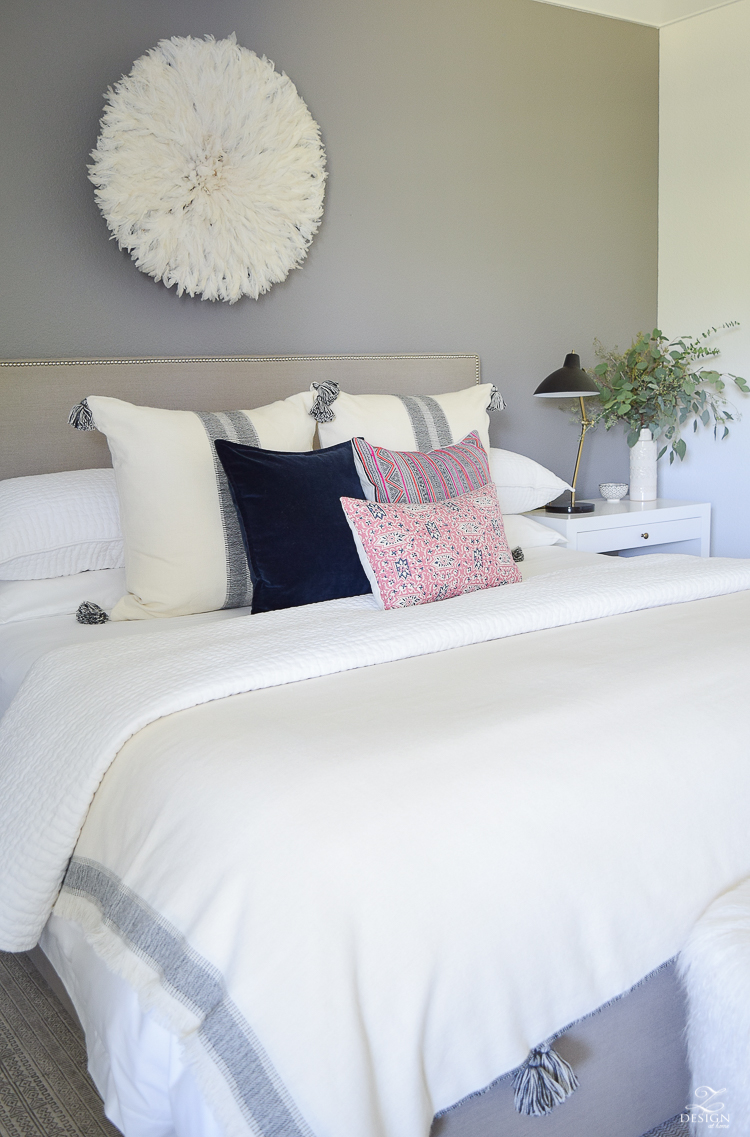 Also used my cute fur stool at the foot of the bed.  It's been useful for making a pit stop to put shoes on before we walk out the door.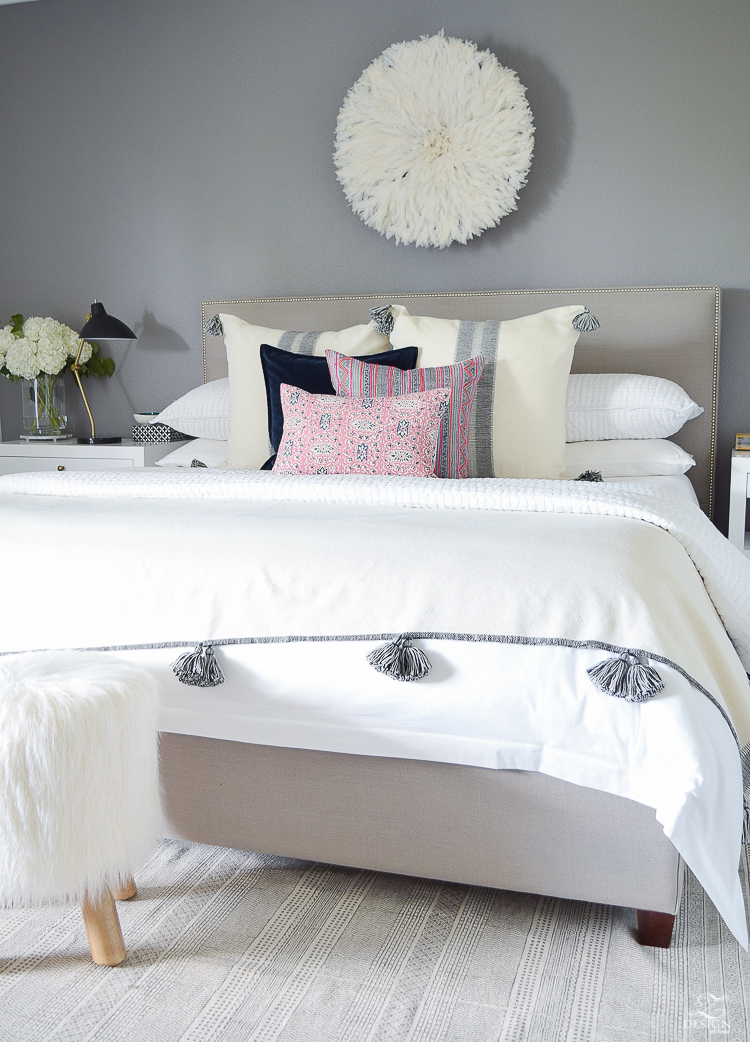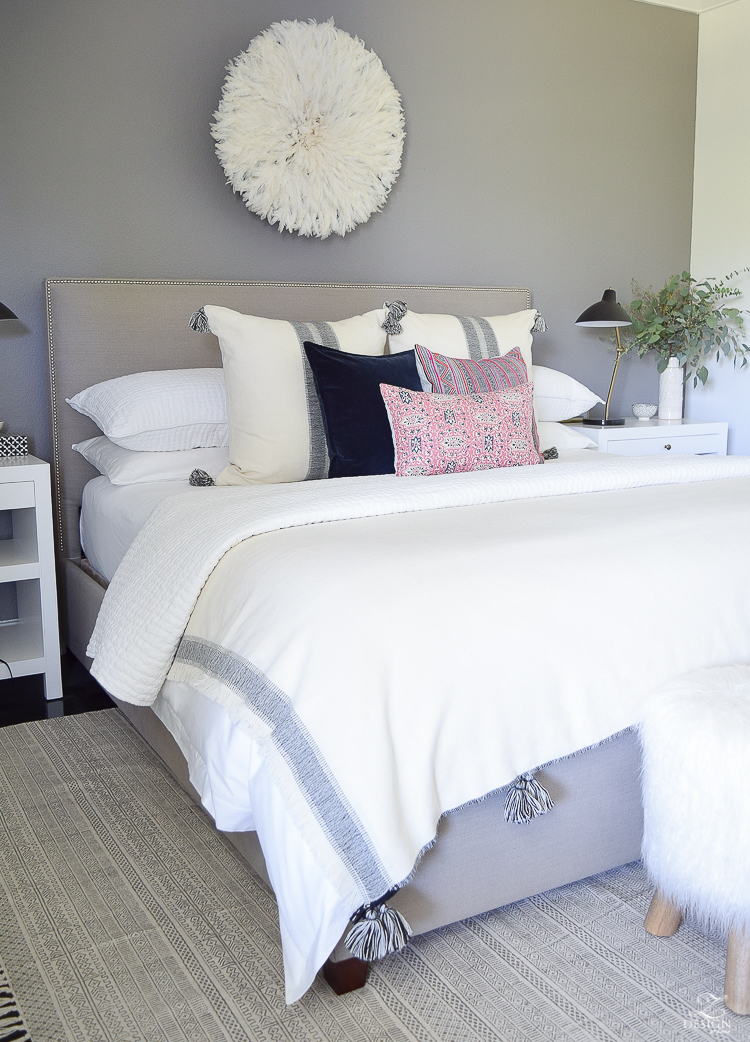 I also spruced up the other side of the room for fall using things I already had to simply restyle the space for a fresh look.  If I didn't talk about these curtains enough when I revealed this side of the room (HERE), I absolutely love them!  I didn't want to invest in custom curtains for our rental but we needed curtains to block the light so these were the perfect black out curtains that come in several colors.  I also purchased them in gray for my son's room.  The only other change was a chunkier throw, keeping my leather pillow in place.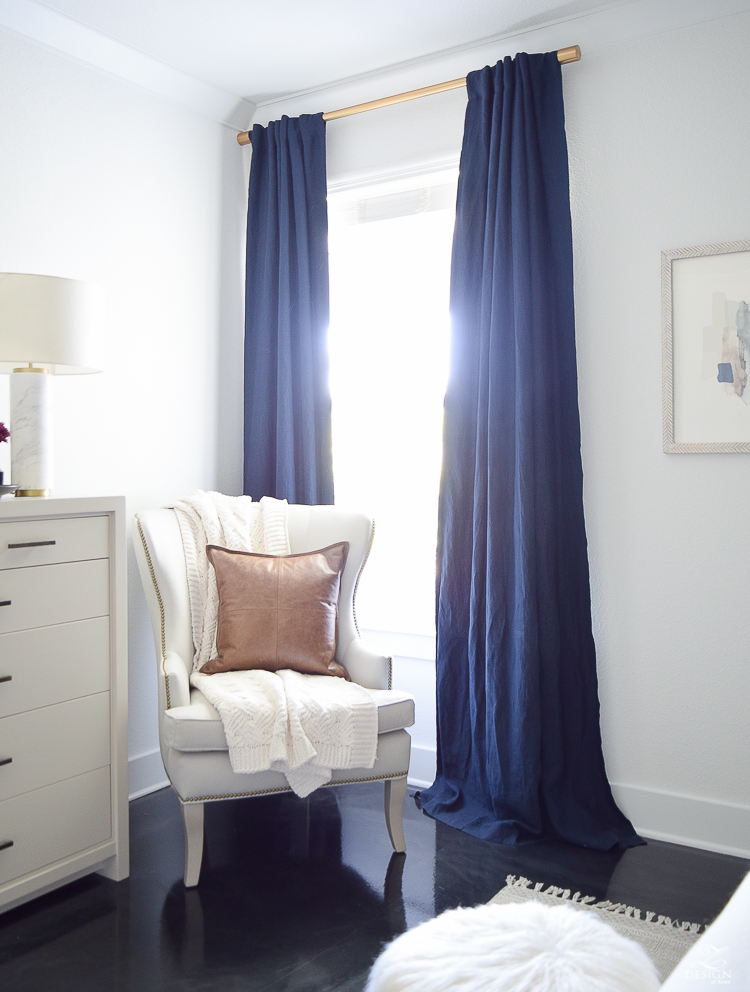 One of my marble lamps made it's way to this side of the room and I love it here next to the round gold mirror.  They complement each other so well but I love moving things around the house to make a space feel fresh and new, and it's free so that's always the best part!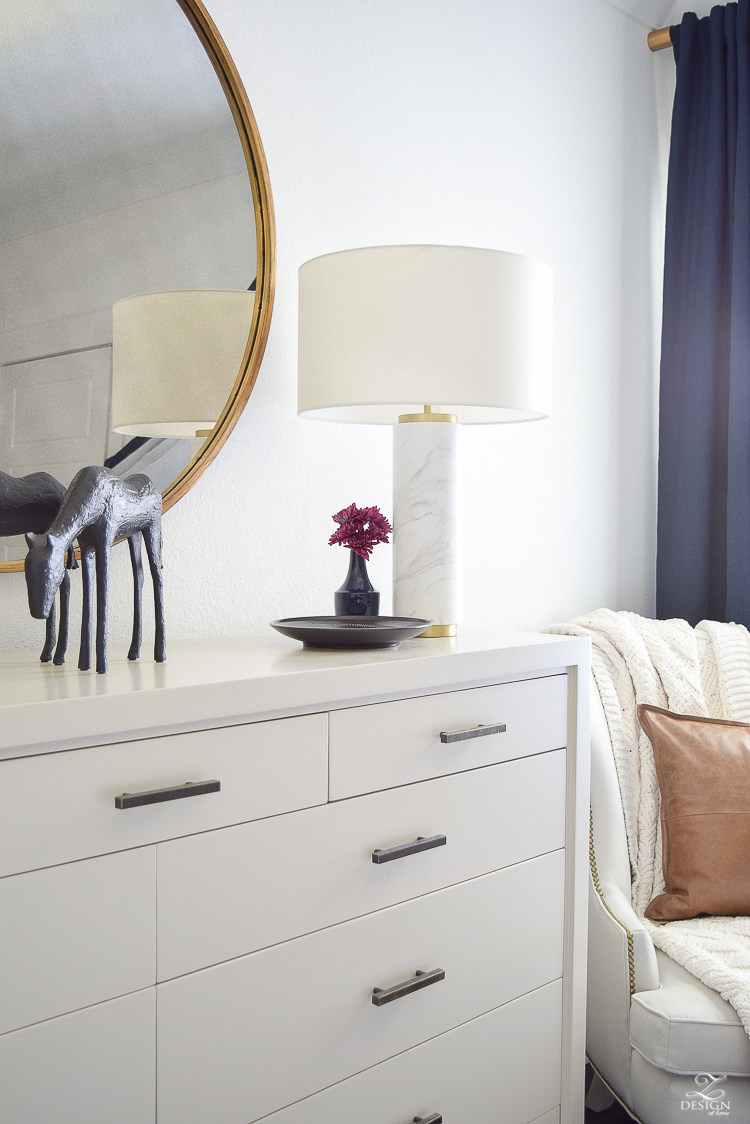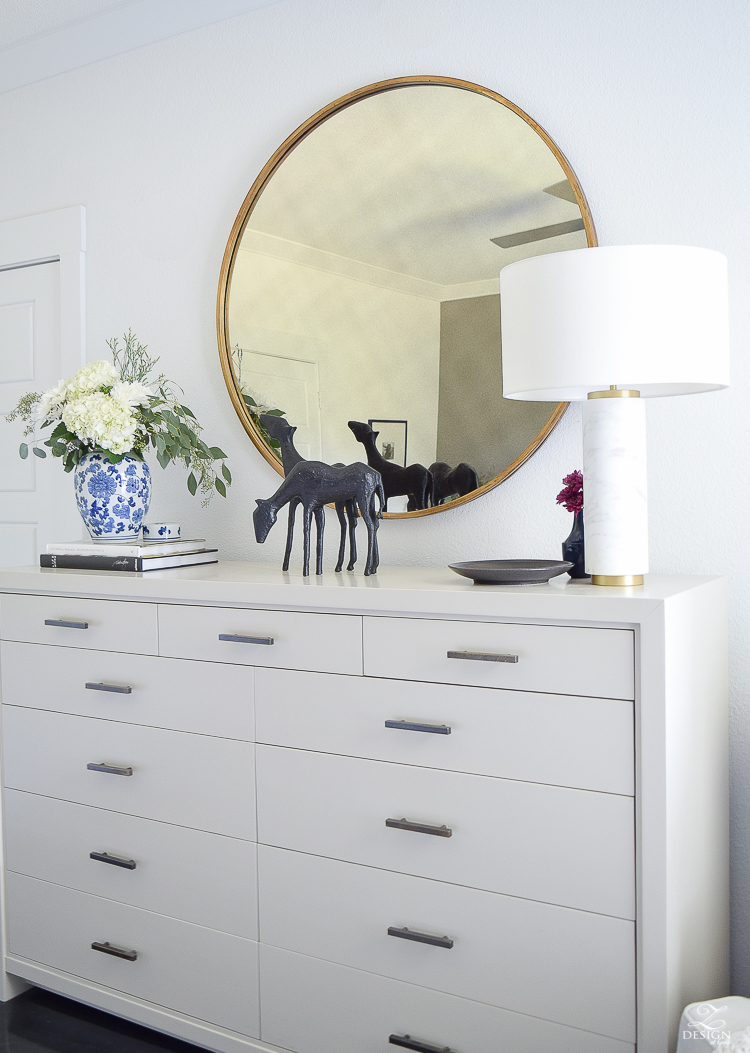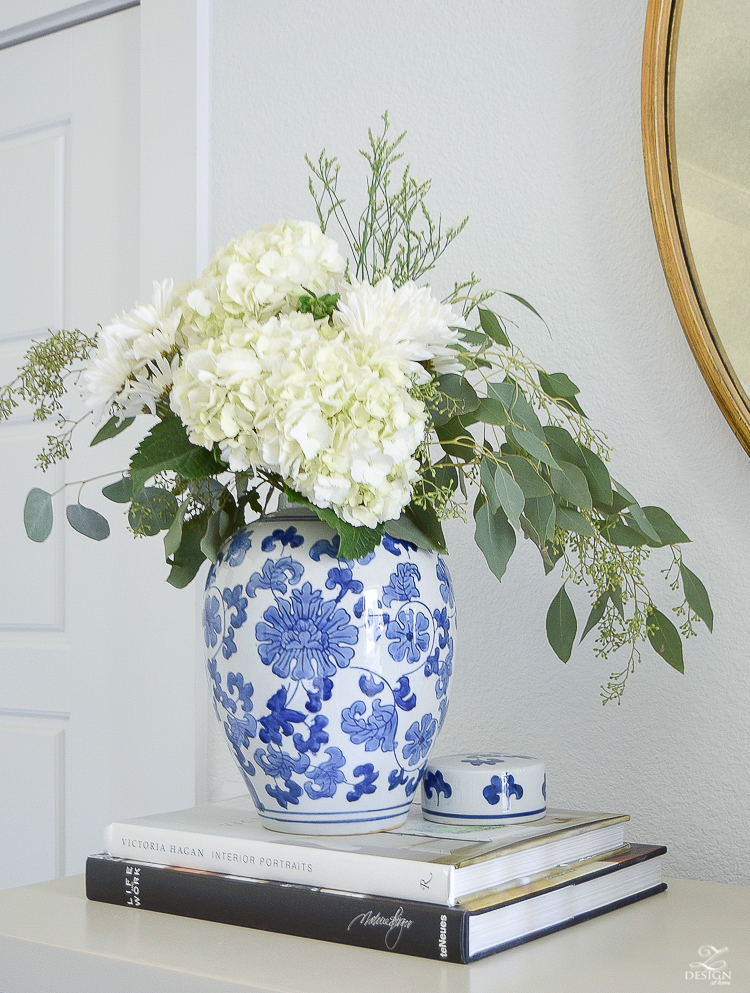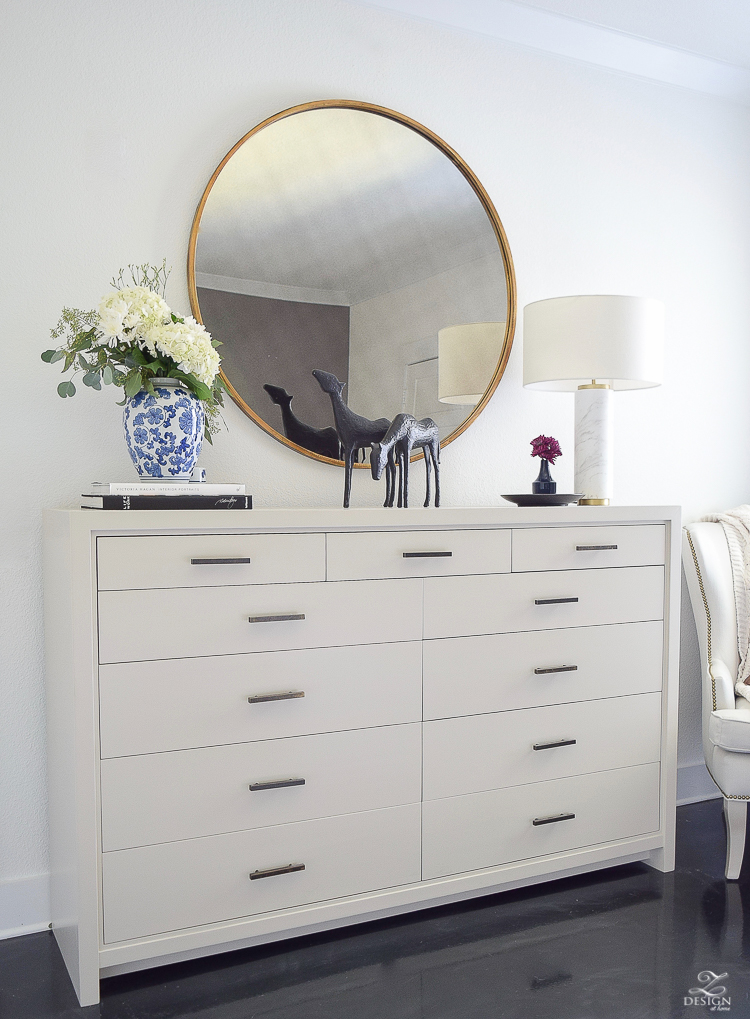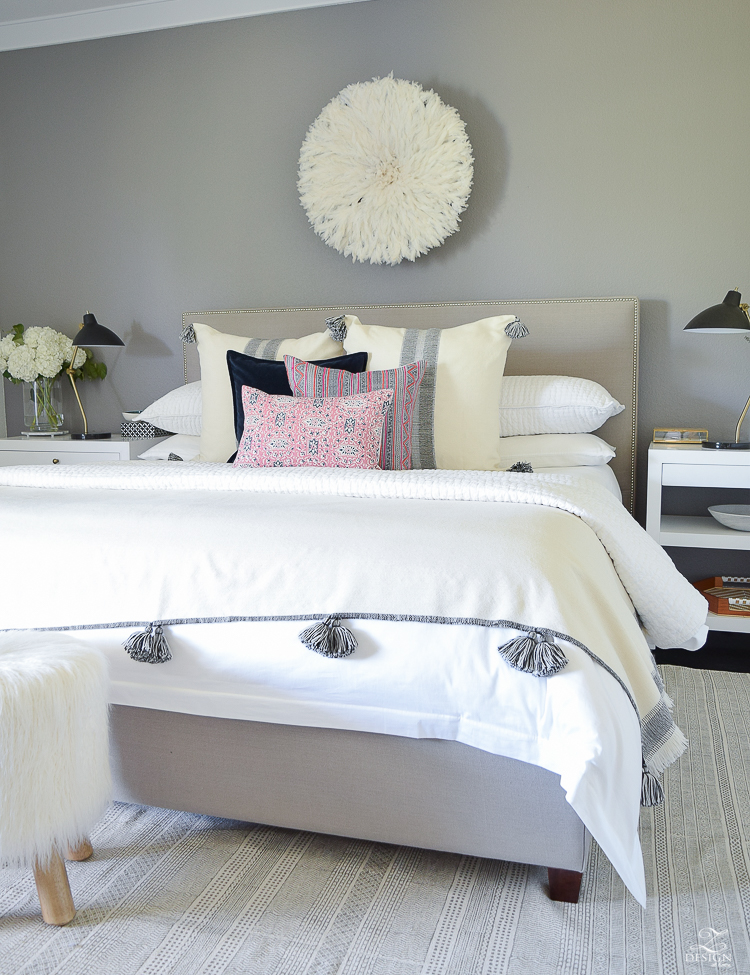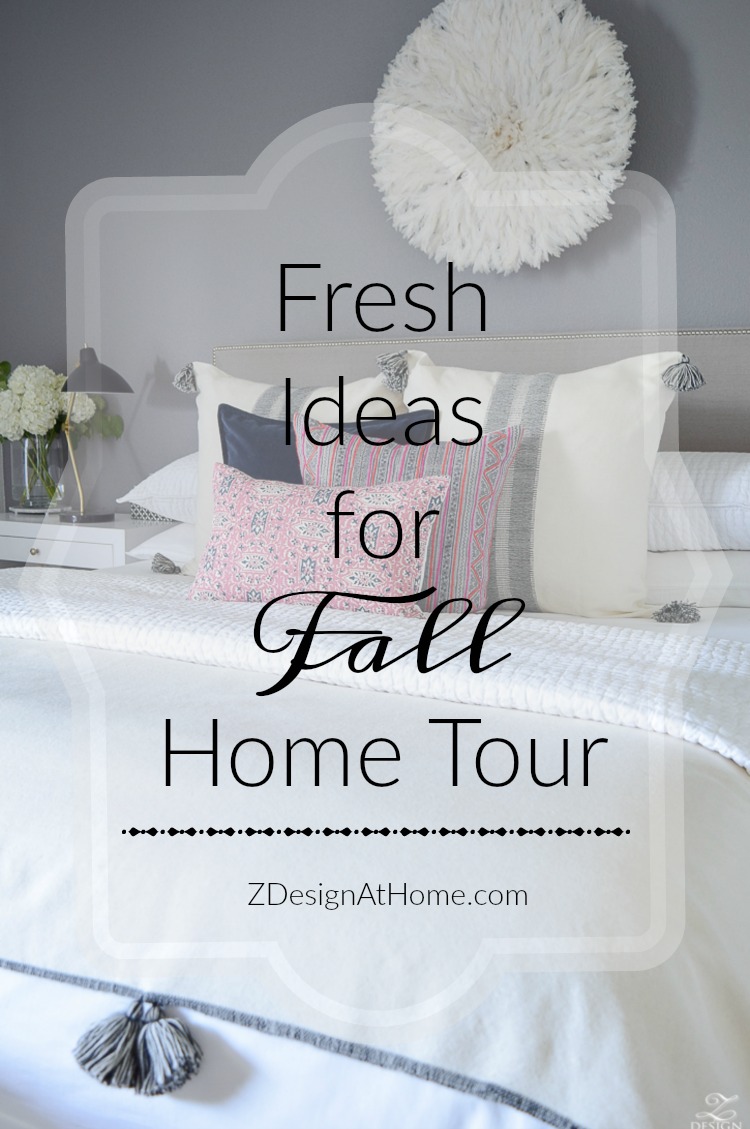 Thanks for stopping by the tour today! Next up on the tour is my incredibly (multi) talented, sweet friend, Erin of Sunny Side Up!  I'm pretty sure you know Erin by now but if you don't you're in for a real treat today…I love everything about Erin and her fabulous home!  After you visit Erin please also make it a point to visit all of my girls on the tour…I can promise you won't want to miss a single one of their gorgeous fall homes!!
Jennifer of Decor Gold Designs
Brittany of Addison's Wonderland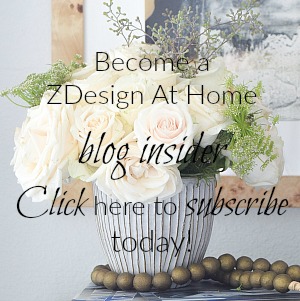 Living Room



Bedroom