Transitioning Into Fall Home Tour
The summer flew by at lighting speed and I have to admit this fall season has found me completely unprepared, friend!  The past few weeks have been somber ones with hurricanes Harvey and Irma, plus the 16 year anniversary of 9/11 this week.  Like so many of you I have found myself shaking my head and turning more and more to prayer over all that is going on in the world today for answers and comfort.  My heart goes out to everyone affected by these events and I pray that God will comfort you and heal your spirit during this time of loss and destruction.
So, in an effort to lighten the mood around here, I have joined up with a team of amazing bloggers for a fun fall tour hosted by the lovely Marty of A Stroll Thru Life (thank you for having me, Marty!) and we are excited to share with you our fall inspiration for the season.  If you are coming over from the the beautiful blog of Doreen of Hymns and Verses, welcome!  For this post I'll be sharing my fall patio, kitchen and dining area in our cute rental (if you need to get caught up on the progress of our new build you can do that HERE).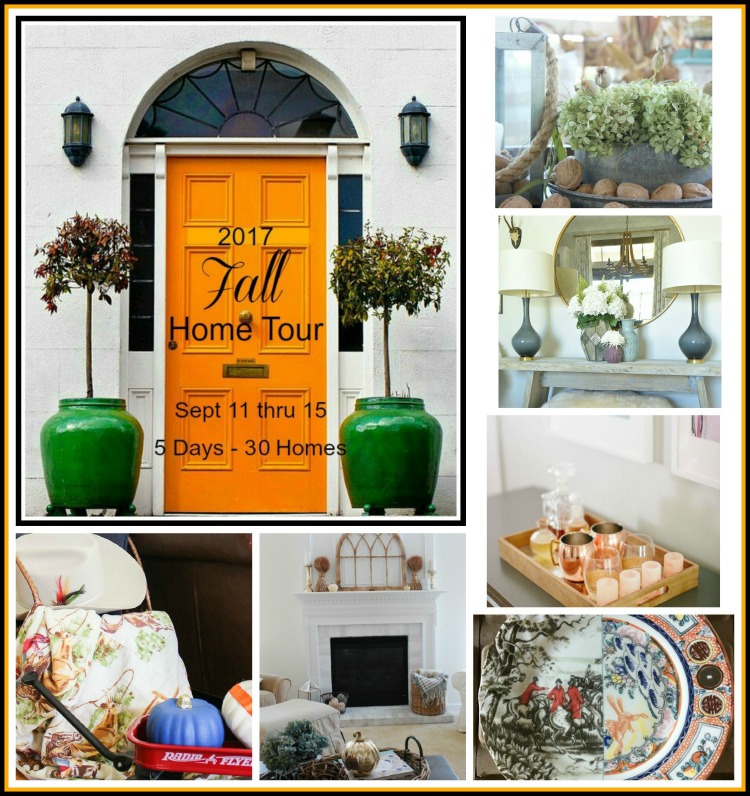 We've been able to enjoy some cooler temperatures around here since the storm and we are looking forward to hanging out on our patio starting now through this fall season.  This year I've chosen to use neutral colors to achieve a soft, simple look for fall and so far we are loving it (affiliate links used in this post)!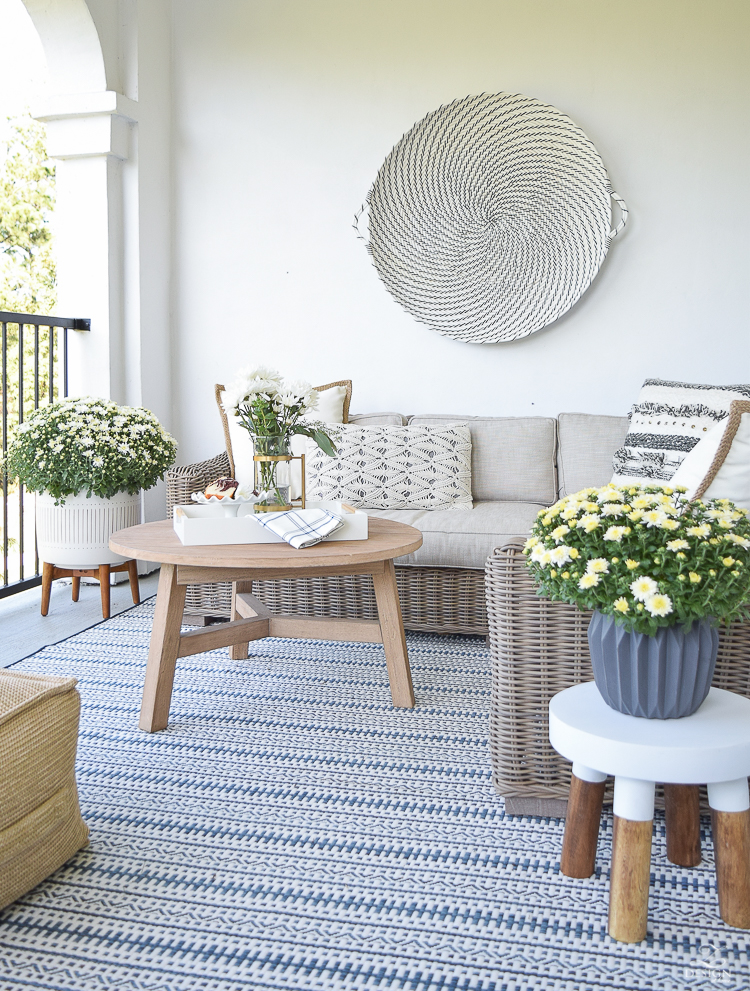 I have added a neutral, chunky throw and textured pillows along with white mums to accomplish a neutral themed patio.  When decorating with neutrals it's always important to use layers and texture to add interest to your neutral palette.  I replaced my summer pillows with this pillow and this similar pillow, leaving my outdoor solid neutral with burlap trim pillow as my staple piece that I use all year long.

Since it can be difficult to find a large selection of outdoor pillows that are appealing, I typically just use affordably priced pillows with regular fabrics (non-sunbrella, etc.), and that way if they are faded or maybe even mildewed at the end of the season I don't have to feel bad about throwing them out (or donating them if they are in decent enough condition).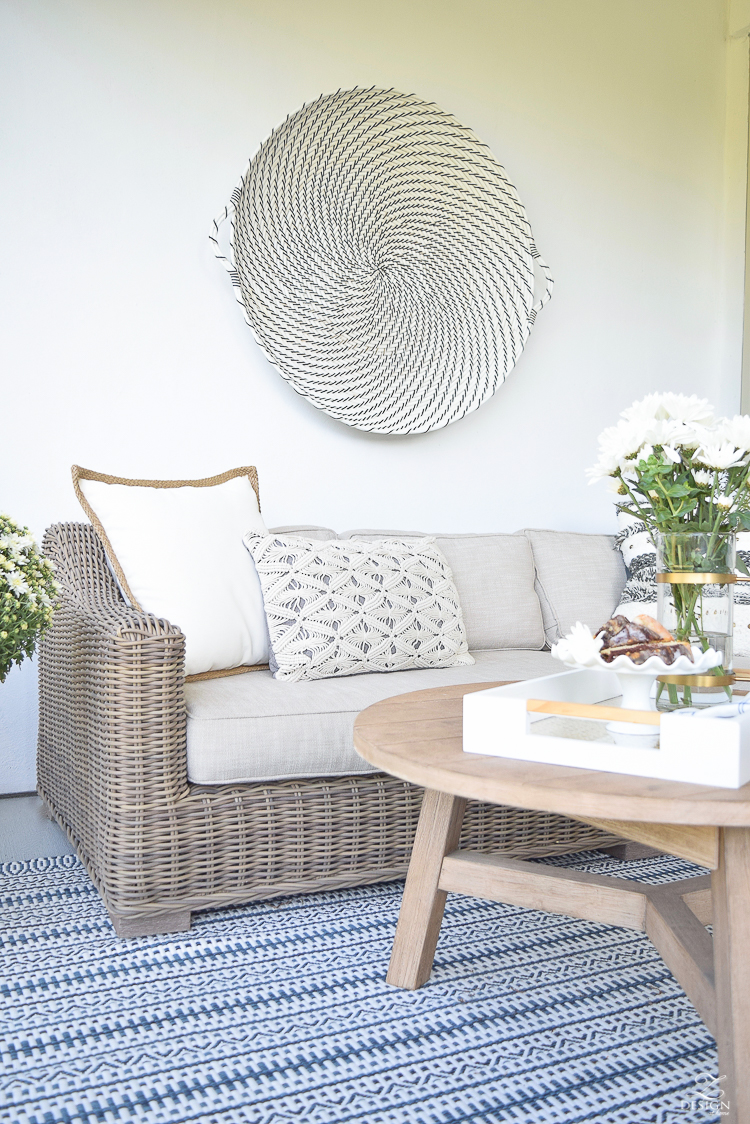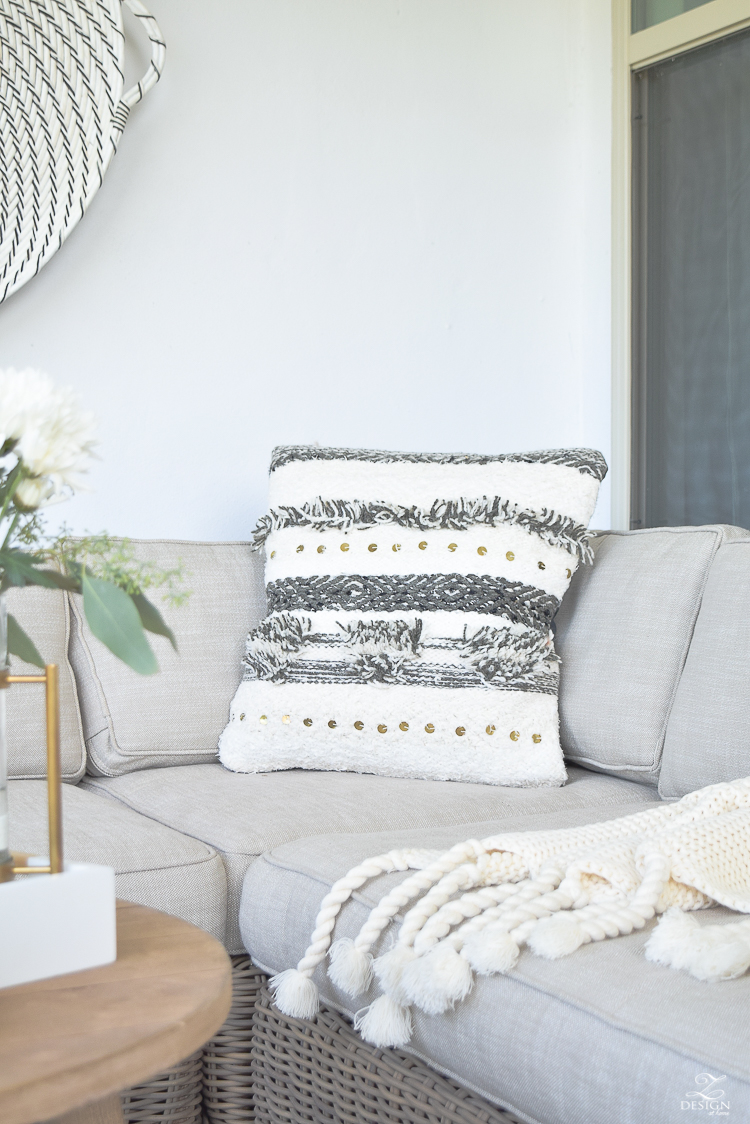 Chunky throw in previous photo available HERE.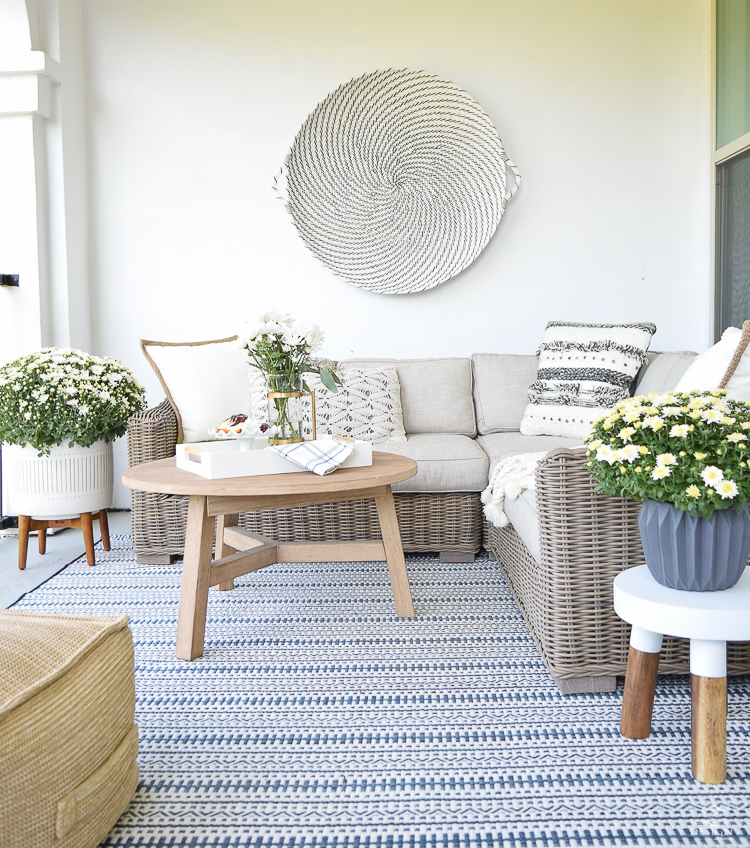 Moving on to the inside of the house…I've added a few cutting boards to my counter tops to warm things up in here (I have a recent post HERE with tips for styling your kitchen counters like a pro) along with some fun dishes, marble pieces and plum colored mums (my fall color last year was plum and you can see more of that HERE).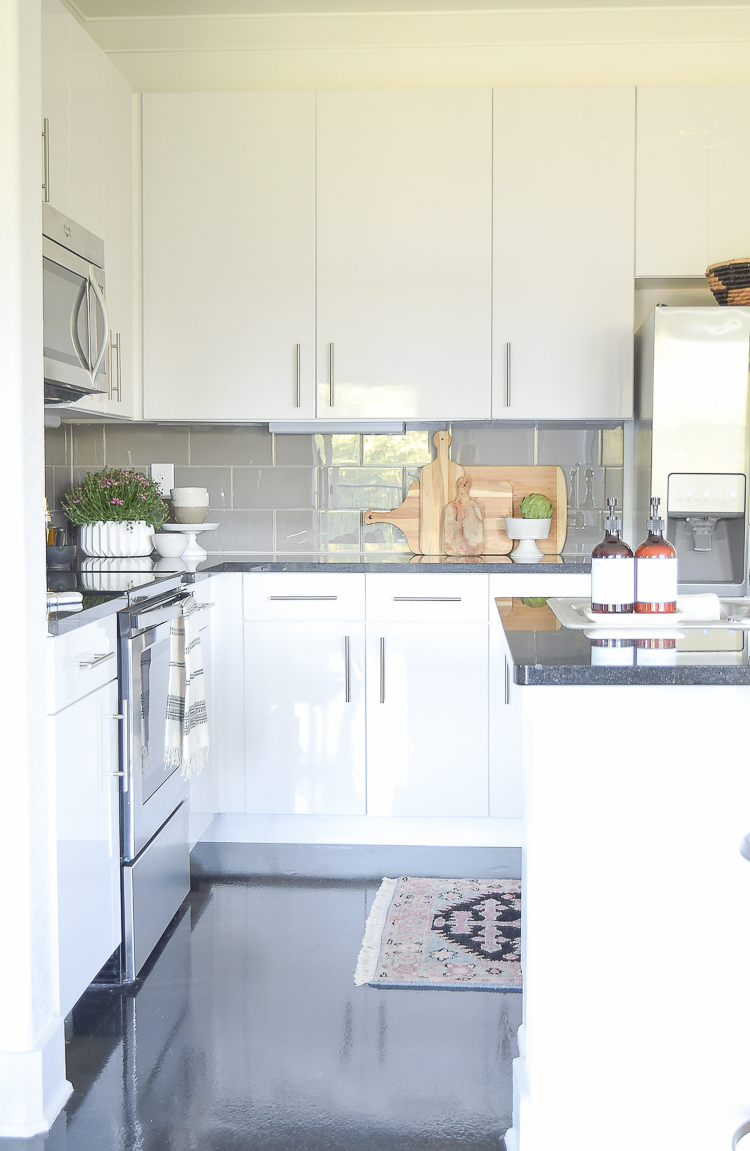 These cute bowls and this fluted white pot with a mum were the perfect items to add a little texture and personality to the space for fall.  Using plants or flowers like this on your counter tops is one of my favorite ways to decorate in the kitchen.  You can see more of my tips on that HERE.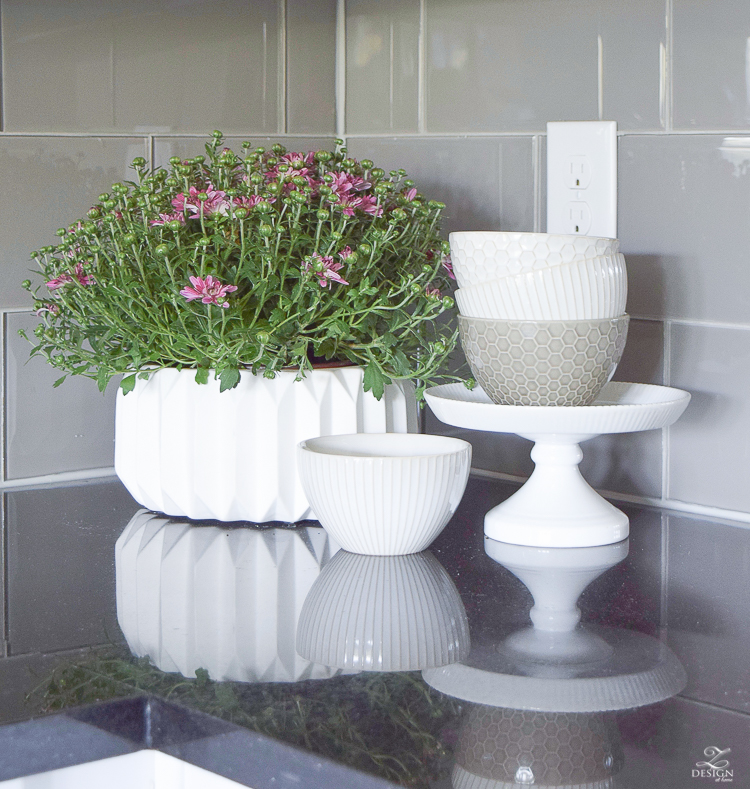 I also added some marble pieces (love this marble utensil holder!) and a new hand towel to soften this area of the kitchen.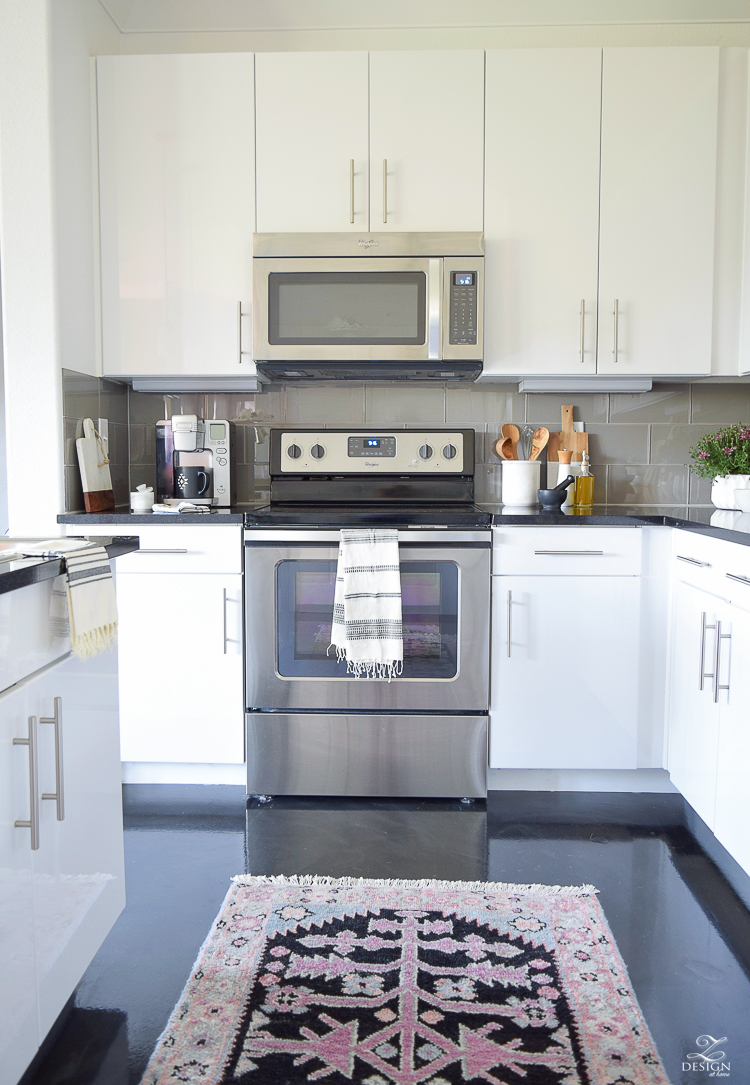 Next to the sink I also added this soap and hand cream…which I love!  Of course this is good for anytime of year but I recently used this soap somewhere and knew I needed it the moment I used it.  Not only is it stylish for my sink area but it smells divine and the hand cream is like velvet going on!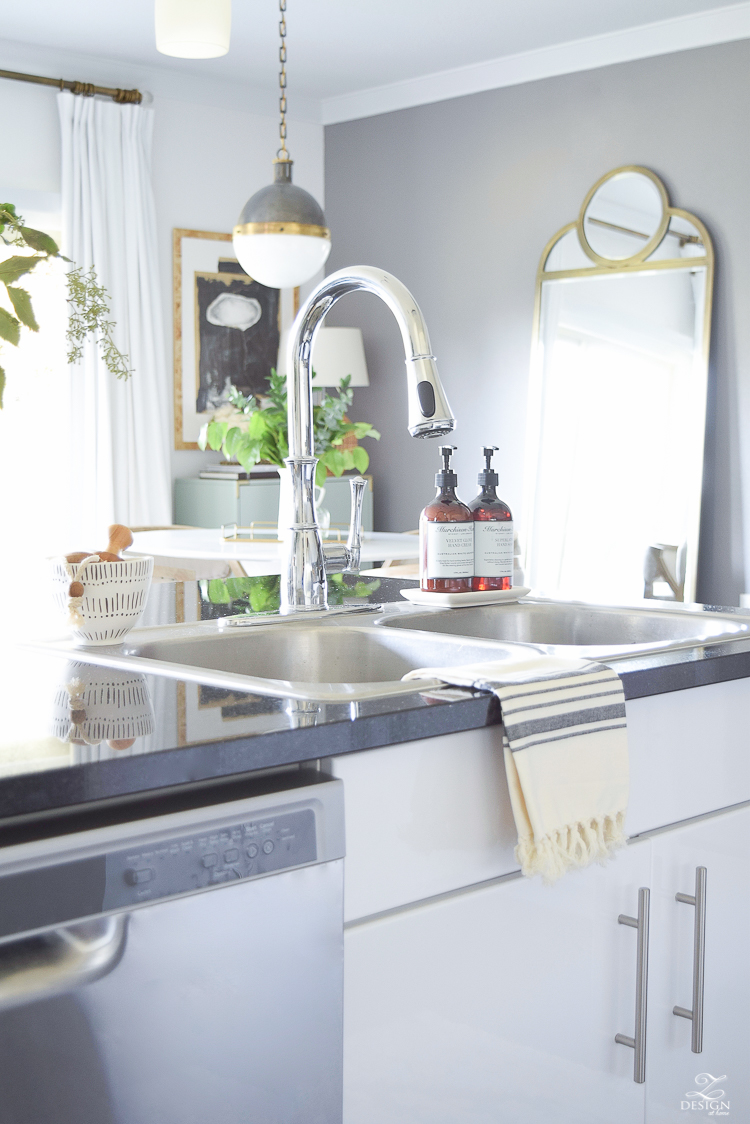 Fall flowers consist of a mix of white hydrangeas, seeded eucalyptus and more plum mums:).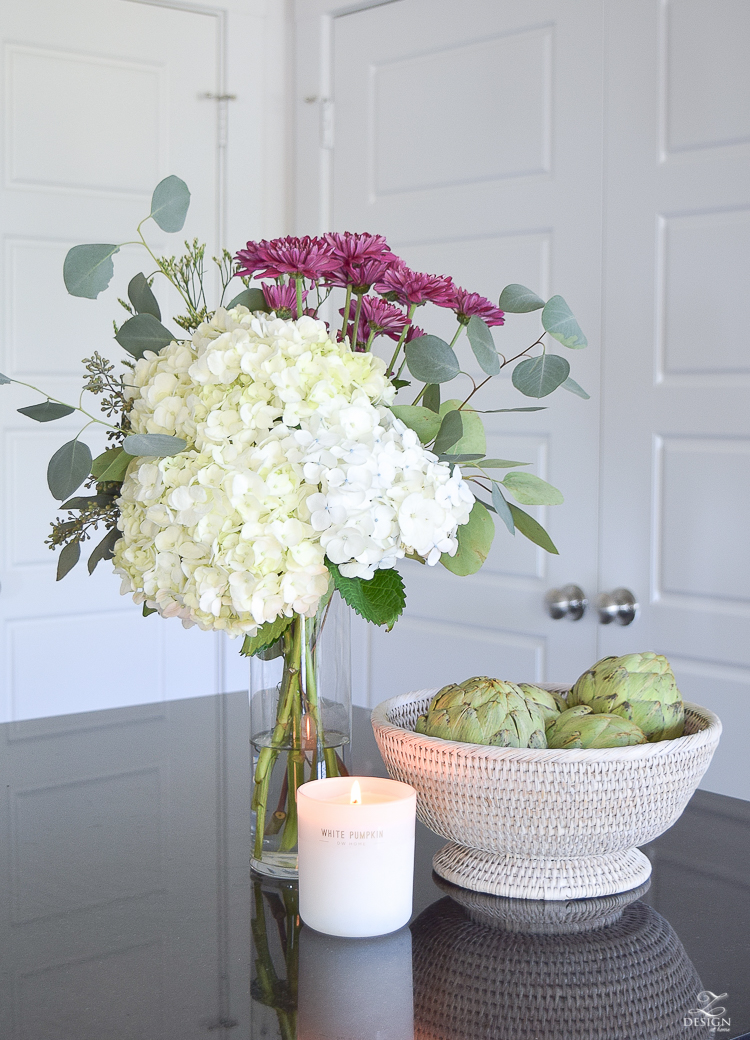 Moving along to our little rental dining space!  We use it often so it was fun to switch out the art with a piece I already have that has more neutral tones, a rattan lamp to add some texture, and some wooden beads I picked up at the Pottery Barn outlet for $5.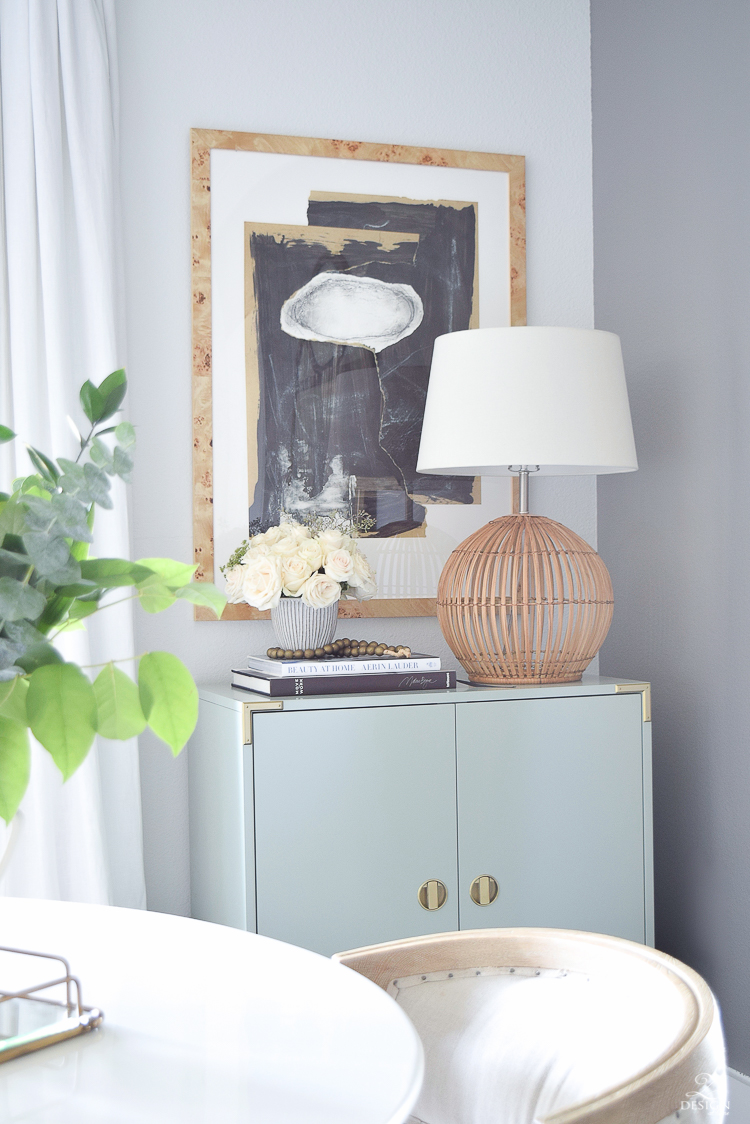 And oh, this pot!!  I'm in complete love with this little pot, which is part of a collection (you can find it HERE).  It has just the right amount of neutral tones and textures for fall but will be a new staple in my vase collection.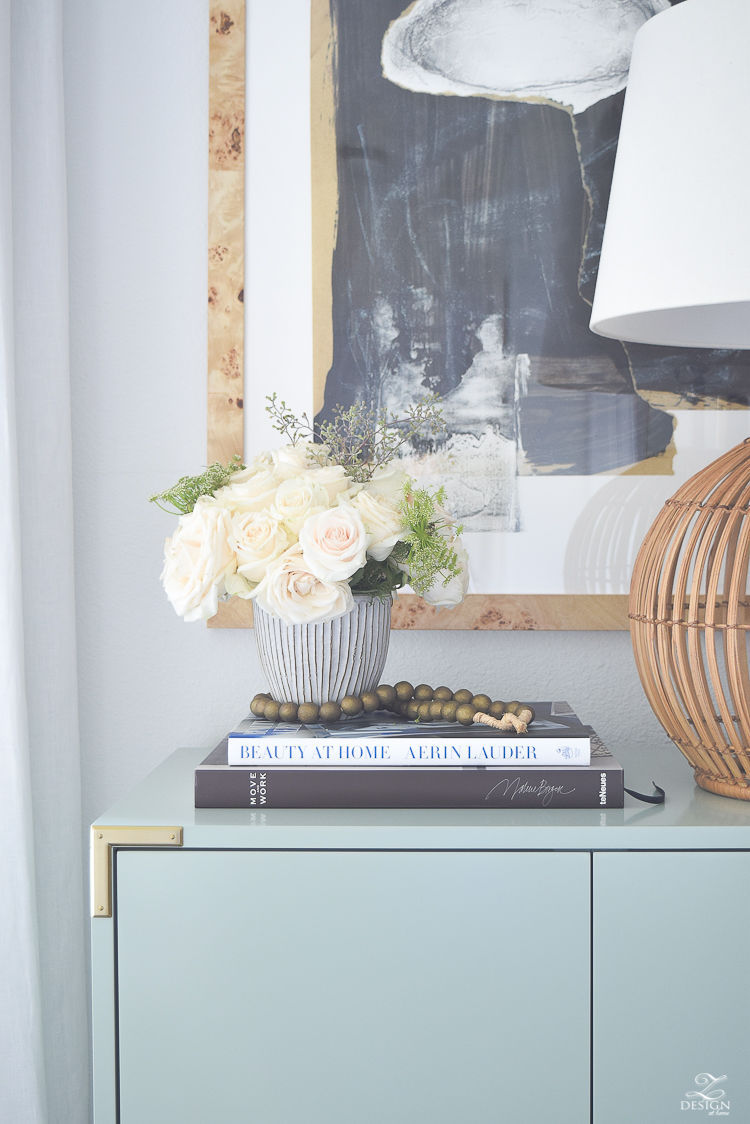 To make this simple bouquet I used 2 dozen creamy blush roses (on sale) and clipped them pretty short.  I then added some seeded eucalyptus and some other fall greenery (sorry, I'm not sure what the other greenery is…maybe you know and can tell me?) and played with the arrangement until I got the desired look I wanted.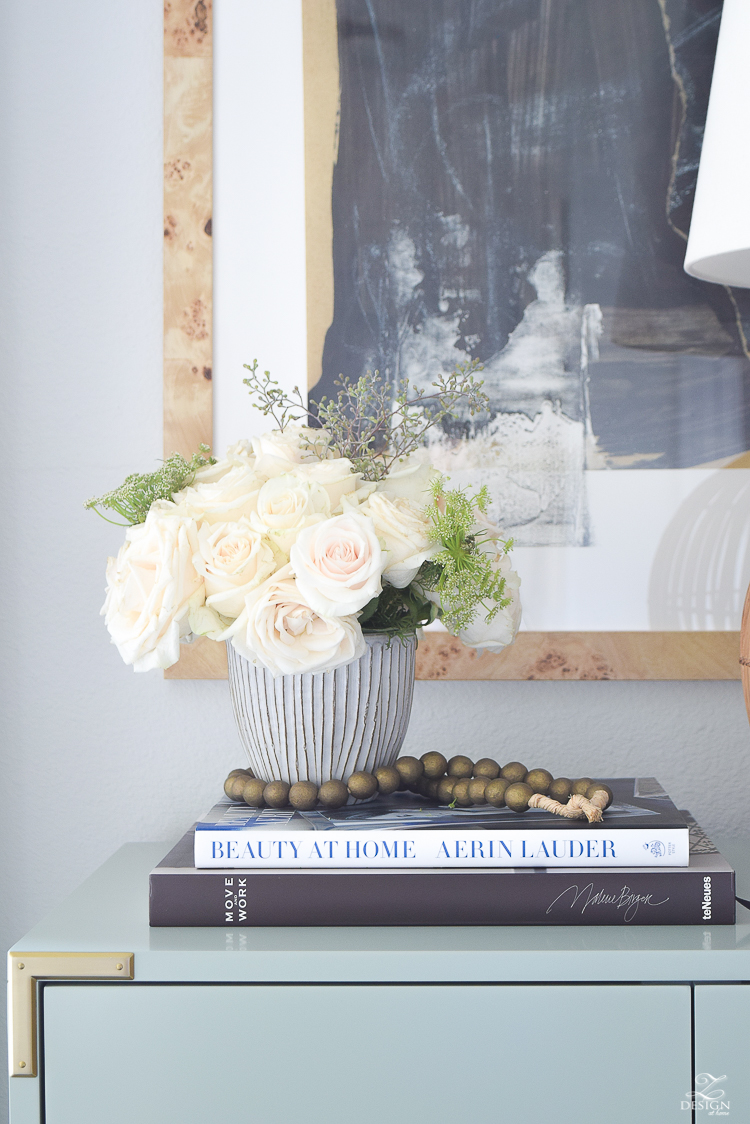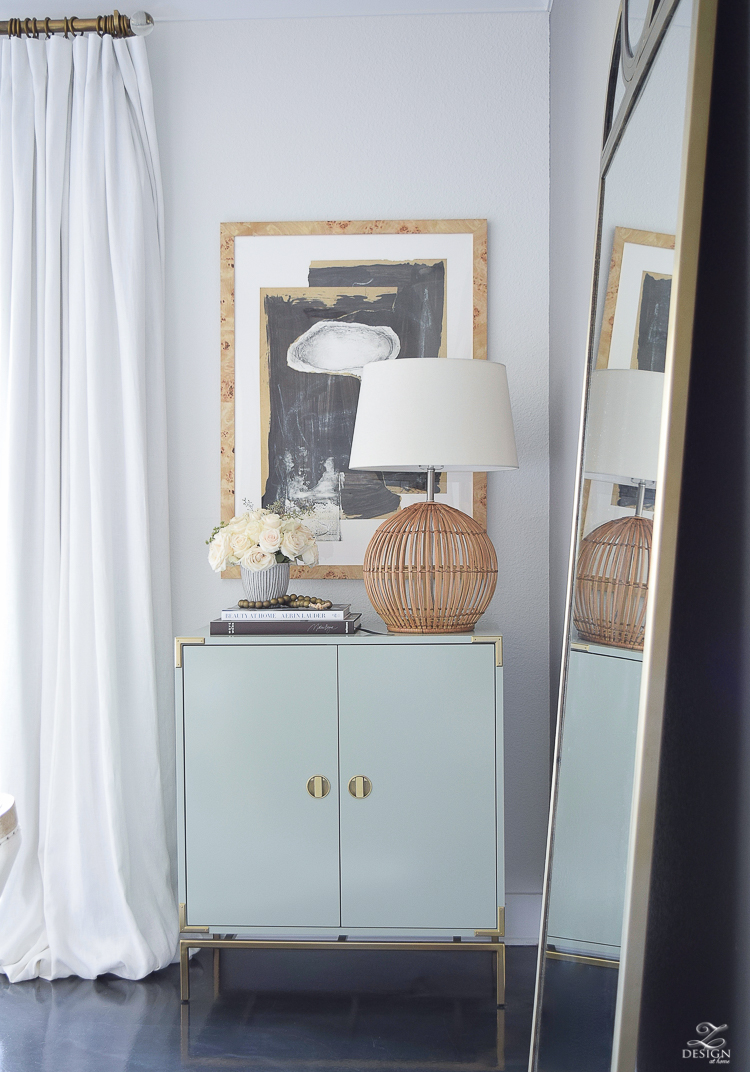 Adding this rattan lamp (similar) was perfect to include a little texture over here and the books are always a favorite to decorate with.  I have a full post HERE with tips on decorating with coffee table books if you're interested.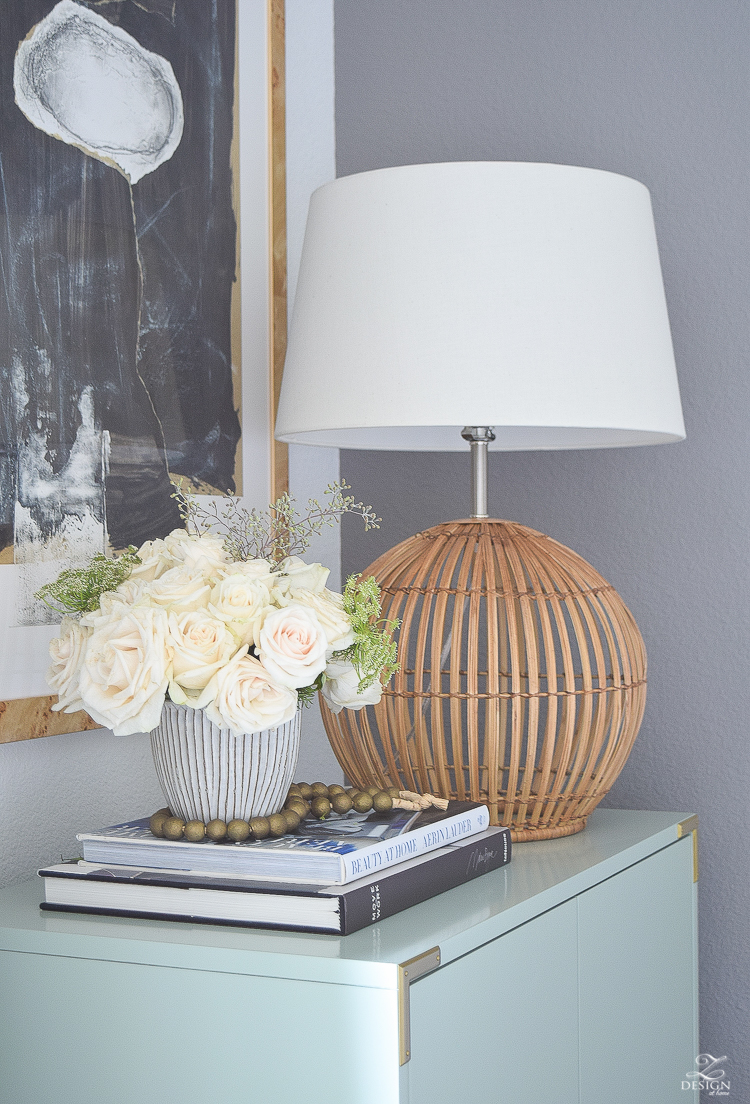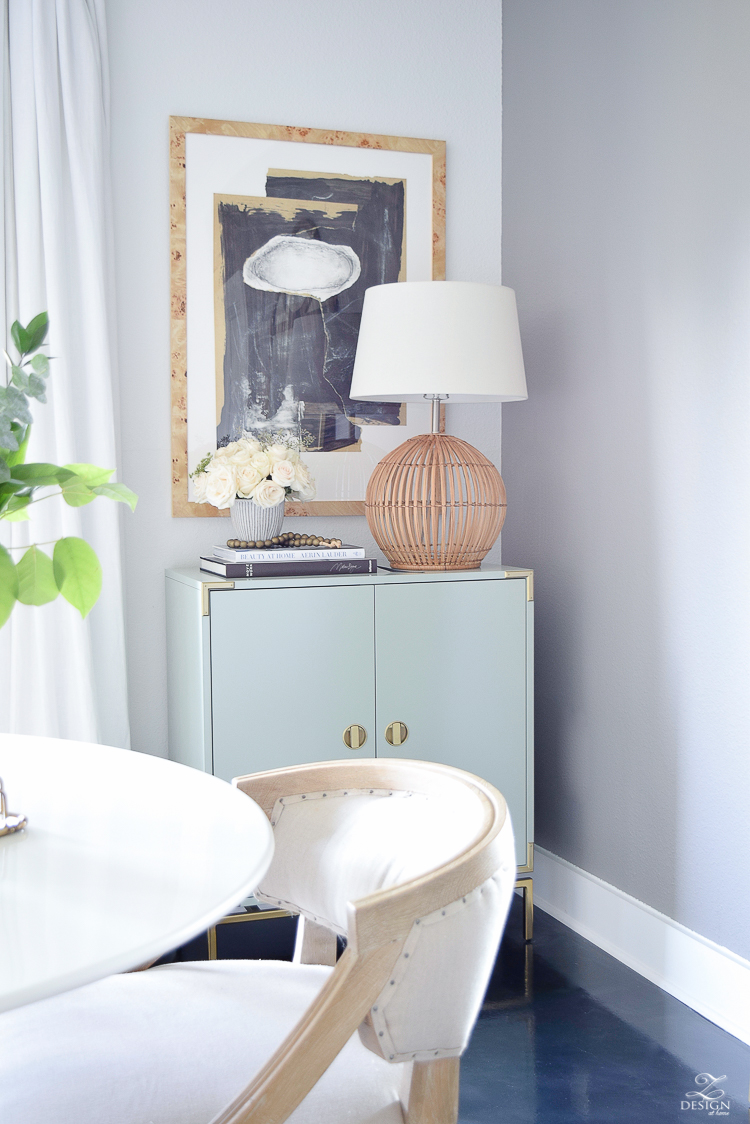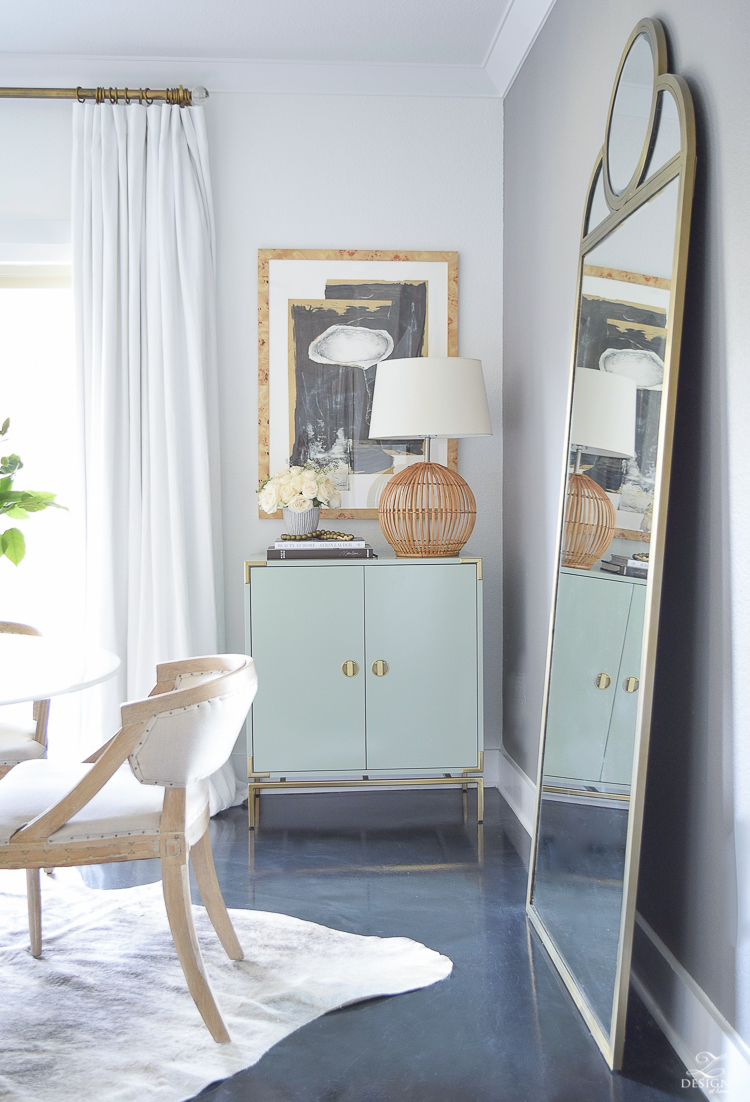 And last but not least, my one and only pumpkin so far.  I just simply haven't had any luck finding pumpkins here yet and I like to use the real thing for the most part so this cute clear glass pumpkin is the only one that's made it's way into my decor this year.  These come in several sizes though and are a really chic piece if you like modern fall decor like me (you can visit my Chic Fall Decor Styling tips post HERE) .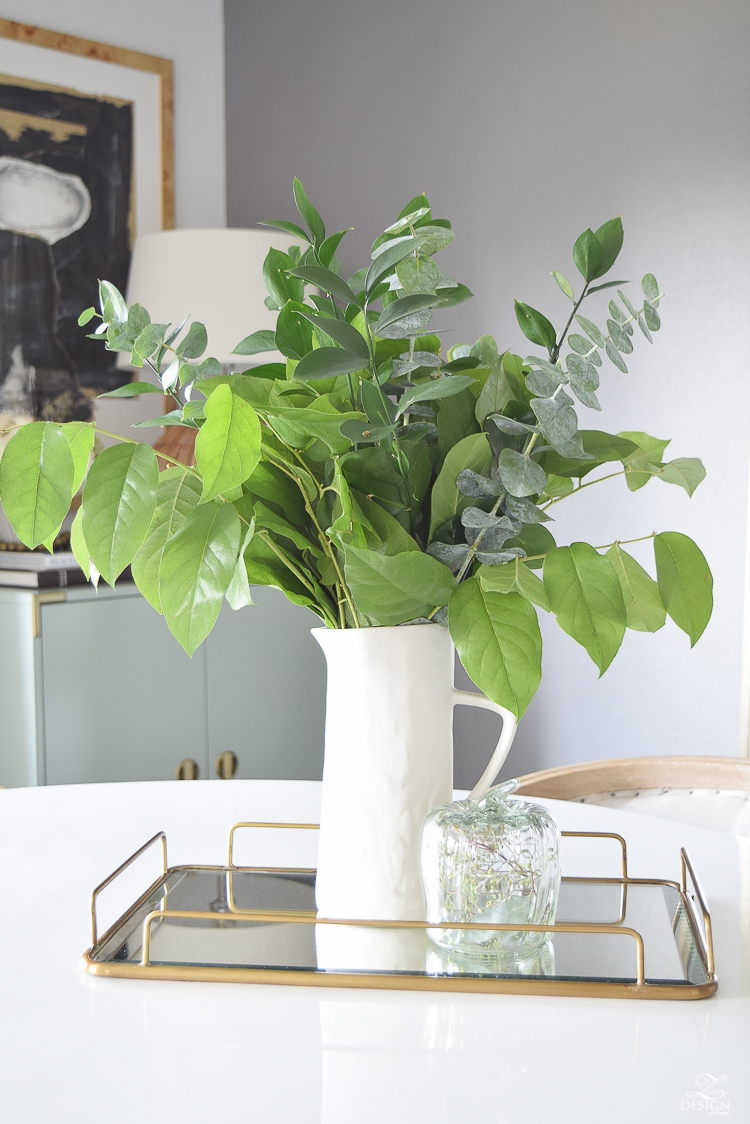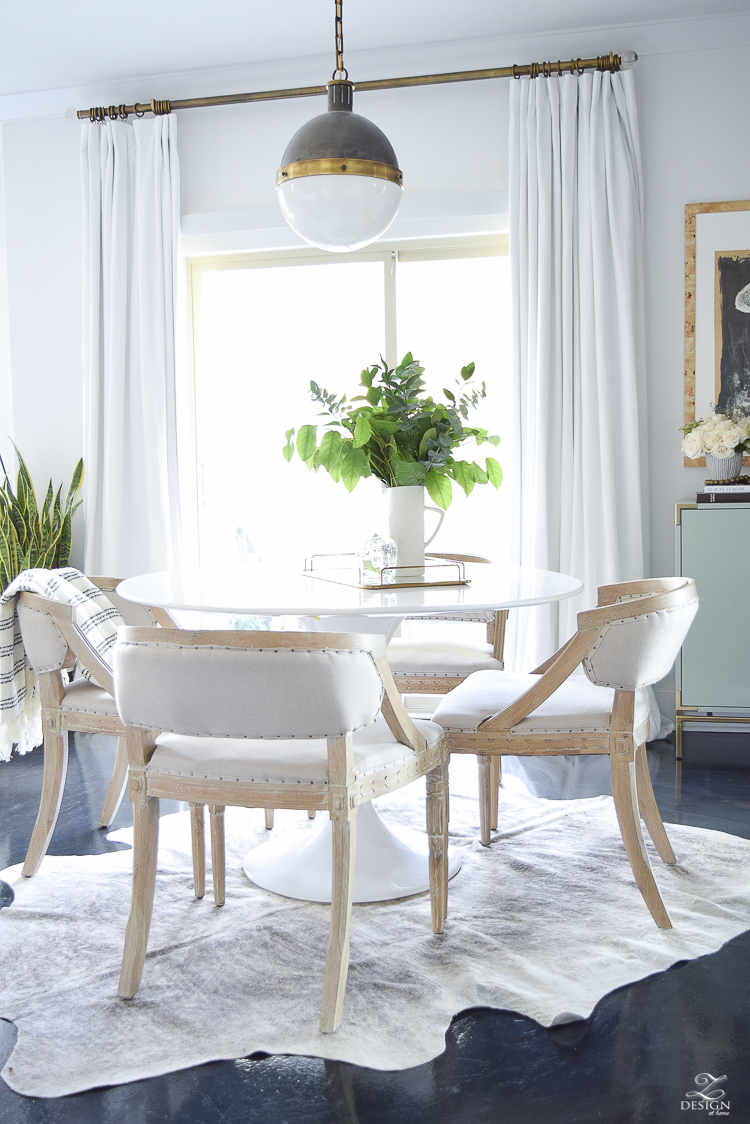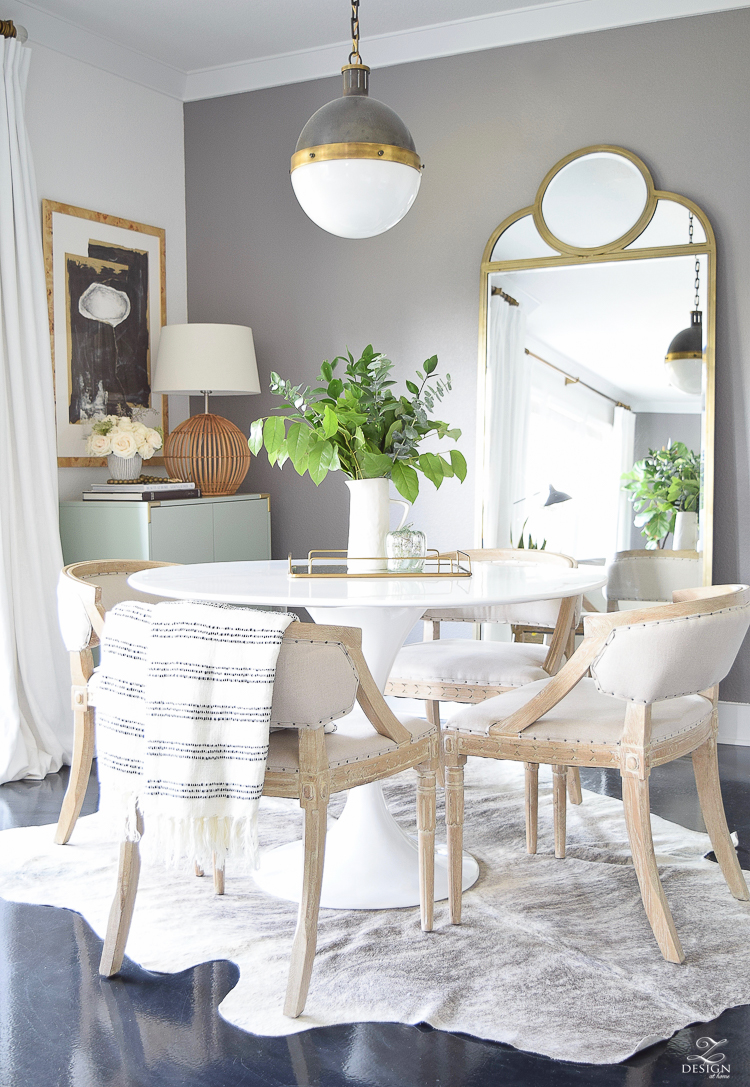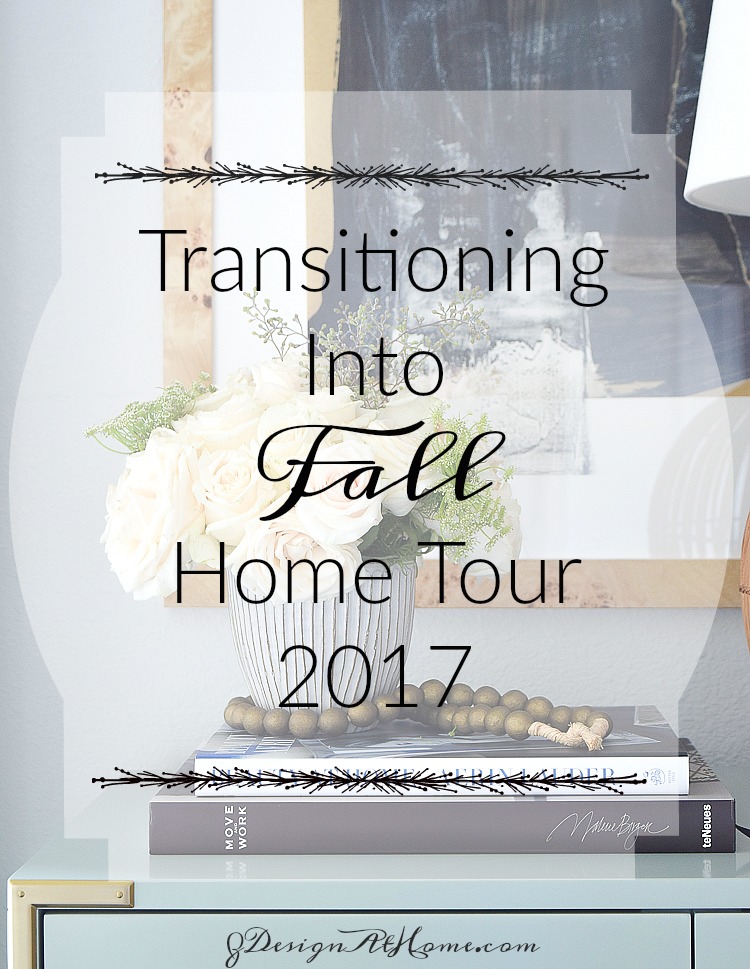 Thank you for stopping by to visit my Transitioning Into Fall Home Tour today and please make sure to head on over next to visit Summer of Simple Stylings!  I love Summer's blog and I know you will too!! And here is the full line up of all of the ladies in this tour that we hope you'll visit today or this week as well (30 in total)…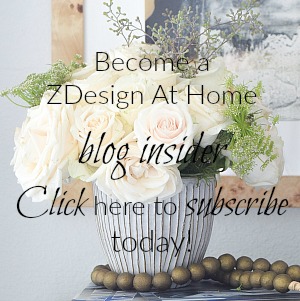 Outdoor


Kitchen



Dining Area