Small Space, Big Style Solutions
Many of us live in small spaces, and many of us don't but do have a Small Space in our home that presents a challenge when it comes to decorating it.
Sometimes finding just the right piece to fit into a space can be frustrating and just down right difficult.  Finding something in the right style, color, size, etc., to fit your small space can become quite the challenge but today I have some furniture solutions and tips that will help you decorate your small space with the appropriate sized furniture and accessories.
*This post was sponsored by World Market, a brand I love.  All thoughts, opinions, styling and images however are my own.  Please read my full disclosure policy here.  A full source list is located at the bottom of this post.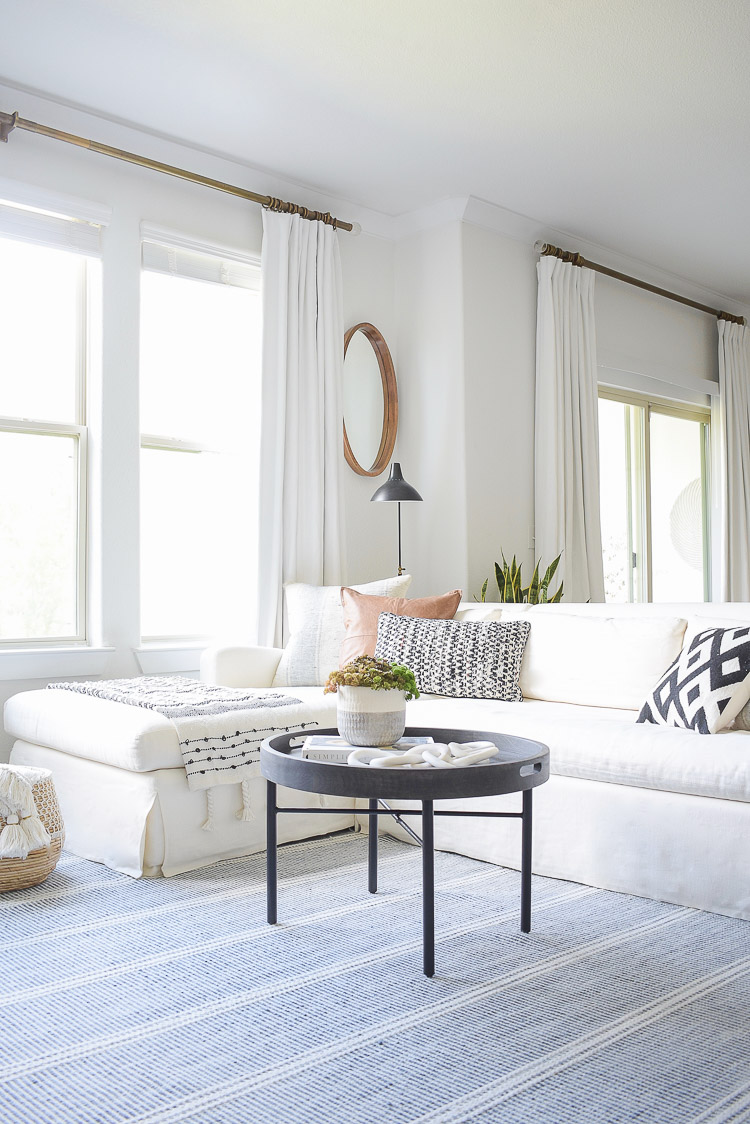 Small Space Solution #1
For small space living choose furniture pieces that are easy to move around and that have dual purpose.  Make sure to measure the space you're working with but ideally in a small living room, you would want no more than 28″ to 36″ in diameter for a coffee table.  I find that round coffee tables work best for small spaces when possible.  My coffee table from World Market has dual functionality because it serves as a coffee table but also as a (removable) tray that can be used for entertaining, etc., now or later.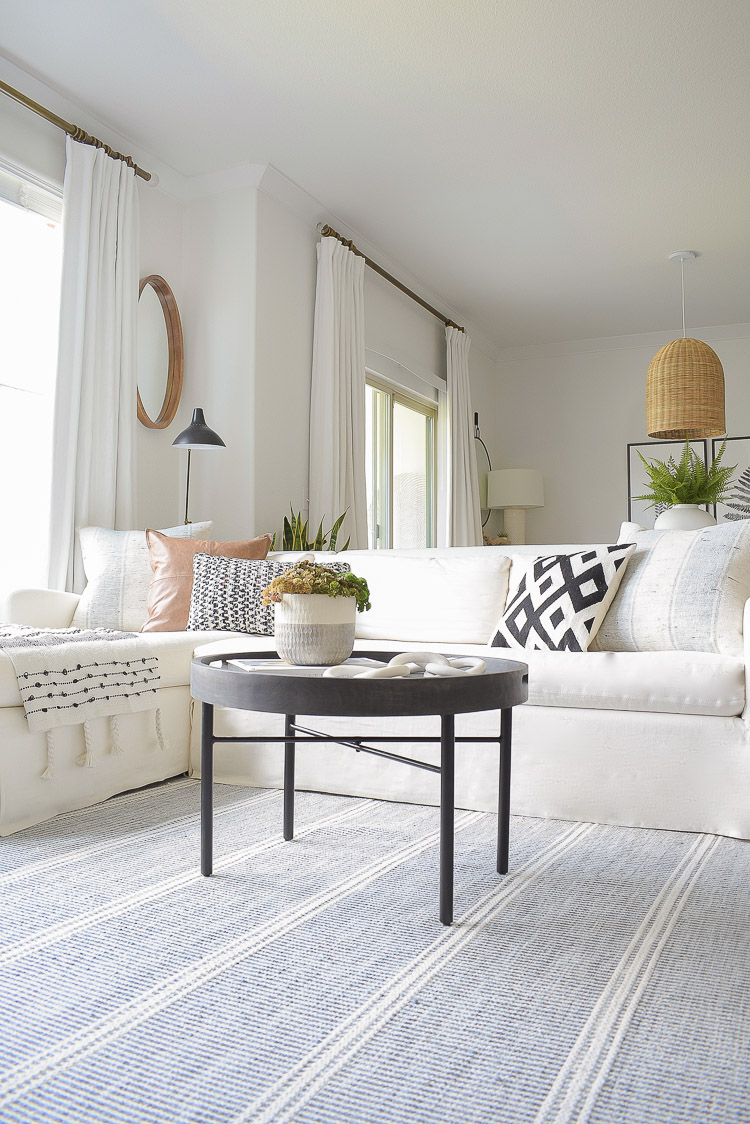 A coffee table with legs is also a good option because visually it doesn't take up as much space as a coffee table that would go all the way to the floor, so it gives the illusion of more space in your small space.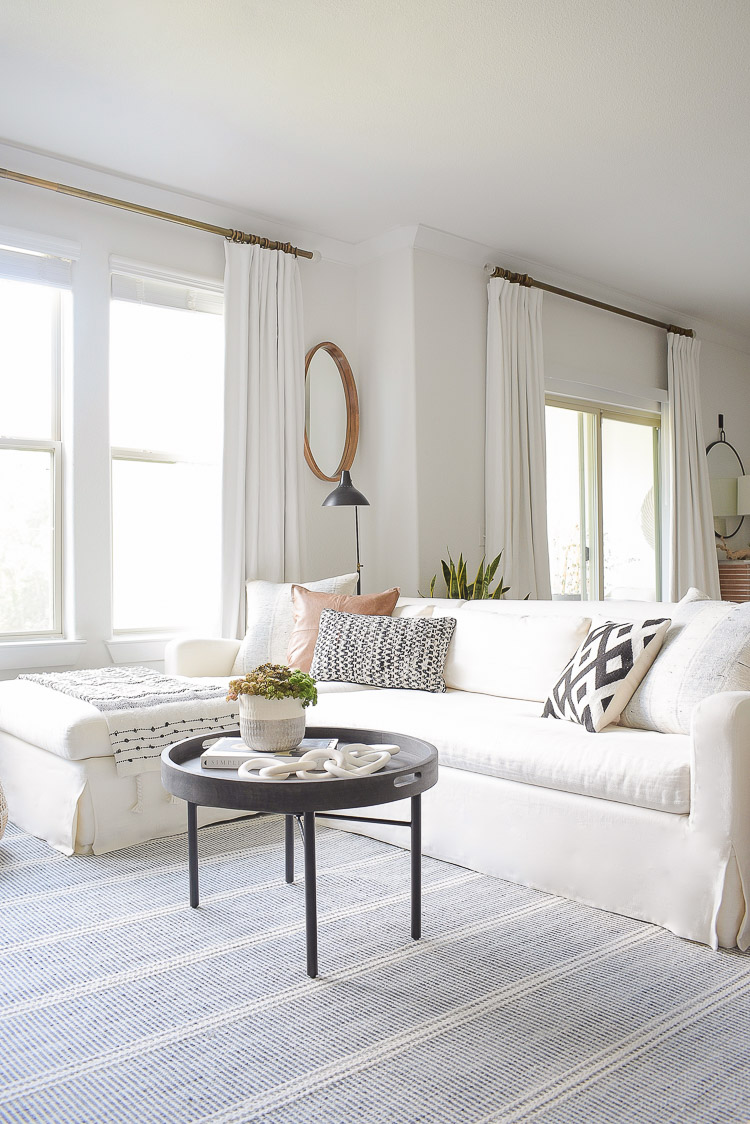 Additionally I love the trendy black color of this table and how it makes the room feel so fresh.  But the best part is that you still have room for accessories, flowers and a place to rest your drink on a coffee table this size so even though small, it still functions well in the space.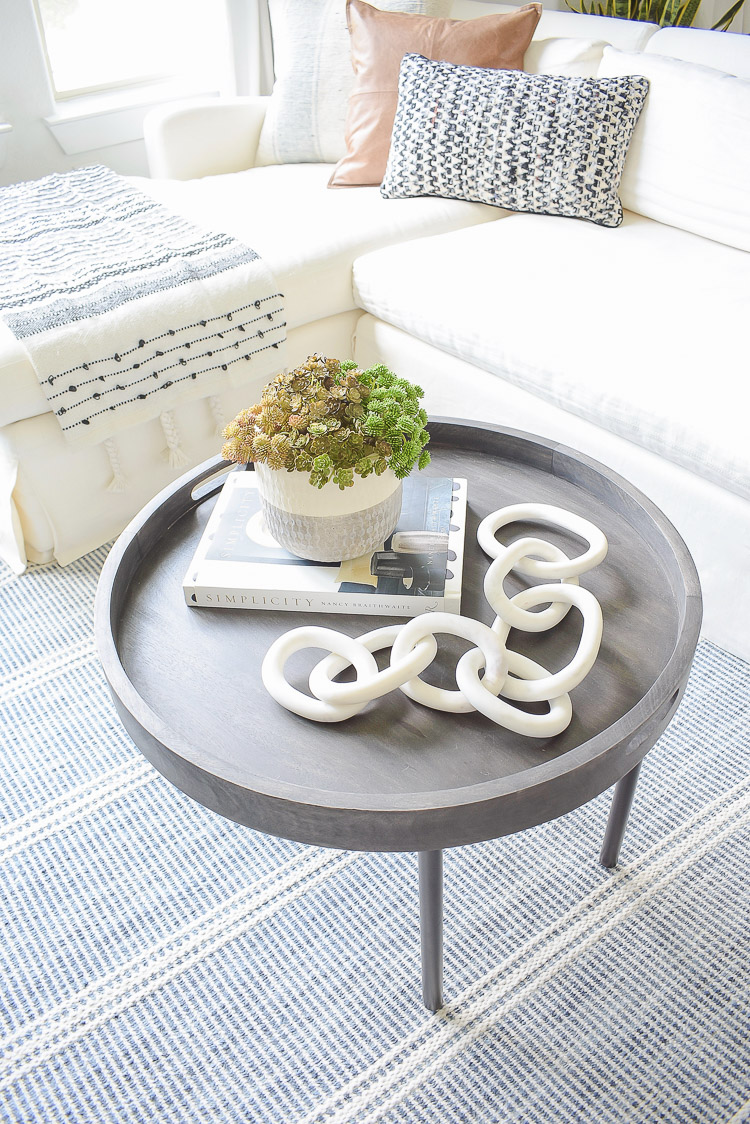 Another good example for coffee table use in a small space is a table that also serves as an ottoman.  An ottoman can be used not only as a foot rest but also as extra seating when company arrives.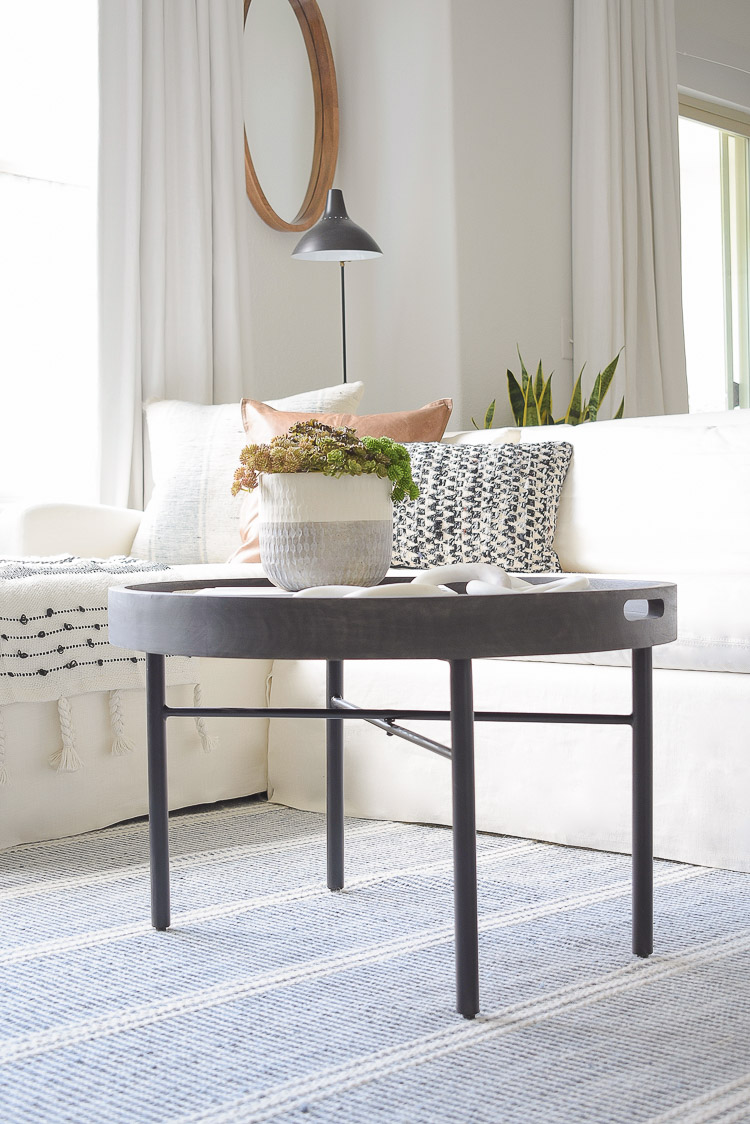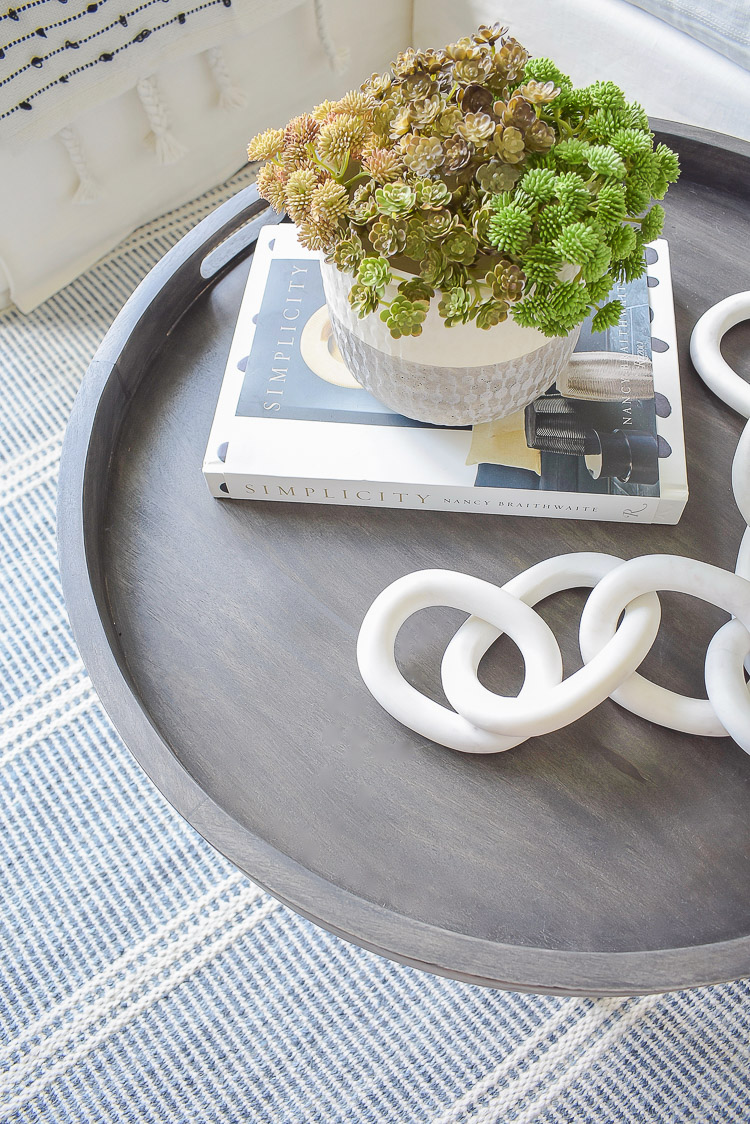 Small Space Solution #2
Using an ottoman or a stool for a side table (again, dual purpose) always works in a small space.   I was looking for something to soften the space next to my sofa and this tassel stool was the perfect small furniture solution.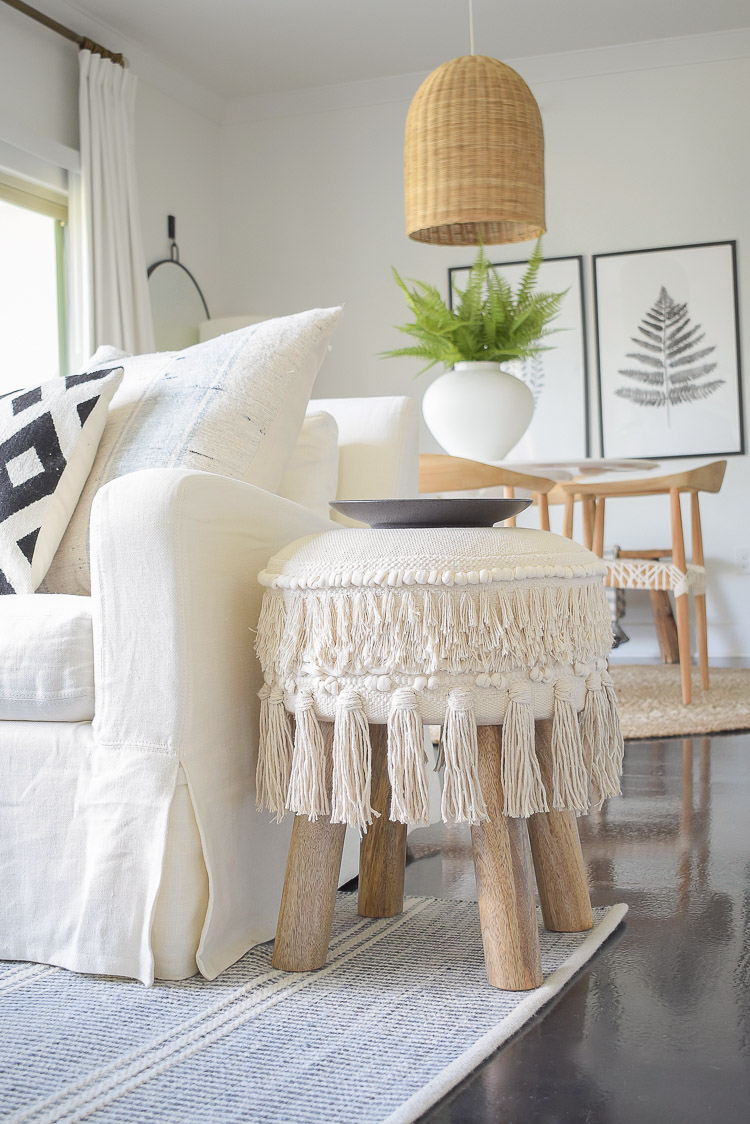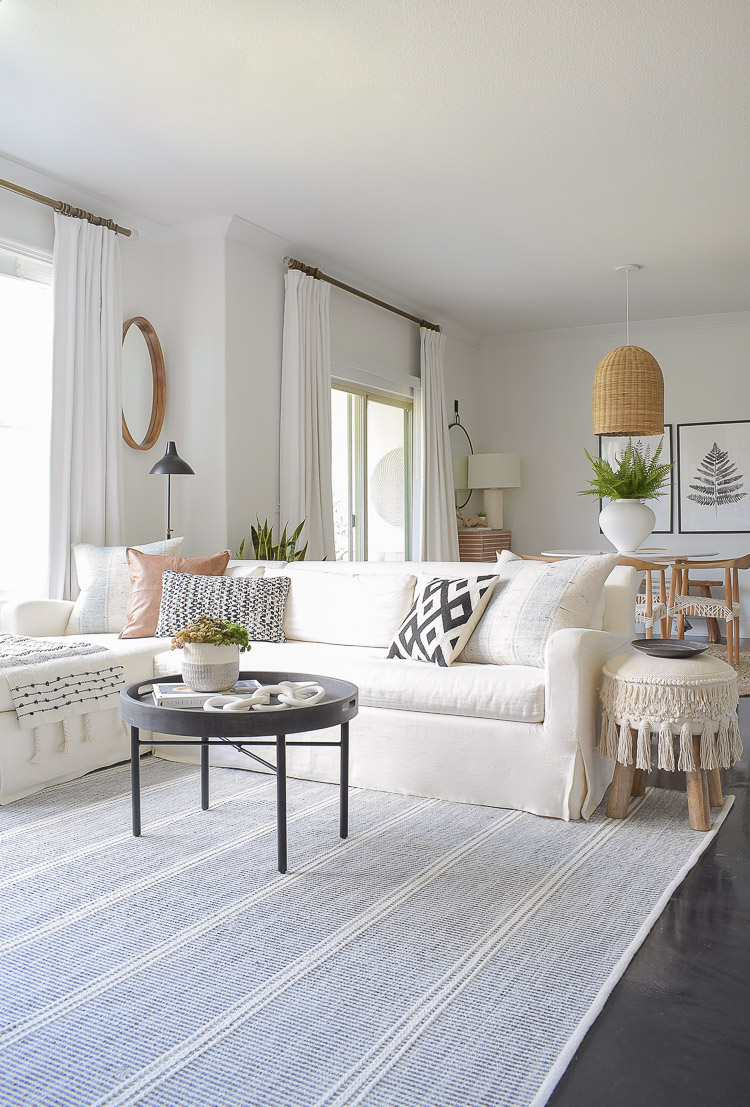 A round or square shape can work well for this.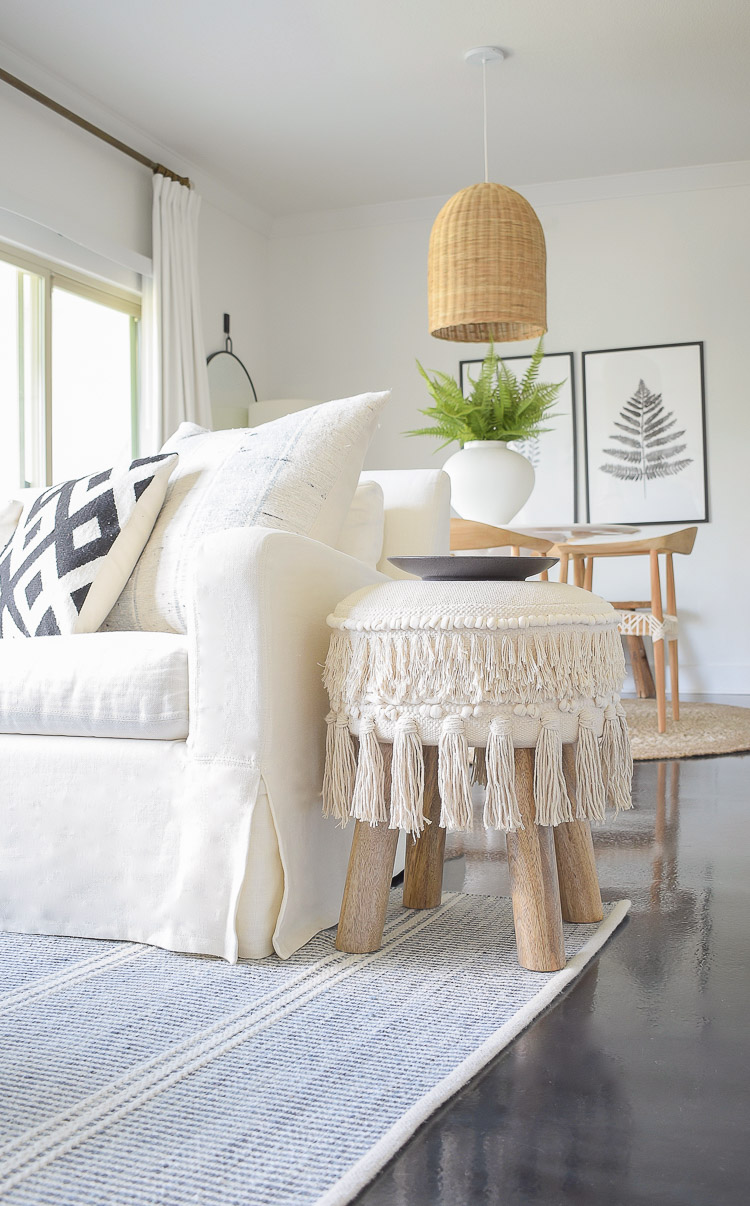 We can use it to hold the remote control and with a small basket or tray on top, to hold a drink.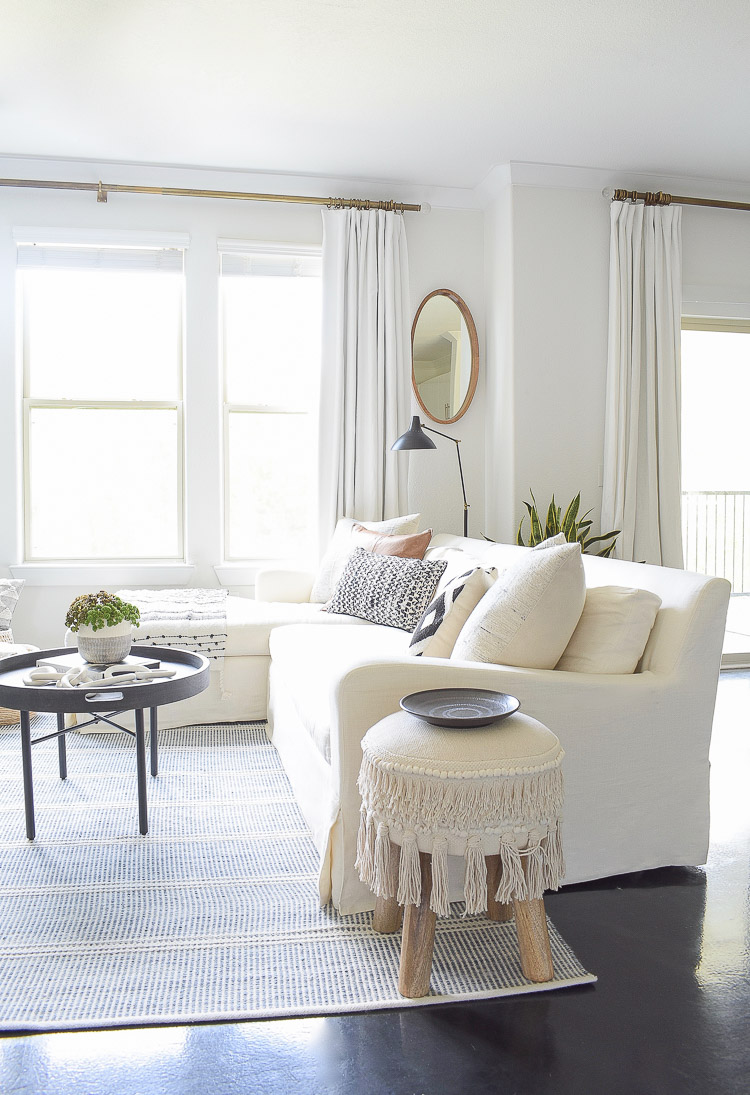 And then when extra seating is needed, it can be moved around the house as needed without having to bring in extra furniture to seat guests.  It's also great because it fits into my small space but World Market has several great small side tables to fit any size space.  My tassel stool is about 16″ in diameter but I could have gone much smaller for a small traditional side table.
Small Space Solution #3
Always, always, always use mirrors in a small space.  I just switched out a wall hanging that was in this spot for this narrow mango wood mirror and, WOW!  What a huge difference it made just to add a small mirror to this spot.  Mirrors reflect light and with that can make a room sparkle.  The dimensional feel that is created within the space with a mirror can make your room completely come to life, and feel larger.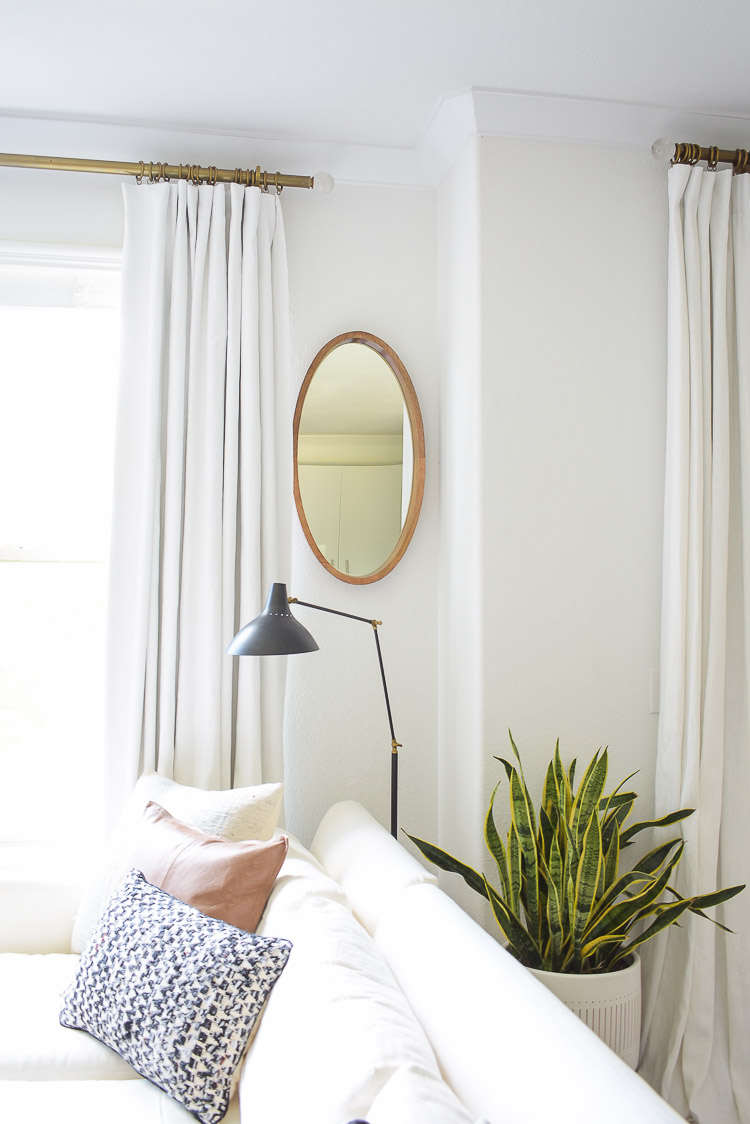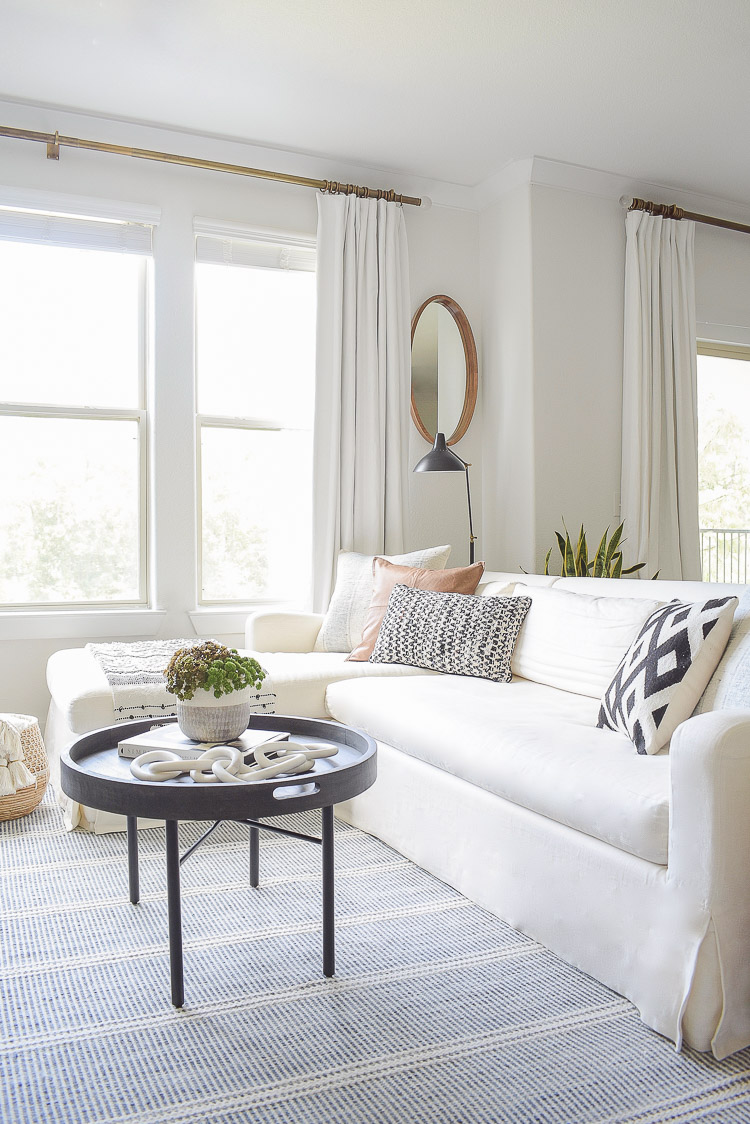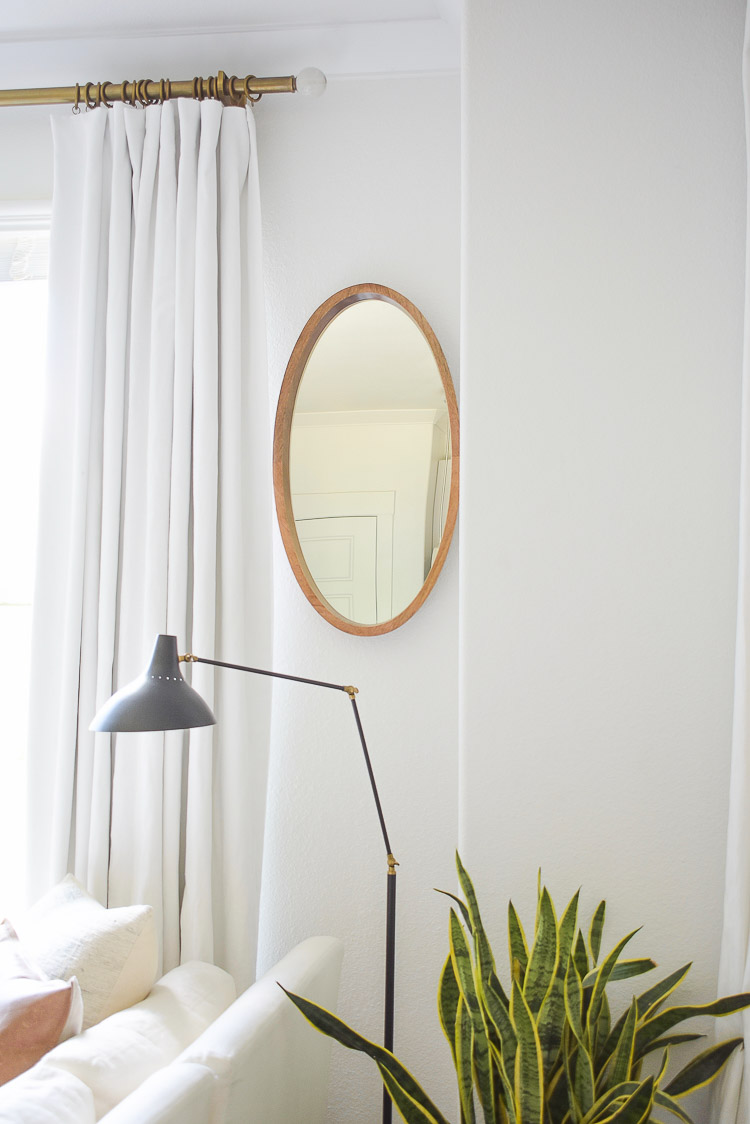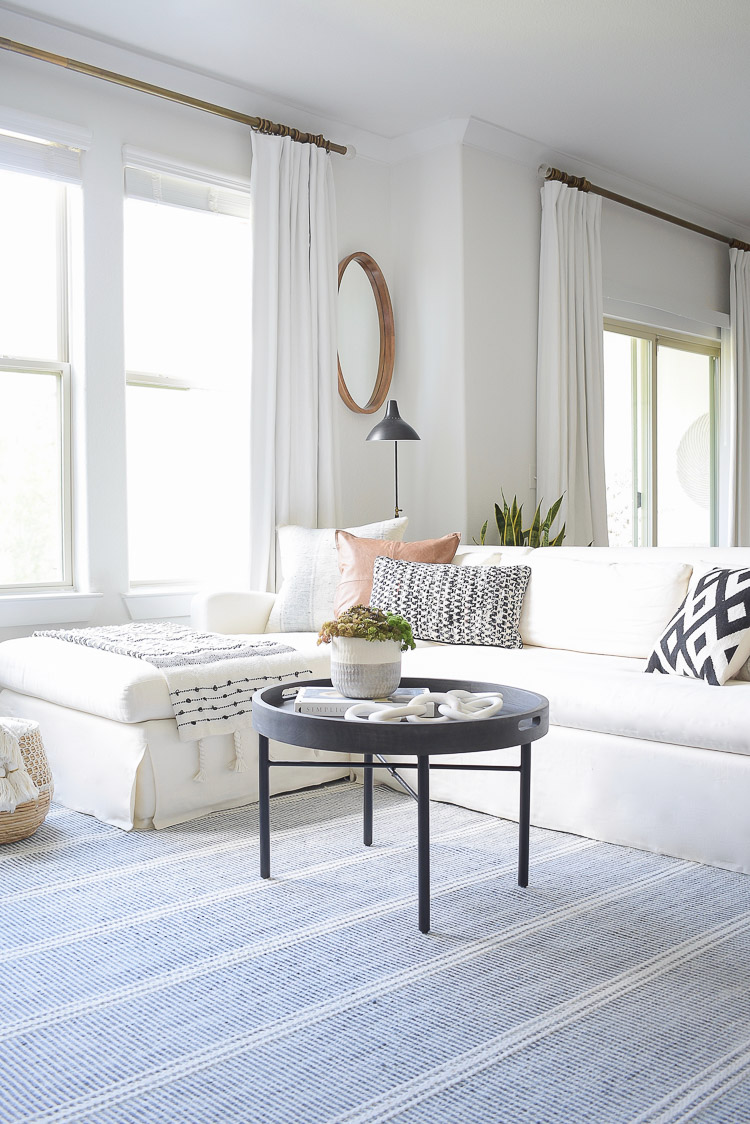 Small Space Solution #4
Not only do baskets provide texture, more importantly they provide a place to put stuff.  Extra pillows, throws, toys, etc., etc., – they are the best for small space storage!  They are also great to use as a plant basket to say the least.  And when you add fringe to make it even cuter, what can get better than that?!  I use my baskets form World Market for extra throw blankets and pillows.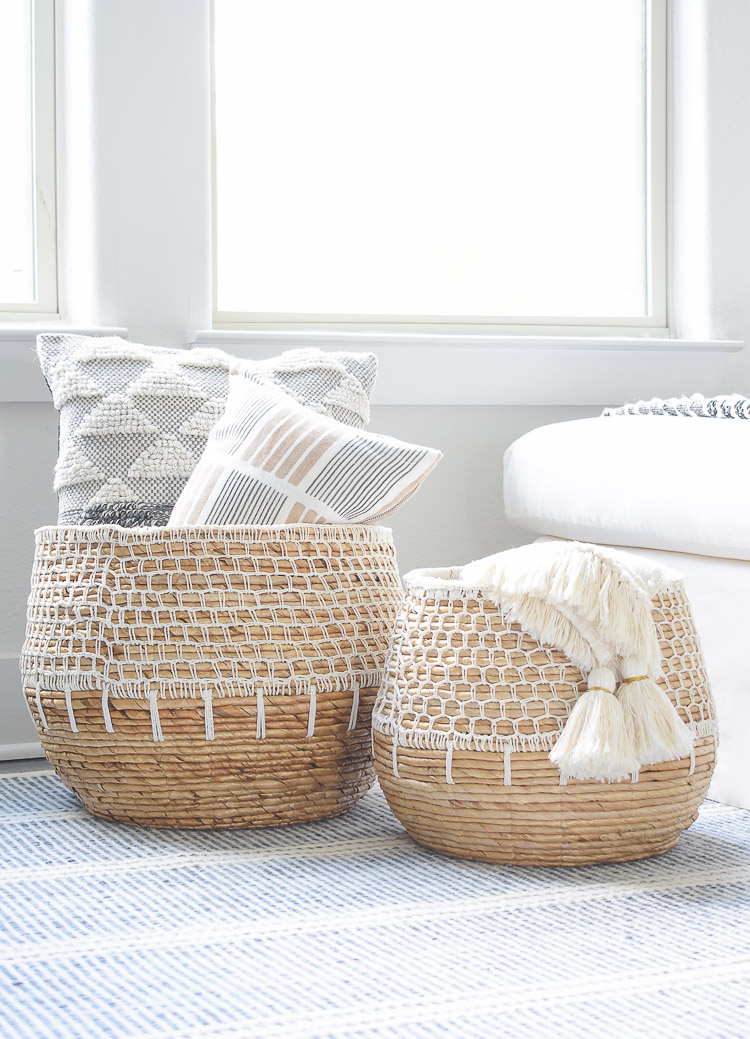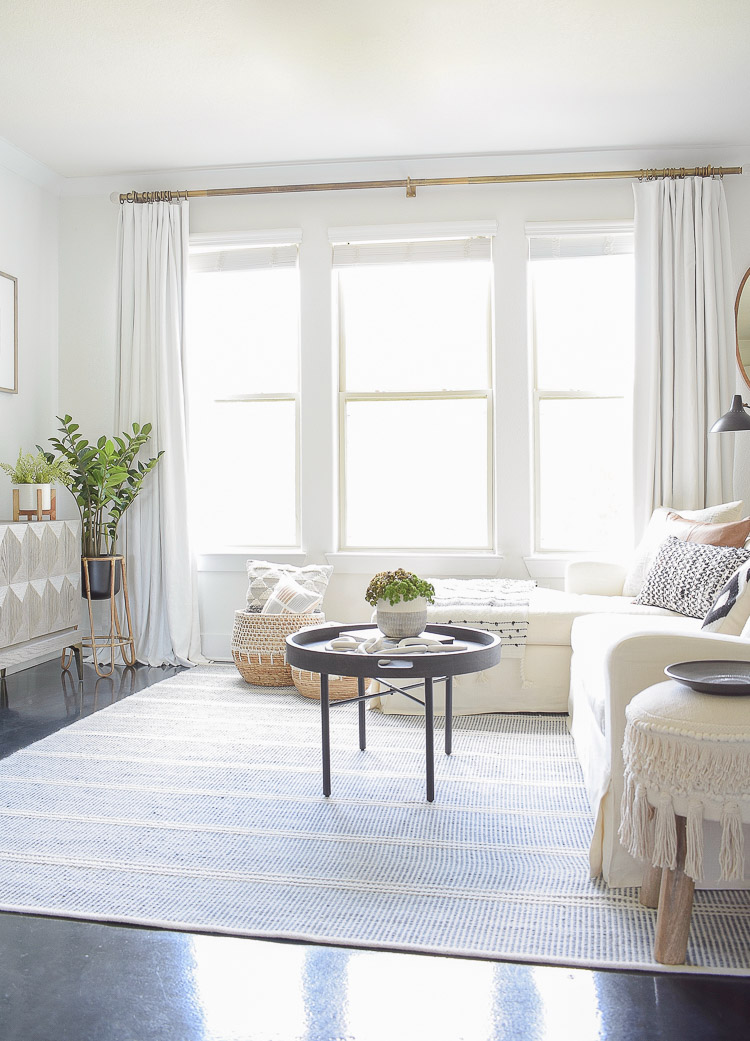 Small Space Solution #5
A laptop table can serve many purposes in a small space.  It should be light weight so it can be moved around easily. I work from home and we also happen to eat most of our dinners in the living room so this laptop table will serve not only as laptop table, but also as a TV tray, and as a side table.  A table like this one that can slide under the couch saves on space and is just overall multifunctional, which is great for small spaces.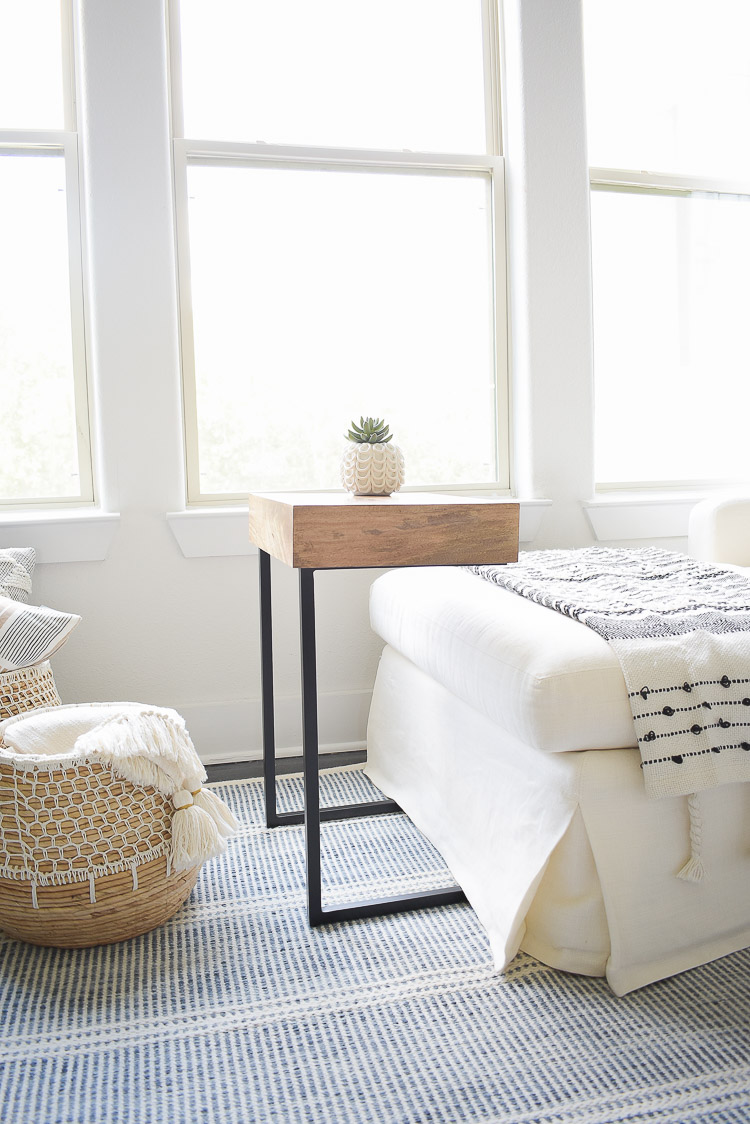 And with World Market's 30% off regular-priced furniture right now plus free shipping, it's the perfect time to pick up a space saving piece like this!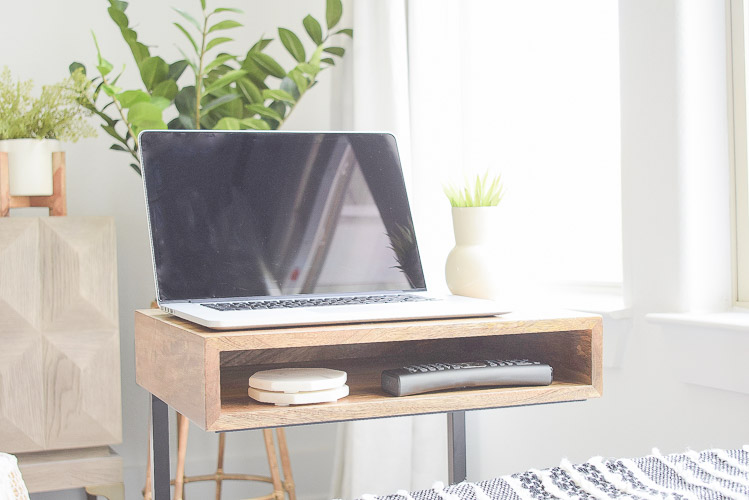 Small Space Solution #6
Like any space, a small space can feel cold and uninviting without the right accessories.  Add some texture, a pop of color (my go to these days is black and white but adding color is always great!), and some faux or real greenery and/or plants can be the icing on the cake.
Love this small plant stand.  The black and rattan are perfect together and paired with this faux Zamiifolia plant (one of my favorite modern house plants) it's the perfect solution for this super small corner of my rental apartment.  Previously I also had this faux fig tree from World Market in this corner and it was perfect for a small space too!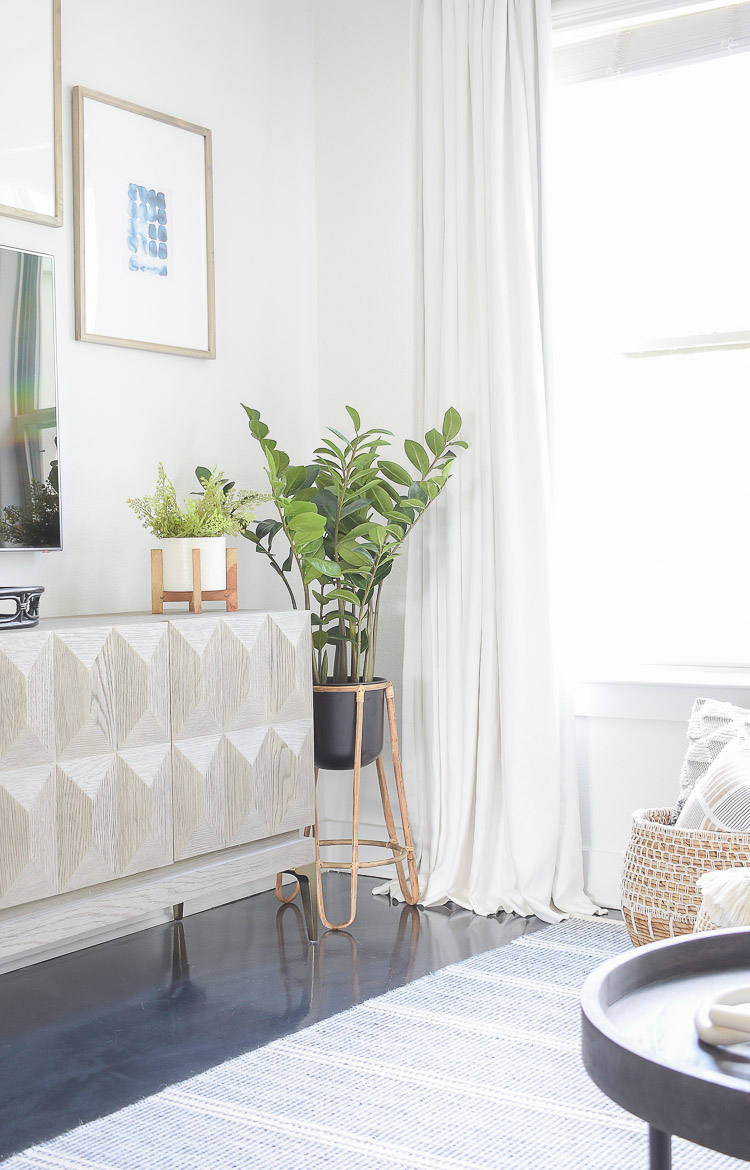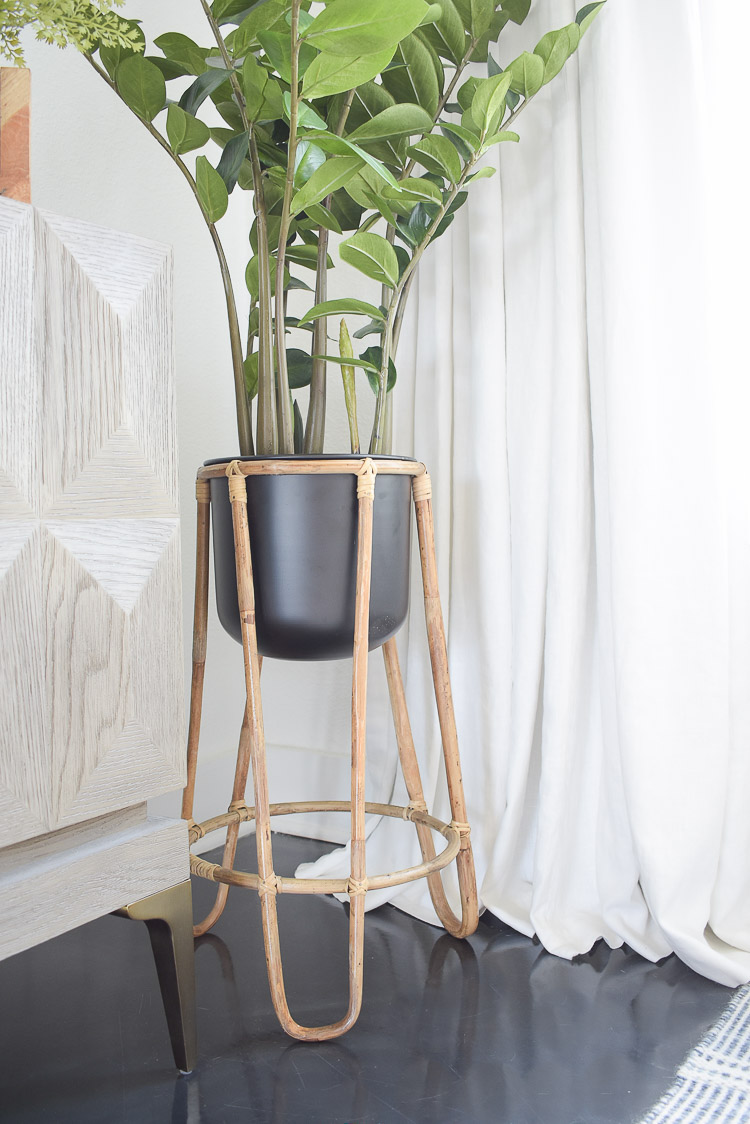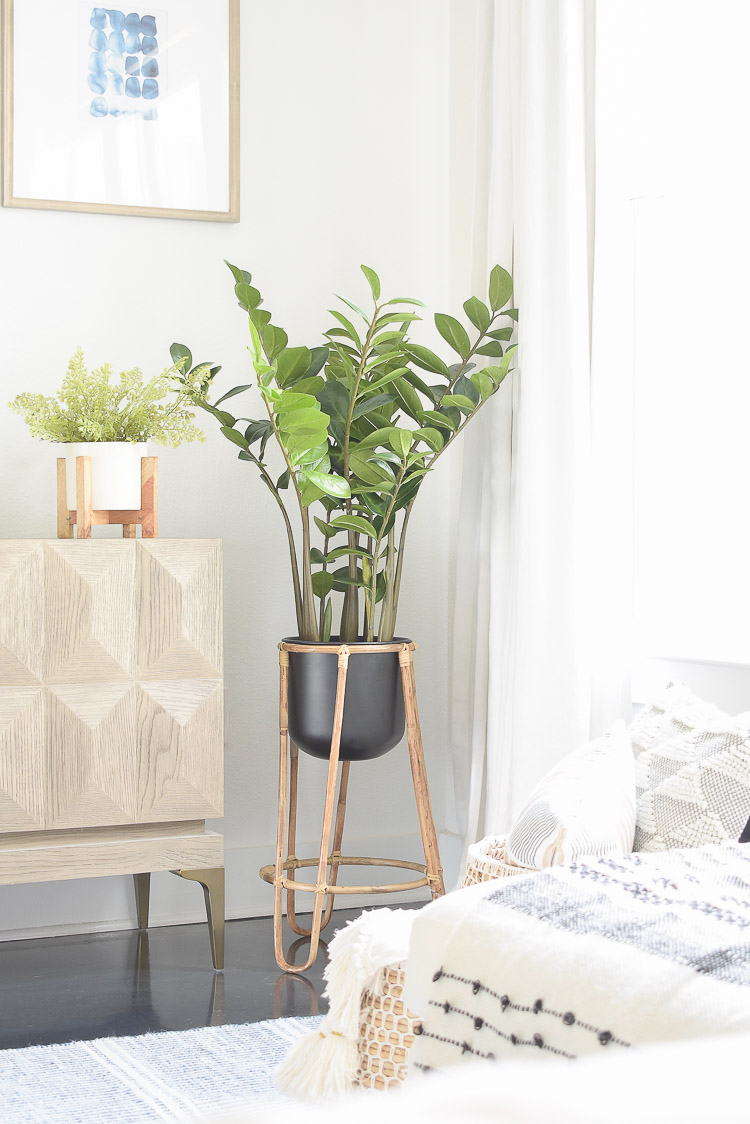 Always add a pop of color with fresh or faux flowers to your coffee table to liven up the space.  It will give it that homey, lived in feel we are all looking for.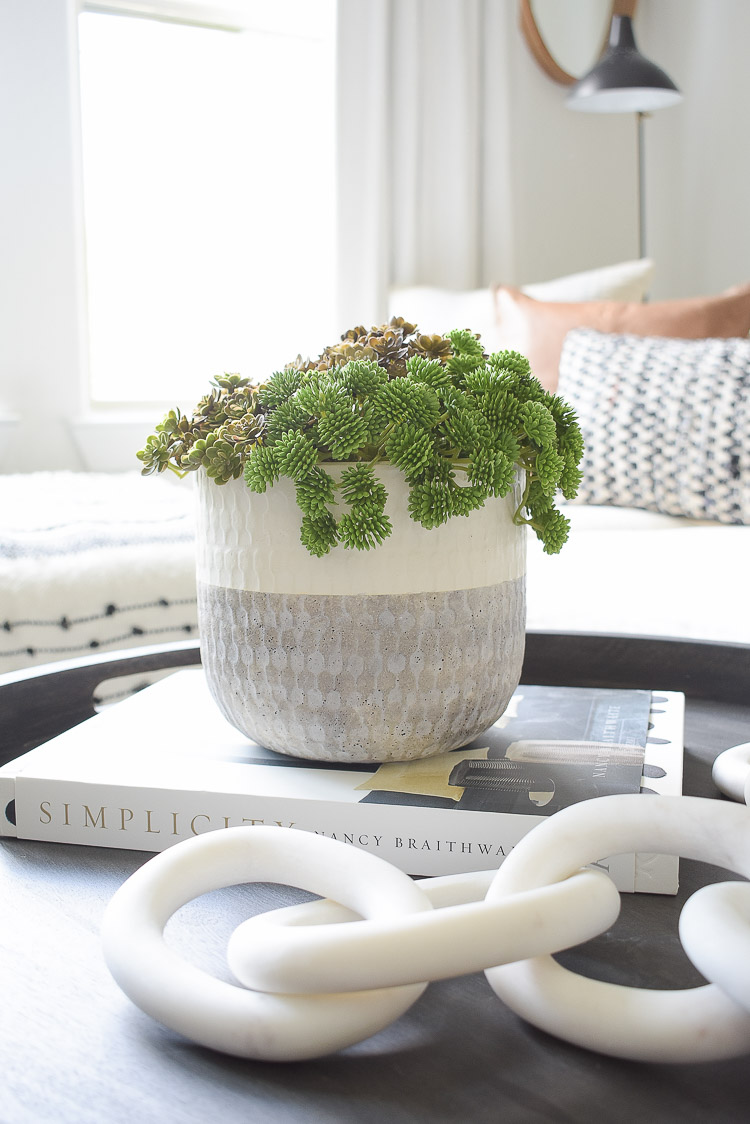 A textured throw and pillows are a must, along with a little leather and both go a long way to add big style to a small space.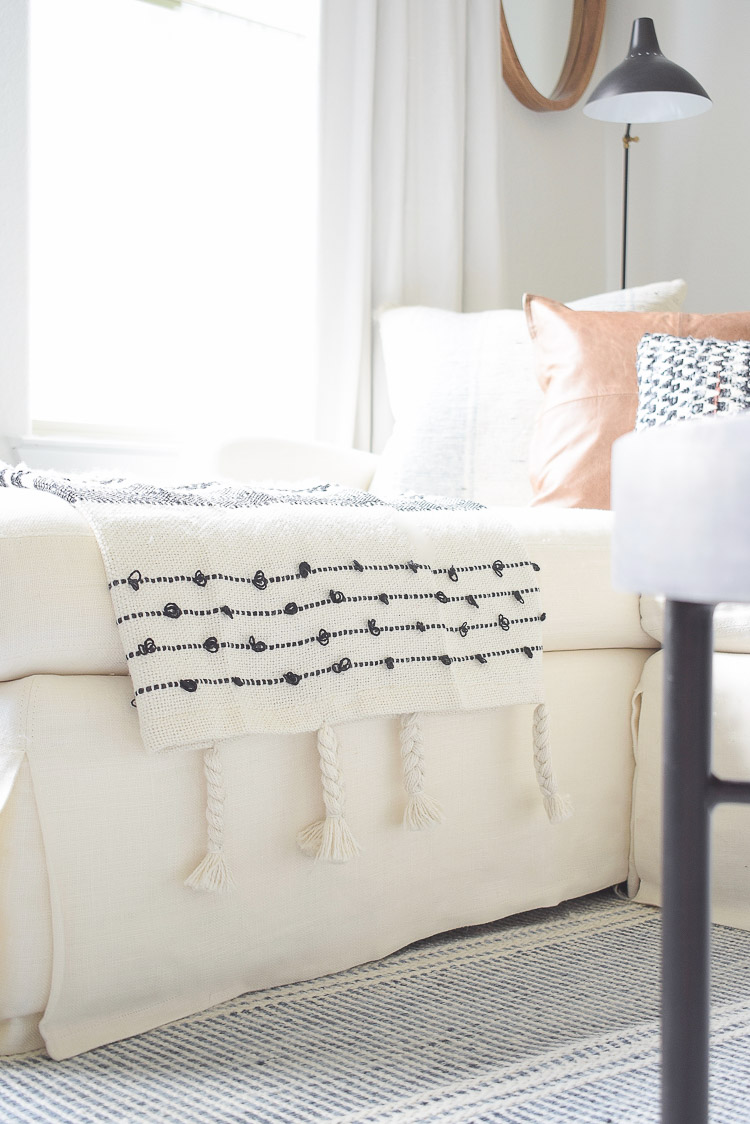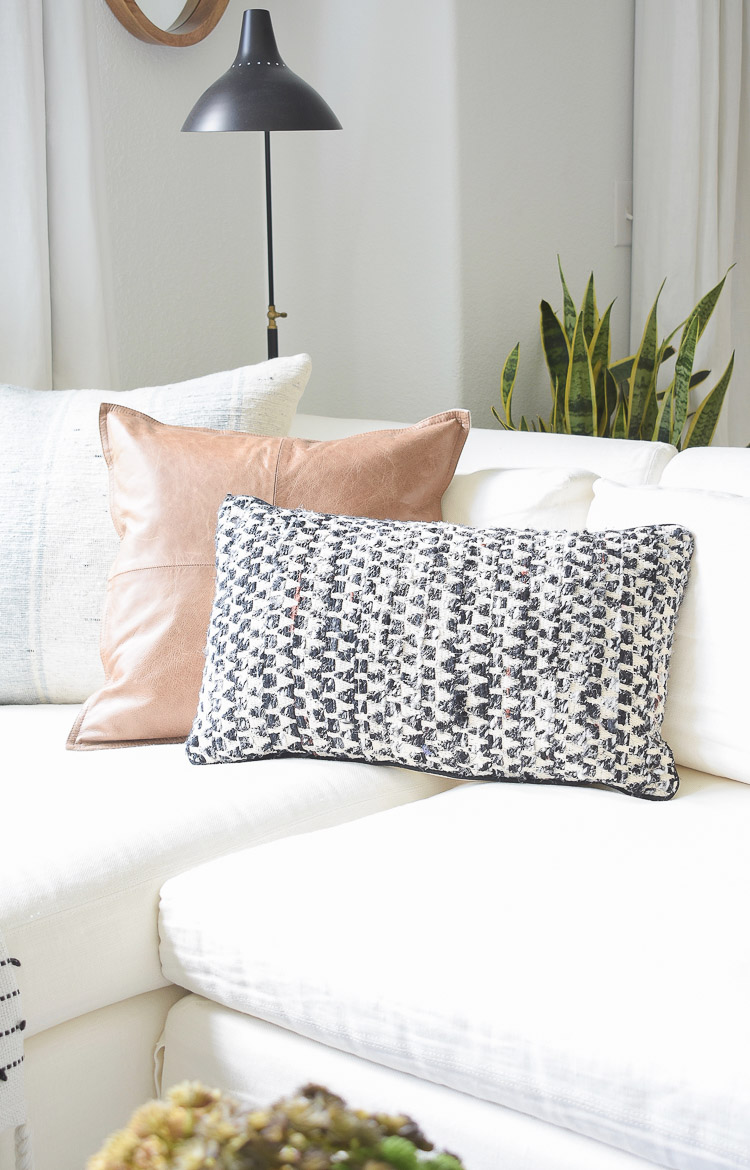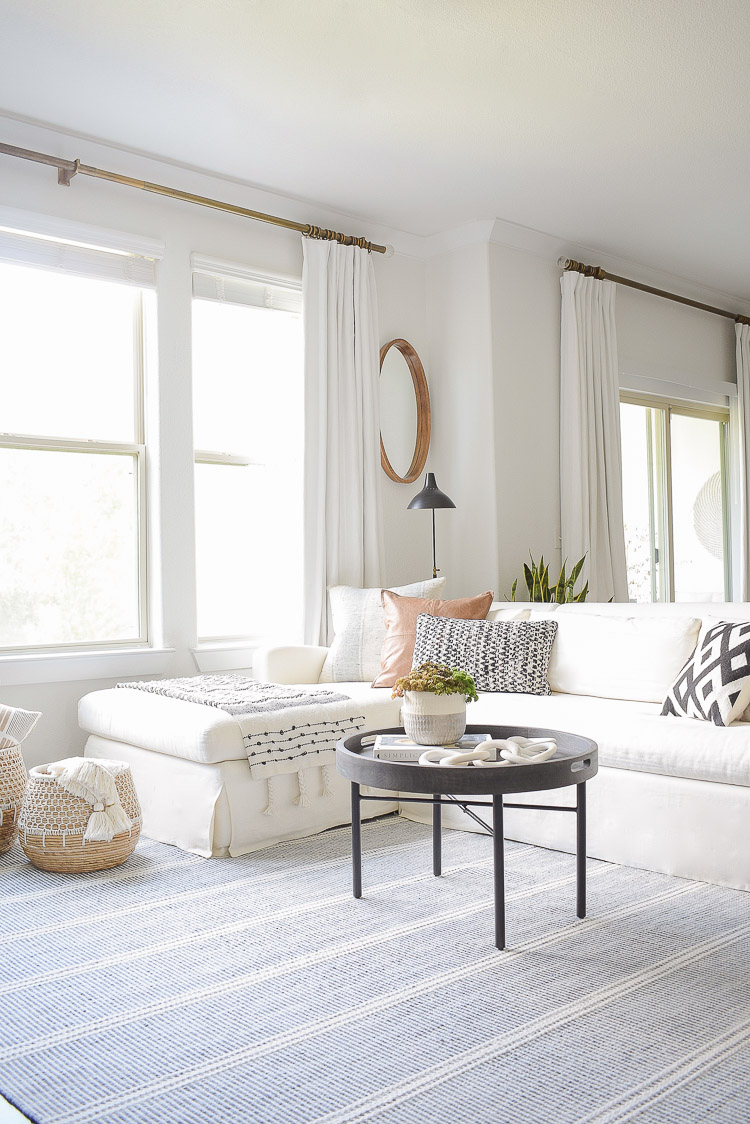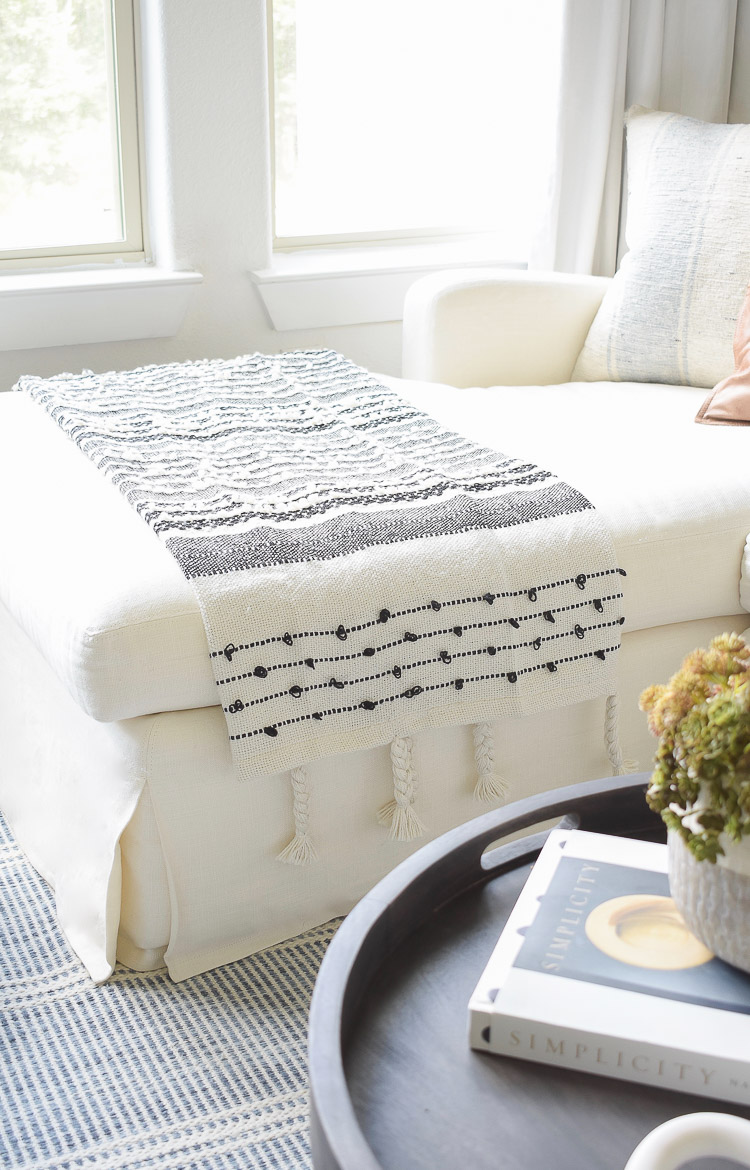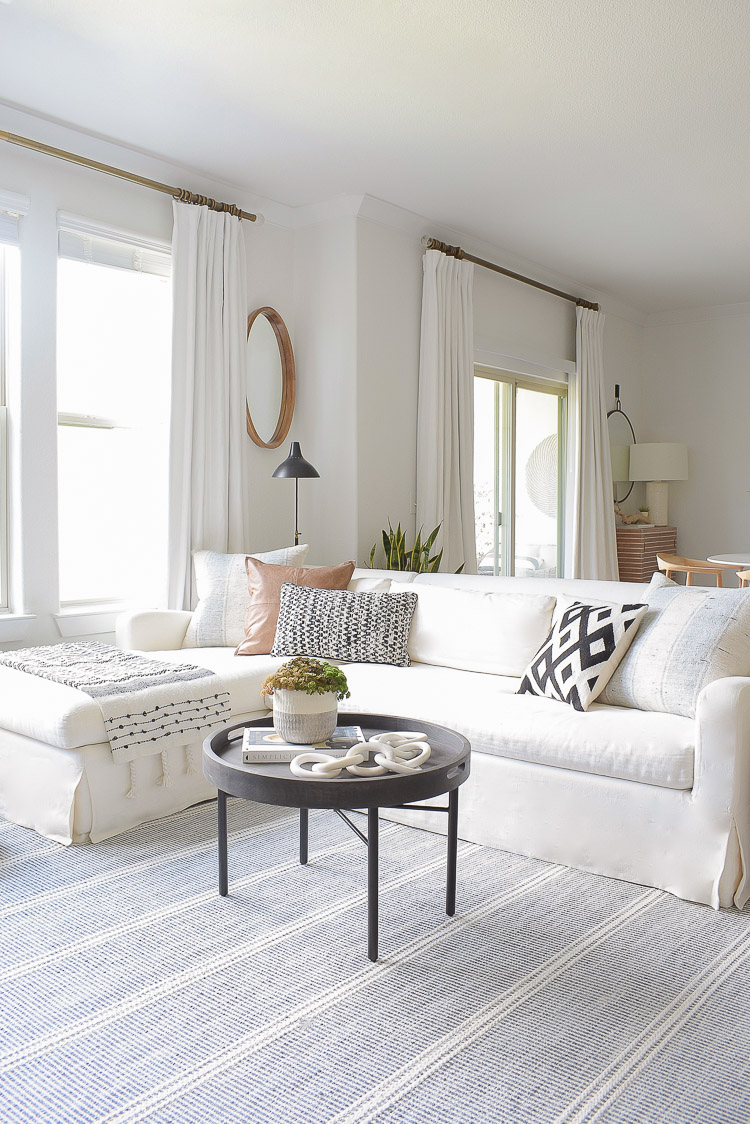 Word of advice:  I always like to say that just because you live in a small space, a rental, or a temporary place while you are planning for something bigger or better does't mean you have to sacrifice on style!  We have been in our rental much longer than expected as we plan to build (finally just broke ground on our new home – yay!) and making it a beautiful, comfortable, functional place to live has been a saving grace for me and my family!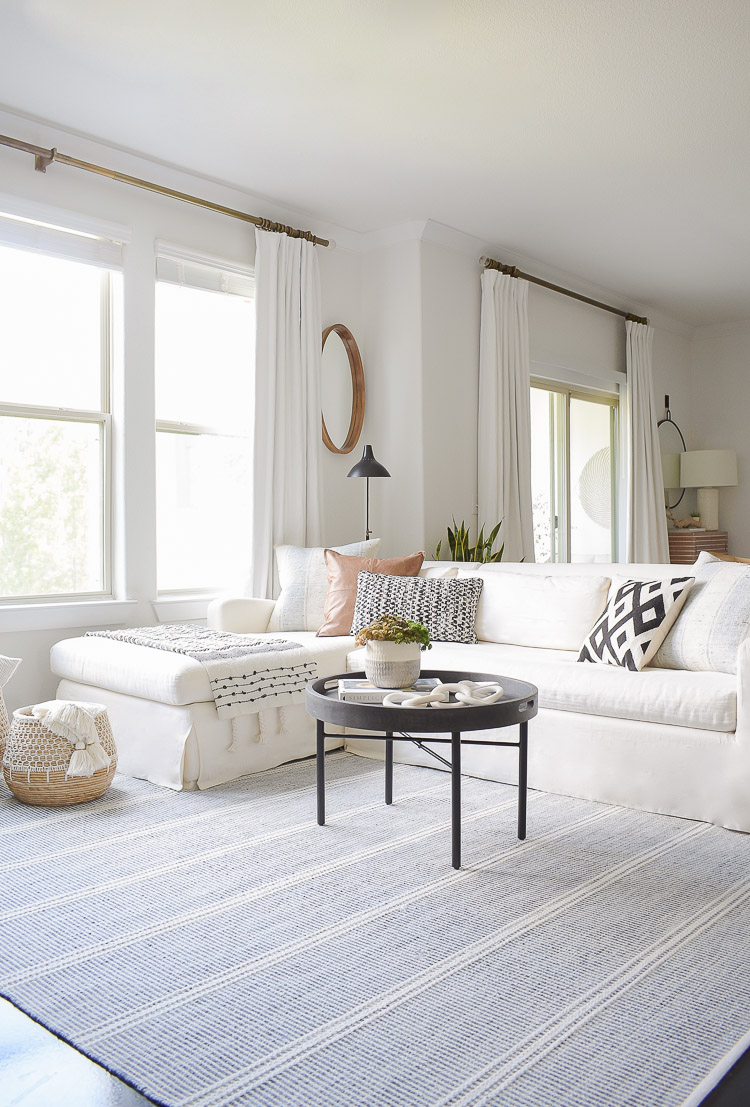 Now that you have all of the tips you need for small spaces, big style solutions please leave me a comment below telling me what fun and unique things you like to do to make your small spaces feel and look amazing! I love hearing from you!  And don't forget to check out all of World Market's small space living pieces here and see all of my picks just below.
Small Space, Big Style Solutions

Let's stay connected…
Pinterest | Facebook | Instagram | Instagram