Prepping for Spring Outdoors & In
We are prepping for spring around here, outdoors & In! This is that time of year when thoughts of how our outdoor spaces will take shape along with what we need to do to attack spring cleaning inside and I'm here for it!
*This post was sponsored by Walmart, a brand I love. All product selections, styling, images, thoughts and opinions are my own. Please find my full disclosure policy here.
Our outdoor space has a simple, modern aesthetic that I love but I needed a couple of touches to finish this space off this year. One of them was an outdoor umbrella to create some shade over our pool loungers. I fell in love with this 9′ Better Homes & Gardens black and white striped umbrella from Walmart, that even has a tilt setting.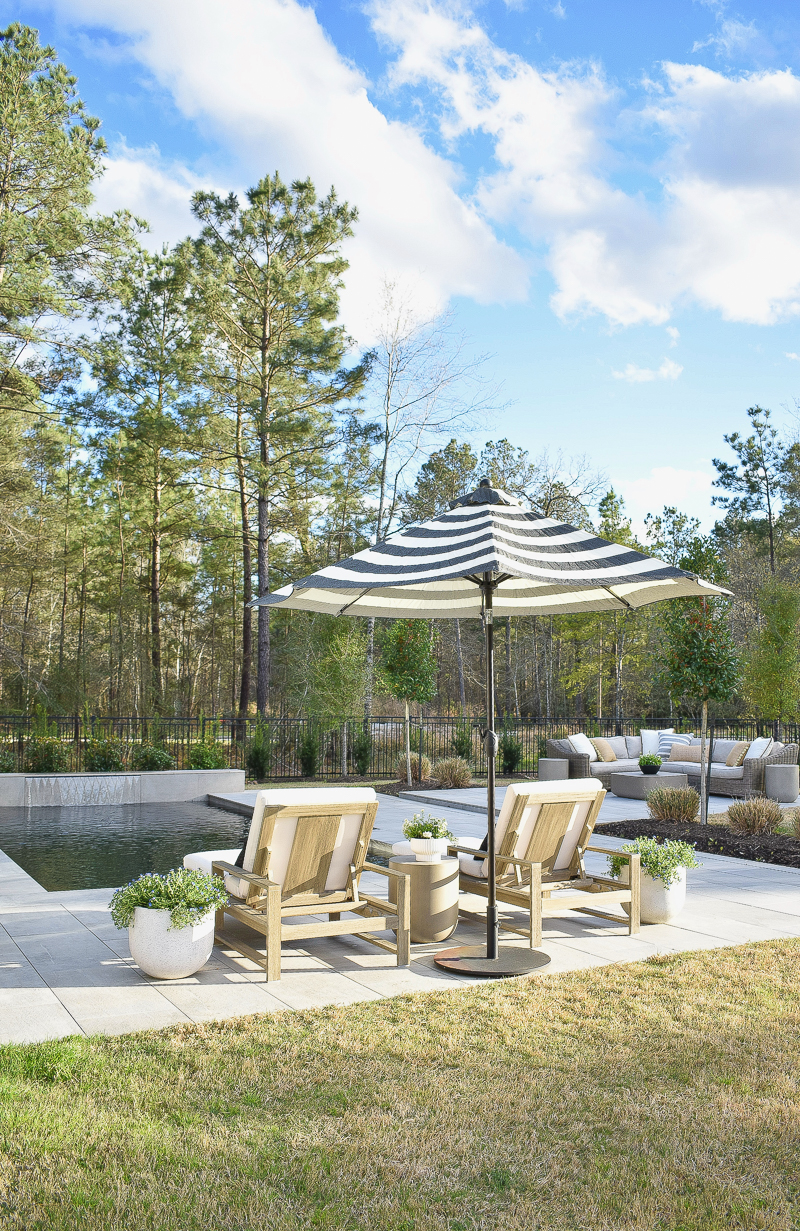 Our aesthetic out here has a black and white palette so when I saw this outdoor umbrella I knew it was the one! Walmart has so many great outdoor pieces from furniture to fire pits to the finishing touches and more to dress up your outdoor space so make sure to check them all out HERE. I've also rounded up all of my favorites from Walmart's Outdoor Oasis section at the bottom of this post.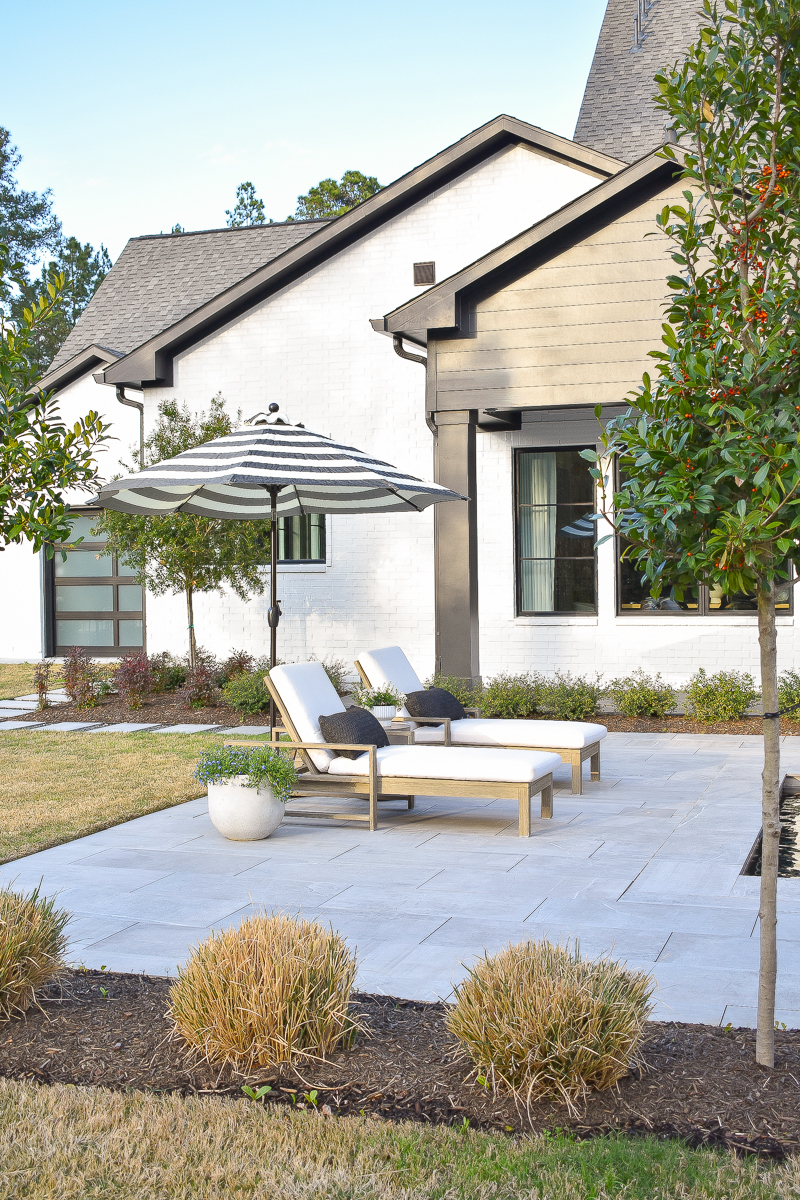 I also finally got my hands on this white fluted planter pot. I tried last year several times to get one but they were so popular I was unable to.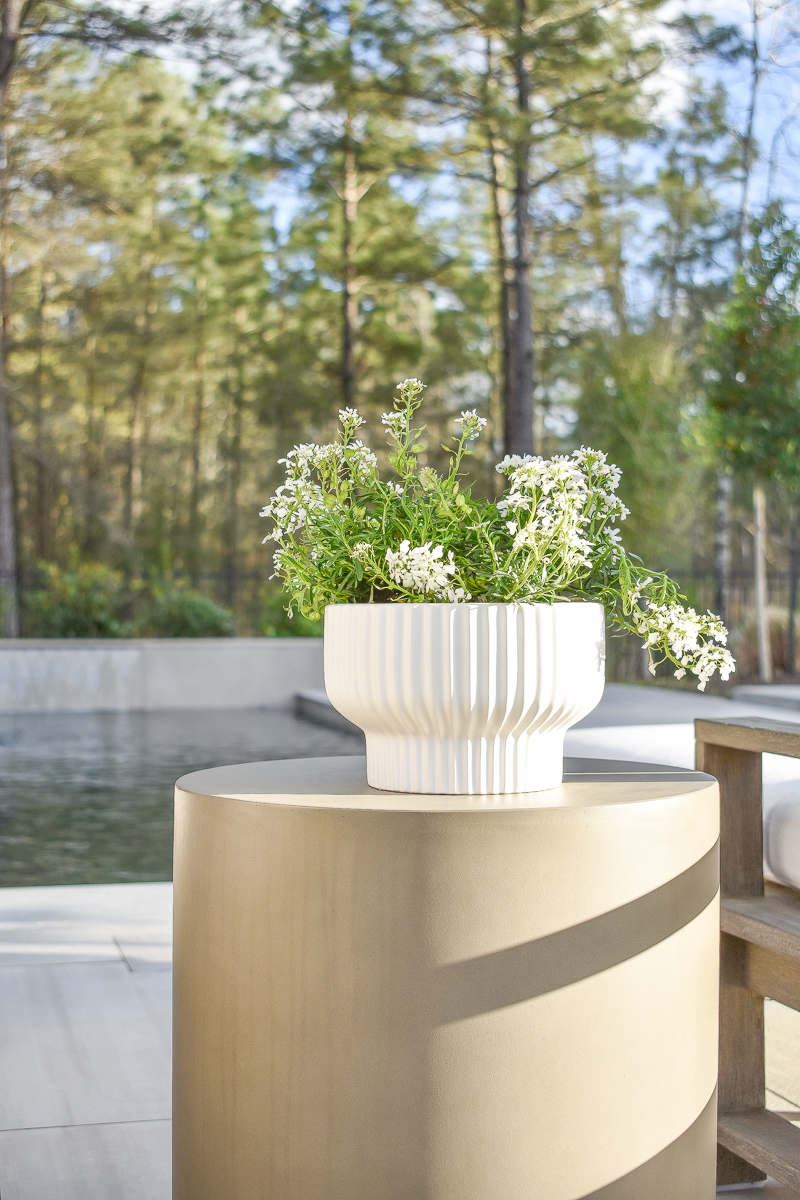 I can use this planter inside and out and just love the modern shape of it!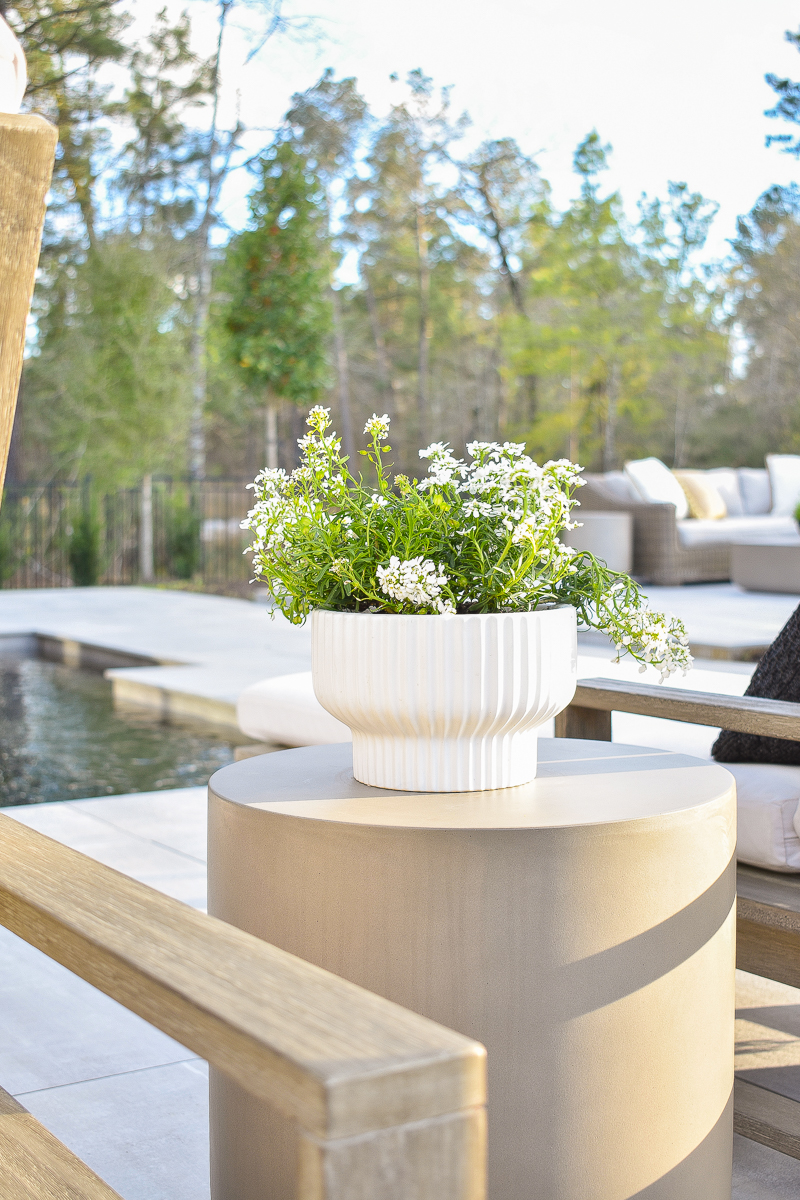 The quality of this BHG 9′ umbrella is great and it comes with an umbrella cover to store it away in winter. And as I mentioned before it tilts but also, it comes in multiple colors to suit any outdoor space or style! Side note: The paint color on the back of our house is Iron Ore – it's a soft black. I know it looks brown on the areas where the sun hits but it's definitely black just in case you were wondering:).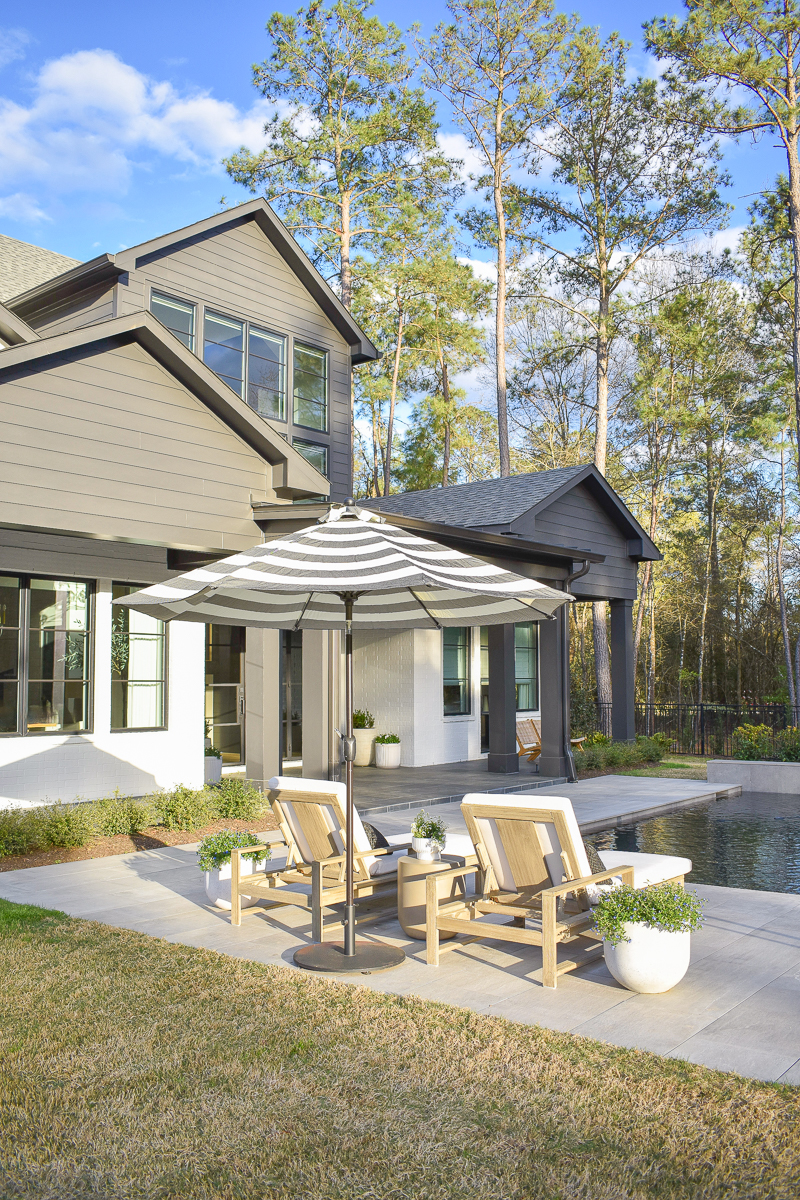 We are looking forward to spending time together as a family out here and being more active with the warmer outdoor weather to come!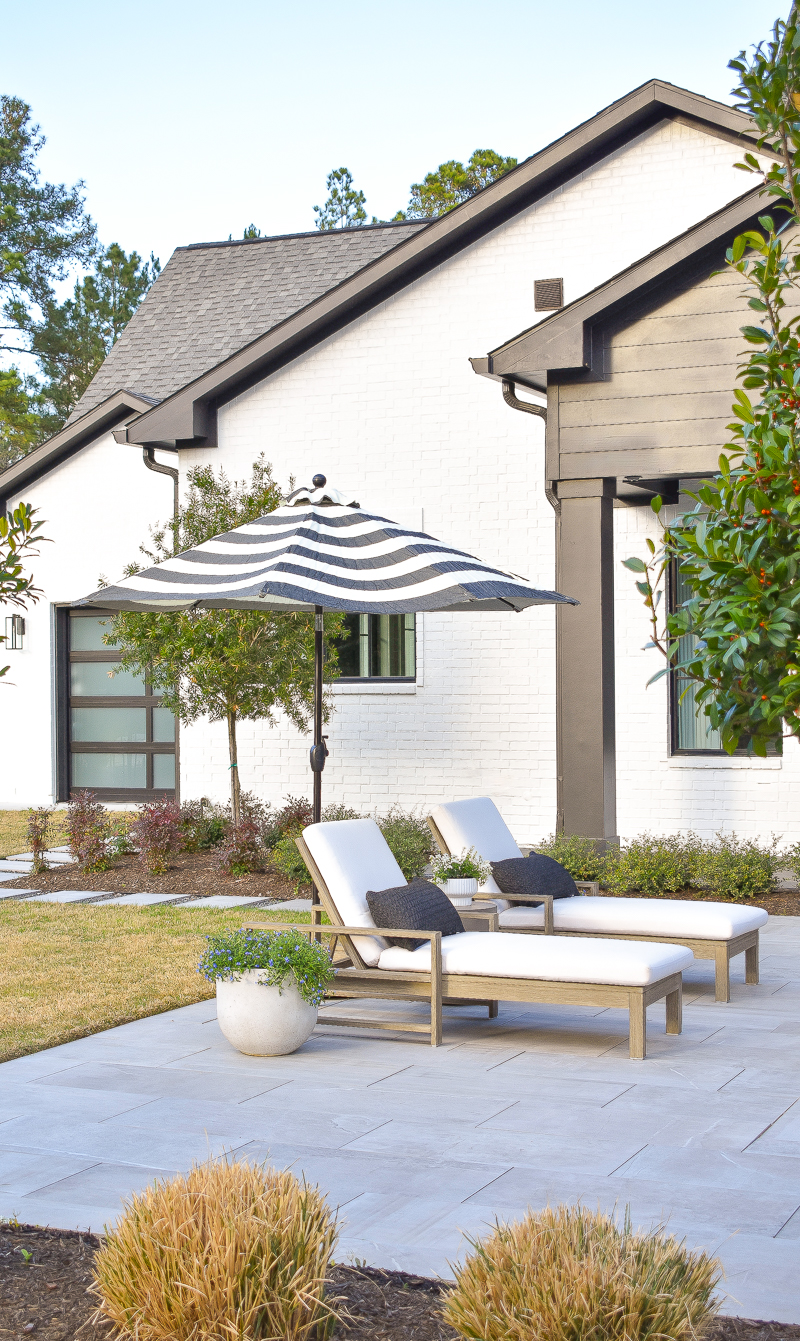 If you are looking for some outdoor furniture I really love each of these pieces from Walmart below. Everything from a single chair with ottoman, to the egg chair or to a full patio set…

Also, here are some great pillows, rug and outdoor accessories from Walmart. I really, really love this black & white geometric pillow (first one below)…

Prepping for spring cleaning inside this year consists of the Bissell CrossWave All-in-One Multi-Surface Wet Dry Vac. I had been looking for something that would vacuum and mop all-in-one for some time. Don't worry, I still have my Dyson Fluffy cordless stick vacuum from Walmart and use it daily but needed something to wash my floors. With the Bissell CrossWave you don't have to vacuum first, you can just do it all in one which saves me a ton of time when my floors need mopping. I have only used it a couple of times but have been extremely happy with it – you won't believe it when you see the dirty tank when done but that's proof it' really getting your floors clean, and it's been giving me the confidence and peace of mind to know I'm creating a cleaner environment for my family to live in.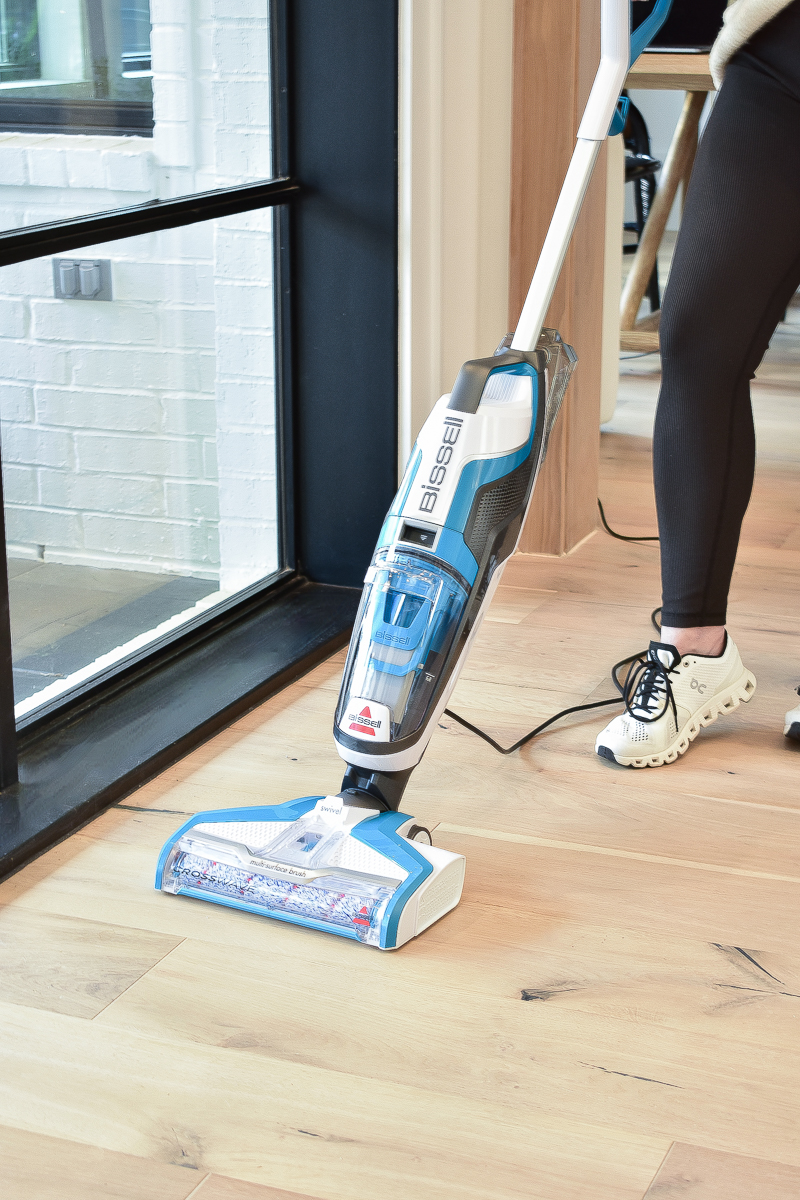 I also have the Bissell Little Green Spot & Stain Remover that I use for pet accidents, spills, stains and more. It is a great tool I use around my home to keep our home clean and sanitized!

Walmart has everything you need to prep your home inside and out so don't forget to save on the most-wanted spring picks to celebrate the season! Check out all of my spring Walmart picks below to get your Outdoor & Indoor spaces ready!

Prepping For Spring Outdoors & In with Walmart – Sources
9′ Black & White Striped Outdoor Umbrella | White Fluted Pot | Bissell CrossWave Wet Dry Vac