How To Style Your Sofa Pillows, Favorite New Inserts & A Review of The Hale Sofa
Hello and happy almost spring! We had weather in the 70's all last week so it's been feeling a little more like spring vs. winter here in Houston already! You've probably heard me say this before but spring is my absolute favorite time of year to decorate so I'm super excited to be sharing a spring pillow refresh along with tips on how to style your sofa pillows, some favorite new inserts, and a review of our new Hale Sofa today.
This post contains affiliate links. Please read my full disclosure policy here.
First let's talk pillows. Really I should call this…"I'm getting my pillows together for the first time in our new home" because up until a couple of weeks ago I haven't focused on pillows at all. But, now that some new furniture pieces are arriving and things are beginning to feel (a little) more pulled together, and spring is right around the corner, I knew it was time.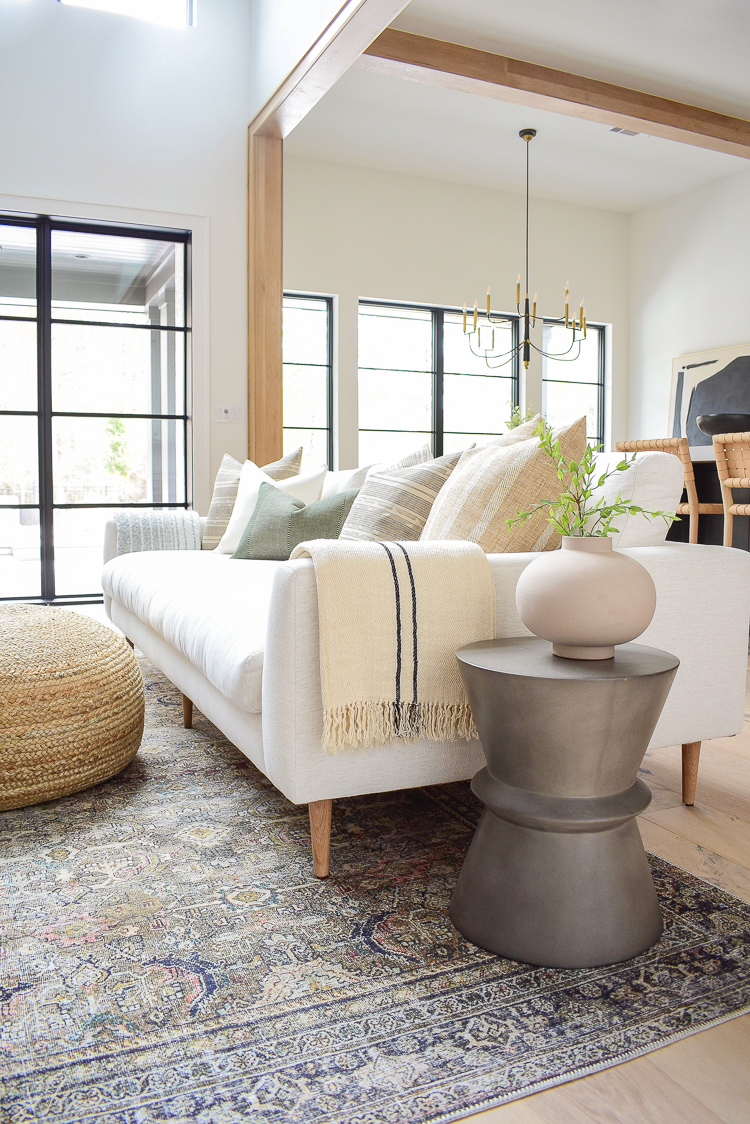 Pillows are the easiest way to update a space, or to just breath new life into one. In our living room I currently have a colorful rug with a lot of pattern in it so I wanted to keep my spring pillows neutral and subtle. I started my search with this neutral, brown subtly patterned pillow. When I saw this pillow I knew there would be a pair of these headed for my sofa. It's that good!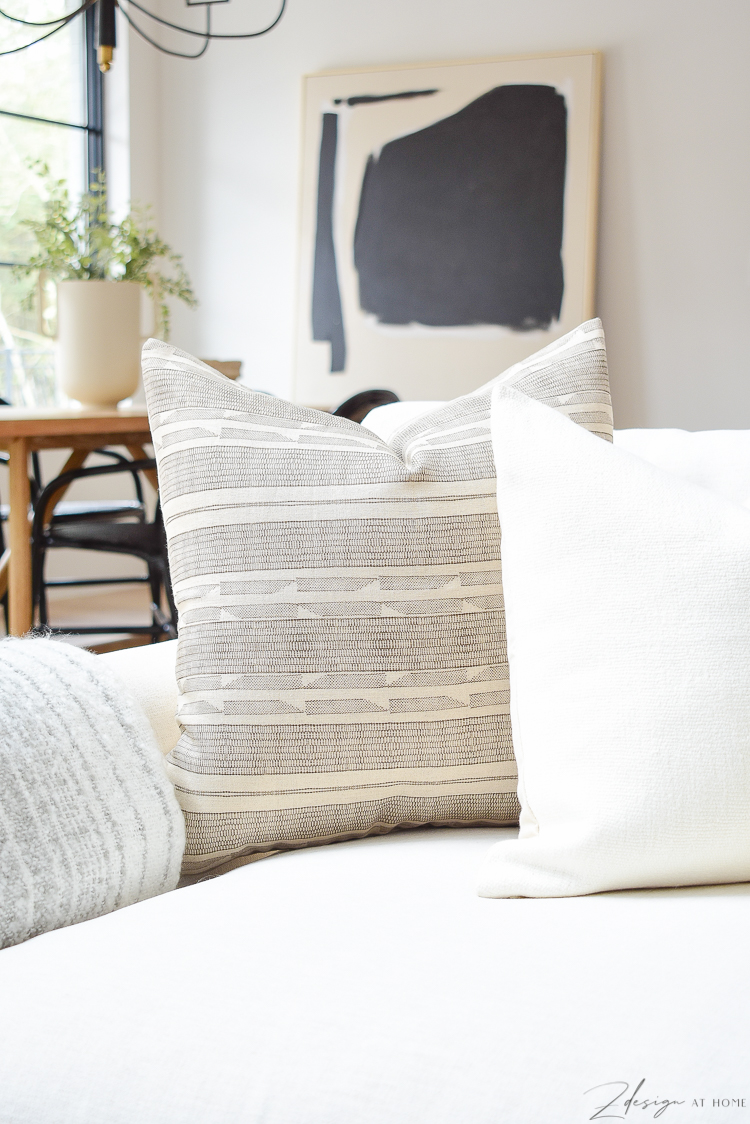 For my pillow combos I always like to have one of each of the following…a pattern, solid, stripe and a floral, or something with good texture. Since I'm not super into florals right now, texture won out this time around with this solid ivory linen pillow and this heavily textured olive green lumbar.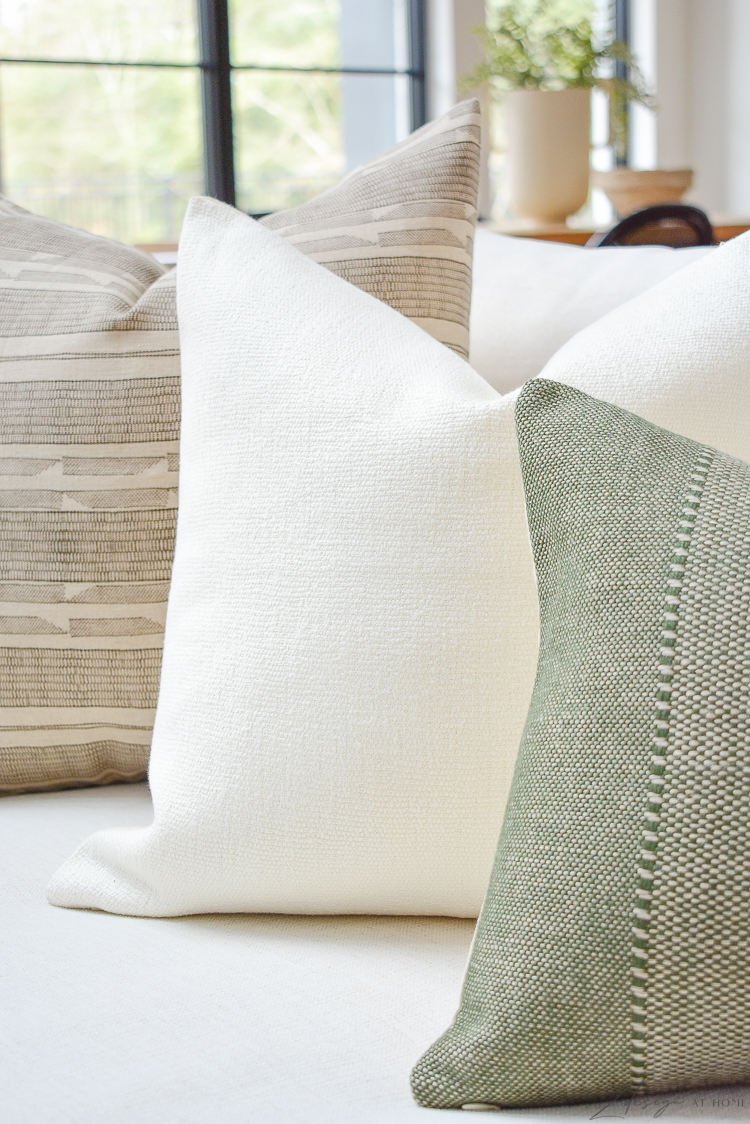 This olive green pillow is so, so good. I love the texture and love that I'll be able to use it right into fall. Also love the subtle color blocking and it comes in several different sizes too.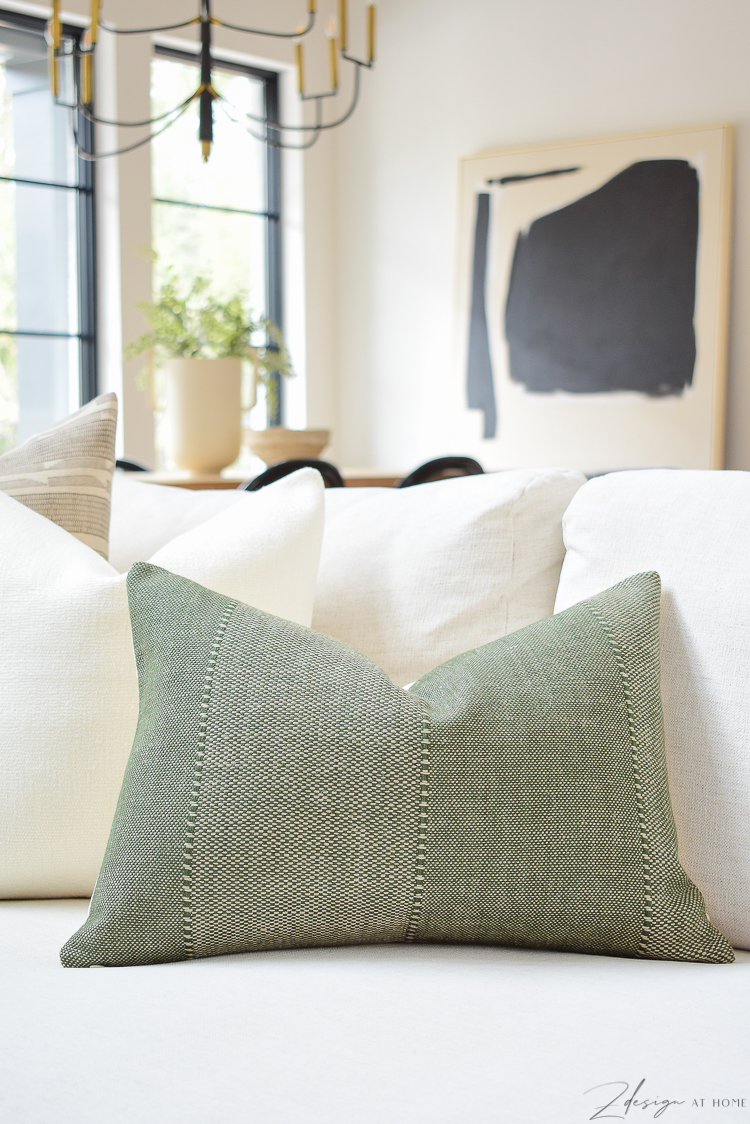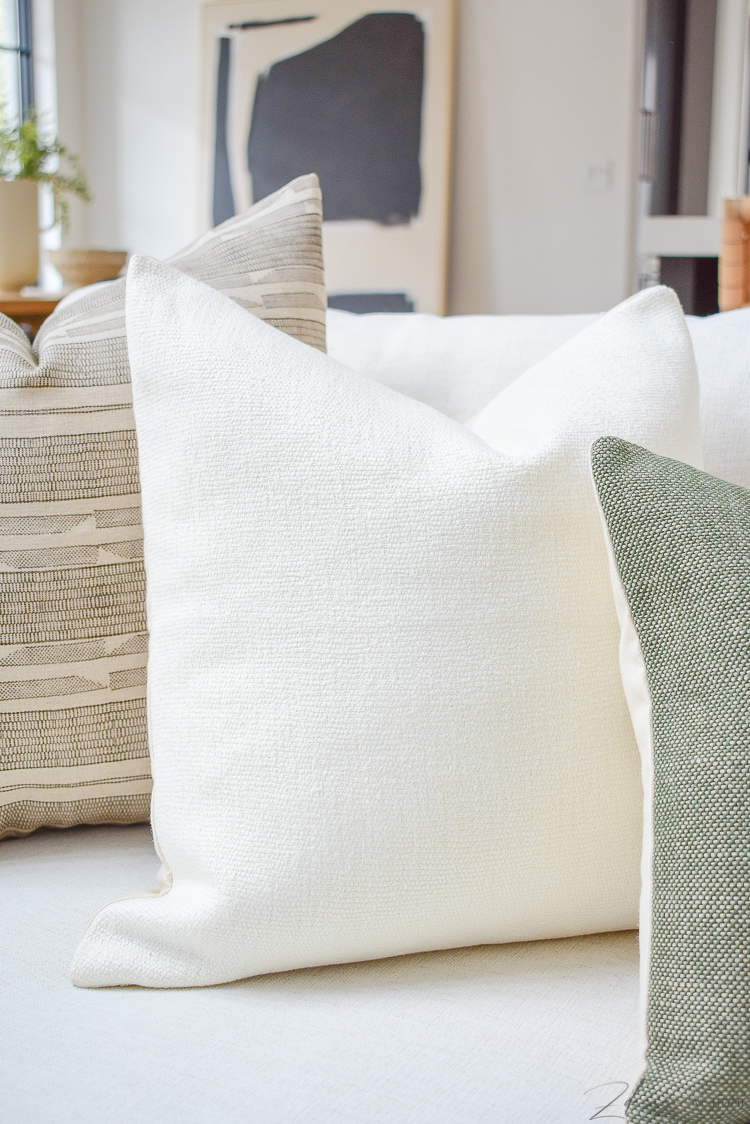 These three pillows made this side of the sofa complete.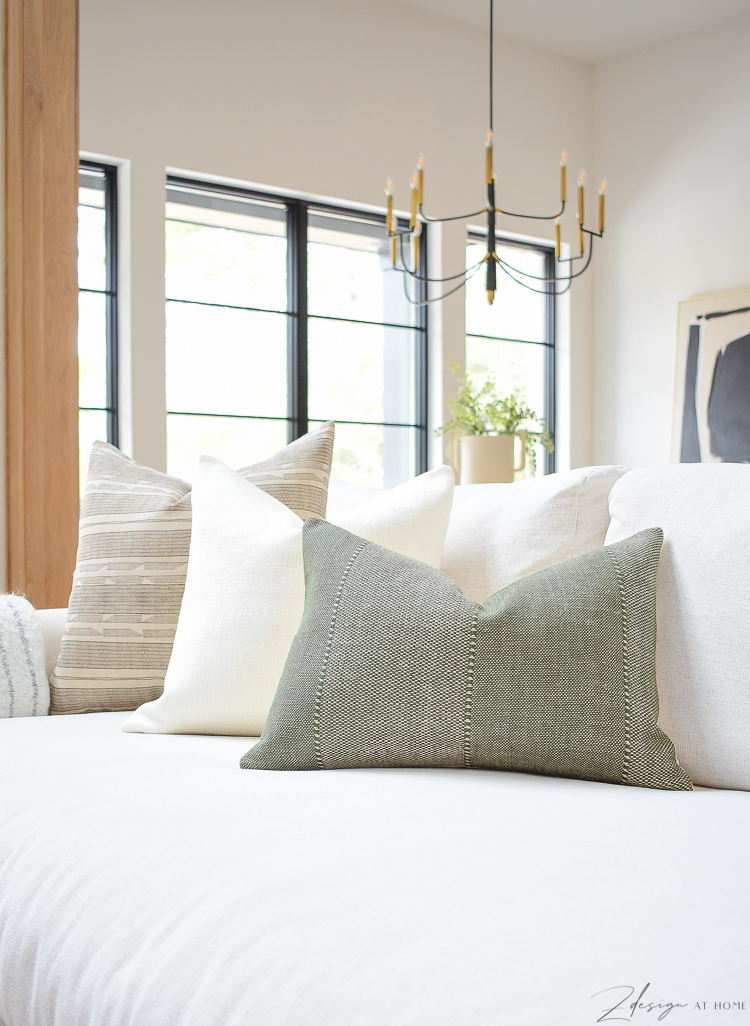 I really love the brown and cream one. I also like to use at least one of my pillows twice (one on either side of the sofa) and I chose to use this one for that chore due to the pattern and brown color – I'm really loving hints of brown sprinkled in here and there right now.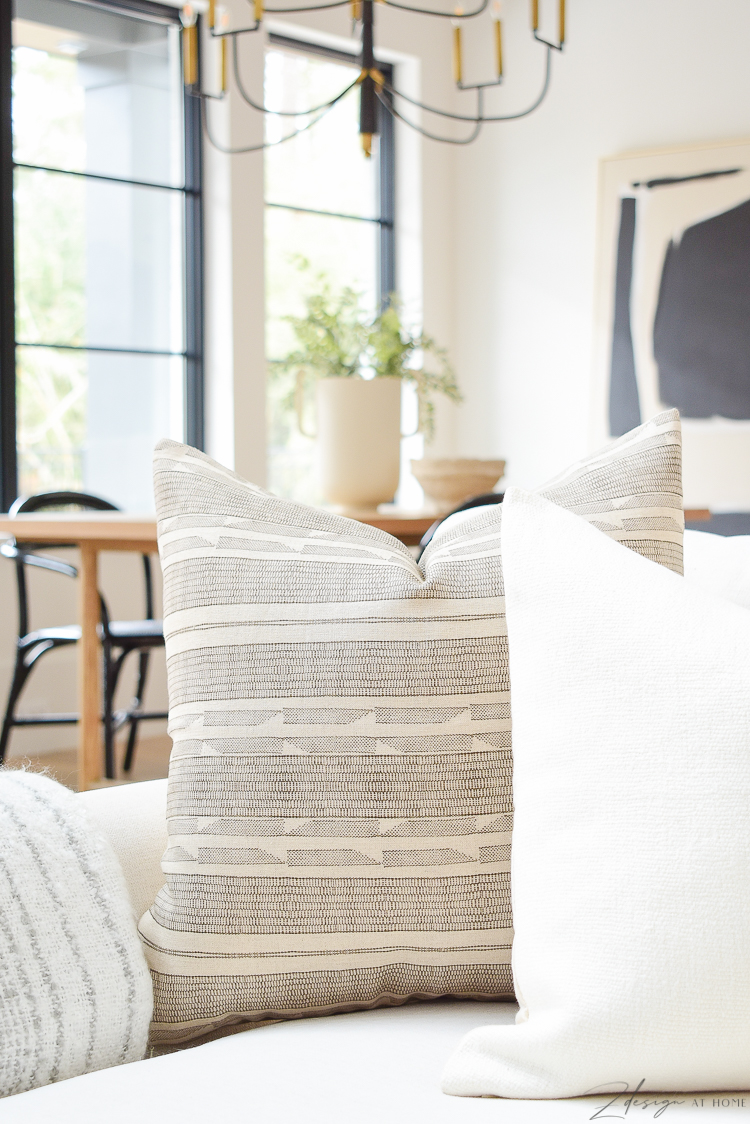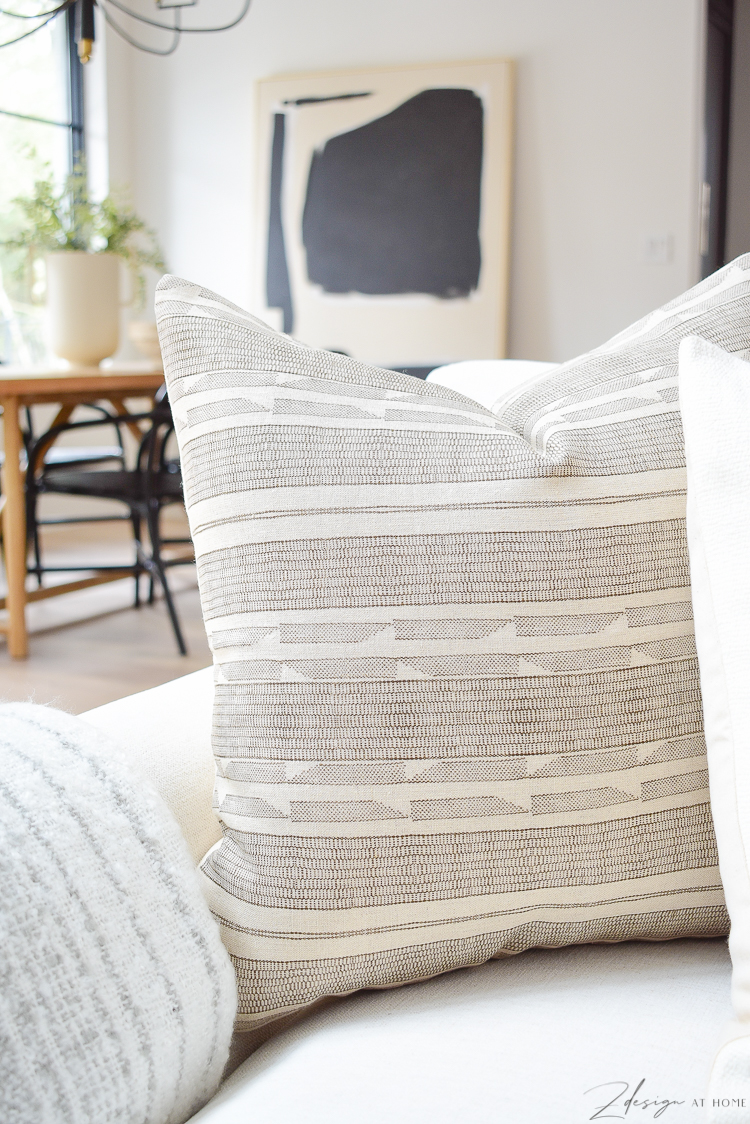 I also like to graduate my pillows down in size. I started on the outside with a 20×20, then I graduated down to a 18×18, then down to a 14×20 lumbar on this side of the sofa. Graduating the size of your pillows allows each one to stand out on its own without over crowding or any being covered by the one in front of it.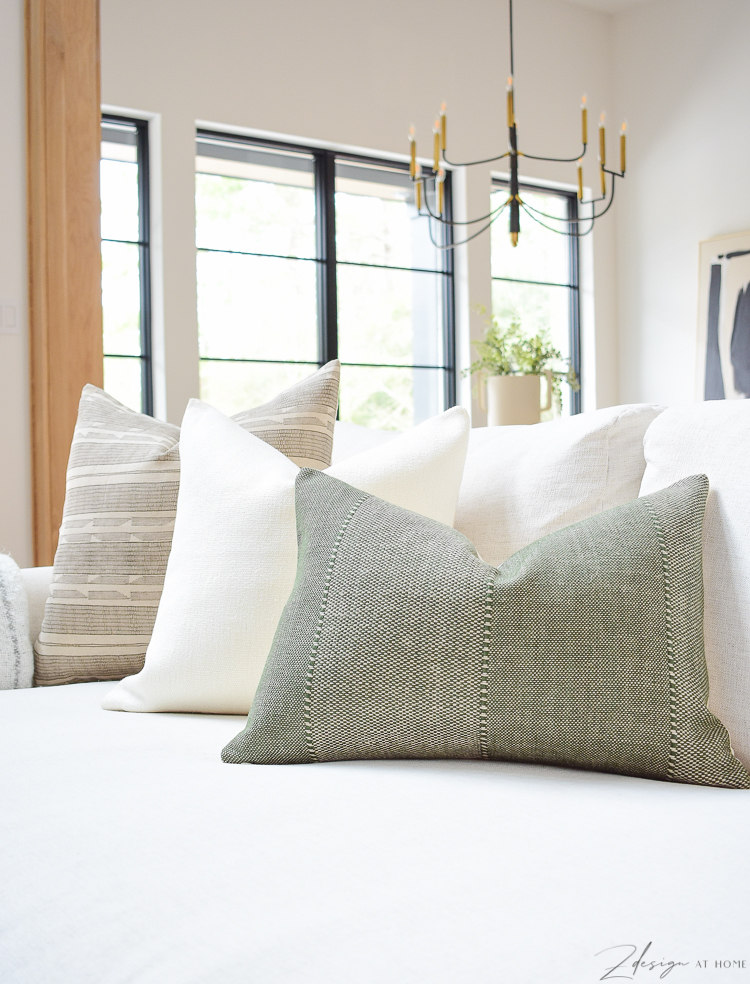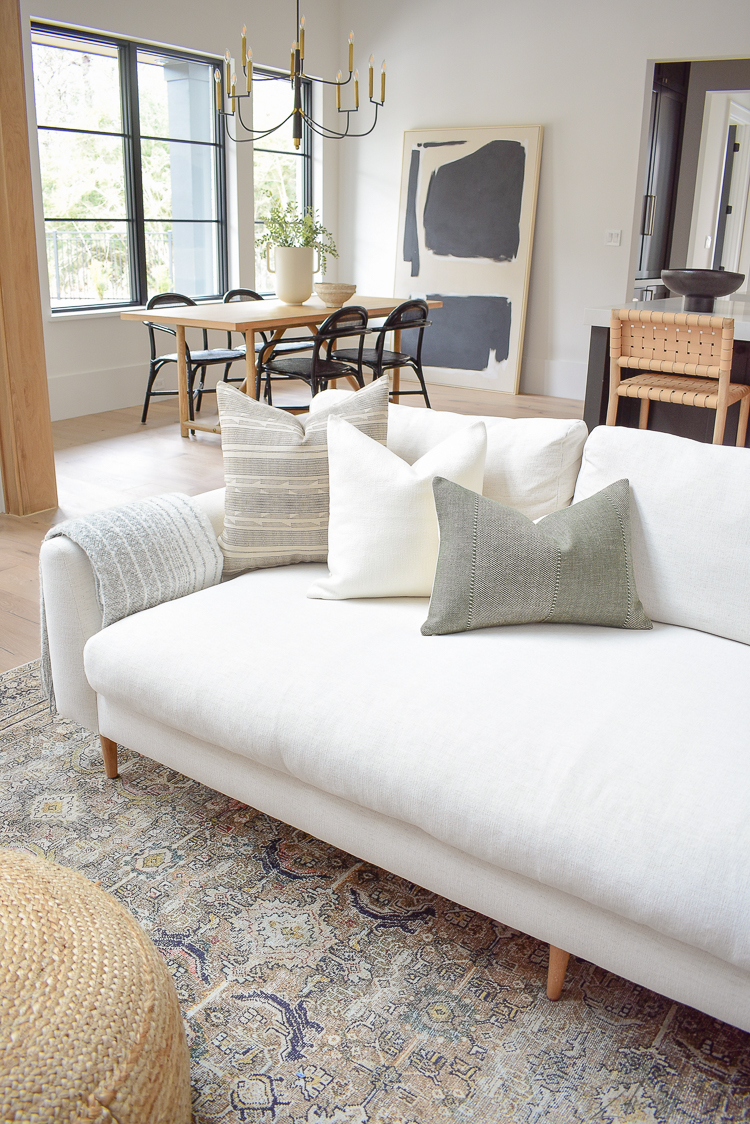 On the other side of the sofa I did just two pillows but started with a 22×22 on the outside and then graduated down to a 20×20. This pillow sizing allows for the two sides to visually have the same or similar weight so that my pillow combo is balanced from one side of the sofa to the other.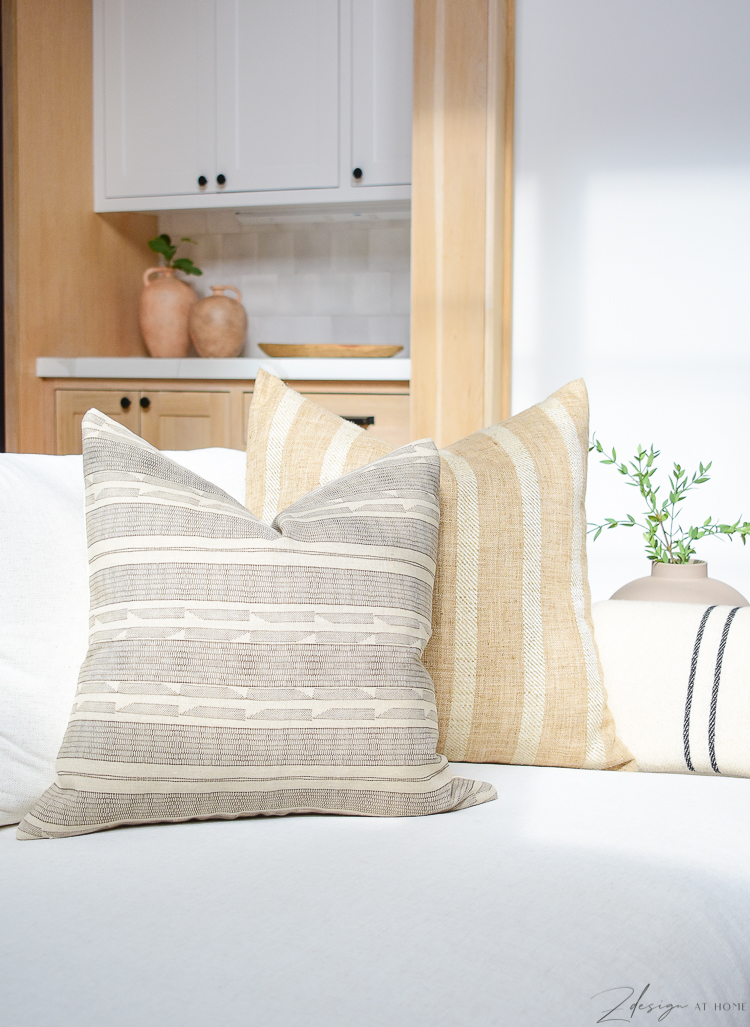 I used the brown one again over here as I mentioned before, again for balance and symmetry.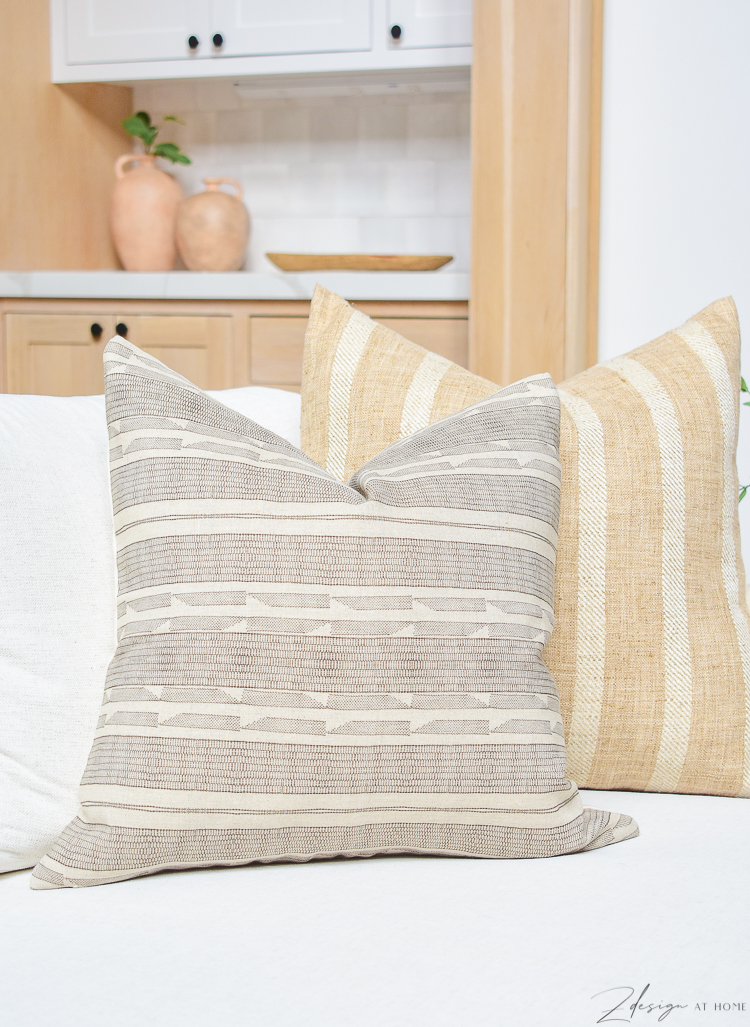 This last pillow is one that I've had since last spring. It's a keeper so I wanted to keep it in the mix this year as well. I was fortunate to find this one on Etsy vs. somewhere else I've seen it for twice the price.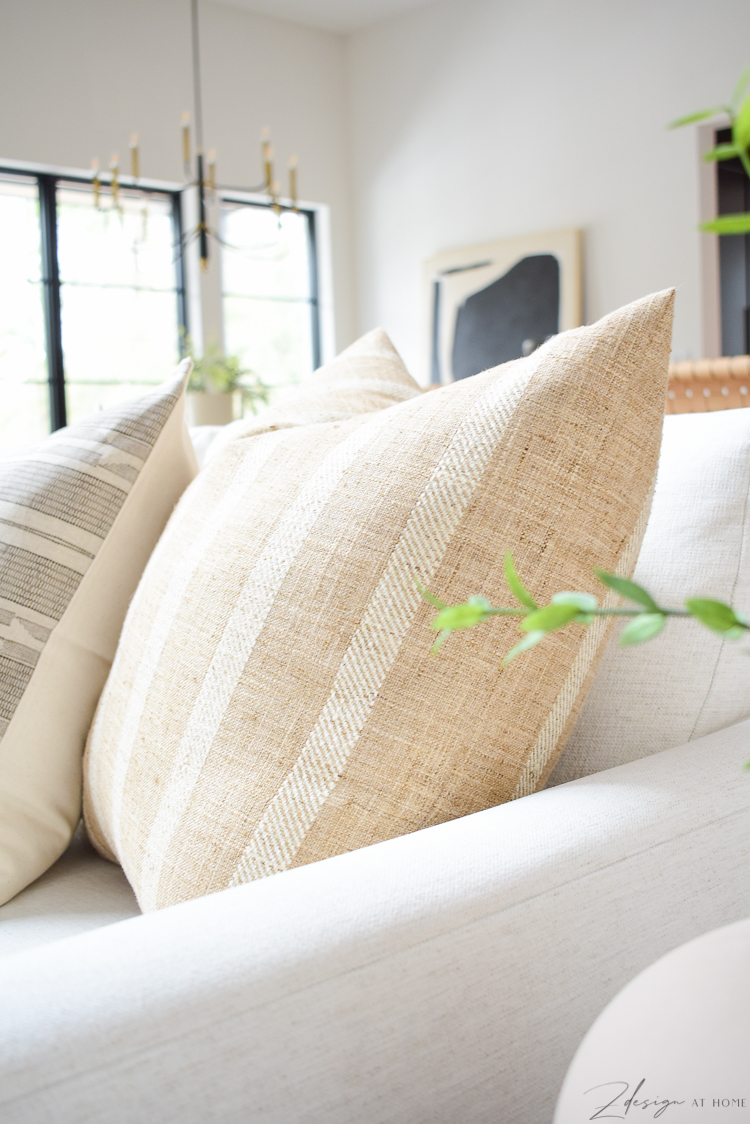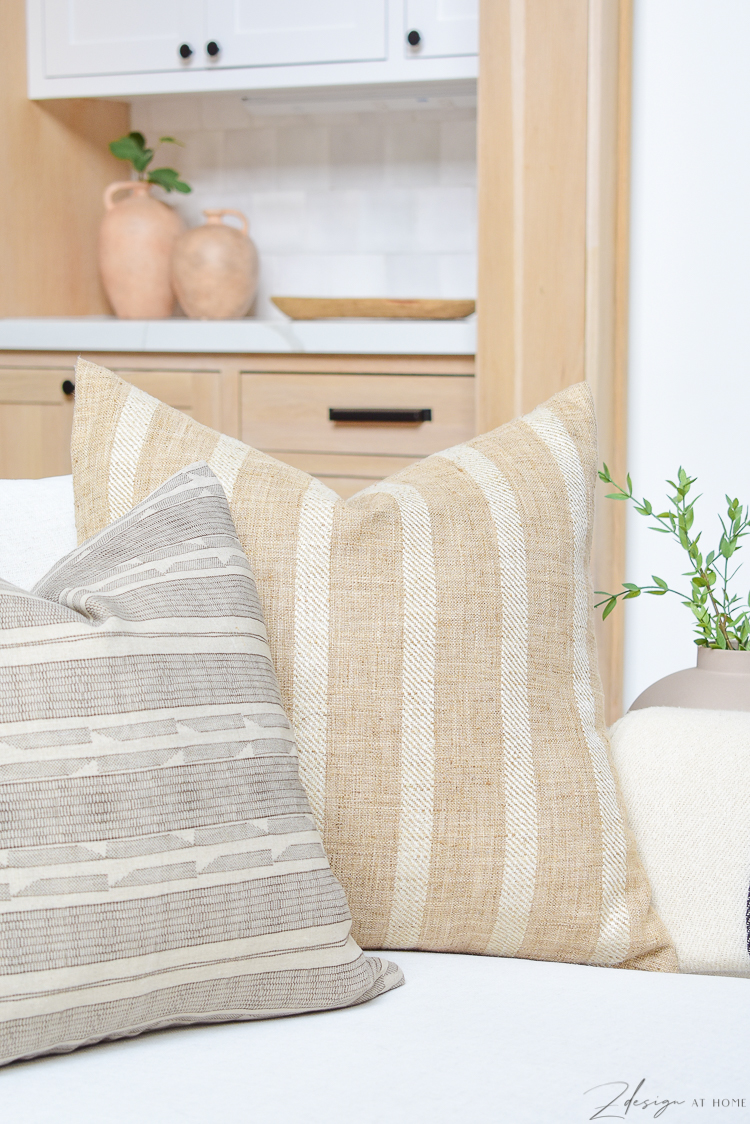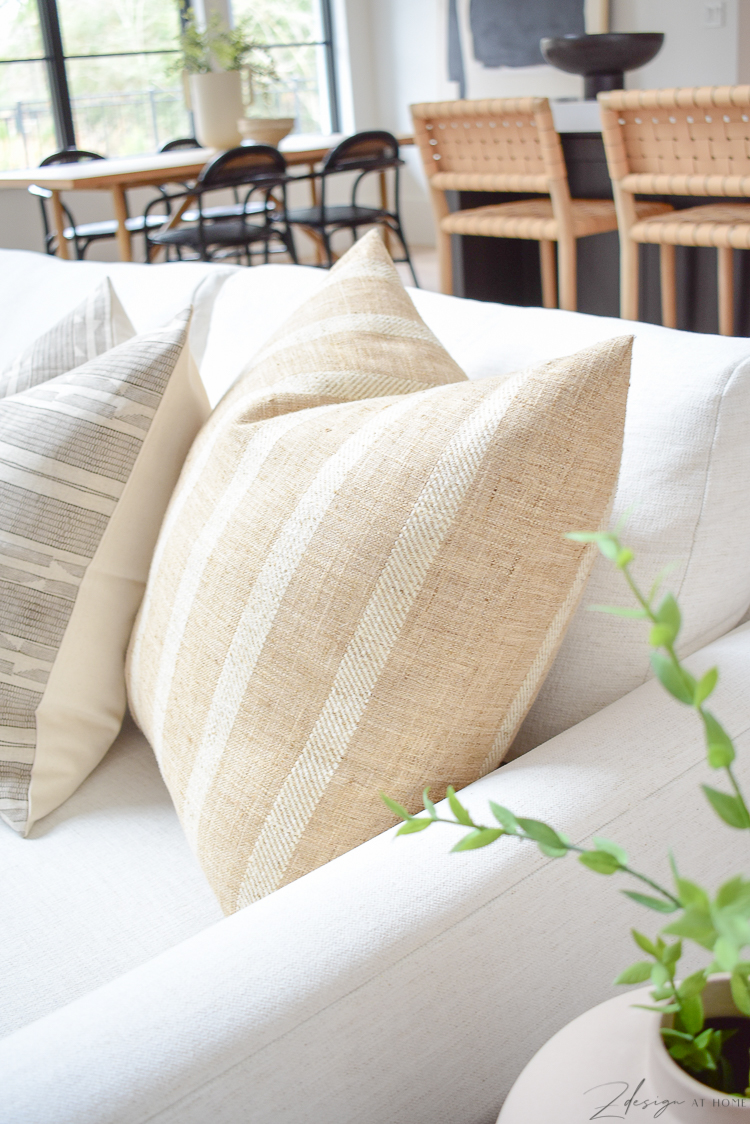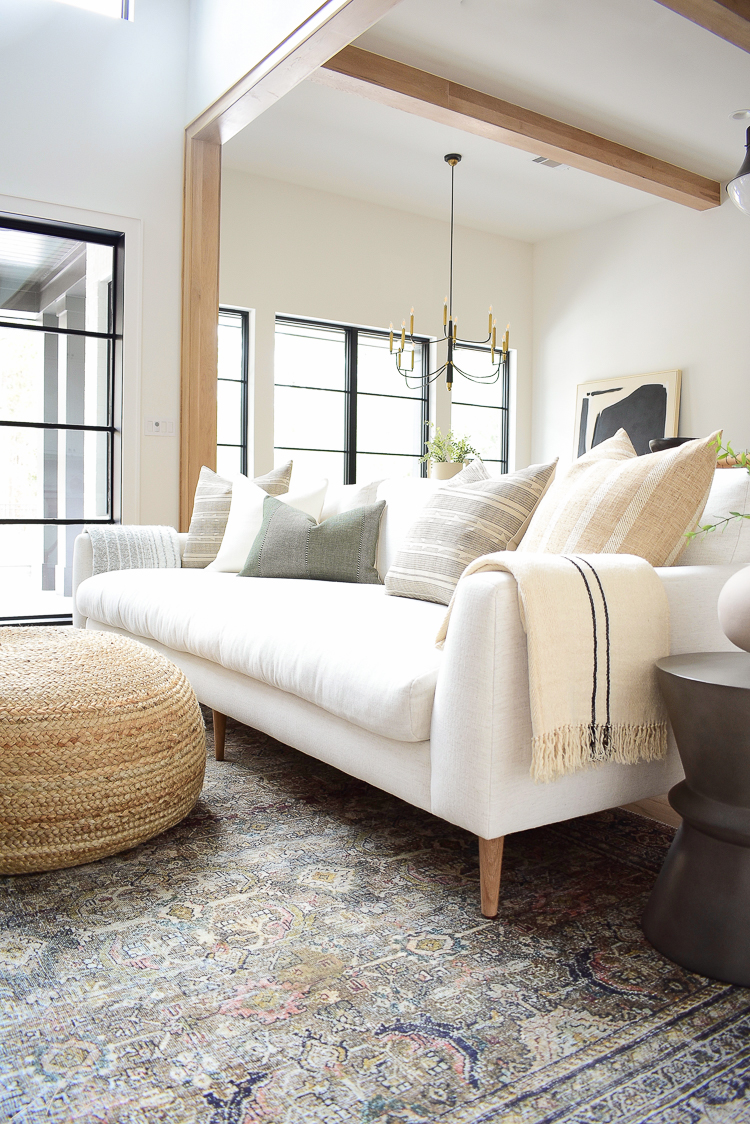 Next up I want to chat a little bit about my favorite new inserts. I'm sure you've heard it before but the best tip for beautiful pillows is always to go up one size with your insert. It makes your pillows more full and custom looking, even if they aren't custom. I also recommend using a down or alternative down insert so that you can give it a good 'ole karate chop – down or alternative down is necessary so that your "chop" will stay in place. If you use a microfiber or batting filled insert your chop won't stay in place and your pillows will get flat and lumpy over time.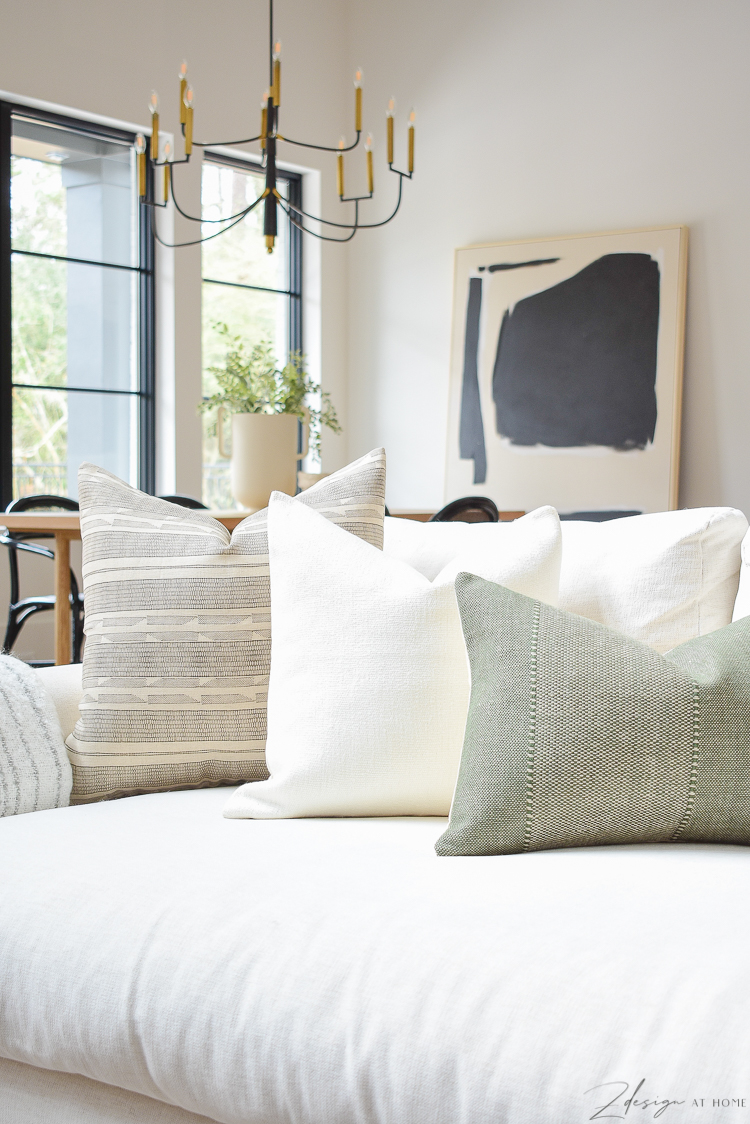 I recently ordered these inserts from Amazon and love them, and the price point too – it's great and they come in a set of two! Again, definitely go up one size with this insert and possibly even two if you have an oversized pillow cover, meaning…sometimes pillow covers can be cut one inch smaller or even one inch larger (rare but it happens) so pay attention to this before ordering inserts. If they are cut one inch larger than a standard size I would suggest going up two sizes with your insert for sure.
My olive green lumbar pillow is 14×20 so I used this 16×22 insert to fill it up nicely.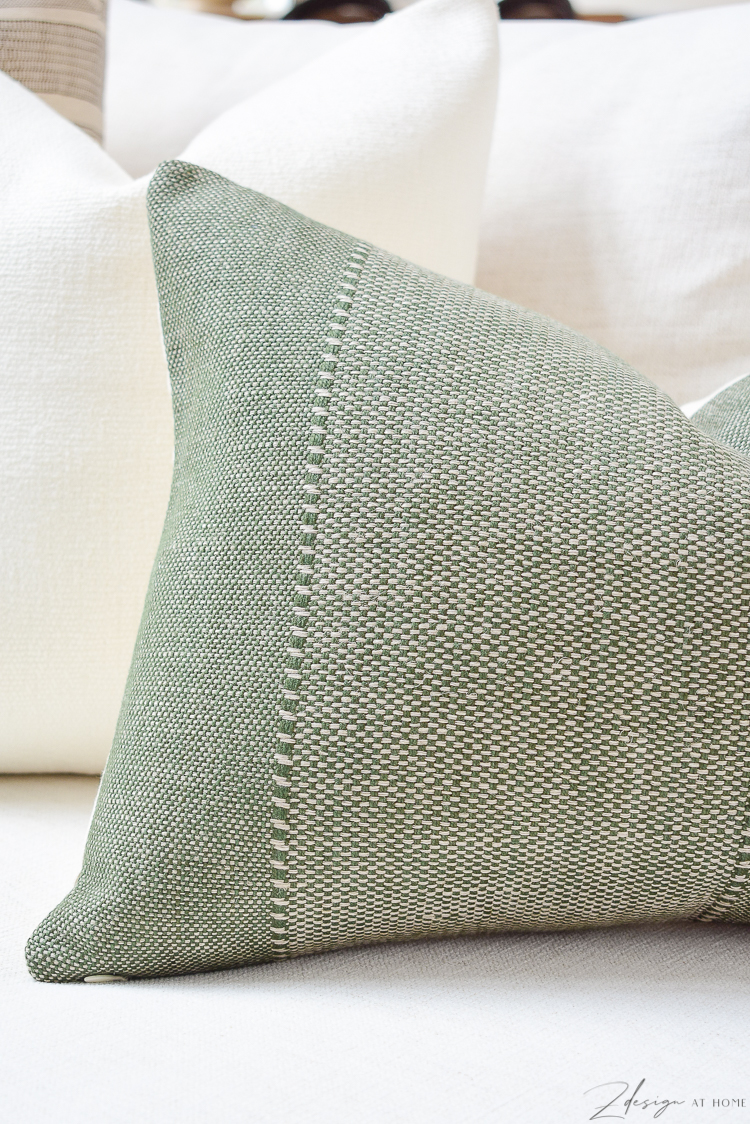 Shop Inserts

Next up is my review of the Hale sofa from McGee & Co. Again, this was one of those design moments where I knew it was THE ONE. I looked at a few others that were similar but this one just had all the right specs for me. I love the mid-century style, the bench cushion, the size was just right for my space (available in two sizes – mine is the 96″), and the fabric options were perfect for any busy family's needs.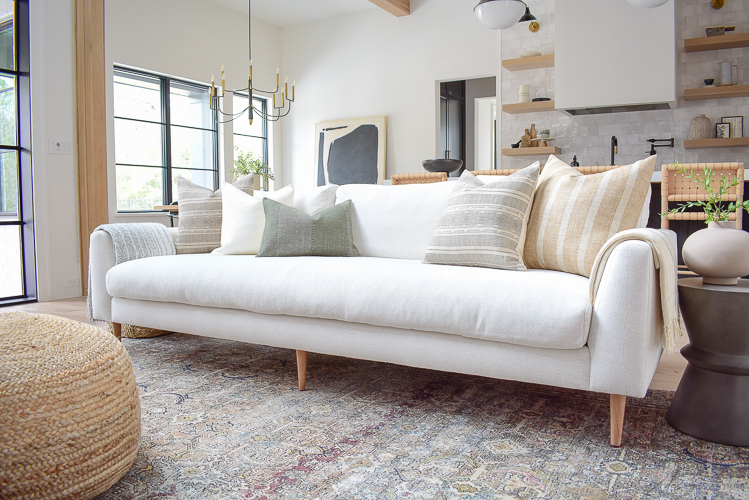 The fabric I chose is Crypton, which is a high performance fabric known for it's ability to resist stains, etc., without sacrificing beauty. The fabric is super soft and the color I chose is alabaster. I wanted a light color sofa but I didn't want white so I'd describe it as an ivory to cream with small flecks and/or a weave in the fabric in a darker color.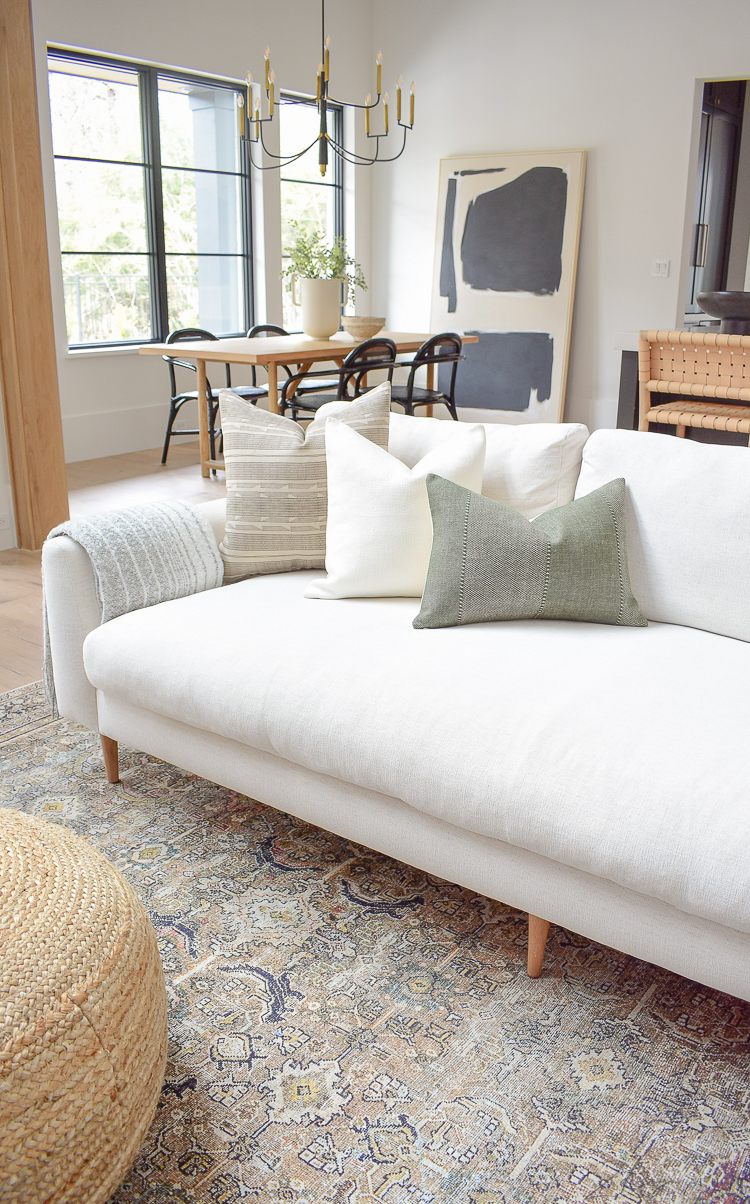 It's incredibly loungey, the seat is nice and deep and the legs are a light oak wood. To date this is by far one of my favorite pieces of furniture and best home purchases ever! It's stylish, extremely comfortable and there is no worry of stains, etc. I even got soot on it and wiped it right up with soap and water using a soft brush. Other spills have come right out with a damp rag. And our dog loves it too!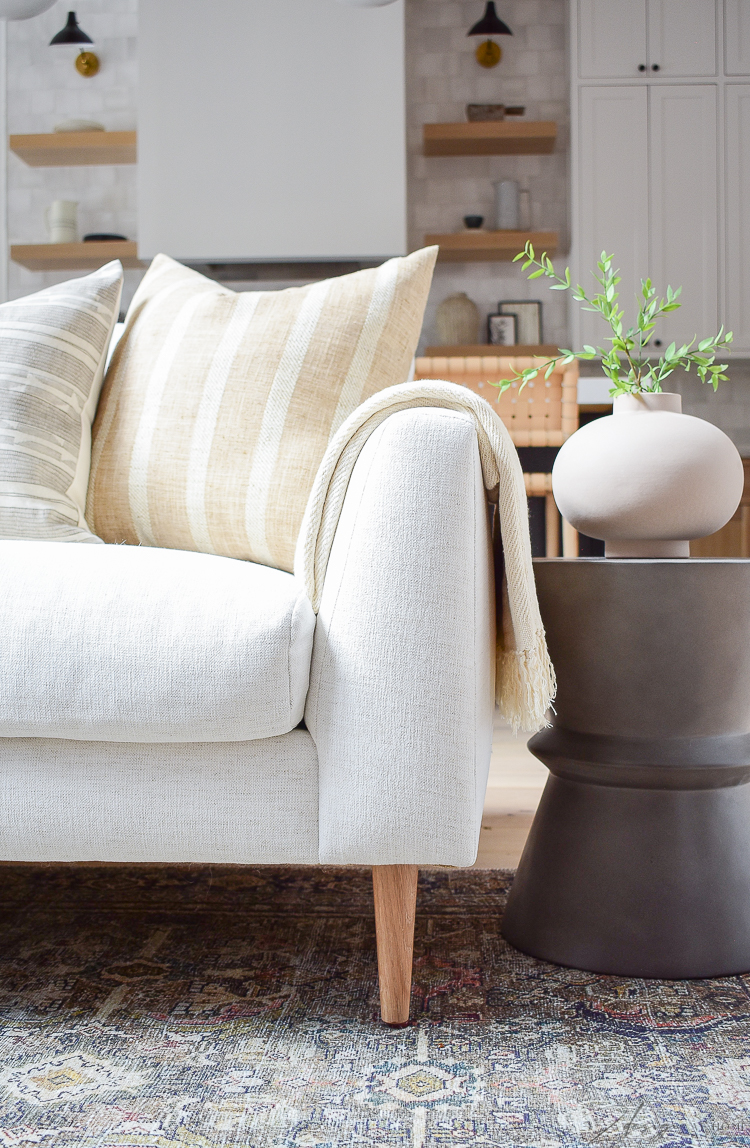 Here are few more angles so you can see the sofa in all its glory. I truly cannot explain how much we love this sofa and have absolutely nothing bad to say about it. And the quality is excellent! It really takes our living room to a whole other level!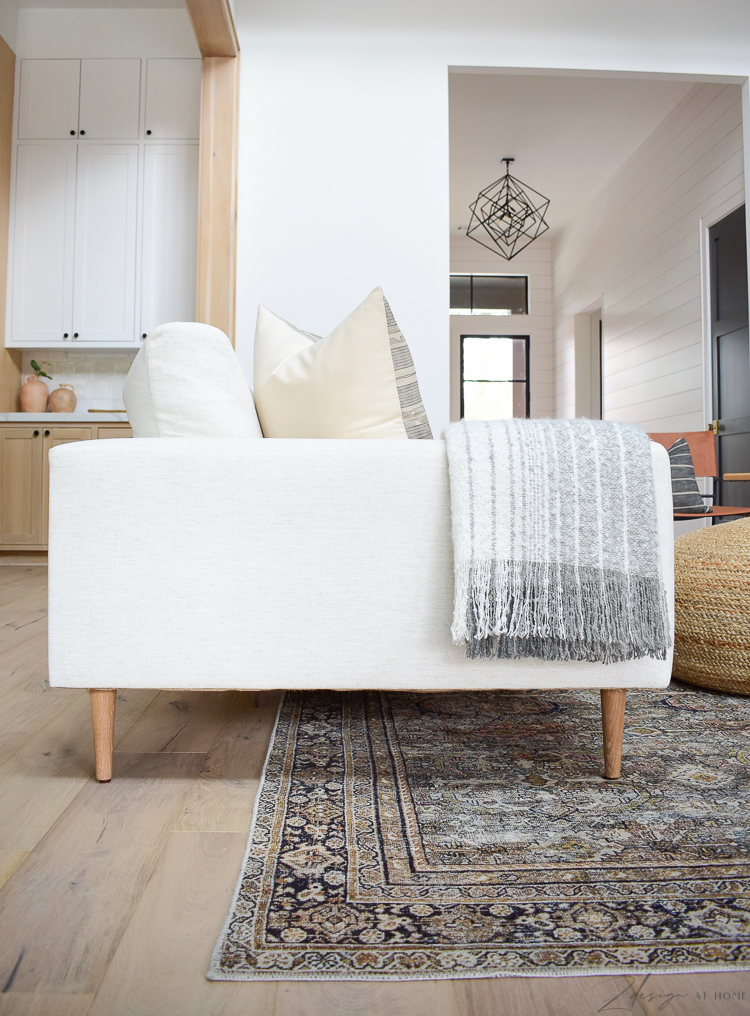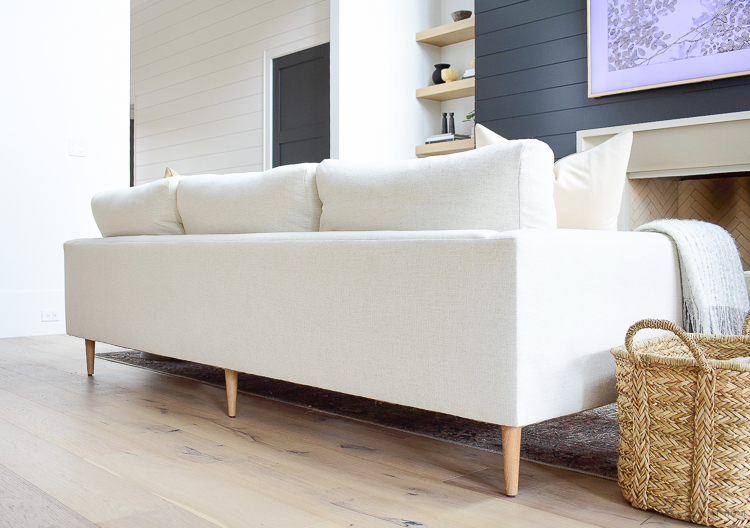 I just love that mid-century leg in the white oak but I also really love the bench cushion. I feel like a bench cushion keeps a sofa looking nicer and neater over time and less "stuff" can get down into he cracks and live beneath your cushions until you can remember to vacuum it out. The fact also that it's down wrapped makes is so luxurious as well!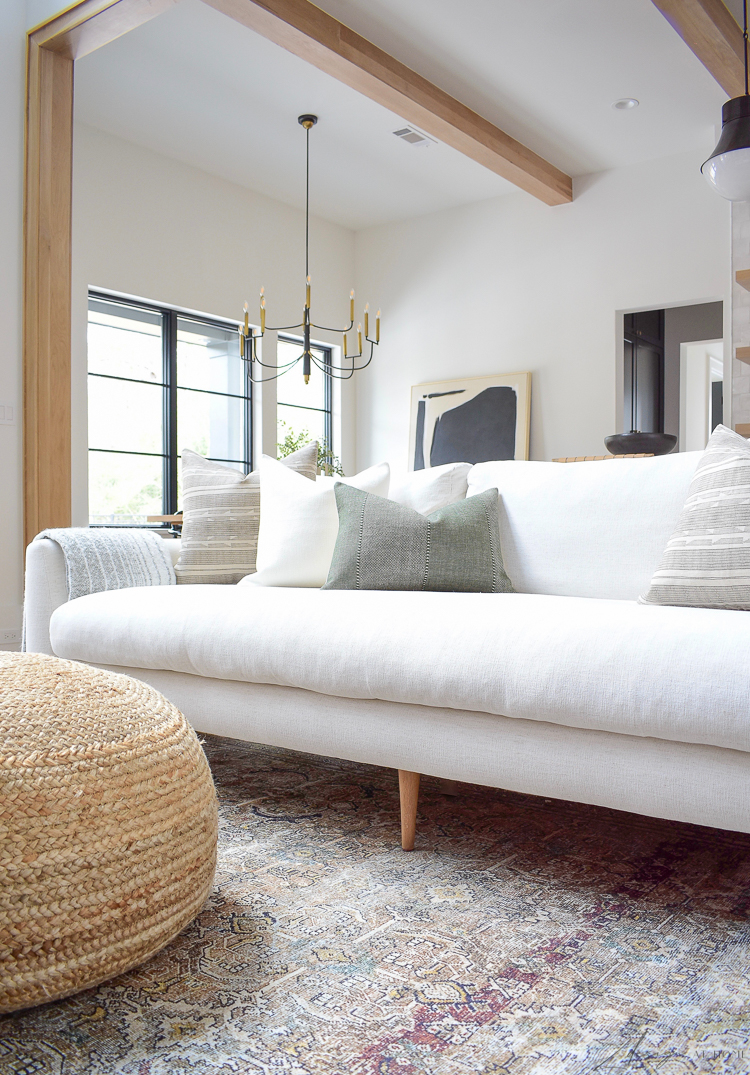 So the Hale sofa is beautiful but it also performs well for our family! We absolutely love it!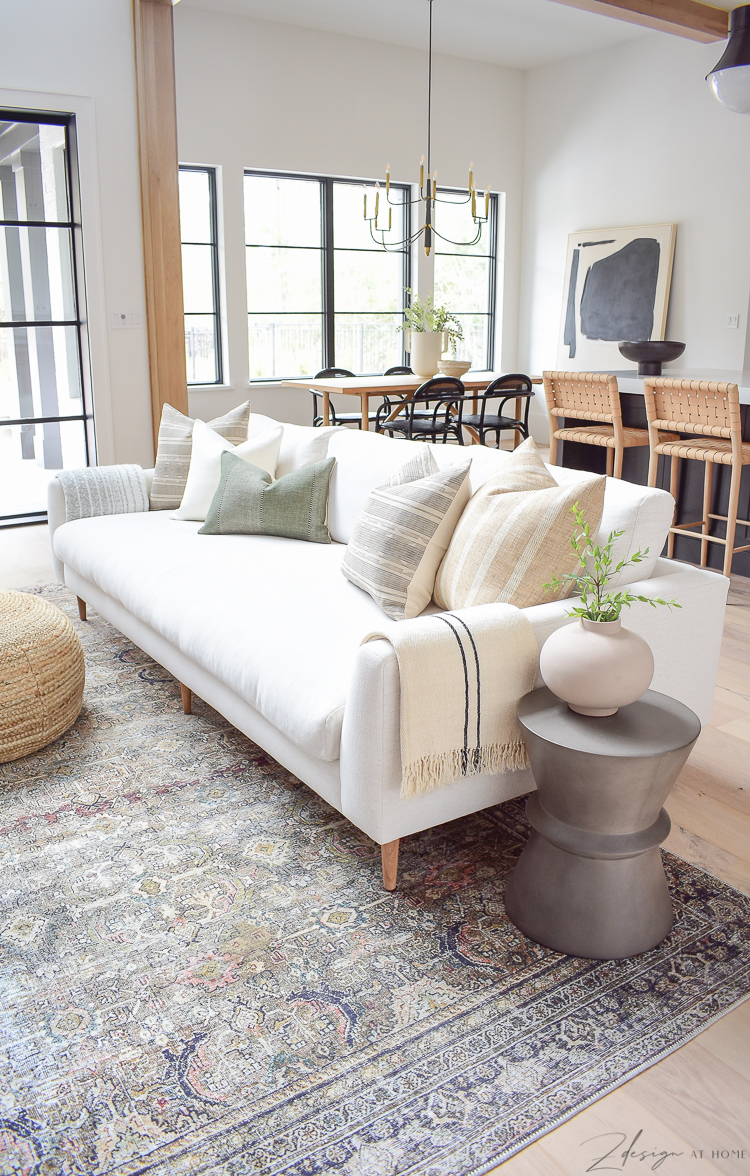 I also have a few new pillows in the bedroom! Still working on this space as I have one on the way to replace the one behind the lumbar for spring but love the way it's coming together!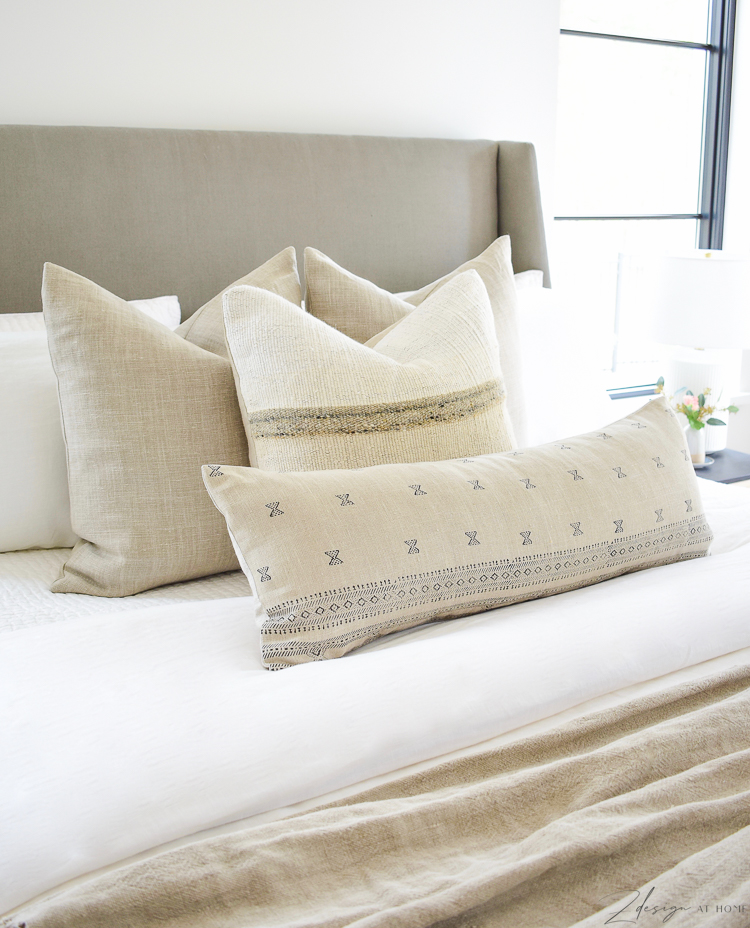 I'm really obsessed with this XL lumbar. The pattern feels very fresh and well of course it's linen – my favorite especially for spring! I already had this down insert that I used for this pillow cover.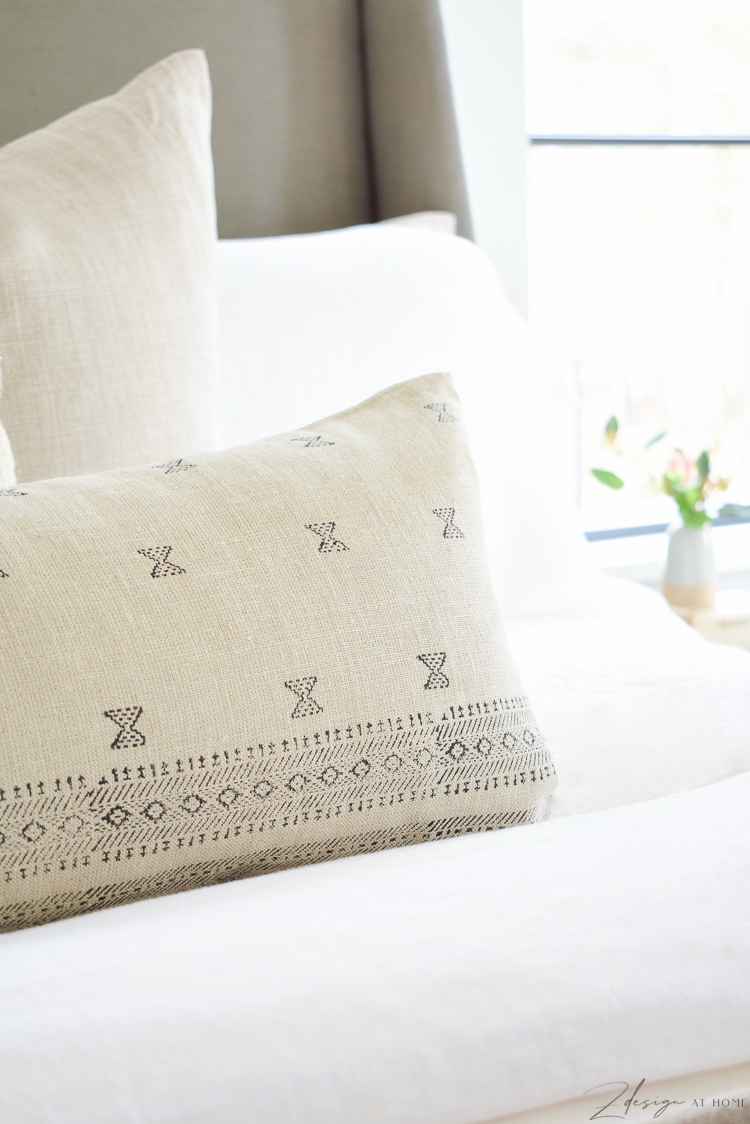 I have this 24×24 linen pillow in two colors. This is the pewter and I also have the shale color. Sounds like it should be silver or gray but it's more of a natural to oatmeal color to me. I used the same inserts as in my living room but in a 26×26 size to make my 24×24 pillow cover nice and full.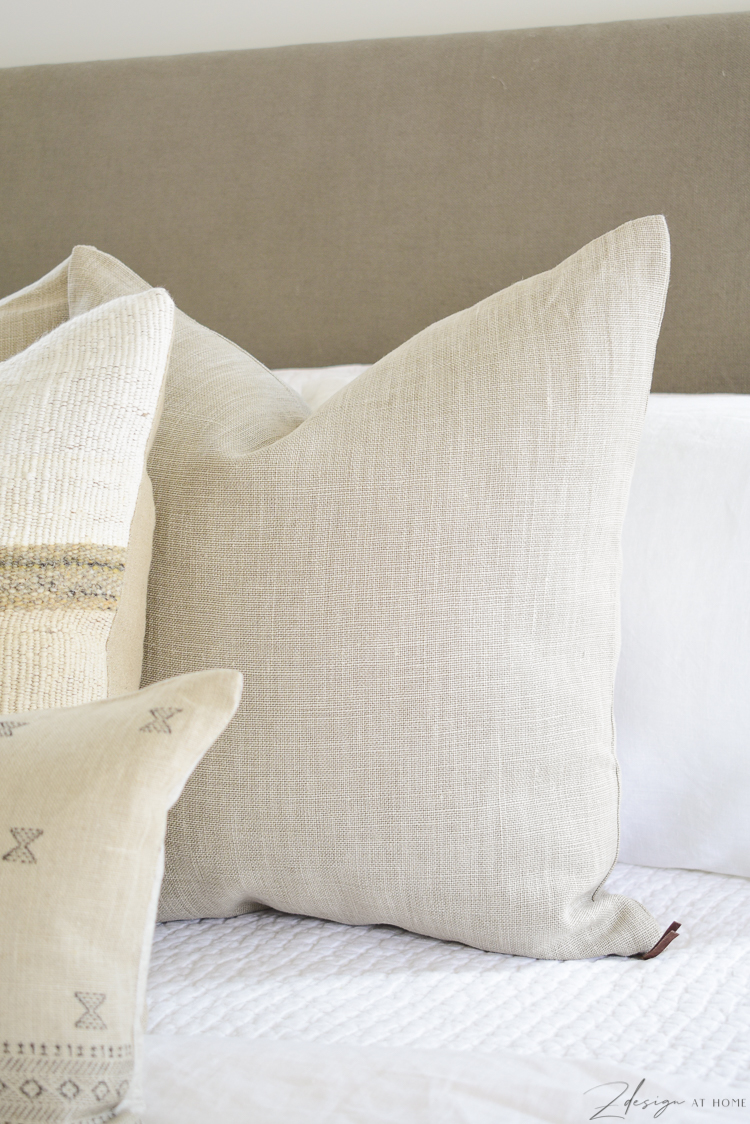 This space is still a work in progress. Hoping to have draperies for this side of the room soon and our woven shades should arrive mid March.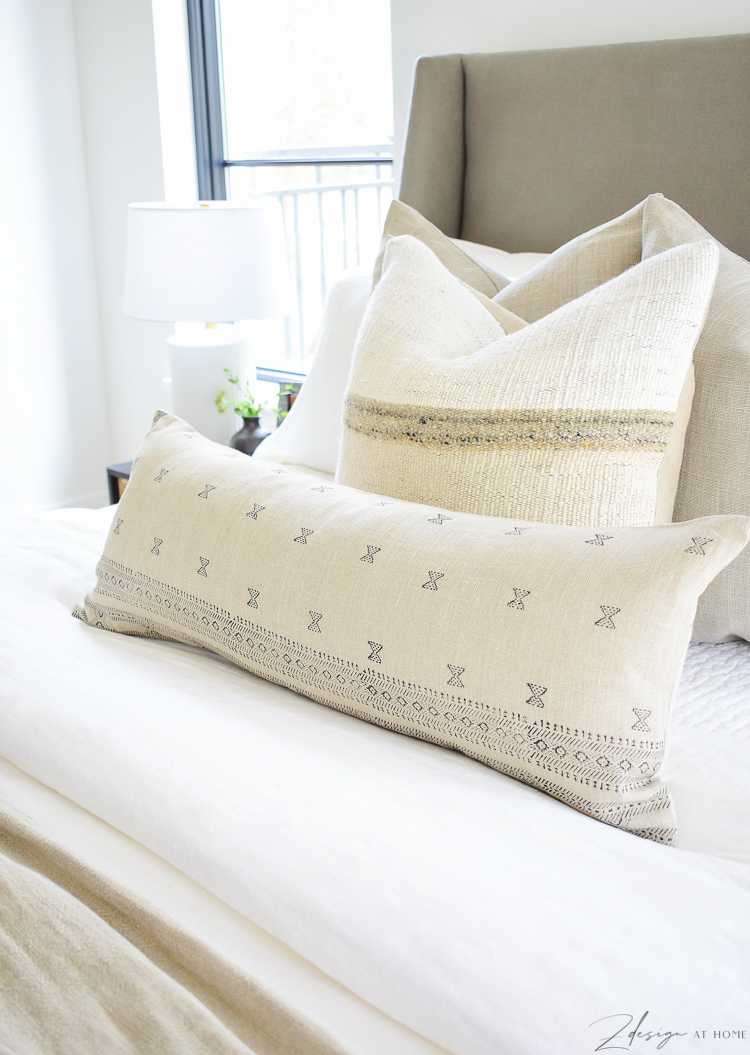 How to Style Your Sofa Pillows…
To create a good pillow combo always use a pattern, solid, stripe and a floral or something similar, or something with good texture.
Use one of your statement pillows twice – one on either side of your sofa (preferably something with pattern or good texture) to create symmetry from one side of your sofa to the other.
Graduate your pillows down in size from left to right (left side of sofa) and right to left (right side of sofa). For example start with a 20×20 on the outside and graduate down to a 18×18 then down to a lumbar that is approx. 14×20 or thereabout.
Use a lumbar pillow somewhere to create interest and preferably in front so it can be seen well.
Go up 1-2 sizes on your inserts depending on the measurement of your pillow cover (see above for more info on this) and use a down or alternative down insert so that your pillows will hold shape and a karate chop.
Size your pillows left and right side of sofa so that they have the same or similar visual weight for balance & symmetry.
Add a throw over the back or arm of your sofa, or both arms.
A pop of color like I included with my green lumbar never hurts, especially for seasonal changes! Or if you are using a few different colors in your combo always try to use one pillow in the mix that has all of your colors in it to pull the combo together.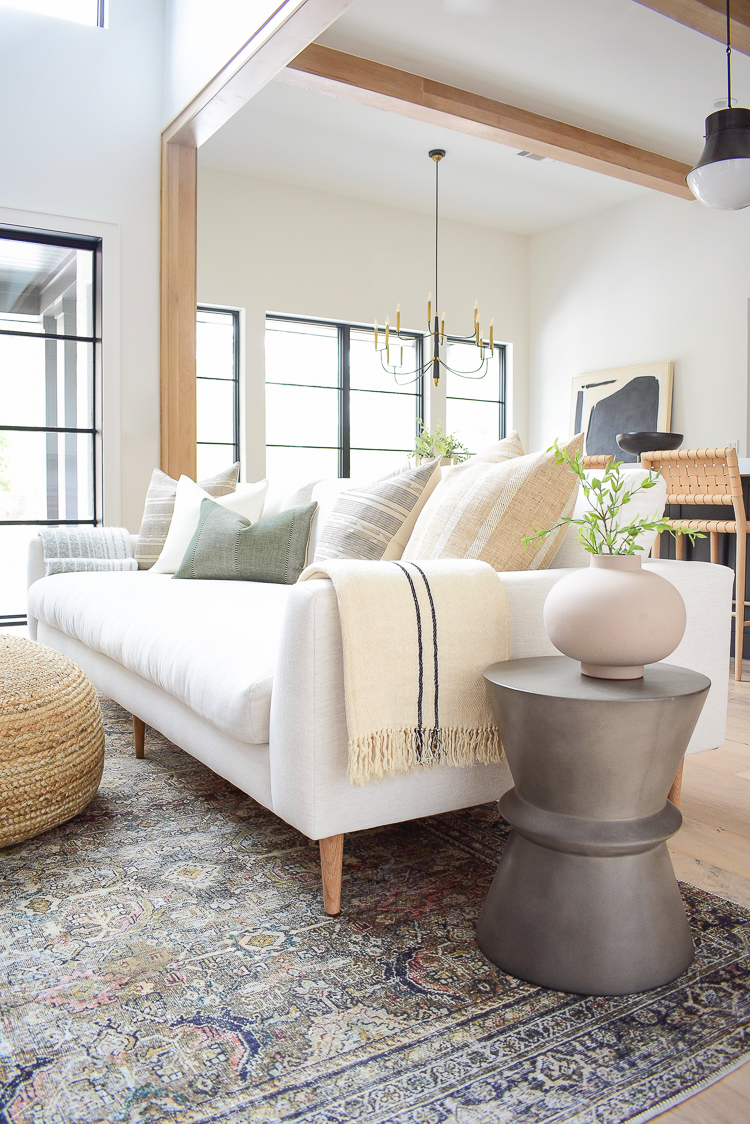 Thanks for popping by and I hope you've gotten some good information today on how to style your sofa pillows, my favorite new inserts & a review on the Hale Sofa! Please leave any comments or questions in the comments section below and I hope you'll come back next week when I'll be sharing my favorite accessories for spring along with some of my best styling tips!

Sources
Brown Pattern Pillow | White Linen Pillow | Green Texture Pillow | Striped Camel Color Pillow | Hale Sofa | Favorite Square Inserts | 16×22 Lumbar Insert | XL Down Lumbar Insert | Rug | Similar Side Table | Vase on Side Table | Green Stem in Vase | Throw | Chandelier | Black Dining Chairs | Dining Table | Large Art | Barstools | Backsplash Tile | Vases on Kitchen Counter 1 & 2 | Rattan Pouf