Tips to Guest Room Readiness for the Holidays
Whether it's an aunt and uncle, sister or cousin, or your parents, we always want our guests to feel comfortable in our home for the holidays (or any time for that matter) so today I'll be sharing with you my best Tips to Guest Room Readiness for the Holidays, and beyond! Thank you for stopping by!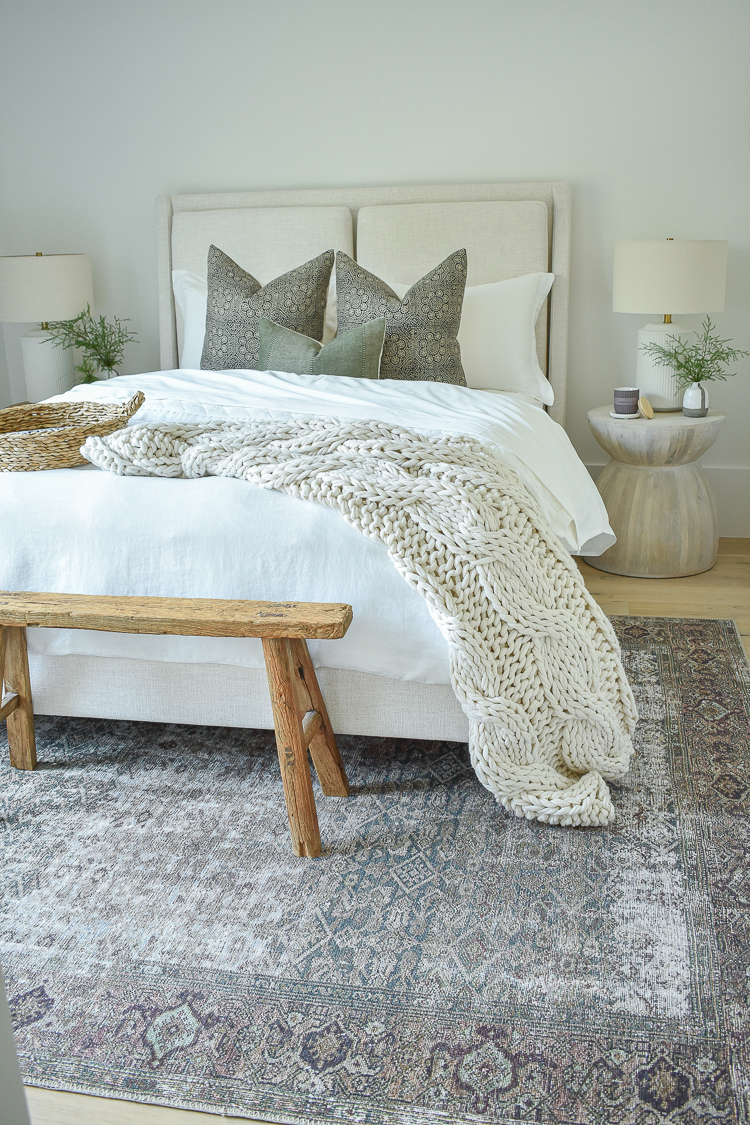 *This post was sponsored by Walmart, a brand I love, however all thoughts, product selections, styling and images are my own. This post also contains affiliate links – please find my full disclosure policy here.
First, let me say this room is a work in progress…as many of you know we moved into our home less than a year ago and I'm just now getting to decorating the upstairs so this will be some of the first touches I've put on this space but, I'm super excited to share bits of one of our guest rooms plus ensuite with you today.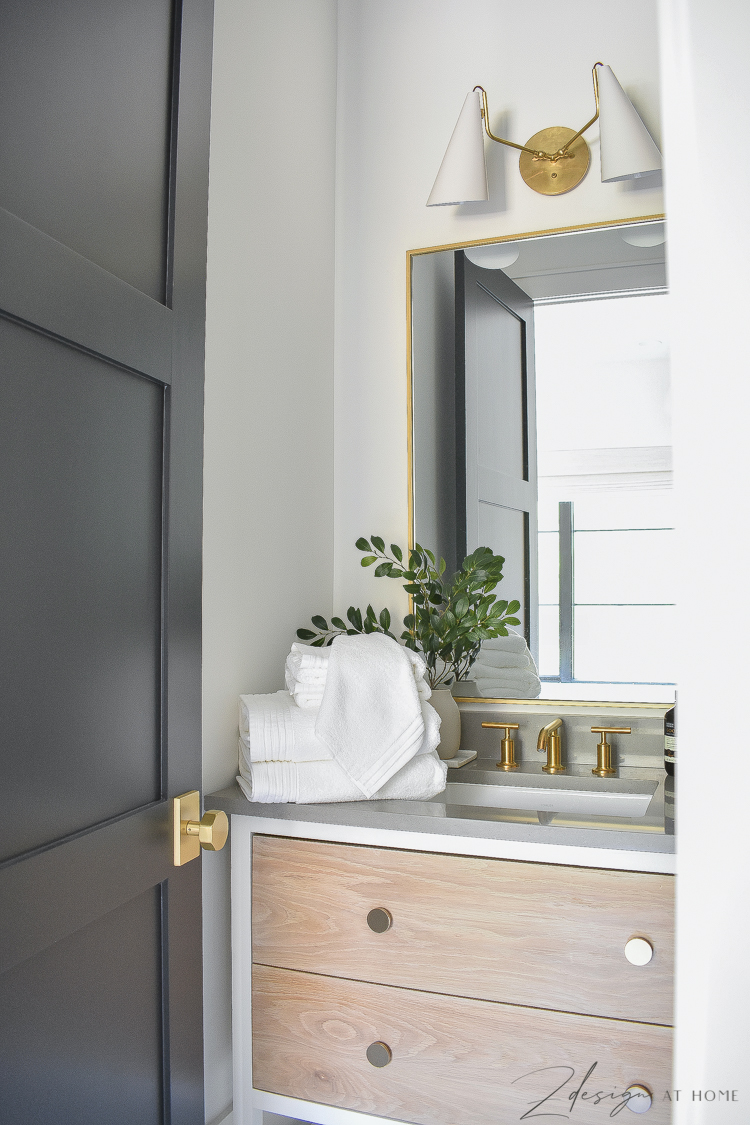 There are many ways to make guests feel welcome while in your home but here are my top 6 tips to make them feel really comfortable and welcome in the space you have for them to sleep, shower, etc. in, in order of importance.
6 tips to get guest room readiness for the holidays
Luxurious Sheets: Since your guests will mostly be sleeping or lounging while in your guest room, I think sheets should be your top priority when thinking about any guest space! These beautiful Better Homes & Gardens 300 TC 100% cotton wrinkle free sheets art super soft and I love that they are wrinkle free. They feel luxurious and are perfect for making your guests comfortable and welcome! They are also available in multiple colors (25 to be exact!) if white isn't your thing:).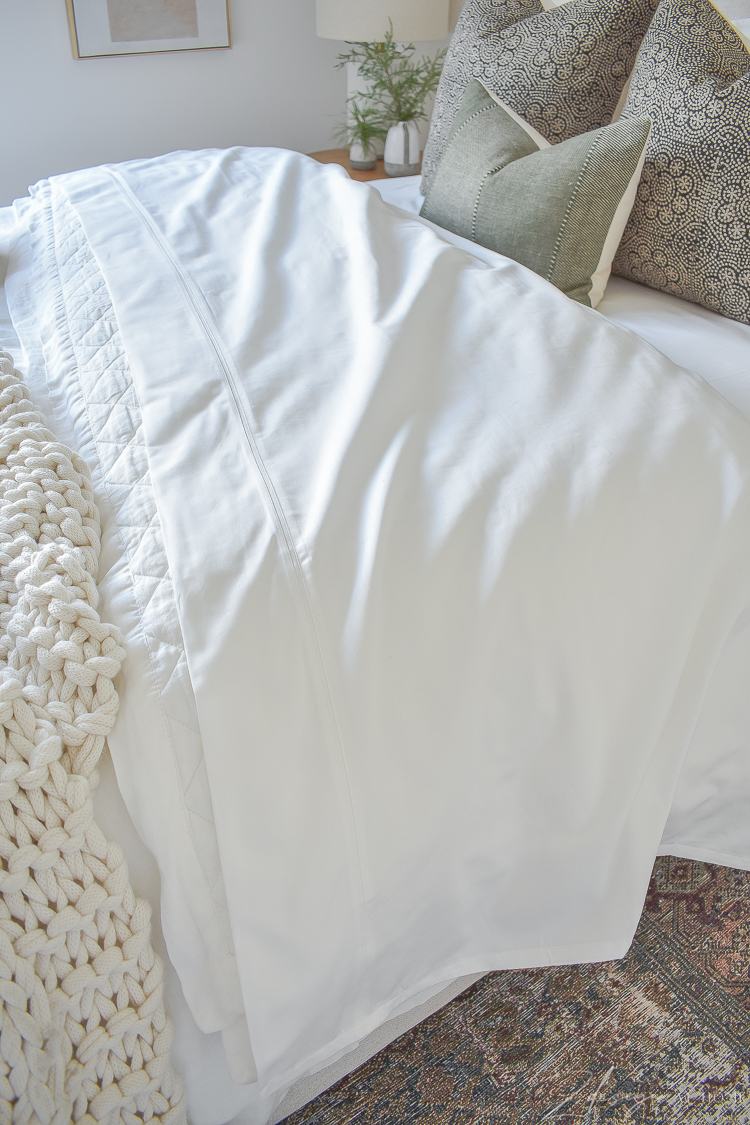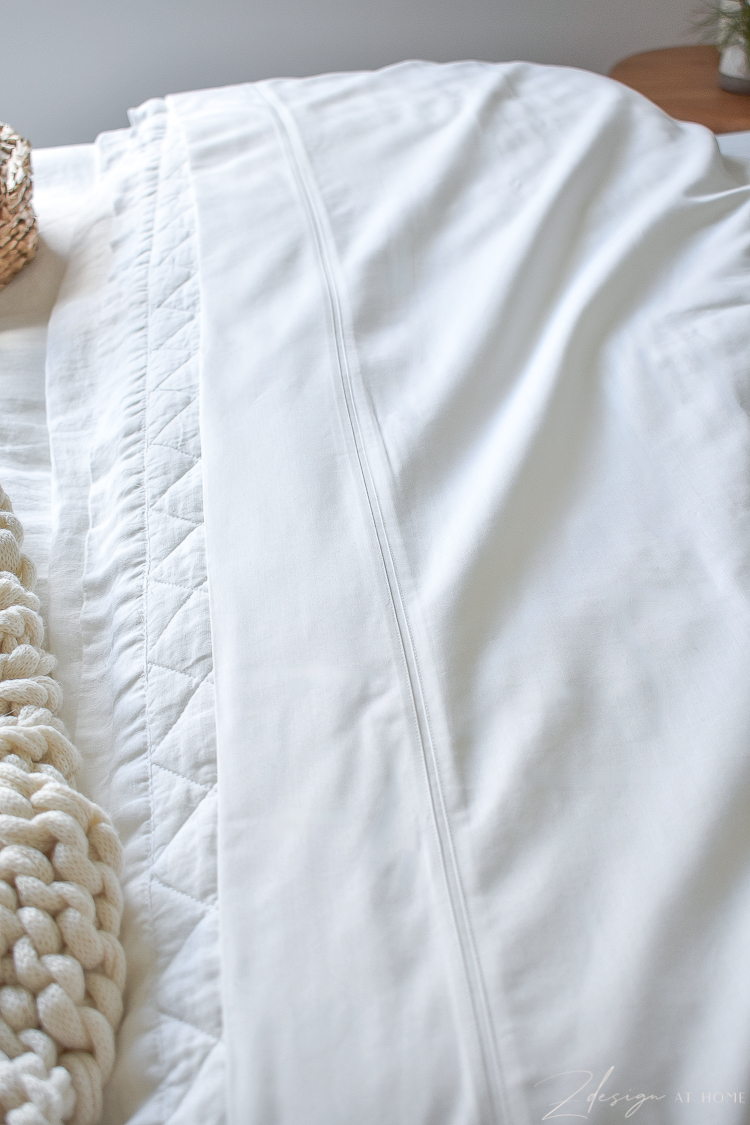 Layers: You never want anyone to get cold or feel uncomfortable while in your home so layers are super important. A chunky knit throw like this one from Walmart is the perfect piece to throw over the end of the bed for added layers but also, make sure to have a cozy quilt on your bed like this linen diamond quilt for plenty of layers and comfort to snuggle into on a cold winter night.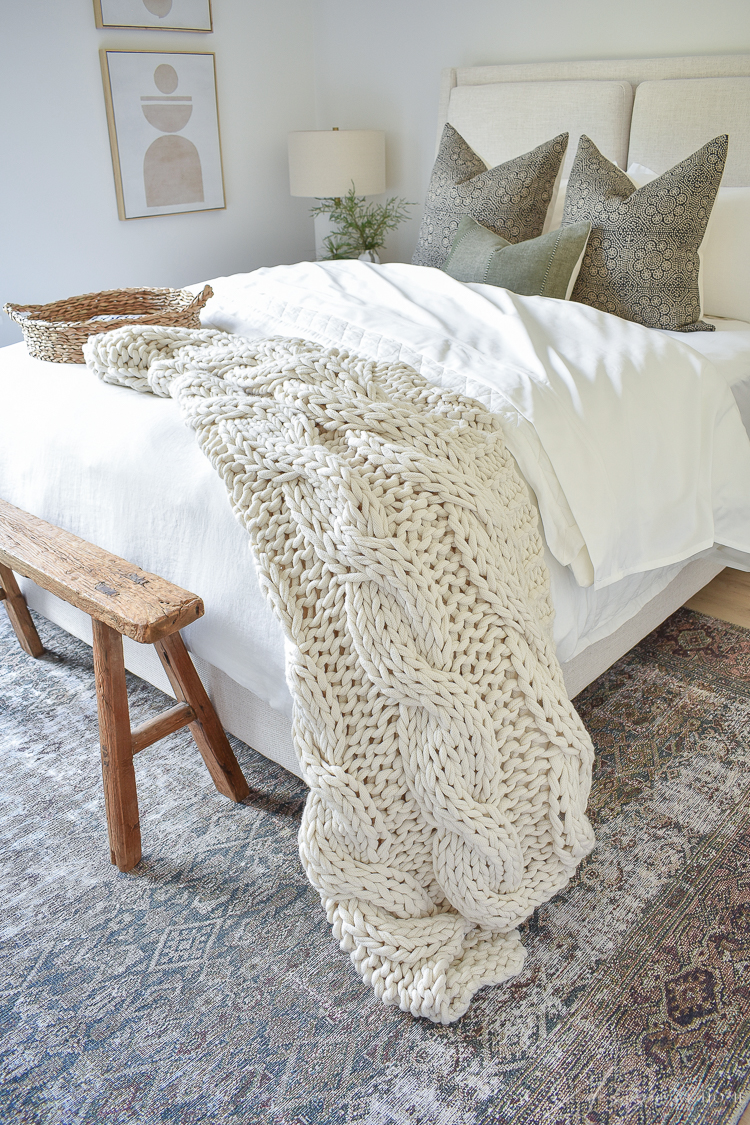 Bath Linens: Next up is your bath linens…I have outfitted the ensuite bath (the bathroom attached to this bedroom) with the most luxurious, plush, fluffy towels and can't say enough good about them. They are Walmart's hotel style Egyptian cotton towels, sold and shipped by Walmart and they are so good! Love that I can get anything I need from Walmart Home shipped right to my door in just a few short days.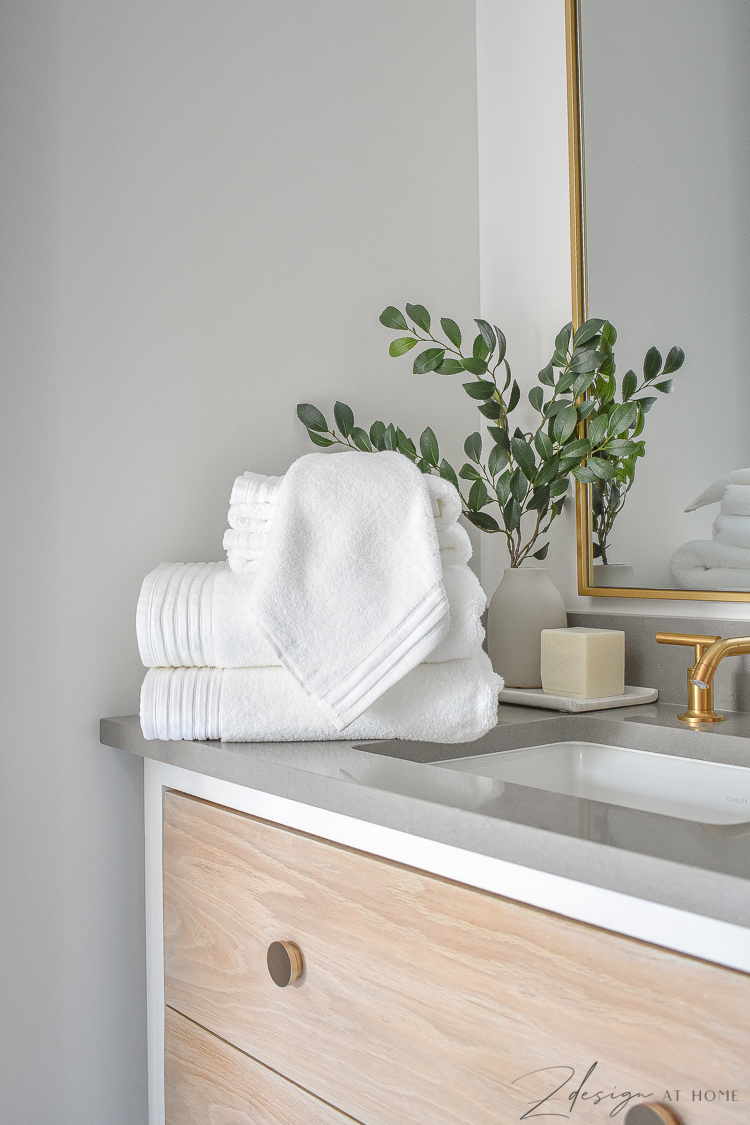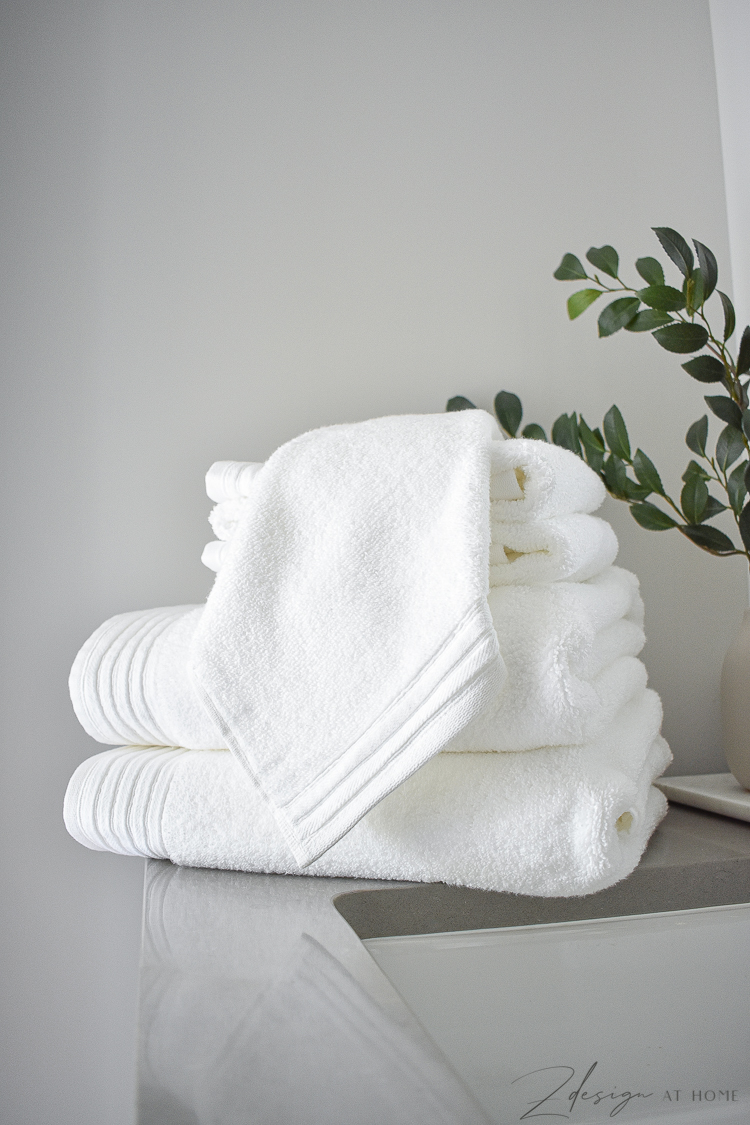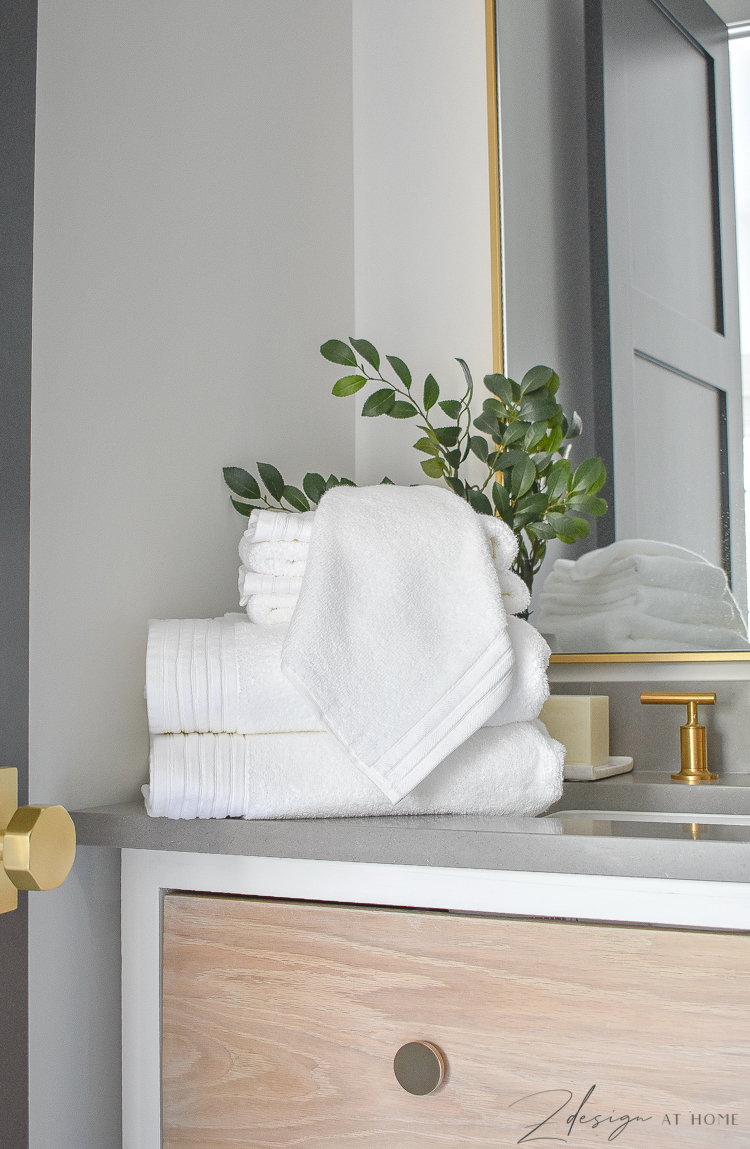 I'm very picky when it comes to sheets and towels and these are really fabulous, and they wash and wear well! And I love that these towels come in sets – I got the set of 10 which includes 2 bath towels, 4 hand towels and 4 wash cloths. And the price was amazing so I'm going to order another set so that I'll have a set of 4 bath towels in here.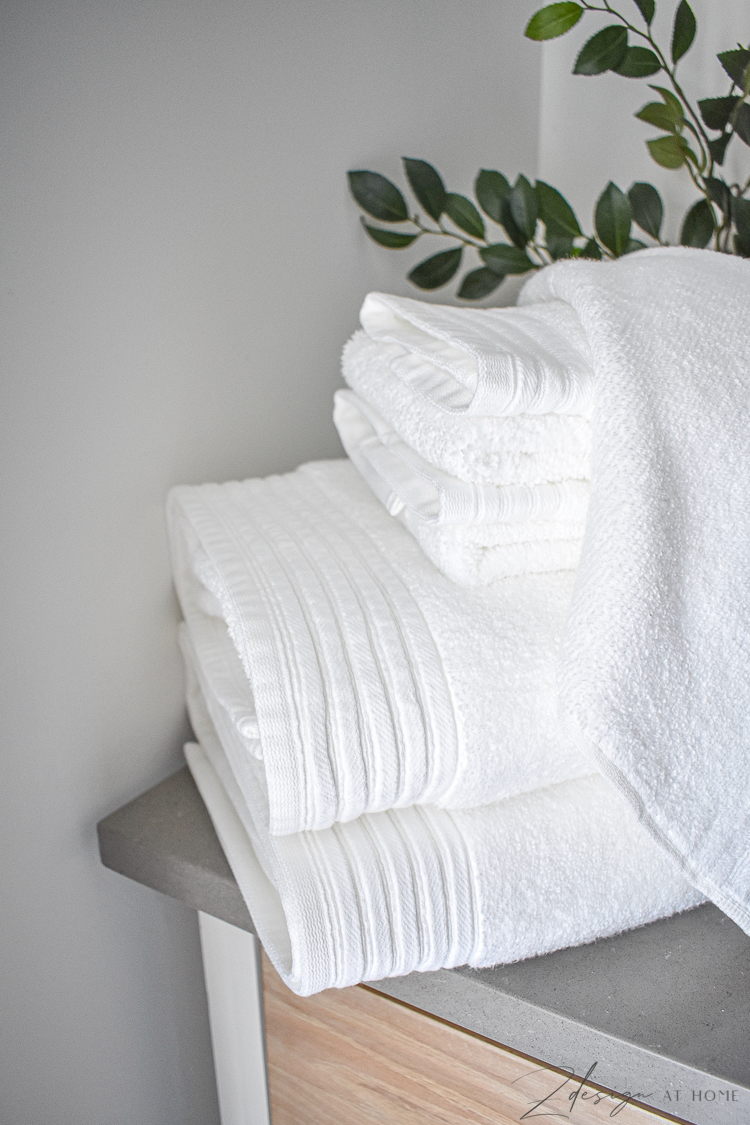 Candles: A candle always adds a special touch. One with lavender can help one drift off to sleep but it can also be used in the bathroom. This lavender mint leaf candle smells amazing but also comes in multiple scents, and I love the ribbed texture of the cute vessel it comes in.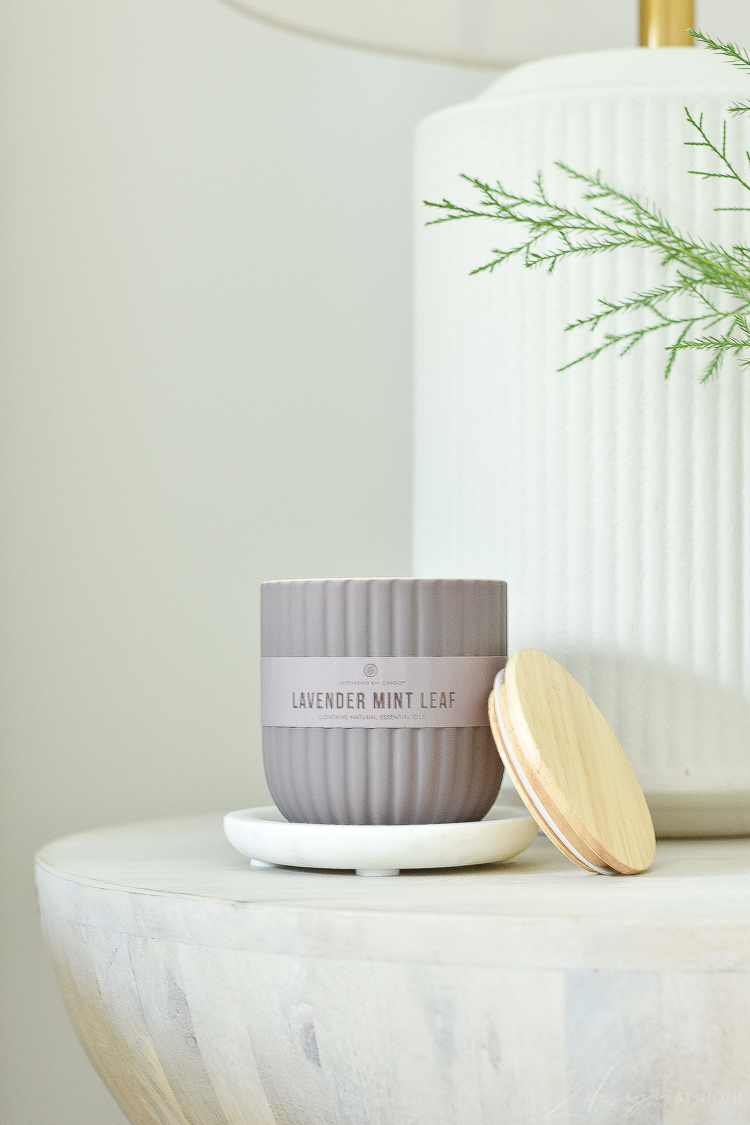 Fresh Flowers or Greenery: Fresh seasonal greens (or flowers) in a guest room can really add that special touch to your guest room. I like to use something seasonal, in this case I used a pine stem and some cedar stems, both picked form outside. And don't forget a cute vase! I found these great gray and white two-tone vases at Walmart that come in a set of 3 and that have great texture.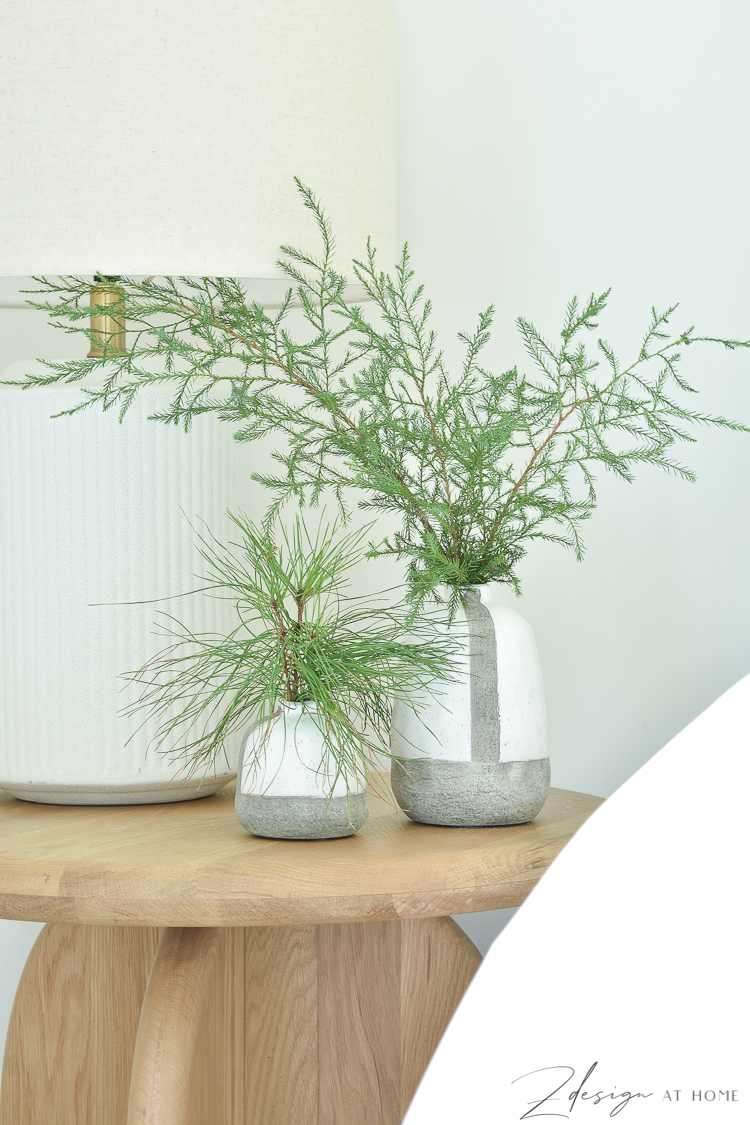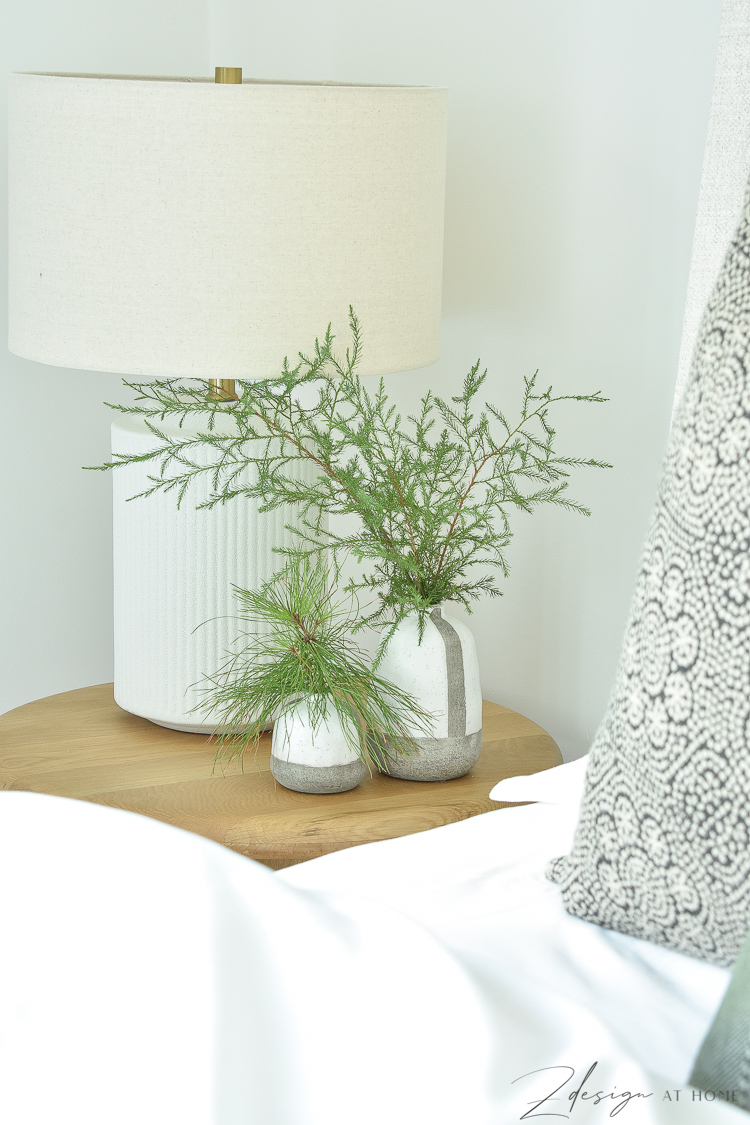 Reading Material: And last but not least, something to read. If there is down time or if they are enjoying the scent of that wonderful smelling candle before bed, a good magazine or book (that you've displayed in a pretty tray) is that final touch to let them know you've planned out their stay just right. I love this natural woven tray from Walmart Home that is lightweight and easy to move about the room when it's time to climb into that comfy, cozy bed you've created for them.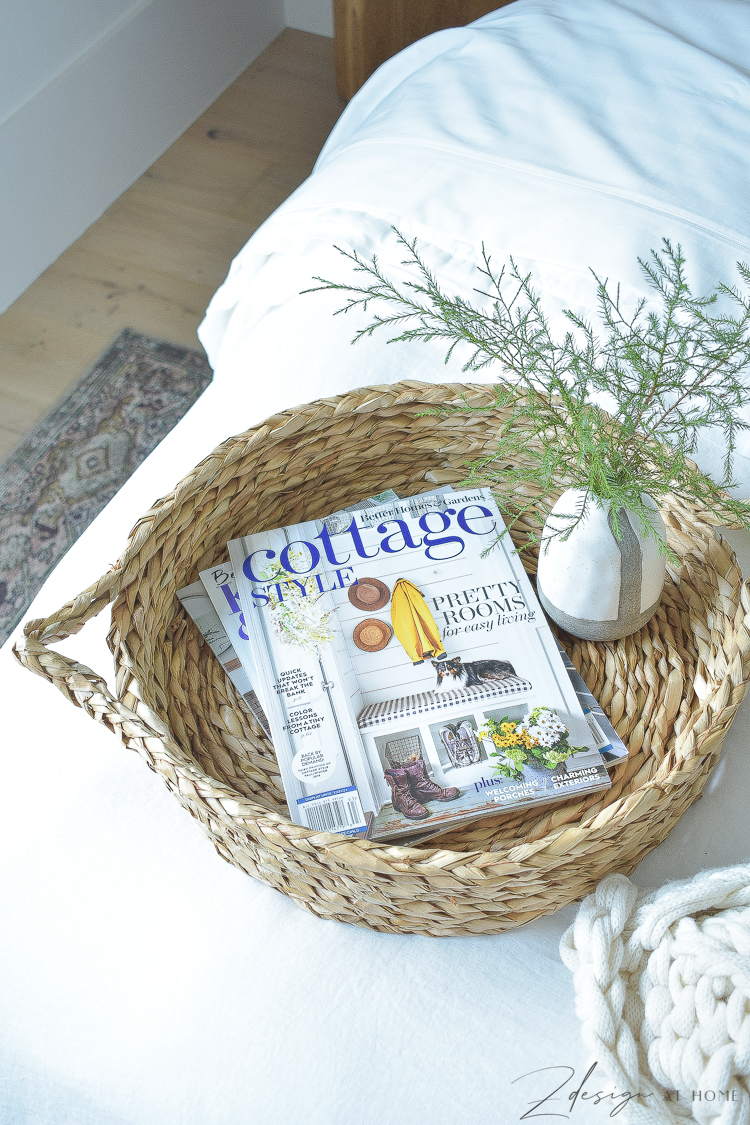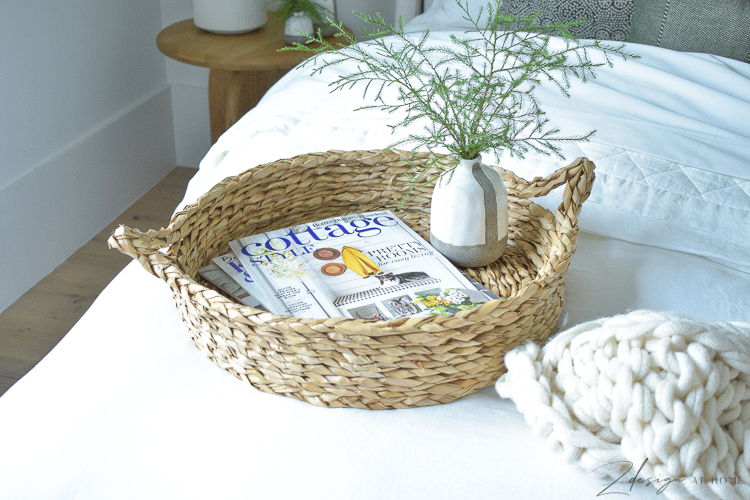 Tips to Guest Room Readiness for the holidays – Let's Recap!
Luxurious soft sheets
Layers
Plush bath linens
Candles
Fresh greenery or flowers
Reading material
I hope you've enjoyed my Tips to Guest Room Readiness for the Holidays! I'll be signing off from the blog for the rest of the year so I hope you have the best Christmas and holiday season this year, visiting with loved ones and decorating your home for the holidays! Below, check out the rest of my guest room ready picks and, you can check out my Walmart gift guides here. Merry Christmas and Happy Holidays and don't forget to check out more Walmart Home guest room ready ideas HERE for everything you need to get your home ready for the holidays this year!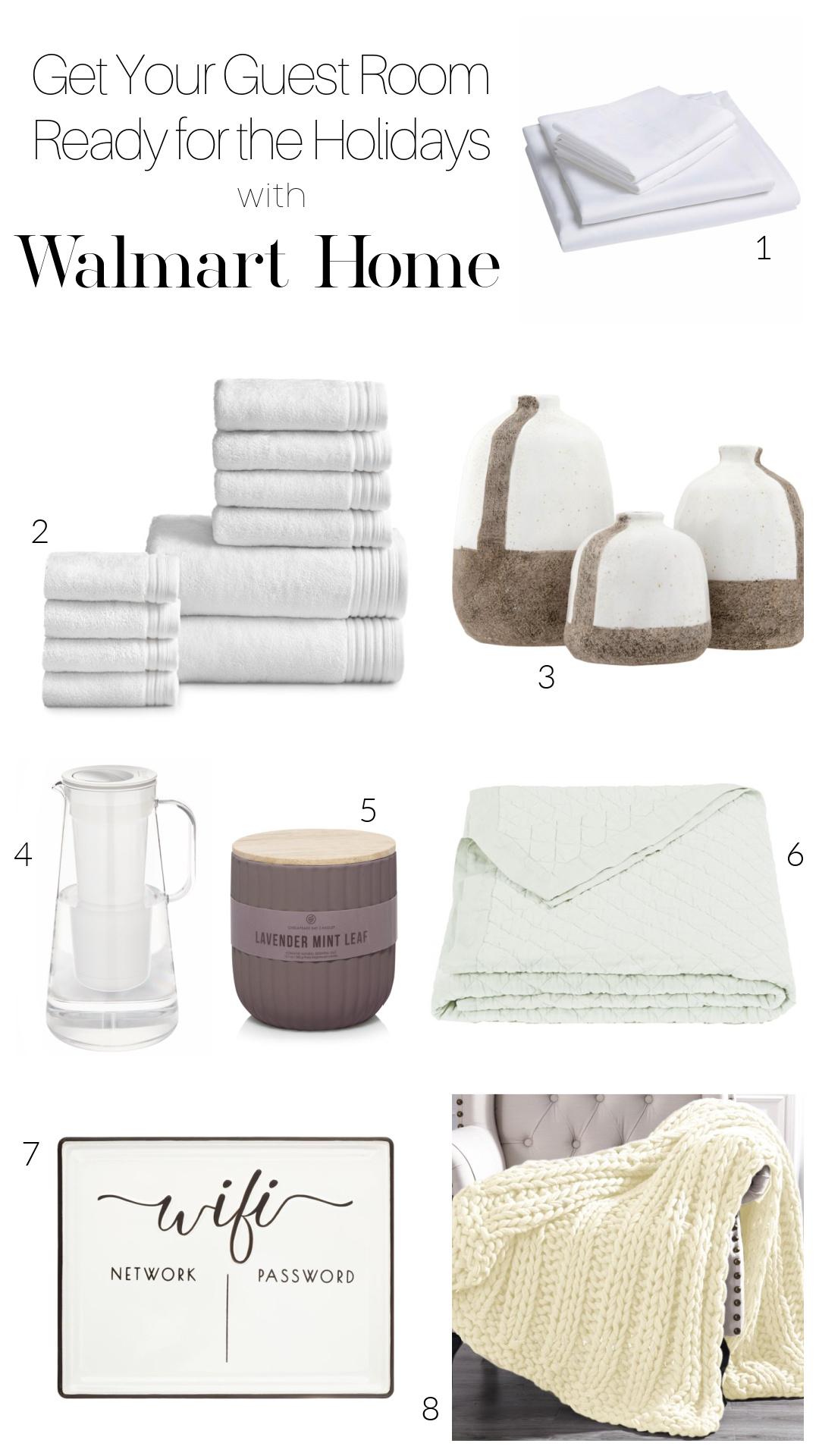 1 Sheets | 2 Hotel Egyptian Cotton Bath Towels | 3 Vases | 4 Guest Water Pitcher | 5 Lavender Mint Candle | 6 Linen Diamond Quilt | 7 Wifi PW Sign | 8 Cable Knit Throw
See the rest of my guest room ready picks here!