Styled For The Season Spring Tour + Modern Spring Decorating Ideas
Hi friends and happy spring!  It's the funnest time of the year to decorate, isn't it?!  I'm so excited today to be joining some of my favorite home and fashion bloggers to bring you our Styled For The Season Spring Tour.  If you are coming over from my dear friend, Randi of Randi Garrett Design, welcome!  I have known Randi for quite some time now and just adore her, her style and I'm so happy to have you coming over from her beautiful space in blog land!
Today I'll be sharing with you my spring bedroom in our rental.  If you aren't already following along with the blog on a regular basis and would like to do so, you can do that here to receive our weekly news letter.  At the end of this post you will be able to move on to the next person on the tour along with seeing all of the other talented bloggers participating in this inspiring spring tour!
*All sources are link throughout and at the bottom of my post.  This post contains affiliate links.  Please read my full disclosure policy here.
This season I really wanted to focus on a modern aesthetic for spring, using lots of greenery vs. the typical flowers I usually use.  I'm also focusing on using lots of faux florals to save money and so that I have them around for use again and again throughout my home and throughout the seasons.  I started with these fun faux fern stems, and some pretty new vases (left & right).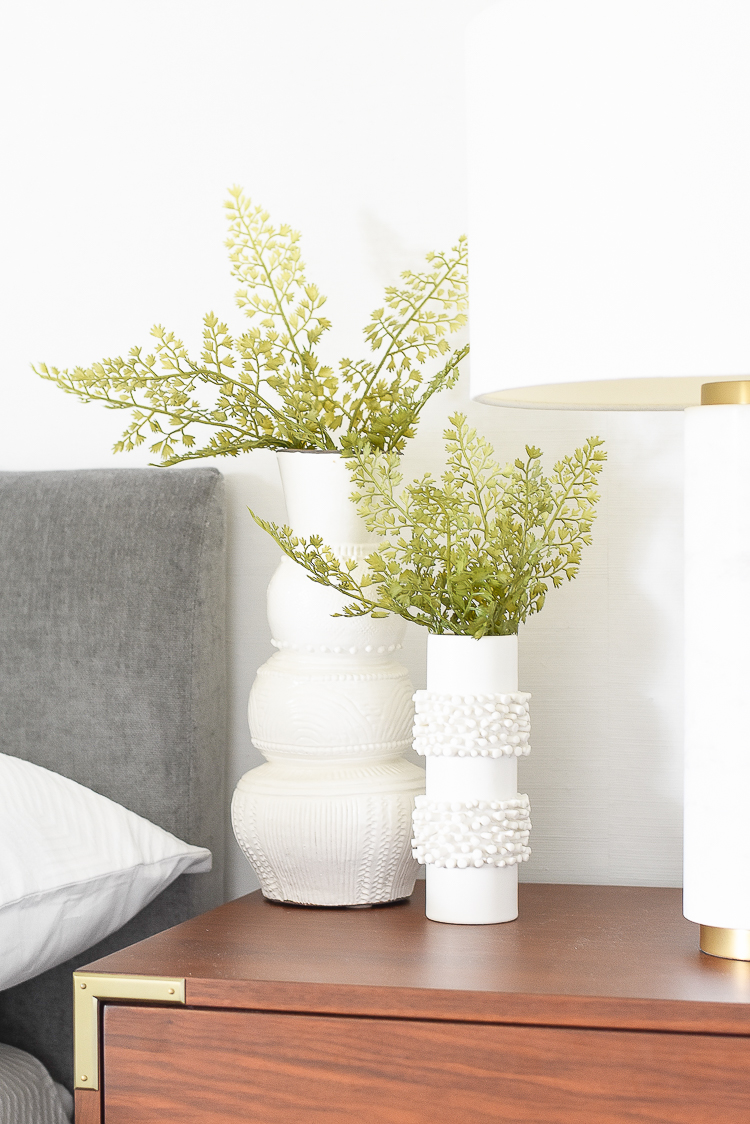 Using white in spring decor can be boring but when you use it with something that has so much texture it creates interest, and I love that!  The faux fern stems add the pop of color I'm always looking for this time of year.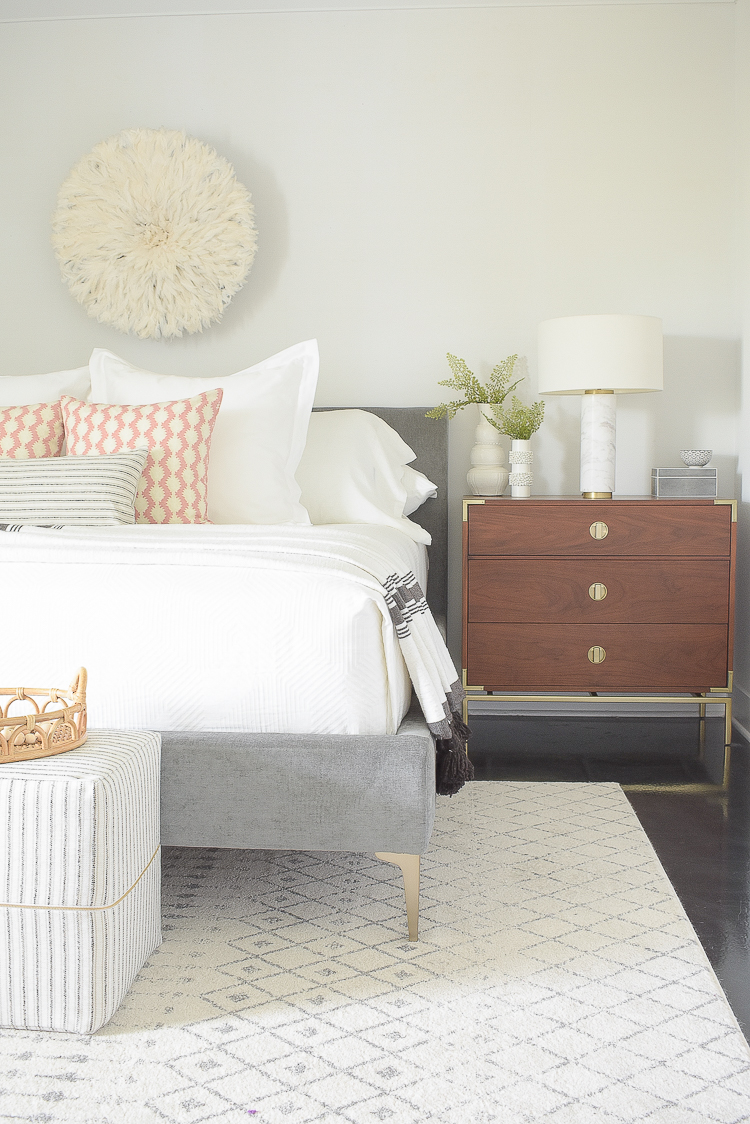 And spring wouldn't be spring without new pillows, right!  I just love these new beauties from Tonic Living.  They always have something I'm looking for in so many different patterns and colors and I couldn't resist these coral pillows in this fun pattern and stripe for spring this year!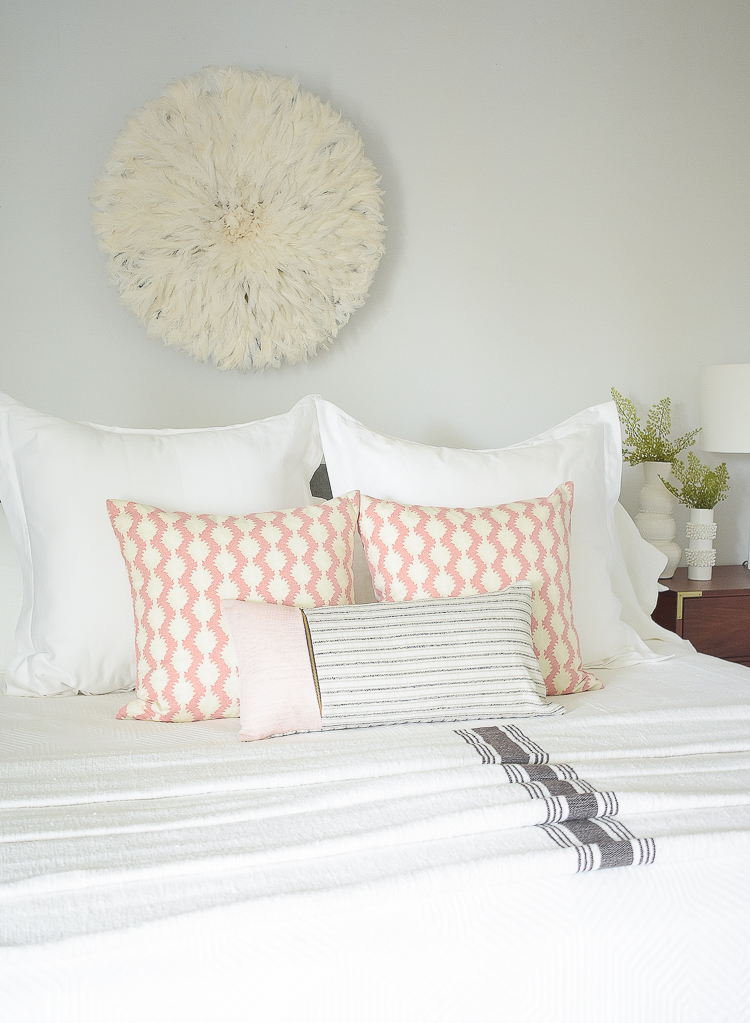 For spring I added this fun geometric duvet and shams that adds interest as well.  I added some linen shams as well to my bedding ensemble and love the spring vibe it's bringing into my bedroom this year!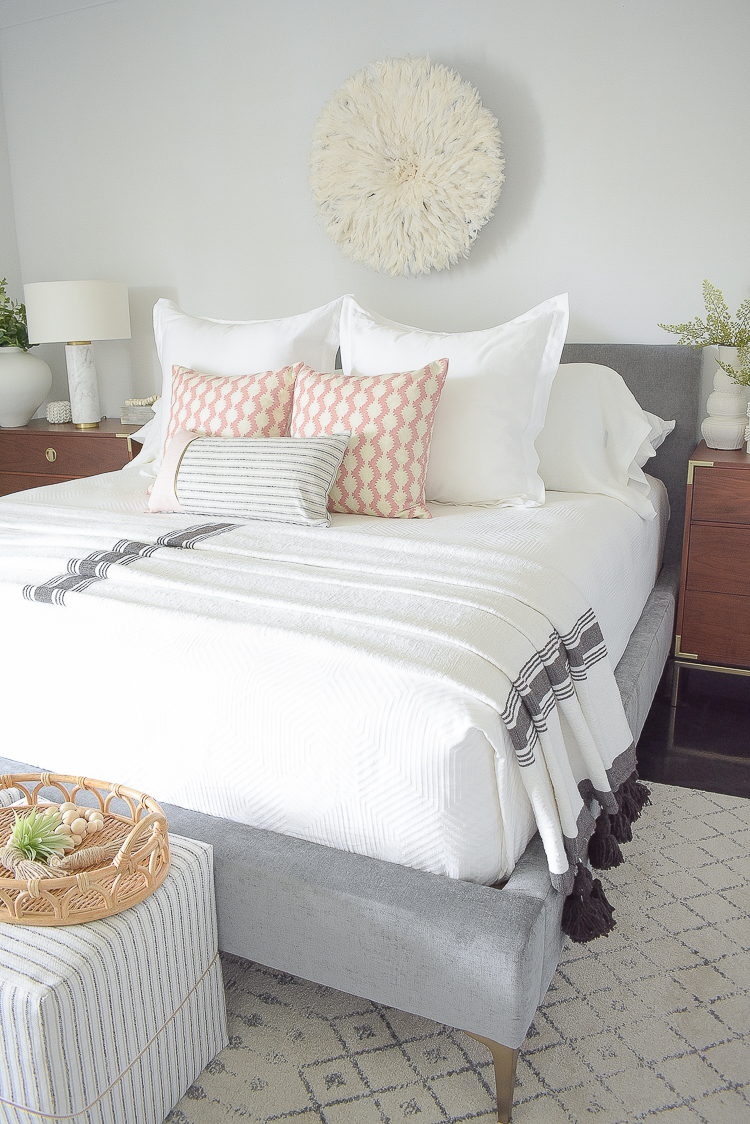 This black and white throw gets moved around the house and with its light weight cotton and huge black tassels, it was the perfect piece to complete my bedding look this spring.  I love the pop of black for spring as well.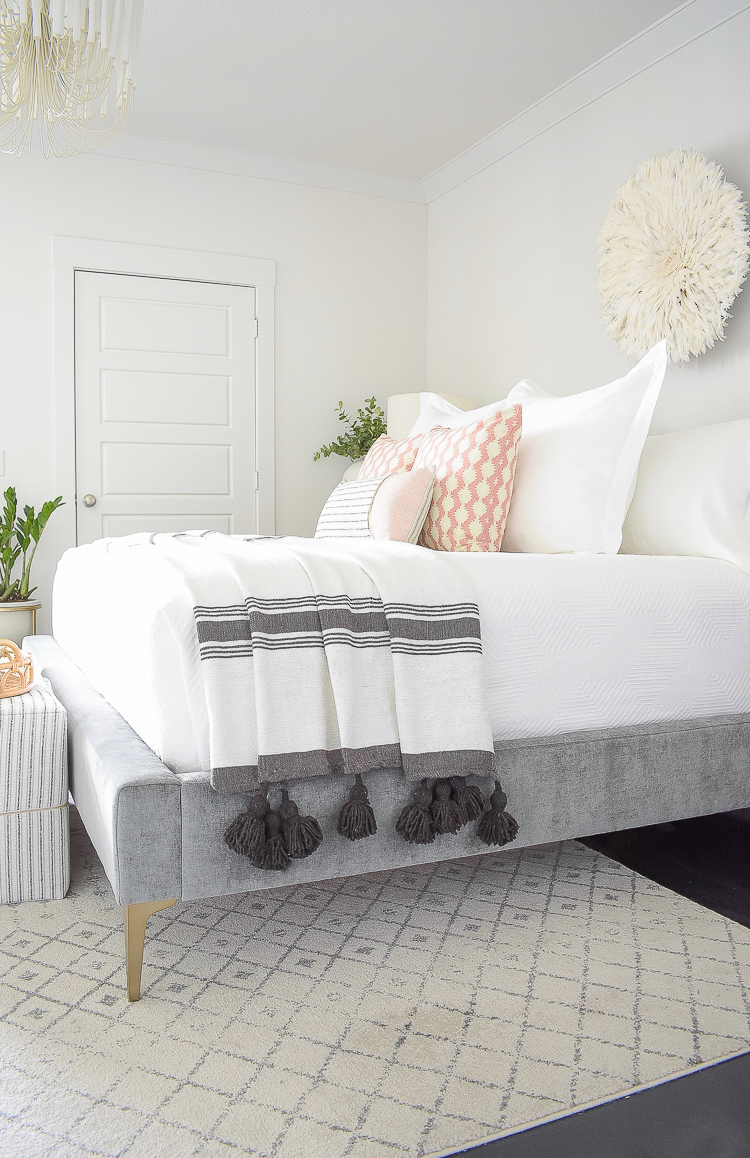 The other side of the bed also received a faux floral update.  I love these eucalyptus stems so much and really love the drama this whole arrangement brings to this corner of the room.  This white oversized vase is a new favorite as well.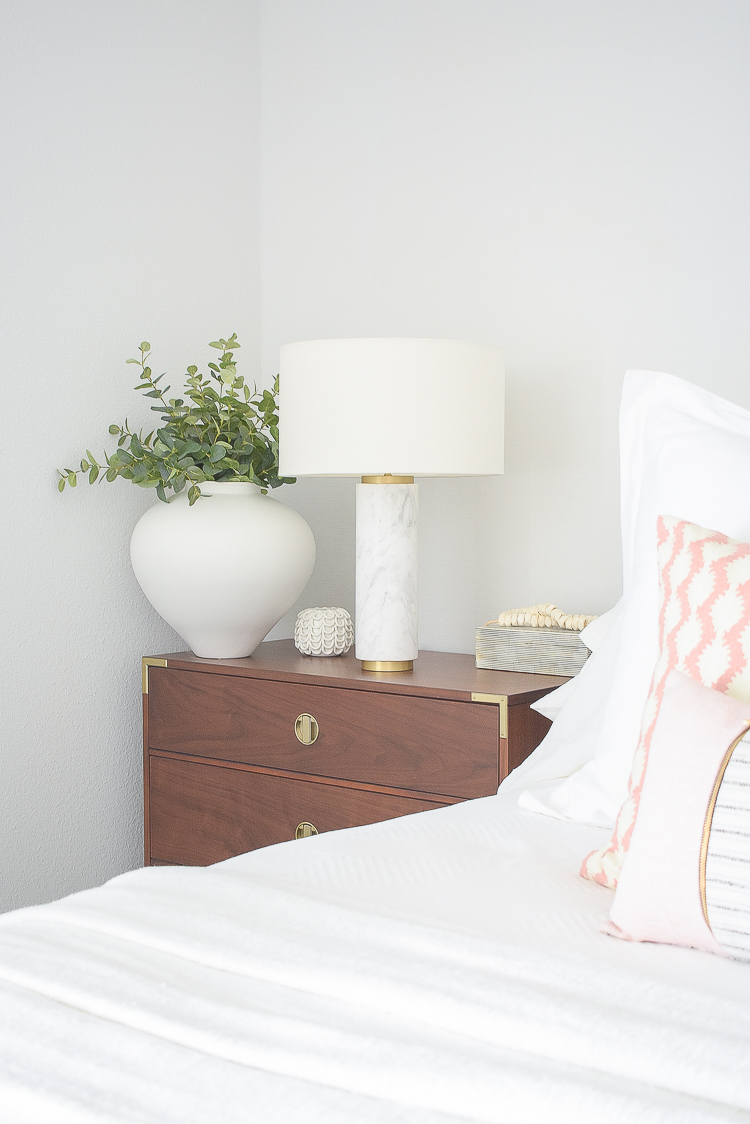 I brought out my marble lamps and added some fun accessories to my husbands side of the bed also .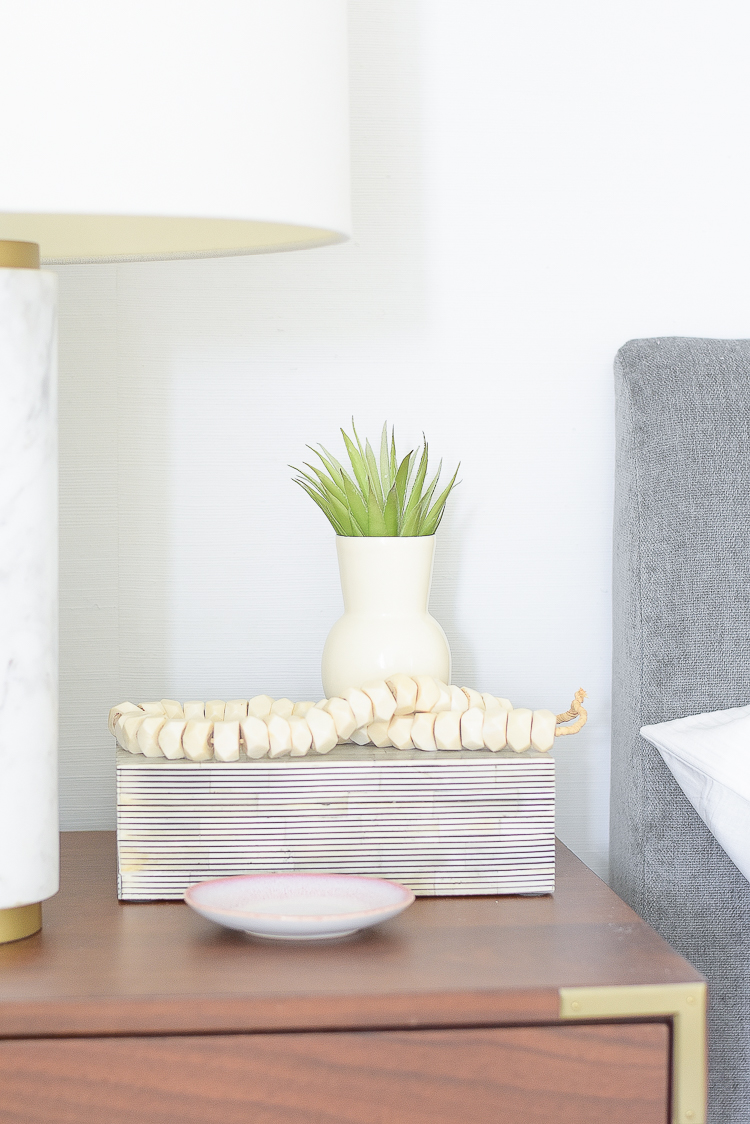 The overall look I was going for this year was light and fun and I think I achieved that with greenery, texture and small pops of color.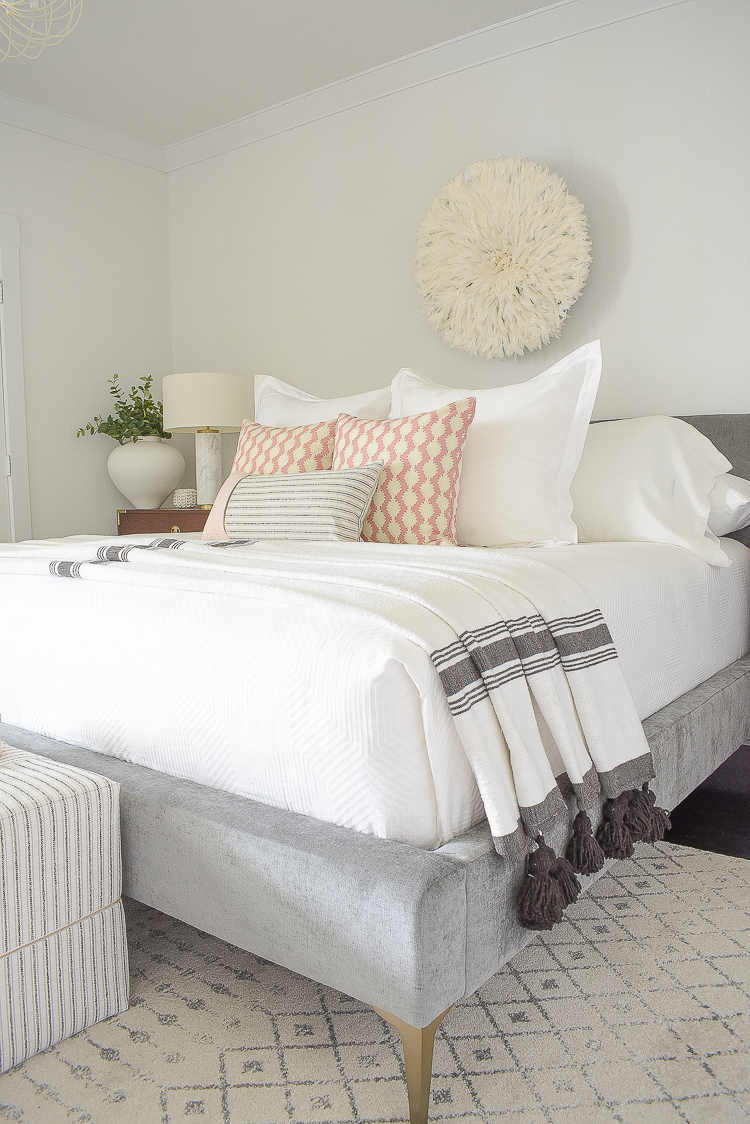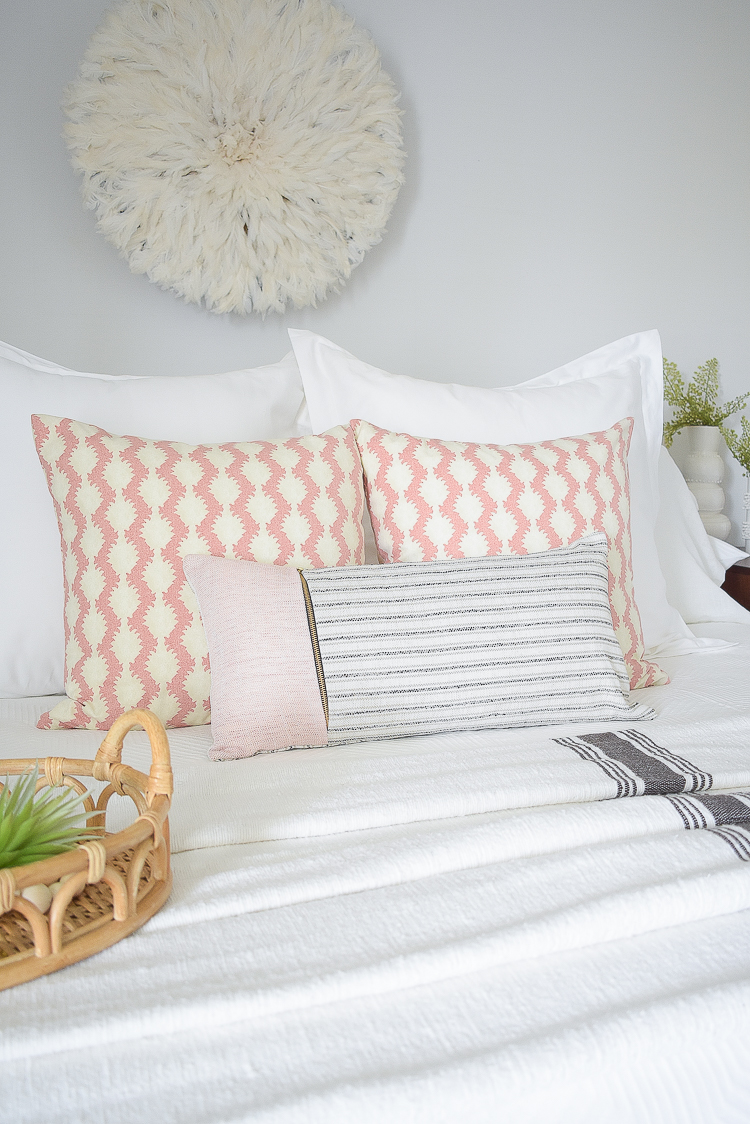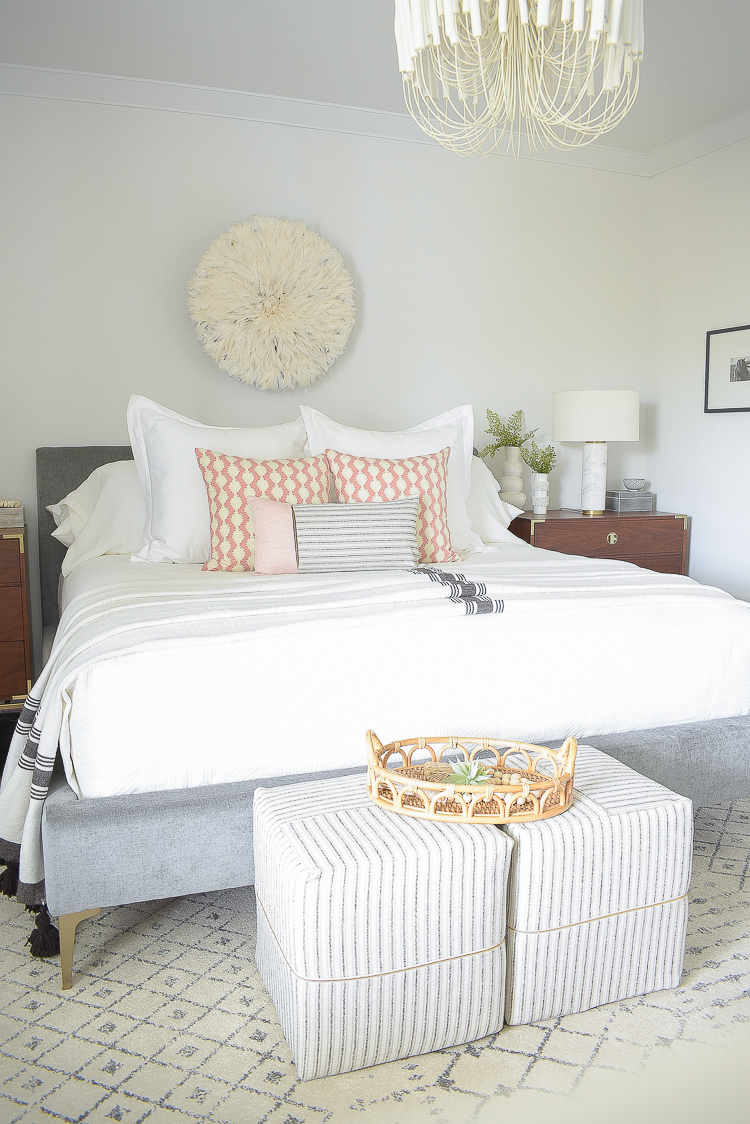 Another fun addition were these 16×16 cubes from Tonic Living as well.  I already had the cubes from them but needed new covers to change my look up a bit with a new fabric for spring.  Love the idea of being able to do that!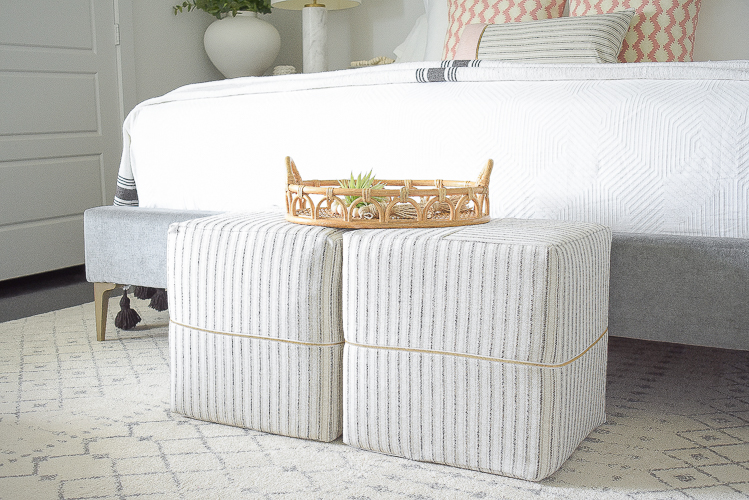 Love this rattan tray too that I use all over the house during spring and summer.  The texture and personality it adds to the space is great!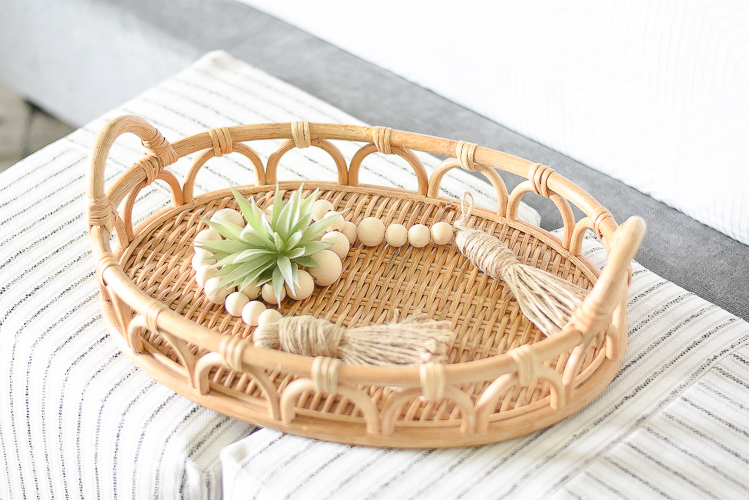 These cubes were well worth the investment for all of the use we get out of them.  We literally use them all over the house, sometimes on a daily basis!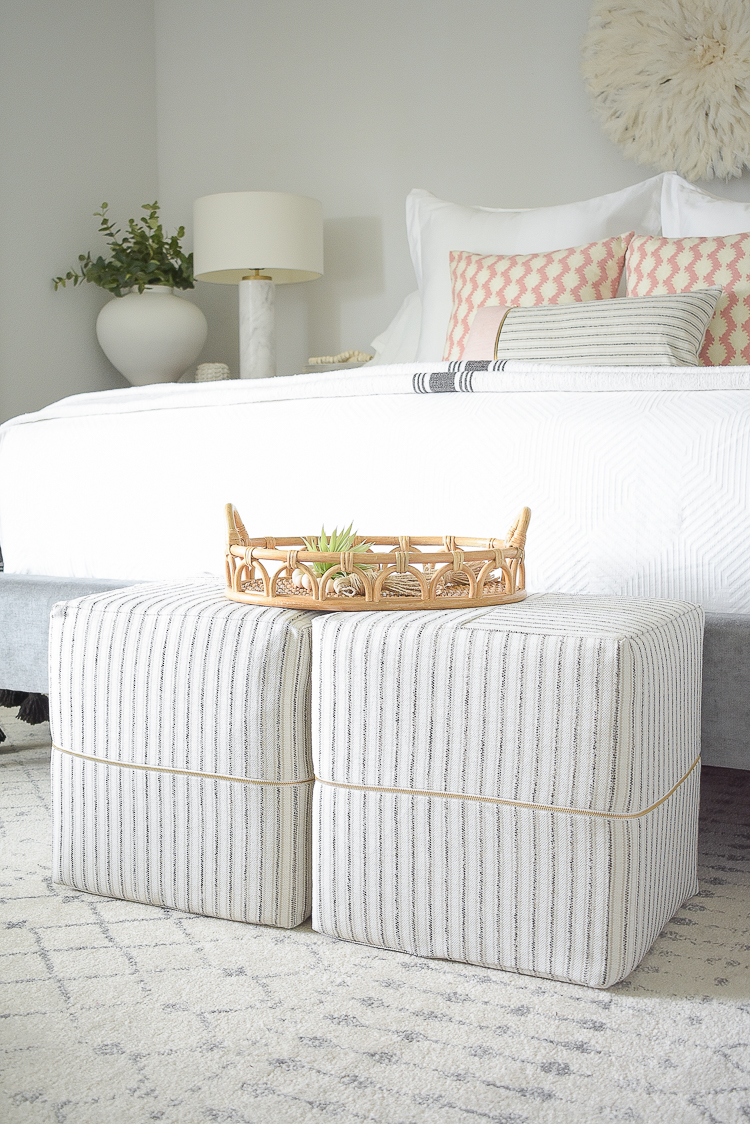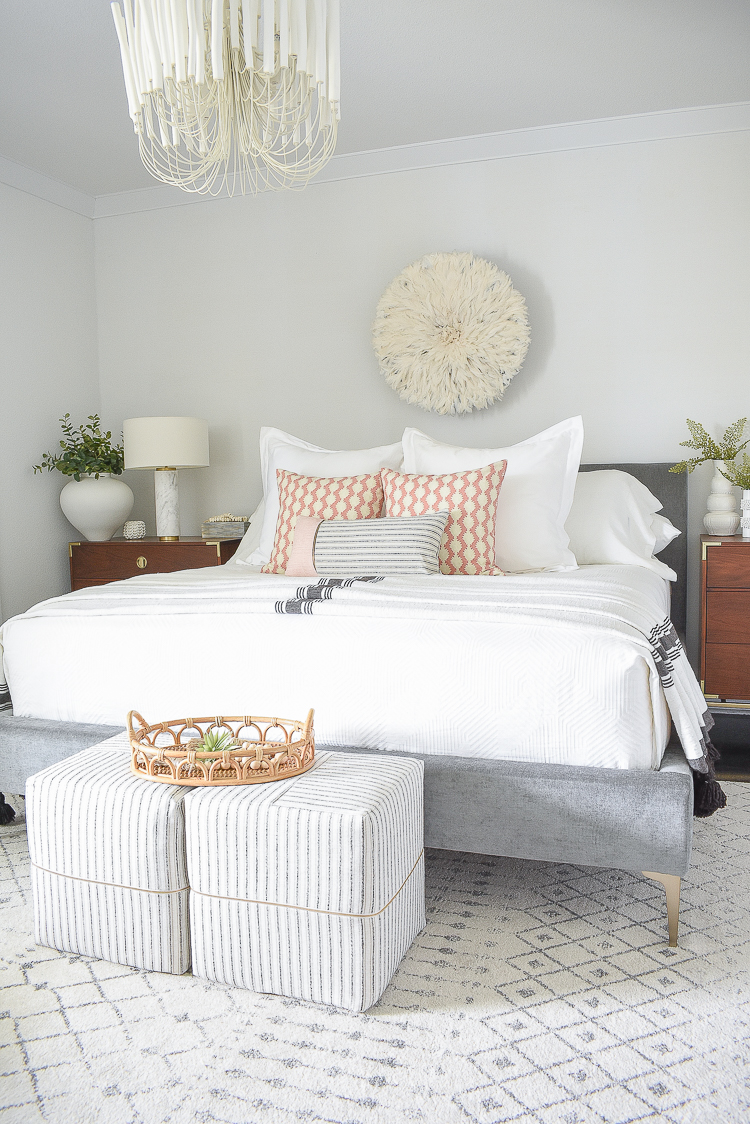 16 x 16 Cubes | Lumbar Two Tone Pillow | Coral & White Pillow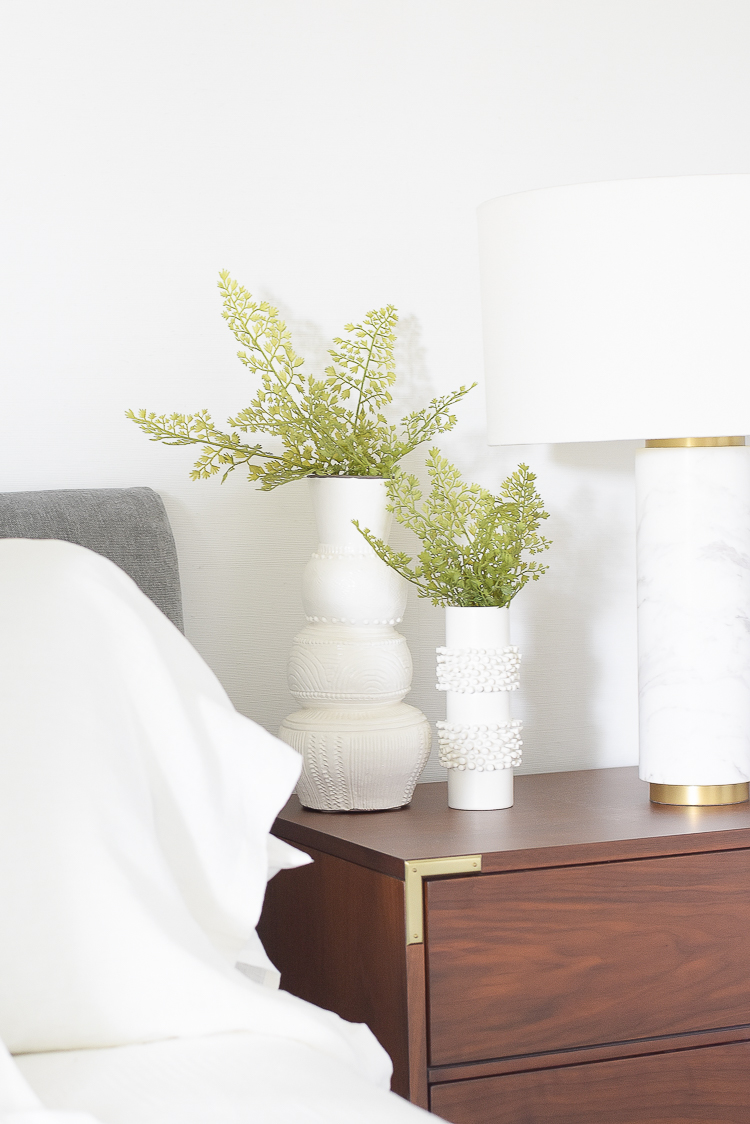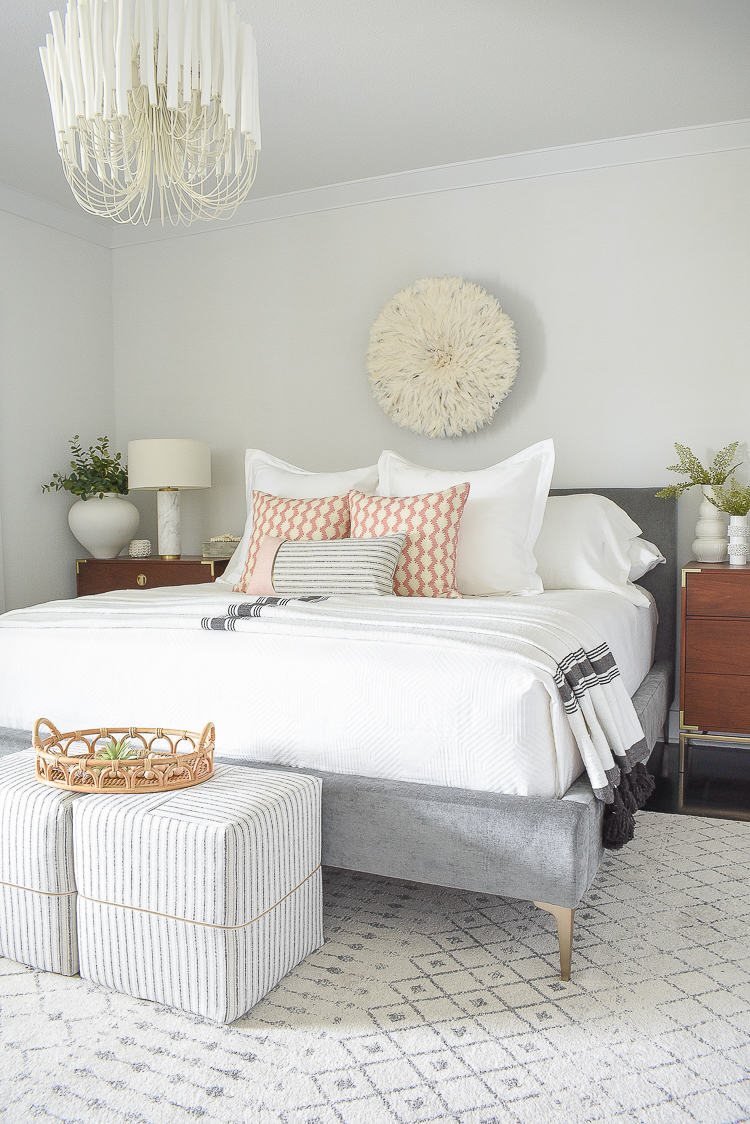 The corner of the room by the window stayed true to form by repurposing items I already had.  I love this Chinese wedding blanket pillow and light weight tassel throw I've had for a while.  I also pulled in this jute pouf I've had since I did the One Room Challenge last year.  Still adore our custom made white linen curtains from last year's ORC as well, also by Tonic Living.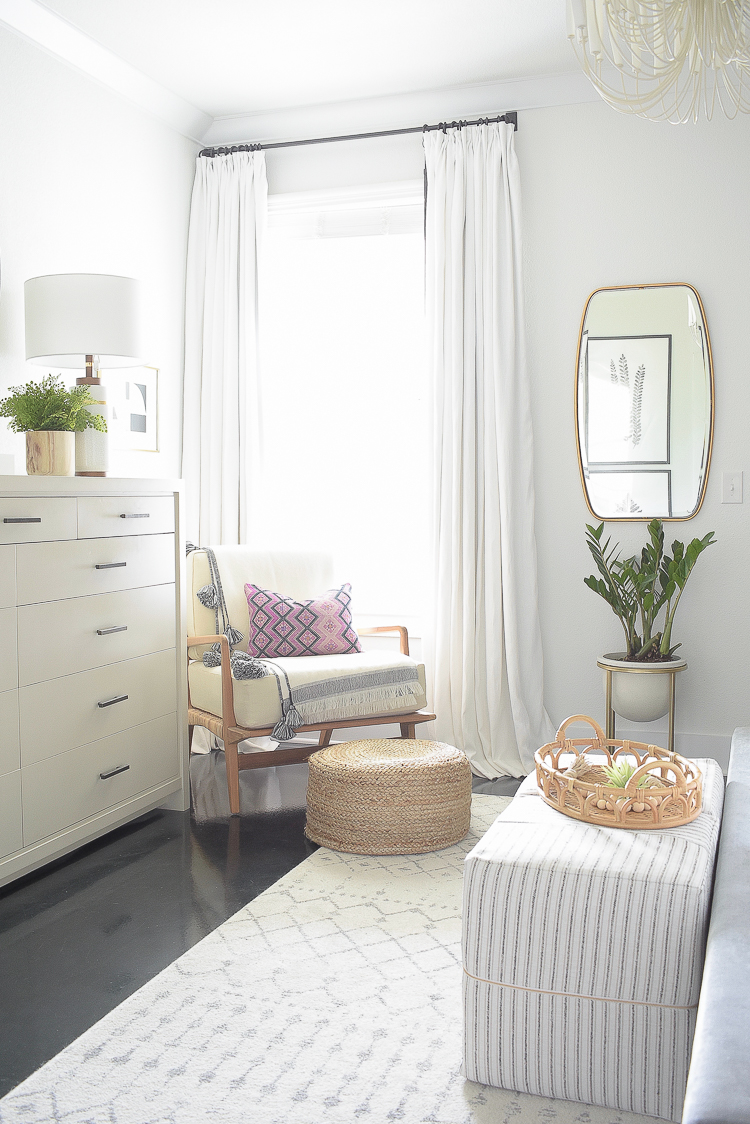 Like I said previously, greenery is a theme for me this spring season so I brought in a modern potted plant using one of my favorite planters with brass legs.  I have this pot in two sizes and still adore it!  It also comes in black with brass legs.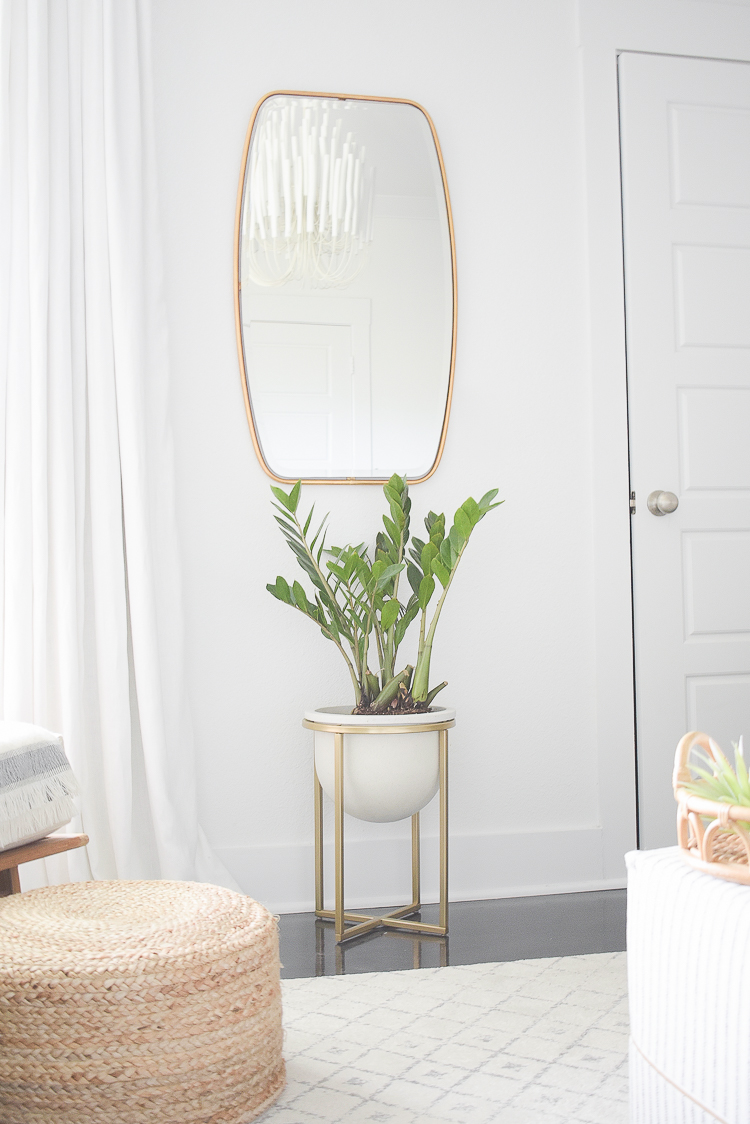 The opposite side of the room from the bed is the dresser.  Simple updates like another potted plant and more faux greenery made this area spring ready.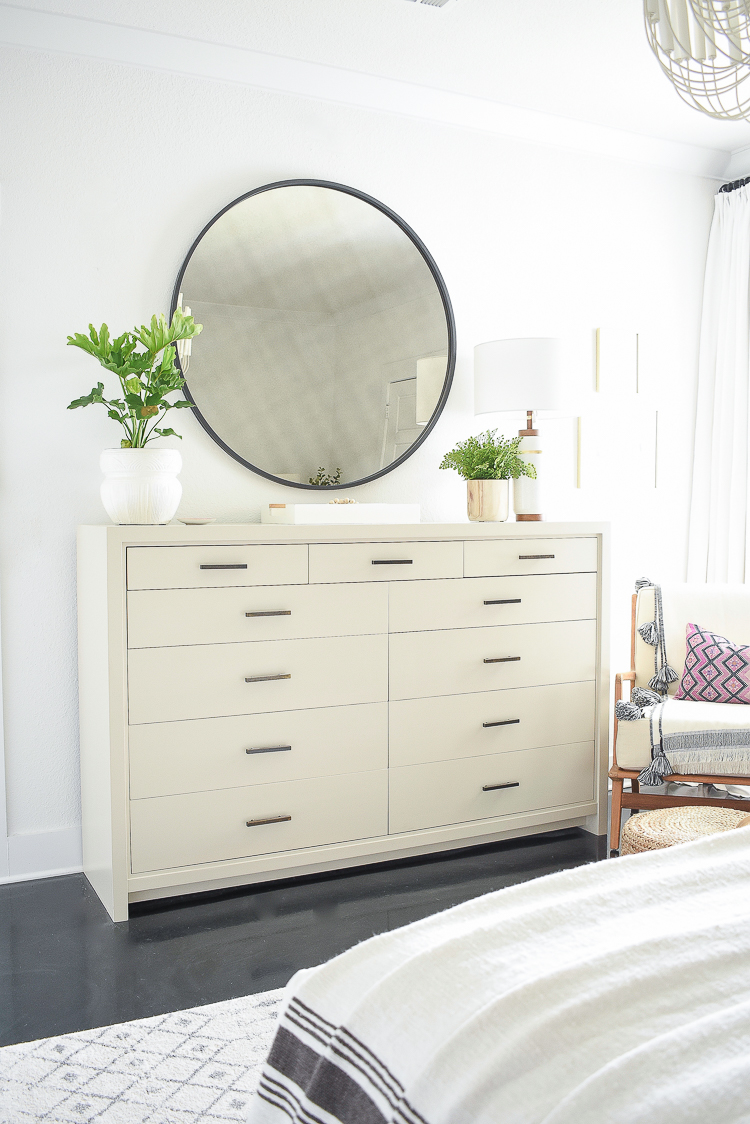 Can't get enough of this new pot.  It's in the same collection as the vase beside the bed and the texture is incredible on both.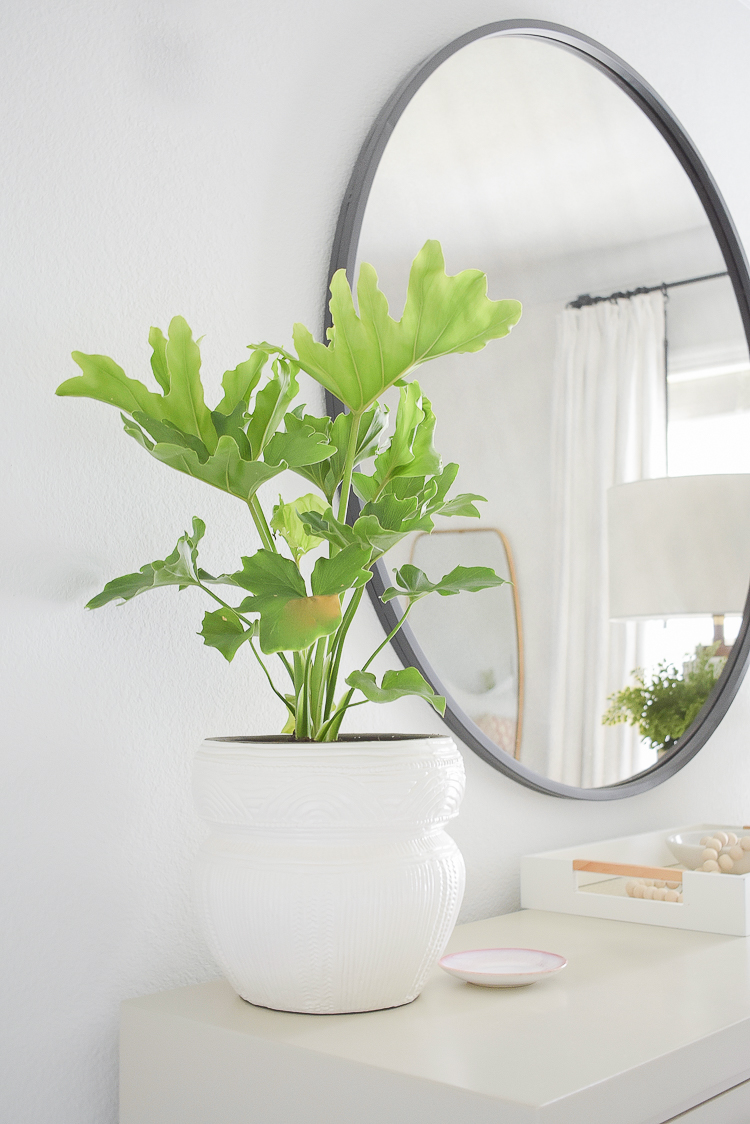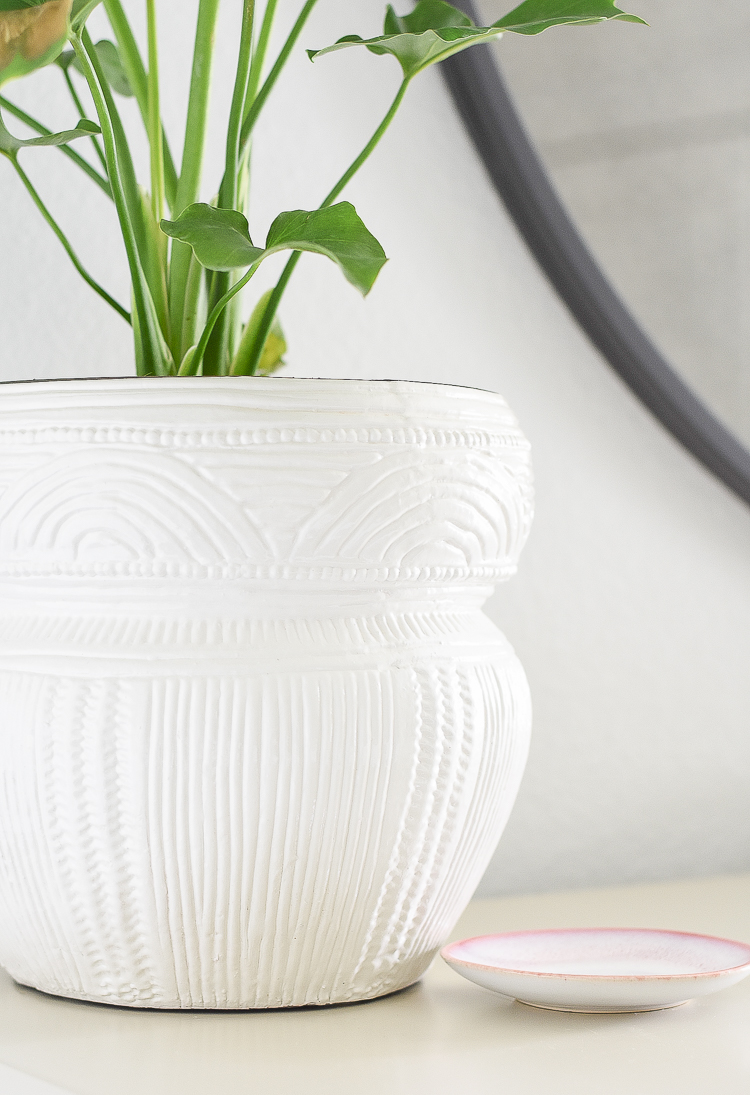 I love the way you can see the reflection of the chandelier in the mirror from here!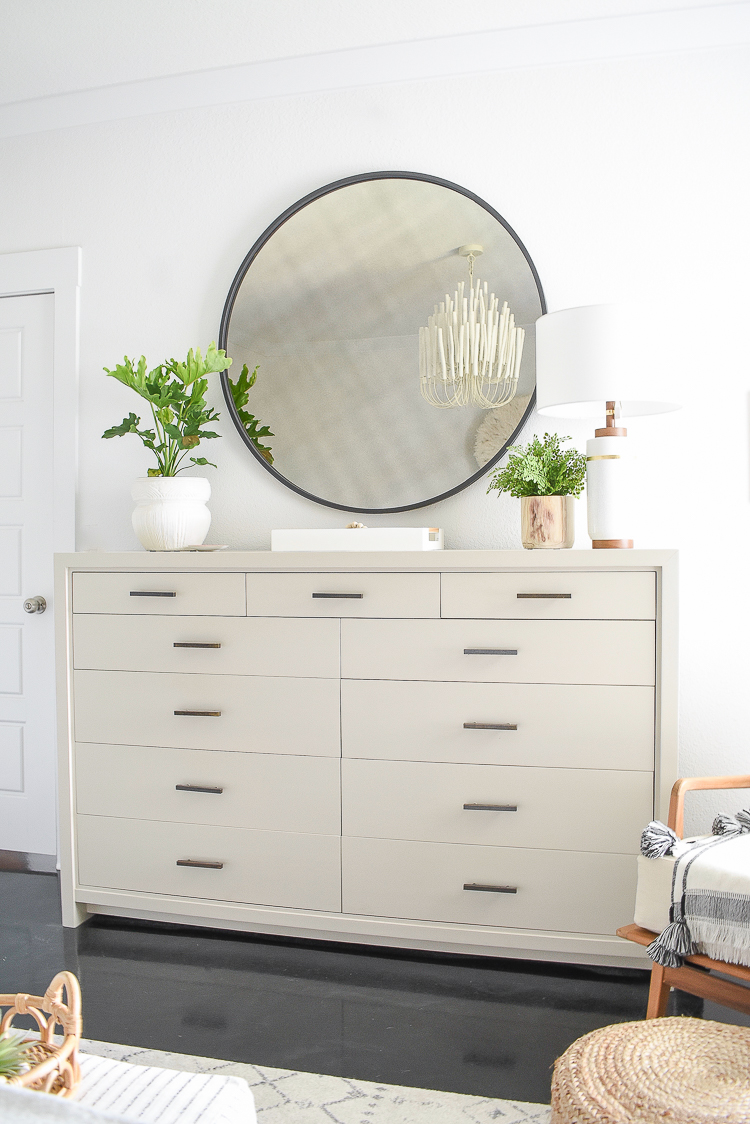 More greenery in the form of a faux fern in a wooden pot give this space a fresh, modern feel.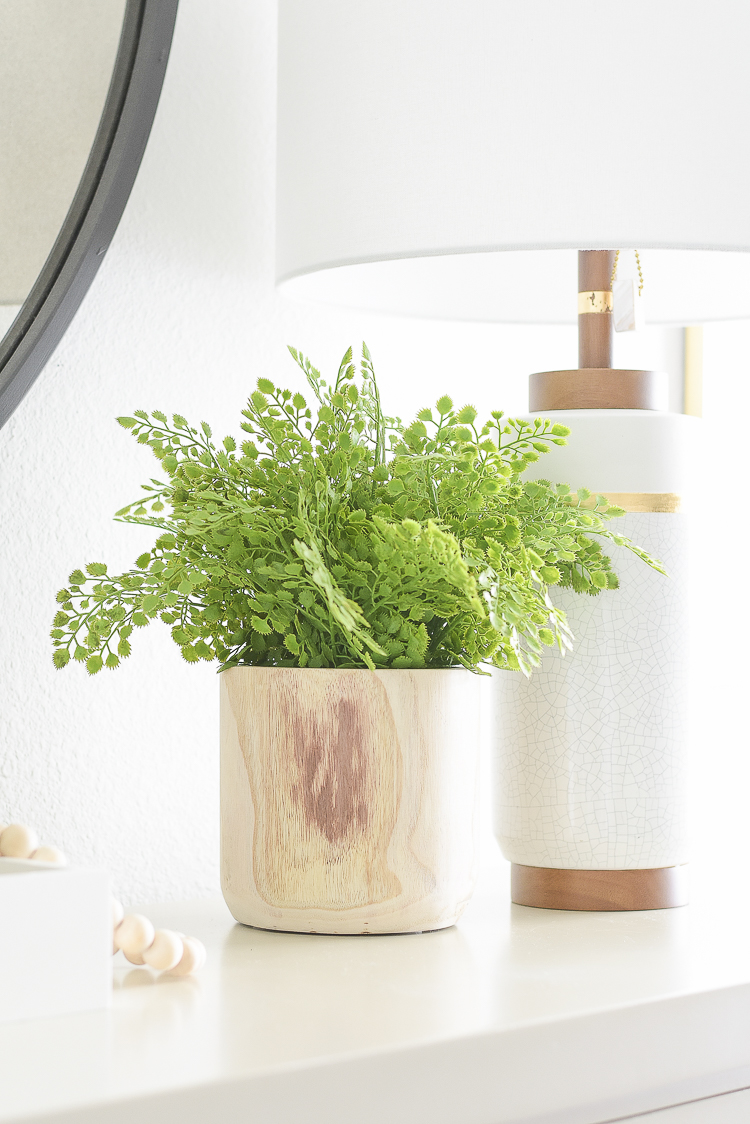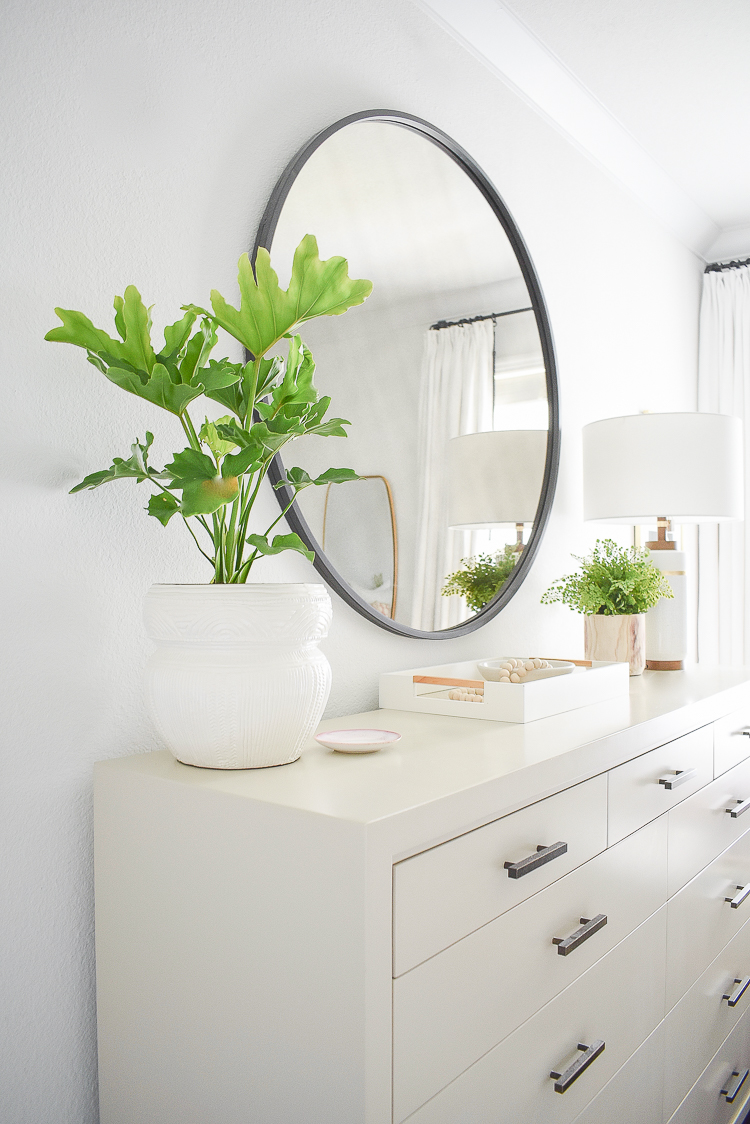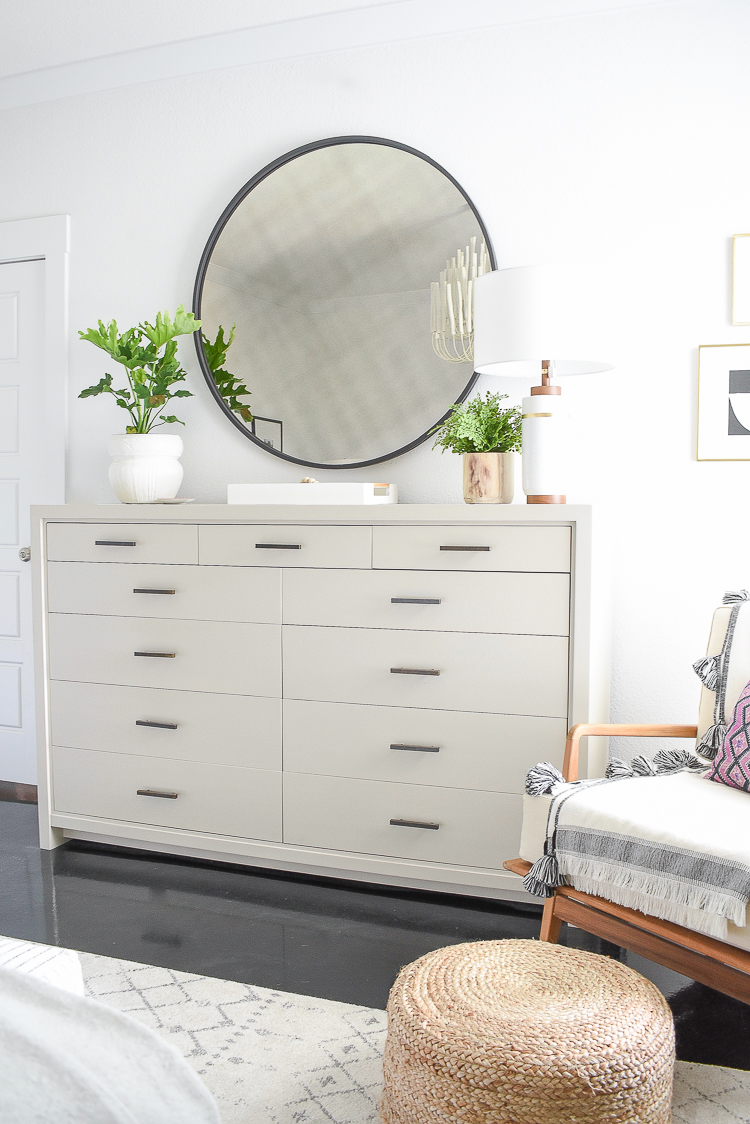 I got some new colorful art for the dining room for spring (see my recent dining room updates here) so I brought my black and white fern prints into the bedroom and couldn't love them more in here.



Well, that just about wraps things up except a few tips to summarize my tour.  I love sharing tips with you and would love to hear any of your spring tips in the comments below…
Modern Spring Decorating Ideas
 This year try using green in place of flowers.  Bring something in from outside and/or add nice faux florals (especially succulents) to your decorating arsenal.  They will surely make your space feel fresh and new, just like all that spring has to offer!
Use white pieces (accessories, bedding, pillows & throws) for a light, clean look but use items with texture to create interest in your space.  Texture is not just good in the fall…it's also great in spring!
A freshly potted plant will add a pop of color in a pretty pot (with texture) and brighten any space for spring
Use rattan and jute pieces to give your spaces that warm spring and summery vibe
Add a pop of color with new pillows, especially if you typically love an all white or neutral space – a pop of color will put a smile on your face and help you to remember it's spring when you're stuck inside on those rainy spring days
Switch out your bedding and throws for patterned and linen pieces that lighten things up from the heavier look you previously had during the cooler months
Repurpose pieces around your home.  Simply moving something from one spot to the other in your home can make it feel fresh and new again, no matter the season!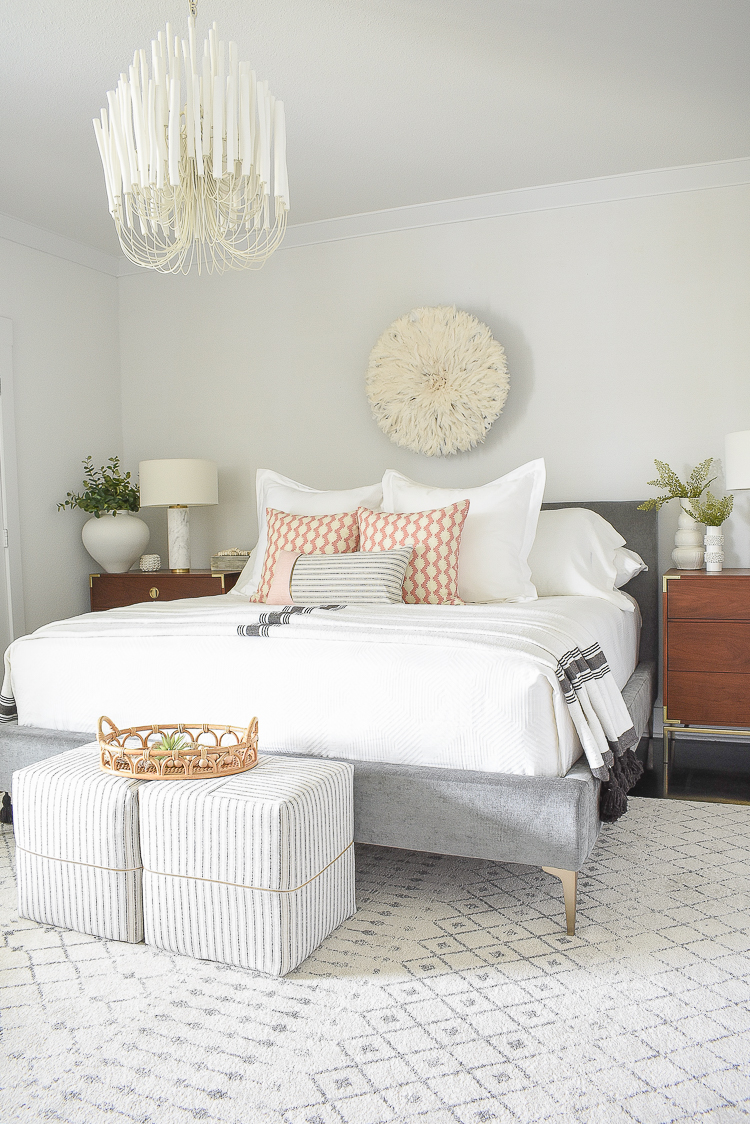 Thanks so much for stopping by to take our Styled For The Season Spring Tour!  Next up on the tour is my sweet, talented friend, Mollie of Design Loves Detail…please make sure to hop over to her next to see her gorgeous new home is styled for the spring season.  Mollie is sure to never disappoint and I know you will love her and her incredible sense of style just as much as I do!!
After Mollie, please also visit all of my other inspiring friends on the tour – see list below!
Sara of Haute and Humid | Jennifer of Decor Gold Designs | Alicia of Alicia Wood Lifestyle | Randi of Randi Garrett Design |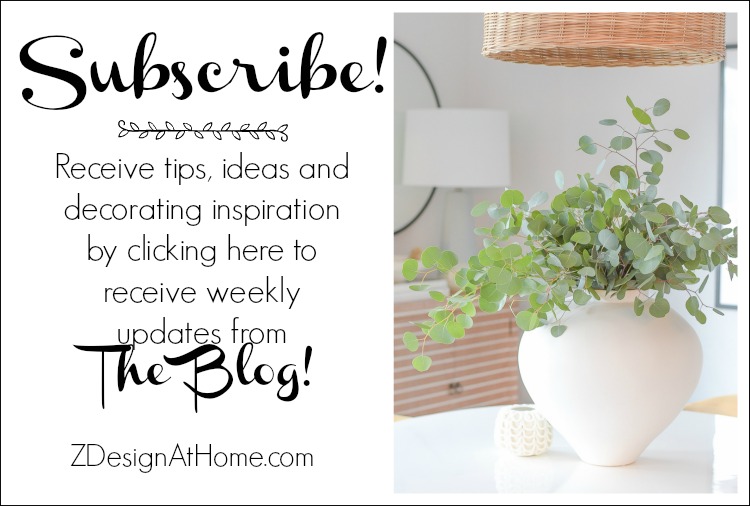 Post Sources

16 x 16 Cubes | Lumbar Two Tone Pillow | Coral & White Pillow