Hi and welcome to our kitchen tour!!  If you follow me on Instagram you've probably seen this space before but today I'm going to take you a little more in depth and answer some questions I get often about the details of our kitchen.  To start, we recently updated our breakfast area to suit the style of our kitchen a little better and I get a lot of questions about the table and chairs and how I came up with the design for this space.  Well, I have always loved this 1950's Saarinen tulip table (although mine is a knock off) and had always wanted to use it somewhere in one of my designs so this ended up being my opportunity.  With the wood floors, wooden bar stools, and these carved wooden chairs I knew I wanted for this spot, another wooden piece of furniture (i.e. a wooden table) would have been too much wood and I wanted to break that up with my love affair with this slick white tulip table.  I have to say that when I ordered it I held my breath every day until it arrived worrying that it would be too much white with all of the white cabinets and countertops but once it arrived we knew instantly it was perfect for this spot!  From there it was a no brainer for me with the remainder of the design elements for this space.  I knew  I also wanted a cow hide rug here and those chairs…oh those chairs!!  Completely fell in love with them at Restoration Hardware but found this more affordable version at Wayfair.  As of the publication of this blog post, it looks like they currently aren't available at Wayfair any longer but I'll source some other similar versions for you at the bottom of this post.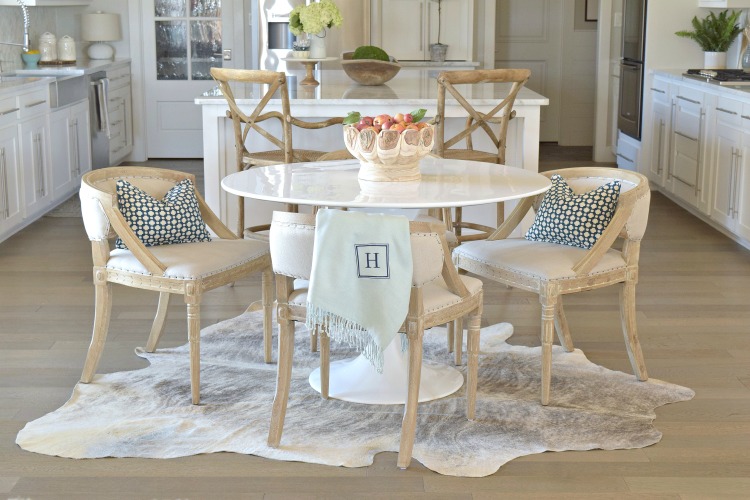 These next few shots are just full on shots of the kitchen.  I have to say there are things about this kitchen I love and things I don't love.  Having a large island is nice (it's wonderful for entertaining) but sometimes I feel as though I'm running laps around that island.  I actually didn't get to design the layout of the kitchen as that was already done when we bought the home during the construction process but boy I wish I had had a say so in the matter!!  I did get to do the cabinet layout but there wasn't really anything else I could change about the kitchen itself since in the floor plan the size of the kitchen, the layout, and some other elements (like the plumbing) were already set.  If I had had a say so in the size of the kitchen I would have made it a little smaller by not having that last row of cabinets you see and by making the island a little smaller (more like 6×6 vs. the 6×9 that it is).  Don't get me wrong, I'm more than grateful for this space but there are definitely days I crave a smaller kitchen (like when cooking dinner & cleaning the kitchen at the end of a long day;).  All of that said, I had a ball picking out all of the design elements for this space and can't wait to share them with you but mostly, I just knew there had to be a white kitchen in my future when I was pulling all of the details together for this space.  My previous kitchens had always been darker spaces and this time my main requirement was light, bright and airy!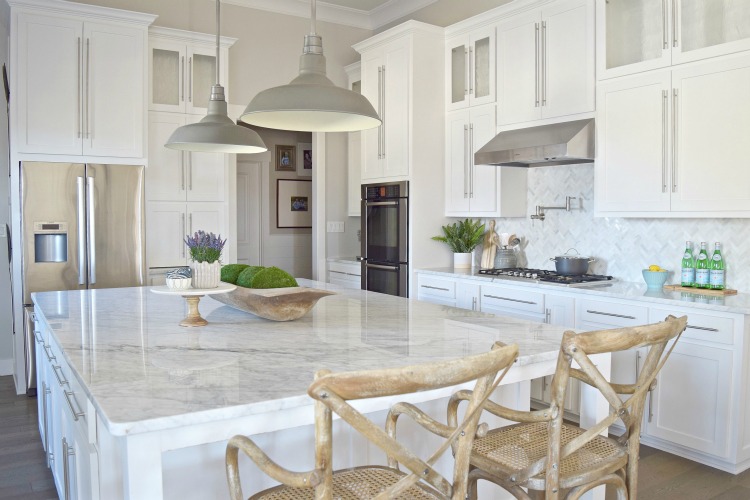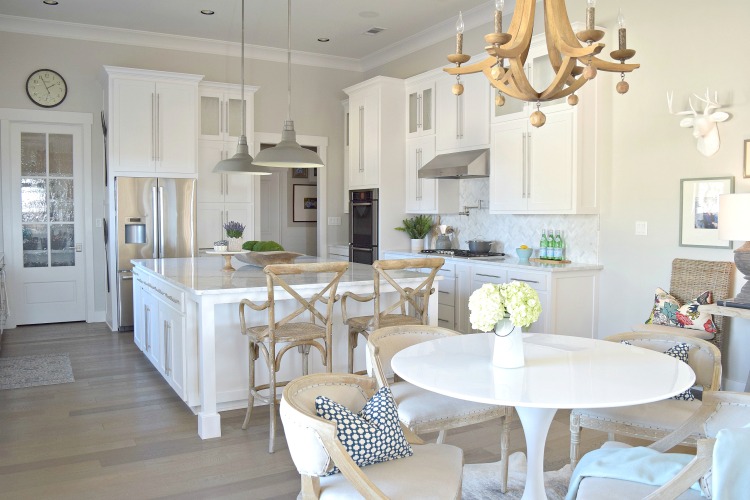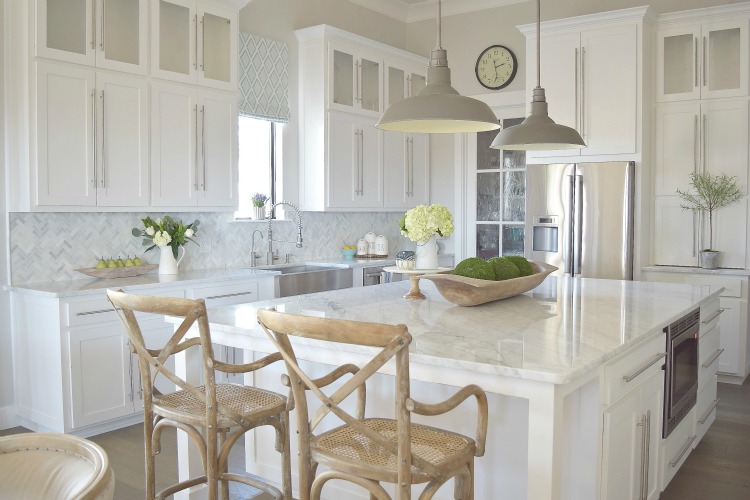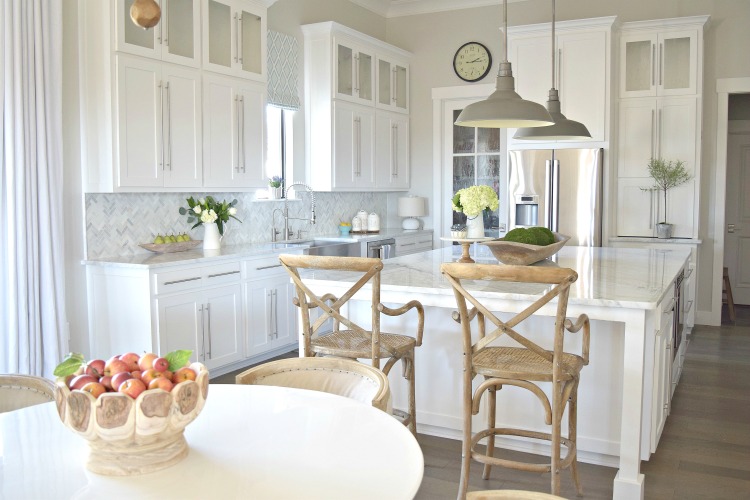 Get the Look


I think the first thing I remember telling our builder during the negotiation process of our home was that I wanted white shaker style cabinets (cabinet color is Decorator's White by Benjamin Moore) and if he couldn't do that for me then there was no deal!  The other major requirement I had for this space were the white Carrara marble countertops and a commercial stainless steel faucet, and everything else was secondary to those items.  The builder had actually planned on using Thermadore appliances in this home but I opted for the lesser expensive Bosch line to save money.  Call me crazy but at the time I just couldn't fathom spending 35-40k on appliances when there was something else just as pretty and as functional out there for 1/3 the cost.  This decision saved us a ton of money of which I was able to use on other areas of the home to personalize things to make the home more us!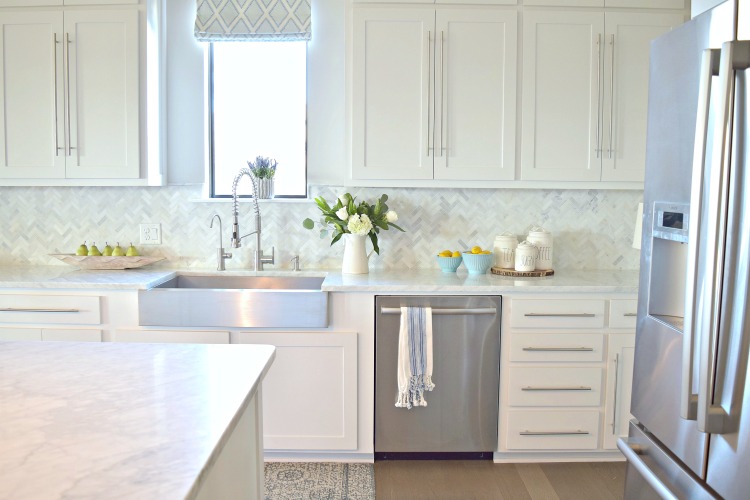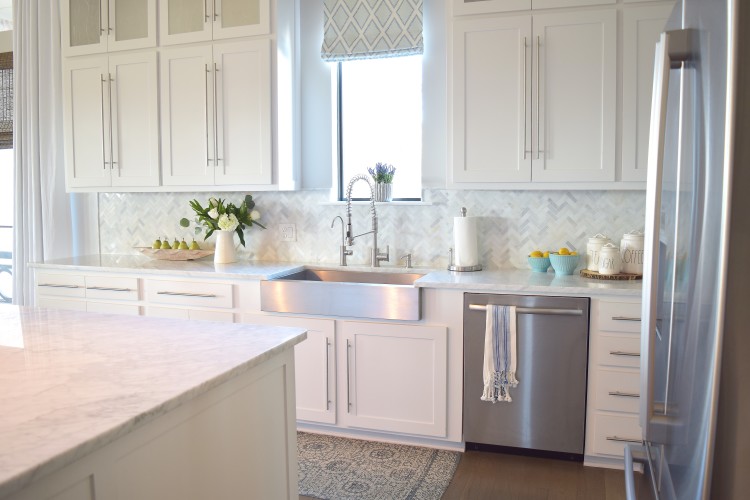 One of the greatest things about this kitchen is all of the cabinet space.  I also love that we chose to put the microwave down in the island to give the upper cabinets a more seamless look.  Yes, it can be a pain bending down to access it but I love that it's out of the way and doesn't become an eye sore when you enter the space.  We were suppose to get a top load microwave but didn't realize that until it was much too late in the process (insert miscommunication lesson between homeowner and builder here:) so I suppose there is always next time and for now this one works for us.  Another great thing about having the microwave in the island is that it's much easier access for kiddos that are old enough to use it which can free you up by having one less job to do in the kitchen if you have some little willing helpers.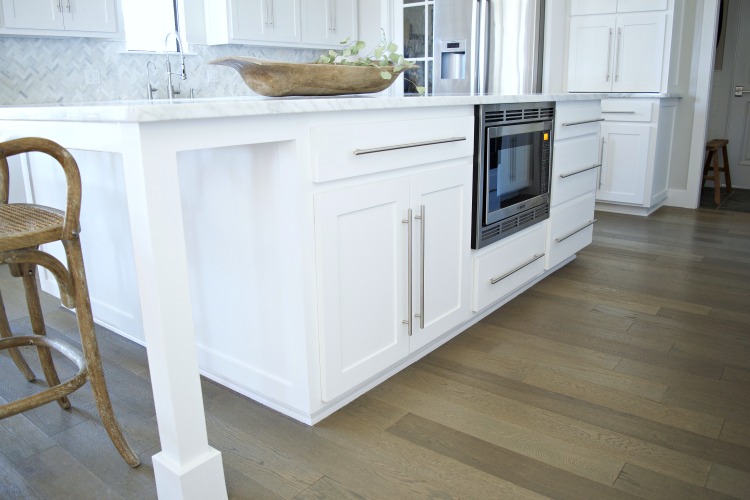 Another favorite thing in this space is the large hardware which is imperative I think with white cabinetry.  It keeps hands off of the white cabinets and therefore not only keeps them clean but also keeps the paint from chipping overtime.  And, one more must have for this space were these Restoration Hardware vintage barn pendants in gray enamel.  They were the perfect mix of rustic in this slick white space which added character and a pop of color in this otherwise sea of white.  You may also notice that I haven't filled my uppers with lots of "stuff" that I can't reach and there are a couple of reasons for that…#1 I don't want to clutter the look of the kitchen with a lot of items up there that will never get used and #2, I know we won't live here forever because we'll transfer with my husbands job at some point and I don't want to spend a bunch of money on things I may or may not have space for next time around.  I do have a few clear pieces in some of the upper cabinets (things I already had before this house) but right now that's all I'm willing to commit to!  So the lesson here is don't ever feel like just because you have the space that you have to fill it up.  I think the simplicity and the beautiful seeded glass are fine for now and just as pretty (if not more so) all by their lonesome:).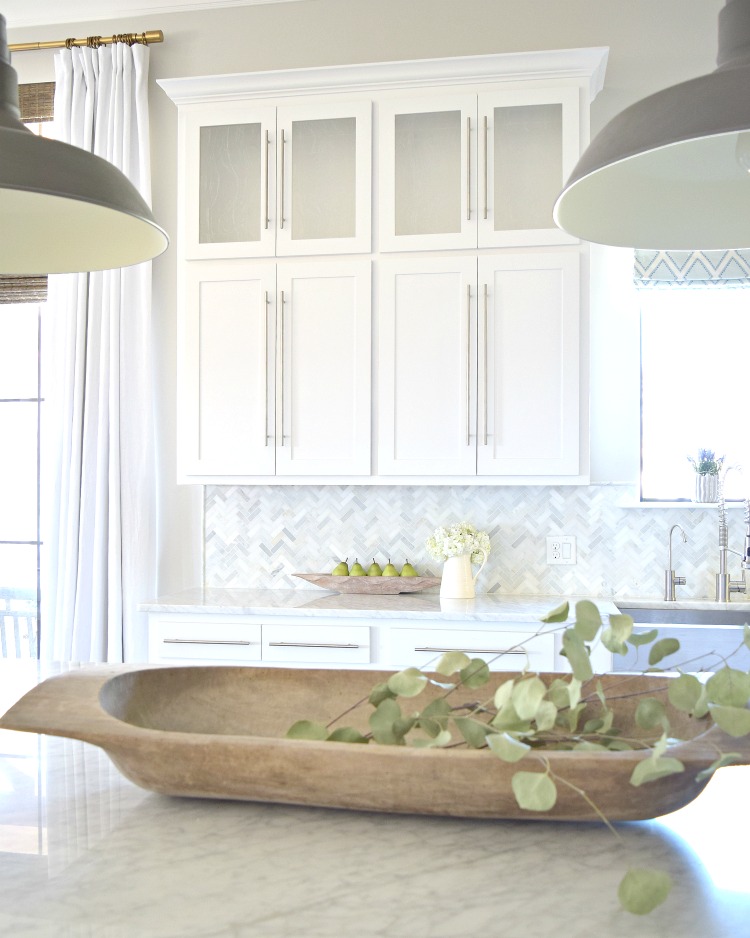 Now back to the cooking side of the kitchen which boats a double convection oven and a gas cooktop.  I wanted something simple over here (and wanted to save money) so I opted for the simple Bosch hood and cook top vs. going with a big expensive range that just wasn't that important to me at the time.  Again, it works for us and is all we need to make this kitchen work for our family.  My favorite thing about this side of the kitchen is that to the left of the double oven is a cubby that kind of hides the coffee pot.  We actually have an appliance cabinet (shown below) but the crock pot and toaster won that spot and since the Kuerig is somewhat attractive I don't mind having it out all of the time, especially since it gets used daily.  One point to note is that if you are building a home and do an appliance cabinet (which I highly recommend) don't forget to have your contractor install an electrical outlet (which goes without saying) and I would even recommend two outlets (or multiple plug ins in one outlet) because I also use this area as a charging station and it's nice being able to plug everything up at once (and hide our device chargers at the same time!).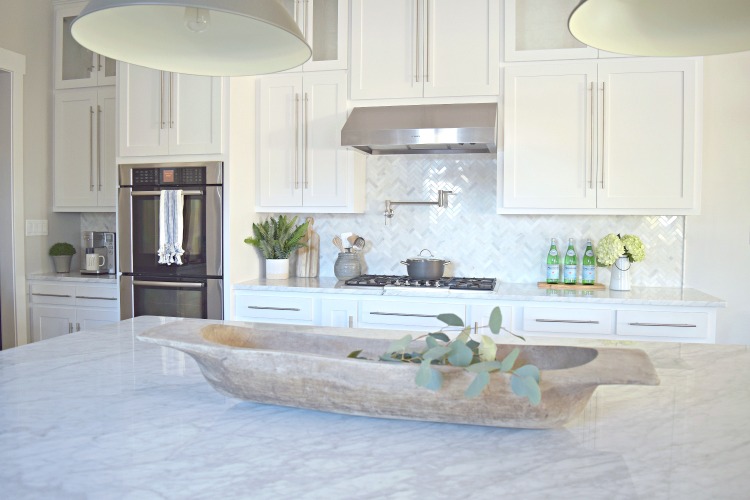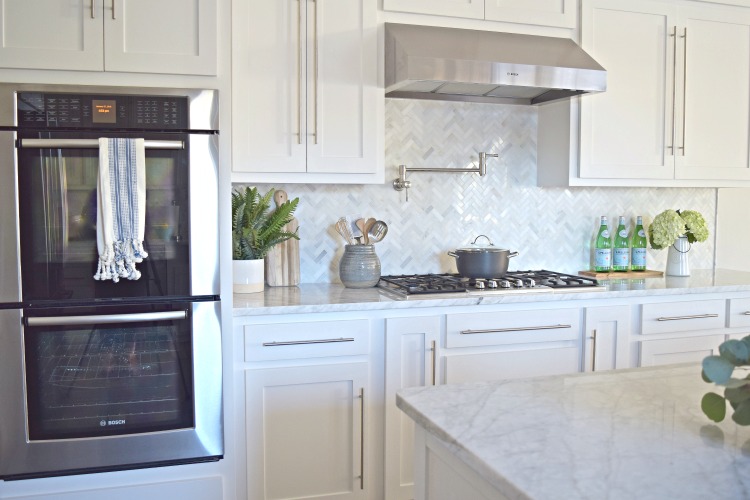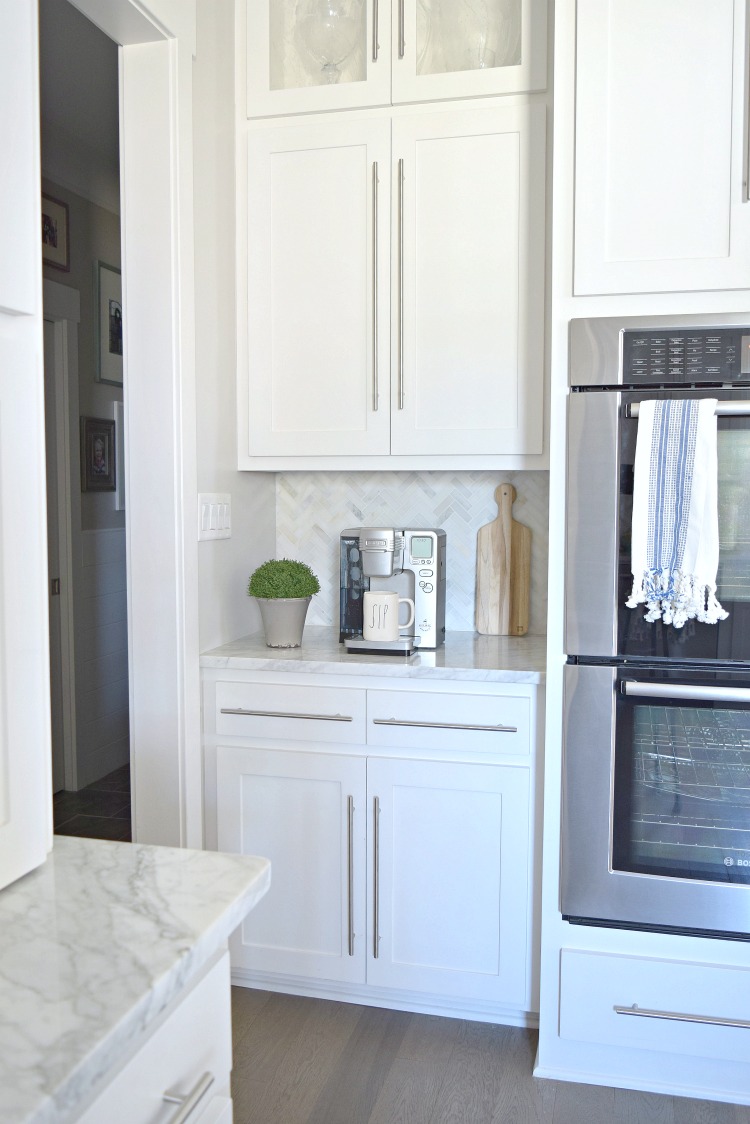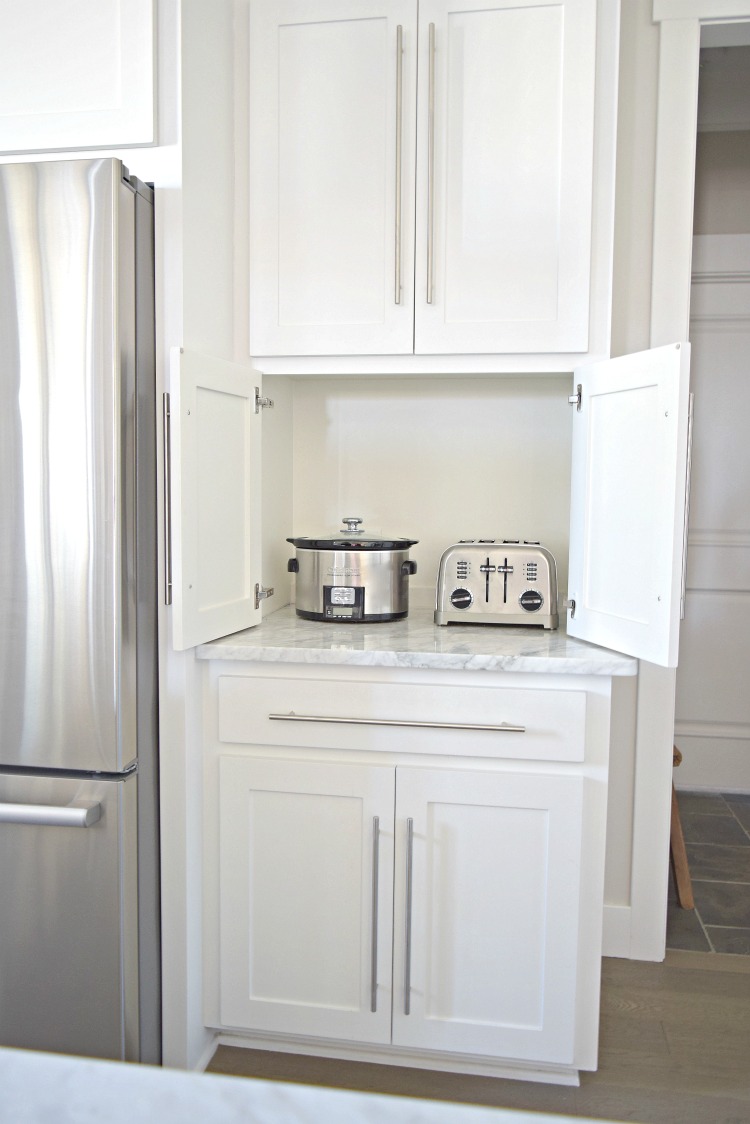 And last but not least, two of the things that people always want to know about in our kitchen the most are the Carrara marble countertops and the herringbone backsplash so while I'll have to cover those two items in a separate post in much greater detail later, I'll speak briefly about them in this post and give you some resources below (UPDATE:  You can now see that post HERE).  The countertops are great and I absolutely love them but they do have their challenges in the kitchen.  In the bathrooms I have no trouble what so ever but in the kitchen you just need to know that they won't always look like they did the day you installed them.  My builder didn't want me to use them and tried to talk me out of them but I had my heart and mind set on Carrara and there was no talking me out of it!  They can chip with a hard knock and they are porous so things like tomatos and other acidic foods can discolor the surface but again, that's something you have to know going in. Maybe I'm just a little too anal but I love them so much that I just tend to be careful as much as possible and wipe up any splatters and spills as soon as possible.  Of course there are things I miss from time to time and my main prep area is mush less than desirable looking but those areas aren't noticeable unless the sun hits them just right.  But there is hope because there are things on the market that you can use daily to clean and polish them that make those challenge areas mush less noticeable and you can even have them buffed, polished, and resealed if necessary (we haven't had to do this yet but I'll keep you updated if we do).  To me they are like hardwood floors that have added character due to scuffs and marks over time and it just doesn't bother me, even though I'm somewhat of a perfectionist and something like a slight discoloration and/or a small dink (which can be fixed by the way by your contractor) would normally drive me crazy.  I kind of hate that marble gets such a bad wrap because I think it's so beautiful and versatile.  I know there are some quartz tops that are similar and they are lovely (I've used them for clients) but to me they will never be the same because marble just has a warm quality to it that can't be matched. All of that said, if you are someone that can't handle the maintenance and/or if you think a few character marks here and there will drive you nuts, I would definitely use another product.   I would however say the pros of marble far outweigh the cons and that they are not as bad as what you may have heard.  Seal them at least once a year, use a good daily cleaner/polisher, and wipe up spills as soon as possible and I think you'll love them as much as I do.  I wouldn't trade the decision to use them for anything in the world and would probably use them again if I had the chance.  The only thing I might do differently next time is to use a different surface on the center island where presumably most of the food prep goes on for most people (which is what I would recommend if you are on the fence).  And just like with anything else in life (and I'm pretty sure I've said this before) it takes a little work here and there if you want them to remain looking nice and I think the trade off of a little maintenance here and there for gorgeous white Carrara marble counter tops is more than worth it.  You just have to decide for yourself if you have the personality to deal with the quirkiness of this amazing natural stone.
The second most popular kitchen question I get is about my backsplash, which is also Carrara marble.  I actually recently swapped out the original back splash that we had installed for this herringbone Carrara marble and I'll talk more about that later but, I couldn't be more happy with the decision to use this product.  It's a 1×3 Carrara marble herringbone product that comes in 12×12 sheets from Lowe's Home Improvement but I've also sourced some other places to find it below.  There really are no cons to this product other than if you happen to splatter something while cooking, don't forget to wipe it down while cleaning the kitchen that evening.  Especially if I cook spaghetti or something with a red sauce I make sure to check behind the cooktop real good for any signs of a splatter.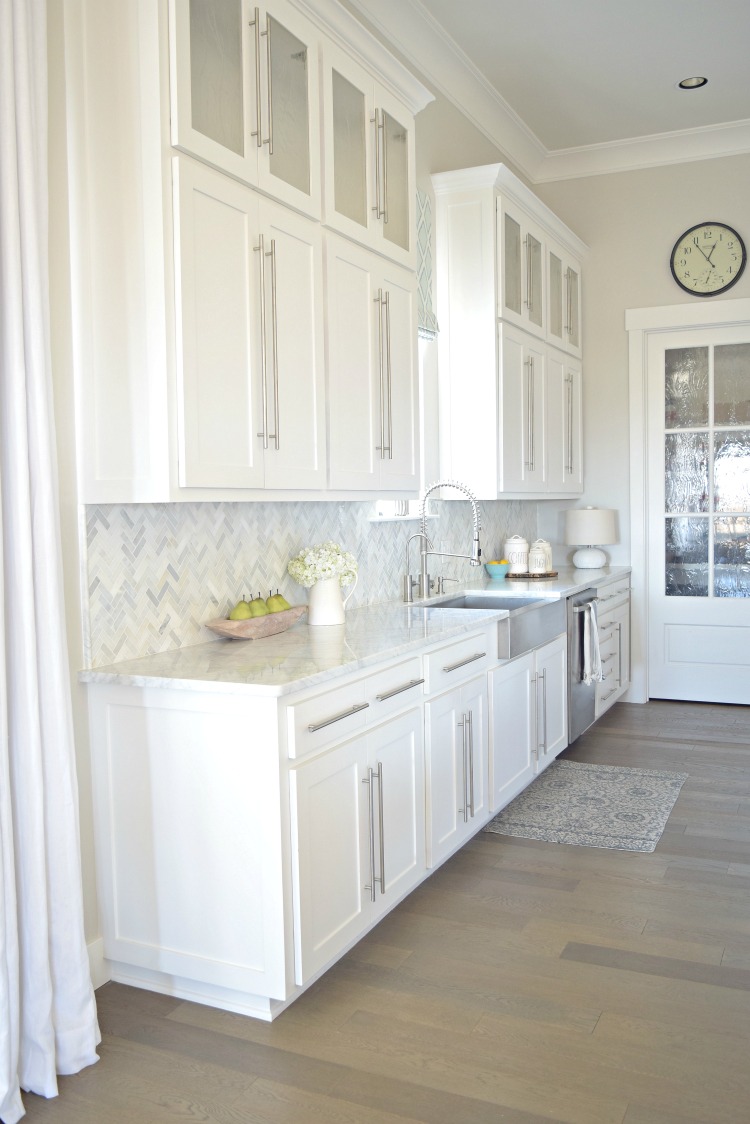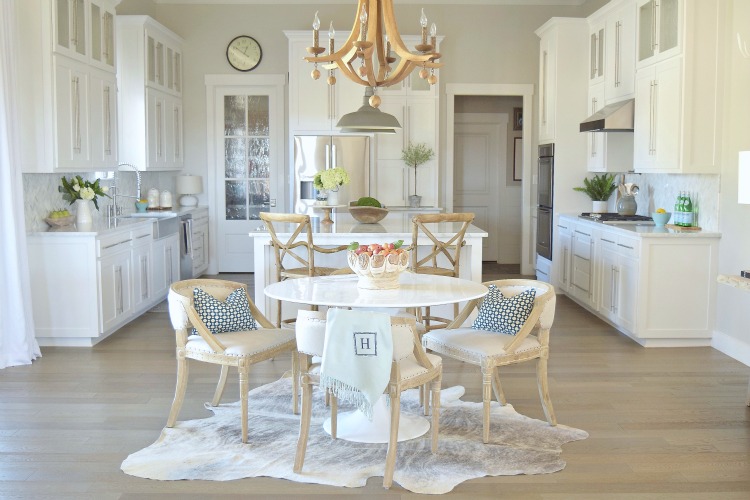 Get the Look




I hope parts of this post were helpful and that enjoyed the tour.  I also hope you'll come back later when I go into greater detail about the backsplash and countertops but in the mean time I'm happy to answer any questions you might have about either.  As always thank you for stopping by and remember, I love hearing from you so please don't forget to comment!!  And please also remember to sign up for my weekly news letter to be notified of new blog posts for the week!
Xoxo,   Bree
Shop This Post | Some Affliate Links Used and Substitutions have been Provided Where Item is No Longer Available:
For a full list of resources for this space please click HERE and for a full post all about the carrara marble herringbone backsplash click HERE
Carrara Marble Herringbone (similar) | Kohler Stainless Apron Sink | X Back Wooden Bar Stools | Carved Oak Dining Chair (similar) | Carved Oak Dining Chair (similar) | Stainless Bar Pulls (cabinet hardware) | Gray Brindle Cowhide Rug (similar) | Commercial Stainless Faucet | Drinking Faucet | Pot Filler | White Saarinen Style Tulip Table | Saarinen Tulip Table | Kitchen Rug | Monagrammable Throw | Bosch Refrigerator | Bosch Dishwasher | Bosch Gas Cooktop | Convection Double Oven | Bosch Microwave | Crockpot | 4 Slice Toaster | Kuerig | White Carrara Bullnose/Trim | Marble Cleaner/Sealer | Breakfast Table Wooden Chandelier (similar) | Wooden Chandelier (similar)
Cabinet Color: Decorator's White by Benjamin Moore 
Wall Color: On The Rocks by Sherwin Williams