Late Summer Refresh Tips & Tour
I love the lazy days of summer when we have no schedule, can run to the pool at a moments notice and when I make time to refresh and declutter before the fall season rolls around.  There are a few things I like to do around my home about this time of year that make my home feel clean, organized and clutter free so today I'll be sharing with you a late summer refresh with tips and a tour.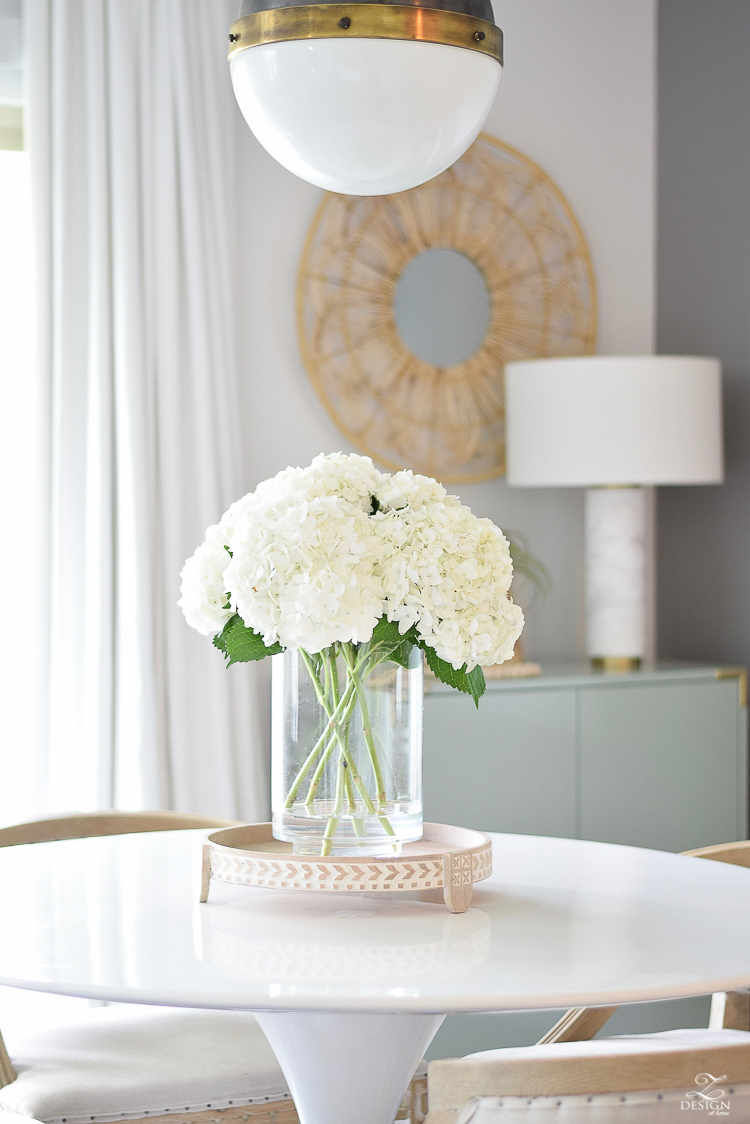 I like to keep things easy by simply having a large bundle of hydrangeas around (I buy them at my local grocery store 3 to a bundle for around $6.50).  If you know how to care for hydrangeas they are easy to take care of and can last for several weeks.  You can find my post and tips HERE on How To keep Your Hydrangeas Happy For Weeks!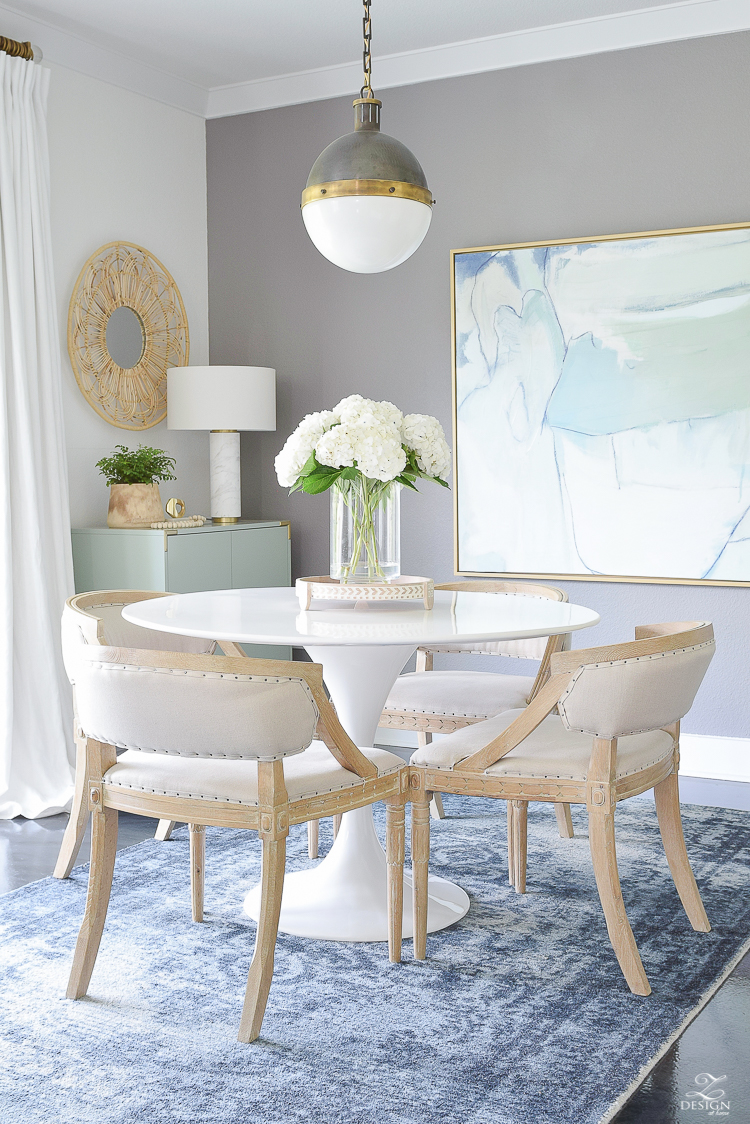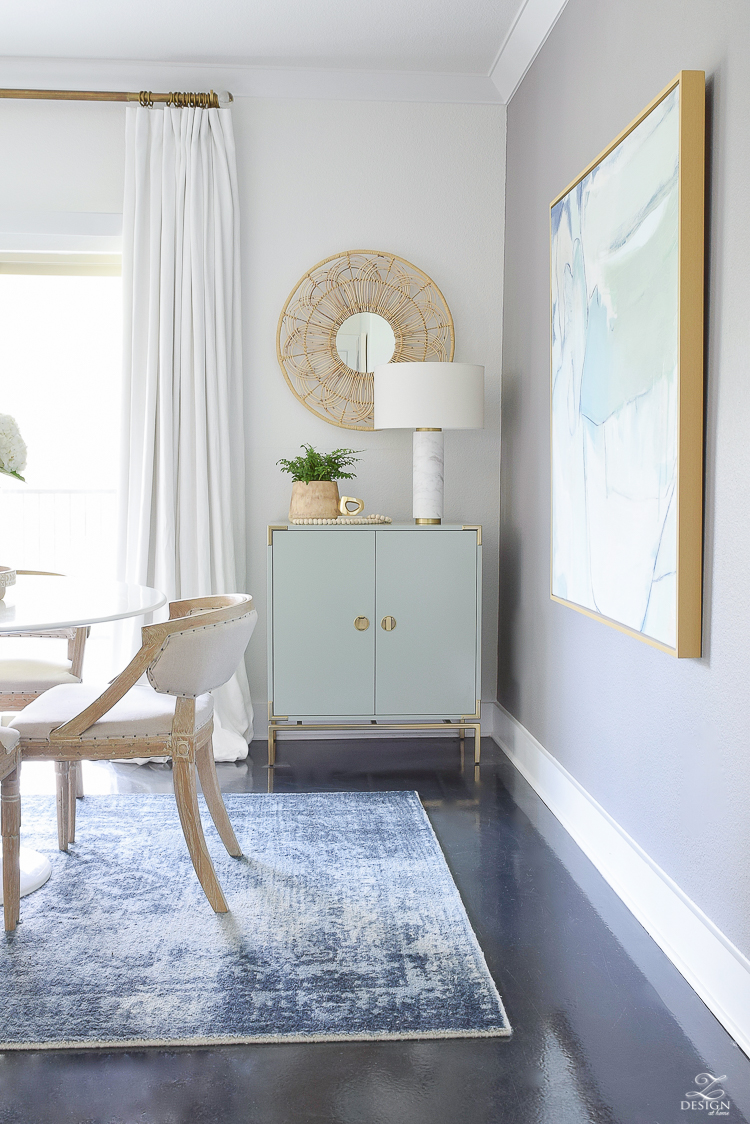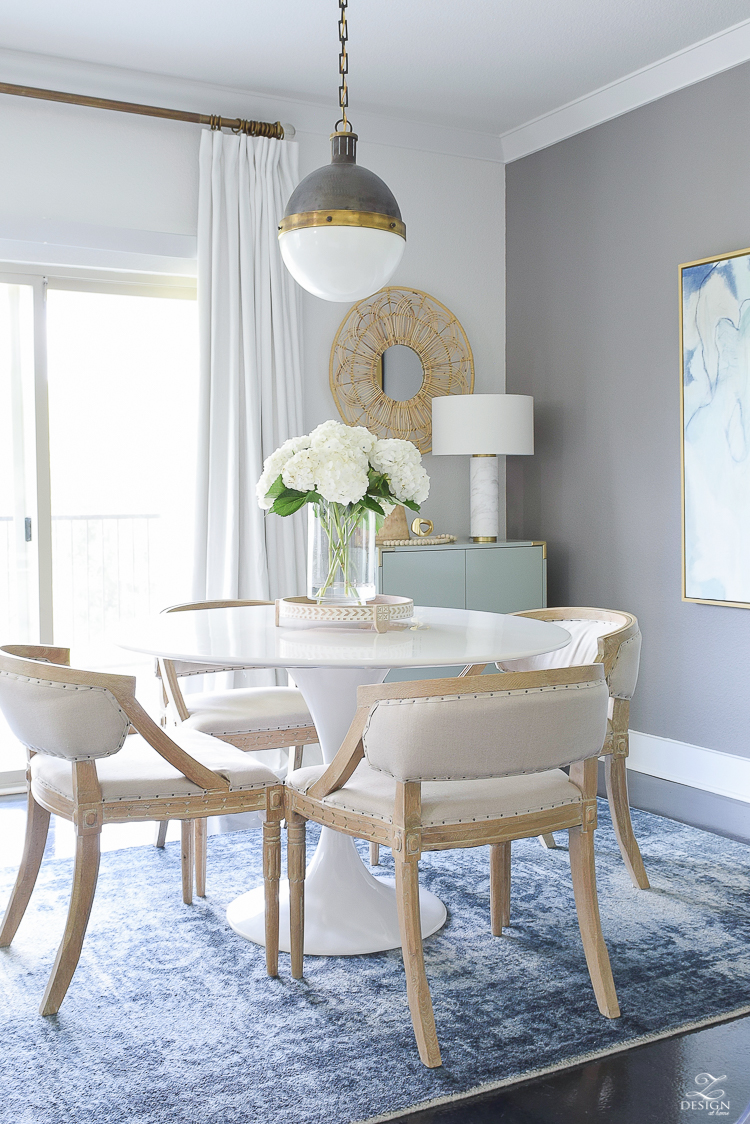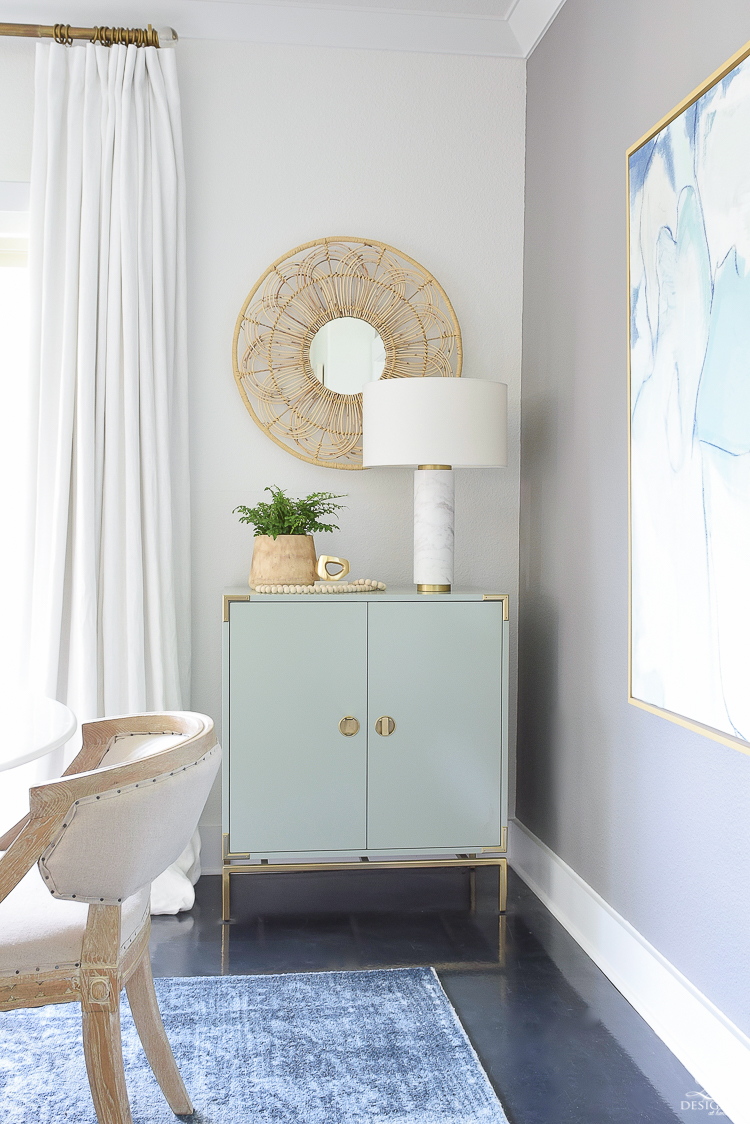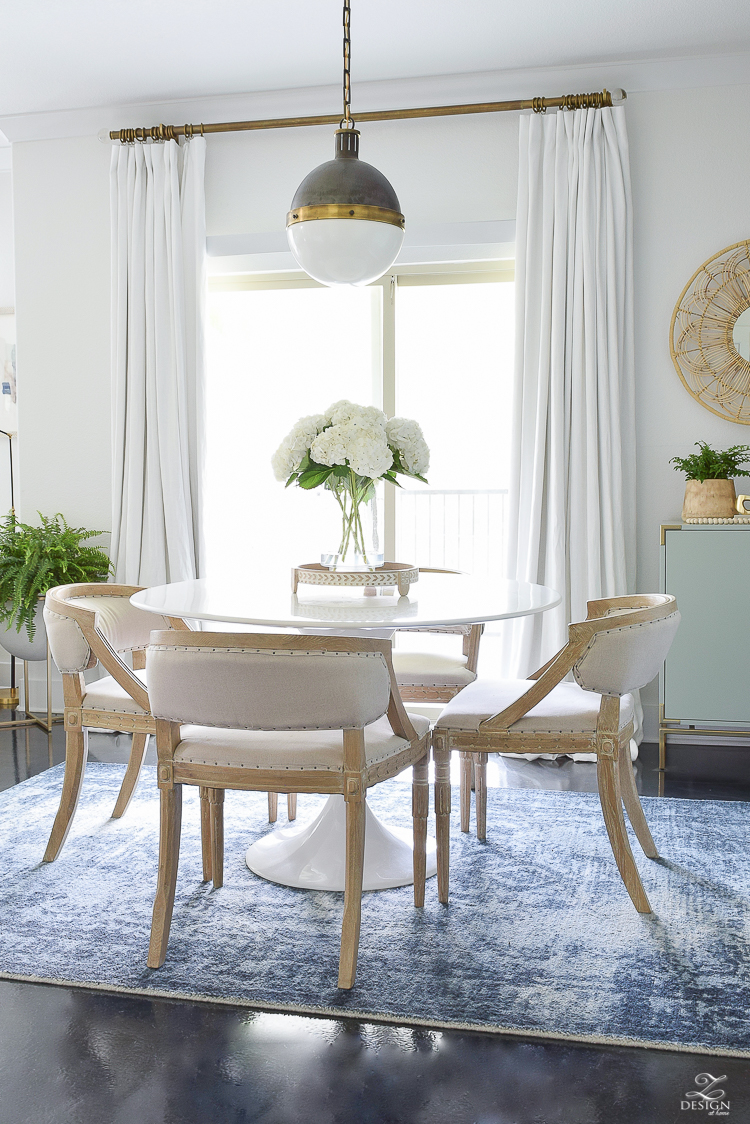 Lately, I also like to just have simple greenery around.  A potted plant or a bundle of greenery from your local grocery store can also last for weeks and is a great thing to have around for low maintenance when you might be traveling and away from home a lot during the summer months.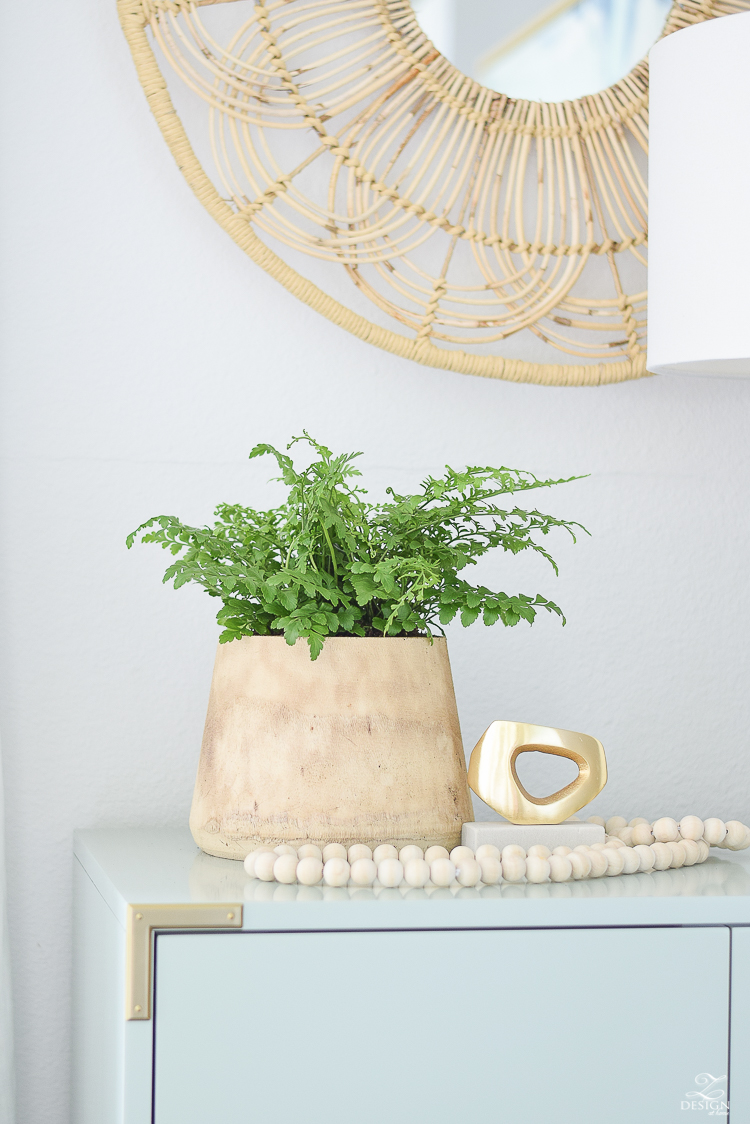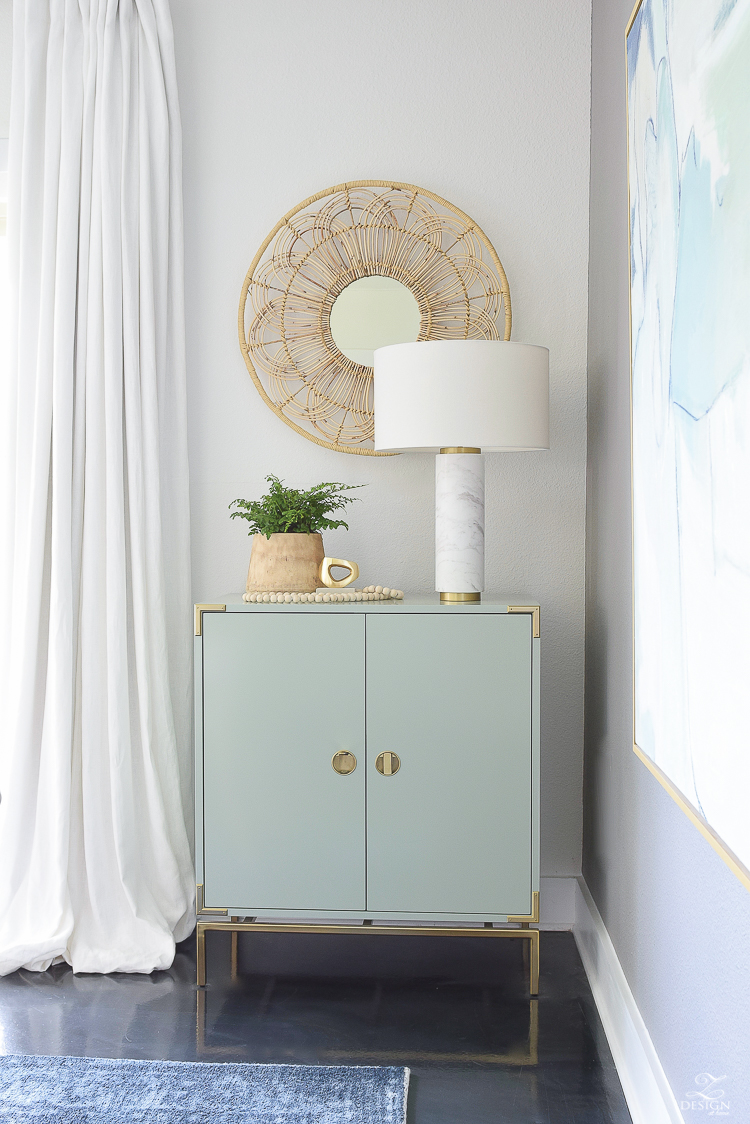 In the living room, for a simple refresh bringing out pillows from previous seasons and using simple greenery for a clean look to move into fall is the perfect transition.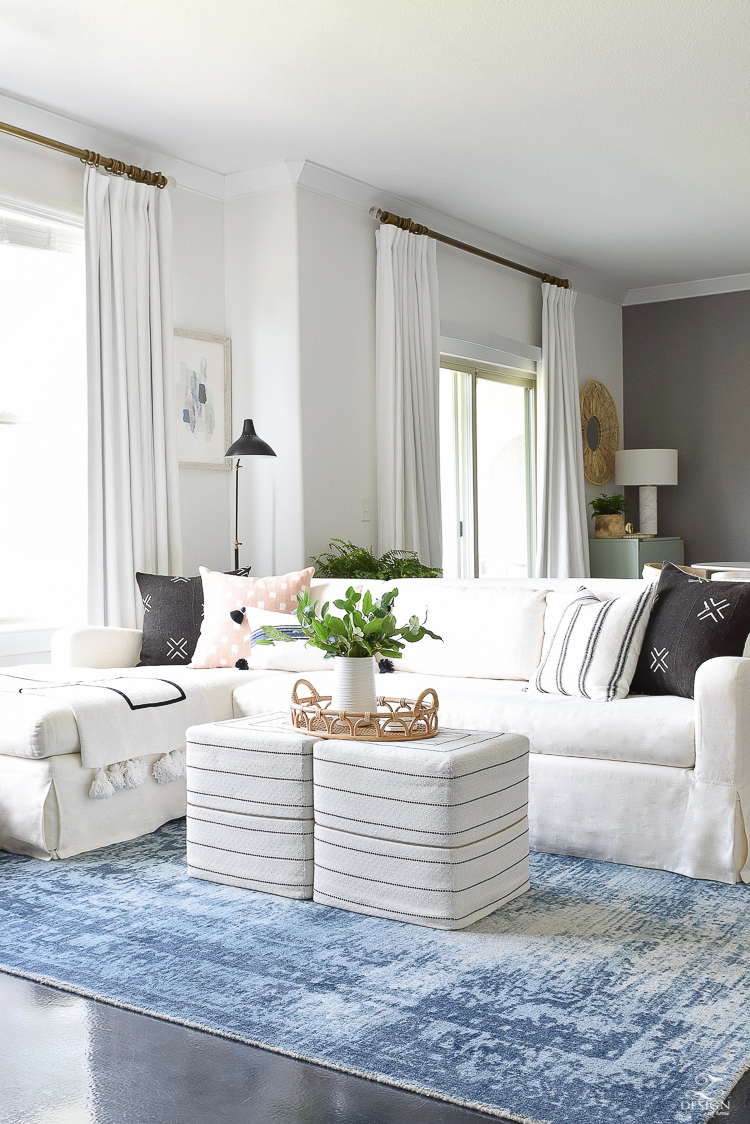 In addition to greenery, rattan and natural wood are also a great way lately to make a space feel fresh and modern.  I still love this rattan tray and have loved the natural quality this stump has brought to my living room for years.
I love how this pillow combo picks up on the art on the wall behind the sofa.  The art brings all of the colors in the space together.
Black X Pillow | Peach/White Dot Pillow | Striped Lumbar Pillow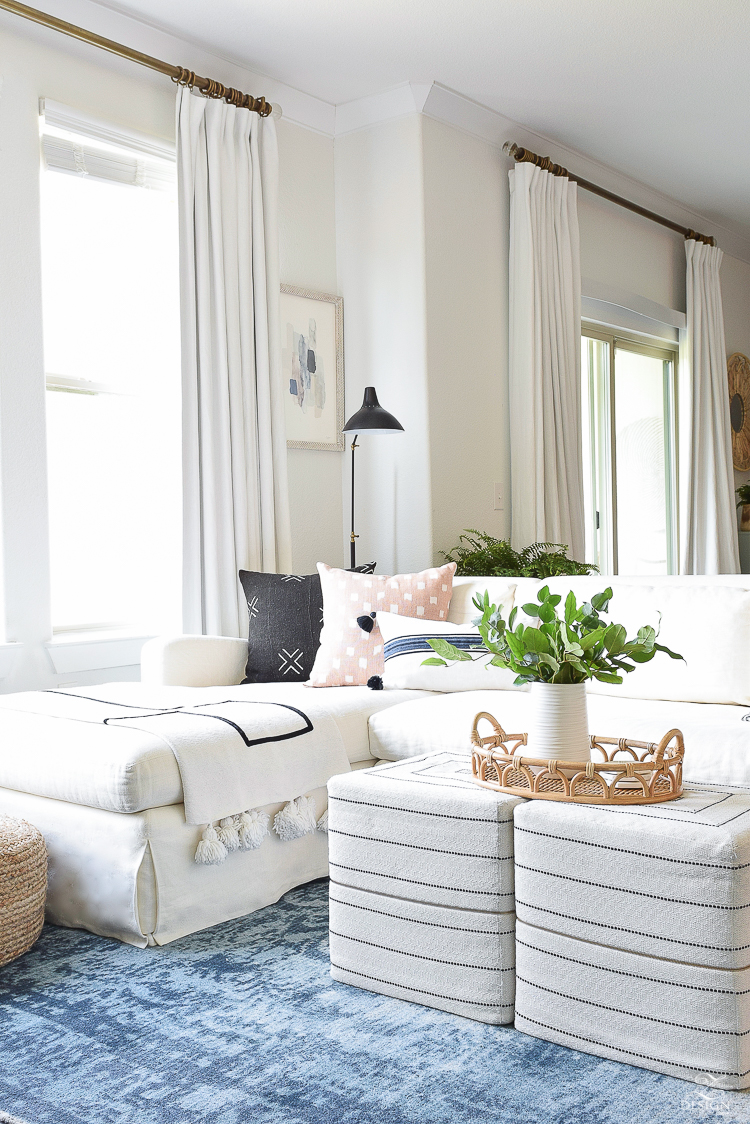 I used the black pillow this past spring, the peach pillow was one that I got a few months ago but never used it until now and I borrowed the striped, tassel pillow from my son's room (reveal of that room HERE).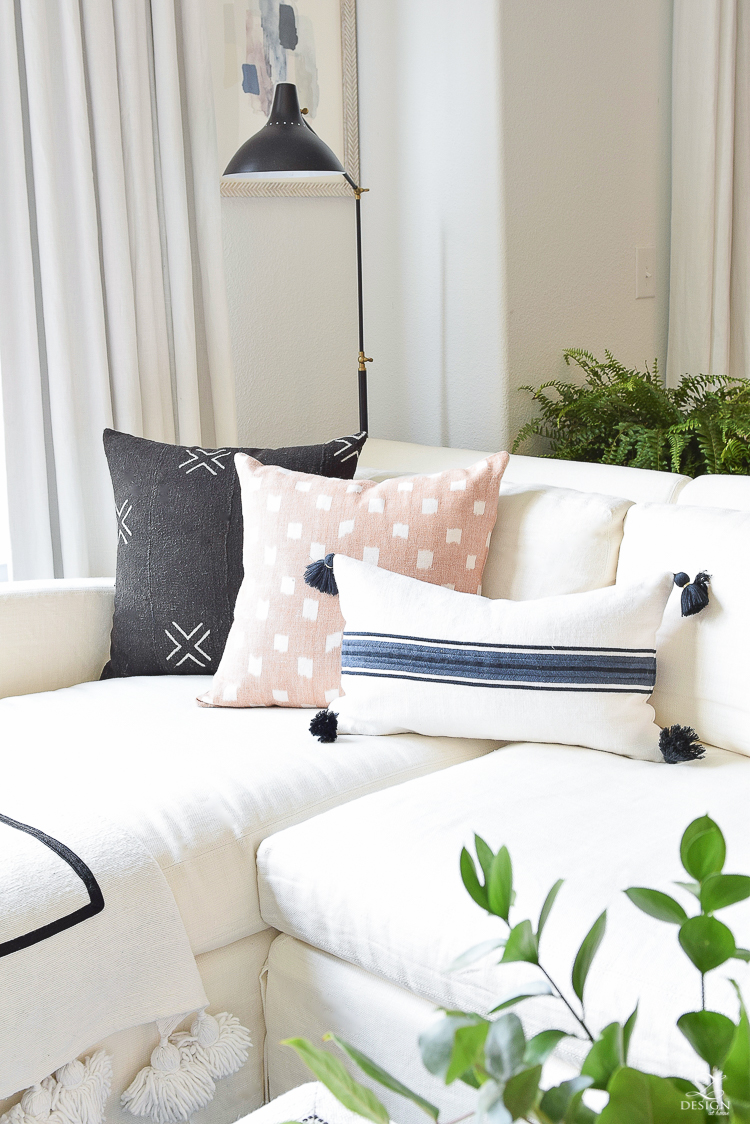 Moving art or lighting from another space in your home can also serve as a refresh and make your space feel brand new.  I moved this abstract art from my bedroom, replacing what was here before and it gives this wall a whole new look.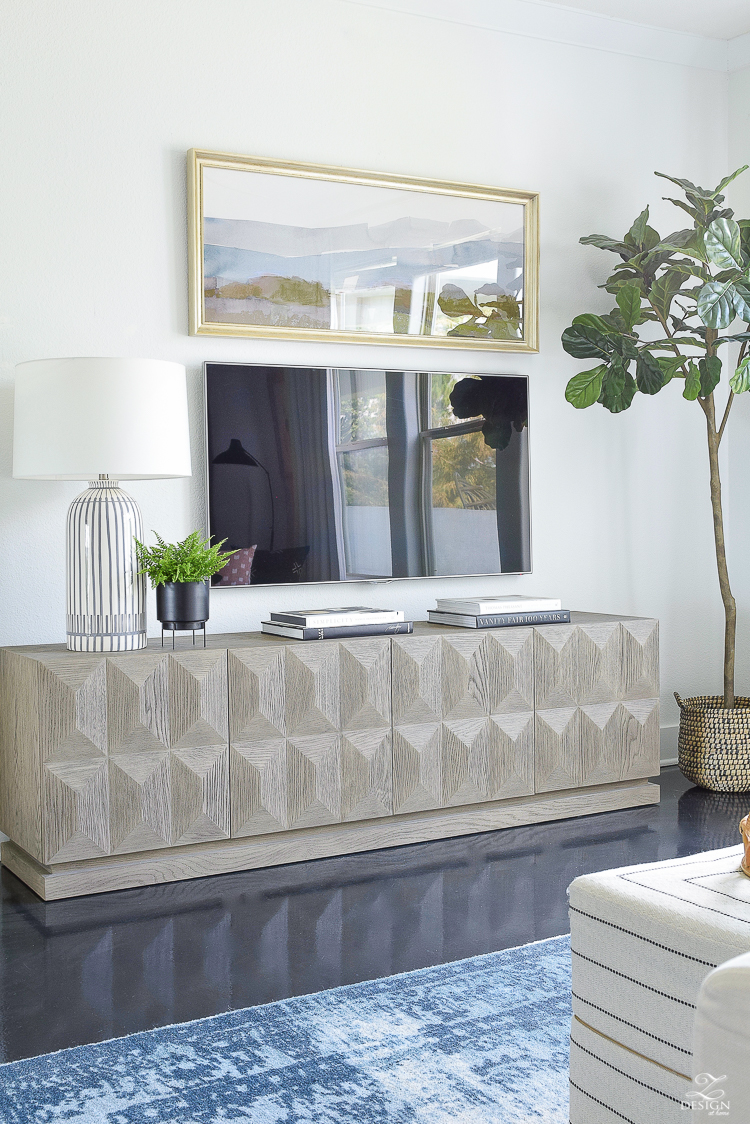 I had been looking for an oversized lamp for this spot and the size and style of this lamp was perfect.  I also added this black metal planter.  The pop of black adds a fresh modern feel to this area and can be used to add more greenery to this side of the room.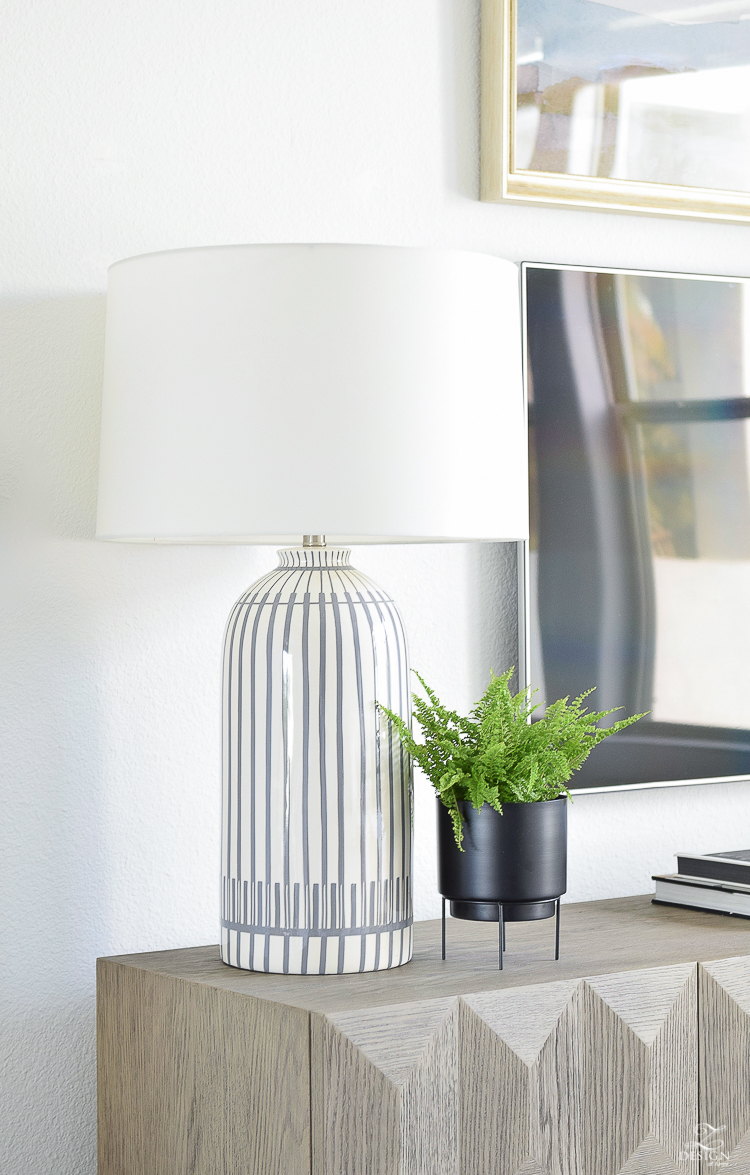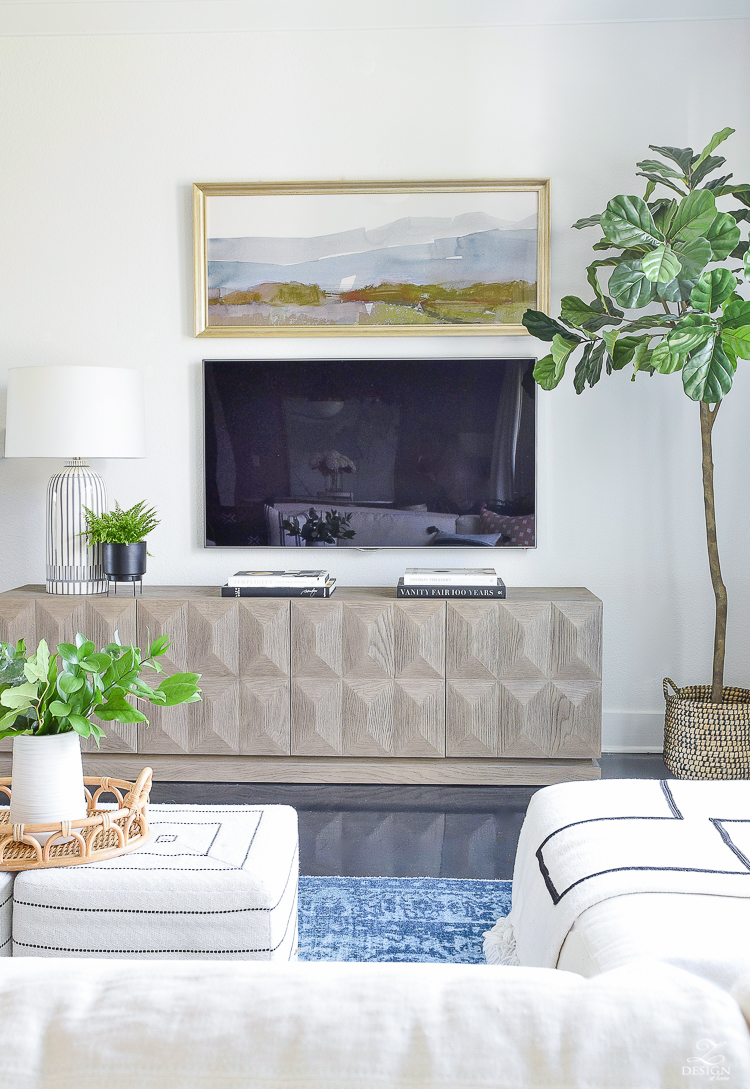 Like I talked about in most post from last week, Late Summer Decor Ideas That Will Take You Into Fall, adding texture is a great way to refresh during late summer that will take you into fall.  Adding this textured basket was great because it was a more appropriate size for this spot (and fits the pot on my faux fig much better).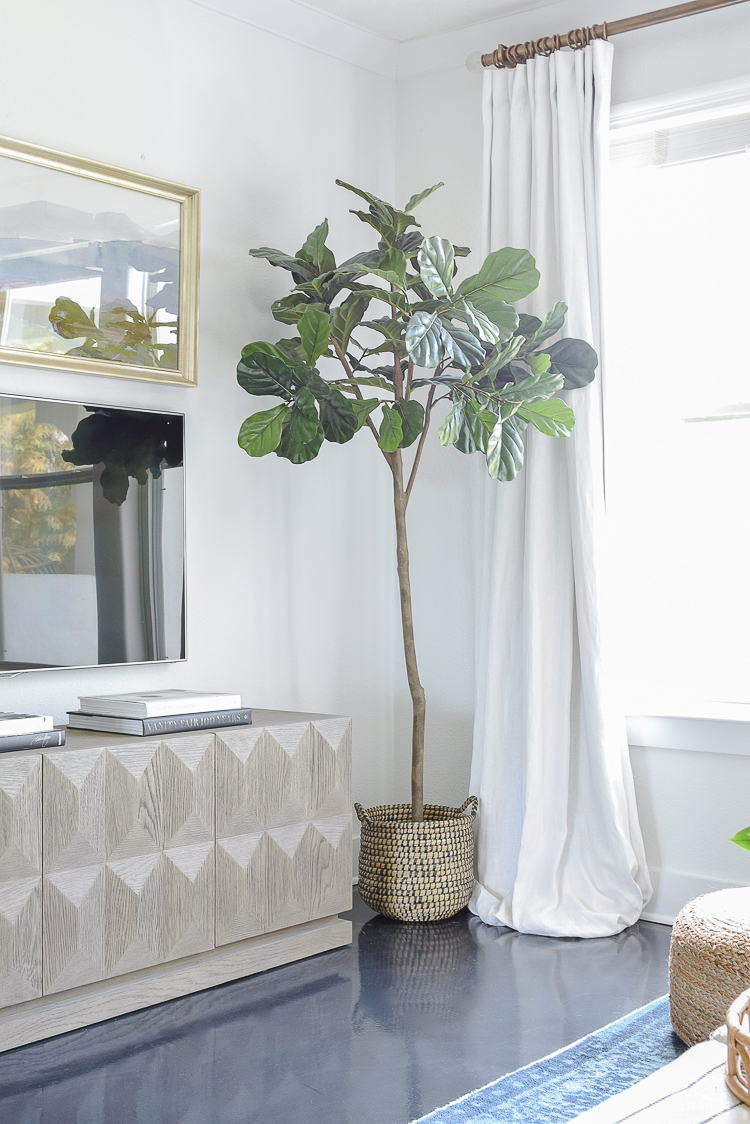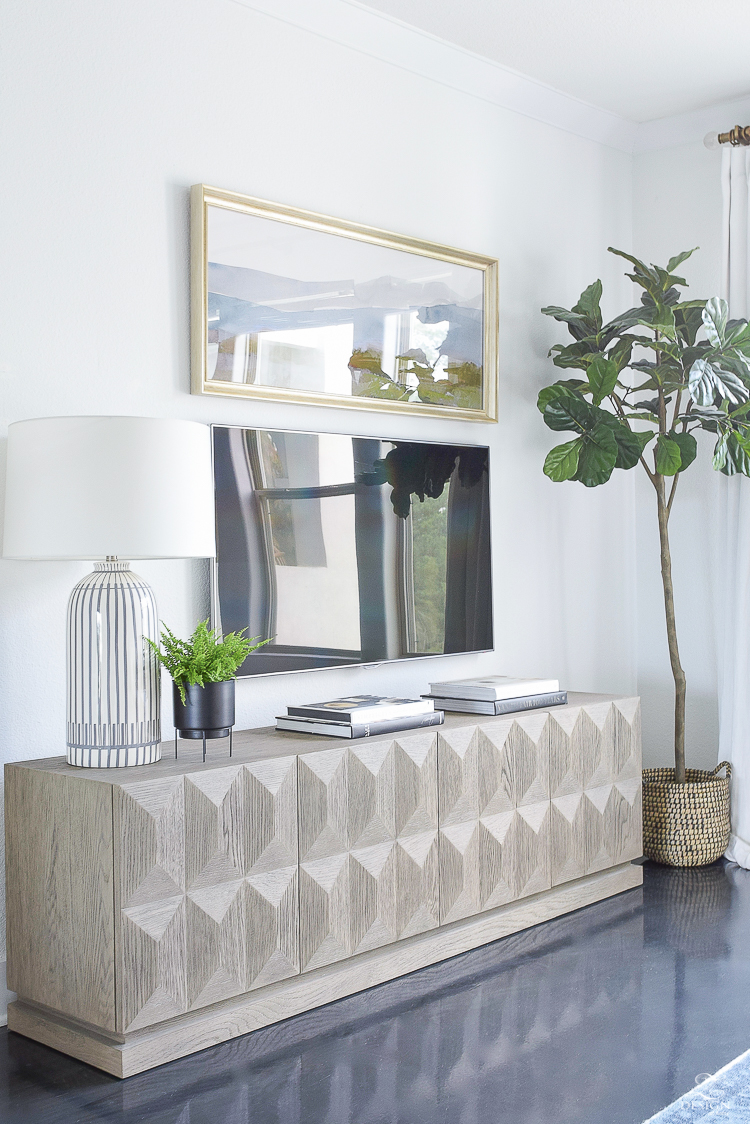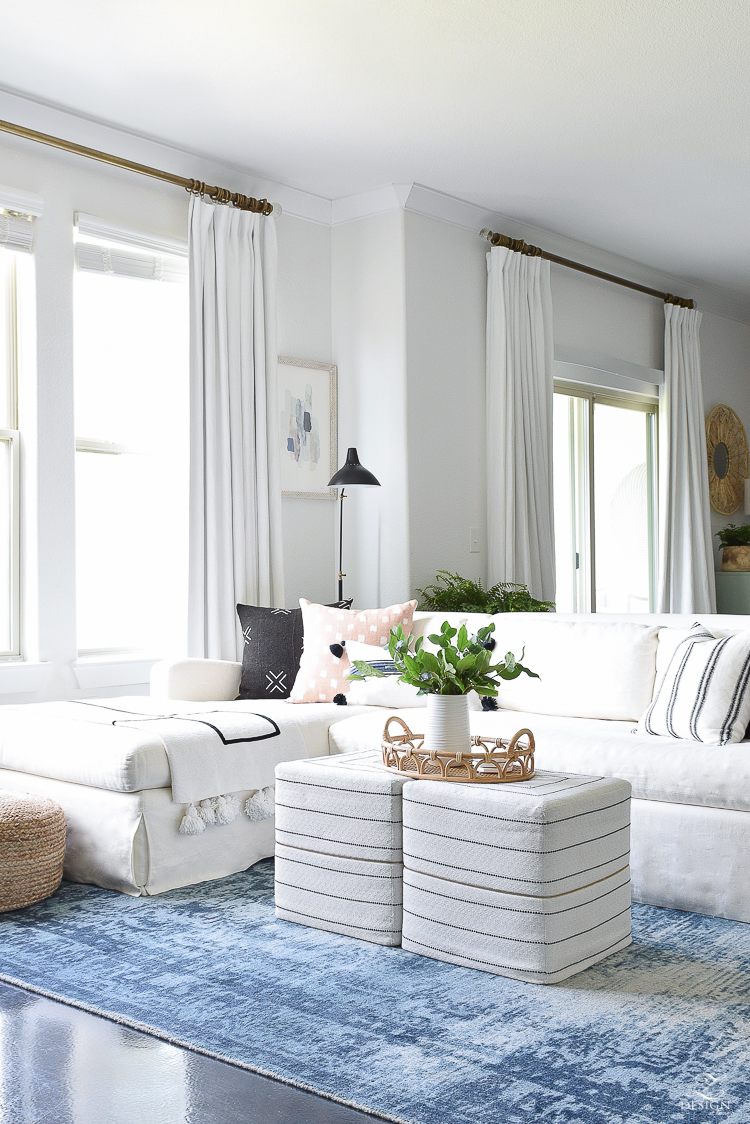 Flowers by the bed are always a staple around here.  Minimal changes in here but once again moving things around the house makes the master bedroom feel fresh and new again.  If you don't have the budget to make your spaces feel updated never underestimate the power of simply moving things around the house to give a room a whole new look!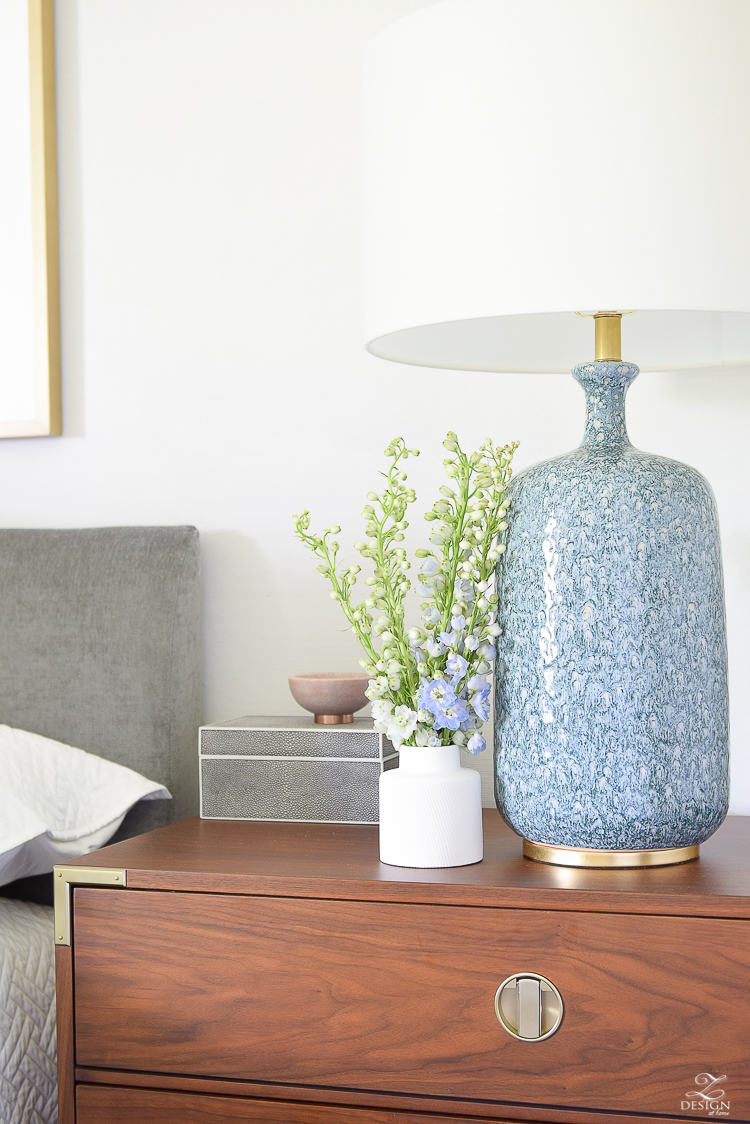 I put the One Room Challenge art back in the bedroom, along with my ORC pillows & bedding but moved them around – specifically flipped the large decorative pillows to reveal a different side which gives my bedding an all new look.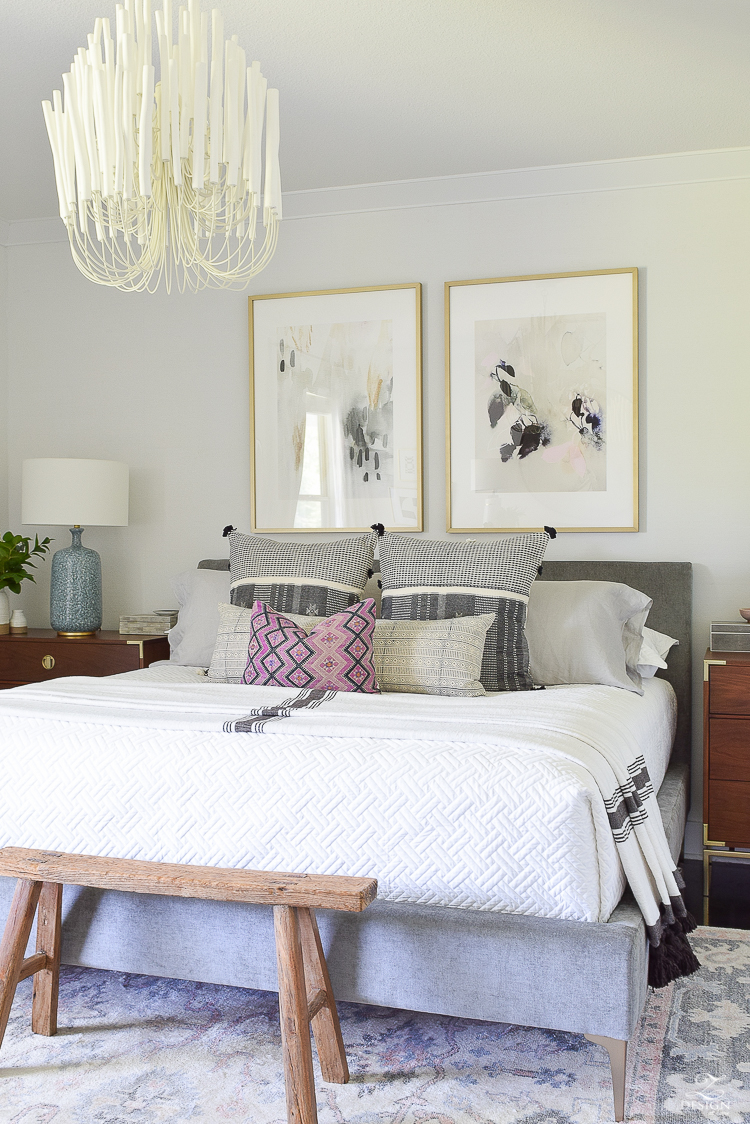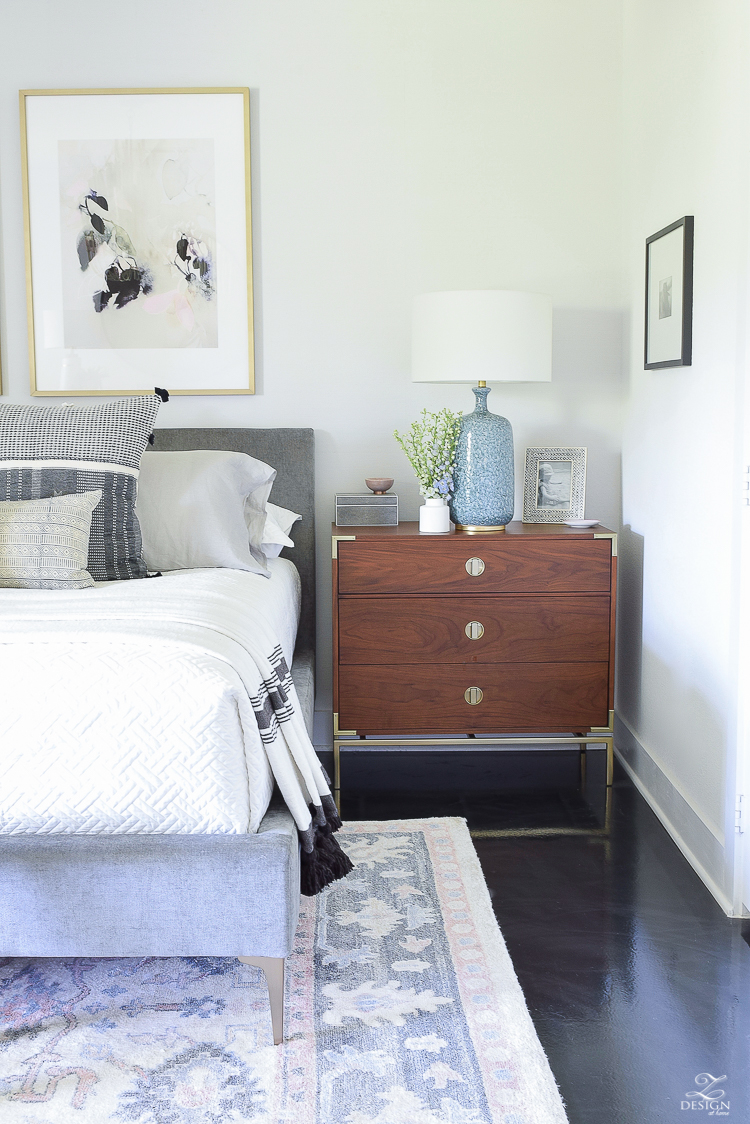 Adding a new (or different) throw to the end of your bed can also give your bedding a fresh new look.  I added this black and white throw with the large black tassels.  Can't get enough of that racing stripe down the center and sides too!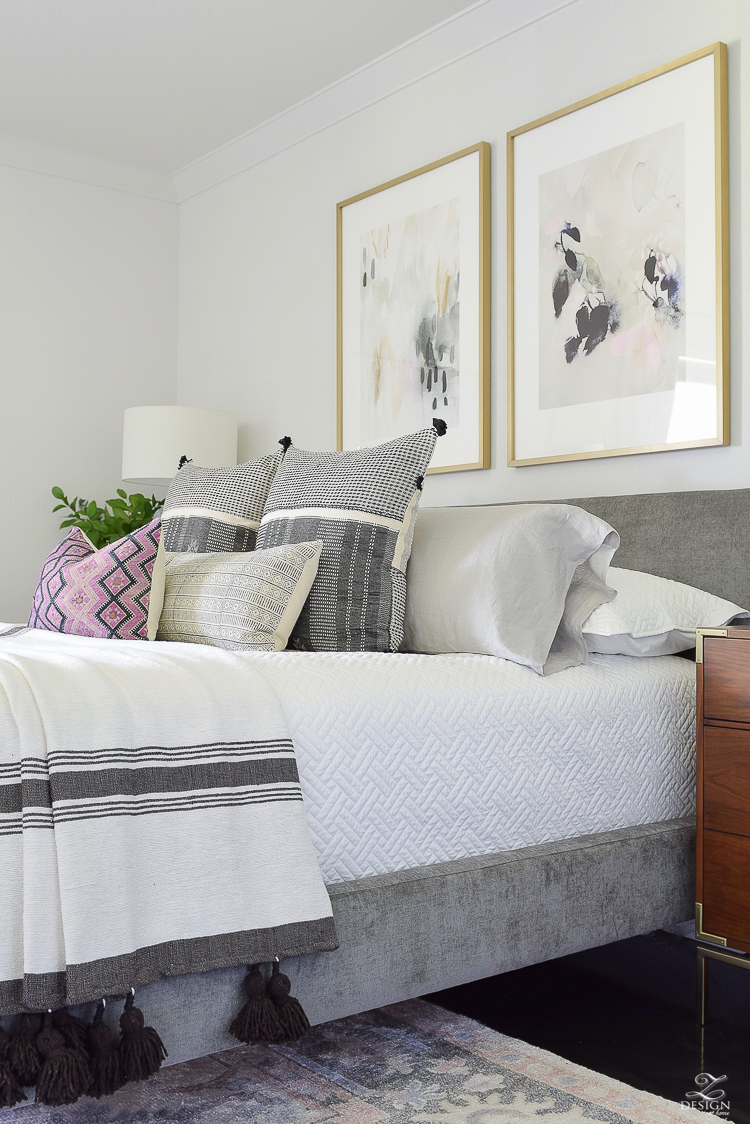 I also kept my gray linen sheets from late spring, early summer.  If you haven't tried linen bedding, you must!  It's actually great for any time of year and has a unique feel that nothing else can touch in the bedroom.  You can read more about my linen bedding and how much I love it HERE.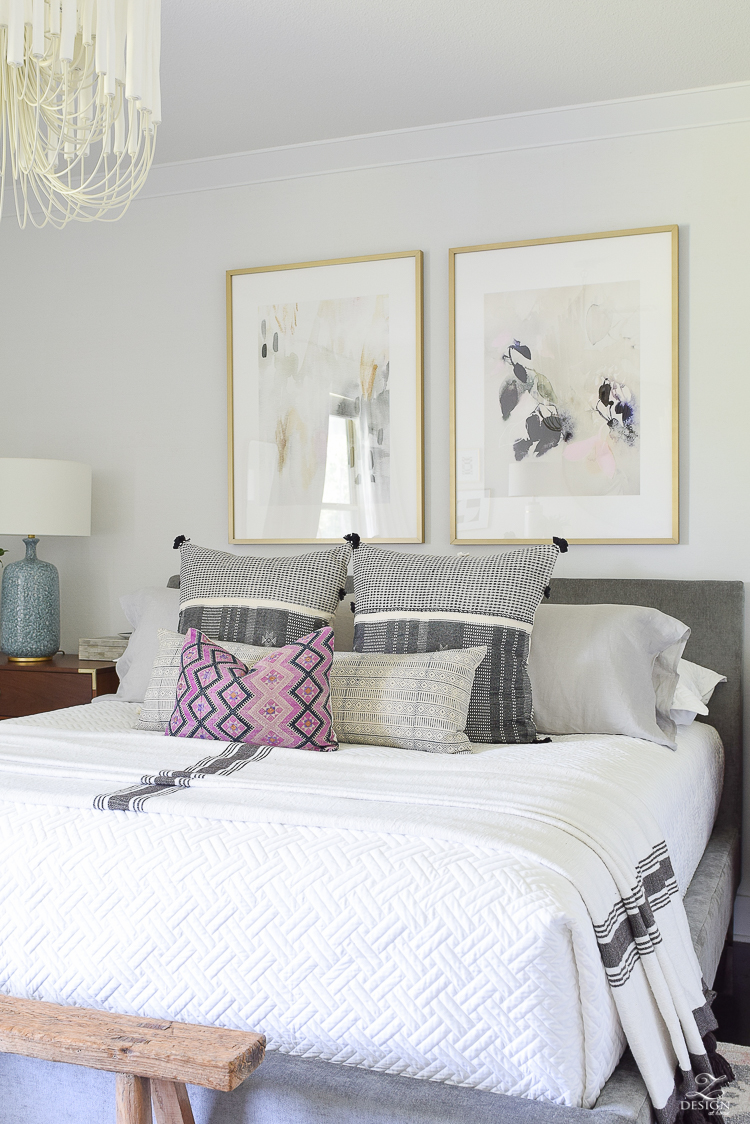 Some simple greenery in a much loved vase always adds a pop of color and freshness to my husband's night stand.  This is something I do for him that he really appreciates!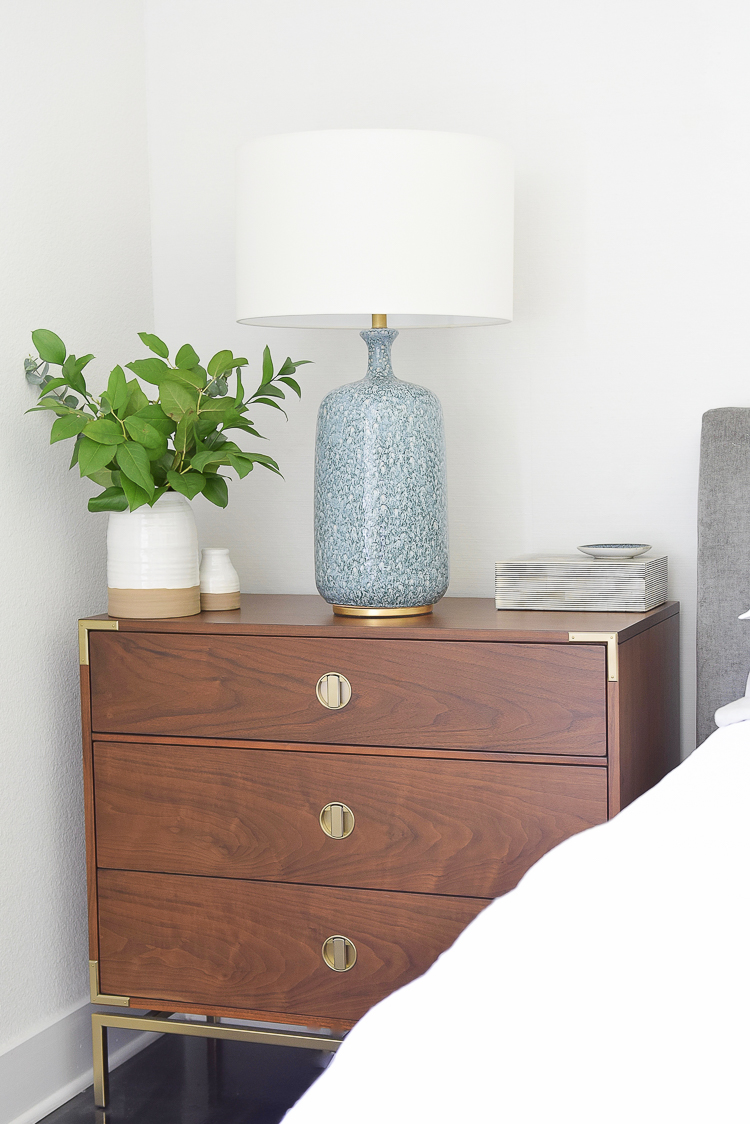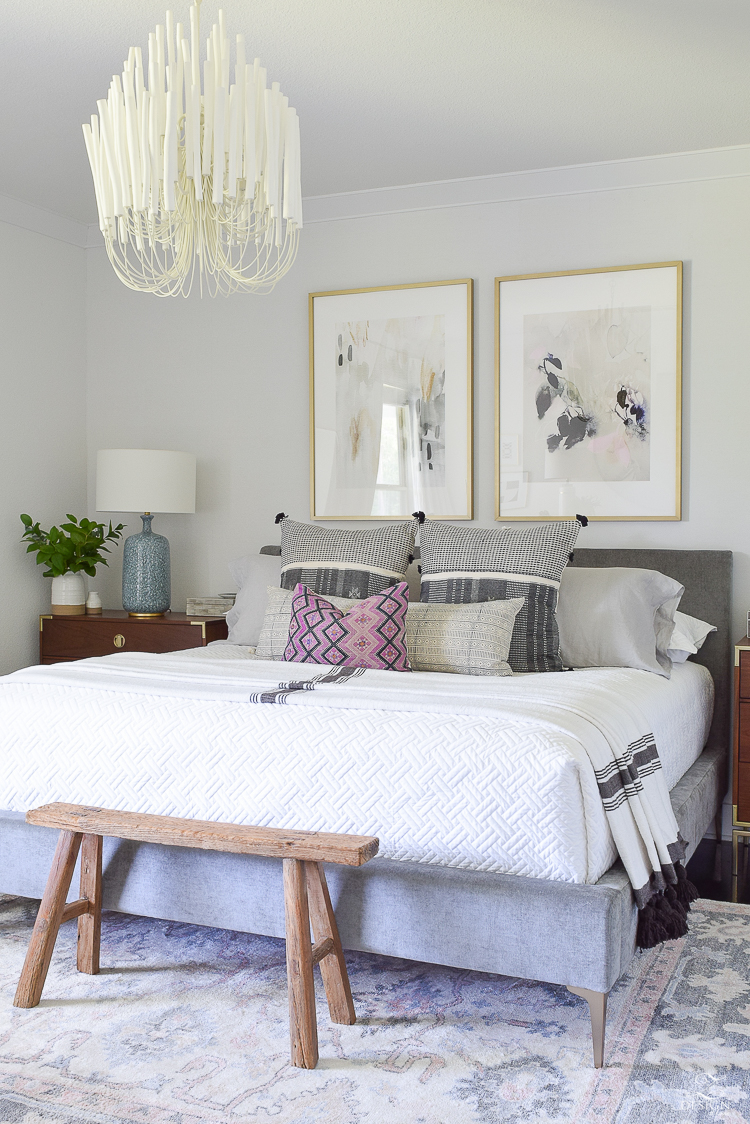 One the dresser side of the room more greenery and a new gold pot for a small fern.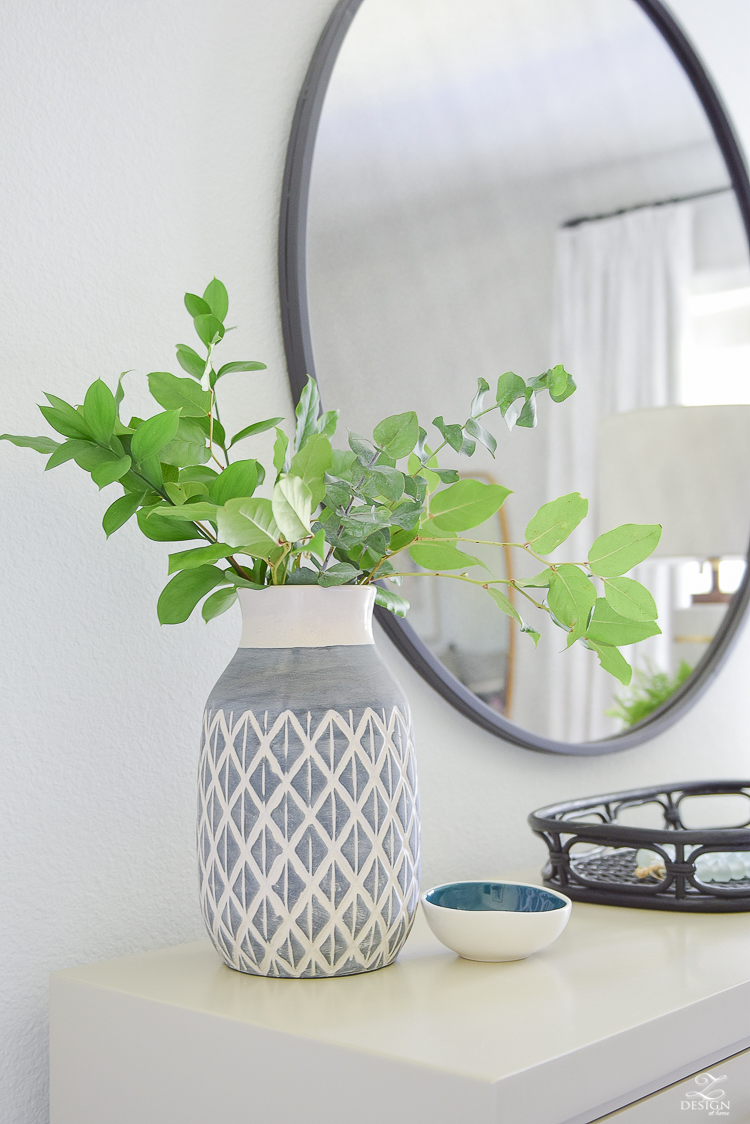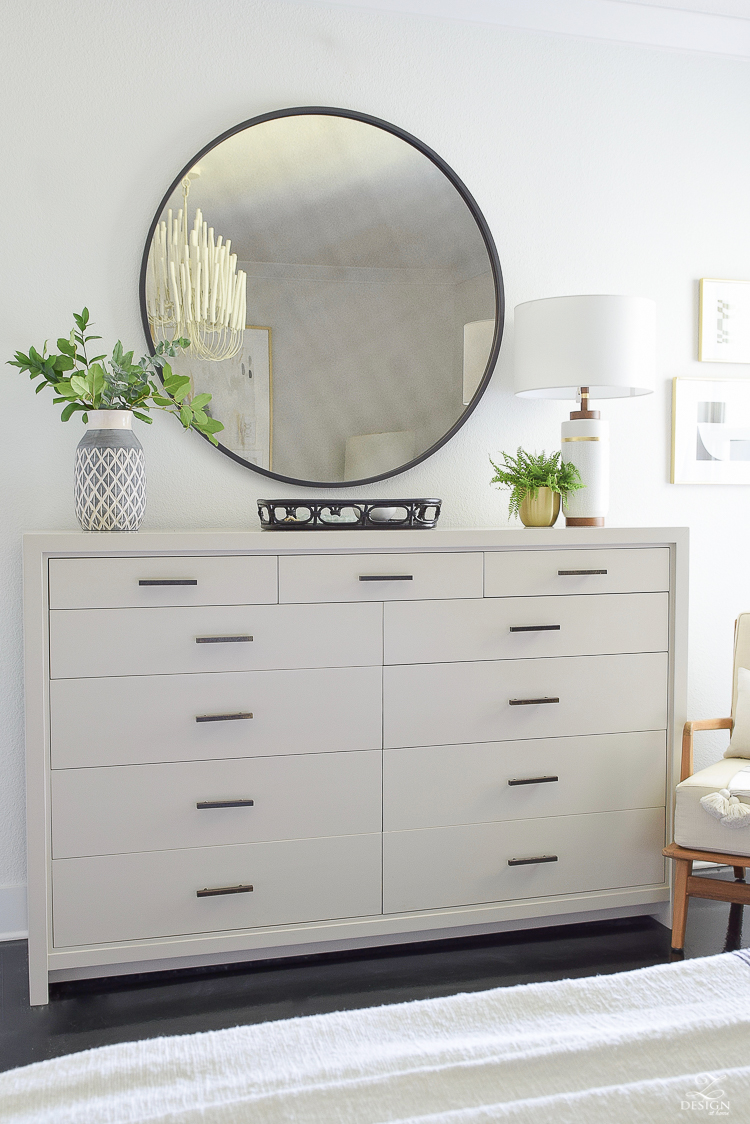 This cute gold pot will be a great transition piece this fall and will flow through winter and be useful for Christmas decor in a few short months.  The key to updating in late summer is to make sure that any new pieces you add will flow seamlessly into the next season and beyond.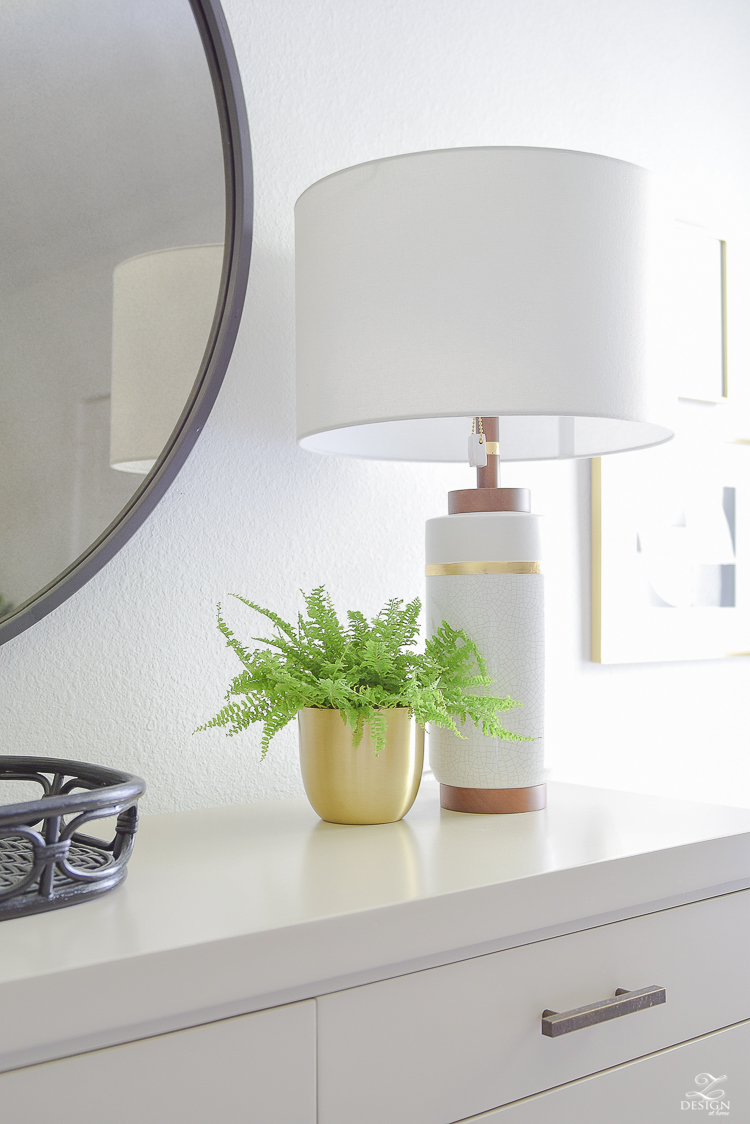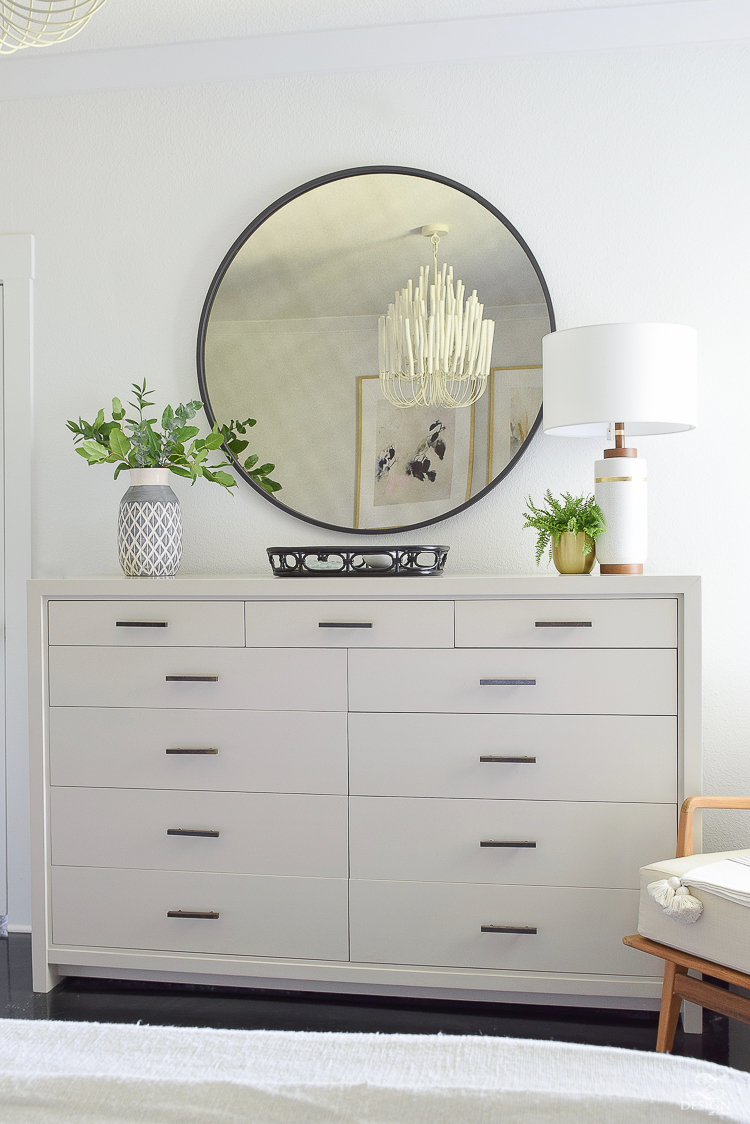 Let's Recap:
Use low maintenance plants and flowers for ease
Move things around the house to get a fresh new look
Add a couple of new, affordable pieces that pack a big punch
Reintroduce pillows & throws you haven't used in a while
Declutter for a fresh look and feel before fall rolls around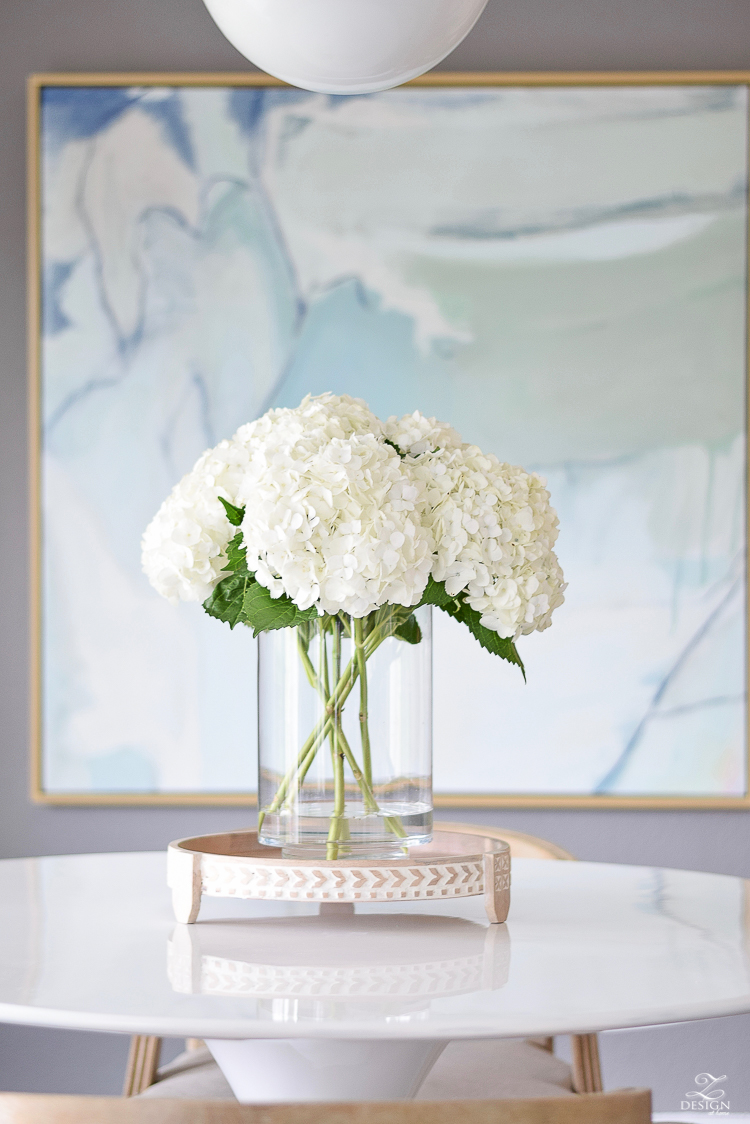 I hope you've enjoyed my late summer refresh tips and tour!  We're still in summer mode around here so I'll be enjoying these principals for some time now and probably into early fall.  Please let me know in the comments below if you have any questions and thanks for stopping by the blog today!!
And, last but not least, please hop over to my dear friend Jennifer of Decor Gold Designs to check out her 7 Simple Home Refresh Ideas!  Jennifer's images are always stunning and here tips are always on point!  Enjoy!!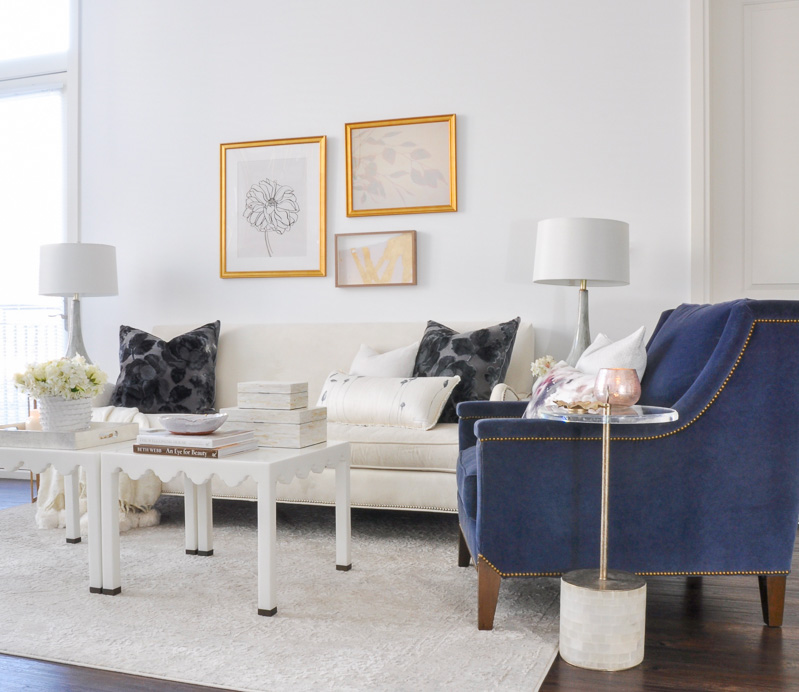 Dining Room


Living Room



Bedroom