One Room Challenge – Master Bedroom Reveal
Hi there, friends!  I can't believe it's finally here!  After six weeks (technically five) of my home looking and feeling like a UPS drop-off location I am so excited to finally share this One Room Challenge Master Bedroom Reveal with you today!!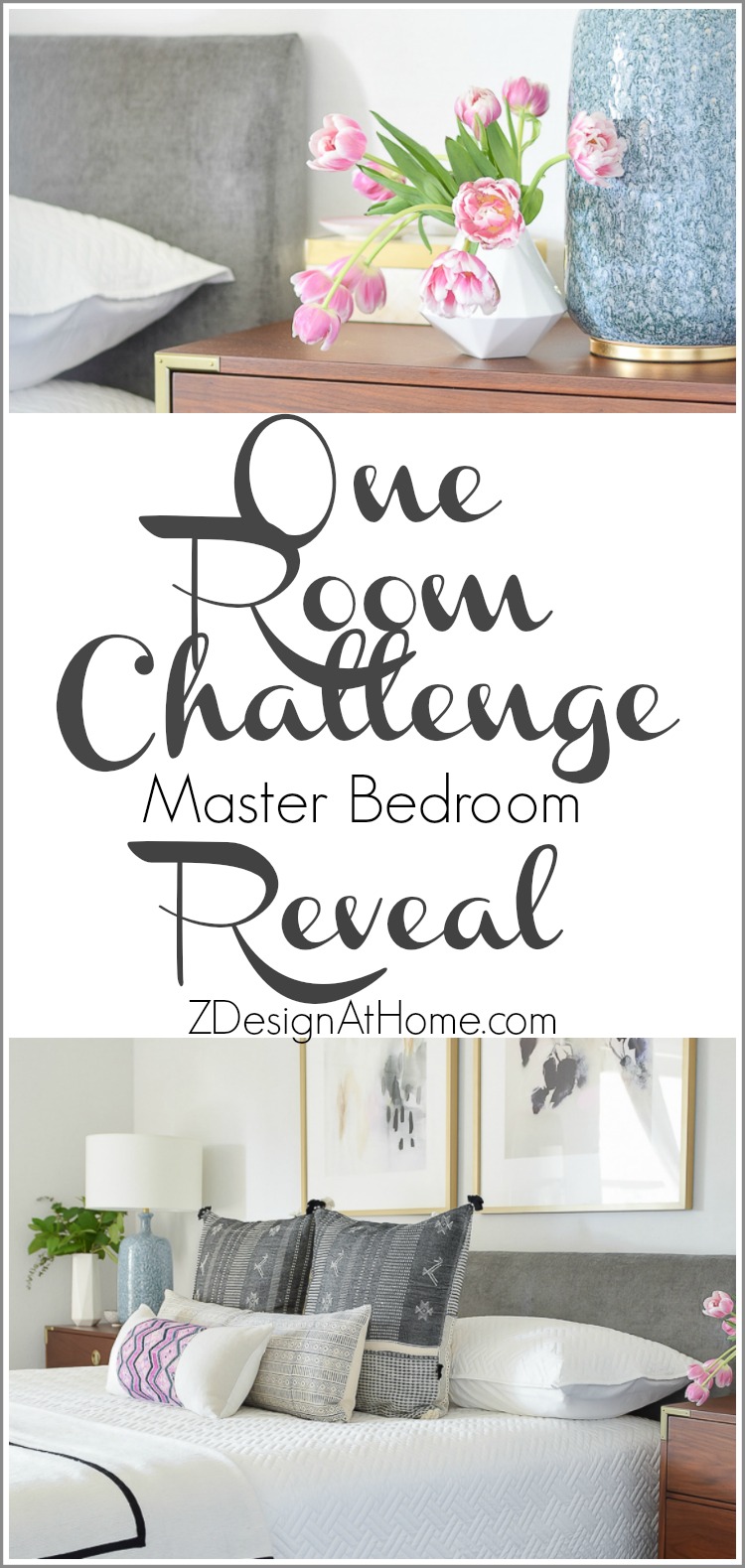 A huge thank you also to the amazing sponsors of this One Room Challenge room who generously donated products that allowed this bedroom makeover to happen.  This post contains some sponsored and affiliate links – please read our full disclosure policy here.
McGee & Co. | Tonic Living | Saatva Mattresses | Wayfair | Boll & Branch | Minted
First, lets do a quick recap of the ORC process and how it all works if you are new to the event.  The One Room Challenge is a six week design event hosted by Linda of Calling It Home and House Beautiful where participating bloggers make over a room, typically within their own home.  The progress of their respective makeovers is revealed each week and today all of that comes to a head for the final reveal!  If you need to get caught up on the progress over the past 5 weeks you can do so here…
Week One | Week Two | Week Three | Week Four | Week Five
Secondly, I want to share something a little personal that I've talked about in bits in pieces here but wanted to go a little more in-depth today to explain why this new space is so special to us.  For those of you that don't know yet, we started construction of a new home last fall but quickly after breaking ground the sad reality hit us in the face that we had hired a shady contractor and the relationship broke down between us within a month or so after construction began.  While I can't share all of the details just yet, I plan to as soon as I'm able along with tips to avoid a contractor or builder that is less (way less in our case) than above board!  The good news here (and the silver lining) is that we closed on a new lot in a new neighborhood that we would have never dreamed of living in a couple of weeks ago (God always has a better plan, doesn't he?!?), found a new (very reputable) builder and we are 3 meetings into the design process with a new architect and are so excited about what will unfold over the next 18 months!!
Since we are in a rental (for a year now) and will be here for at least another year and a half as we go through the design/build process all over again we really needed at least one space that truly feels like home to us so what better way to do that than with the One Room Challenge?!  Our master bedroom was nice before but was severely lacking in some areas and basically just a temporary space we could exist in until our home was to be completed, which should have been around this time or early summer of this year.  We both love walking into the space and it having that feeling of completion, that feeling of being "home" and last but not least that serene, relaxing feeling you should feel in your master bedroom at the end of a long day.  We really love it so much and can't wait to share it with you in all of it's glory today so thanks for being here!!
So how about those details?
So without further ado let's start with the bed and nightstands (they are actually small dressers).  I like to reveal things in little doses so make sure to hang around until the end for the full view:).  I couldn't be more smitten with both!!  I was SO worried that the headboard on the bed would be too low and the color of the nightstands would be "off" that I was a little nauseous until they both showed up and were placed in the room together.  As it turns out the pairing couldn't be more perfect.  And beautiful pink tulips in this faceted vase don't hurt either!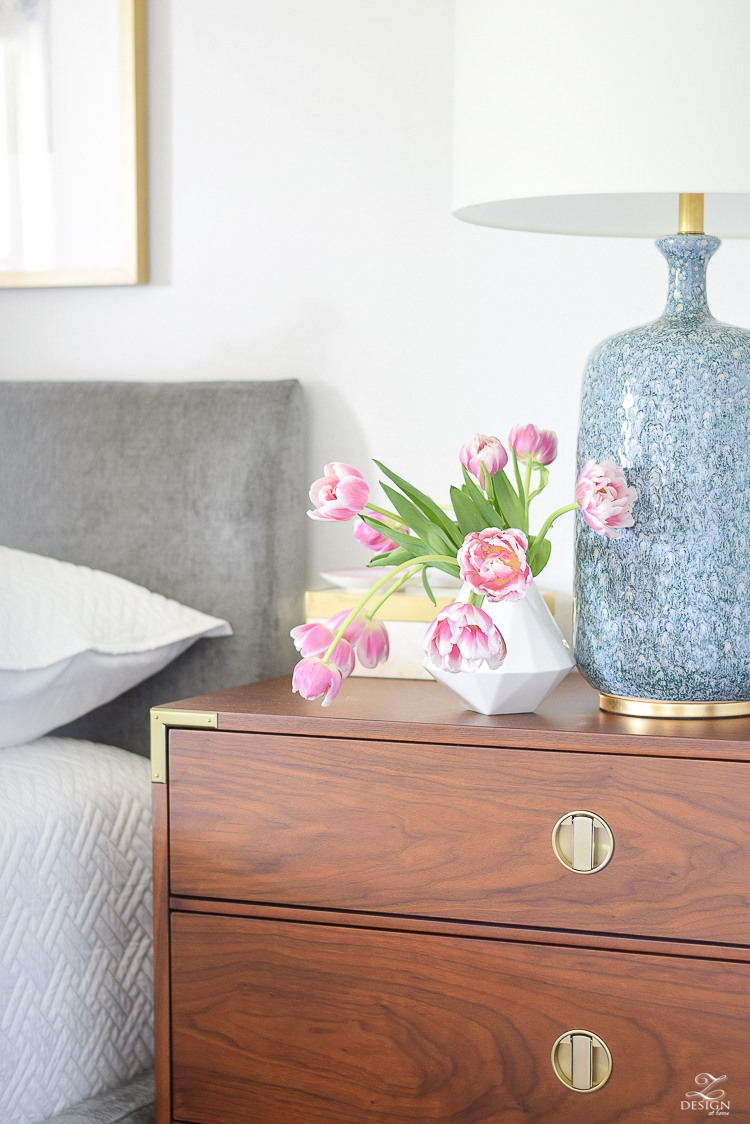 I LOVE the extra storage the oversized nightstands  provide and love the quality of this piece.  I also love that I was able to incorporate my favorite photo of my son during his first visit to the beach once again into our bedroom.  I've had this incredible frame (similar here) for quite some time but haven't used it in a long while so it was nice to bring it back out again as well!  Additionally, if you look close you can see the grasscloth that we painted over – you can hear more about my wallpaper debacle HERE in week 3  but I love the texture it incorporates into the space.  I wish I could do the whole room but that would be kind of pointless (and not cost effective) since we will only be here less than two years from now.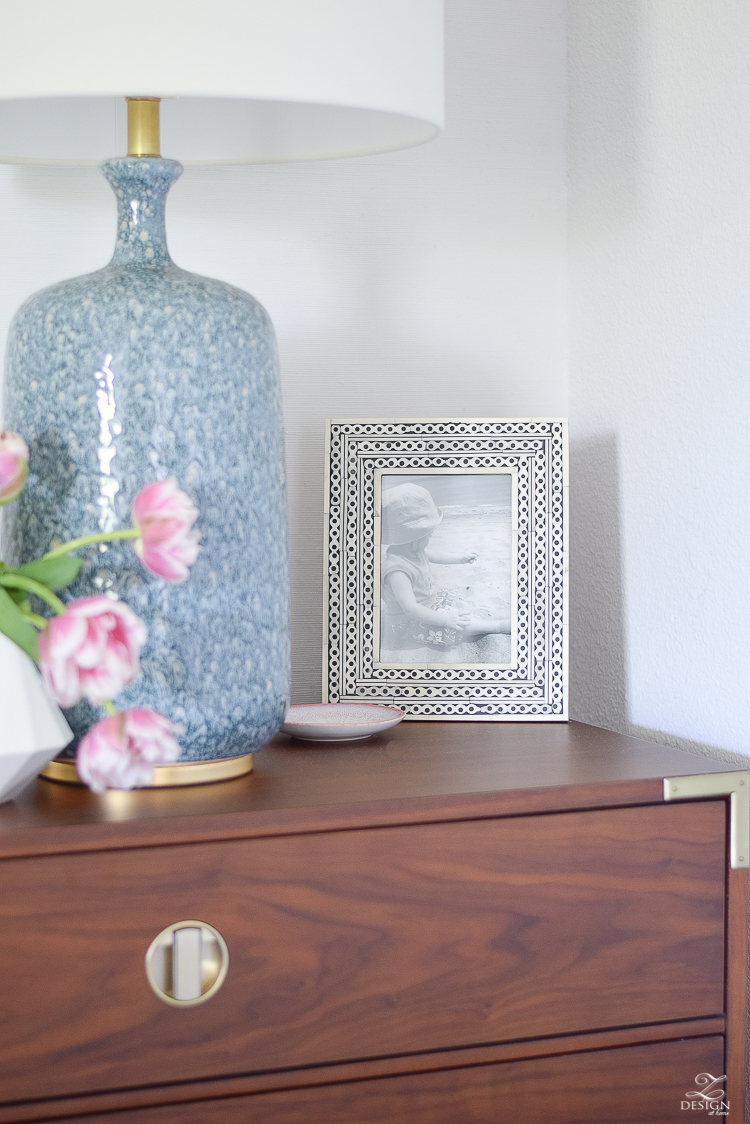 I believe this might be my favorite view in the whole space, you guys!  The beautiful blue lamps from McGee & Co. finish the look with a beautiful pop of blue (the lamps are crazy good in person) and were just the perfect light for this spot!  The new bed is so fabulous as well.  The washed, gray velvet fabric is casual yet chic and with its beautiful brass legs gets me all giddy every time I lay eyes on it!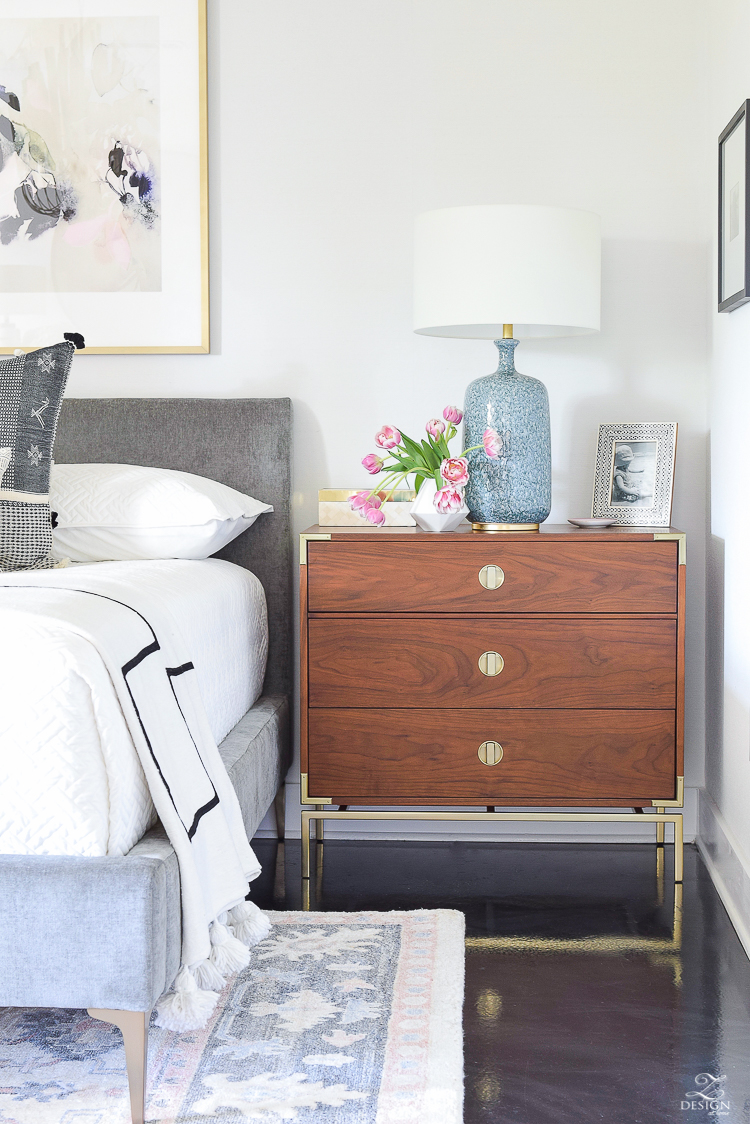 And of course I couldn't reveal this room without thanking my hubby for all that he did to make this happen!  Seriously you guys, I couldn't have done this without him!  I mean, I could but, it's so nice that he just takes control and does all of the heavy lifting so that I don't have to (and so that I don't have to stress and worry so much – I'm so grateful for that:)!!!  With that I made sure to pay special attention to his side of the room as well with details I know he'll appreciate and be able to use.  The bone inlay box is perfect for storing essentials and I always like to keep some greenery by his side of the bed, which I know he secretly loves:)!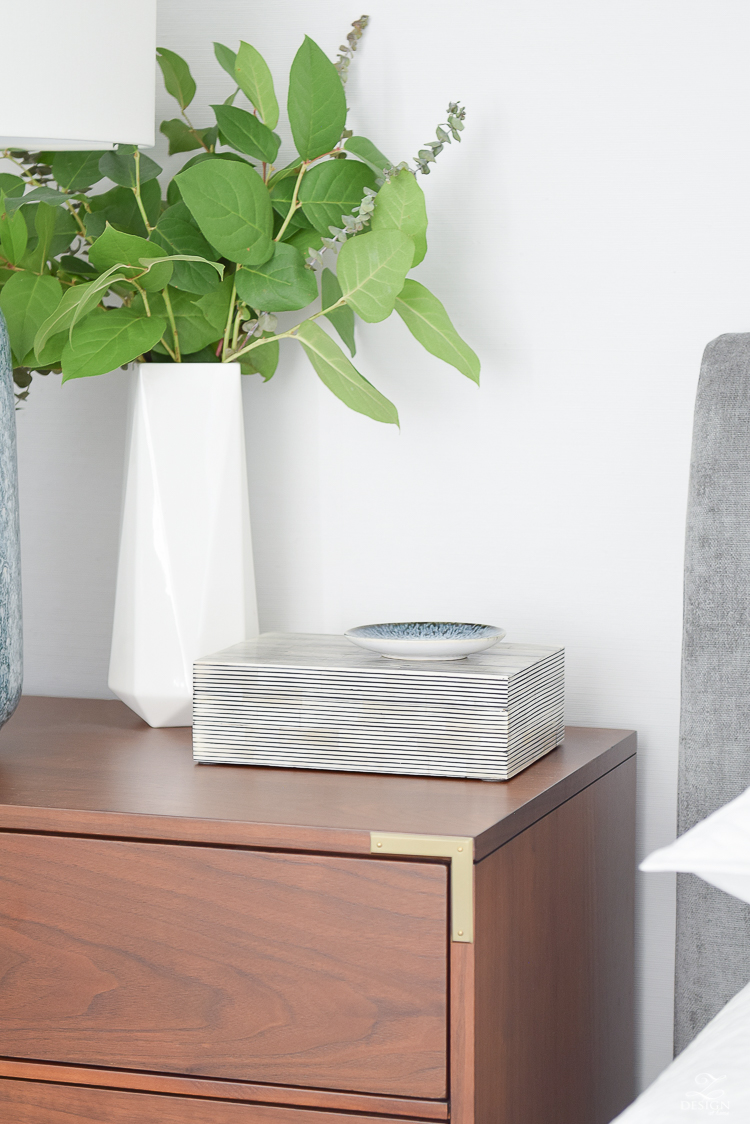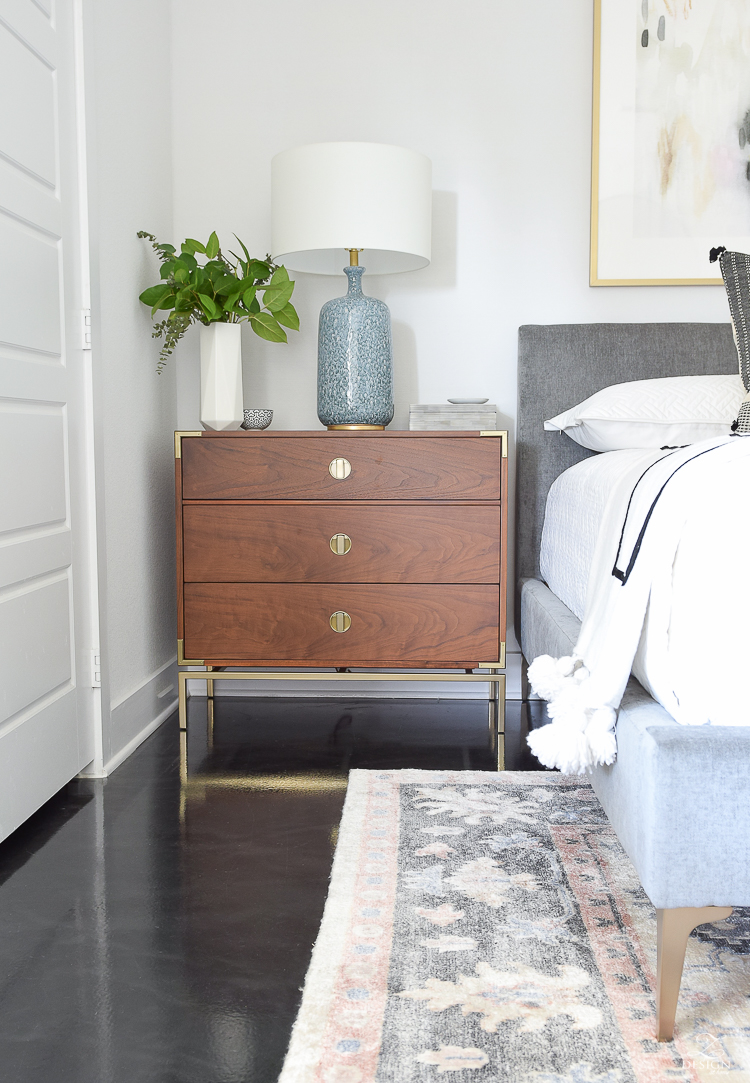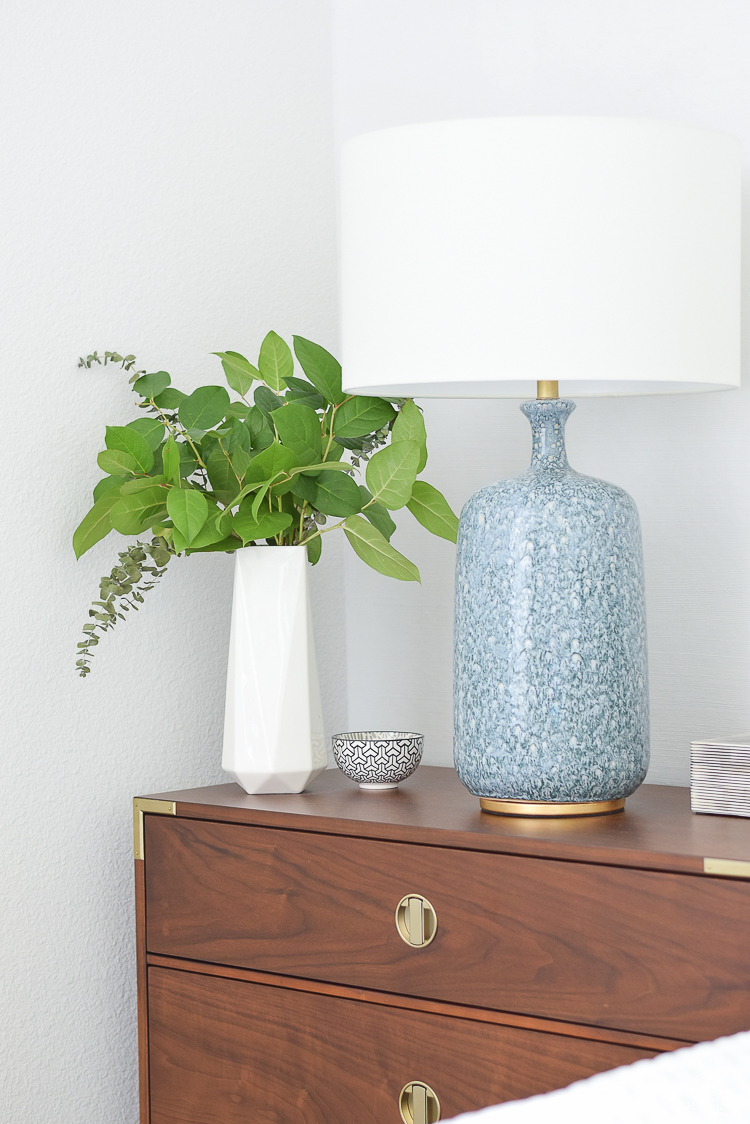 You may have also noticed some pretty new art above the bed I haven't talked about before during this challenge.  Well, once the bed arrived a couple of weeks ago I panicked a little and realized I needed some large statement art over it since I couldn't ever find a statement wallpaper I liked for the space so of course, the first thing I did was turn to my friends over at Minted. I can always count on them for beautiful art pieces, great prices and quick shipping options.  You may also recognize this one from my living room and yes, I loved it so much I used it in here also but mainly because I knew it would be perfect in this space as well.  And then I paired it with this art piece.  We love the dramatic effect the pairing creates when you enter the space and love how it draws your eye up and into the chandelier.  They are 30″ x 40″ for reference.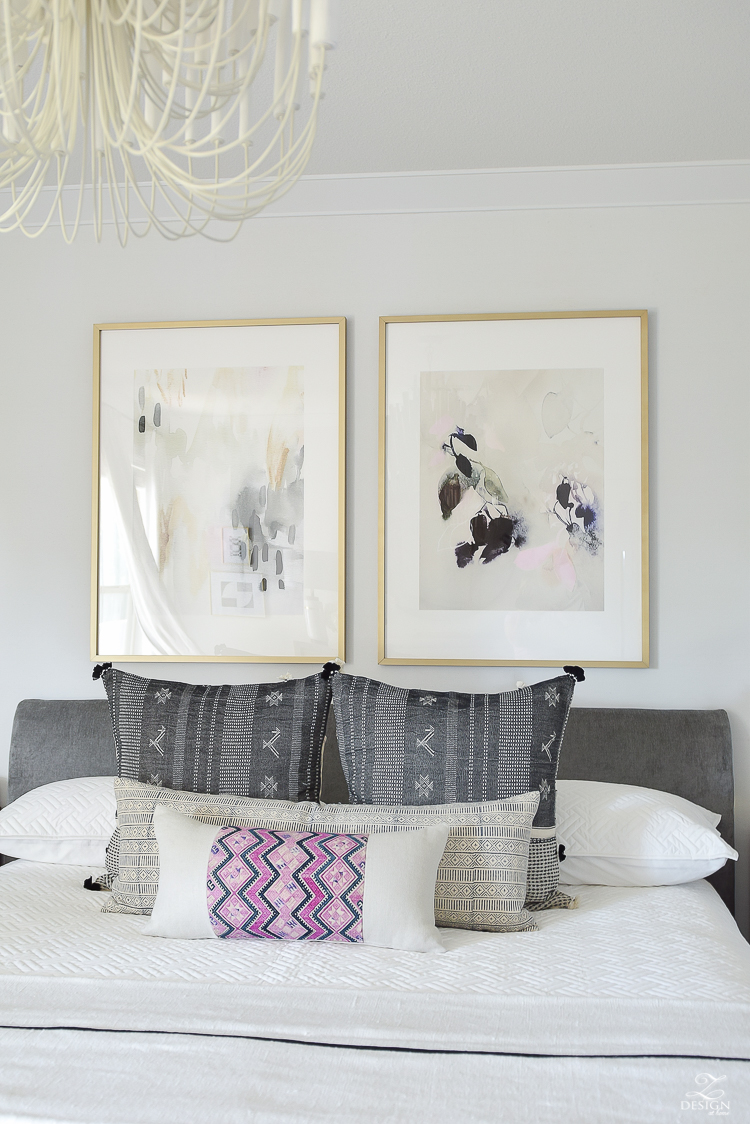 Speaking of the Chandelier…This was another time of holding my breath until it arrived and was installed.  I was so worried that it, being white, would get lost in the white walls but with all of the texture it provides it actually pops really nicely in the space.  It's somewhat petite too so it's perfect for a bedroom and/or if you have ceilings that are 9ft. or even a little lower but would really work in any space.  It's from Wayfair (one of my one stop shops for home decor, lighting and furniture) and can be found here.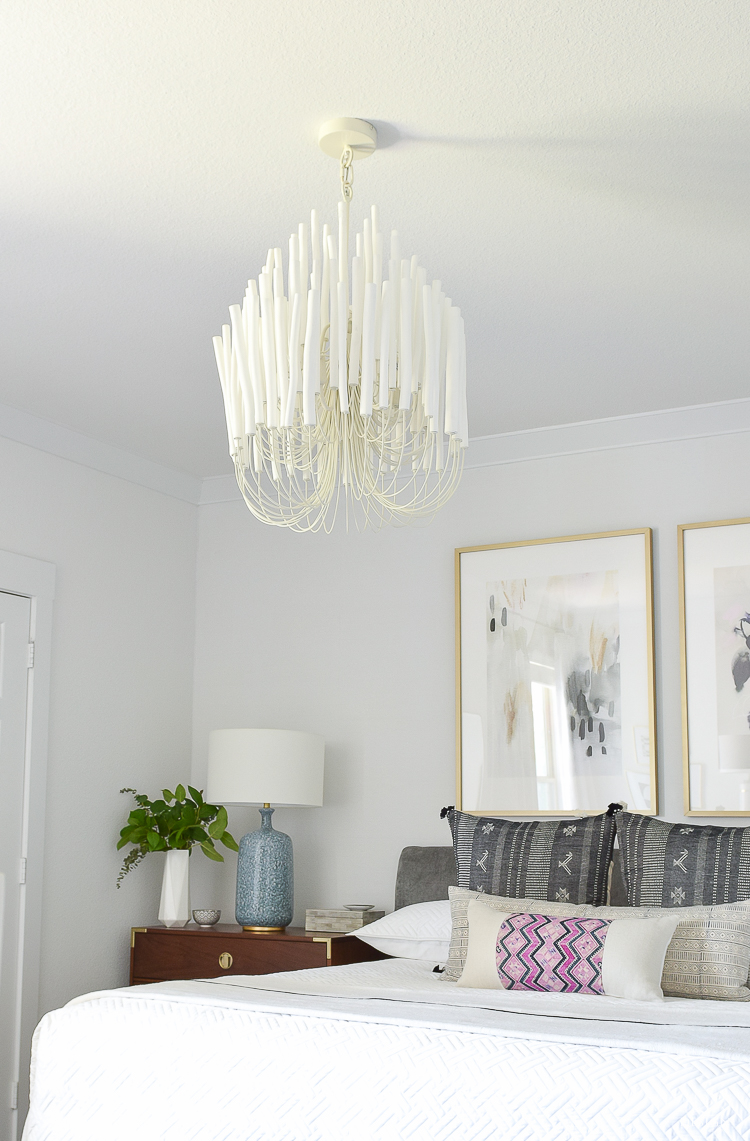 Here's a larger peak at this side of the room but I'll share more in a moment:).  I still couldn't love our new Heritage basketweave quilt and shams more from Boll & Branch and love how they easily elevate my bedding in such a chic, soft, lovely way.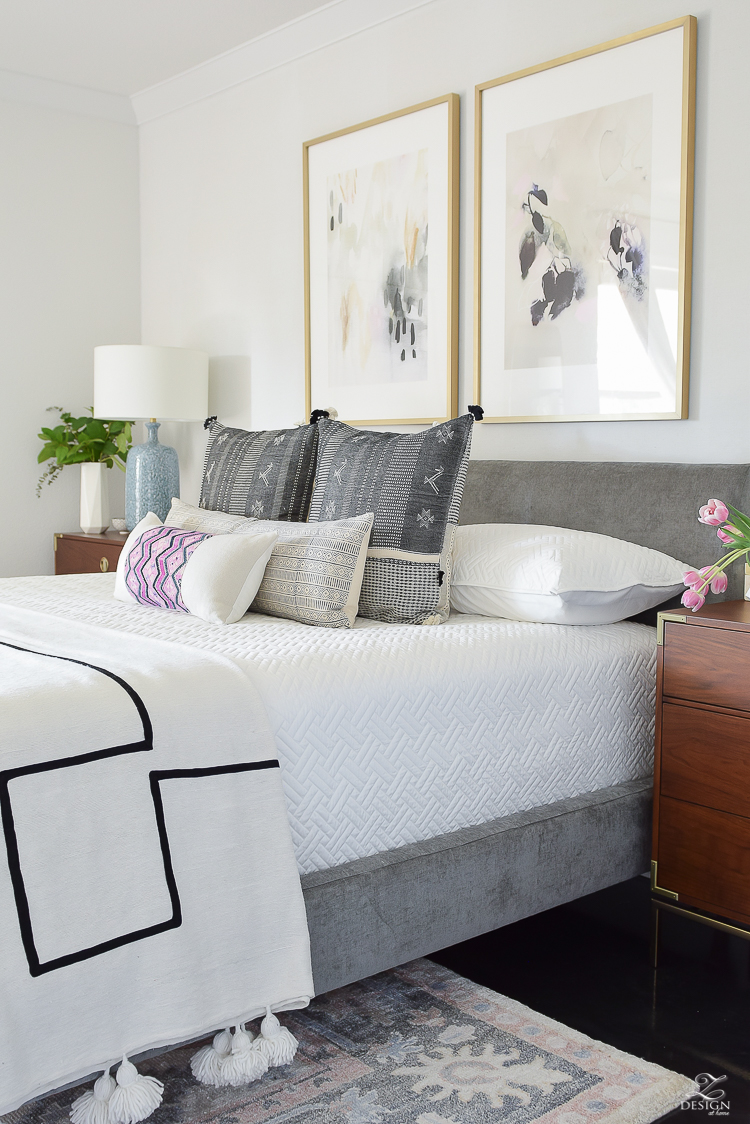 Here's a close up of the pattern!  Seriously so chic and luxurious!!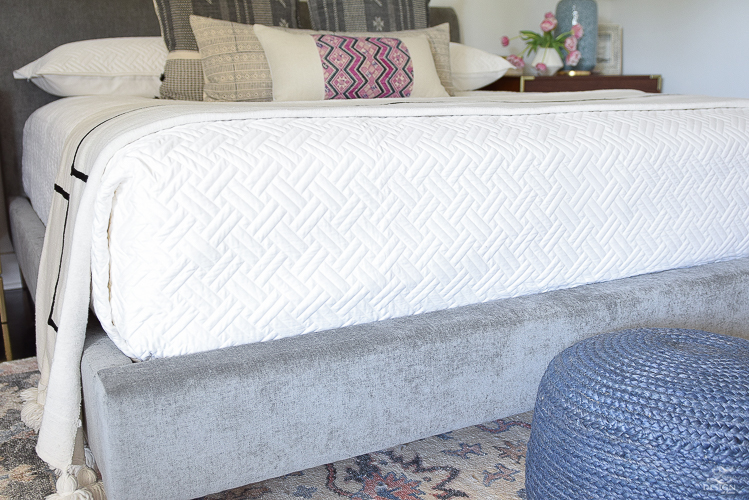 You may have also noticed I ultimately went with this throw (again) at the end of the bed that I love so much.  I decided since we are moving into summer that I wanted to keep the bedding light and airy so there was no need for a comforter (down here in hot and humid Houston) and I love the light, clean look of this piece and how it functions on the end of the bed.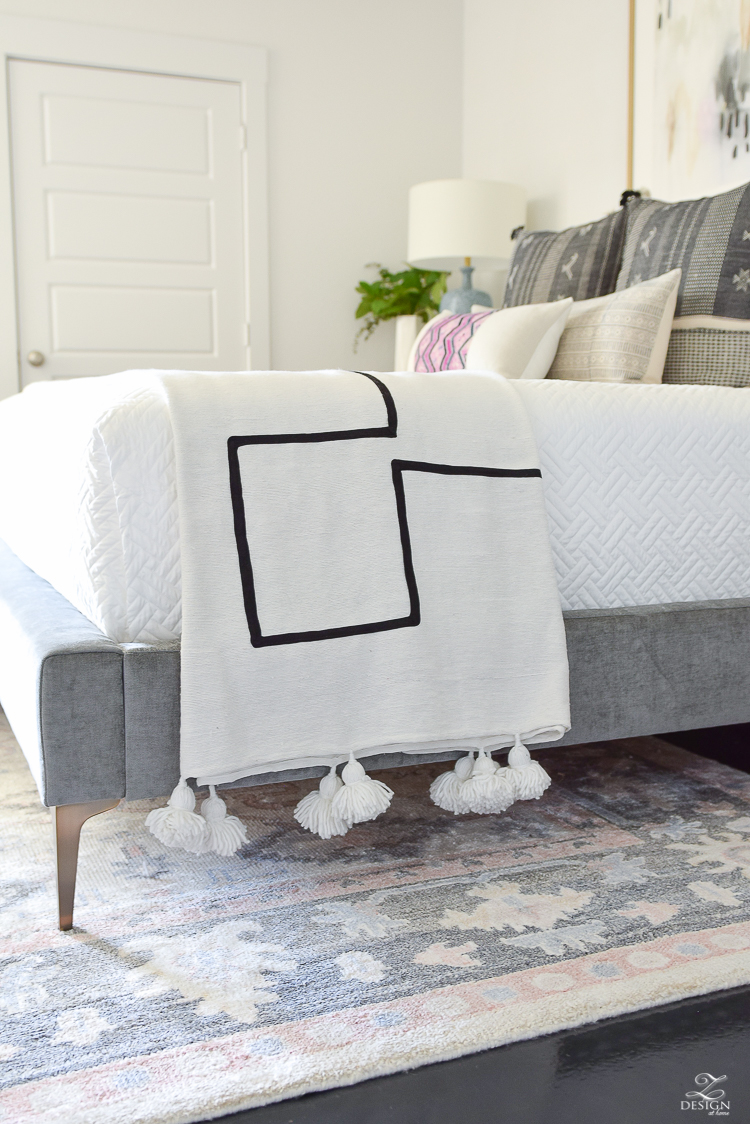 And yet a larger peak – I can't get over how much the white wall behind the bed brightens and softens the room and I couldn't be more happy with the way things have turned out!  This room really feels like a space we can call home now until our real home is completed sometime next year.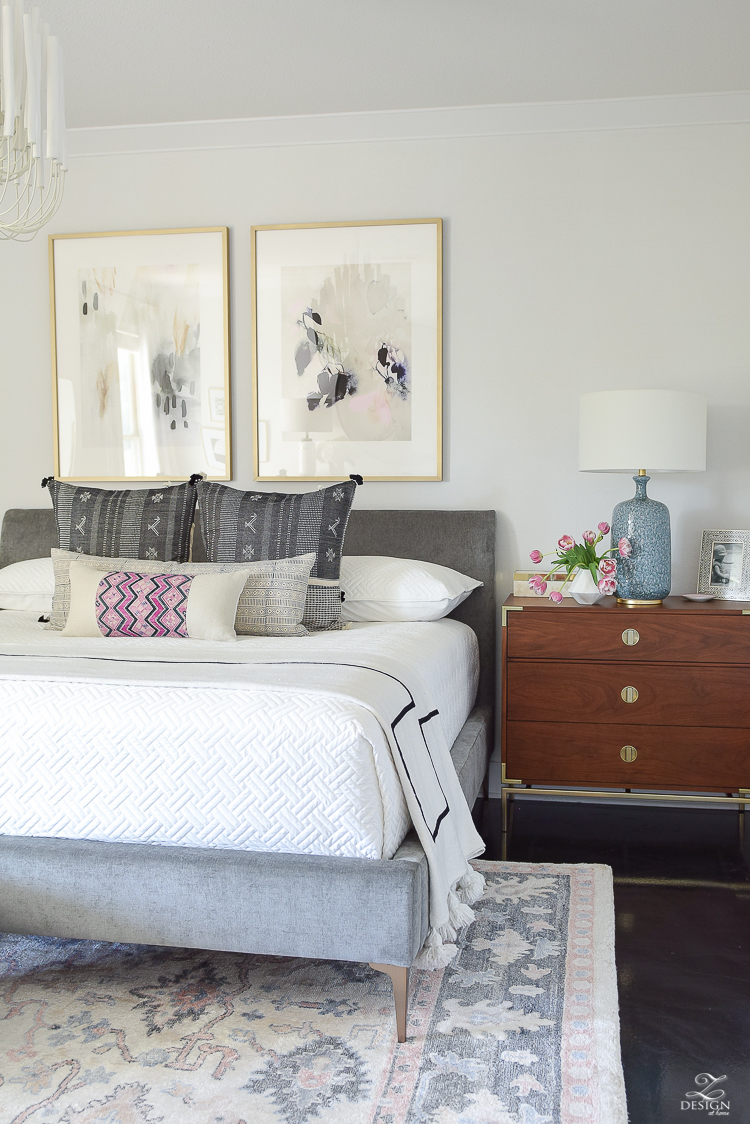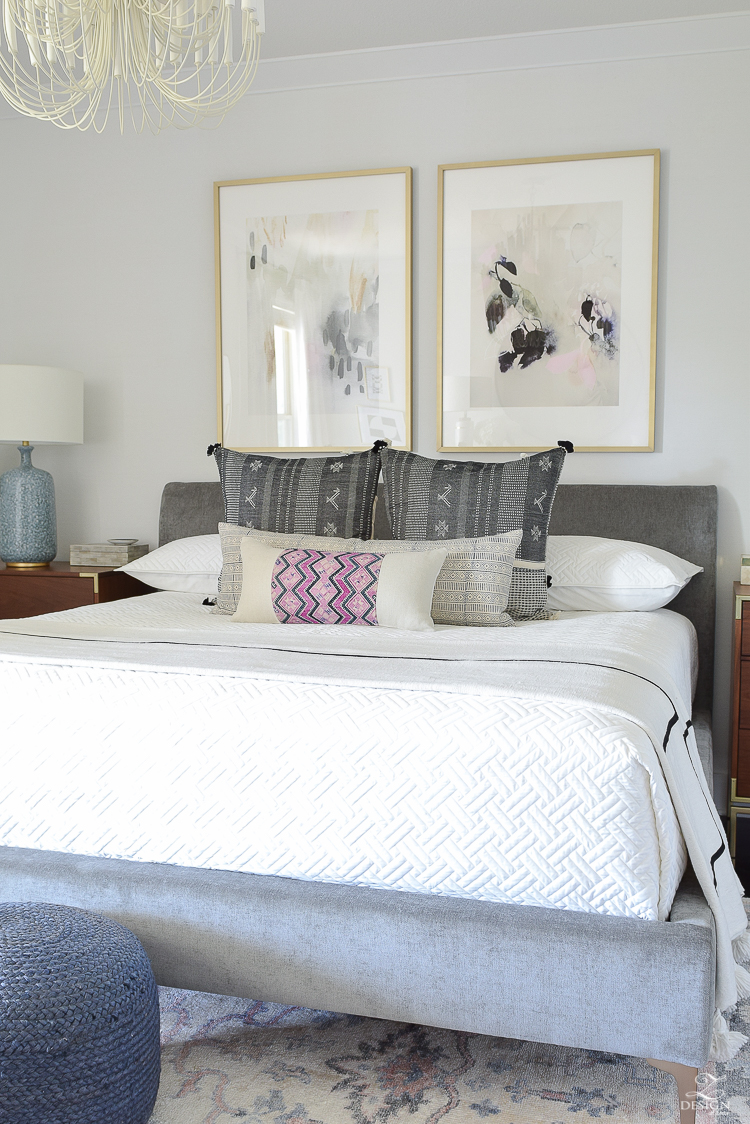 I'm sure by now you might have some questions about the rug and this was one of those pieces that the very moment I saw it I knew it was going to be perfect for the space.  The bonus is that when I ordered it I had no idea it was going to be as soft as it is.  In my design career I've walked on, installed and felt some super soft (super expensive) rugs and I have to tell you that this one feels like one of those super expensive rugs you can only dream of having in your home!  The colors are soft and beautiful (but I wouldn't say they are pastely – is that a word, lol?!) and I would say this is the one piece, when put down, that really began to completely transformed this room.  The charcoal in the rug grounds the more feminine colors and makes it the perfect rug for this bedroom.  For reference the rug is an 8 x 10 (under a king size bed this is usually the best size unless your room is much larger than mine and then you could use up to a 9 x 12).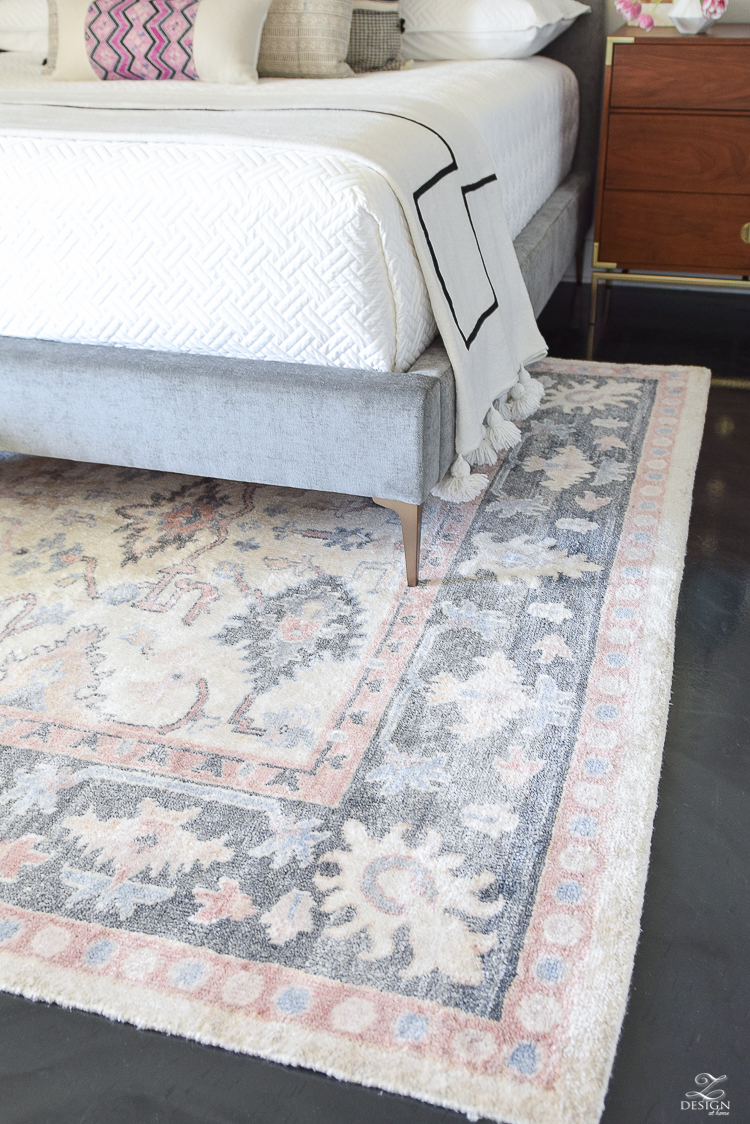 And don't forget about the navy blue jute pouf!  Initially I thought I wanted this natural jute pouf at the foot of the bed but when this one arrived to sit in front of the chair I realized I needed two of them.  But, then it was on backorder and I can't get another one until it comes back in stock – bummer!  Anyway, I love it and I'll be ordering another as soon as it's available again.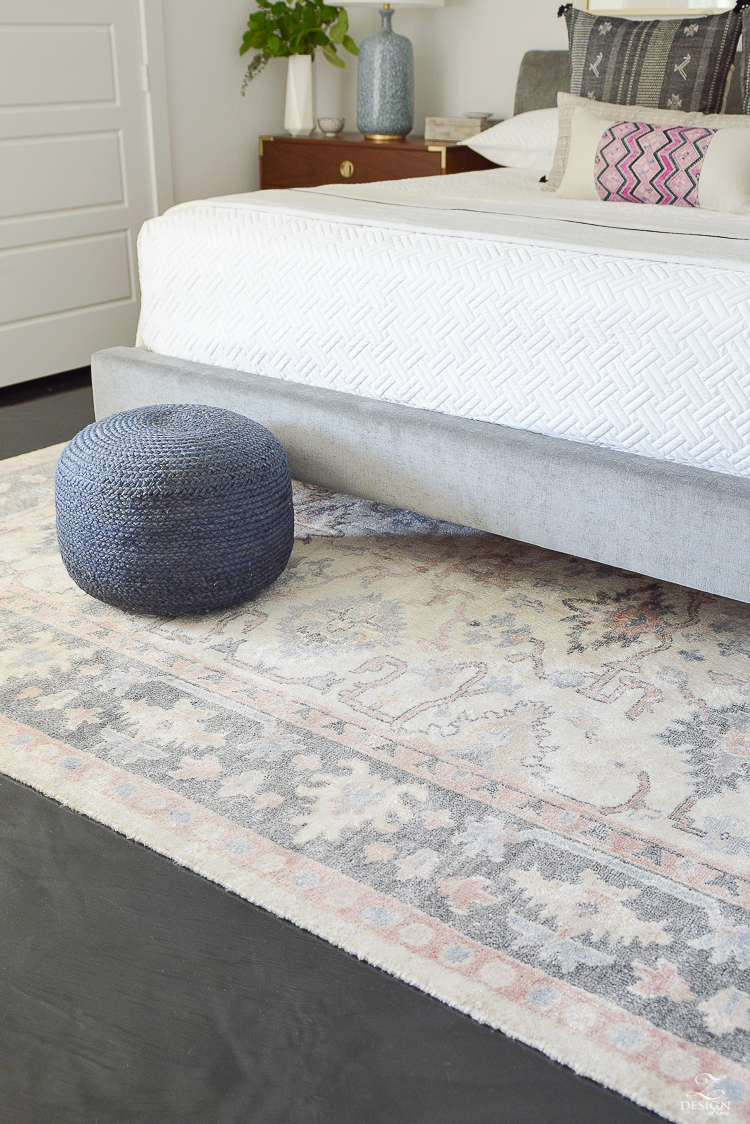 Now I want to turn your attention to the other side of the room.  We needed a mirror on the outside of the closet and this one fit the bill perfect for stopping on the way out to check yourself.  Love that it floats in the frame and the clean, transitional modern look of it too.  I also love that you can see the chandelier in the reflection!  Additionally I used one of my all time favorite planters underneath it to add some greenery to the space.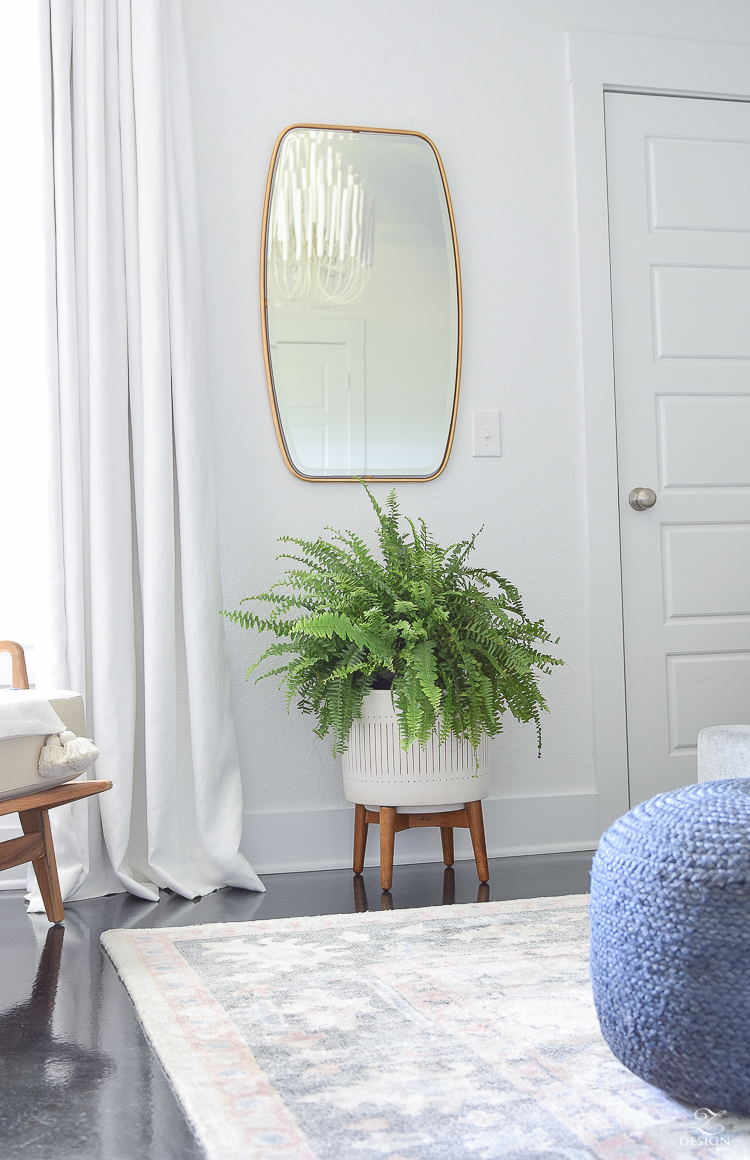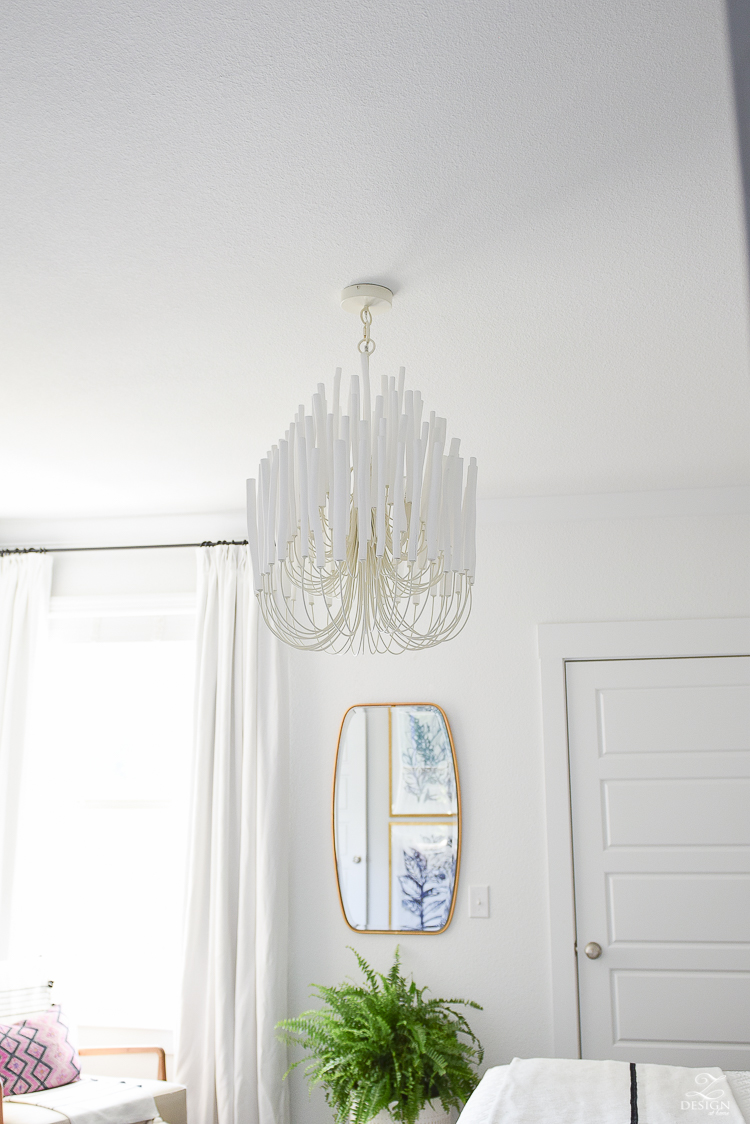 The next thing I've been dying to share with you are the custom white linen curtains from my friends over at Tonic Living.  If you are looking to go custom, which I highly recommend (but beware because once you do you won't want to go back), then Tonic Living can be your one stop shop for custom pillows, curtains, ottomans and more!  The new curtains make the room feel luxurious and add that personal, homey touch I was looking for in this space.  And, the team at Tonic Living makes it super easy for you to go custom with their drapery guide that you can explore here.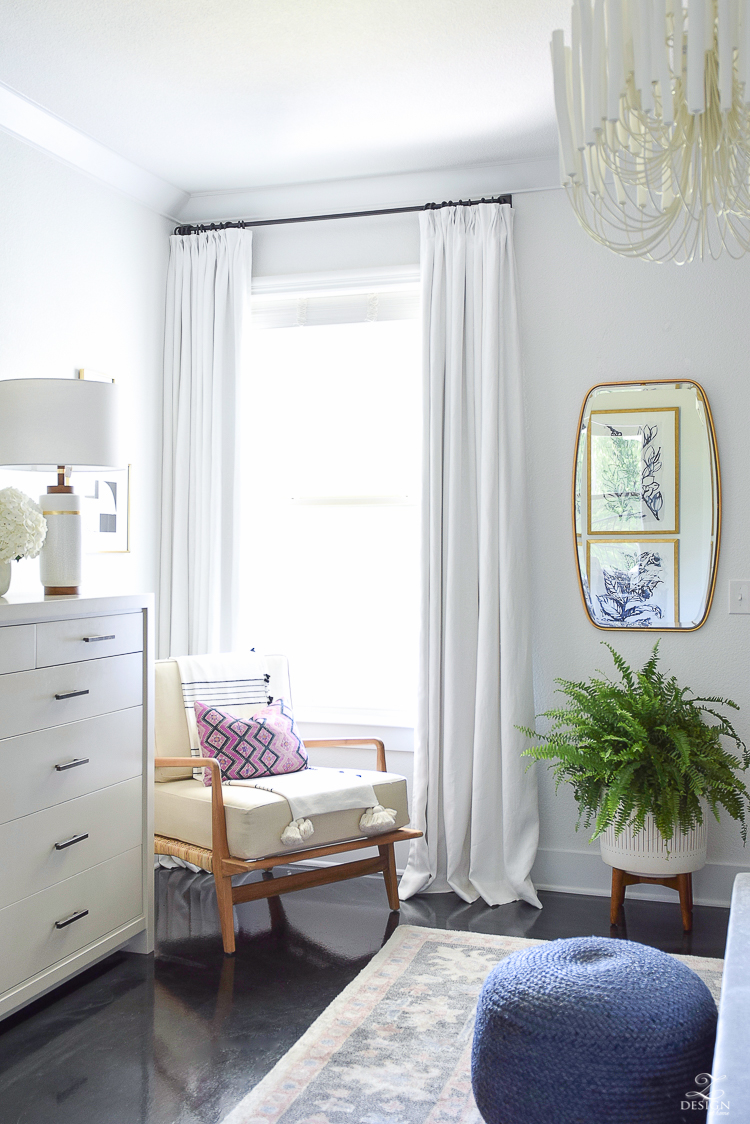 I had mine made in a top pinch pleat style with black-out lining but one thing I wanted to point out is that mine are a width and a half wide so that they will cover the span of the window when closed.  Be sure to think of this when having yours made to make sure you have all of your bases covered here but Tonic Living can help you with all of these details and decisions.  Especially pay close attention to this if you also choose the top pinch pleat because this style takes up more fabric than say a flat panel, tab top style, or pole pocket style, but it looks so nice once hung and is so well worth it!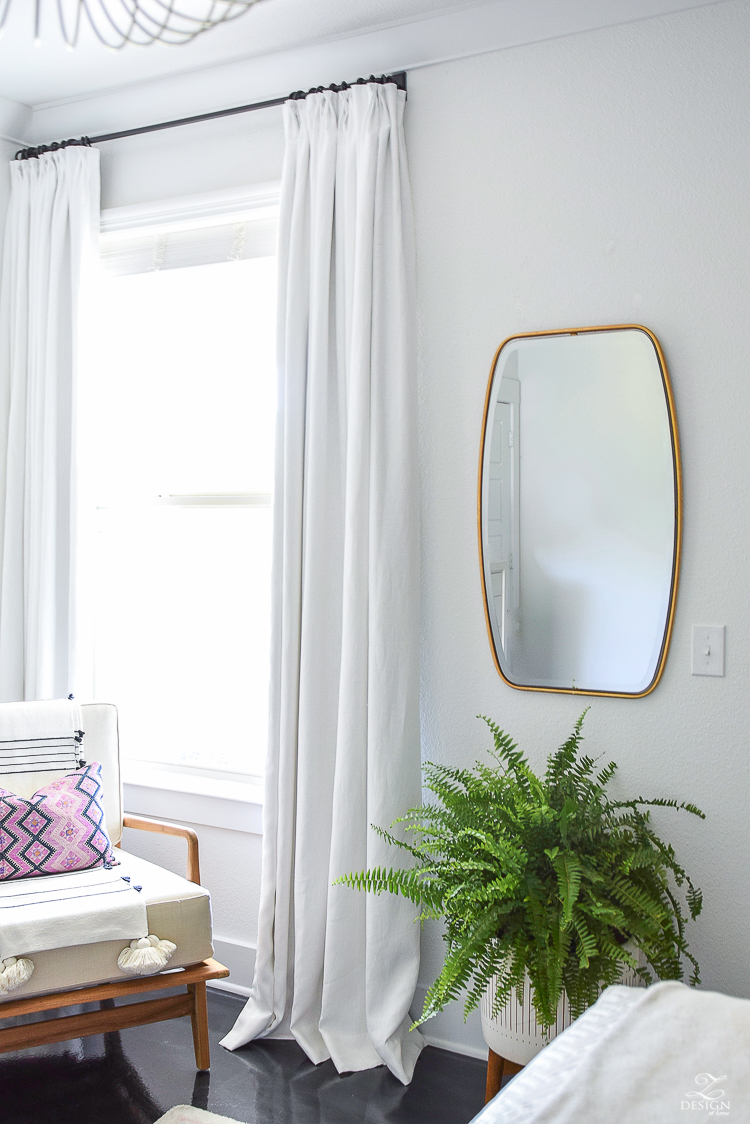 Another thing I did was to change out the curtain rod in this room.  I loved the previous rod (and it's still one of my all time faves) but found that the sun light would stream in on Saturday morning when we were wanting to sleep in, since the brackets stuck out from the wall about 3-4″.  This new rod (the perfect solution) allows the drapery to wrap around, hugging the wall so that no light gets in on the sides plus, it also provides complete privacy – I always love killing two birds with one stone, don't you?!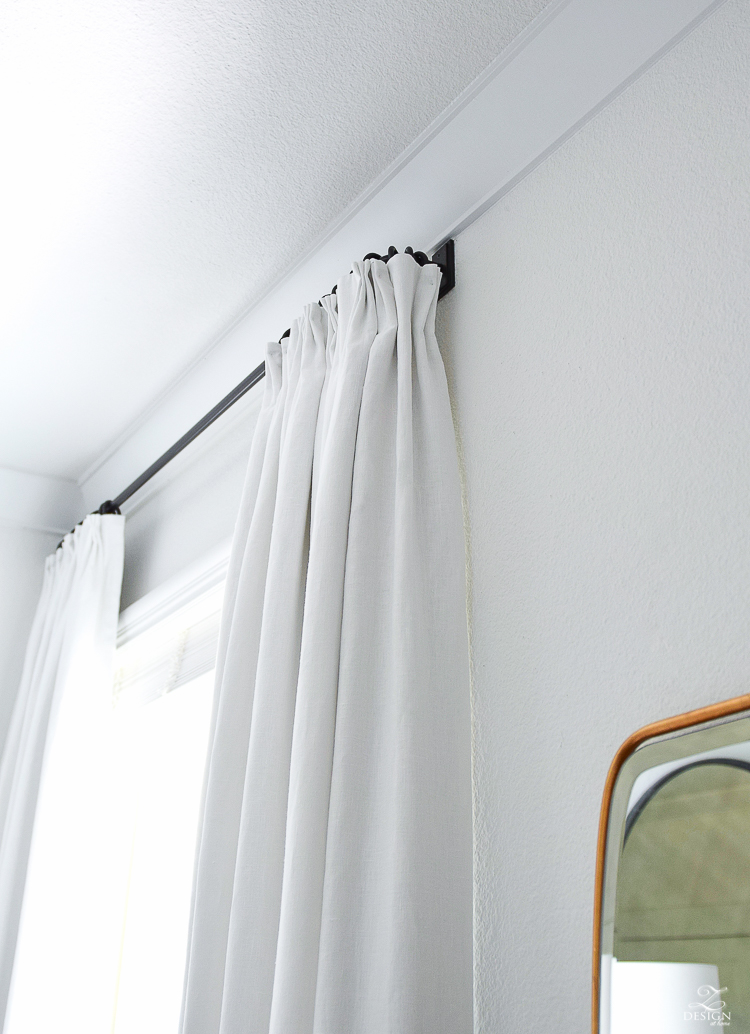 Another piece in the room that I'm completely smitten with is this chair from McGee & Co.  This chair keeps the space feeling causal and cool and fit perfectly in this corner.  It's made of teak with a rattan seat and adds the perfect amount of texture and personality.  I love all of the pieces in this space from McGee & Co. and lately have made them my #1 go to stop for furniture and accessories when I'm sourcing pieces for a new project.  I styled the chair with a favorite tassel throw that I already had from them as well and love how it turned out.  The pillow (similar here) adds a pop of color and coordinates with my pillows on the bed.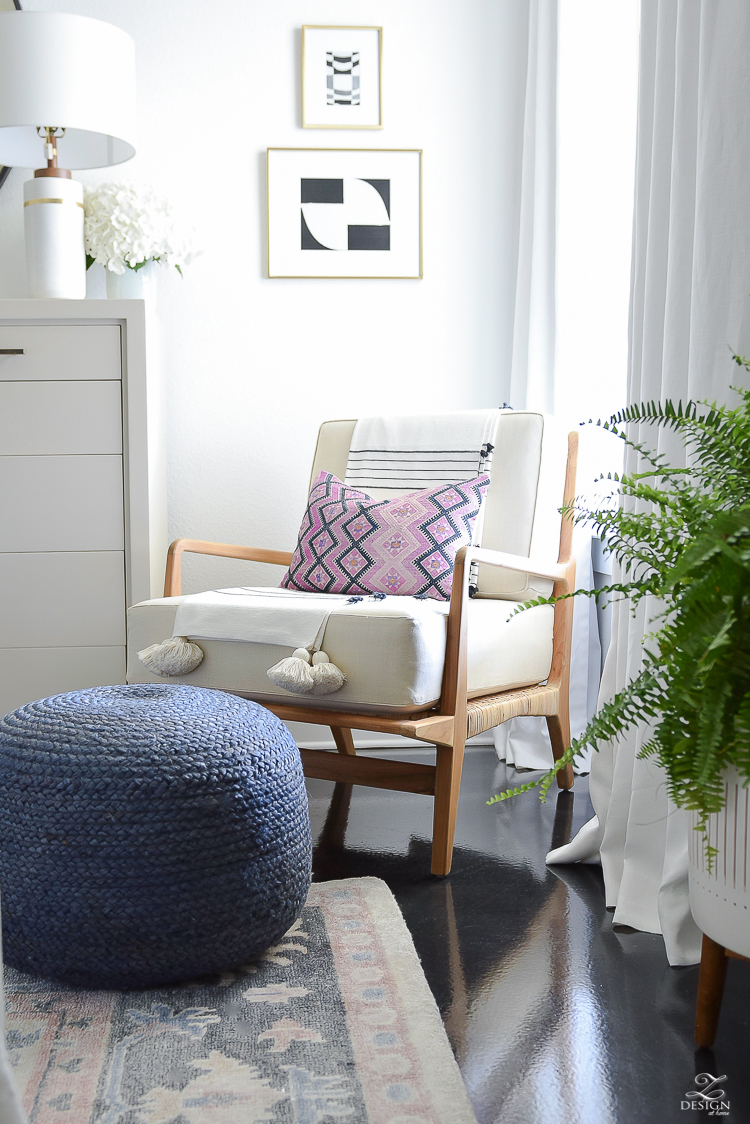 The dresser ended up staying the same as the pulls I picked out didn't end up working out but I'm dying over how the mirror turned out!  I must say this was yet another time when I thought I must be crazy for this decision but spraying the mirror black definitely gave it a nice update, not to mention changed it up for the challenge!  Thank you again to my hubby for tackling this while I was away at a blogging conference recently – love him!!  I love that you can see the reflection of the candy in the mirror and I also love the new lamp, vases (here & here) and (sort of new) tray (here).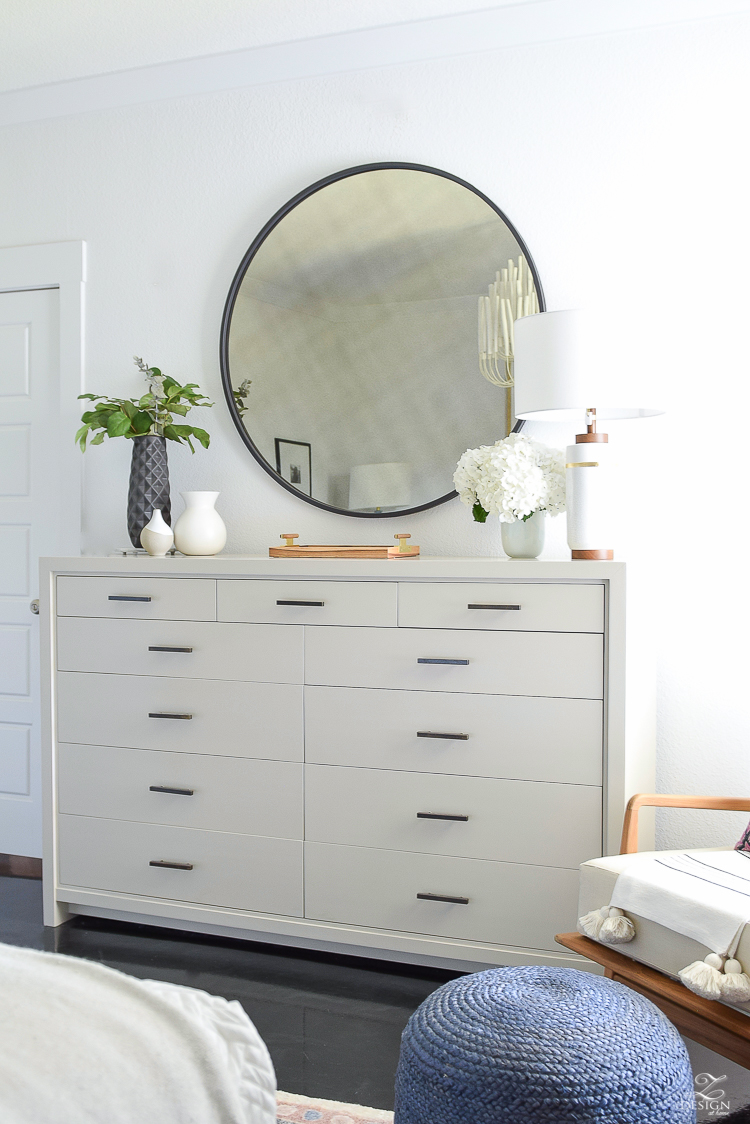 This was from week 4 when I had it styled a little differently but I just love this lamp and vase, that is actually a hurricane – I love using items in decor for unintended purposes!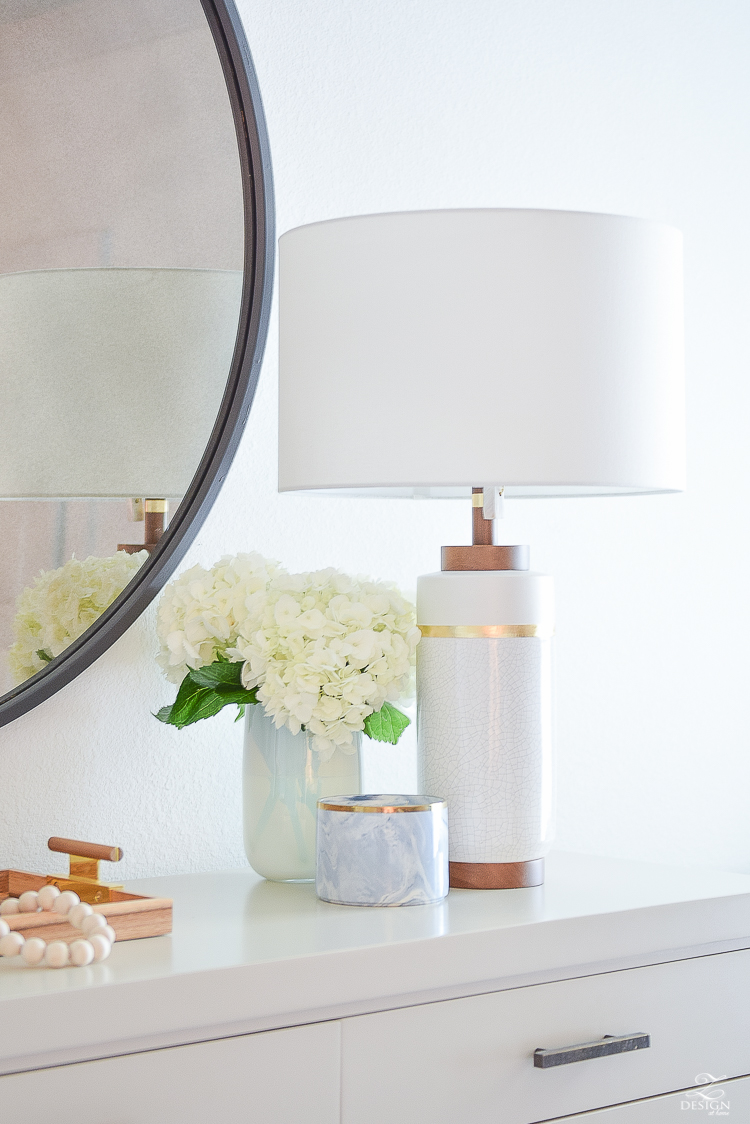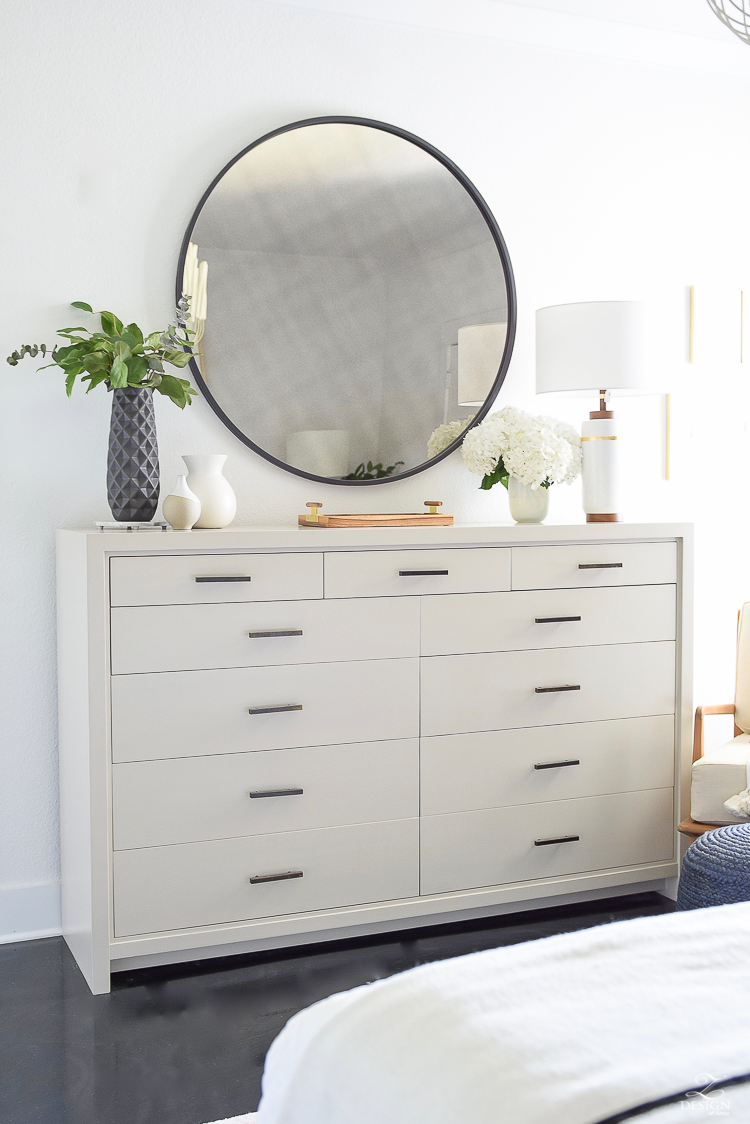 One last corner of the room you haven't seen yet is this lonely wall that desperately needed a pop of color and personality and I always love making this happen with art.  Art is such a personal design decision in my opinion and that's why lately I'm loving the large selection of art over at McGee & Co. where these lovely navy botanicals (print 1 & print 2) with gold frame came from.  I love the vibrancy they bring to this spot and enjoy sitting in bed staring at how pretty they are!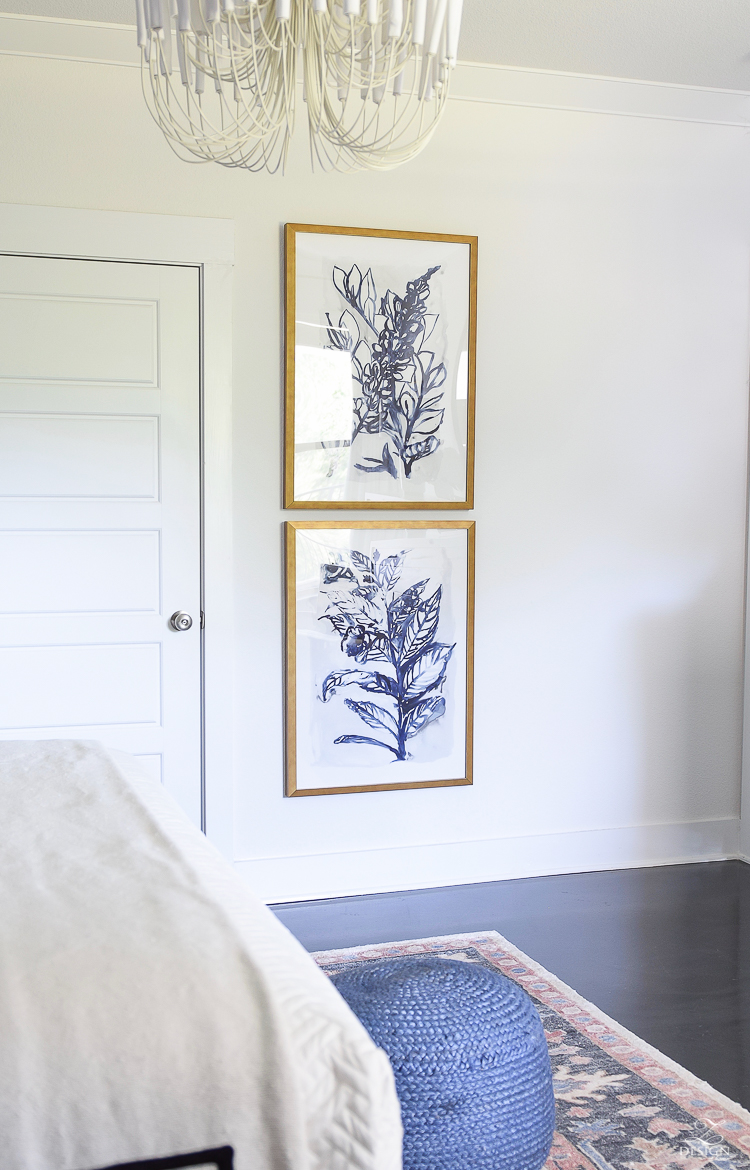 Also from McGee & Co. are most of my decorative pillows.  The 24″ pillow covers are AH-MAZING!!  The fabric is on both sides and is a different pattern/print on each side so it's like having two pillows in one.  The XL lumber is fabulous and has a subtle boho print in navy – this one also comes with an insert, which was a bonus!  The pillow in front was a hold over from my spring tour for that pop of pink I'm loving right now that also blends with my rug and art (similar pillow here).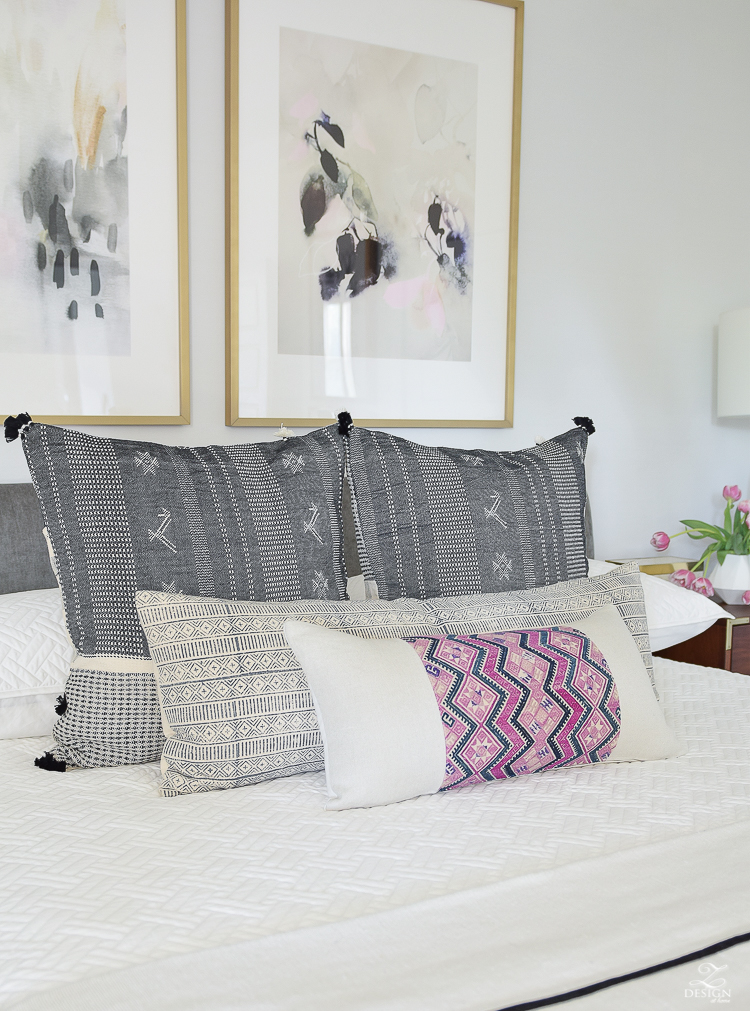 And last but not least is our Saatva Mattress!  We've been sleeping on it for about 3 weeks now and let me tell you that we both so look forward to diving into this bed each night.  Saatva has a strong green initiative plus a chiropractic seal of approval and honestly it's been the biggest relief to know that our mattress won't cause us back pain and that it can even help with back pain and other physical ailments.  This is a product that I truly believe in and I hope that you will explore the benefits of owning a Saatva mattress via their website HERE the next time you are in the market.  You can also see more about our new mattress here in my week 3 post.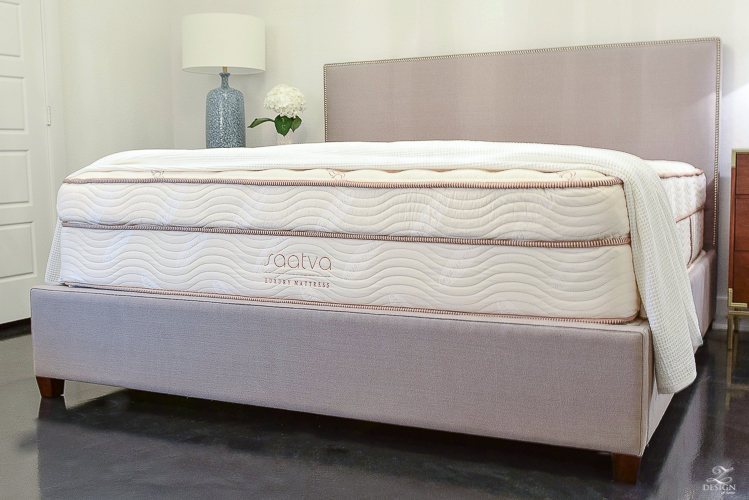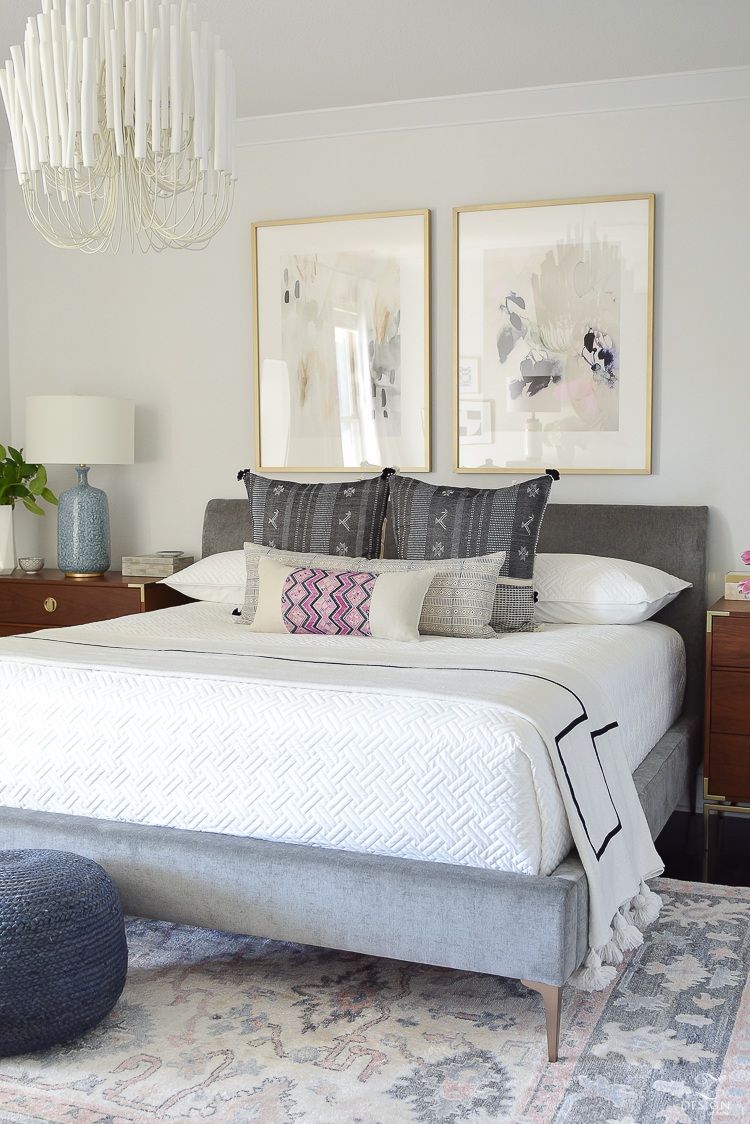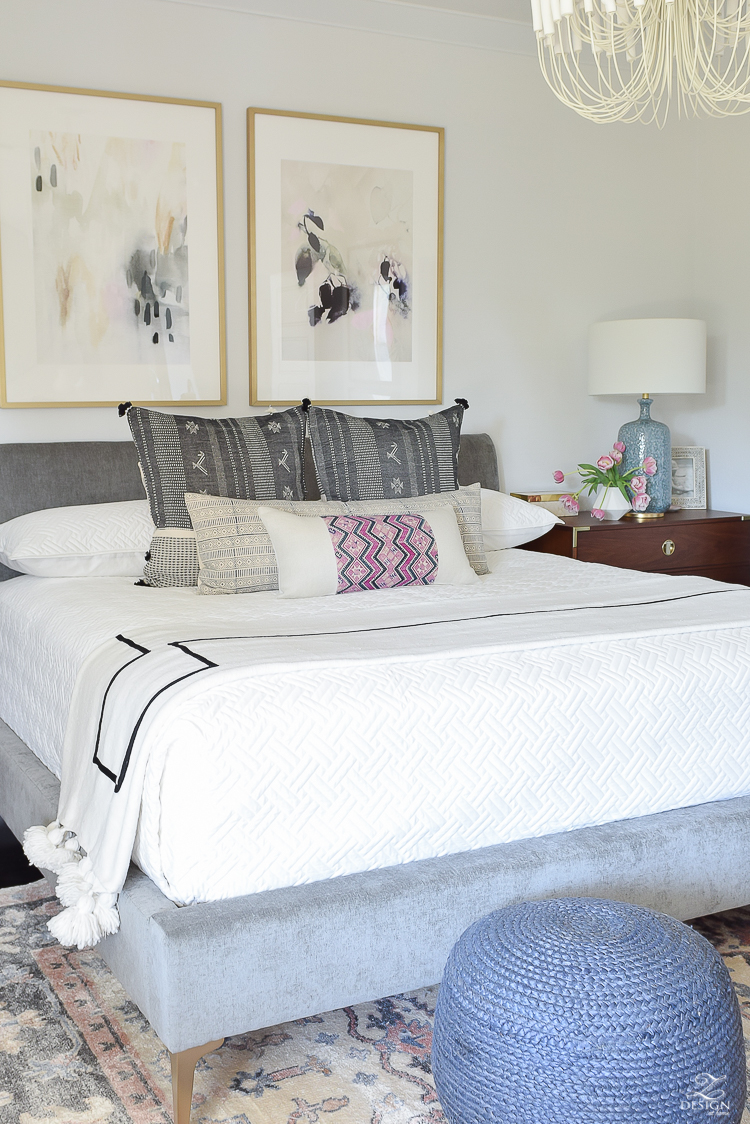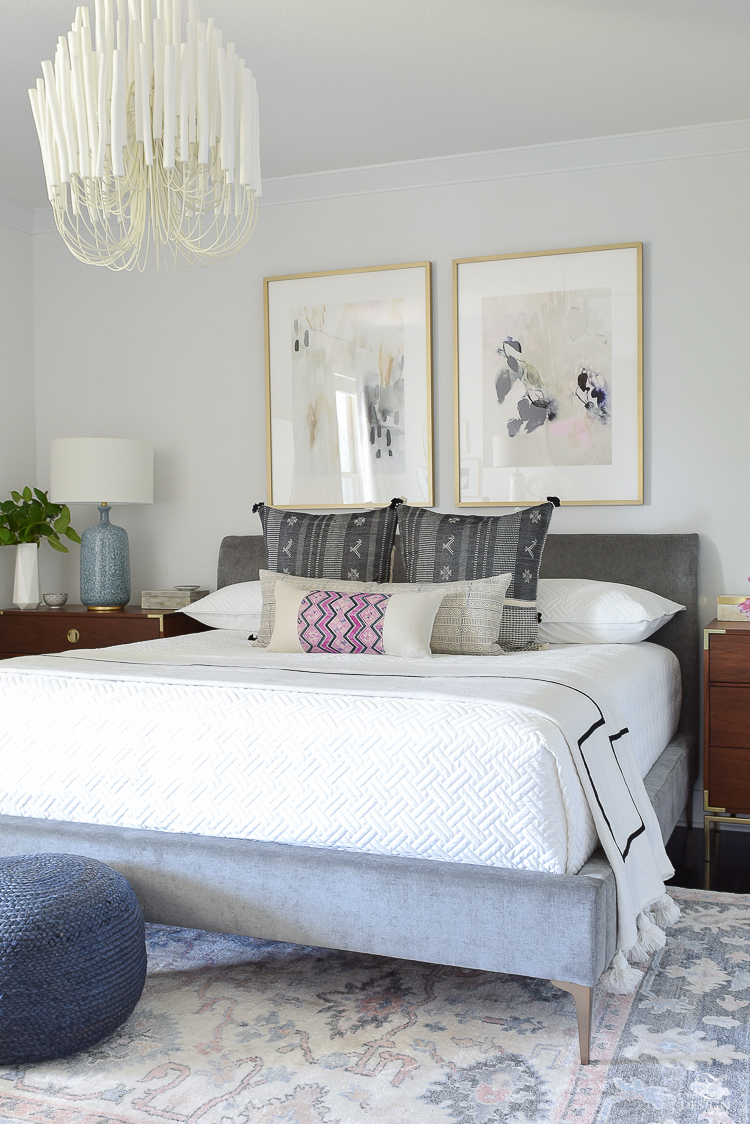 One last big look…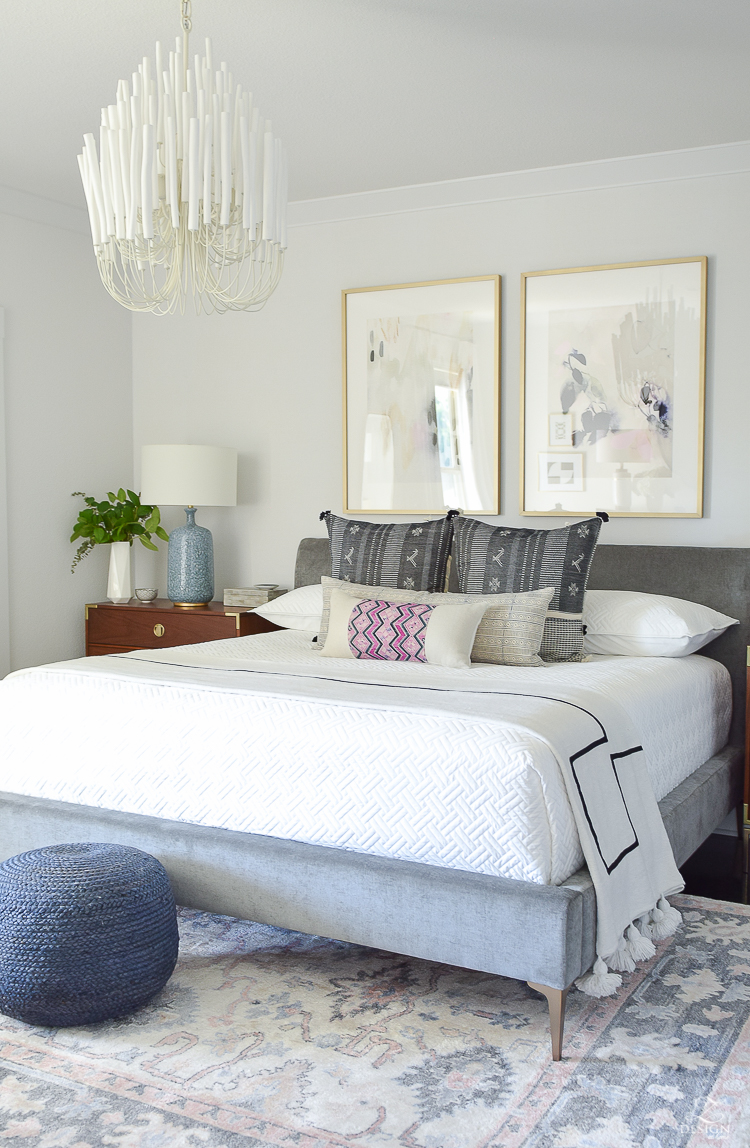 That about wraps things up here for this One Room Challenge reveal!  I hope you've enjoyed it just as much as we are enjoying it everyday now and thank you for stopping in!  Don't forget to stop by the One Room Challenge link-up page to visit all of the other bloggers that took the challenge this spring!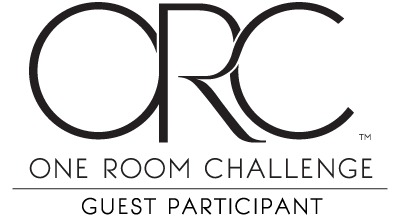 And a big thank you again to my sponsors for this event…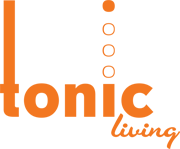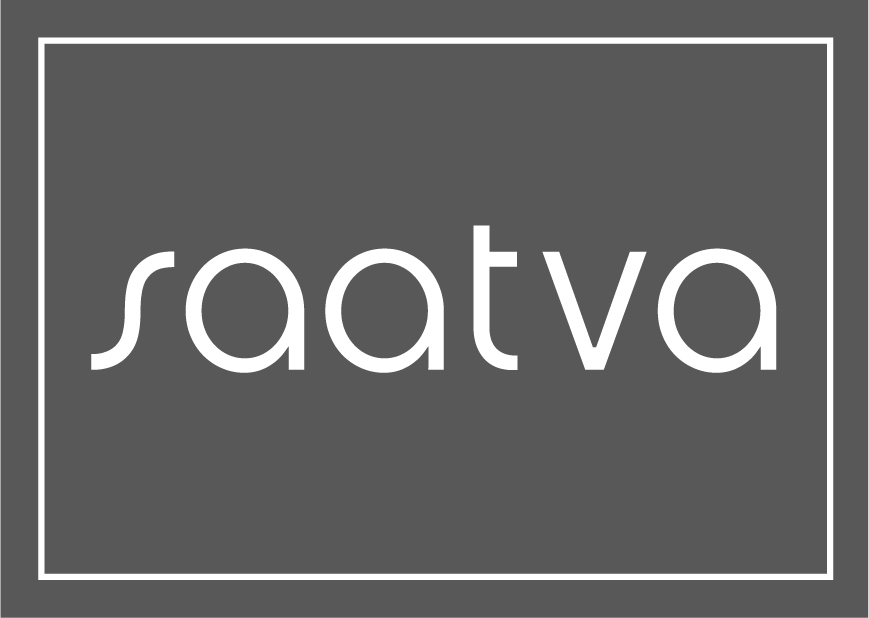 If this is your first time here, please consider subscribing to the blog to receive weekly updates from ZDesign At Home!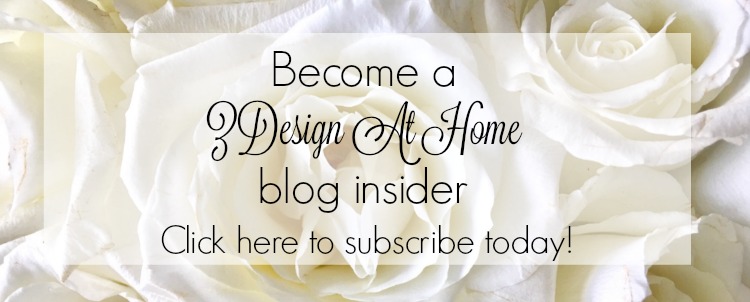 Sources