One Room Challenge – Week Two
Welcome to week 2 of the One Room Challenge!  I can't believe it's here already but a lot has happened since you were here just one week ago.  I have received a few fun shipments and made some important decisions that I'm excited to share with you!
If you need to get caught up on week one of my One Room Challenge, you can do that HERE.
Before I get started I wanted to take a moment to say how excited and grateful I am to be working with the following sponsors on this project and can't wait to share more about their products in the coming weeks.
*Affiliate links used in this post.  See our full disclosure policy here.
The nightstands arrived 1st.  Sorry I can't show them to you in the room just yet as they are in our storage room waiting patiently to be brought up to our rental.  I would like to get the wallpaper, bed and new mattress in the room before I bring them in.  They are well made, the wood and brass accents are gorgeous and I can tell we are going to love them (I think)!  And most of all they have storage and lots of it!  Sorry for the bad iPhone pic…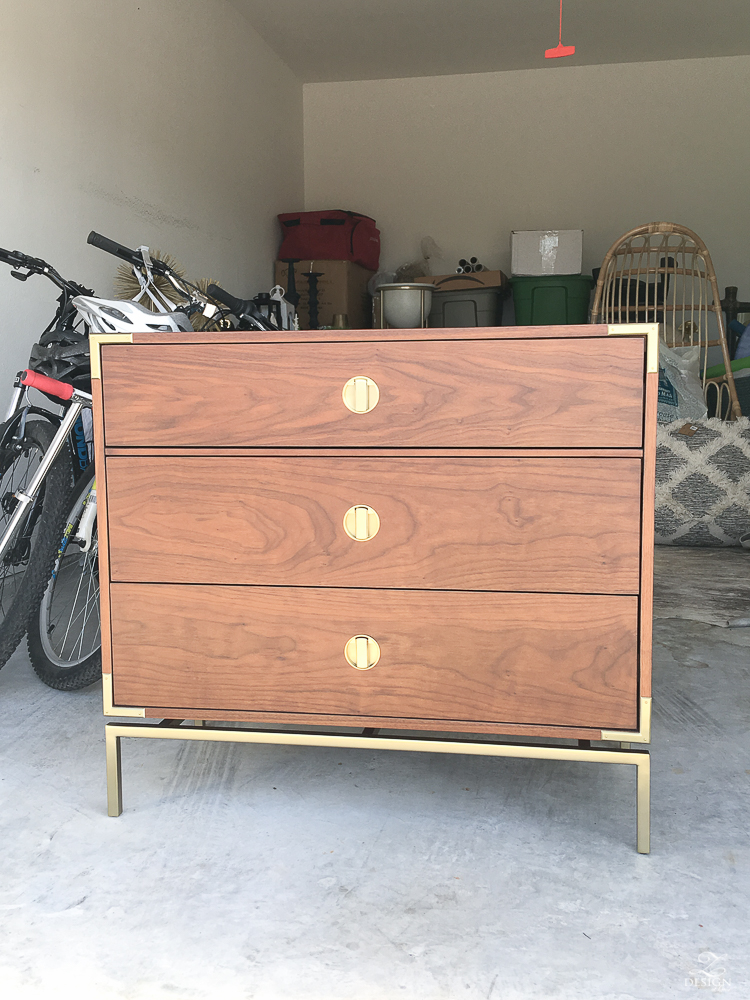 They actually weren't my first choice though.  If for some reason they don't work out once I get them up to the room this nightstand was my first love for this project and although not really in the budget, they would be so perfect.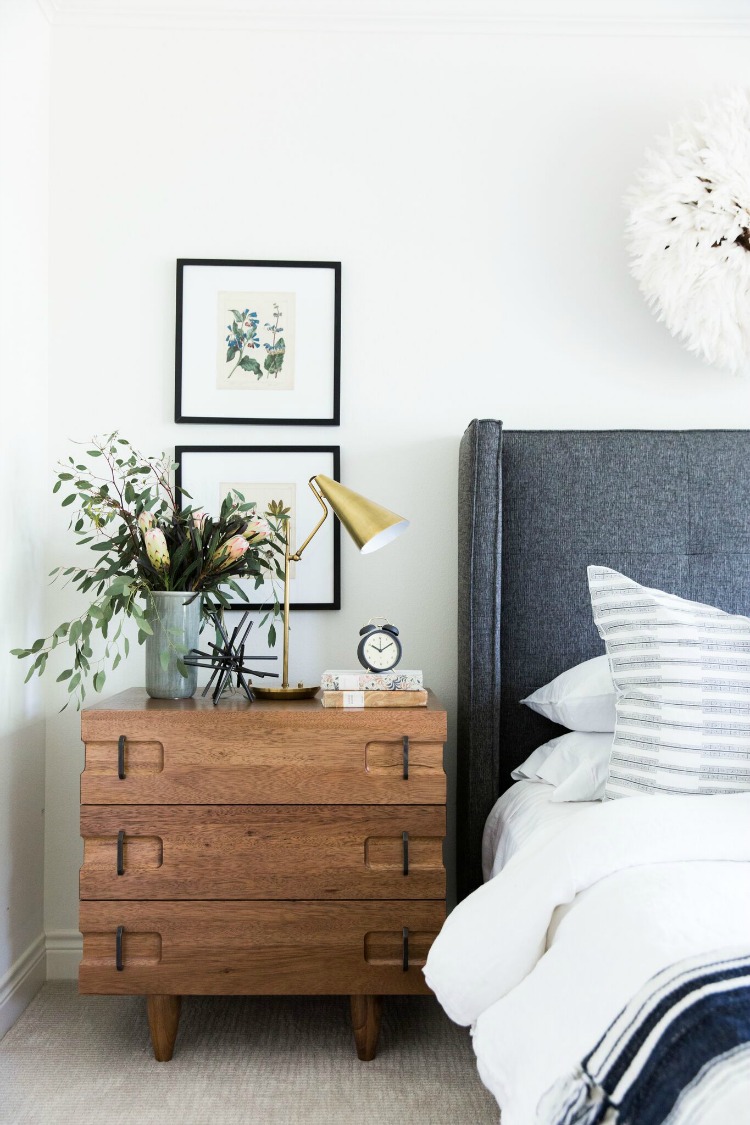 Design: Studio McGee
Speaking of nightstands, I can't wait to see these beautiful blue lamps from McGee & Co. that arrived this week on our new bedside tables once they are in the space!  The lamps are even more gorgeous in person and definitely command attention in the room – in a good way, of course:).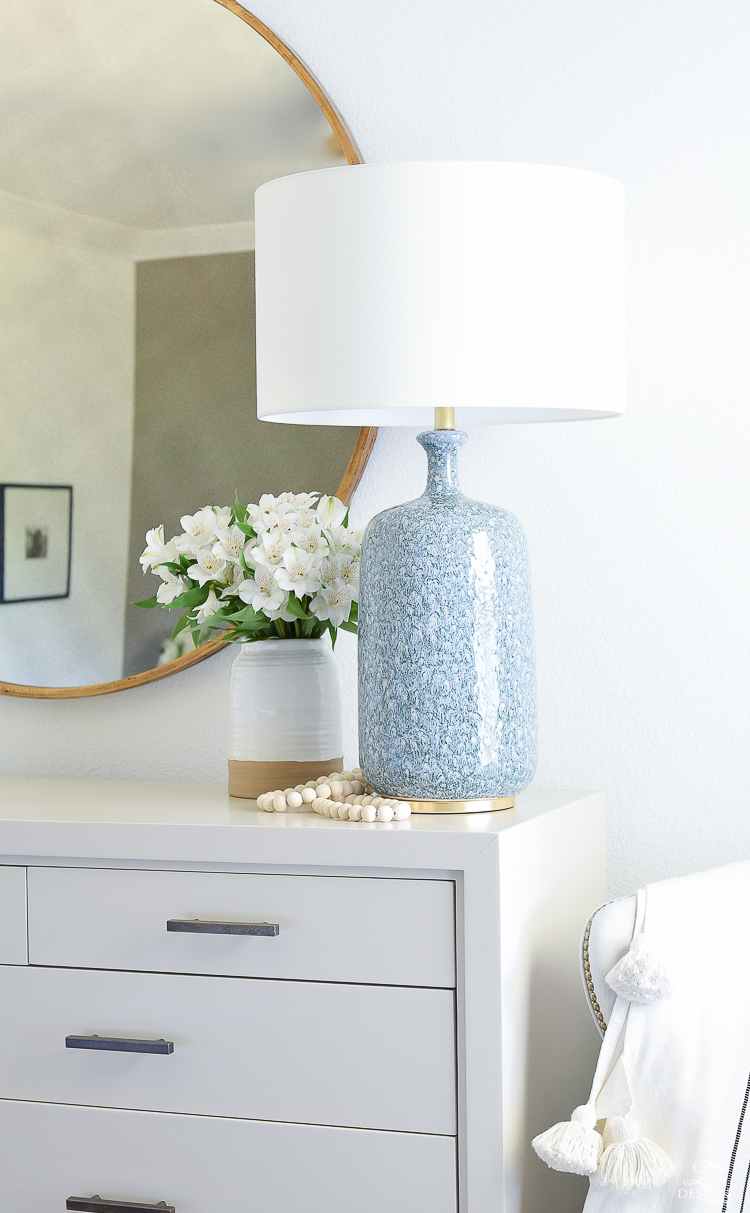 The rug has arrived also and is in storage as well (can't put the rug down until the bed arrives) but here is a photo of the swatch I ordered a few months back.  This rug is incredibly soft (seriously the softest rug I've ever owned) and stunning in person!  The colors in the rug include the perfect shade of blue, blush, and charcoal with a cream background (that has no yellow undertones – yay!!).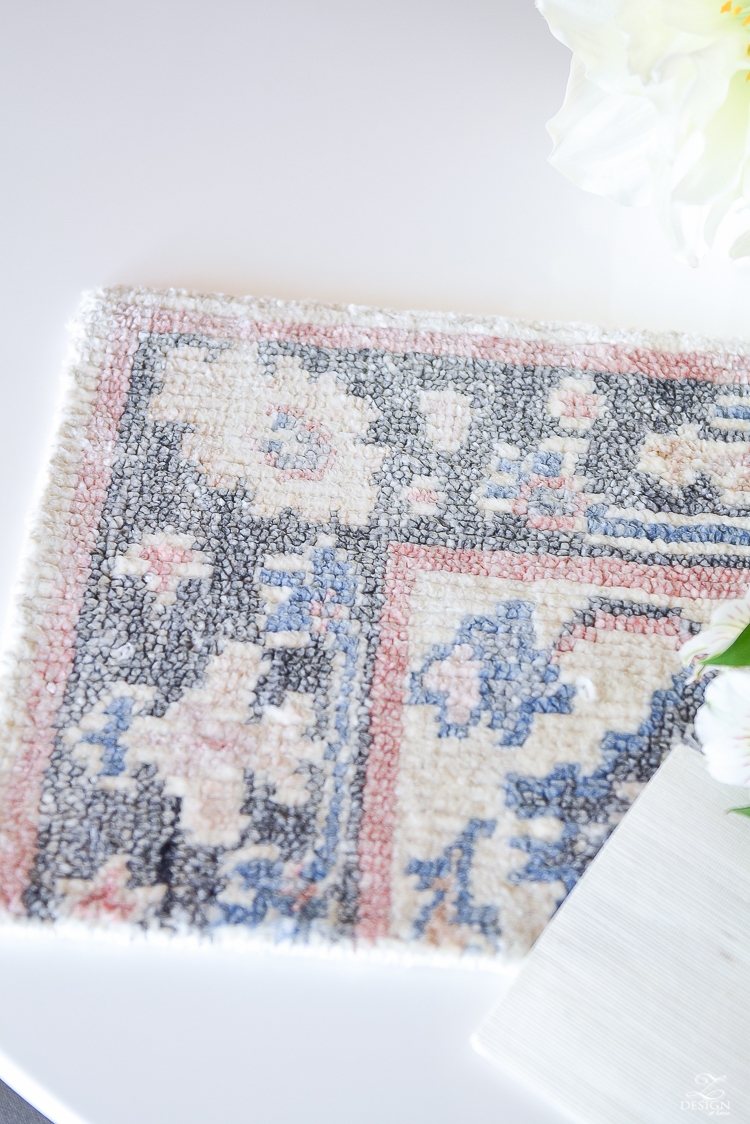 And last but not least is the grasscloth wallpaper.  I'm concerned it may be a little too creamy with a yellow undertone but honestly I'm hoping once it goes up on the wall it will be great (it was the whitest one I could find).  I ordered that this week and it's on the way as we speak.  I think it will provide just the right amount of texture behind the bed and will brighten the room from the (depressing) gray wall that is there now.  This wasn't my first choice either but the other things I found that I liked were murals that were either too small for the wall or they were too expensive for this project.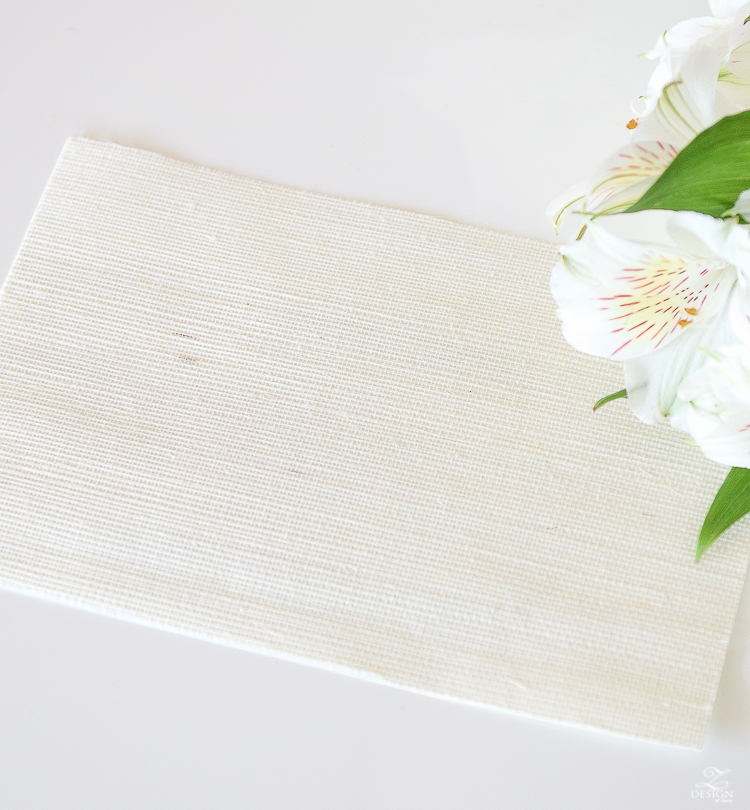 A few other things to note…the bed is on the way, I received a sampling of the dresser hardware right before I published this post (haven't even opened the box yet) and I'm also working on the drapes as we speak.  I thought I was going to just do white linen but my friend Janine at Tonic Living has some amazing new prints in her arsenal so now I'm contemplating between white or a really cool, subtle black and white print.  I'll have some fabric samples next week to share with you hopefully.
Also, our new Saatva mattress is on the way and I ordered this box spring cover for the foundation that I'm super excited about.  I have a beautiful white quilt set coming from Boll & Branch as well.
I also made some decisions on new accessories and pillows for the space that are on the way from McGee & Co. that I hope to share next week (or the week after) as well.  Below is my pillow inspo shot for this project…love the XL lumbar in front and I'll be incorporating this & this similar pillow into my project from McGee & Co.'s newest arrivals – can't wait!!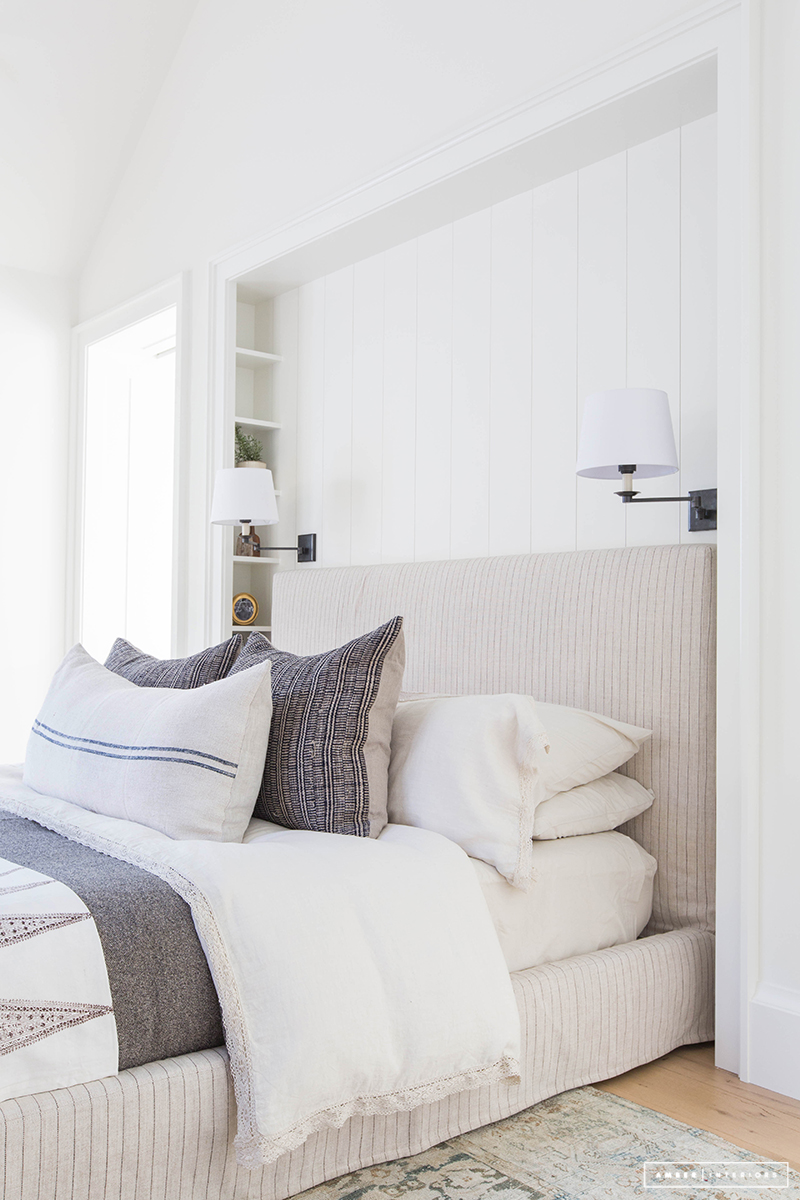 Design: Amber Interiors | Photos:  Tessa Neustadt
I'll also have a big surprise for you next week in regard to the chandelier I've chosen for the space  – I may or many not be going with one of the two lights I picked initially (here & here) so you'll have to come back then to see what I'm up to!
It may be a mad dash to the finish on this one but I hope you'll continue to follow along each week to see my progress.  Don't forget to stop by the One Room Challenge link-up page to visit all of the other bloggers taking the challenge this spring!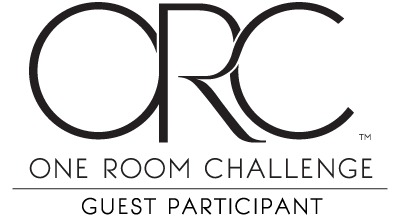 A big thank you again to these wonderful sponsors…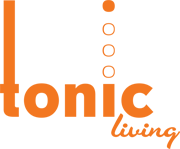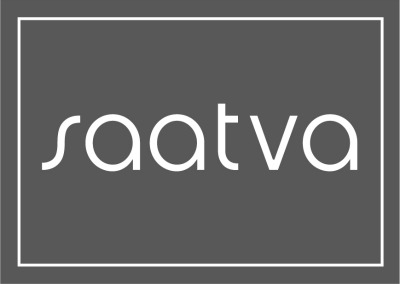 UPDATE:  You can now visit week 3 HERE, week 4 HERE, week 5 HERE & the final reveal/week six HERE.
Thanks for stopping in today!!  If this is your first time here, please consider subscribing to the blog to receive weekly updates throughout the 2018 Spring One Room Challenge project and beyond!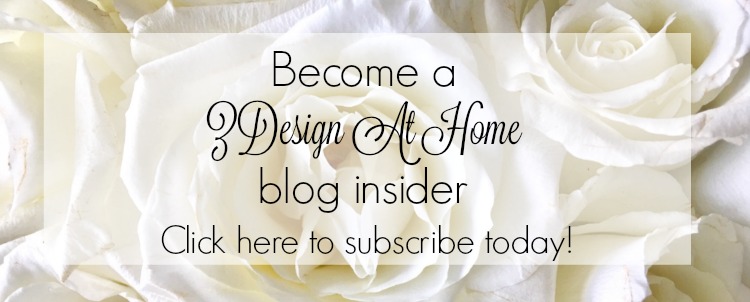 Blue Lamp | Nightstands | Grasscloth | Rug | Bed