Layered, Neutral Fall Bedroom Tour
Happy fall, everyone! And welcome to my Layered, Neutral Fall Bedroom Tour! If you missed my fall living room, you can check that out HERE. We have had some nice, cool weather early in the season for Houston and it has been so great to see the leaves changing colors a little early this year, and actually get to experience fall at the appropriate time of year for a change! I love those cozy home feelings that fall brings and I'm especially excited this year since we'll be moving into our new home soon (get caught up on that HERE).
*This post was partially done in partnership with one of my favorite home decor brands, Layla Grayce. As usual however all opinions, thoughts, images and styling are my own. This post contains affiliate links. Please read my full disclosure policy here.
This post is bitter sweet because as I said before we should be moving soon so this will be the final blog post room tour I will do in our rental – hallelujah!!! We are hoping to be moved in within less than 30 days! Right now they are doing some last minute tile work, installing bathroom mirrors and I saw yesterday where the appliances had been delivered…Woo, Hoo!!!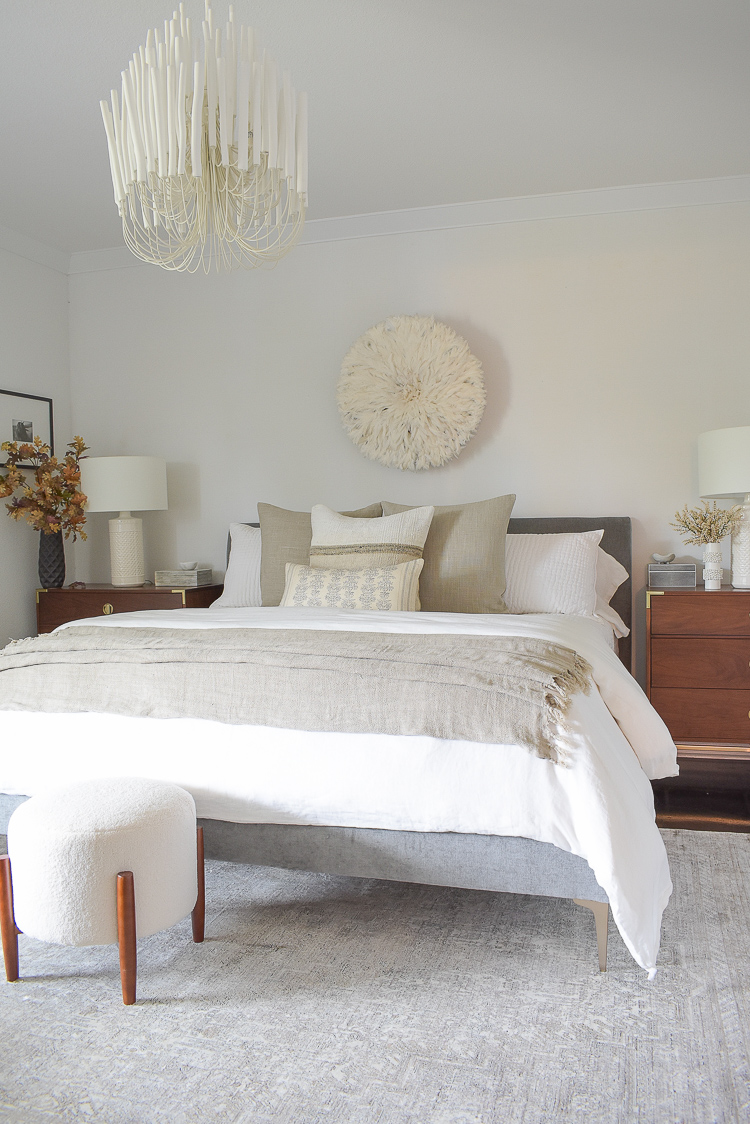 Anyway, let's get to what you came here for! I think bedroom updates for fall and winter is probably the most important update of the season to give your bedroom that cozy feel for the cooler months. Because we are moving soon I didn't do any updating to the core basics of my bed but of course I did update my pillows and end of bed throw. I left all of my linen bedding on as linen has incredible warming properties that will keep you warm all winter long – it's my favorite fabric for that reason and more.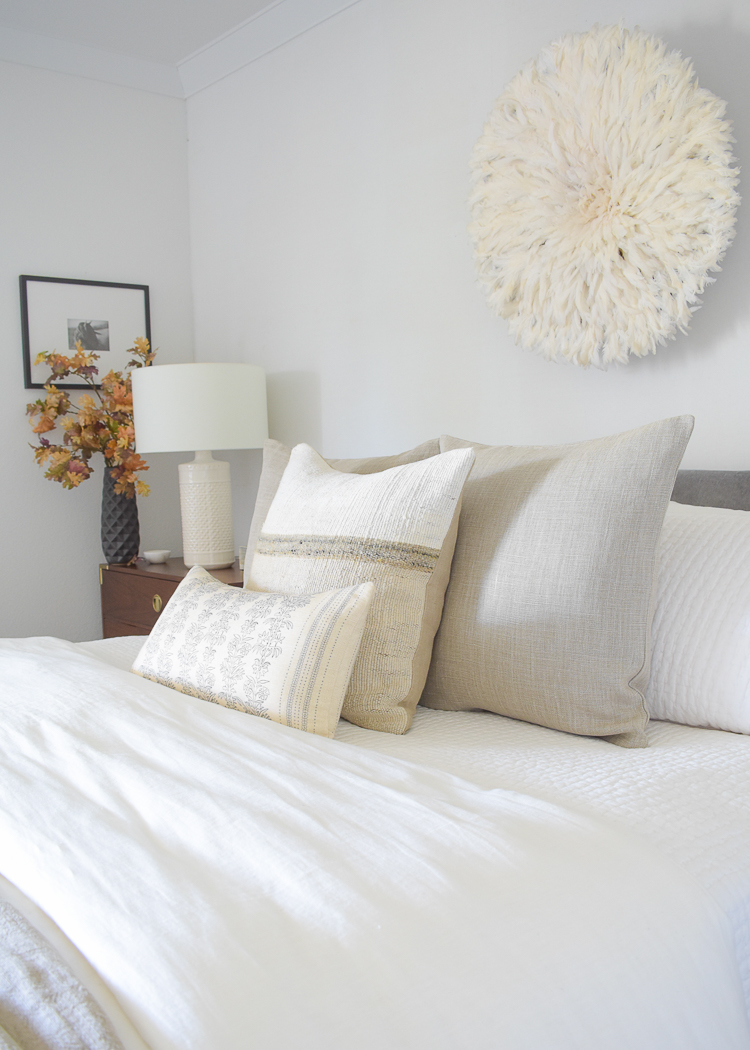 I also used this same two-tone pillow in my fall living room tour, and the large linen pillows in the rear I used as well in shale gray in my living room. This is the pewter color however on my bed. Sounds like it should be a light gray but it's more of a light natural taupe color and they blend really well with the new rug I am about to share with you from my friends over at Layla Grayce.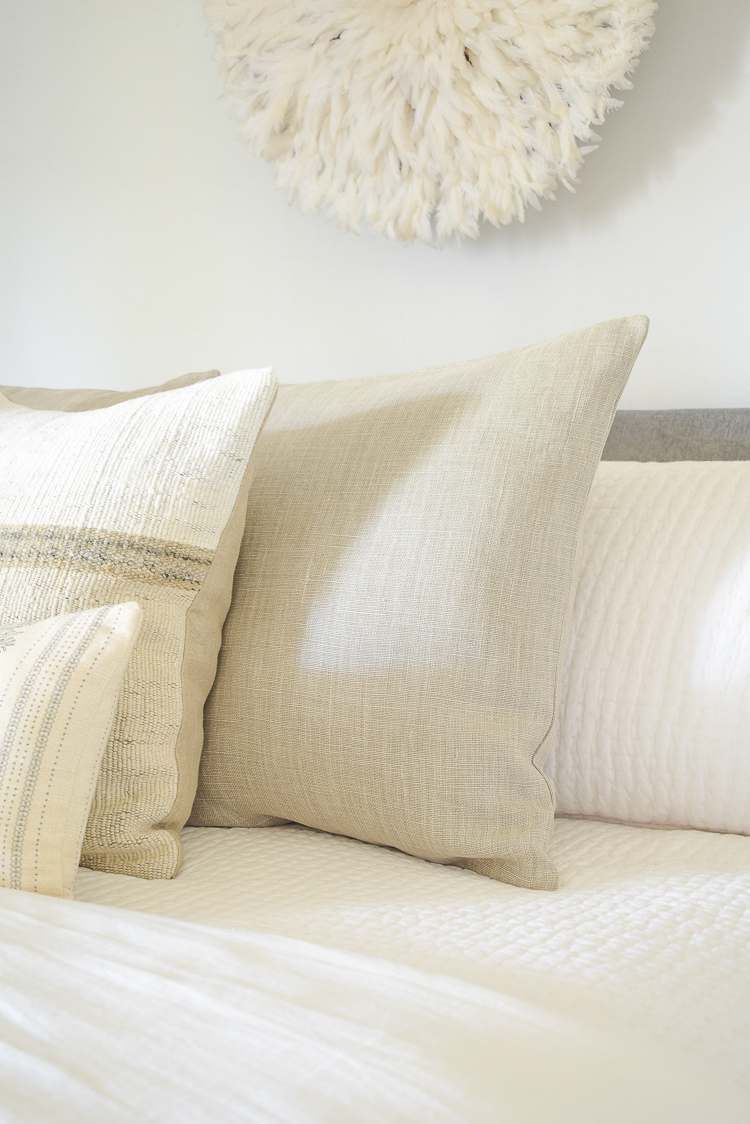 The two-tone pillow is fun but I also really love this floral lumbar. I love it so much I have it in this size and one other size x 2!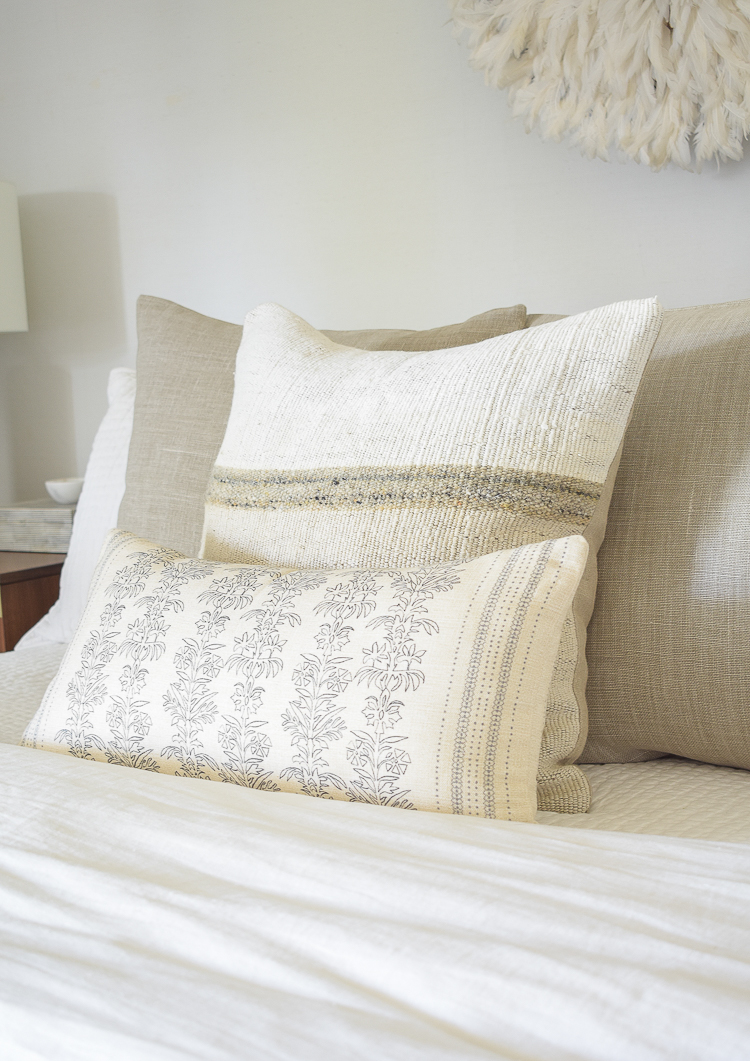 One of the things I'm most excited to share with you is this new linen throw and Loloi rug from Layla Grace! I have shopped at Layla Grayce for years and really love the quality and beautiful, timeless pieces they offer so when I started shopping for a rug for my new home I knew exactly where to go.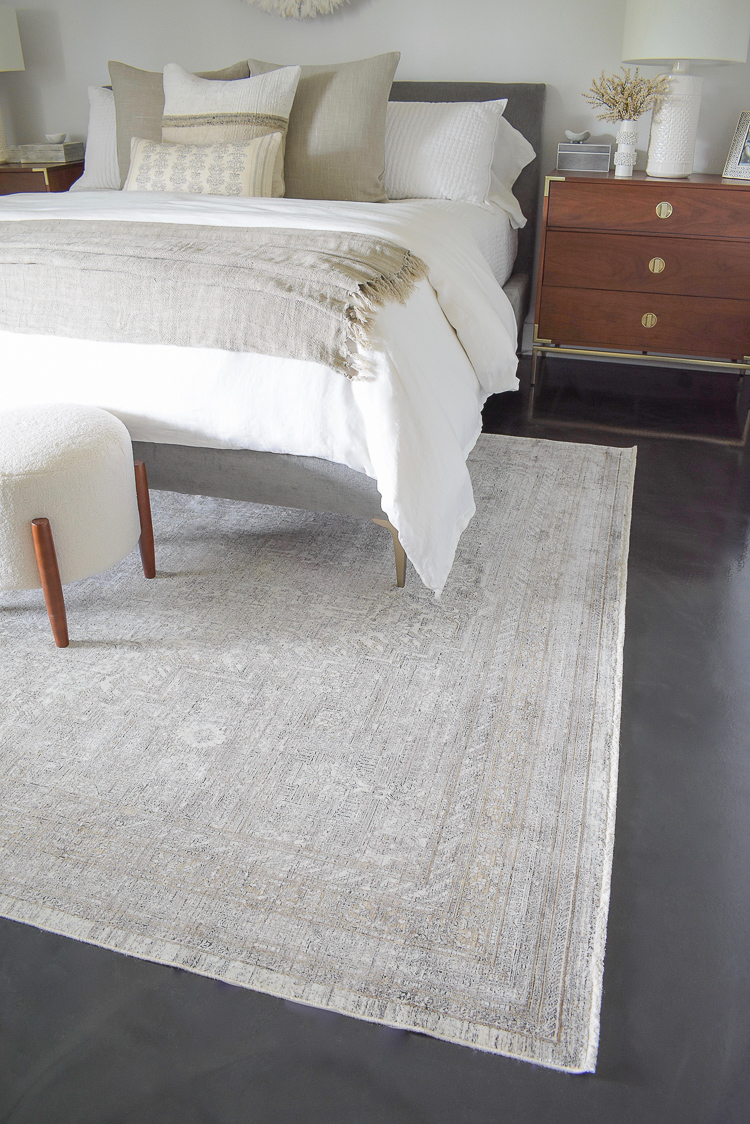 I wanted something special (and super soft) for the master bedroom in our new home and this Loloi Gemma Hammond rug couldn't be more gorgeous and soft. I love the subtle pattern and how it helps to evoke such a calming affect in the space. It has colors of sand, ivory, tan and a tad bit of black which I love. A piece I know I'll have in my home for many years to come.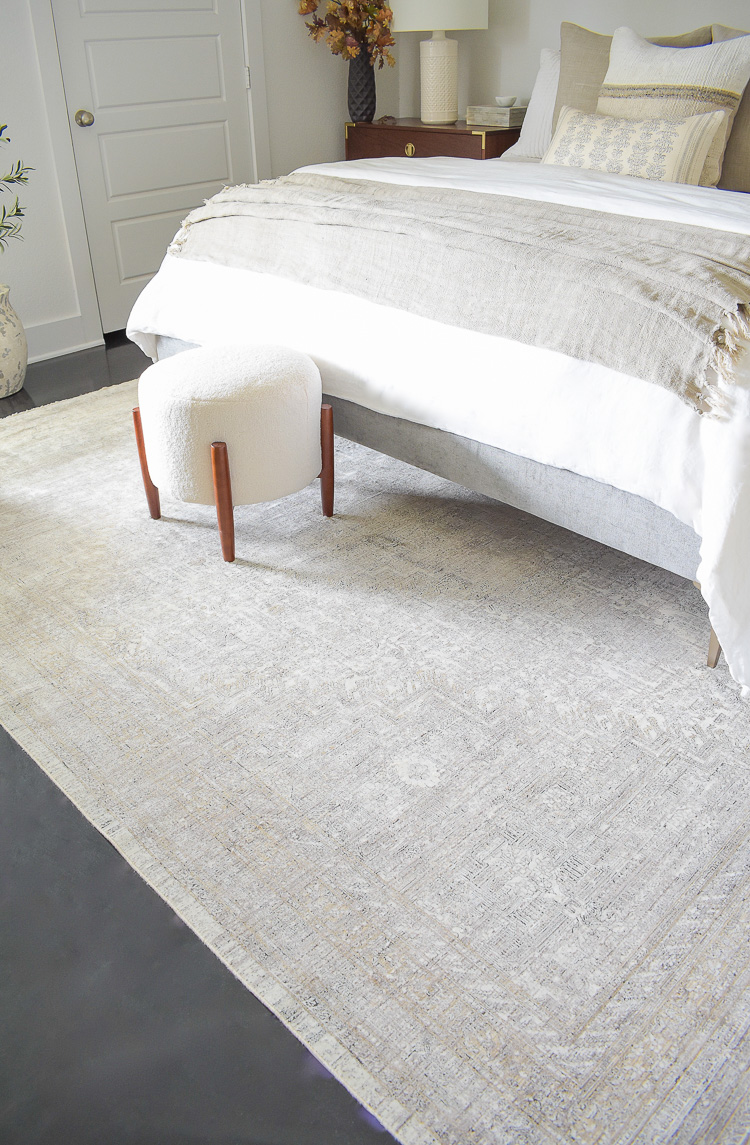 It is truly stunning and on sale at 20% off through October 20th for my readers.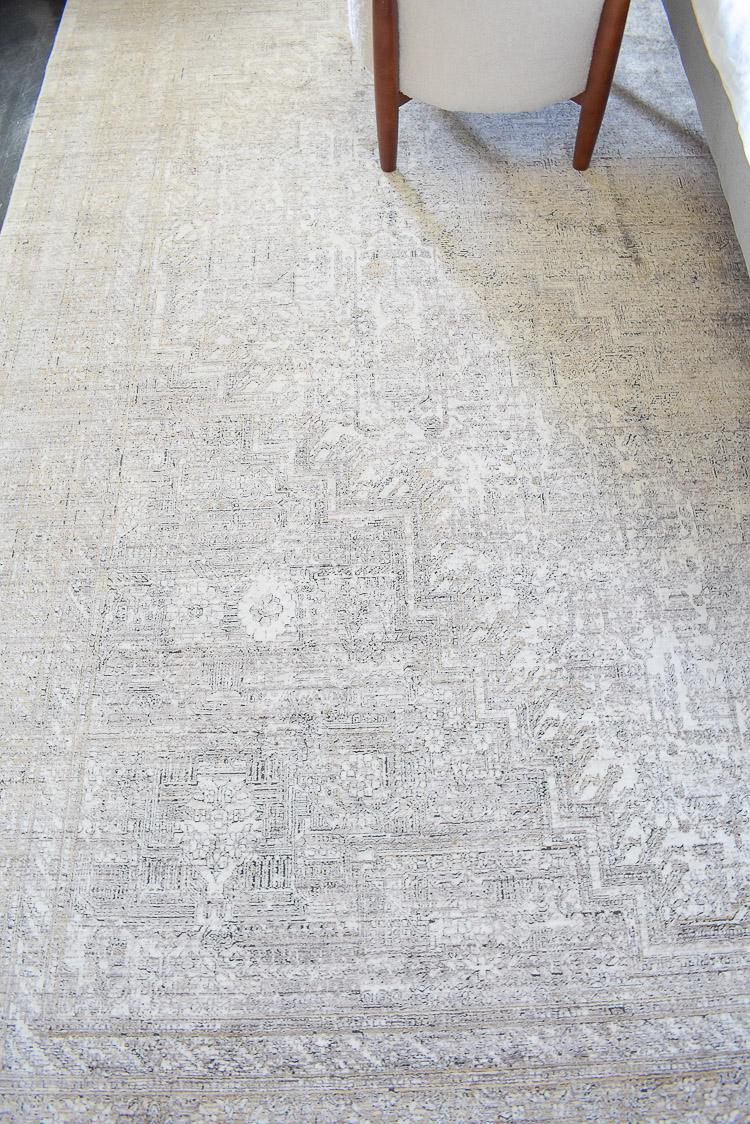 The Montauk throw from Layla Grayce is equally stunning. It's 100% linen and the color (natural) blends beautifully with the rug, but it also comes in 6 other beautiful colors. Be sure to watch my Instagram on Friday, October 16th for a fun giveaway where I'll be partnering with Layla Grace to give away 5 of these stunning throws to 5 lucky followers. It's a $195 value so don't forget to enter to win right HERE!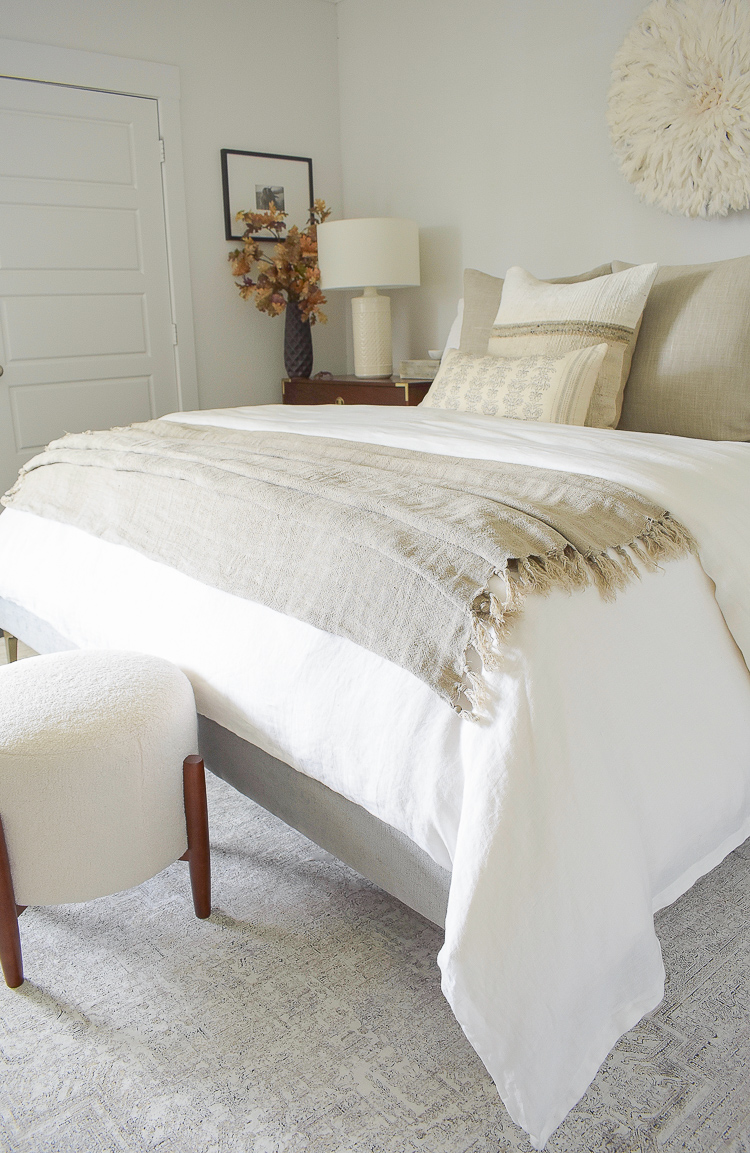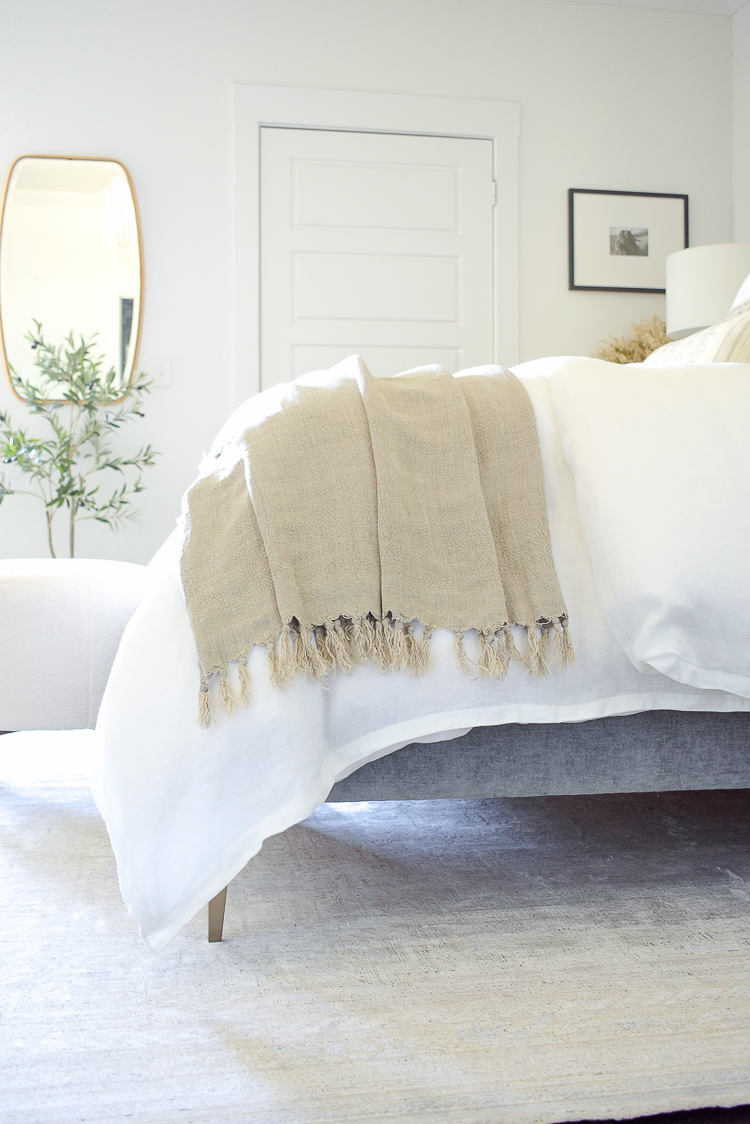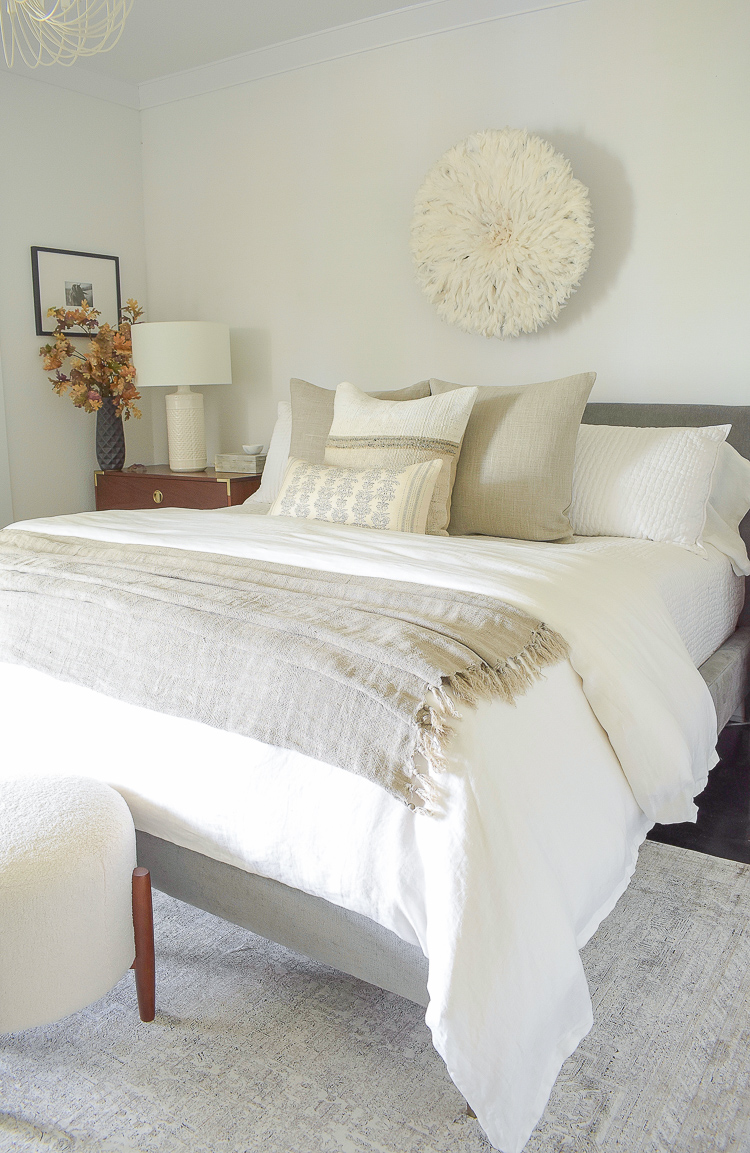 I also snagged this darling sherpa stool that works perfect at the foot of my bed. You can see how beautifully the throw and rug work together here…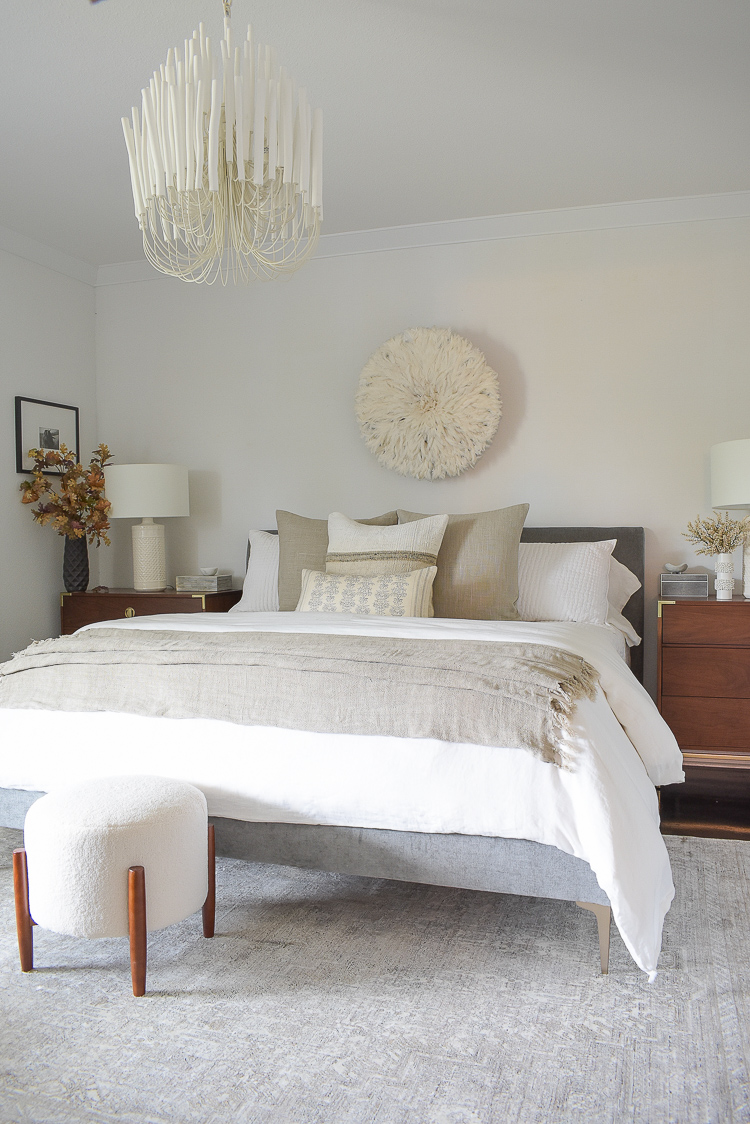 Next to my side of the bed I layered some white neutrals with lots of texture. When using neutrals or white in the fall, it is always key to use lots of good texture.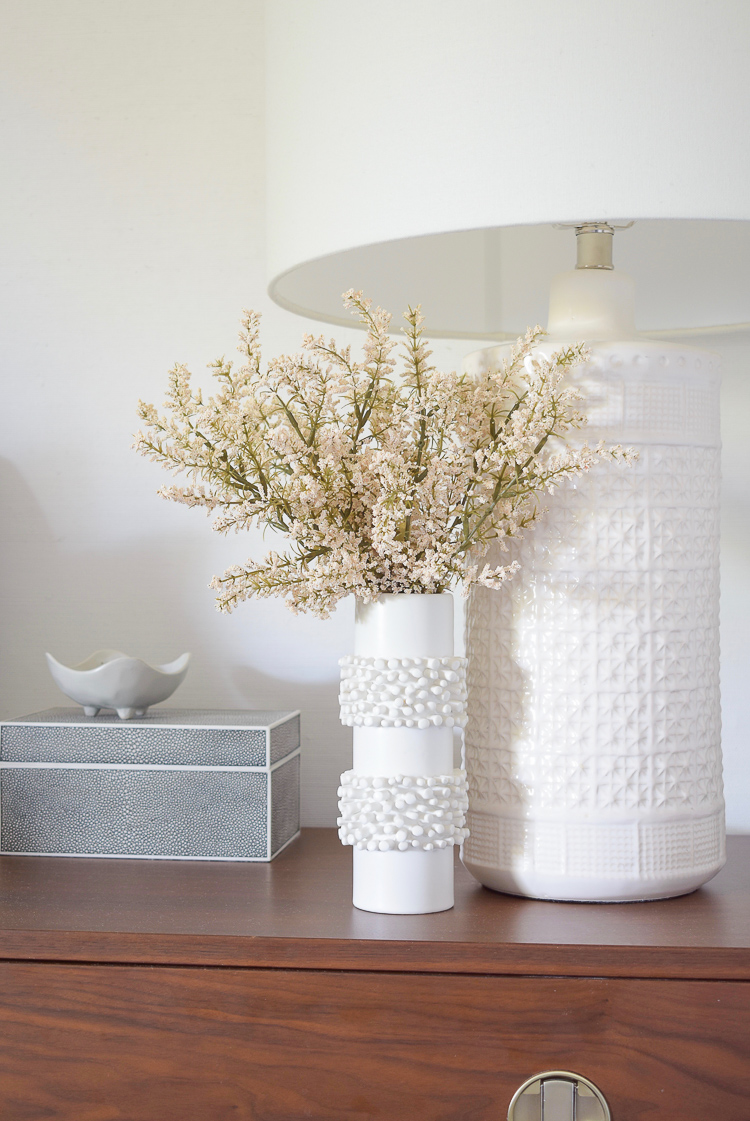 On my husband's side of the bed I added a pop of color with some new favorite faux fall branches. I only have one branch in this vase for reference. This is something new I added to my fall collection this year and couldn't love them more. Normally I don't love decorating with traditional fall colors (although I love seeing them outside) but, these beautiful, realistic branches take the home decor cake!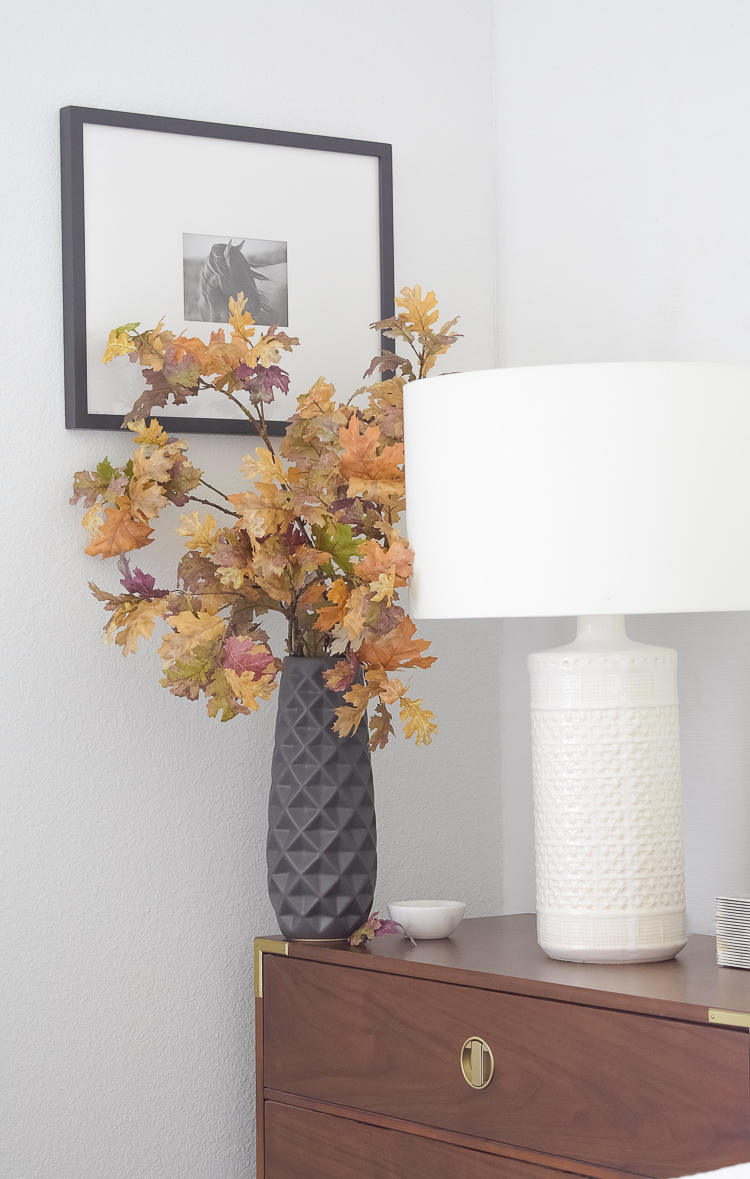 On the opposite side of the room I have more of the same branches, again only one branch in my vase (they are huge!) and this new decorative bowl. It was a purchase for our new home for the coffee table or kitchen island. I also moved a lamp from the living room. The black lamp and colorful branch really warm up the space and I'm loving this fresh new layered look for fall!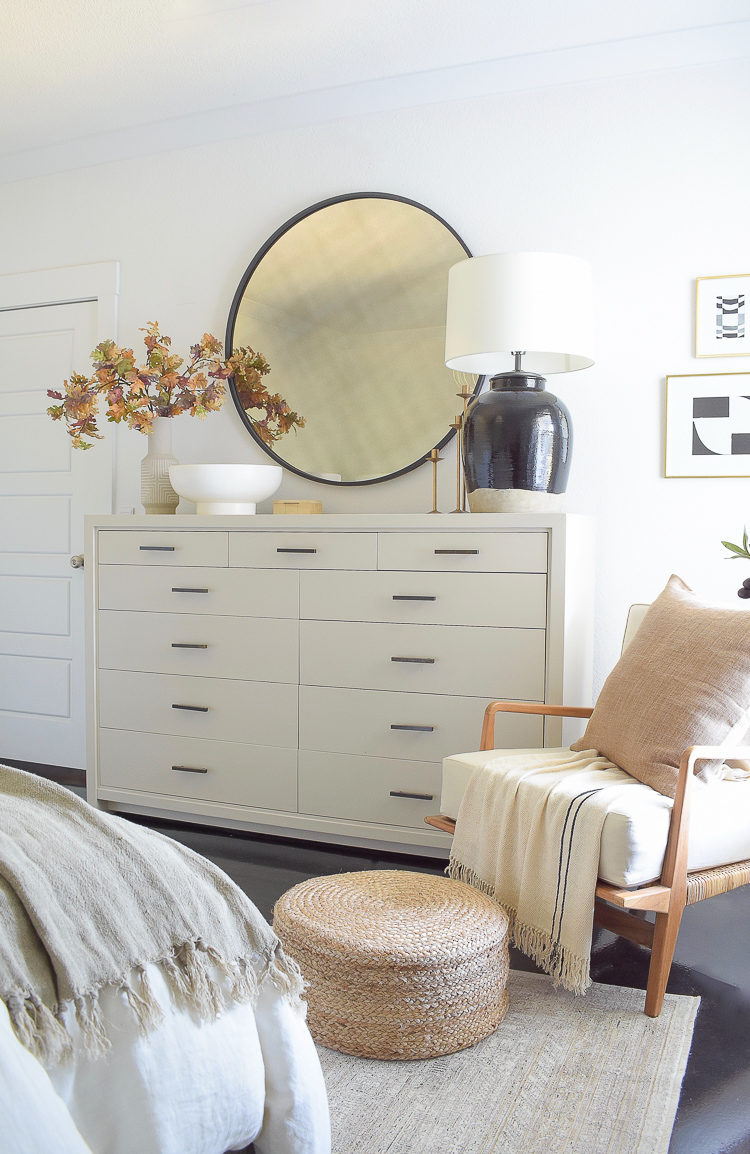 I always have fun updating the corner to the right with a new pillow, throw and pouf this time of year. In reality this chair mostly holds the bed pillows at night (don't we all have one of those, haha?!) but I also use it to escape from it all when I need some alone time;).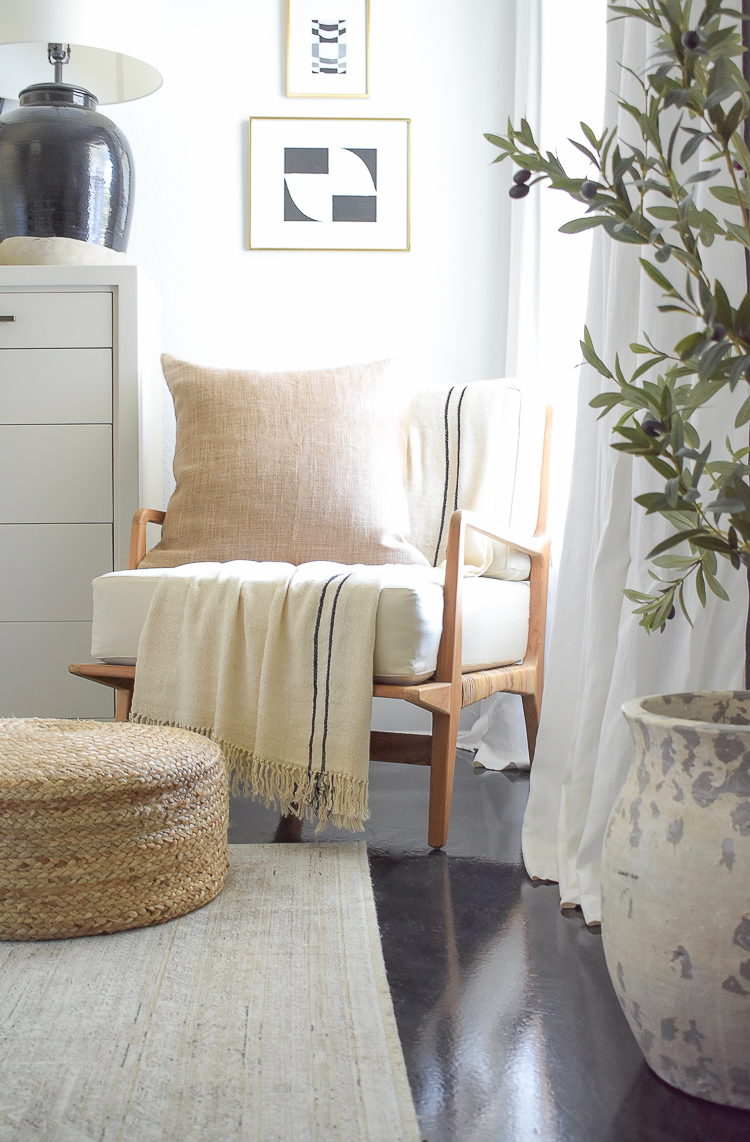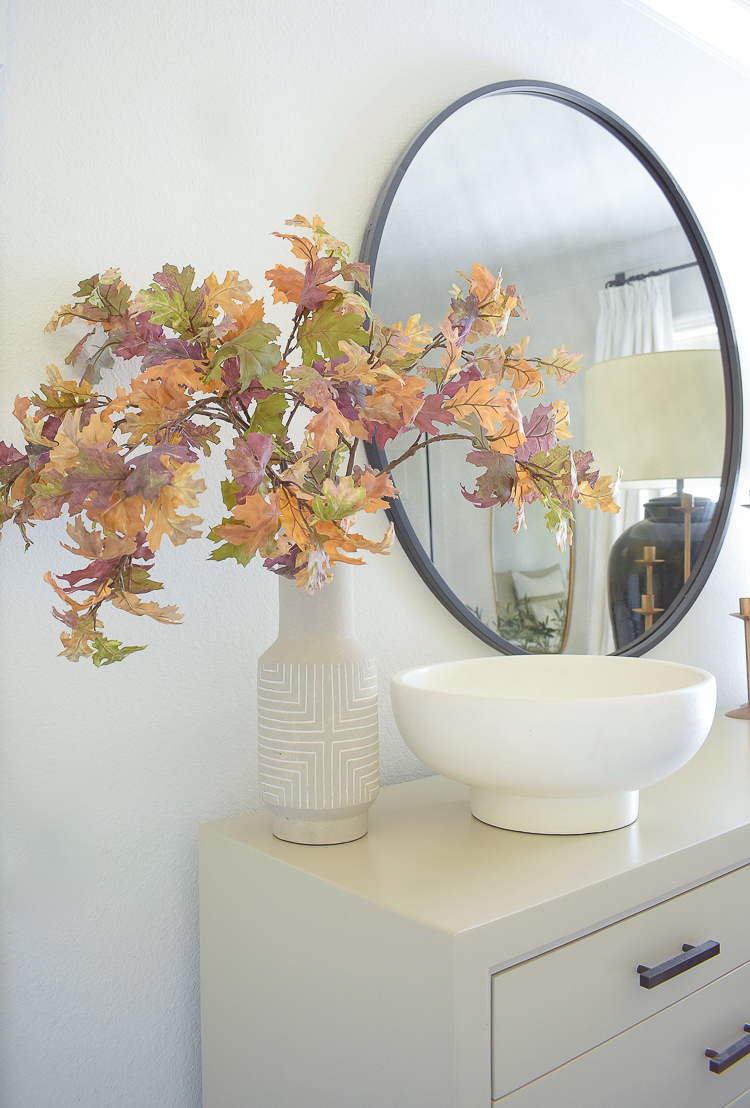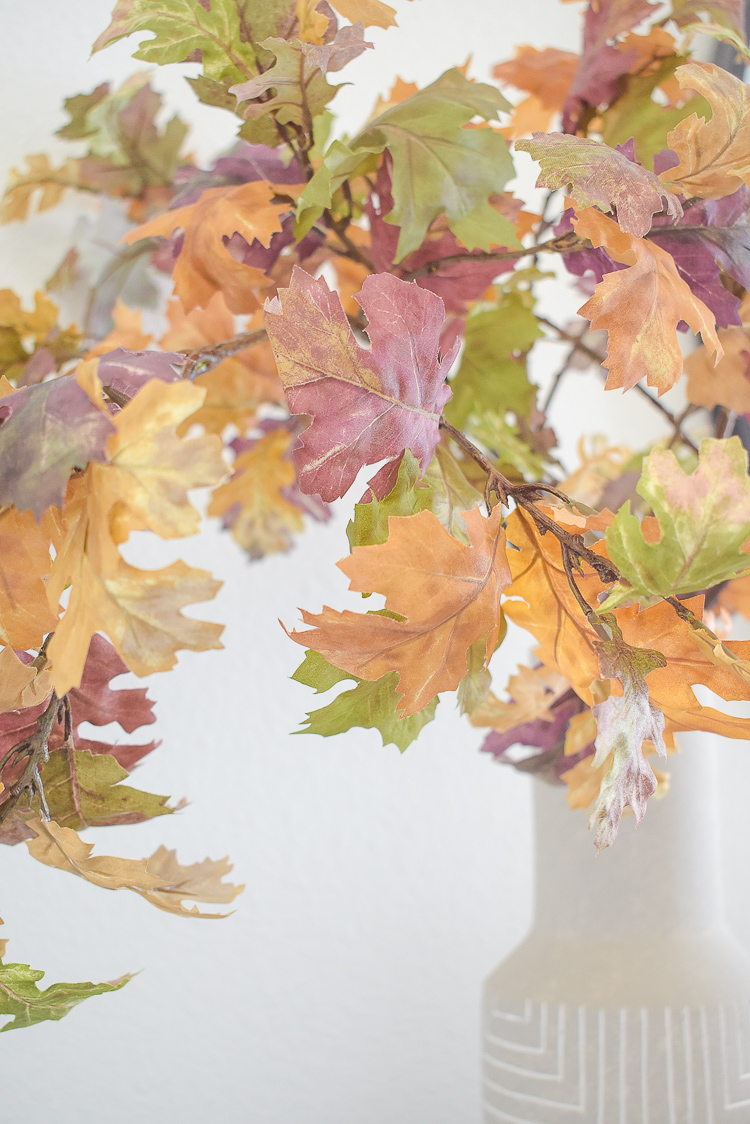 This oversized white bowl has been really fun too! It has nothing in it at the moment but it makes such a statement that I couldn't resist using it already.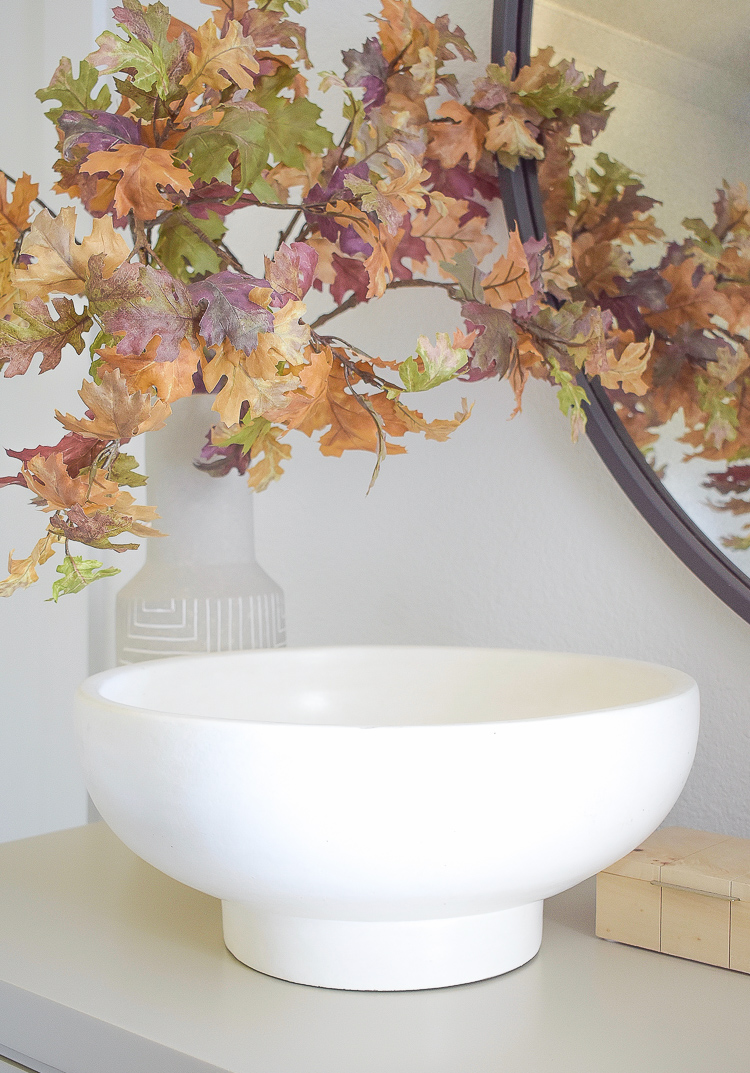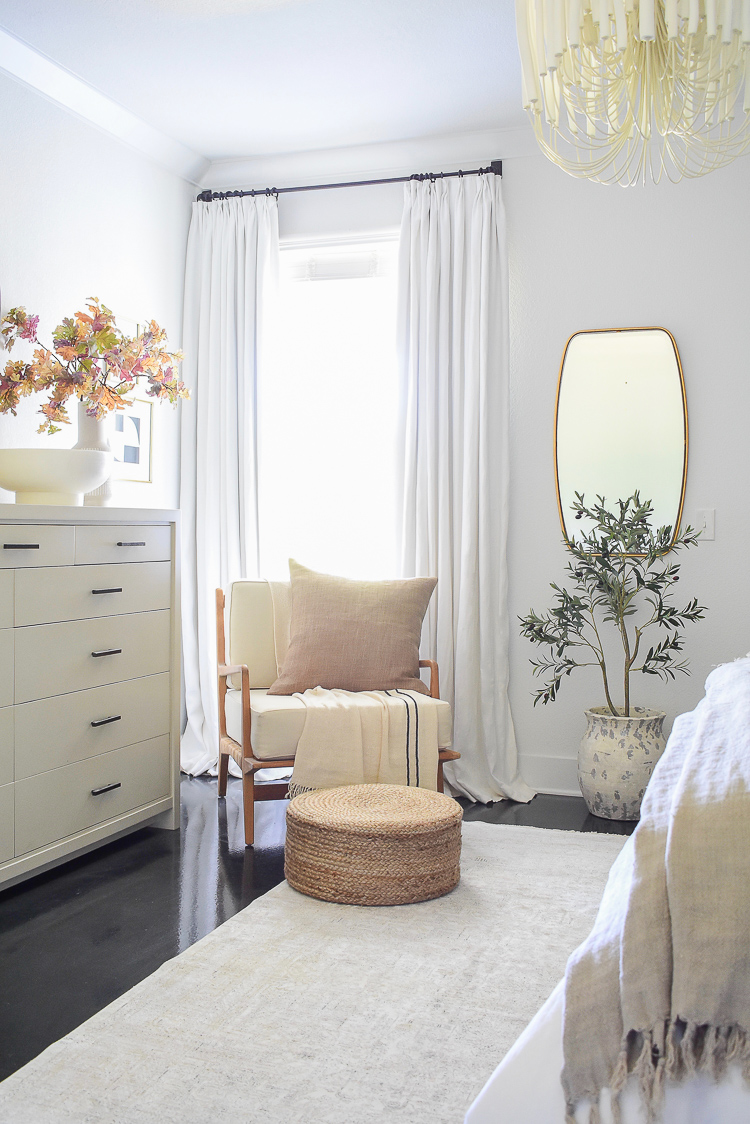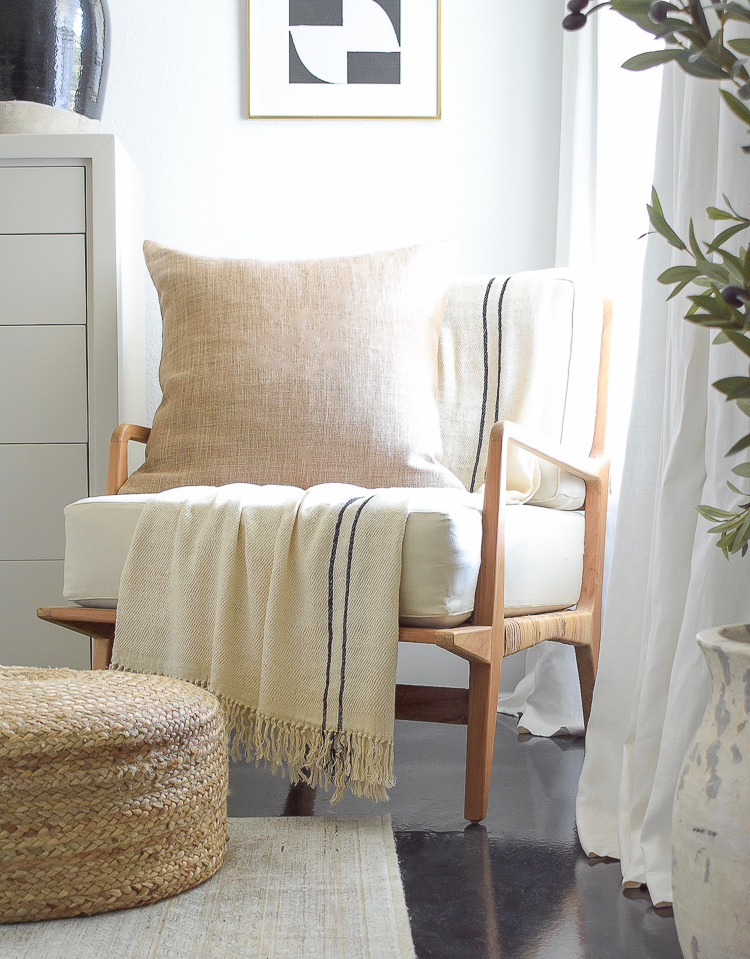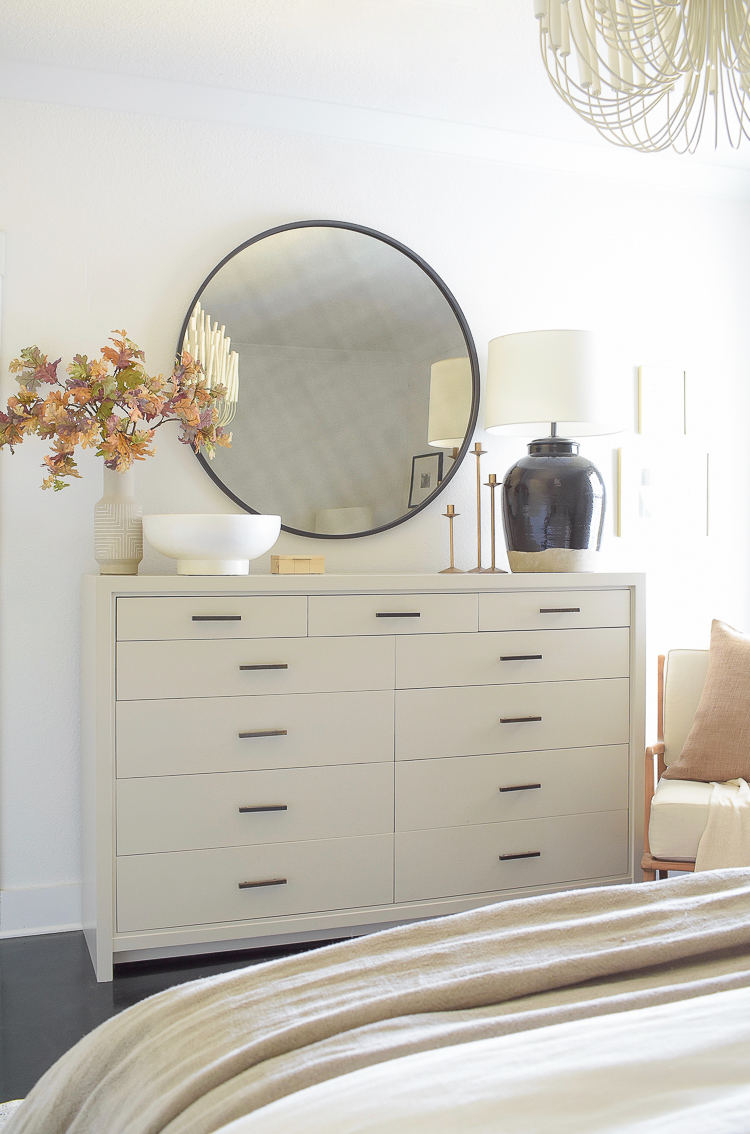 Let's tour the other side of the room again before we go!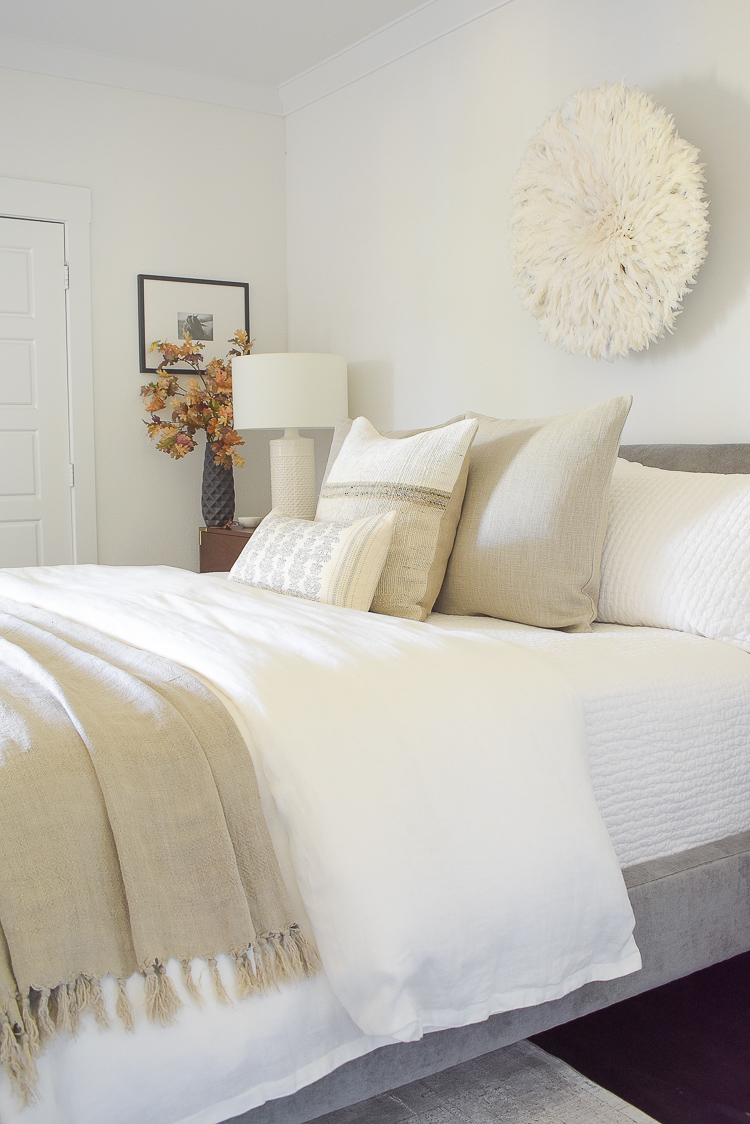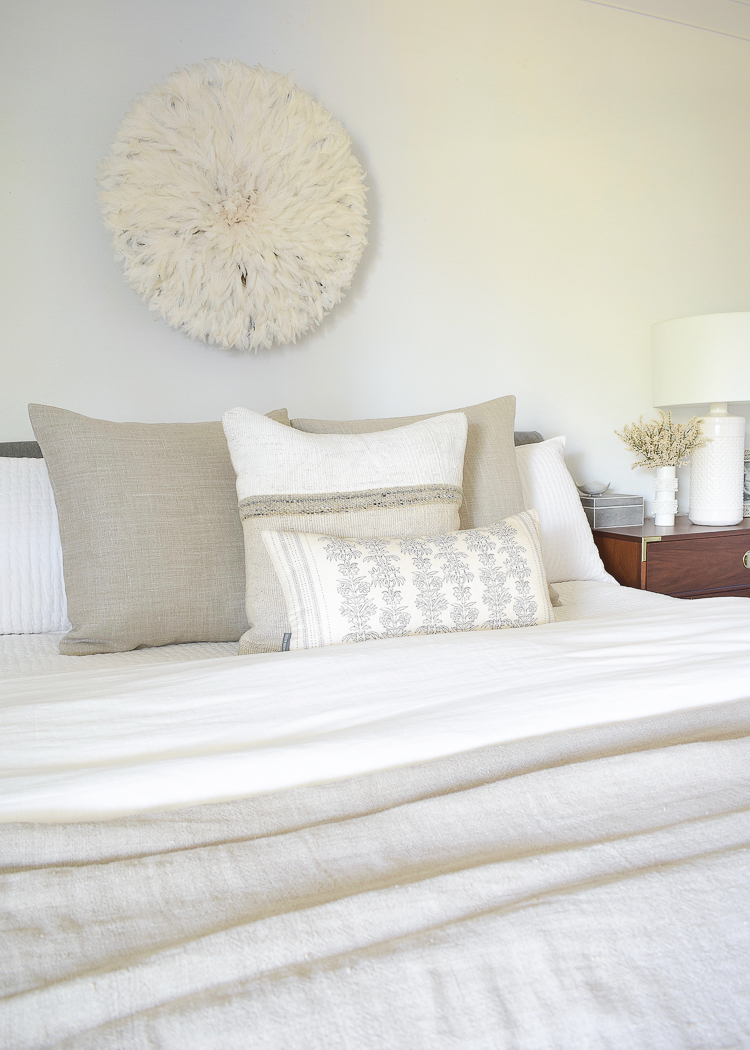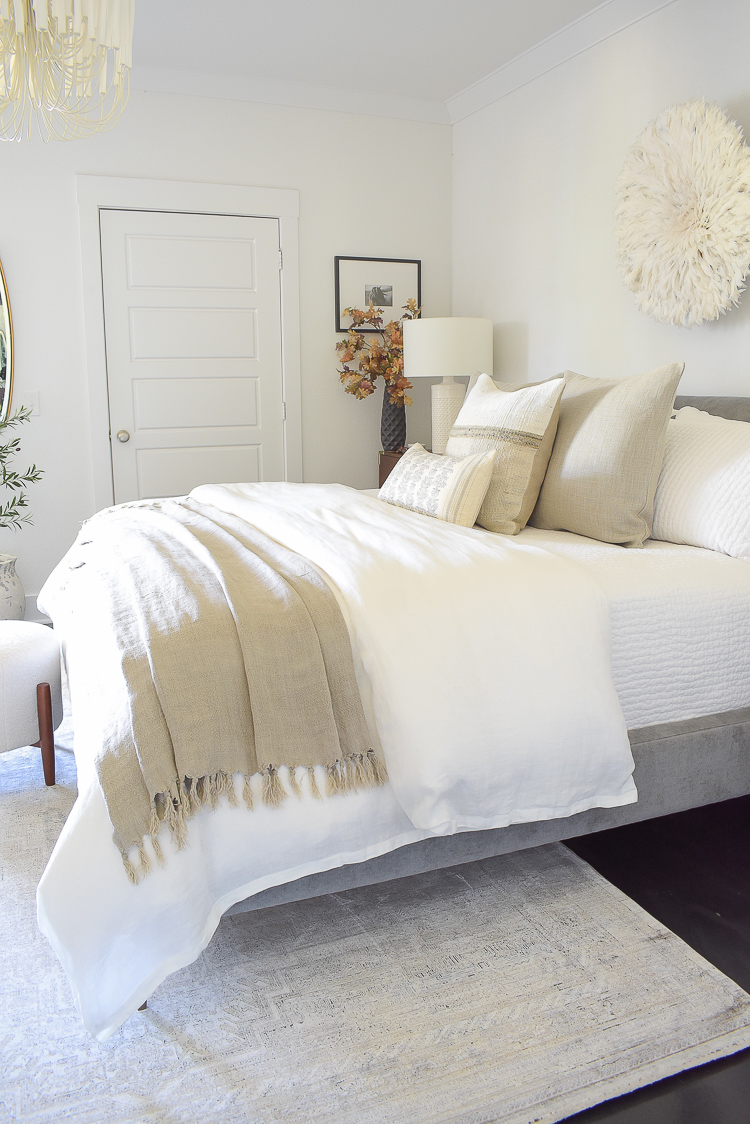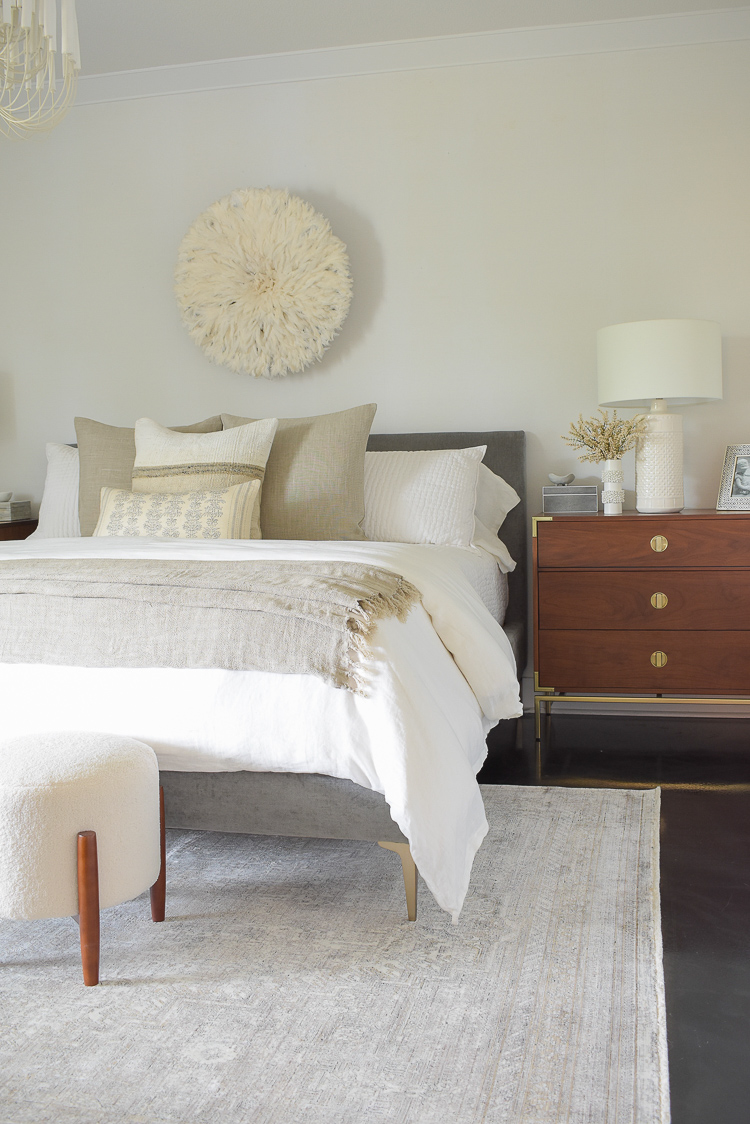 Don't forget to enter in the giveaway for the Montauk throw on my Instagram and Layla Grayce's Instagram this Friday the 16th!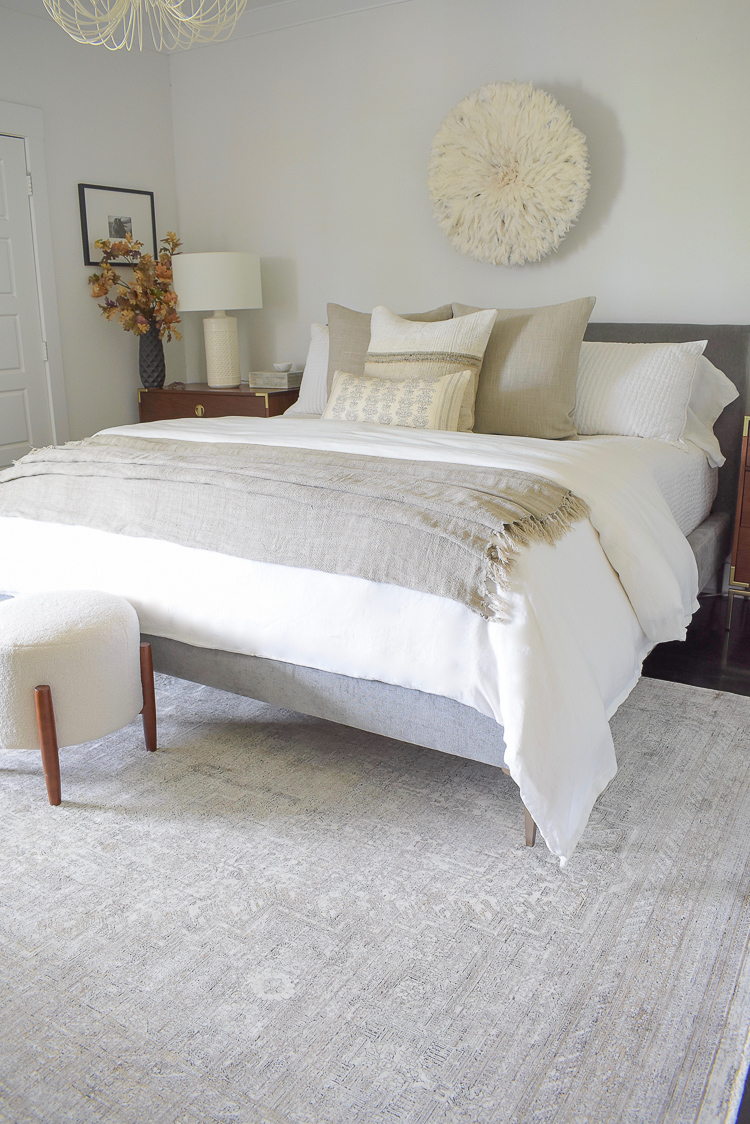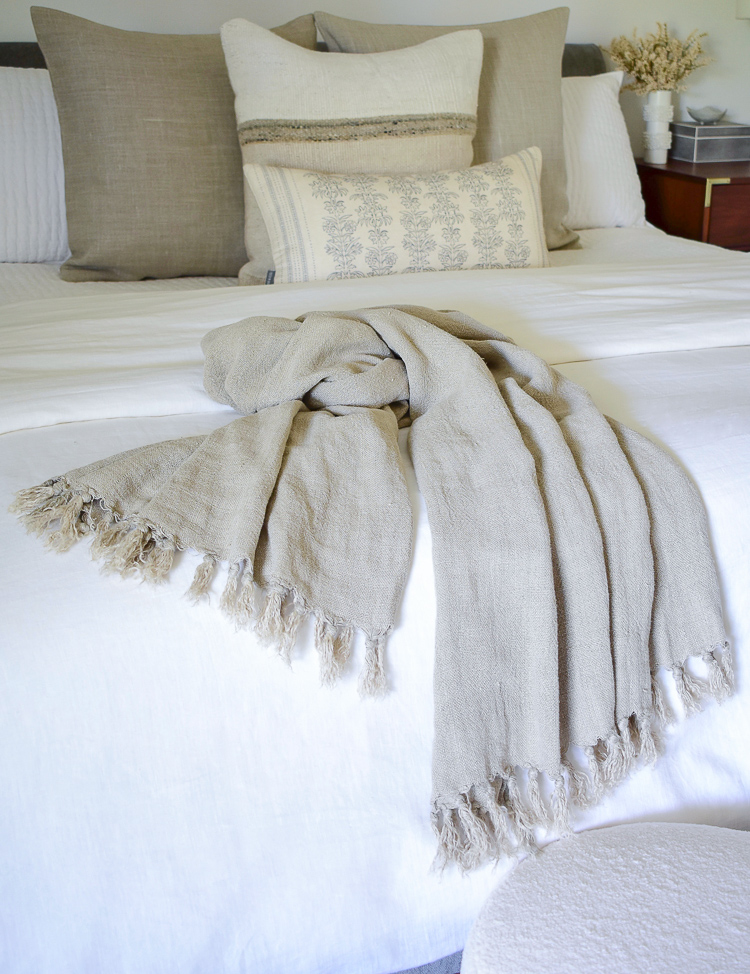 I hope you have a fabulous fall weekend and thank you for stopping by to visit my Layered, Neutral Fall Bedroom Tour!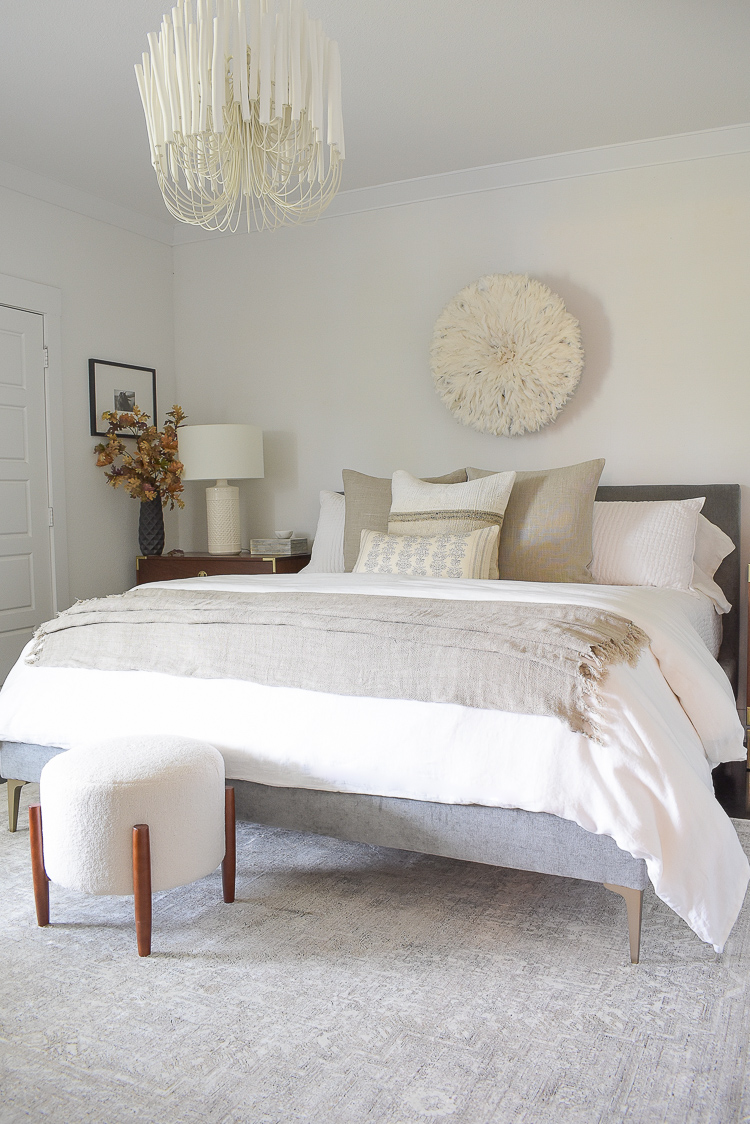 Sources
Rug | Throw | Bed | Sherpa Ottoman | Juju Hat | Lamps | Similar Nightstands | Linen Pillows | Two-tone Pillow | Lumbar Pillow | White Linen Duvet | Quilt & Shams | Sheets | Large Fall Branches | Cream fall branches | Similar Dresser | Black Lamp | Large White Bowl | Chair | Pillow in Chair | Throw in Chair | Jute Pouf | Small Decorative Box on Dresser | Similar Brass Candlesticks | Chandelier | Small Decorative Box on Dresser |