Spring Bedroom Tour + Tips for Seasonal Decorating
Hello there friends!  It's finally my favorite time of year ~ spring decorating time!!  Today I'll be sharing my Spring Bedroom Tour. I'm so happy to have you here and look forward to sharing some fun spring inspiration with you!
Many of you know I'm building a home currently (to get caught up on the latest please check my Instagram story highlights here) so I'm definitely trying to be super intentional about what I purchase, making sure it's something I will want/need to use in our new home.  I hope you enjoy the tour and please stay tuned in because I'll be sharing details and tips along the way!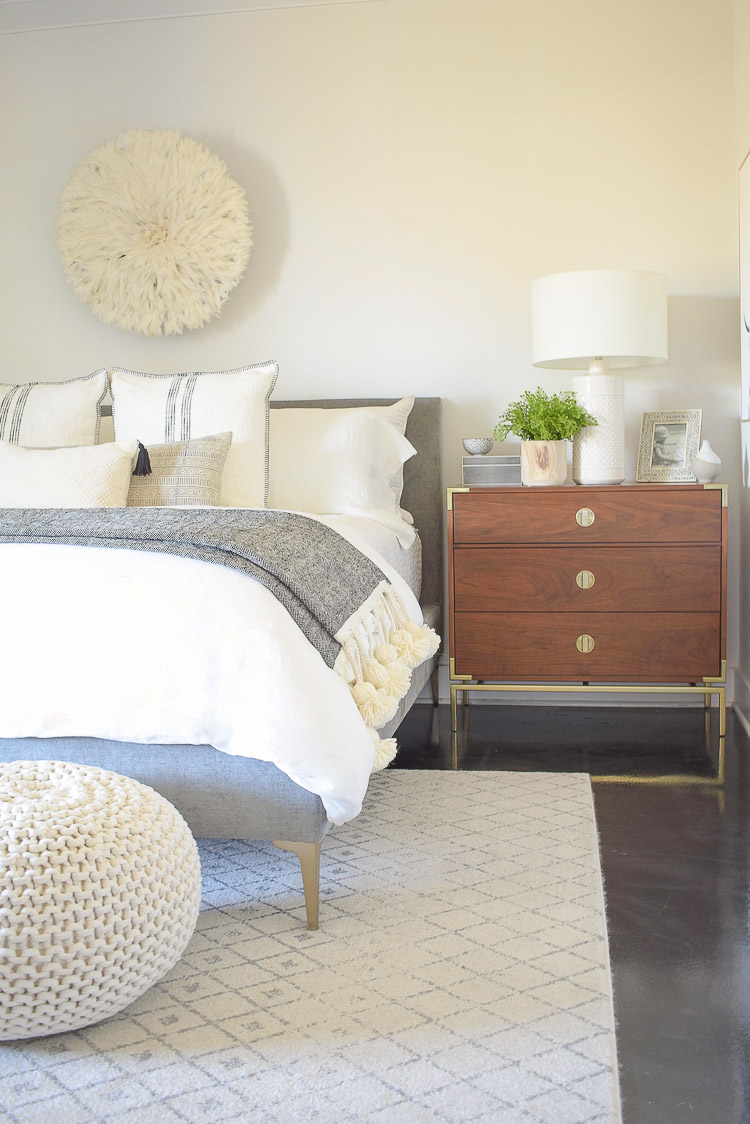 These days I'm seeing seasonal decorating as more of just a refresh of an existing space.  There is no need to go all out bringing in every spring, summer or fall element you can find to clutter up your space each new season and all it takes sometimes is one or two simple changes to make your spaces feel fresh and new for a new season!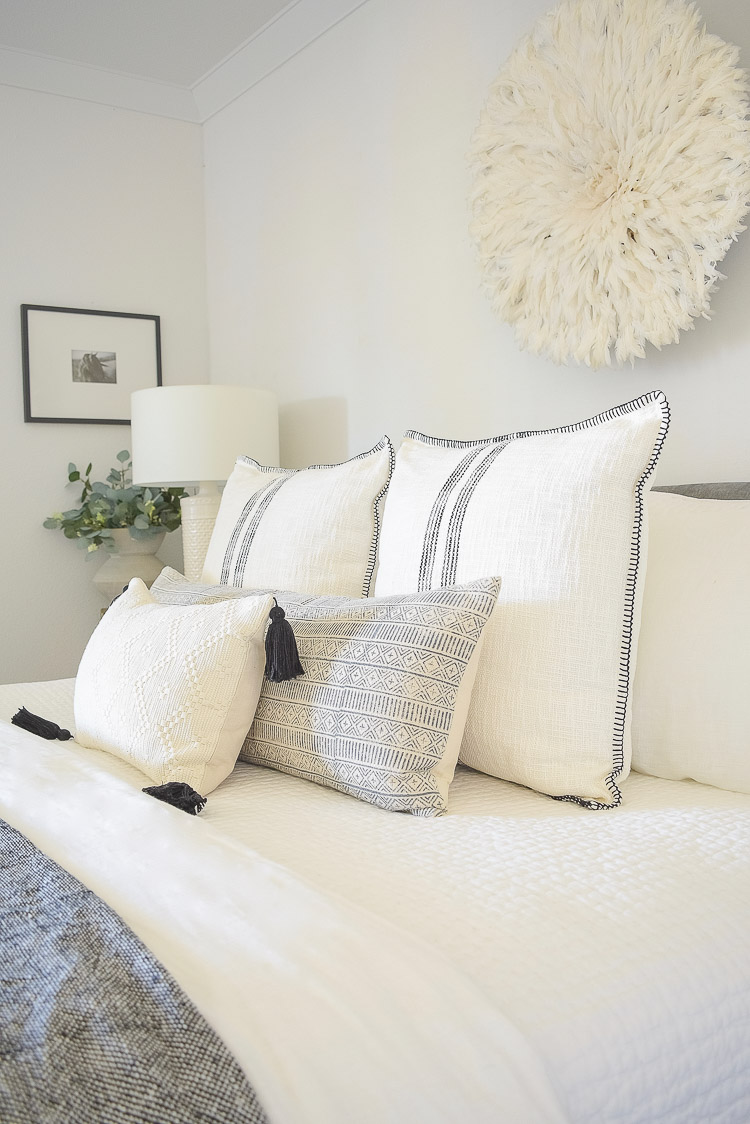 Pillows of course are always the most affordable and easiest way to start.  I used two lumbar pillows I already had in front (and love) and simply added two new larger black and white striped pillows in the back to ground my pillow ensemble.  Black and white anything is timeless and will be in style for years to come (if not forever) so this new addition is something I can use over again and again.  But reusing and repurposing items is always my favorite way to decorate!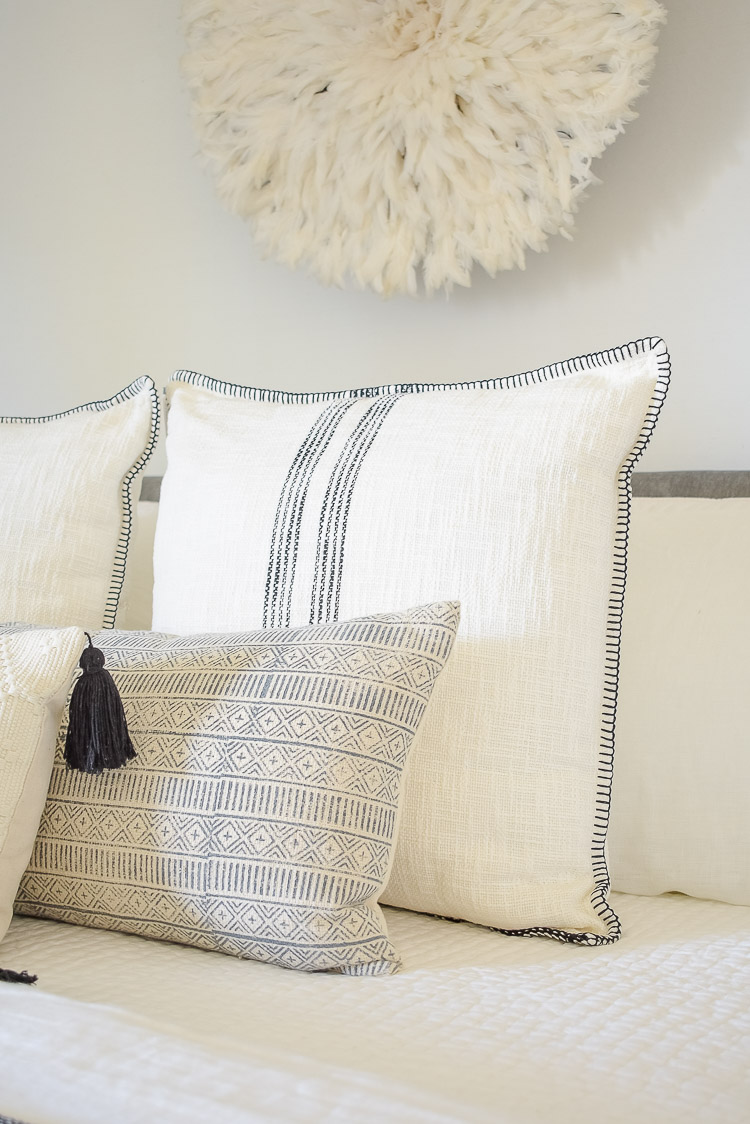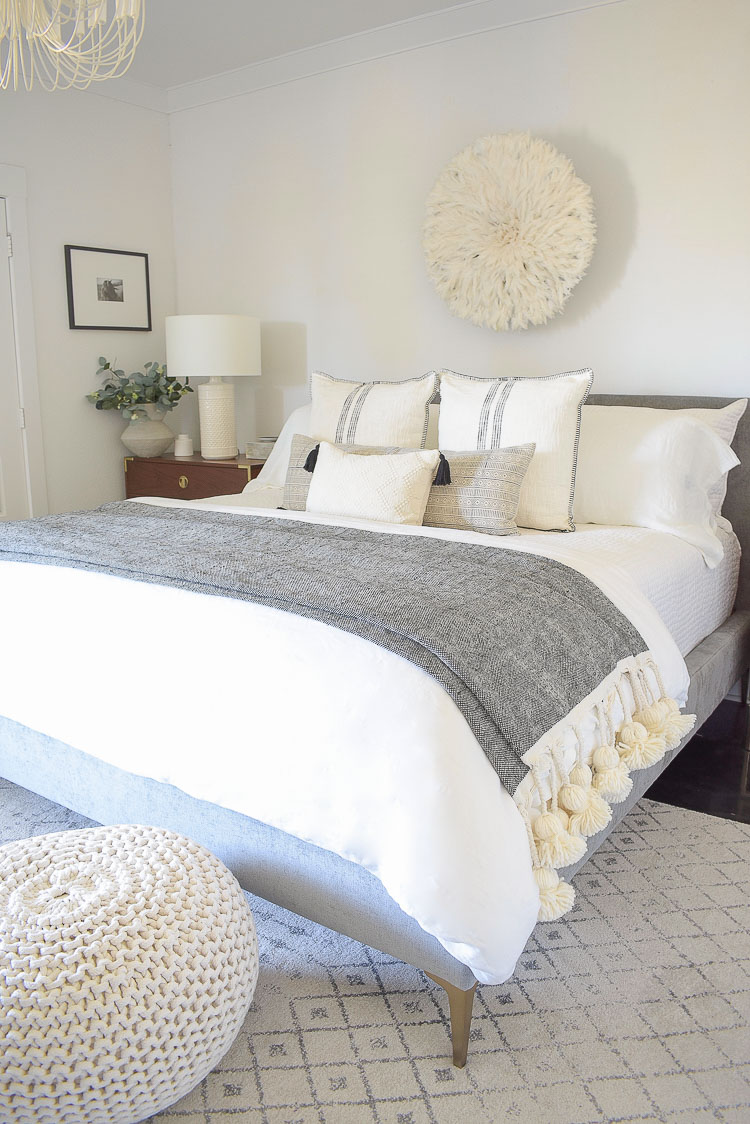 My bedding stayed the same, but I did bring in this fun braided knit pouf in white, that I've had.  Using white for spring was a fun way to lighten things up for the new season.  The texture adds personality and the pouf serves a useful purpose.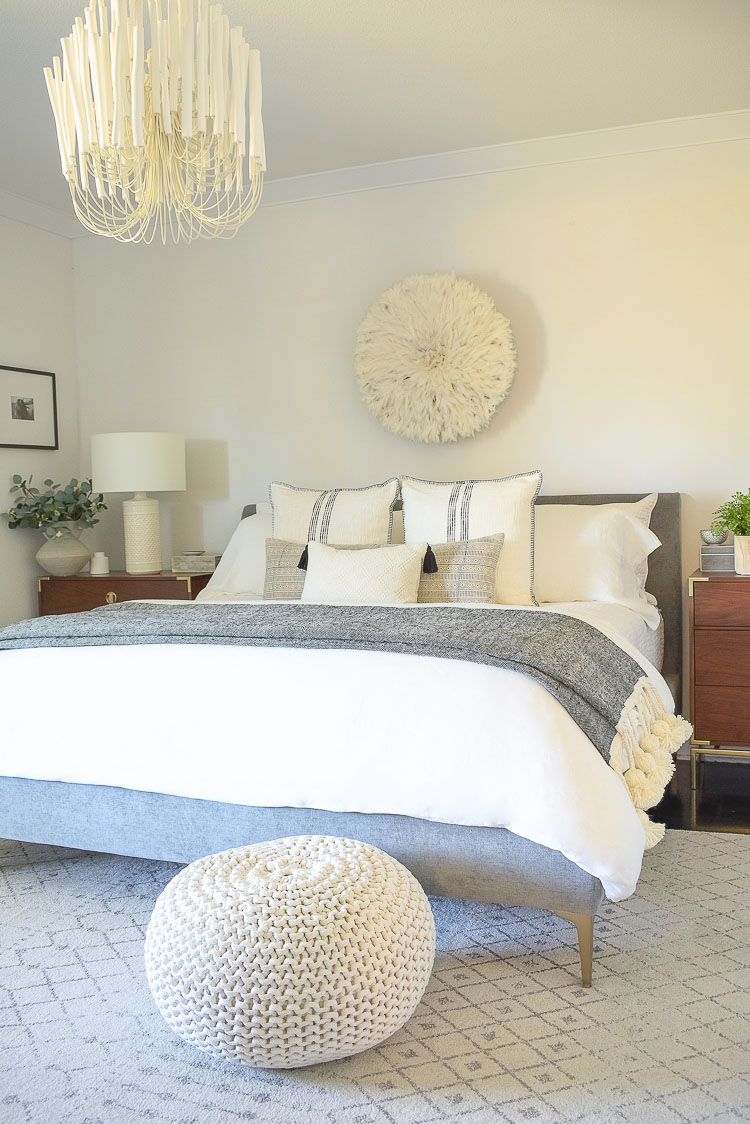 I typically like to switch out my rugs for spring but decided to stick with this one this spring because we love it so much.  It repels dirt and has been great for this high traffic area.  Plus I love the pattern and how well it works with our bed!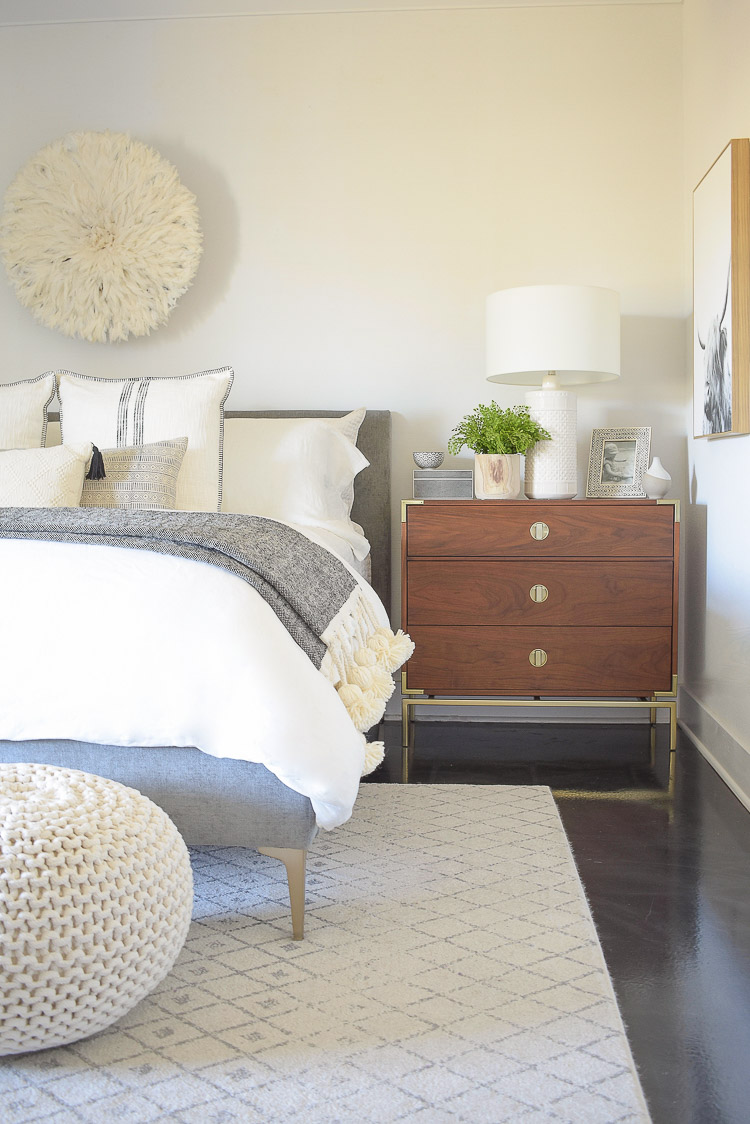 Not necessarily for spring but I did pick up this great throw recently and it ended up working well in here for the new season.  I love oversized throws because they always look great at the end of a bed.  For a king size bed for example, you'll need one that is at least 80+" long to successfully drape it over the end of the bed and have enough on either side.  The tassels on mine add extra personality and give it a more finished look I feel.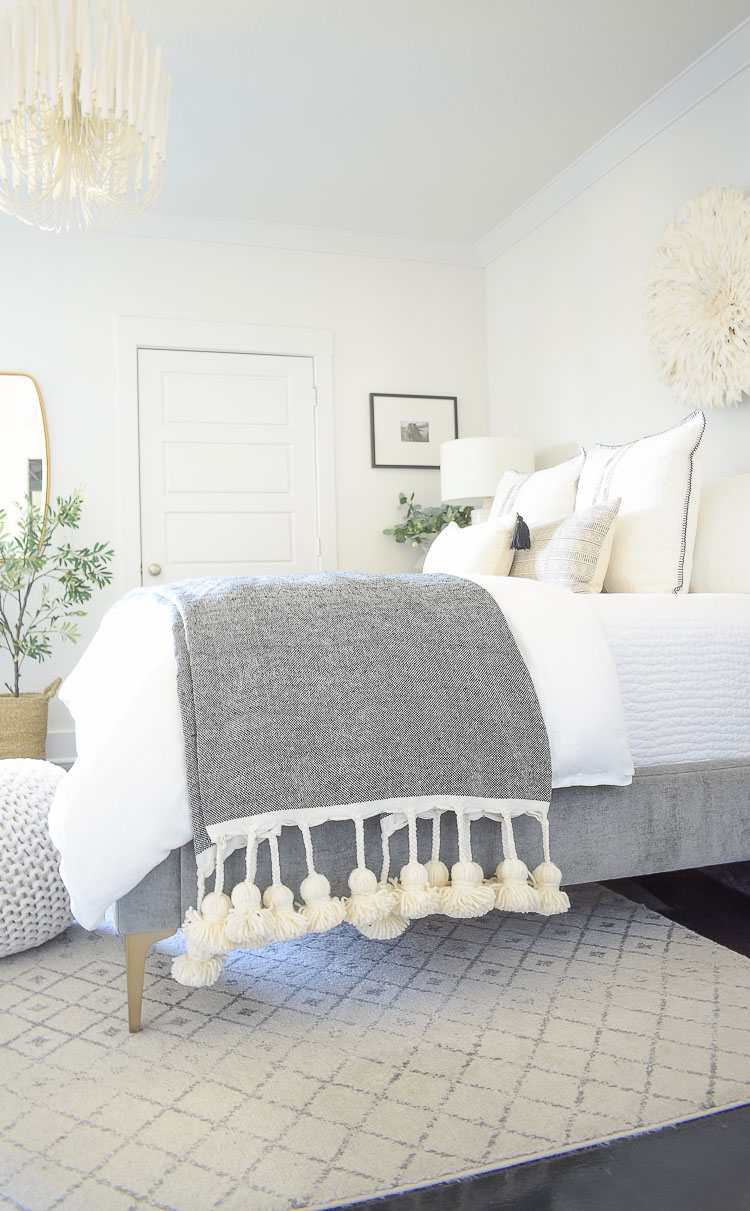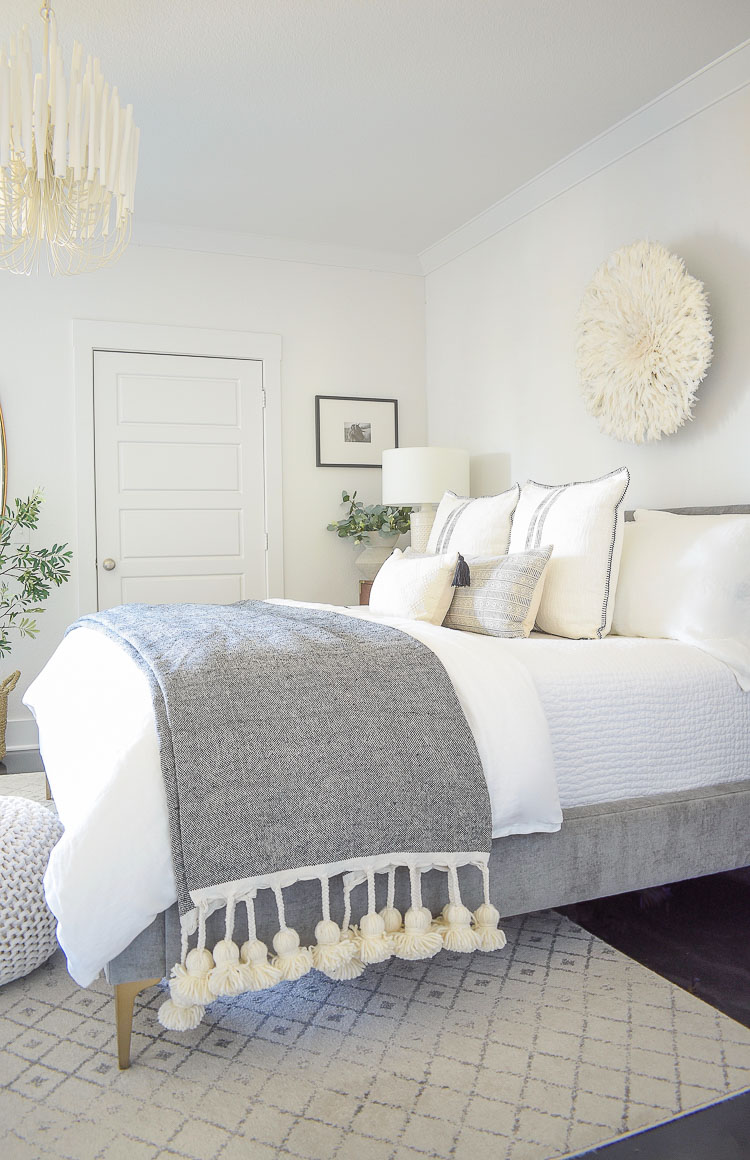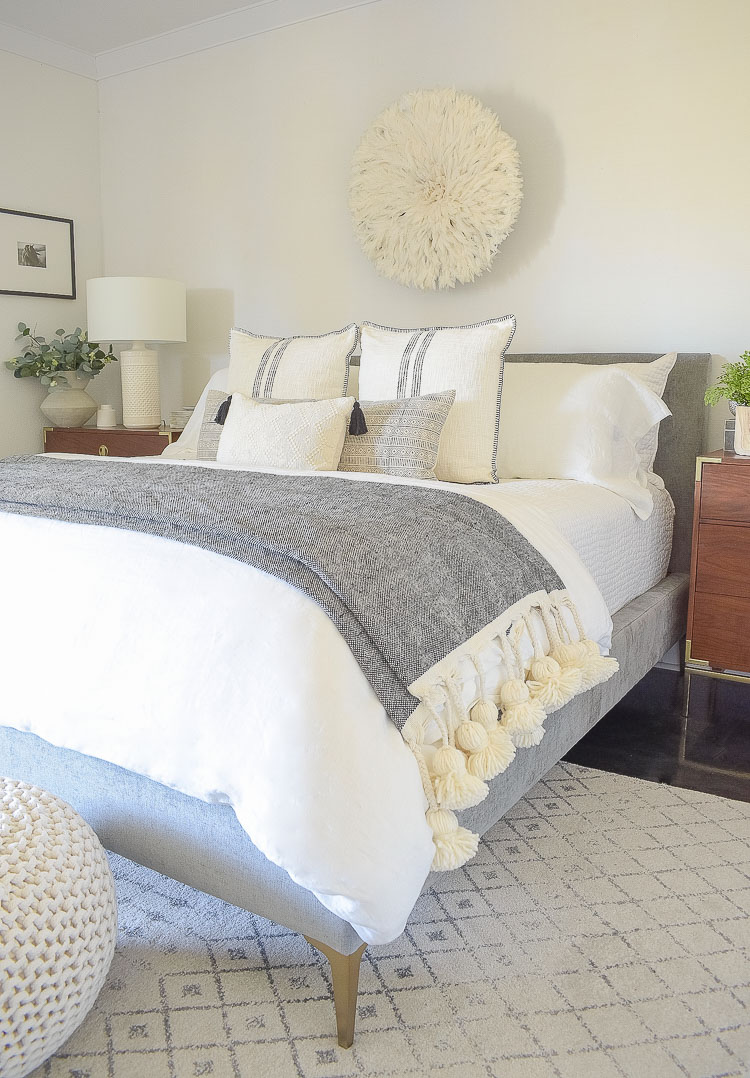 On my bedside table I added some favorite faux greenery.  Lately I'm not spending money on fresh flowers (it can add up!) so I dove into my faux collection and decided to use this faux fern in a wooden pot that I've had for a while.  I did add this lamp because I already had one and have been wanting to make it a pair. This textured lamp by one of my favorite lighting designers recently went on sale so I snagged one and love the balanced look it brings to the room.  Other accessories were used in black and white, of course:)!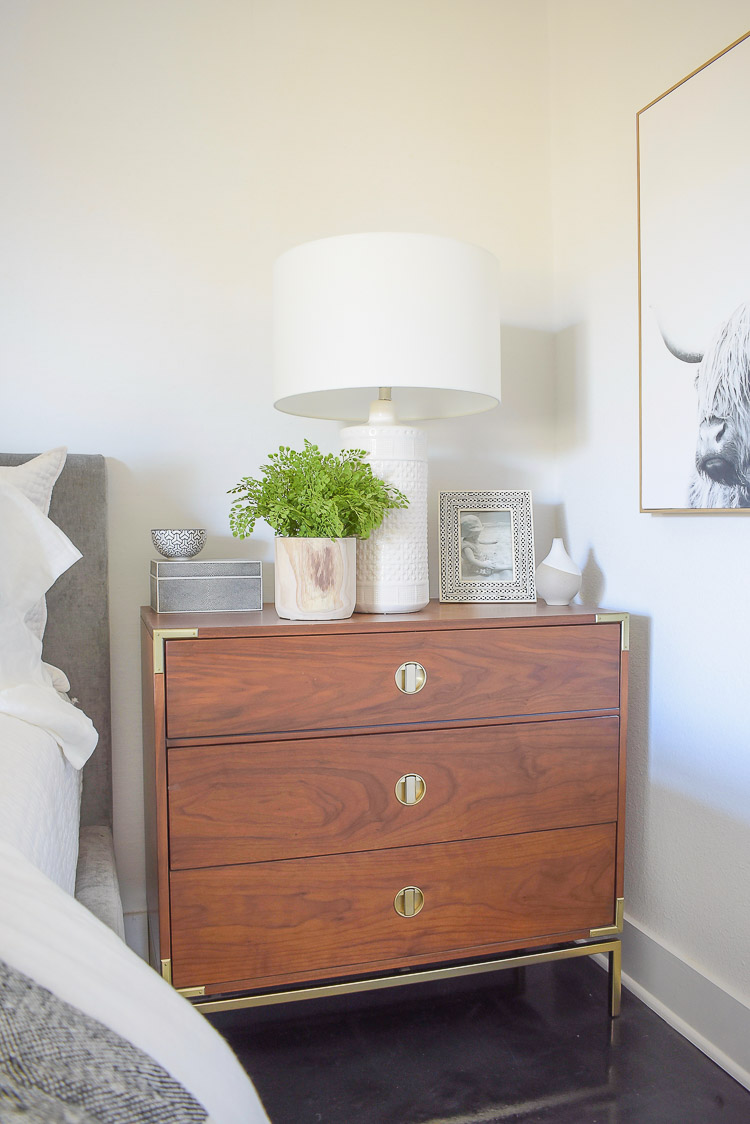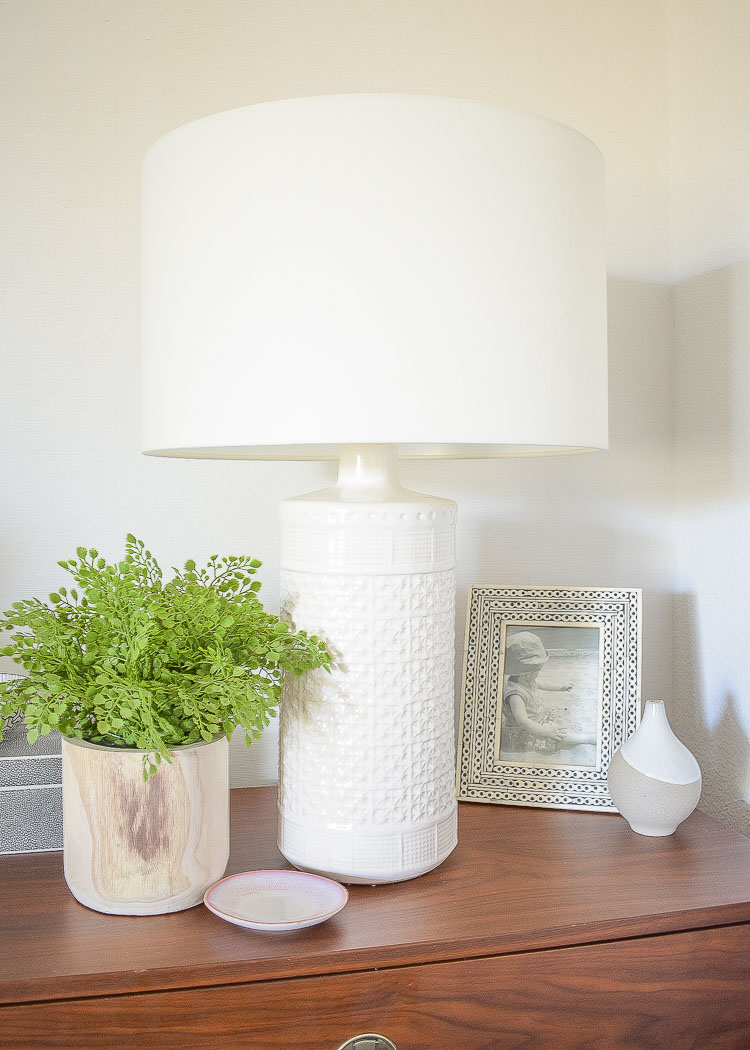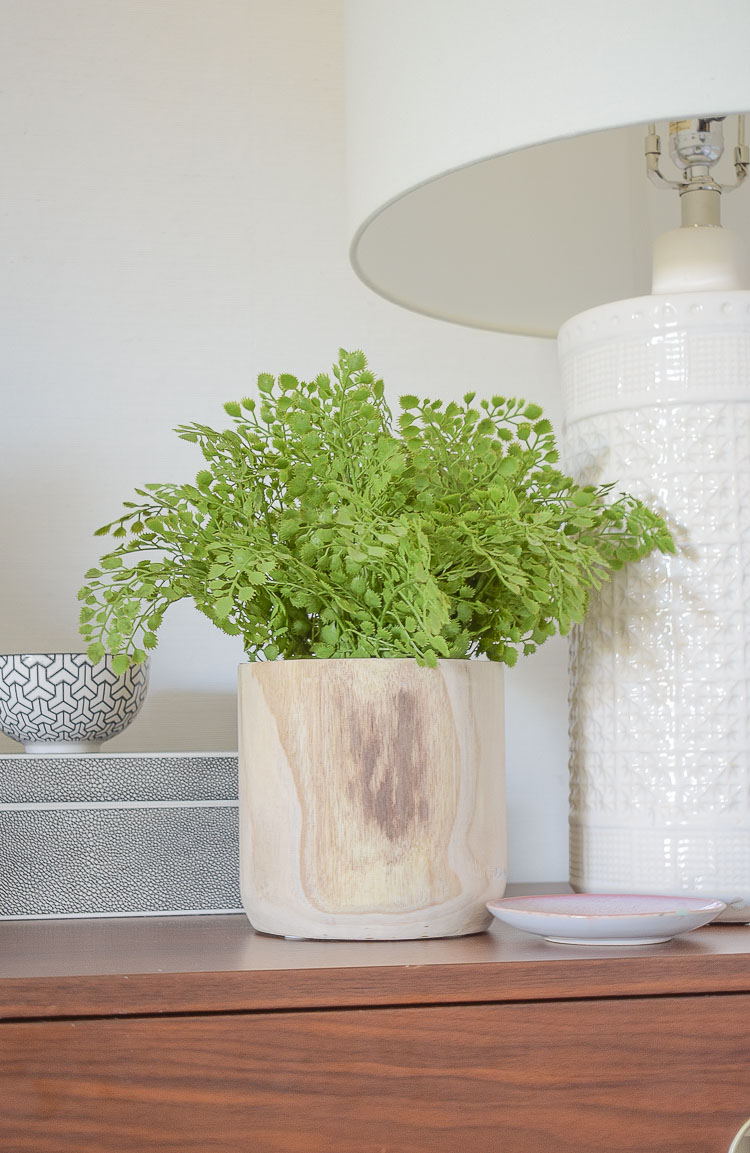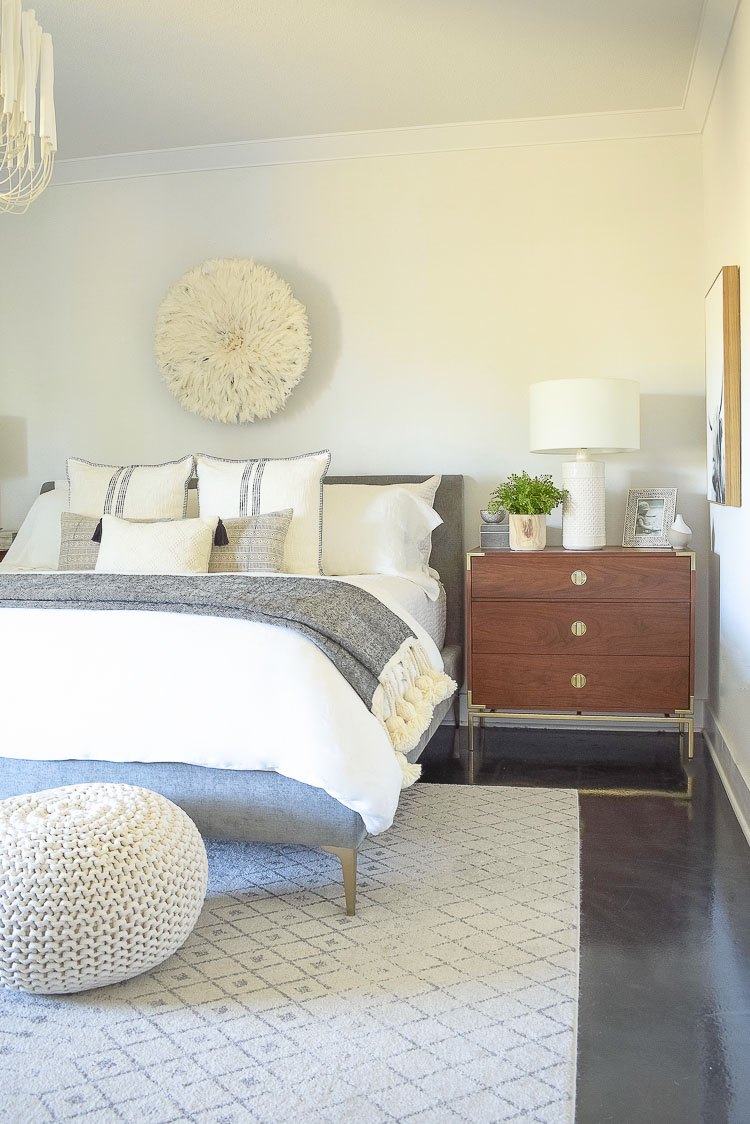 Lastly I brought in one of my faux olive trees (similar) that I had put away for the winter.  Love this one for it's realistic look and also love this little basket with the white tassels.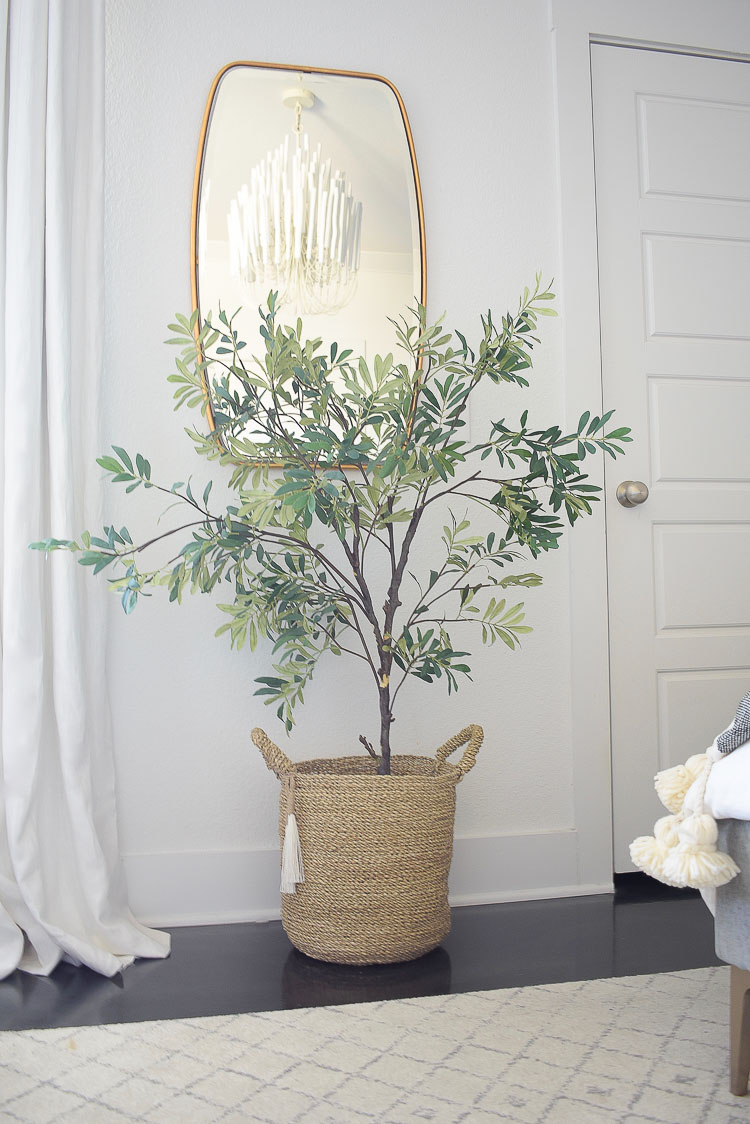 Here is a recap of the space and then I'll send you on to visit my friends next up on the tour!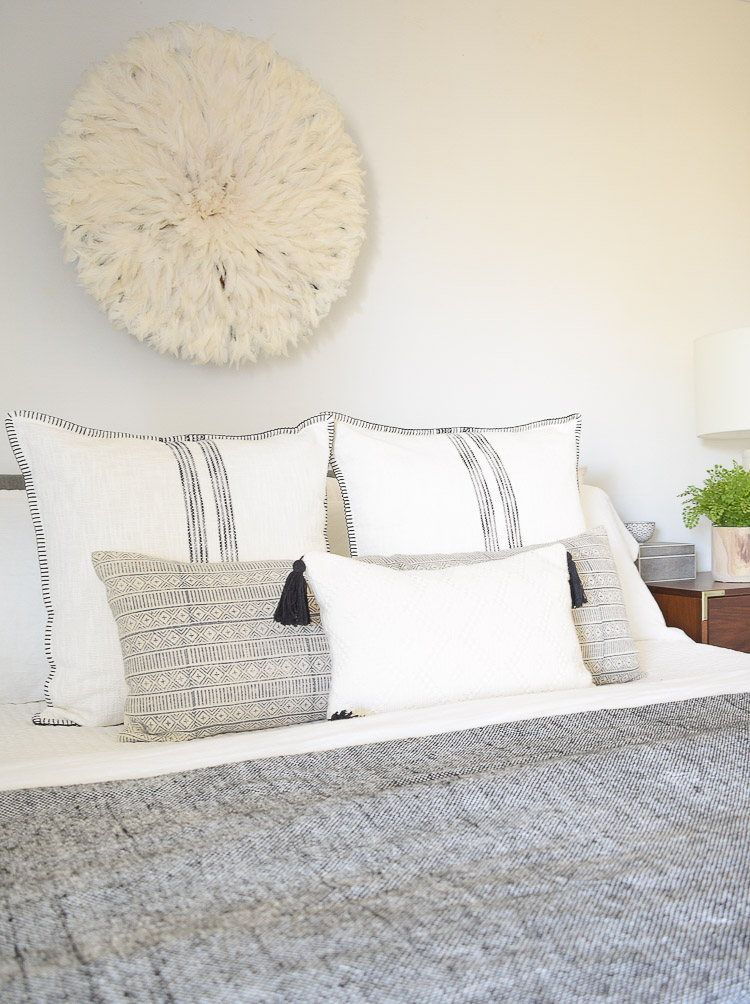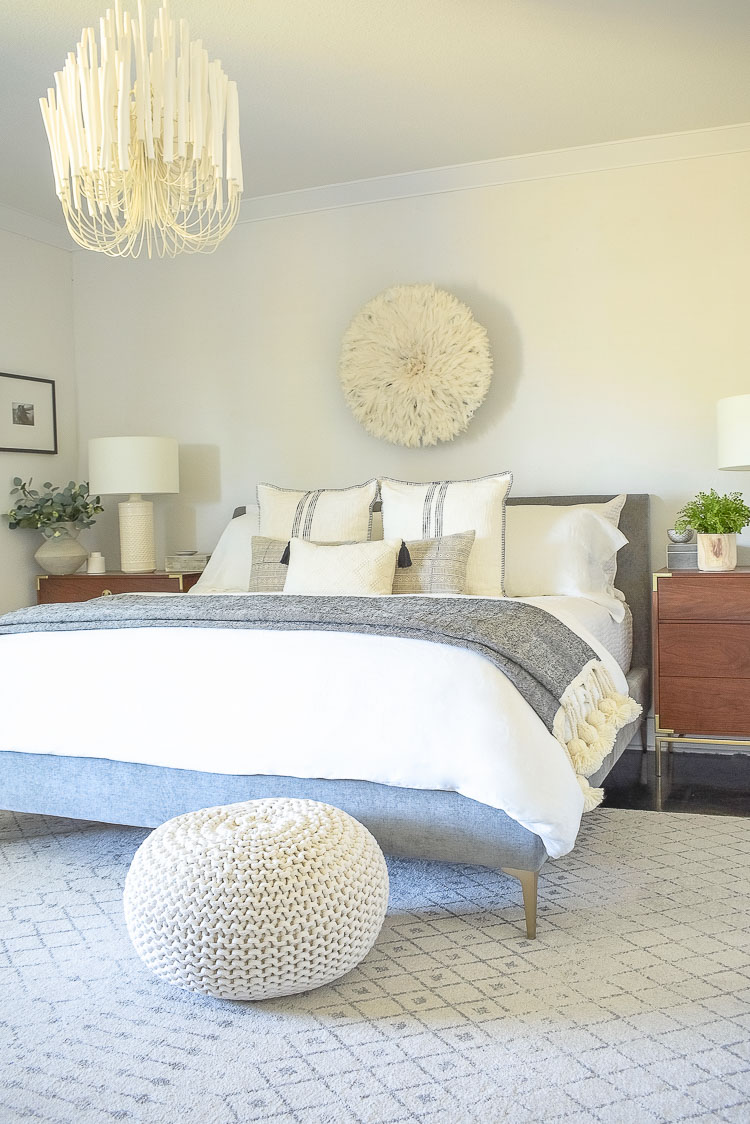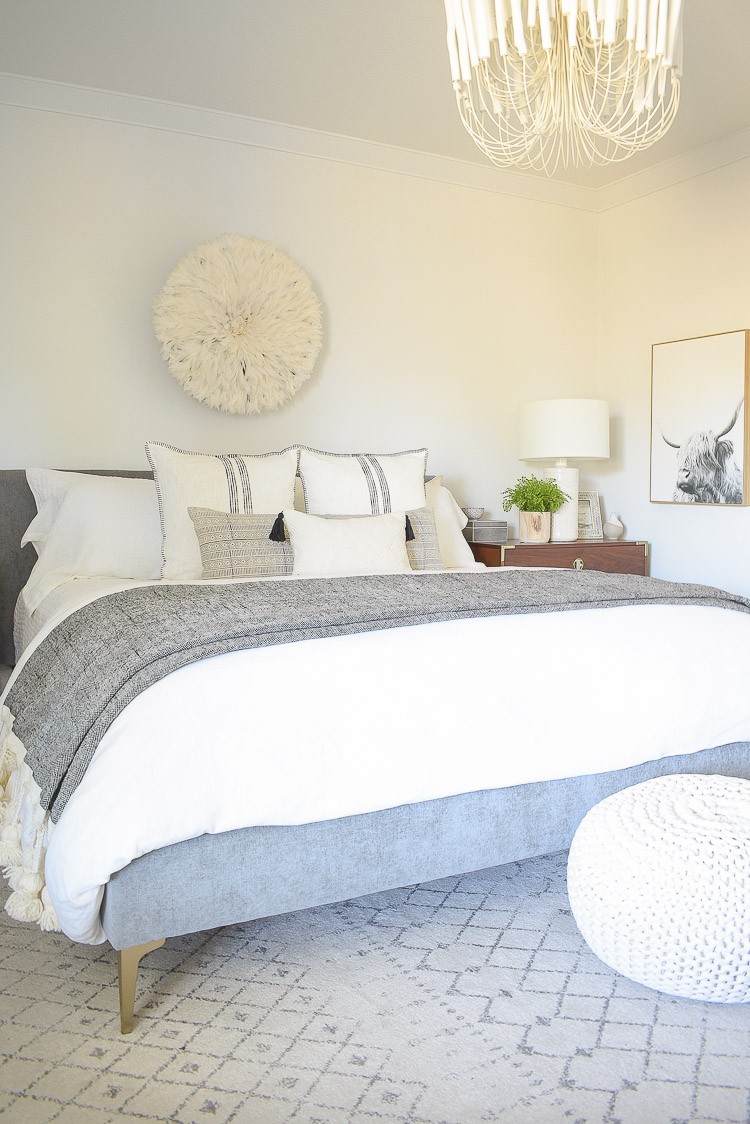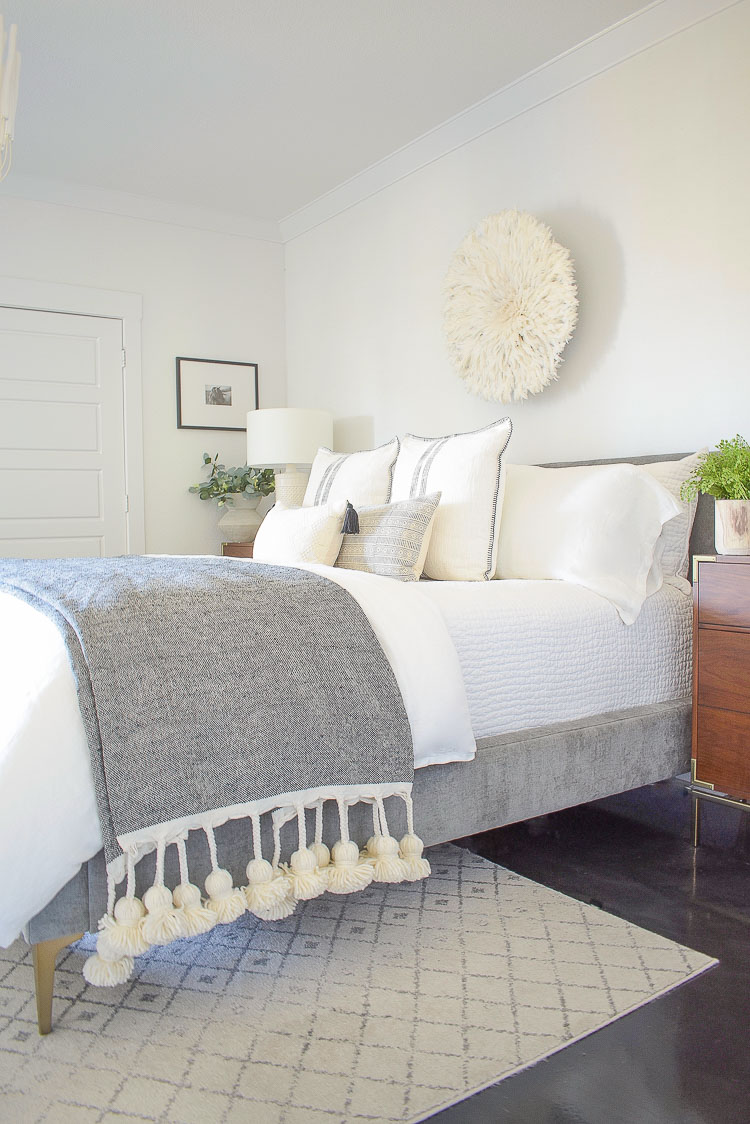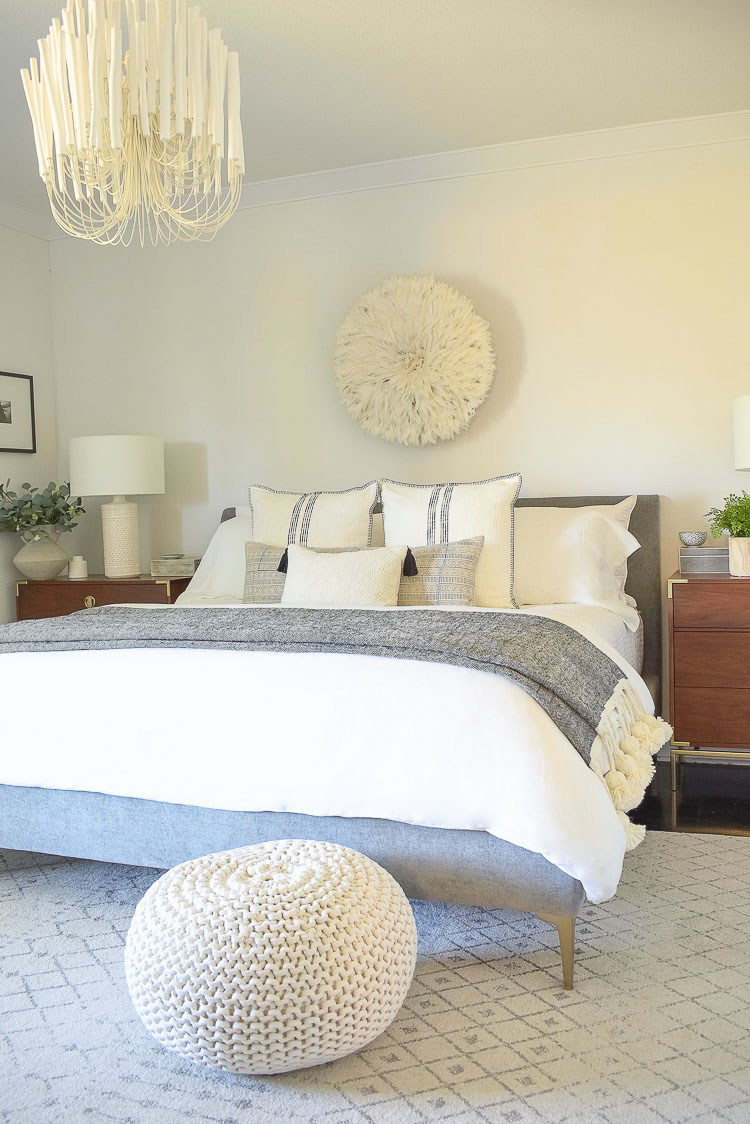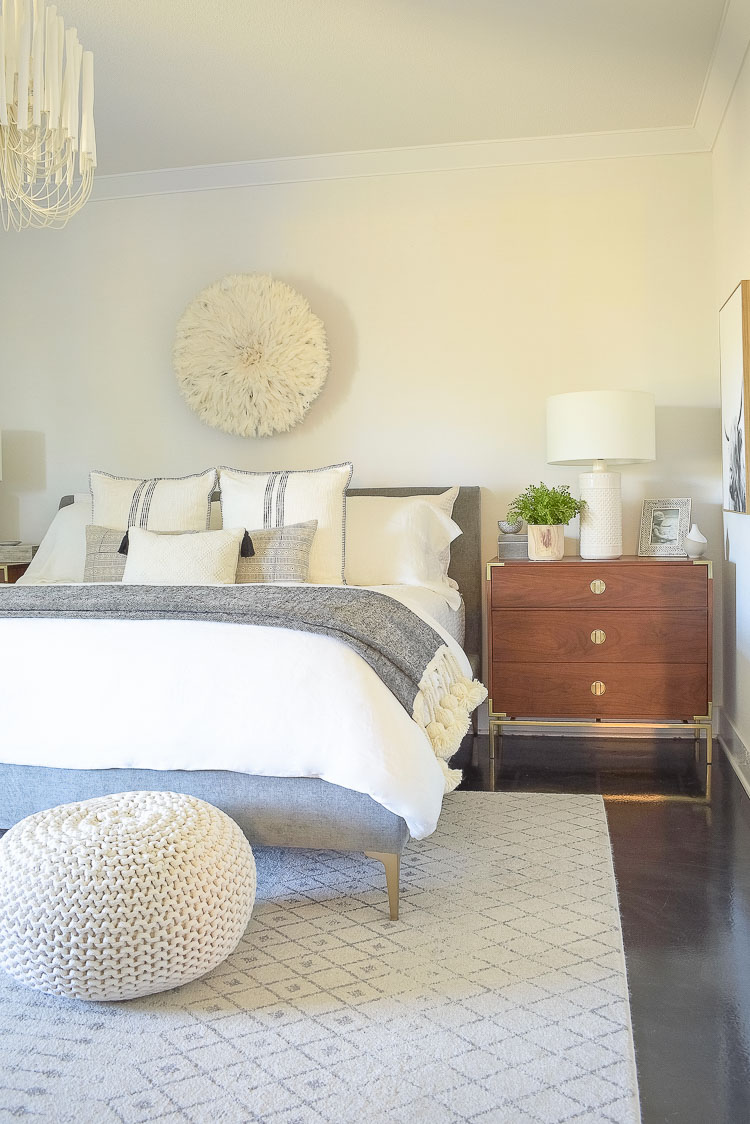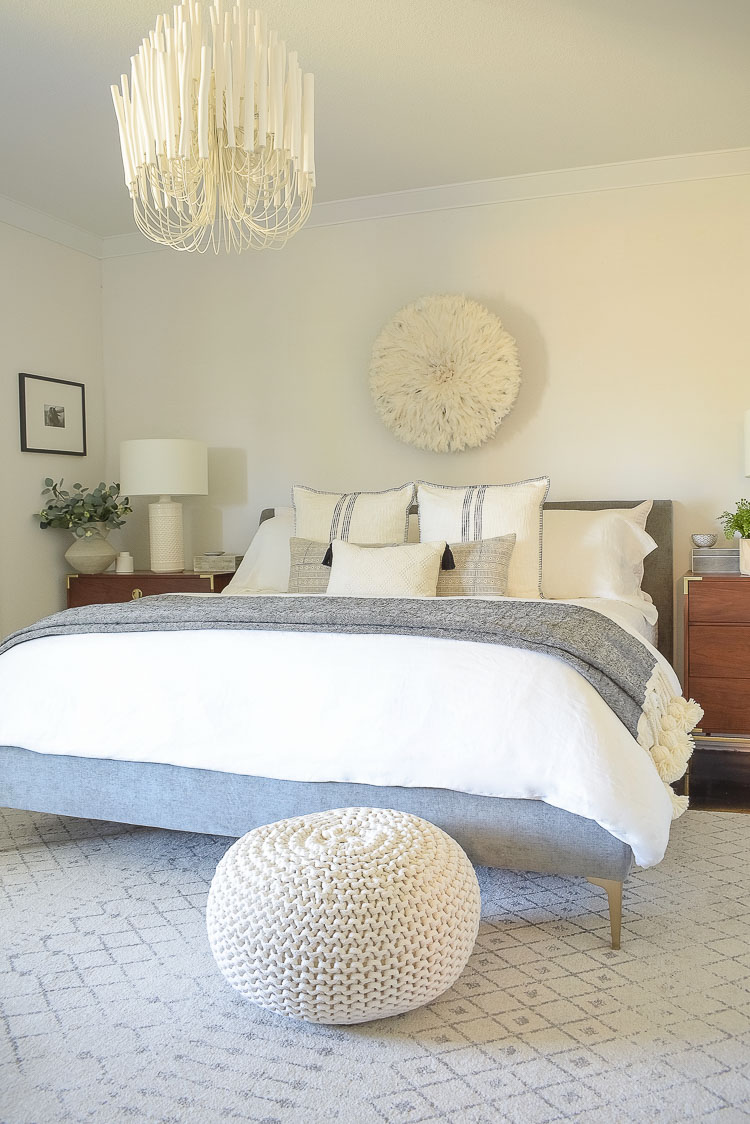 Thanks so much for stopping by and I hope you've enjoyed my Spring Bedroom Tour!  Stay tuned next week for where I'll be working with one of my favorite brands sharing a spring refresh in the living room, and doing a fun spring blog hop with some fabulously talented ladies!
Let's stay in touch…
Pinterest | Facebook | Instagram | Instagram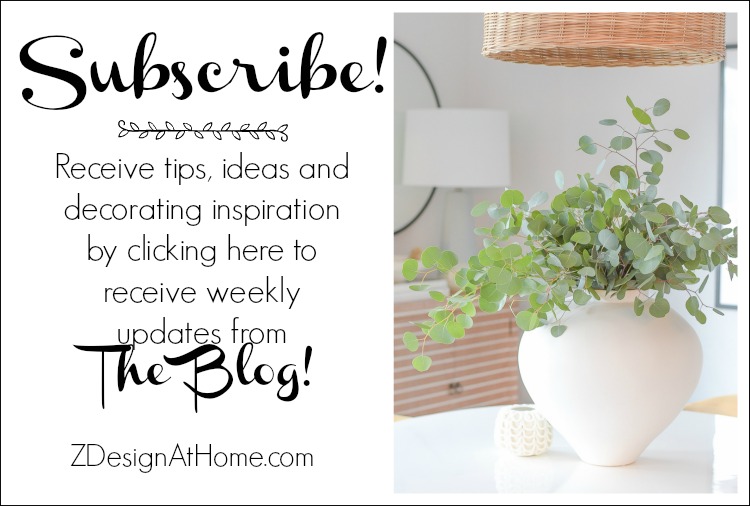 Bedroom Sources
Bed | Chandelier | Rug | White Knit Pouf | Black/White Striped Pillow | White w/ Black Tassel Lumbar Pillow | Similar XL Lumbar | Large Tassel Throw | White Linen Duvet | White Quilt & Shams | White Lamps | Faux Fern in Pot | Frame on Nightstand | Two Tone Vase | Decorative Box (similar) | Faux Olive Tree | Tassel Basket | Juju (feather) Hat | Gold Oval Mirror