Wow!   What a week, right?!  The uncertainty sweeping the nation right now is scary but during this time we can look forward to being present with our kids and families, maybe get some spring cleaning and organizing done, and enjoy the peace and calm at home with our loved ones.  It means we also have more time now to do fun blog hops like this one with Marty of A Stroll Thru Life! It's always my favorite tour and if you are coming over from Tammy of Pink Peppermint Design, welcome!  I'm so excited to have you here and have been looking forward to sharing my Spring Living Room Tour with you!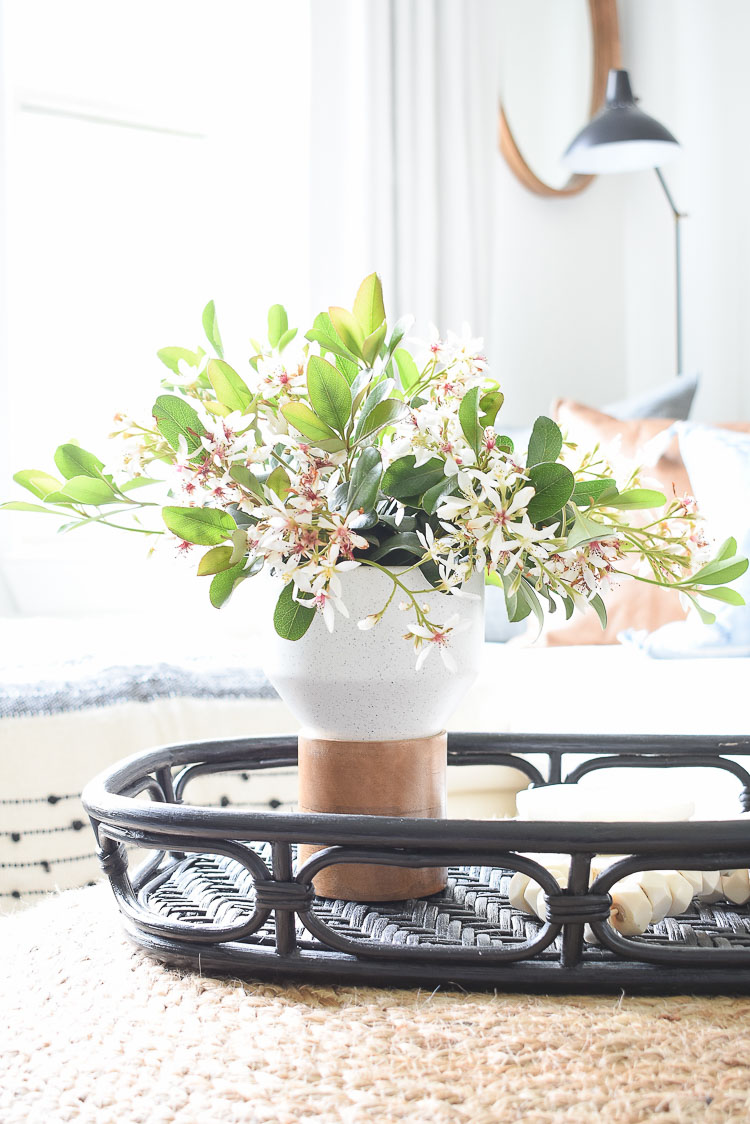 I mentioned this in my spring bedroom tour but seasonal updates don't necessarily mean that you have to fill every corner of your home with every seasonal thing.  Just a couple of updates such as pillows, or maybe a new vase to hold some pretty spring flowers, or especially repurposed items from around your home are enough!
I only made a few changes for spring but they are ones that I'm loving and definitely things that will move from season to season, and around my home as usual.  I Just love this gorgeous new ceramic and wood pedestal vase.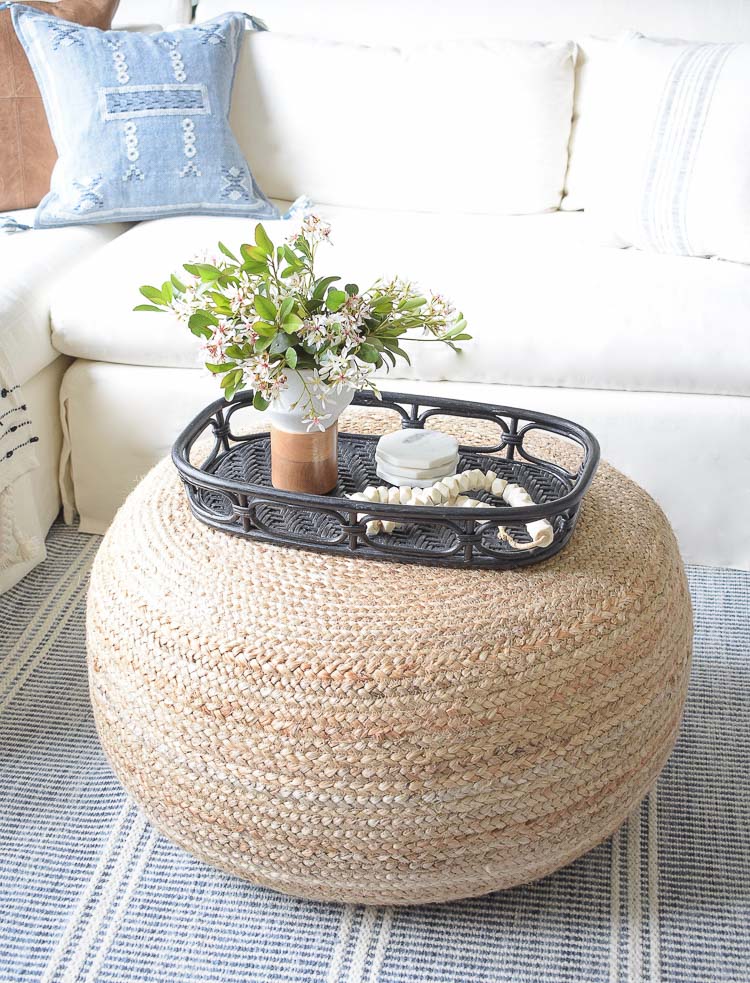 I love the contrast between the ceramic and the wood, and the modern shape of this vase.  For flowers, I just snipped some fresh Indian Hawthorne from a bush outside.  I love how pretty they are this time of year when they are blooming.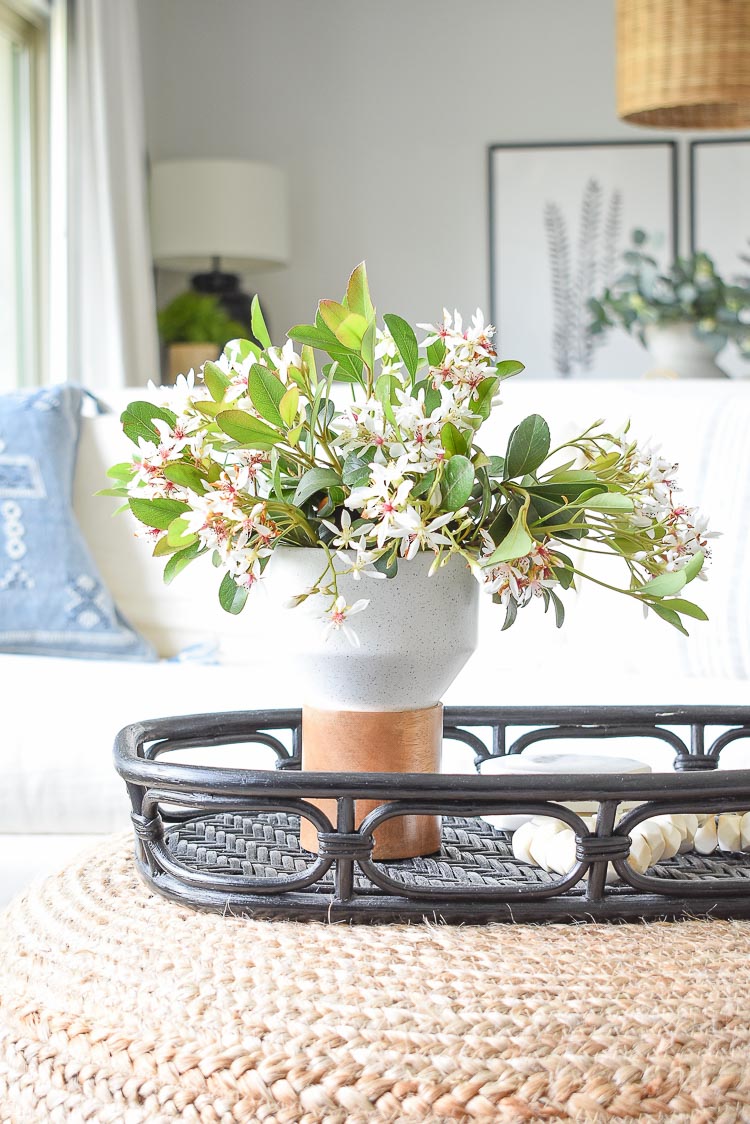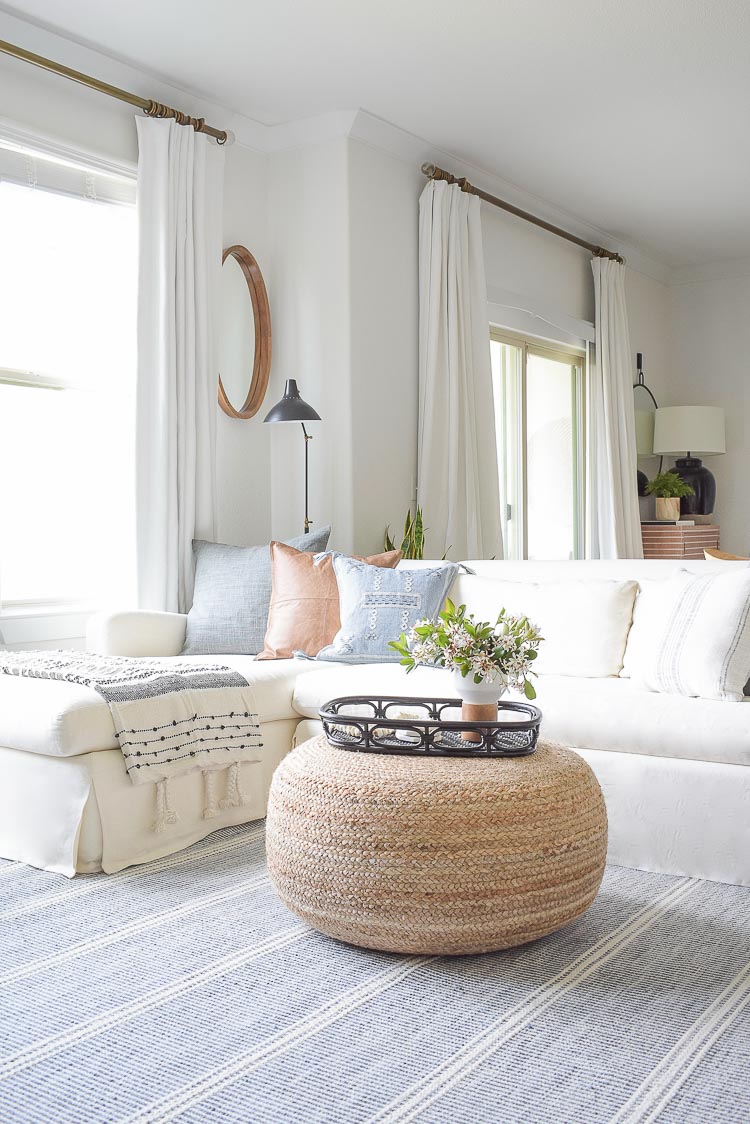 I brought in a couple of new pillows, too.  I love this blue one with the tassels  and love that's it's indoor/outdoor so I can use it outside this summer.  I also reused my leather pillow that I love so much and have had for years now, along with a large gray Belgium linen pillow to flank on either side.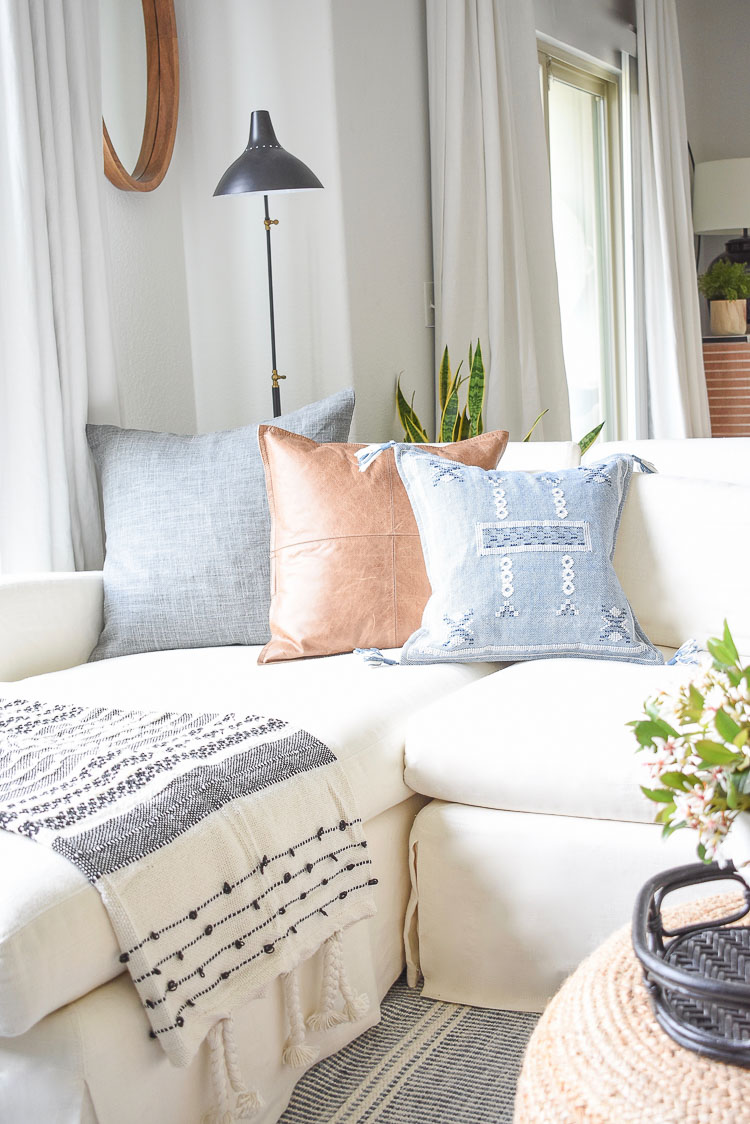 I also added this simple gray and white striped pillow, with insert.  It's a cotton linen blend, which I love for this time of year.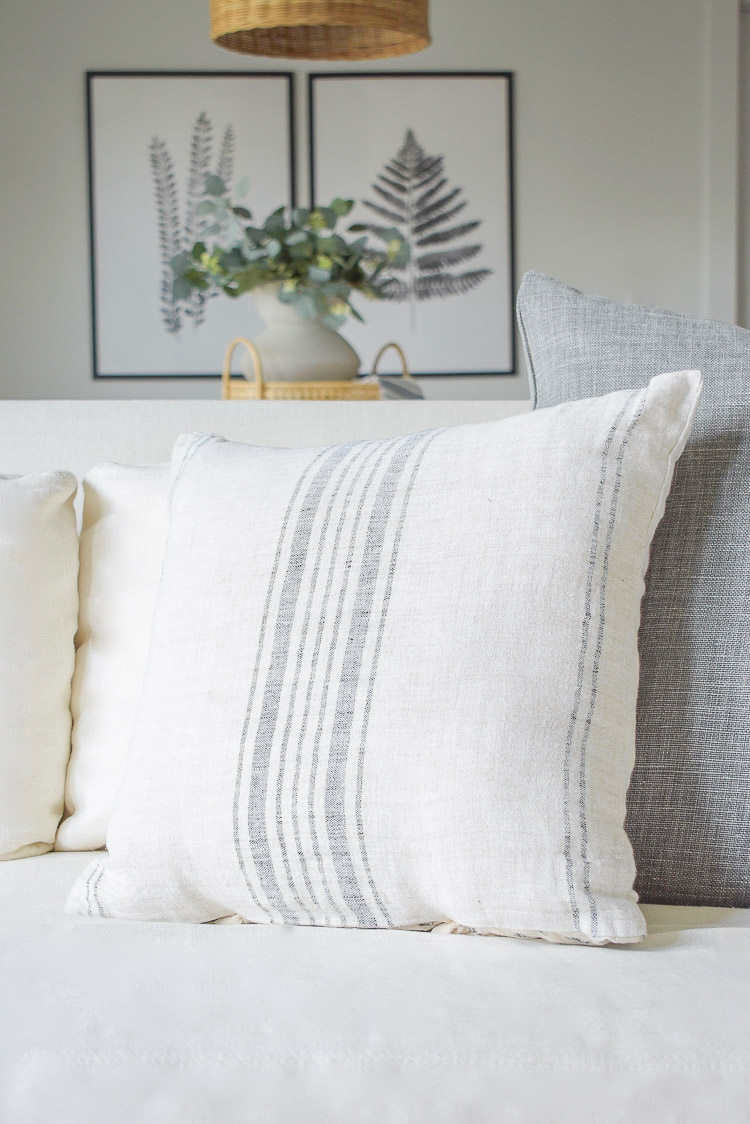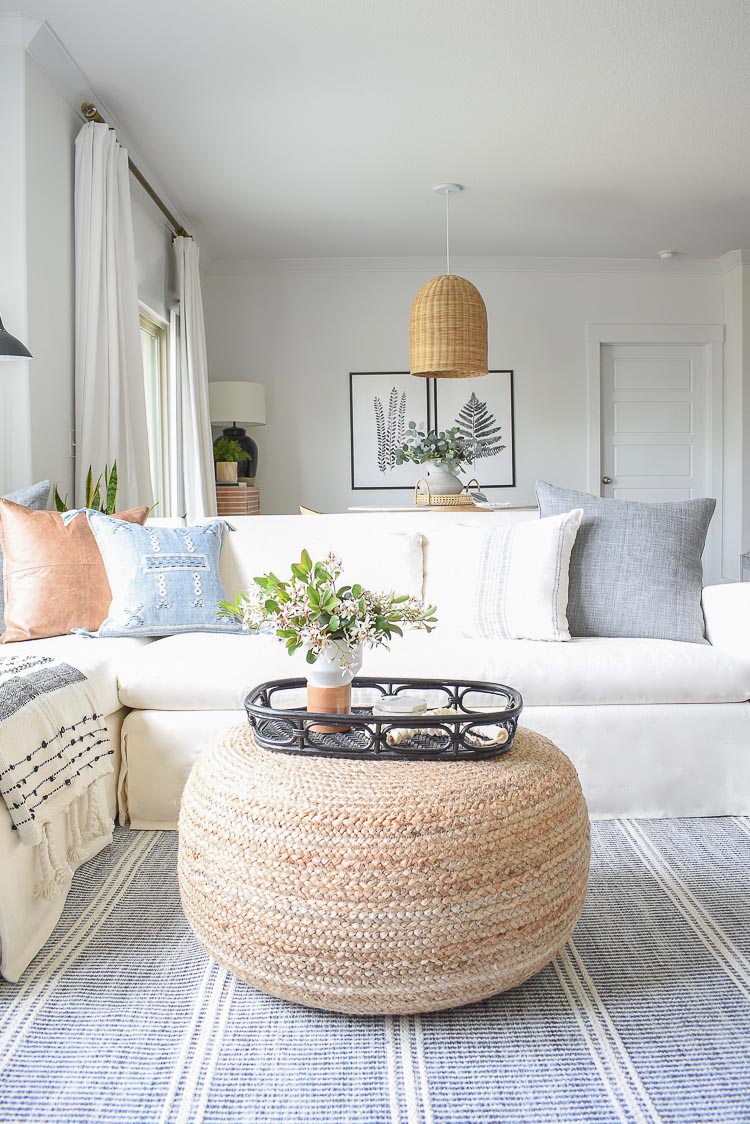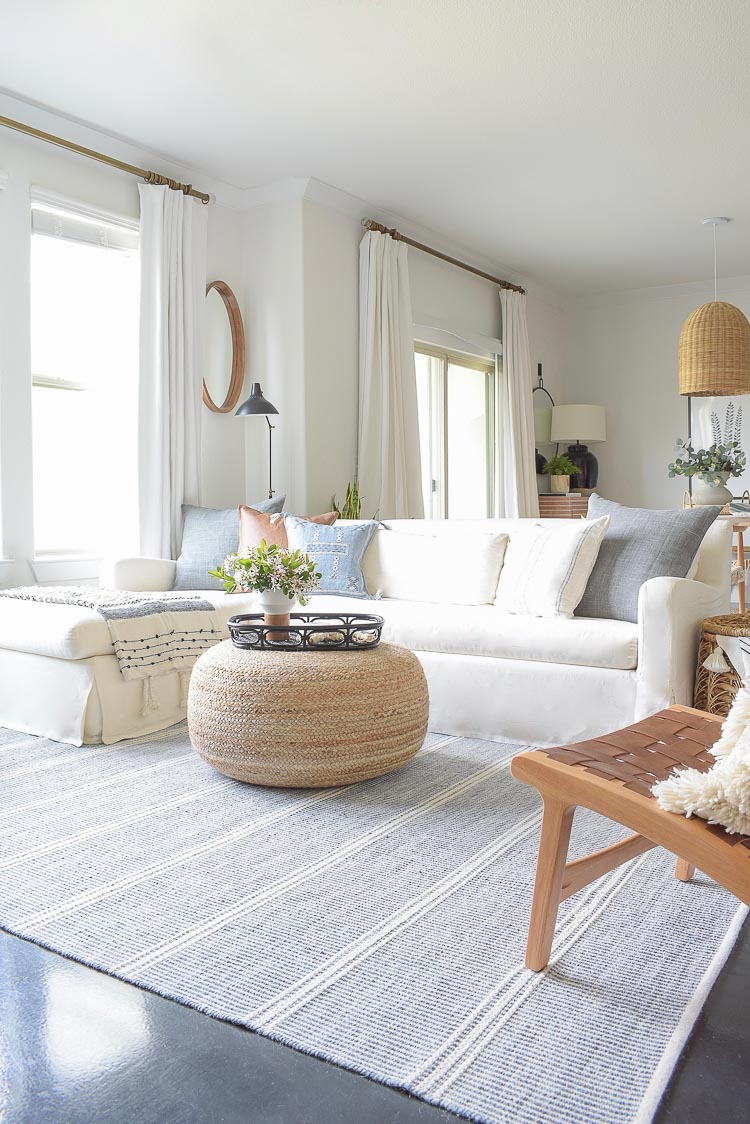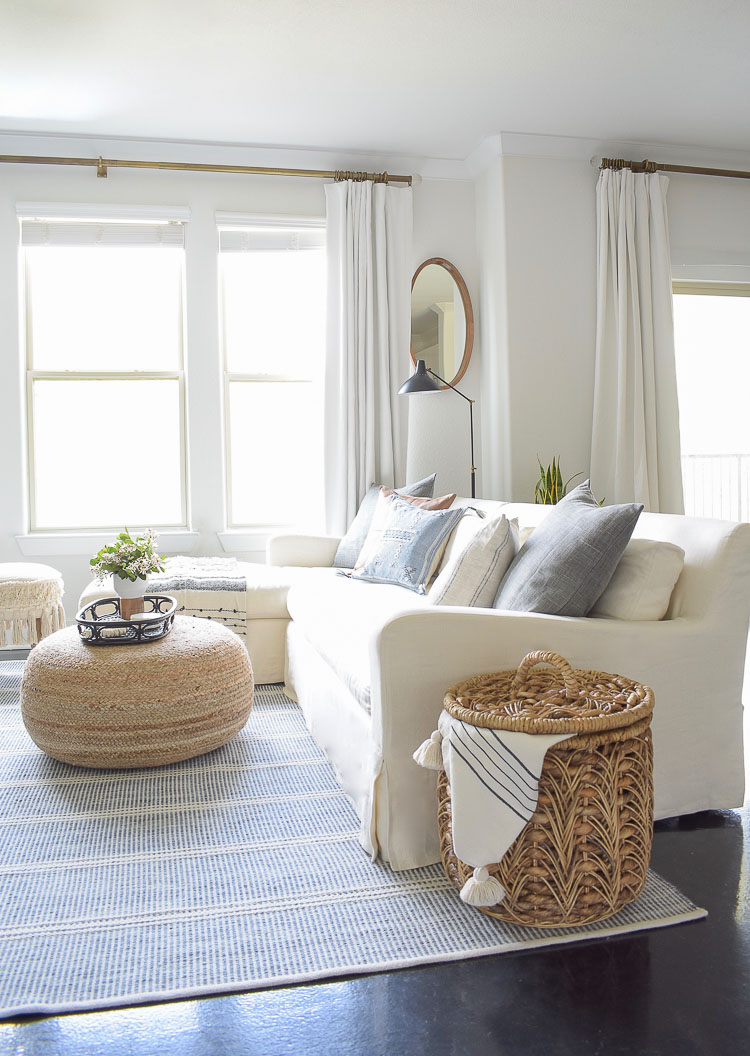 This winter I had added this chair to the space as well.  We had been looking for something that would work in this area of the room for additional seating.  It's turned out that it's just about the most popular place to sit in the house now, which totally cracks me up because you have to turn your back to see the TV well but it's been great for conversation with someone on the sofa and just to relax in, read or whatever.  I like to curl up here with my laptop and work or have a conversation across from my hubby while he's on the sofa.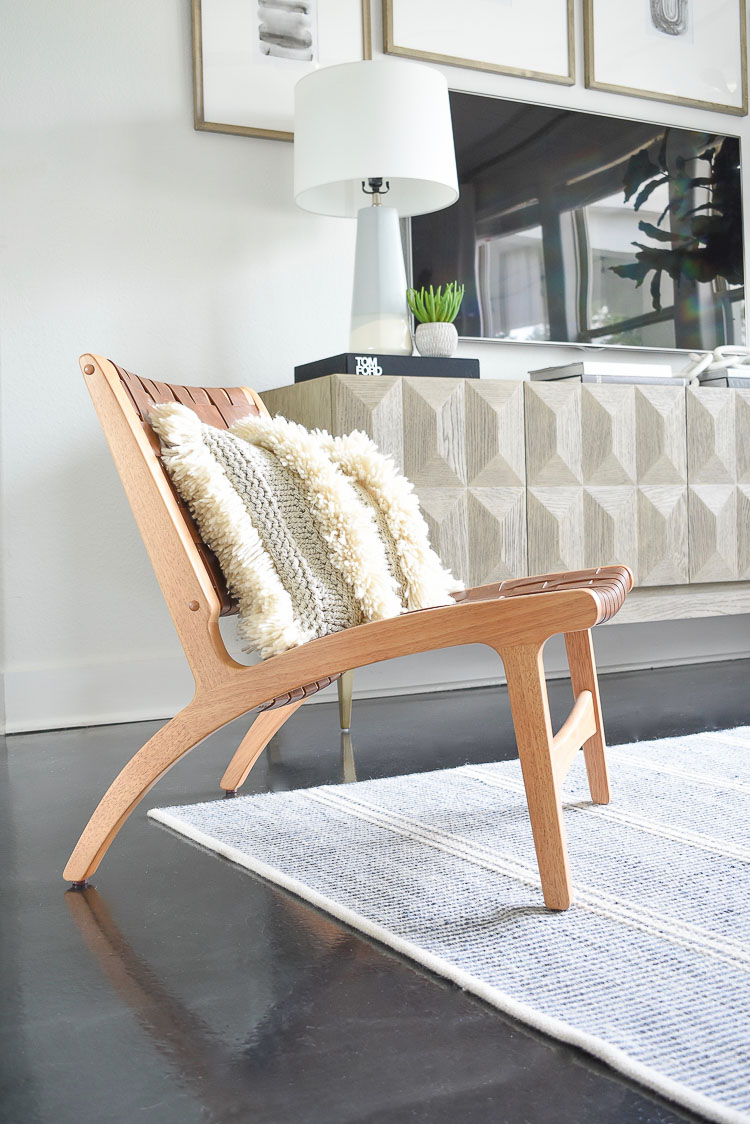 The chair really has a chic look and the lattice leather is super fabulous!  And it was super affordable.  I will probably get another one of these for our game room once in the house to make a pair! I also pulled out this year round fun pillow overflowing with crochet and fringe that totally hit the spot in the chair!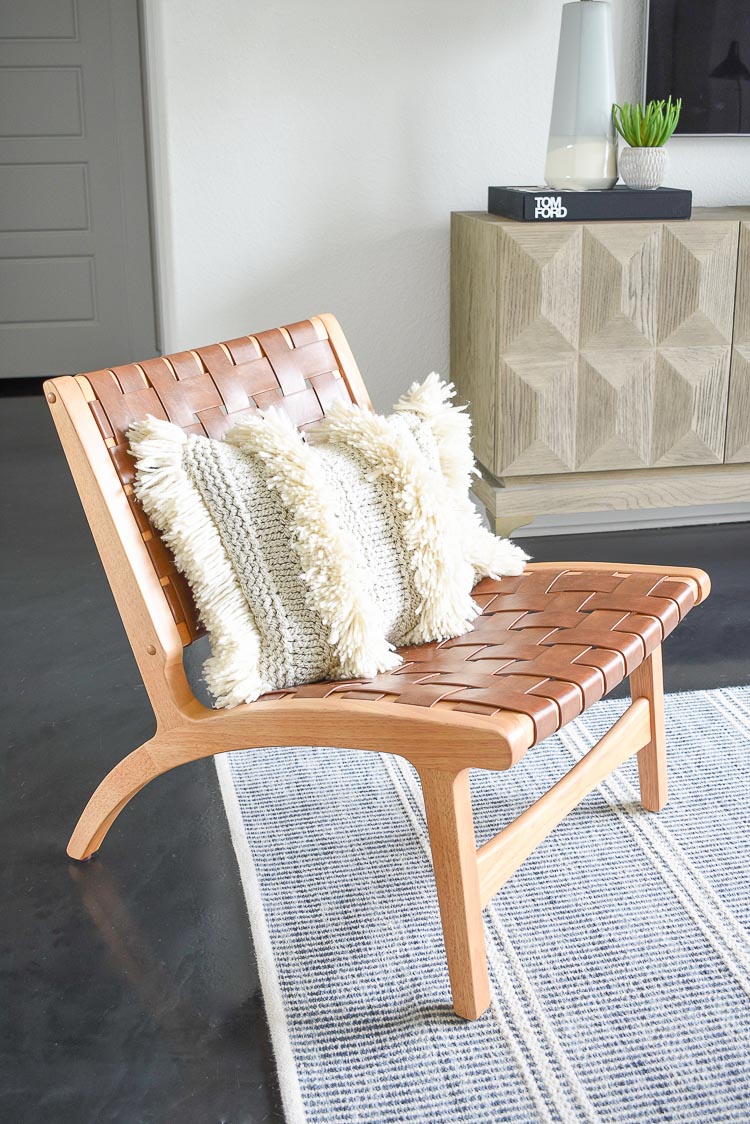 The TV/gallery wall side of the room received a little facelift as well.  I pulled out my blue and white two-tone lamp and added this fun little succulent pot beside it for a spring pop of greenery.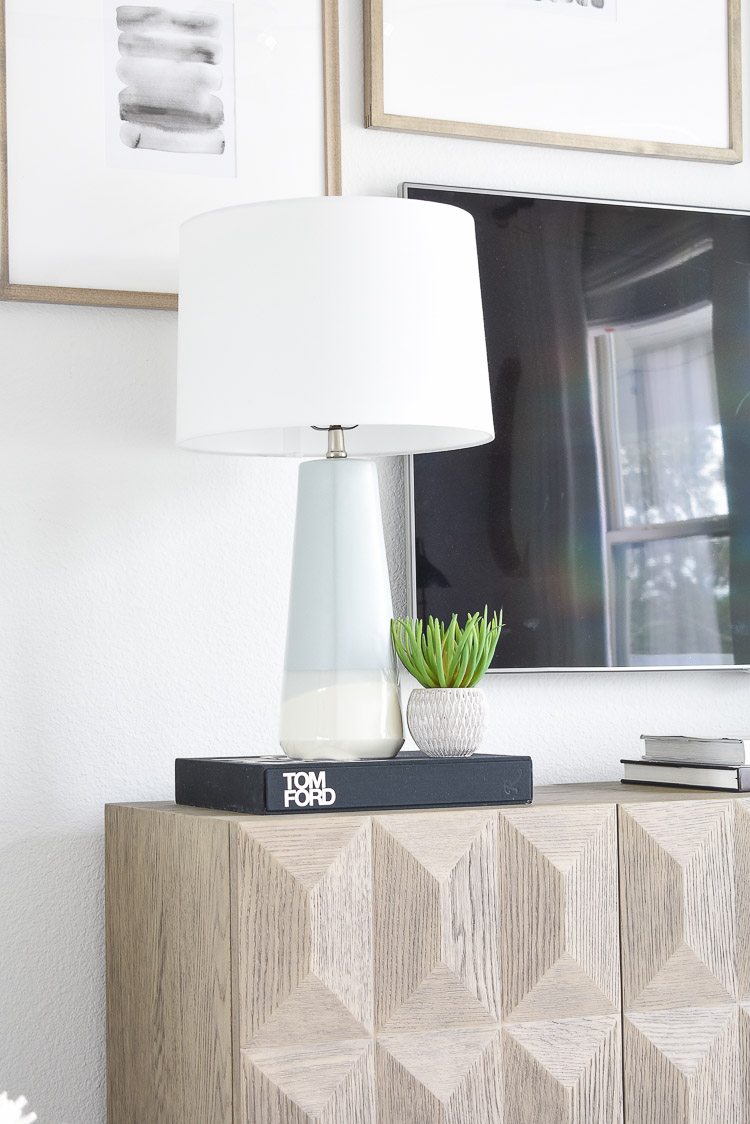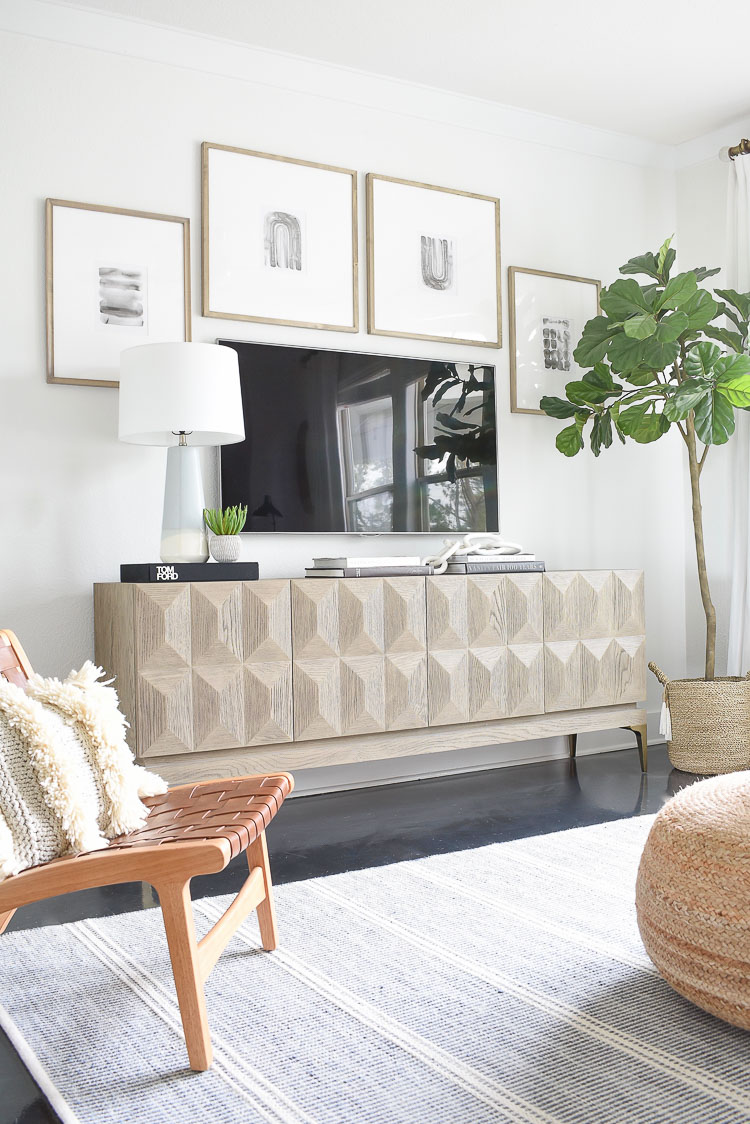 I love, love this succulent pot, and it comes in a set of three in their own little pots.  Who says you have to have spring flowers to make your home feel like spring?!?  Any little bit of greenery around the house will do for me, especially faux so that I can use it again and again!  I have really gotten away from fresh flowers this year, although I love them, they are costly and I try to reserve buying them for special occasions these days.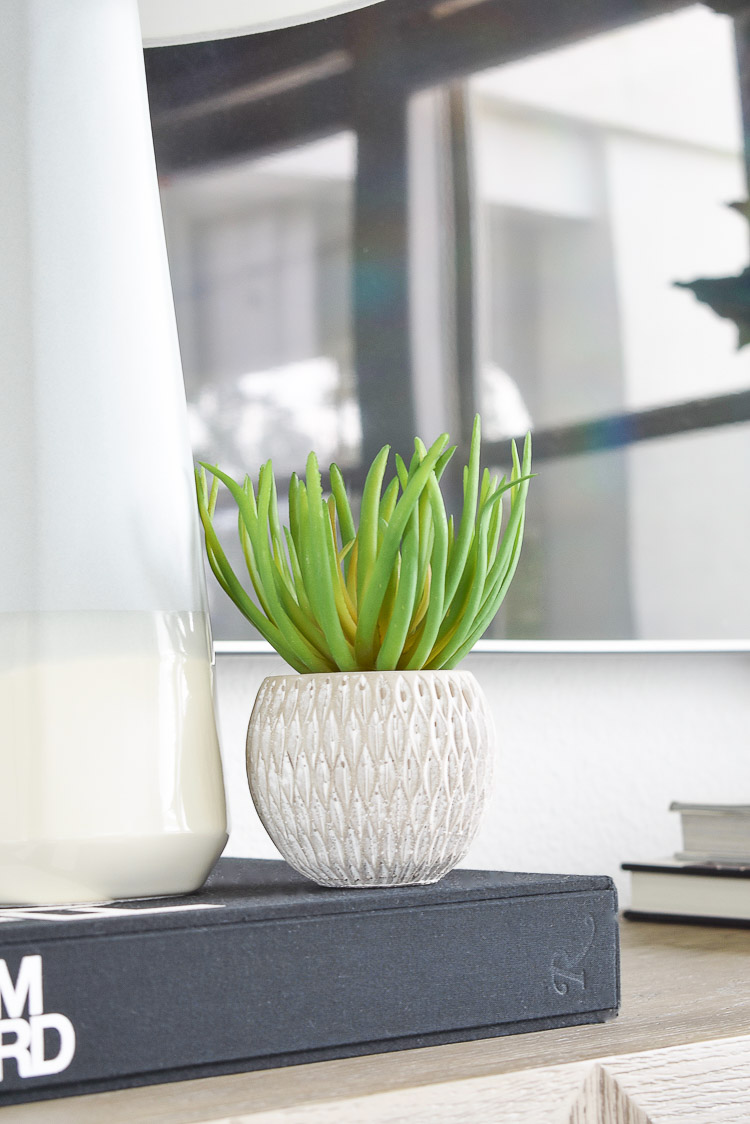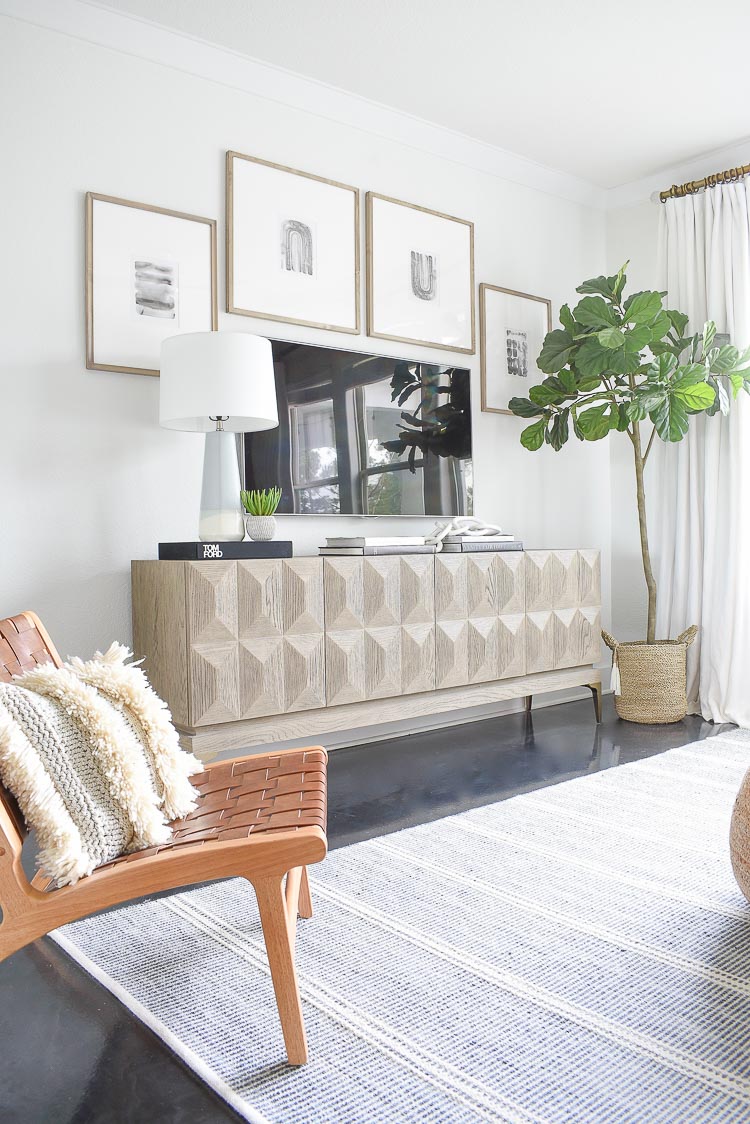 You may have also noticed I pulled my faux fig tree back out as well.  Love how timeless this plant is and I really love the quality and how realistic mine is.  I wrote a full blog post HERE on The Best Faux Fiddle Leaf Fig Tree with sources and reviews if you're interested – it's been very popular with my Pinterest crowd.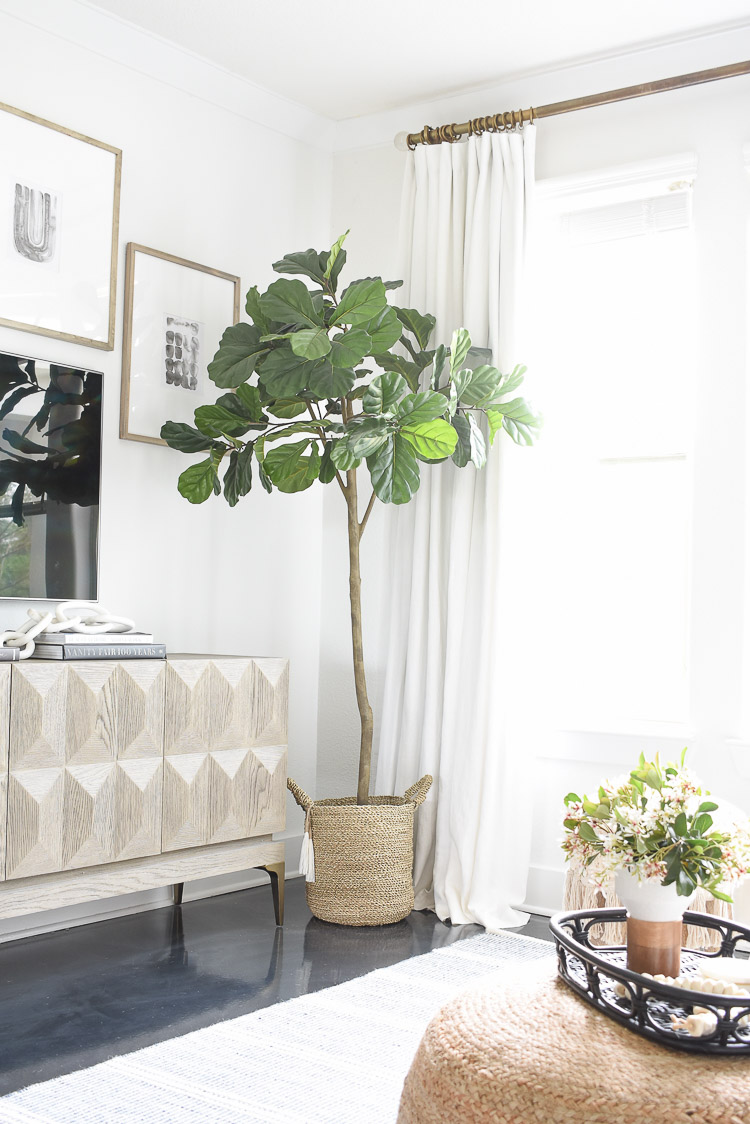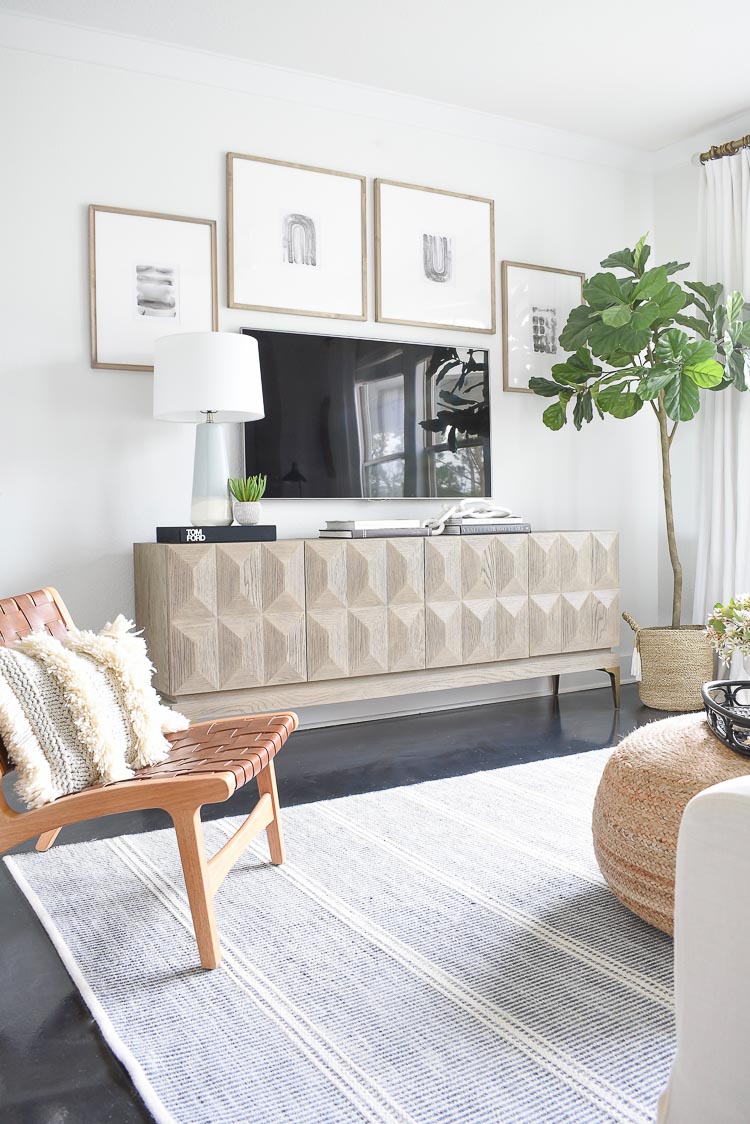 Also love this cute tassel basket that is the perfect size for any faux plant, and the white tassels don't hurt either.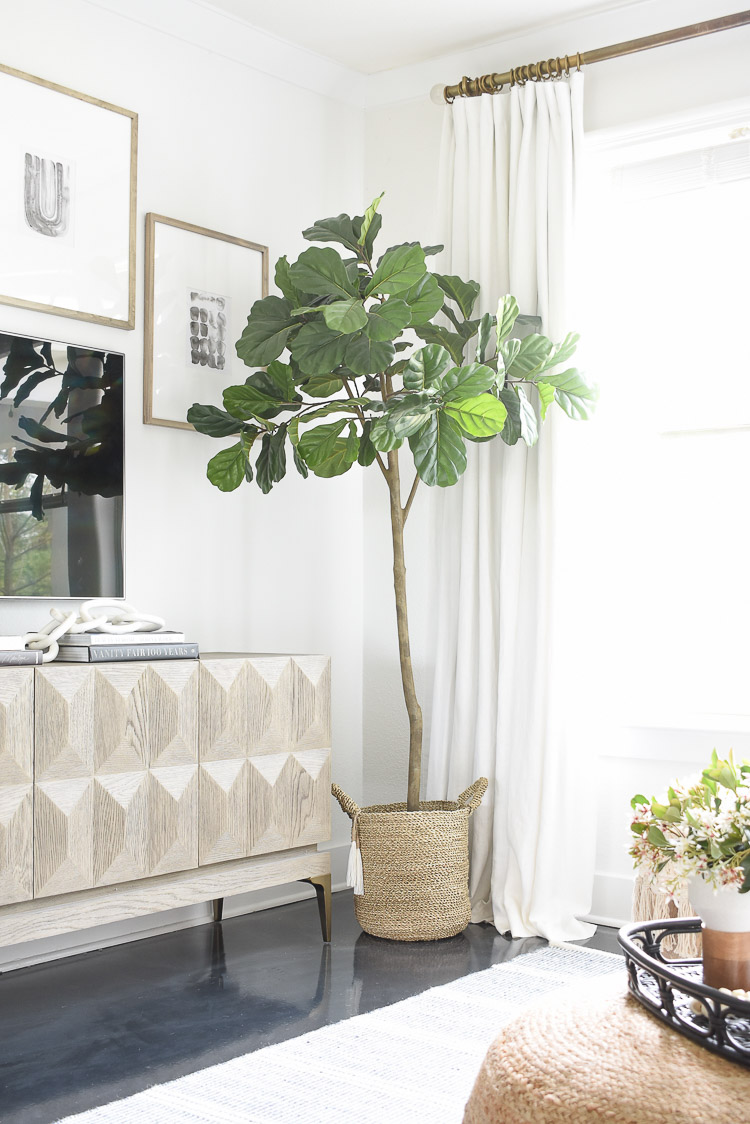 It's been pretty warm already this spring so having pulled my light weight, blue and white rug back out this spring has really lightened this space up!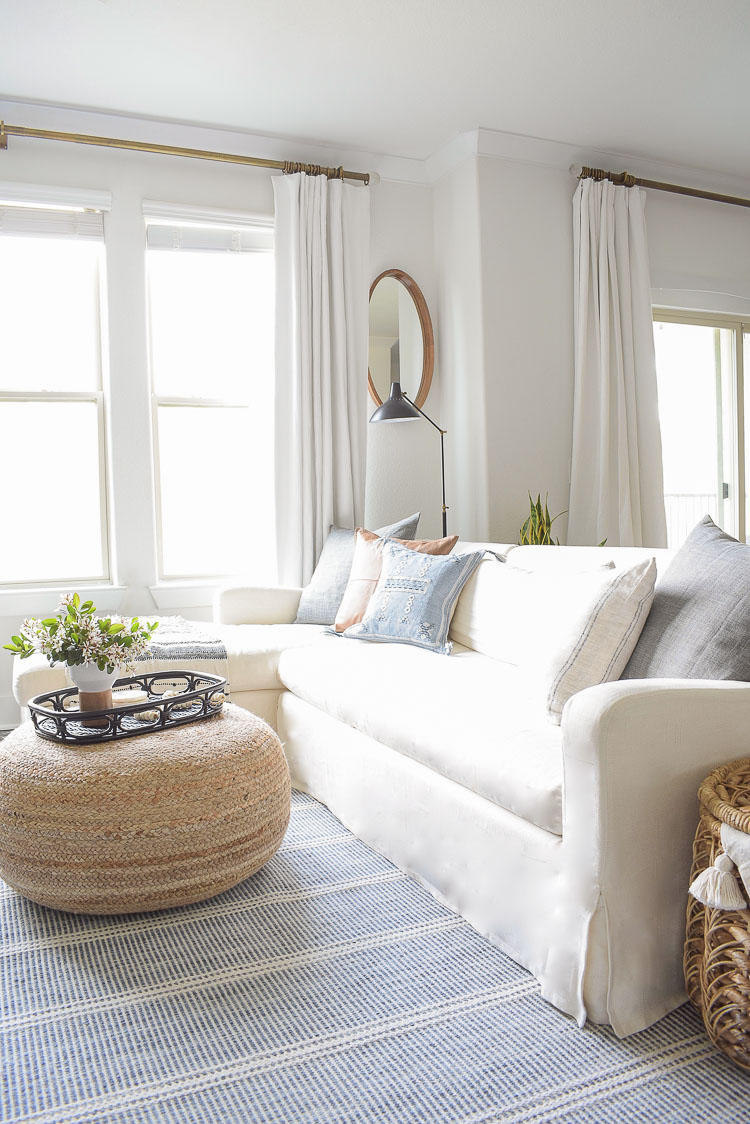 One last super fun thing I added was this lidded basket.  I am such a sucker for a lidded basket because of all of the great things you can do with one but this one has even been great for use as a side table, with a very small tray on top of course because the lid is super substantial, and it's just perfect here – can't wait to use this one in my new home soon!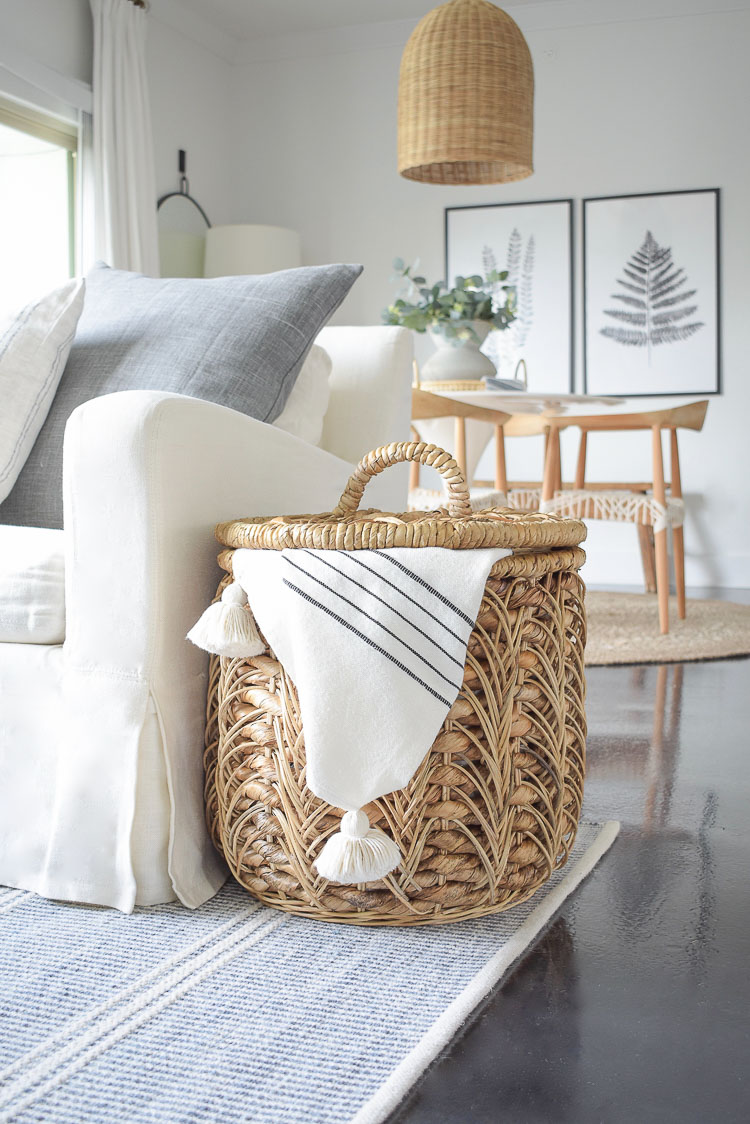 I hope you've enjoyed my spring living room tour.  Here is a fun look back and don't forget to check out the rest of my friends below so you can visit their spring homes as well!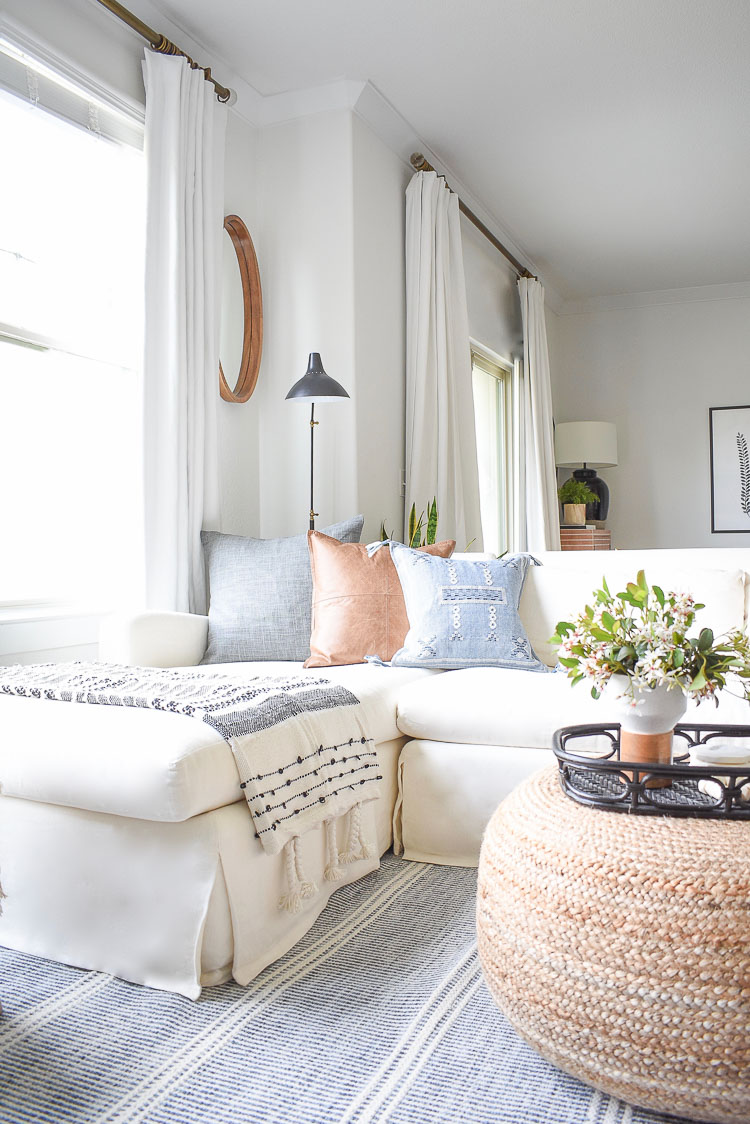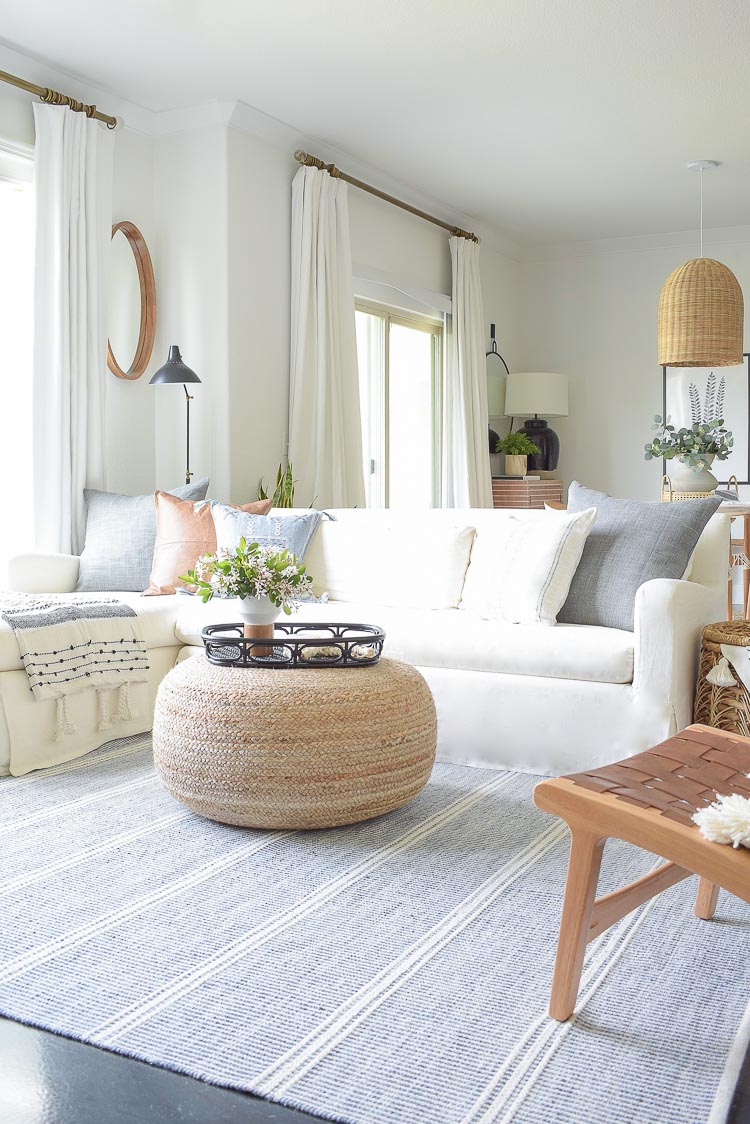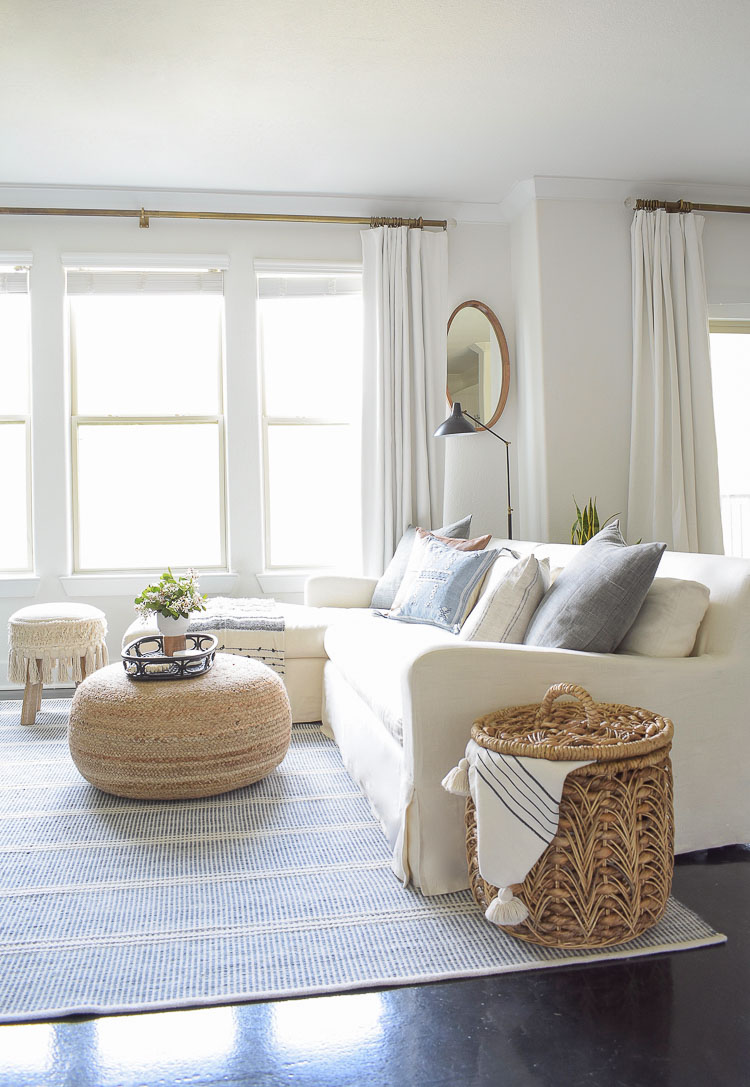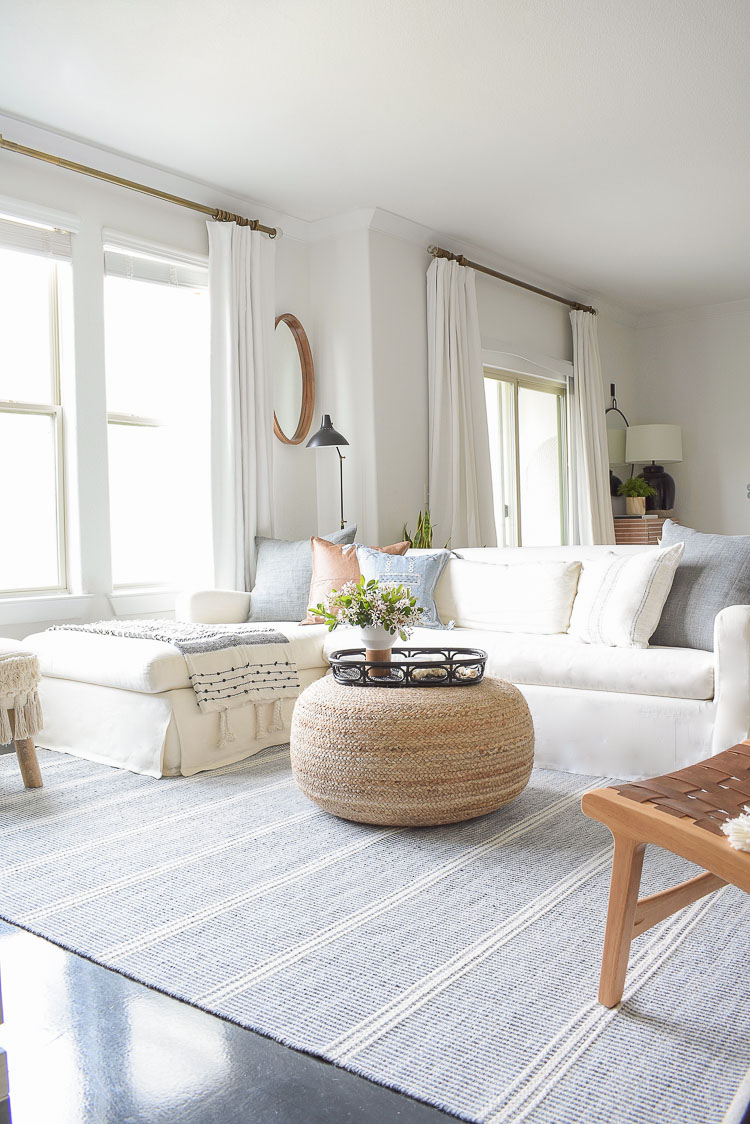 Thanks for stopping by!  Next up on the tour please visit Taryn of TarynWhiteaker.com.  I love the way Taryn decorates and I know you will too!  And after you visit Taryn please visit any or all of the ladies on the tour below, and all week long!  Happy Spring, friends!!

Monday Lineup
   A Stroll Thru Life  – Remodelando La Casa  –  Cuckoo4Design –  Far Above Rubies – Southern Hospitality – Duke Manor Farm 
Tuesday Lineup
House By Hoff  –  Pink Peppermint Design –  ZDesign At Home – Taryn Whiteaker –  Inspiration For Moms – Decor To Adore
Wednesday Lineup
Cassie Bustamante –  11 Magnolia Lane  – Hymns &amp Verses – Modern Glam – Thrifty & Chic  – Grace In My Space
Thursday Lineup
 Our Southern Home  – My 100 Year Old Home – Sanctuary Home Decor – Seeking Lavender Lane – Southern State Of Mind – StoneGable –
Friday Lineup
Thistlewood Farms –  White Arrows Home –  The Woodgrain Cottage – Life On Cedar Lane –  Follow The Yellow Brick Home  – Making Home Base
Let's stay connected..
Pinterest | Facebook | Instagram | Linkedin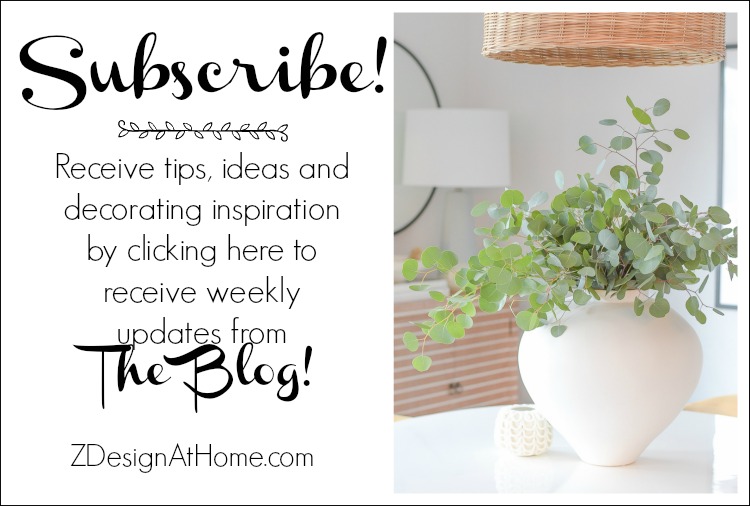 Living Room Sources
Two-tone Vase | Blue Tassel Pillow | Leather Pillow | Gray Belgium linen Pillows | Sofa | Similar Curtains | Round Jute Pouf | Bone Beads | Marble Coasters | Oval Mirror | Similar Media Cabinet | Gallery Frames | Prints | Faux Fig Tree | Tassel Basket | Banana Leaf Lidded Basket | Blue and White Rug | Leather Lattice Chair | Floor Lamp | Blue Two-Tone Lamp | Succulent in Pot | Tom Ford Book | Marble Chain | Tassel Stool | Throw on Chaise | Throw in Basket | Similar Pillow in Chair