5 Tips for a Spring Refresh in the Master Suite
Happy first week of spring and welcome to a Spring Refresh in the Master Suite + tour hosted by the lovely Marty of A Stroll Through Life.  This is my first time on this fabulous tour and I'd like to send out a big thank you to Marty for having me!!  And, welcome if you are coming over from Jenna of Rain On A Tin Roof!  Jenna's blog is so fun and informative and I'm so glad you made your way over from her corner of the blogosphere!!  If you are new here my name is Bree and my blog is all about home interior design tips, ideas, inspiration, and stylish finds for your home (and sometimes wardrobe).  I hope you'll settle in today to check out my 5 tips for a spring refresh in the master suite and then I'll send you on to the next participating blogger in the tour so stay tuned at the bottom of my post for that!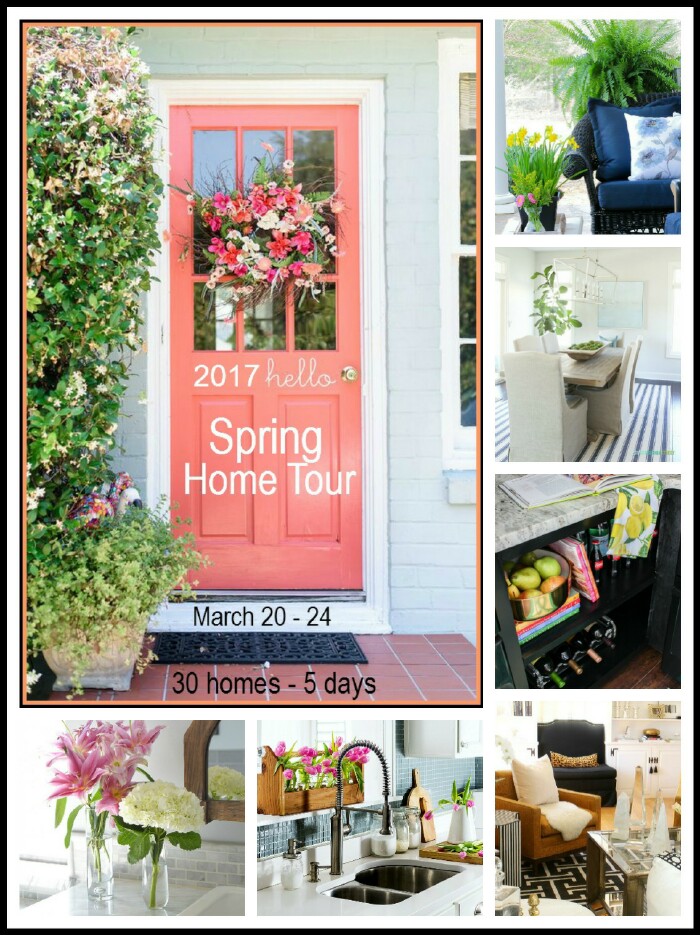 Now let's get started but before we do, if you missed my 1st spring tour of 2017 where I shared my living room, dining room, and kitchen you can catch all of that HERE .  You can also catch my spring tour from last year HERE.
Today I'd like to share with you some updates I've made to the master suite along with 5 tips for things I do to get this space spring decor ready for the season.  Spring is my absolute favorite time to decorate since things are feeling new, light, and fresh!  Fresh flowers are on repeat and all of the coral accessories come out in full swing but the first thing I always think to do is to give my bedding a refresh with new linens.  If you'd like to see my fall/winter linens you can see that here & here (affiliate links used in this post).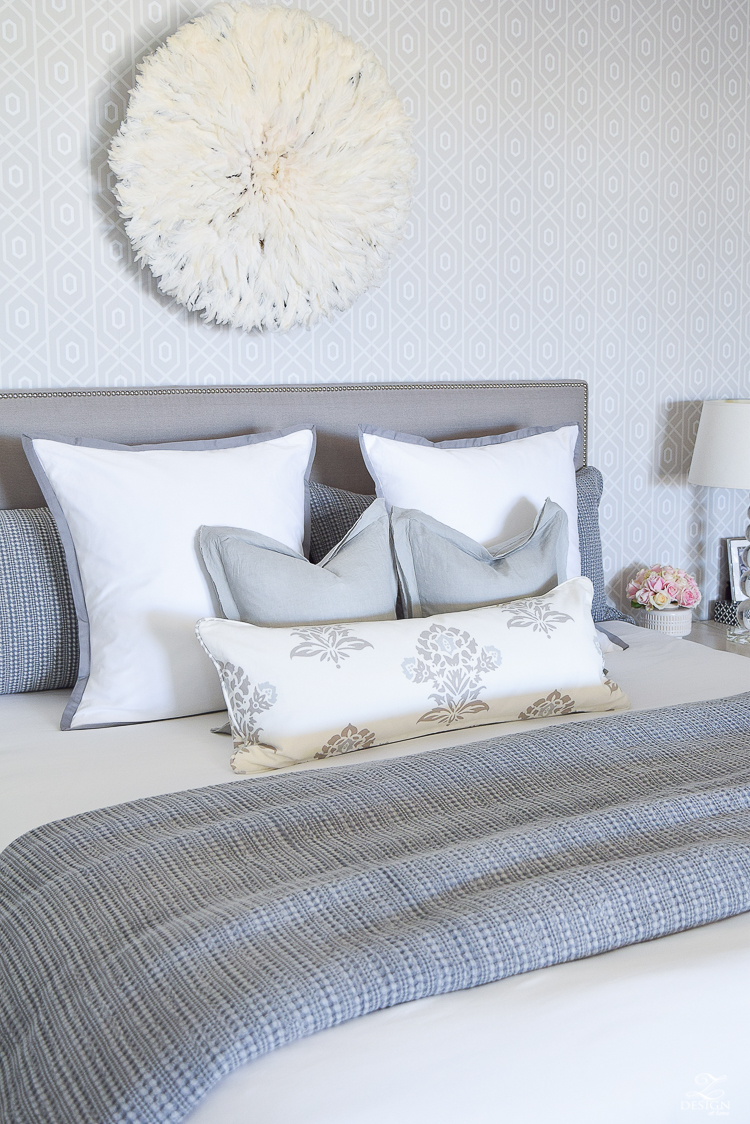 The washed velvet quilt and shams that were here for the cooler months were switched out for this light weight honey comb duvet and shams.  I love the texture and the on trend feel of the subtle pattern.  I also pulled out some light gray linen decorative pillow covers (similar here) that I had on hand from last season to lighten things up for spring.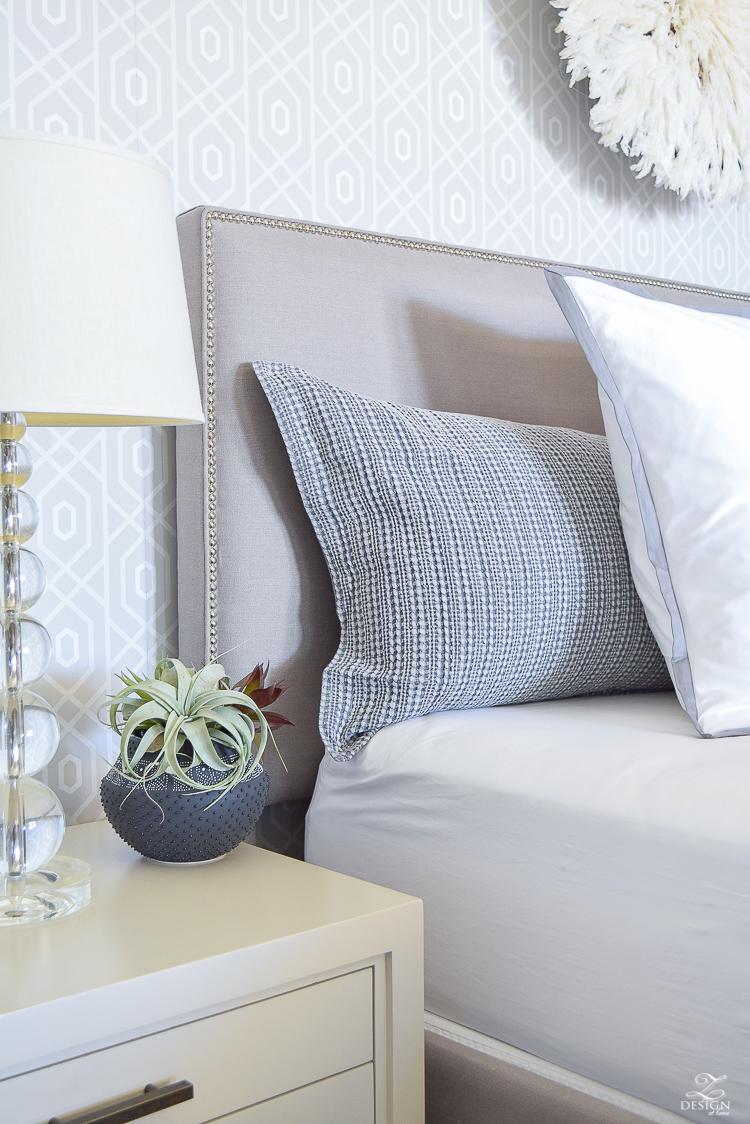 My white border duvet and shams is versatile enough to keep on the bed year round and is a staple in my bedding wardrobe (lol, is that a thing?:).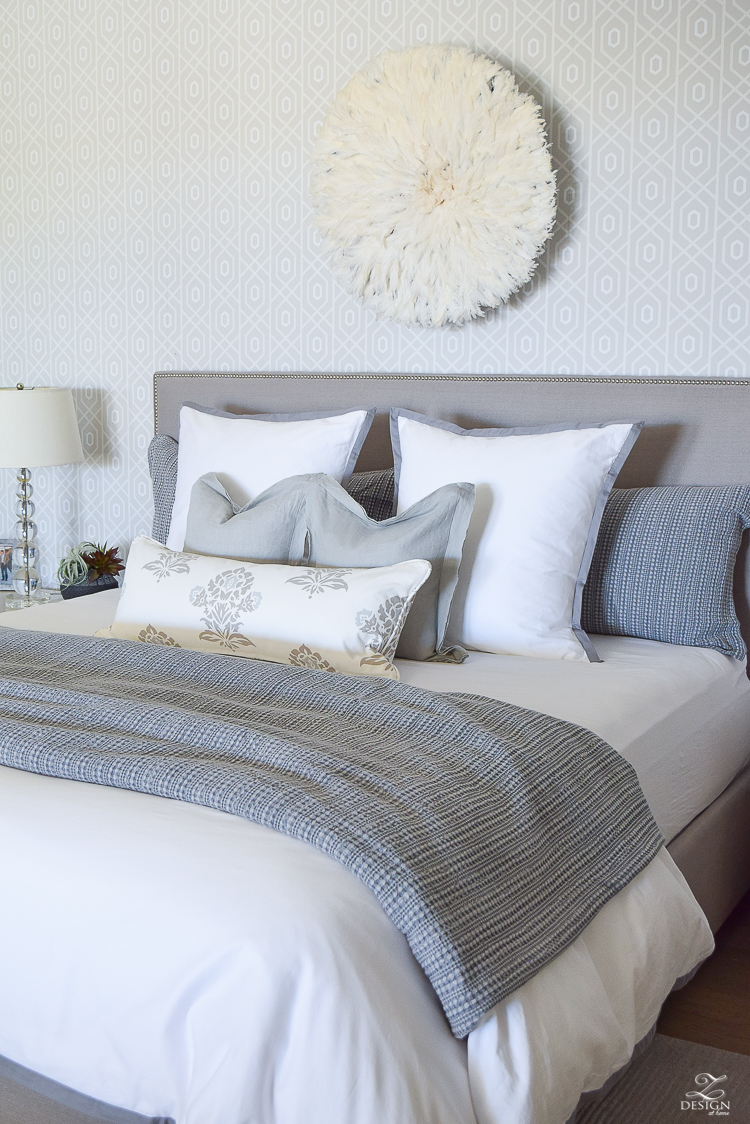 Another recent update I made a few months back in preparation for spring was this Juju hat hanging over the bed.  You can see all of the art updates around the house (plus some simple tips for hanging art) and read the story of our Juju hat HERE.  It's such a fun piece that adds a ton of character and charm to the space.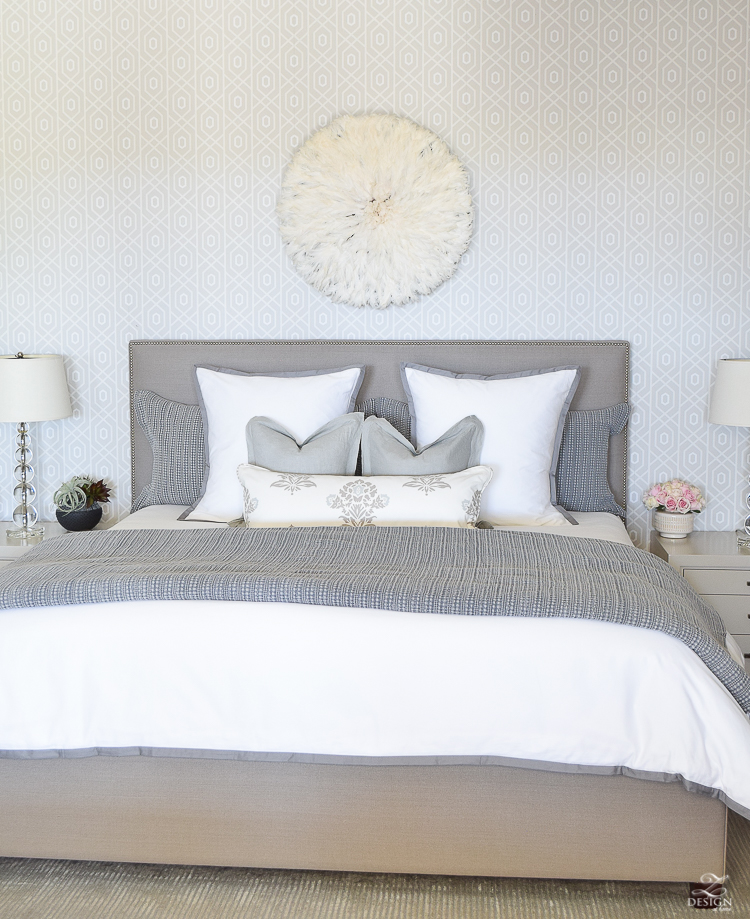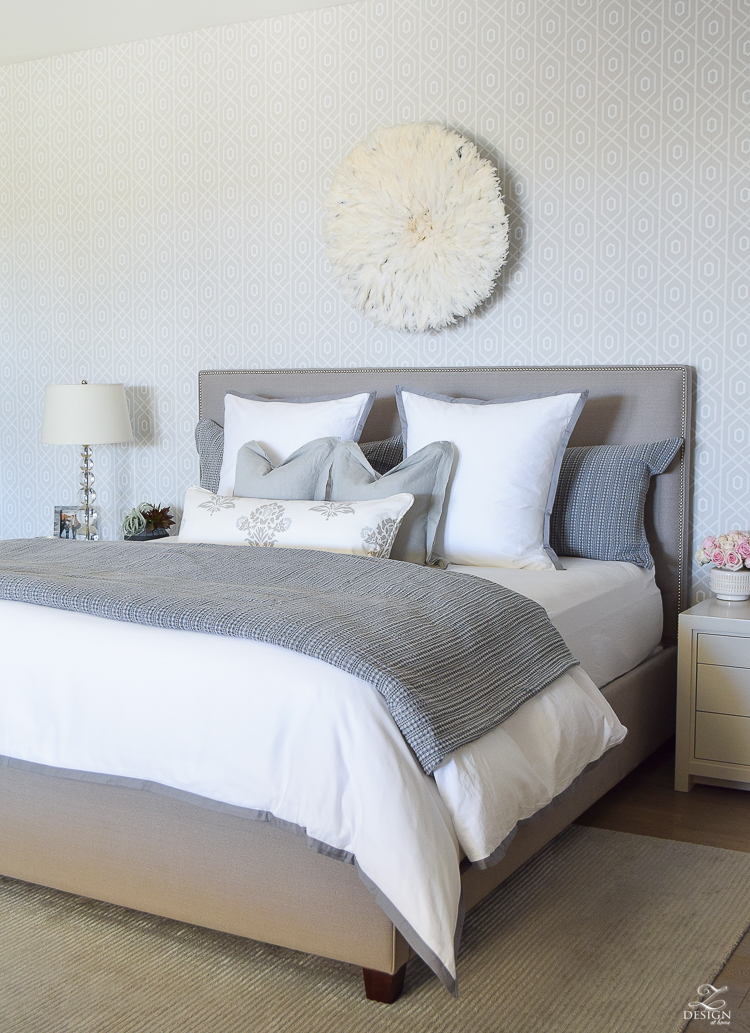 Next up on the list for spring updates are always accessories.  I chose this low, modern vase for my bedside table that I will keep fresh or faux flowers in all season.  You can never have a bad morning when waking up to soft pink roses, right?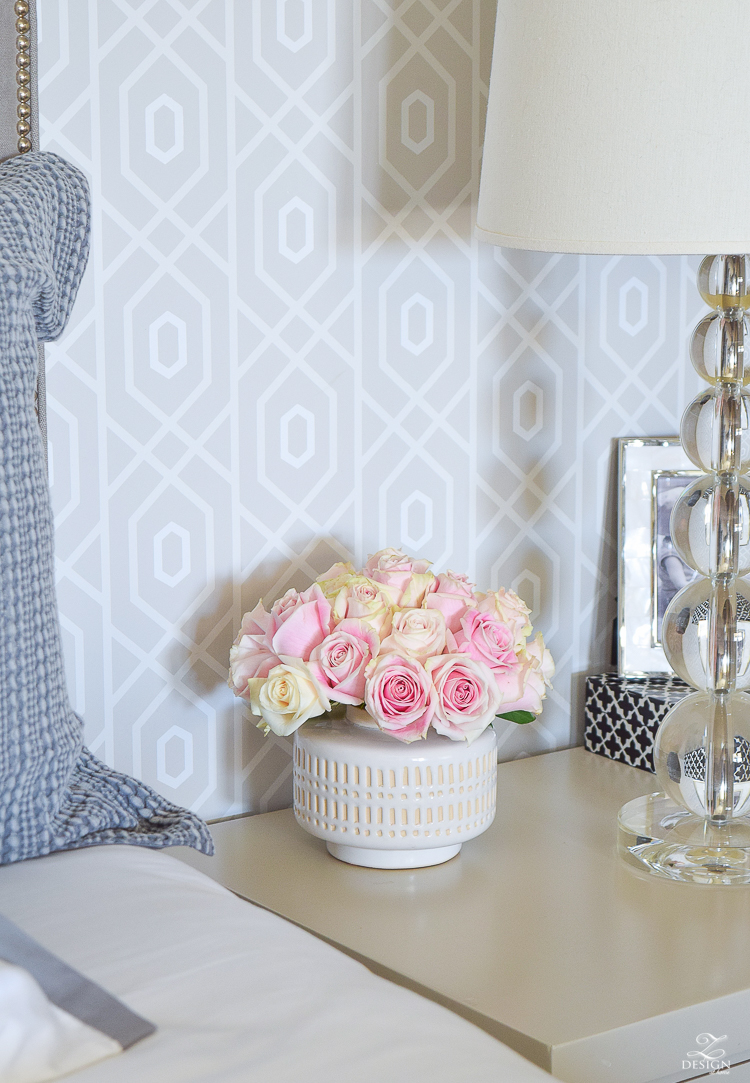 I also added accents of black and white.  Black and white is such a great trend at the moment but really never goes out of style.  I truly can't get enough of these black and white vessels...just look at the detail in them (I also can't get enough of that little guy on his first trip to the beach on my bedside table:).  The black and white patterned box was a HomeGoods find a while back (similar here).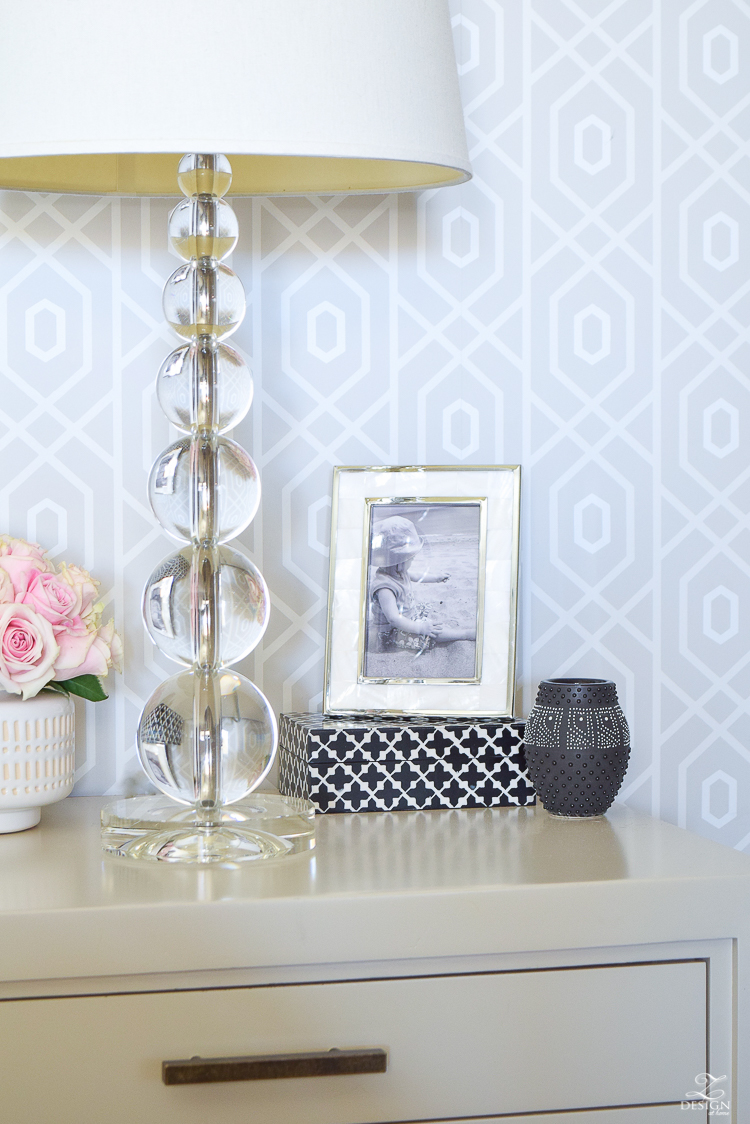 This pot was perfect for a mix of fresh and faux succulents on my hubby's side of the bed.  A touch of something a little more masculine is always perfect for his side of the bed.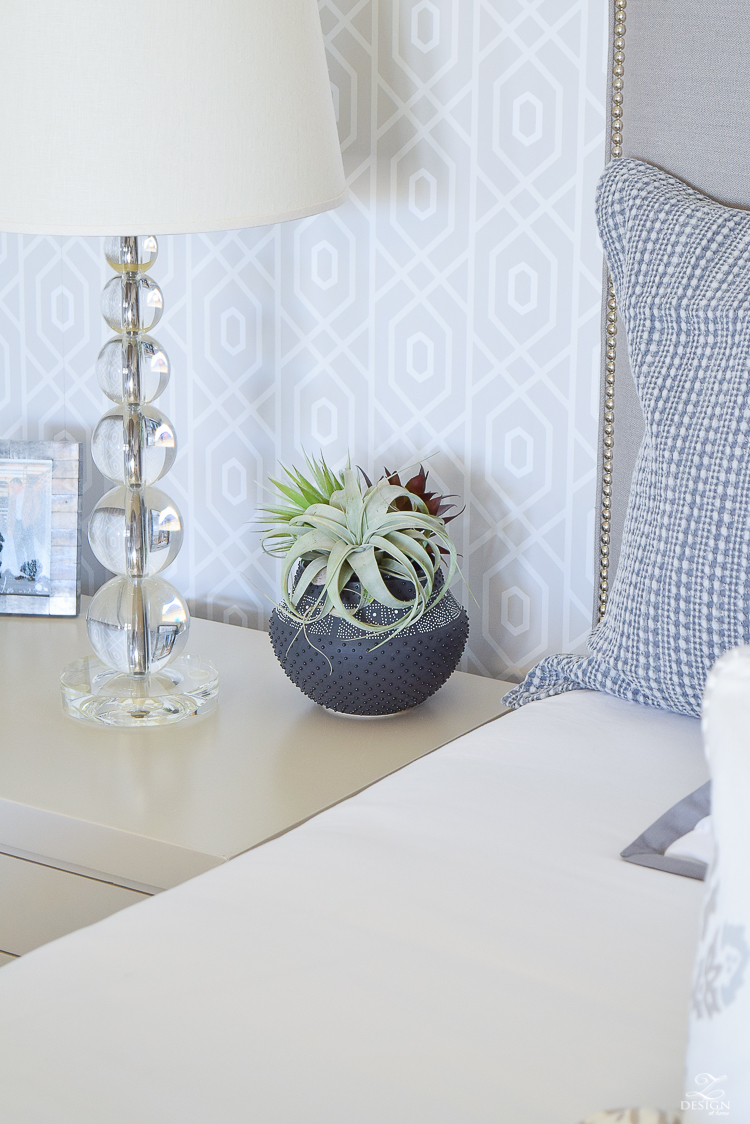 Again, look at the incredible detail here in this pot…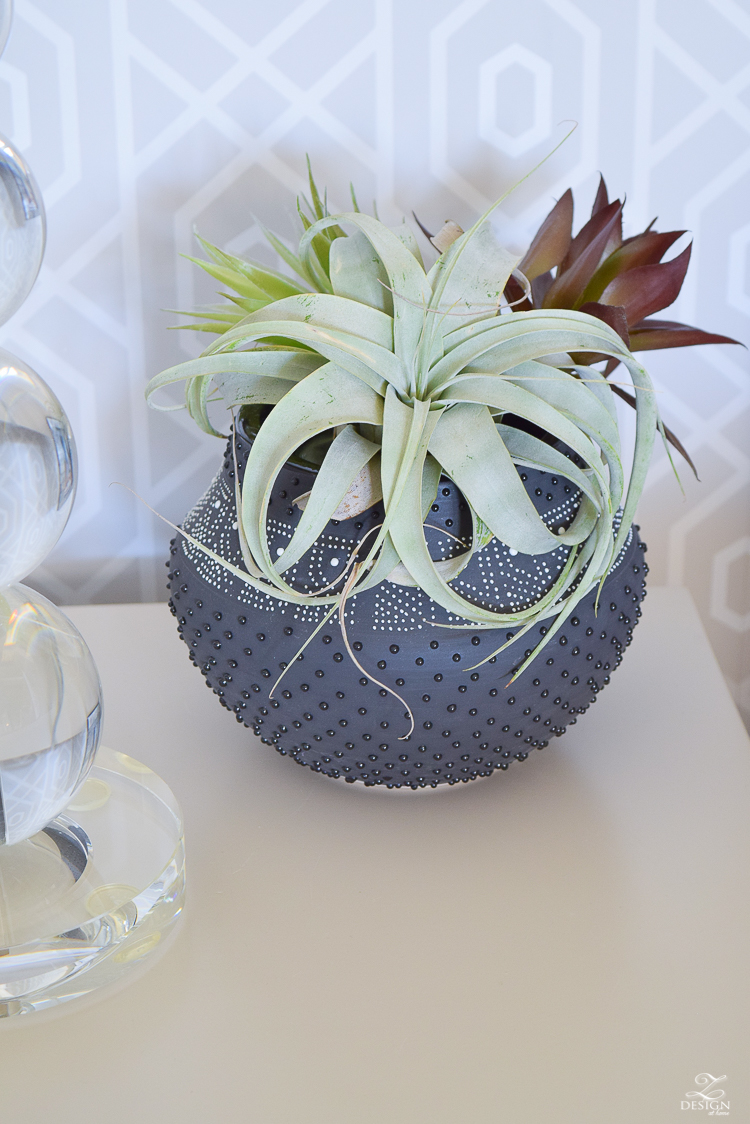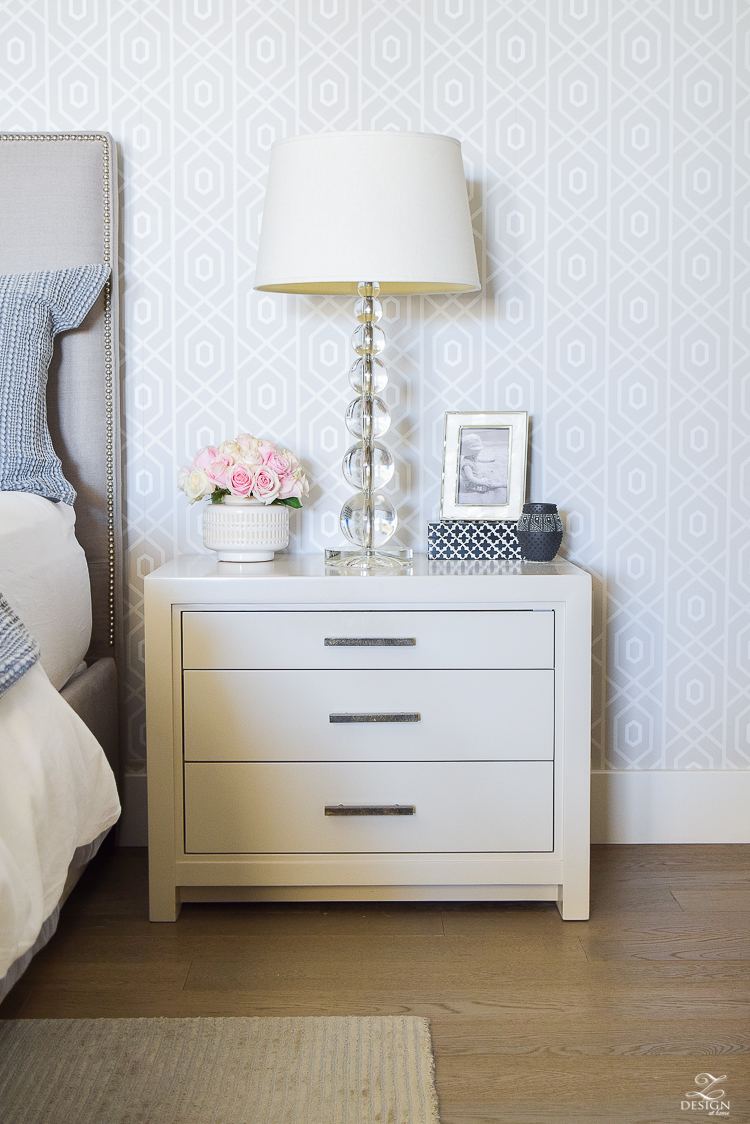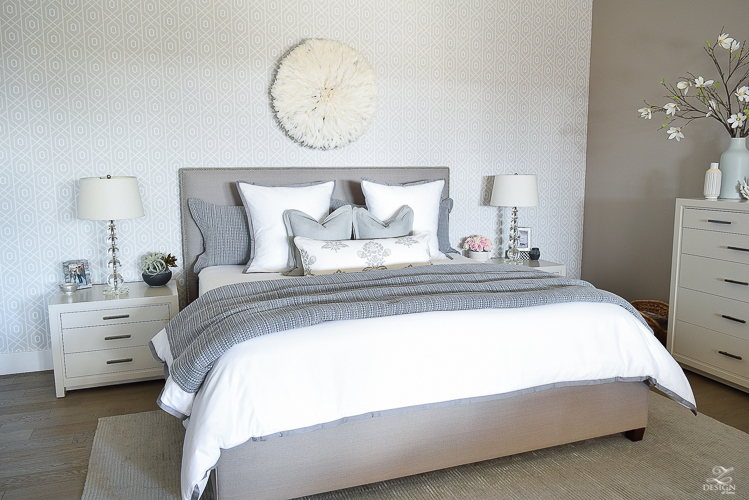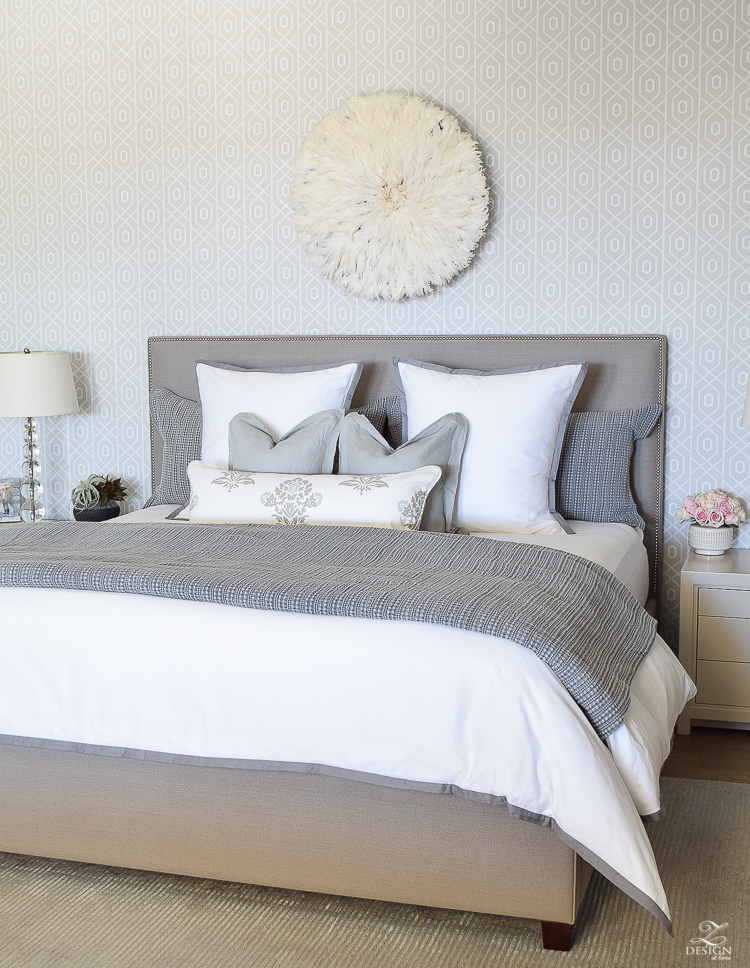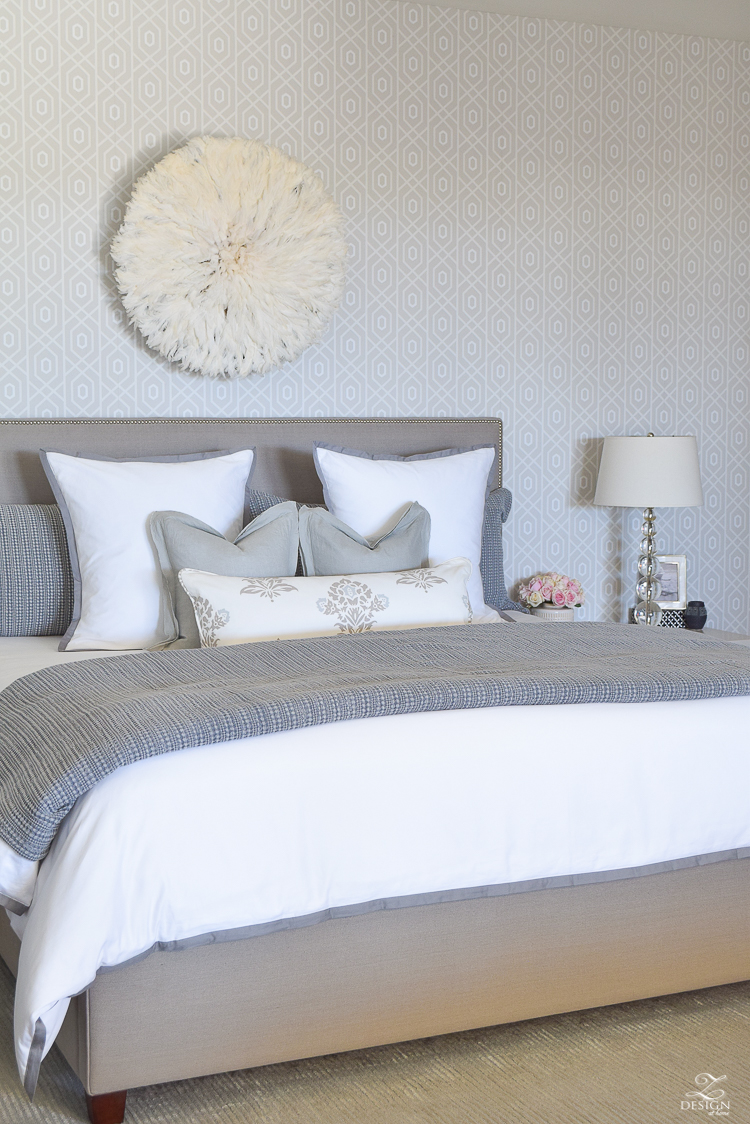 Next I updated a few of the accessories on the dresser adding coral (my spring staple), some decorative books, and a pop of gold with a tray.  The fun horses and the magnolia stems stay year round…magnolia branches remind me of home so they are a staple all of the time here.  Books are a great way to add a pop of color and to elevate items you are decorating with when needed.  I have an entire post HERE all about styling console tables and books shelves that might be helpful if you are doing some spring redecorating.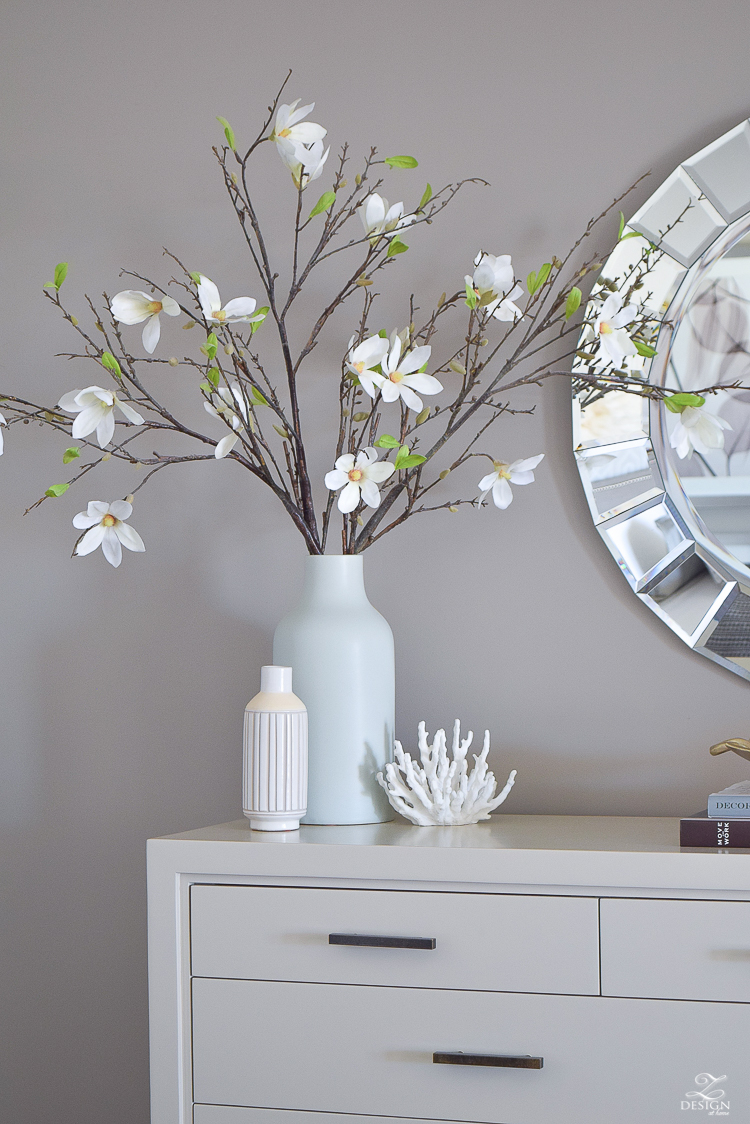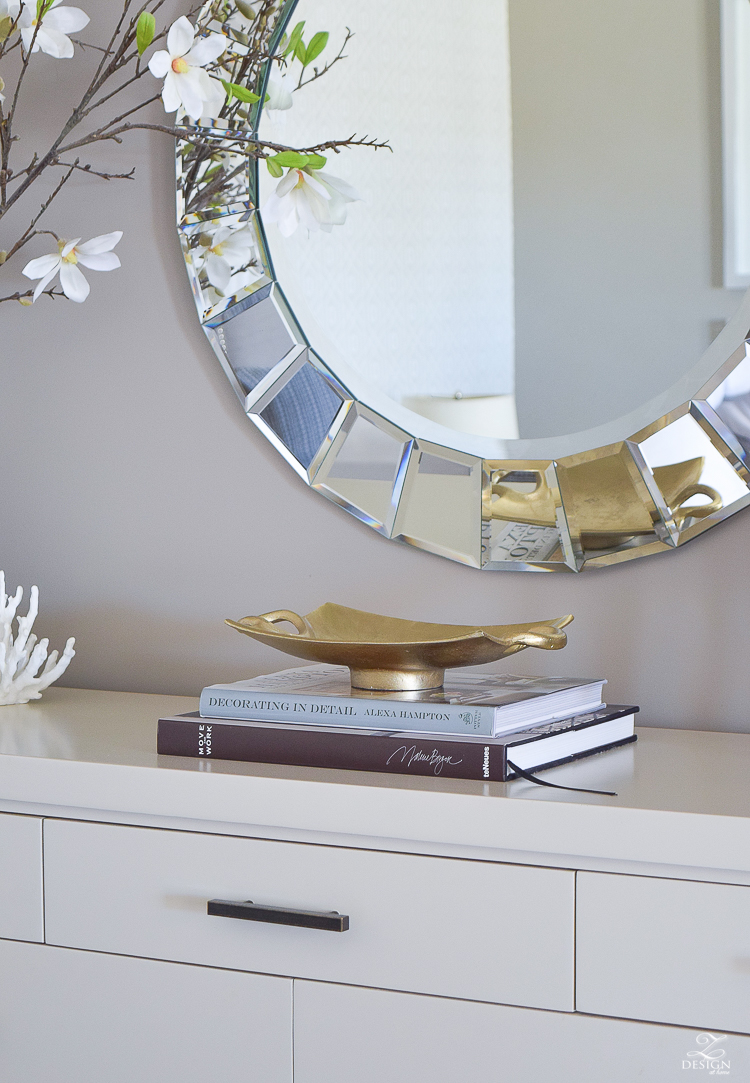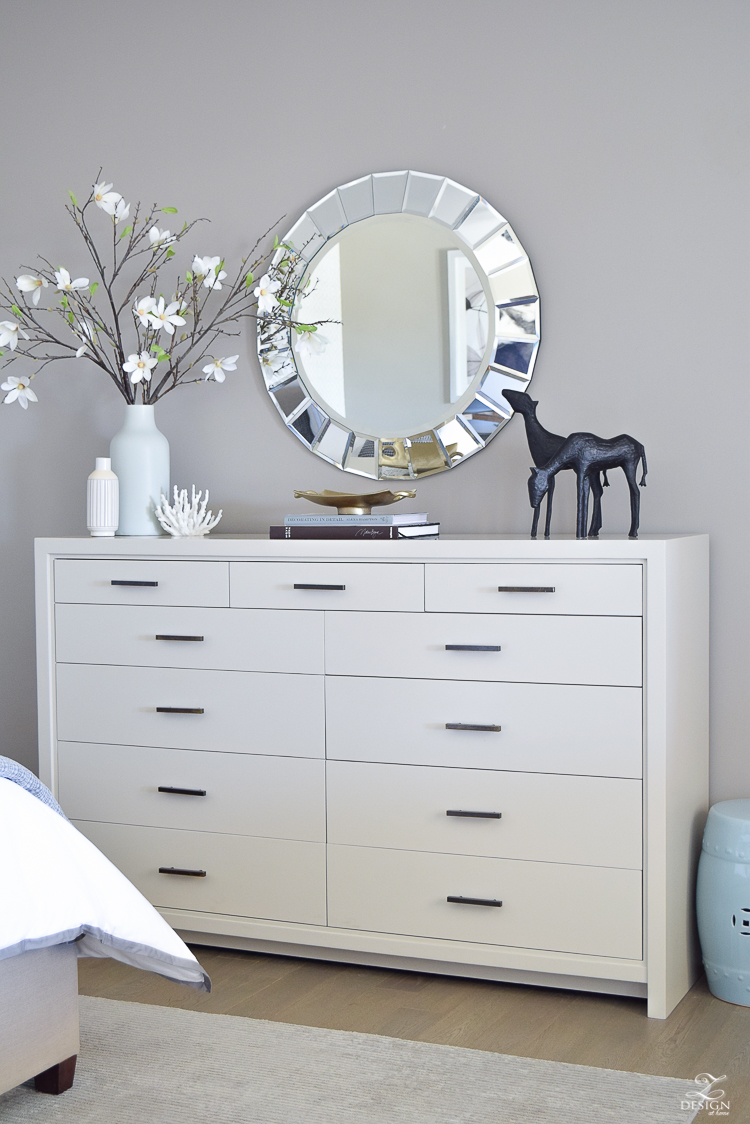 Next I turned my attention to the sitting area side of the room where I pulled out more coral, fresh hydrangeas, and some more pops of gold with my accessories.  Using gold accessories especially this year is a chic way to update for spring!  Gold or brass will bring in a light, airy, fresh feel to the space that gives an instant modern update.  I especially love the gold bird and I had the beautiful gold bowl (similar) on hand from last year.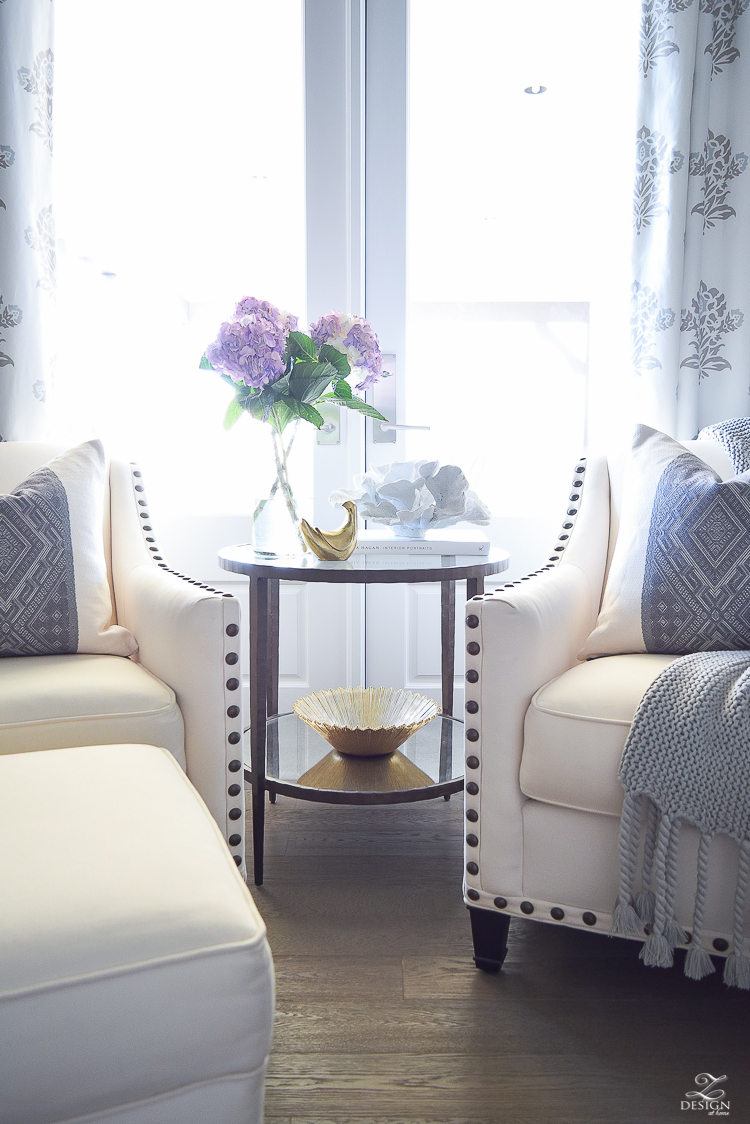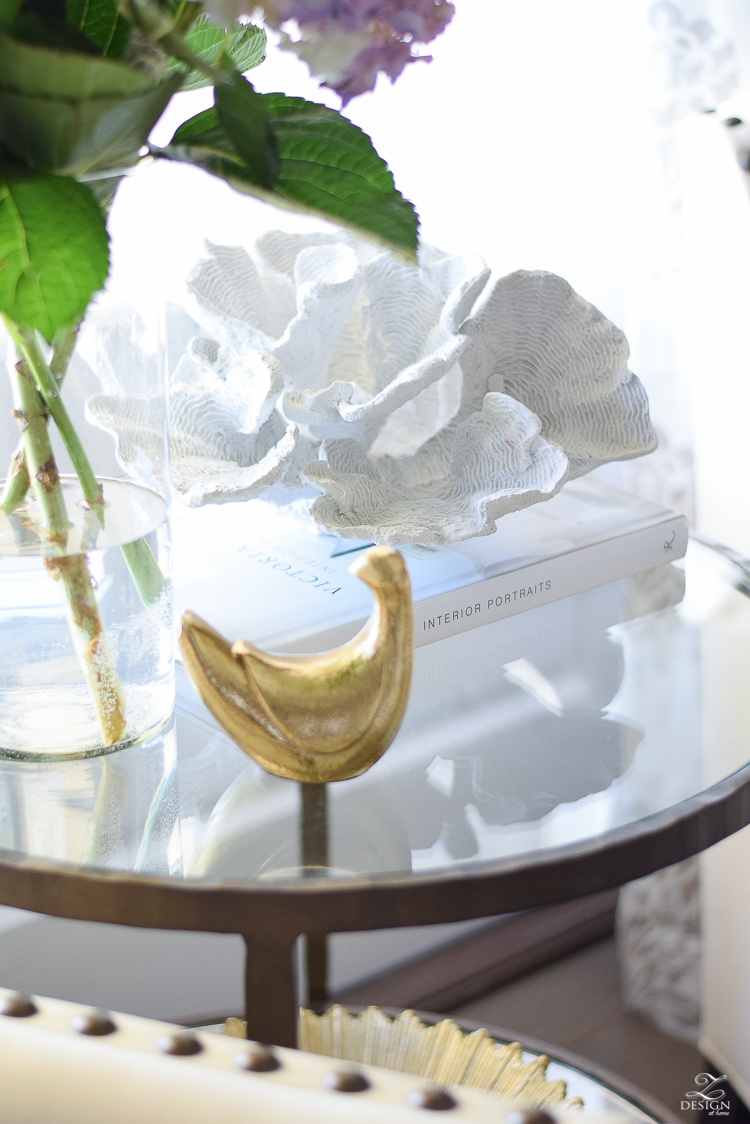 I changed out my pillows in the chairs with this on trend patterned pillow that works beautifully with my existing textiles in the space.  In addition to your linens, pillows are always the best way to refresh a room, and try out a trend for any season and can bring a whole new attitude to the space instantly.  I also pulled out this gray fringe throw that I've had for years and still love.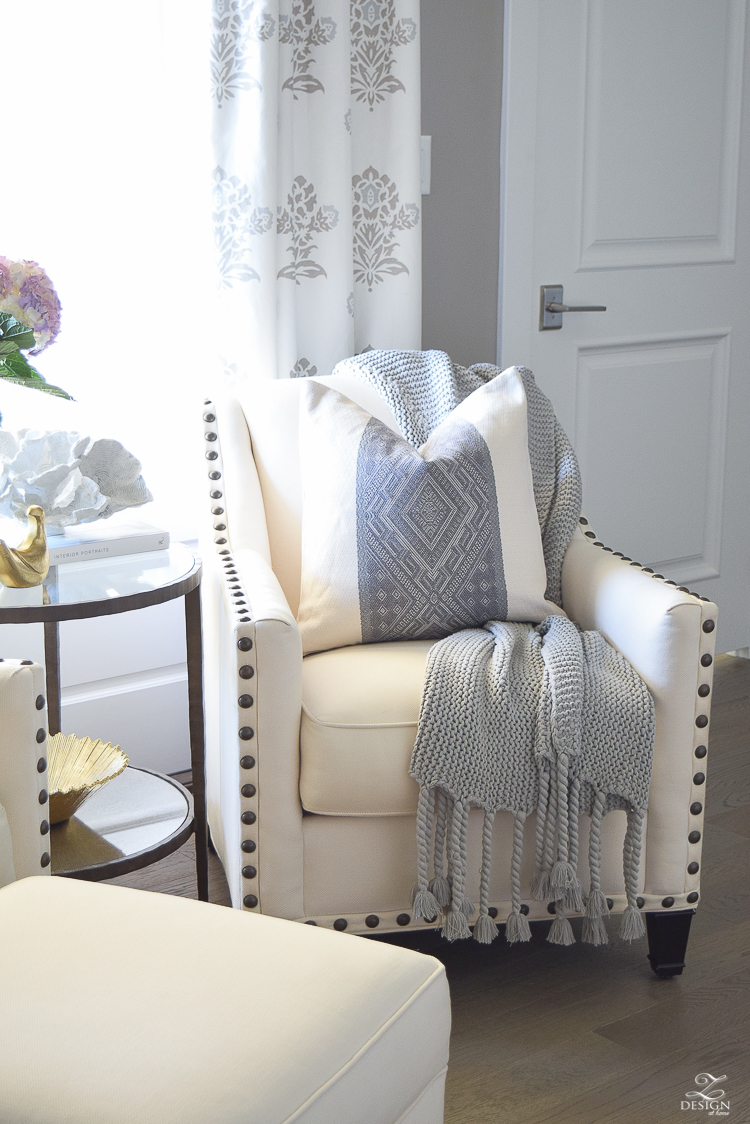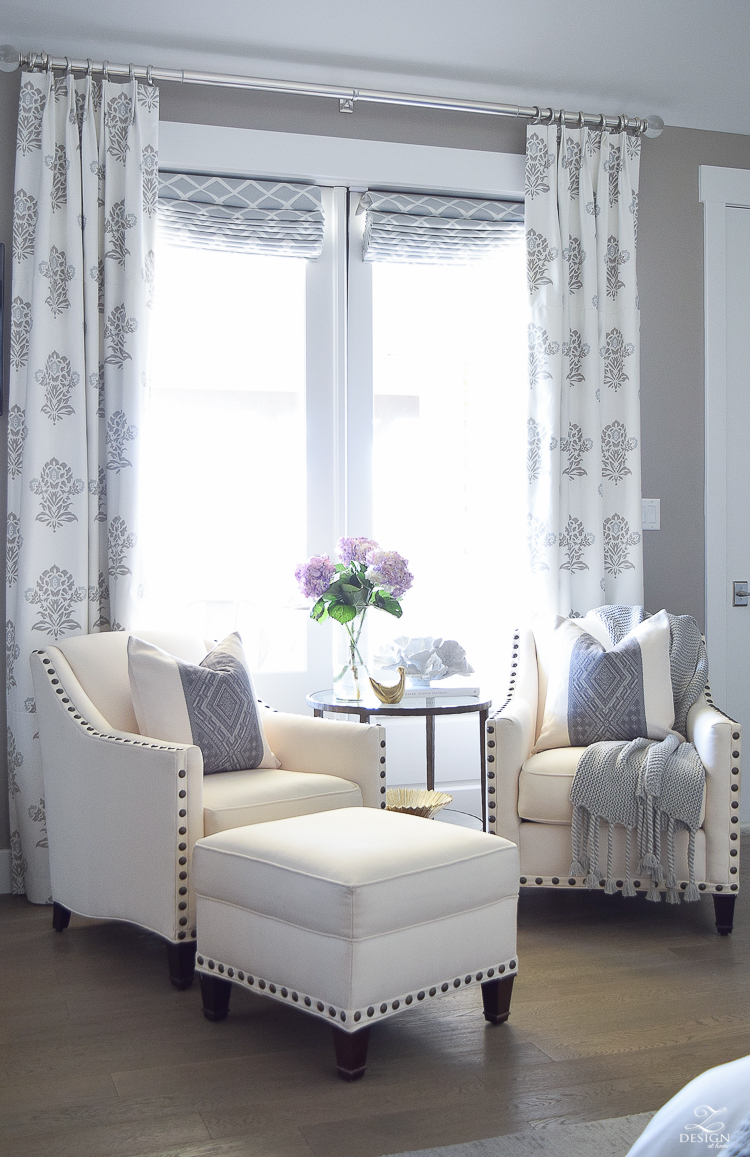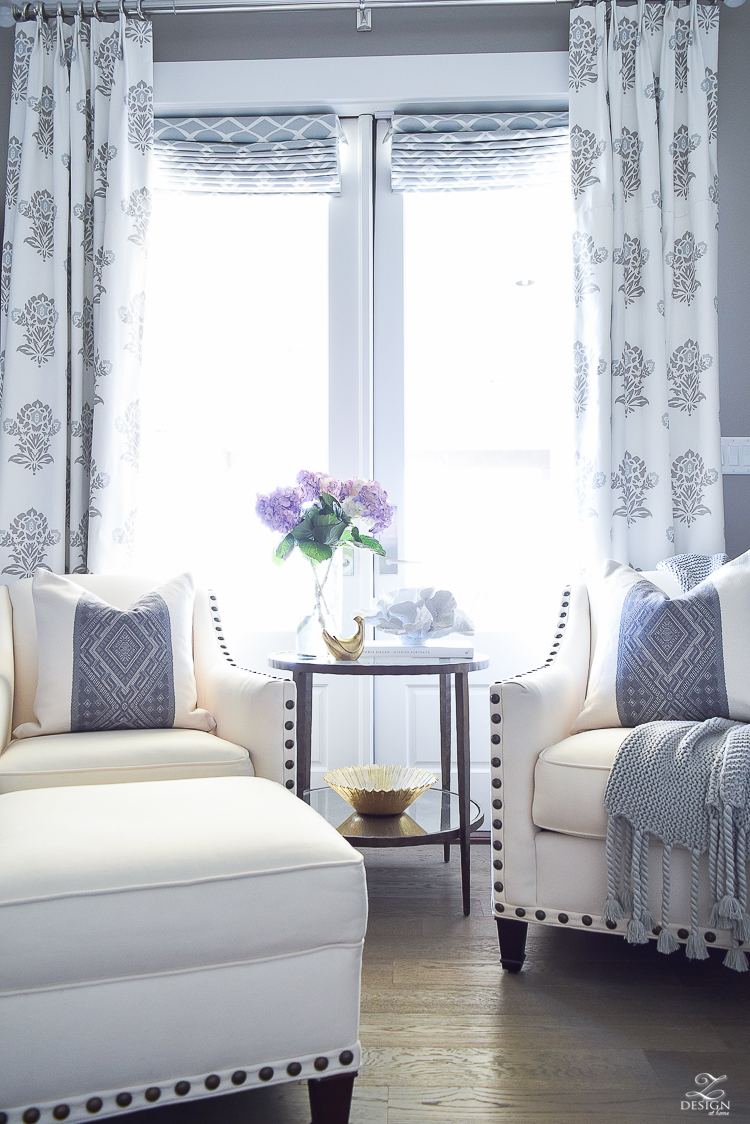 As we leave the master bedroom and head into a tour of the en suite, here is a last look back at our cozy sitting area.  Besides it holding the pretty pillows at night, I do still love to take time out to just sit here and read a book, spend some quiet time, or just relax at the end of a long day.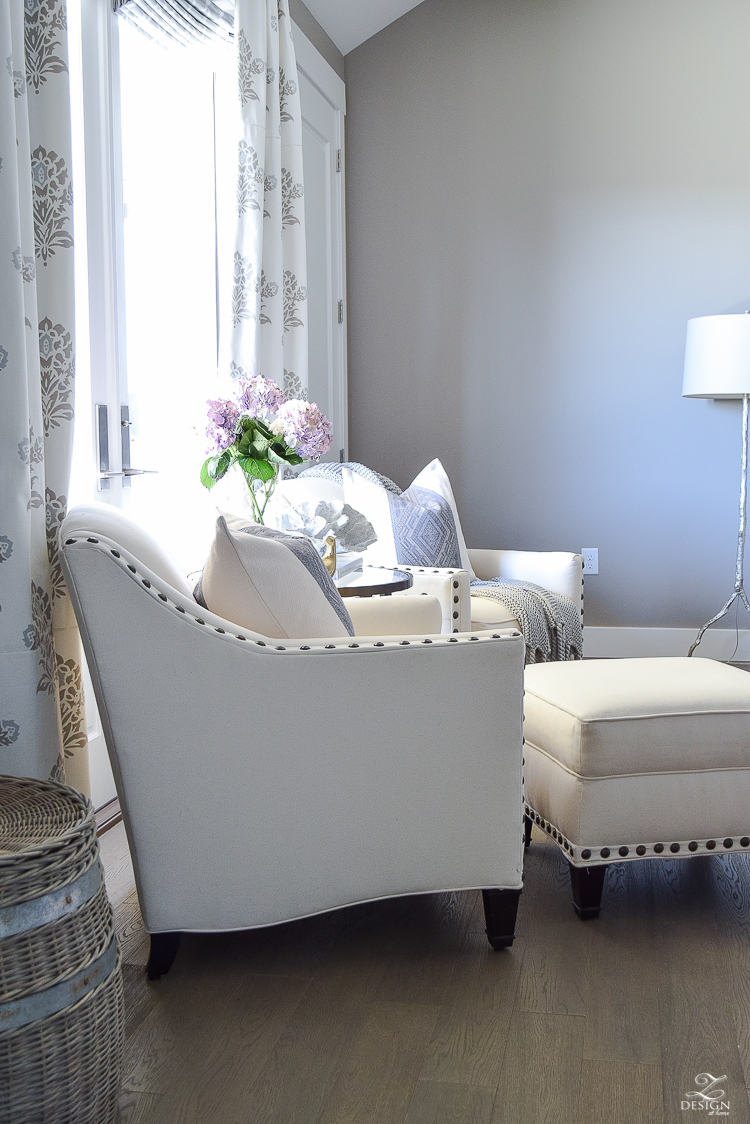 Gold accents with my accessories continue into the bathroom with some much needed pretties to store cotton balls and q-tips.  I also love this gold and marble tray to corral all the things, including a nice piece of faux coral with a acrylic base as a nod to the spring season.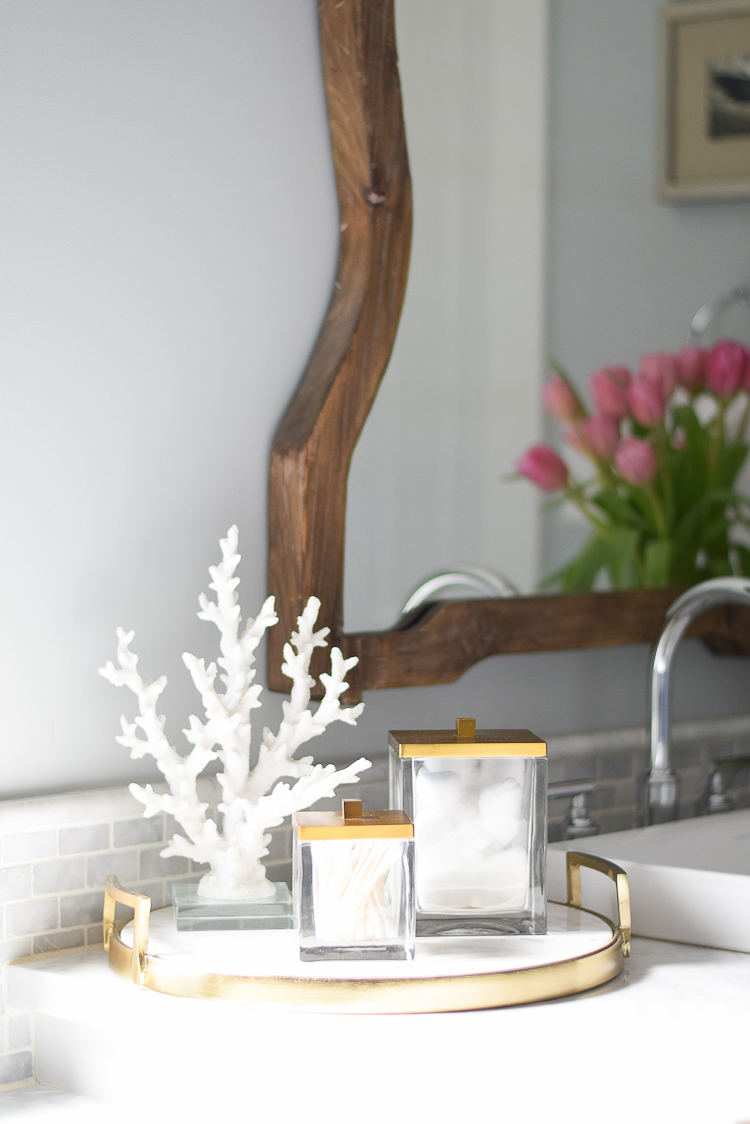 Starting this time of year I always keep fresh flowers on my vanity and pink tulips in this clear pitcher with brass accents was the perfect vessel for this space to kick spring off in the bathroom around here. An update to my linens in here was also long over due (like 3 years over due, lol!).  I recently found this cute fringed hand towel at Home Goods but I've sourced a similar one here.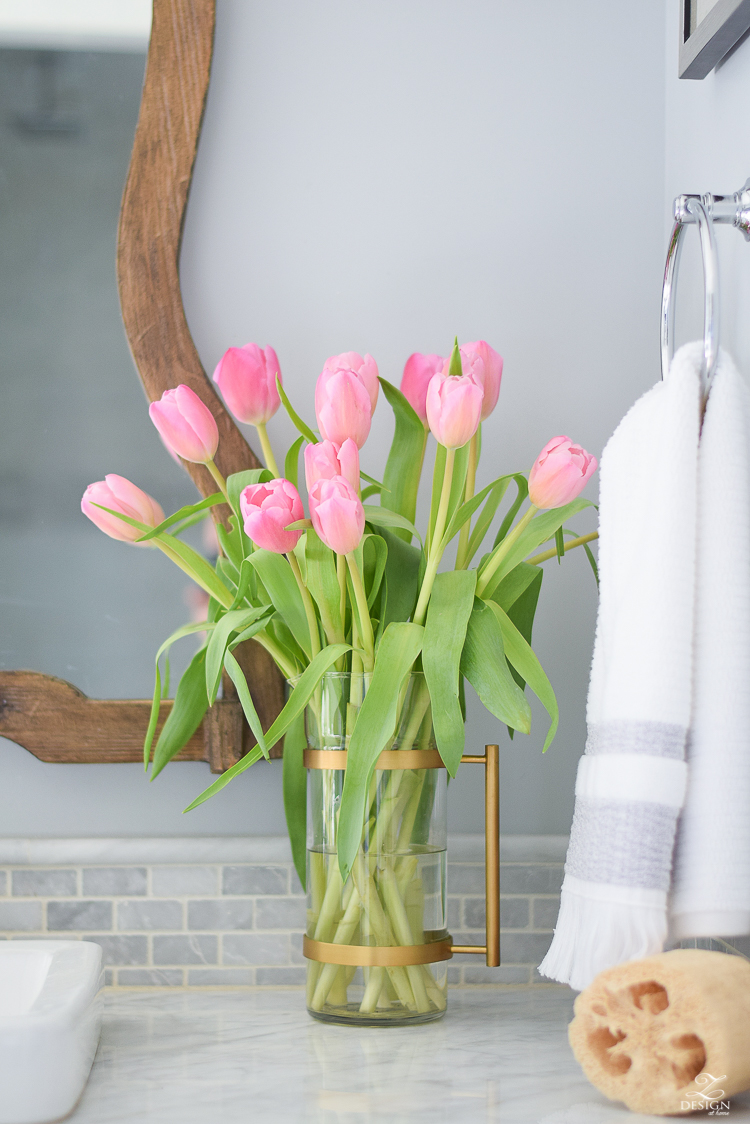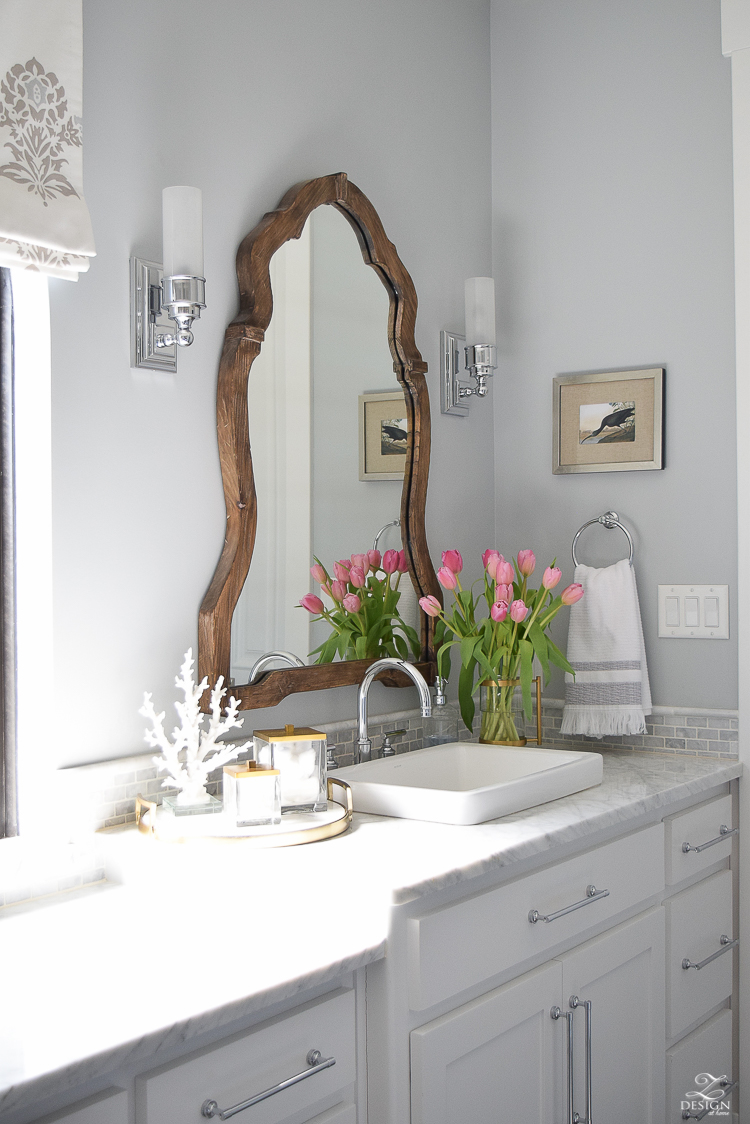 And the hubby's side of the bathroom…poor thing, he always receives minimal updates but I'm pretty sure he could care less either way;), haha!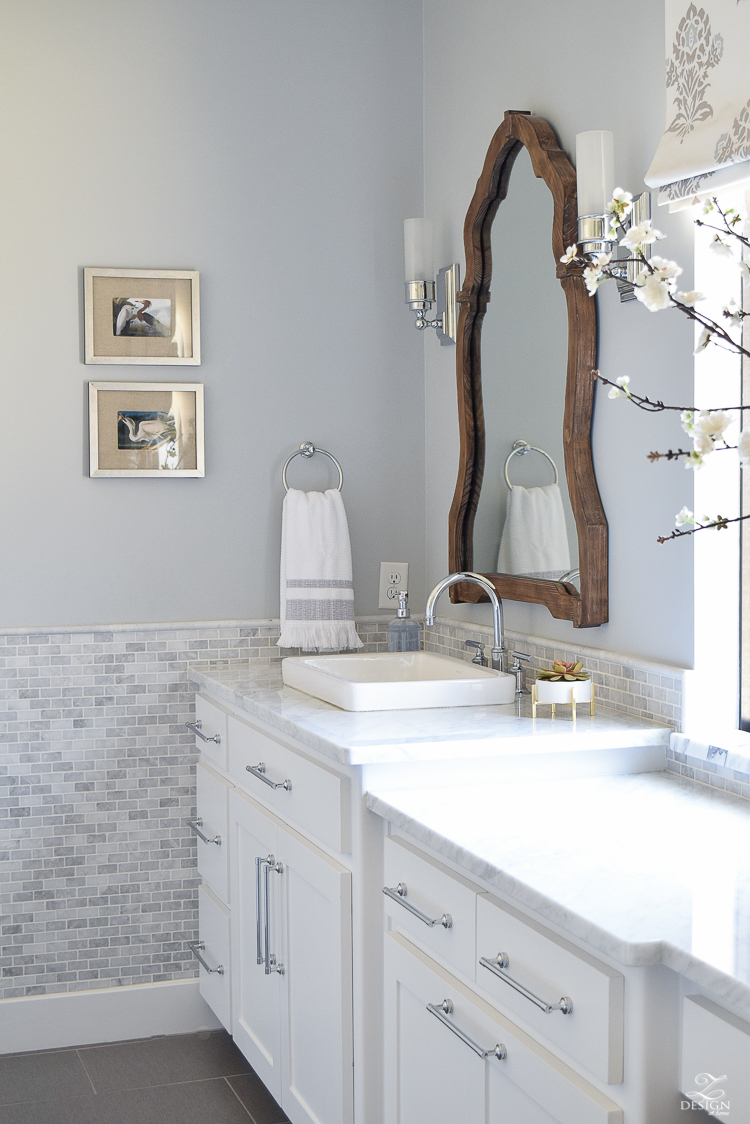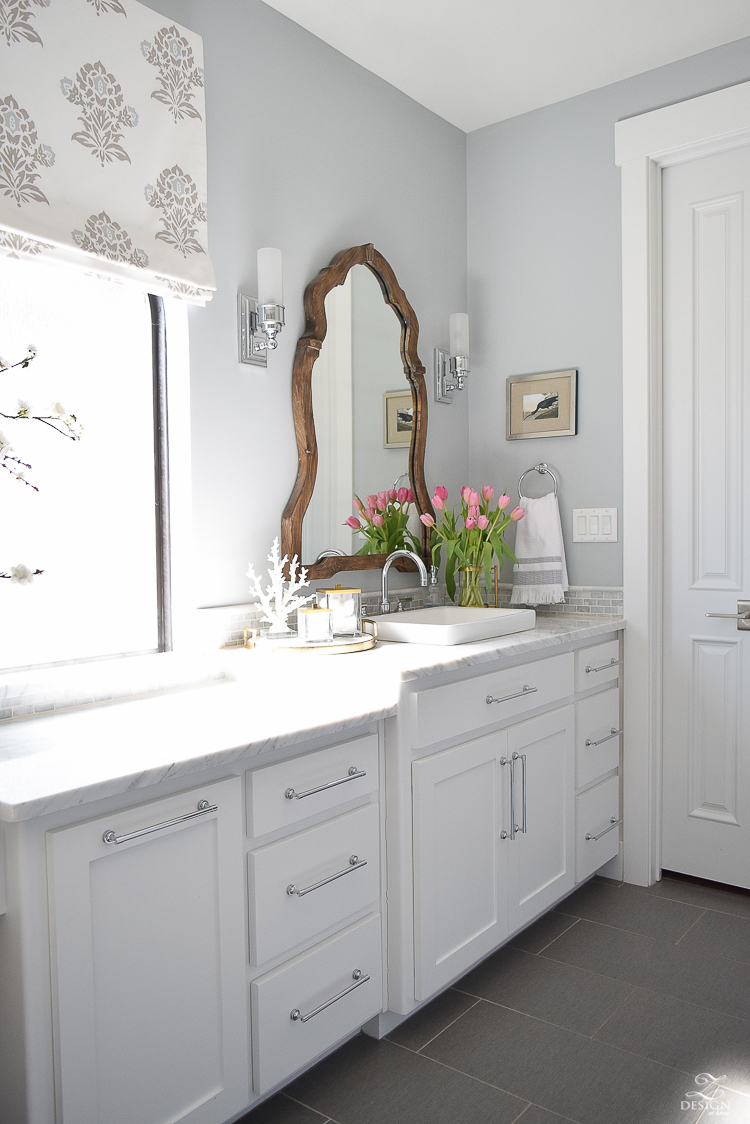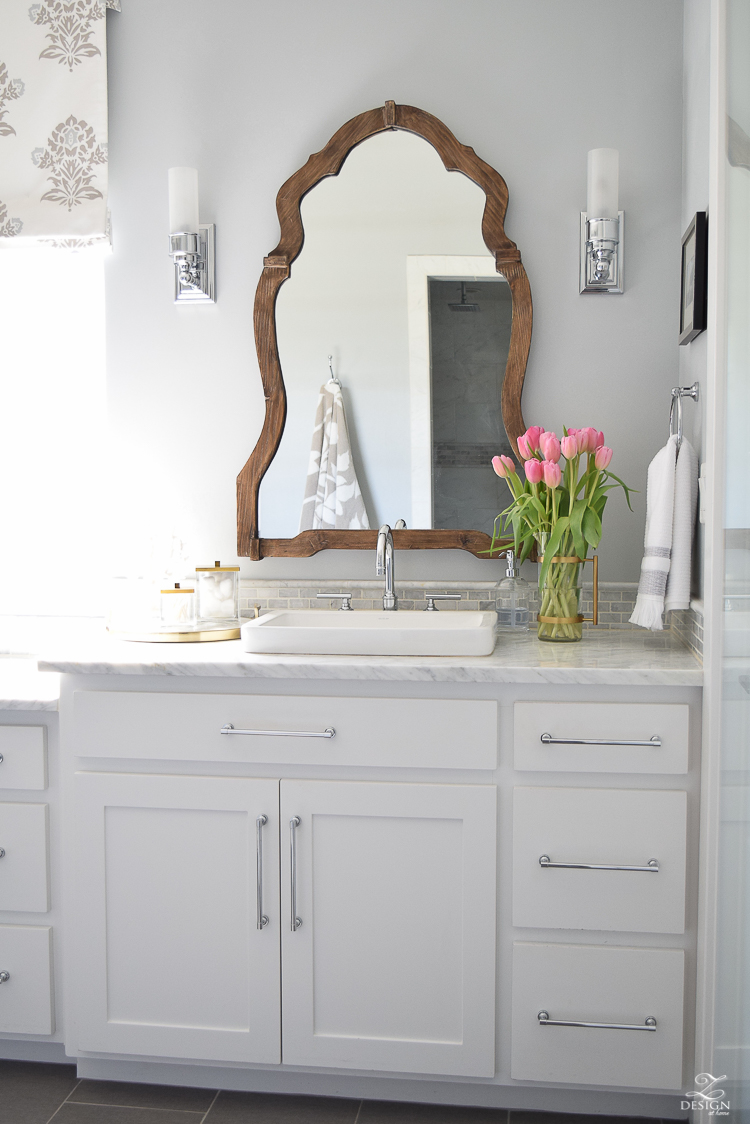 Our bath towels had bleach stains (I guess from the water being flushed from time to time…hate that!!) and a transition to something new was long over due.  This luxe organic towel has been my go to towel in my guest bath for a while now so I decided to try some for our bath as well and can't get enough of them since using them daily.  They are a super soft towel, come in 3 colors, and I highly recommend them if you're looking for a nice bath towel collection.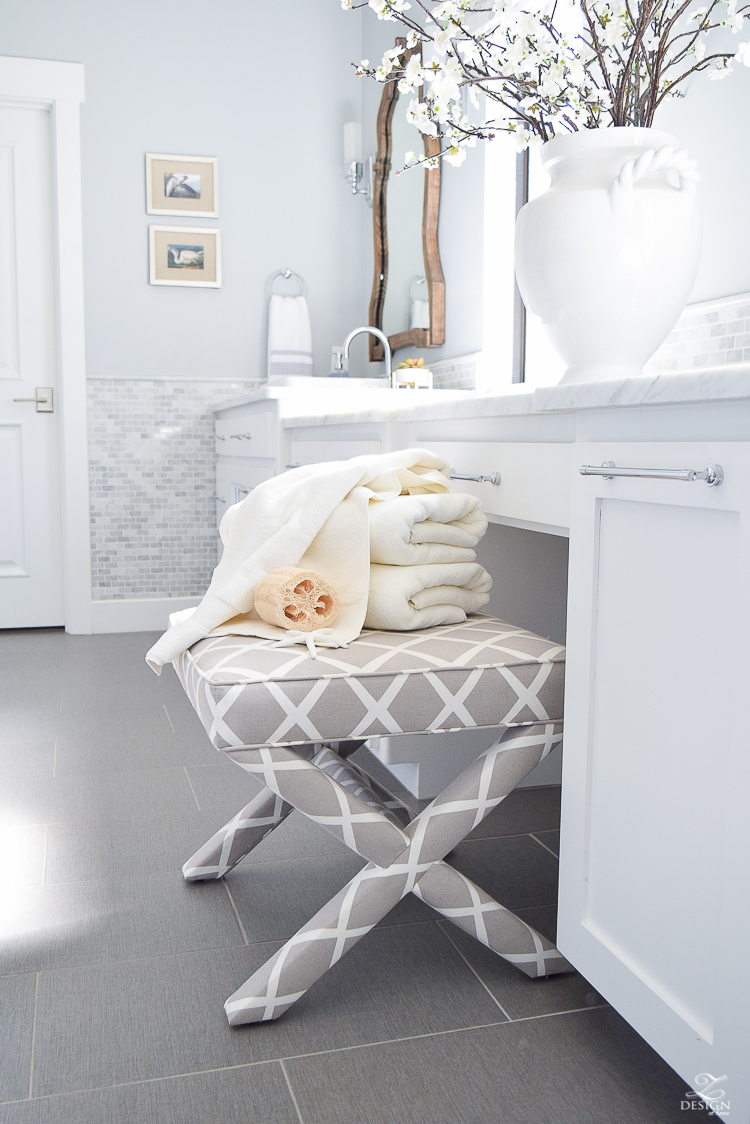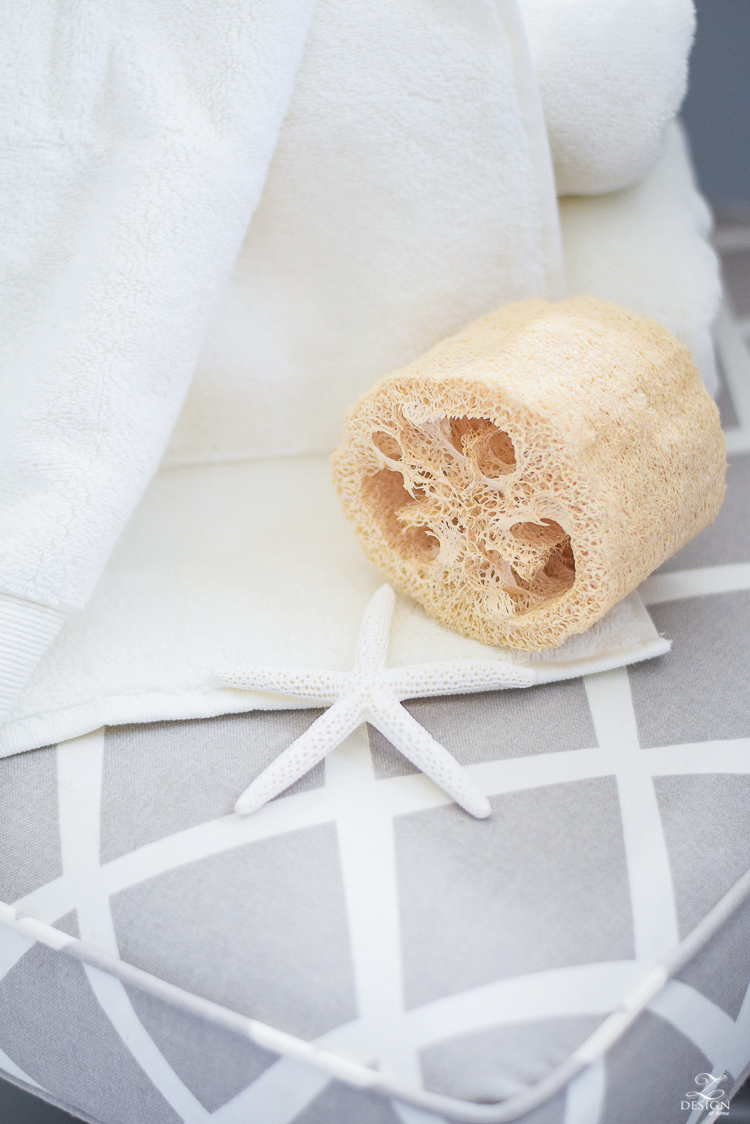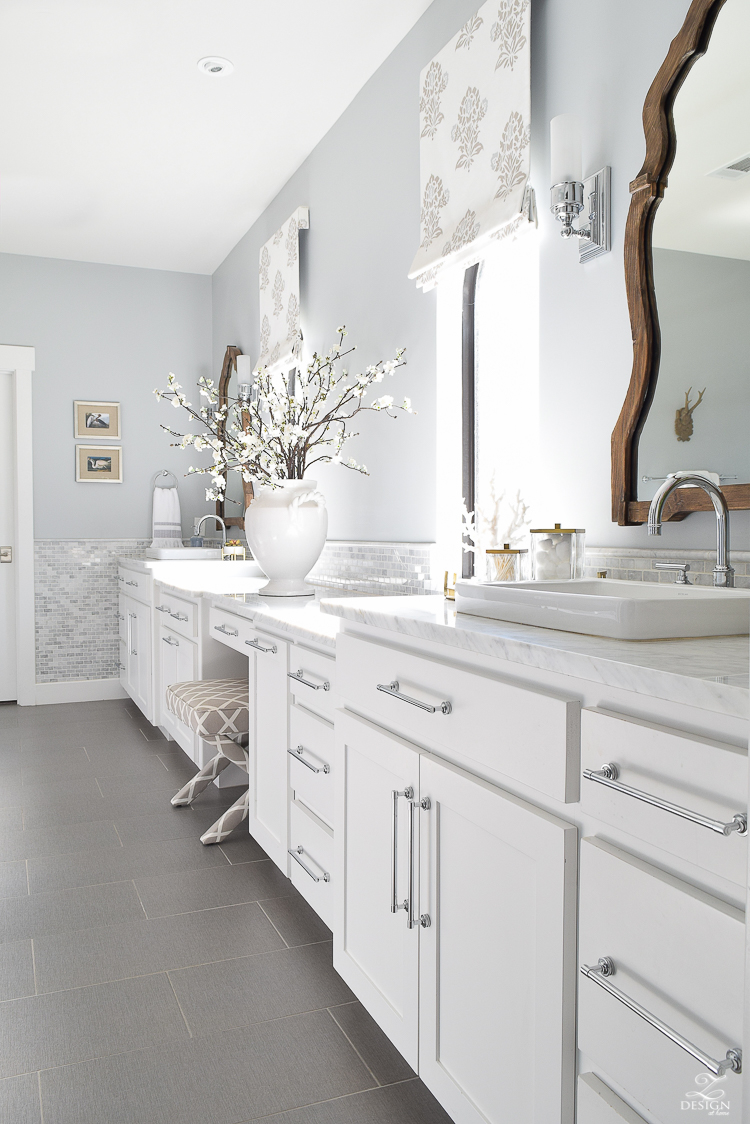 Bring in fresh, light weight linens if possible to include bedding and towels
Nothing welcomes spring like new linens!  Even if they are linens that you haven't used in a while, don't hesitate to change them out and your bedroom and en suite will have a fresh new vibe for spring!

Add coral and sea shells to your decor to give it that spring touch
Adding coral and seashells will definitely bring you into a fresh feeling of spring!  Even if you don't live near the water these items always evoke happy feelings since they typically remind of us the beach and sunny times

Update your accessories with pops of gold and accents of black and white, especially focusing on fun and interesting patterns this year
This year black and white anything with a eclectic pattern is all the rage!  Accessories are always one of the best ways to update any space for a simple, affordable, seasonal change so remember to include something gold this year too.  Gold and brass are still very much on trend and create an interesting mix with other metals such as chrome, stainless, and black.

Update your throws and throw pillows with lighter weight fabrics and lighter, brighter colors
Again, even if you simply pull something out from the closet that you already have on hand, changing out your throws and pillows is a must for spring updates.  Put those heavy weight fabrics and linens to rest for a while for when the temps turn cooler again and you'll love the new look and feel of your bedroom!  I have had the throw in my sitting area for so many years I can't remembere and I still love pulling it out each year…it makes me feel like I have a brand new space!

Last but not least, bring in fresh or good faux flowers
Spring is the time when things are blooming and pretty colors are all around so why not bring those sights and smells inside to enjoy!  I try to opt for fresh when I can but if you prefer faux make sure you purchase nice faux stems that don't look cheep.  There is nothing worse than cheep shoes, a cheep hand bag, or cheep faux stems, lol.  These are items where I always try to invest in good quality pieces and then I never end up being disappointed with my purchases.

Treat your self to something pretty for spring!
Whether it's a pretty spring blouse, a mani/pedi in a fresh spring color, or some new perfume, treat yourself to a little something special for the season at hand!  On my recent trip to the design bloggers conference in LA (you can see a photo from that trip here) we took a trip to Rodeo Drive and I purchased some new perfume in a fresh, light weight scent (that thank goodness won't give me a headache).  I just purchased the roller ball so it was affordable but it was nice to treat myself to something light and fresh I can use this season!  I may have also treated myself to a fun bracelet from the same shop as well;).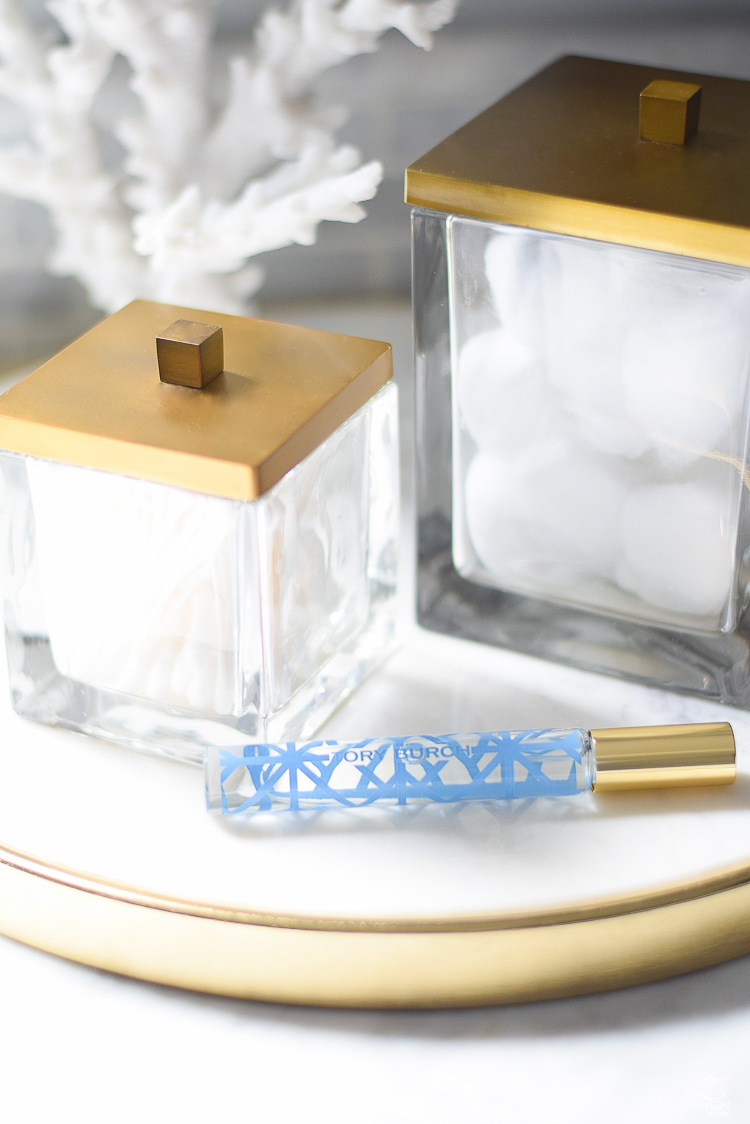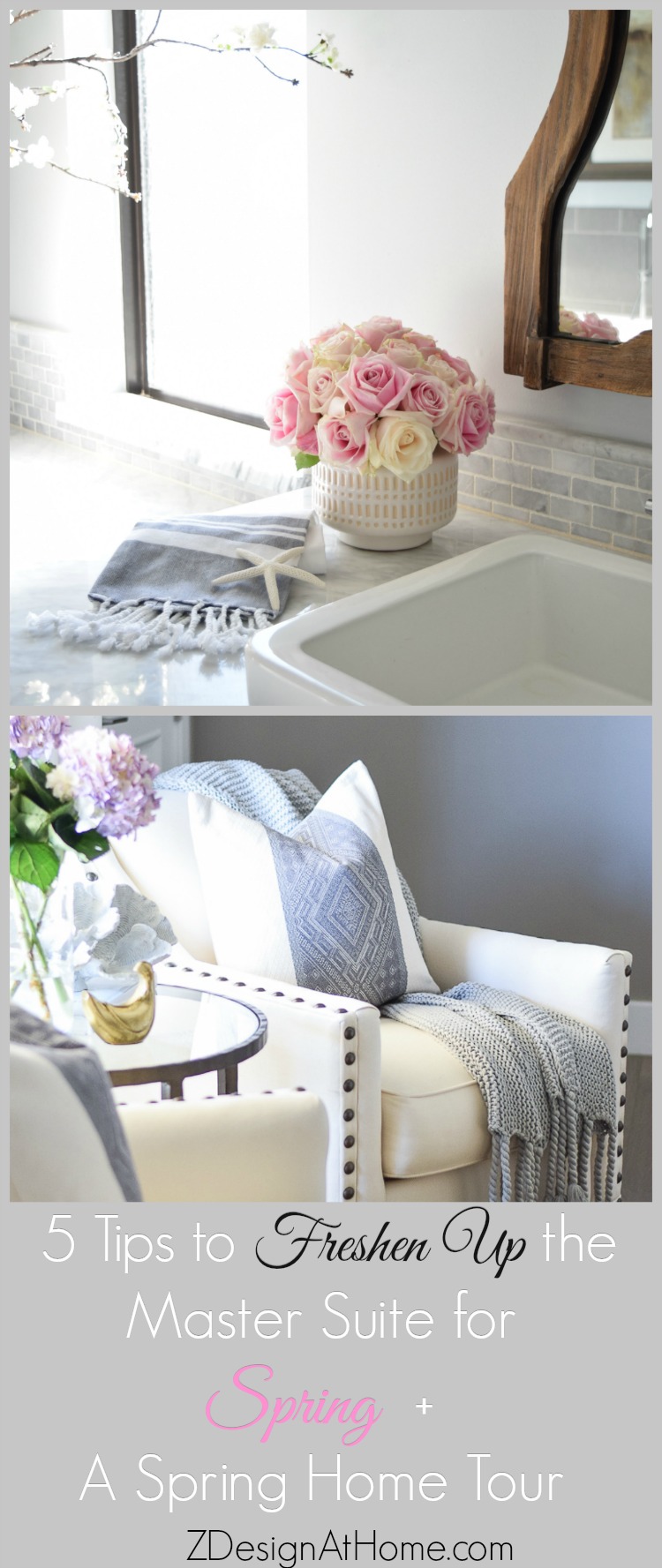 Well friends, I'm sad to say this brings us to the end of the tour but I hope you enjoyed my post today on 5 tips to freshen up the master suite for spring!  Thank you so much for stopping by and don't forget to head over to visit the talented Laura of Duke Manor Farm.  I know you will love what Laura has to share with you as well and also don't forget to check out the rest of the inspiring bloggers in this fabulous tour (30 to be exact).   You can find a full list below and can click over to any or all of them from right here for loads of spring decor inspiration.
Monday – March 20
A Stroll Thru Life – Marty
Decor To Adore – Laura
Southern Hospitality – Rhoda
Pink Peppermint Design – Tammy
Cuckoo4Design – Julia
21 Rosemary Lane -Barbara
Tuesday – March 21
Setting For Four – Heather
The Chronicles of Home – Jennifer
Nesting With Grace – Brooke
Refresh Restyle – Debbie
Haneen's Haven -Haneen
Simple Stylings – Summer
Wednesday – March 22
Decorating Delirium – Jennifer
Dimples & Tangles – Jennifer
Hymns & Verses – Doreen
Remodelando La Casa – Christina
Sand & Sisal – Kim
Common Ground – Debra
Thursday – March 23
Duke Manor Farms – Laura
It All Started With Paint -Linda
Life on Virginia Street – Sarah
Bliss At Home – Kristin
Rain On A Tin Roof – Jenna
ZDesign At Home – Bree
Friday – March 24
Thrifty and Chic – Alicia
Our Fifth House – Carmel
Inspiration For Moms – Laura
Far Above Rubies – Anita
Life and Home @ 2102 – Vel

Furniture

Accessories

Linens

Lighting, Hardware & Mirrors

For a full list of resources for the bedroom click HERE
For a full list of resources for the bathroom click HERE