Decked & Styled Holiday Tour – A Christmas Bedroom
Hi friends, and welcome to the Decked & Styled Holiday Tour!!  If you are coming over from my dear friend Erin at the Sunny Side Up blog, welcome!  I just love Erin along with everything she does and am always inspired by her work so I am super happy to be following her in this fun tour today!!  I'm also super excited to be doing this tour with a great group of girls that represent home, fashion, and organization (some of my talented friends do both:) so there will be a little something for everyone visiting our tour this week (you will be able to click over to any one of them via the list at the bottom of this tour)!  I'll be sharing our Christmas bedroom with you today but first, a few words about what Christmastime really means to our family.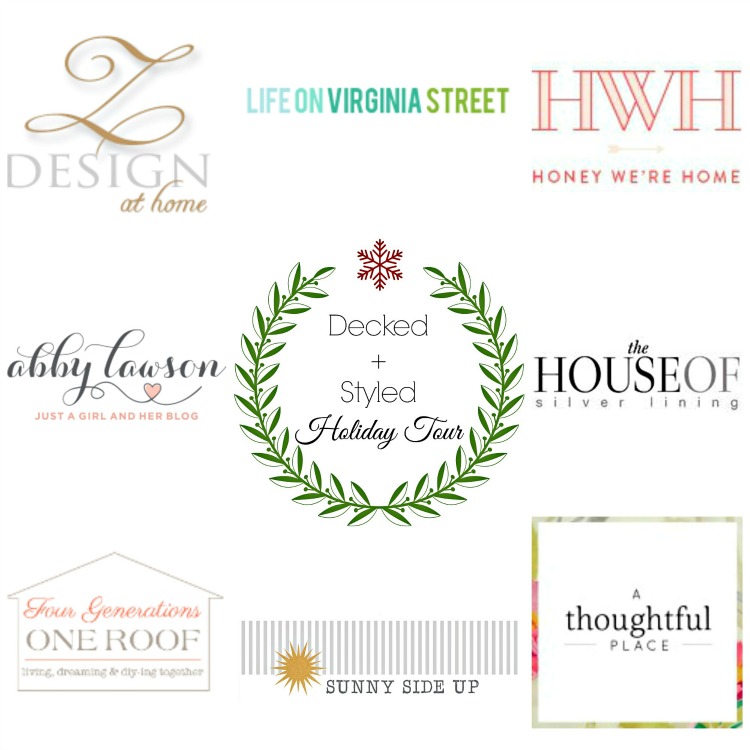 I have to say that up to this point this has been the busiest Christmas season I've ever experienced, mostly due to this new little blog of mine!  I don't think I realized what I was in for with blogging for the holidays but let's just say that next year I'll be much more prepared, I hope!  That said, now that the decorating is (mostly) over I'm ready for things to settle down and to really begin to enjoy the holiday.  When I turn my thoughts to what this time of year truly means to me and our family, it always turns to our Savior whom has so graciously blessed us over the year and is the one that makes Christmastime possible.  It's a time of reflecting on His birth and of giving to others as a symbolic gesture of the gift that he has given to us.  Throw all of that in with family time, a little gift giving, Christmas dinner (and pecan pie) and some good 'ole Christmas classics shows (and Christmas music non stop), and there you have the the perfect Christmas for our family!!  It just doesn't get much better than that as far as I'm concerned!!
To start today, I'm excited to be featuring my King of Christmas flocked tree!  For this room I chose the 7-5 Foot King Flock Tree With 750 Warm White LED Lights + Power Pole.  The flocking is much prettier than trees I've had in the past and is not messy at all (#bestpart)!  It's super full and we love it (and more on the tree in a moment!).  I also have to say that doing Christmas in the bedroom is a first for me and I am loving it so, so much!!  I can't believe I've never decorated my bedroom for Christmas before now and don't think I'll ever go without having a tree and Christmas decor in the bedroom again.  All of the decor I used in here were items I already had with the exception of this darling santa I recently received as a birthday gift from a dear, dear friend…isn't he precious?  the detail on him is amazing and he fits in perfectly in our white and gray bedroom (I've sourced a similar one here).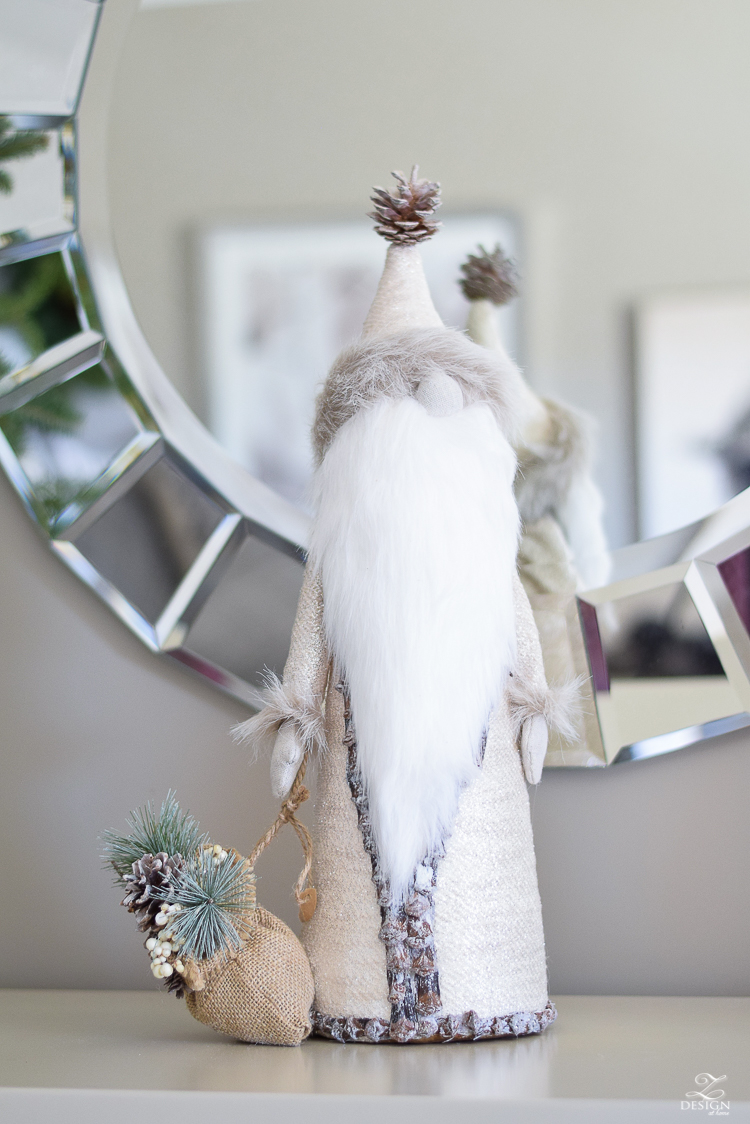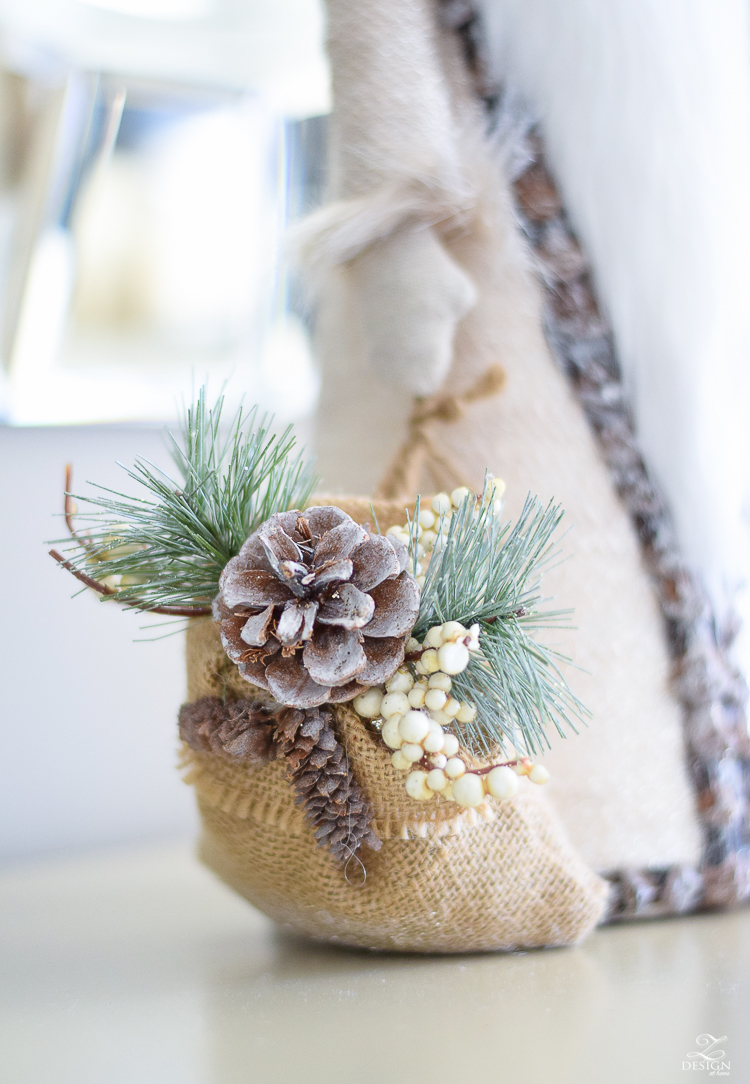 I also added some other Christmas decor to our dresser using a little bit of nature.  If you missed my full home tour last week where I used lots of natural fir and juniper in my holiday decor this year you can see that HERE.  I also shared some great tips in that post on how to acquire free garland clippings (yes free) and how to care for it while you have it, so don't miss that post!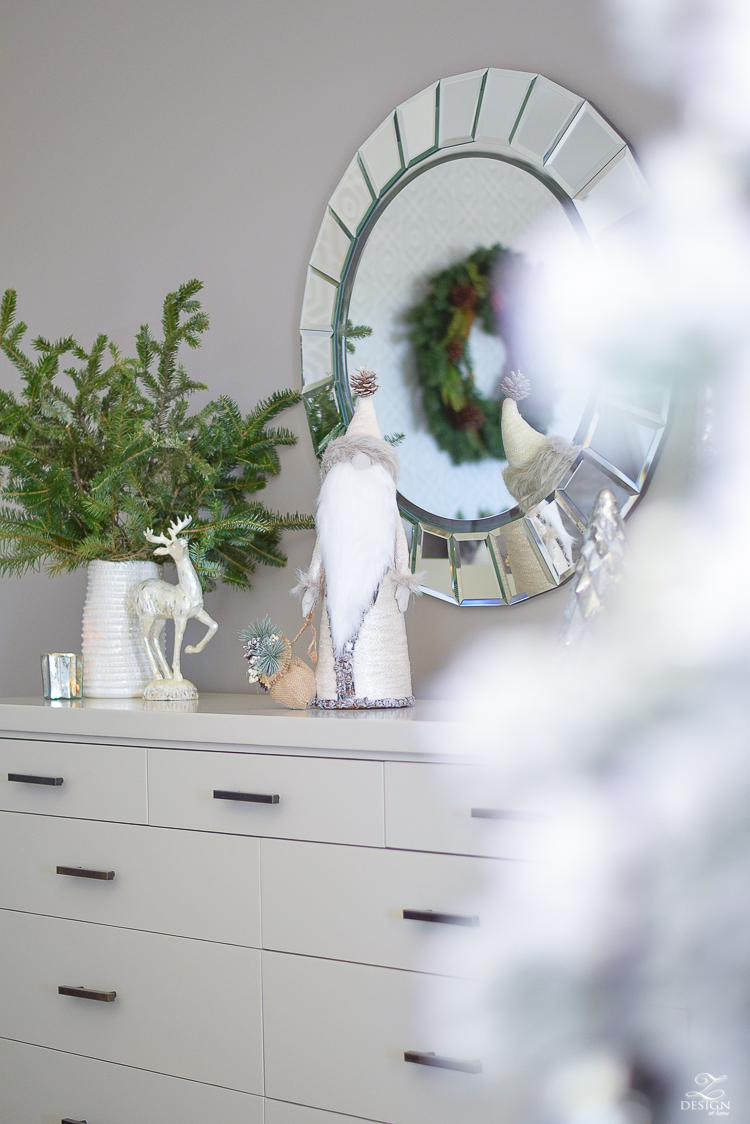 It's been such a joy having fresh greens like this around and with the aroma that they provide it's really helping to get us all in the Christmas spirit in our home.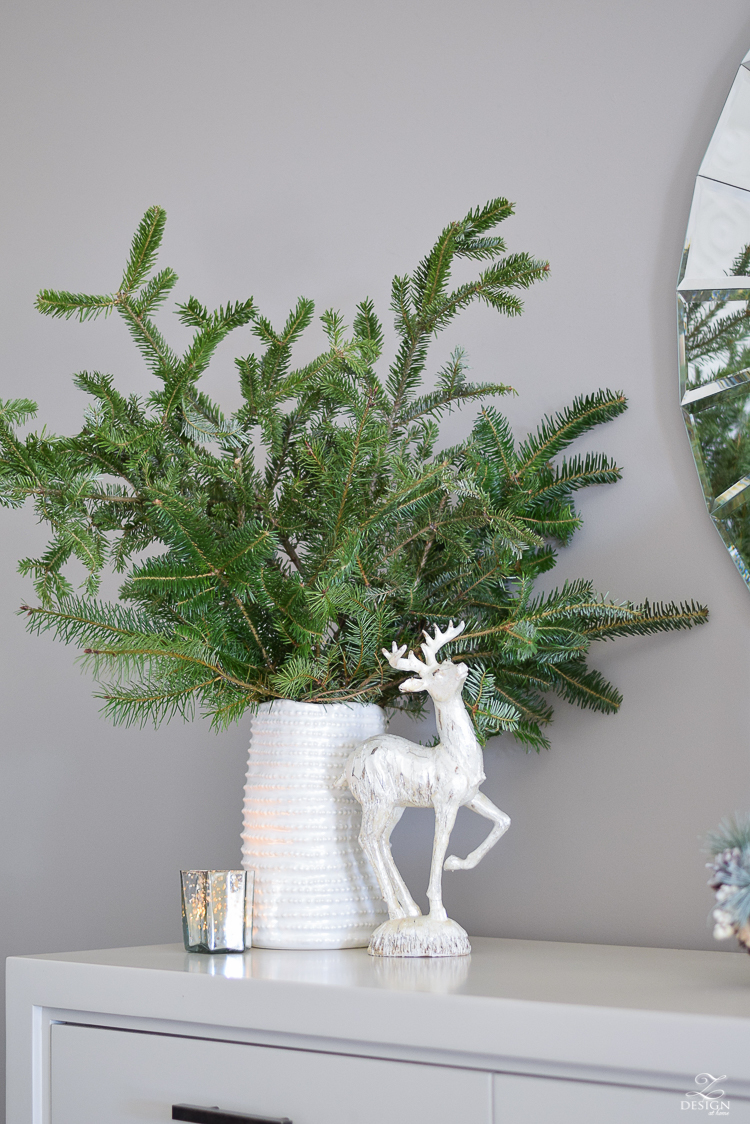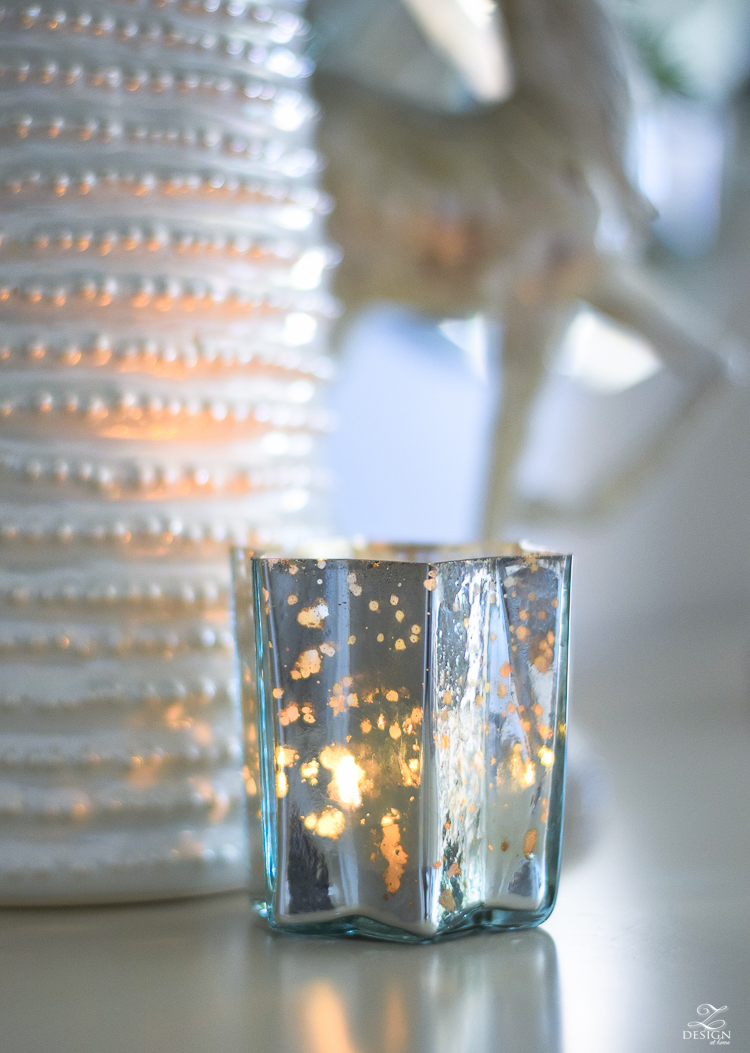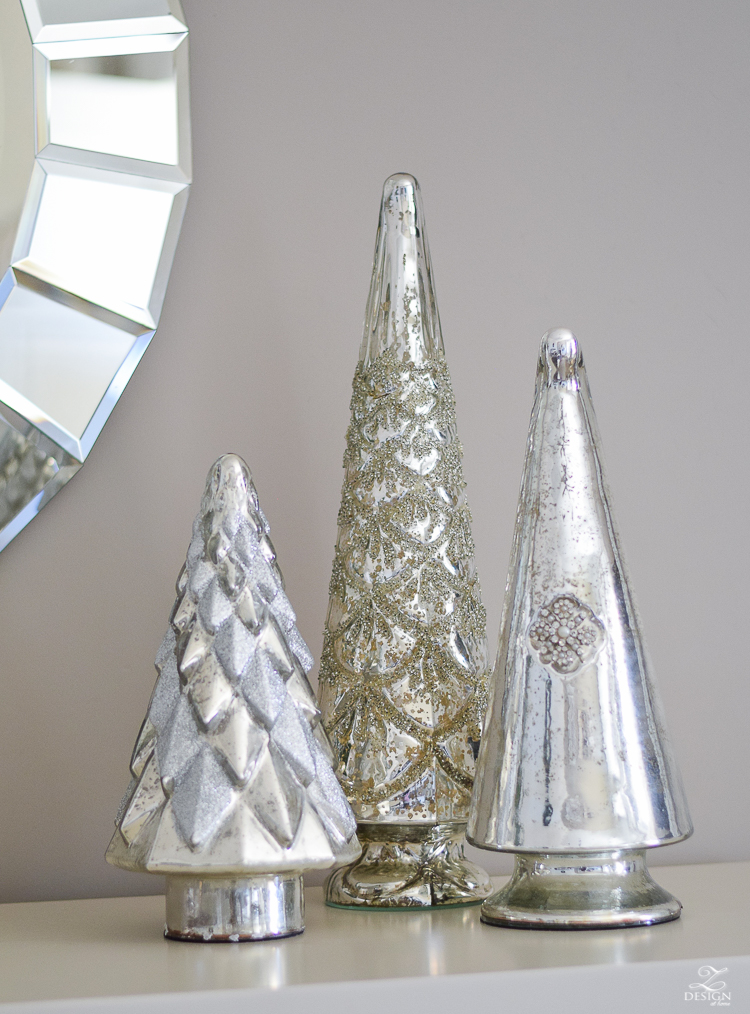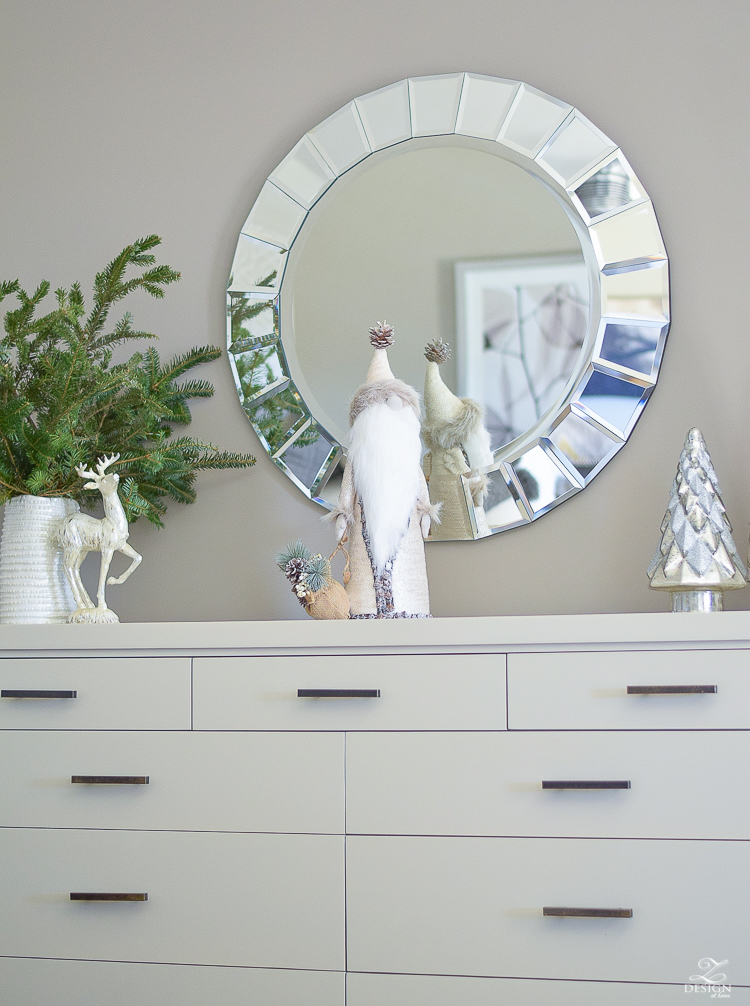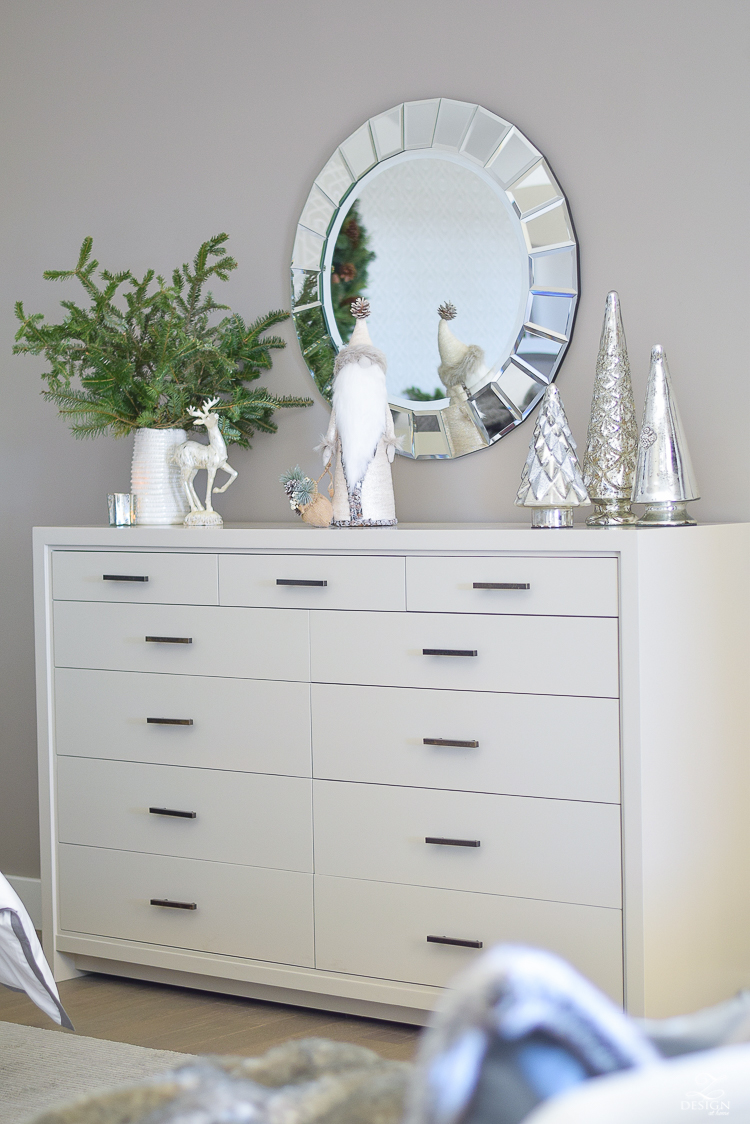 Next I turned my attention to the tree, of course!  last year in our living room I did a gold, silver, white and gray tree that you can see here in my Christmas 2015 recap however, this year I went all out gold for that tree (seen here in my Holiday Home Showcase Tour) and saved my silver and gray ornaments for our bedroom tree.  I did have to add a few new ornaments since I didn't have enough to fill up this tree but one thing I left off of this tree was the ribbon.  The tree itself with ornaments was just enough and the ribbon just made it feel too fussy (believe me, I tried).  I hope you enjoy it as much as we have…dressing this tree was truly a labor of love!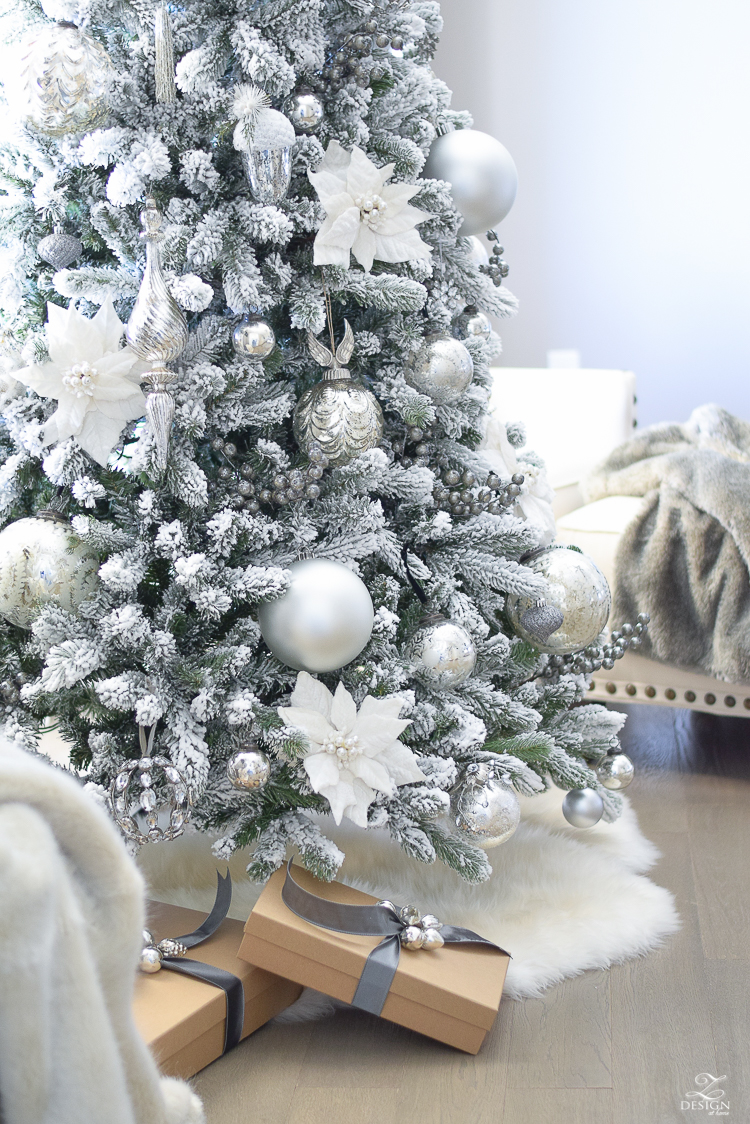 Here are a few of my favorite ornaments (ok, a lot of my favorite ornaments).  I should have probably shared these in a collage but so many of them are so beautiful that I had to share them in all of their full size glory!  I already had some of the simple silver and gray ornaments in two sizes but new items that I've added are a lot of mercury glass (here), metallic (here), and mirrored ornaments and don't forget the ones that sparkle and shine (here & here)!  I'm especially partial the the diamond (here) and tassel ornaments (here);).  Combined they all just make this gorgeous tree come to life!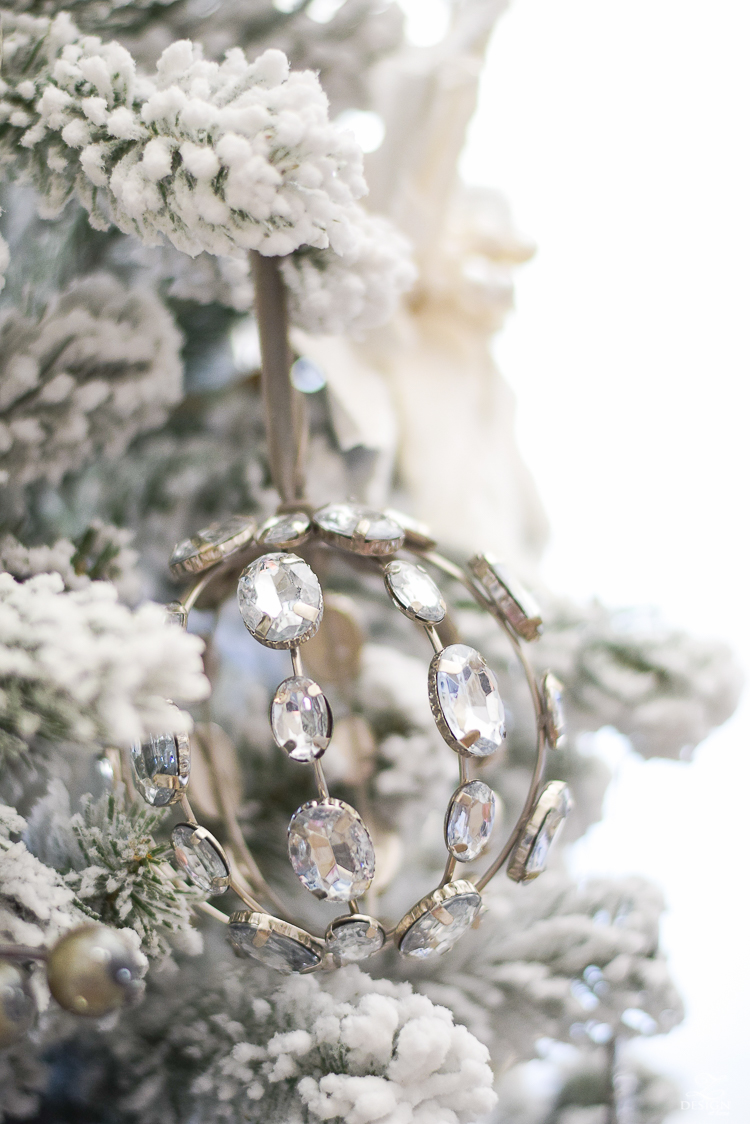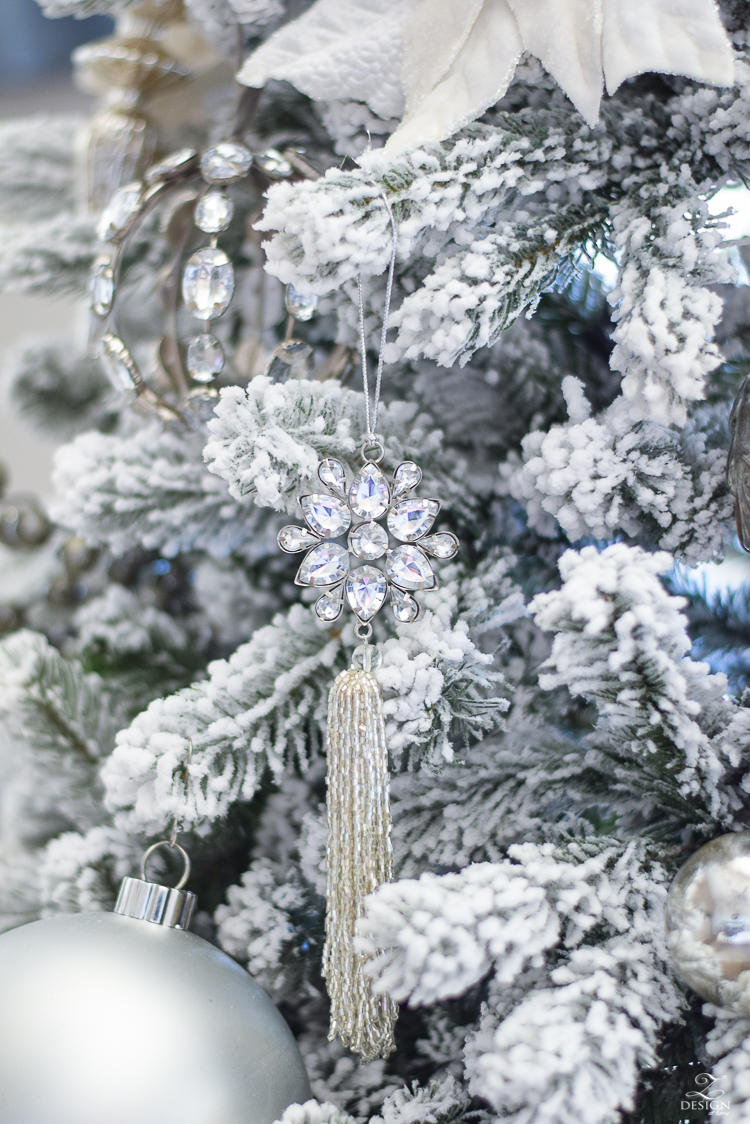 The mercury glass ones add just the right amount of shine to the tree to balance out all of the texture.  I especially love the oversized ones too!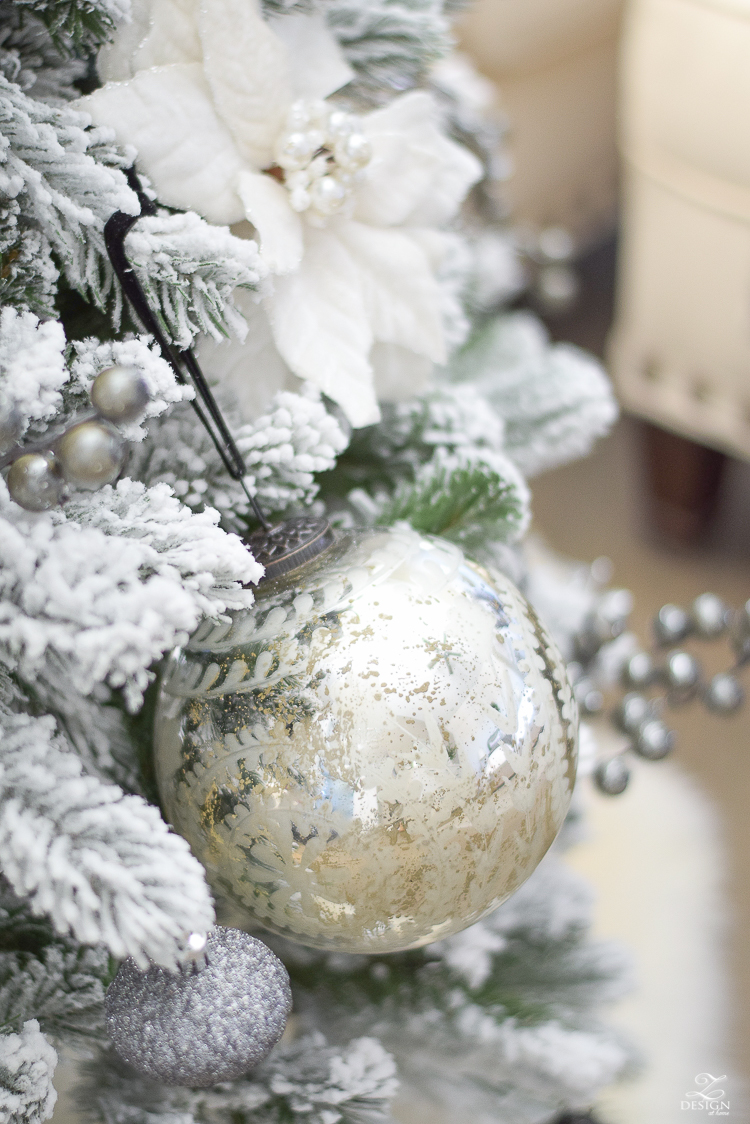 I found these beauties at Hobby Lobby (similar here & here).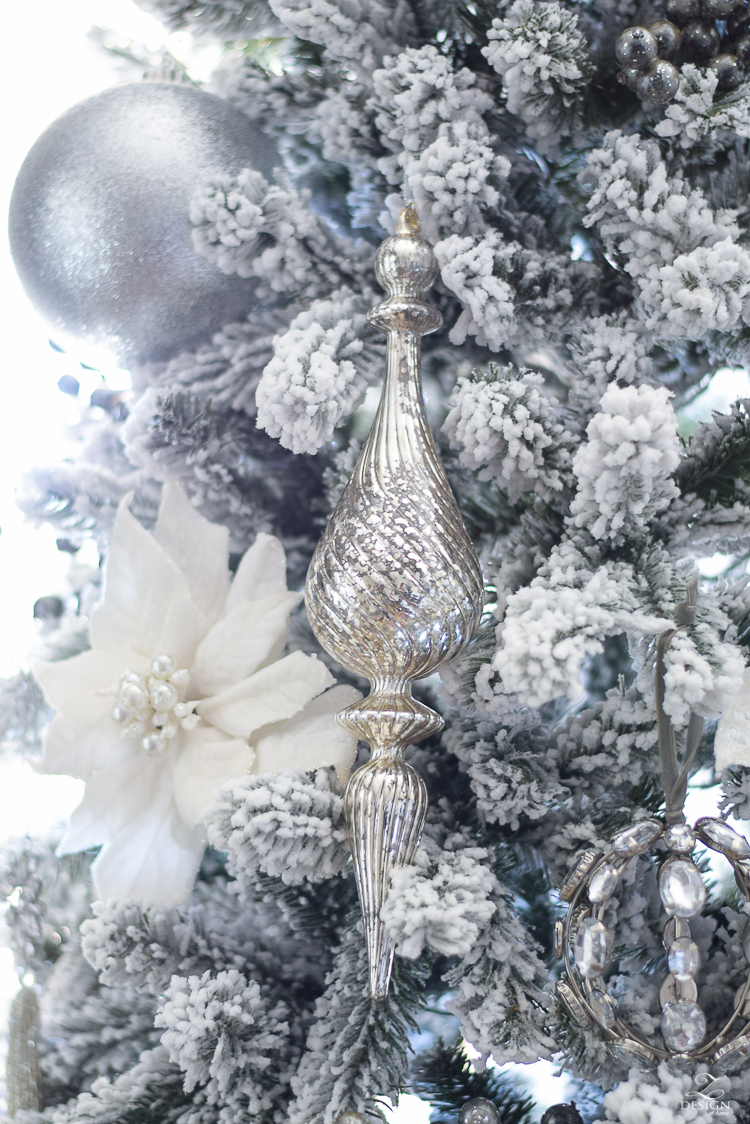 This one has just a hint of gold but not too much, it's champagne.  Another thing I tried this year (sorry, no photo) was to use some nice hooks rather than the plastic ones.  I used these and boy I'm telling you I'll never go back to the plastic ones after delving into this territory!  They hold on to the branch so much better, look better, and they come in 3 colors so they cover all the bases…so well worth the little bit of extra money they were;).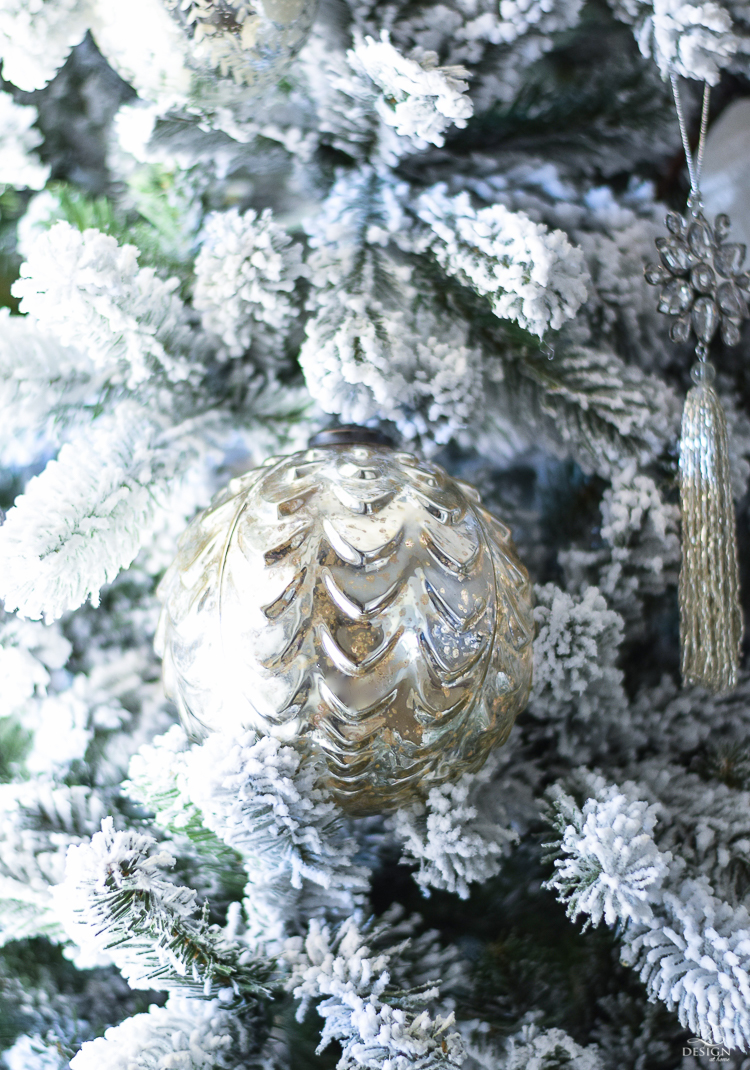 Can you believe this one was a HomeGoods find?  I just love the angel's wings…so perfect, right?!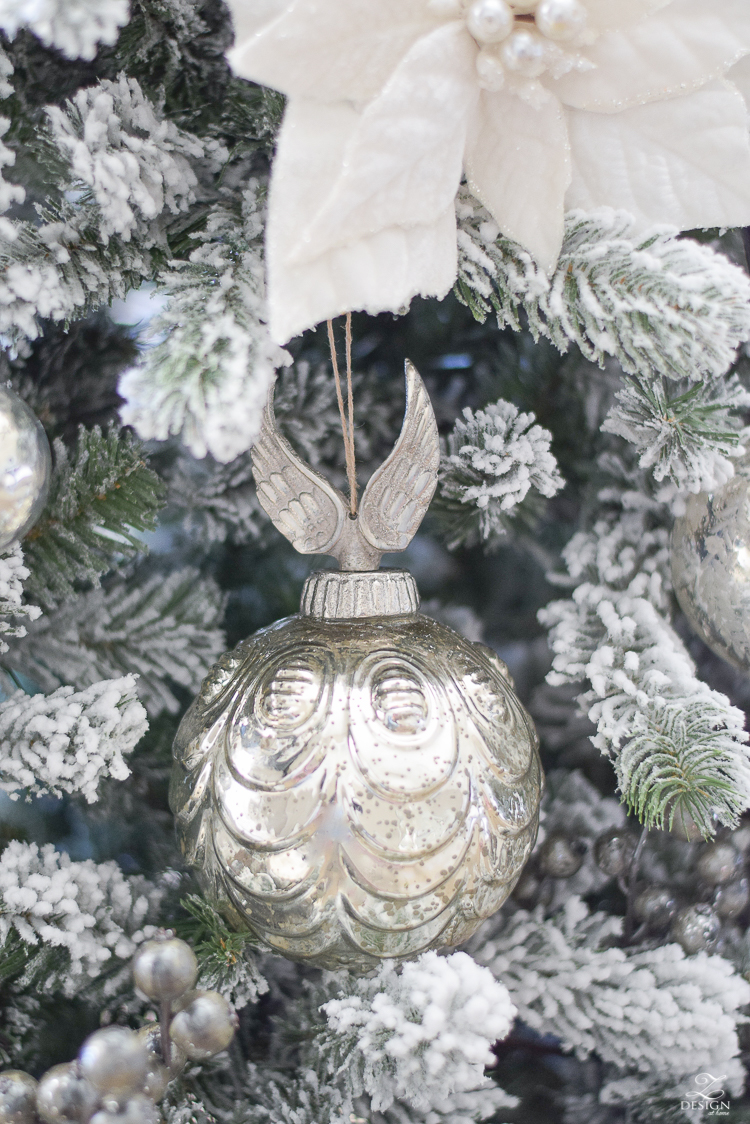 And the white felt poinsettias (similar here) add a softness to the tree that finishes it off just perfectly!  They were actually the final piece I added besides the gray crabapple picks (you'll love these).  I used the poinsettias as well in last year's tree that you can see in my 2015 Christmas Recap Tour.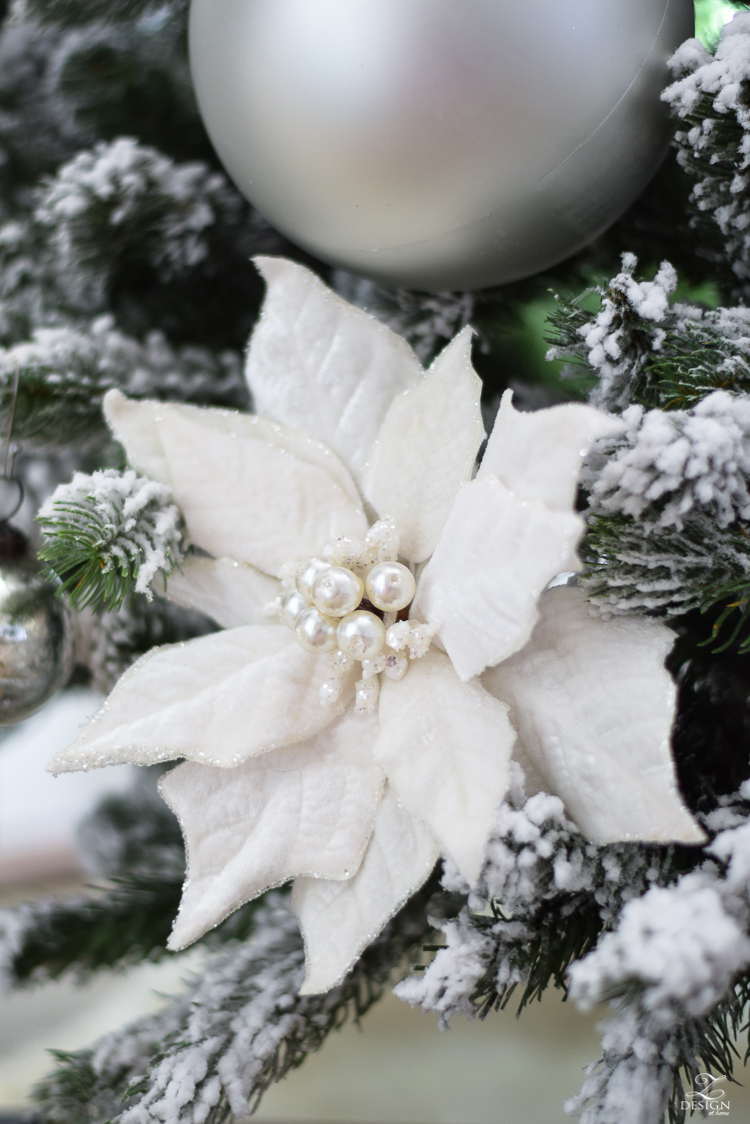 I knew the moment I saw these in the floral department of my local grocery store that they would be a perfect filler for this tree.  They are super special because they have what I would describe as an icicle glaze over them that sparkles when the sun comes through the window during the day, and when the tree lights are on at night.  I also love the contrast between the white tree and the gray picks (similar here in white & gray).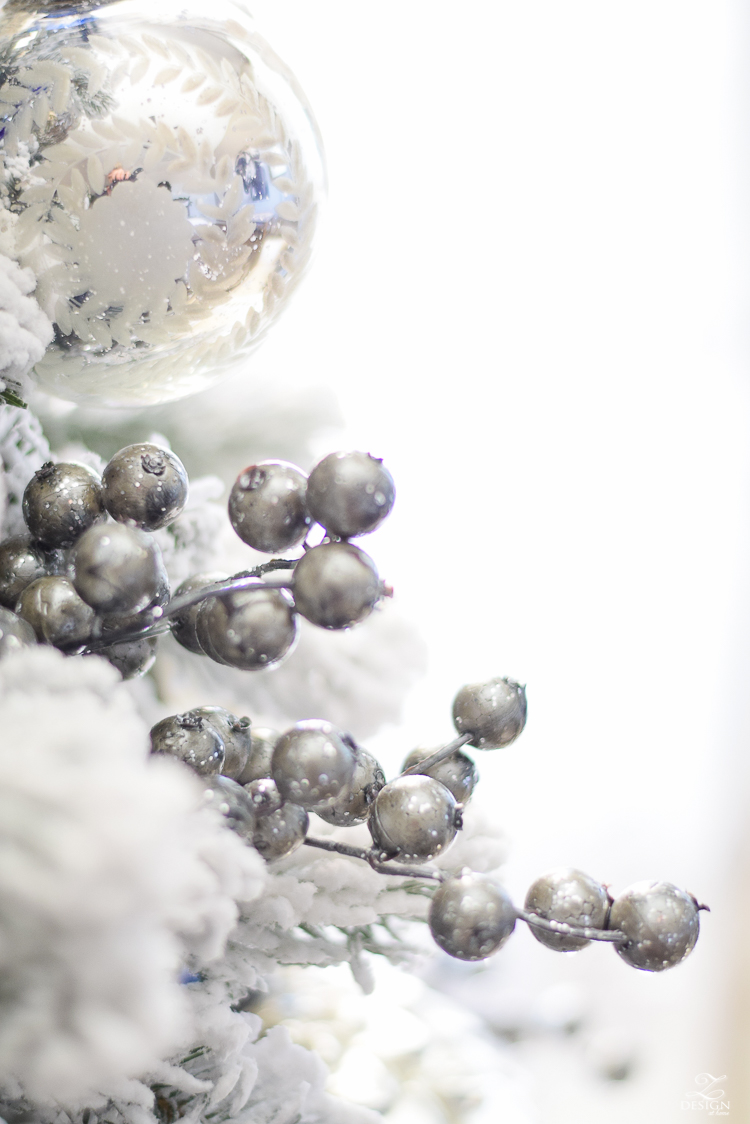 For my tree topper I found this lovely antique, ornate silver star and knew it would be perfect for this tree.  It is actually just an ornament but was large enough to use as my topper.  It was one of those great HomeGoods finds as well (similar here).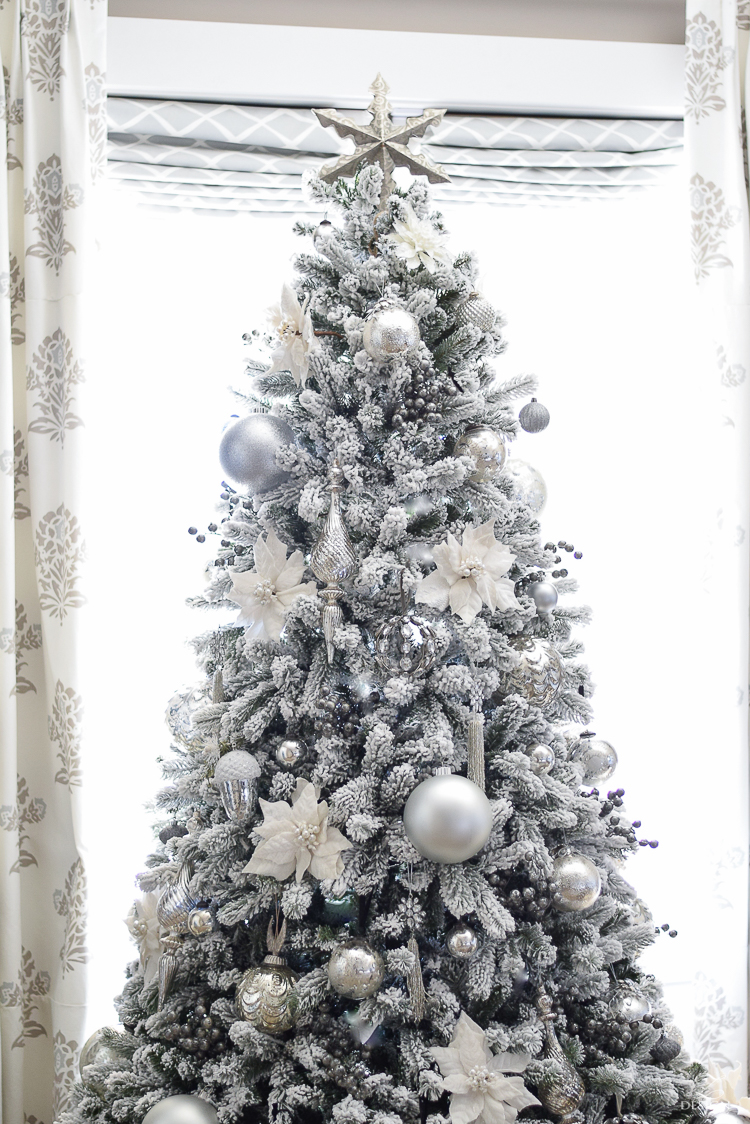 I also had fun with some coordinating gift wrap for our tree.  I simply used some brown lidded boxes and dressed them up with gray satin ribbon, and then adding these mini mercury glass ornaments to the center by looping them through the ribbon topped off my packages just right.  Just clean and simple how I like it.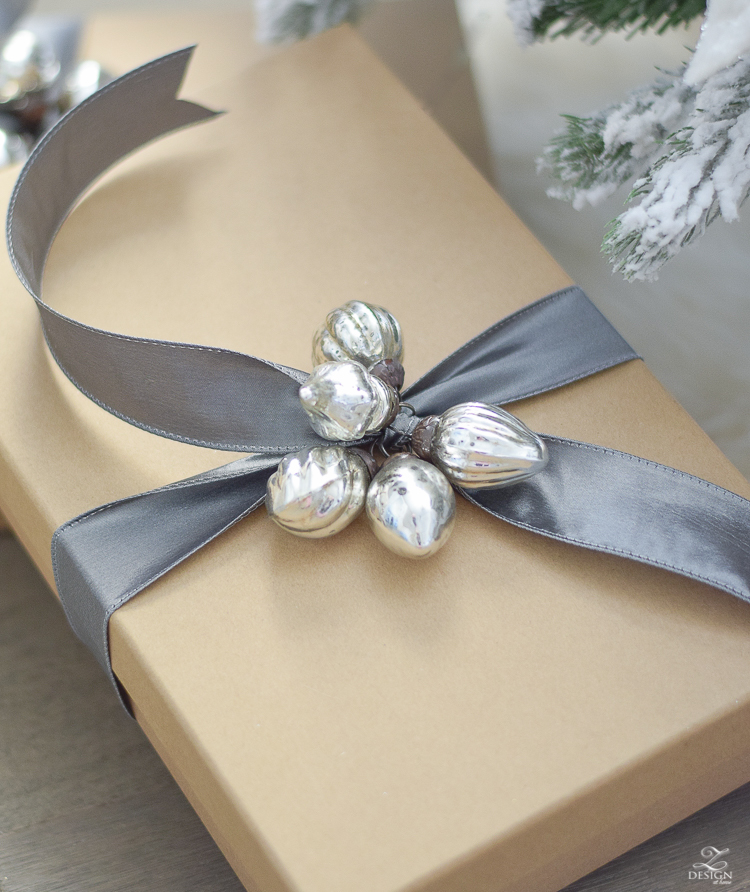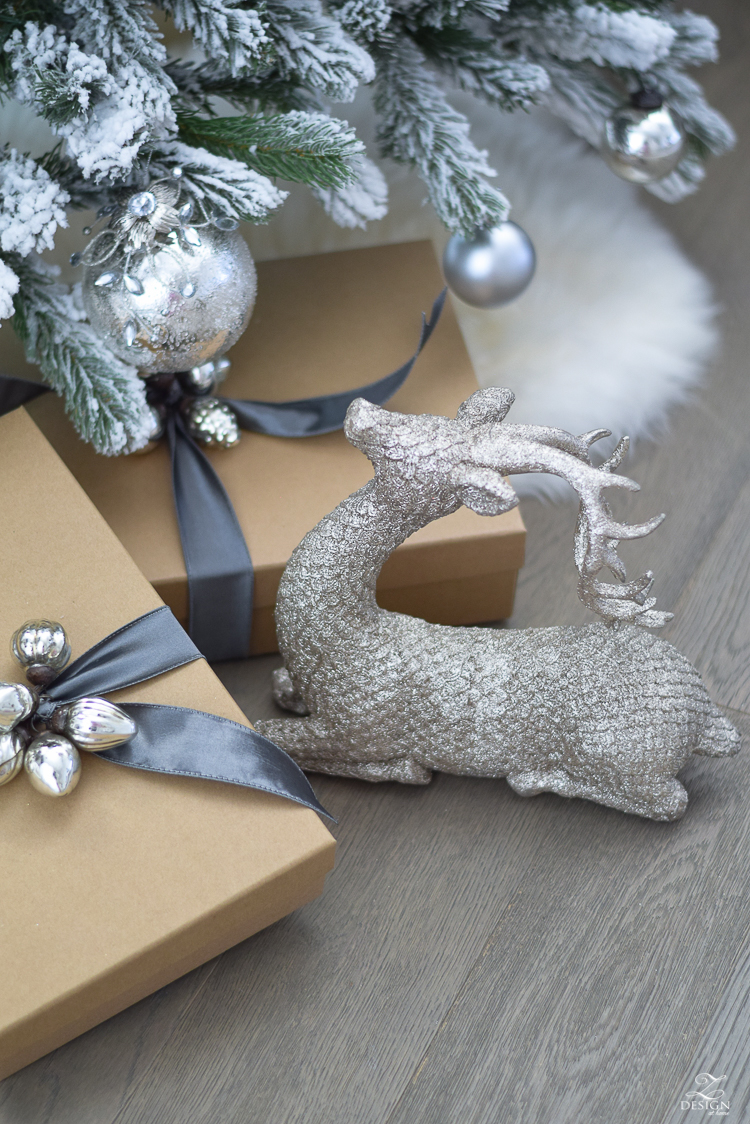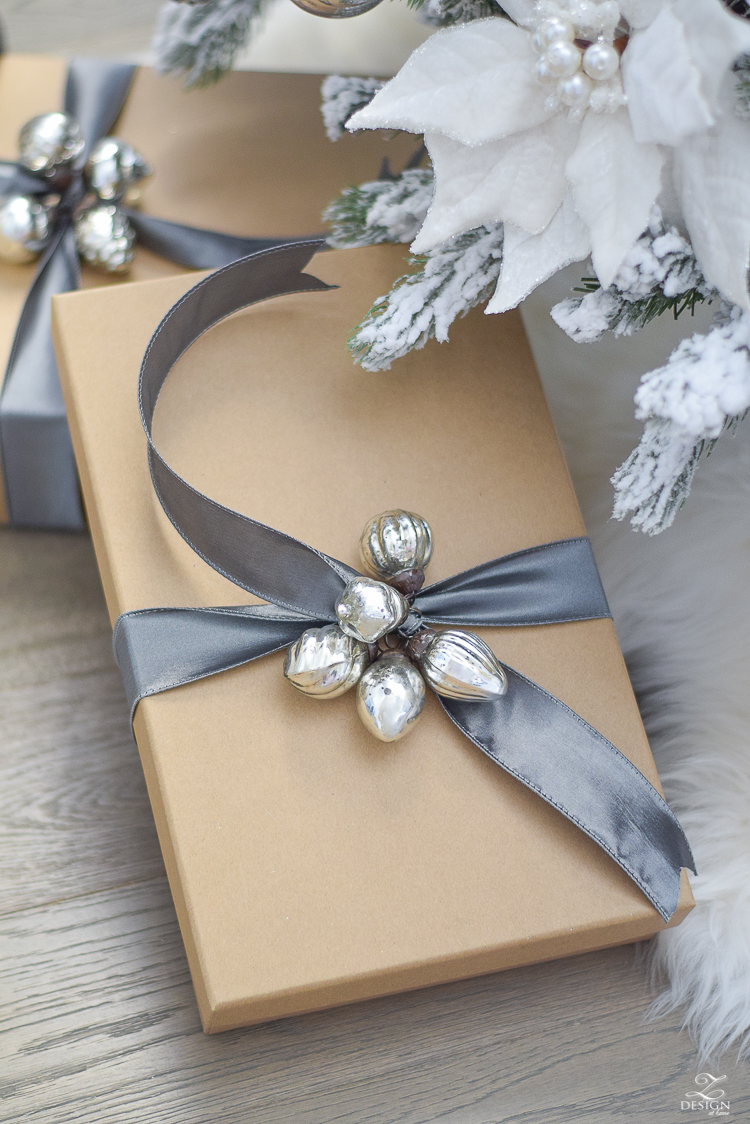 We have truly enjoyed this tree adorned with all of it's decorations and I hope you do too.  It's been a treat seeing it as we pass through the room day or night.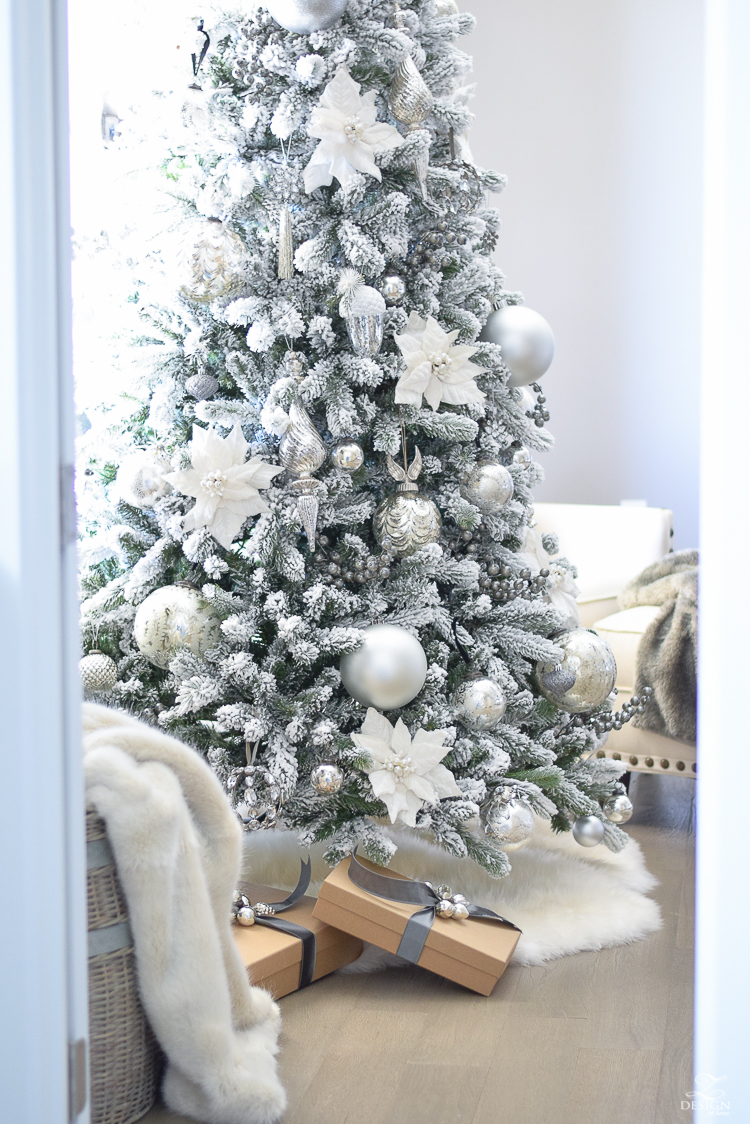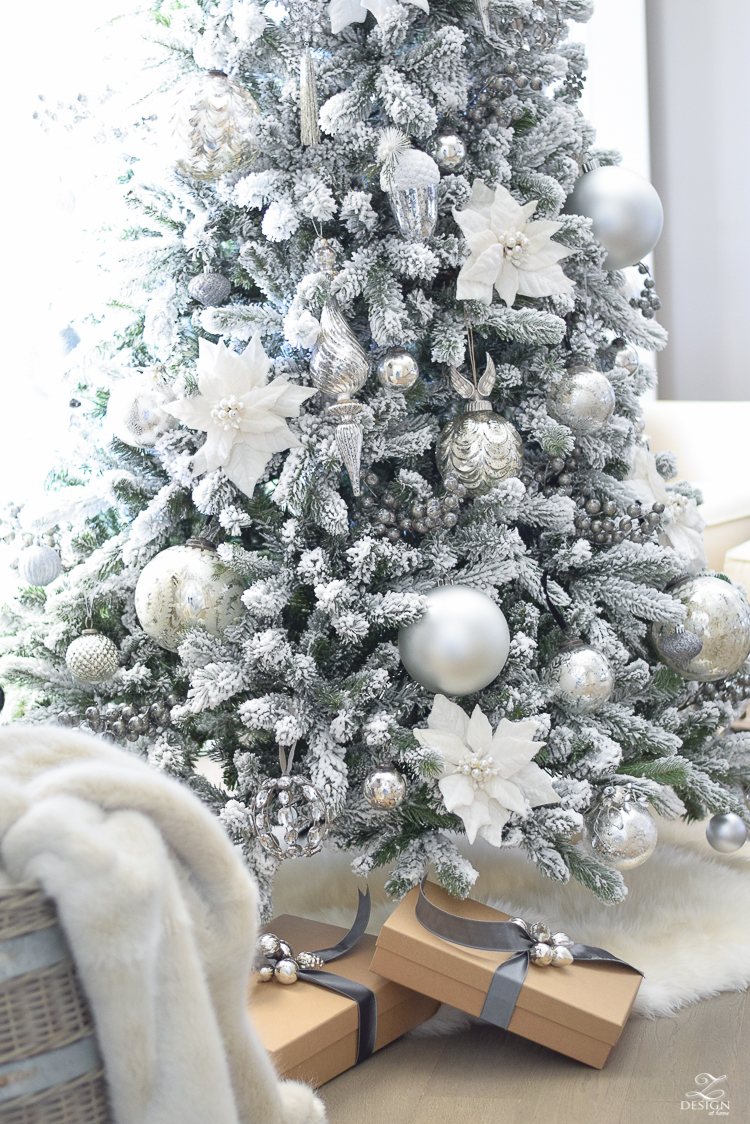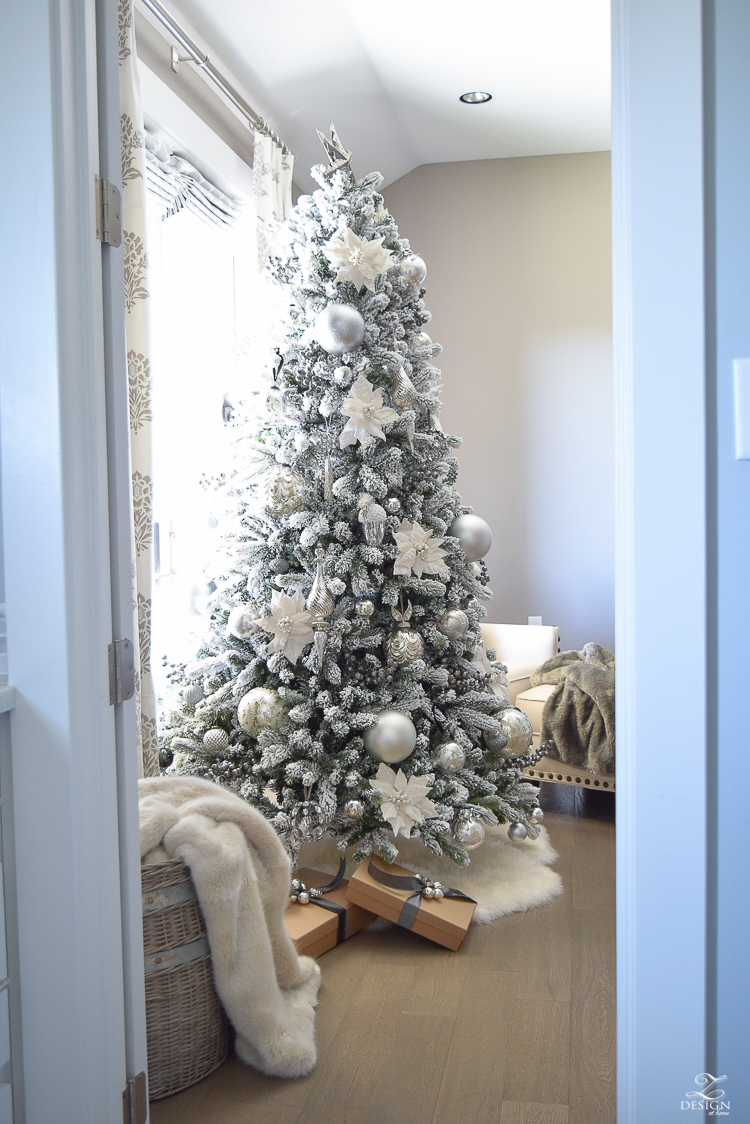 And in case you were curious, I used two small sheep skin rugs for my tree skirt and simply nestled them around the tree.  I did this last year in the living room and it was a huge hit.  You can find the sheepskin rugs I used here.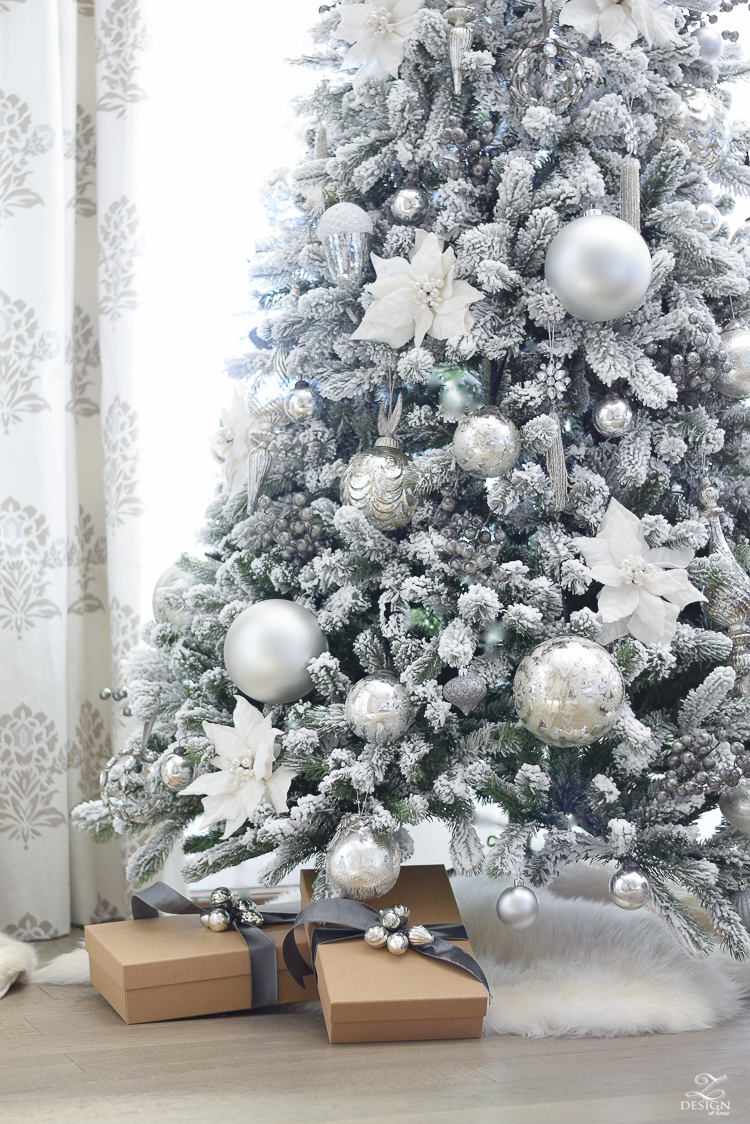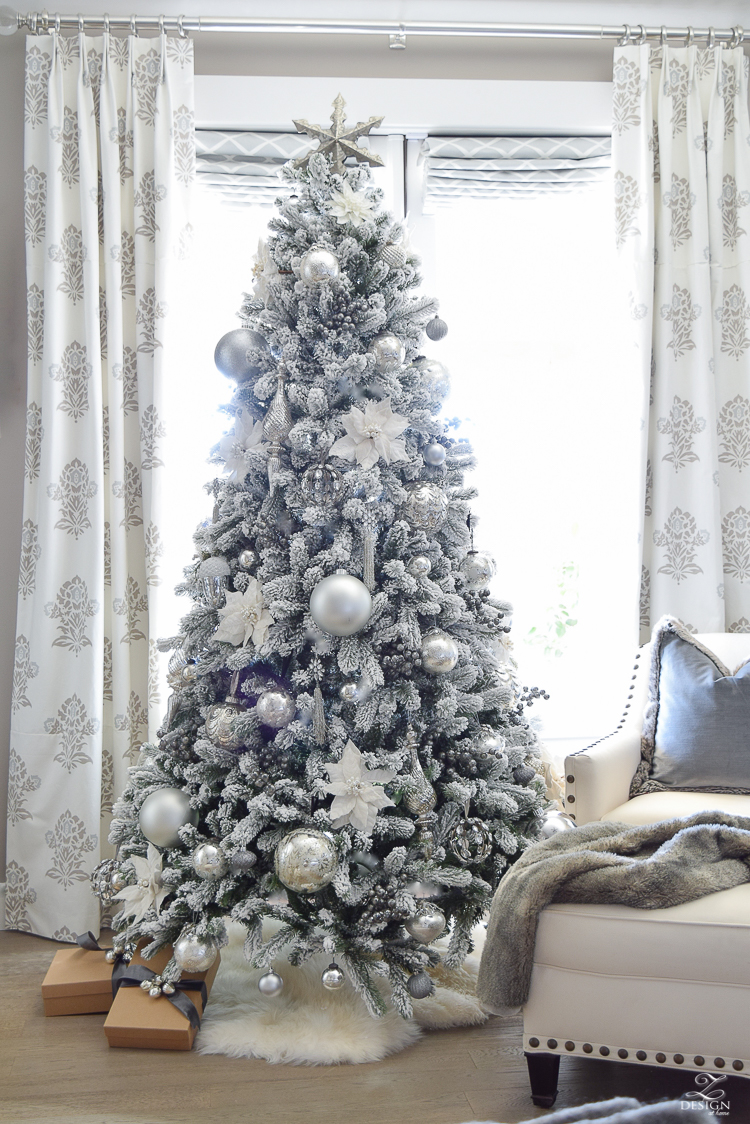 Due to the Christmas tree we had to remove one of the chairs in our sitting area but the remaining chair and ottoman received a slight update as well with my favorite faux fur throw and fur trimmed pillow (similar here).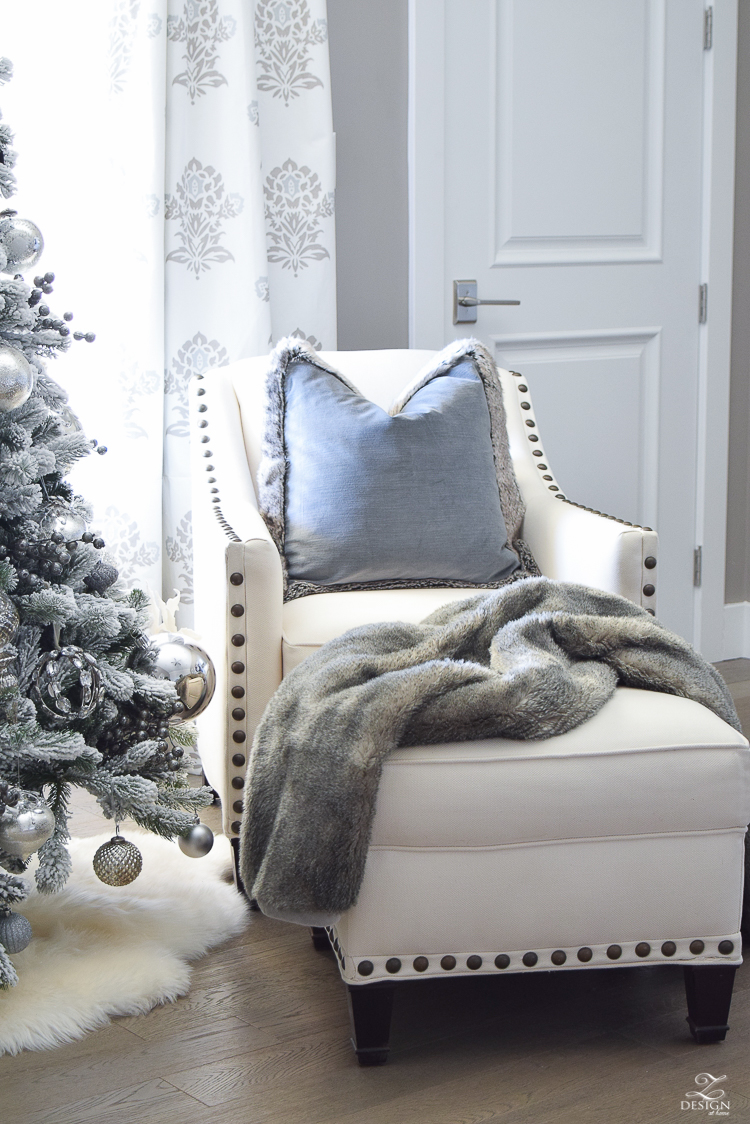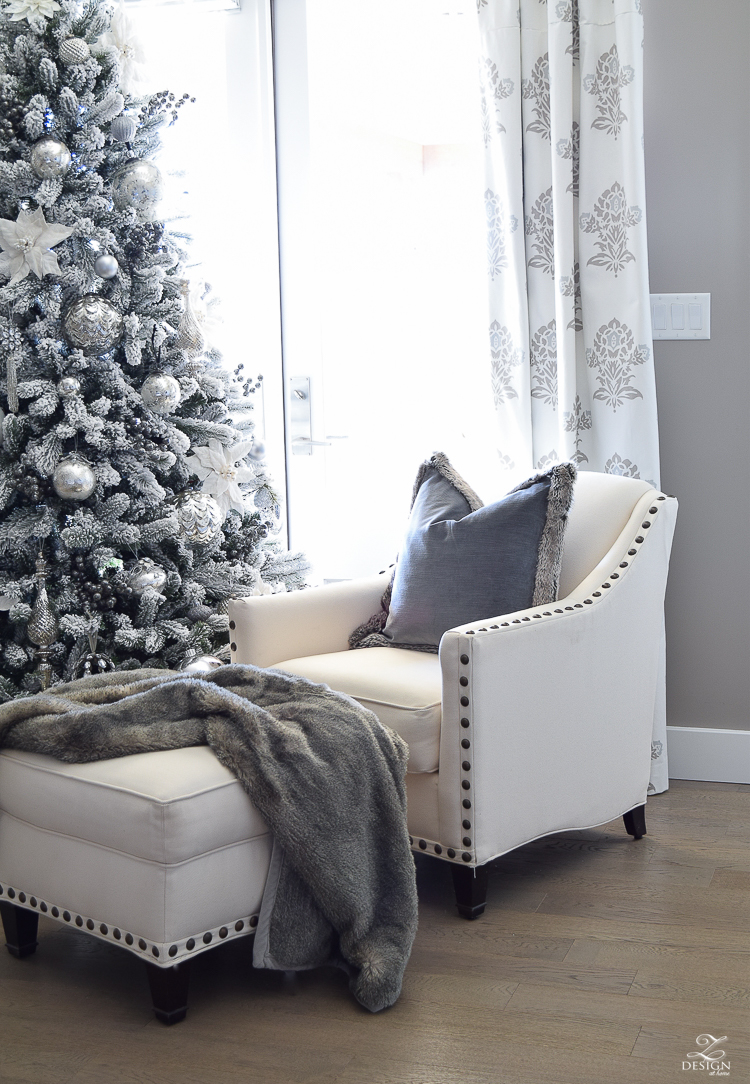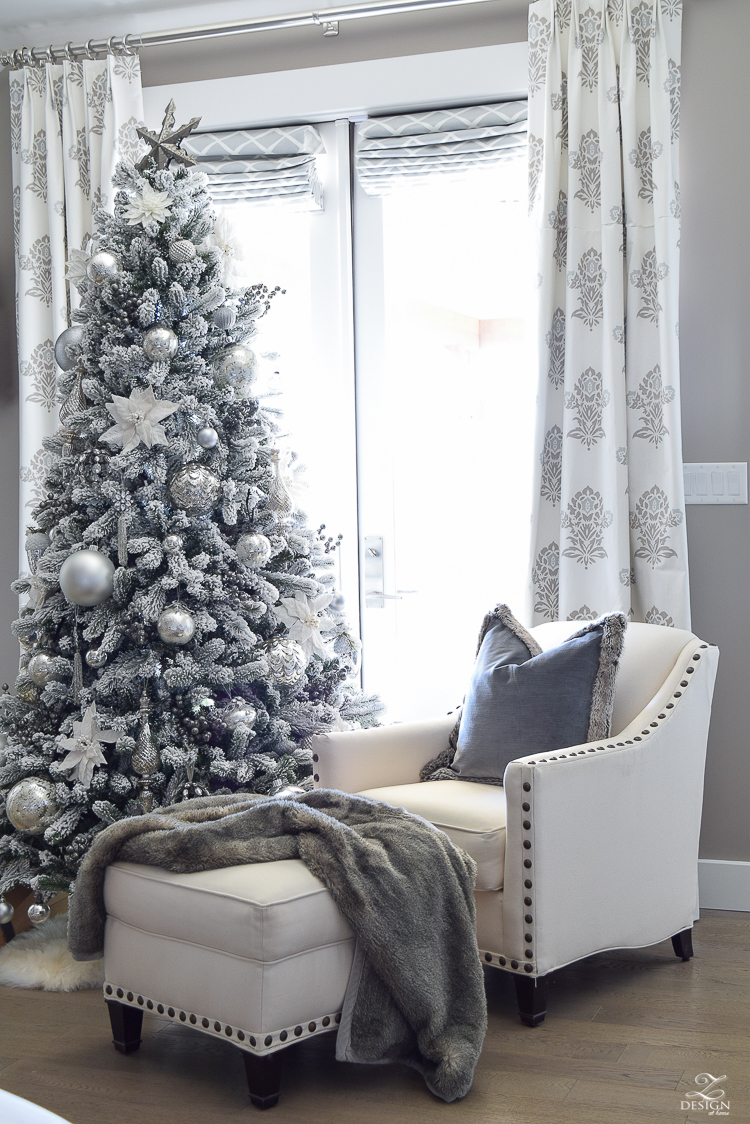 Next I dressed up my bedside table, but just very simply.  A couple of christmas trees and a votive candle, along with some fresh white roses tipped in gray sparkle with a side of juniper, honestly just the perfect  combo for our room.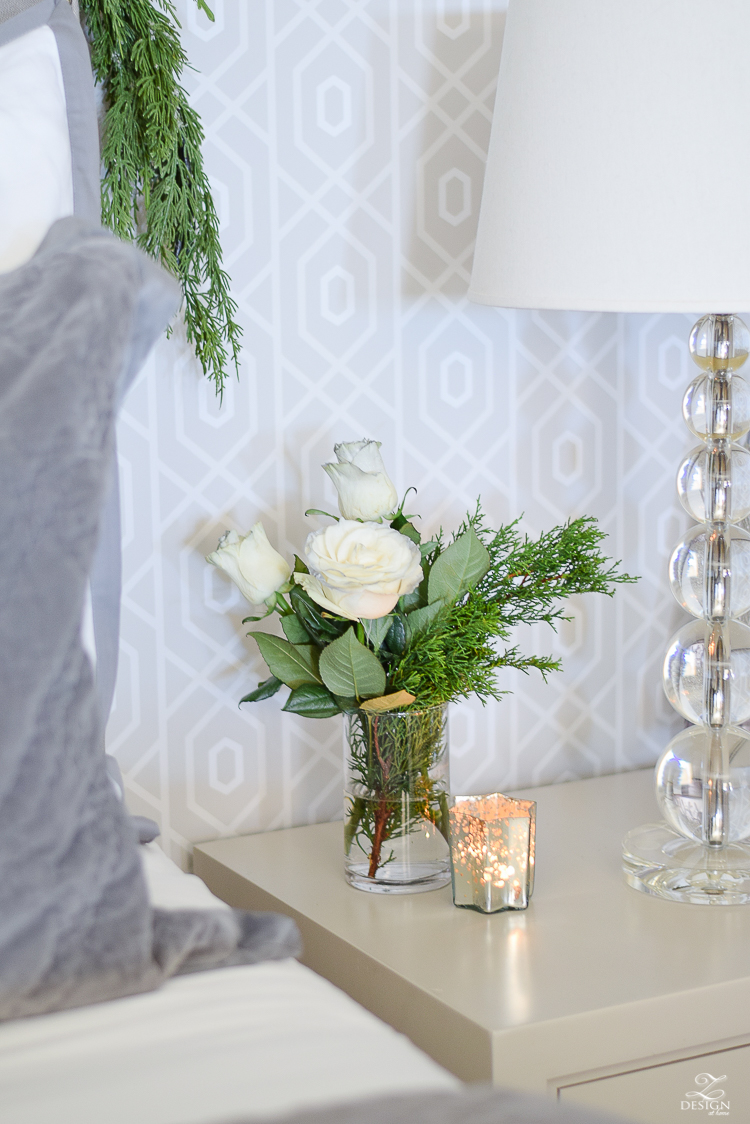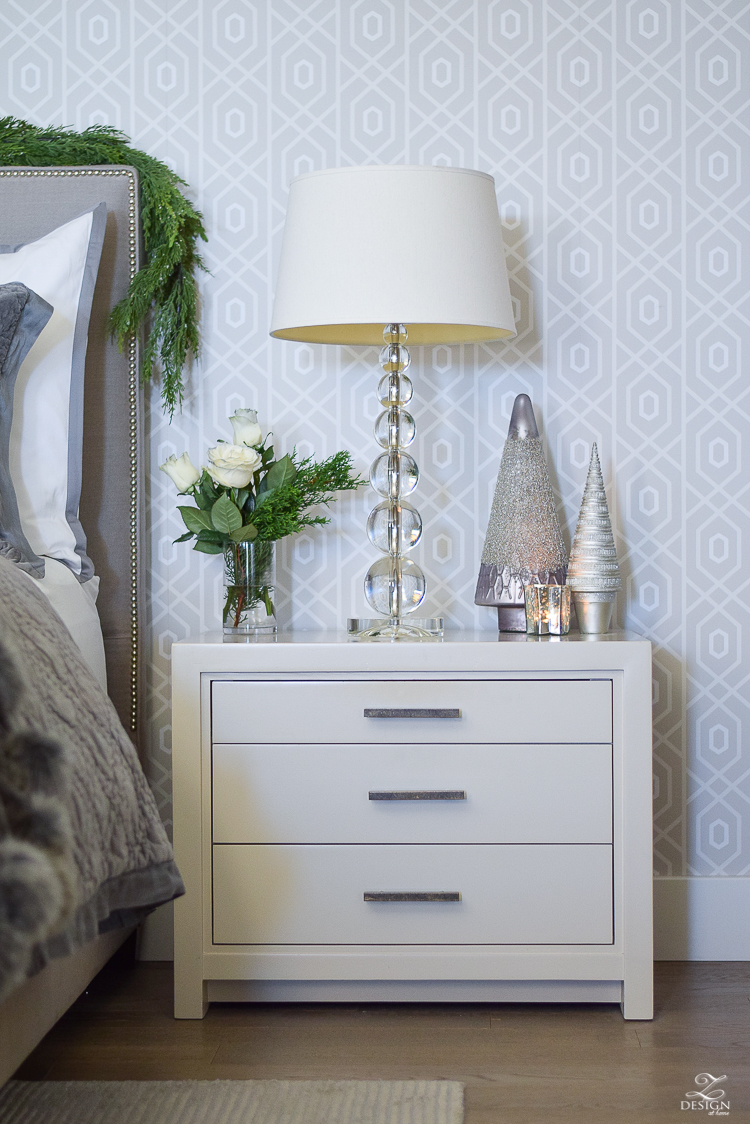 And last but not least I turned my attention to the bed!  I have to say, sitting in bed with a beautifully lit wreath above your head and lit garland on the headboard is such a treat, and so magical (I recently ordered this wreath from Amazon and can't get over how realistic it is!).  And then to look across from the bed and see the lit tree is even more magical!  The garland and wreath are artificial and did not come pre-lit so I added this LED light strand from Target to each piece and absolutely love the end result.  I recently updated our bedroom for the fall/winter months and you can catch that full tour HERE if you haven't yet seen it.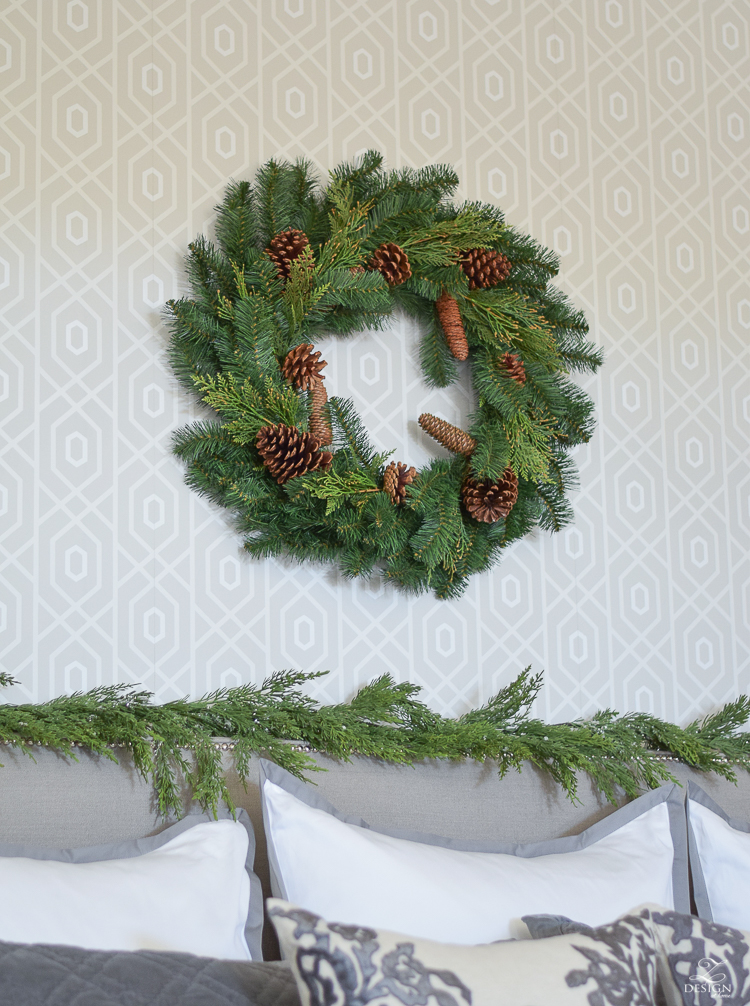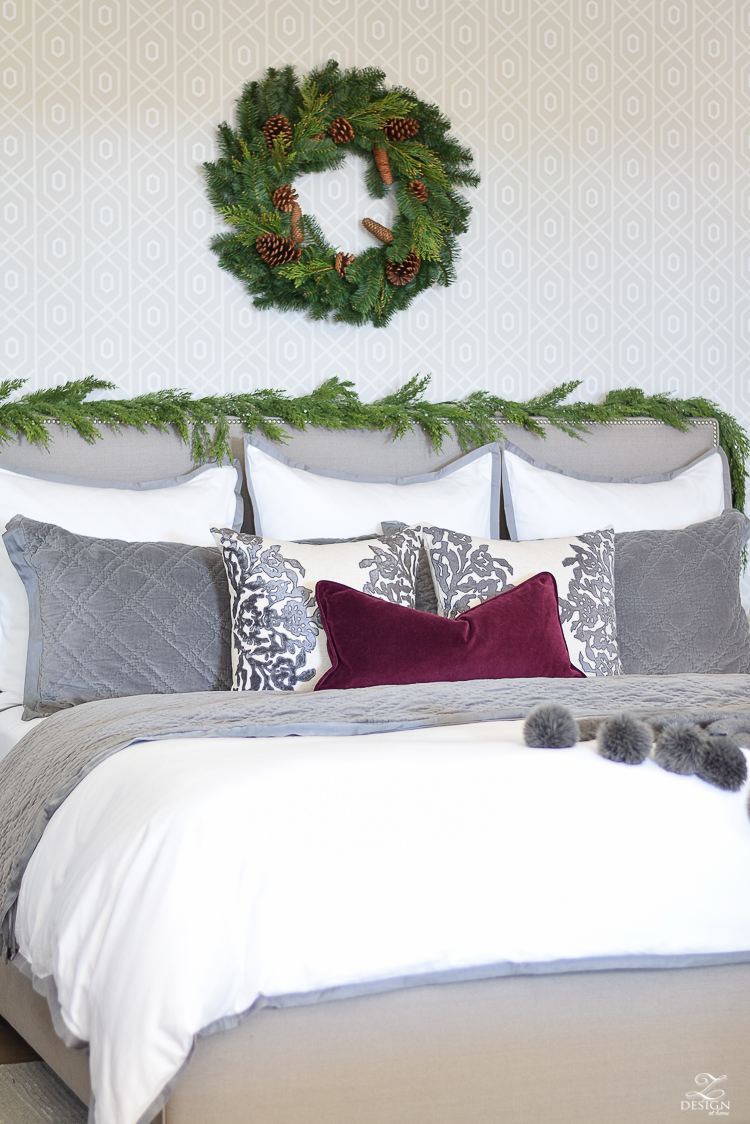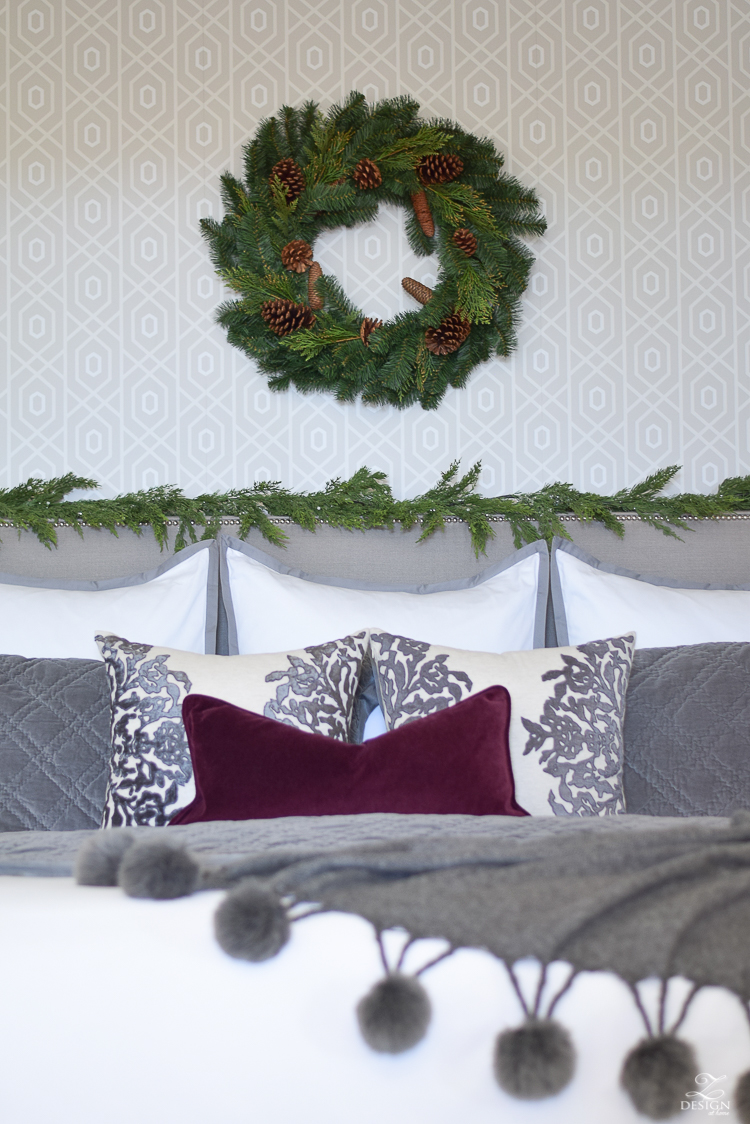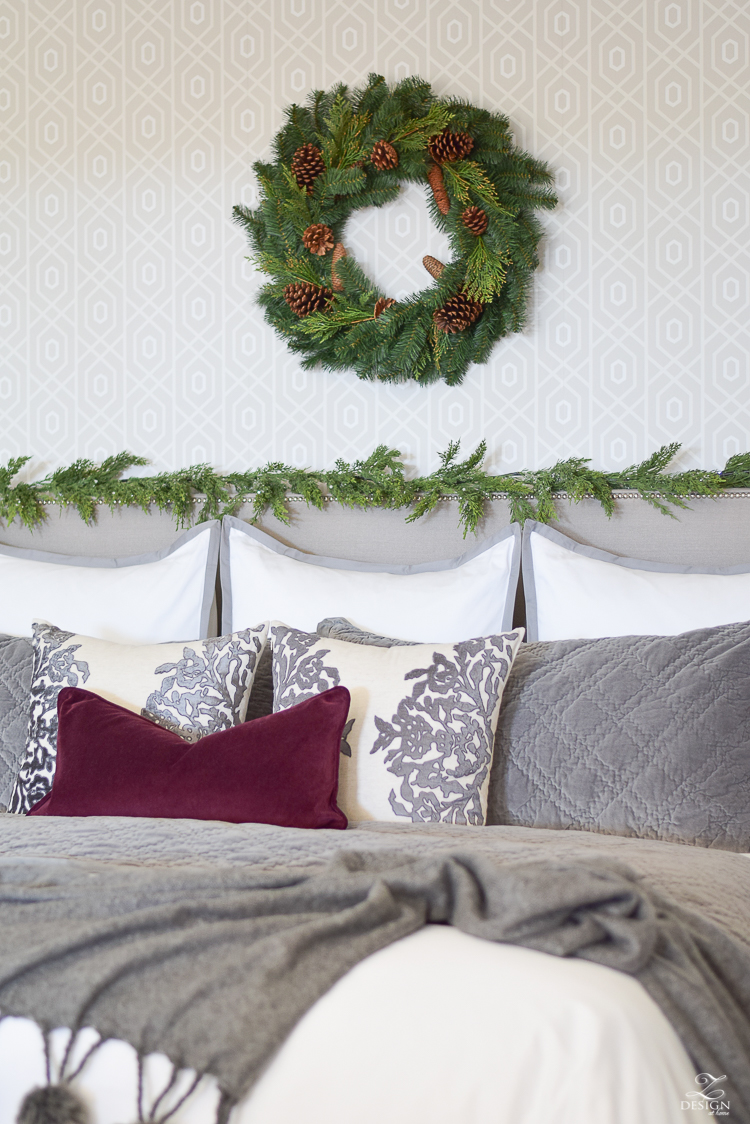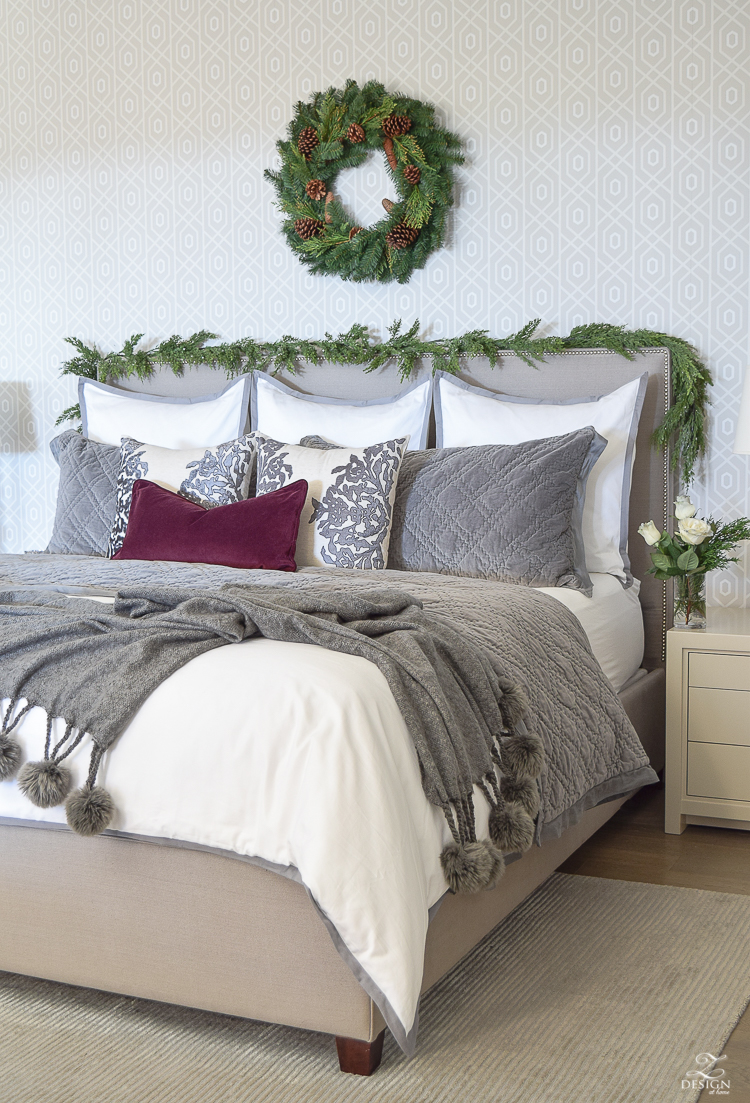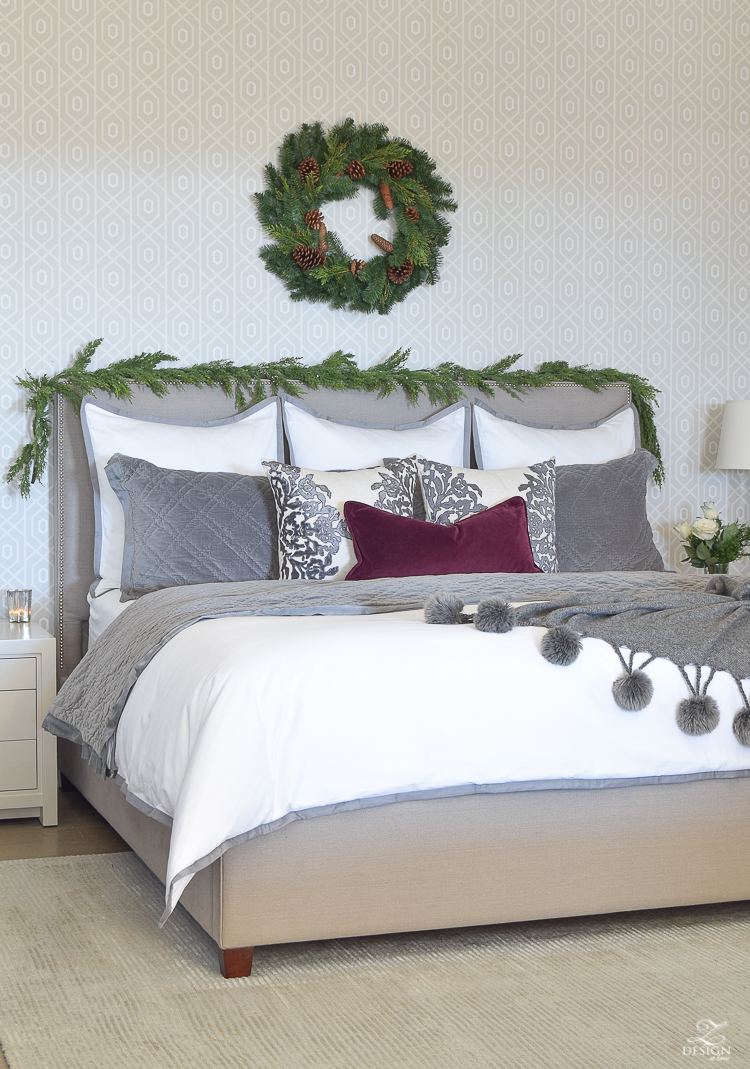 I hope you enjoyed the tour and that you'll feel inspired to put up a tree and decorate for Christmas in your bedroom next year (or this year if you still have time)…truly the best choice ever for us!!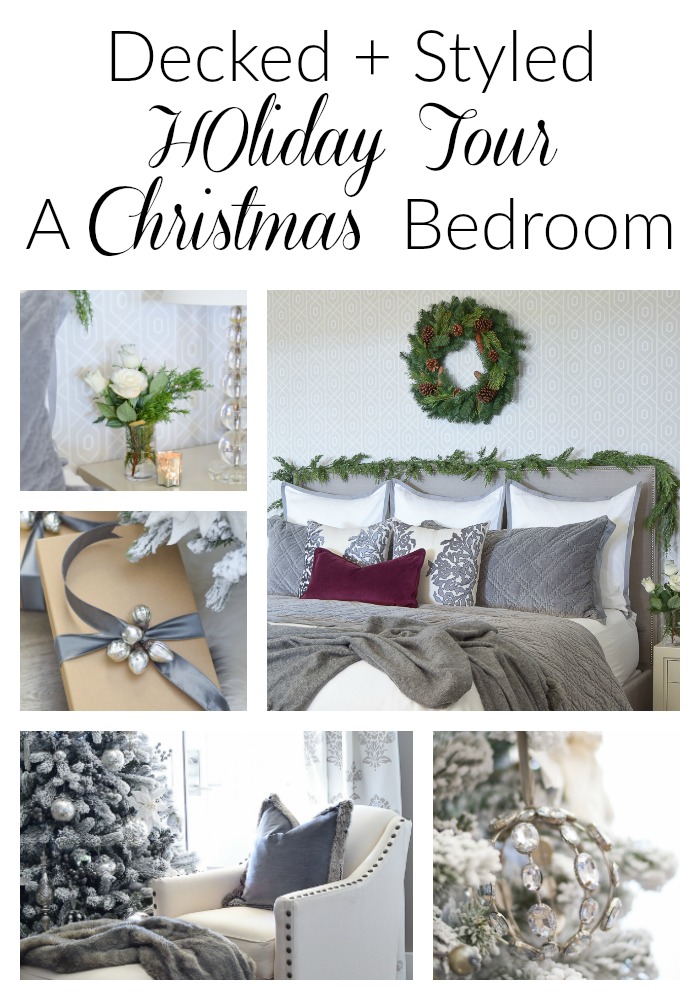 The next stop on the Decked & Styled Holiday Tour is my sweet and multitalented  friend, Courtney of A Thoughtful Place.  She has such great style in her home and fashion and I just know you will want to pay her a visit!  Just click the image below to visit Courtney's beautiful home where she'll be sharing her gorgeous holiday living room with you today!!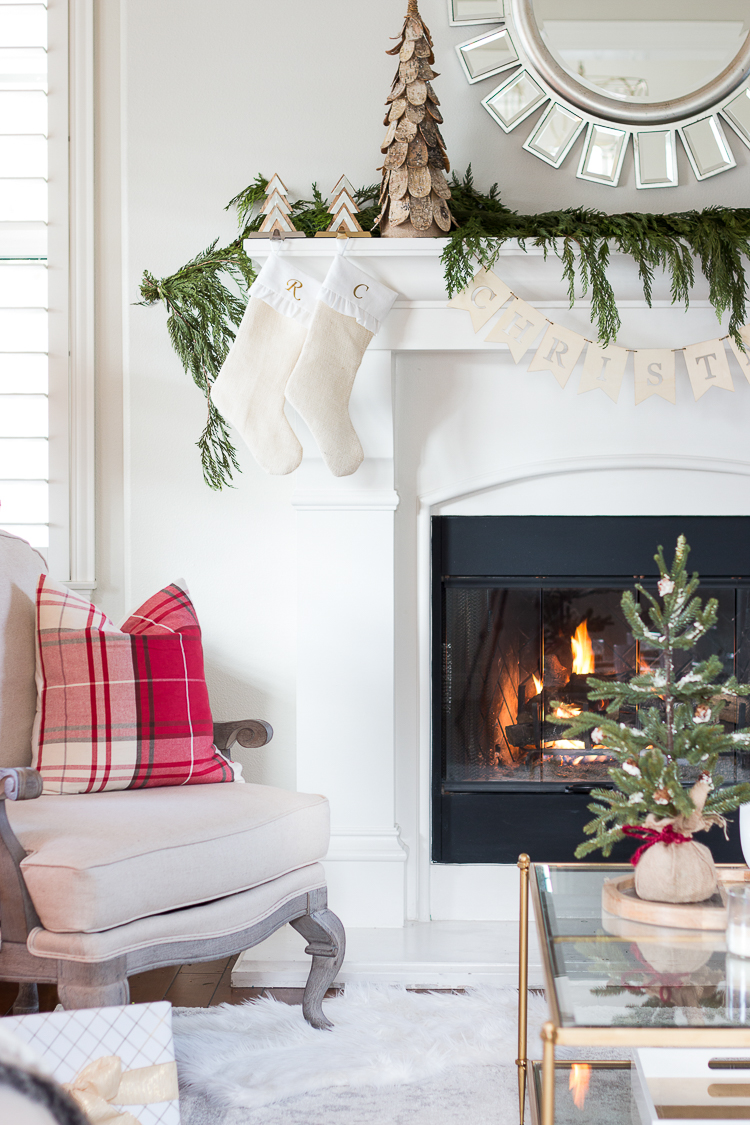 A Thoughtful Place
Thank you so much for stopping in and please also take the time to visit these other super talented ladies in the Decked & Styled Holiday Tour when you have a chance today or this week!  With such a great mix of girls and all so talented, I know you won't want to miss a single one!  Happy blog hopping and Merry Christmas!!  I hope you'll also sign up for my weekly newsletter today if you are new here, and if so thanks again for stopping in and I hope to see you back real soon!

For a full resource list of this room please check HERE
Furniture:

Bedding:

Christmas Items:

*Affiliate links used.  Some items similar where item is no longer available.
Other Christmas tours from this year that you may want to visit while you are here:
Holiday Home Showcase Tour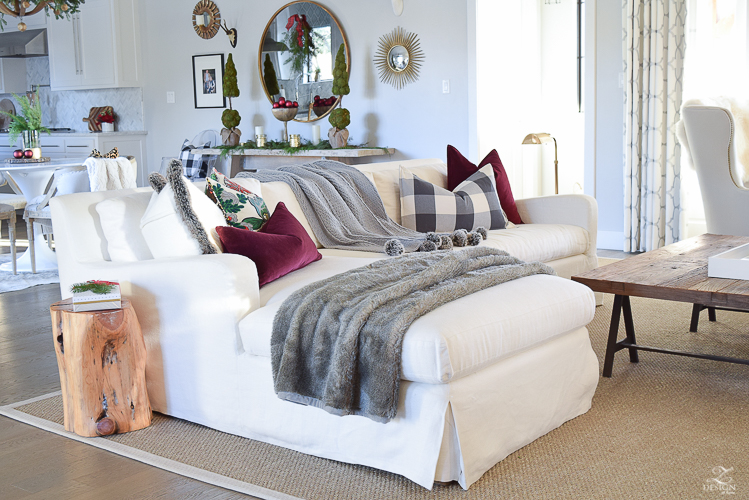 Styled + Set Holiday Entertaining Tour