Laundry Room Reveal & Tour
Hi friends!  Well, I'm back for another Reveal & Tour, of our Laundry Room this time!  I have always said that the Laundry Room is just like every other space in your home and should receive just as much attention to detail.  We sometimes spend so much time in this space that it should be not only functional, but beautiful as well, don't you think?
*This post contains affiliate links.  Please read my full disclosure policy here.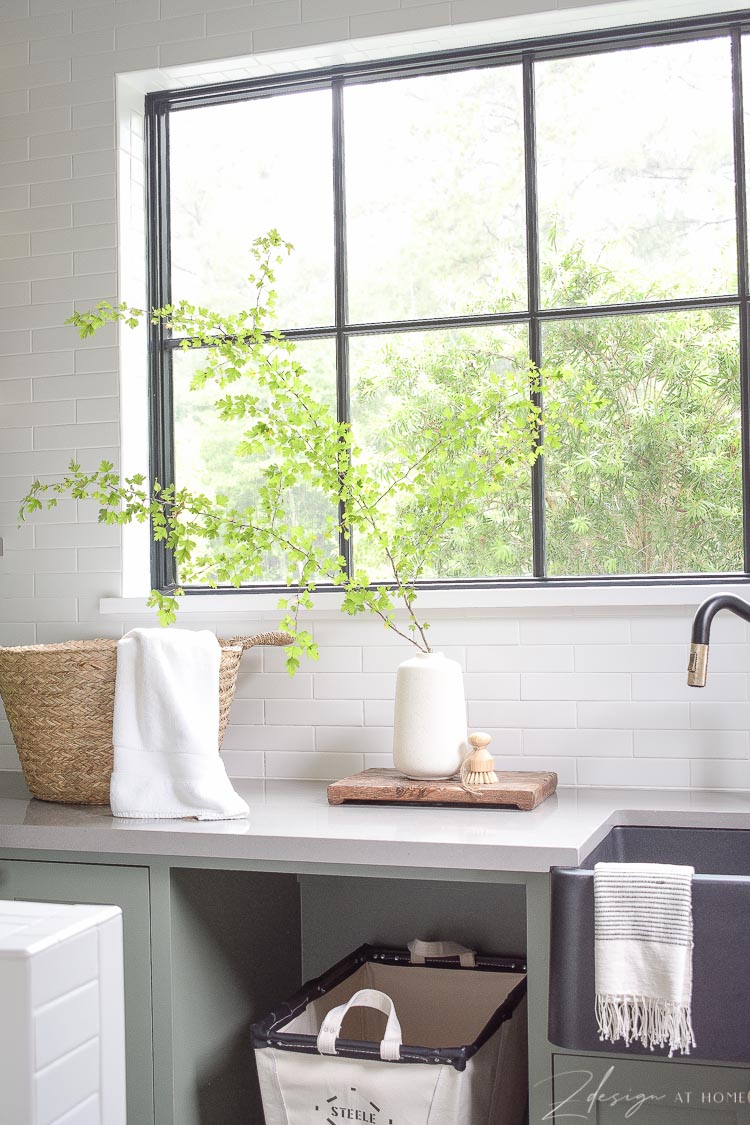 I will share as many details and sources as I can but if I miss something you might be looking for please let me know in the comments below.  So let's get started!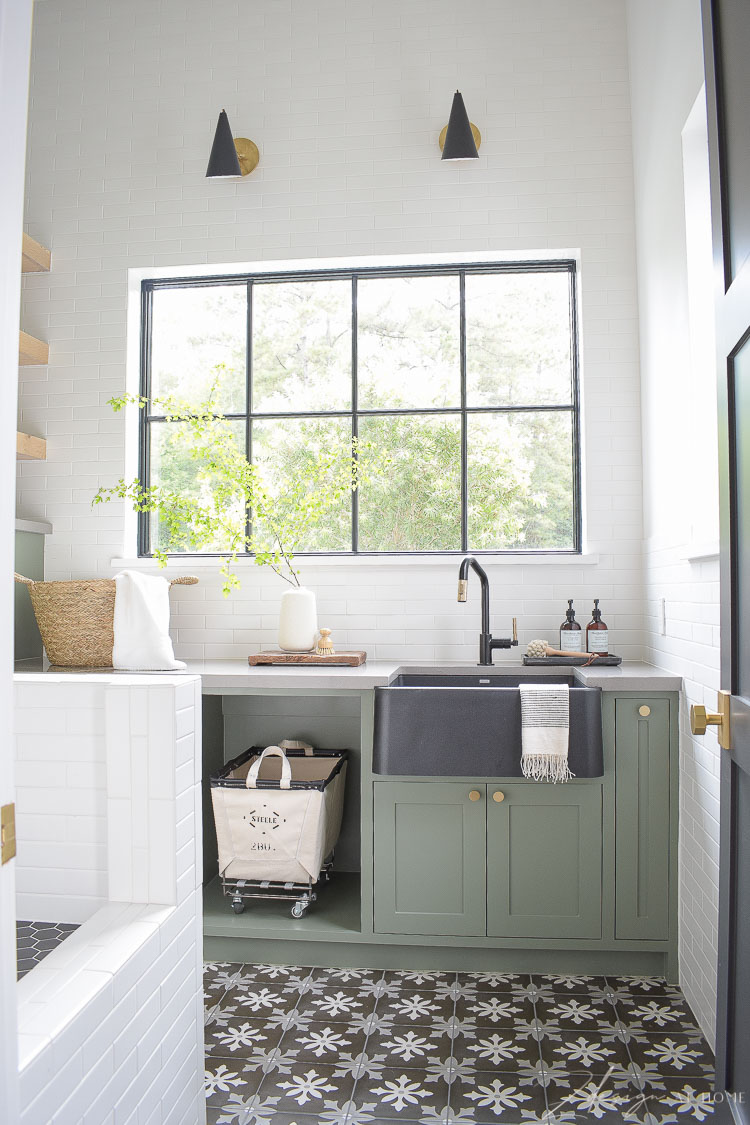 A couple of things to note first…it was raining and the sun was pouring in at the same time when I was photographing this space.  I love it when that happens but sometimes you'll see lots rain through the window that makes the window look very dirty, but it's not…it's just rain, haha!:).  I'll also be sharing a few things I would have done differently in this space by now so stay tuned for that along the way!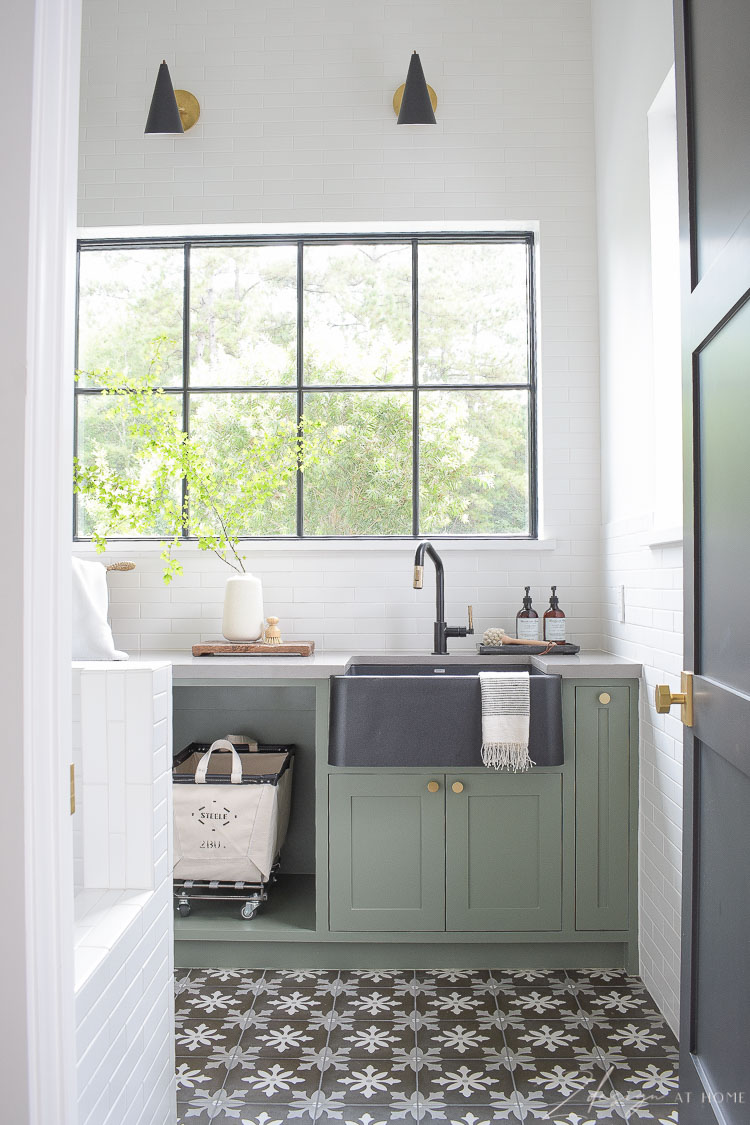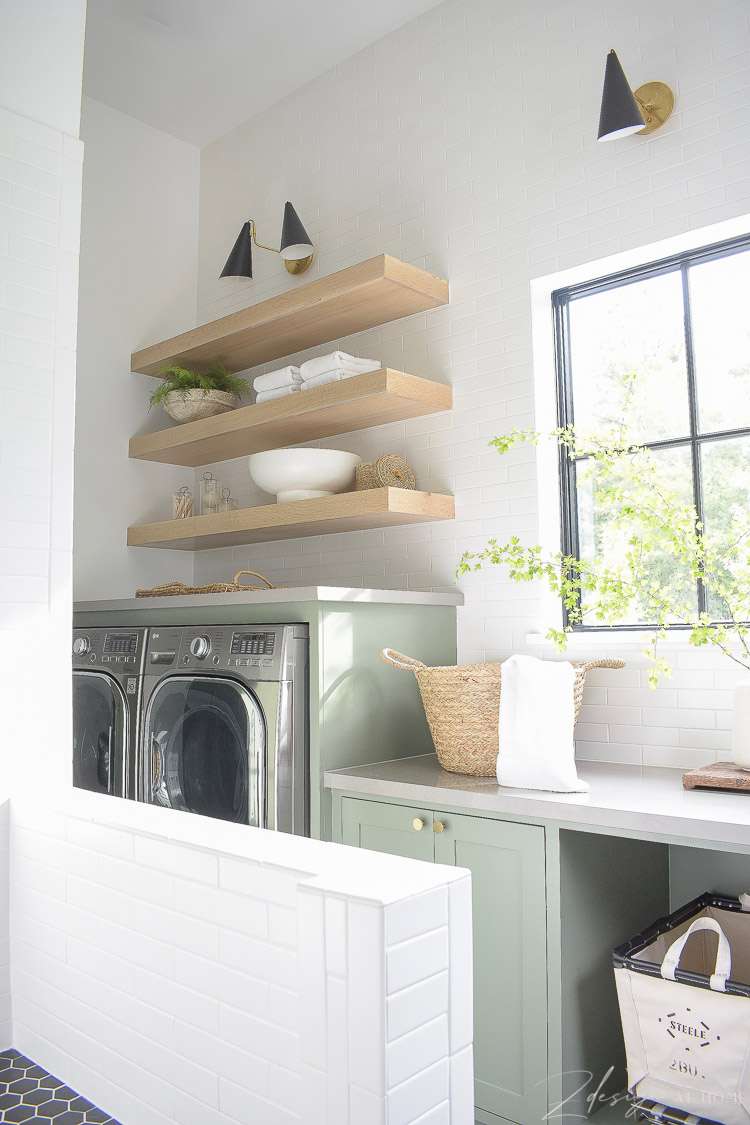 This space was originally supposed to be smaller but (above) where you see the washer and dryer, that space was supposed to be a future pool bath that would be accessed from the outside.  We decided we didn't need a pool bath there so took in that space to not only extend the laundry room, but also to add a dog wash.  We've had dogs just about our entire marriage (sometimes 3 at a time) and have never had one before so decided it was time!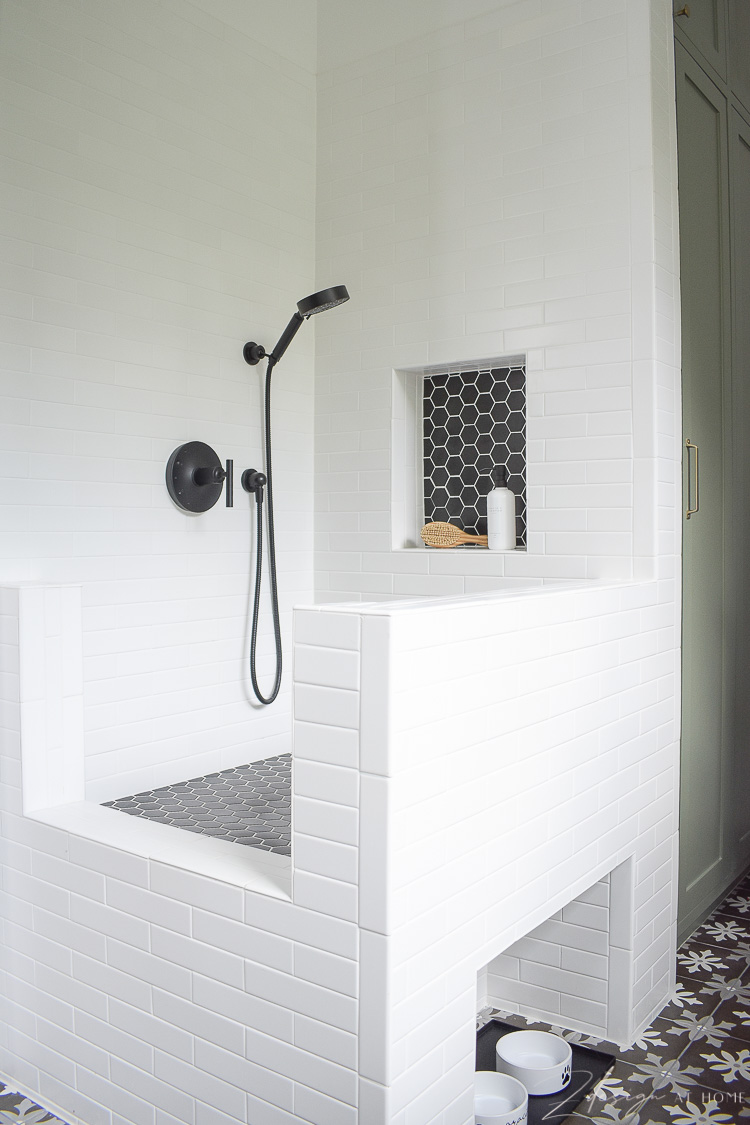 If you look to the right at the bottom of the photo above, you'll see the niche I had built into the side of the dog wash for dog bowls to keep those out of the way.  The cabinet to the right is where we store all of our doggie paraphernalia and food for our pup, Gracie.  Unfortunately I couldn't get far enough away from it to get a good shot but I did find the cutest dog bowls ever with a beautiful font for her food bowl, and a paw print for her water bowl.  I also found this pet food feeding mat to keep the bowls from moving around when she eats and to keep the floor clean (especially the grout) since she eats wet food.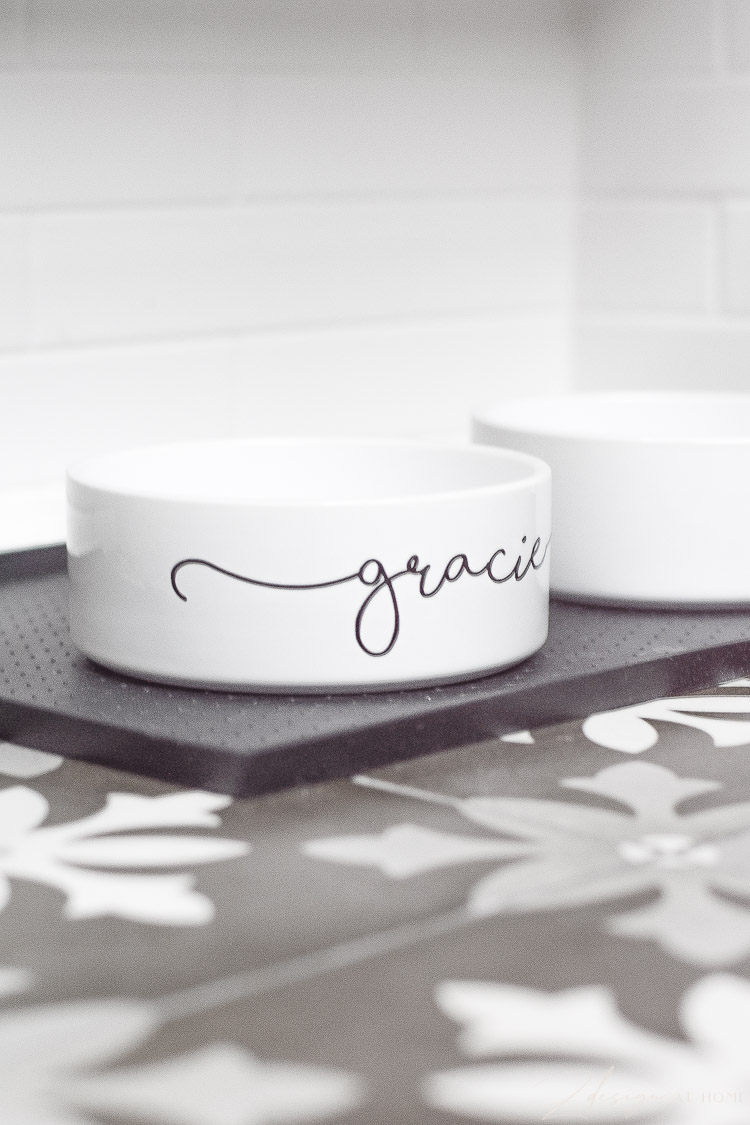 But truly my favorite thing about this space is the window above the sink!!  It gives us a beautiful view out to the pool and our beautiful forest outside and I couldn't love it more!  The windows in our home are by Andersen.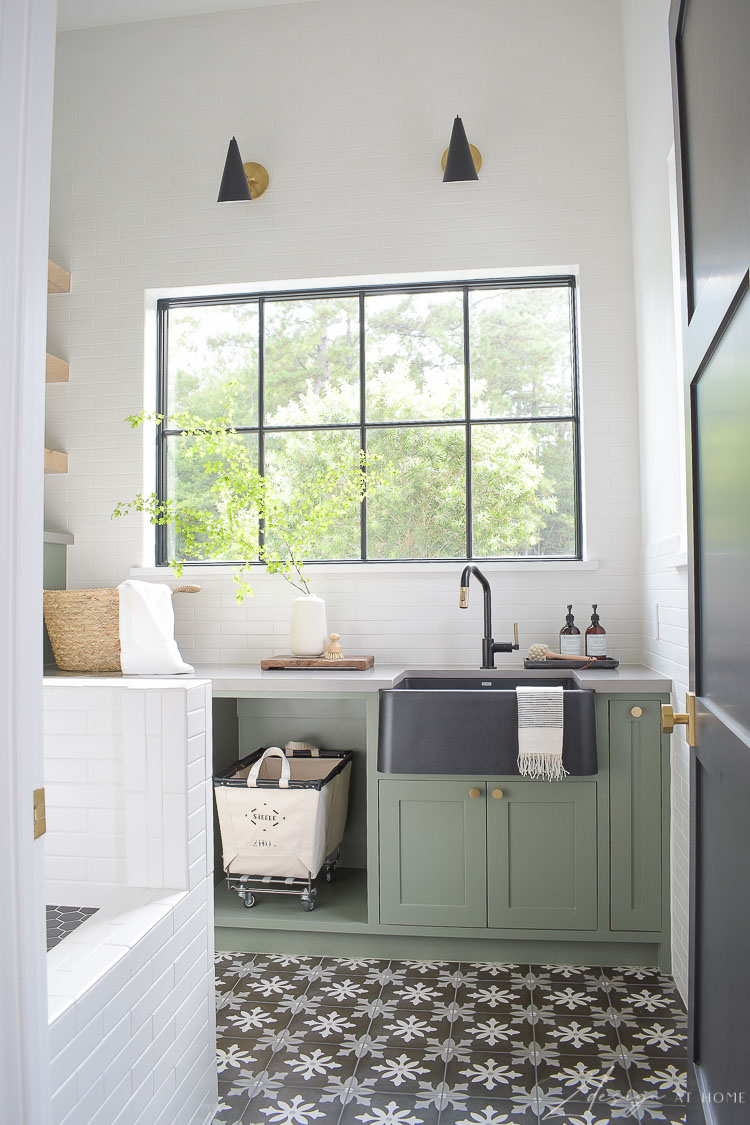 I'll get back to the dog wash in a minute but one of my other favorite things in this space is our Ikon sink by Blanco in anthracite (that's the color) Siligranite, which is a high quality granite composite that is heat, scratch and stain resistant.  It's the perfect size for a laundry room at 27″ and also available in more colors.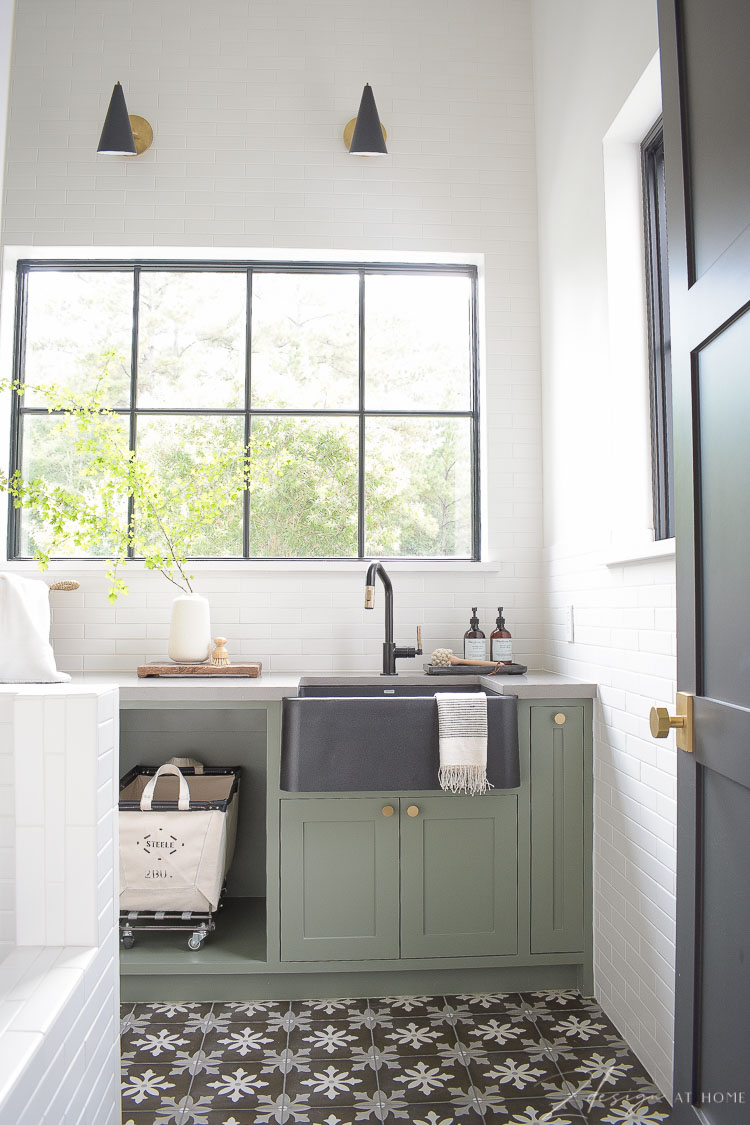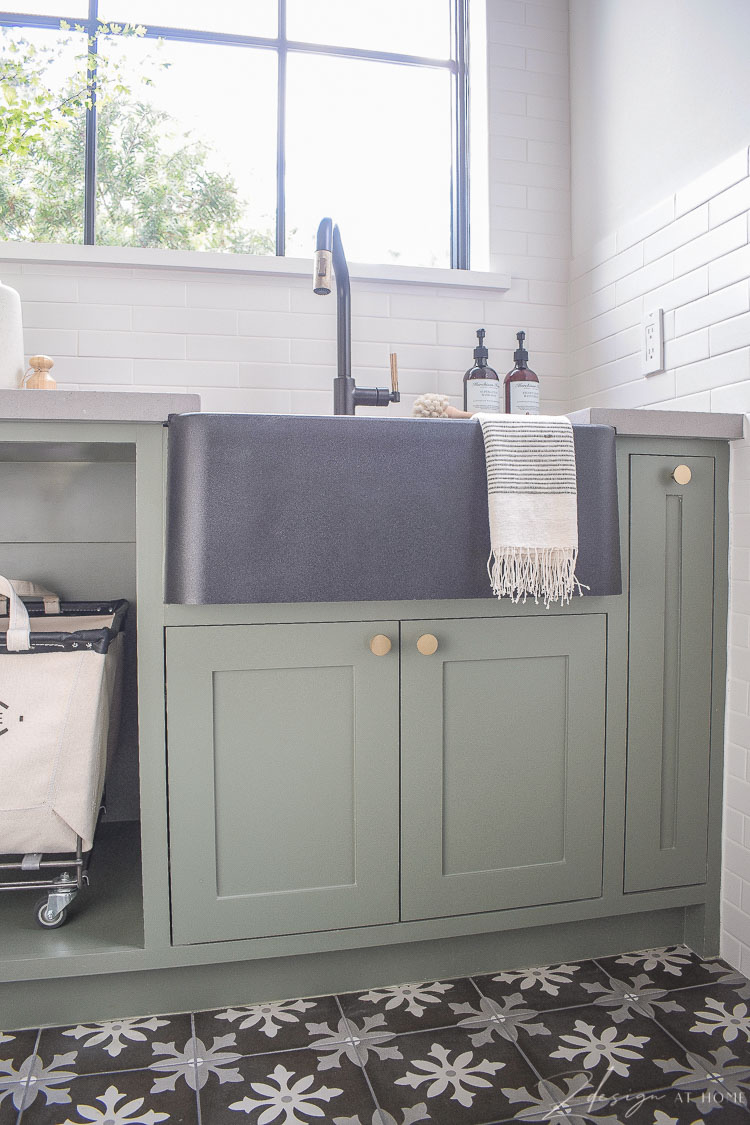 I'm sure by now you are wondering what the cabinet color is…it's Dried Thyme by Sherwin William's.  I wanted this space to feel fun and this color was part of that.  It's a gray-green color and can change a lot depending on the lighting at the moment but is a really nice color.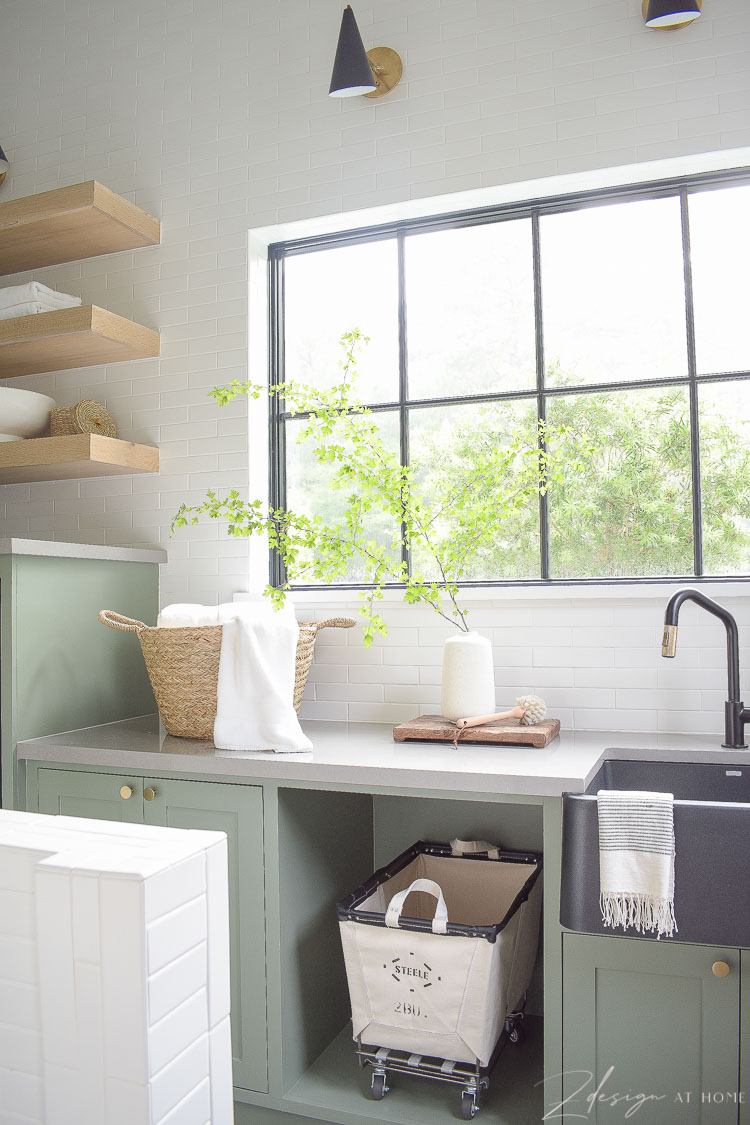 Speaking of countertops….this is one of those things I wish I had done differently.  These are a quartz by MSI in Fossil Gray and I do like them in a bathroom I have them in upstairs but wish I had gone with white or with marble in the laundry room for more of a contrast.  It will be a while before I make any changes but this just goes to show you we all make design decisions we aren't ultimately happy with in the end, and that's ok.  The gray was a last minute change from white so in retrospect I wish I had stuck with the white but we'll see where this takes me down the road.  You can read a blog post HERE where I changed my kitchen backsplash out after living in our previous home for only 2 years, and it was by far one of the best design decisions I've ever made!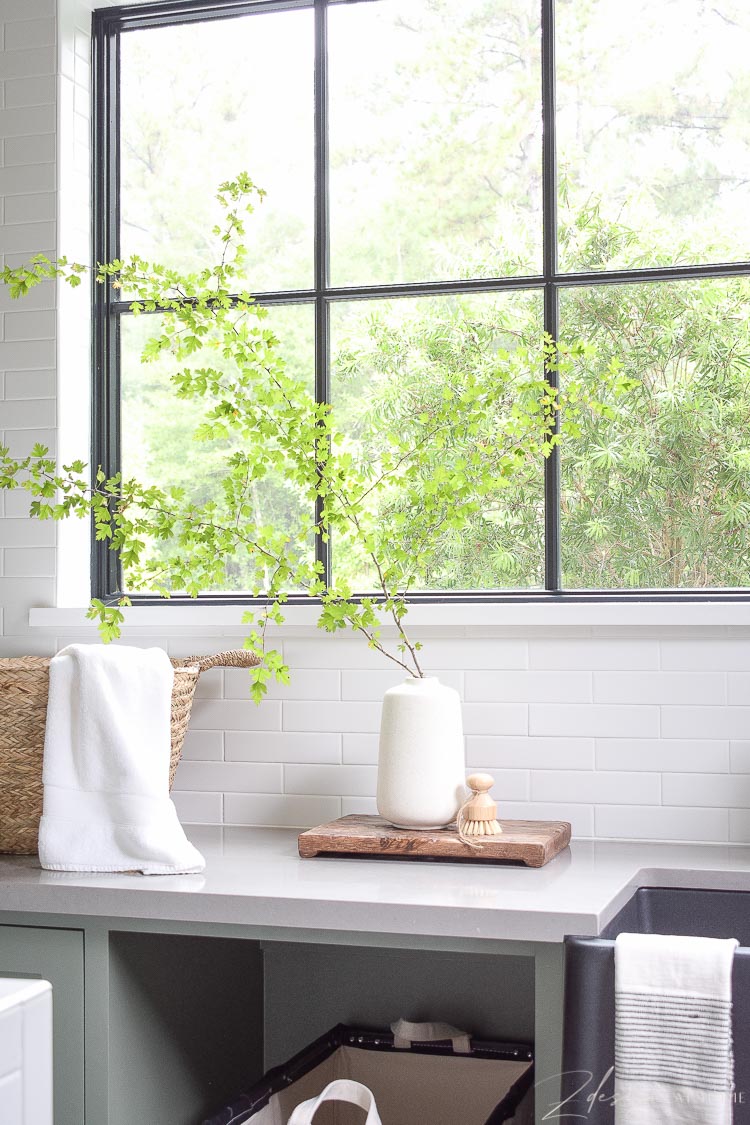 The area below built into the cabinetry is actually Gracie's area where she sleeps.  I'm in the process of picking a fabric for a custom dog bed for her to fit the space so I thought instead I would show you this canvas laundry hamper on rollers I recently found, and love.  When not in use I store it in the cabinet to the left but it's been super helpful and useful.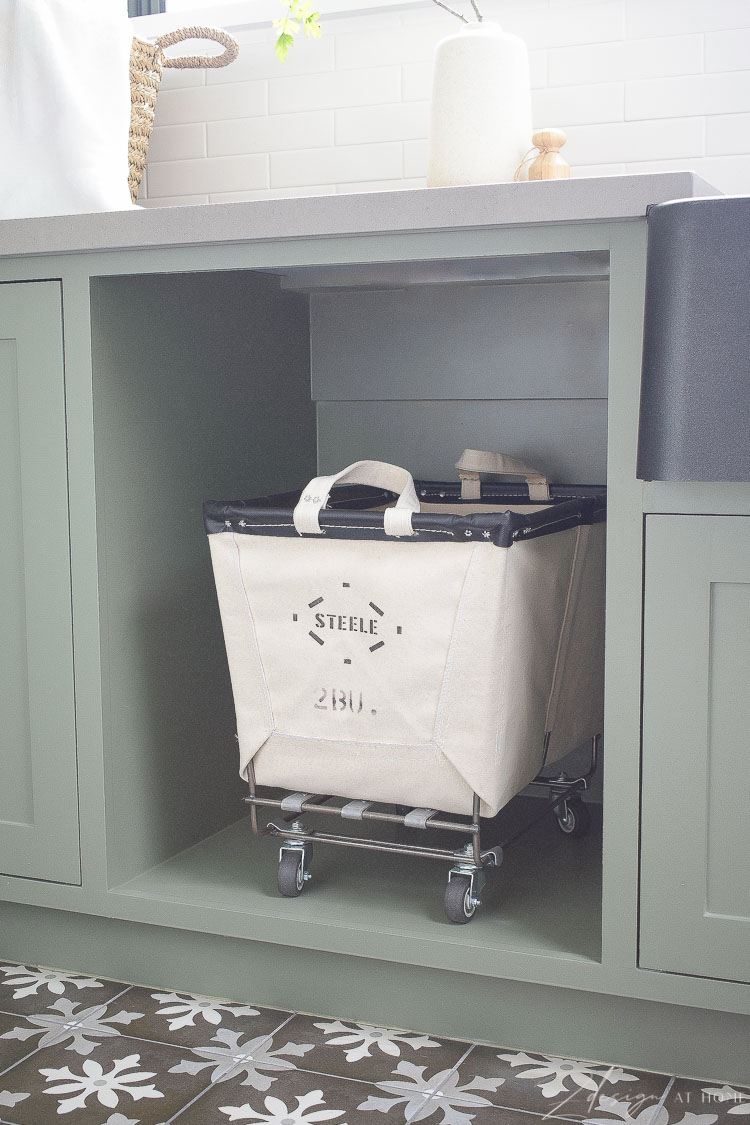 Moving to the left is our builtin washer and dryer.  I used to have the LG pedestals and they were great but this is so much more aesthetically pleasing.  So glad we did this!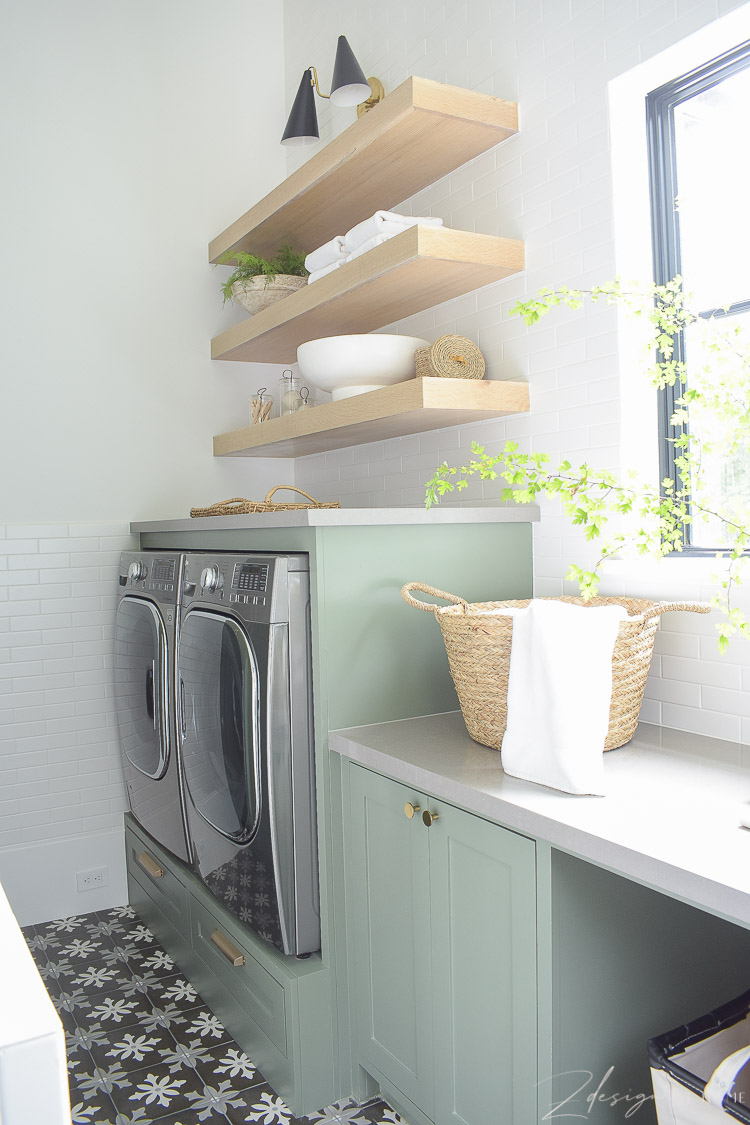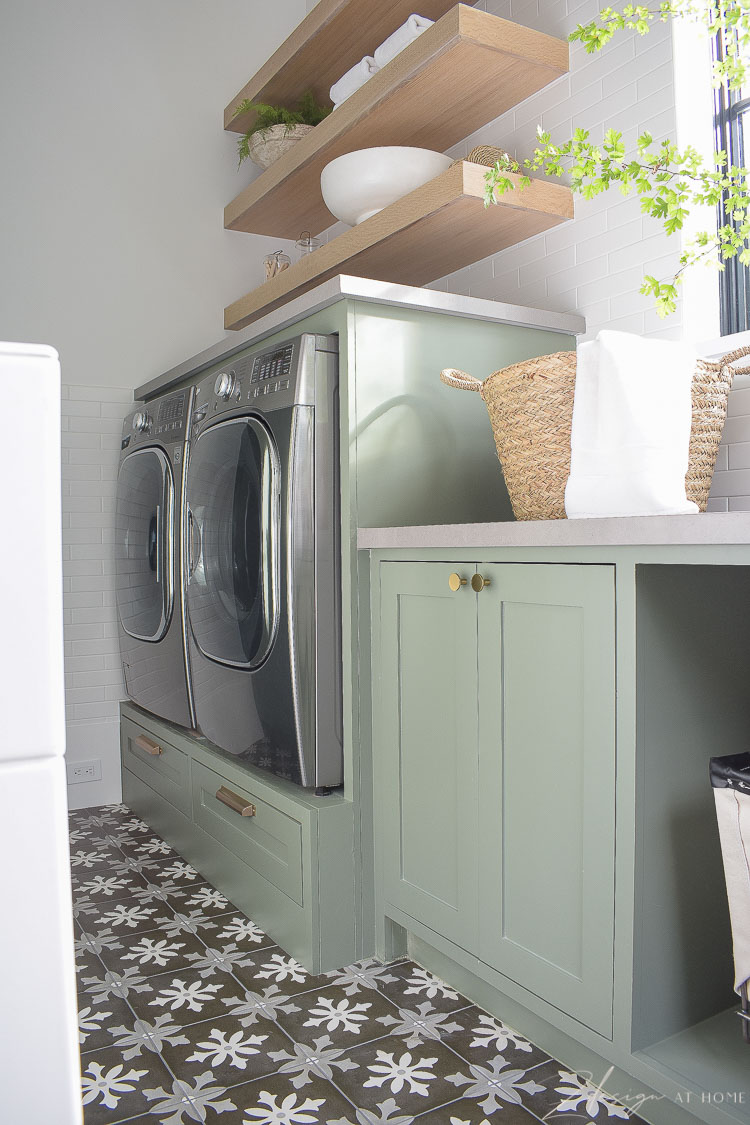 And of course the custom styled 3″ white oak shelves (similar) add that touch of beauty and design I love in every space.  They aren't really reachable to store things on for use (for someone my height anyway) but make for beautifully styled shelves in what would otherwise be a bare spot.  You will notice I also took the white matte subway tile all the way to the ceiling – probably my best decision in this space.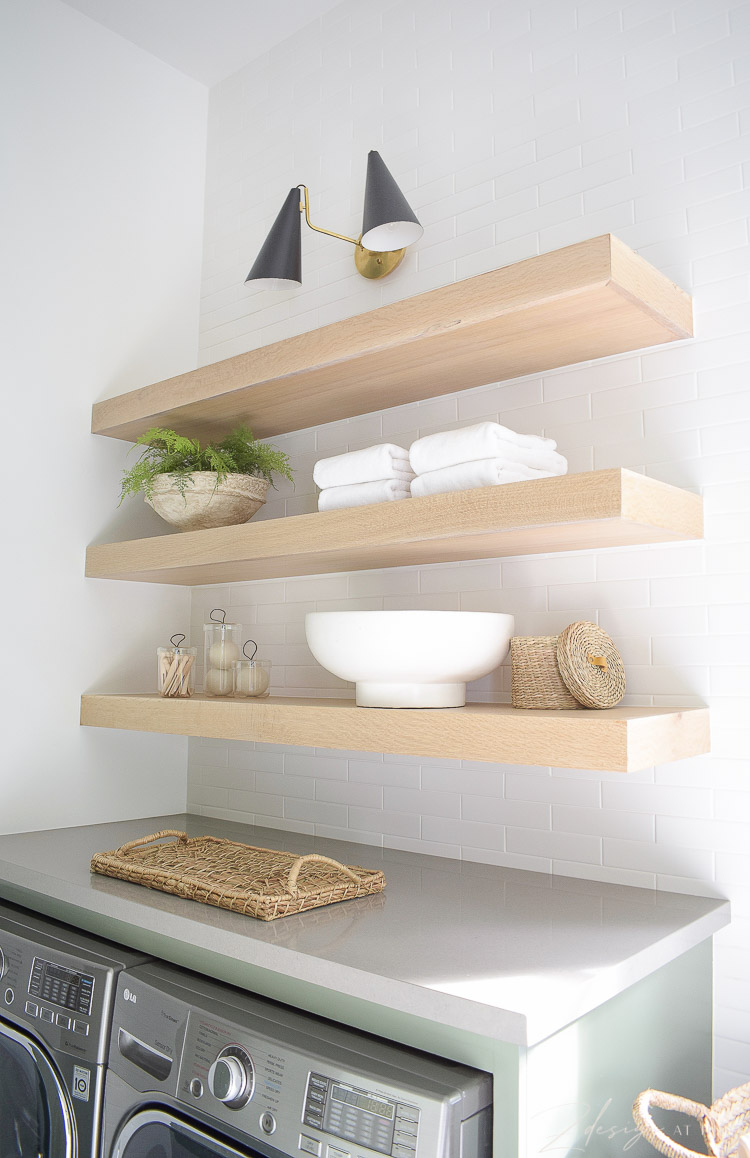 I love the paper maché bowl, wooden clothes pins, and white laundry balls as well I used to style the shelves.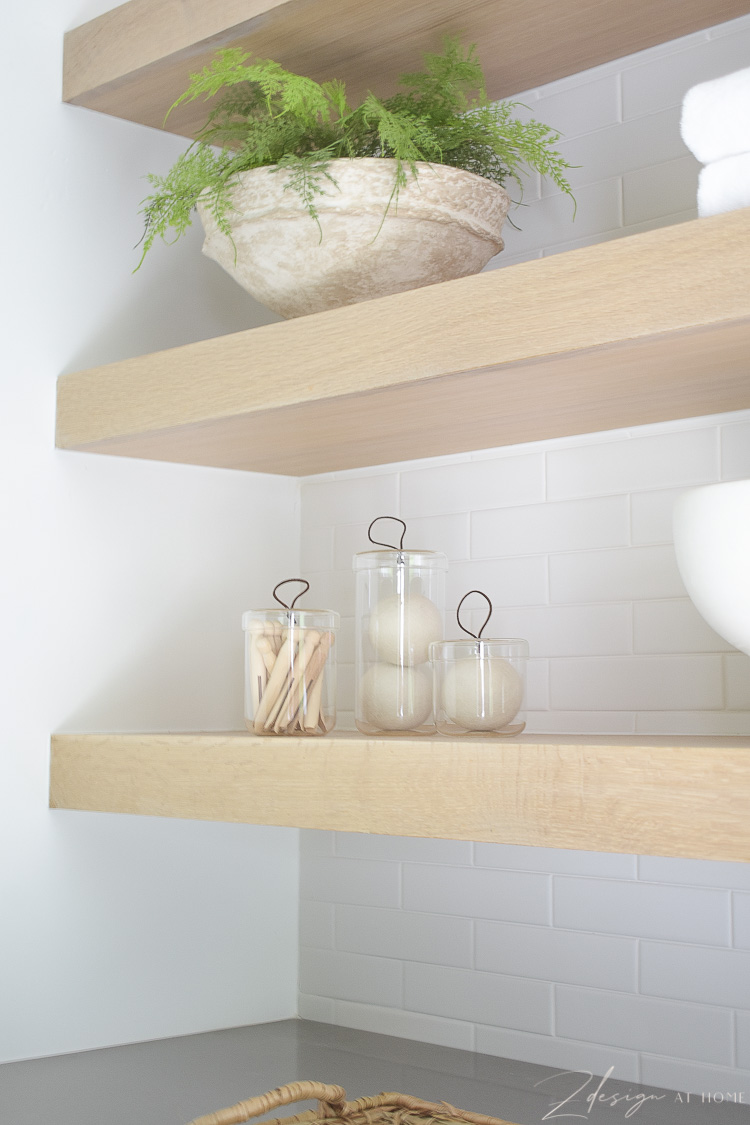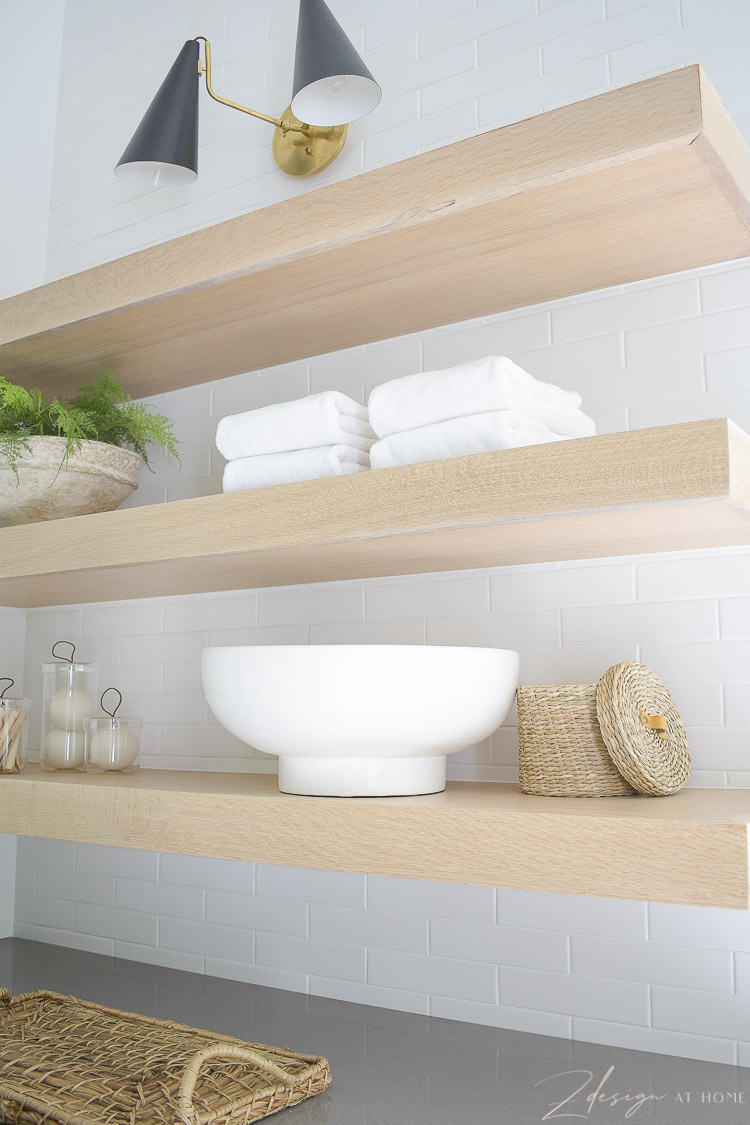 I love the sconces I chose for this space – they come in a double and a single version (I have both in this space) and some different color options.  I chose the black and brass.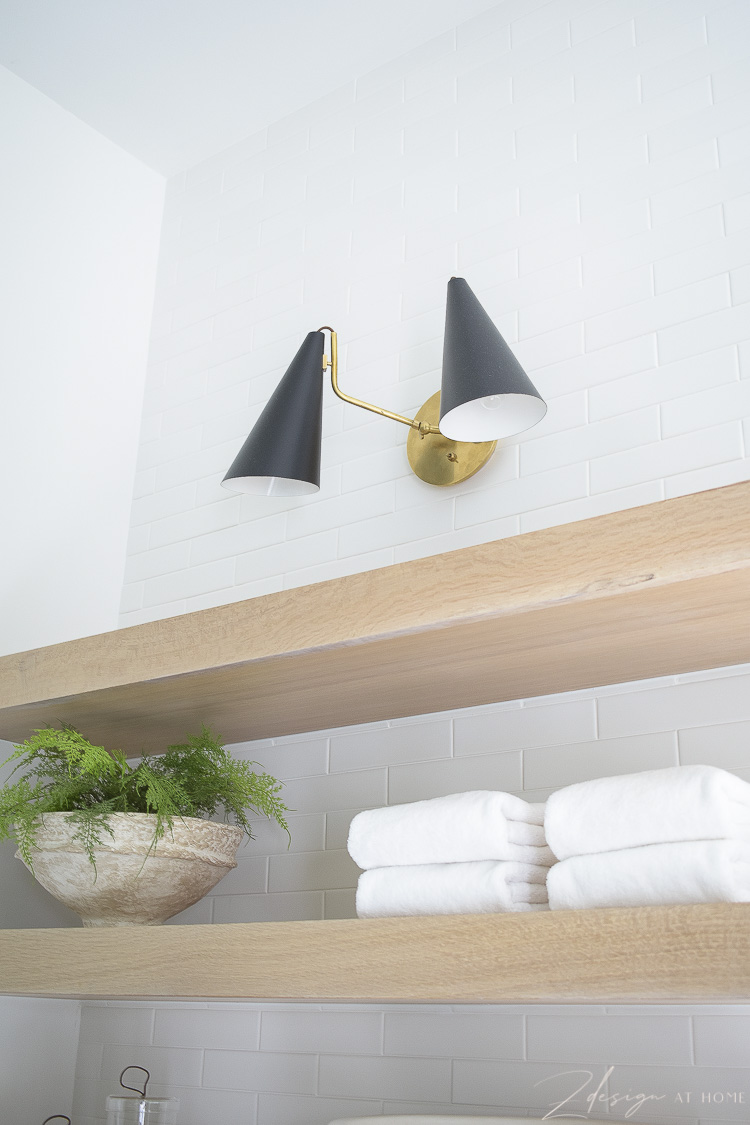 Across from the washer and dryer and white oak shelves are some super tall cabinets that store all of the dog stuff (far left) and a broom closet on the far right that holds my Dyson stick vacuum, etc., with some shelves up top for detergent, etc.  In the very top cabinets I just store stuff we don't use often at all.  For my stick vacuum, I had my builder put an electrical outlet in the back of the cabinet so that I can charge and store it out of sight.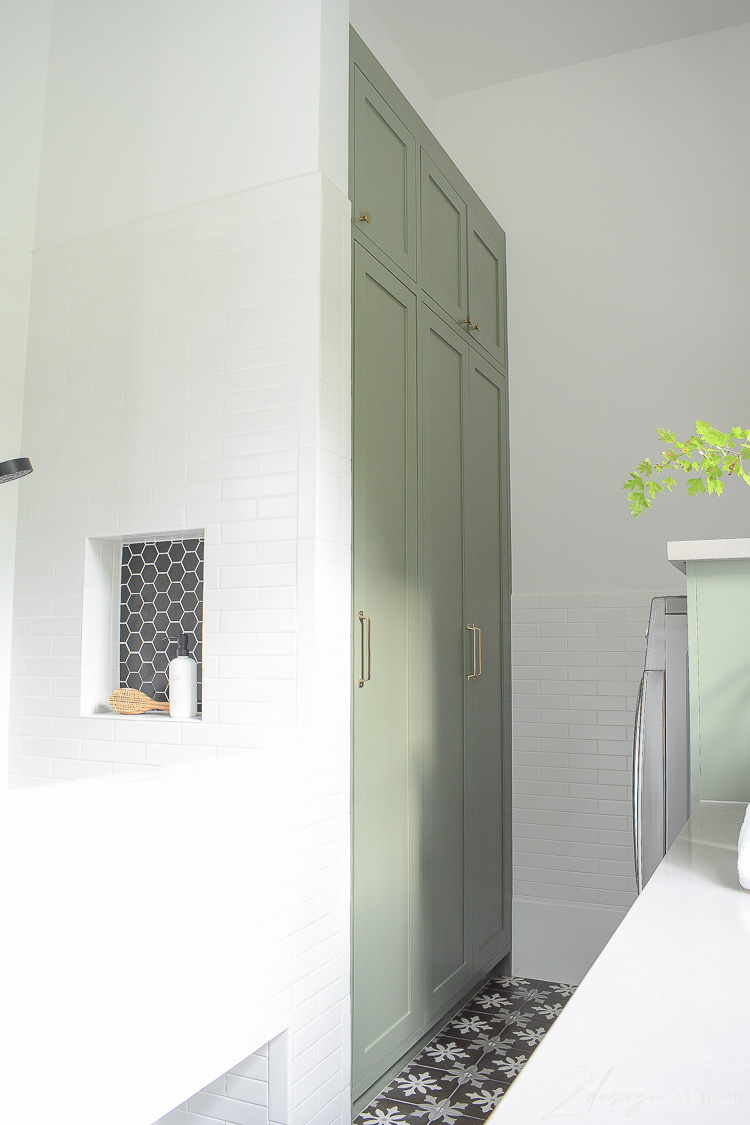 You can see from this shot how all of that comes together…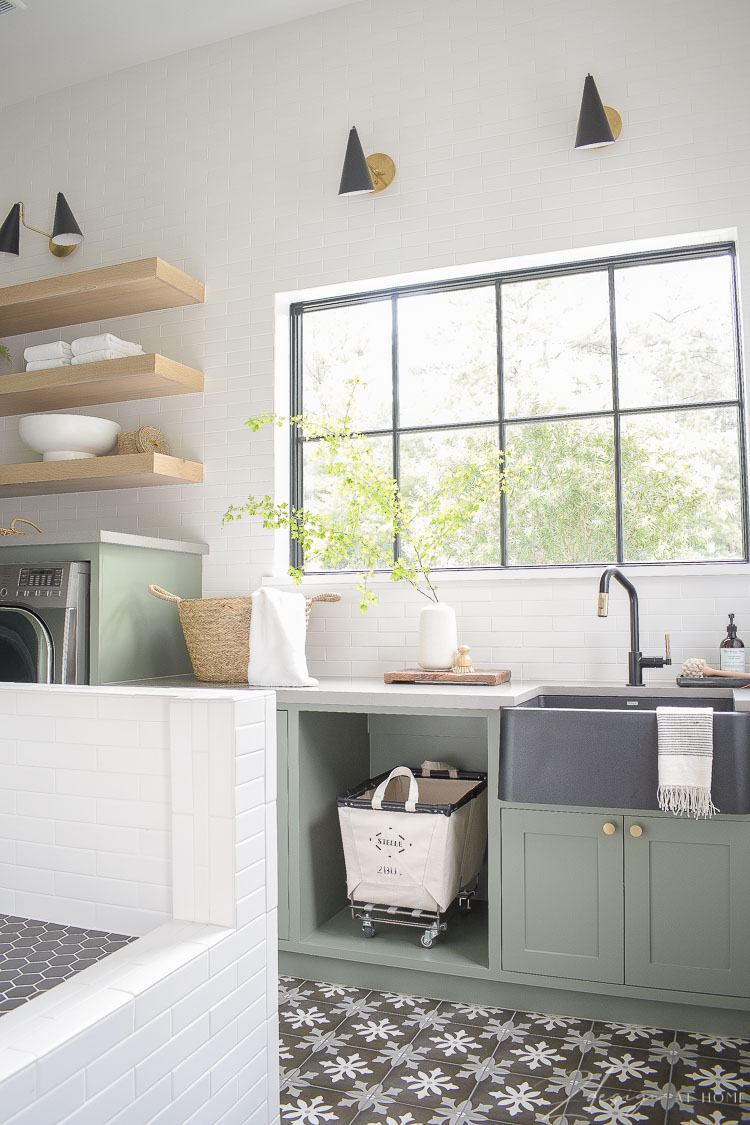 The dog wash is fun and honestly we use it for more than just to bathe our pup!  I promise you if my son was still small I'd bathe him in here just like I used to bathe him in the plastic utility sink we had when he was a baby ~ miss those days!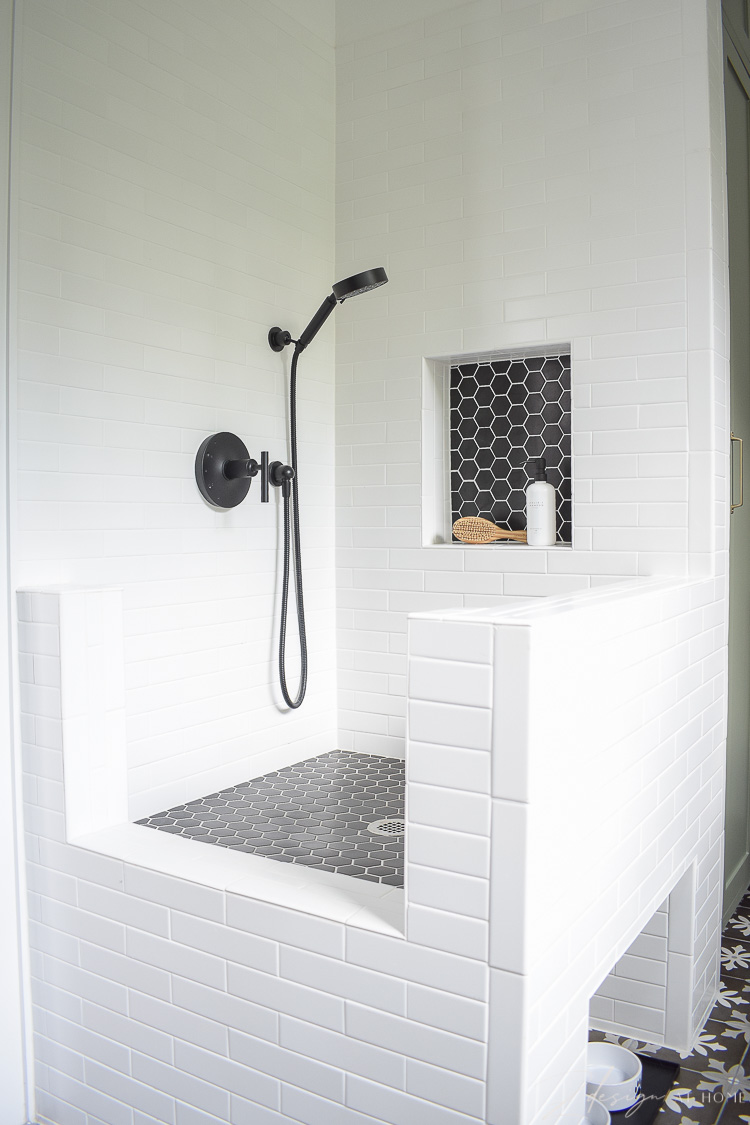 Again over here in the dog wash I used a white matte subway tile with white grout, and a black hex tile in the niche and floor with white grout.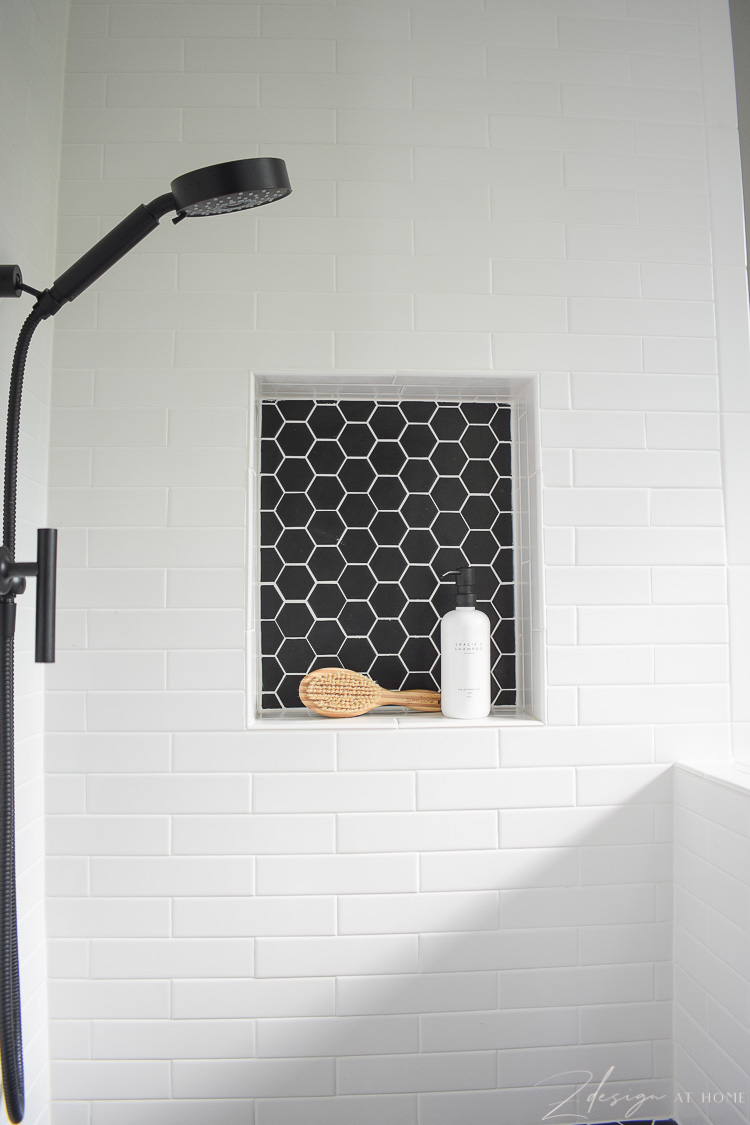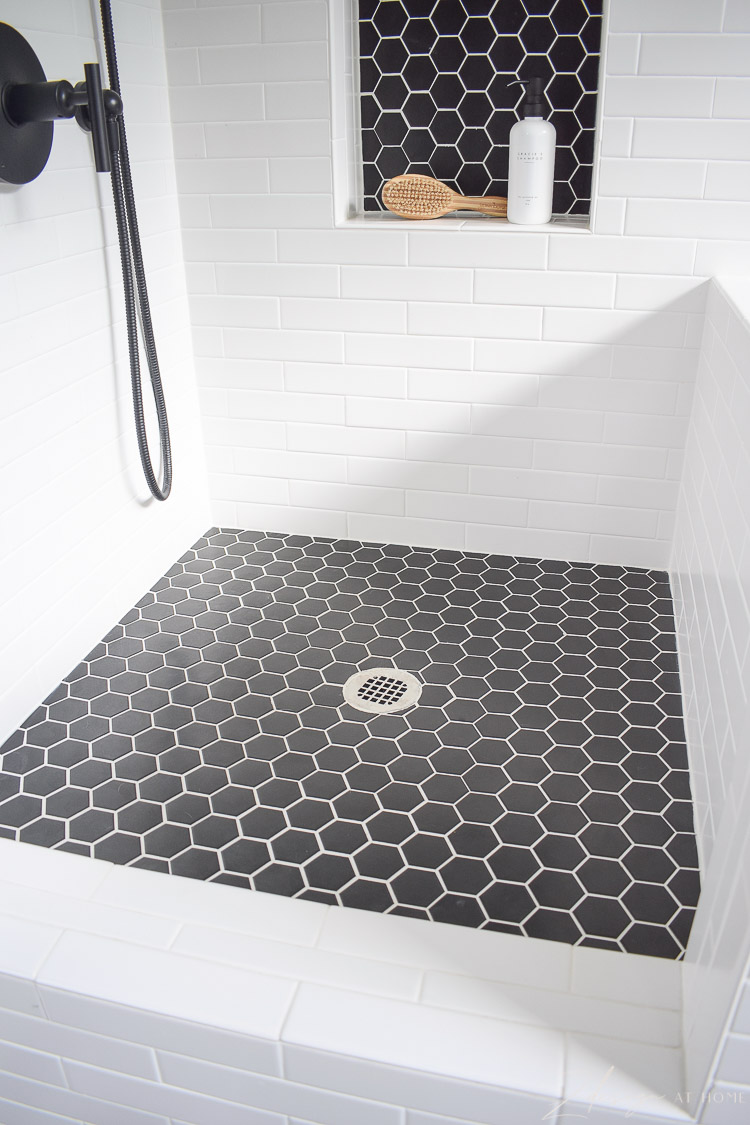 One of my other favorite things in the space – the niche in the dog wash!  And I LOVE these great shampoo bottles I found with personalized labels that come in different colors and styles.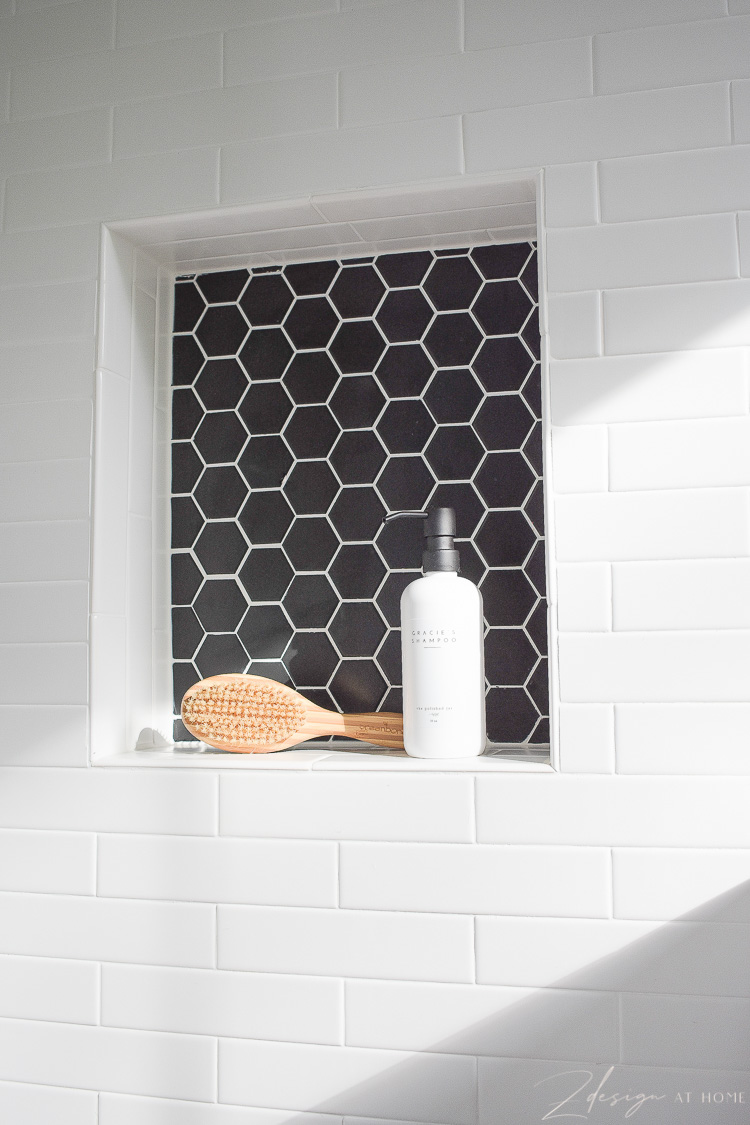 Love this black Kohler hand shower I chose in here as well.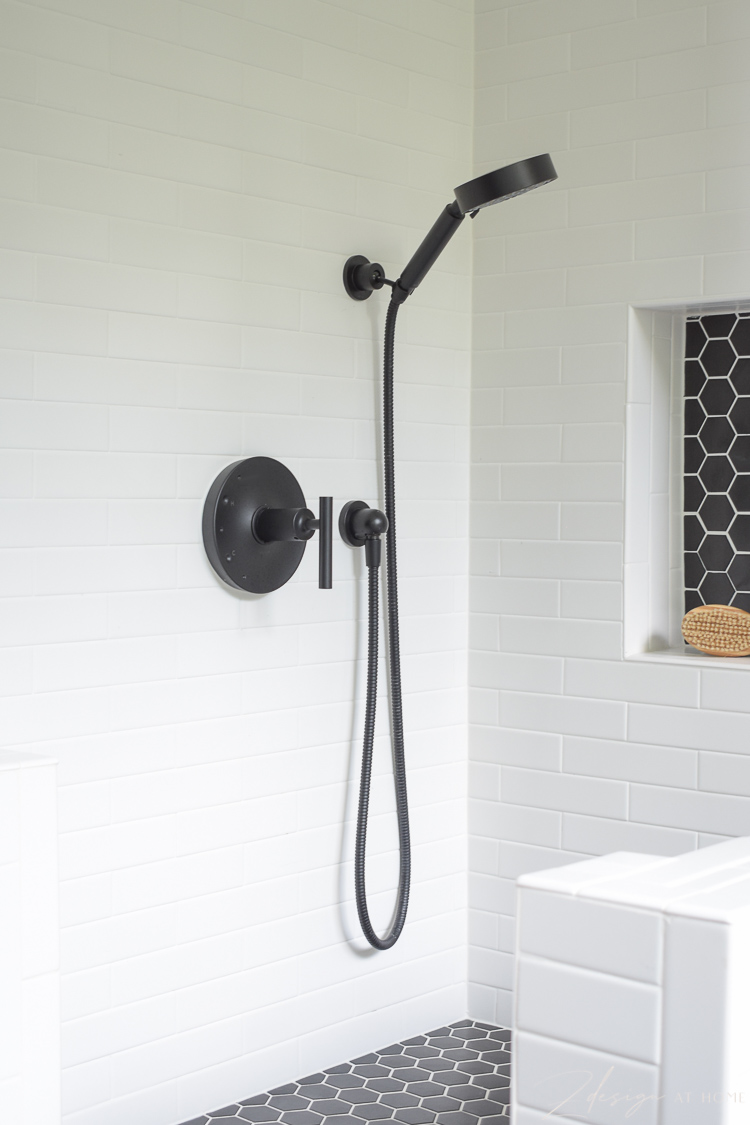 You can see Gracie's dog bowls a little better in this photo ~ I love them and they come in different sizes and fonts too.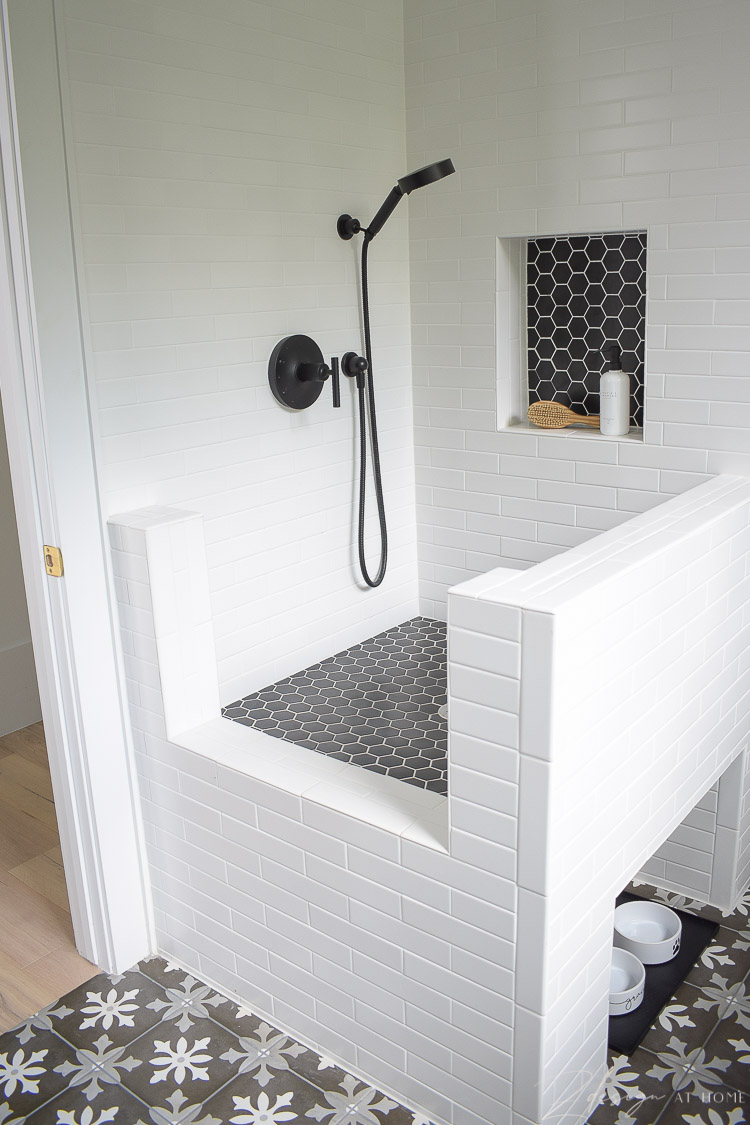 The floor tile is another one of those items I would probably do differently now.  I'm sort of over the patterned tile phase but chose these early on in the building process and was not able to change course during construction because they had already been ordered by the time I decided I'd prefer something different.  I do like them and like that they are mostly black but more than likely I'll change them at some point down the road.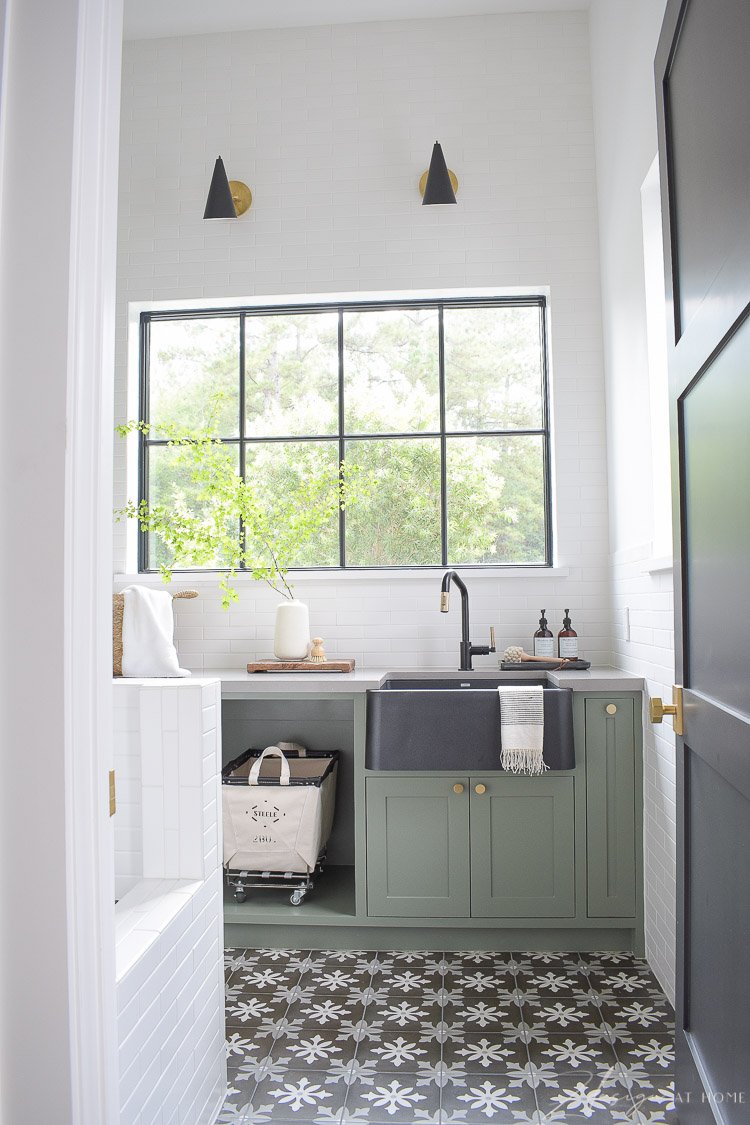 Some other fun accessories and things I have in here that make this space beautiful and feel like any other space in my home is this speckled vase and wood pedestal.  I shared this vase in my last post about my favorite Walmart finds.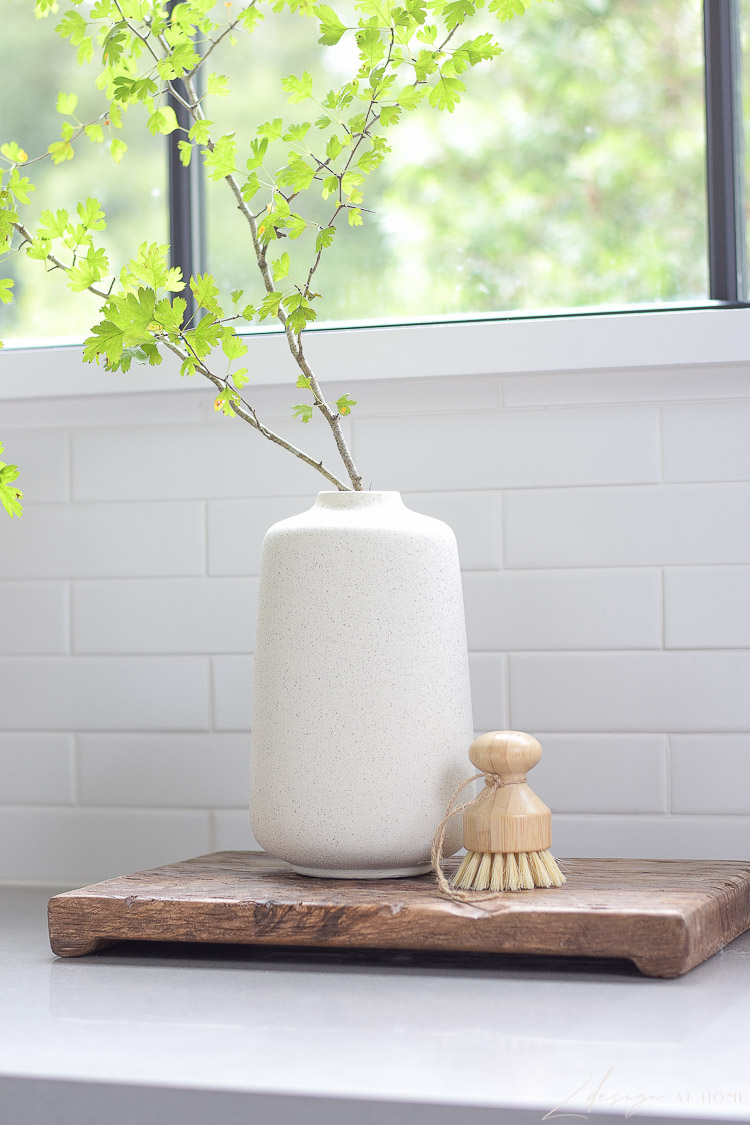 I use this wood pedestal between my kitchen and laundry as needed – Love it!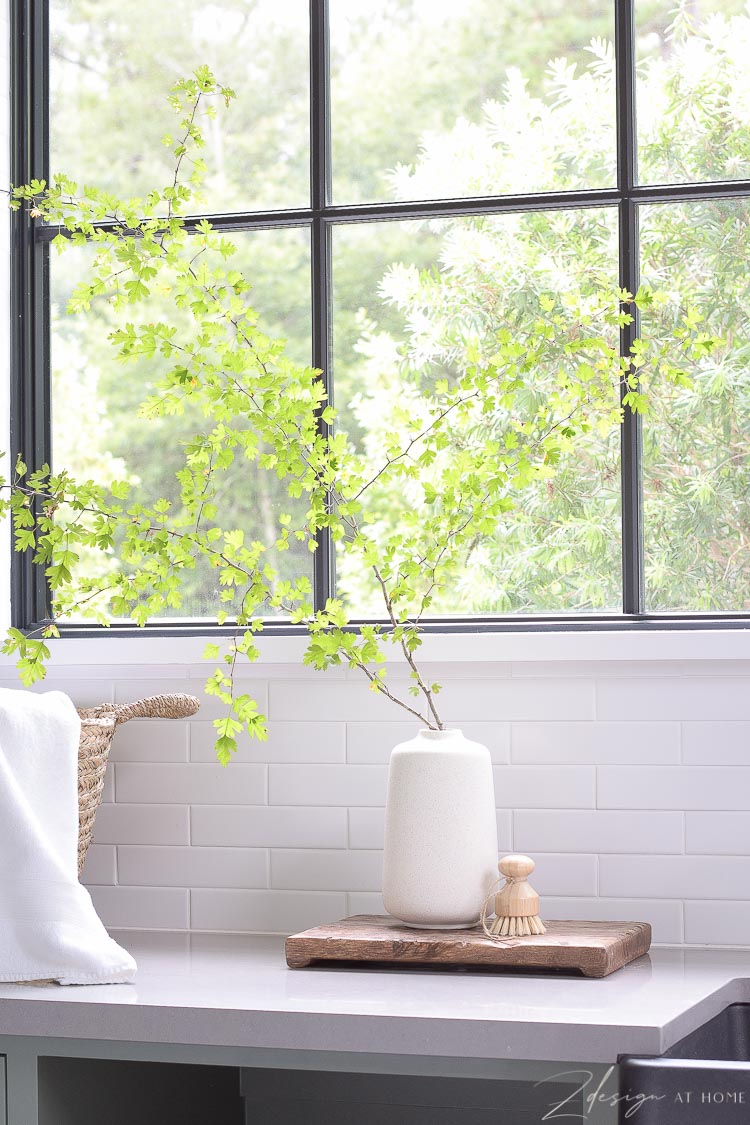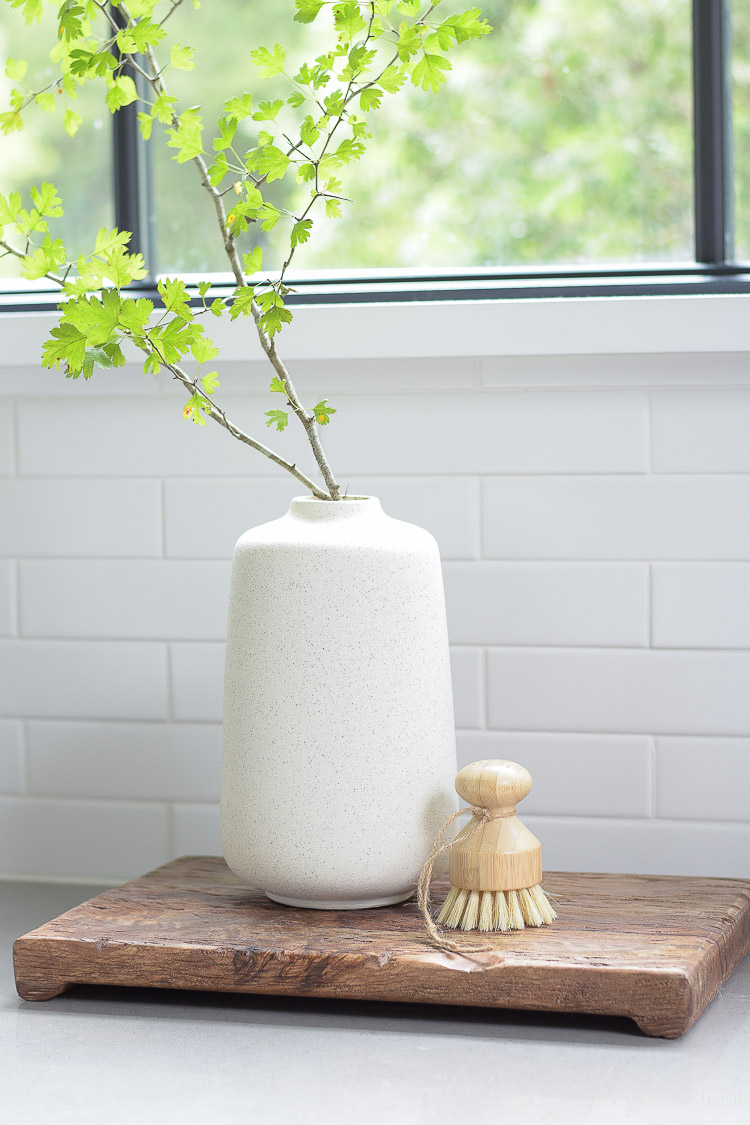 Love this Murchison & Hume hand soap and lotion duo set.  We use this sink often so the soap and lotion set is a necessity in here!  Another favorite is the wooden handled brush and black marble tray to coral everything.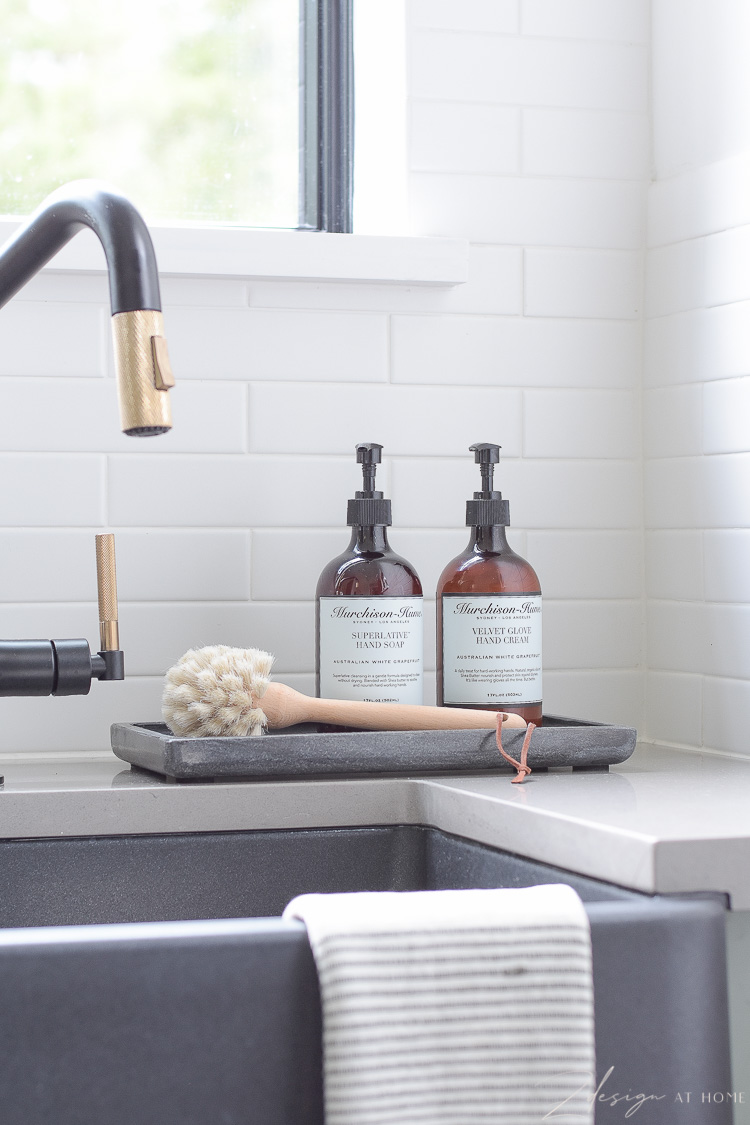 I also love this faucet. I should, I have it in my kitchen also in a different style.  It's the Brizo Litze Faucet in black and luxe gold.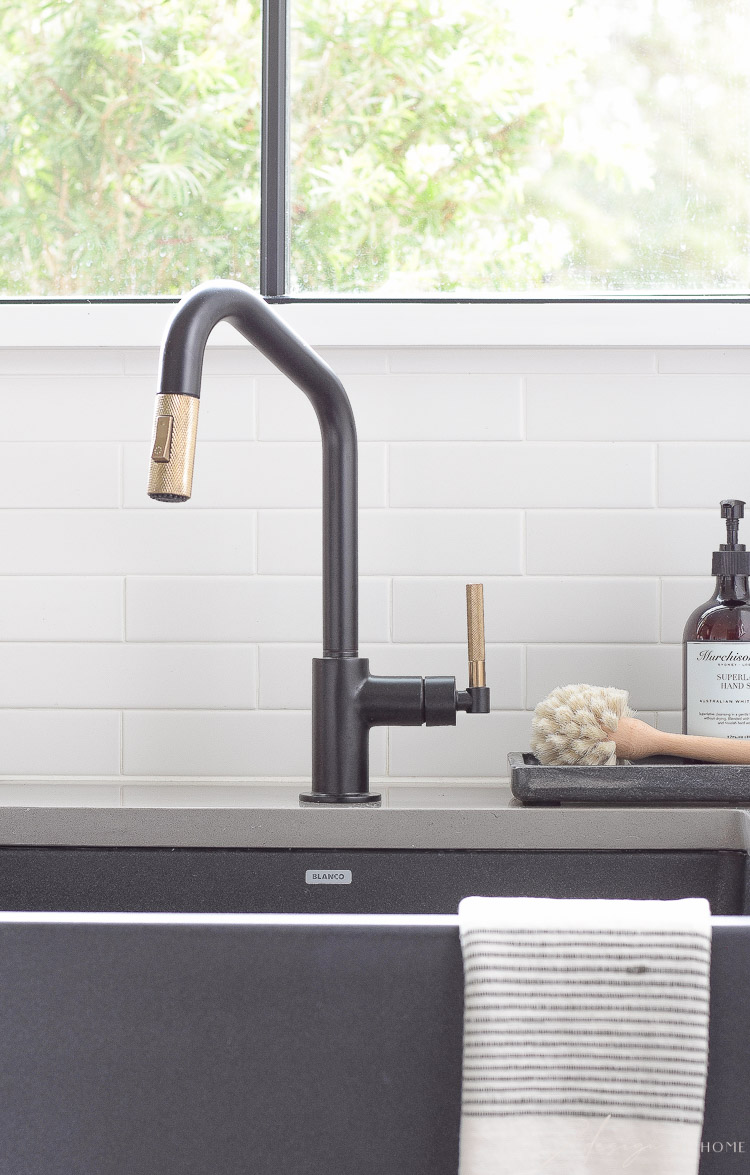 Also love this fringe hand towel – I'm always a sucker for a cute hand towel:)!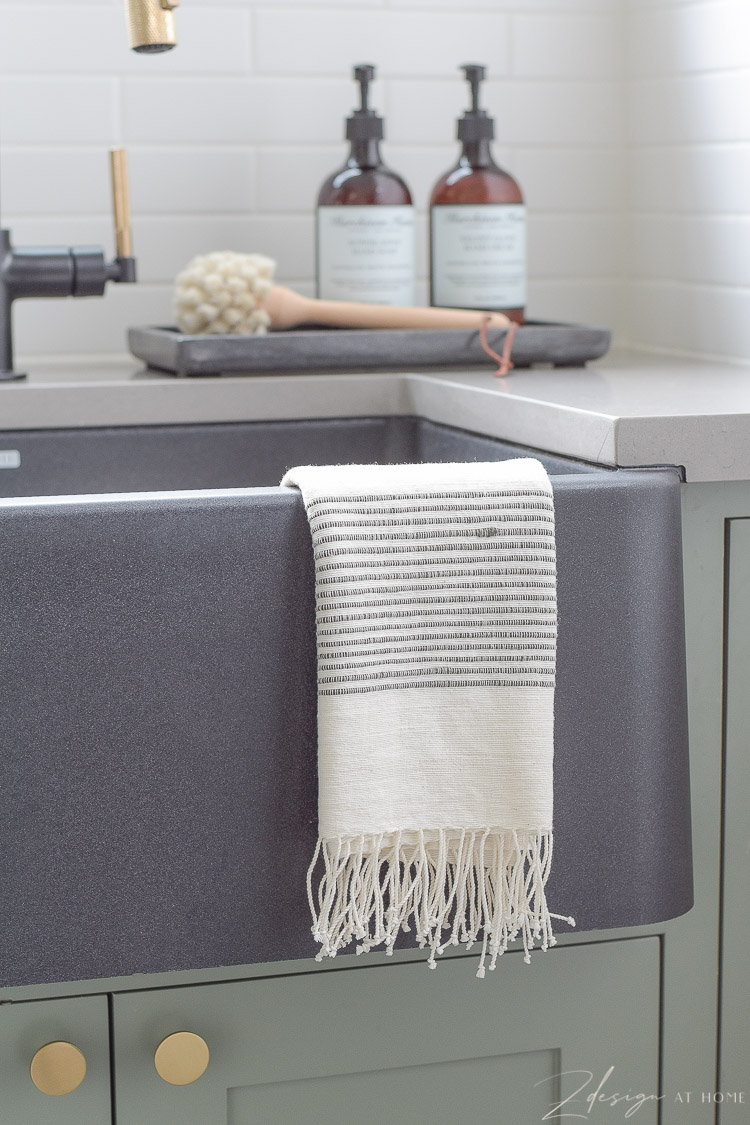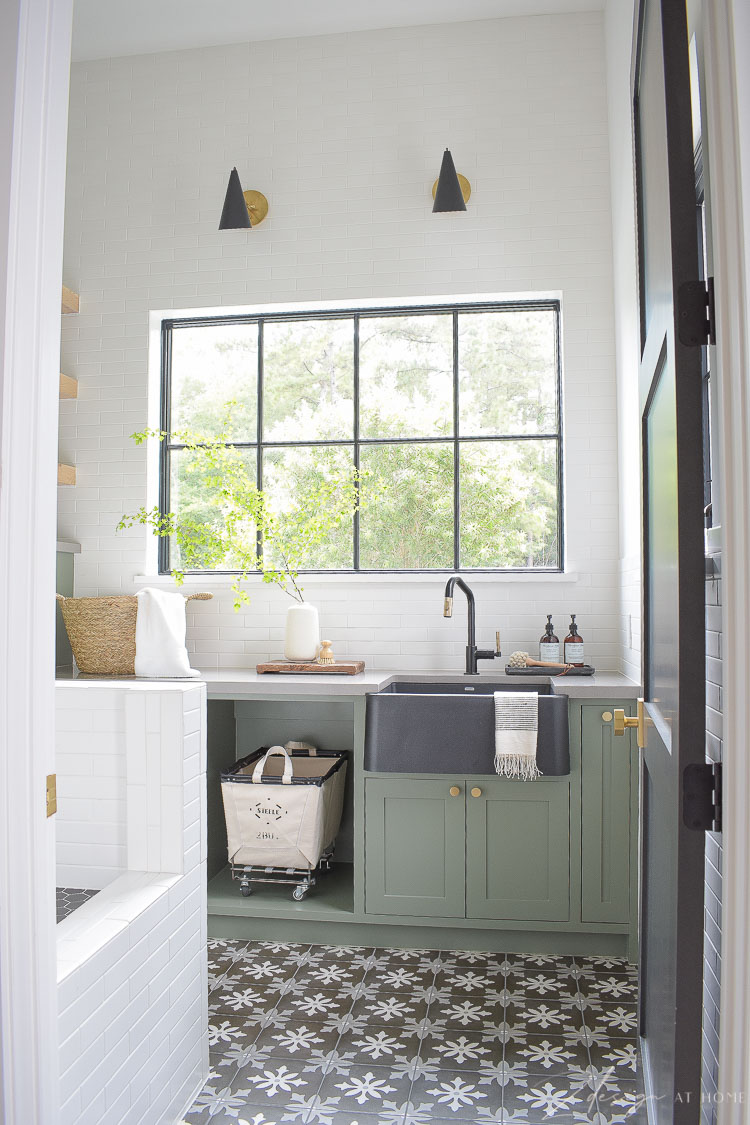 I also love this great personalized spray bottle.  I got this one for my kitchen also.  I love the ability to personalize these for yourself or for the task you'll be using it for, and the spray nozzle is so cute!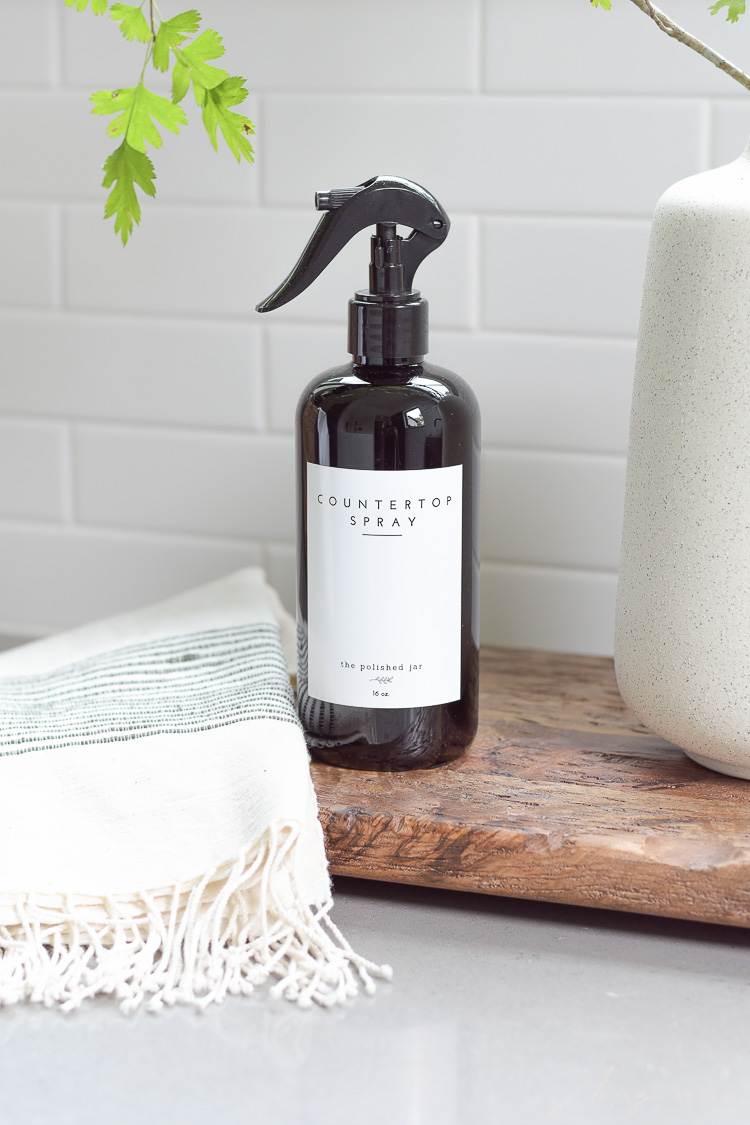 Thought I'd also share my favorite towels while we are in the laundry room.  I love these plush, organic white cotton towels so much and have them in every bathroom in our home.  They are so nice and fluffy and I've used them for years!  I have the bath towels, hand towels and wash cloths.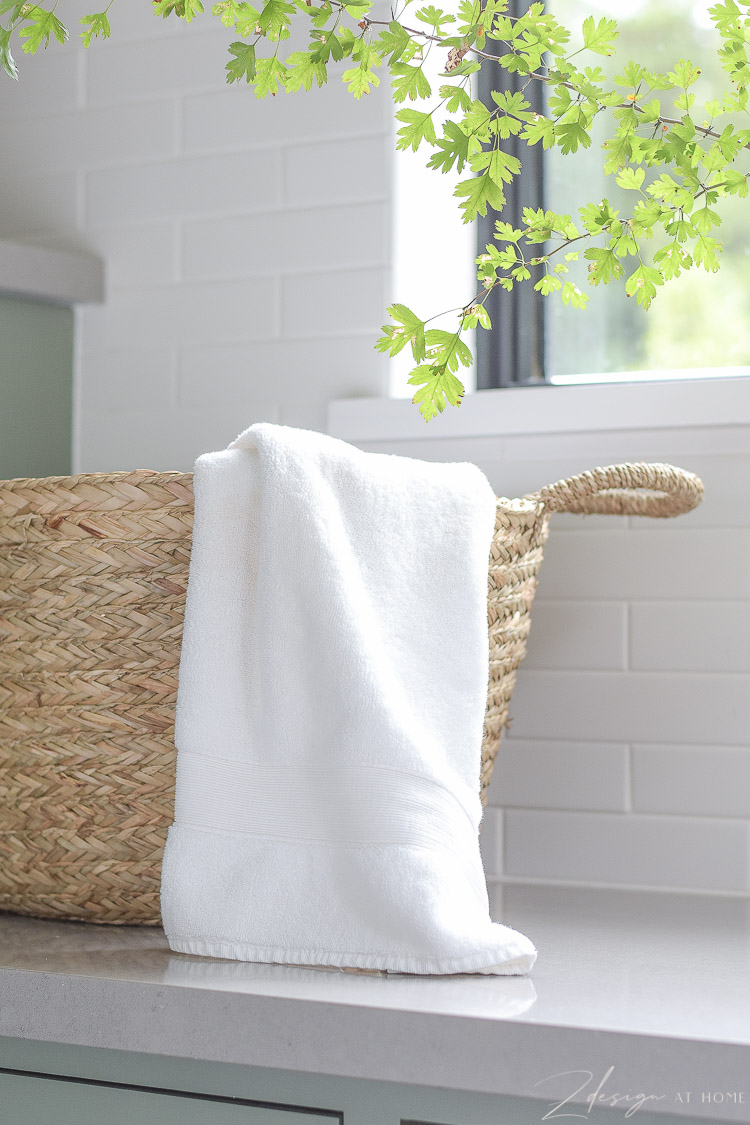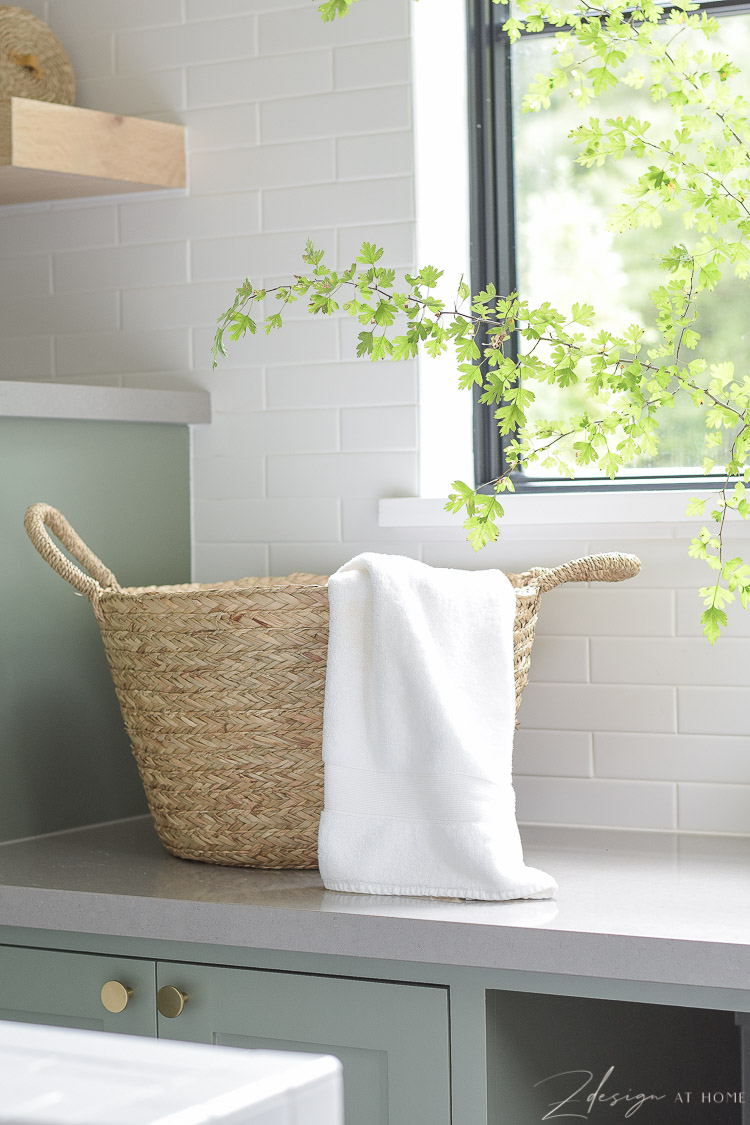 I think that about wraps it up for the Reveal & Tour of our Laundry Room.  I hope to be back next week with our kitchen reveal ~ so excited about that one!  I will list all sources below but please let me know if you have any questions whatsoever in comments, and thank you for stopping by!!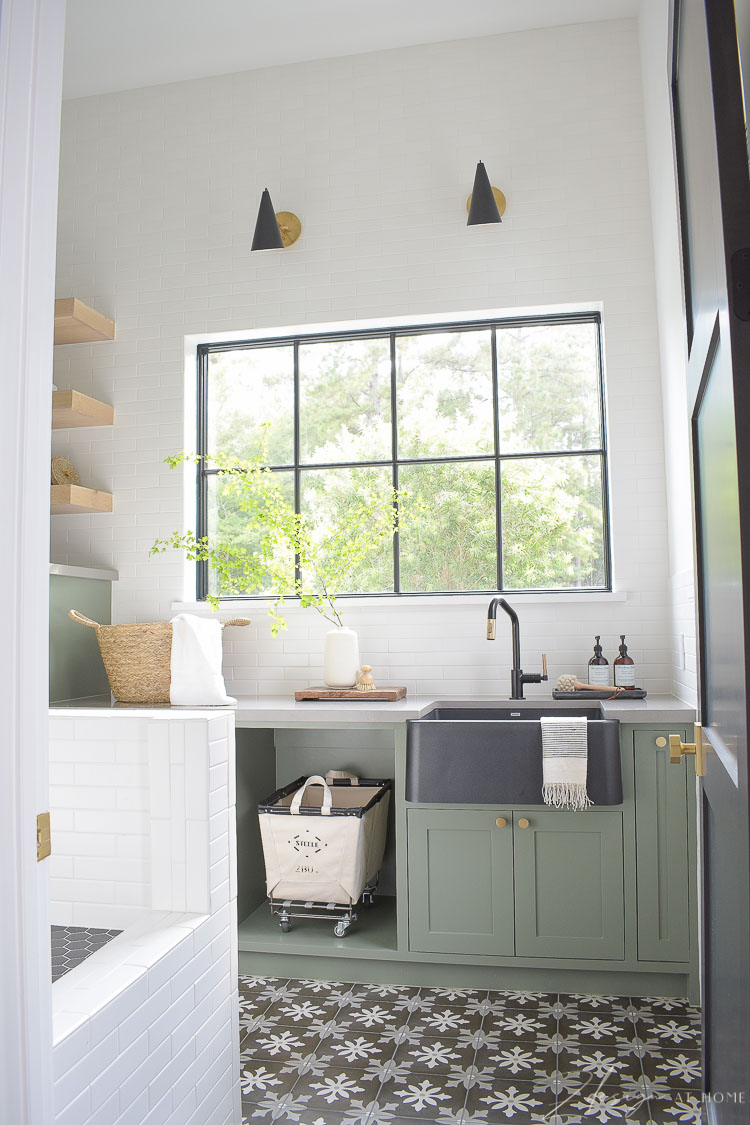 Sources
Cabinet Color:  Sherwin Williams – Dried Thyme
Faucet | Sink | Single Sconce | Double Sconce | Similar Hand Shower | Shampoo Bottle | Spray Bottle | Soap/Lotion Duo | Black Marble Tray | Brush w/ Wooden Handle | Wooden Pedestal | Organic White Towels | Similar Seagrass Laundry Basket | Vase | Large White Bowl | Glass Canisters | Wooden Clothes Pins | White Laundry Balls | Small Basket on Shelves | Paper Maché Bowl | Canvas Laundry Basket | Cabinet Knobs | Cabinet Pulls | Cabinet Bin Pulls | Fringe Hand Towel | Similar White Subway Tile | Black Hex Tile | Personalized Pet Bowls | Pet Food Feeding Mat | Similar Fern