Summer Home Style in the Kitchen
We're in full blown summer over here!  The days are long and needless to say it is HOT down here in Texas!  But I'm bringing in some summer decor to cool things off and brighten things up in our Kitchen, so welcome to my Summer Home Style in the Kitchen!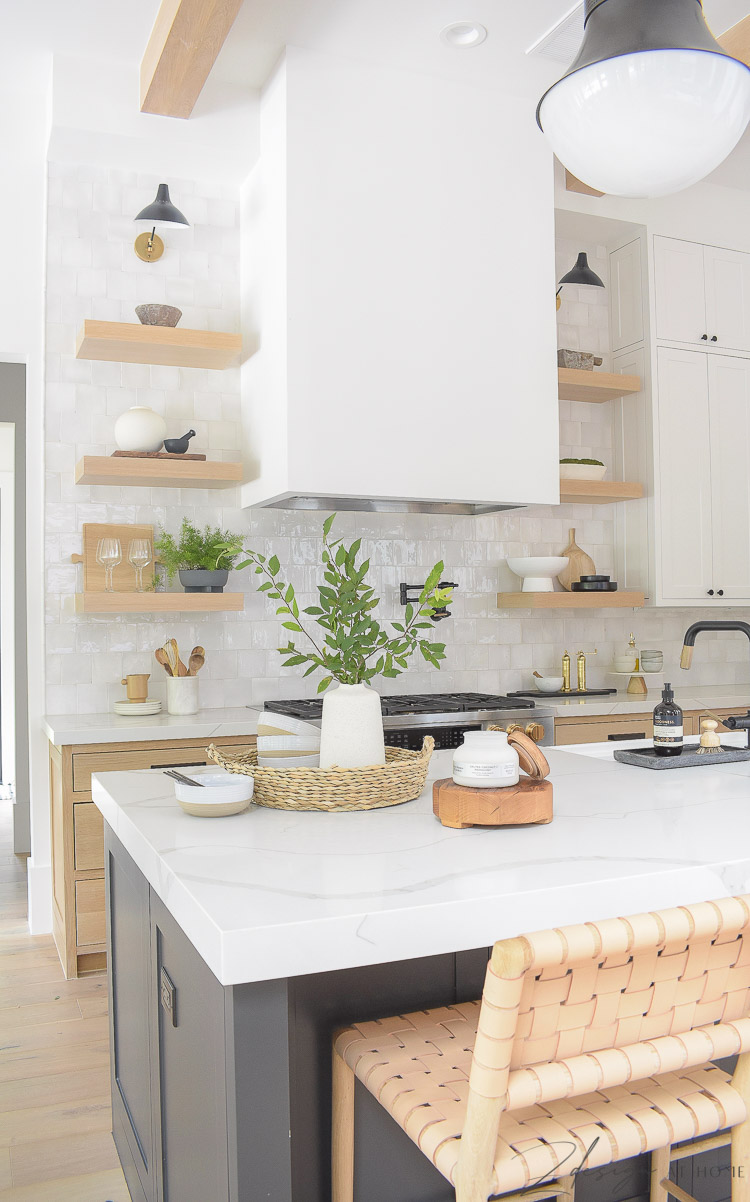 *This post contains affiliate links and was sponsored by Walmart, one of my favorite brands.  All opinions, photographs, styling and product selections are my own.  Please find my full disclosure policy here.  
I know so many of you have been waiting to see our full kitchen tour/reveal.  We finally had our refrigerator door panels installed two weeks ago but the staining process still has to be completed.  It took them a bit to get the stain just right to match the other white oak cabinets and shelves in the space so now we're just waiting on the final coat of varnish to finish it off.  Once that is complete I'll be able to share a full kitchen reveal with you soon…I can't wait!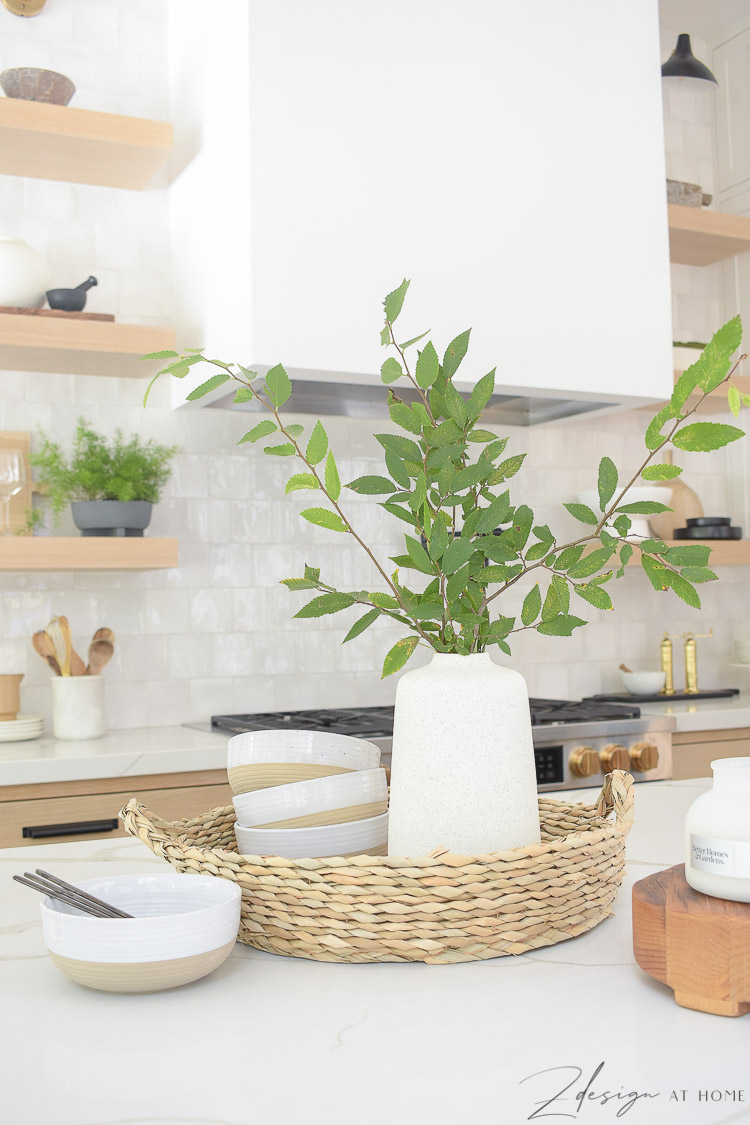 In the mean time I have been looking for things to decorate our kitchen with.  I have a lot of surfaces to cover and was so excited to partner with Walmart on this post to pull this off!  I started with some beautiful two-tone stoneware bowls, a speckled vase that I'm so in love with and a salted coconut candle, that smells amazing!  Oh and a great water hyacinth basket tray from Walmart  by Better Homes & Gardens.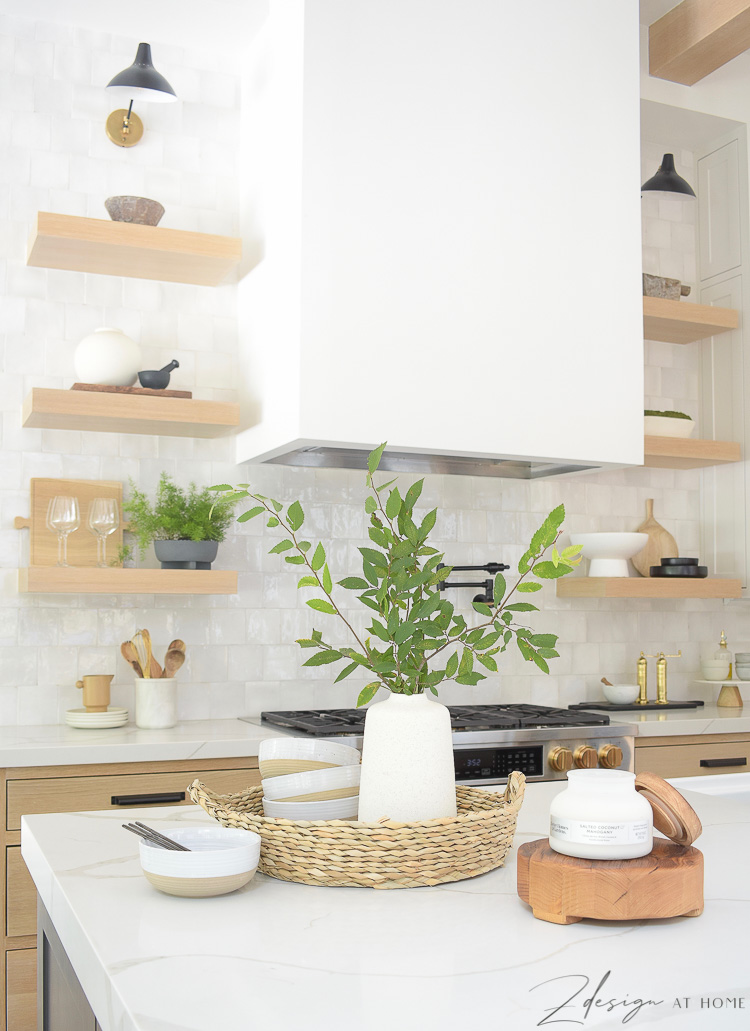 Everything fit right into my existing decor and gave me that summer vibe I was looking for in my kitchen.  This speckled white vase has me swooning for sure!  I also got this vase in another shape that you'll see up on the shelf behind my island.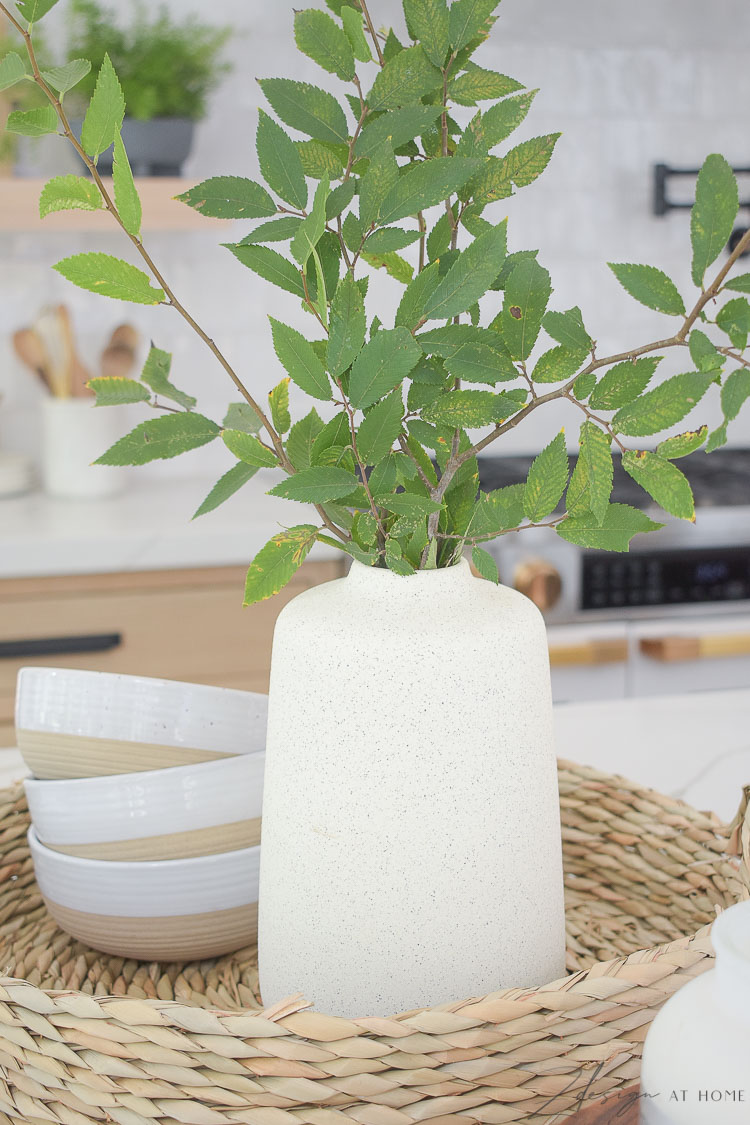 The stoneware bowls are beautiful too and have that speckled look as well!  They are great for cereal so I just keep them out on the counter in my tray to use each morning.  This also helps to create a beautiful focal point on my kitchen island.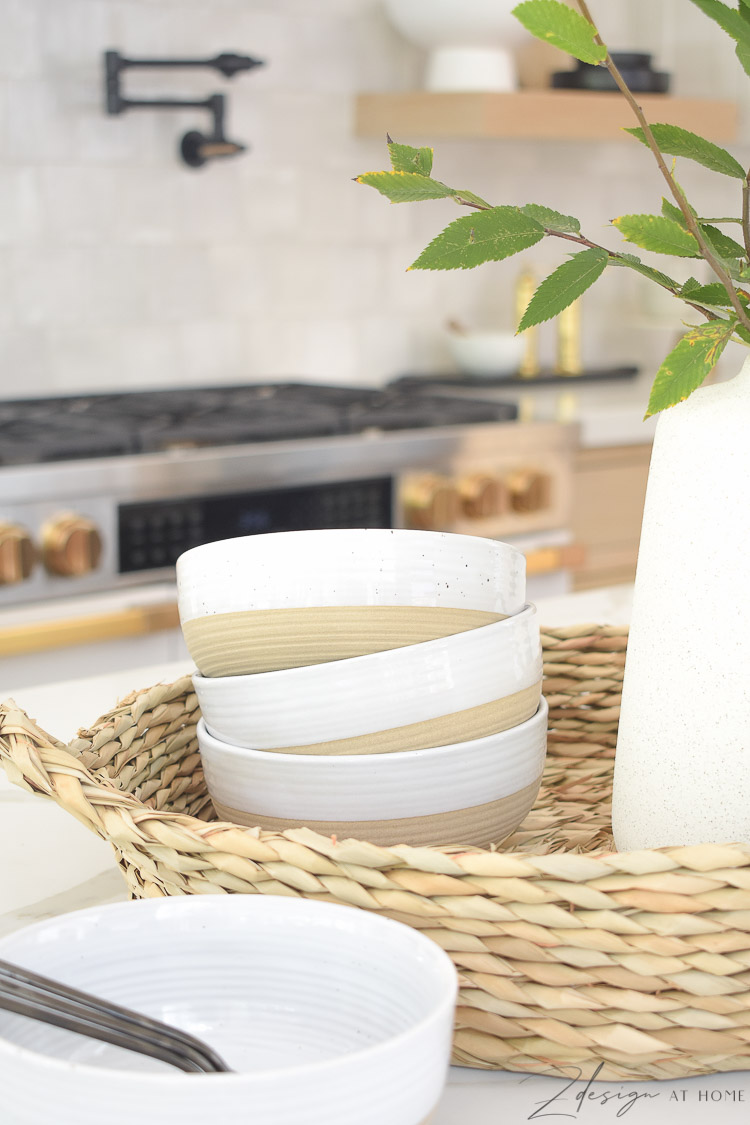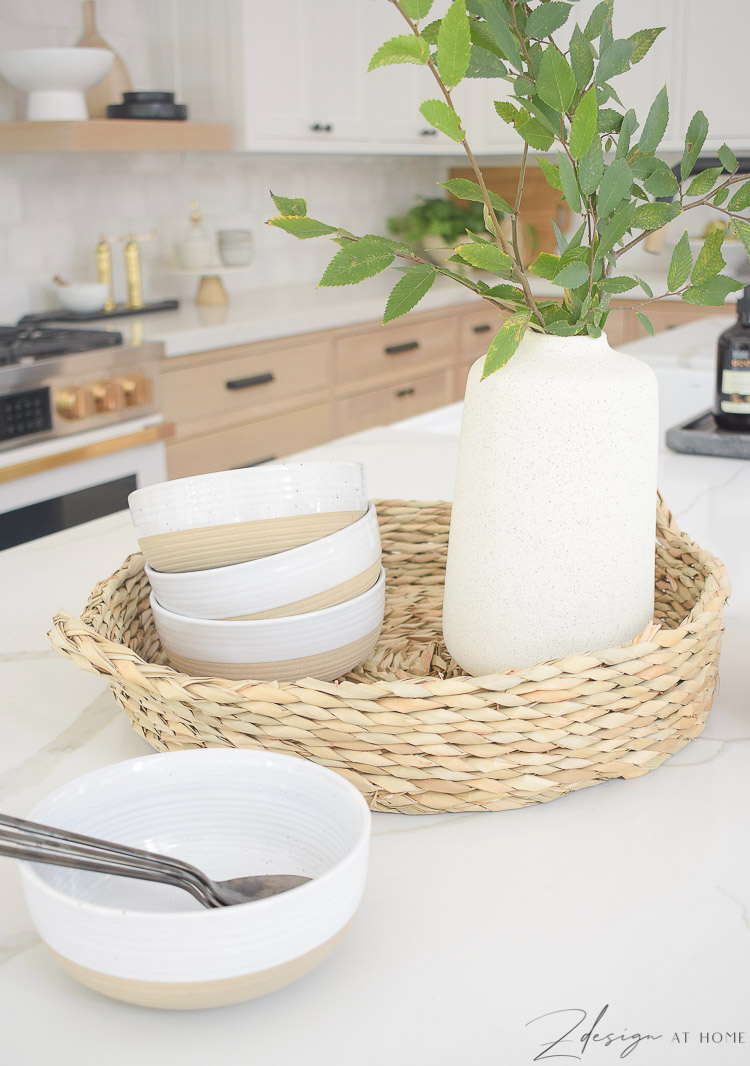 Really, really love the water hyacinth basket tray as well to corral items and to add a pop of summer in here!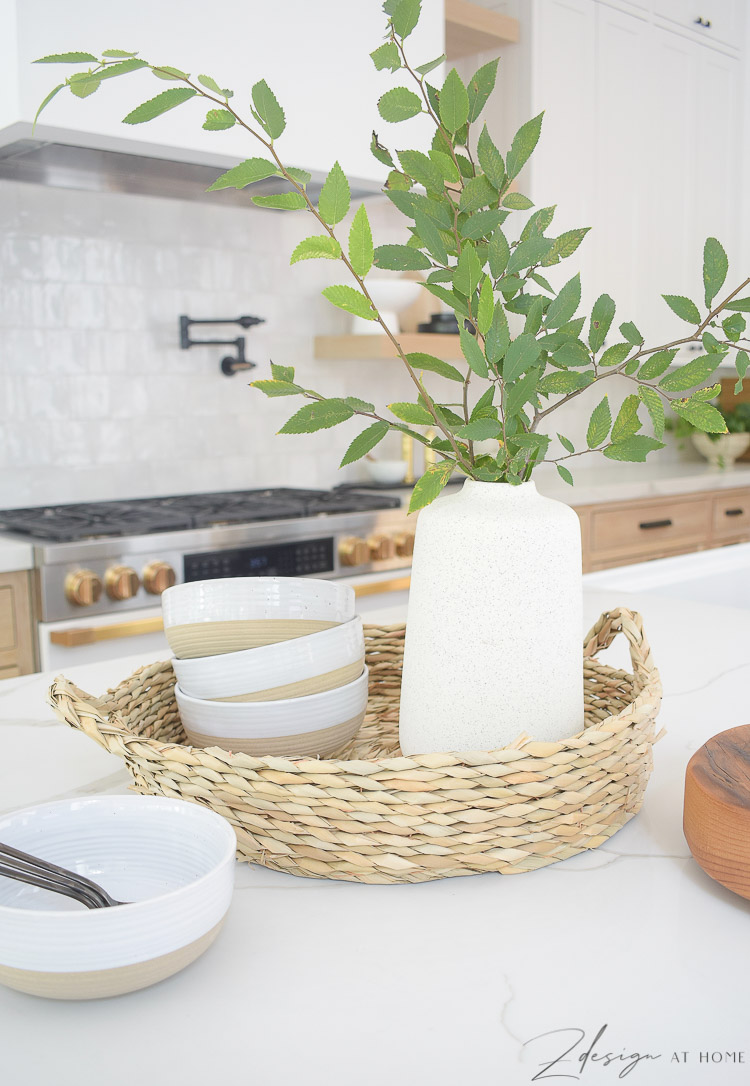 I also grabbed a couple of candles.  I really love this salted coconut mahogany candle.  It smells amazing and I love the simplicity of the lidded jar.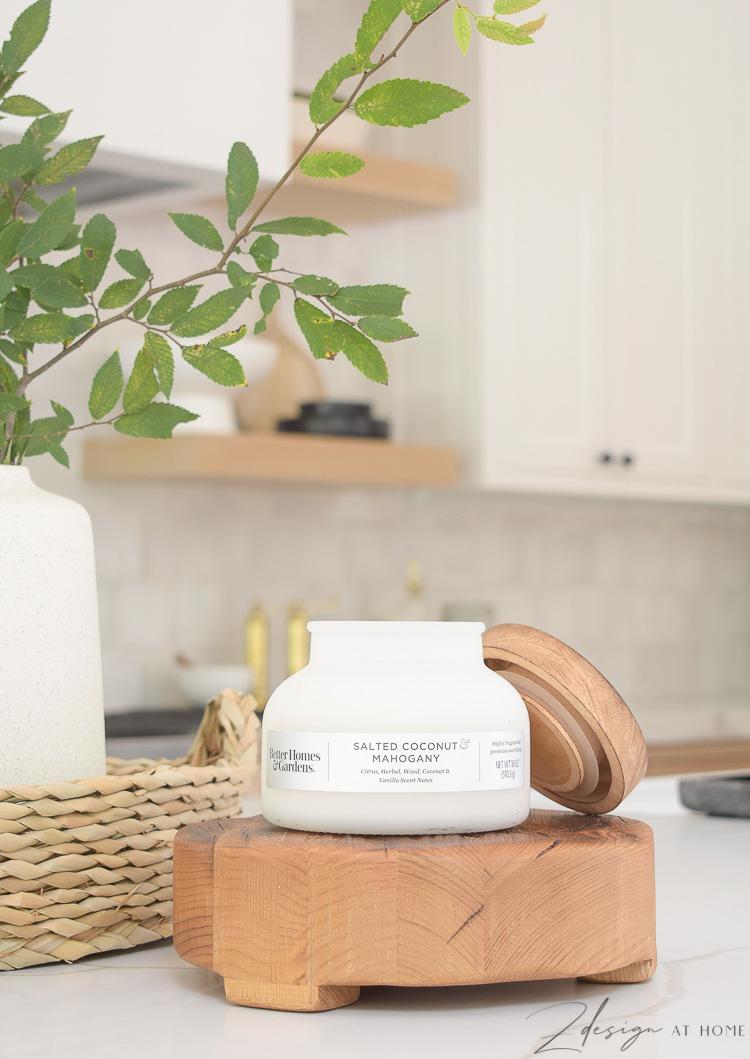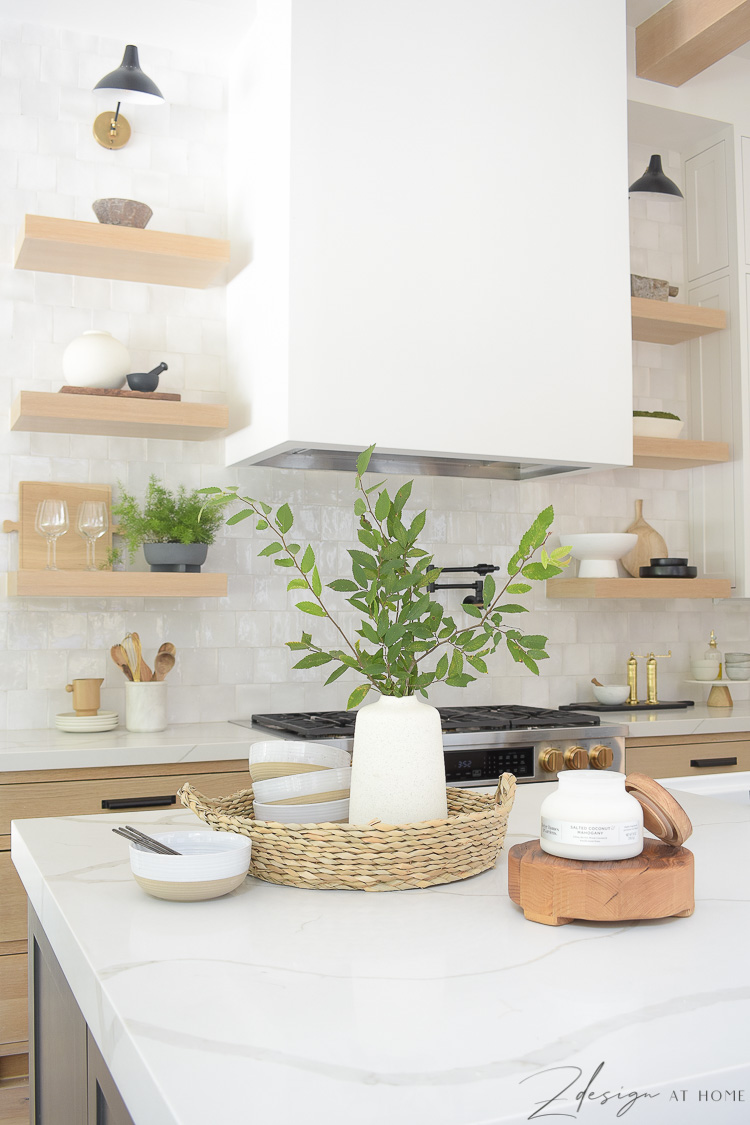 On our white oak shelves behind my island I added a few more Walmart Home pieces.  I needed some wine glasses – so glad to see I could get these simple, modern glasses at Walmart.  Honestly I can get anything for my home at Walmart these days, and I love that!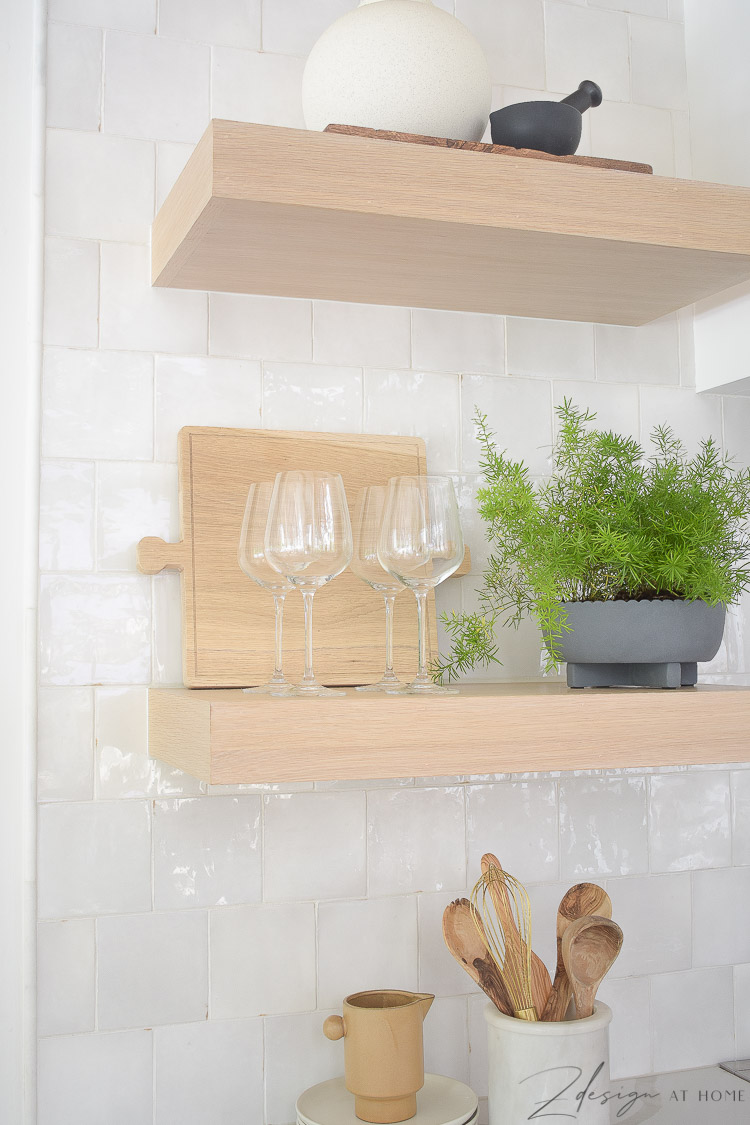 I also found this scalloped gray planter just by popping into my local store so that I could add a pop of summer color with greenery to my open shelves.  Isn't it darling?!  And I picked up the asparagus fern in my Walmart Garden Center as well.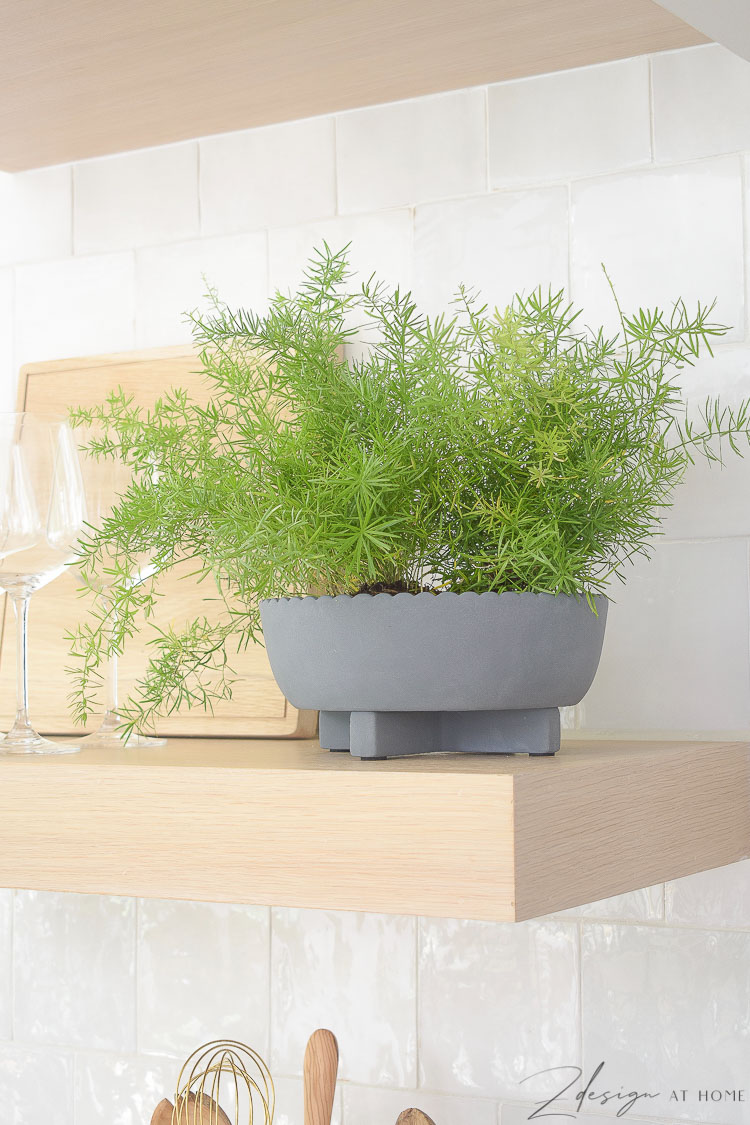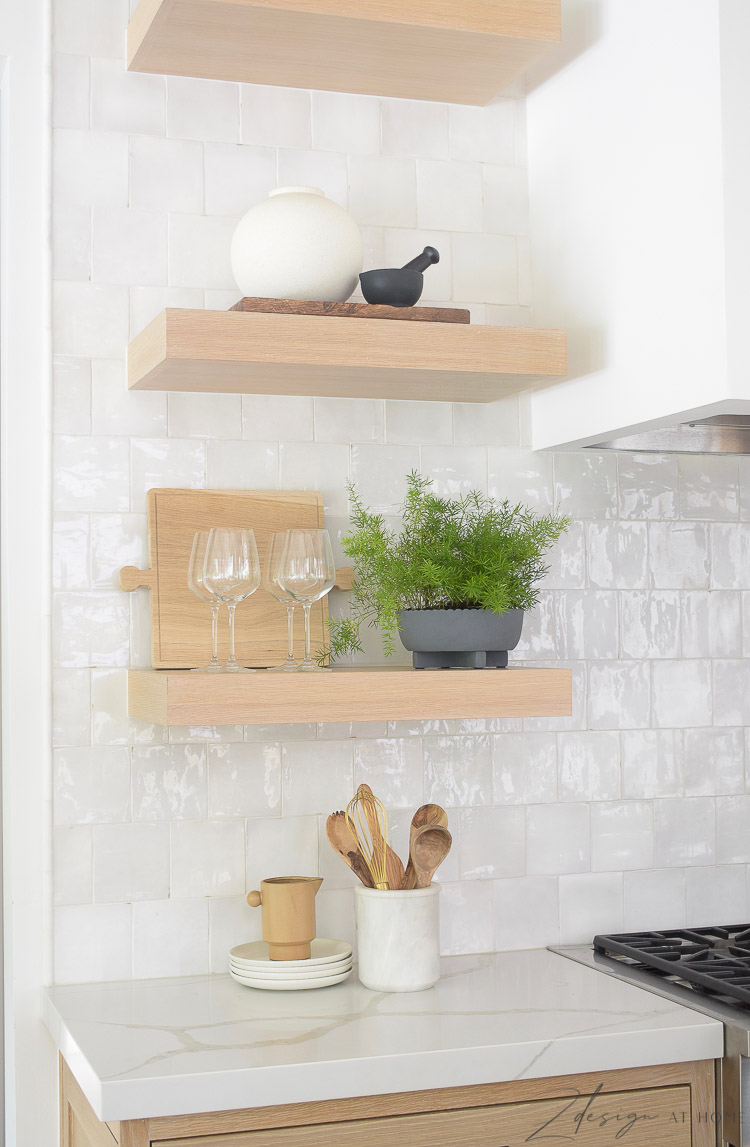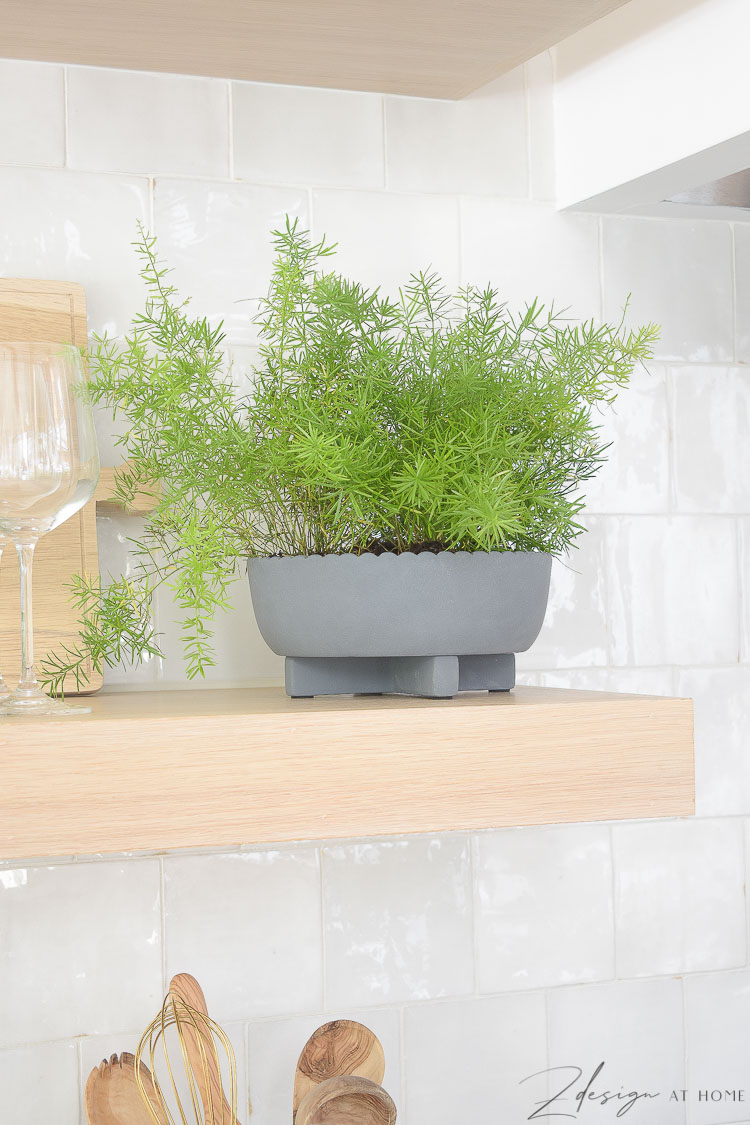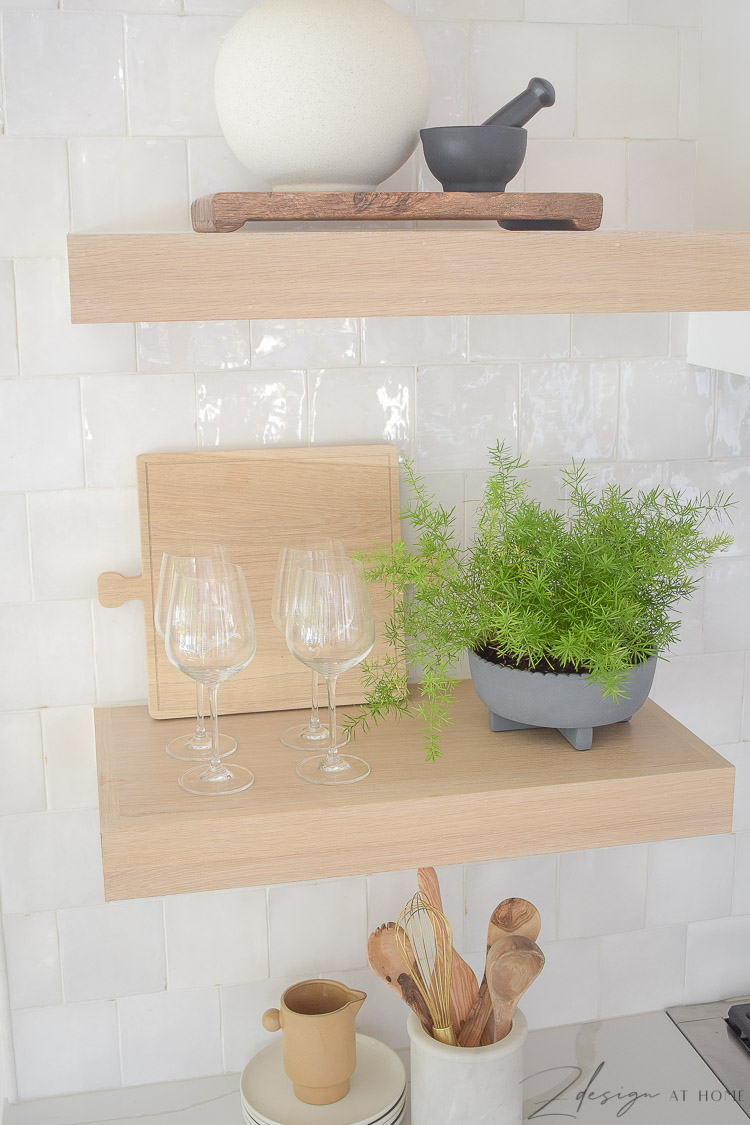 As mentioned before I also ordered this speckled white bubble vase on line.  Everything I ordered on line either arrived here within a few days, or was delivered to my door the next day.  I love that Walmart has options for shipping, delivery or pickup and no minimum order is required (restrictions apply).  This vase is just like the other one (same material) but just a different shape.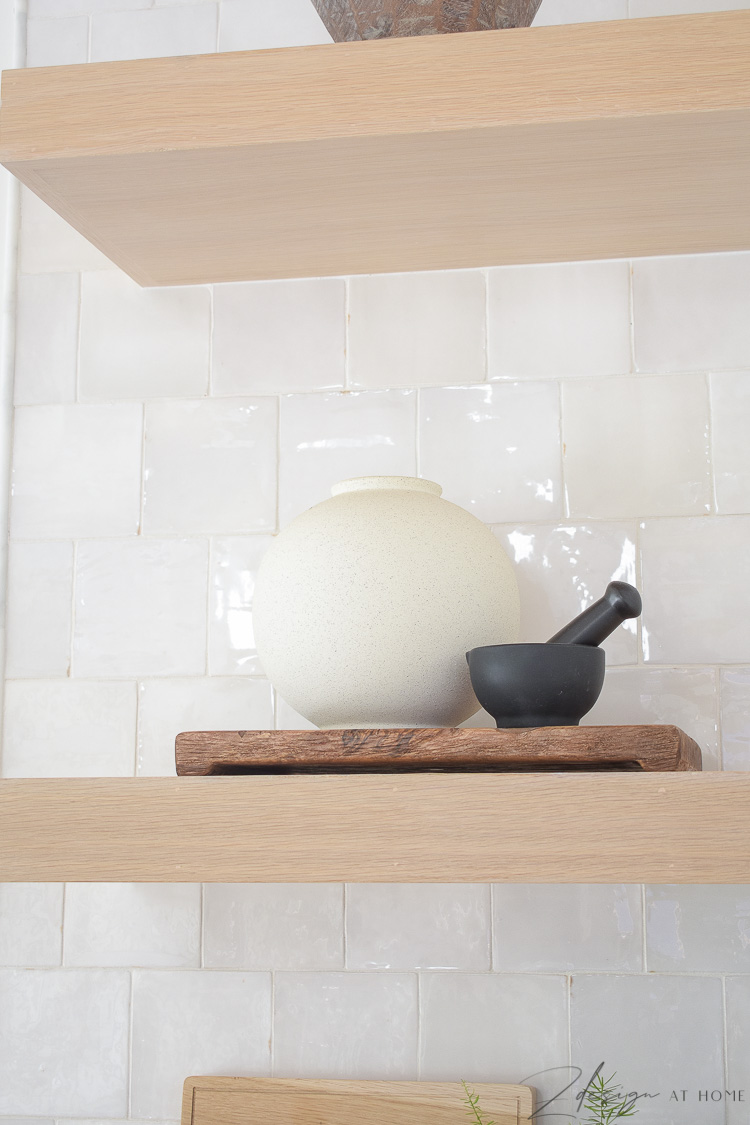 I'll share it more styled in a different way in a moment!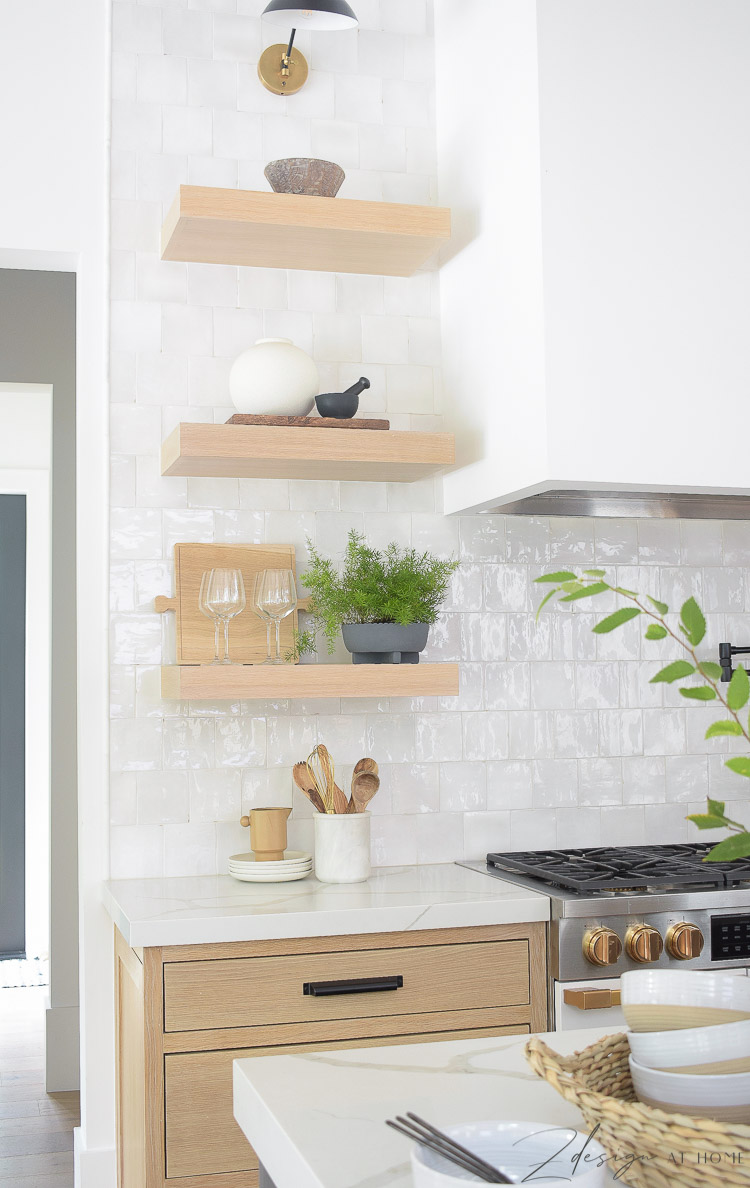 I was so excited to find the one speckled vase that I got two of them, ha!  I've styled it here a couple of different ways – one way on my kitchen island with some faux stems and another way with some gorgeous privet stems I foraged from our beautiful forest outside.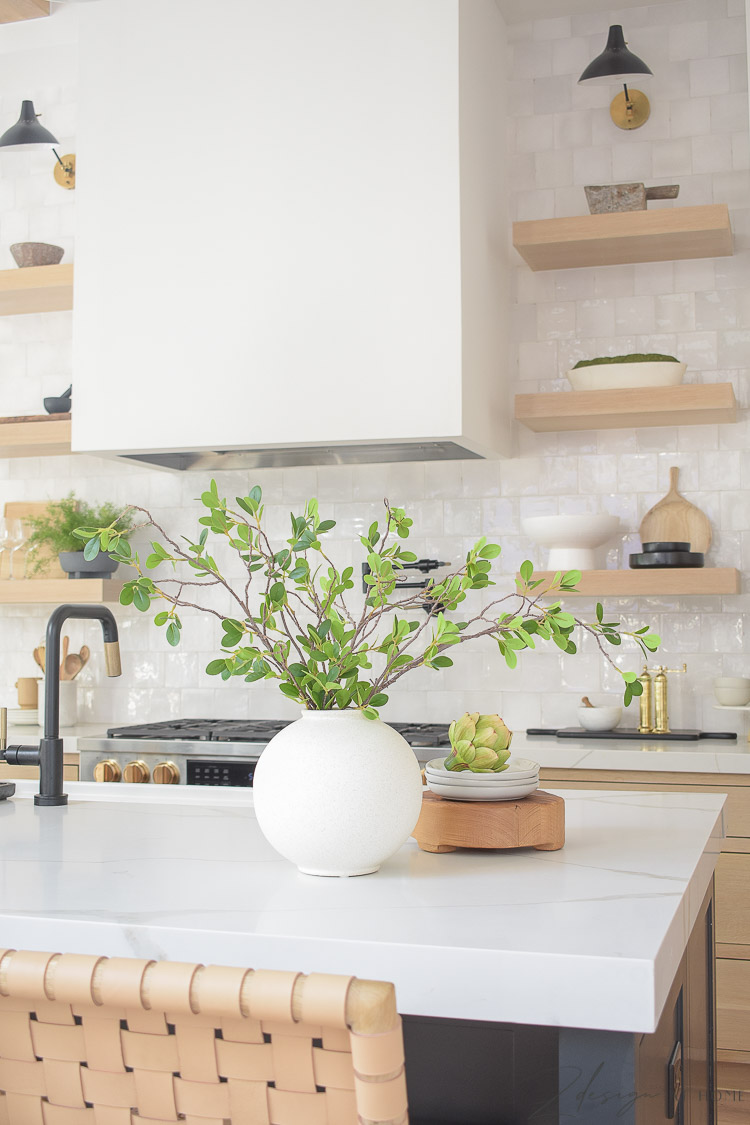 I love the trendy, modern feel of the speckles and it feels like such a classic piece to me – love this vase!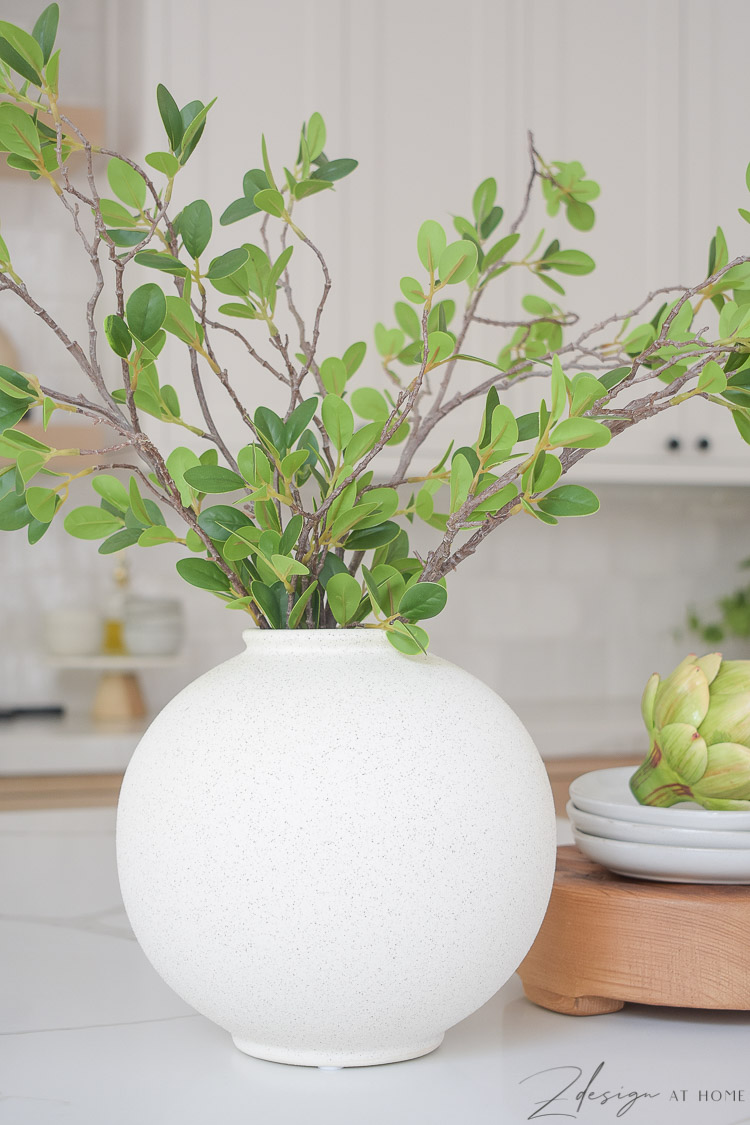 I love foraging from our forest outside and when I saw these gorgeous privet branches I immediately snagged them for my vase.  This vase makes a gorgeous centerpiece and I love that it's so versatile!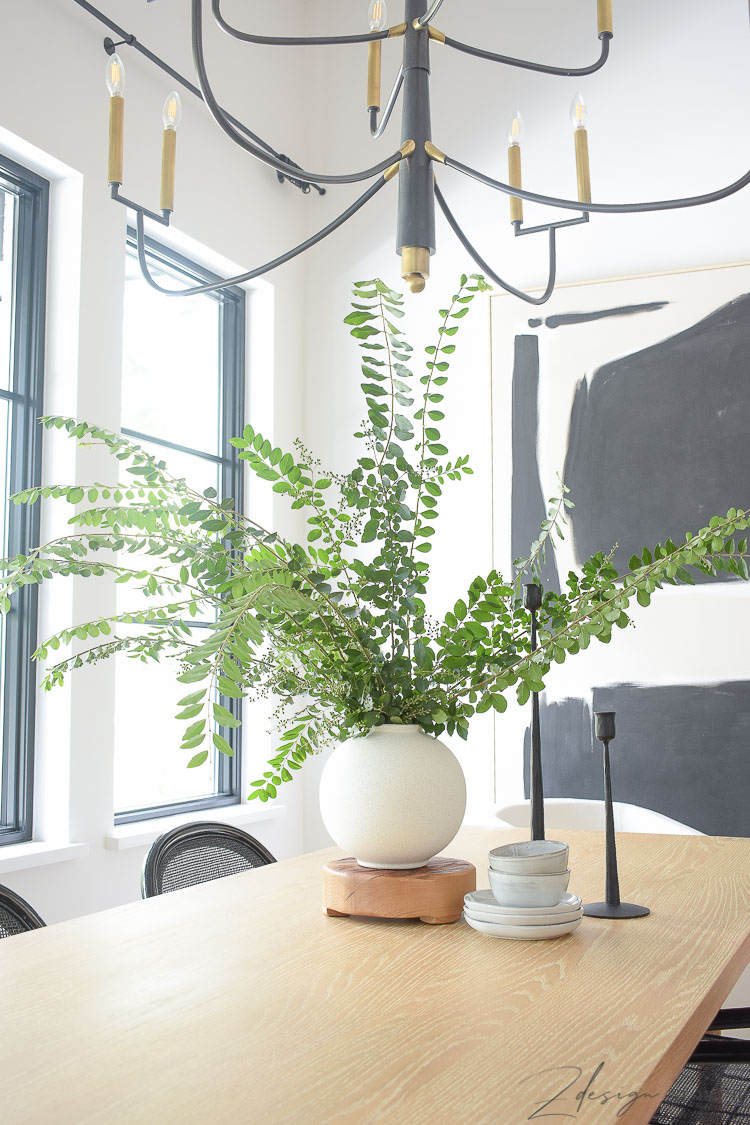 Shopping on line with Walmart is easy and so is popping into the store to browse for fun, trendy home items.  They're making it easy with their new Wow & Now section in (select) stores and online!  Also check out all of my summer Walmart picks below and if you haven't seen my summer patio with Walmart, you can check that out here!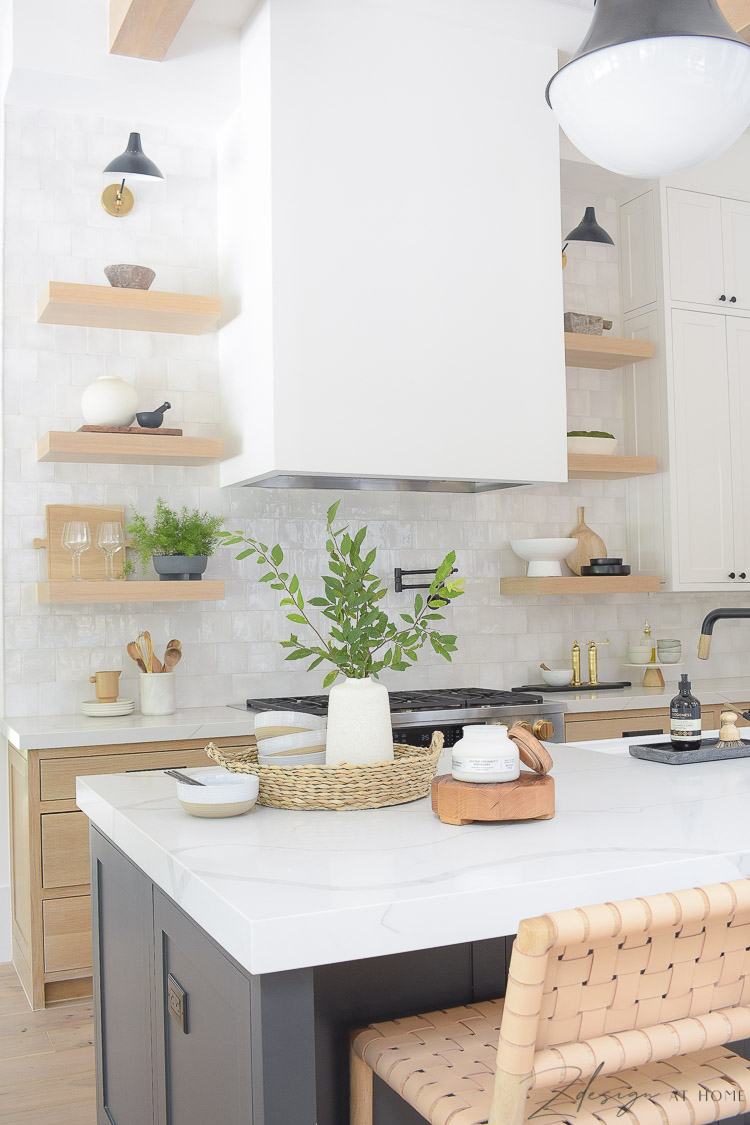 Thank you for stopping by to check out my Summer Home Style in the Kitchen – I hope you enjoyed it and happy summer!!
WALMART KITCHEN SOURCES
Tall vase | Bubble Vase | Two-Tone Bowls | Candle | Basket Tray | Wine Glasses | Gray Scalloped Pot

See other kitchen sources here.