6 Tips For Creating A Relaxing Outdoor Space This Summer + A Patio Tour
This time of year always has me day dreaming about relaxing on the patio with a cool beverage in hand but, it also has me thinking about how I'll outfit my outdoor space for the season in order to create an inviting space for my family to enjoy for the spring and summer months.
*This post contains affiliate links.   This post was also done in partnership with World Market, a brand I love.  All opinions here are always 100% my own.  Please find my full disclosure policy here.  My tips and ALL SOURCES and WM Favorites are located at the bottom of this post.
Sure you can simply place some furnishings outdoors and call it a day but the details of an outdoor space, like any room, are always what gives it character and brings it life.  I'm a firm believer that no matter the room in your home, whether it be the living room or the laundry room, each space can and should be just as beautiful as the next.  And your outdoor space is absolutely no different.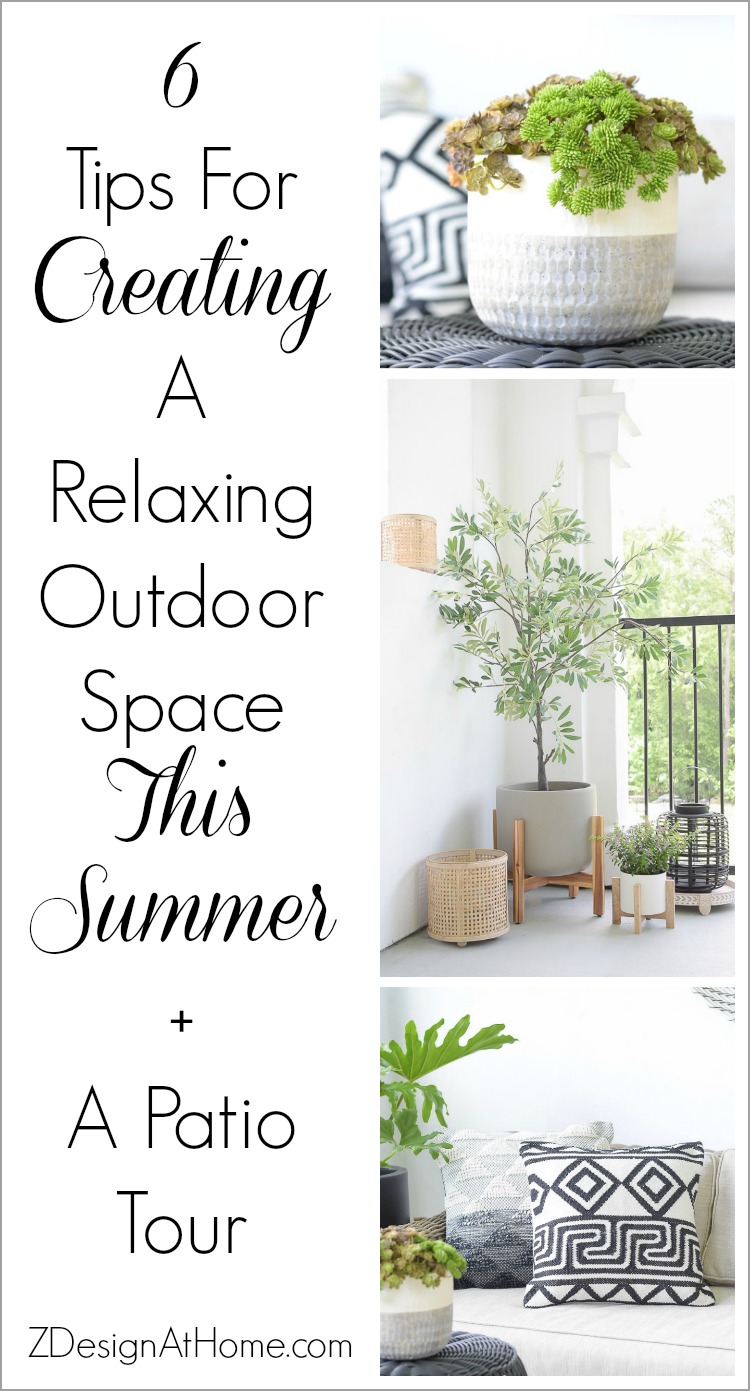 Each year I like to do something a little different on my patio to freshen things up a bit.  One of the ways I'm doing that this year is with some of my best picks from one of my favorite brands, World Market!  Little did World Market know when they reached out to me for this outdoor post that I always use their products to freshen up my space each year so naturally it was a perfect fit (you can find last year's patio tour here)!  And, with their Friends & Family Sale currently going on at 30% off, who can resist, right?!
This year I'm keeping my staple pieces in place (like my sectional and the wall hanging above the sectional) but mostly everything else is from World Market.  This year I chose to go with a neutral, relaxing theme in black and white.  And that's one thing (among many) that I genuinely love about World Market as I can always find both the trendy and classic pieces I'm looking for to outfit any space in my home.
I already had these lovely pillows from last summer in the black and white graphic print.  I added three of the textured gray, black and white ones in the rear for this year.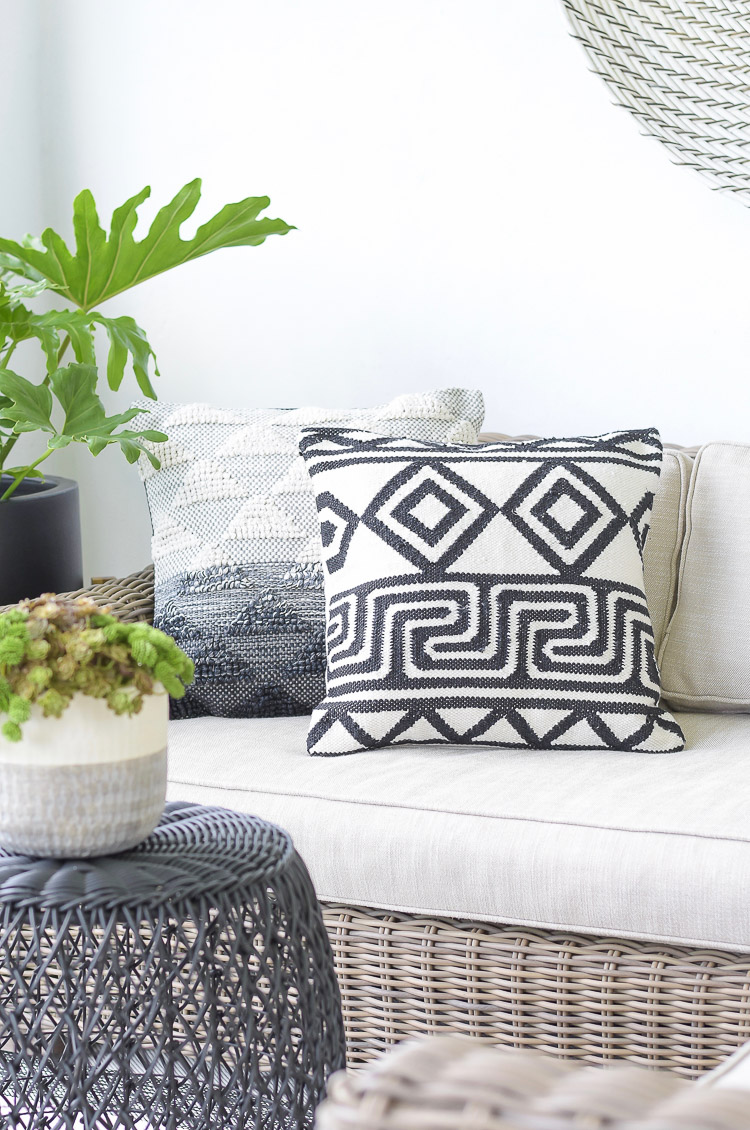 They are all just so pretty together I think.  I always try to incorporate a smaller pattern, larger pattern, a stripe and a solid if possible for a cohesive pillow combination.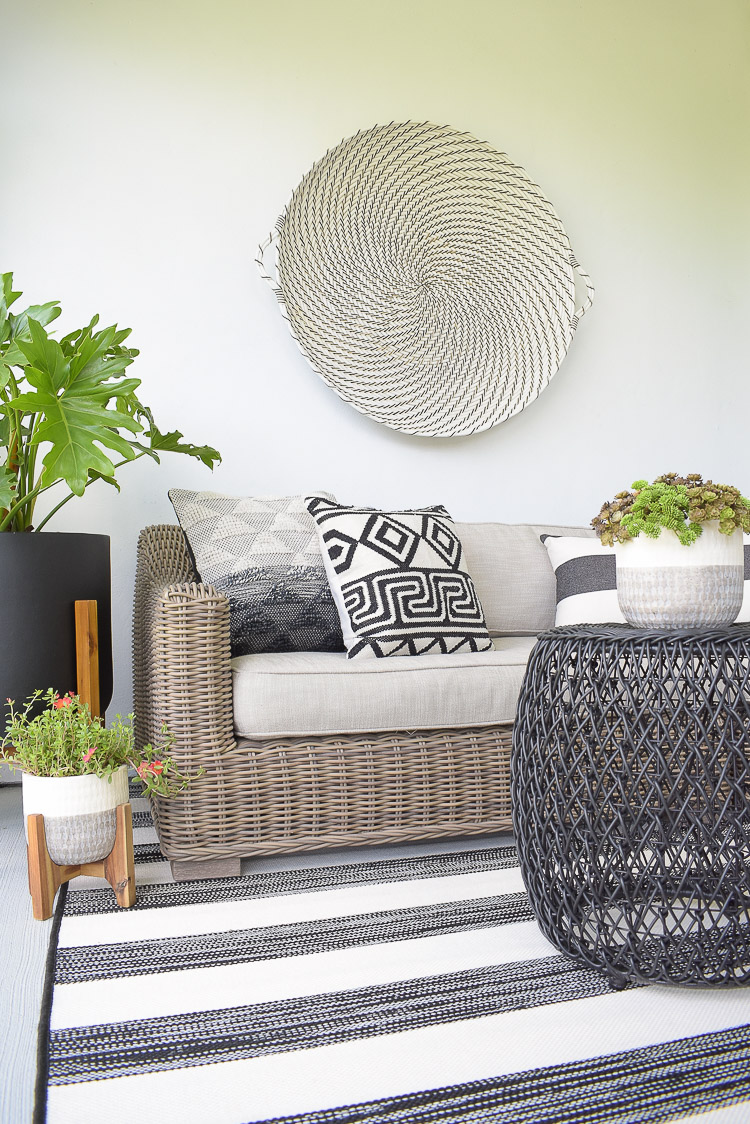 The black and white wide stripe pillow (similar) on the right is a personal favorite from last year's outdoor space as well.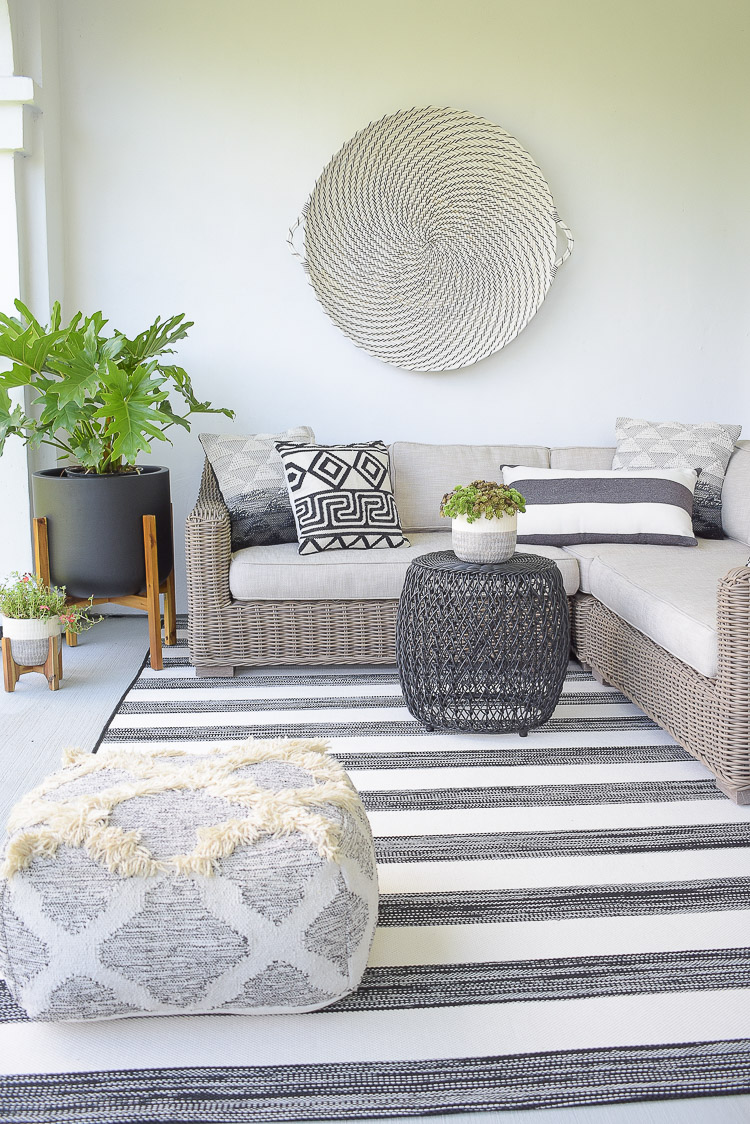 One of the things I'm most excited about and that has really made my patio come to life this season is all of the new planters and pots form World Market that have helped me to incorporate fresh and faux greenery and flowers.  I'm so in love with these new planters (all of them!) with teak wooden legs.  This black planter comes in 4 colors and two sizes to suit any taste.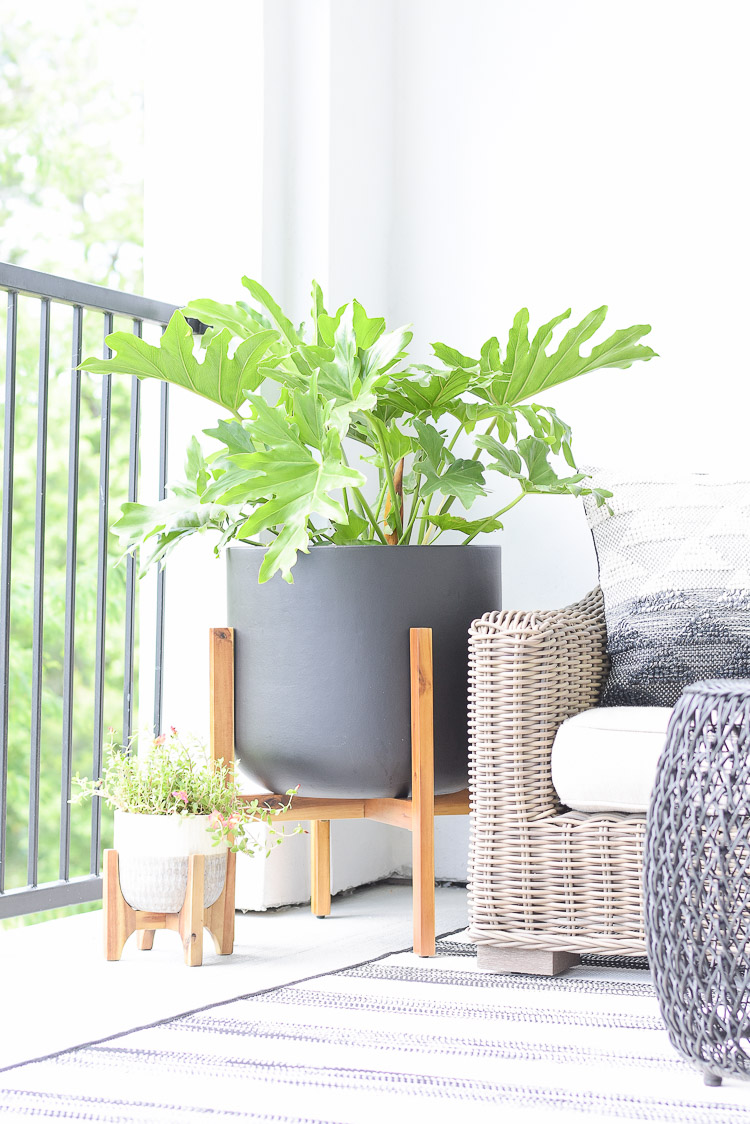 I love the modern, boho vibe they give off and how they elevate some of my plants to draw the eye up and cozy up the space.  This little planter in gray and white with texture and pattern is my absolute #1 pick of all of my favorite new items from World Market this season.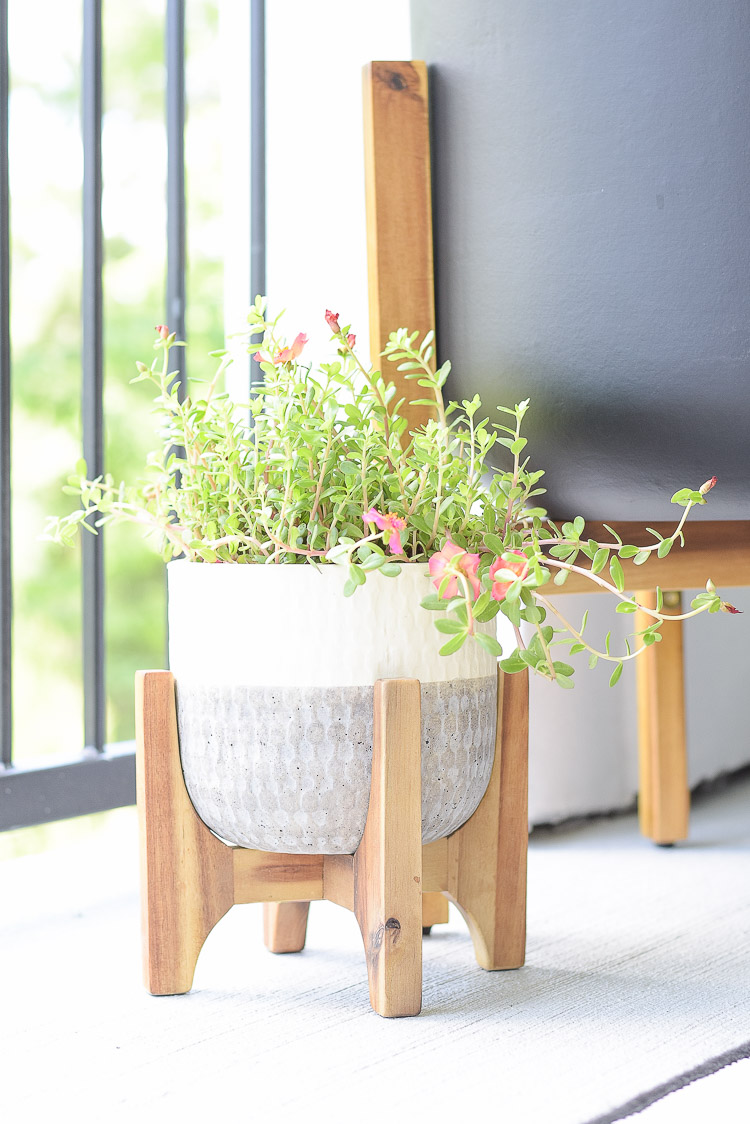 I liked it so much I bought two of them, just using one of them without the stand.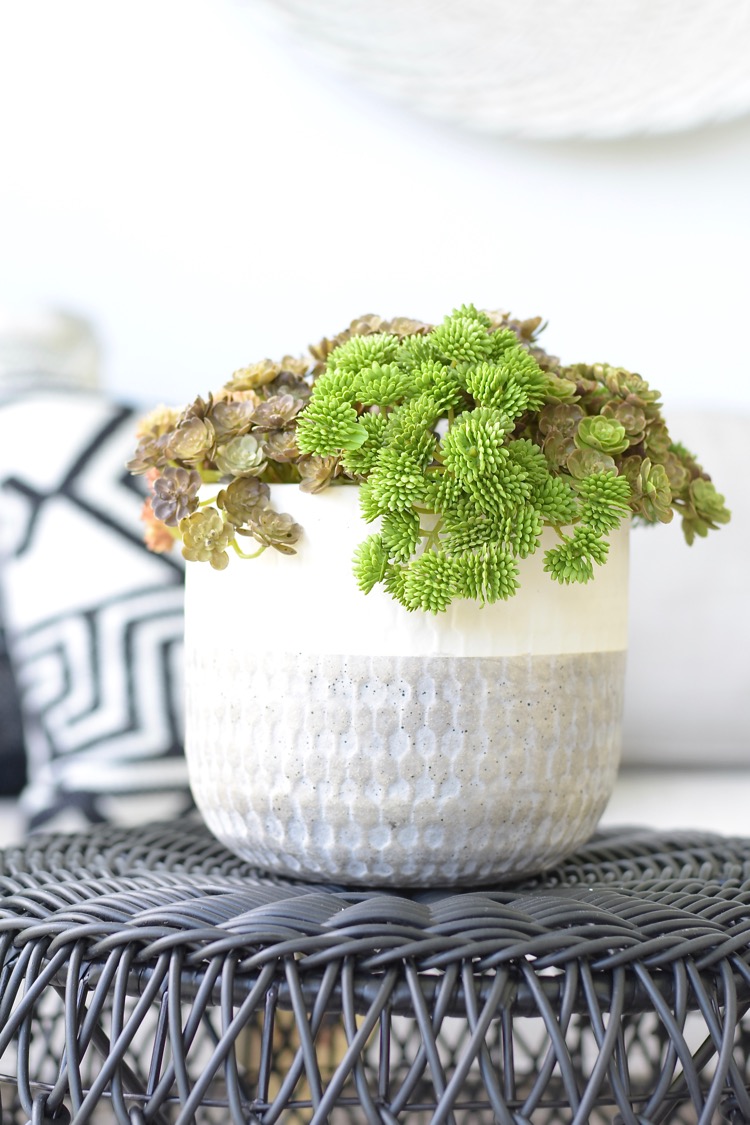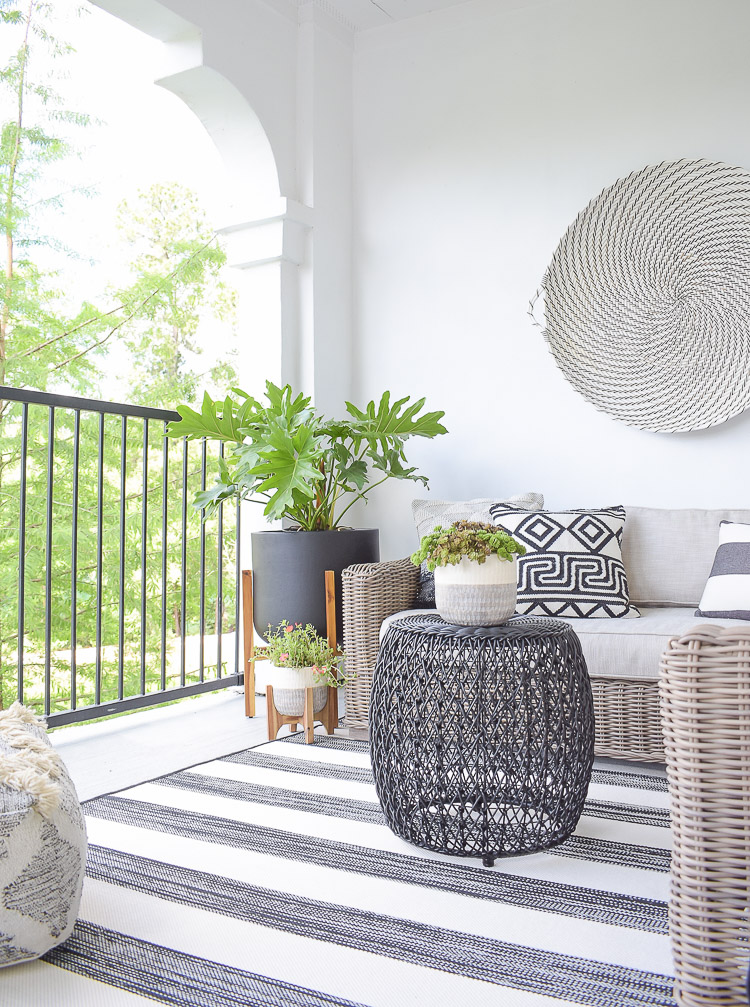 This is the view from our patio door and this is the smaller planter to the black one, but in gray.  A planter on a stand is always perfect for a corner like this to help fill up the space with something pretty and green to make your outdoor space come to life.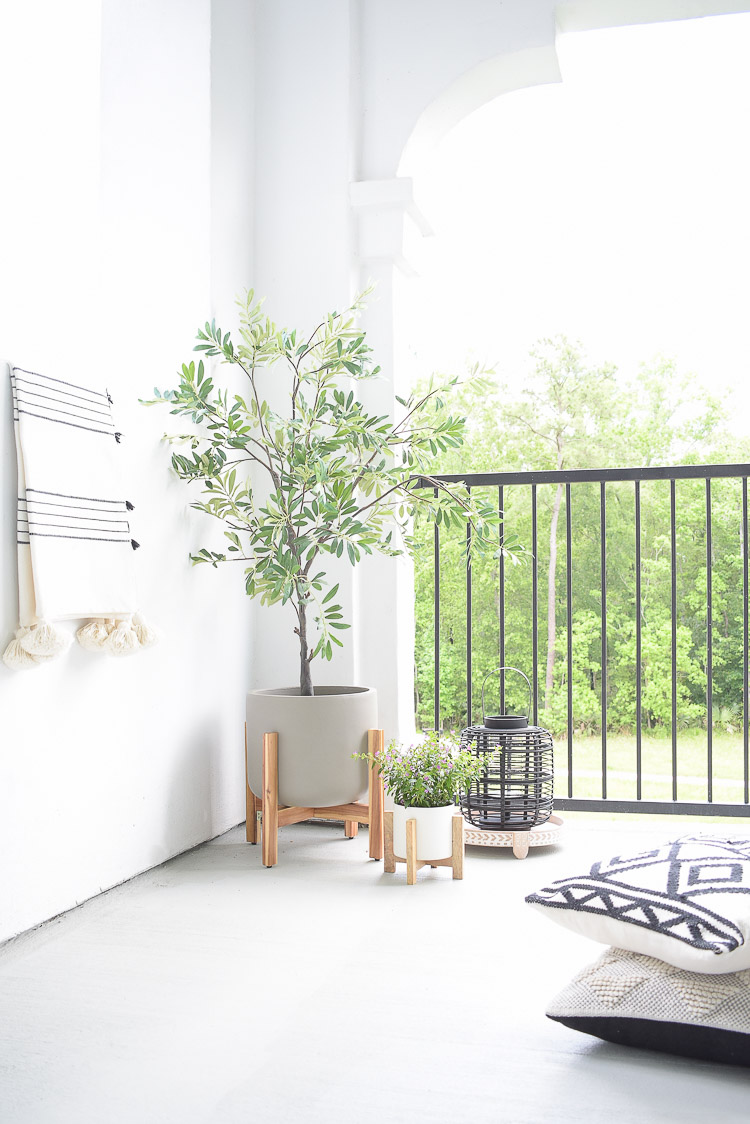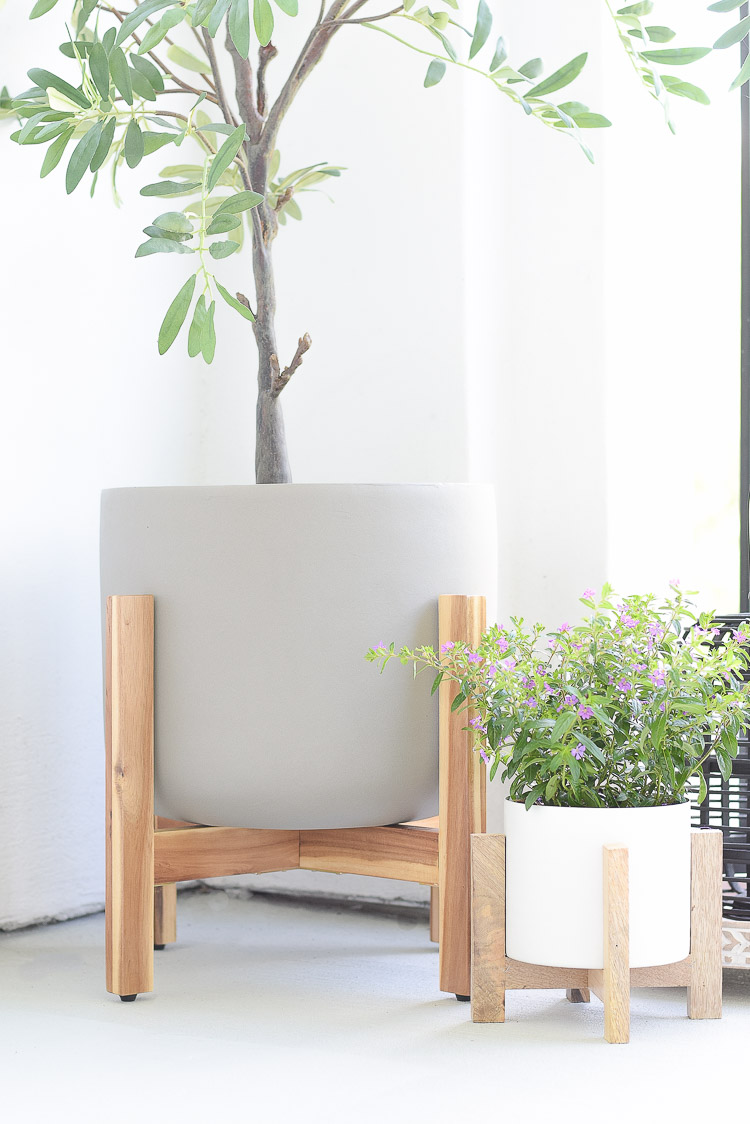 Also love this smaller white planter pot, and the black lantern from World Market.  That cute tray from World Market the lantern is on was from one of my outdoor posts last summer.  Love this piece and use if for so many reasons around my home, inside and out!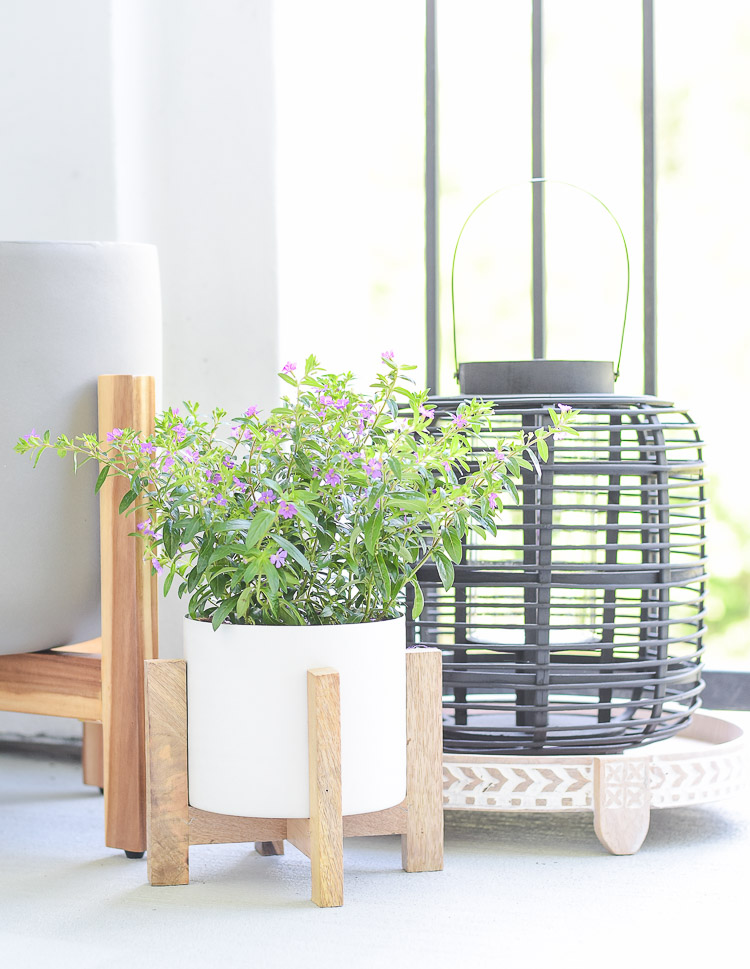 One of the things I've done this year to bring this space together was to use some new side tables in black to give the space some contrast!  Black is the hottest color in design right now so this round table/ottoman was perfect for my patio this year.  Since this is a small space I love how light and airy it is and I also love that it has great texture!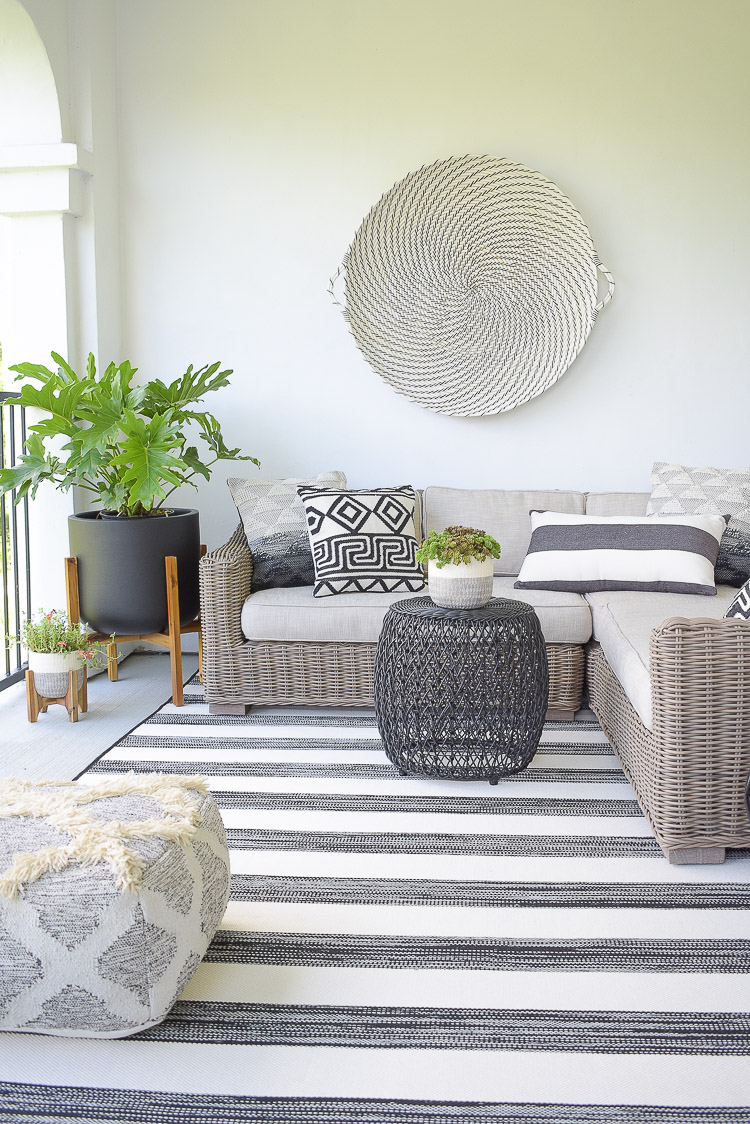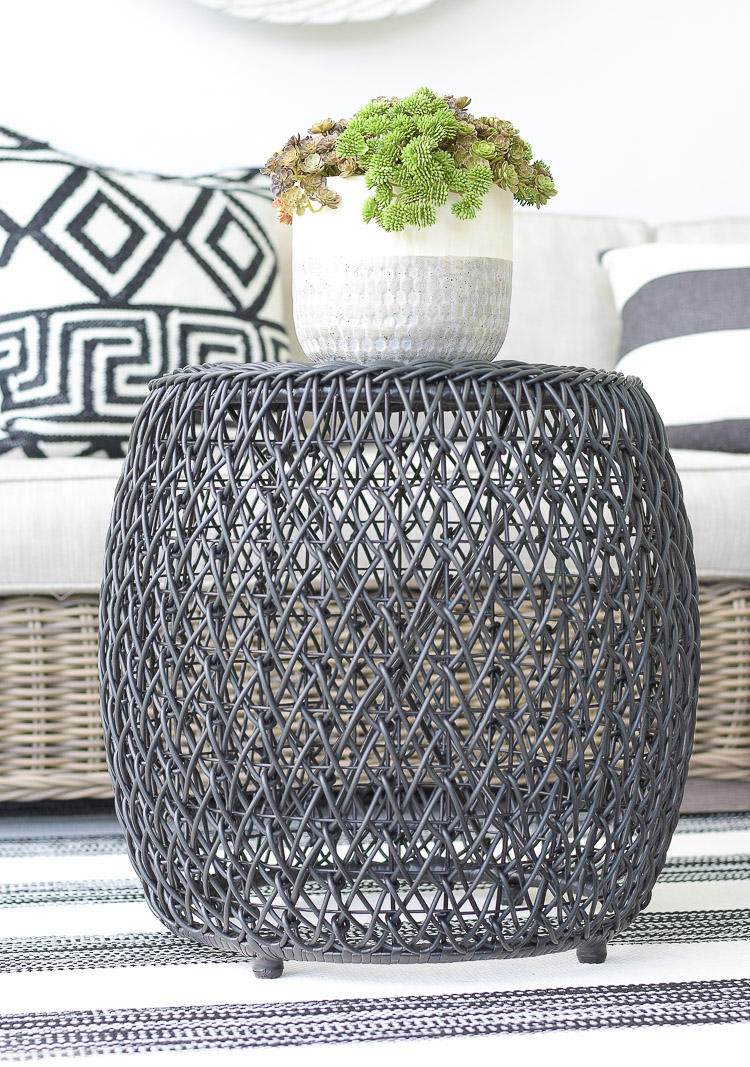 Also added this side table to the opposite side of the sectional.  I could have used the same one twice but decided to use two different tables to create interest and to keep the space from feeling matchy, matchy.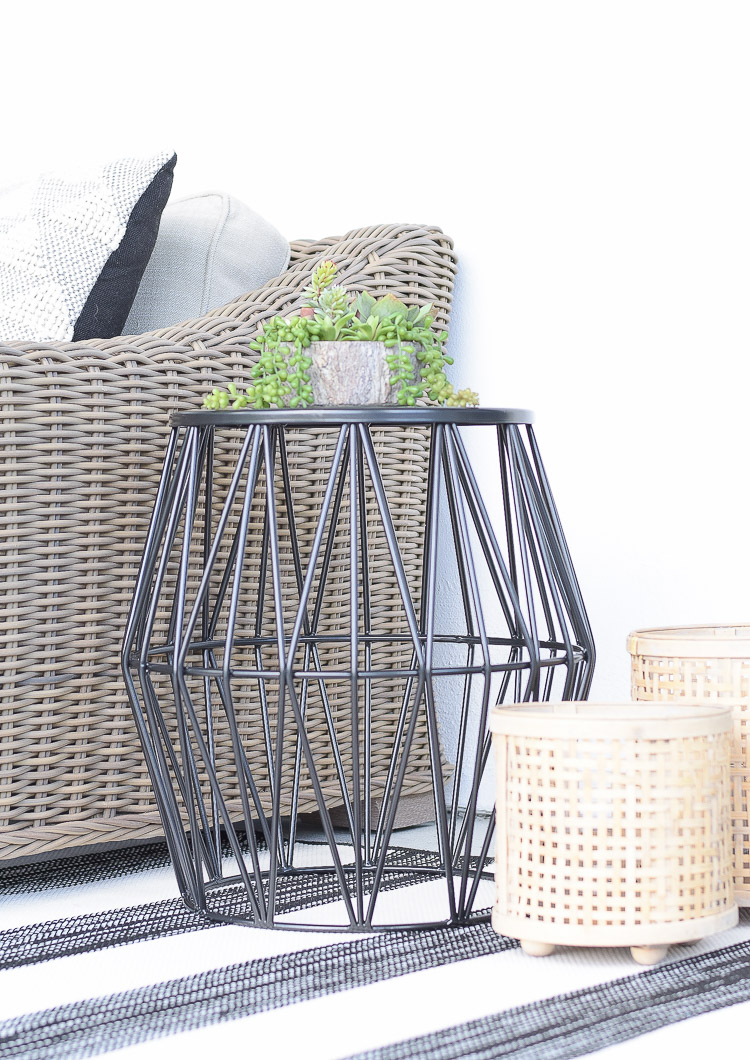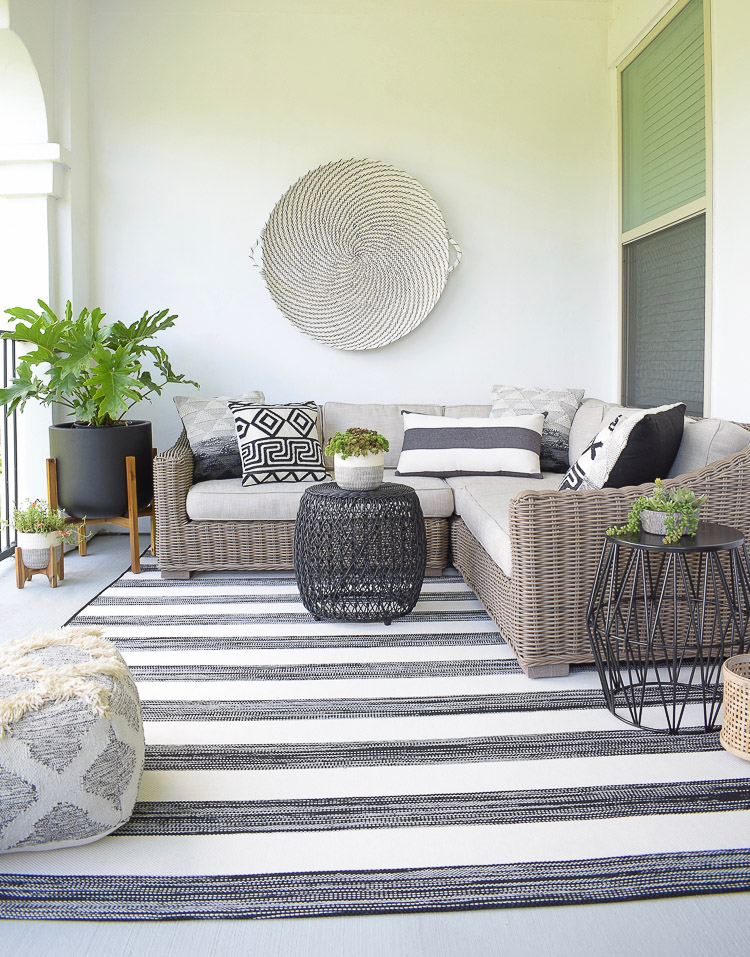 A great way to make your outdoor space relaxing and inviting is to add lanterns all around.  Specifically in the south they are great to use with citronella candles since the bugs can be bad here but, the warm glow they give off helps to contribute to a relaxing space on a warm summer evening anywhere!  I really love the color and texture of these lanterns...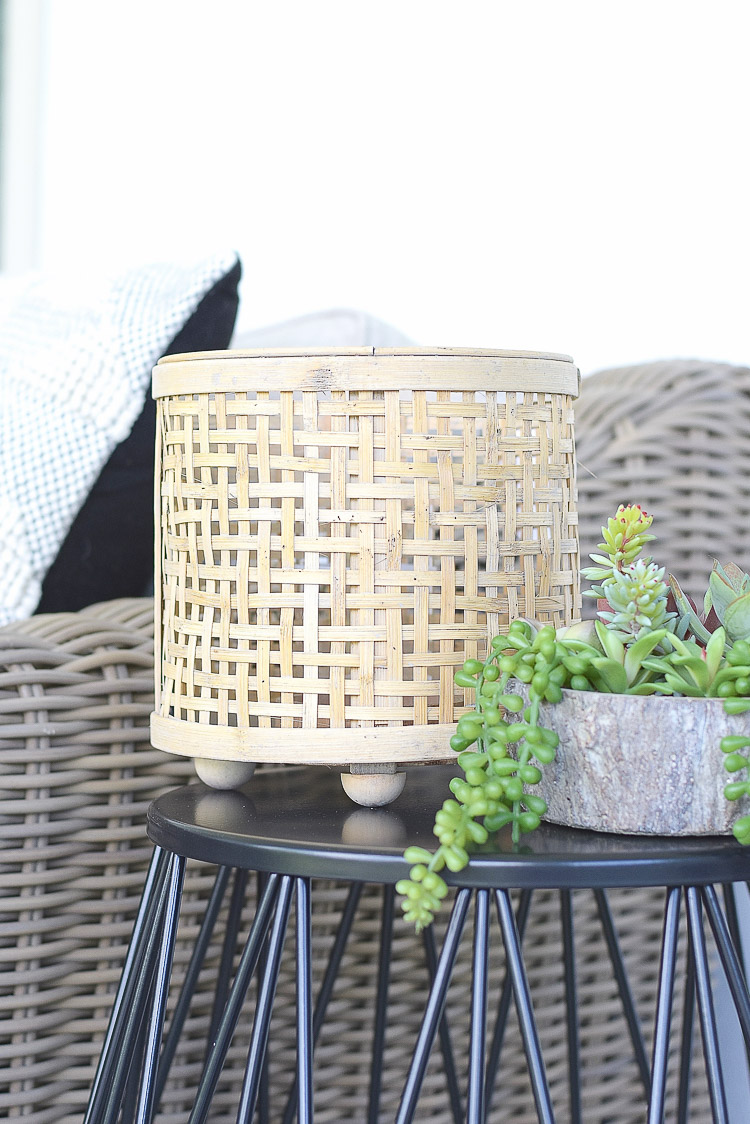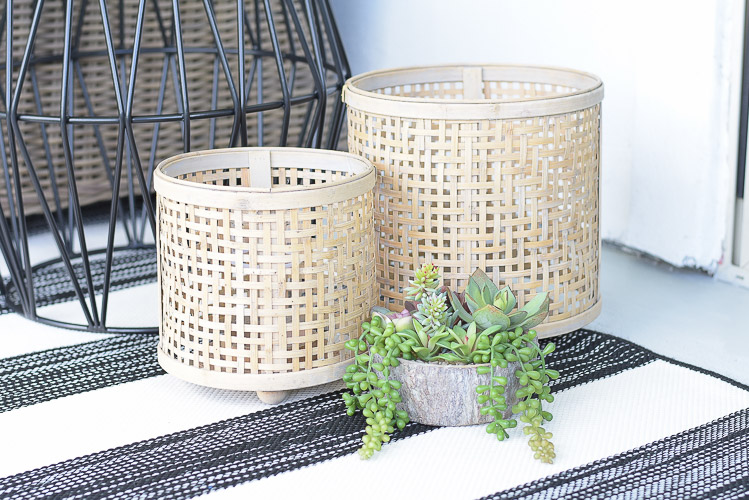 Of course fresh plants and flowers are a great way to make your outdoor space look and feel great for relaxing on the patio but, faux plants (now a days) can work great outdoors as well.  There are so many great quality faux plants and flowers available now that it no longer bothers me to use them inside or out like it used to.  Faux succulents specifically work great outdoors to add a pop of color and warmth to an outdoor space.  Really love this one in the faux wood slice.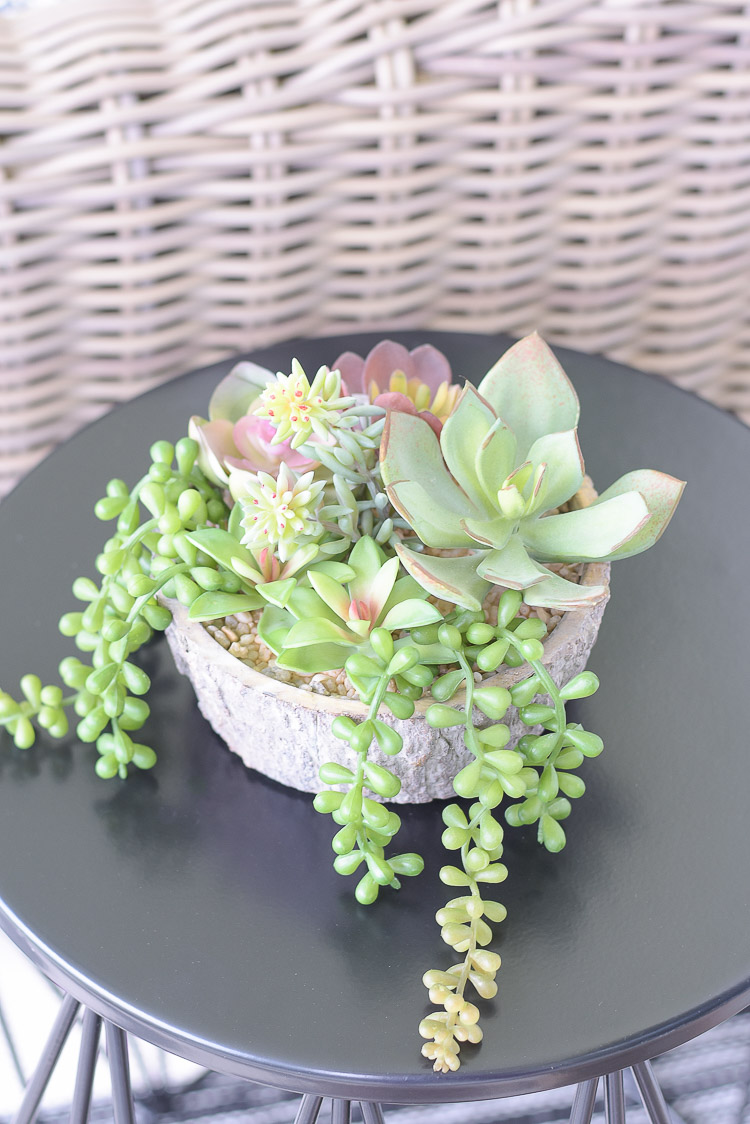 These are actually just faux succulent pics in my favorite new pot.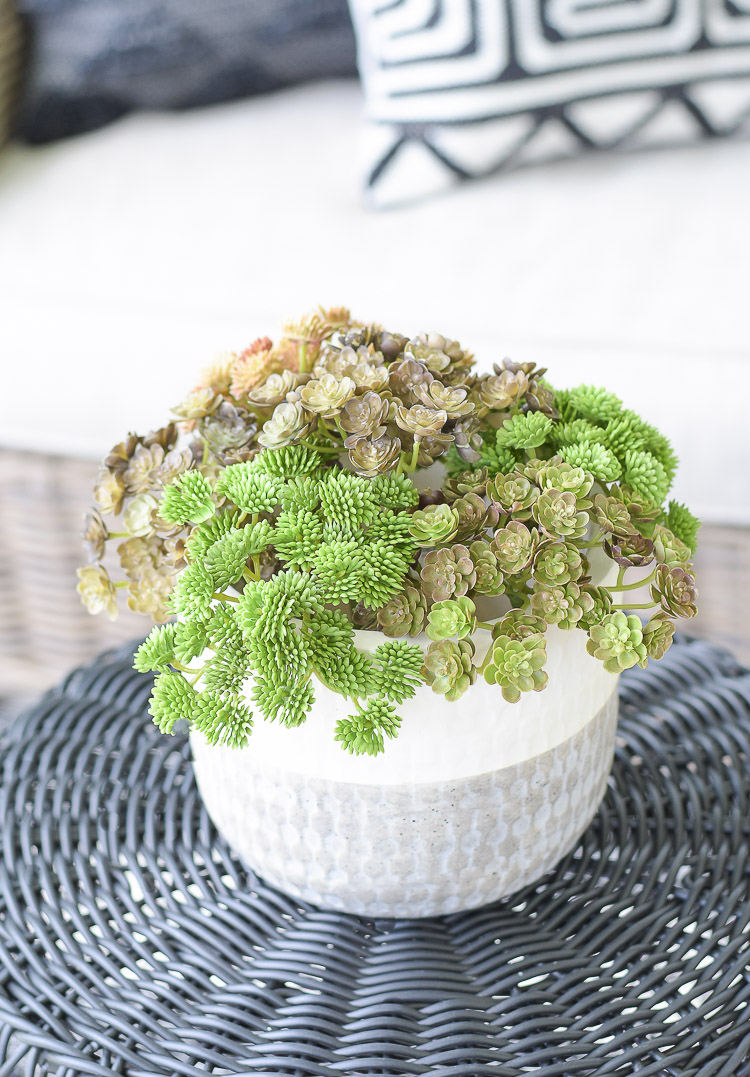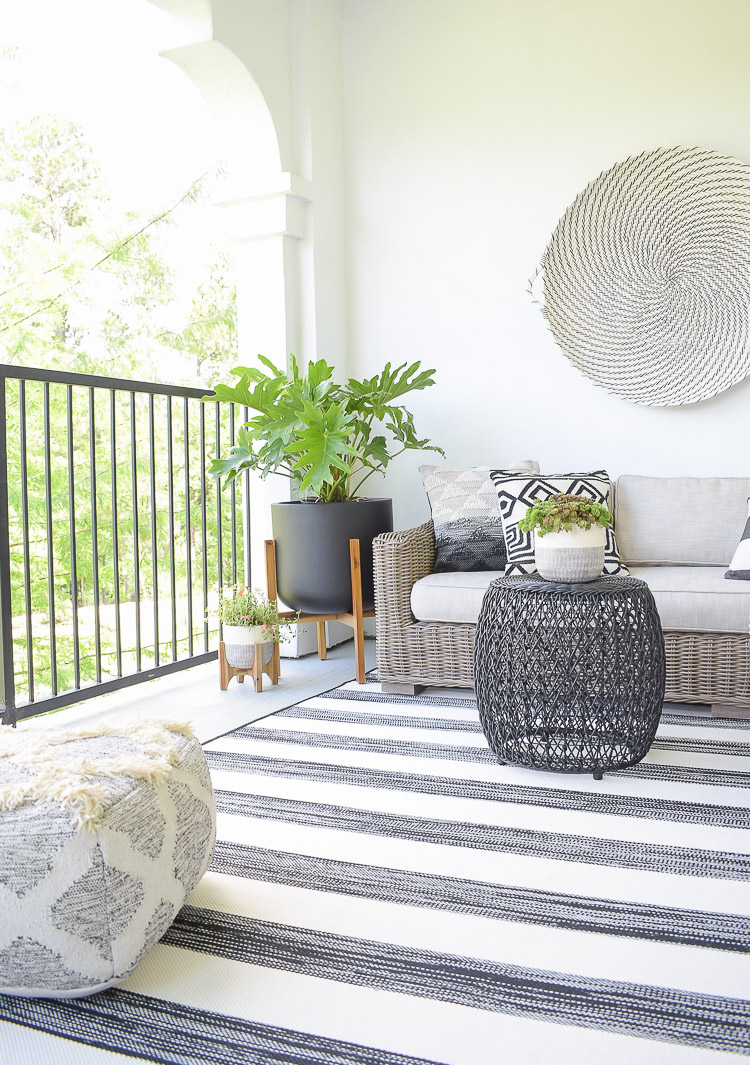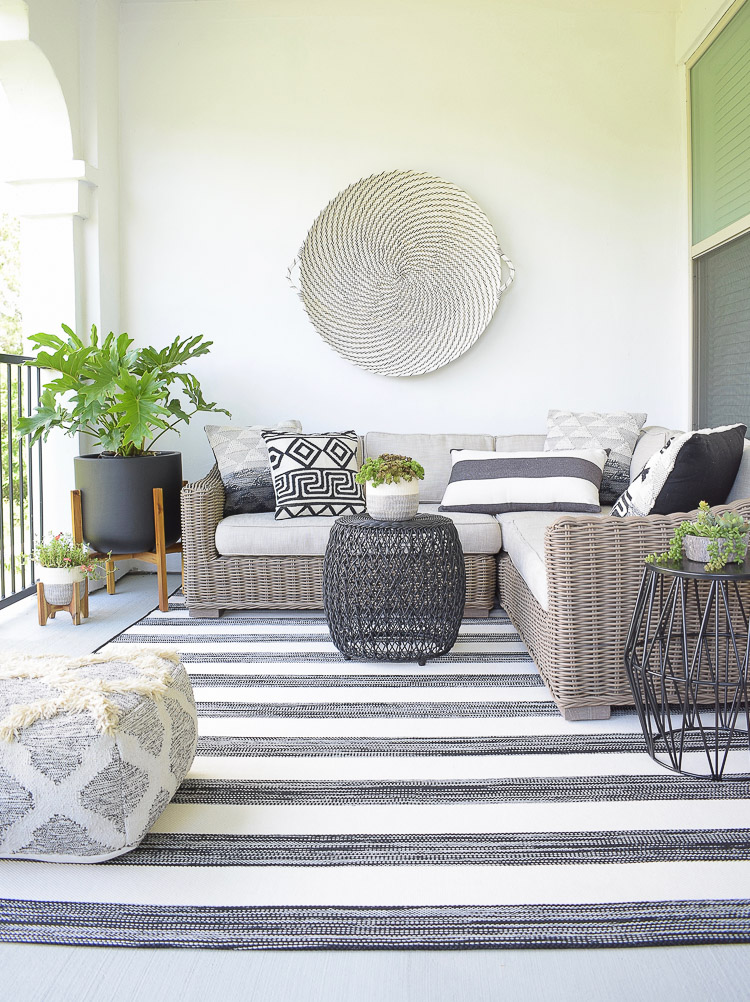 I hope you've enjoyed the tour and now on to my tips for creating a relaxing outdoor space this summer…

Tips For Creating A Relaxing Outdoor Space This Summer
 The first thing is to actually create a beautiful outdoor space just like you would inside your home.  Your patio or porch is an extension of the inside of your home and should be treated as such in regard to your outdoor decor and furniture.
Pick a theme or color combo for your space and run with it.  Start with one inspiration piece (like I did with my black and white pillows) and build upon that to help guide your design decisions for the space.
The outdoors is all about plants and flowers this time of year so use beautiful planters to make them shine.  Using larger pots to elevate and highlight your plants/flowers can really cozy up your space and add pops of color throughout, not to mention they will have a dramatic effect on the space.
If you're not doing a complete overhaul, at least add some new, smaller furniture pieces like side tables and ottomans to freshen things up.  Something with texture and pattern is always fun in an outdoor space and may give your space a whole new look and feel.
Use fresh and faux greenery outdoors.  Fresh is a no brainer but if you're going to be traveling for the summer or just don't want the maintenance then faux is the perfect option these days with so many great quality faux options available, like the ones I have from World Market.  They will still be there when you get back and you won't have to solicit the help of a neighbor or friend to water your plants while you're away.
Use lanterns and string lights.  This is probably one of the number one ways to make your outdoor space feel inviting.  I don't currently have string lights because I'm in a rental but I do have lots of lanterns that give off a warm glow when in use.  This bumps up the relaxation factor for sure!  And lanterns are great for using citronella candles if you live in a buggy climate like me.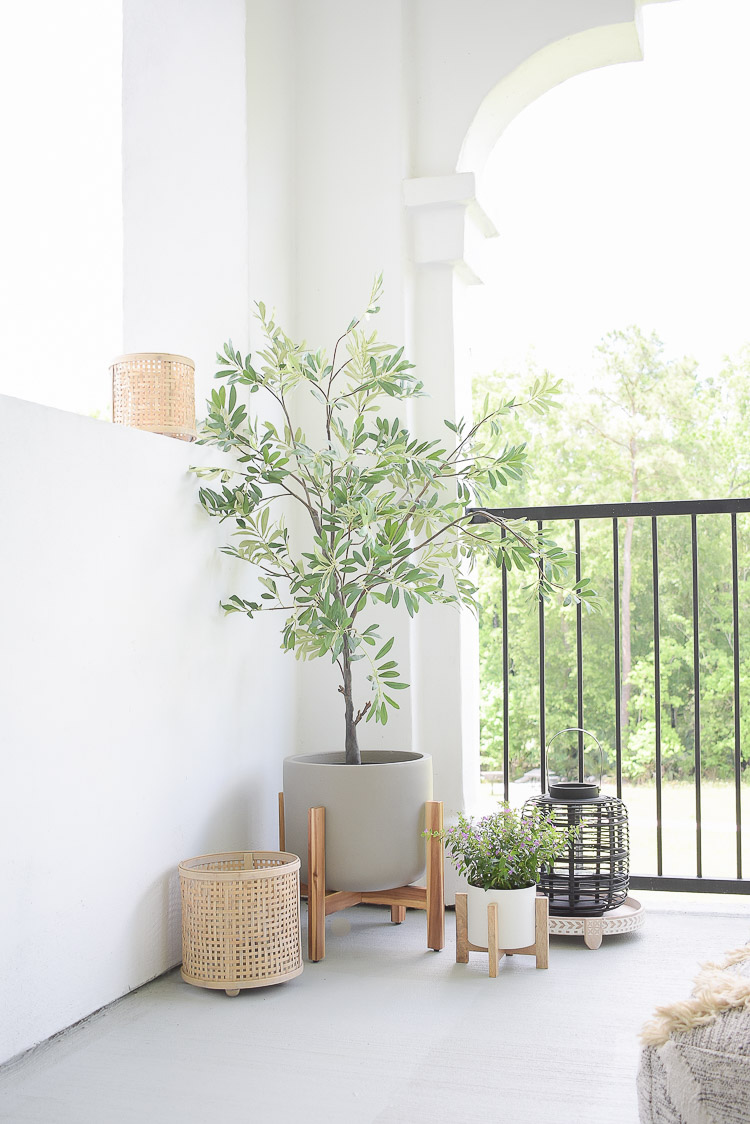 Now is the perfect time to spruce up your outdoor space to get ready for summer so don't forget that World Market is having their 30% off Friends & Family Sale (on almost everything) and, you can score free shipping as well on $199+ online.  Rewards members get to shop early on 5/9 with code MEMBERS19 but don't forget to be signed-in and a World Market Rewards Member to receive the discount!  For the remainder of the sale use code FRIENDS19 for the discount!

See sources + the rest of my World Market picks for this summer's biggest outdoor sale below!
Let's stay connected…
Pinterest | Facebook | Instagram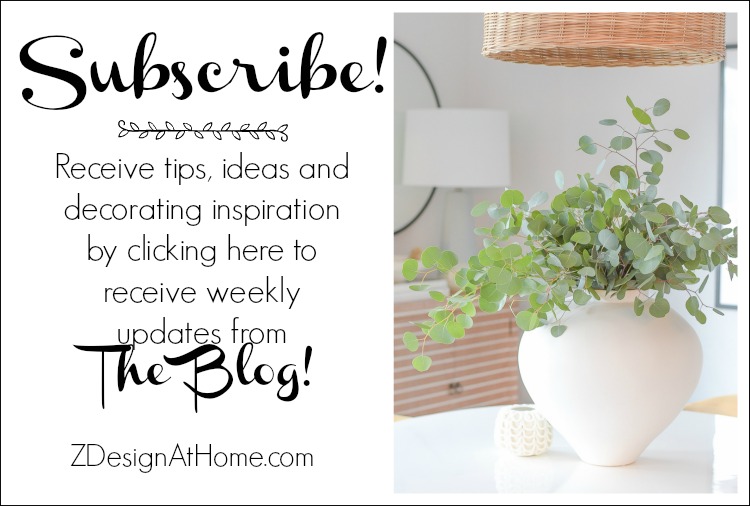 Additional Resources in This Post:
Black & White Striped Rug | Basket Wall Hanging | Faux Olive Tree