Tips for Adding Natural Summer Decor + A Dining Room Tour
Hey you guys! So nice to have you back! We're just rocking along over here enjoying the slow pace of summer. I'm back today to finally share my summer dining room tour with you along with some tips for adding natural summer decor to your space for the season. If you missed my summer living room tour, you can catch that here.  Also, please hop over to visit my friend, Tamara of Citrine Living for more dining room inspiration at the bottom of my post!
Lately I'm all about simple greenery and natural accessories.  Materials like wood, jute and natural woven pieces are my go to of late.  I'm also using a lot of faux greenery lately, 1.) to save money 2.) because I love a pop of greenery against a black or white background.
*This post contains affiliate links.  Please read my full disclosure policy here.  A full source list for this blog is located at the bottom of this post.
I'm a big believer in that if you are going to use faux flowers or greenery, they must be great quality (I have a full post HERE on the best faux flowers and where to find them).  I found these incredible faux fern stems that I couldn't resist for my faux arsenal.  They are large and come in a bundle of 3, and the most realistic faux ferns I've seen yet!  I'm using them in this gorgeous boho chic pitcher.  I often use a pitcher for faux or fresh flowers on the table…it's such nice touch and unexpected to use a pitcher as a vase.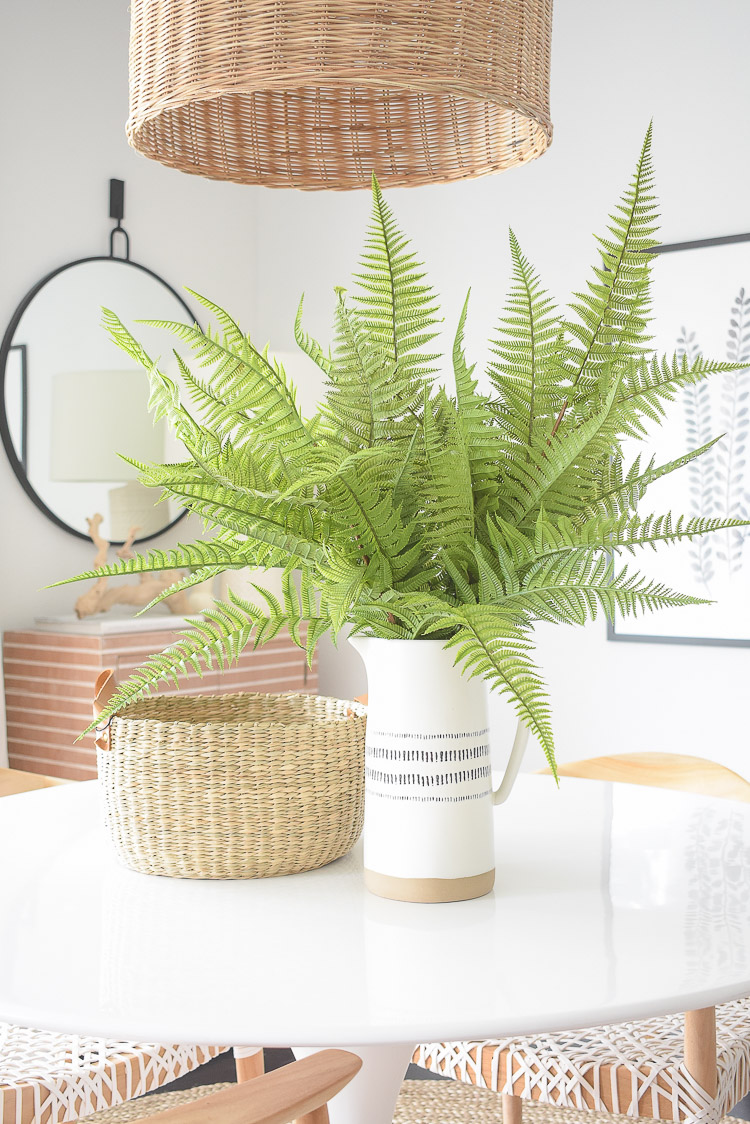 You can see here just how realistic this faux fern bundle is.  There are many modern house plants that can create a modern, nature inspired look and ferns are definitely one of them right now.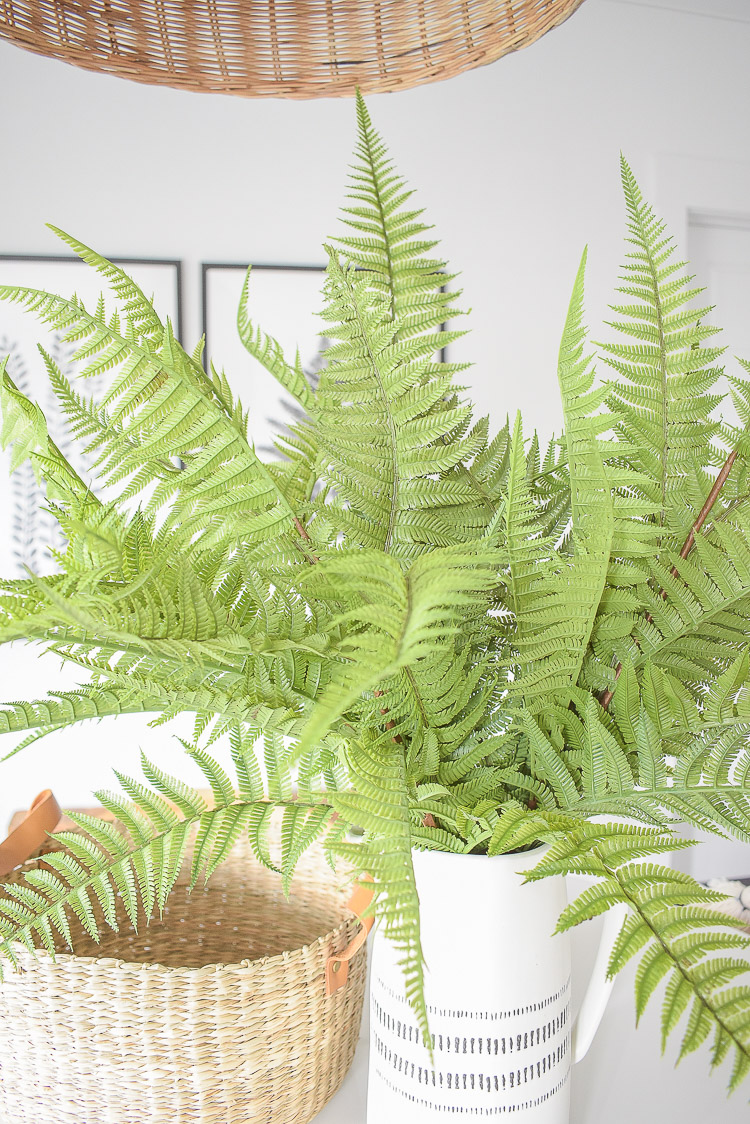 Another way to add natural decor to your home for summer is with baskets.  This basket not only has a natural woven texture but it also has leather handles.  Perfect for adding that natural color and feel to your space for summer.  Things are very neutral right now in design and these are just some simple, inexpensive ways to get the look for less while adding natural elements to your home.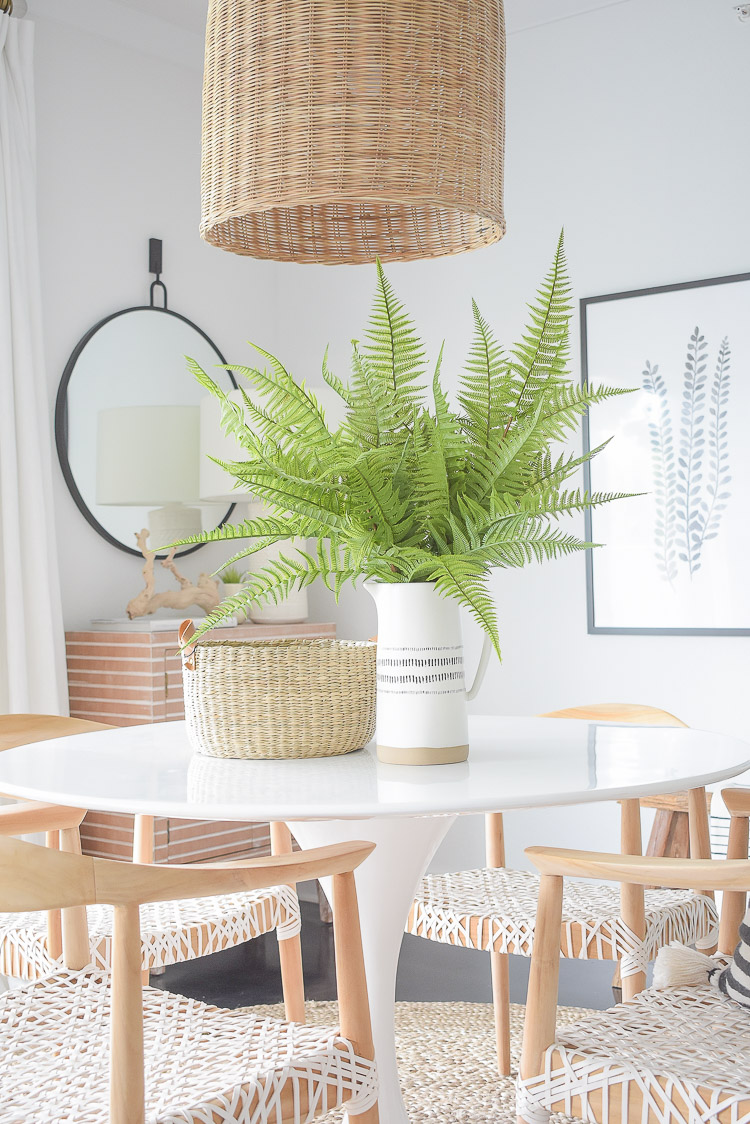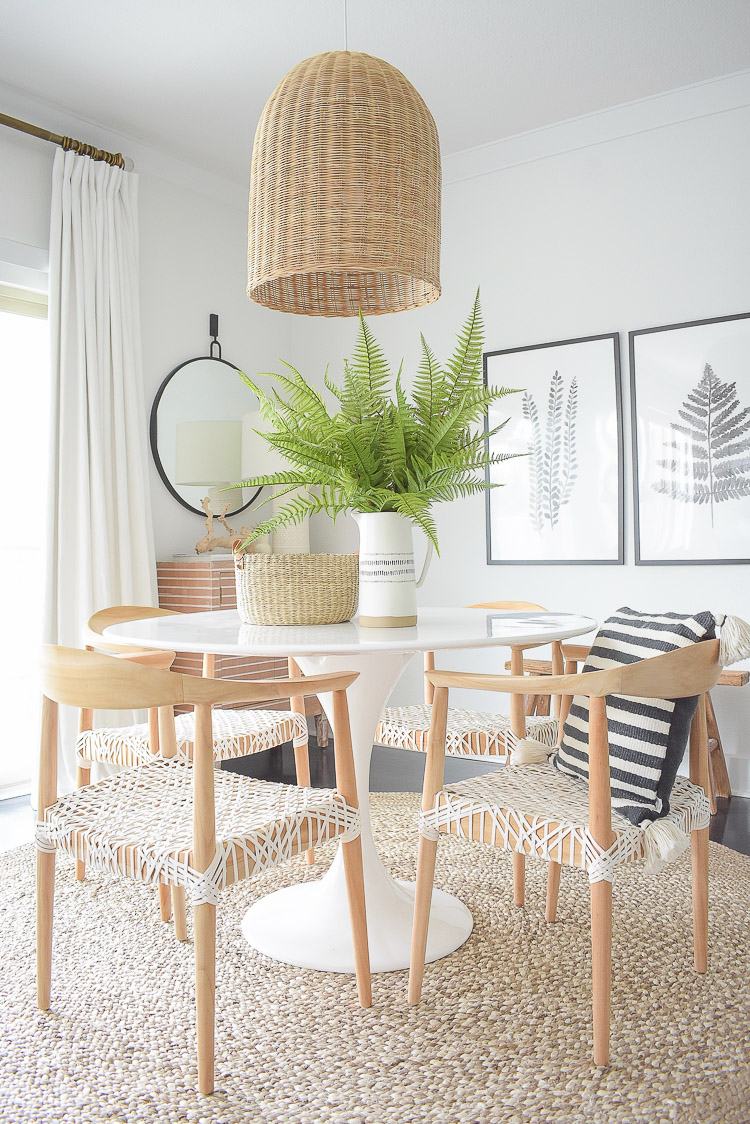 Using black and white in your decor will always give it a natural, organic feel, not to mention a classic feel.  This black and white stripe tassel pillow did just that for me.  Love that I can use it here or anywhere around the house later.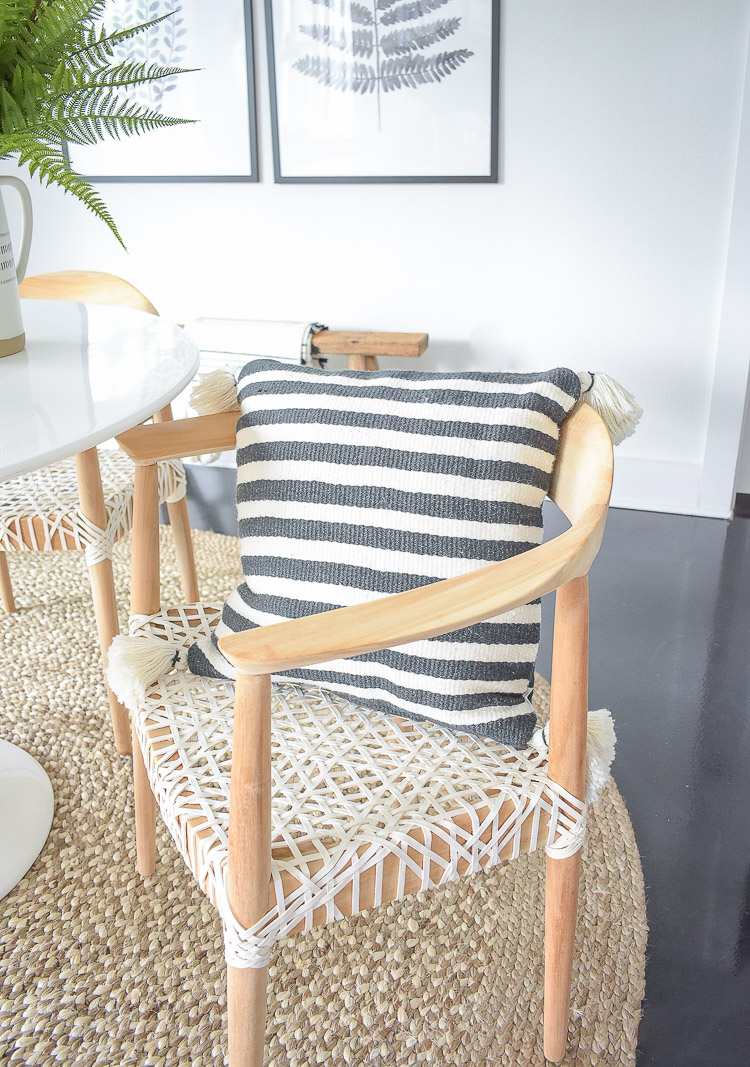 The color black is found everywhere in nature so using it in your decor, although sometimes scary, can be an interesting way to  bring nature in, like I did with my black and white fern prints and the round black mirror.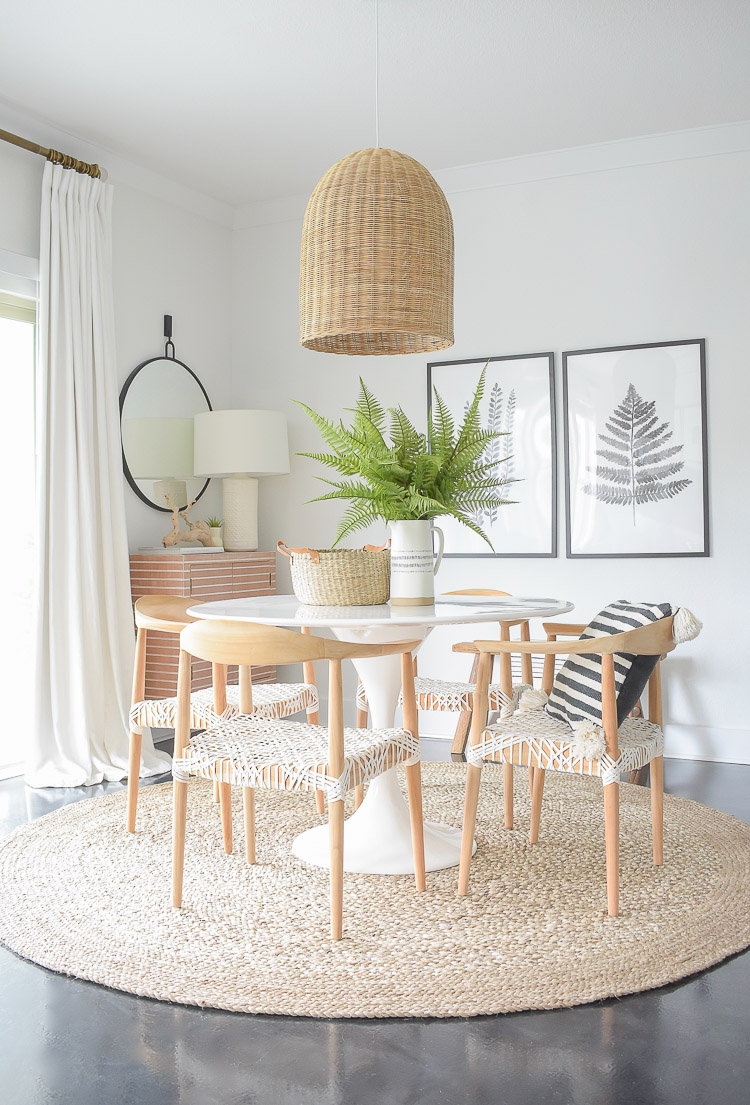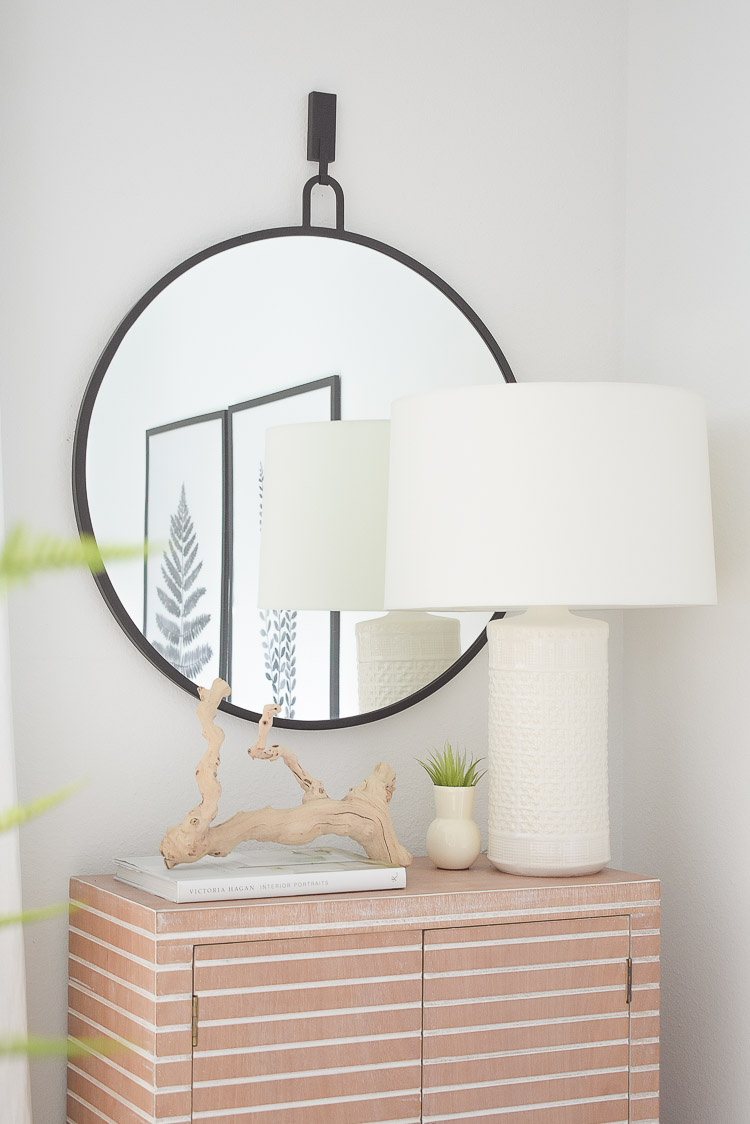 Natural accessories such as my Grapewood Branch or driftwood will always bring a but of nature into a space.   Driftwood also has the ability to bring in a coastal feel, which of course is also great for summer.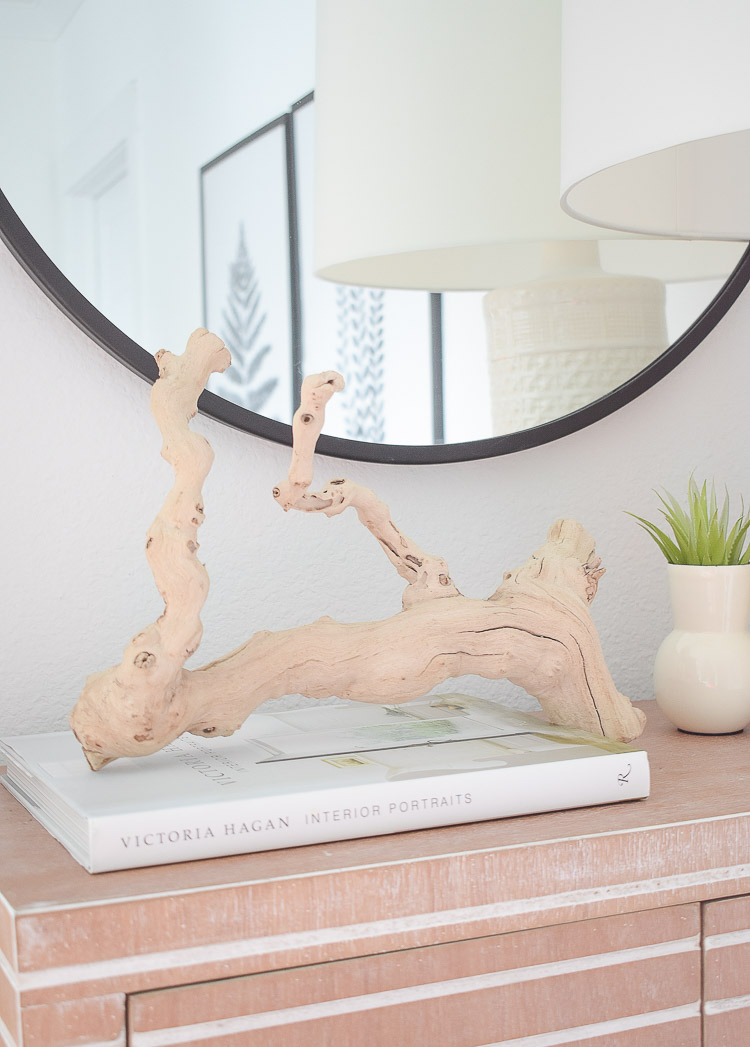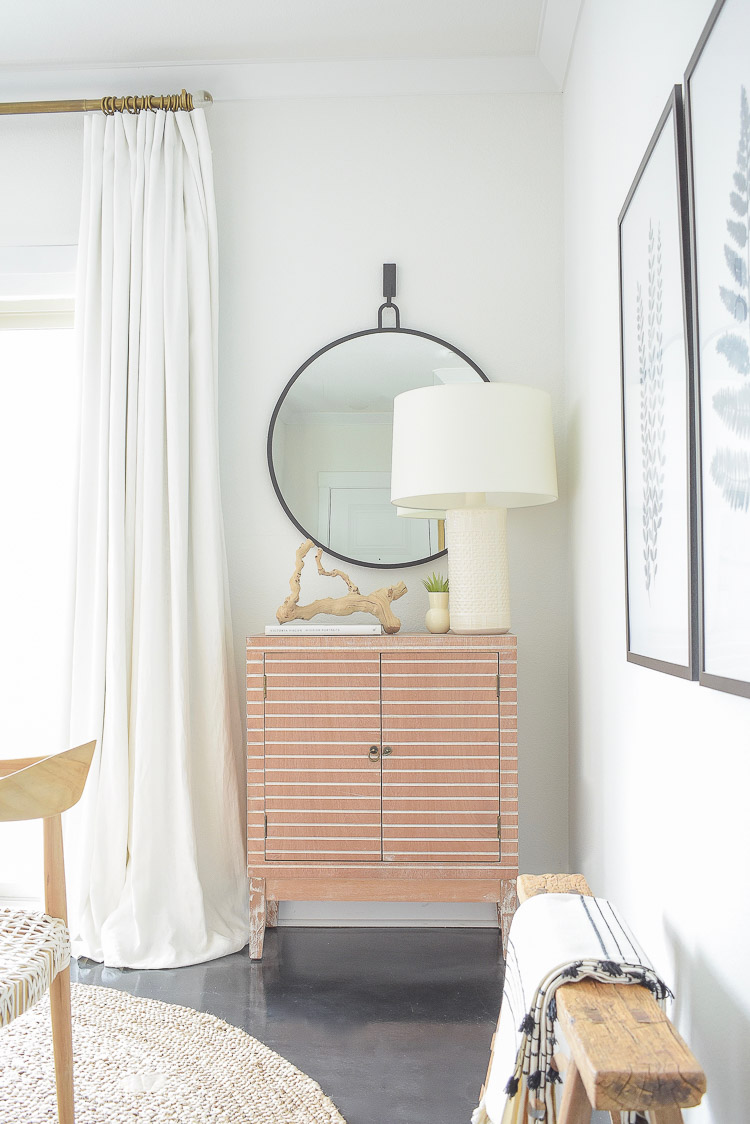 A globally inspired pattern and texture on lighter pieces, such as my lamp here can also bring in a natural element.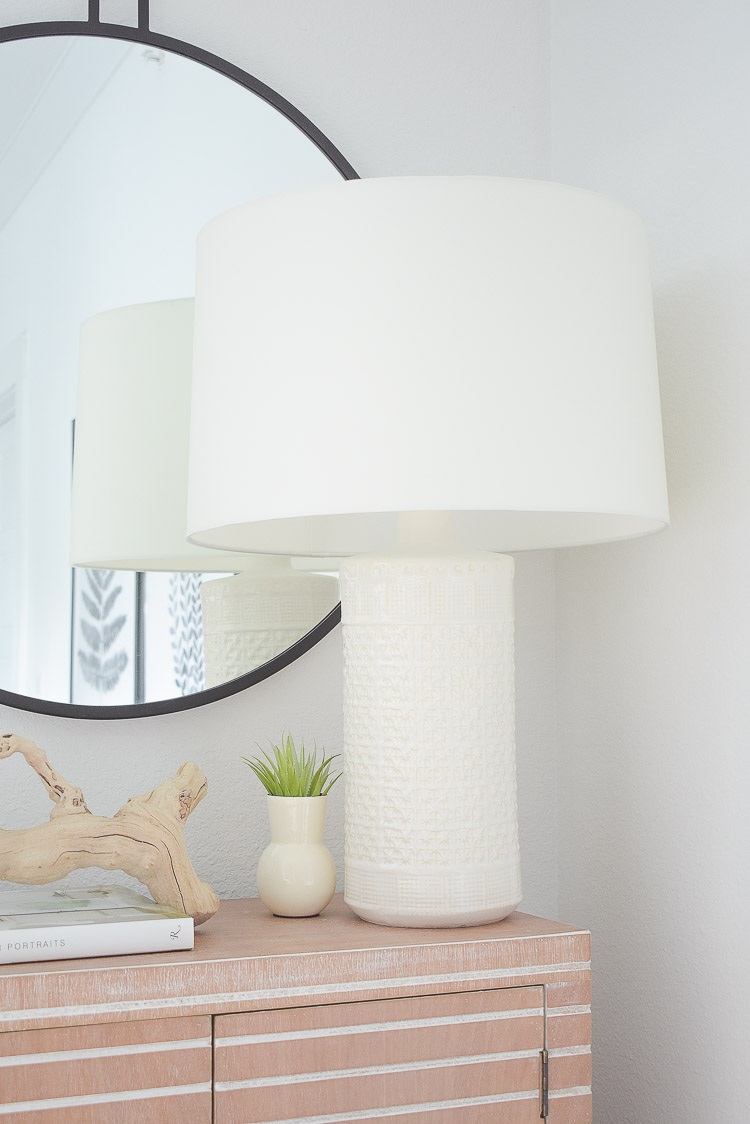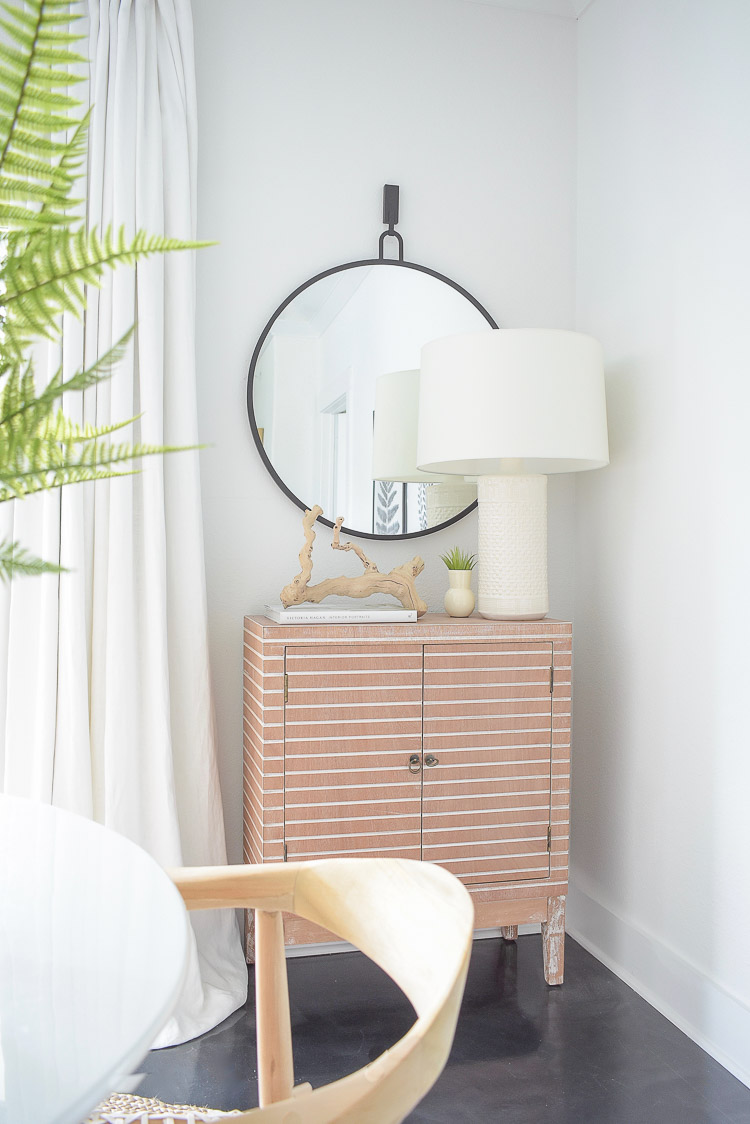 And of course all of the lighter woods (like you see in my dining room chairs) right now are certainly a great way to bring in natural, cozy elements into a space.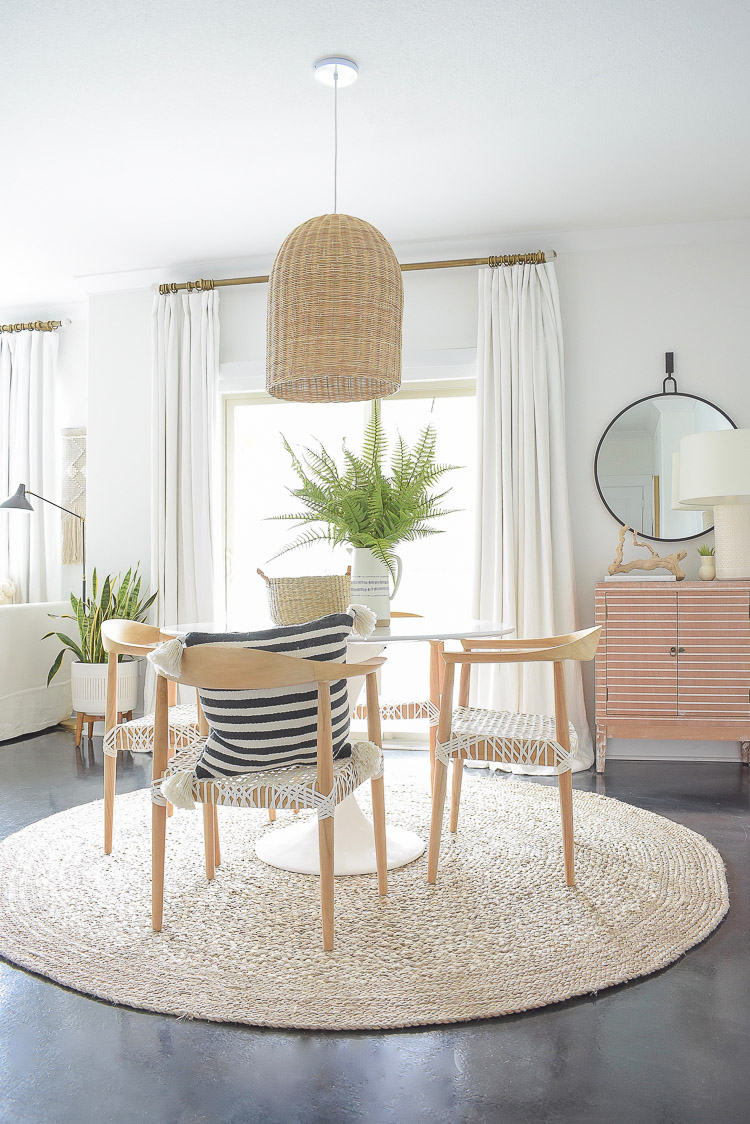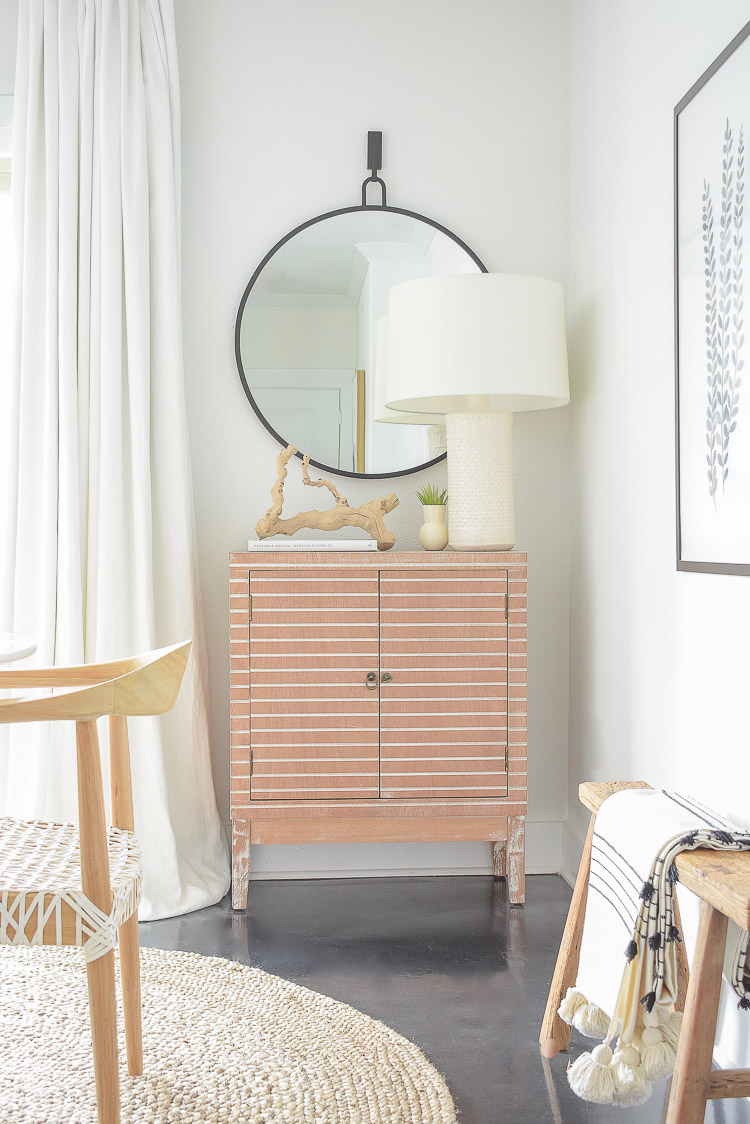 My natural woven rug is a perfect example of how to bring natural pieces in that pack a big punch but yet are still very affordable.  My rug is the 8 ft. round size in color, sand.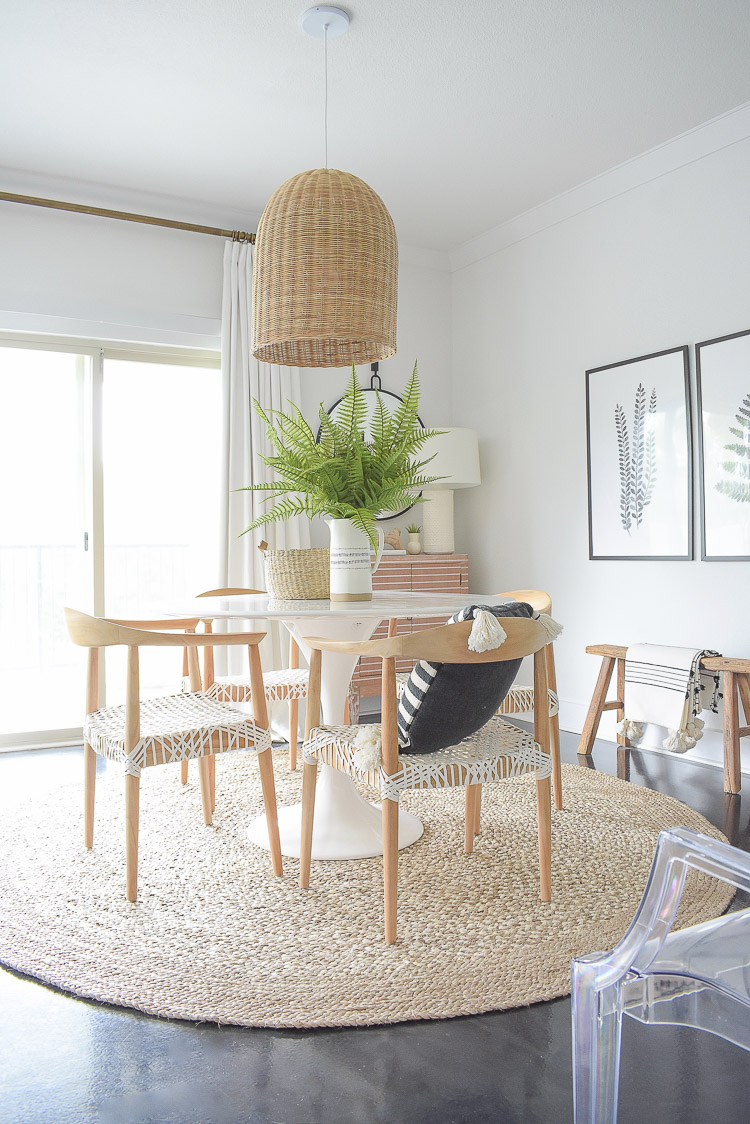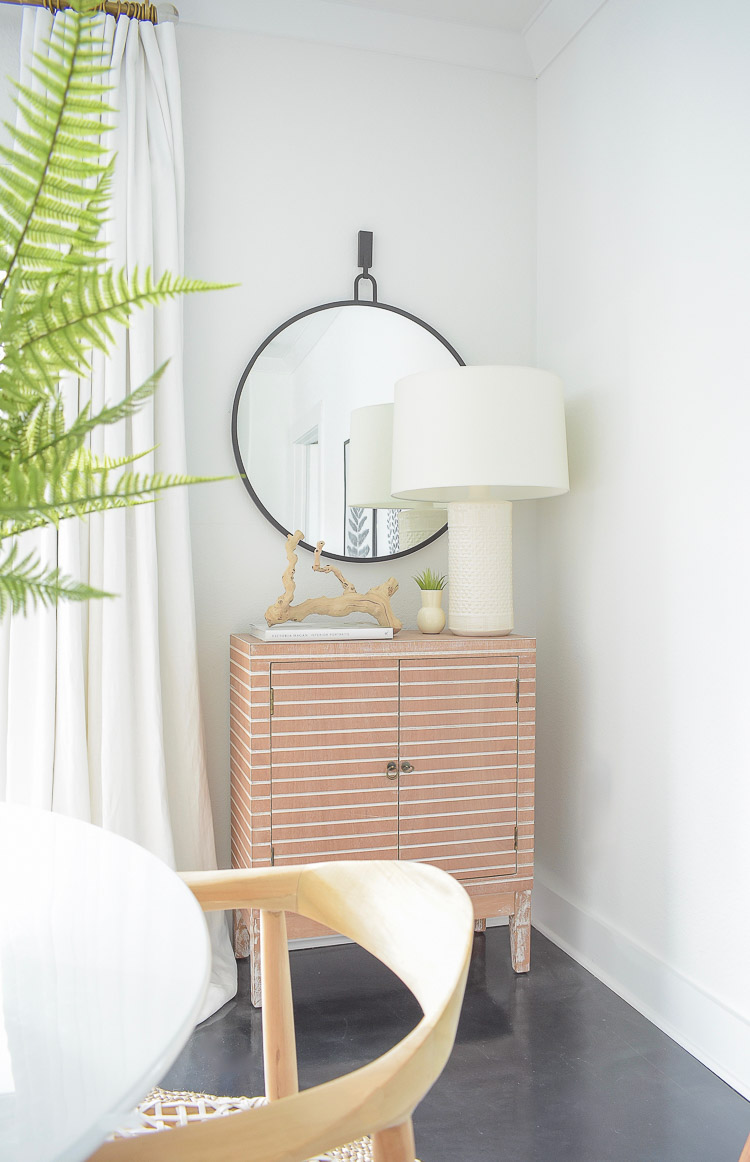 When you add all of the natural and black elements together you come up with a beautiful, boho chic space that's affordable and approachable.  I detailed in my recent dining room reveal how I almost completely revamped this space for under $2000.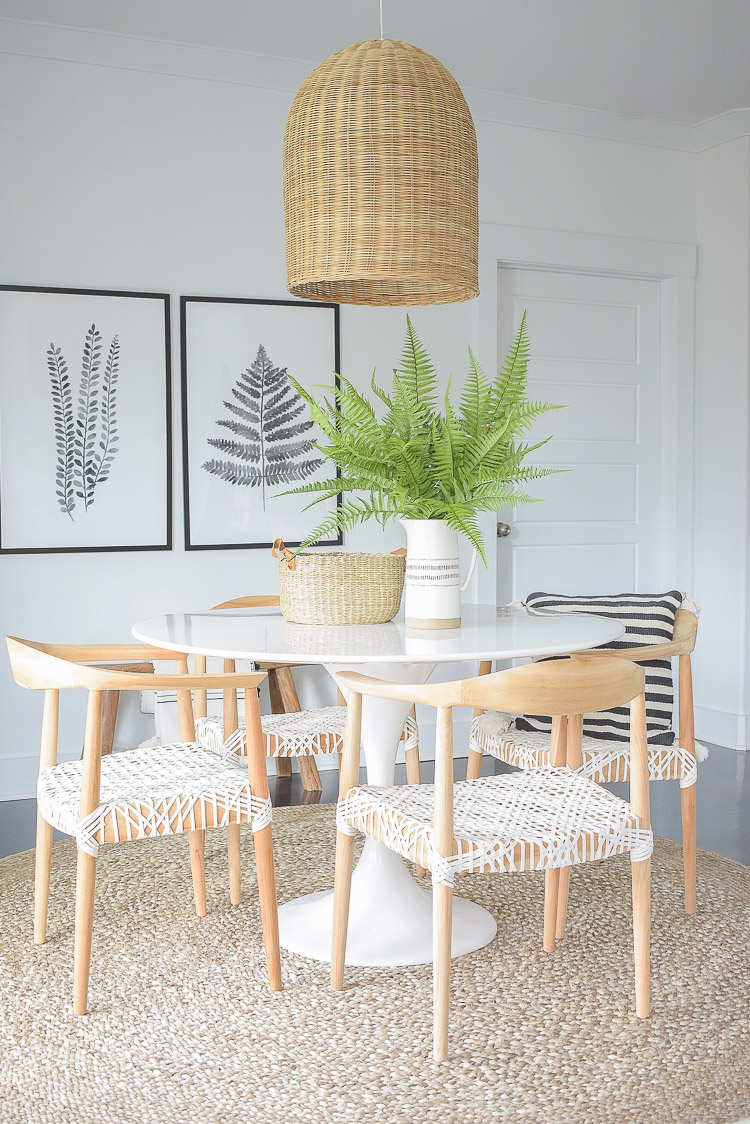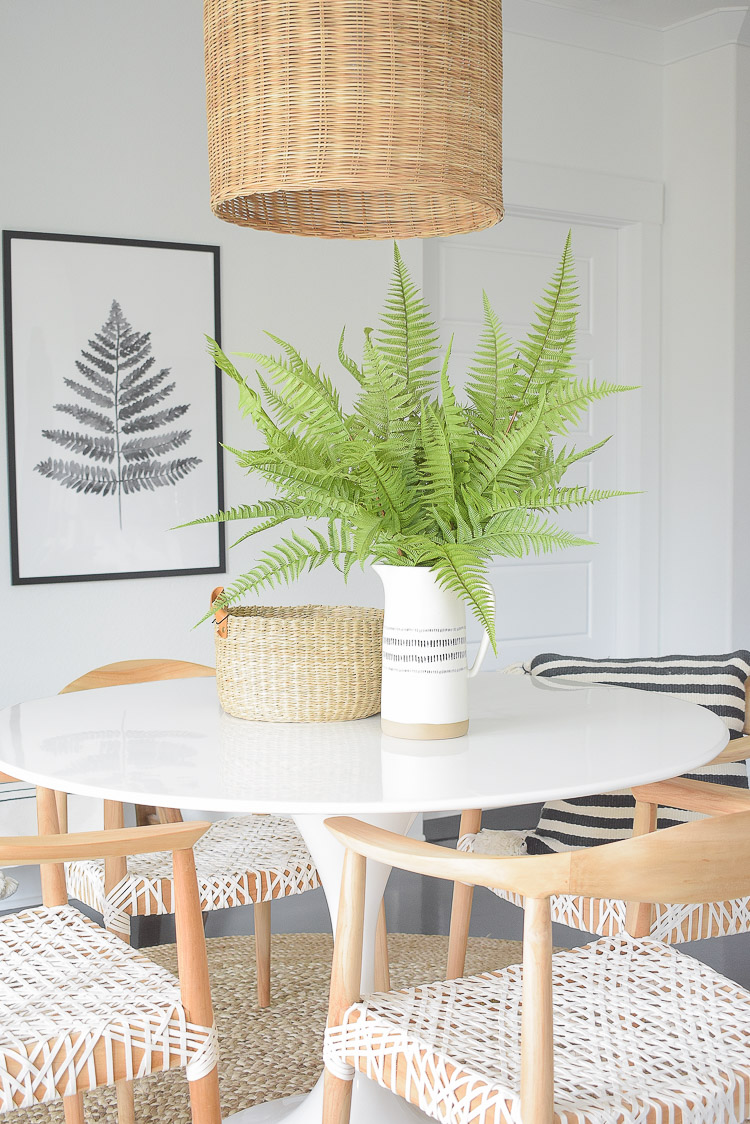 I love how light, airy and summery this space feels for the season.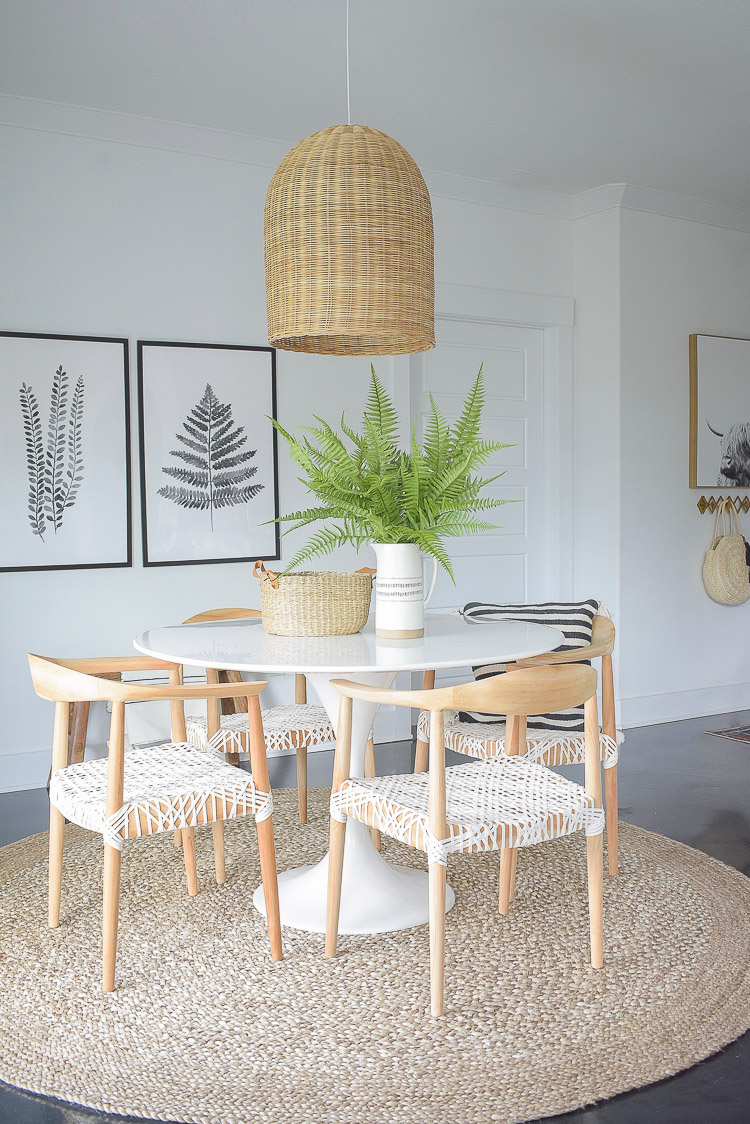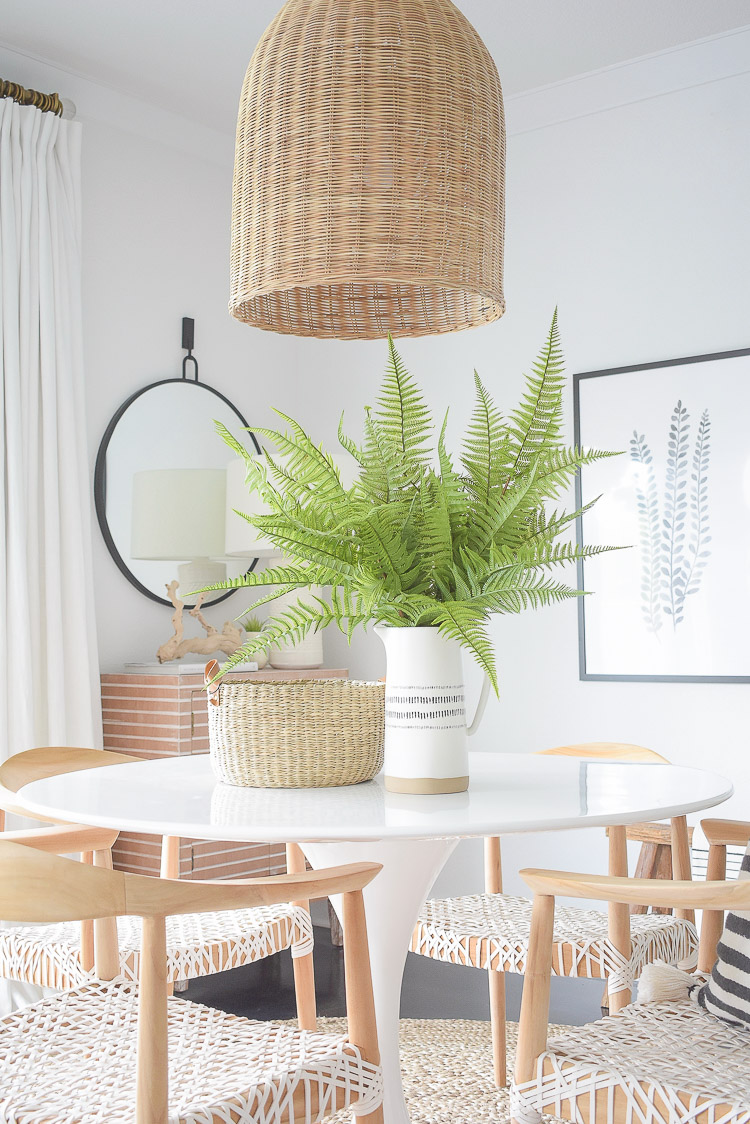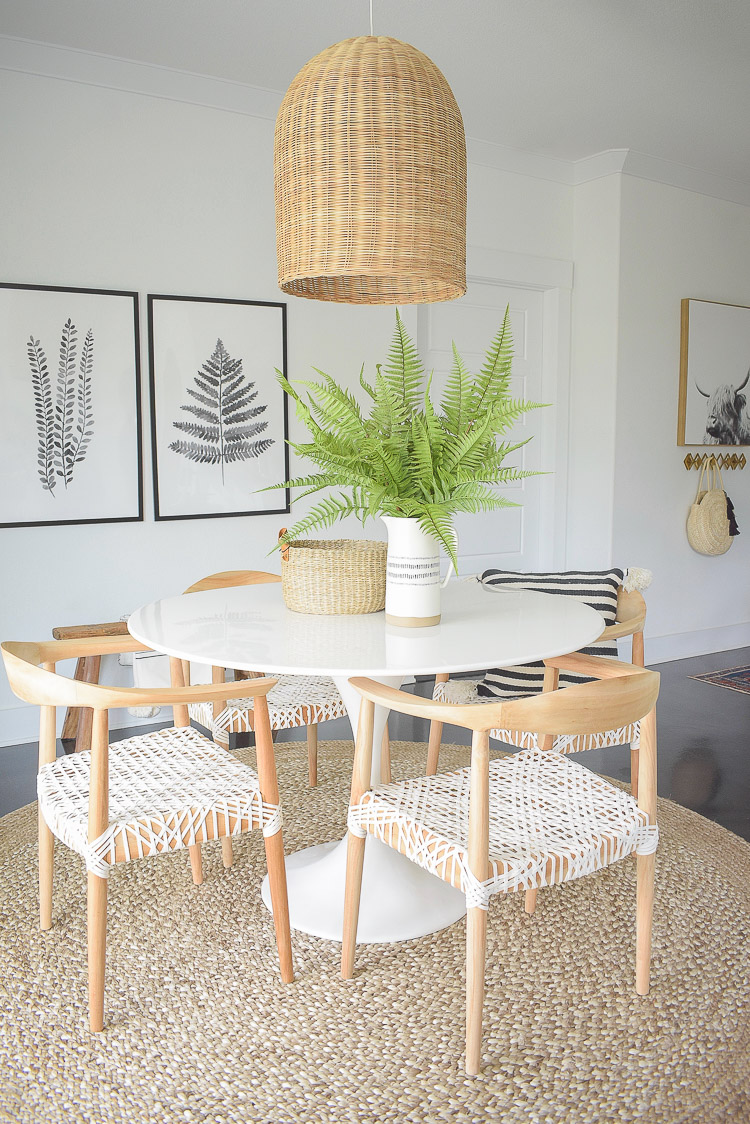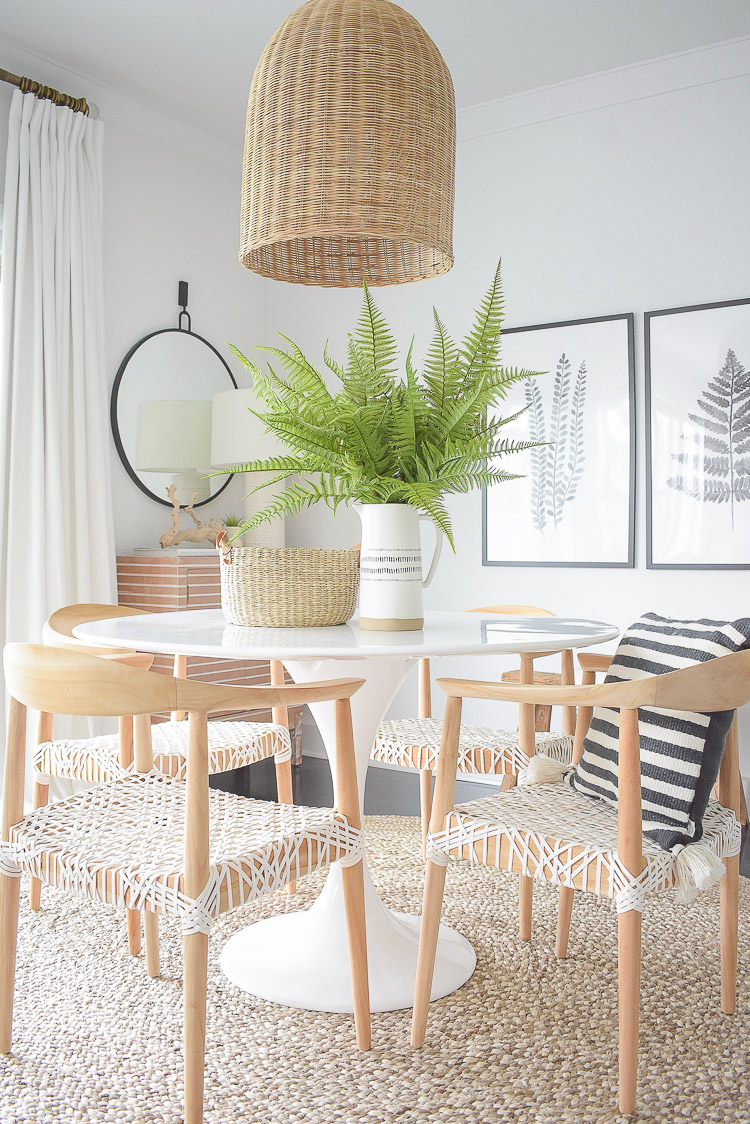 tips for adding natural summer decor
Using modern greenery, whether fresh or faux can bring in a natural element to your space.  Just remember, when using faux, always use good quality pieces
Natural woven pieces whether baskets or rugs will go a long way to making a space feel natural and cozy
Black & White decor items whether it's art, accessories or mirrors always add a fresh, modern, nature inspired feel
Globally inspired patterns, especially when used in combination with white can always give a space a light, airy, natural feel
Natural woods are a go to and no brainer, whether with your furniture or just a few accessories pieces will always give your space a natural, modern vibe.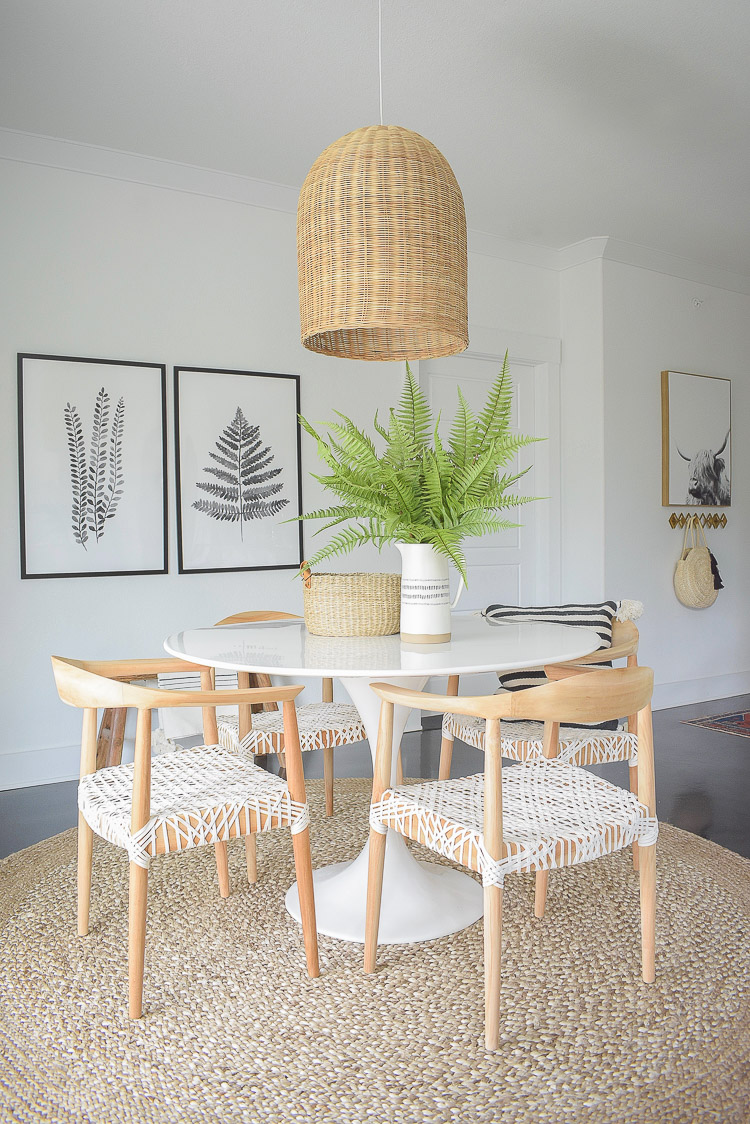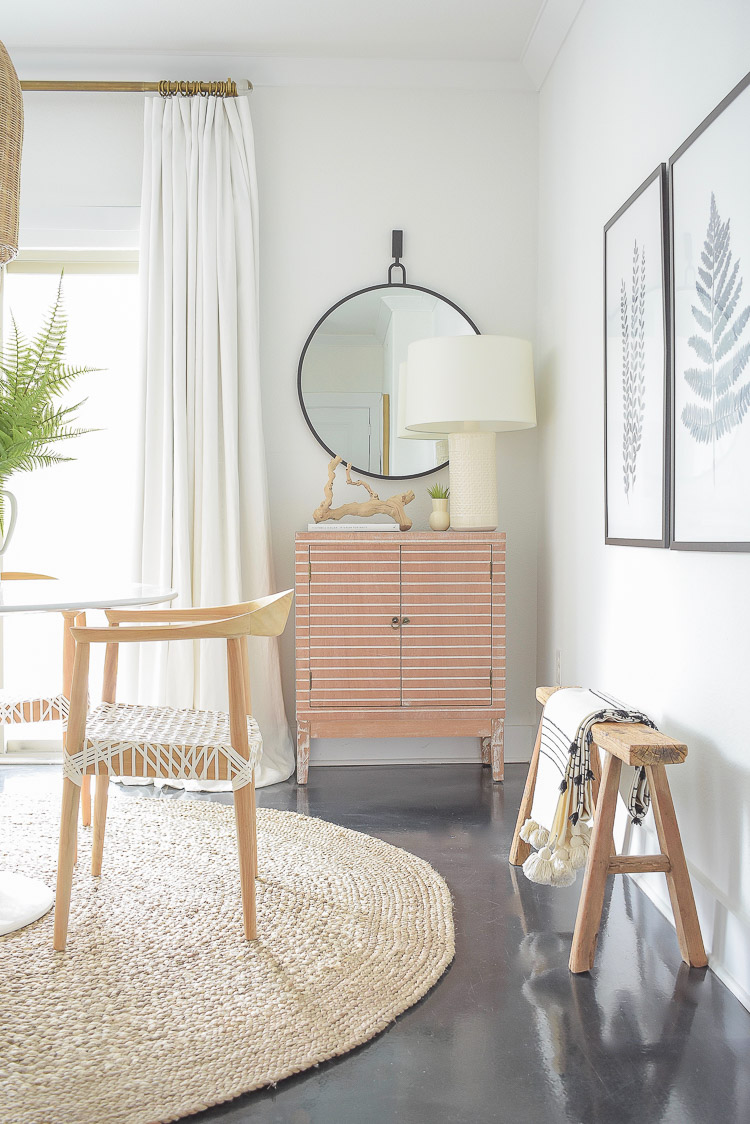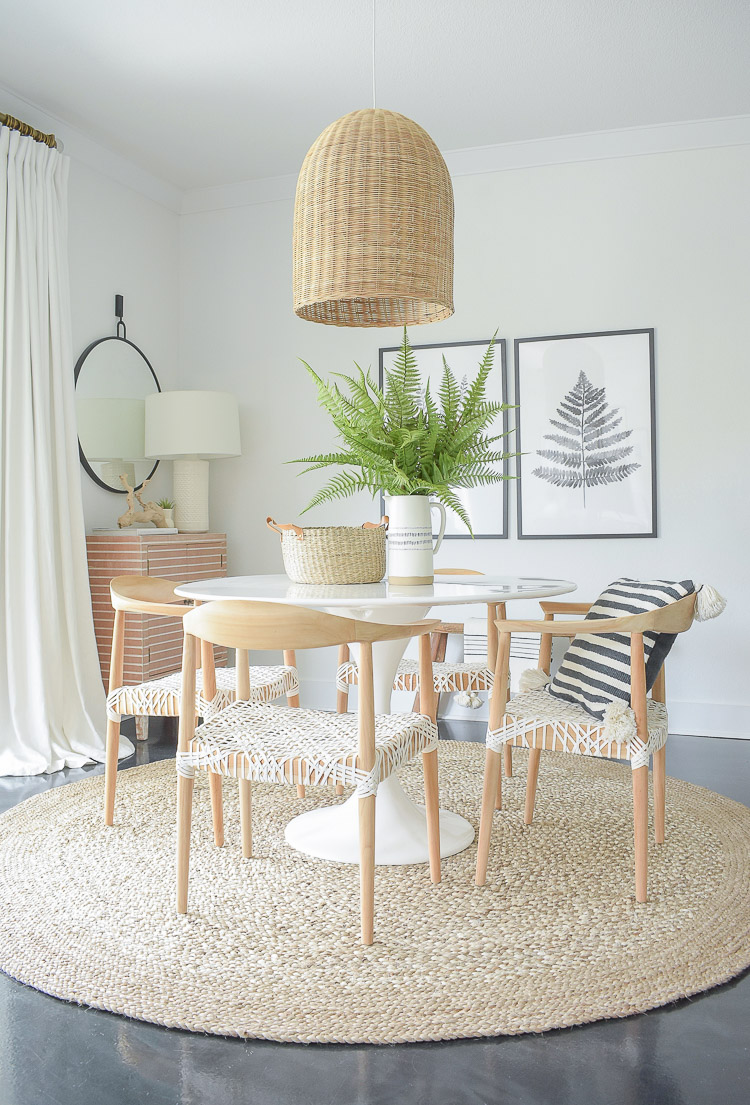 I hope you've enjoyed touring my summer dining room + tips for adding natural summer decor, and that you'll come back next week when I'll be sharing my summer bedroom!  Now, please head to visit my dear friend Tamara of Citrine Living where she's sharing her summer dining room tour too!  You will love her blue and white accents and all of the beautiful touches she has added to her dining room for summer – she is such a talent!!!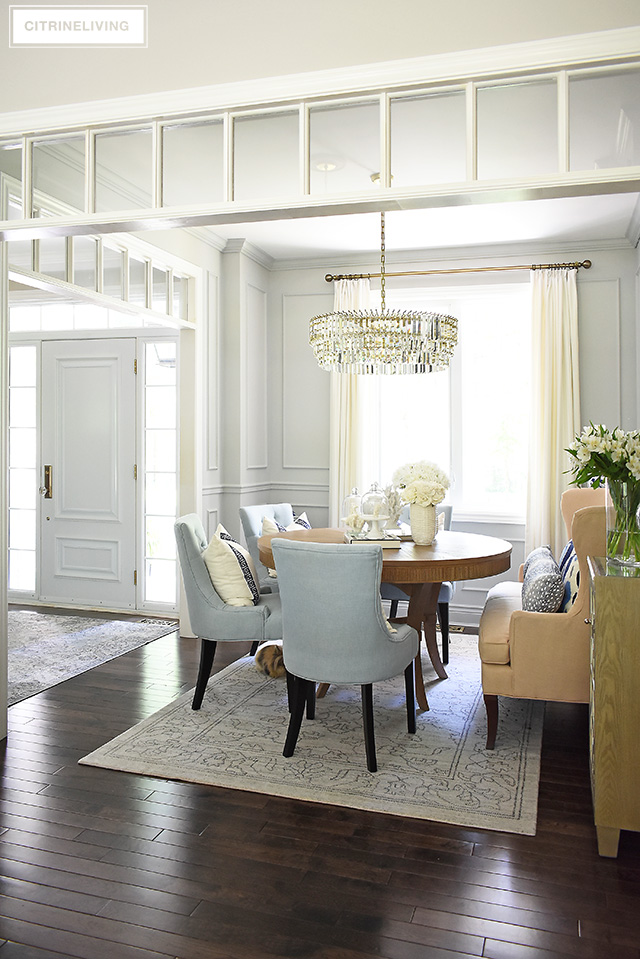 Let's stay connected…
Pinterest | Facebook | Instagram | Twitter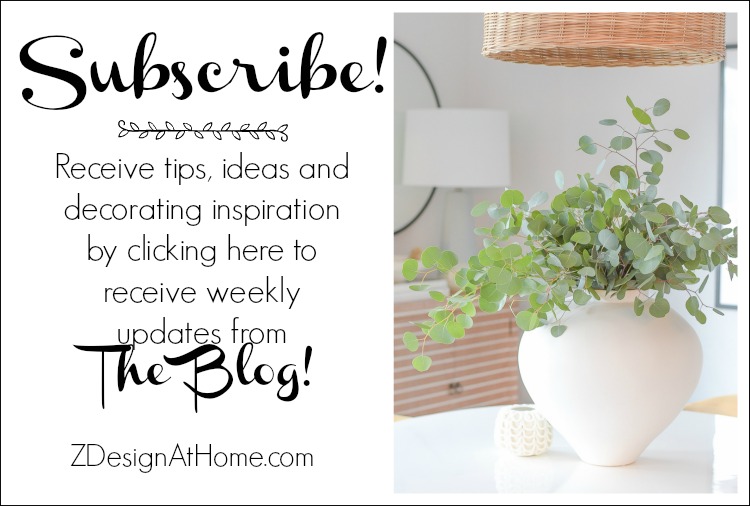 Faux Fern Pics | Pitcher | Basket | Grapewood Branch | White Lamp | White Tulip Table | Dining Chairs | Round Jute Rug | Basket Pendant Light | Bar Cabinet | Round Black Mirror | Black/White Stripe Tassel Pillow | Fern Prints | Frames for Fern Prints | Wooden Bench | Throw over Wooden Bench | Succulent in White Vase  | Succulent in White Vase | Tassel Throw