A Casual Elegant Mother's Day Brunch
Hi and welcome if you are coming over from the lovely Lindsay Hill Interiors!!  I'm so excited you decided to peruse our inspiring Mother's Day table scape loop tour hosted by the talented, Kelly Nan & Randi Garrett Design (love and admire the work of all of these girls mentioned, by the way)!!   This fun tour is all about sharing our Mother's Day table scapes where we will be gathering with family and friends to share a meal for the upcoming holiday and to celebrate all moms!  So, whether you have a house full of kiddos or just one (like me), or if you are a horse or dog mom (or some other furry family member) we love all moms and love celebrating them big on this special holiday!!
As many of you may know, when I build a table scape, I typically like to start with my flowers as inspiration (like I talked about here in my Easter Table Scape) and this time was no exception!  I started with these white hyacinth because not only are they gorgeous, they are so aromatic and lovely that I can hardly stand it!  And I did something super fun with them on my table this year that I'm dying to share with you.  But first, here they are in a simple, clear, cylindrical vase that allows them to be the star of the flower show..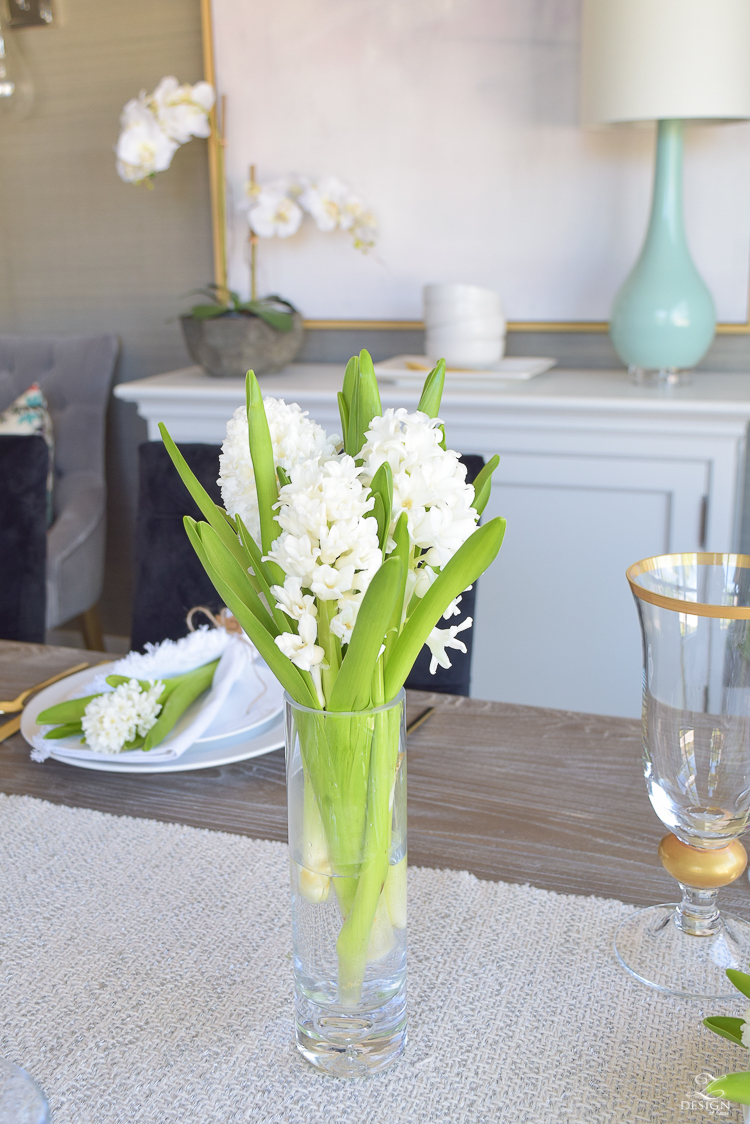 I also couldn't help adding some pink peonies to the mix…ya gotta have a little pink mixed in for Mother's Day, right?!  And what better way to do that than with pink peonies.  I placed them in these little candle votives I picked up in the clearance section at Target a while back.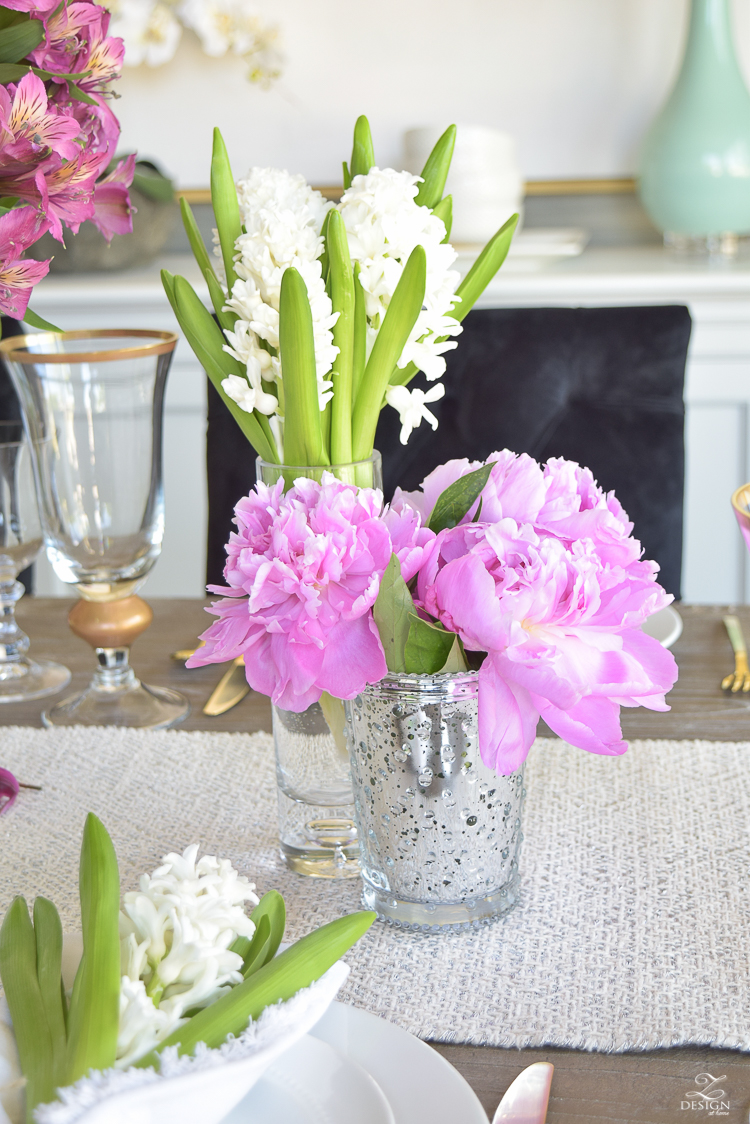 And then my main centerpiece are these dark pink Alstroemeria.  I love these because they last such a long time and look today just like they did the day I picked them up at the market a week ago.  I placed them in this lovely, white vase ( you can also see here where I used another white vase as a center piece) I recently found at Target on clearance for just under $10.  Love the bit of unexpected shine and texture it brings to the table (I talk more about adding texture and shine to your vignettes to add interest here).  You can also view a sneak peak of what I did with those hyacinth in this photo here…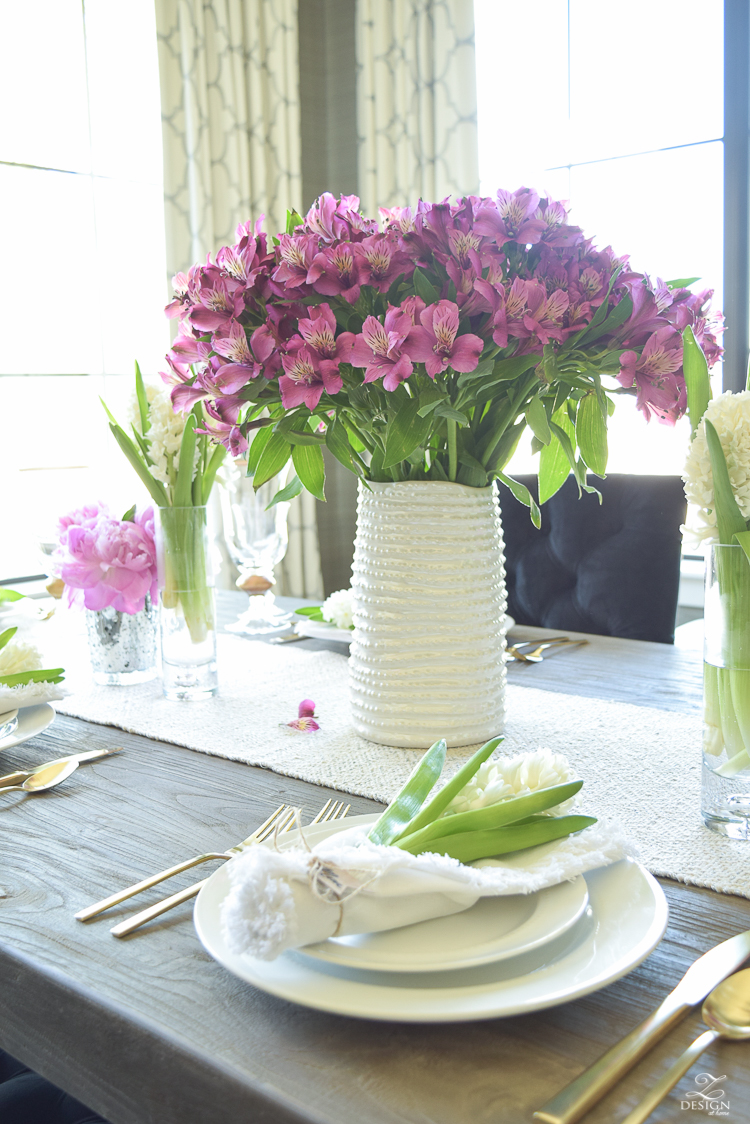 And now for my favorite item on the table…originally I had planned on layering my white beaded dishes for my place setting but when I saw how pretty the hyacinth could be gently wrapped in these white fringed napkins and tied with a simple piece of jute twine, I couldn't resist!  I just love it when plans for a project take a turn completely different from what you expected and the outcome is even better than what you had hoped for, proving that sometimes you just have to go with the flow and let your design and creativity speak for itself.  I also added these simple craft paper name tags so that everyone will know where to take a seat at our Mother's Day feast…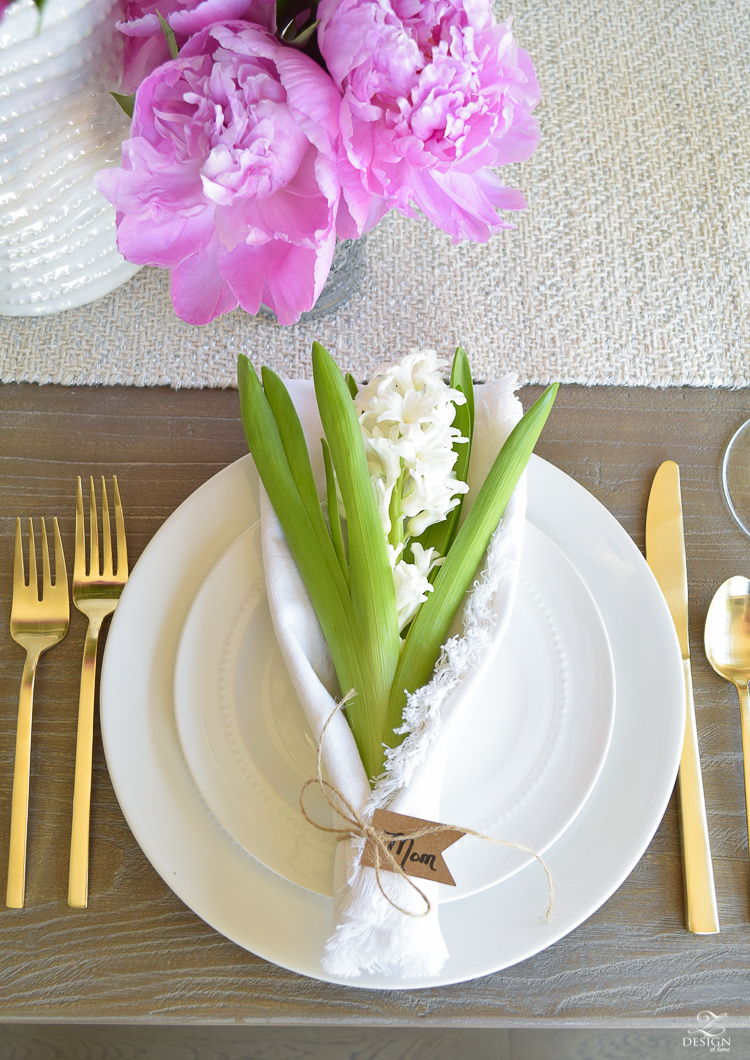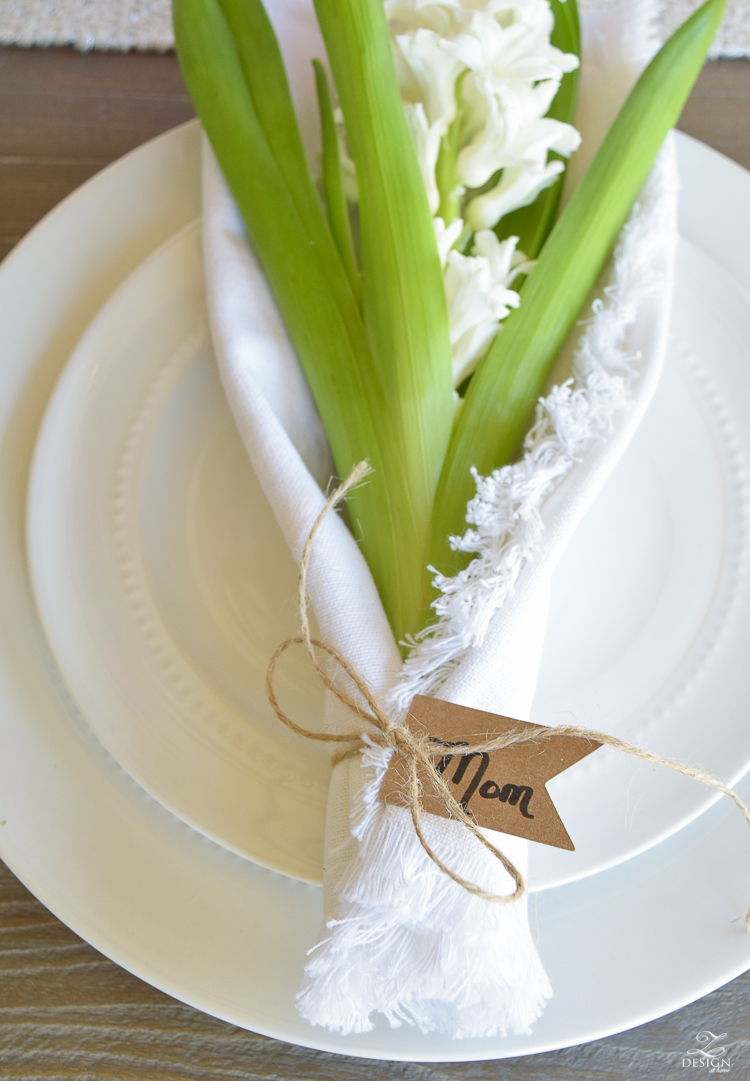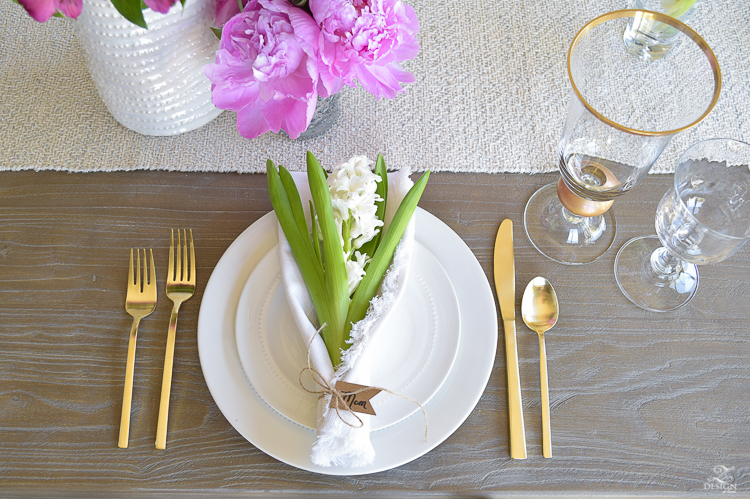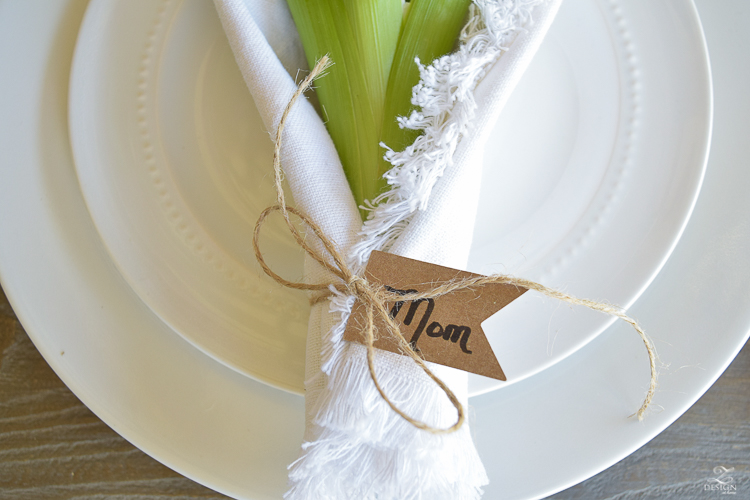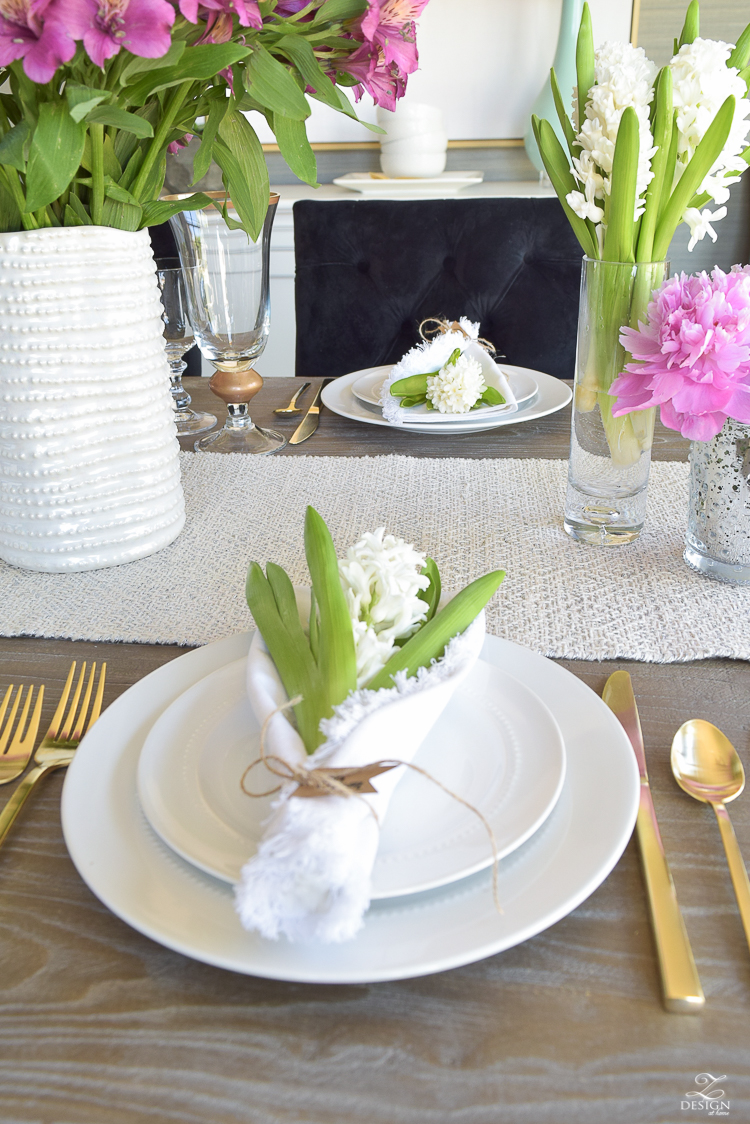 Get the Look

And now, here is a little tour around the rest of our table…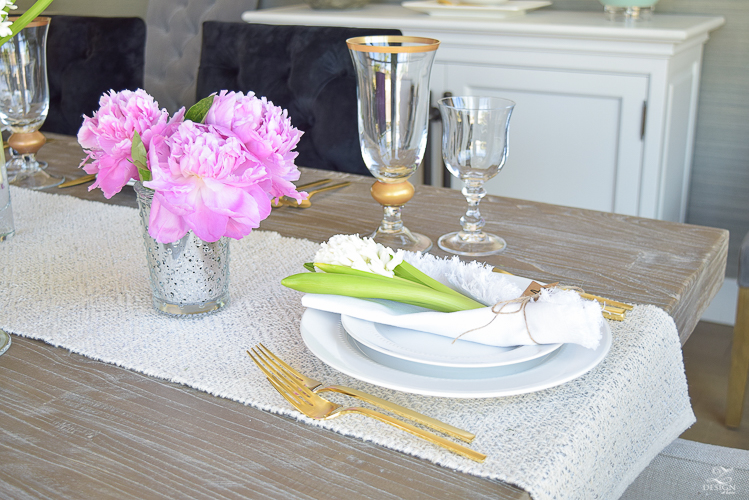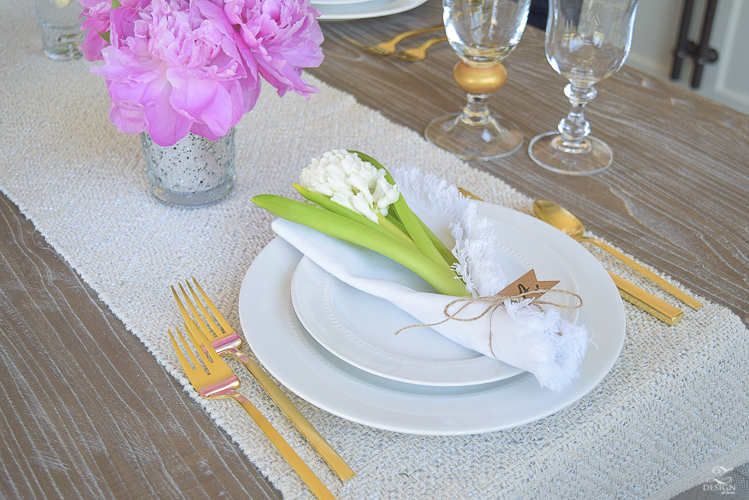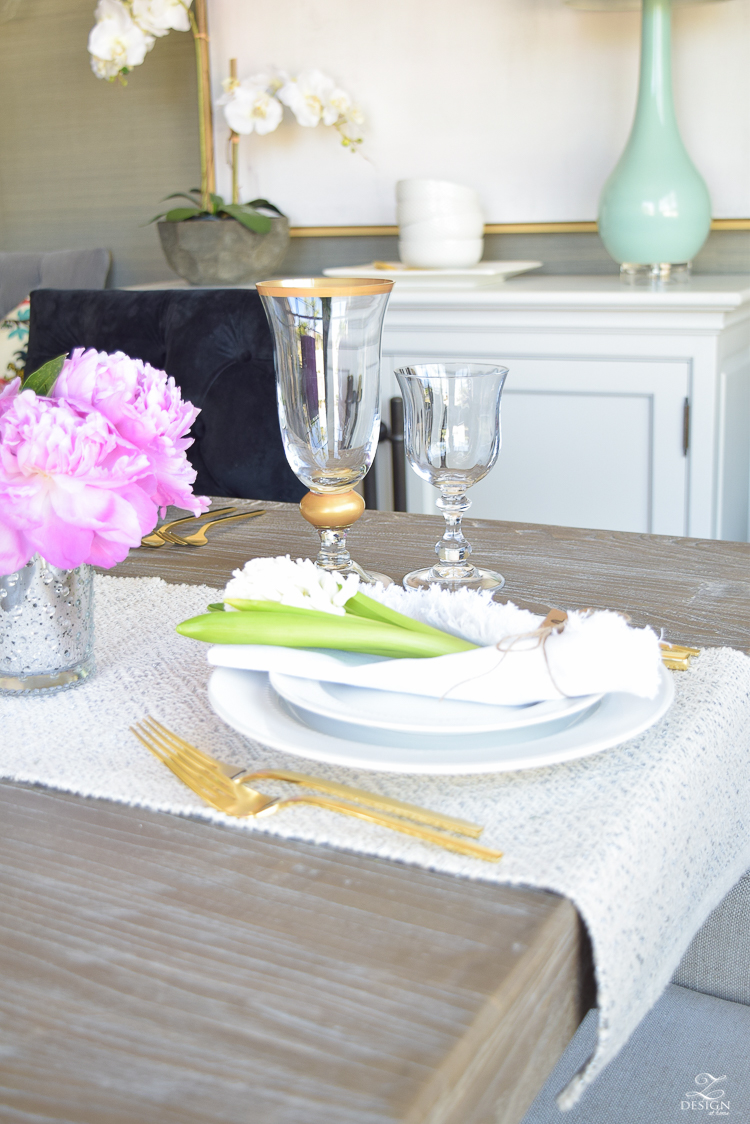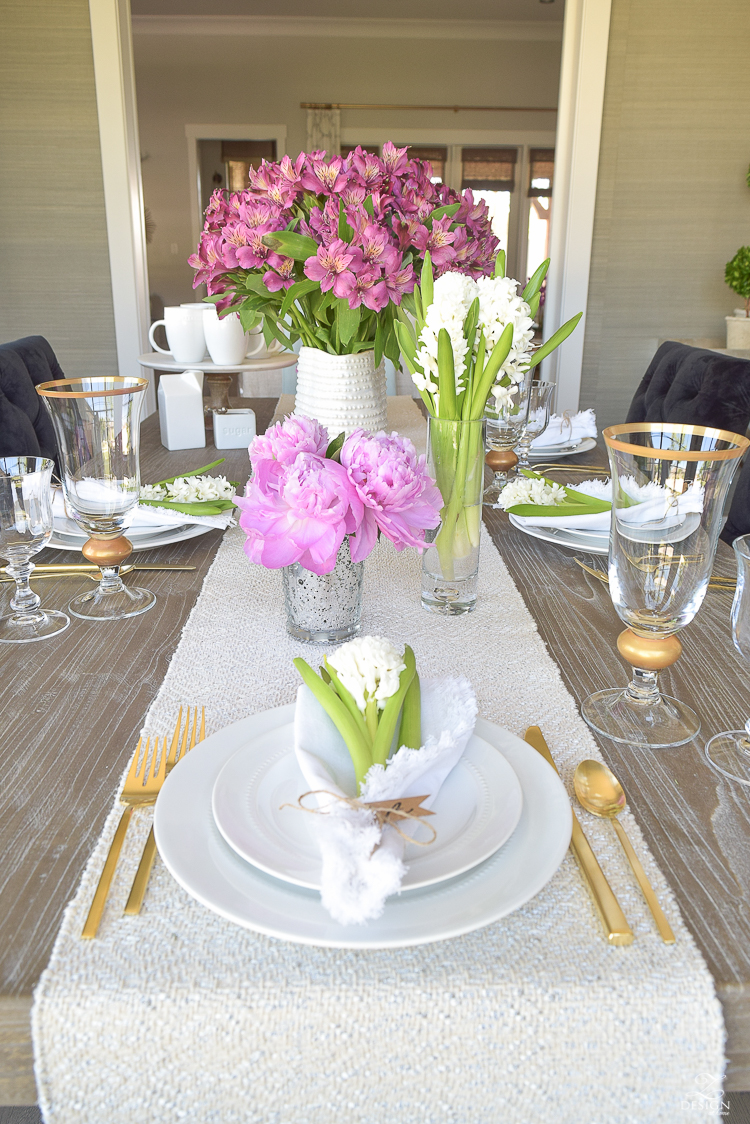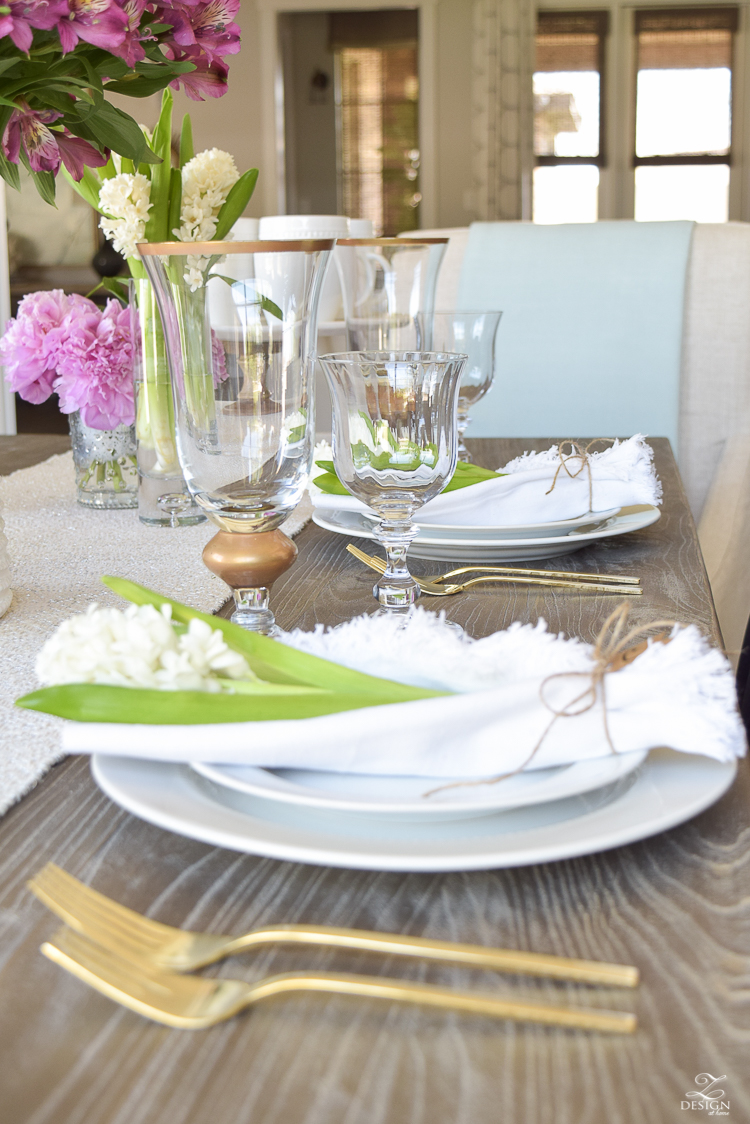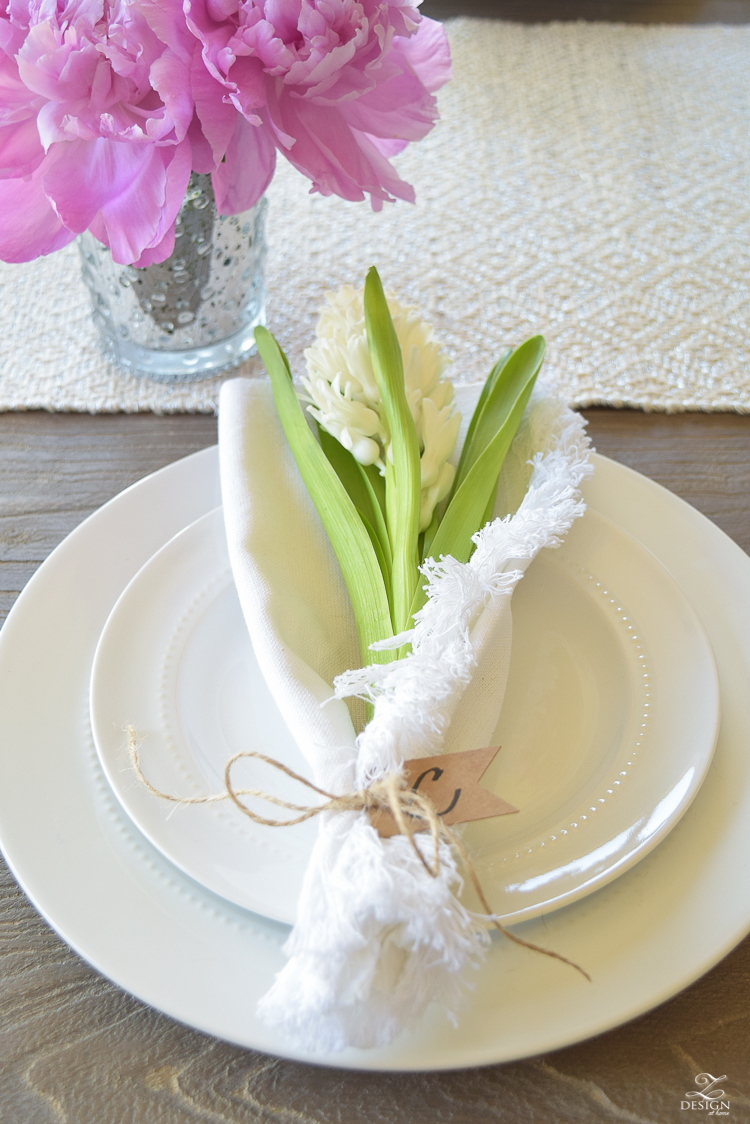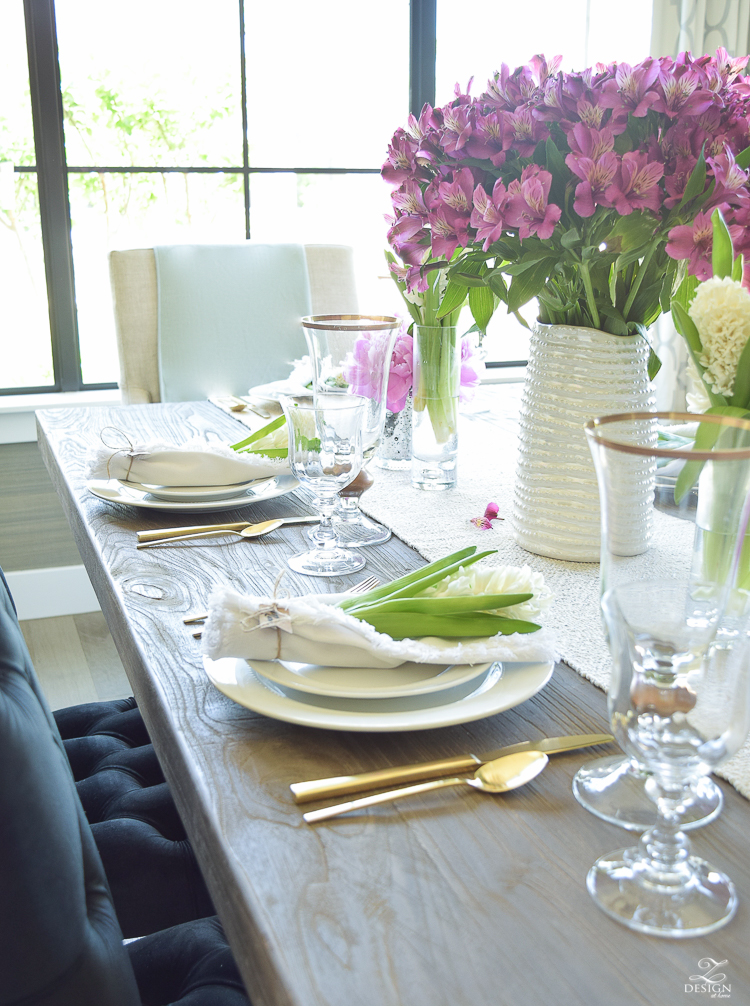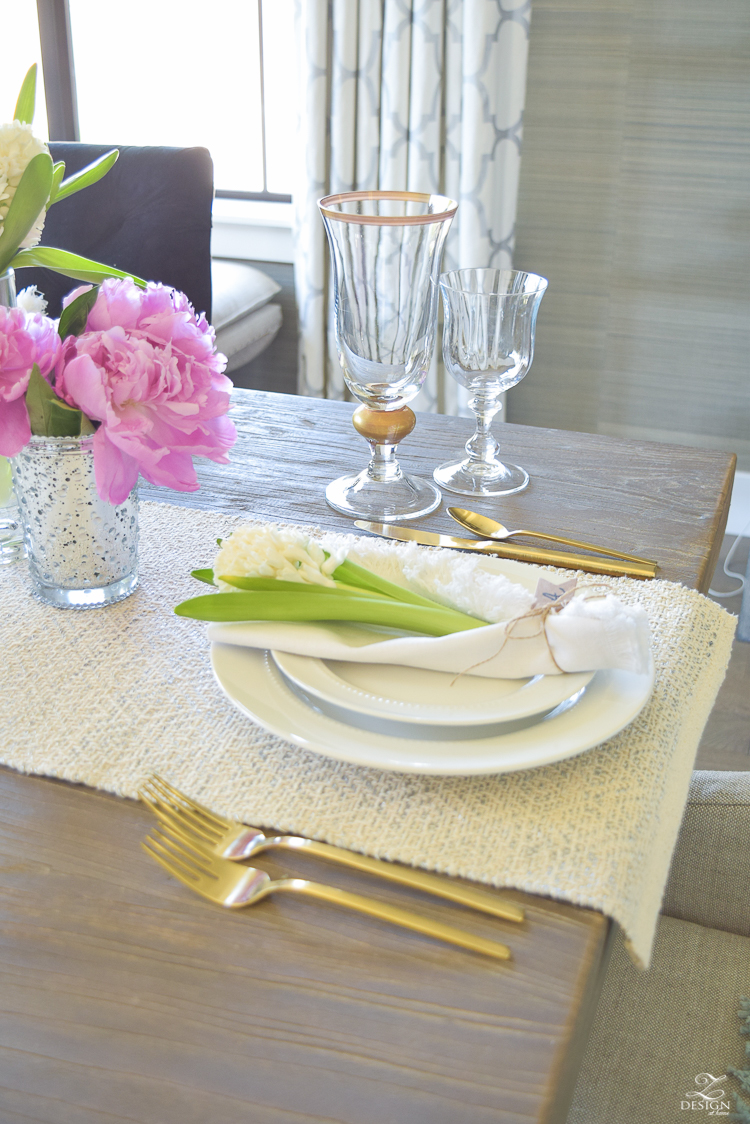 Get the Look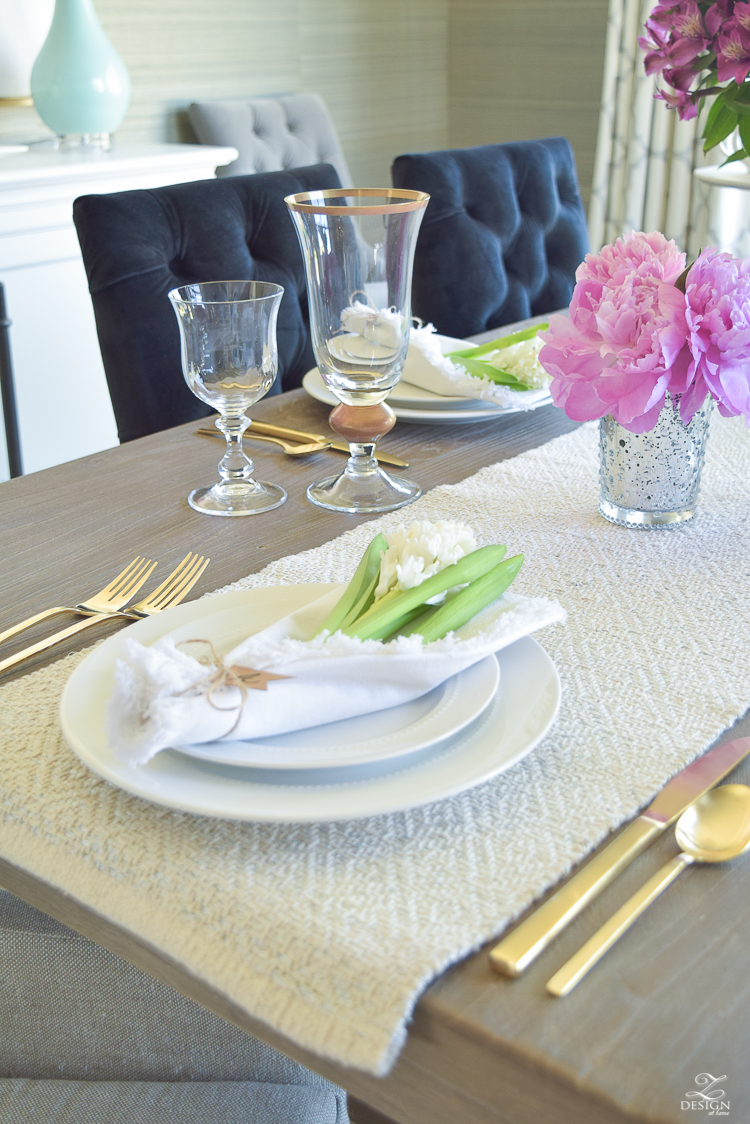 Normally I keep the buffet clear of dishes and just store them inside but this time I used it for overflow dishes for our meal.  I just adore these large beaded soup bowls that blend with my simple white beaded dishes and was excited to incorporate them into my table setting this year!  I also still can't get enough of my new gold flatware.  You can see more of this beautiful flatware in my white vase challenge spring brunch, in case you missed that previously!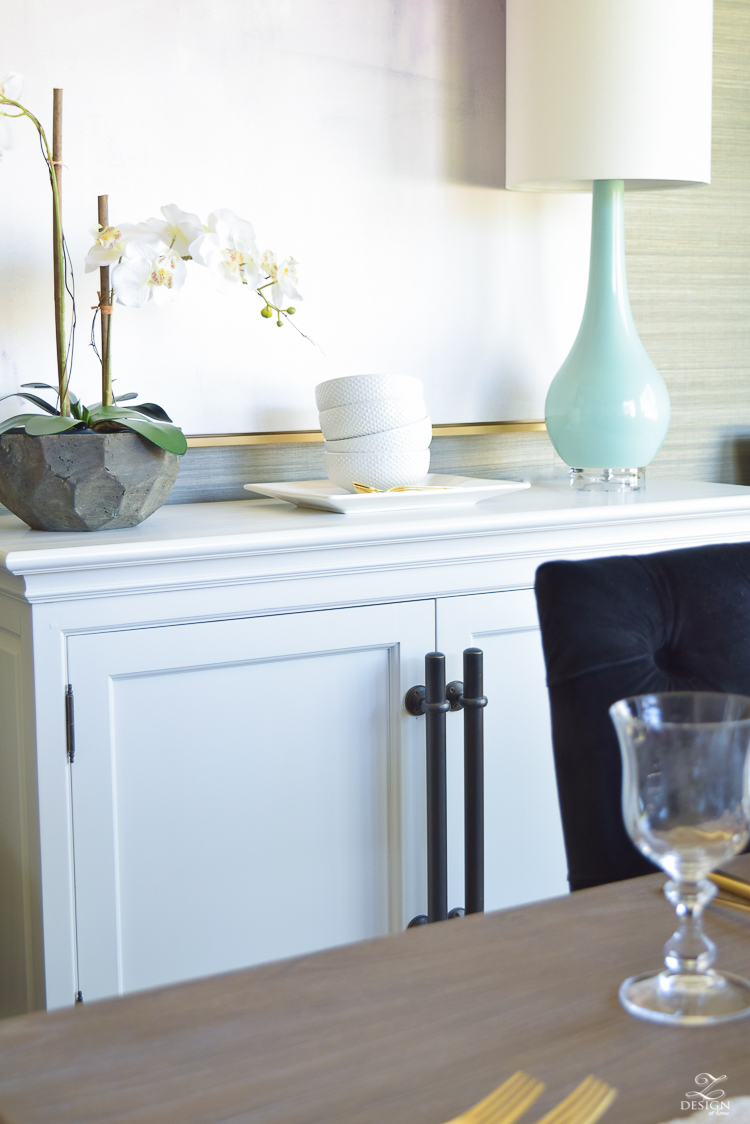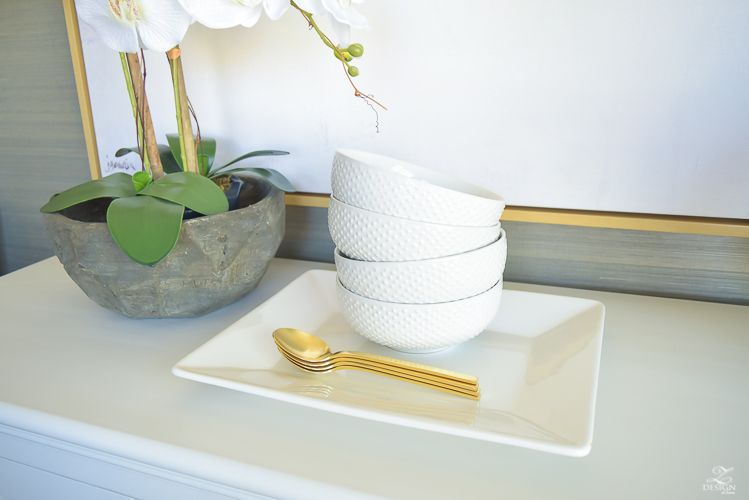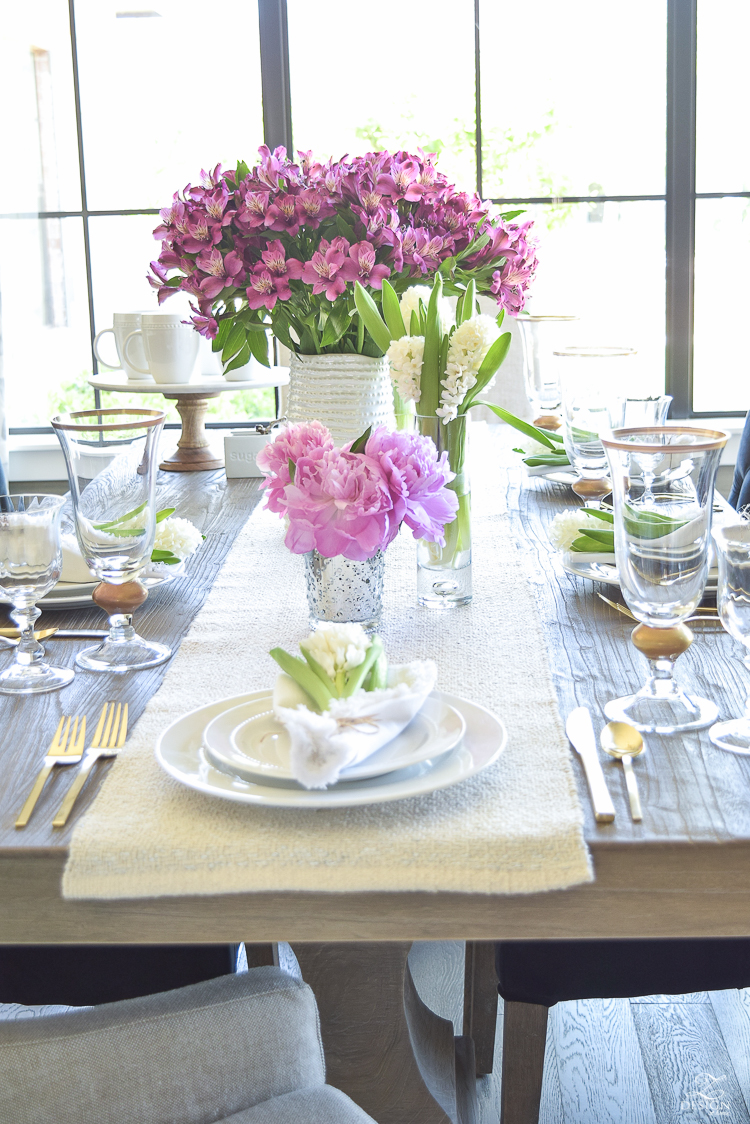 Here is a view of all of the flowers together that just absolutely makes this casual elegant table scape.  I love how the flowers graduate down in height from the middle and how the vases change from textured and shiny to simple and then back to something textured and shiny.  I also love the pink, white, pink graduation as I think it's important to mix your materials and colors this way to create visual interest and flow in a table scape.  And of course the greenery provided by the hyacinth and Alstroemeria only enhance the view here…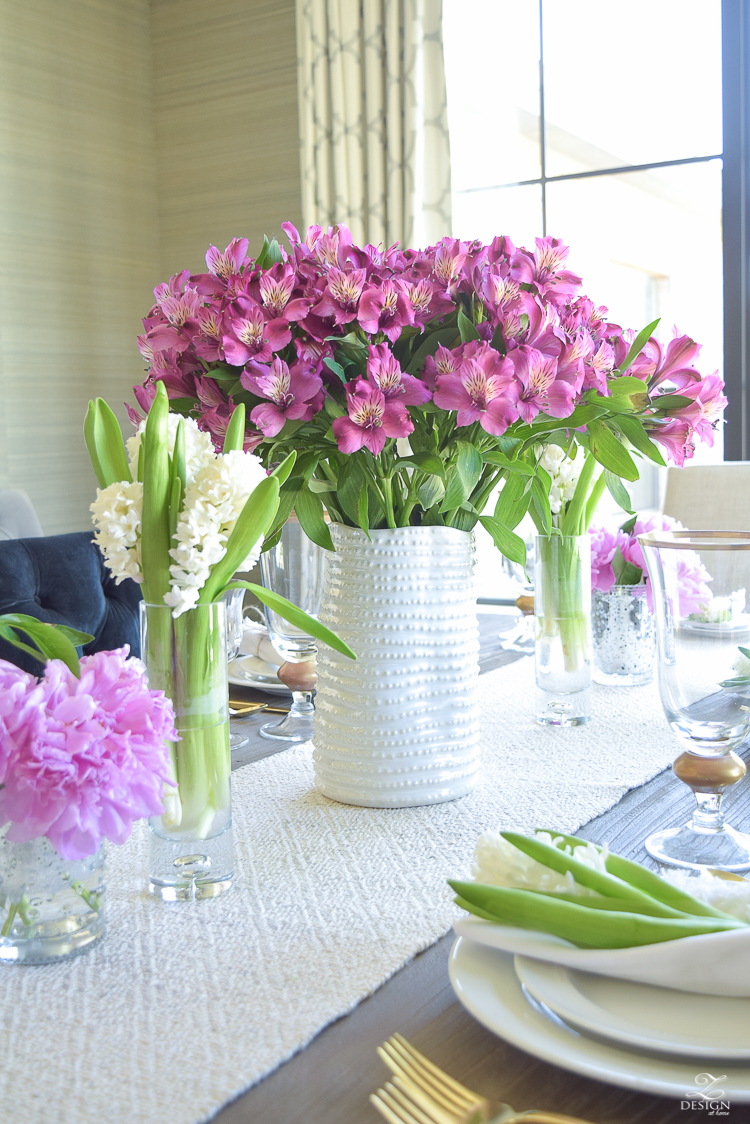 As far as my table setting goes, it's pretty simple with just the white dishes, gold flatware and of course my napkin/hyacinth creation … I wanted to allow that piece to be the star of the show for this casual elegant table setting so I kept things pretty simple.  I also used my wedding crystal for ice tea glasses but recently found these smaller crystal glasses to blend with them to serve water in.  I think they compliment each other nicely and I like that they don't "match".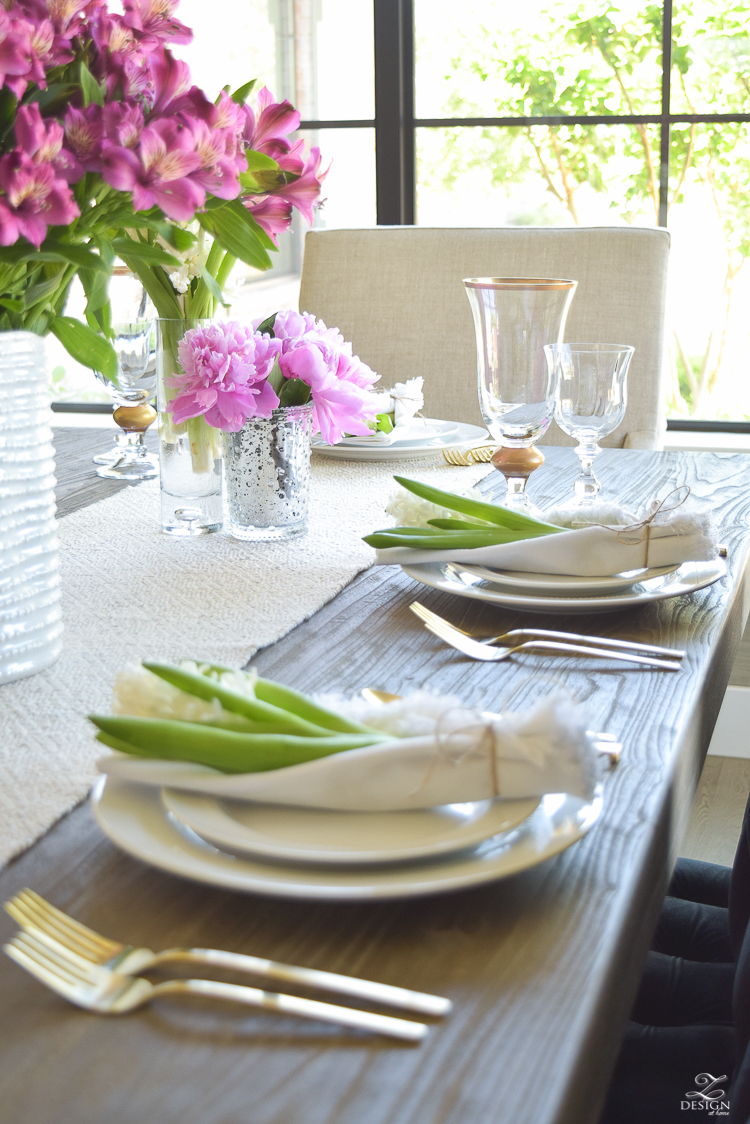 And last but not least to end our casual Mother's Day brunch I created a little coffee station, again using my white beaded dishes, my favorite cake stand as a riser, favorite sugar bowl, and a few other favorite pieces…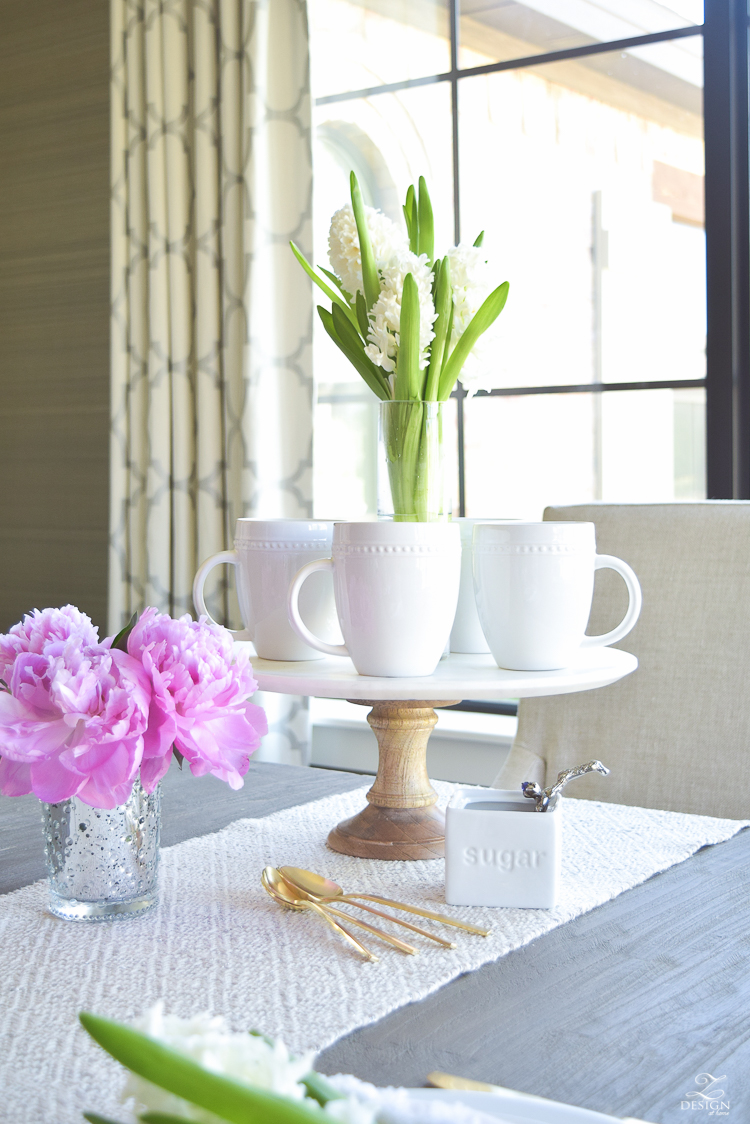 Get the Look

I hope you enjoyed the tour around my Mother's Day table and that you will be able to take some inspiration from it for your own table this Mother's Day.  The next person in our loop tour is the talented Annie of Zevy Joy!  Please head over to admire her table setting skills as I know you will leave there feeling ready and inspired to set your own Mother's Day table this season!  Thanks for stopping by and a big happy Mother's Day to you…hope you are blessed to enjoy it with the ones you love!!
Xoxo, Bree
*Affiliate links used and where items are no longer available, a similar item has been linked for shopping purposes
Please also check our the rest of these very talented bloggers for more Mother's Day inspiration