Spring Brunch Entertaining & A White Vase Challenge
When I was asked to join a group of amazing blogger friends for a white vase challenge hosted by our talented friend @KelleyNan (Kelleynan.com) from Instagram, I simply couldn't resist joining in on the fun!  And, I had so much fun assembling this little vignette that I wanted to share how I pulled it all together with you.  Additionally, when I'm done showing you how I put mine together, I've shared down below all of the other 14 white vase challenge participants amazing creativity for our little vase adventure so plan to stay a little while and hang out!
You always need to have an inspiration piece (or a jumping off point) in any design whether large or small so of course for this fun job I started with my vase.  I have several white vases and pitchers I could have chosen from but of course I wanted to be a little different so I chose this patterned filigree vase I borrow from my living room (that you can see more of here if you missed my living room tour & my shelf/console table styling 101 post).  I also knew that I wanted to use multiple dishes to get that layered look I love and, that I wanted to do a spring brunch theme.  So to start, here is a shot of my inspiration piece that I began this project with…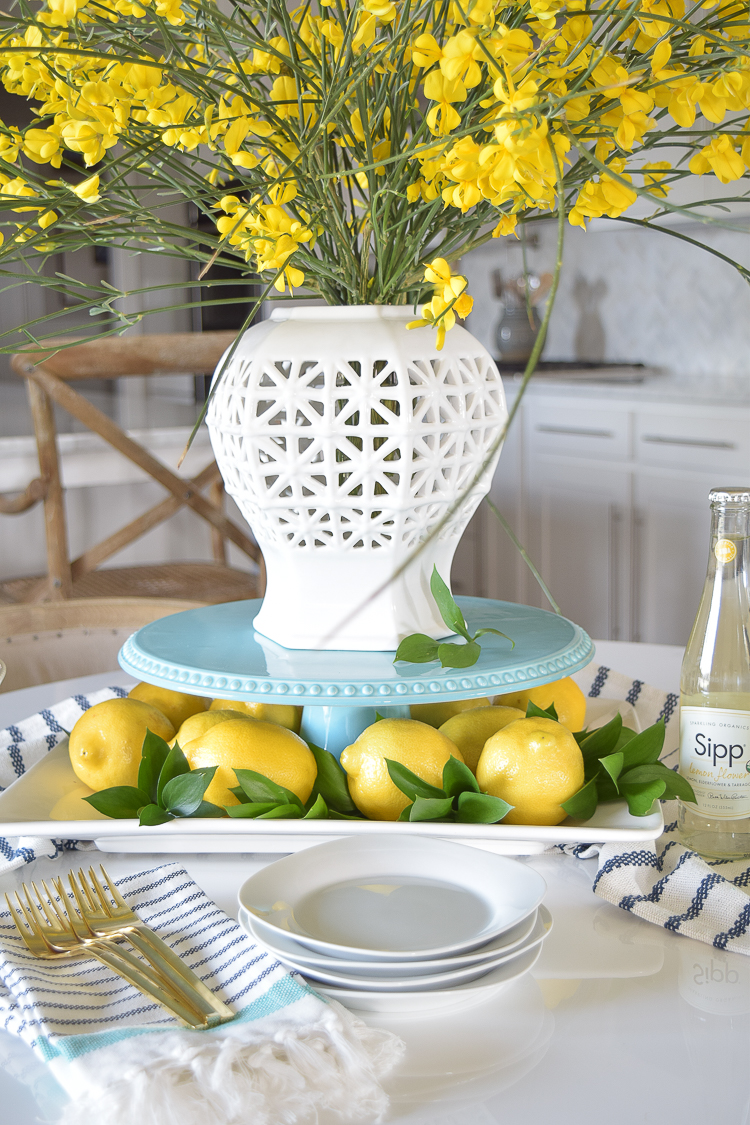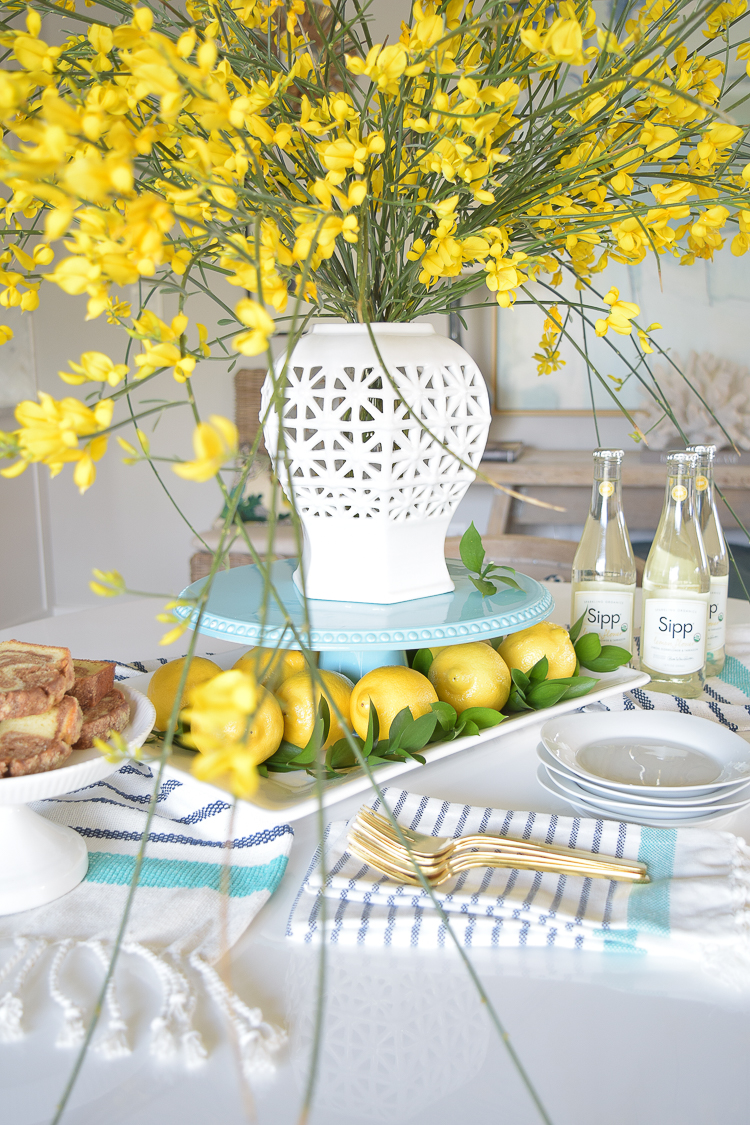 You might be able to see that I used a clear vessel down inside of the filigree vase to hold my flowers.  This is a good tip for being able to use fresh flowers in such a vase as this and/or any vessel where water might escape.  First I added as my foundation this fun table runner and matching napkins I found at Target from this years spring collection that tie in with my blue and aqua theme perfectly.  I love their fun, nautical feel and felt like they were perfect for my spring brunch scenario.  I then layered in this white platter and appetizer plates I got years ago at Crate & Barrel and then broke up all of the white with this fun aqua beaded cake stand (similar item) from HomeGoods.  The cake stand was useful as well in giving me a pop of color and, as a riser so that I could layer lemons and greenery around the bottom to create more interest in my vignette, not to mention adding some color and texture to this scene.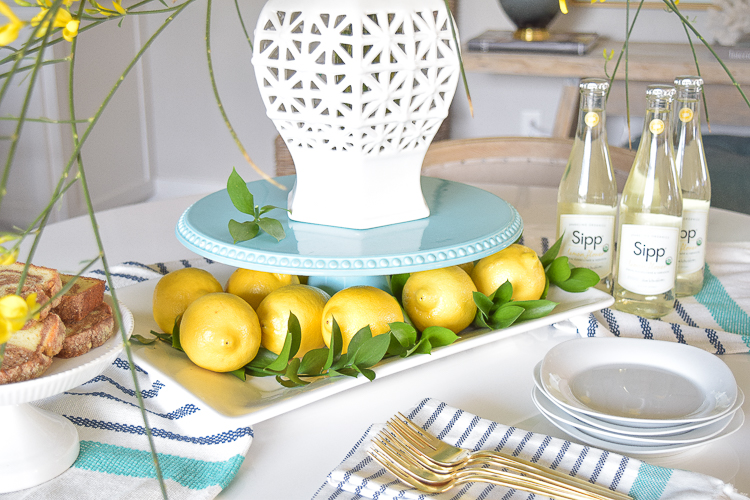 Next I added these fun World Market Sipp Organic Lemon Flower Soda water bottles and crystal glasses (similar item), found at HomeGoods.  I love the fun shape of these glasses and love how they can go from formal to casual in a heartbeat!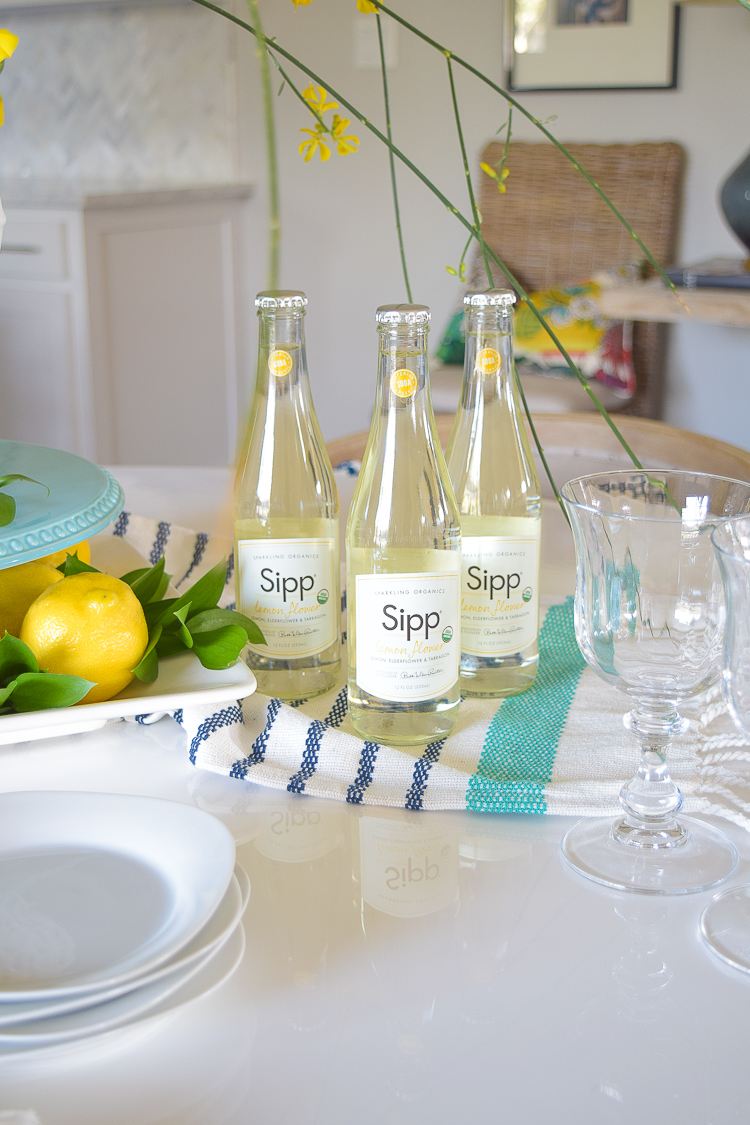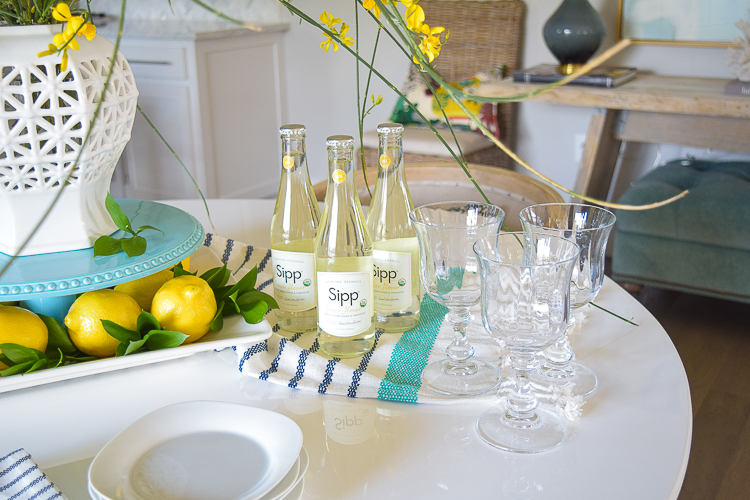 I then added some fresh cinnamon swirl bread from my local market (I could have made some but there's is so good I couldn't resist!) and adorned this petite cake stand (similar item) also found at HomeGoods some time ago.  The perfect finisher to our light brunch…YUMMY!!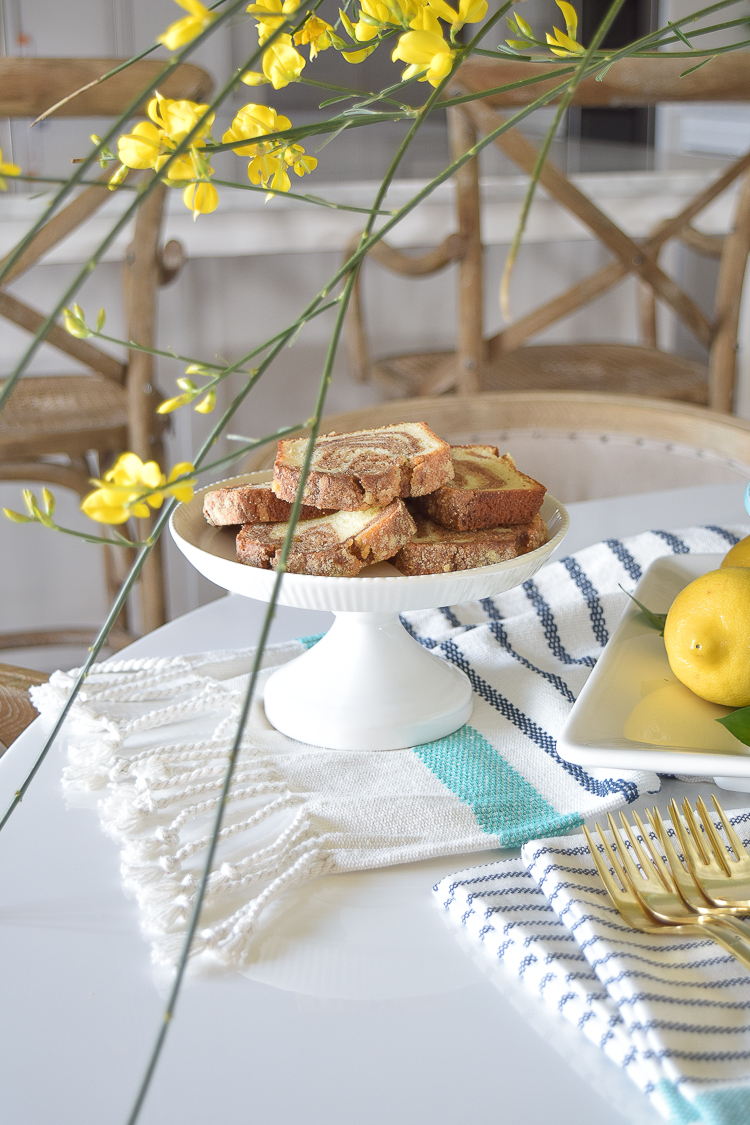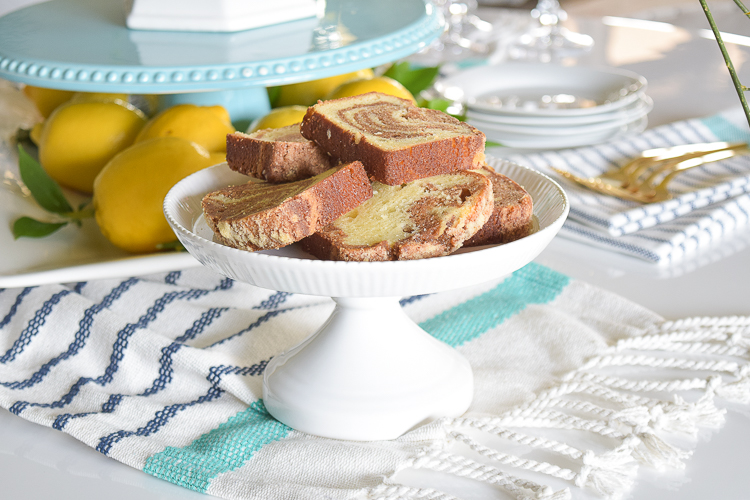 Next I added the newest addition to my flatware family found at West Elm.  I love that this gold flatware can be used in a formal or casual setting and I love how simple it is!  It has such timeless appeal and I know I'll use it for years to come in many different settings.  I also have seen similar gold flatware at Target that you can find here.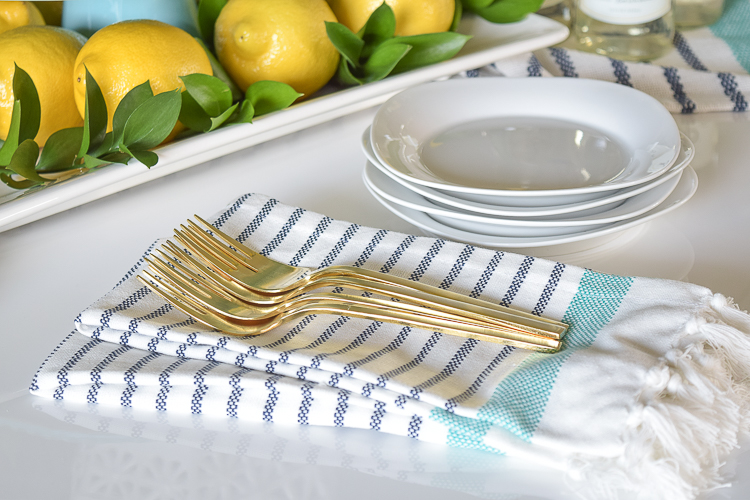 I then added my forsythia stems to my clear vase that is inside of my white vase,  which I absconded from our church parking lot (which means they were free to me:).  Since my vessel kind of had a lot going on, this simple organic arrangement was all I needed and I love how the lemons pick up on the flower color and bring some continuity to this vignette!  At this point I also added the large lemons and the greenery that was repurposed from my Easter table centerpiece last week that you can see here if you missed it.
And that about wraps it up for this fun, easy brunch I put together for our challenge.  Stay tuned also (and come back to visit if you can) because I'll be adding photos to this post soon from our challenge from the other bloggers that I did the loop Instagram challenge with!  This was such a fun event and we all can't wait to do it again soon!!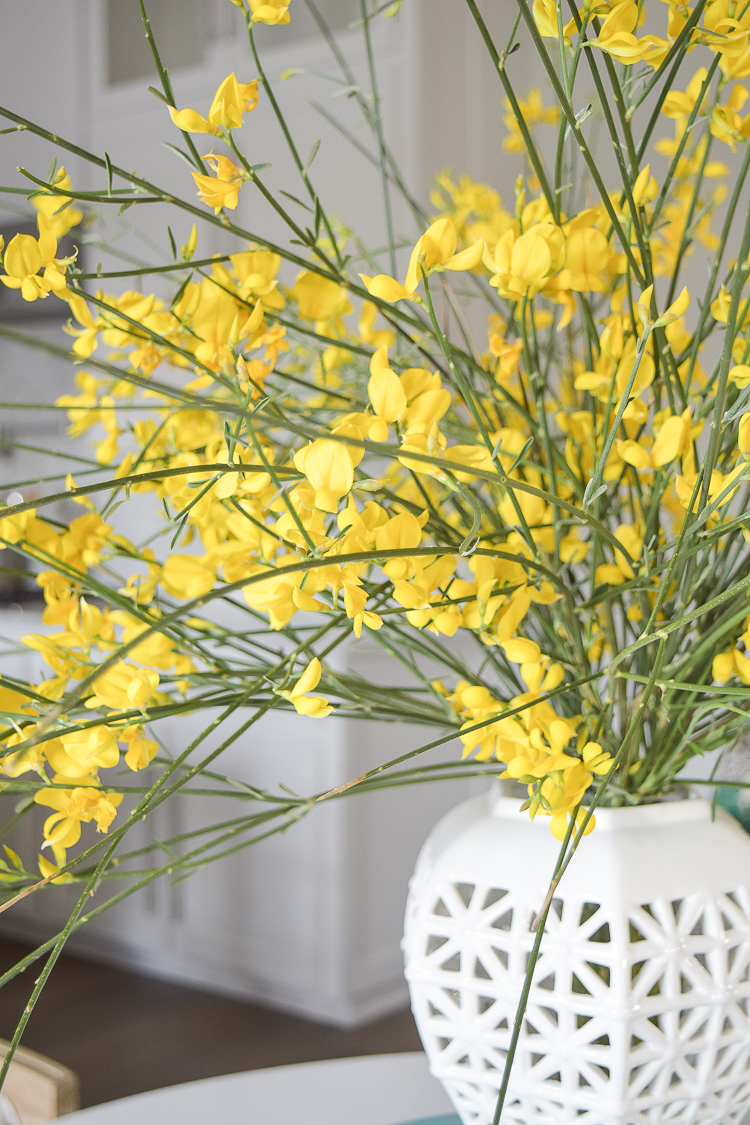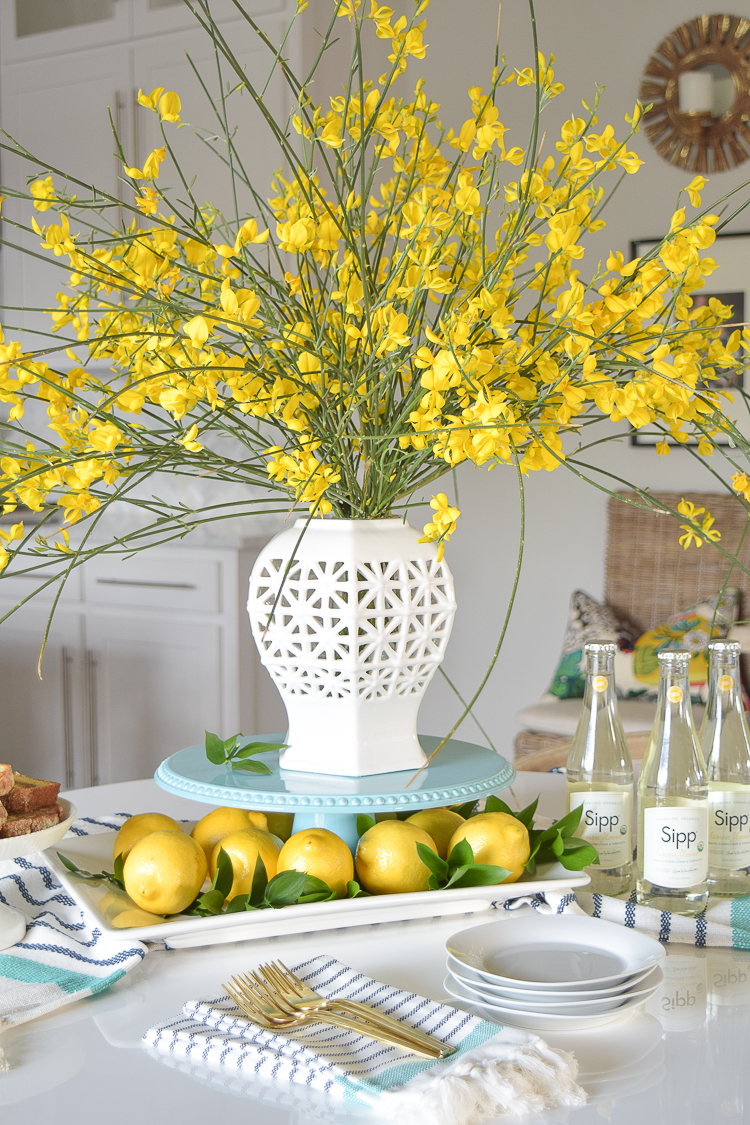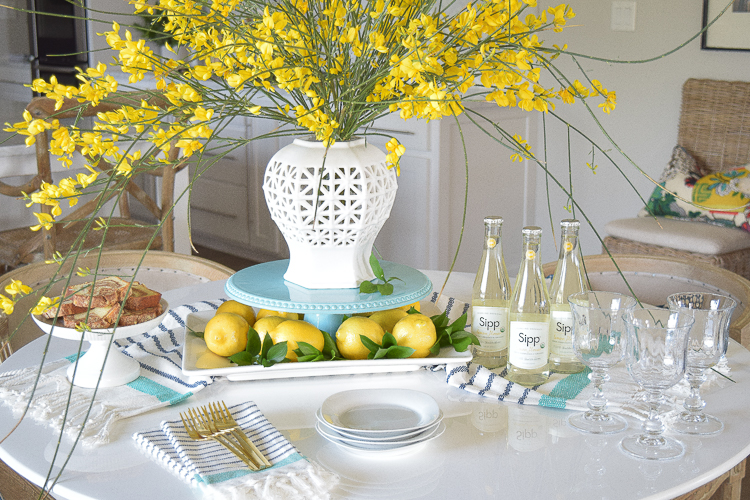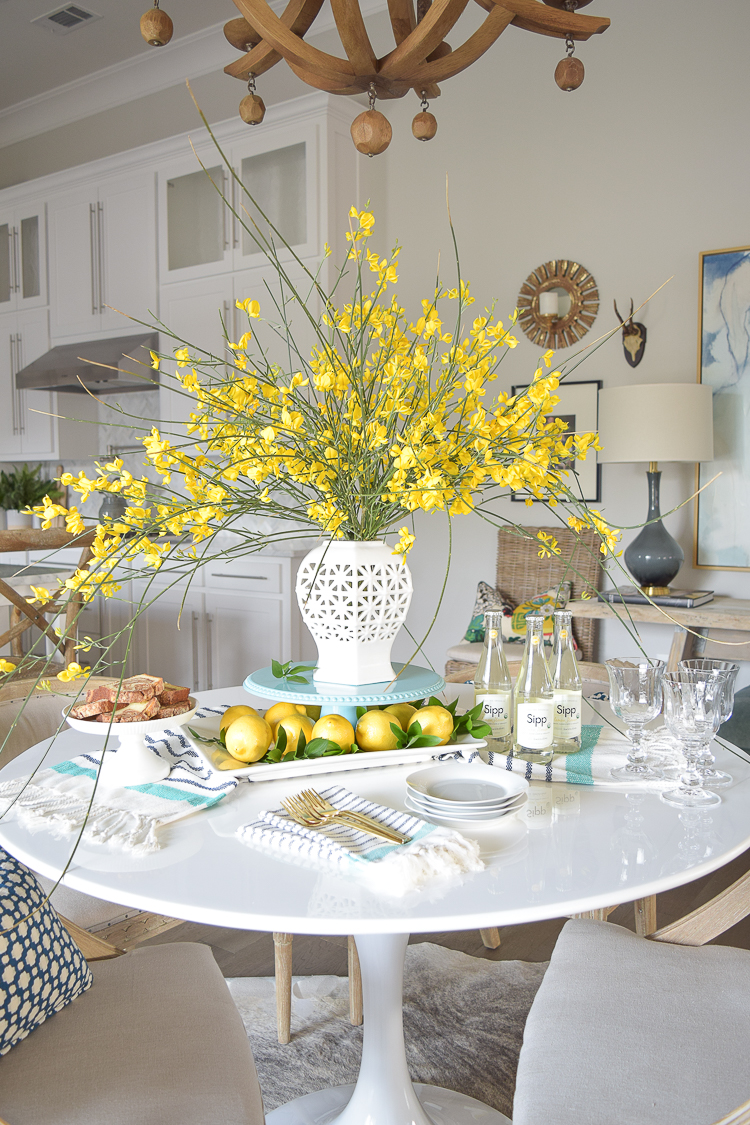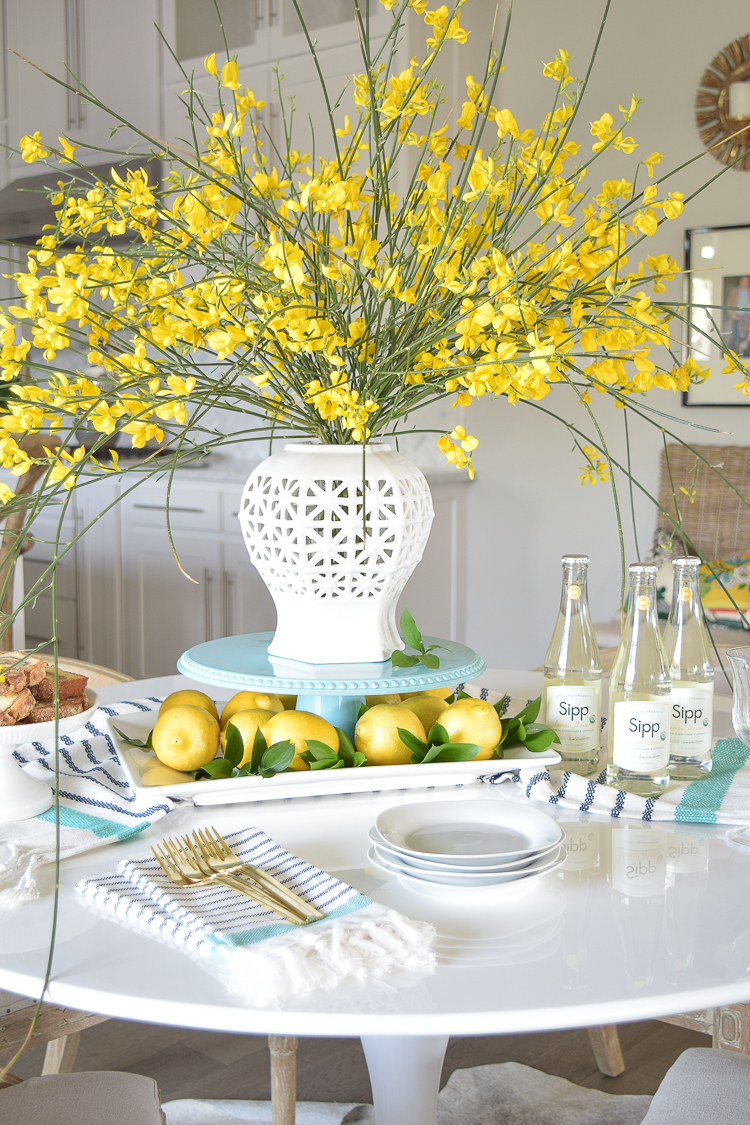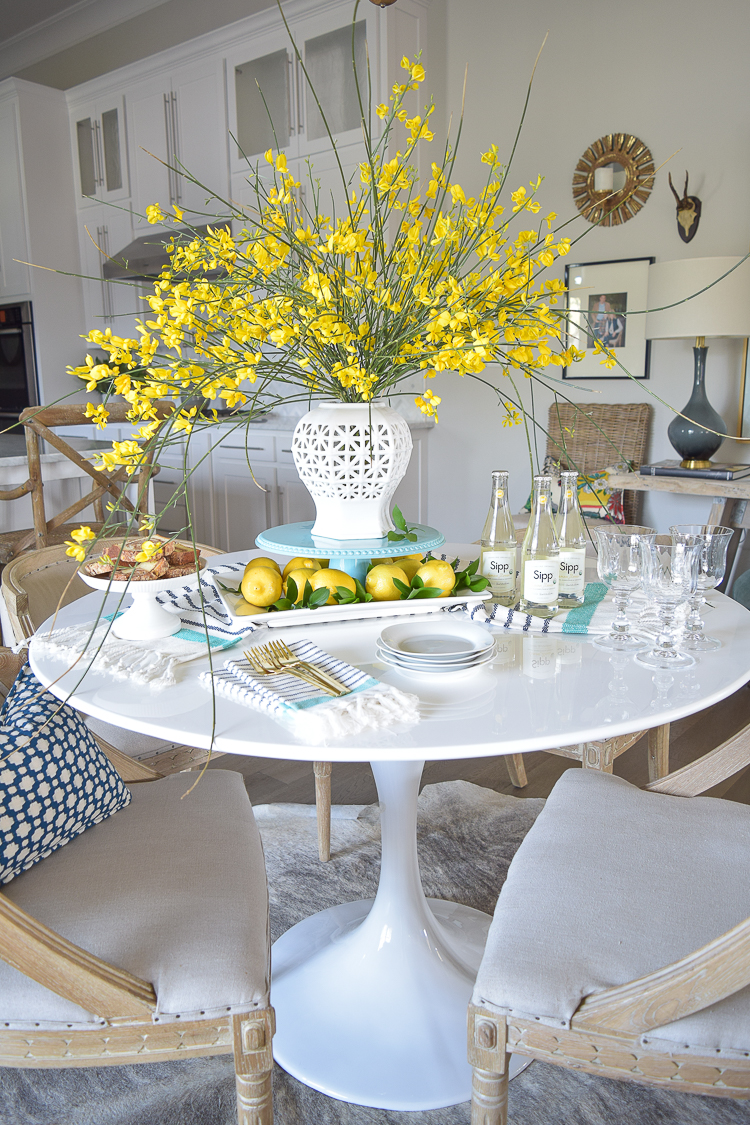 Shop This Post | Some similar items and affiliate links used

And last but not least, I also wanted to share with you the work of the other incredibly talented participants of the white vase challenge.   The term "challenge" was used for this event because we were all challenged to come up with a design, any design that we wanted with really no boundaries other than it had to be a white vase or vessel of our choosing.  We could use anything from a typical white vase, a pitcher, a tureen, bowl, etc, etc for our vessel and my counterparts absolutely knocked it out of the ball park.  I am super excited to share their amazing work so without further ado here we go…
First we have the incredibly talented Kelley Nan who is a master at arranging flowers and creating table scapes that evoke some serious emotion, in a good way.  The flower color combination Kelley chose along with the fruit within her arrangment were brilliantly displayed in her white vase masterpiece.  You can find Kelley's white vase challenge photos along with lots of other table scape and flower inspiration on her blog at KelleyNan.com.  Get ready for some serious inspiration over there when you check her out!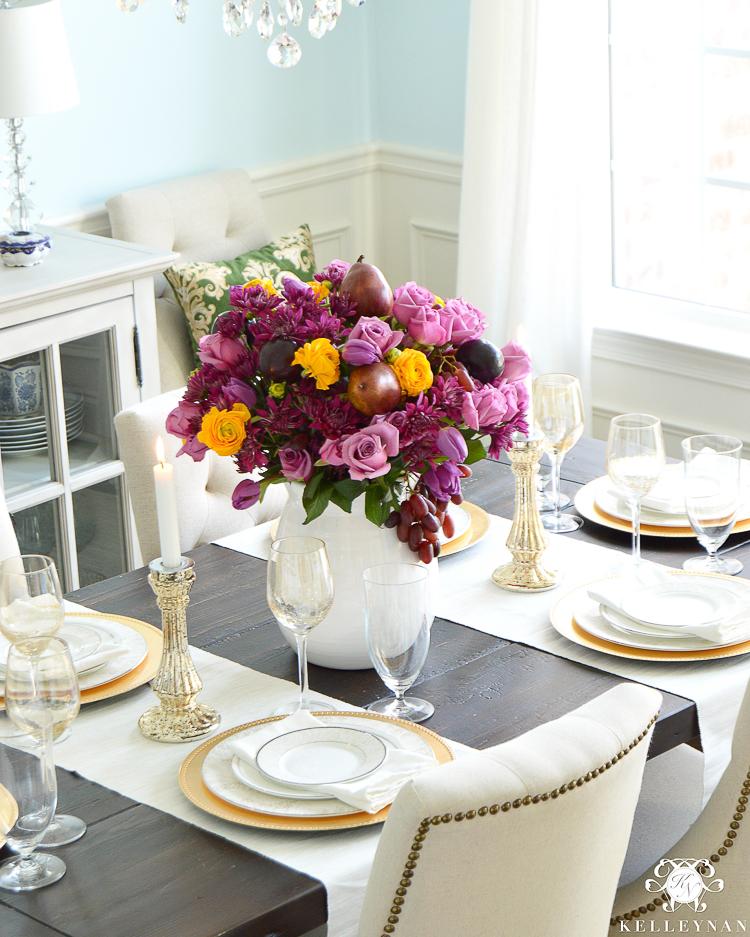 Kelley Nan ~ Kelleynan.com
Next we have the lovely Jennifer at Decor Gold Designs.  Jennifer has the most beautiful collection of vessels and chose this amazing ornate pedestal vase for the white vase challenge.  She used flowers and greenery from her yard and neighborhood, with the exception of these gorgeous purple tulips.  Her pedestal vase allowed the sprays to hang over the edges in a lovely way while showcasing these colorful tulips at their finest hour. She plans to add a tutorial of a similar arrangement soon to her blog so make sure to check that out at DecorGoldDesigns.com in the near future!  You'll definitely get lost in all of the inspiration and tips you'll find on her blog as well!!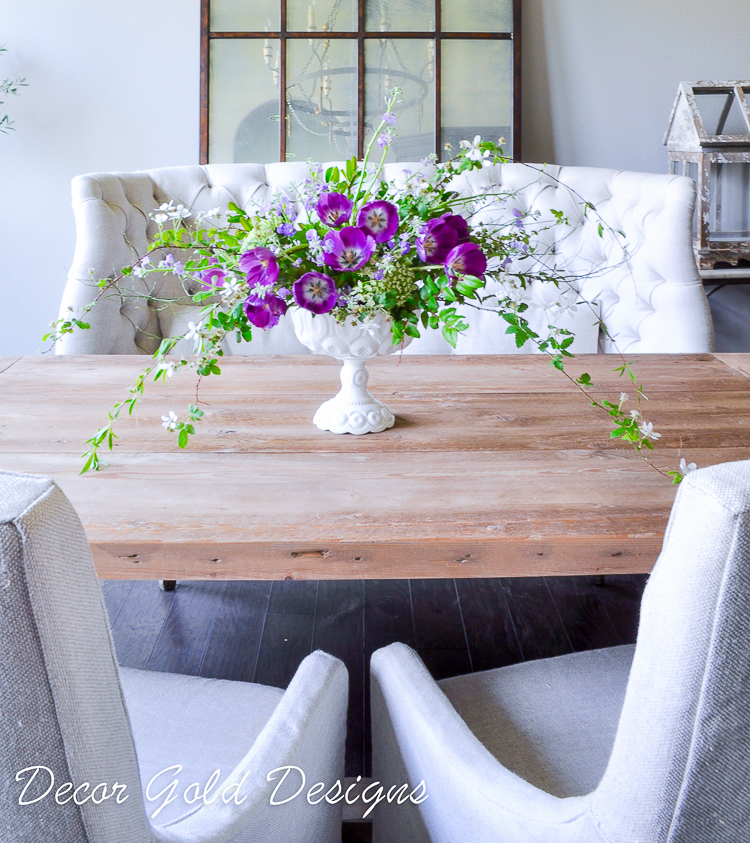 Jennifer ~ DecorGoldDesigns.com
Up next is the talented Shauna at The House of Silver Lining.  Shauna expertly layered radishes, parsley, and baby cabbage with spring flowers very craftily intertwined to create a gorgeous and unique centerpiece that absolutely takes your breath away.  You can see a full tutorial of her white vase centerpiece along with lots of other inspiration on her blog at TheHouseOfSilverLining.com.  And there is no shortage of talent and creativity over at Shauna's place so go with a notepad and plan to stay awhile!!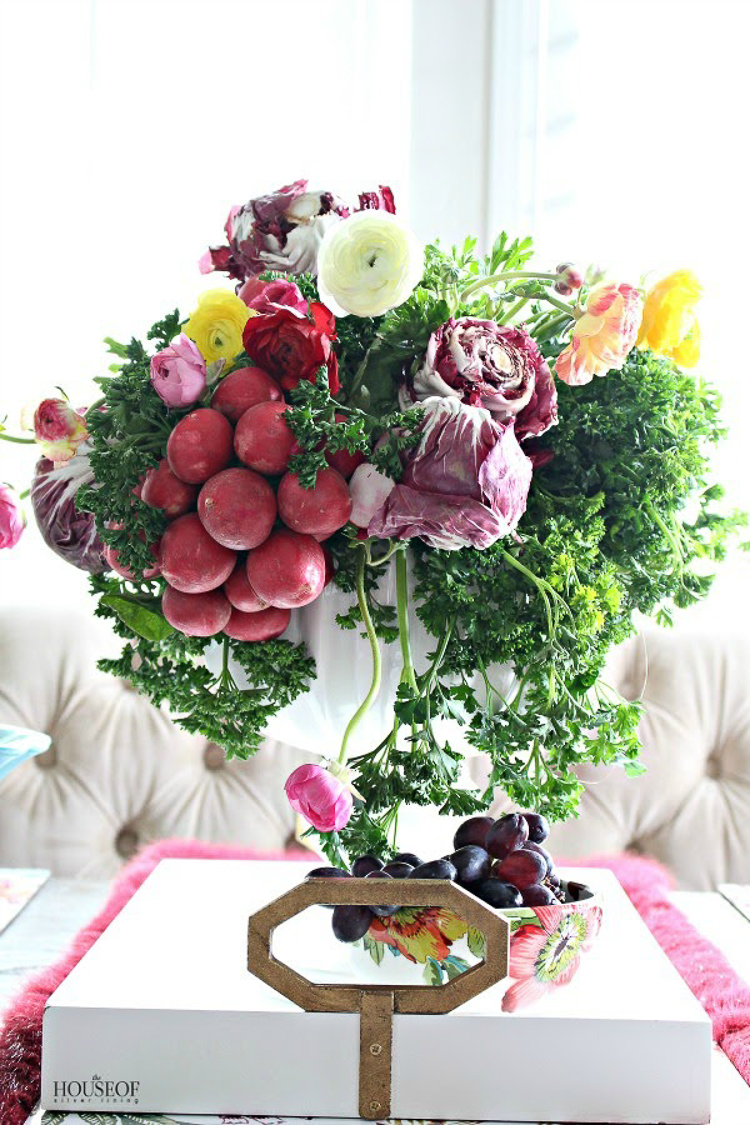 Shauna ~ TheHouseOfSilverLining.com
This next photo belongs to my friend Tamara at Citrine Living.  Tamara's style is amazing and I love this simple elegant setting where she so smartly displays artichokes along side white roses and hydrangeas  – what a great combination, right?!  This vignette is the perfect setting for a spring brunch and I always feel inspired by everything Tamara does and this white vase challenge was no different.  You can check out this setting and more of her work at CitrineLiving.com.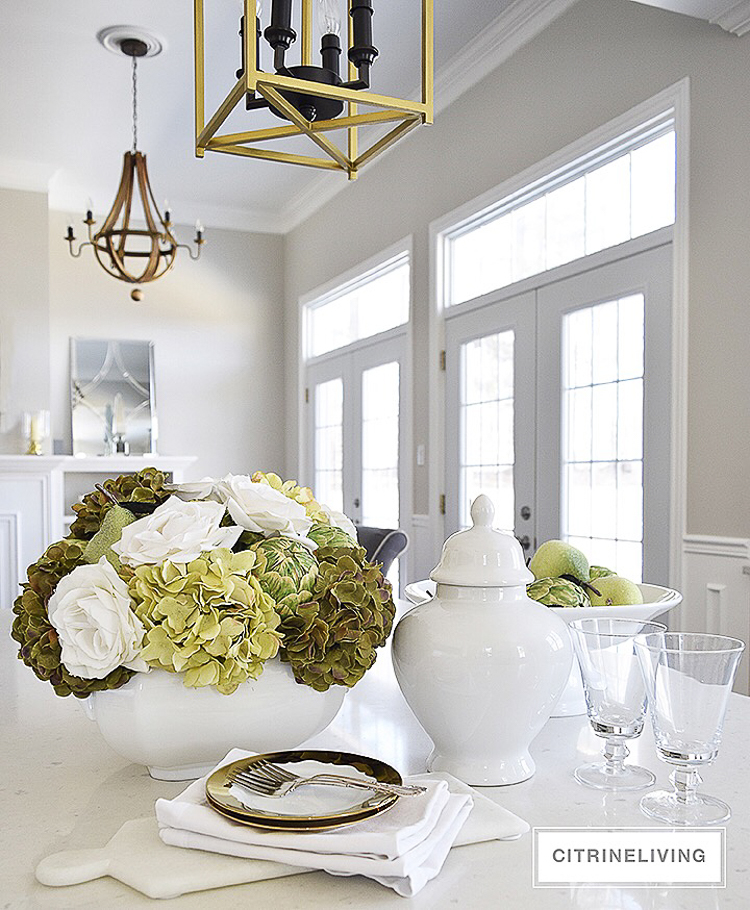 Tamara ~ CitrineLiving.com
Next is the crazy talented Erin of The Sunny Side Up Blog!  Her white vase is overflowing with gorgeous tulips in her favorite color of red that couldn't be more stunning!  She used as her vessel a flour canister – I mean how clever was that?!  Erin also displayed her white vase in a stunning vignette that made her tulips and her vase shine all the more.  If you are in need of some home decor and organizational inspiration head over to visit her at The Sunny Side Up Blog  .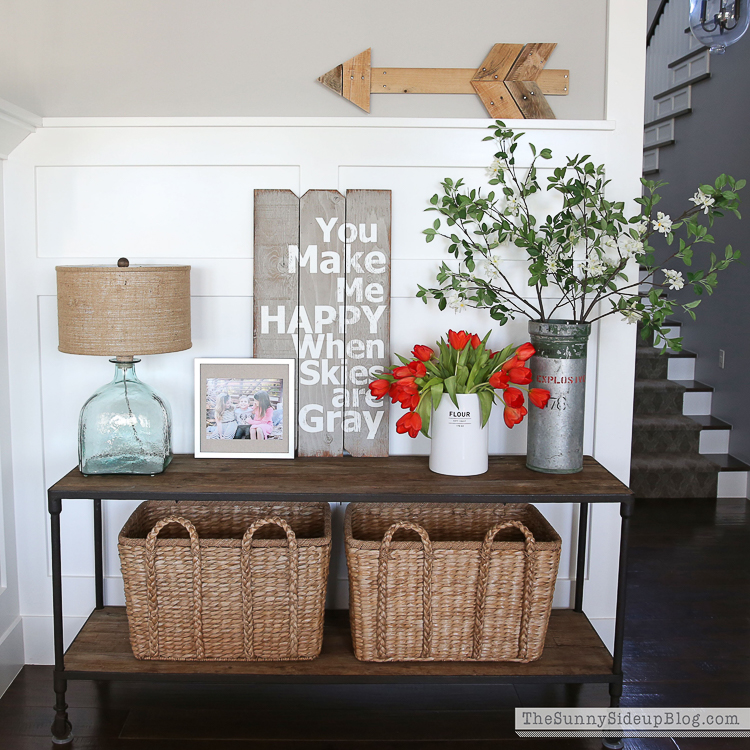 Erin ~ Sunny Side Blog
Our next white vase challenge participant is the talented Loi of Tone on Tone.  Loi chose to use a white ironstone pitcher with forsythias from his own garden.  They add instant sunshine to this already gorgeous setting and pick up on the color of the lemons as well.  It's perfect and I would just die to enjoy a meal in this setting with all of my white vase challenge friends, wouldn't you?!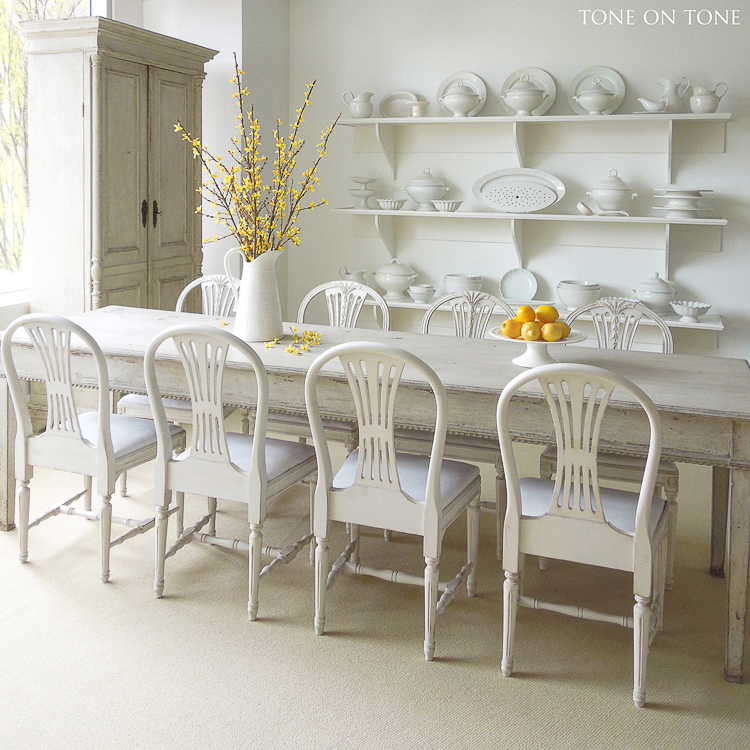 Loi – Tone on Tone 
This next white vase arrangement belongs to my friend Randi of Randi Garrett Design.  Randi's stunning arrangement consists of eucalyptus, pink roses, and clementines.  I love the way she combined the pink roses with the clementines to create a colorful arrangement that should speak to anyone of days gone by in spring time.  And the cascading of the eucalyptus over the sides of the vase  are the icing on the cake to her white vase!  If you aren't following Randi's blog for yet more table scape inspo and french inspired design, you can find her at RandiGarrettDesign.com.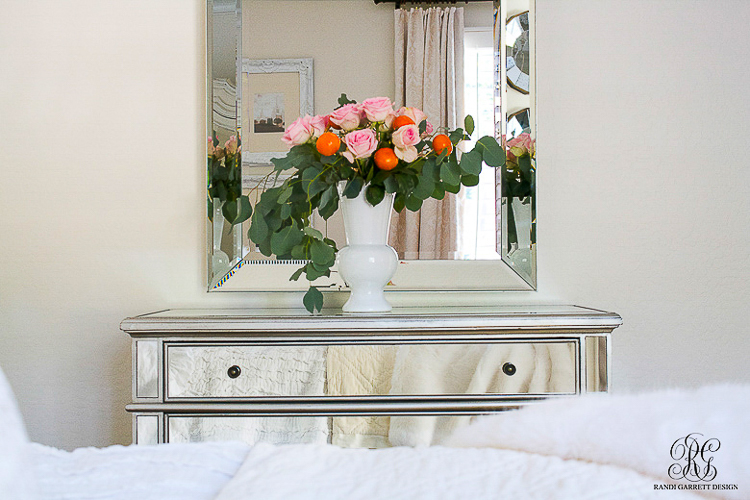 Randi ~ Randi Garrett Design
The talented Annie of Zevy Joy used both faux and fresh stems to keep her color scheme soft so it would beautifully blend with the rest of her dreamy white home.  Annie is so good at accomplishing great style on a budget and she pulled that off in expert fashion as usual here with her white vase challenge, finding this stunning vase for only $3.  Annie also has a lovely blog with lots of inspiring ideas at ZevyJoy.com that I highly recommend!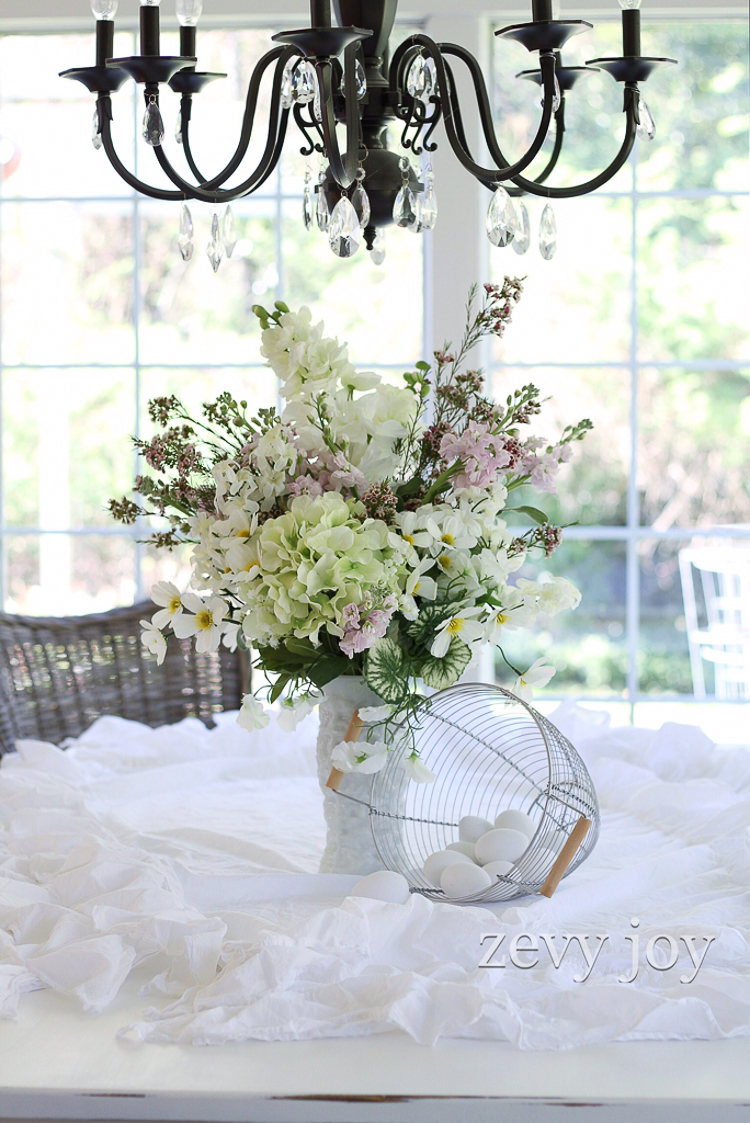 Annie ~ ZevyJoy.com
When I saw the way Sandra at Old Silver Shed used this oversized clam shell from her garden as her vessel I was beyond floored!  Not only at the beauty of her arrangement, but the creativity to use this piece for her white vase challenge was absolute genius!  And then of course the tulips and fresh hydrangeas which are classic to Cape Code, where Sandra resides in her stunning Cape home with her family was the absolute cherry on top.  Everything Sandra does is inspiring and her whole Instagram feed (@oldsilvershed) is packed full of stunning photos just like this one!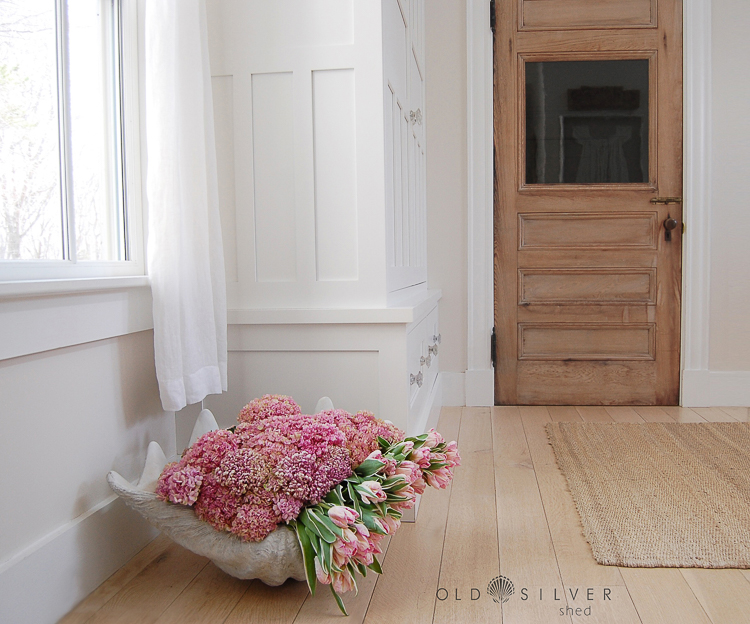 Sandra ~ Instagram @oldsilvershed
My next talented blogger/Instagram friend that pulled an amazing vignette together is Oscar at Oscar Bravo Home.  He used these beautiful white porcelain bowls filled with lush green moss and his largest bowl served as a vessel for a bonsai tree.  Oscar's vignette certainly evokes a sense of calm and makes me want to run out and purchase a bonsai tree, stat!  You can see other inspiring ideas like this and great design tips from him over at OscarBravoHome.com.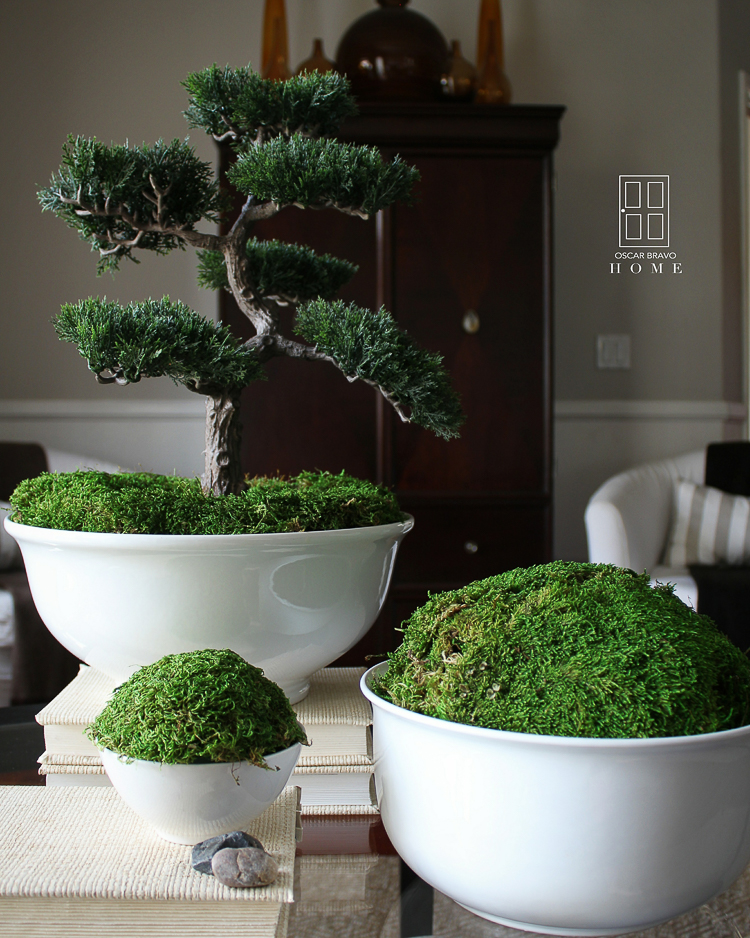 Oscar ~ OscarBravoHome.com
This striking display belongs to Sandi and Shalia of The Spoiled Home! Their blossoming redbud branches and magnolia leaves prominently displayed in this hand (which by the way is one of the hottest accessories at the moment) was a perfect example of thinking out of the box in design!  I love that their vessel was so unexpected and so different from probably anything we could have imagined.  You can see more stunning photos from these two fun gals over on Instagram @thespoiledhome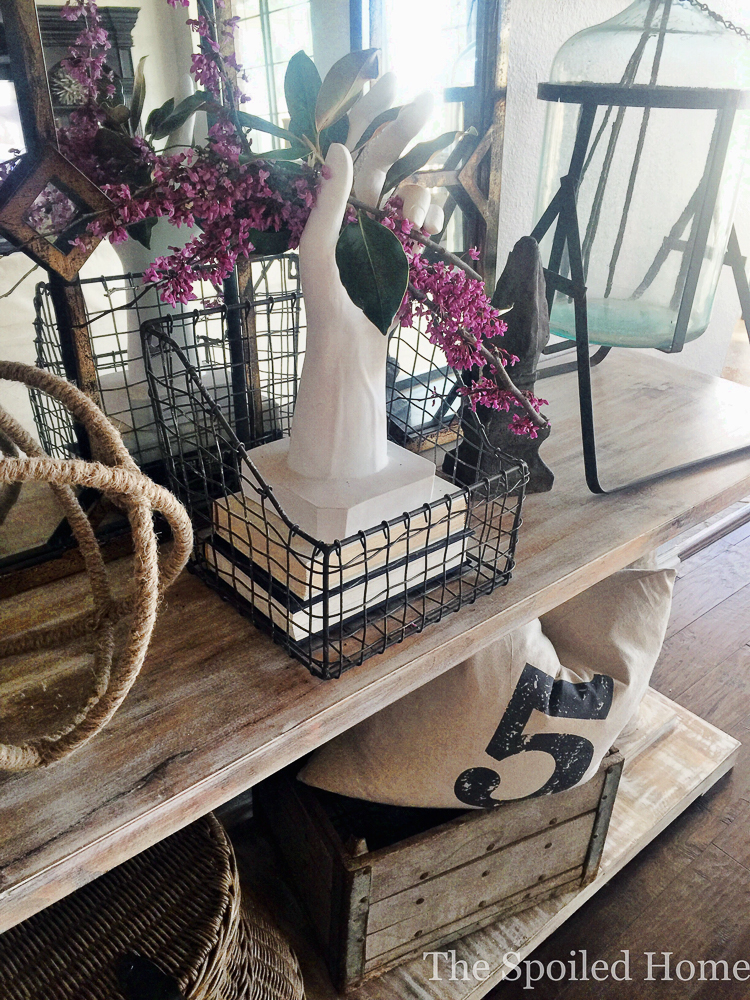 Sandi & Shalia ~ Instagram @thespoiledhome
Deborah of Blount Designs always blows us away with her stunning floral arrangements and it was no different for the white vase challenge!  I love how she combined pink, purple, and aqua blooms to assemble this magnificent spring arrangement for the challenge.  Deborah is also another master of decadent table scapes and floral vignettes.  You can see more where this came from over on Instagram @blountdesigns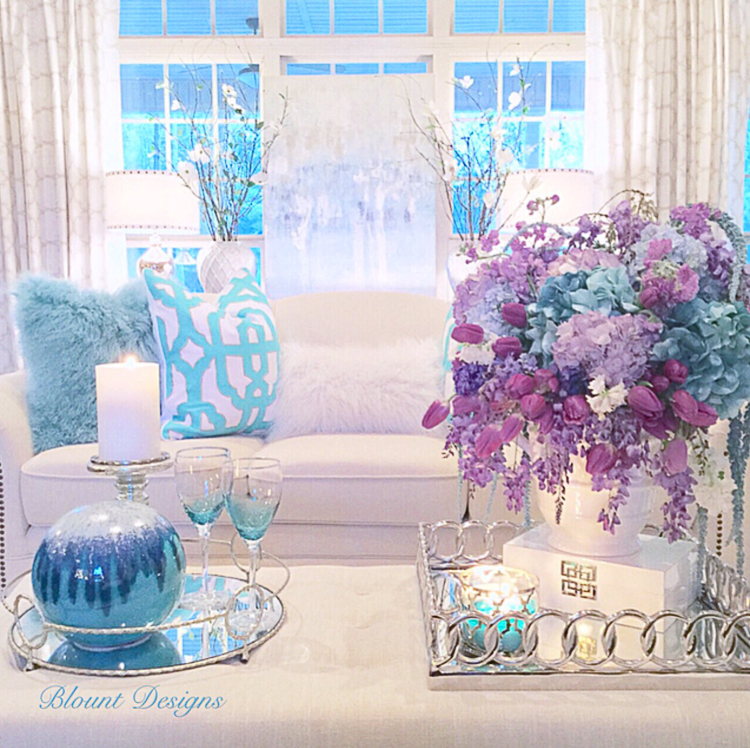 Deborah ~ Instagram @blountdesigns
And this arrangement is by the very talented Janice of Figs & Twigs.  This amazing centerpiece was created using an old cement vessel from her garden. Her arrangement is filled with a variety of spring blooms, evoking a sense of spring in the air as you pass through the heart of her home.  You can also see more of this lovely lady's feel over on Instagram @figandtwigs.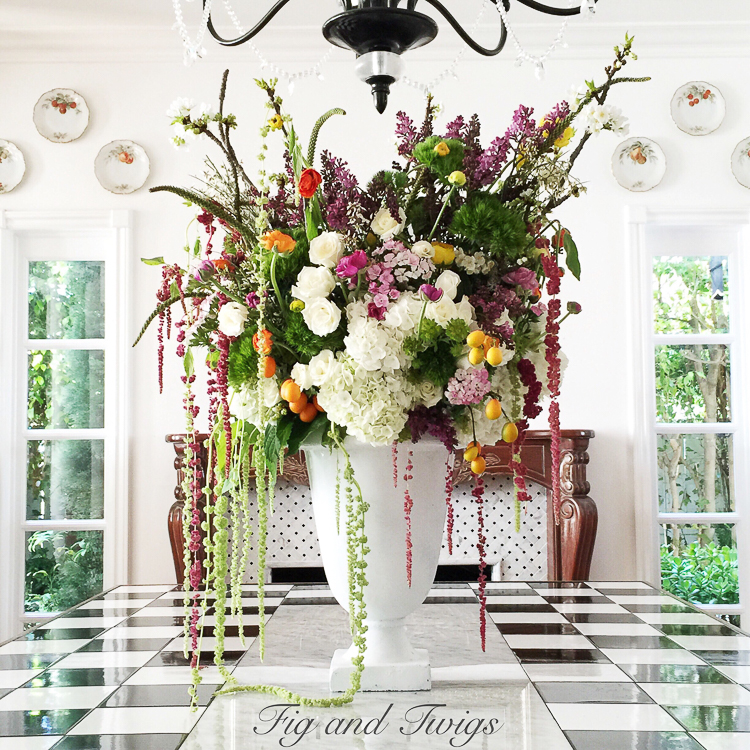 Janice ~ Instagram @figandtwigs
And last but not least is a stunning spring bunch in a white pitcher by the very talented Jennifer of The Grace House.  Jennifer assembled a beautiful collage of gorgeous white tulips, snips of  branches, berries, lilies, and hyacinths in shades of pink and purple, among some other lush greenery.  I love how she created this lovely vignette by also adding some white hydrangeas to these perfect little blue and white vases.  Jennifer also has a tip filled blog full of home decor inspiration that is sure to please at TheGraceHouse.com!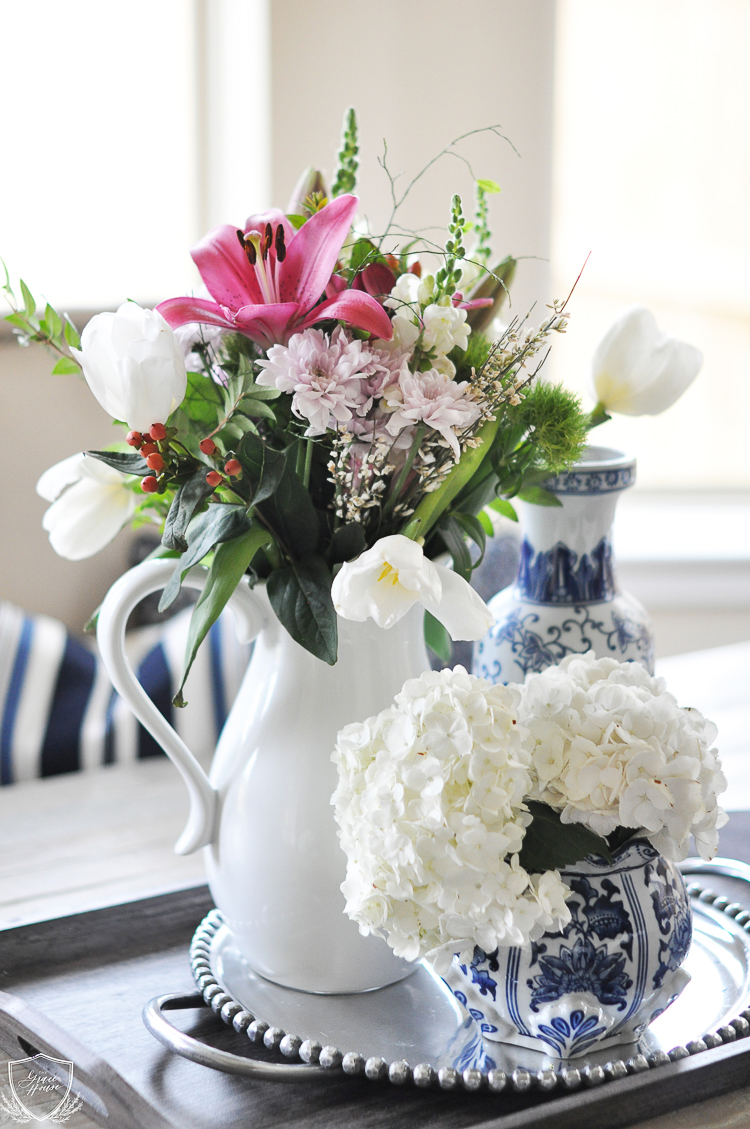 Jennifer ~ TheGraceHouse.com
I sure hope you enjoyed the tour and will be able to take away some spring/white vase inspiration for yourself from all of these creative, talented designers!  I also hope you will take a moment to visit each designer over on their blog or on Instagram to see more of the amazing spaces each of them share daily.  And as always, thanks for stopping by the blog to see whats happening over at ZDesign At Home!
Xoxo, Bree