Simple Summer Table Scape
Hi and thanks for stopping by to check out my simple summer bright white table scape!  And if you are coming over from Everything Home Magazine, welcome!  When I was contacted by Oscar of Everything Home Mag to create a table scape with bright white basics, I couldn't have been more excited to do so for the current issue of the magazine and to share it with all of you giving you some tips along the way!
This table scape is simple and would be great for a breakfast, brunch, lunch, or a casual dinner with family or friends.  I used simple white dishes (which everyone should have in their dish arsenal) that are easily accessible to anyone, paired with my favorite brass utensils and napkin rings and then finished things off with my favorite linen napkins, all of which I already owned.  I hope you will see throughout this post how easy (and inexpensive) it can be to create a beautiful bright table like this for gatherings that won't break the bank.   I will also include links throughout this post so that you can recreate this look for yourself.
I started with my center piece of course which was the most simple item on the table.  I already had these fluffy white hydrangeas around the house and when I thought of doing this table I knew instantly I would use them in a simple clear vase to keep it neutral.  They were the perfect focal point and beginning to my table.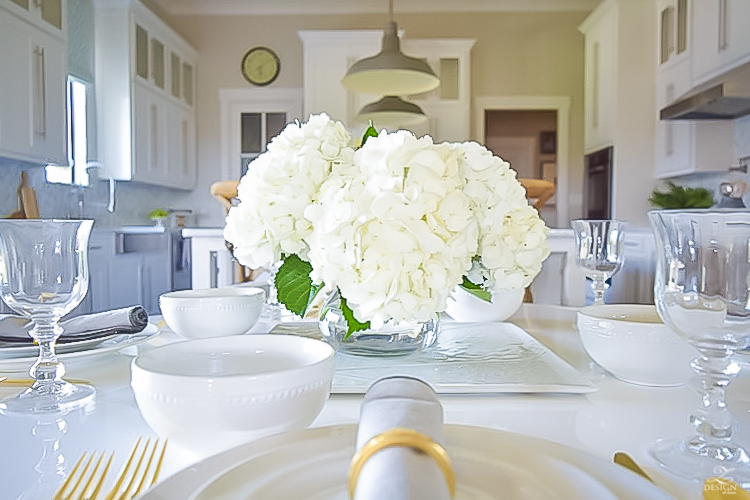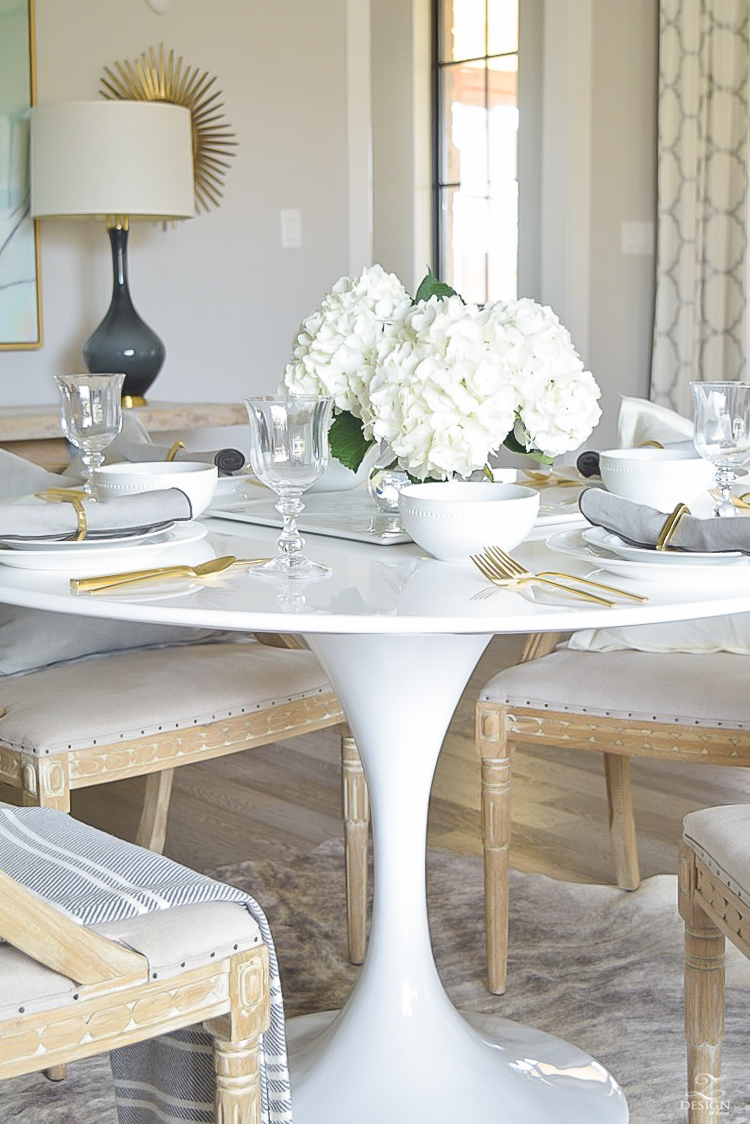 In continuing to keep things bright white, I placed my hydrangea arrangement on top of a white platter I've had for years in my dish collection that sports a beautiful vine pattern, which added some much needed texture to the table (similar platter here).  It's shape is square which is a nice juxtaposition to the majority of the other items on the table.
Tip Time:  Always mix your shapes when possible in a table scape to add interest, especially if you are going with a monochromatic theme in order to keep things interesting.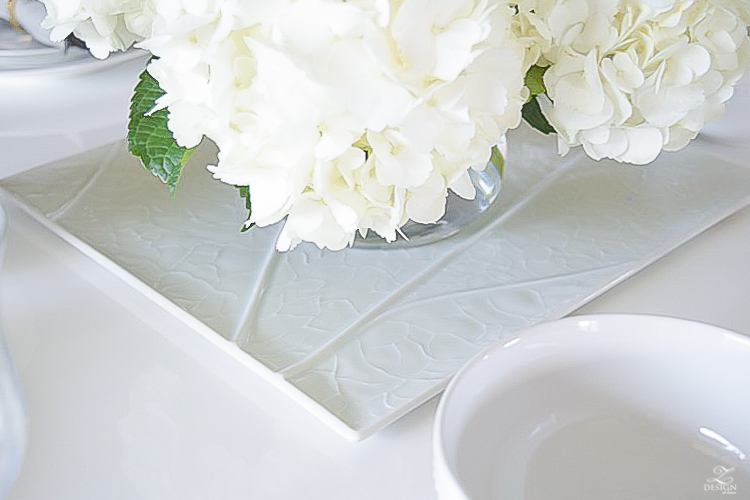 Get the Look

The base for my dishes were these simple white beaded dishes (found here) that allowed me to build a simple table setting that anyone can achieve. These dishes come as a collection so I had everything I needed in one box in the way of dishes to create my table setting.  I simply layered my salad plate over my dinner plate and added the soup bowl to the left of the plates…again, super simple!  This is not typical table setting placement but I wanted to put my napkins in the plate so I had to place the bowl elsewhere, which means I had to bend the rules a little here as far as appropriate dish placement goes (which is ok to do in my opinion to make your table setting work for you!).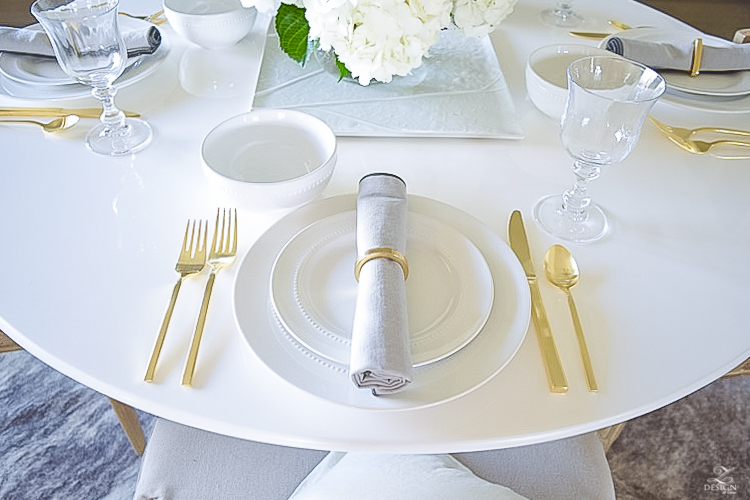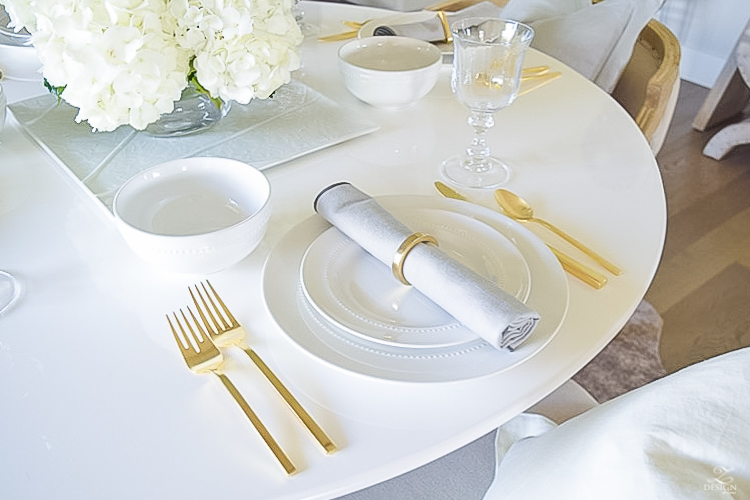 Hands down my favorite items on the table are my gold flatware & napkins rings (I talk more about this in my outdoor patio post here).  I chose to use these to add some warmth to the table, and to add a little interest.  If I had used silver flatware I think the table would have been a little too monochromatic and stark and therefore possibly boring.  The gold/brass additions punched things up a bit and gave my table setting some much needed sparkle.  The white and gold paired together are truly stunning in person and always a great combo in decor!!
Tip Time:  Brass is back and I mean in all items of home decor so don't be afraid (if you are) to start adding some to your home by adding it to your table.  Adding flatware is not nearly as intimidating as switching out a light fixture or changing out your cabinet hardware (which are two big things we are seeing in design these days) so this is a great place to start if you're wanting to test the waters with this sumptuous metal!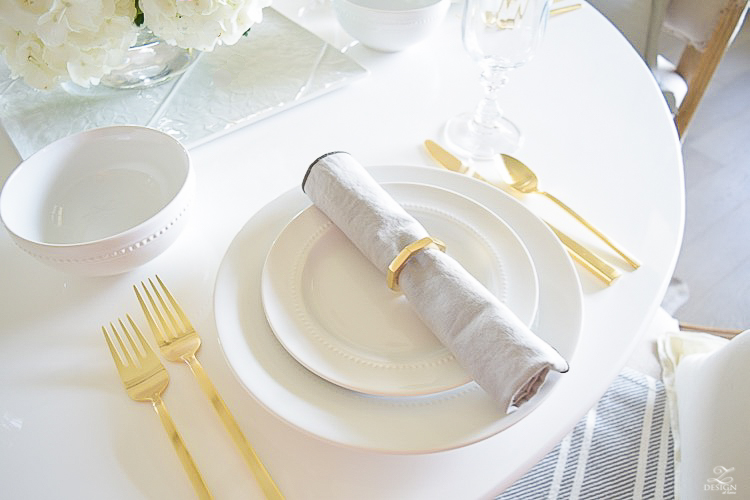 Get the Look

One of my favorite details about the napkin rings is that they are all different shapes which adds even more interest to my table setting.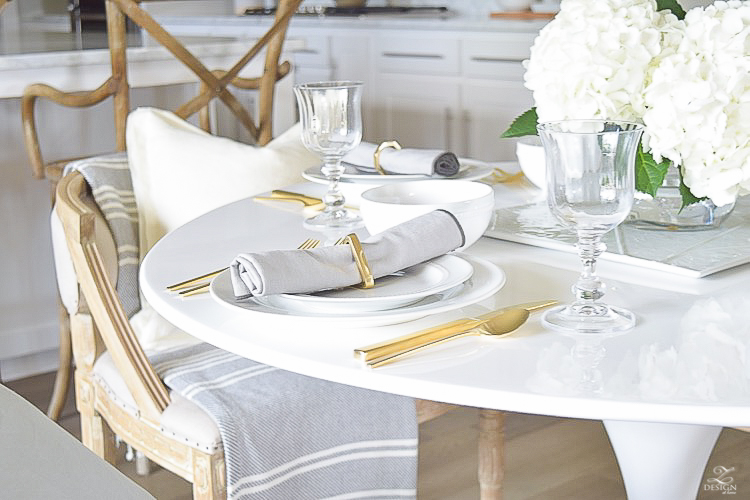 For linens I used some simple gray linen napkins that I had on hand.  They're soft and again like the flatware add a little more warmth to my table setting.  And due to the type of linen they are, they add a little more texture to the table as well.  To keep things clean and simple I simply rolled them up to insert them into the ring vs. doing a fan that would have given me a completely different look.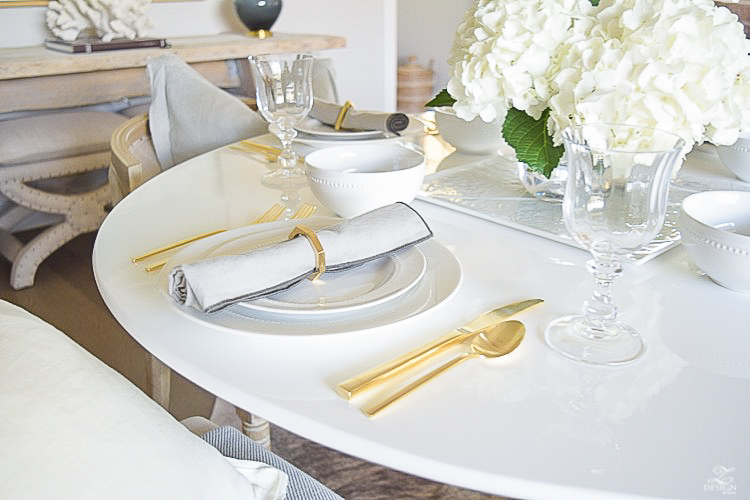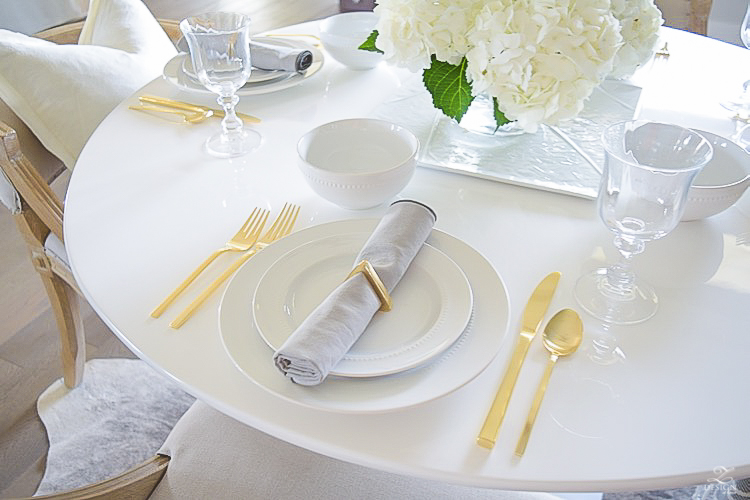 And last but not least is my crystal.  I picked these up at HomeGoods earlier this year.  I've sourced some similar ones here.  These glasses are elegant enough for a formal dinner or casual enough for a cozy brunch.  I love the detail on the stem and they go perfectly with my bright white table scape theme.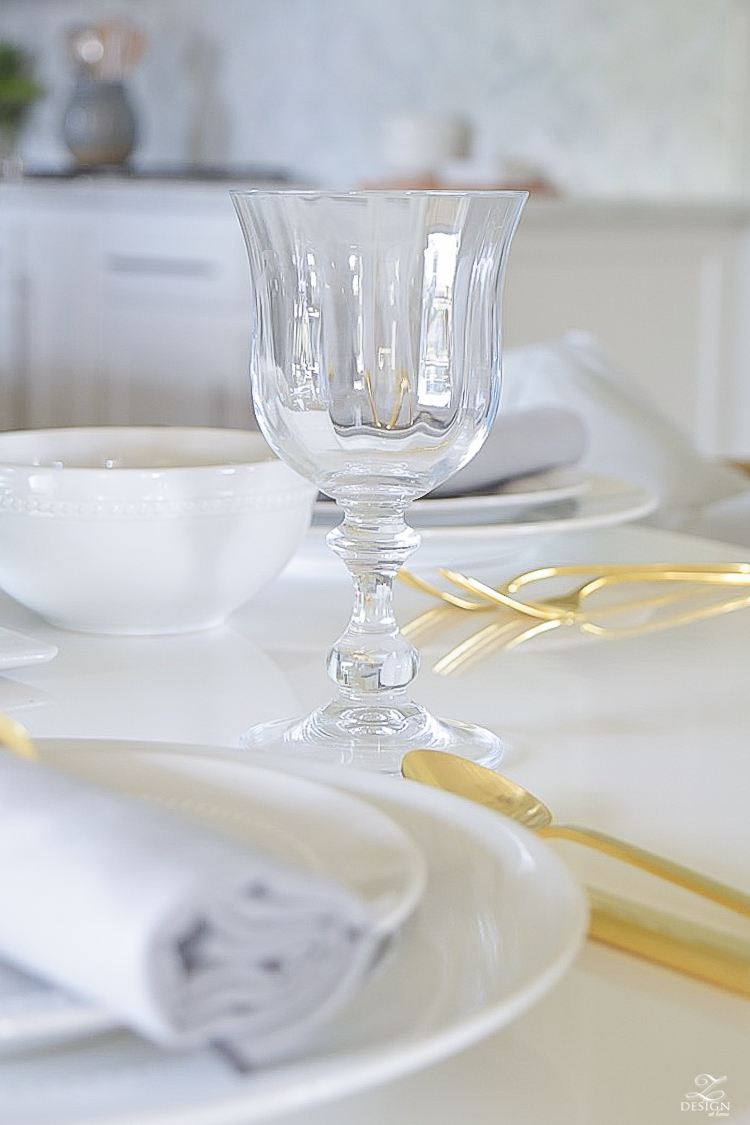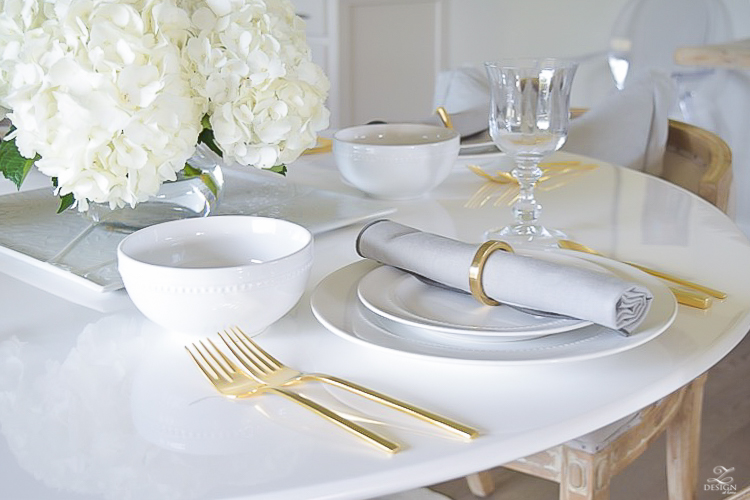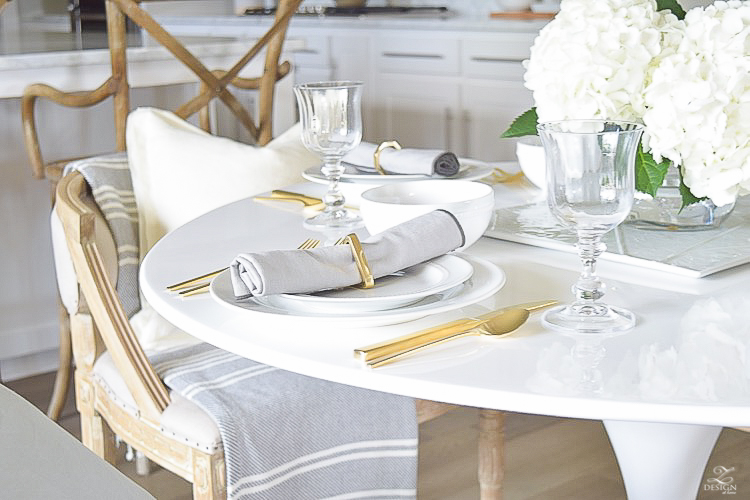 Get the Look

And to add some coziness to my bright white table scape I added some of my favorite pillows to this scene with these natural colored and light gray linen pillow covers.  The pillows helped to add a sense of cozy to what could have otherwise been a cold space with all of the white.  I also included my favorite summer throw, also found at HomeGoods and I've sourced a similar one here and here for you.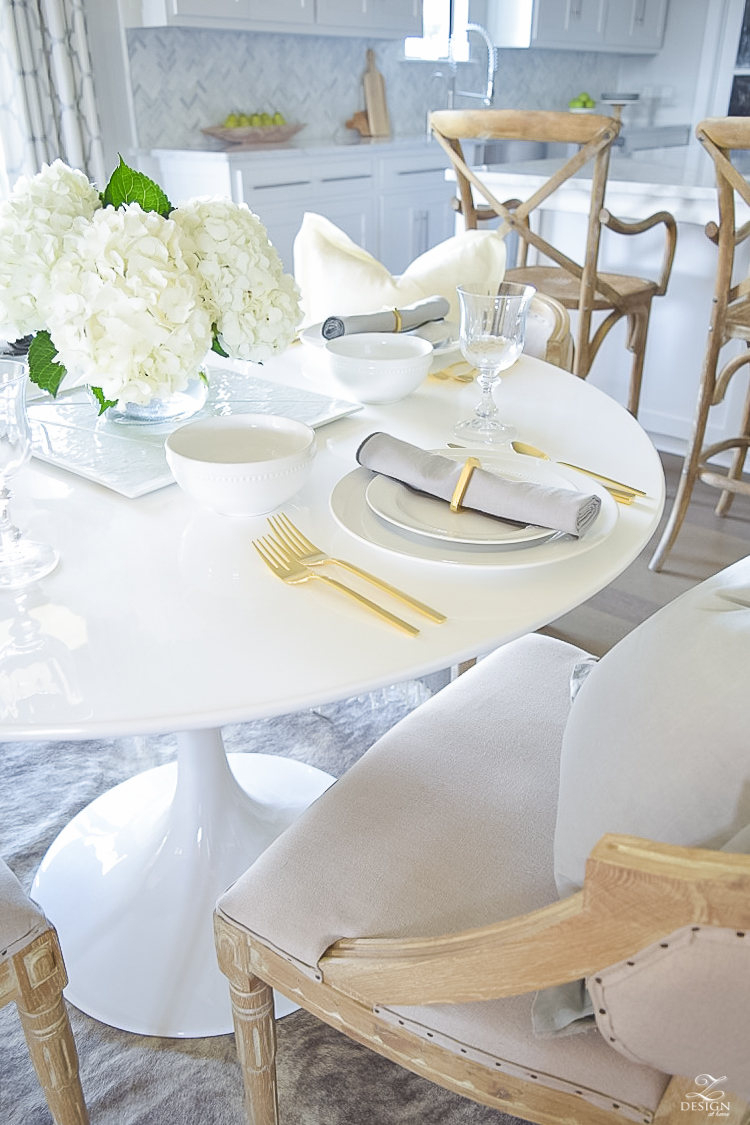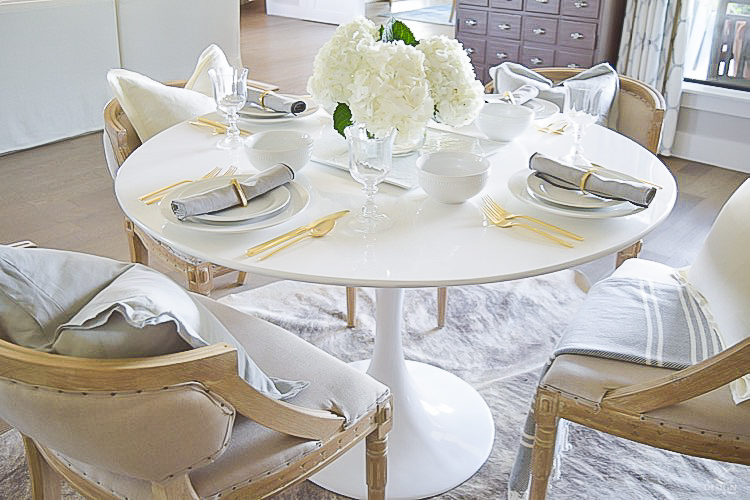 Get the Look

I'll leave you with a few more shots of the full table scape but I hope you've been able to see how you can recreate this simple yet beautiful table yourself by not breaking the bank since all of these items were purchased at readily accessible stores and at affordable prices.  And, if you haven't seen the magazine feature yet in Everything Home Magazine as Oscar takes you through the Bright White Basics, you can catch that here on page 65 along with several other great articles in this inspiring digital magazine.  You can also view more table settings of mine here, here & here.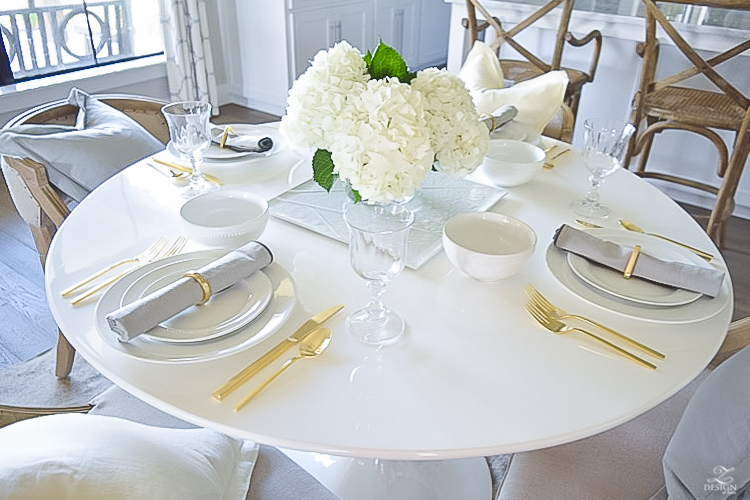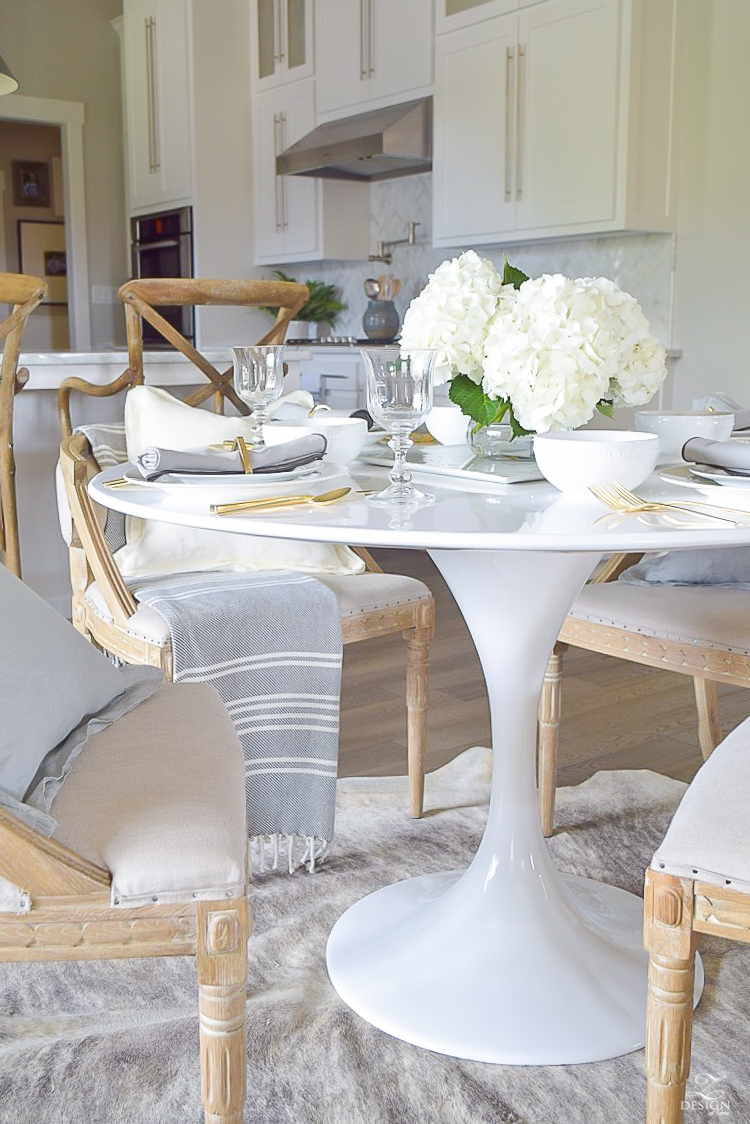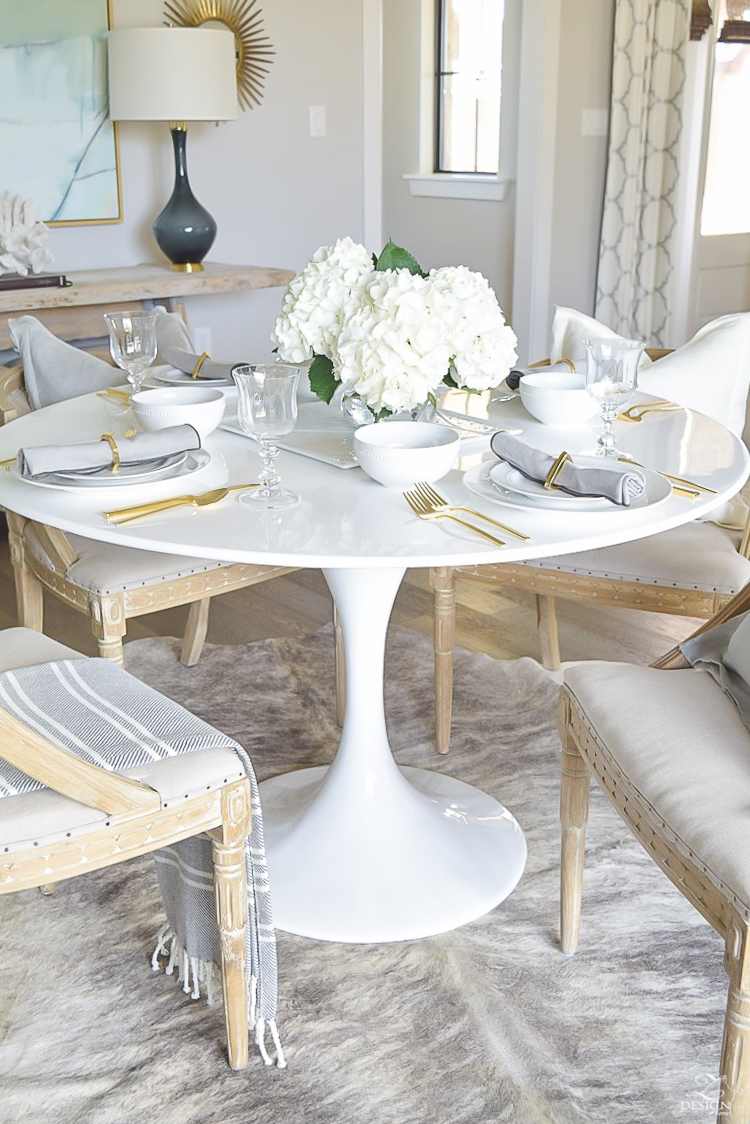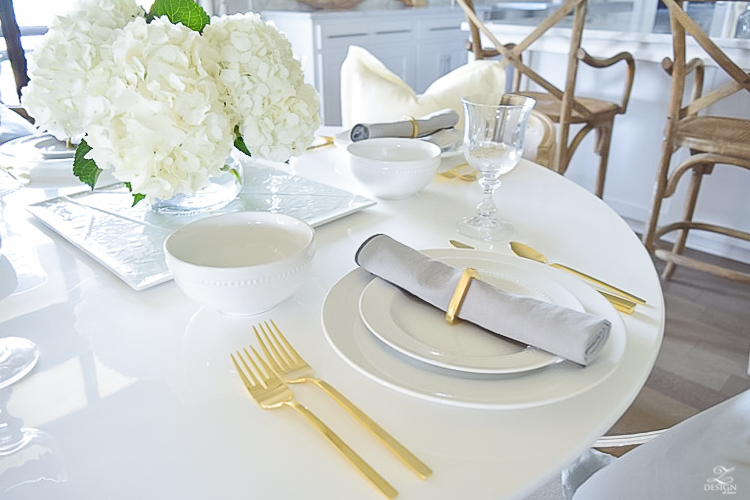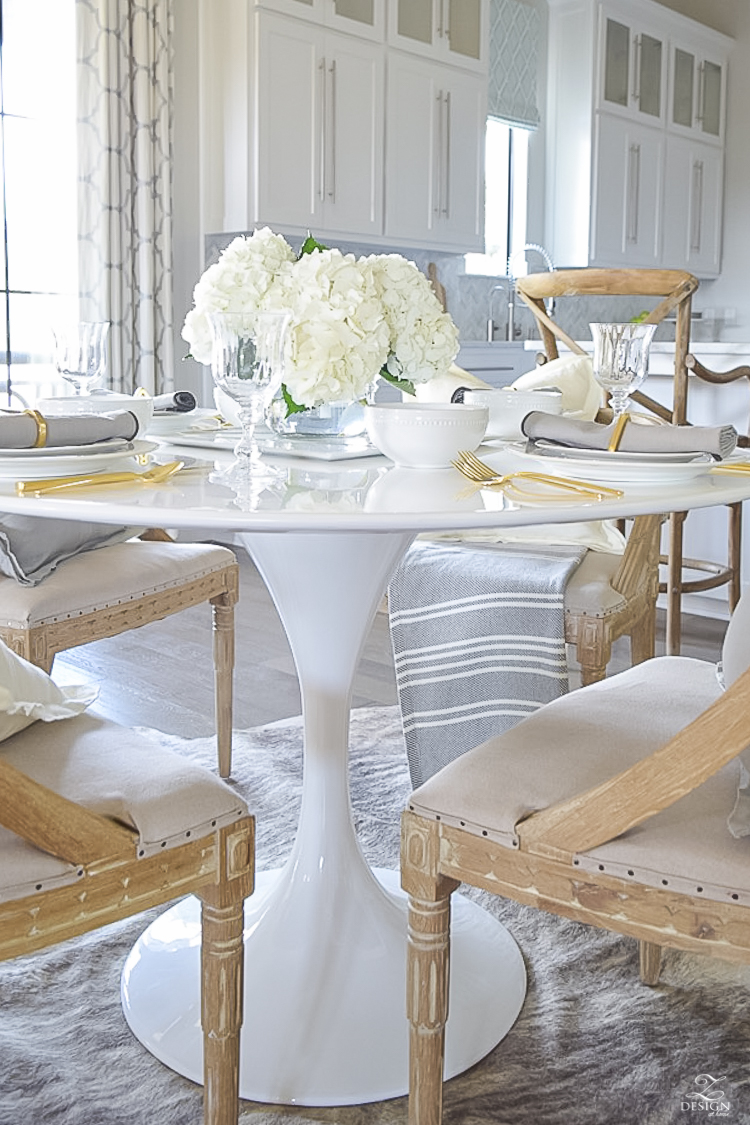 Get the Look

Thanks for stopping by this week check out my simple summer table scape and if you haven't already signed up for my newsletter, please consider doing so to stay in the loop and get all the latest from ZDesign At Home!!  Hope to see you back next week:).
Xoxo, Bree
*Affiliate links have been used throughout this post and where an item is no longer available a similar option has been sourced
**Wall color is SW Colonnade Gray and Cabinet color is BM Decorator's White