How To Make A Holiday Circle Wreath + A Christmas Dining Room Tour
So excited to have you back for another one of Marty's holiday home tours!  Today I'll be sharing with you How To Make A Holiday Circle Wreath + A Christmas Dining Room Tour.  The circle wreath is such a fun, easy DIY project that anyone can do!  If you haven't seen my Christmas living room and tree – you can find that HERE!
If you are coming over from my dear friend Laura of Duke Manor Farm – welcome!  I am so happy to have you here!  I always love seeing how lovely Laura's home is dressed up for the holidays and this year, as usual, she doesn't disappoint!  At the end of this post I will send you over to the next person on today's tour so don't forget to swing over to check out the rest of the Christmas cheer on this fabulous tour this year!
*Affiliate links used in this post.  Please read my full disclosure policy here.
I hope you'll enjoy the tour then check out my tips for how to make a holiday circle wreath toward the bottom of this post.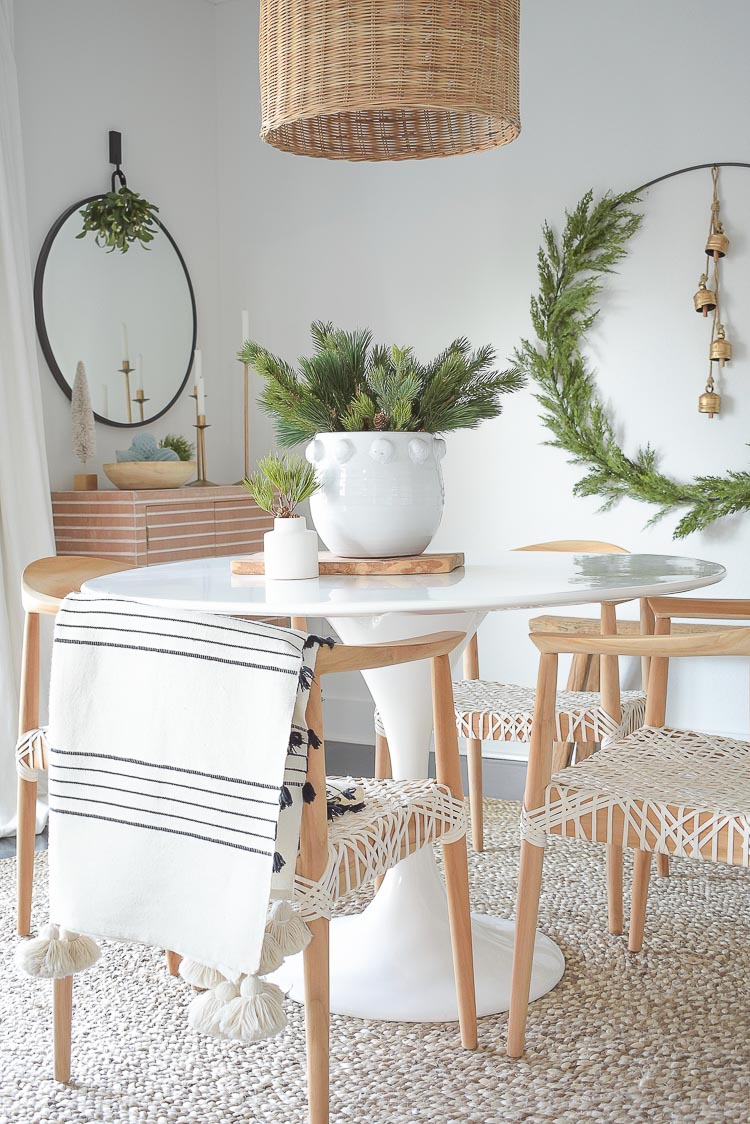 We don't entertain in our rental due to space limitations but the dining room is adjacent to the living room and where the tree is located so I do like to dress it up for the holidays as well!  Some greenery on the table, a few christmas decorations on the credenza/bar cabinet and my circle wreath were all we needed this year.  Simplicity is key around here these days as we continue to build our home and plan to move next year!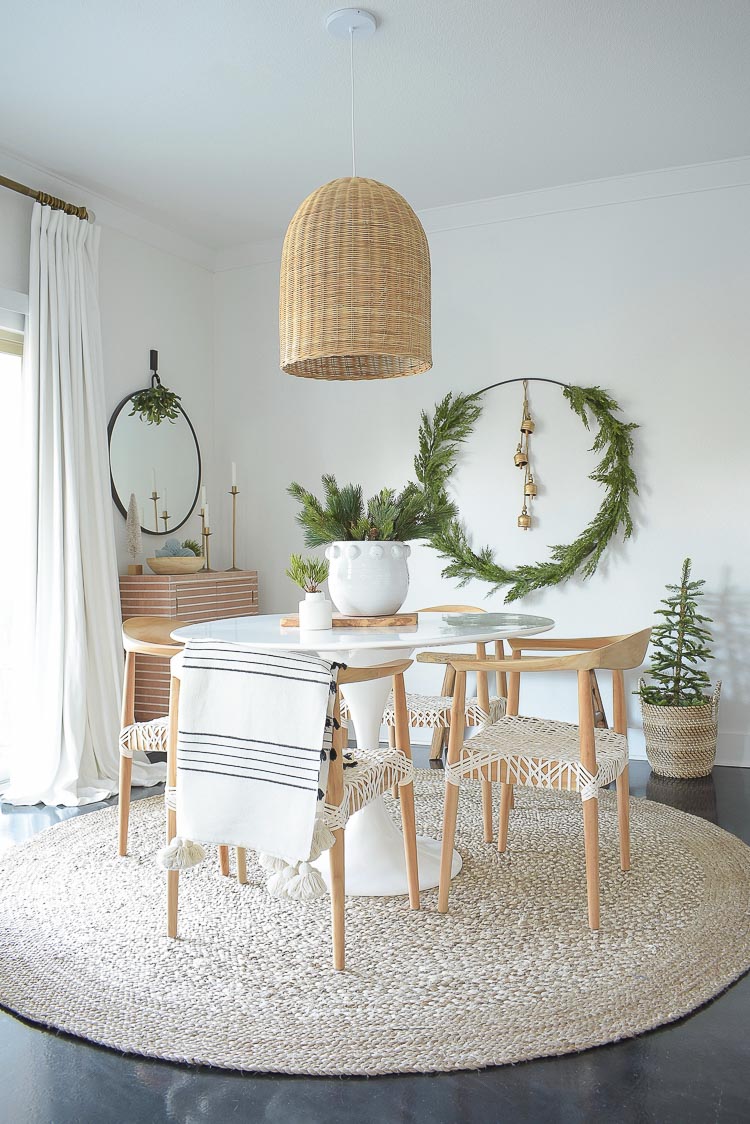 A simple centerpiece with the prettiest faux pine stem branches is all I needed for the table.  Love this white dot planter pot I used as well that will carry me into spring next year.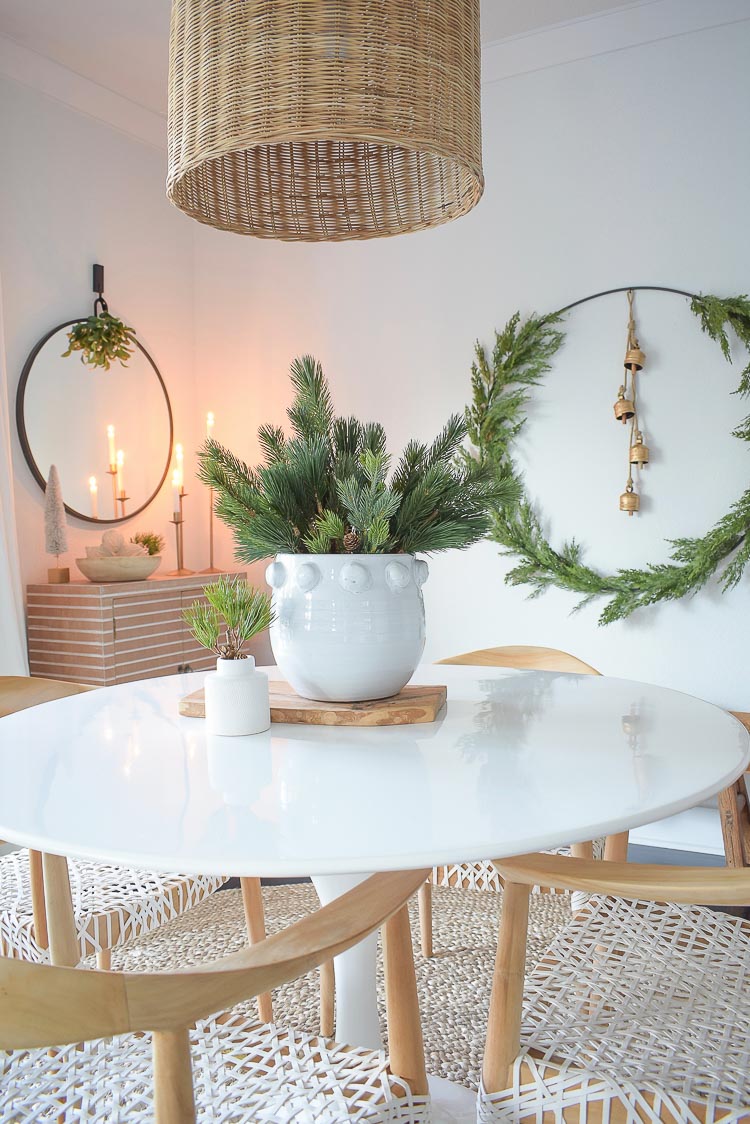 By now you may have seen my fun circle wreath.  I can't wait until next year to have it over my mantle!  I'll come back to that a little later in this post with all of the details!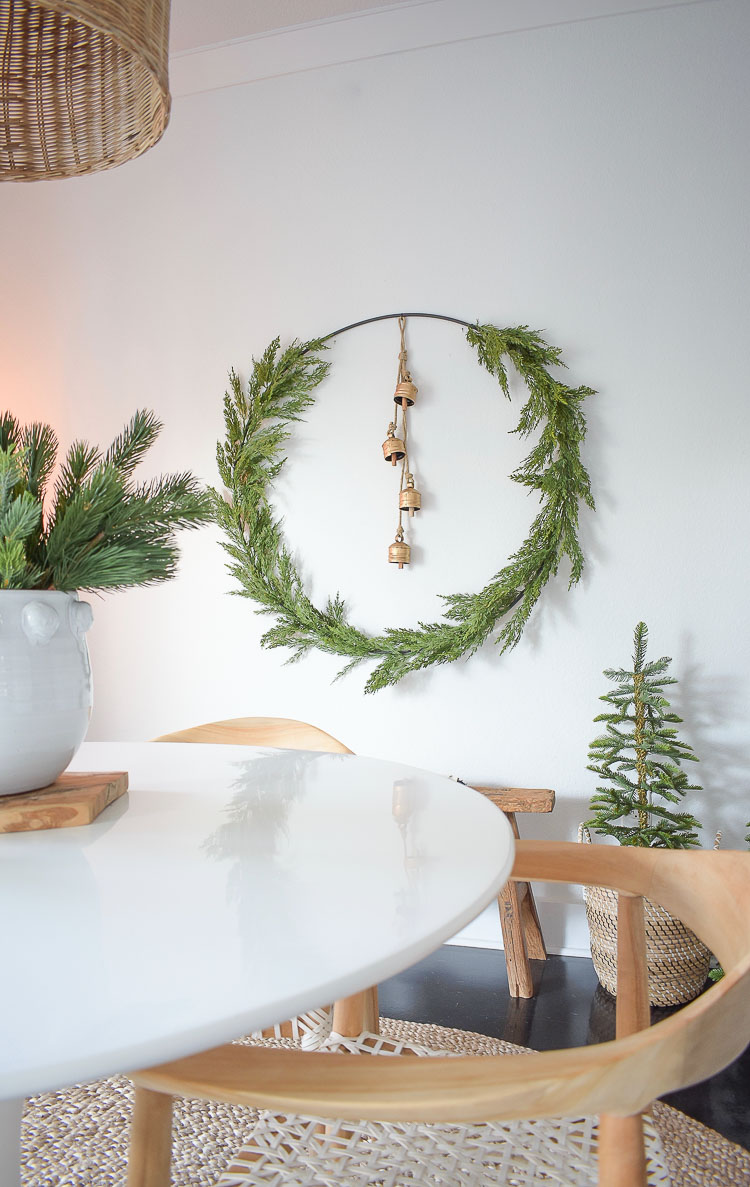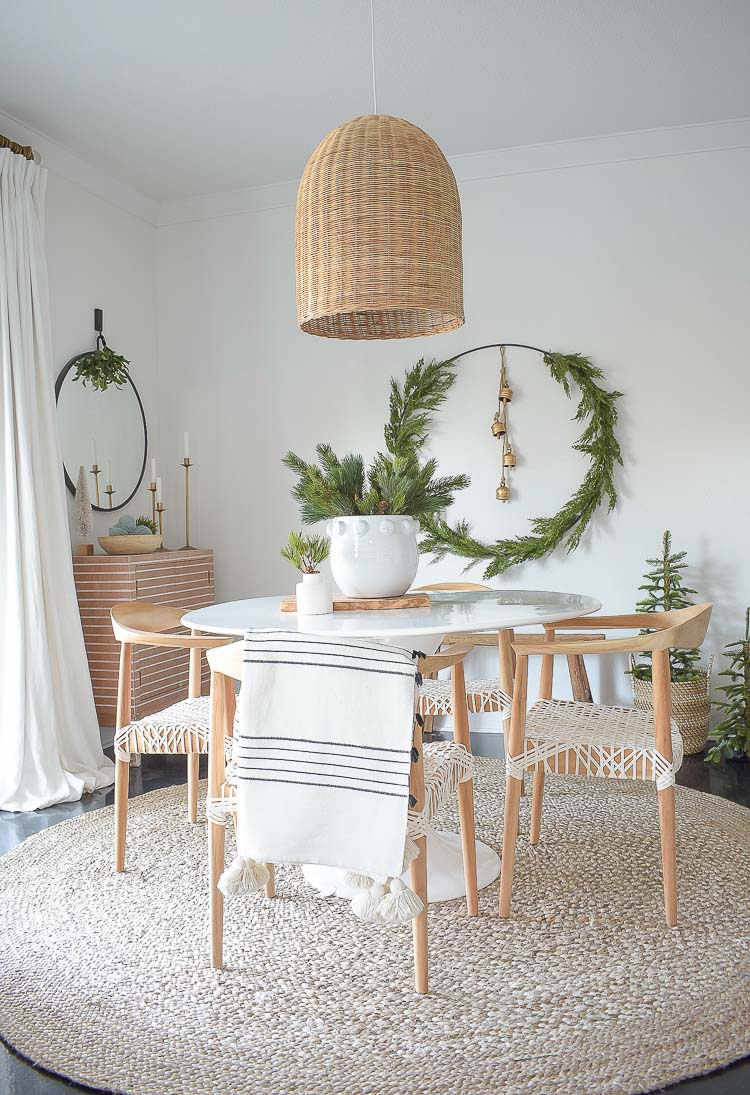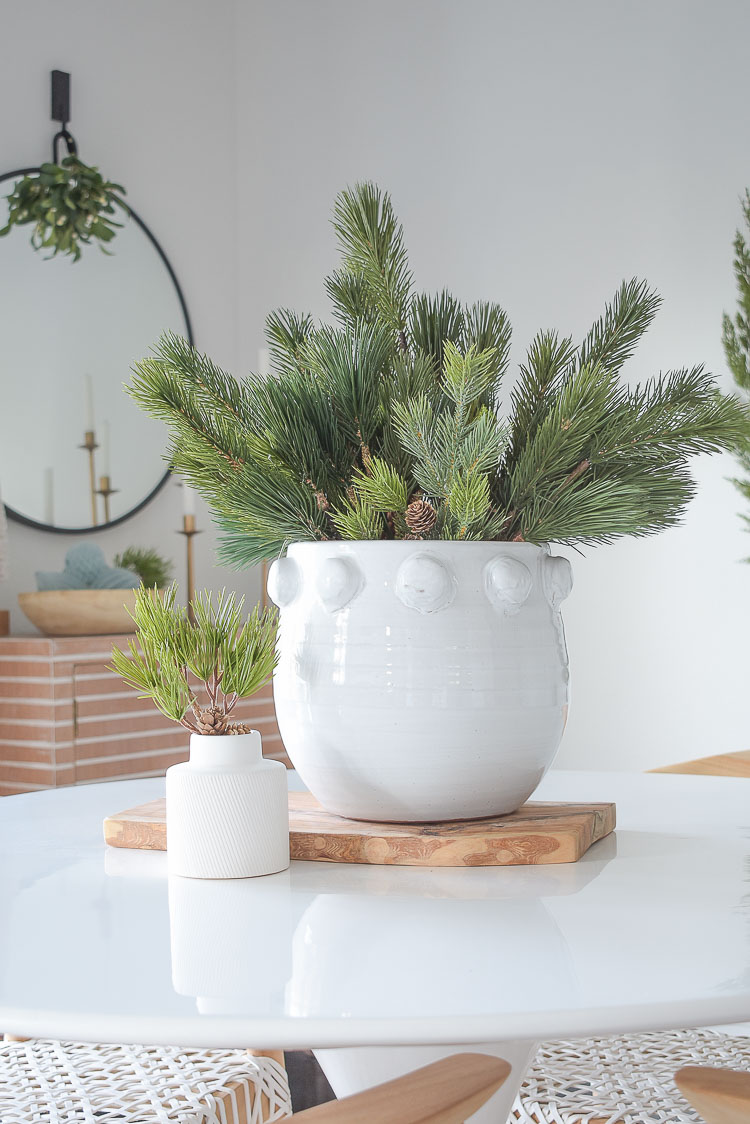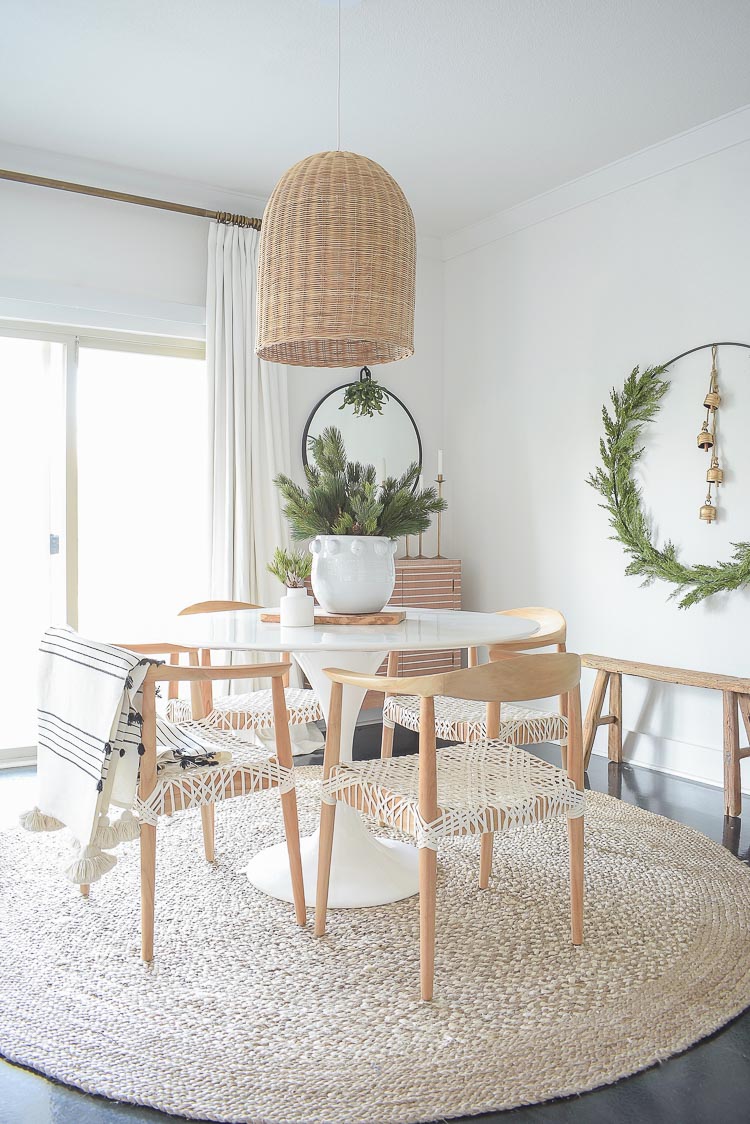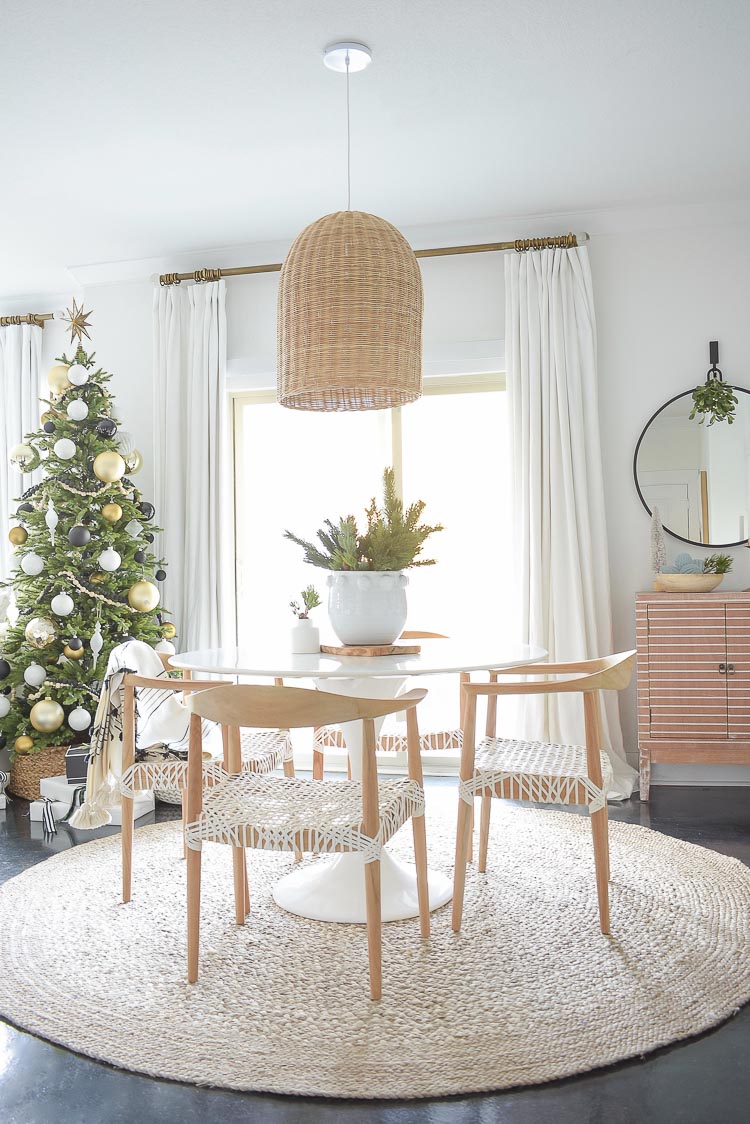 The bar cabinet area is truly my favorite besides the circle wreath!  I always really enjoy dressing up (or down) this little corner for the holidays or for any seasonal changes I might make around here.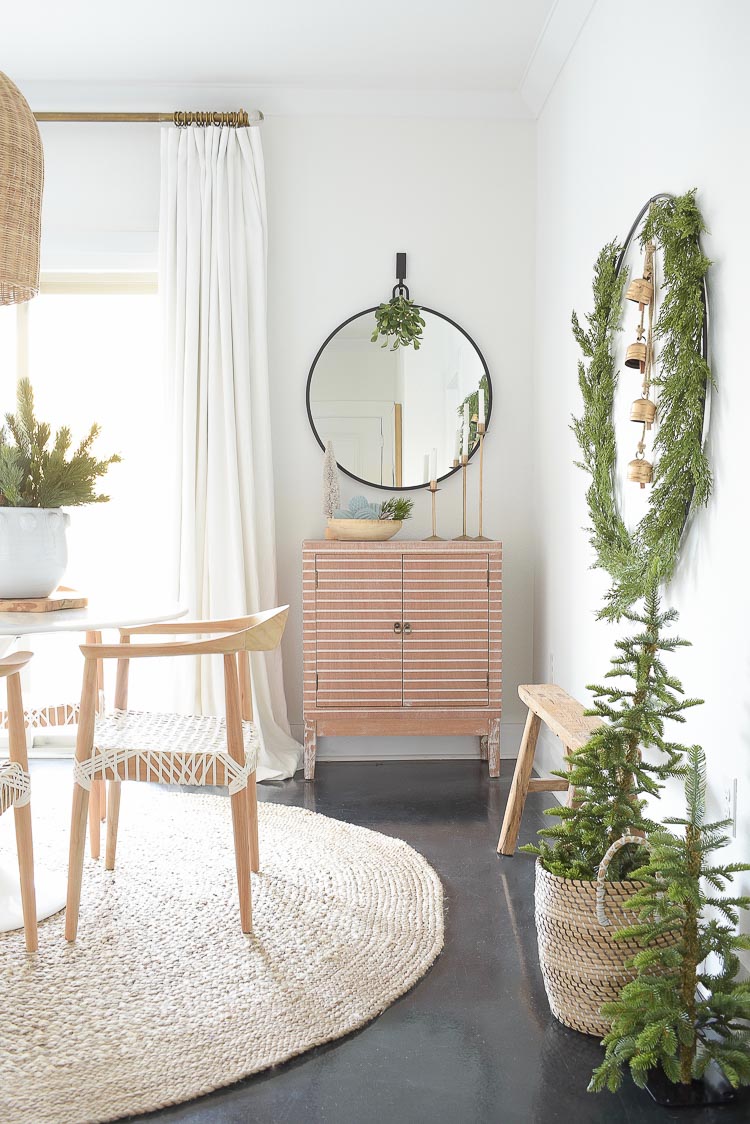 My favorite is these gold candle sticks.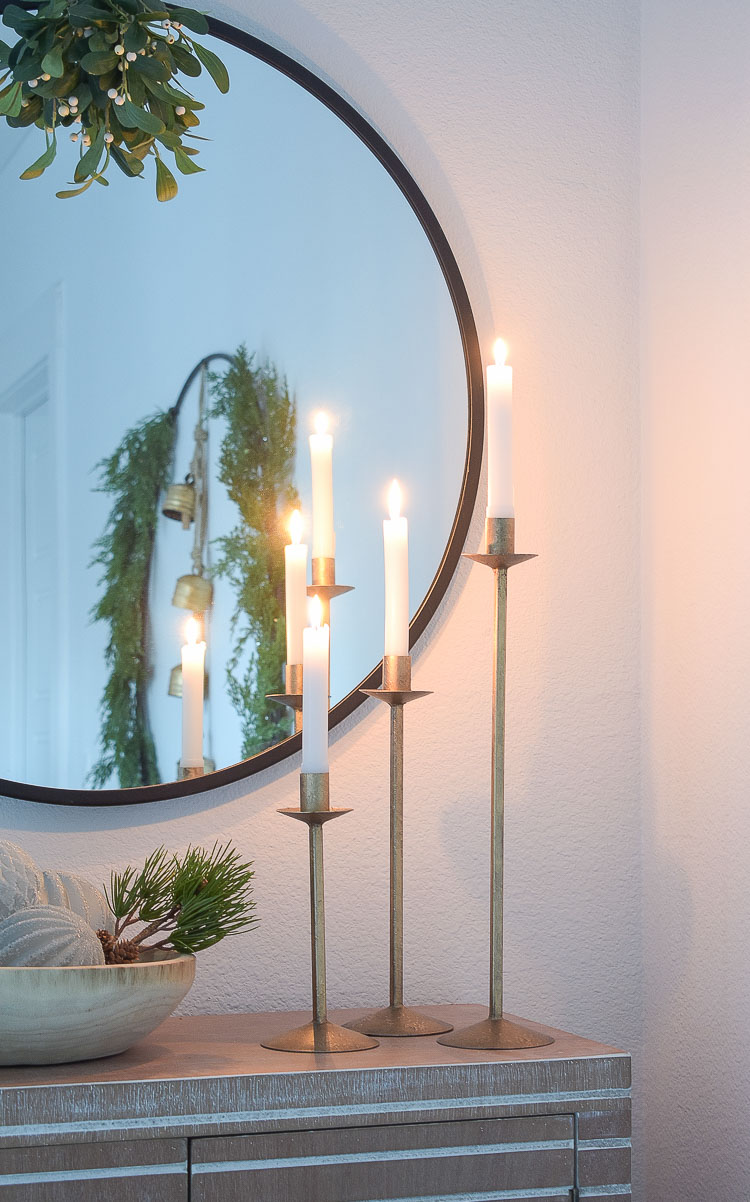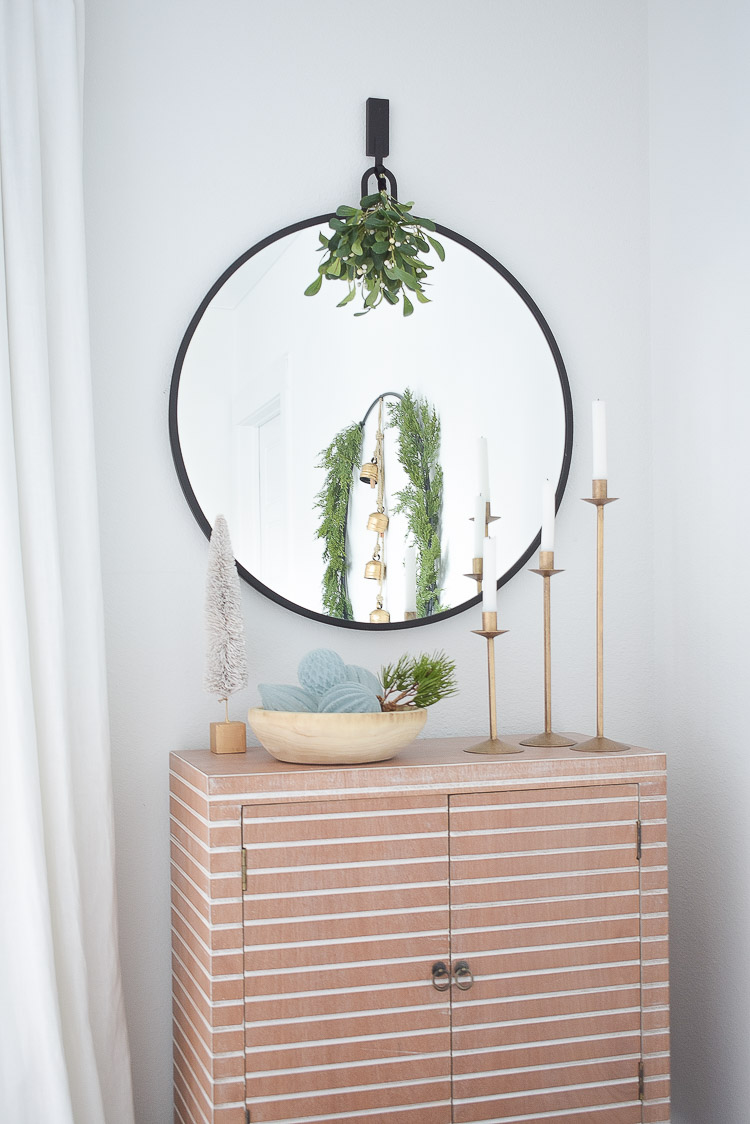 This is also another favorite little moment.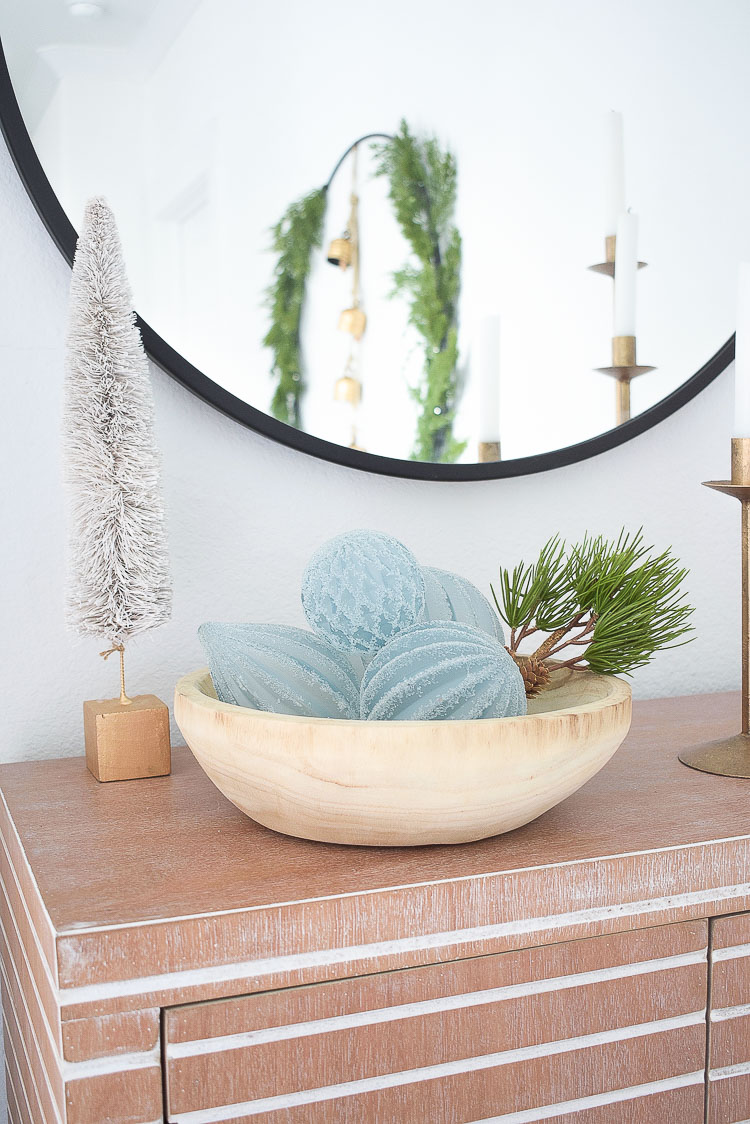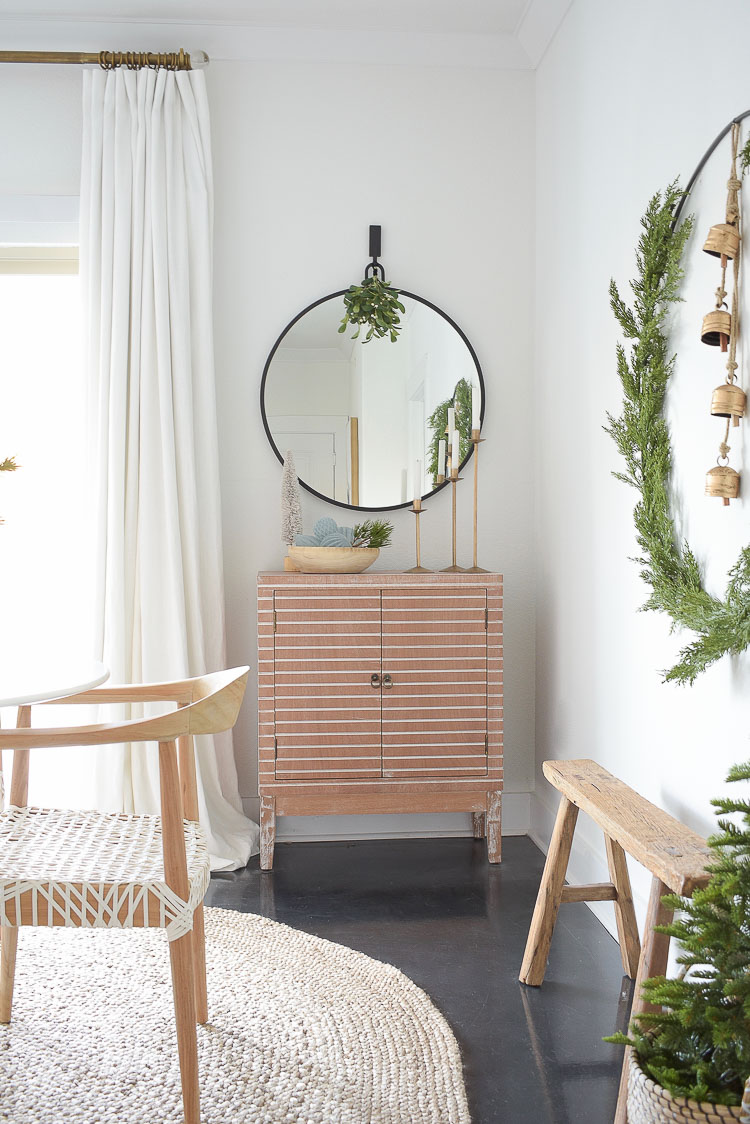 My other favorite part of our dinging room tour is this holiday circle wreath.  It was so easy to create and only took a few simple steps to pull this together.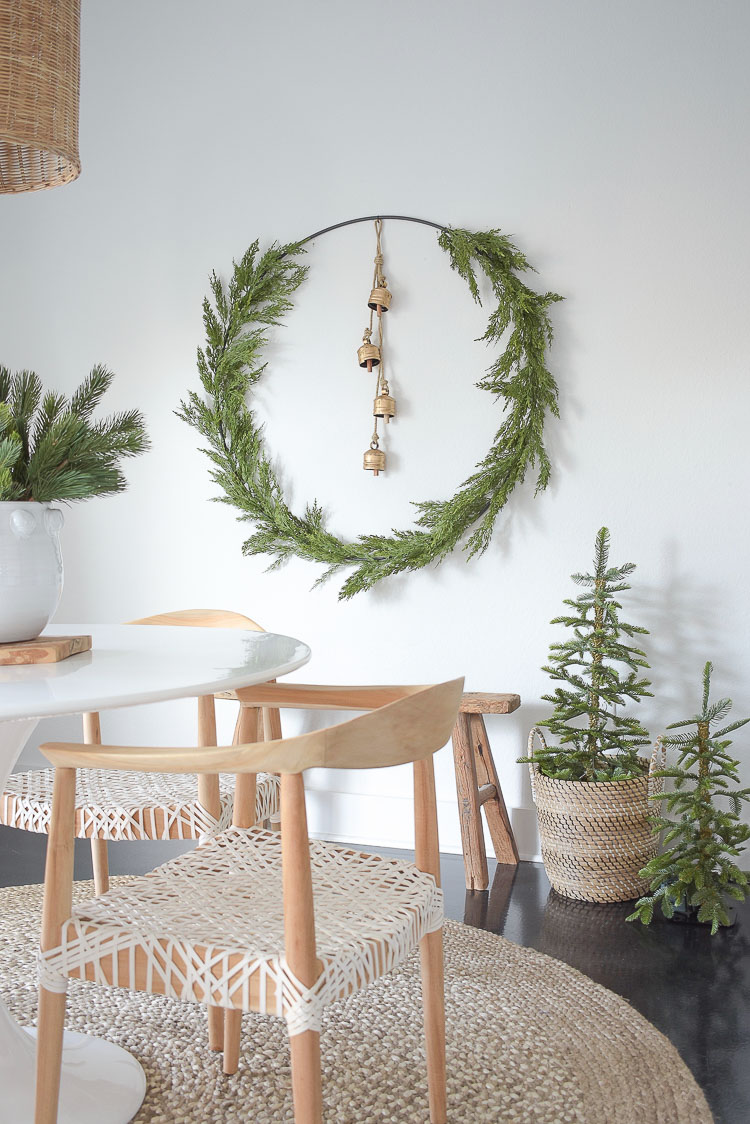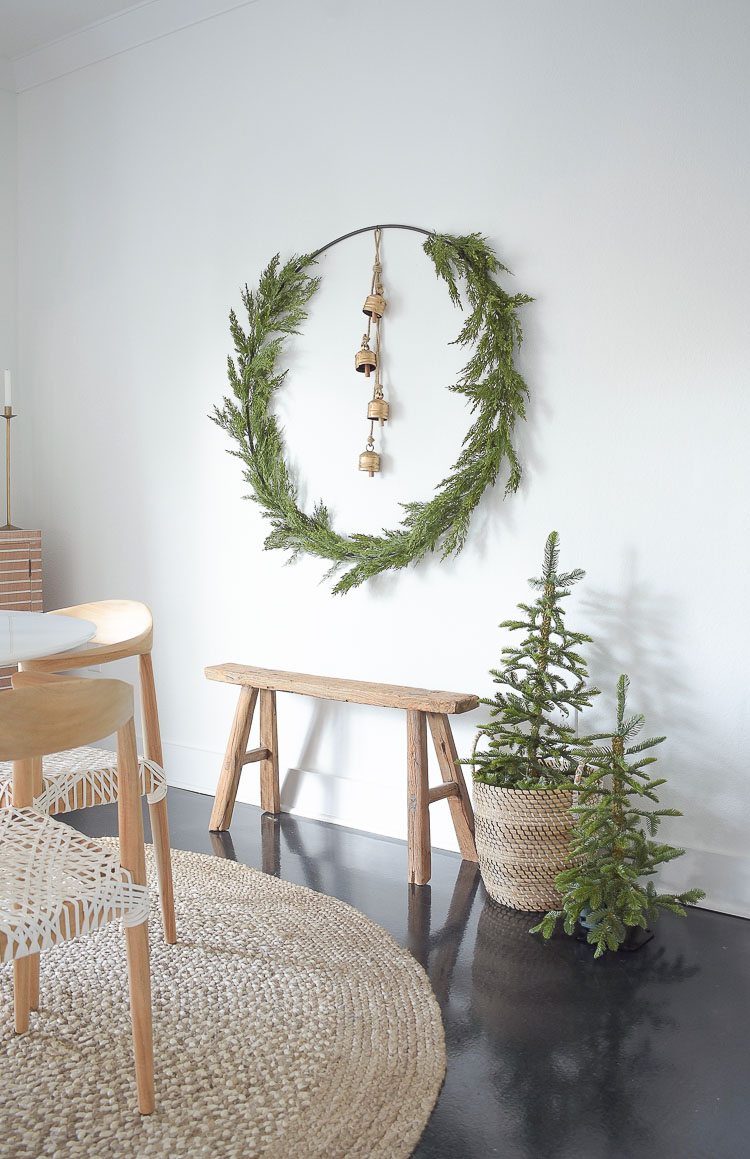 How To Create A Holiday Circle Wreath
Here are the 4 simple steps I used for creating this circle wreath but first, a little back ground.  The circle I ordered on line was originally gold (this one) and when it arrived I decided I wanted it to be black so I sprayed it with this charcoal chalked spray paint.  Then I rummaged through my Christmas things and found some old garland to attach to the circle and this is how it went from there…
Lay the circle and garland out on the floor to see where you want your garland to lay.  For reference my circle is 40″ in dia and my garland is 72″ long
You'll need these small zip ties.  Then, strategically secure your ties round the ring and garland – you'll probably need about 10-12 to complete the circle if you use the same proportions I did
Snip the ends of your zip ties to clean it up
Then hang ring on two small nails, add these bells (with another zip tie) and enjoy!
P.S. Thanks to my sweet hubby for his work and TLC on this fun project!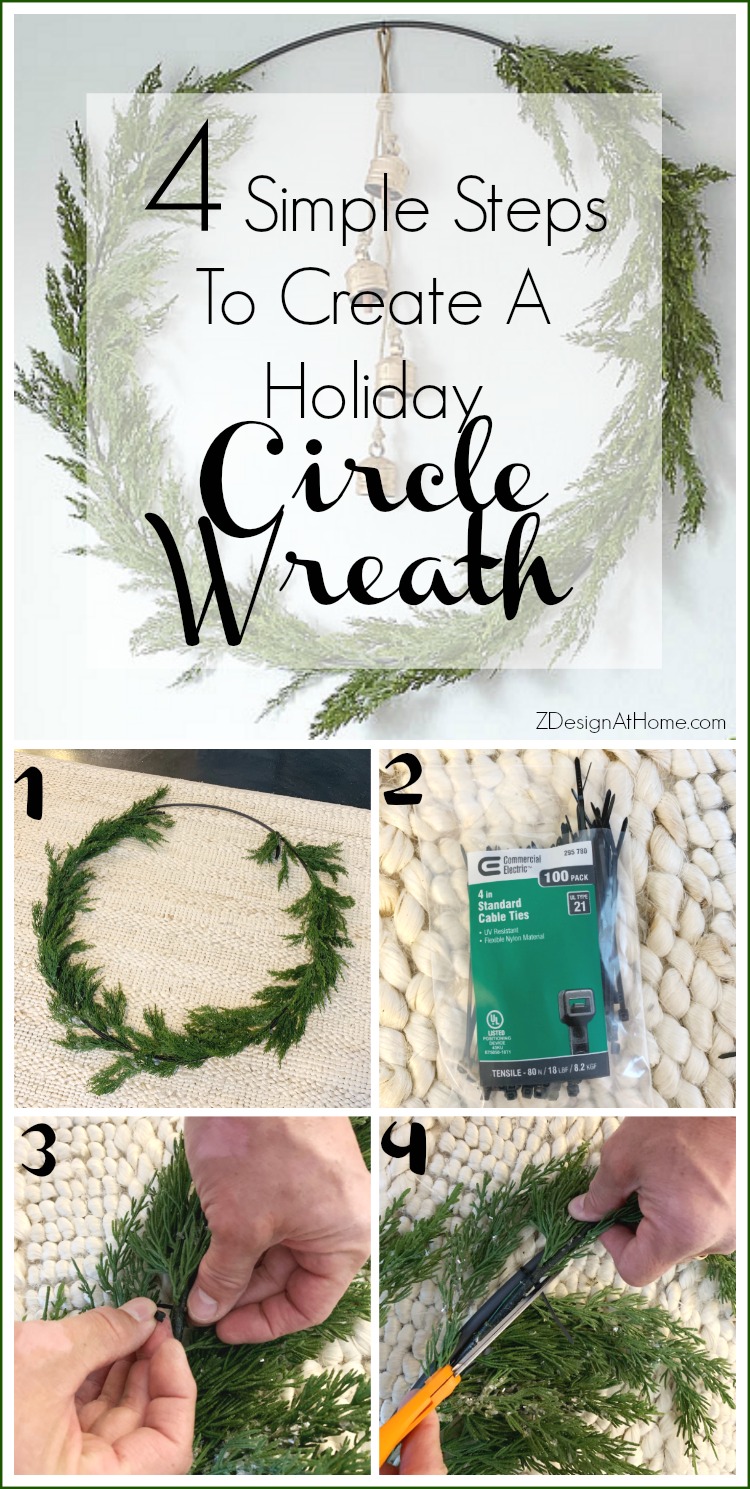 Here is a close up of the bells I used.  So beautiful and super affordable!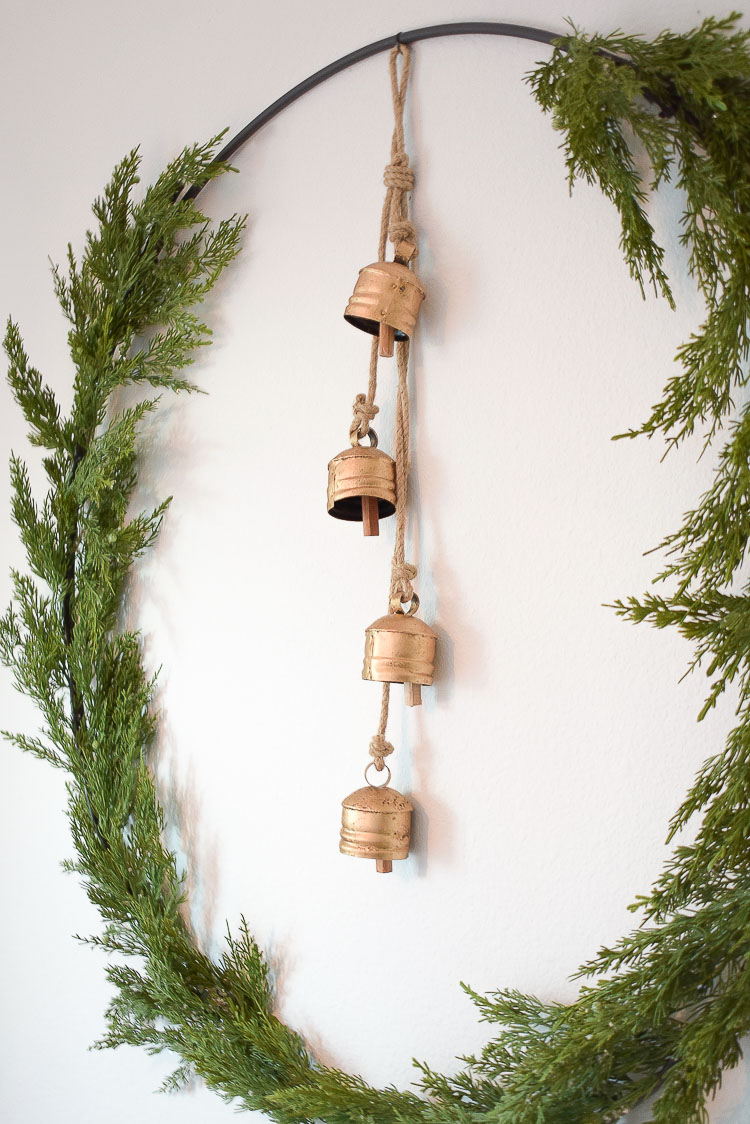 To complete the look on this wall I added some table top trees to this area on the floor.  Mine are out of stock now but I've l inked a similar one here.  Also really, really love this little sparse tree in a pot for this look as well!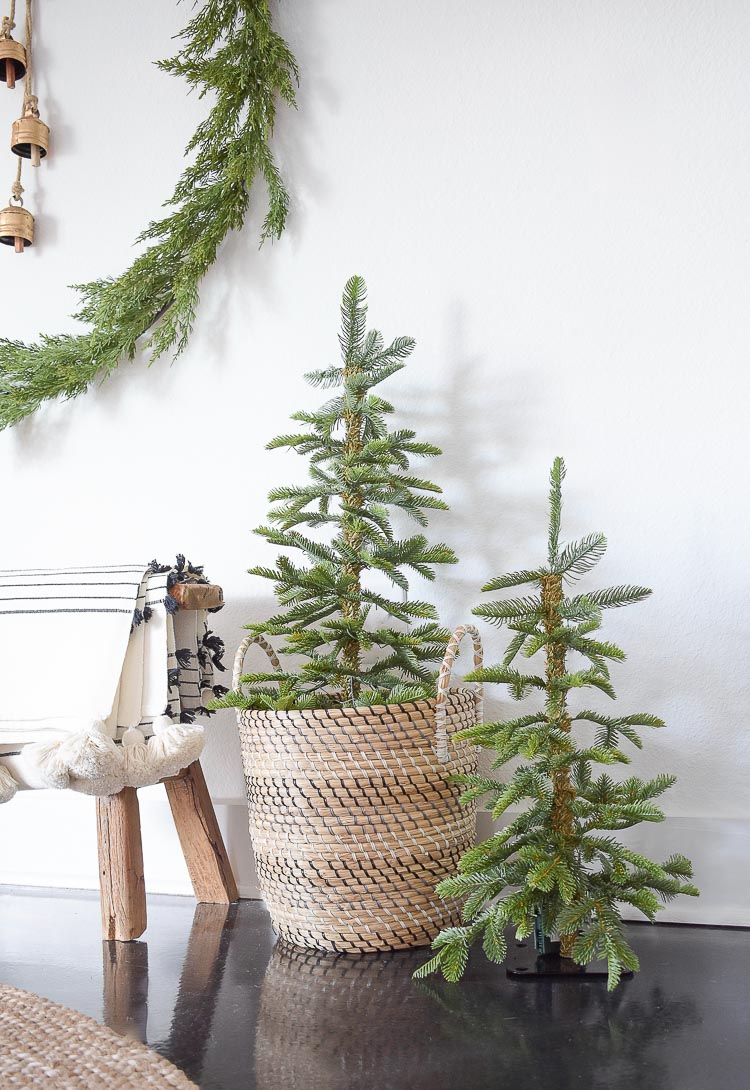 Really love this look when the trees are lit up!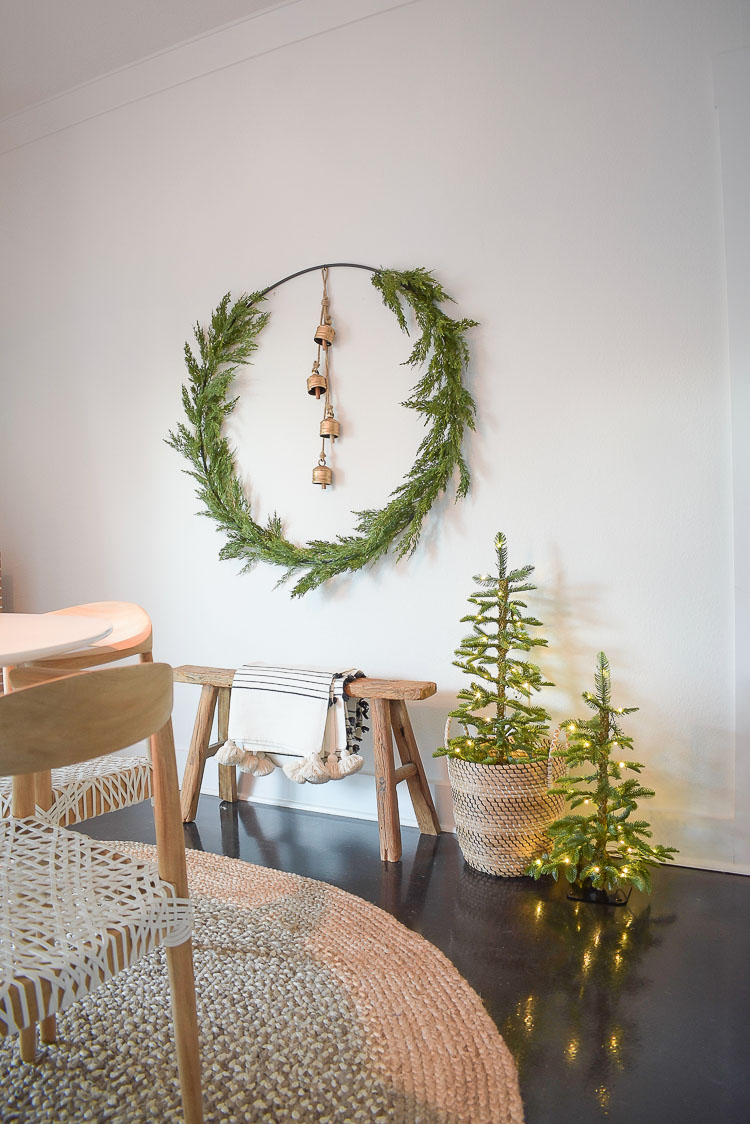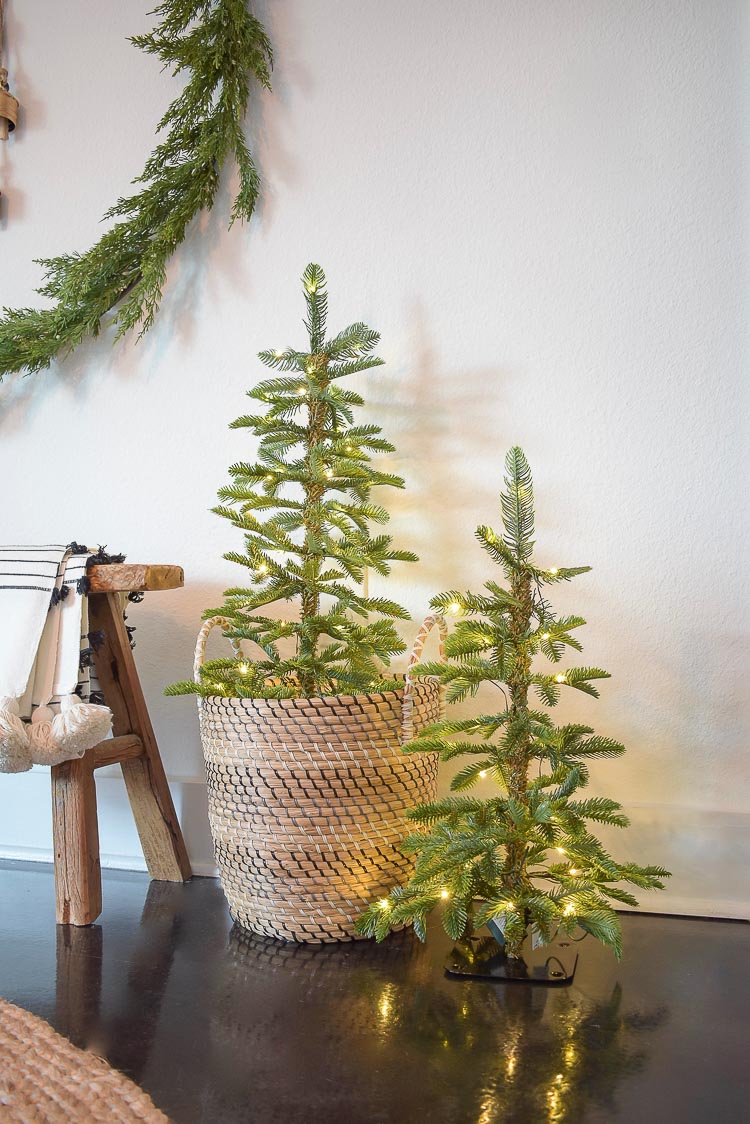 I hope you've enjoyed the tour.  Here's one last look back…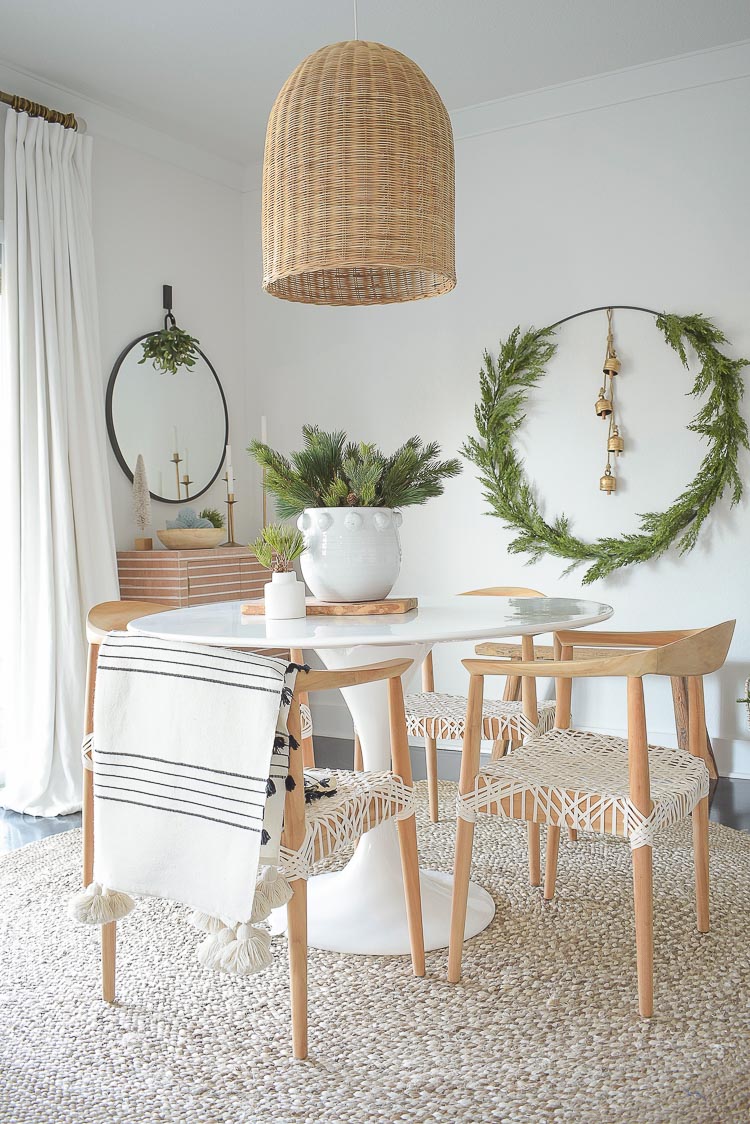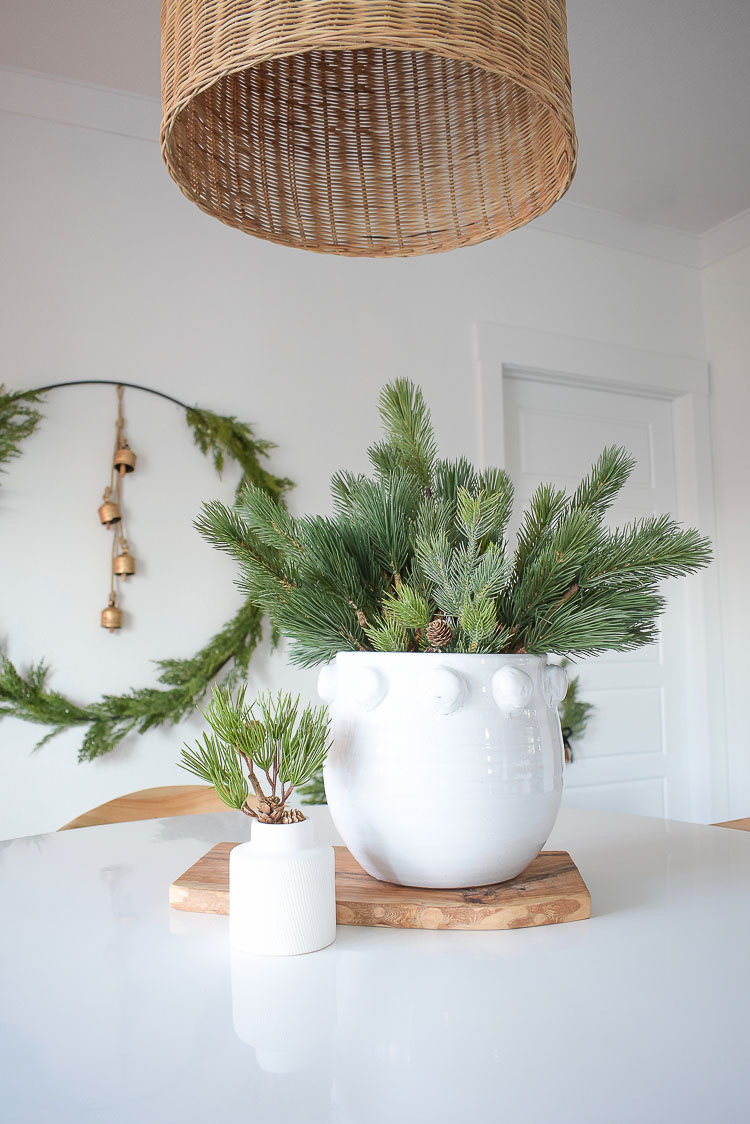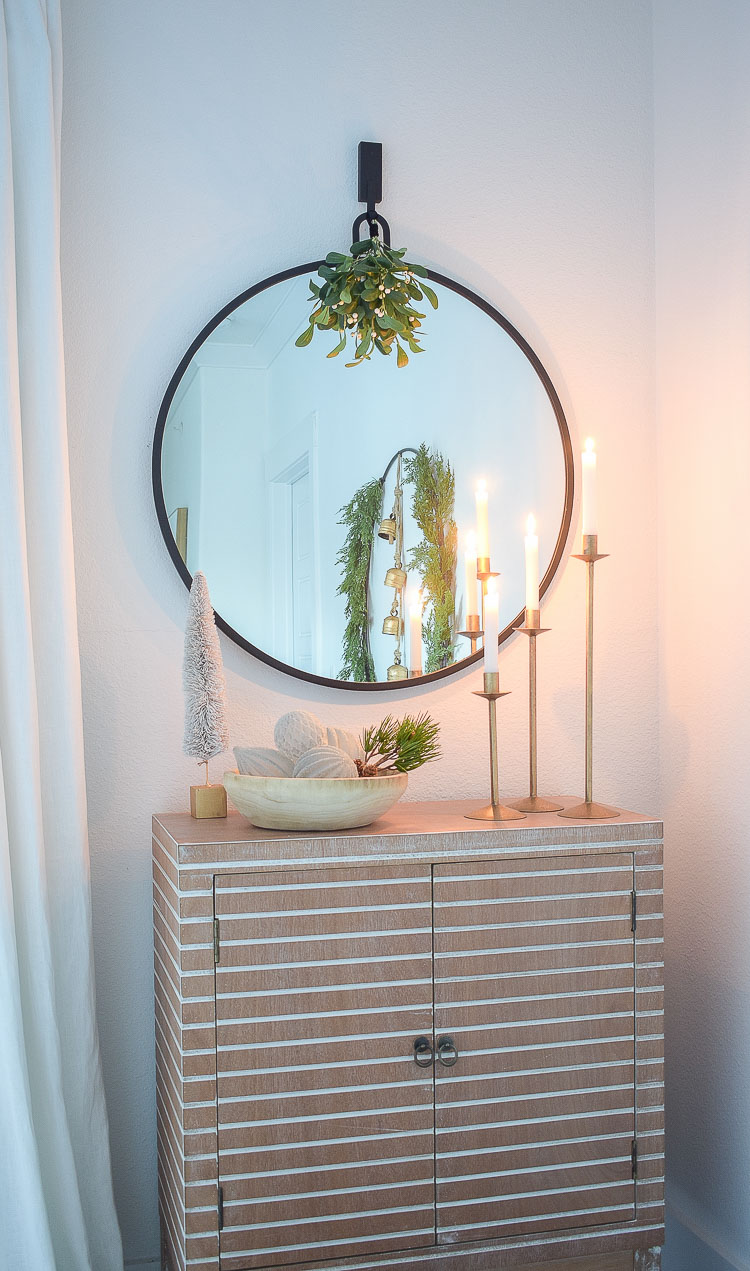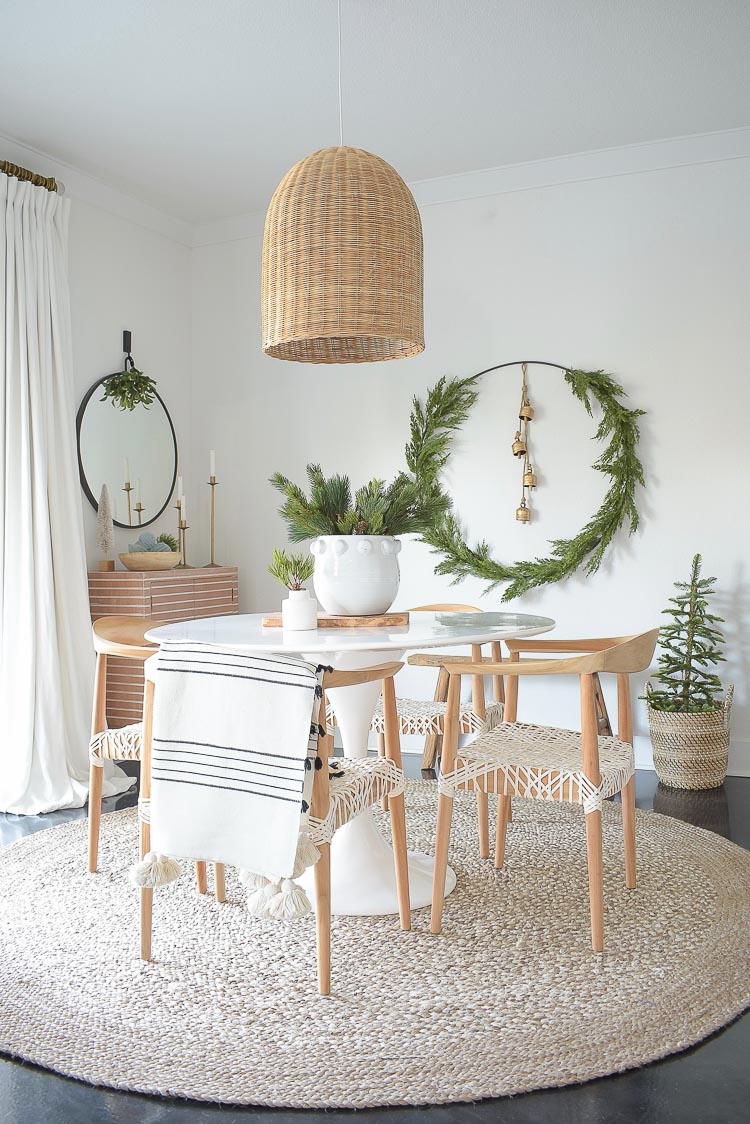 Thank you for stopping by to visit my How To Make A Holiday Circle Wreath + Christmas Dining Room Tour post!  Next up on the tour is the lovely home of Taryn Whiteaker.  I absolutely love her style and I know you will too so pop on over and check out her beautiful Christmas home!
Sources
Table | Chairs | Rug | Bar Cabinet | Wooden Bench | Pendant Light | Dot Pot (similar) | Cutting Board | Pine Stems | Mirror (similar) | Candle Sticks | Floral Ring for wreath | Garland On Wreath (similar) | Throw | Trees (similar) | Basket (similar) | Mistle Toe Similar Curtains | Bells On Wreath
Additionally, here is everyone that is on the tour this week so be sure to catch up as the days go by this week so you don't miss a thing!
Monday December 9th

 A Stroll Thru Life,   Remodelando La Casa ,   Cuckoo4Design ,  Far Above Rubies , Southern Hospitality ,  Pink Peppermint Design
Tuesday December 10th 
House By Hoff,   Duke Manor Farm , ZDesign At Home  , Taryn Whiteaker ,Inspiration For Moms ,Decor To Adore
Wednesday December 11
Cassie Bustamante , Follow The Yellow Brick Home ,Dixie Delights , Hymns & Verses , Modern Glam , Thrifty & Chic
Thursday December 12
Our Fifth Home ,  11 Magnolia Lane  , Our Southern Home  , Seeking Lavender Lane  , Setting for Four , Southern State Of Mind 
Friday December 13
Grace In My Space , White Arrows Home, The Woodgrain Cottage , Designing Vibes , Thistlewood Farms , Life On Cedar Lane, 
Let's Stay Connected…
Pinterest | Instagram | Facebook