5 Tips on How to Beat the Winter Decor Blues + A Winter Home Tour
I don't know if you are like me or not but as soon as the holidays are over I'm ready for a clean and clutter free slate!  Additionally, I'm equally ready to bring out some of my favorite pretty things to help me beat the winter decor blues!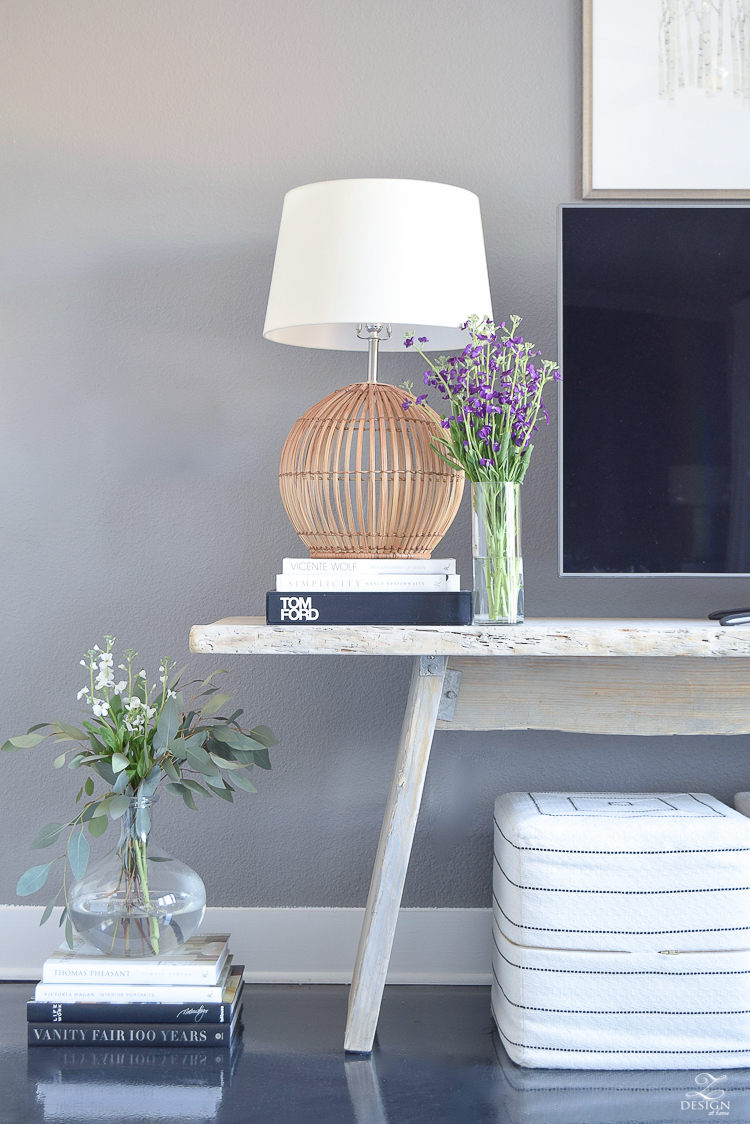 Besides bringing out favorites that speak to my heart, I like to move things around like for example, moving a lamp from one room to the next or even just across the room like I did with my rattan lamp (similar).  My other favorite thing to do is to load the house up with fresh and faux flowers to fill in the gaps that were left after the holidays.
P.S.  Take a good look at the console table below that everyone seems to love so much because it won't be here next time I share this spot.  We are going to be staying in our rental much longer than expected now after some unforeseen circumstances that came up in regard to the construction of our home (read more about that here, 3rd paragraph down) and we are in desperate need of a more permanent solution that includes lots of storage since we are living in a much smaller space for now.  I'm also craving a little white paint on this wall so stay tuned for all of that soon in my first spring tour of the year around the 1st of March!  And if you are wondering what will happen to the console…for now it will go into storage but more than likely we will keep it because my husband still loves it and wants to keep it in the man cave in the new house.  I think another big thing we'll be doing here will be to hang the tv on the wall so stay tuned for all of that soon!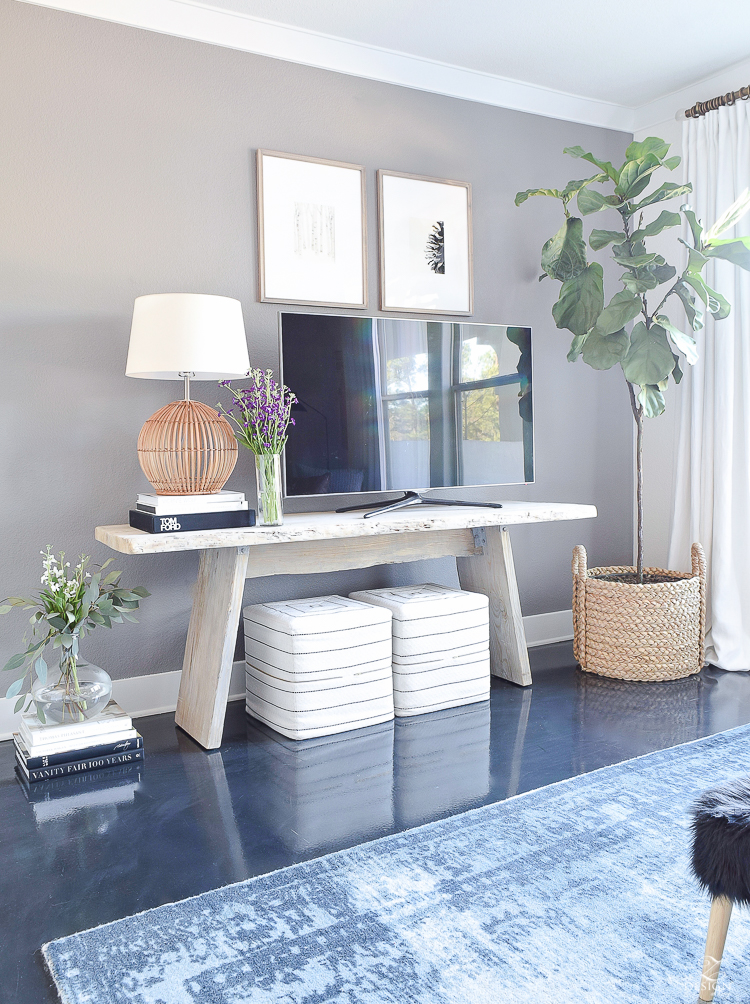 The living room is simple with some more of my favorites like my neutral floral pillow, leather pillow and a new one that I'm slightly obsessed with in a 22×22 size that is a perfect anchor size on either side of my couch.  Pulling out something you haven't seen in a while or purchasing just one small thing to freshen up your nest can wipe away those winter decor blues and give your space a whole new lease on life.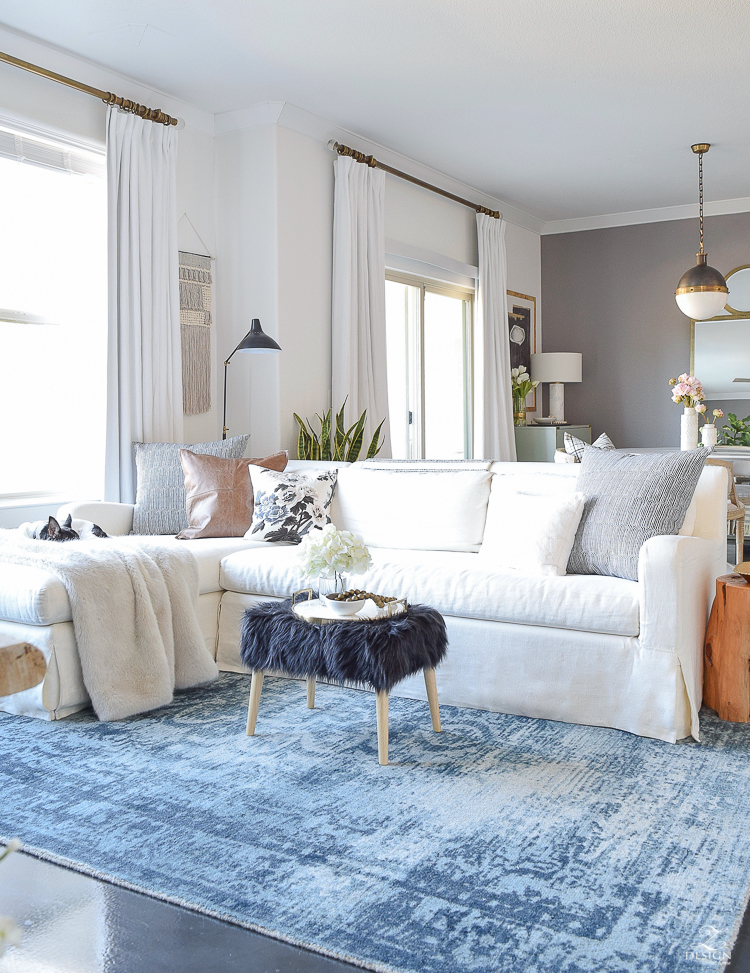 The oversized faux fur is still hanging around from the holidays for snuggle time on the couch but truly most of the time this is Gracie's sweet spot!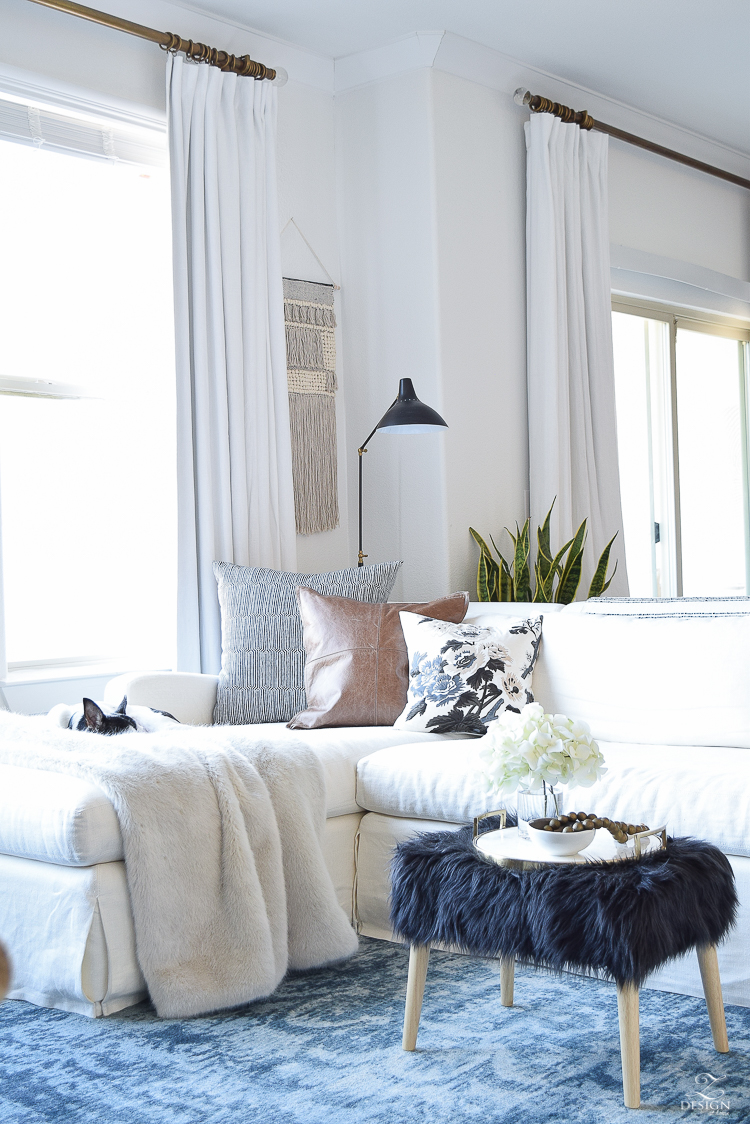 Here's a close up of my winter pillow selections, mostly from pillows I already have.  I guess I may need to retire the floral pillow soon but I can't help it…I just love it and love how it pulls the room together with all of my colors.  I have a blog post HERE with simple tips on how to mix & match your pillows where I talk about having at least one fabric in your collection that will pull your whole ensemble together.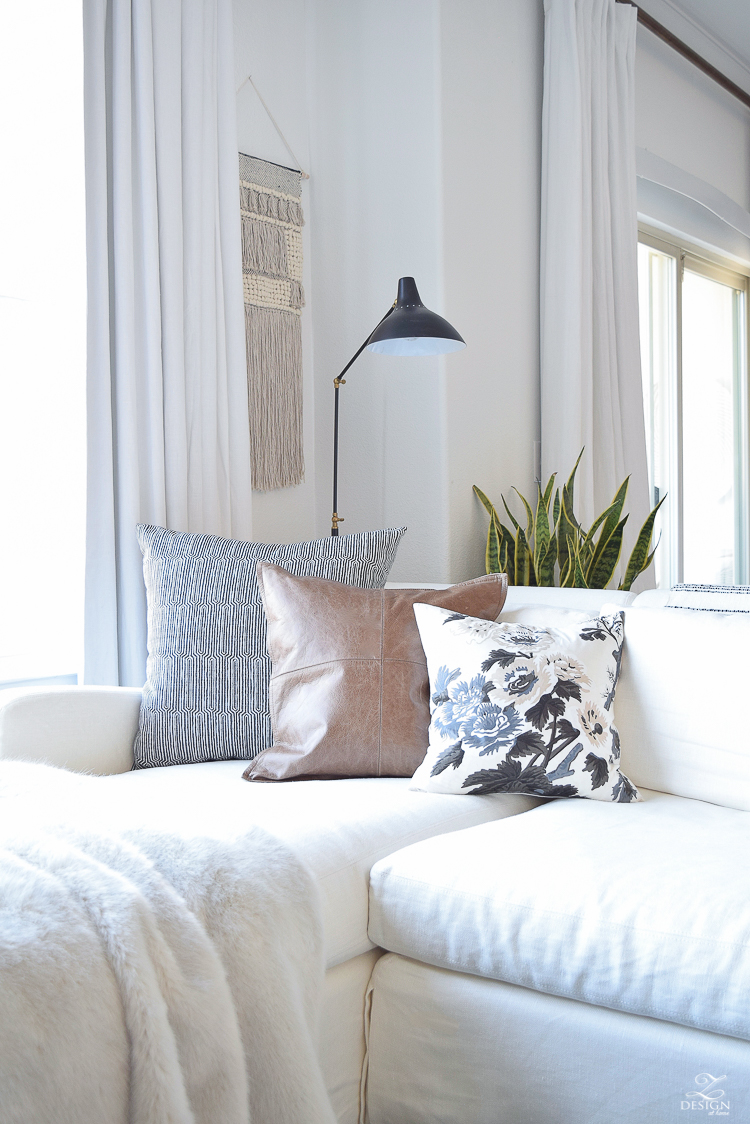 And here is a close up of that new pillow that I'm smitten with!  I think introducing at least one or two new items to your decor after the holiday storm can give you a fresh perspective on your home and put a smile on your face when you walk into the space.  The soft cream faux fur lumbar was a hold over from Christmas pillow collection…you can shop it HERE.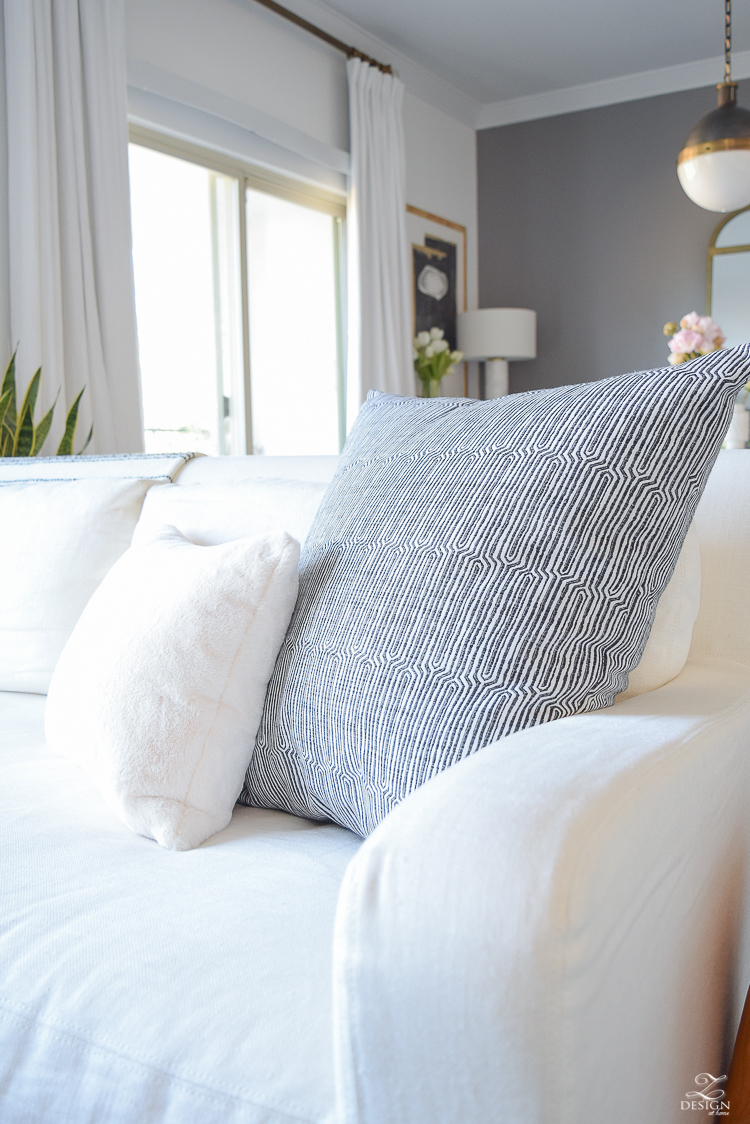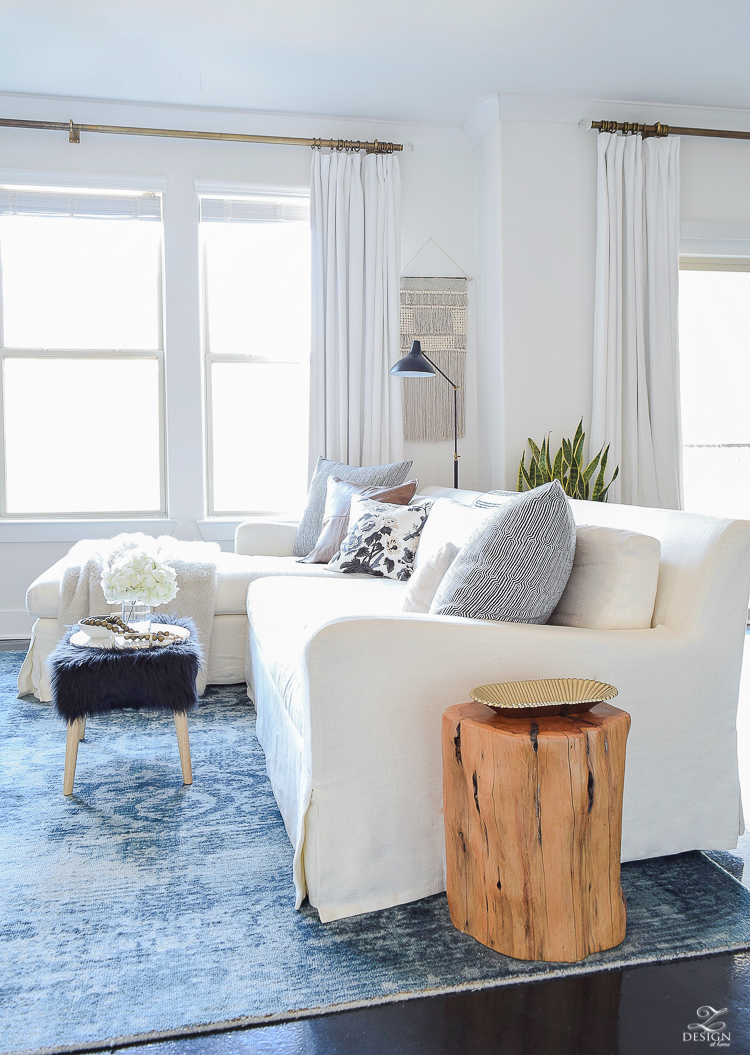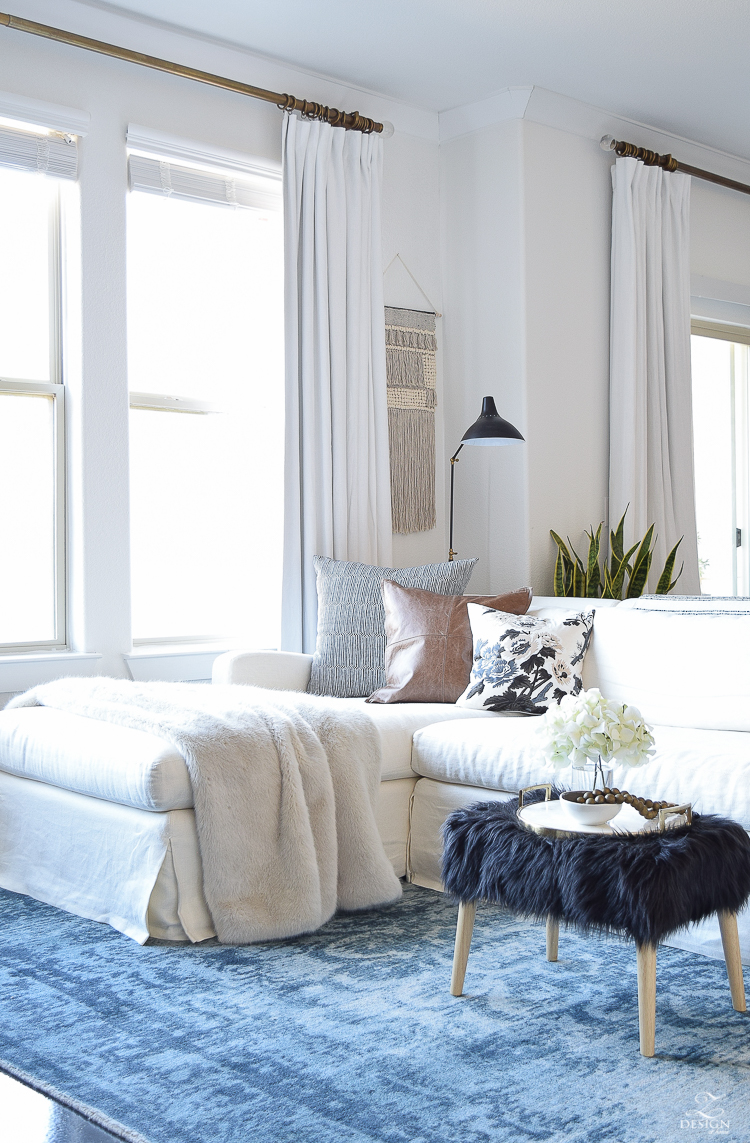 My little fur ottoman is still hanging around and I love it but it will soon be replaced as well since we really need a coffee table now that we'll be here much longer.  This is the best time of year to shop good deals on furniture (Jan-Feb is also the absolute best discount time for outdoor furniture) so I was able to find one that I had been eyeing for quite some time at a really good price…stay tuned!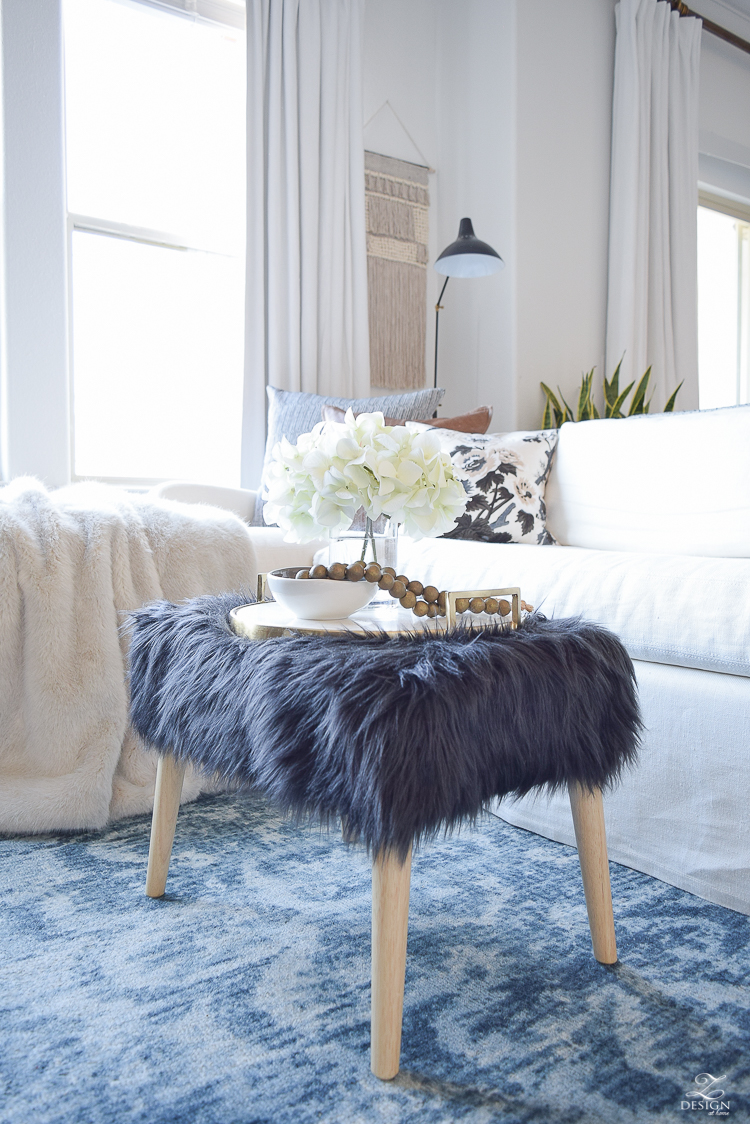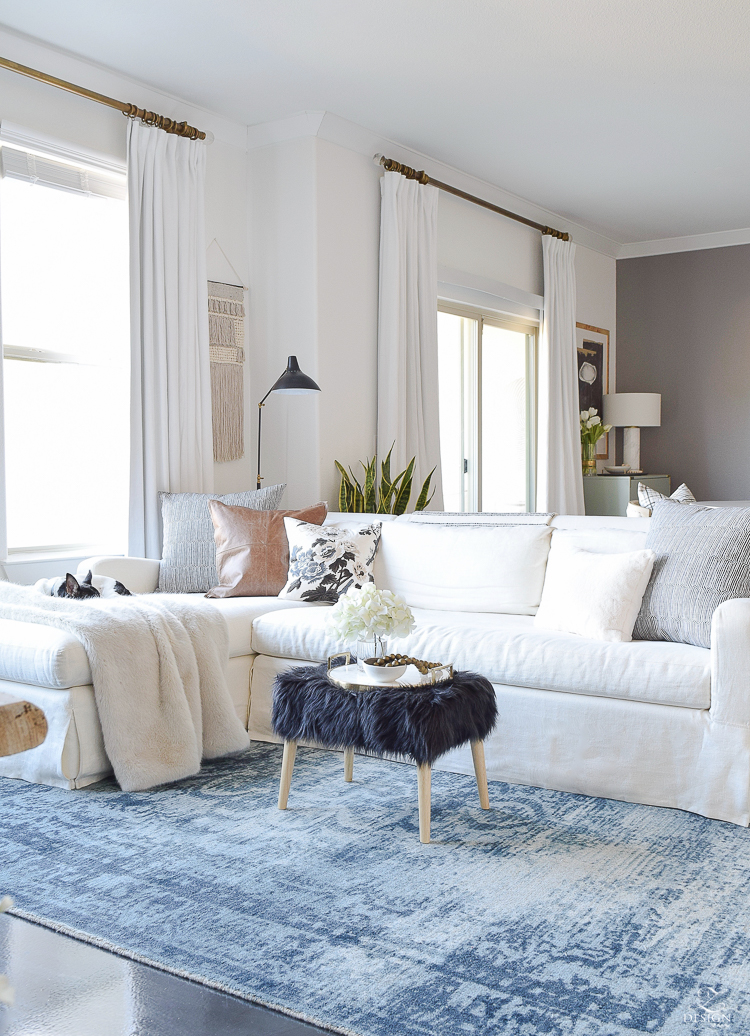 The kitchen is black, white and gray so adding a pop of color over here with some stock blooms is all we needed.  The gray dipped vase and rustic pizza board add some character, texture and life to the space!  Adding things like the textured pizza board and the leather in my pillows from above will make a space cozy and inviting during colder months with the warm tones.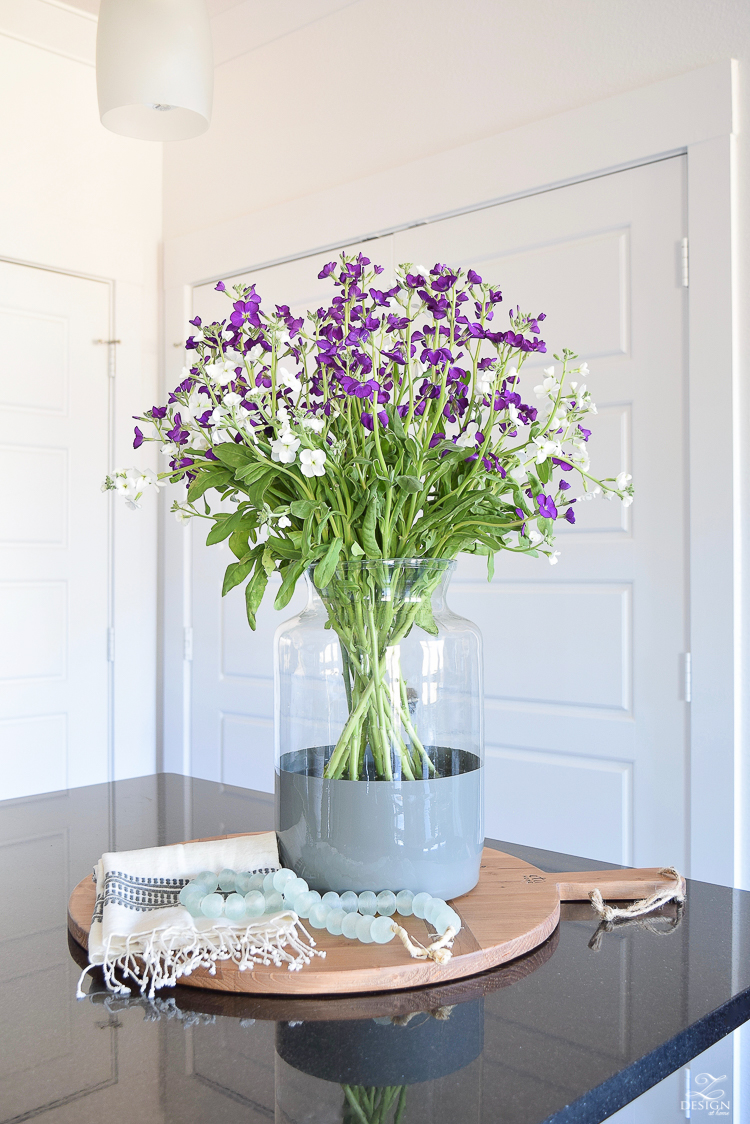 Simple, subtle changes and additions in the dining room give it a clean, clutter free look but with a nod to spring (but still holing out for now).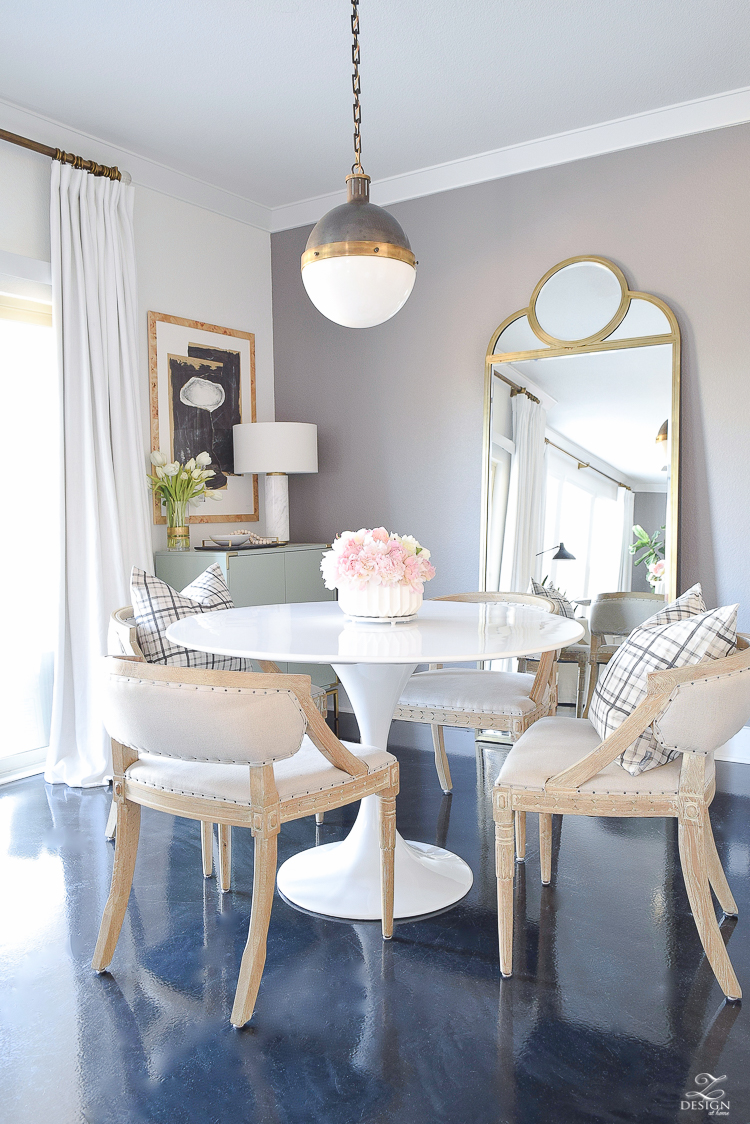 If you like to switch out your pillows for Christmas be sure to choose some that will last into the new year and winter.   I love this black and cream plaid pillow that I used over the holiday so it will stay until spring rolls around.  It also looks really nice paired with my favorite floral and leather pillow.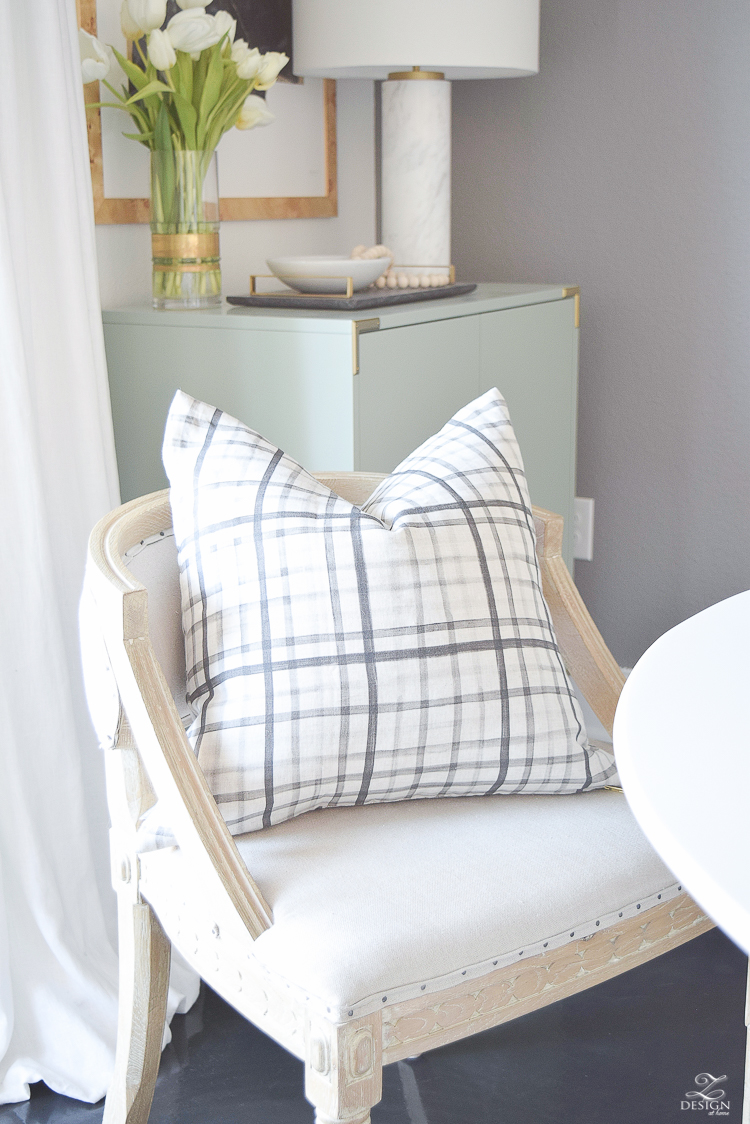 Again, adding fresh flowers in a light color, moving lamps around and adding a favorite tray, like this black marble tray gave this little corner a whole new look that I love!  Seasonal changes are always a great time to give the vignettes around your home a fresh new look so that things don't get stale and boring!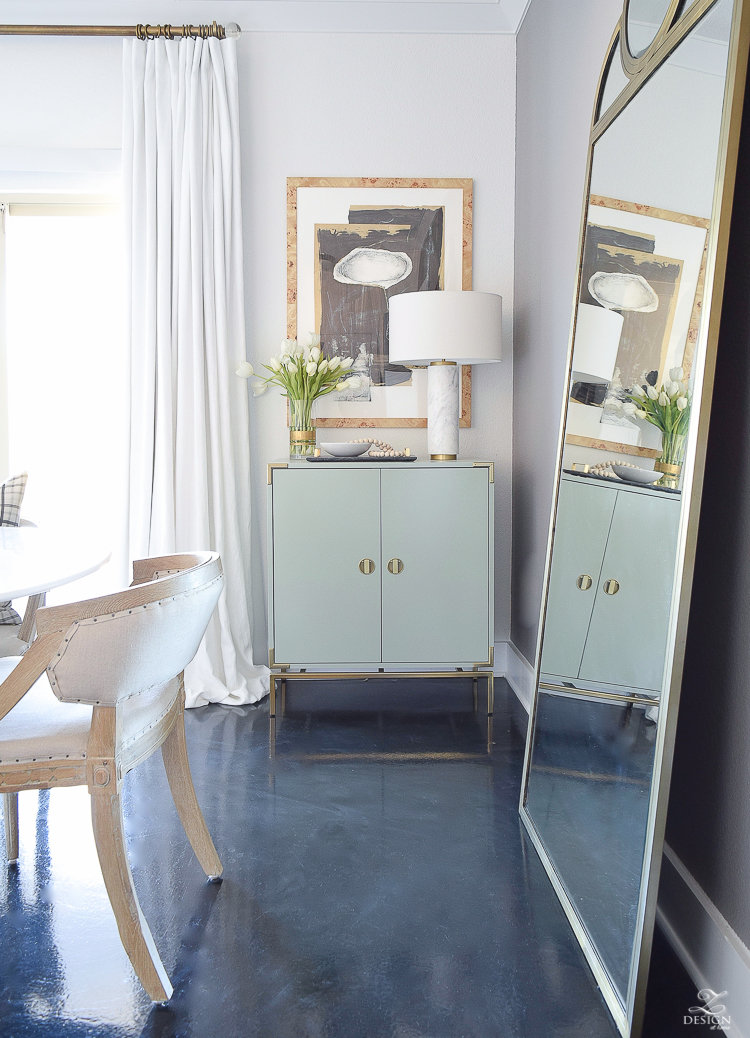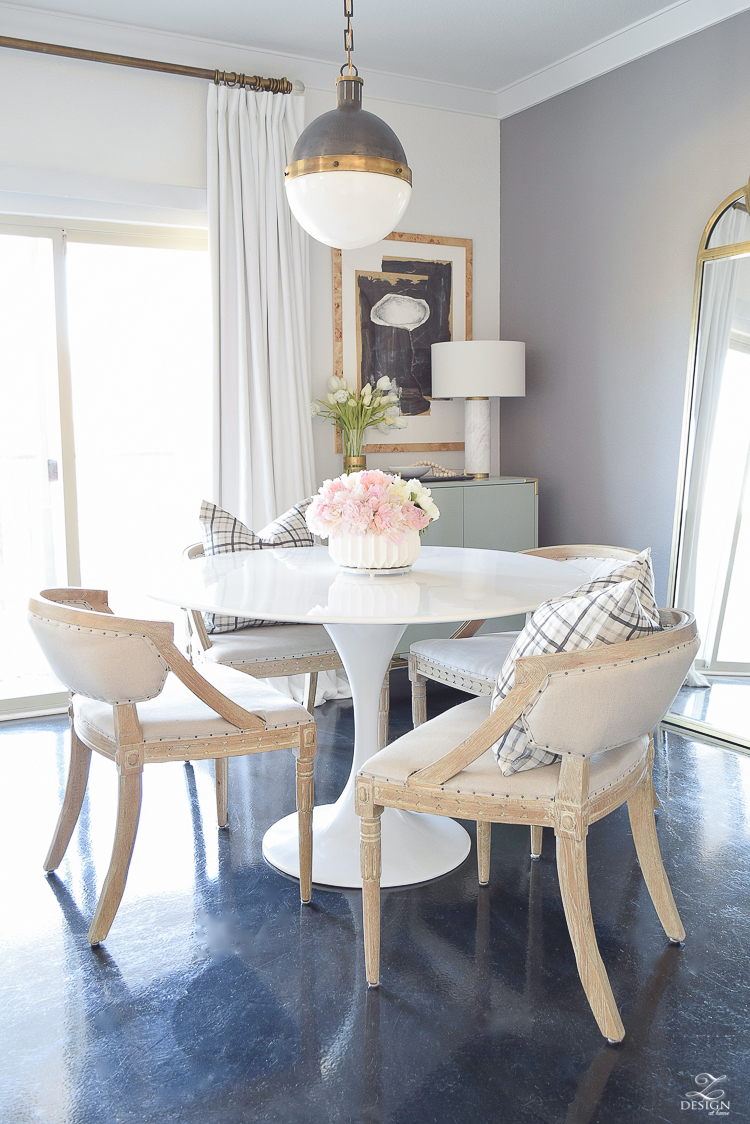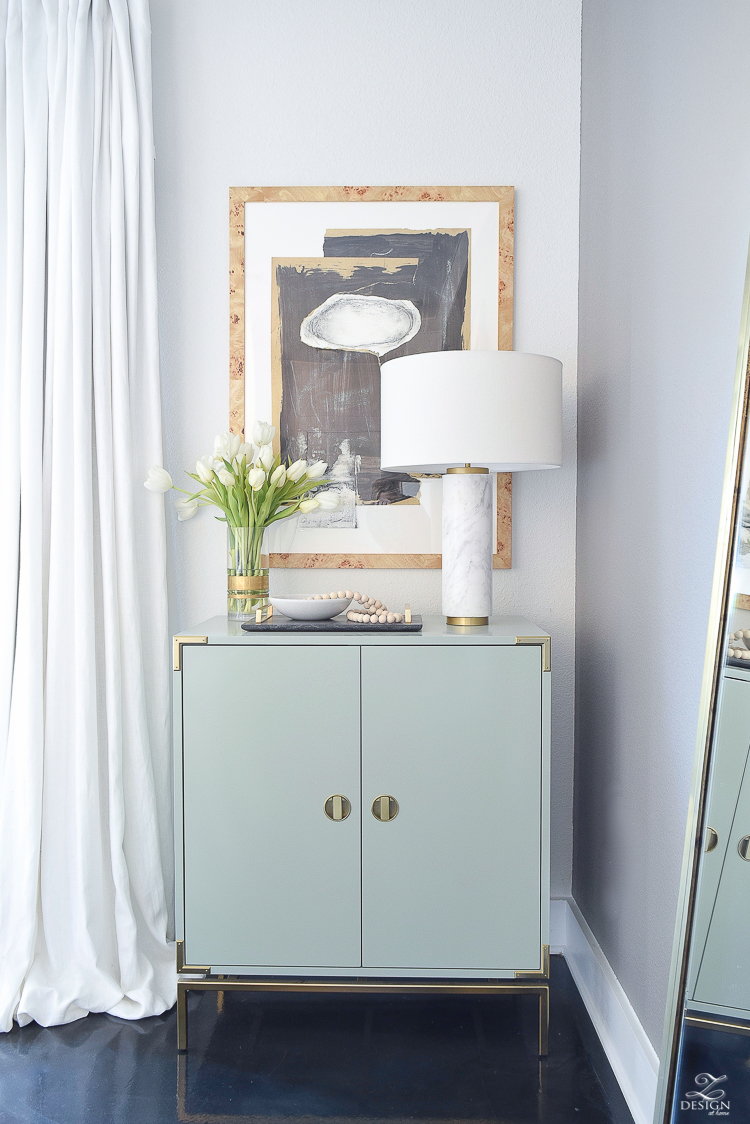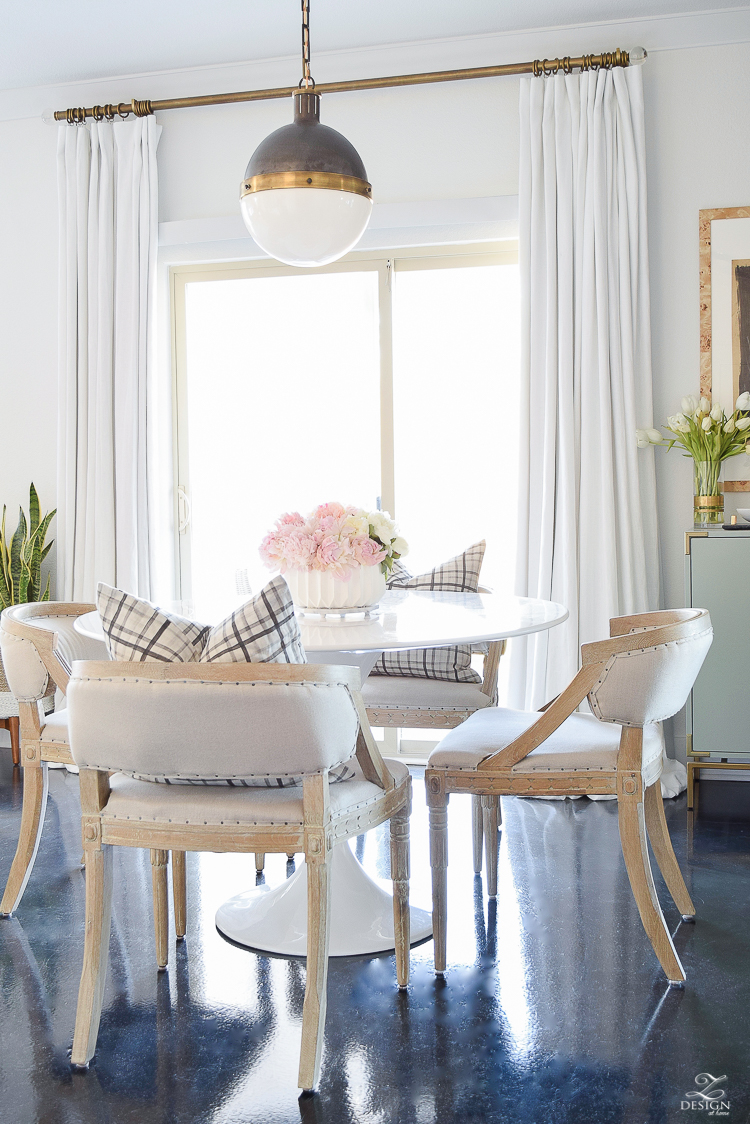 Yep!  You may have noticed the peonies on the table….I couldn't help myself when I saw them at the grocery store – sorry:).  I know it's way too early in the season but who could resist?!?  And, this is actually a mix of fresh and faux peonies in my favorite white, fluted pot…can you tell which is which??  Here is a nice faux bundle if you have been looking for some.  Having faux stems or bundles around the house is a great way to fill in an arrangement that may be lacking and/or of course when you don't have (or don't want) fresh!  A lot of the time I also really love to elevate my vases and pots with these hex marble trivets.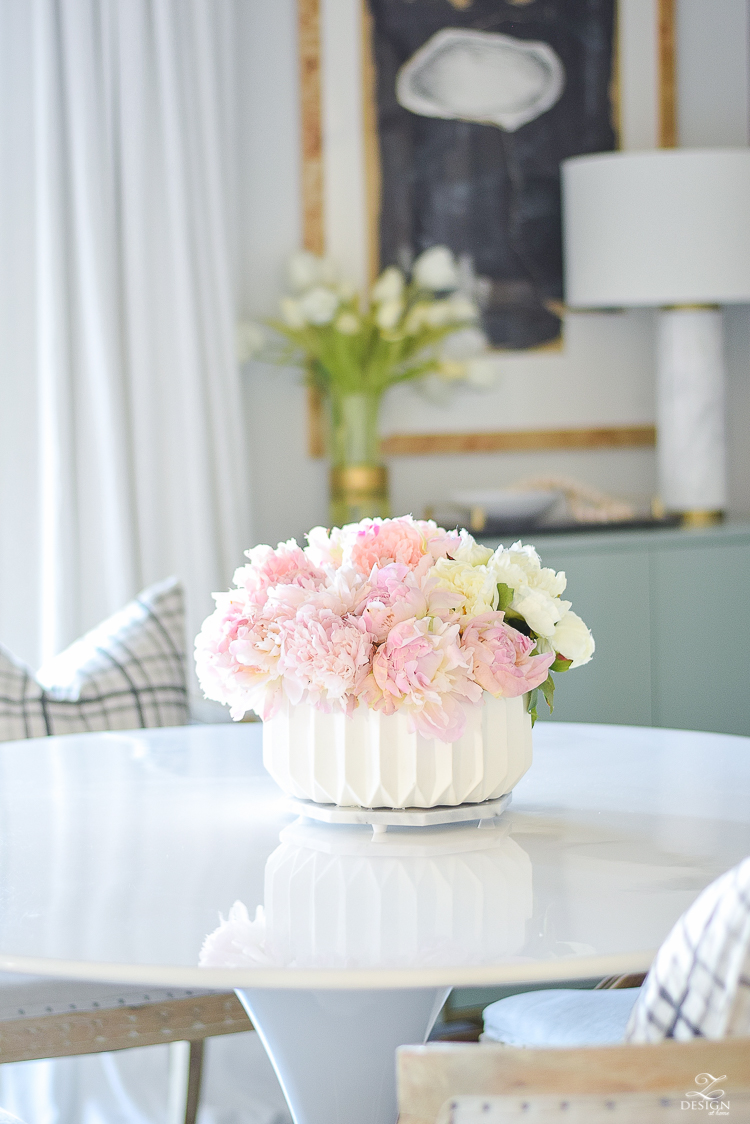 I moved my marble lamp from the console in the living room to here and I have to say I love it here!  It gives this space a whole new look and gets this area ready for spring with it's new airy look.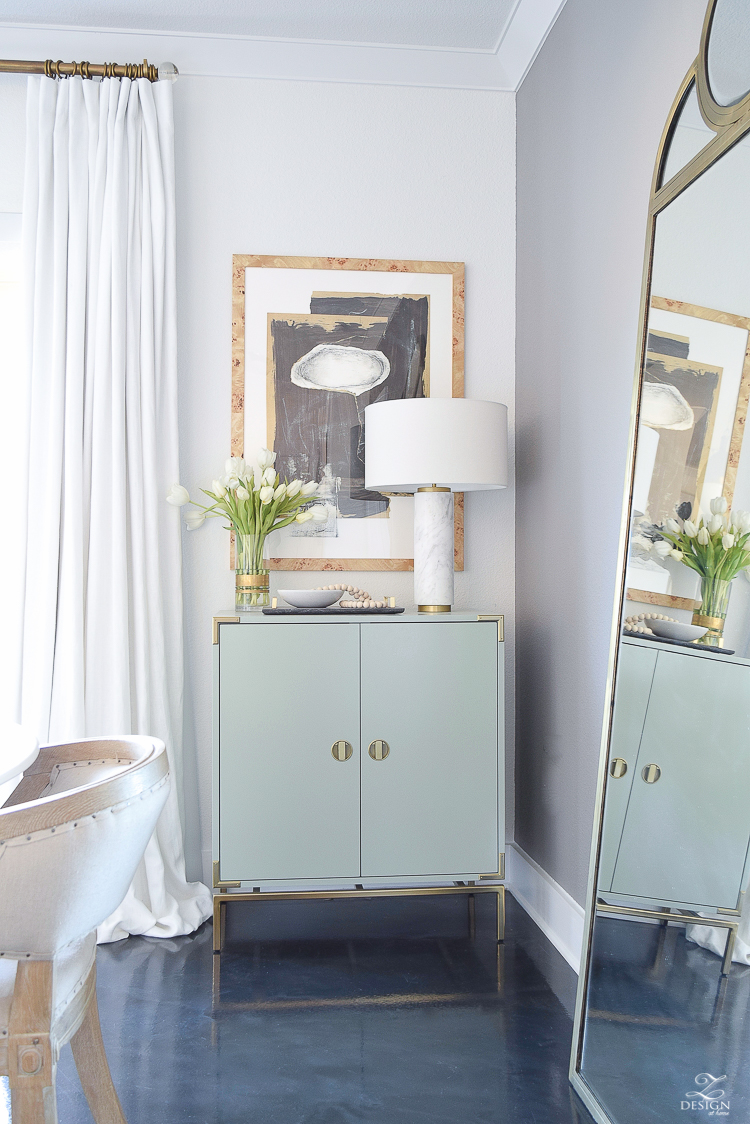 I happened upon 2 strands of these wooden beads at HomeGoods a little while back for $5 each so you will see them all over my home for some time to come.  I always love seeing them cascading out of a bowl or tray adding a little texture and interest, which helps me to beat those winter decor blues as well.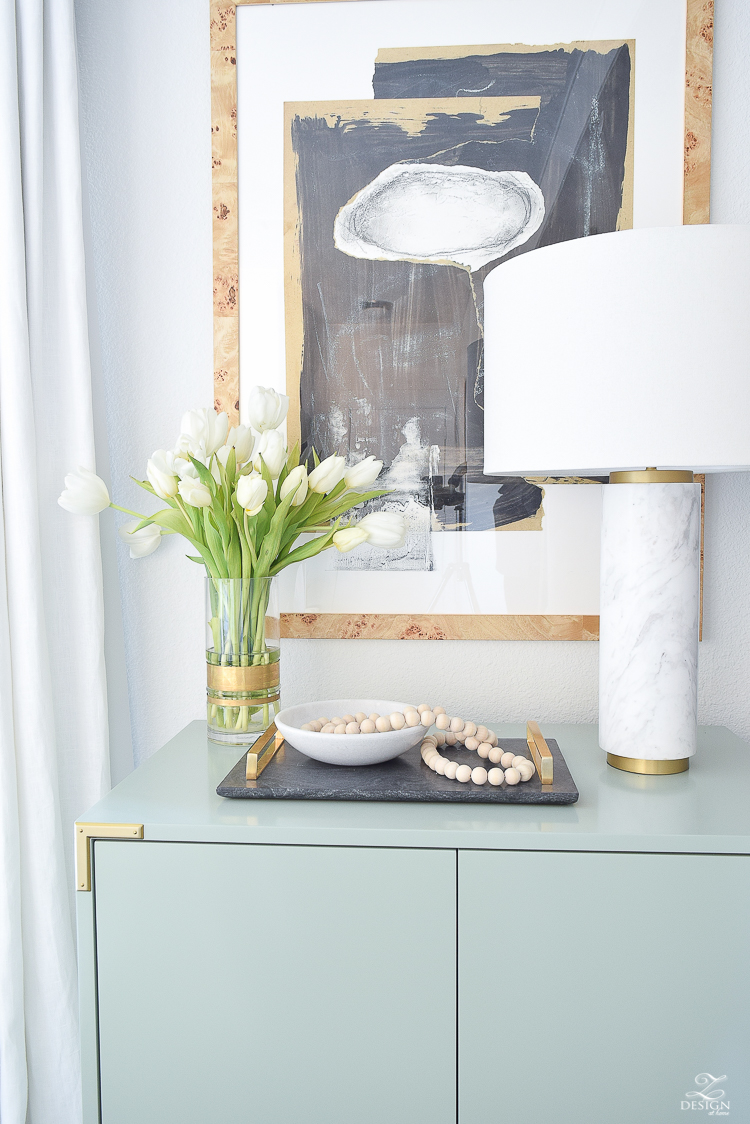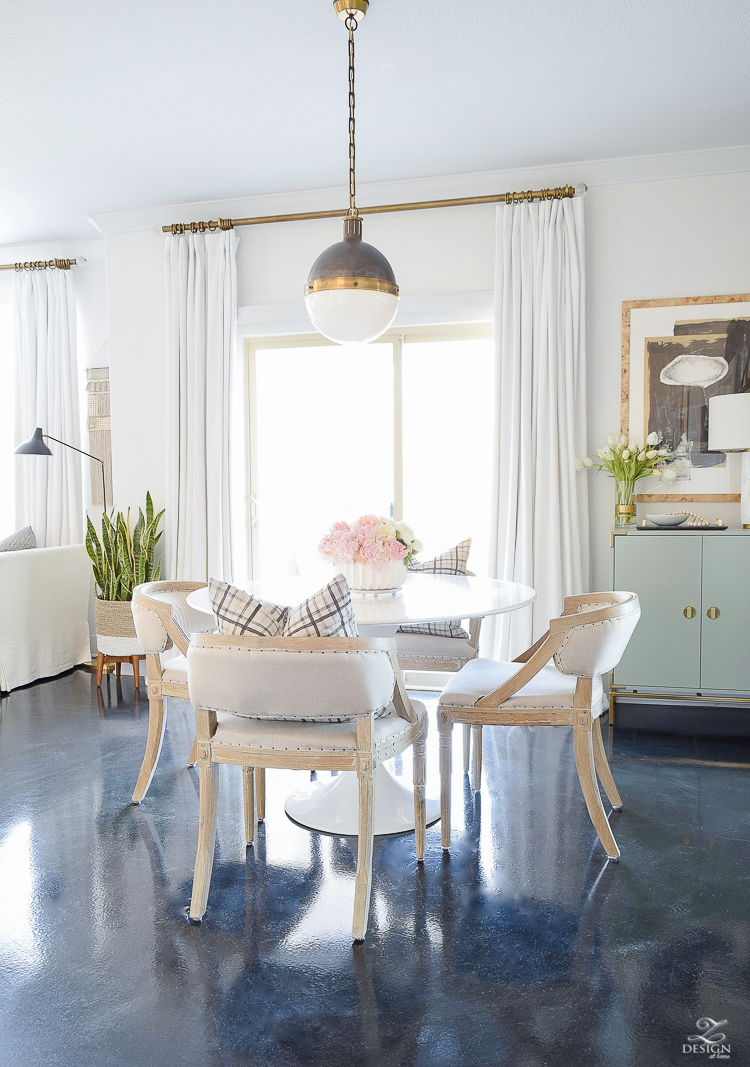 How to beat those winter decor blues
Pull out items you haven't seen in a while (translation…shop your home) that speak to your heart, using them in a spot you've never used them before for a fresh, new look
Move things such as lighting and accessories around to make your space feel bright and new
Use some of your Christmas money to introduce at least one new item giving a vignette or your sofa a brand new look
Fill the house with blooms whether fresh or faux and even do a mix to achieve that perfect look in a favorite vase or pot
Since it's still winter, keep some of your favorites out from the holiday such as fur, wood and leather to help keep your space cozy but shuffle them around the house to keep things interesting!
I hope you've enjoyed the tour and my tips for how to beat the winter decor blues!  I hope you'll come back next week when I'll be sharing a tour of the bedroom plus what I'm doing in there for winter to keep us cozy and how I completely shopped my home to get a whole new look:)!
Xo, Bree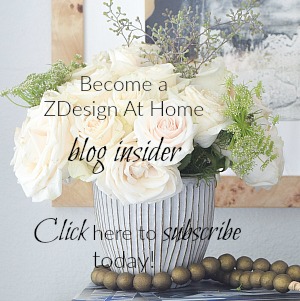 Click HERE for black and white cube ottomans
Click HERE for the cream faux fur lumbar pillow on sofa





Figs

Peonies & Pots

For a complete source list for the living room go HERE
For a complete source list for the dining room go HERE