The Best Faux Fiddle Leaf Fig Tree
I tried, I really did, friends…I promise!  I read article after article with all of the tips and tricks on how to keep your fiddle leaf fig tree thriving but unfortunately it just didn't work out so we finally went over to the faux side and today I'm sharing an honest review of what I believe to be the top 3 best faux fiddle leaf figs out there plus, I'm sharing which one I ultimately chose!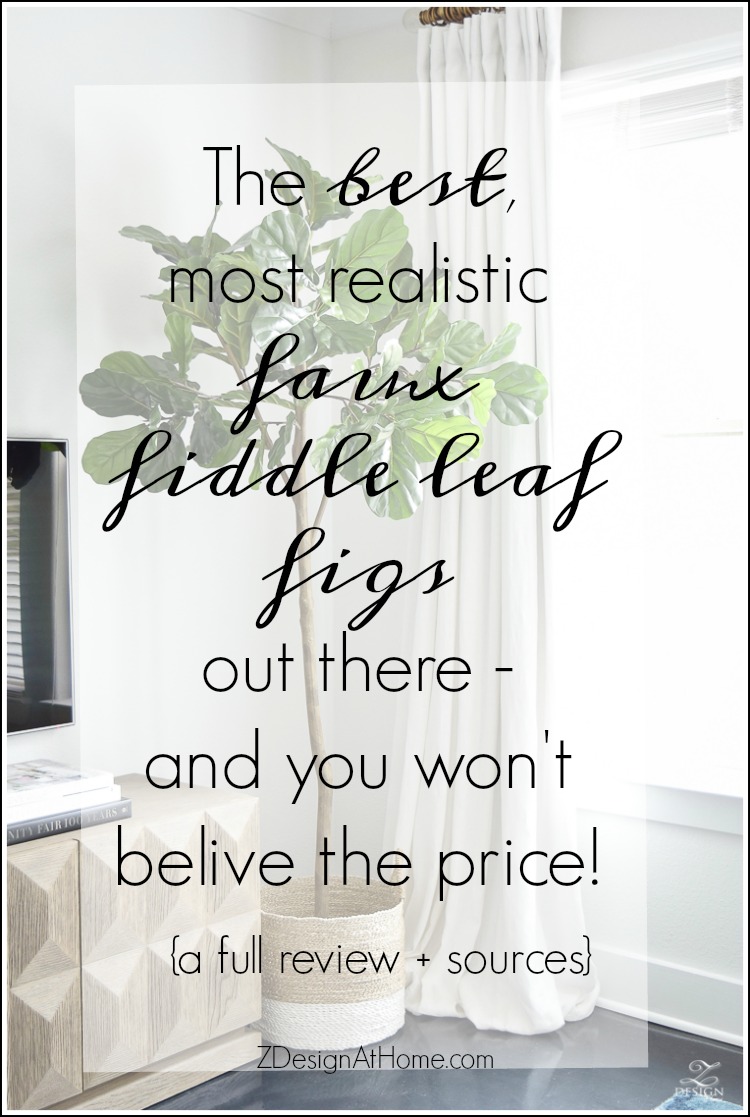 I searched far and wide, read all of the reviews, shopped locally and on line and am excited to share with you which one I chose and I would say the price tag is super affordable to boot for a nice quality faux fig tree but first, here is what our real fig tree looked like last June when we first brought it home.  It was so perfect in this spot that I just knew I had to replace it with something similar (that wouldn't die on me this time!)…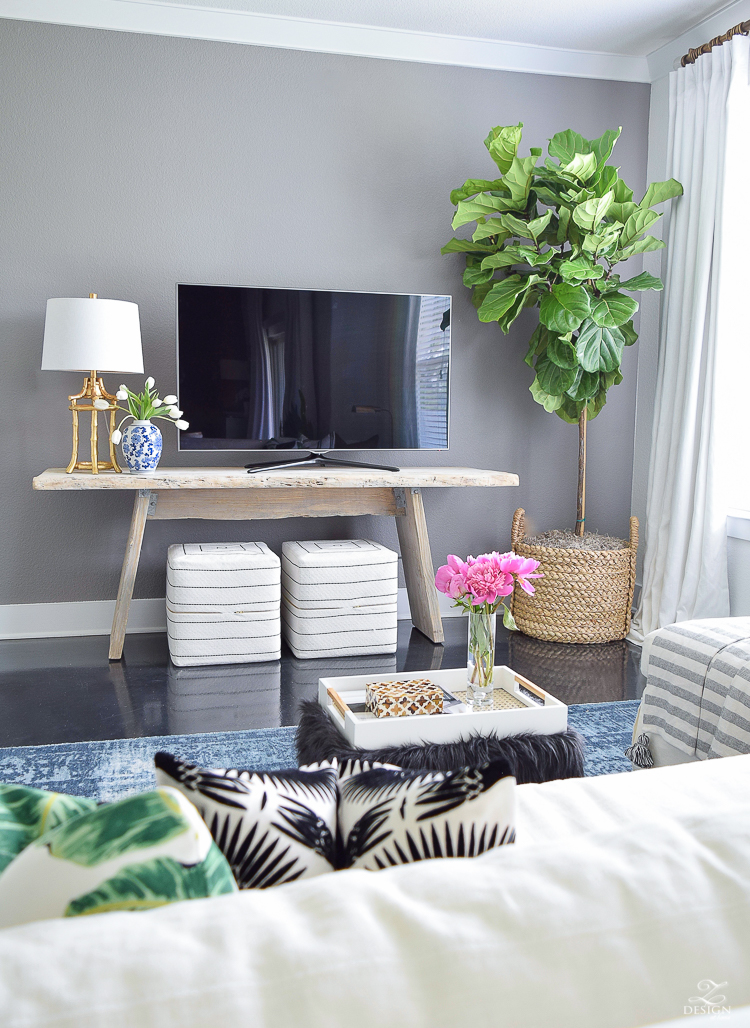 And here it is below in a photo I recently took…it doesn't look super terrible here in this photo but if you saw it in person you would see what I mean and I just couldn't take all of the brown spots anymore plus, it lost a ton of leaves after I took this photo so out she went.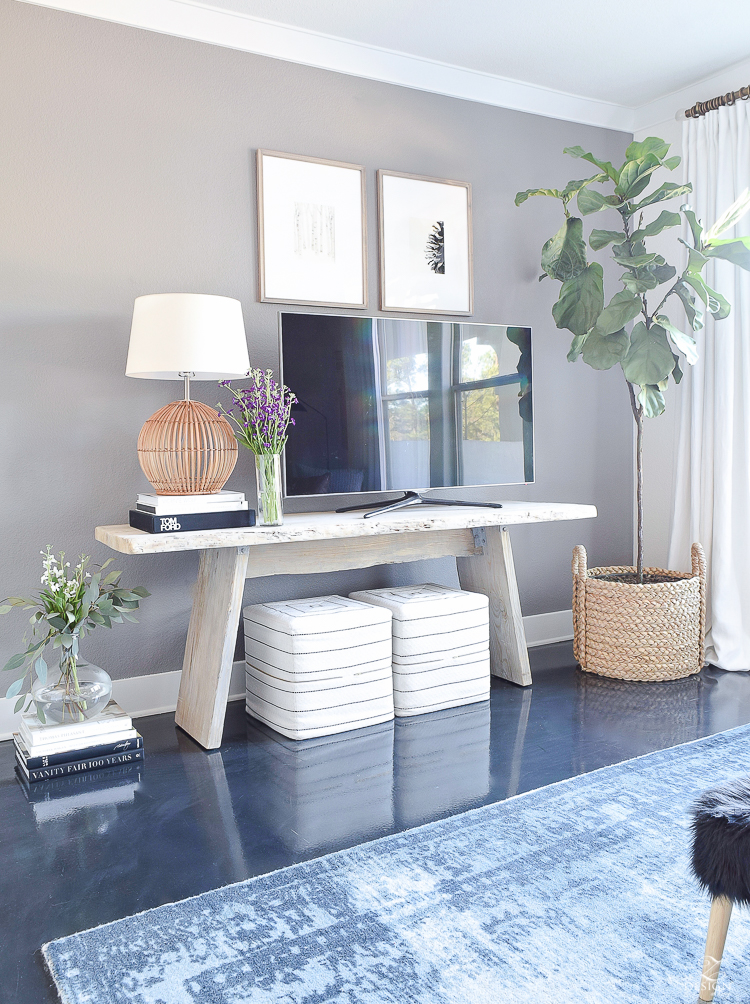 Although I prefer fresh, I certainly don't mind faux flowers one bit (as long as they are good quality) but when it comes to faux plants I definitely have a phobia like a lot of you do I'm sure!  And before I found the faux fig tree I ultimately landed on to take the real fig's place I ordered this one in the image below because the reviews were great and it looked beautiful on line (but was on back order for several weeks).  It's really gorgeous though and the reviews give it almost 5 stars.  I cancelled the order though because I fell in complete love with the one I ultimately chose and it was less expensive than this one, although if you need one this height (65″) I feel certain it would be a great one!
*Affiliate links used in this post.  Read our full disclosure here.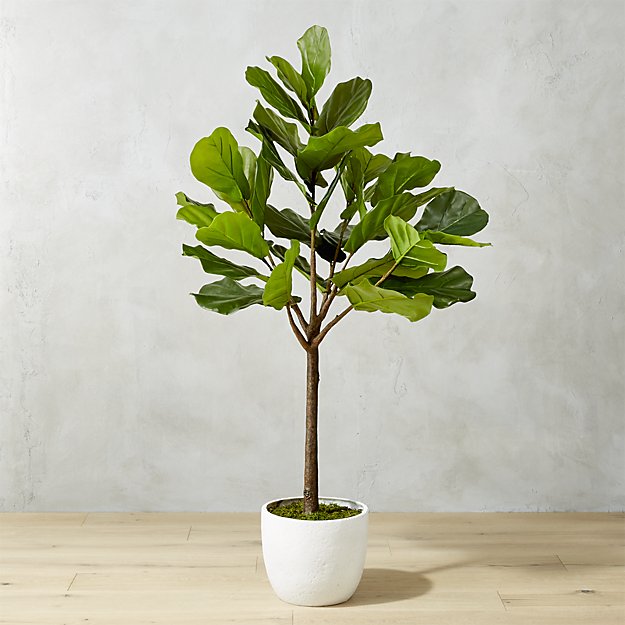 I also contemplated this one (in the photo below) really hard but in the end found the previous one and the one I ultimately landed on to be the best look and feel for my personal design style.  This one is very pretty though in person and comes in two heights and consequently two price points which is nice…


And then I found this one!!!   (the one I ultimately chose).  It was at a better price point than the one I had already ordered and was available to ship immediately so I scored it on free shipping and fell in love with it as soon as it arrived.  Again, my husband and I really, really don't like faux plants but both couldn't believe our eyes when it arrived.  The leaves are so realistic and if you get more than 3 feet away from it you would never know it's not real…now that's my kind of faux plant!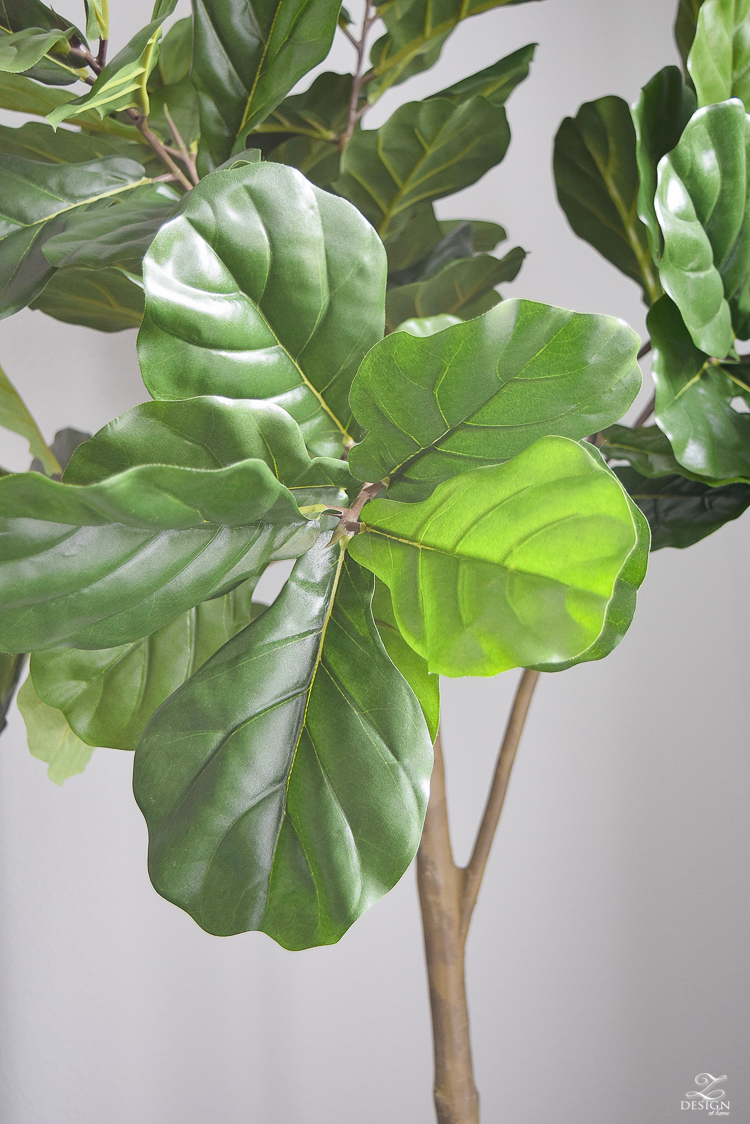 Additionally, the color and overall shape of it is beautiful and it gives the room the same feel our real fig did when it was happy and healthy!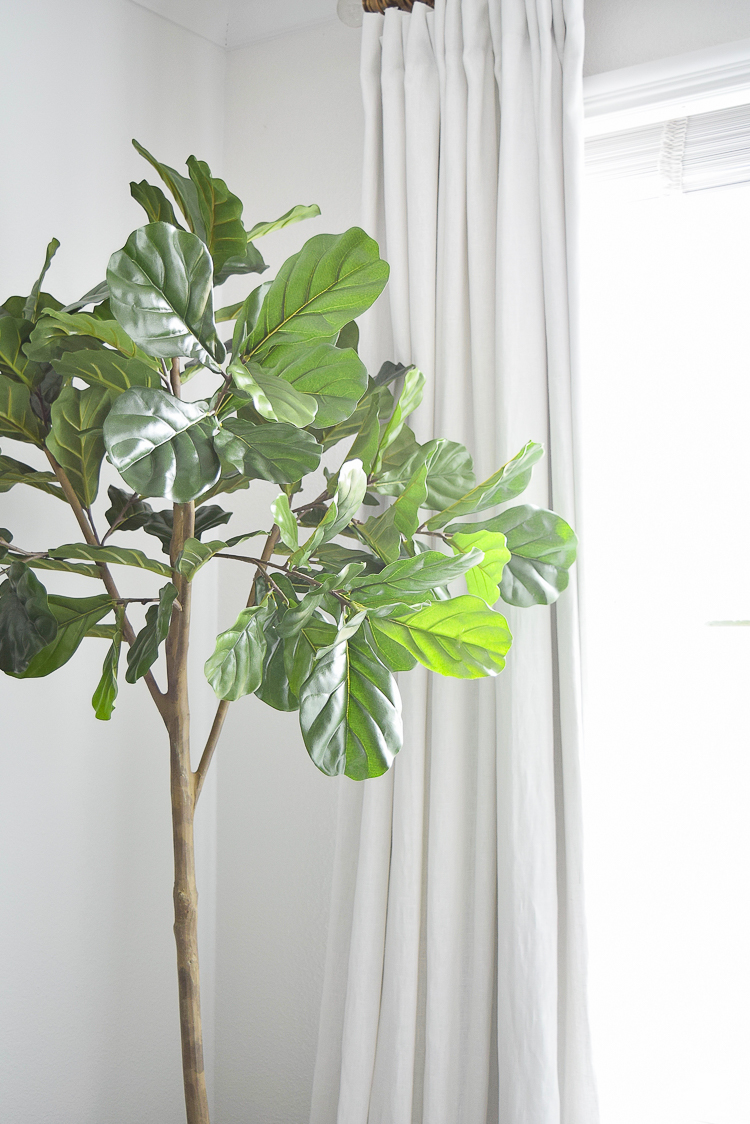 Even the trunk is super realistic and I love that it has a crook in it toward the bottom to give it a more authentic look and feel.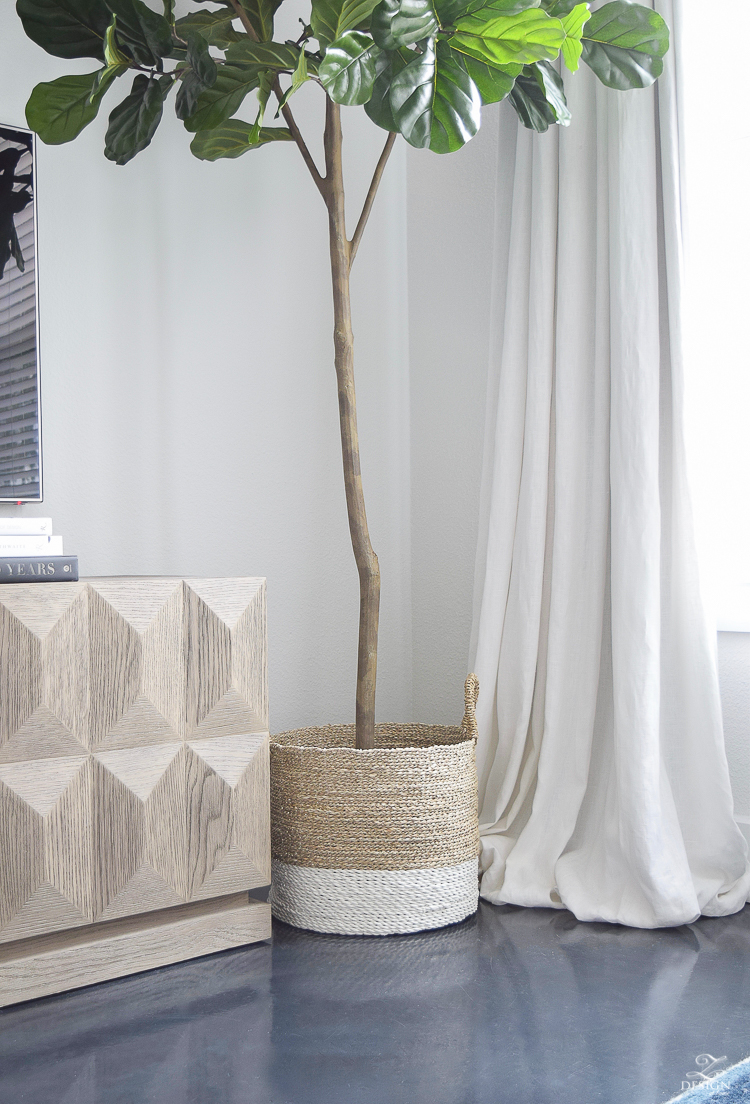 I just adore it and don't think of it as being faux at all, because it's just so realistic looking.  You definitely have to keep it in a pretty basket or pot though because the base is very utilitarian looking but that is something all of us would probably do anyway!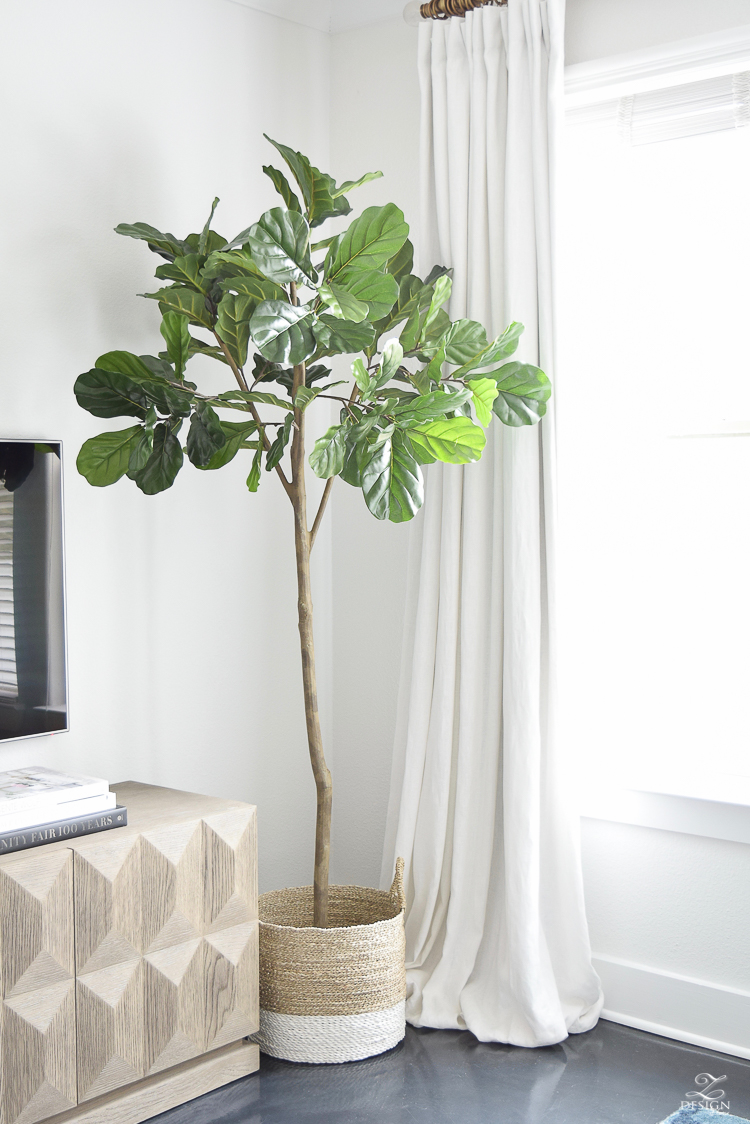 The branches and leaves are pliable so they are easy to manipulate into place to get the desired look you are going for in your space.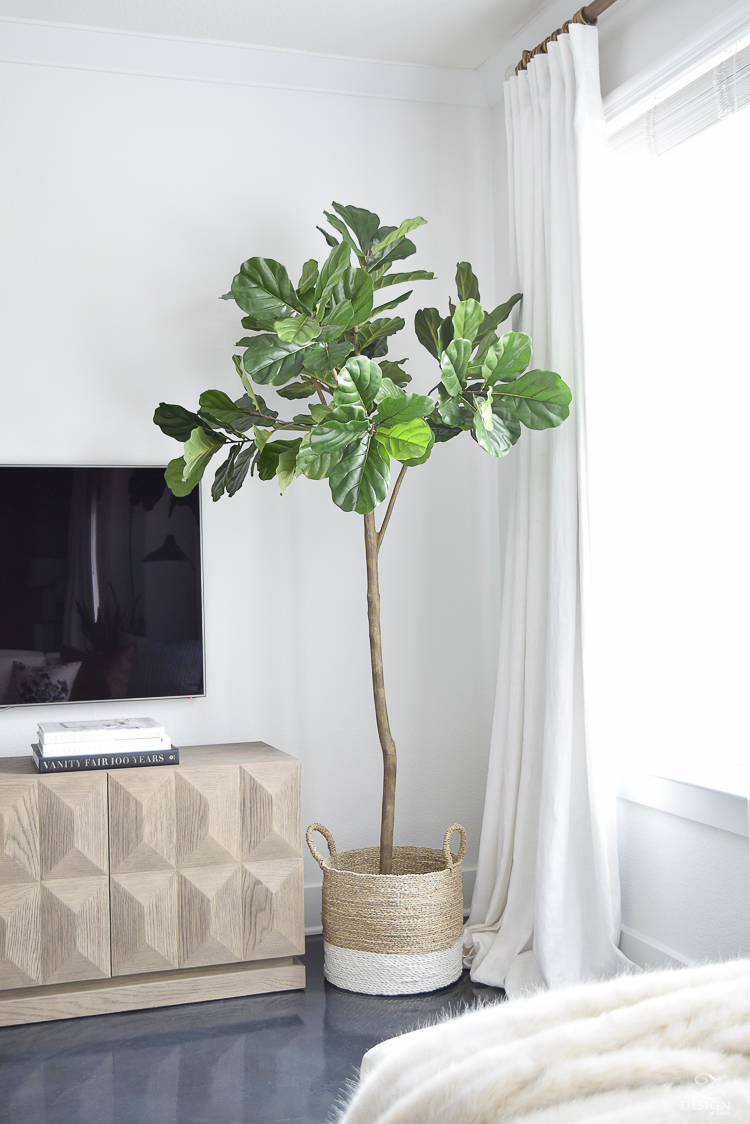 And here she is from across the room.  I'll have to think of a name for her but for now I'm just happy to look over and see her light up the room without the worry of a real fiddle leaf fig tree:).  The bonus was that this one was shockingly the most affordable of the three!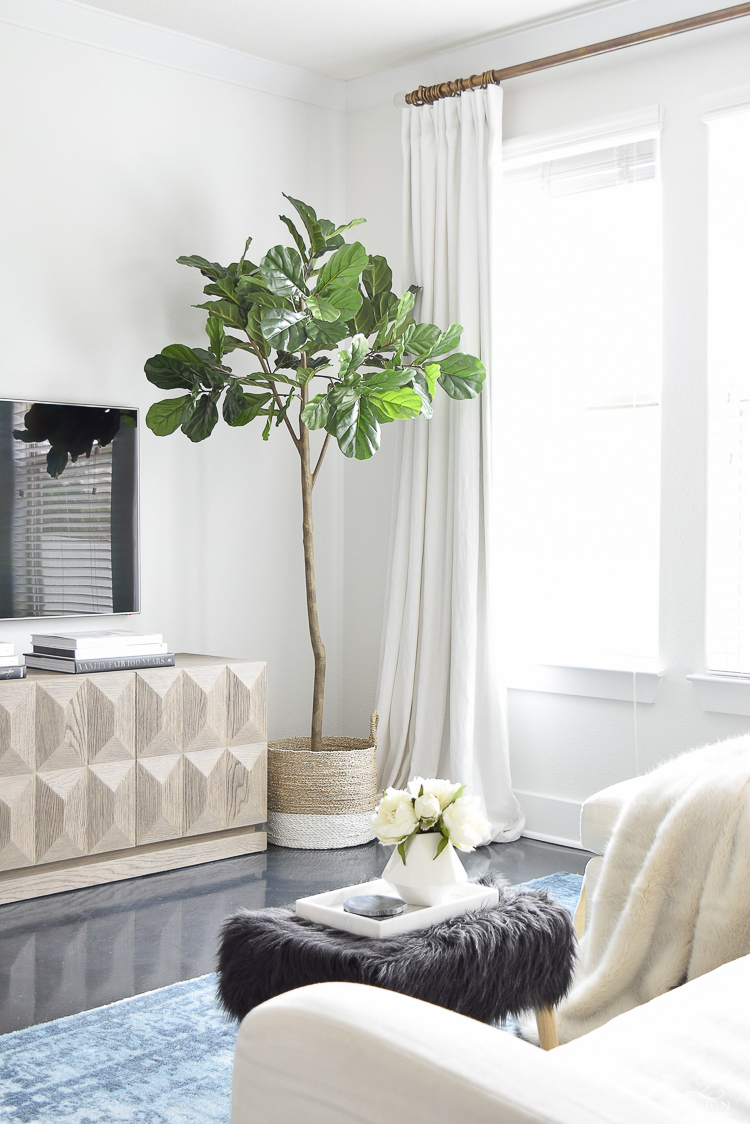 The one I chose..



And here are a couple of more very realistic faux modern house plants from the same place.  One is a shorter faux fig plant (5ft) and the other is a Sansevieria plant, aka: snake plant or mother-in-law's tongue.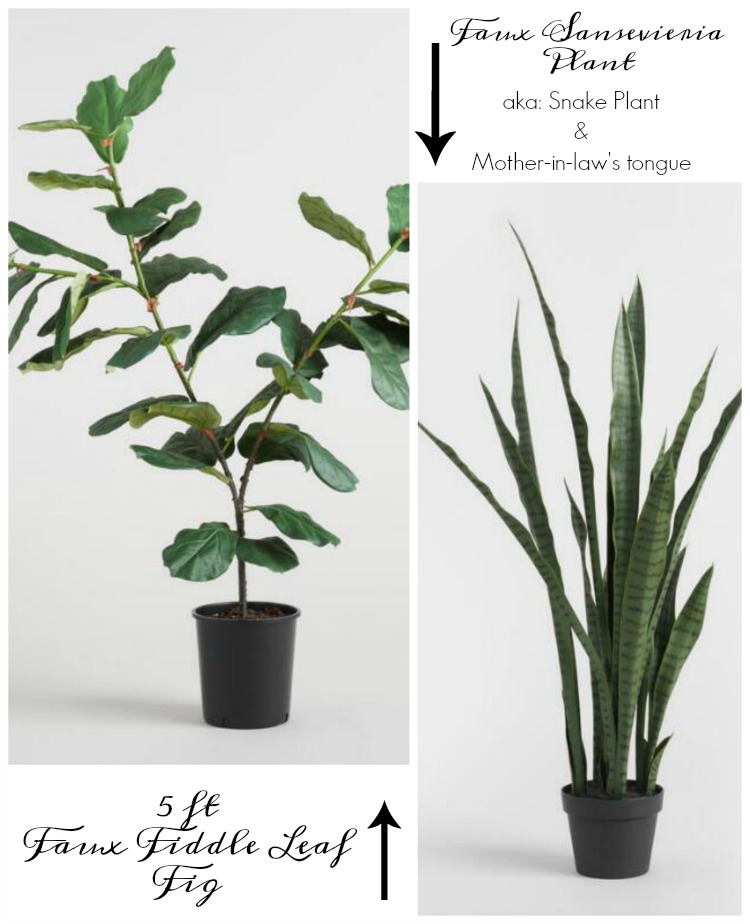 Lastly, you might be wondering about this wall and what we are doing with it since I mentioned making changes to it a few weeks back (HERE). You can probably see a new media cabinet (we desparately needed some storage in this space) and that we hung the TV on the wall (I'll be blogging on this soon with a tutorial) not to mention the new white paint but here is a closer snippet below.  I'm still waiting on art to arrive from my friends at Minted.com (here & here) and I have some simple shelves to hang so I'd say we're getting there (and you probably knew it would have to include some marble and brass with this lamp that has me seeing all the heart eyes!).  I can't wait to share the reveal with you soon in my first spring tour of the season so make sure to come back March 5th for that with some of my favorite blogging friends!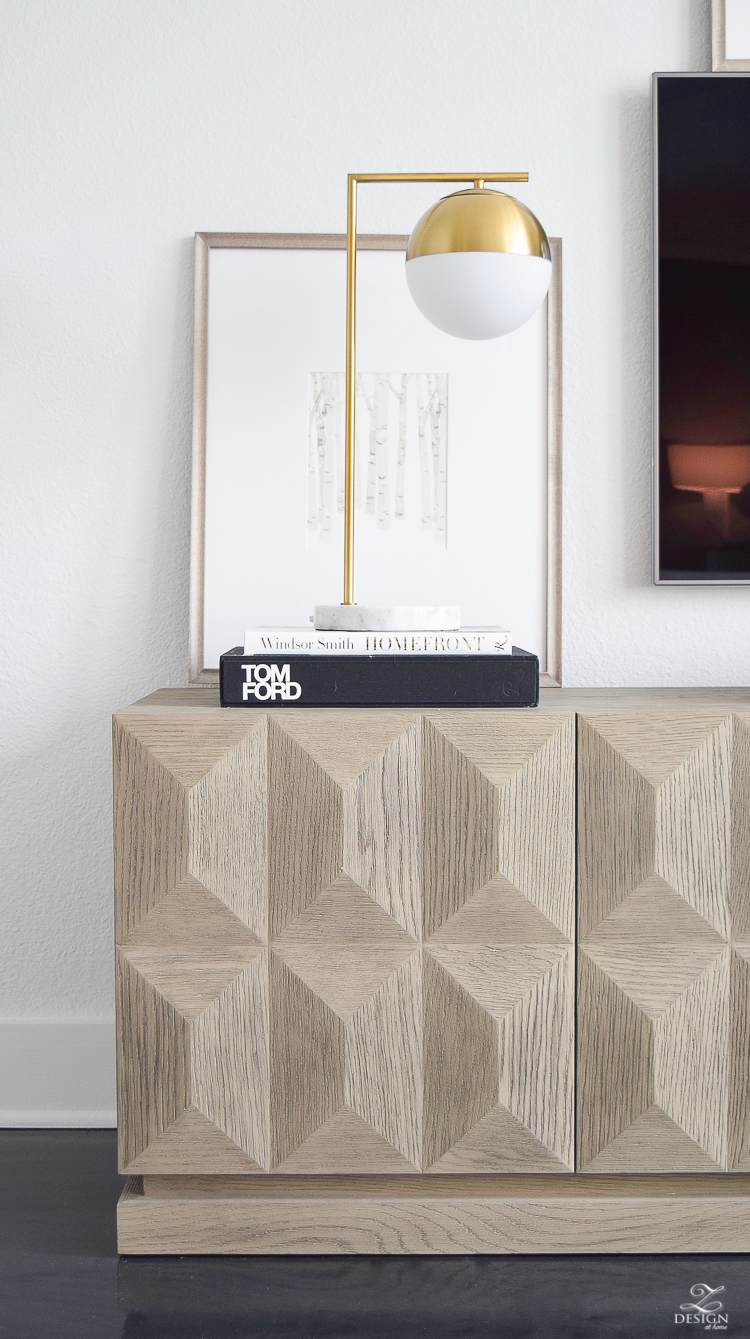 If you've been in the market for a faux fiddle leaf fig I hope this has been helpful today!  Please consider signing up for our newsletter if you haven't done so already to stay up to date with our weekly posts!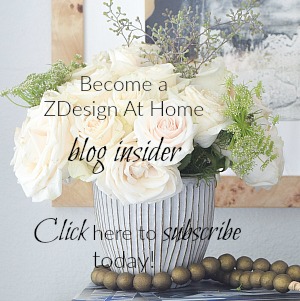 Faux Plants

Plant Baskets 

Furniture, Rug & Curtains

Lighting & Accessories