Chic Fall Decor Styling Tips
Don't you just love it when the season changes and you can pull out old decor that you haven't seen in months, or maybe even years?  Whether it's from spring to summer, summer to fall, or Christmas decor, I know I sure do since it makes my home feel fresh and new again…like it has a new lease on style if you will!  Each year I pull out items I've had stashed away in my closet (I call it my JoJo closet…as in Fixer Upper style) over half the year but I also typically add a few pieces to the mix to really get my decor game going.  For fall in particular and since I like more subtle decor items to represent the season around my home, this year I am loving using things such as brass, fur, and  leopard so today, I want to share with you some of my chic fall decor styling tips!
The first way I've managed to keep things simply chic but seasonal at the same time is by paring my staple white hydrangeas with this brass vase full of plum colored mums since mums are the go to fall flower (this also adds a pop of autumn color).  Additionally, adding my sheep skin rug/throw to the ottoman takes my traditionally, summery, aquamarine colored ottoman into thoughts of warmer days and, adding the leopard pillow just screams cozy!  The tip here is that these items aren't necessarily traditional fall decor but they definitely lend themselves to the season by warming up this light, bright area in the heart of our home.  We spend so much time in this area that I don't want it to feel overly done or fussy with seasonal decor but I do want it to feel warmer for the season at hand, and this is one way I've achieved that chic yet cozy feel in here without going over board on my seasonal decor (to me less usually means more!).   The other bonus here is that these are items that can be used as non seasonal decor depending on how and where you use them, for example…how I used the sheepskin in my master bedroom tour found here.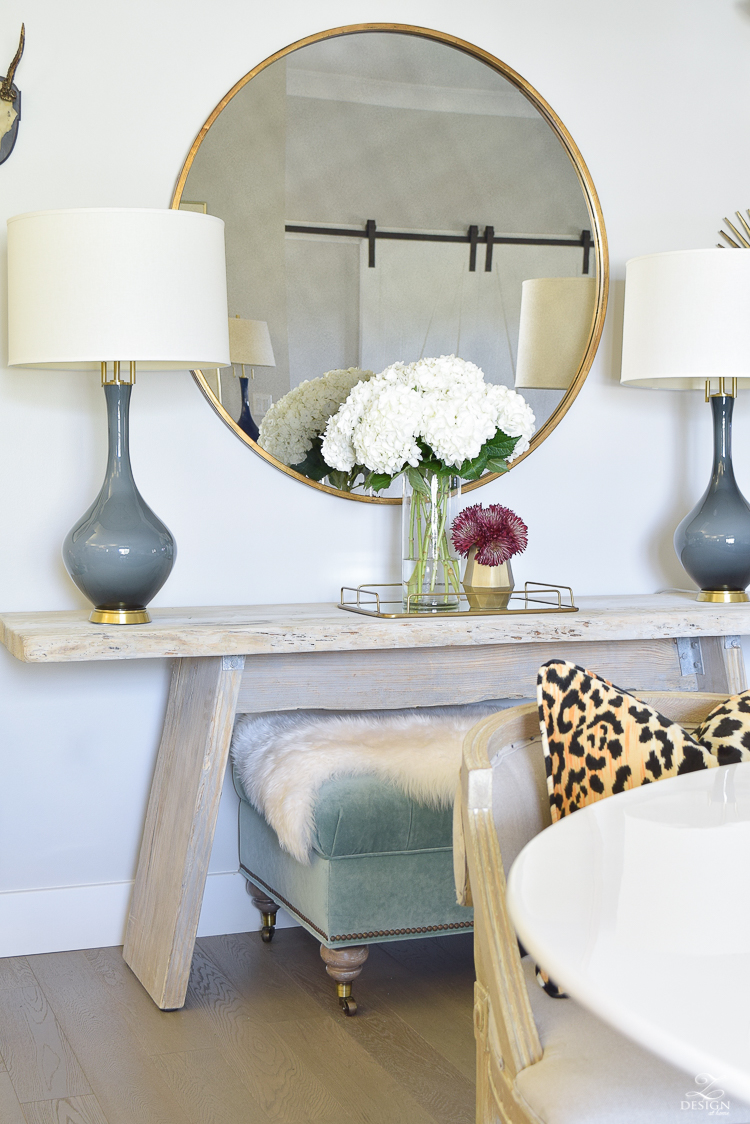 Recreate the Look

Another chic way to decorate for fall is by creating a center piece using seasonal fresh flowers and fruit that will make your company think you've gone Martha Stewart on them by making this simple centerpiece that is crazy easy.  To start, I simply gathered some fresh flowers and fruit at the market (along with some of my staple faves in purple, Alstromeria).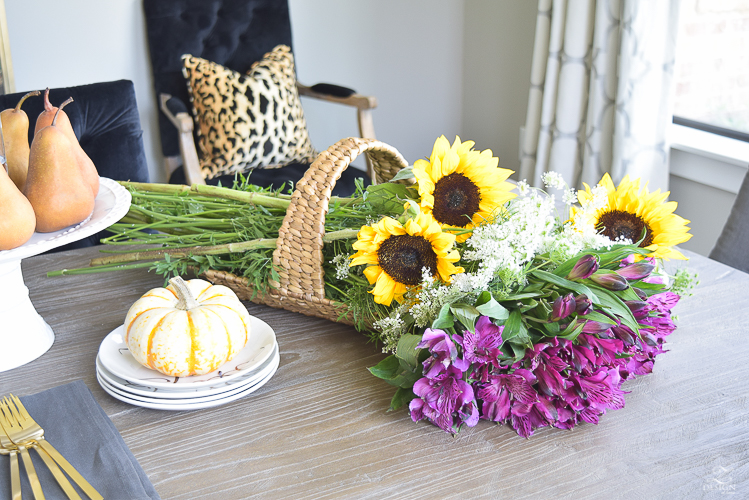 Then all I did was to pull out one of my favorite cake stands, clip and put my flowers into a clear vase placing it in the center of my cake stand, surround the vase with my pears, and now I have an easy, fall, chic centerpiece for my table!  And it was so much fun to create!!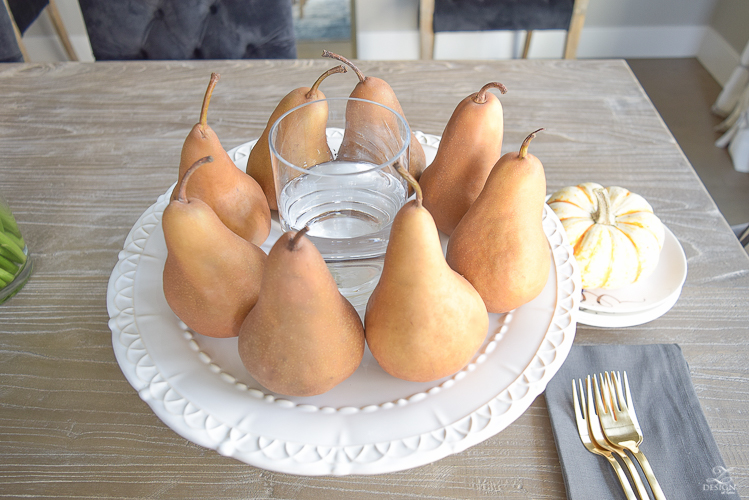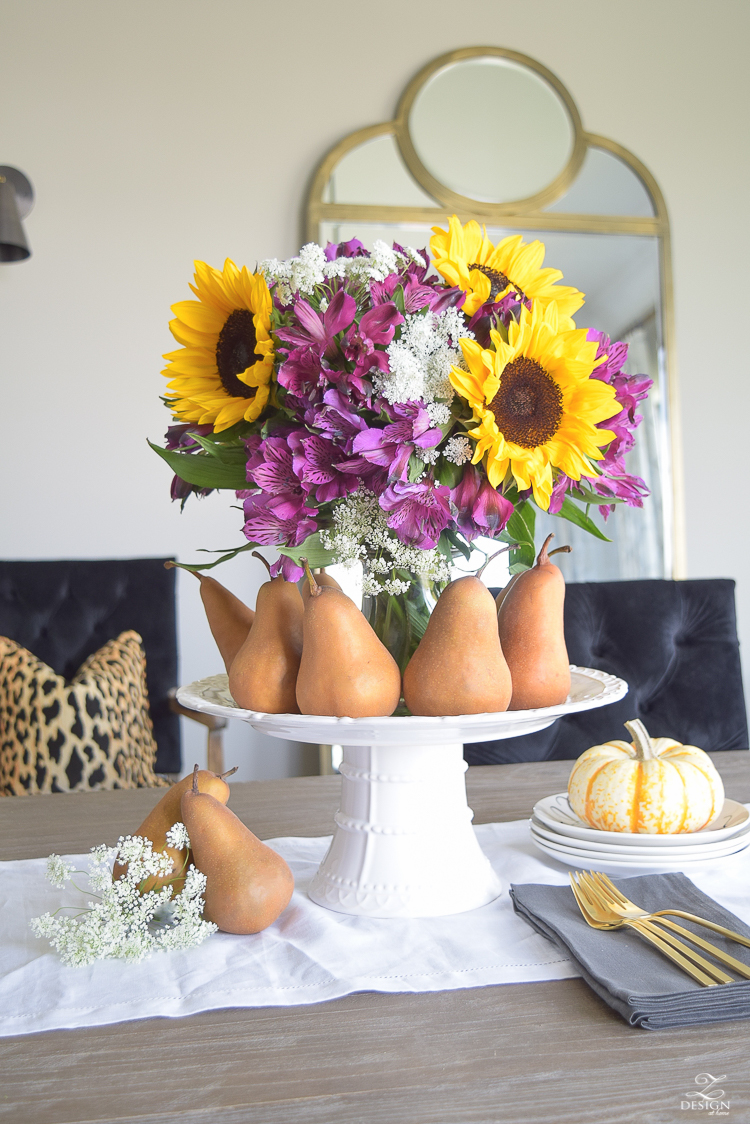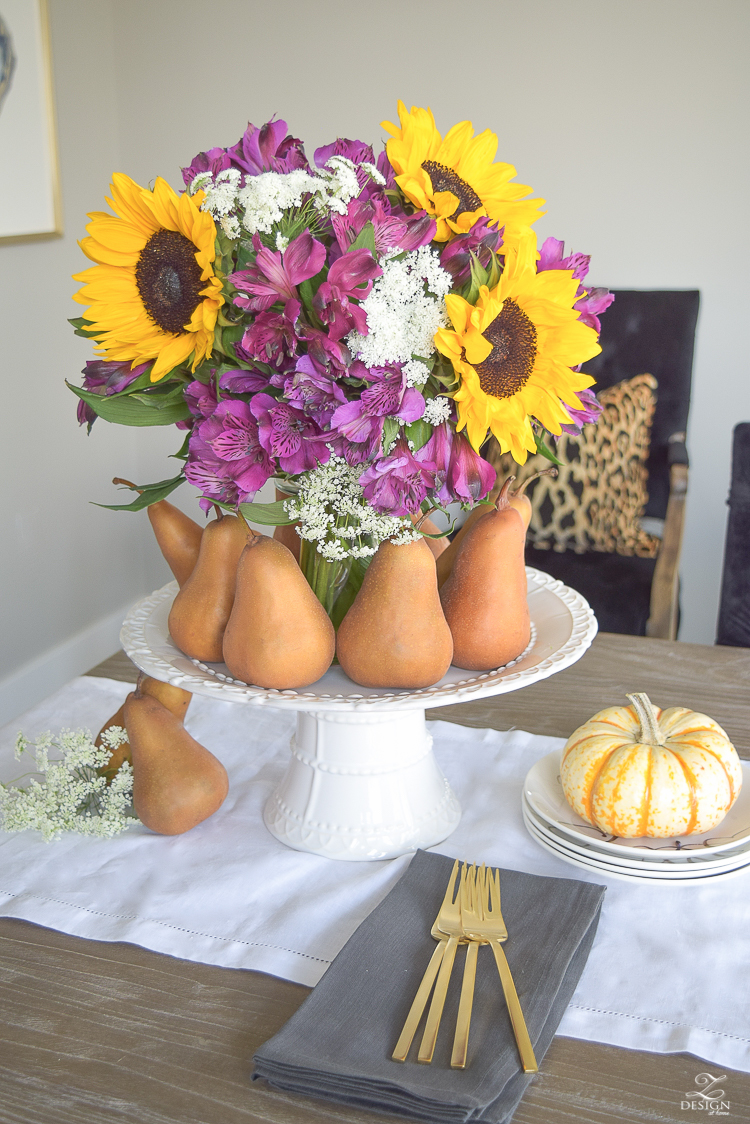 Recreate this look

Lastly and with all of that said, Of course I do love to incorporate what you would consider traditional fall pieces into my decor but in a chic way so that my fall decor works without fighting with my existing decor (I talk more about this in my 3o Tips For Fabulous Fall Decor post here if you haven't seen it yet).  One way way you can incorporate little nods to the season in your decor without it being too overbearing is by using velvet, mercury glass, or white ceramic pumpkins (I shared about my favorite white pumpkins this year here in my Fresh Approach to Fall home tour).  I've just simply thrown my velvet pumpkins in a brass bowl which is so easy but totally works in any decor in a chic, fresh way that doesn't disrupt the normal look and flow of things around my home. Additionally, scattering these beauties anywhere around the home works for a fresh fall vibe!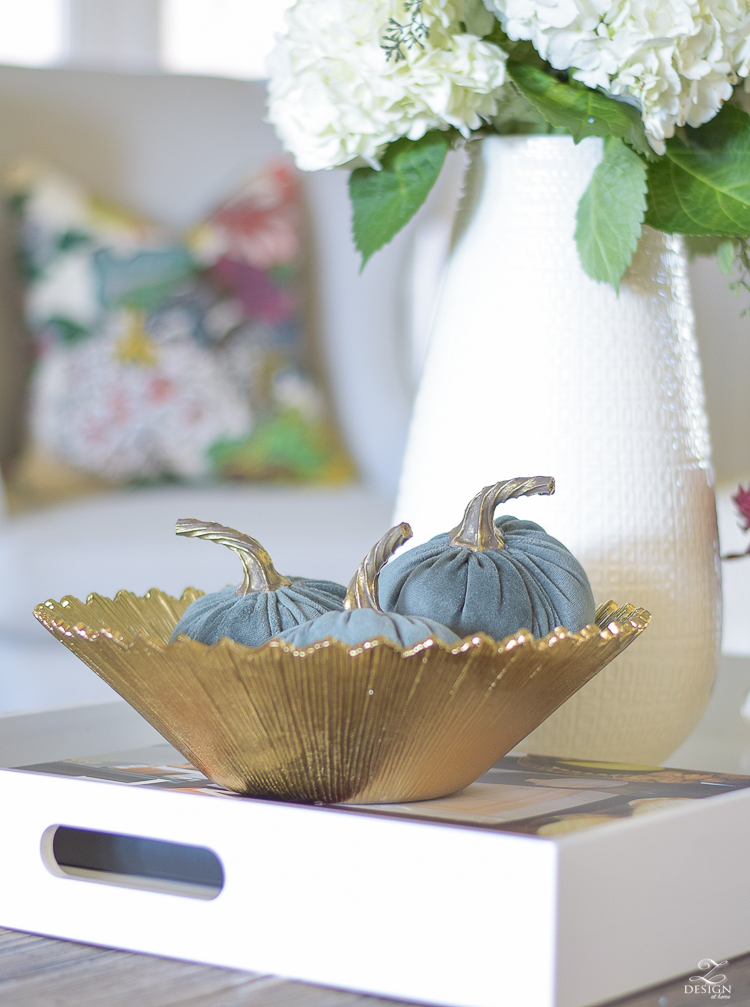 Recreate this Look

And last but not least, I'm still looking for a a few simple pieces for the season so I've rounded up several lovely, chic, seasonal (yet classic) items that can be used in various places and ways in the home.  I hope you will leave me a message below and let me know which ones you like the best to give me some ideas.  Lots of items are on sale this weekend too and happy fall decorating!!!
Pumpkins & Candles

Brass & Wood Accents

Stems, Vase Fillers & Wreaths

Pillows, Throws & Sheep Skins

Linens & Lanterns

You may also enjoy my two fall tours from this year that you can find by clicking here and here.
Xoxo, Bree
*Affiliate links used and where an item is no longer available, a similar item may have been linked.