The Pros & Cons Of Marble Countertops + What I use to Clean Mine
We've all heard the warnings against marble countertops…they are porous, they stain, they chip, etc., and I could go on but today I want to share with you my point of view on the pros and cons of marble countertops + what I use to clean mine.
For those of you that might be new here and/or may not be aware yet, we just moved out of a home (that we lived in for 4 years) where every single countertop in the home was white Carrara marble.  When I chose it I was sort of blissfully unaware of the cons of marble and quite honestly didn't really care at the time.  I did no research on the stone (or maybe very, very little) and my builder tried relentlessly to talk me out of it but once again, I didn't care.  I just knew I wanted marble and I was sticking to it!!!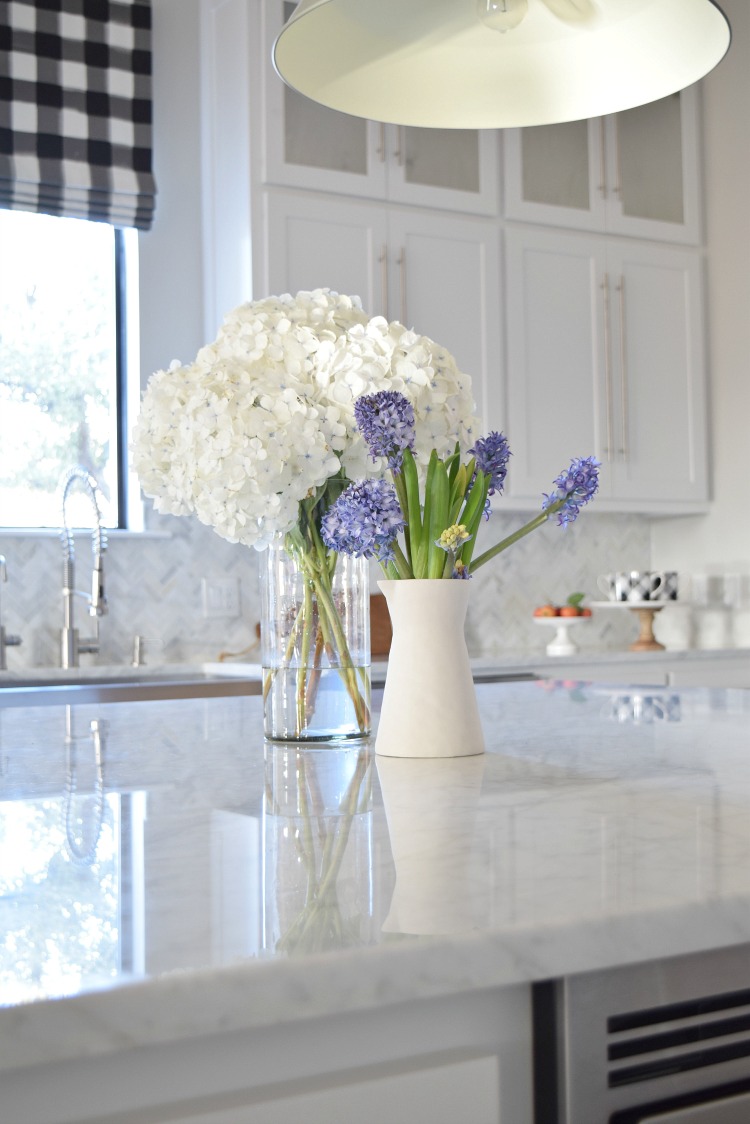 Thankfully my husband supported this decision and we just went for it.  I'll never forget the day the island slab was installed…talk about an exciting day!!  Little did I know what was ahead of me with this island, lol (in more ways than one)!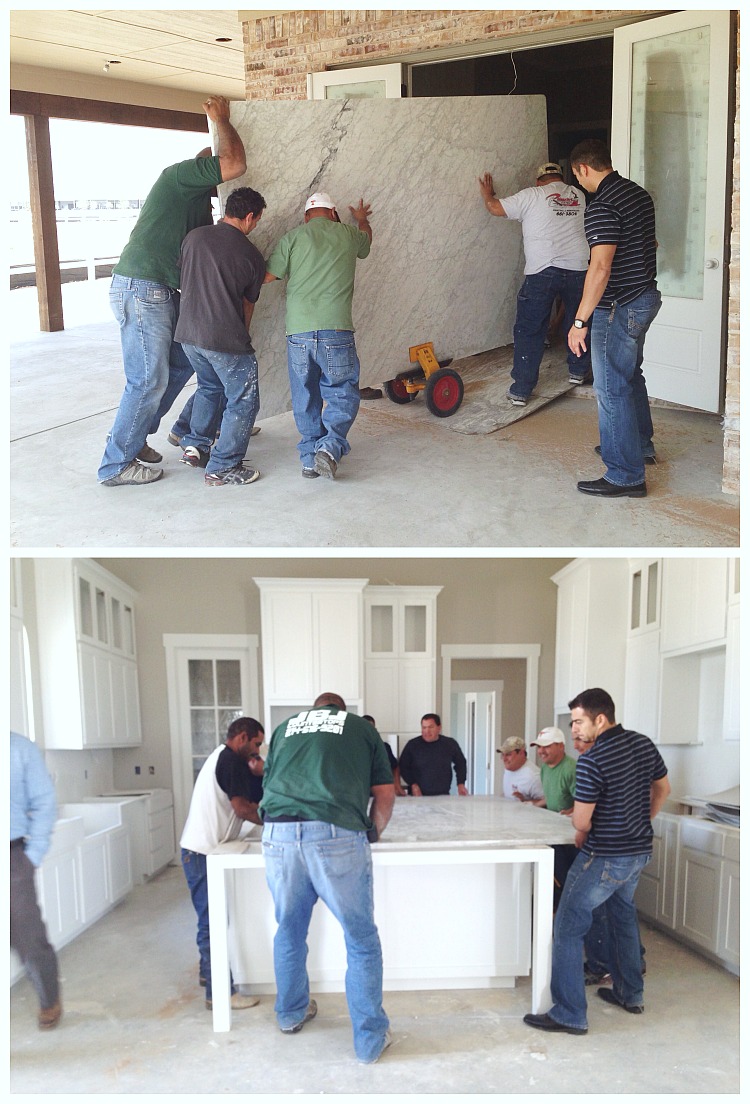 On a side note, this island is 6′ x 10′ and although it's beautiful and I loved the look of it, I don't recommend an island quite this large, even if you do have the space.  The 10′ of length was ok and necessary to balance the space but, the 6′ width just didn't work for me.  Unless you are super tall with really long arms it's just not practical to be able to reach across to the middle to clean and/or to hand something to someone on the other side of the island.  I always felt like I was running laps around this space and I'm excited to get to design a kitchen in the near future that functions properly for me.  And on another side note, the footprint of the kitchen was decided on during the architectural phase of the home (which I was not involved in since that took place before we purchased the home) so I had no control of the size or shape of the island.  Sorry about the rabbit trail here but I know some will be curious of the size, etc. of the island so I wanted to take a moment to answer any questions about it that might pop up before hand.
*Affiliate links used in this post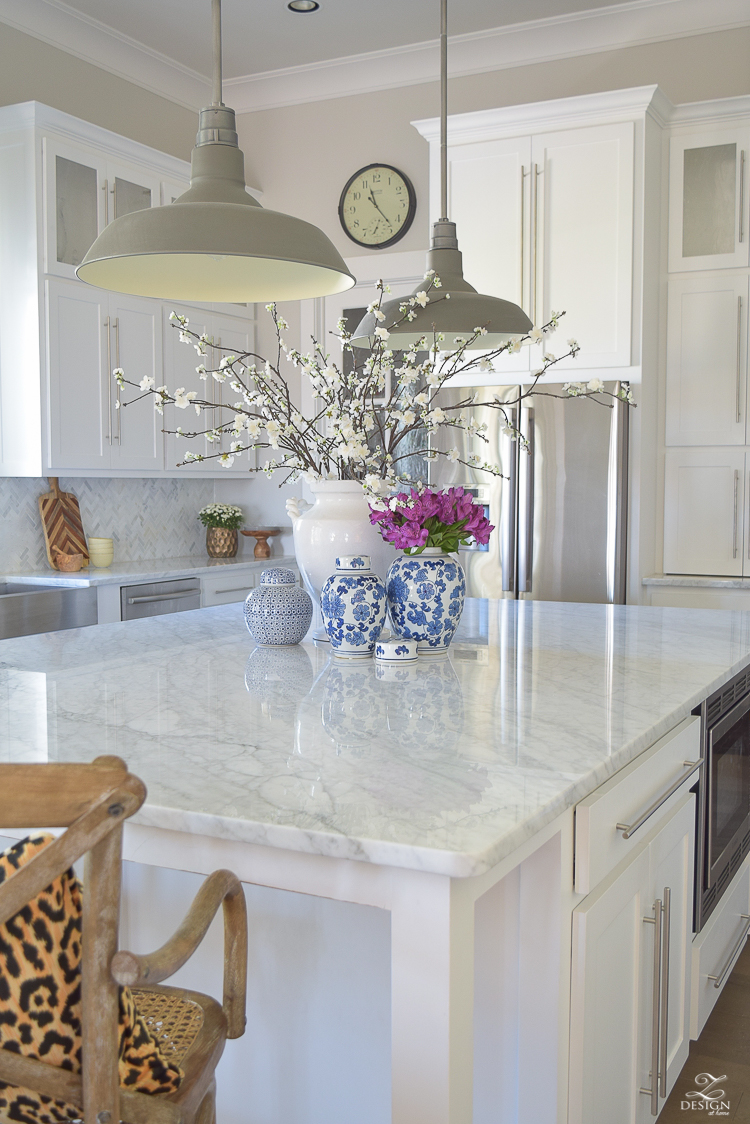 Ok now back to the pros and cons of marble.  I want to make clear before I get started that this is my point of view after living with marble for several years and my point of view only.  Others that write on this subject might feel differently and I completely get that but this is my personal account of my likes and dislikes of marble plus how I cleaned my marble so let's start with a bullet point of the pros and cons first and then I'll move on to more detailed info of my personal experience with marble plus cleaning and caring for it…

1st the cons…
It's porous making it vulnerable to etching & staining (coffee, oil, wine, juice, tomatoes, and basically anything acidic)
It can chip with a hard knock
Marble can scratch easily
Now for the pros…
It's beautiful and warm
It's neutral
It goes with virtually any style home and/or decor
The movement in marble creates incredible interest in a space
The veining gives it that fresh, clean, transitional modern feel
Marble can be cost-effective (depending on which marble you choose)
It's heat resistant (but for optimum care always use a pot holder!)
My personal experience with marble…
My personal experience with marble has simply not at all been bad, friends!  I can honestly say that the bathrooms were no trouble what so ever for us and that in the kitchen you just need to be a little more diligent than normal about wiping up spills and being careful about acidic things staying on your countertops for any length of time.  My mother always said that beauty is painful and if you love marble as much as I do it should be no problem for you to go that little extra mile to keep your marble countertops looking good.  We just made it a habit in our home to wipe up spills (especially spills with color) immediately, or at least as soon as possible and if you are going to have marble in your home I would suggest you do the same.  I also would use large cutting boards, spoon rests and other things to try to ensure that as little food, drink, etc., as possible landed on my tops!
I did have some spots in those heavy traffic areas (on the island and next to the sink) that simply weren't ever going to come out of the stone but they weren't colored stains/spots like from wine, spaghetti sauce, etc., they were etching spots which means the sheen just changed in that spot because the sealant and/or surface of the marble gets eaten away from something acidic being on it for too long.  Although I had a really hard time capturing the etching or anything else on camera good enough to show you exactly what it looks like this is generally what that looks like…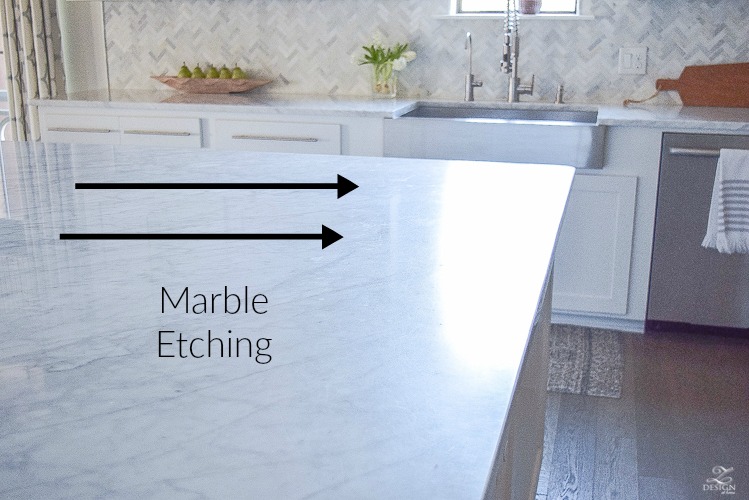 This next shot shows the etching better.  It's basically like a subtle discoloration that happens in the marble once the sealant or surface has been eaten away by something acidic.  In this next image you can also see some scratches in the middle of the photo (this is on my island in the most heavily trafficked area in the kitchen)…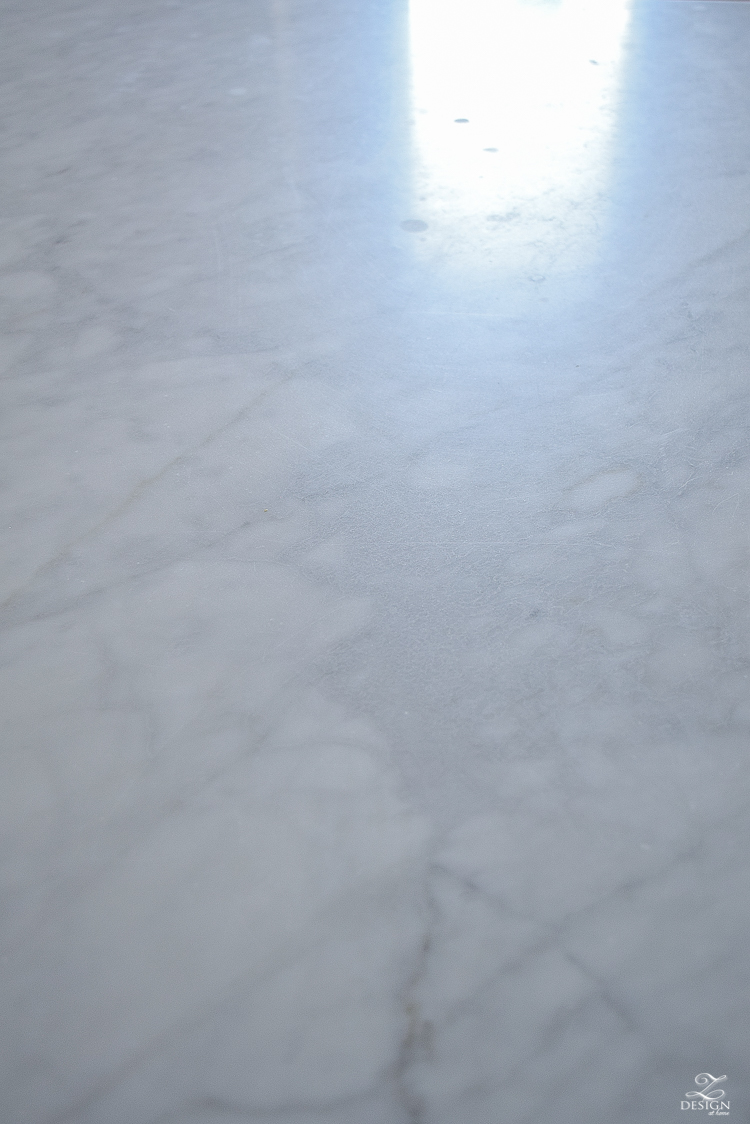 The following image is of some chips I had around my sink that were caused by bringing a plate from the sink toward the dish washer, which is to the right of the sink.  These happened due to a very hard knock and pretty early on having these countertops.  Needless to say I learned to be a little more careful going forward when doing the dishes so this wouldn't happen again.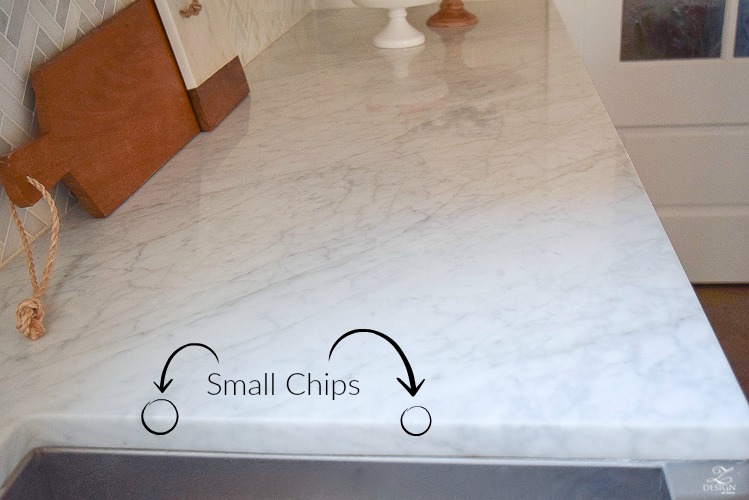 The Three Main Issues With Marble
Etching…
Stains were never, ever a problem for us, mainly just the etching.  We tried on one occasion to remove some of the etching spots by purchasing an expensive product to remove them (around $75) but that didn't work at all!   I learned however that over time marble develops a beautiful patina and the subtle imperfections that can mostly only be seen when the sun hits it just right all blend together and become the character of the marble, and therefore of your home in my opinion.  I am pretty anal about taking care of the things we've been blessed to have but for some reason the beauty and warmth of the marble far outweighs the idiosyncrasies of this incredibly gorgeous natural stone so I just chose to not allow having a few etching spots or scratches here and there bother me!
Scratching…
Scratches can happen easily but again, over time a patina develops and you won't even know they are there until the sun hits them just right and then if you are anything like me you are so busy with life that you forget about them as soon as you see them and move on.  Scratches can be buffed and polished out though so there is a fix, just so you know;).
Chips…
Chips can actually be filled in, buffed and polished so that you would never even know they were there to begin with.  Before we even moved into our home and during the construction process a couple of chips occurred and our builder simply sent the countertop guys back out to fill in, buff and polish them out and our countertops looked perfectly new once this process was completed.  In my opinion is does take a very hard hit to chip them but again, if necessary you can always have that chip repaired (I never had any repaired except for prior moving into the home – mentioned above).

In full disclosure, we are a small family and I am mostly the cook in the family.  Every once in a while my husband cooks breakfast (he makes a mean fried egg and omelet) but other than that it's all me.  We are both pretty organized and clean up after our selves as we cook so this is probably one reason we have had a mostly positive experience with marble.
If however you are super OCD or if you just don't want to take the time to stop and clean up a spill in the kitchen when prepping or cooking and, just don't think you can bear the imperfections that develop over time, then you might want to look the other way when it comes to marble.  One of my suggestions for a kitchen is to do a different surface such as a butchers block, stainless, concrete, etc., on your island and/or any areas that you know will be high traffic so that you won't have to worry so much when working in those areas.  I truly thought the "issues" that come with marble would bother me way more than they do but I've been pleasantly surprised that I love them just as much with their quirky ways.
In my opinion marble is kind of like your carpet…you wouldn't allow a spill or a puppy accident, etc. to stay on your carpet for an extended period, would you??  I doubt it very seriously so for me, it's the same concept!  If you see that something acidic has splattered or spilled on your countertop then wipe it up right away.  Actually, I have seen it suggested to blot it up vs. wiping it up which makes sense so that you are not making the spill area larger during clean up but either way, just get it up as soon as you can.  And, of course spills or splatters that you don't catch right away are going to happen and that's just life but that's where the beauty and character of the marble eventually happens over time:).
Daily Cleaning…
My approach to cleaning my marble countertops was pretty simple as I used the following products for daily use.  I would pretty much bounce back and forth between Mrs. Meyers countertop spray & Method Daily Granite (which is safe for marble as well).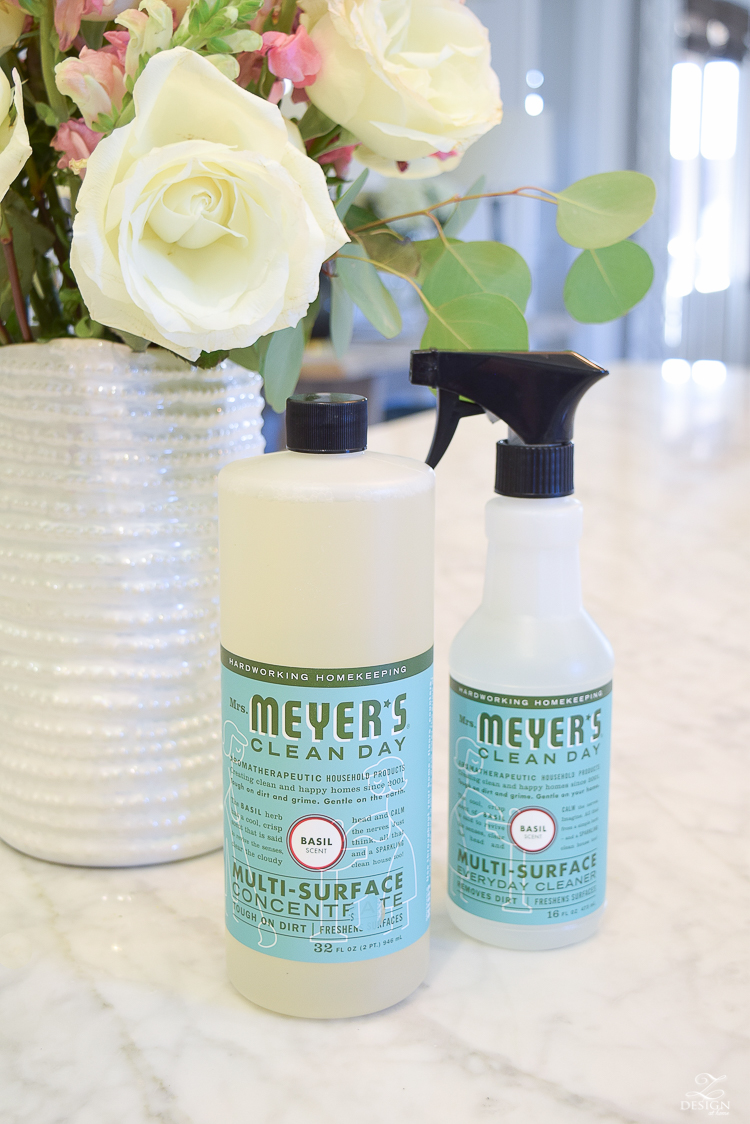 For weekly use I would use Goddard's Granite & Marble Polish which shines it up and seals it to a certain extent.  This is not a professional sealer by any stretch but it does seem to protect the surface to a point and it puts a very nice shine on your tops.   I used this 3-4 times per week.  I used all of these cleaners (not all at the same time) in conjunction with these cloths to clean my countertops on a daily basis.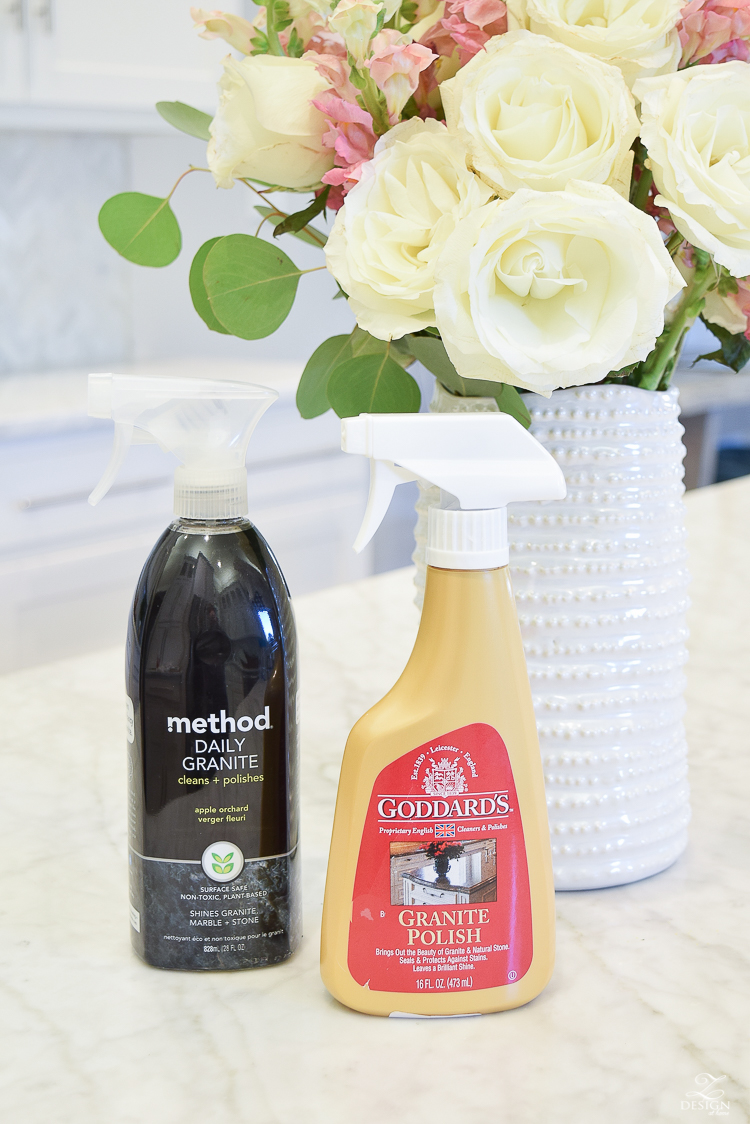 Additionally, keeping baking soda on hand can also be effective for certain types of stains.  Baking soda mixed with rubbing alcohol can help for grease stains and baking soda mixed with hydrogen peroxide can help with water based stains.
Long Term Care…
Remember, this is my personal experience with marble but, about six months or so after we moved in our house was in the Parade of Homes and our builder sent the countertop company back out to buff, polish and re-seal our countertops and after that I never did anything else major to them until just before we moved out, which was about 3 1/2 years later.  I read all of the things you are suppose to do in regard to repeating this process every 6 months to a year but honestly never felt the need to do so until about the time we moved out recently (after 4 years of living in the home).  And really, the bathrooms once again weren't the issue, only the kitchen was and so once our home was sold and we were due to move out I had someone to come and buff, polish and re-seal the countertops in the kitchen, laundry room and the master bathroom for the new owners (since these were the most used areas).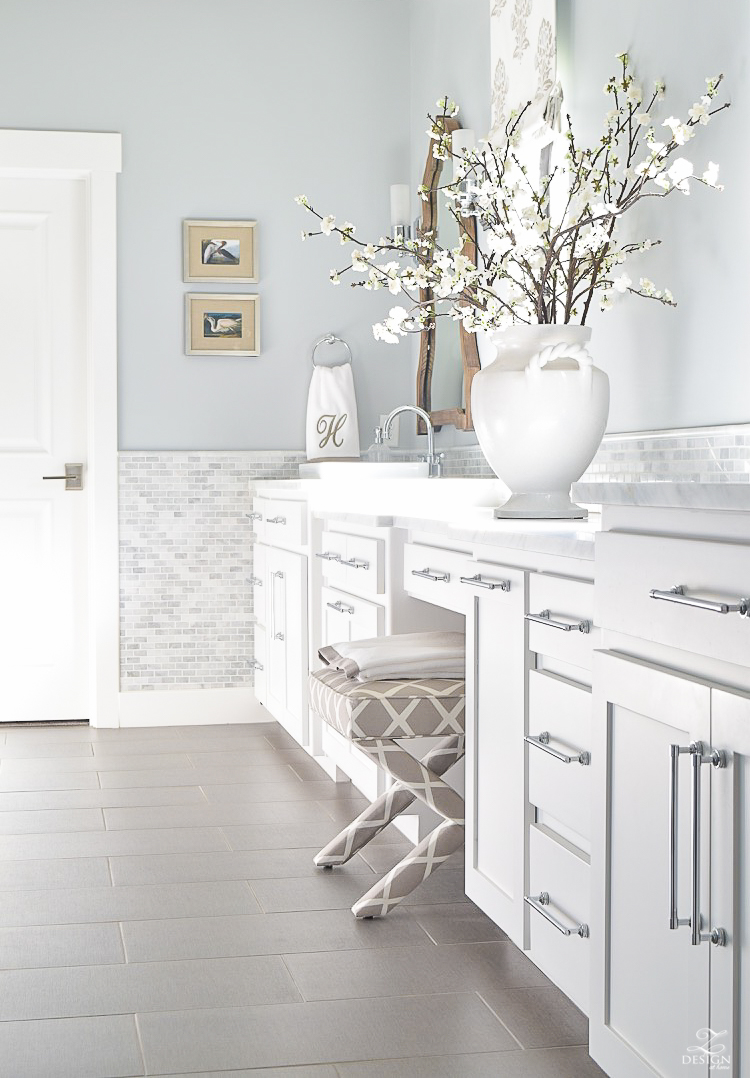 I know there are a lot of products on the market that will help you to do all of this yourself but I personally felt it best to leave this up to the professionals, plus we didn't have to spend a whole day doing it and for $300 it was worth every penny.  I'm sorry I don't have the name of a professional sealer to recommend but I can't recommend one since I never used one.  If you decide to go the route I did with hiring help, the place where you purchased your countertops should either be able to provide this service for you or refer you to someone that can help you.  If you would rather do it yourself then I'm sure a good 'ole Google search can either confuse or help you but one way or the other, I'm sure you'll find something.  The stain remover we purchased (mentioned above) was one that came highly recommended with good reviews and it still didn't work but that doesn't mean you won't find something that will.  I think overall the best policy is to know going in that your countertops won't always look the way they did they day you install them (and be ok with it!) and to clean as you go as best you can.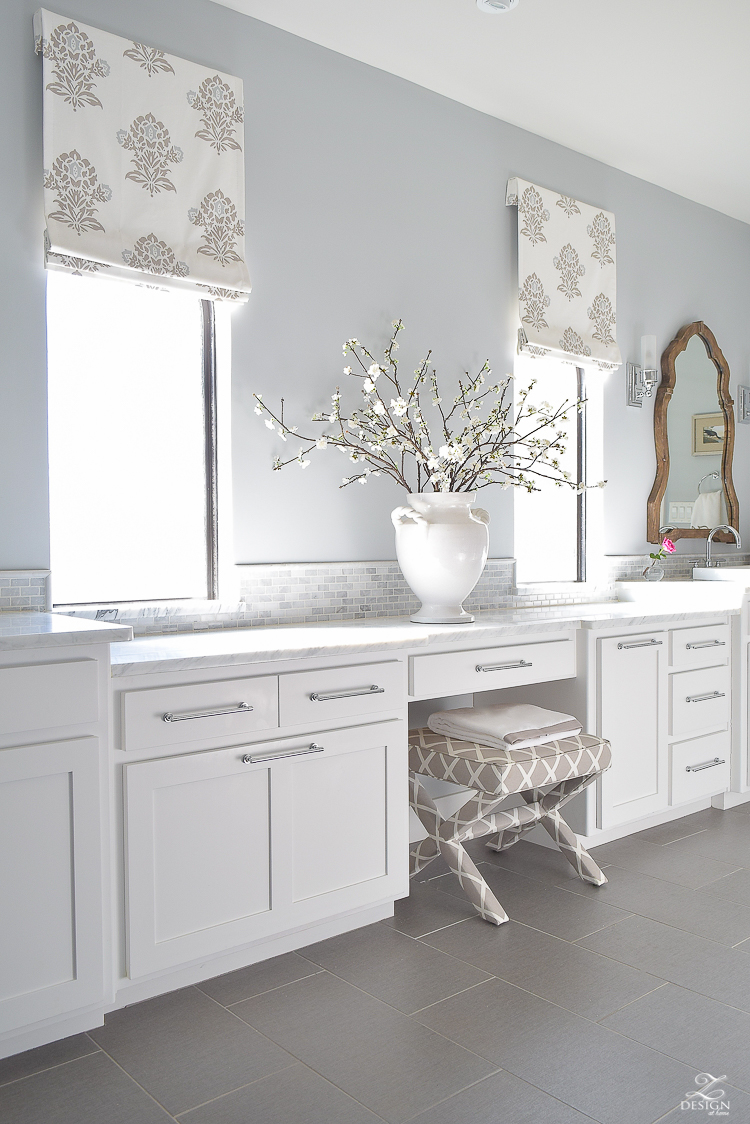 Which marble will I use next time?…
As you may already know I had Carrara before which is probably the most affordable one available.  It was great but I like to change things up so knowing me I'll have to do something different in the new house (get caught up HERE).  I'm currently leaning between Calacatta Gold (if I can find slabs that don't have too much gold in them) and Statuary.  Calcutta is the pricier of the two and has some warmth to it with larger grey veining and some serious doses of gold.  Statuary is a mid-priced marble and it has less gray veining with a very white background…it can also have a little gold as well.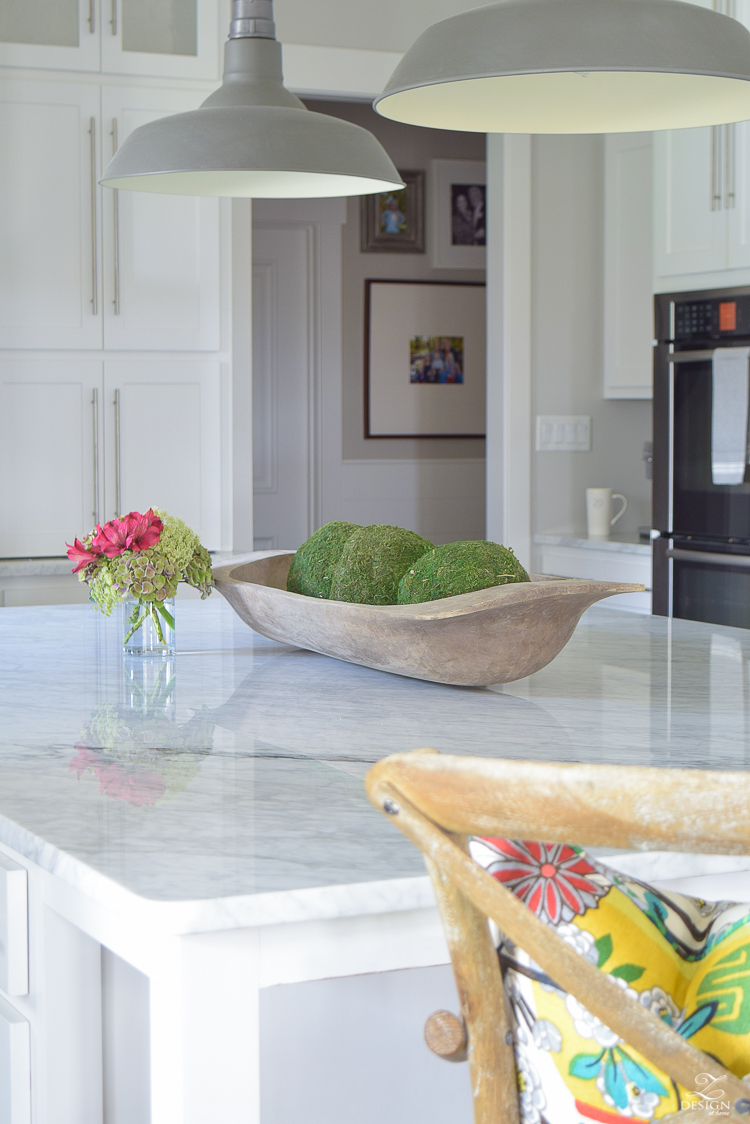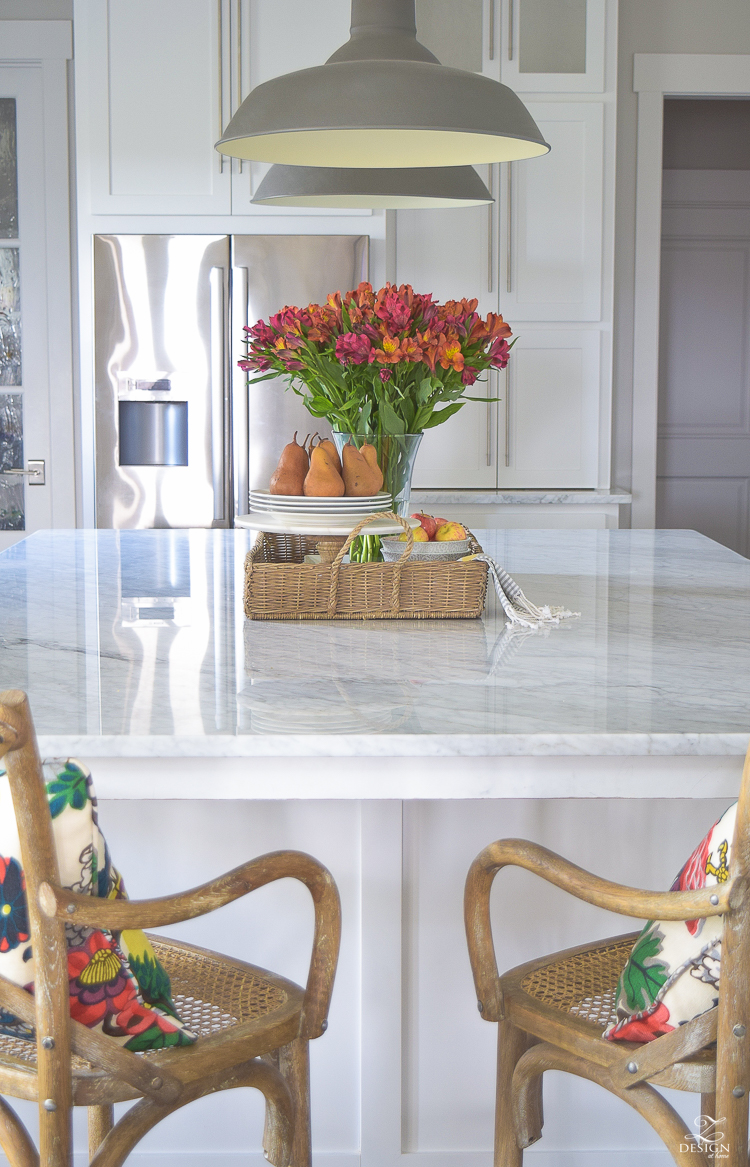 I also have a post HERE all about my marble backsplash and how I made a design mistake choosing the one before it when I chose it for this house!  Such a fun post that I know you'll enjoy!
I hope this post on the Pros & Cons Of Marble Countertops (+ What I Use To Clean My Marble) has been helpful but if you have questions I'll be more than happy to help where I can so please feel free to leave a comment below or email me via the contact page of this site.
Xo,  Bree
Click the image below to receive weekly updates from ZDesign At Home!