Tips & Ideas to Organize your Kitchen and More
In the spirit of purging and organizing our spaces for the new year, I am back this week to share another organizational post on tips & ideas to organize your kitchen and more!  I haven't talked about it a lot on this blog but I love an organized space and love organizing just as much as I love decorating.  If you missed my post from last week on ways to keep your home neat & tidy (easily), you can catch that HERE where I shared 8 easy tips to keep your home whipped into shape most of the time!
But this week, I'm talking about organizing your kitchen drawers (which was one of my tips to help keep your home neat & tidy), which can be applied to other areas of your home such as the bathroom, home office and more.  I organized these drawers pretty soon after we moved into our home (which was long before I started blogging) so I'm sorry I don't have before photos for you or I would definitely include them.
You may remember if you stopped by last week that I shared a couple of photos of how I organize my kitchen junk drawer…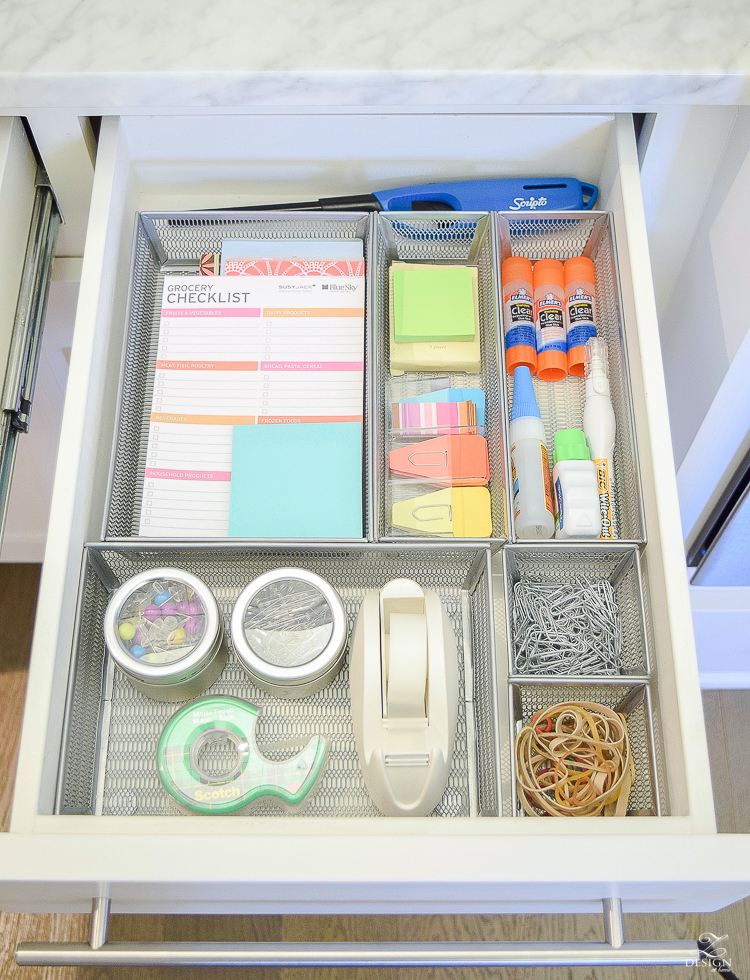 Here is another shot of the junk drawer so I guess we actually have two junk drawers…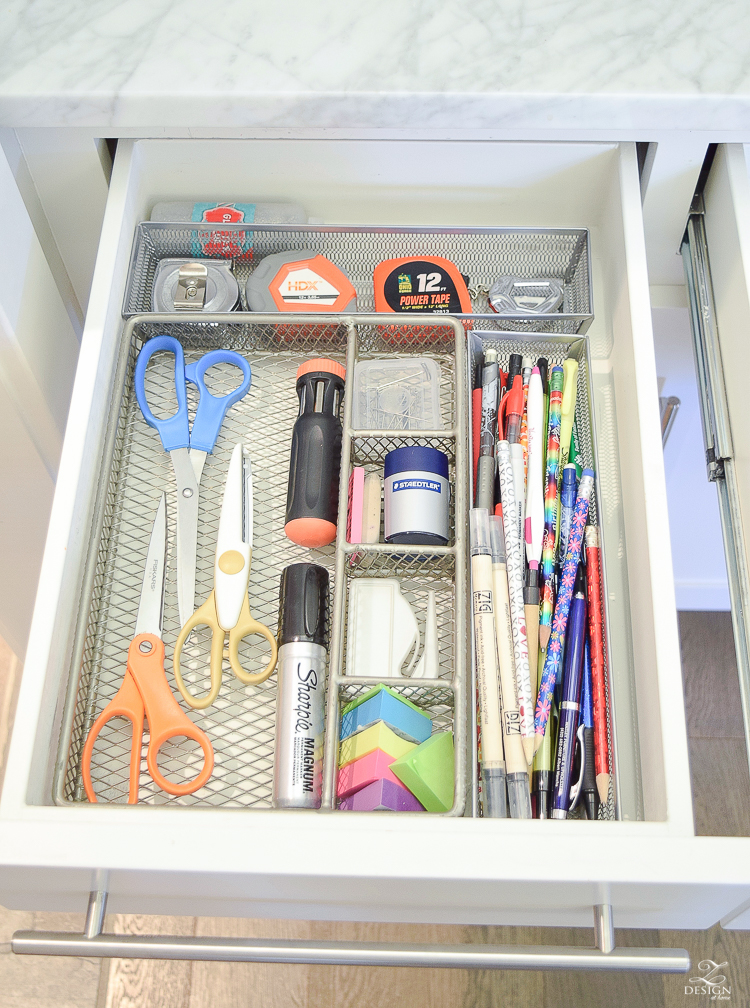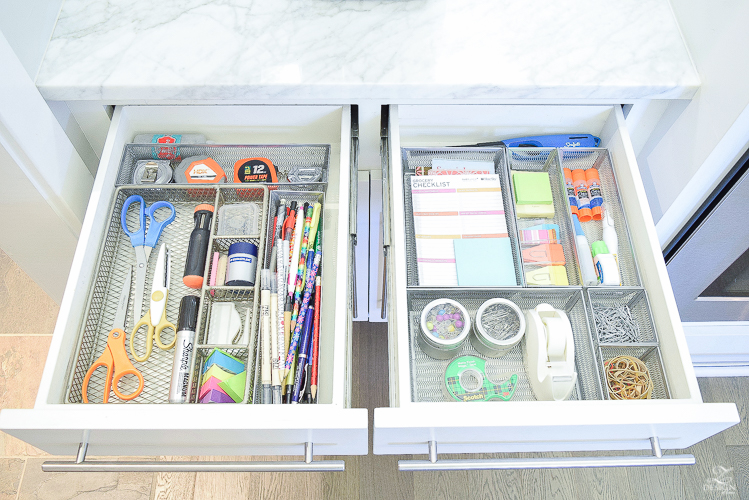 Below is actually a spice rack storage container but it's great for storing other small items such as push pins, safety pins, paper clips, etc., in the junk drawer and these containers don't slide around if you use them with my favorite drawer organizers since they are magnetized (which is such a helpful feature!).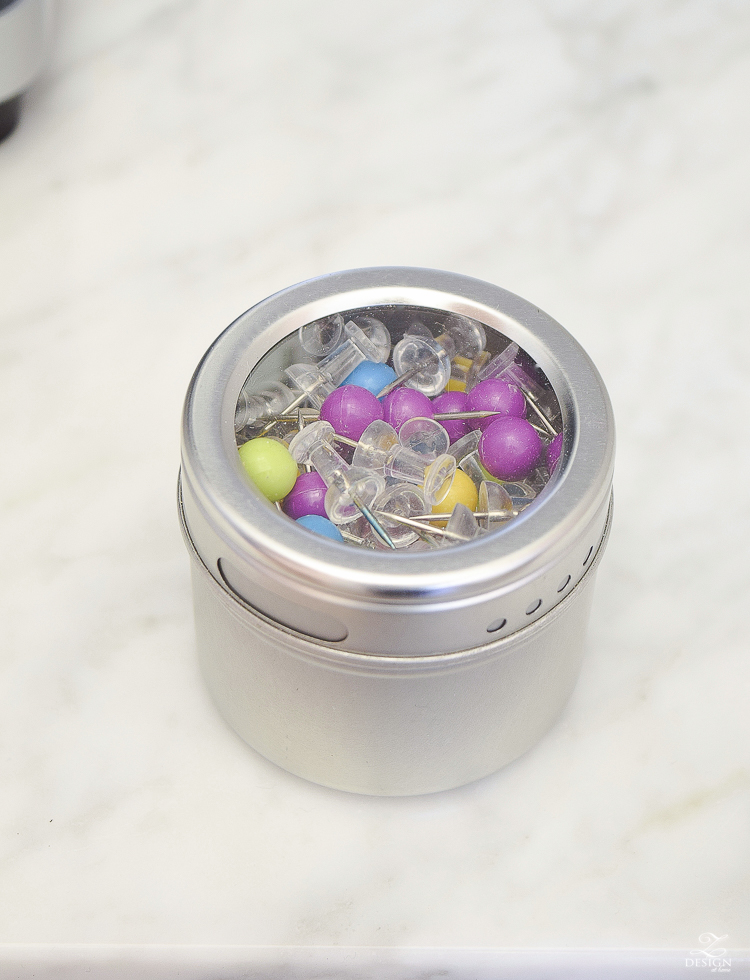 And here are my utensil and other kitchen essential drawers that I shared last week as well…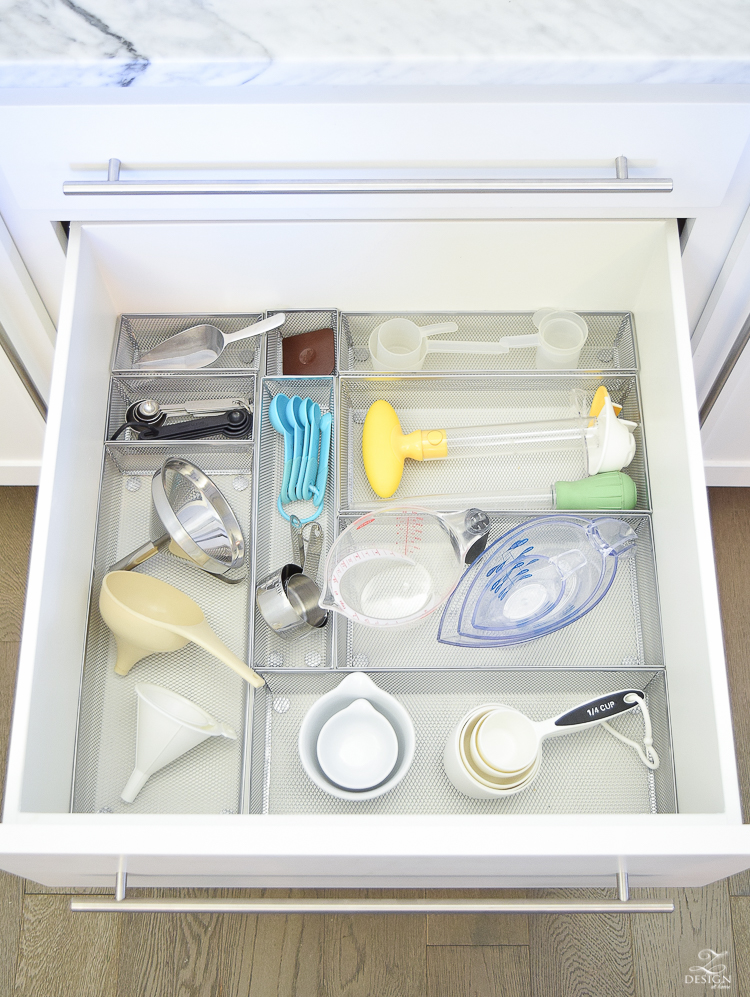 In full disclosure, these photos are from the home we moved out of just a few short months ago and I just have not had the time to share them until now.  We are currently living in a rental as we figure out our living situation in our new town (you can catch a tiny update on that in my Best of 2017 post, 3rd paragraph down).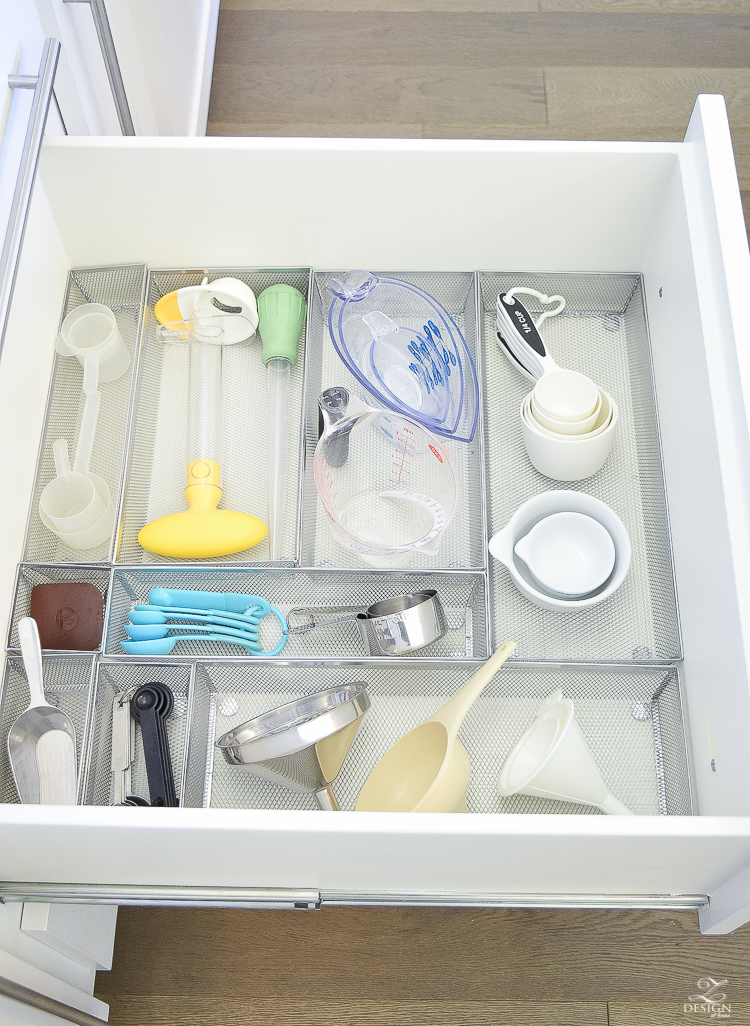 Here are a few more drawers in my kitchen with utensils and other necessities below.  I love these stainless mesh drawer organizers that come in multiple sizes so that you can organize any size drawer to a T!   You can see that I have 3 different sizes in this one drawer with essentially no wasted space:).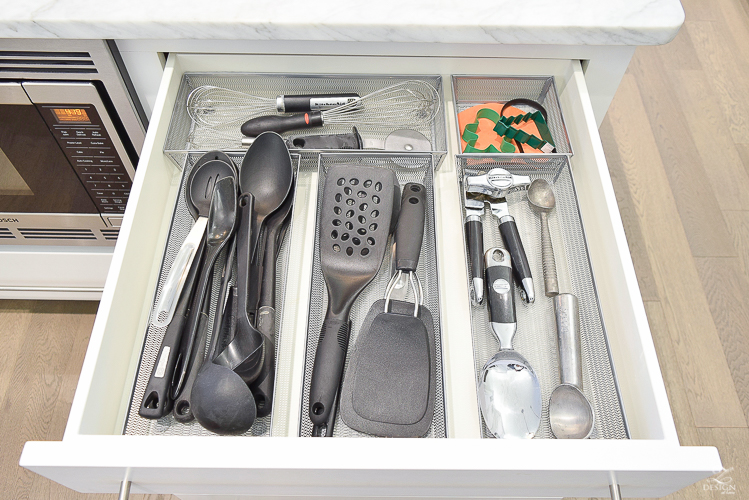 I always make sure to organize my drawers according to space proximity, for example…storing items I will use while cooking (such as wooden spoons & measuring cups) by the cooktop.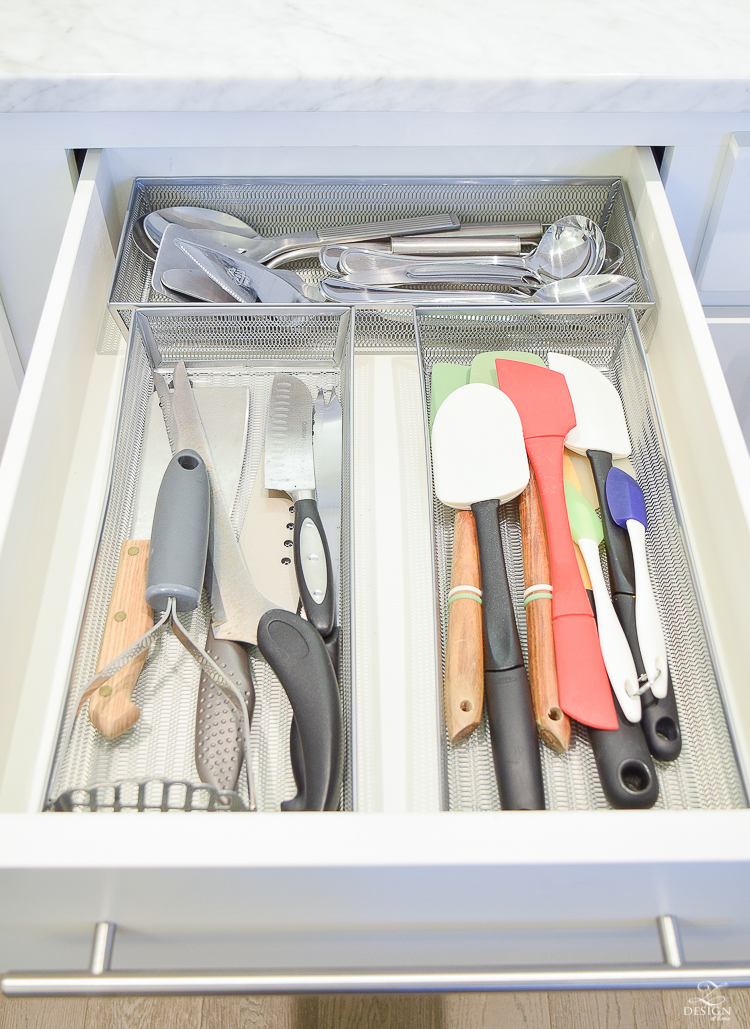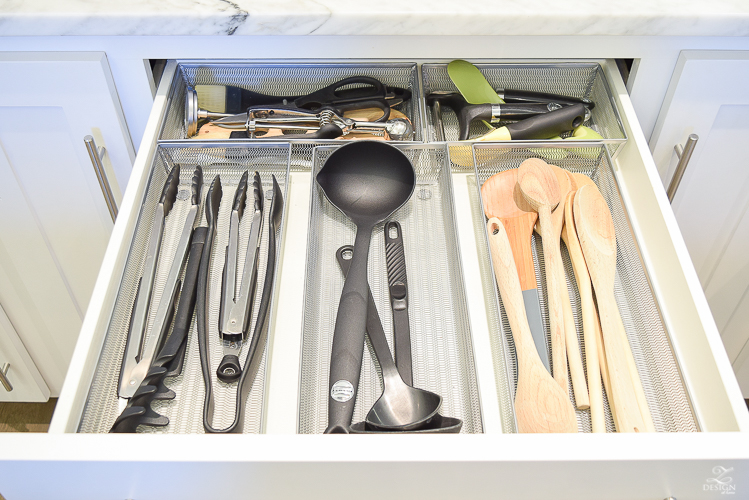 Another area most of us find super important to organize in the kitchen is the chaos of the tupperware drawer or cabinet.  These slide out drawers help me to do just that.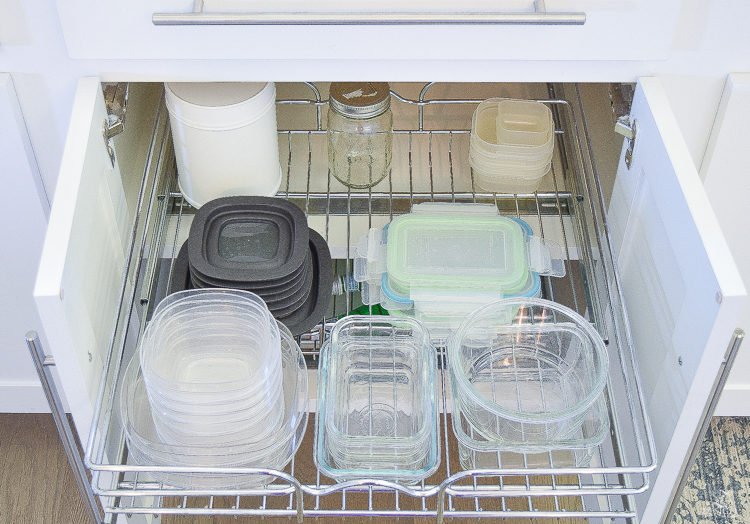 I also use these slide out drawers to store my small appliances.  They come in multiple sizes to fit any space.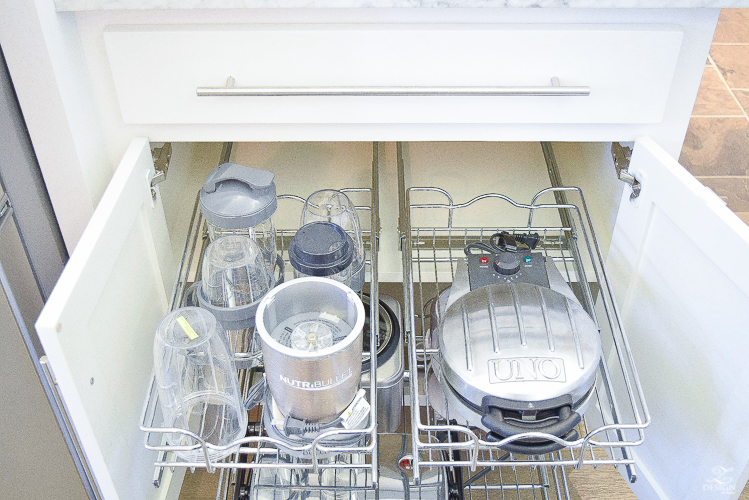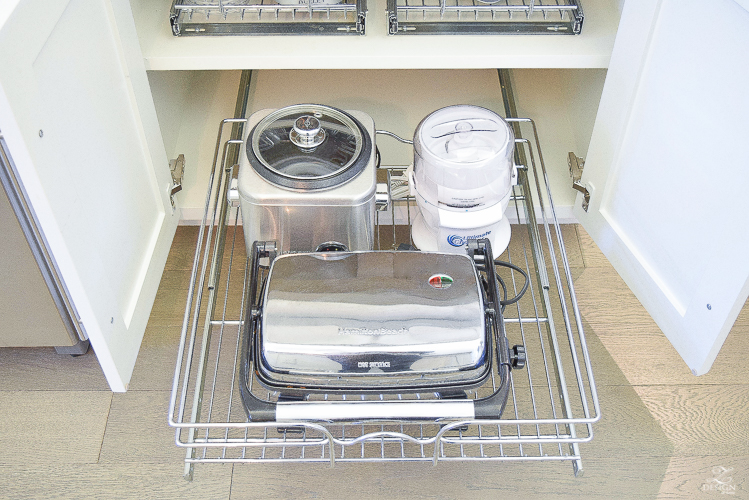 Another way to store small appliances is to make a space for them during the construction or remodeling of your home.  Make sure your contractor runs the counter top all the way back for your appliances to sit on and be sure to include an electrical outlet.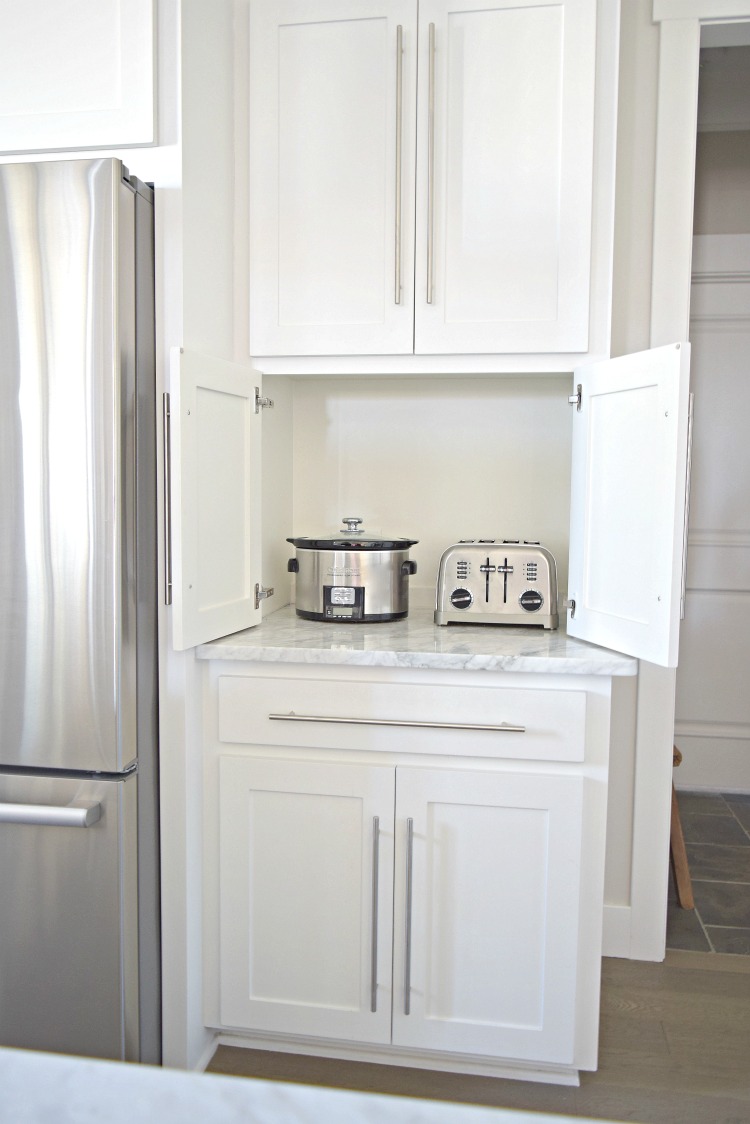 Of course another place in the kitchen that always seems to be in need of organizing is under the sink.  Lower cabinets are always back breakers so once again, this is why we use these slide out drawers.  I have some drawers that were built in while my cabinets were being constructed but for the areas that don't have them these are a great alternative!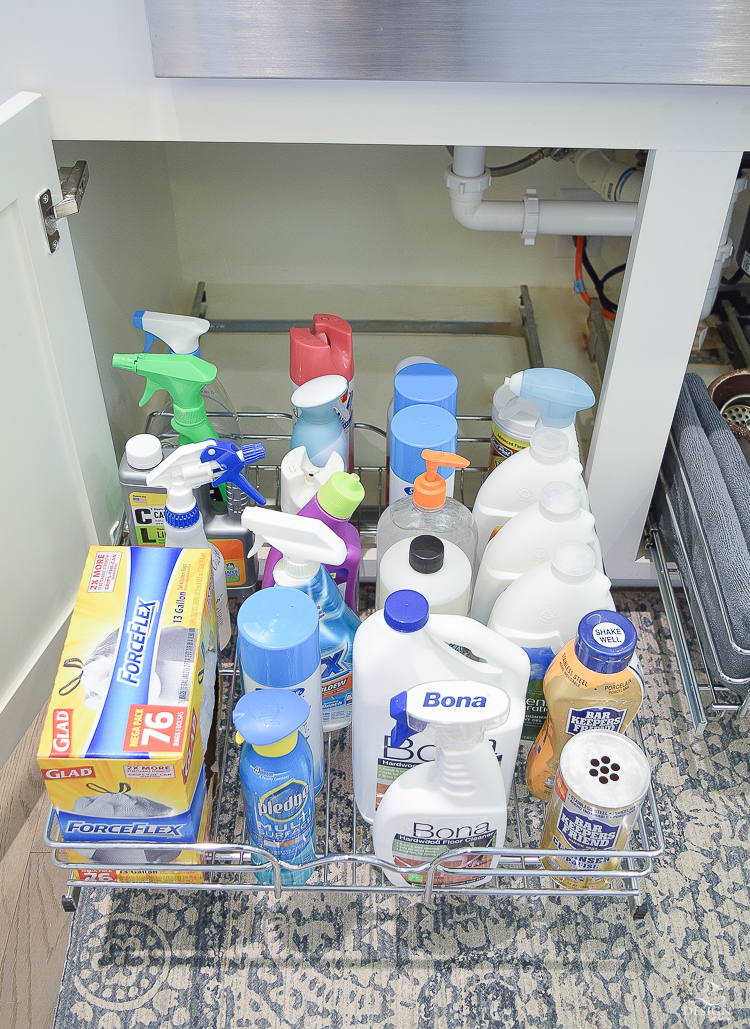 This small slide drawer on the right side under the sink is perfect for those items I'm always grabbing 10 times per day (like counter top spray, etc.)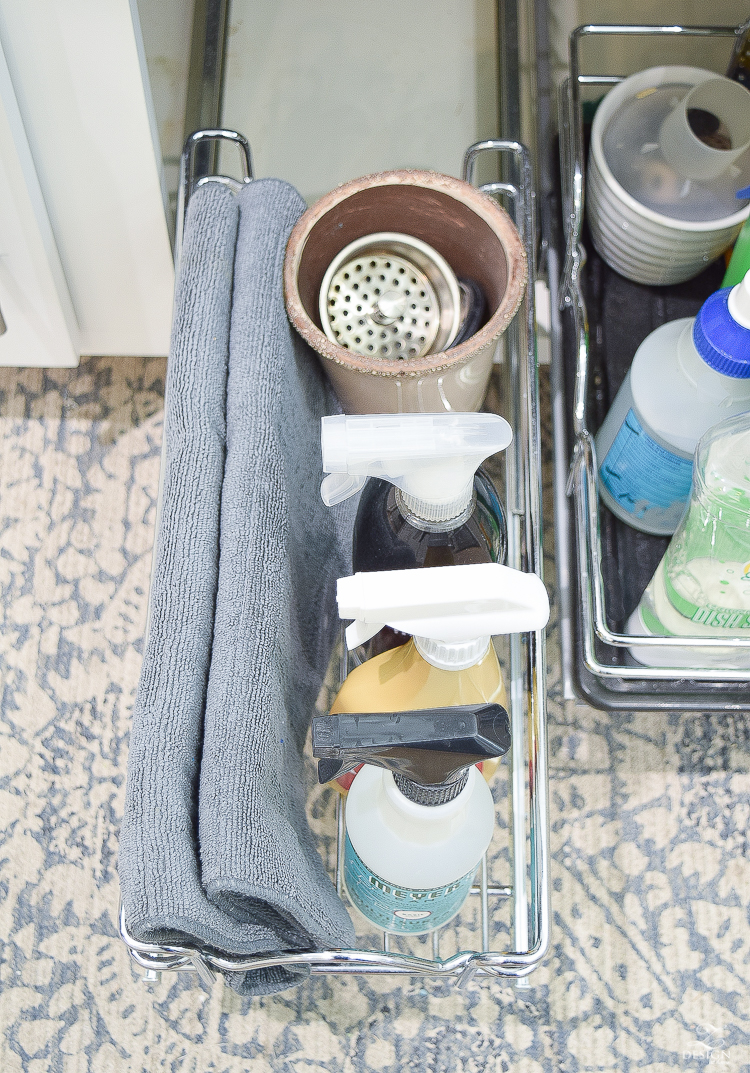 Another favorite organizational tool I use in the kitchen are these pot protector pads.  I kept my lids in a drawer just to the right but here is a great lid storage rack if you don't have the extra space to store lids like I did.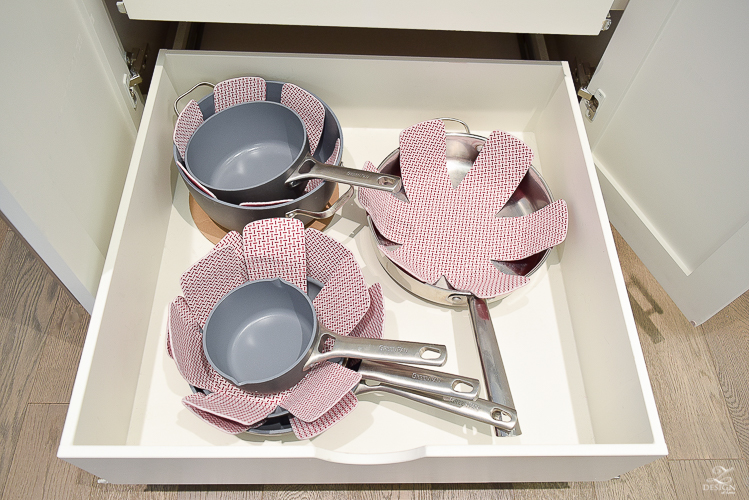 I spoke about this in my post last week on tips to keep your home neat and tidy but one of the best organizational tools I've incorporated into my kitchen was to install an electrical outlet in the pantry to hang my cordless vacuum.  I also keep a cork board in the pantry for important papers that I need close by but want to keep out of site.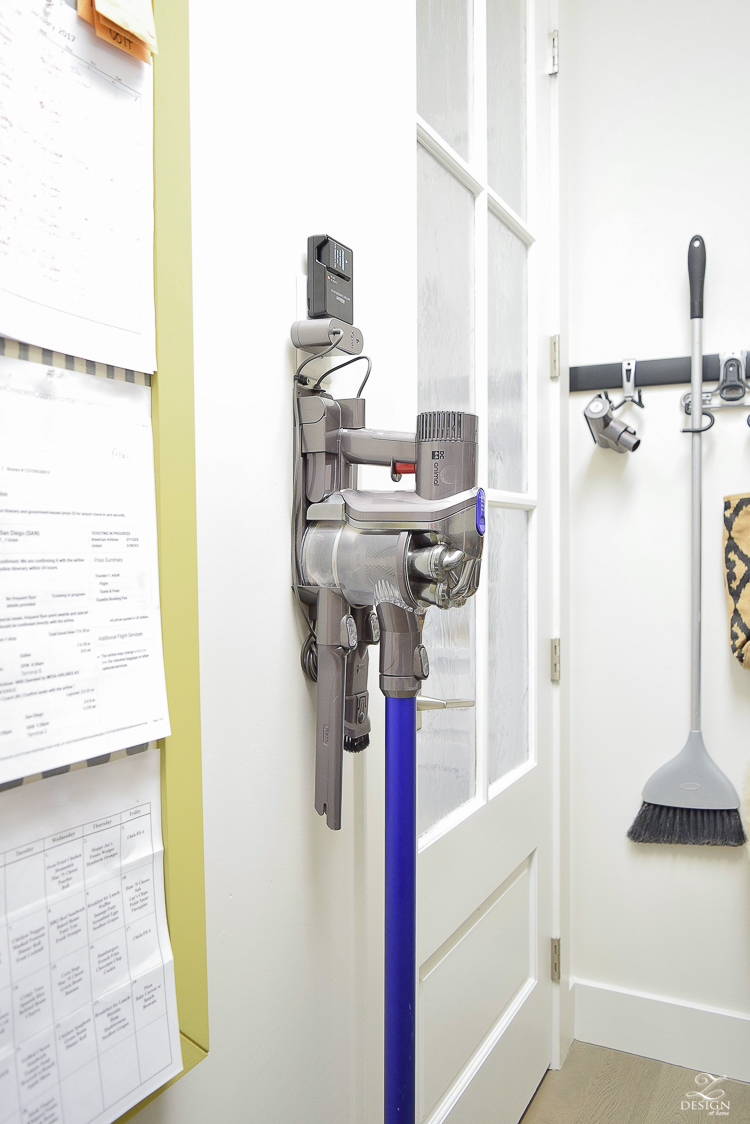 Additionally, I love that I have a place close by to keep my camera batteries charging or, sometimes we use this outlet for a rechargeable flashlight in the event we need one and/or in case of an emergency.
And the next image is something that so many of you asked me about on Instagram when I shared this in my stories.  We keep this wall organizer to store the broom, extra vacuum parts, and other things just behind the pantry door to keep these items organized and off the floor.  You can add different hook attachments to it to easily store the items you need and the attachments can slide side to side on the track to give you the space you need to store essentials.  You can also see in this photo to the right where I use my favorite baskets to store certain pantry items.  I love them because they slide in and out super easy and don't scratch your cabinets or shelves (plus they come in multiple colors and sizes)!  I hadn't really planned on sharing that part so sorry I don't have a better photo but thought I'd mention it just in case you were curious about them.
Other organizational tools I love for other areas of the home are these slide out drawers I used for our printer.  They also come in multiple sizes.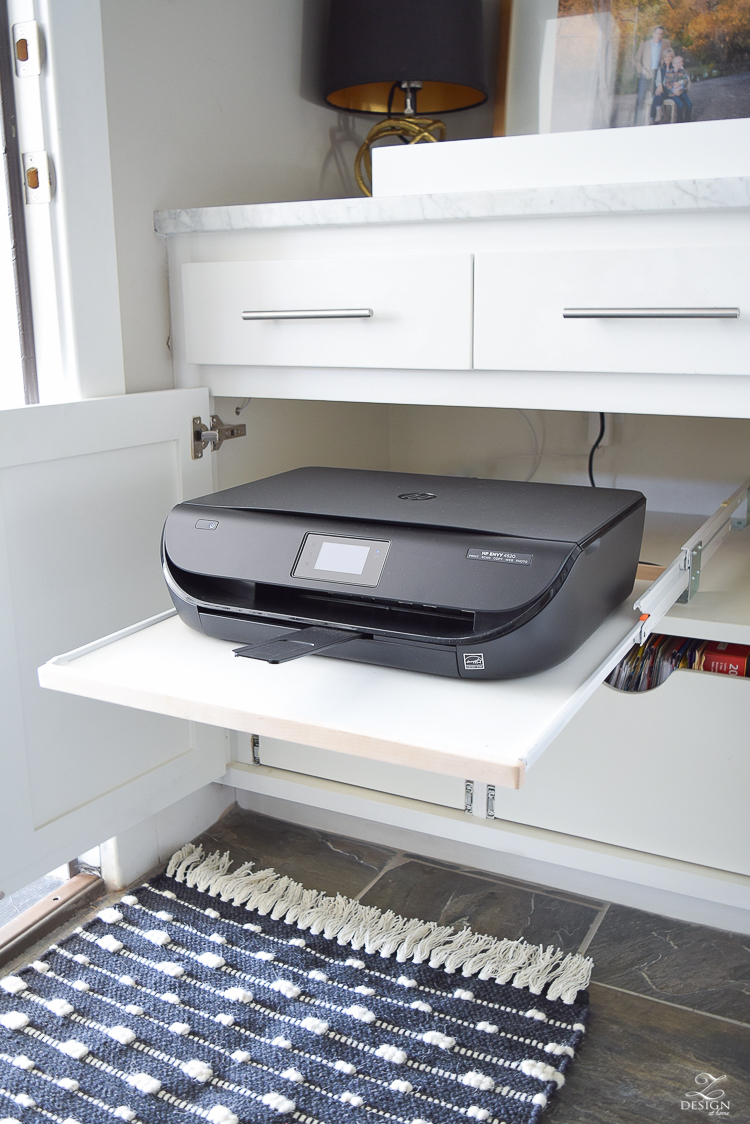 And then last but not least my favorite baskets that I use ALL over the house!!  I use them under the bathroom counter, in the laundry room, in the kitchen, and among others places, in our mud room/entry to organize doggie essentials and other items.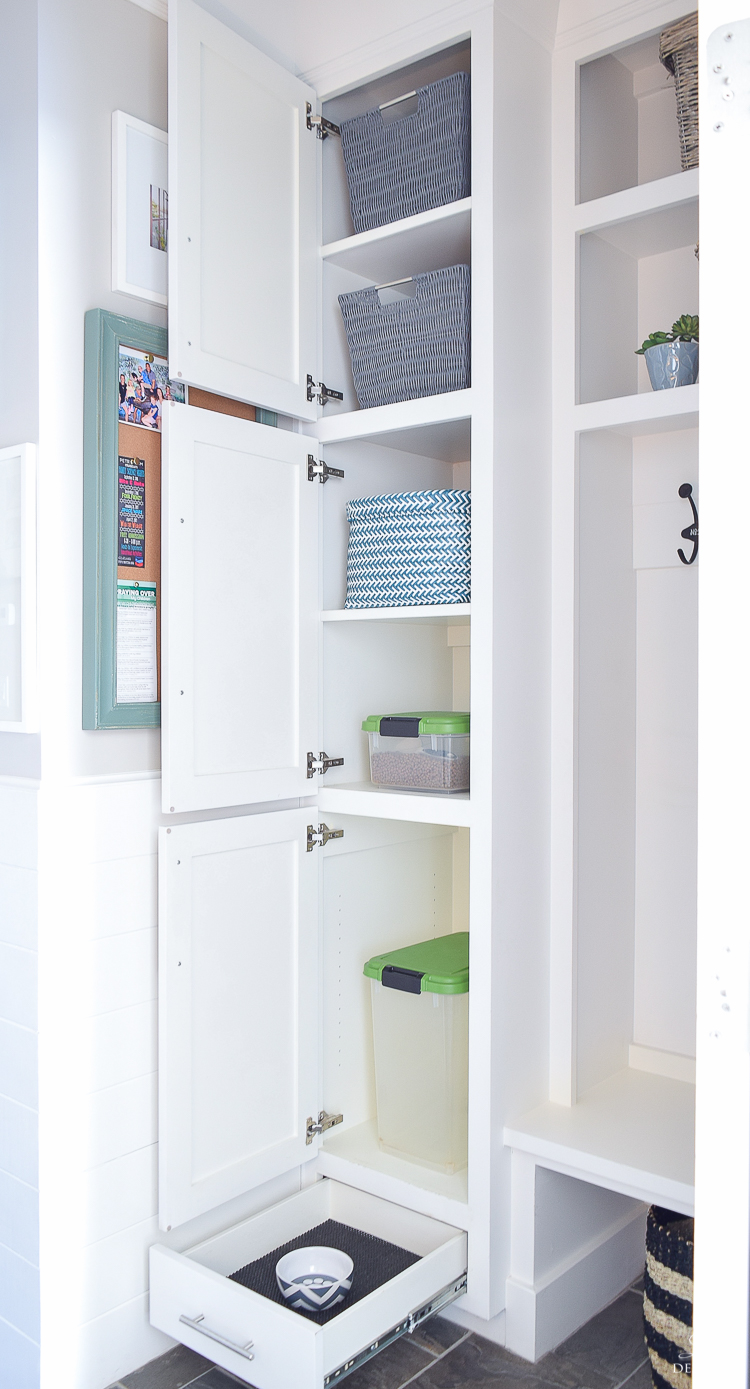 Another favorite are these storage containers we use for dog food.  The larger one comes with removable wheels (which is nice if you need that feature) and they are perfect for this application.  They also come with a scoop, and come with many lid color options.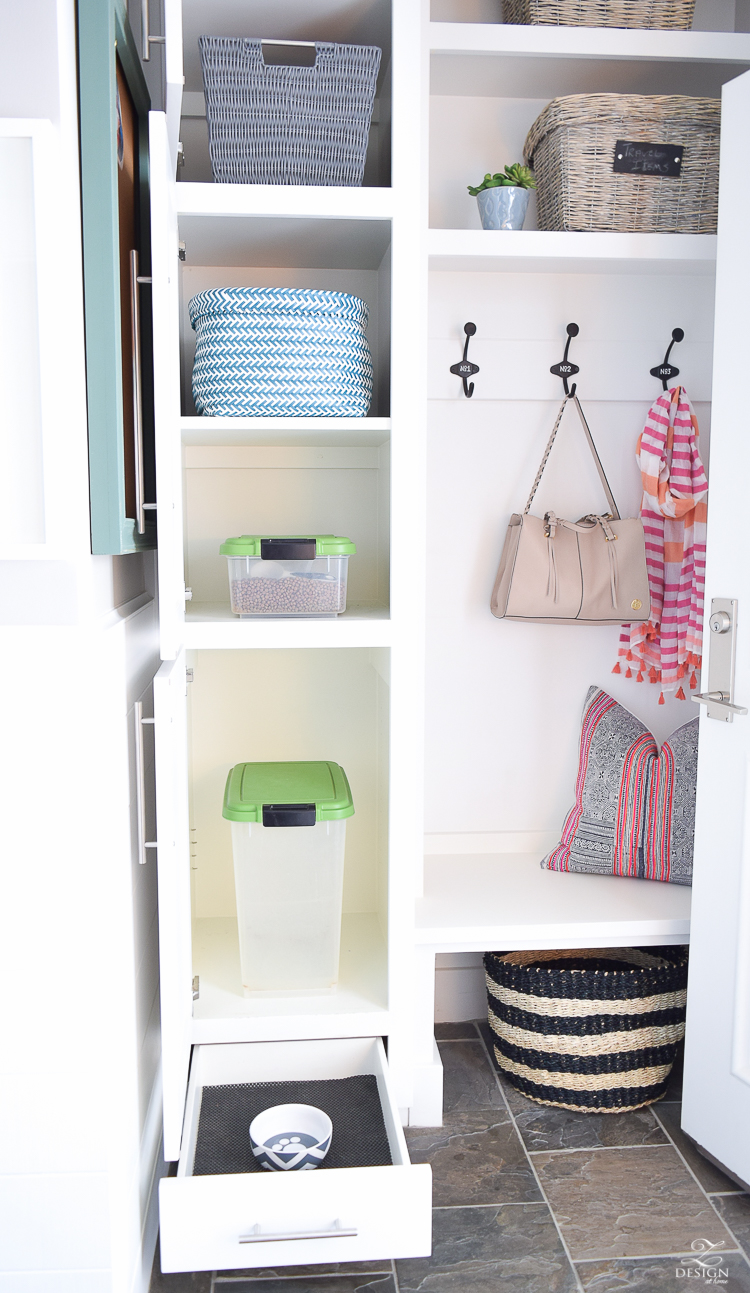 One of my favorite tips for keeping the dog bowl out of site is to hide it in a drawer and your pup(s) can eat right out of the drawer (we had two that would eat right out of this drawer at the same time, at one time).  You'll need to line the drawer with something like this mesh drawer liner to keep the bottom of the drawer (mostly) clean.  The rubber mesh liner also keeps the dog bowl from sliding around while they eat.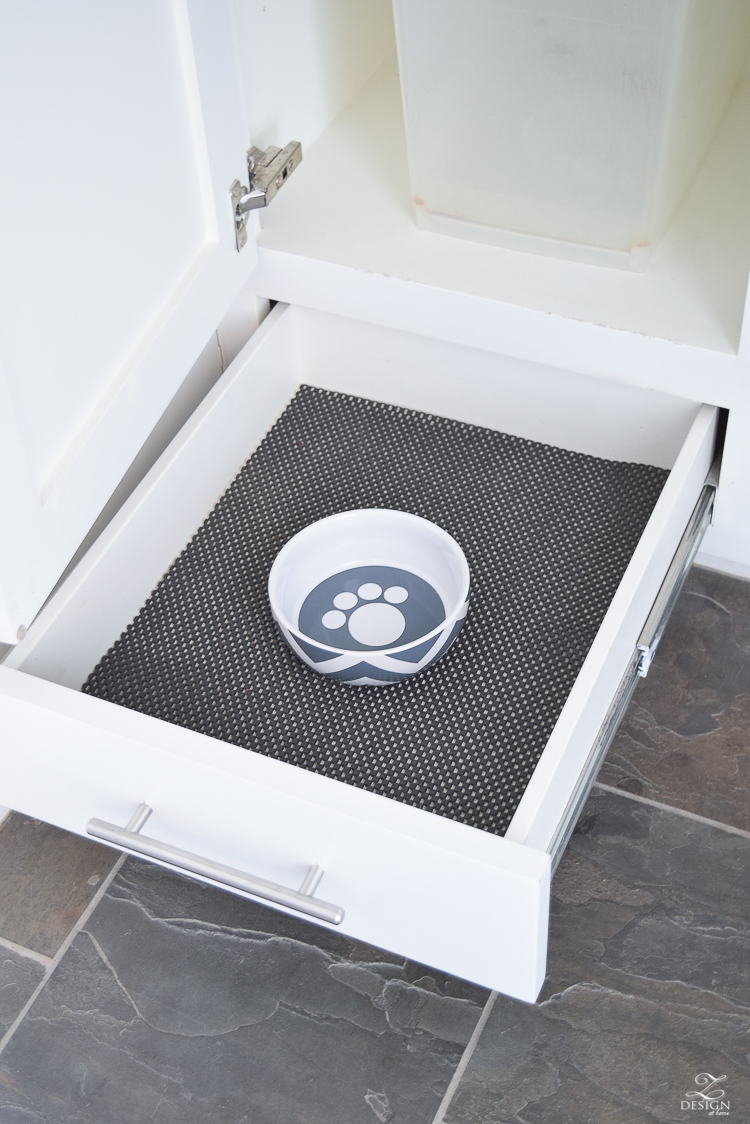 Tips and Ideas to organize your kitchen and more
 Use drawer organizers that come in multiple sizes so that you can arrange them to maximize on the space you have available.  When I start organizing a drawer I buy more than I need to see what will fit and return the rest
Organize your drawer contents as close as possible to the area you will be using them in
Use small containers within your drawer storage bins to house small items such as push pins, paper clips, etc.
For lower cabinets install pull out drawers (that also come in multiple sizes) to more easily access your items
Use a lid rack to keep your pot lids and other linear pieces and essentials neat and orderly
Use pot protector pads to safely stack and organize your pots and pans
To maximize on wall space, install a wall storage hanging system in a closet or pantry near by to organize brooms, dusters, etc., to keep them in arms reach but out of site
Use mesh drawer liners to keep the inside of your drawers clean and scratch free
Use baskets made of vinyl or resin (like mine) that easily slide in and out without scratching your cabinets and shelving
Thanks for stopping by to check out my tips and ideas to organize your kitchen and more!  As we continue to venture off into apartment living over the next several months I plan to share more organizational posts so I hope you'll continue to stop by and don't forget to subscribe to my weekly newsletter by clicking the image below.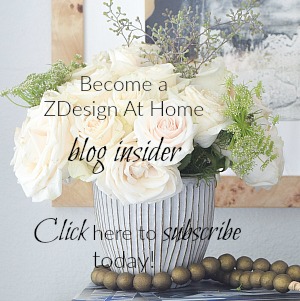 Let's stay in touch…
Pinterest | Facebook | Instagram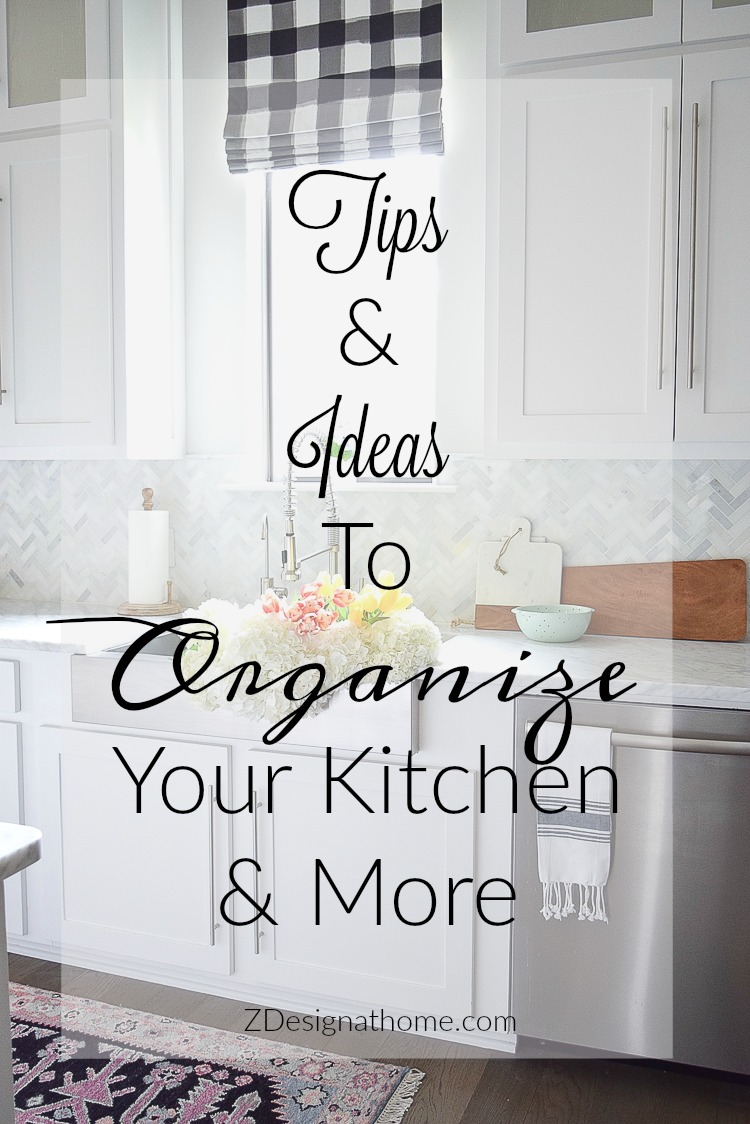 You may also enjoy my post on 5 Tips For A Beautiful And Organized Entry + Room Reveal.  Click the image below to get right to it!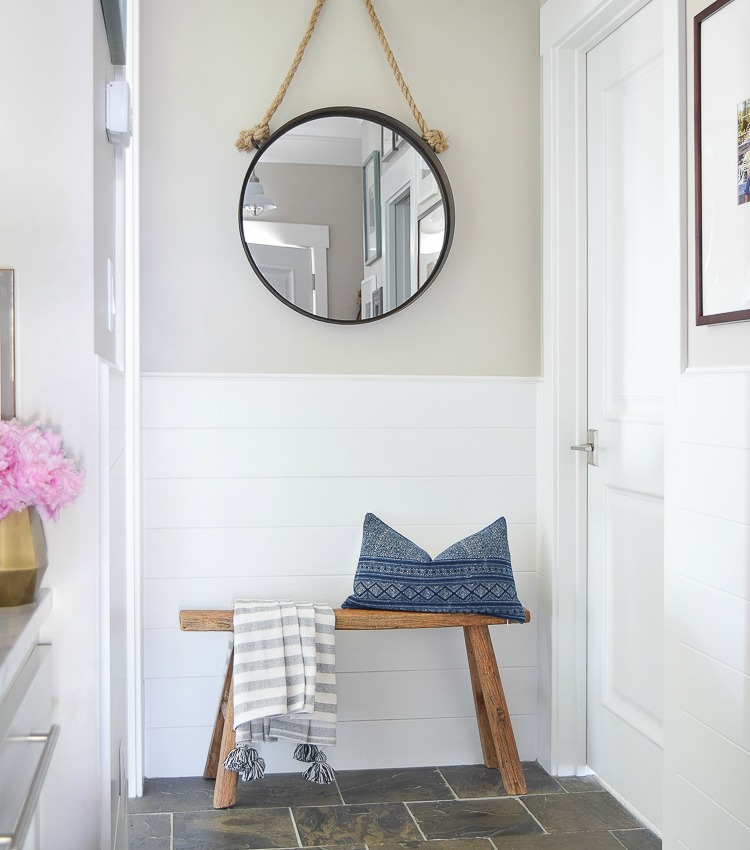 Xo,  Bree