Top 8 Tips To Keep Your Home Neat & Tidy (Easily)
I think it's safe to say we all want a tidy home and I think it's also safe to say we all struggle with this (yours truly included) so today I'm popping in to share my top 8 tips to keep your home neat and tidy (easily) on a daily basis since most of us are turning over new leafs and attempting to get organized for the new year.
I don't know if you are like me or not but I just seem to function better when things are picked up.  When things are out of place around my home it can sometimes feel like chaos to me and I don't like it!  I'm much happier and have a clearer head to accomplish those daily tasks when things are neat, tidy and put away!  My mother always said… "everything has a place and, everything in its place" which if you ask me is one of the best rules to live by in your home.
I know some of you may be sitting back about now saying "I have 3 kids…there is no way I can keep my home tidy easily" or "I work full time and have no time left over to keep my home feeling picked up" but I hope you will see after reading my simple tips that you too can keep a neat & tidy home.
Affiliate links used in this post.  Please check here for my full disclosure policy.
Some of these will require initial set up but, once you get a system in place they will make your life so much easier and your home so much tidier!

Create a system and set some rules for your entry!  Keep shoes, back packs, purses, etc. in a basket or on a hook.  All be it small, if you don't have a mud room/area like mine there are lots of affordable pieces (either shelves or furniture pieces) out there to help you get organized in the entry.  Put your foot down if you have to and make it the rule (not the exception) in your home that everything goes in a particular spot when you enter the home.  This will keep the chaos off of the kitchen counter and shoes from being strew about in front of the door.  Your home will also stay cleaner by not traipsing through your home with shoes on that have been goodness only knows where.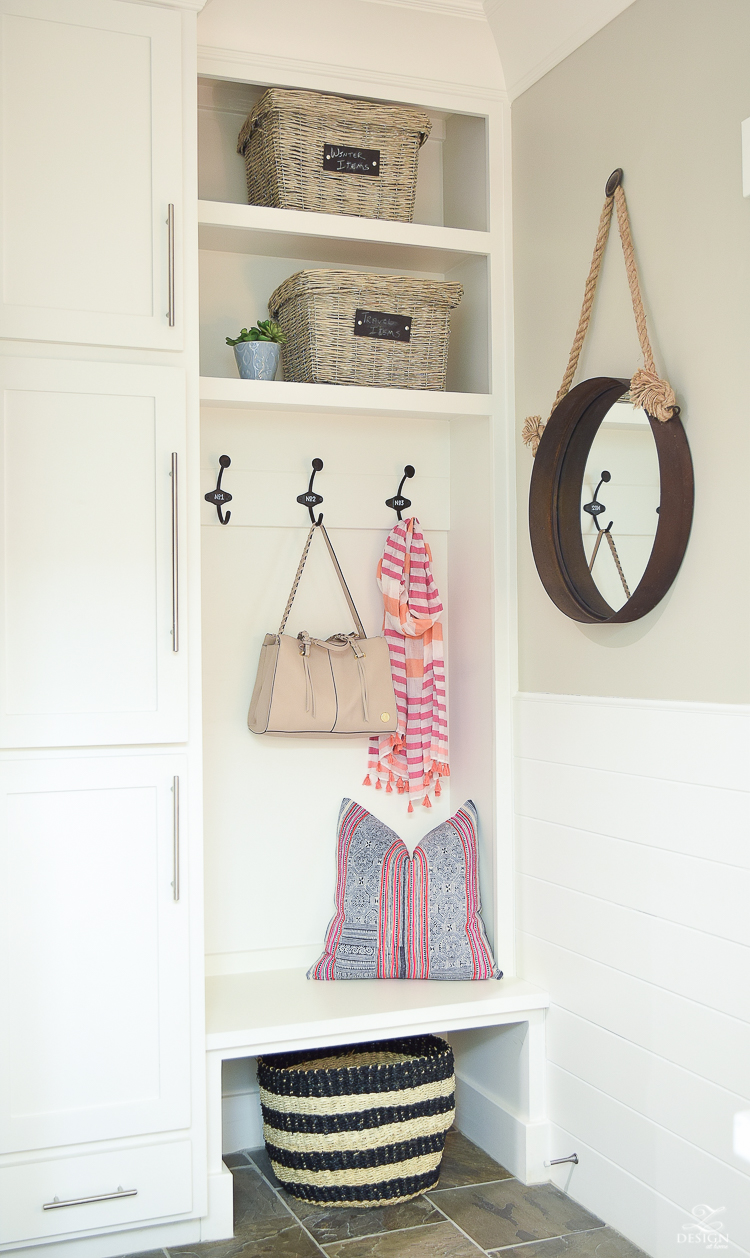 Keep bills, sunglasses, keys, etc. corralled in once spot so that they are easily accessible when you need them.  Preferably by the door so that you can drop mail as you enter and grab keys and sunglasses on the way out.  We also have a routine in our home that my husband grabs the mail on the way in and we sort through it together when he gets home…this creates a great opportunity for us to reconnect at the end of the day plus now (#bonus) we've conquered the mail!
Additionally, keep a bin, tray or binder somewhere out of site to store those school papers that you are going to keep.  As soon as my son's back pack is emptied from school, those papers go straight in the bin behind those cabinet doors below and out of site (except for the ones we are going to display).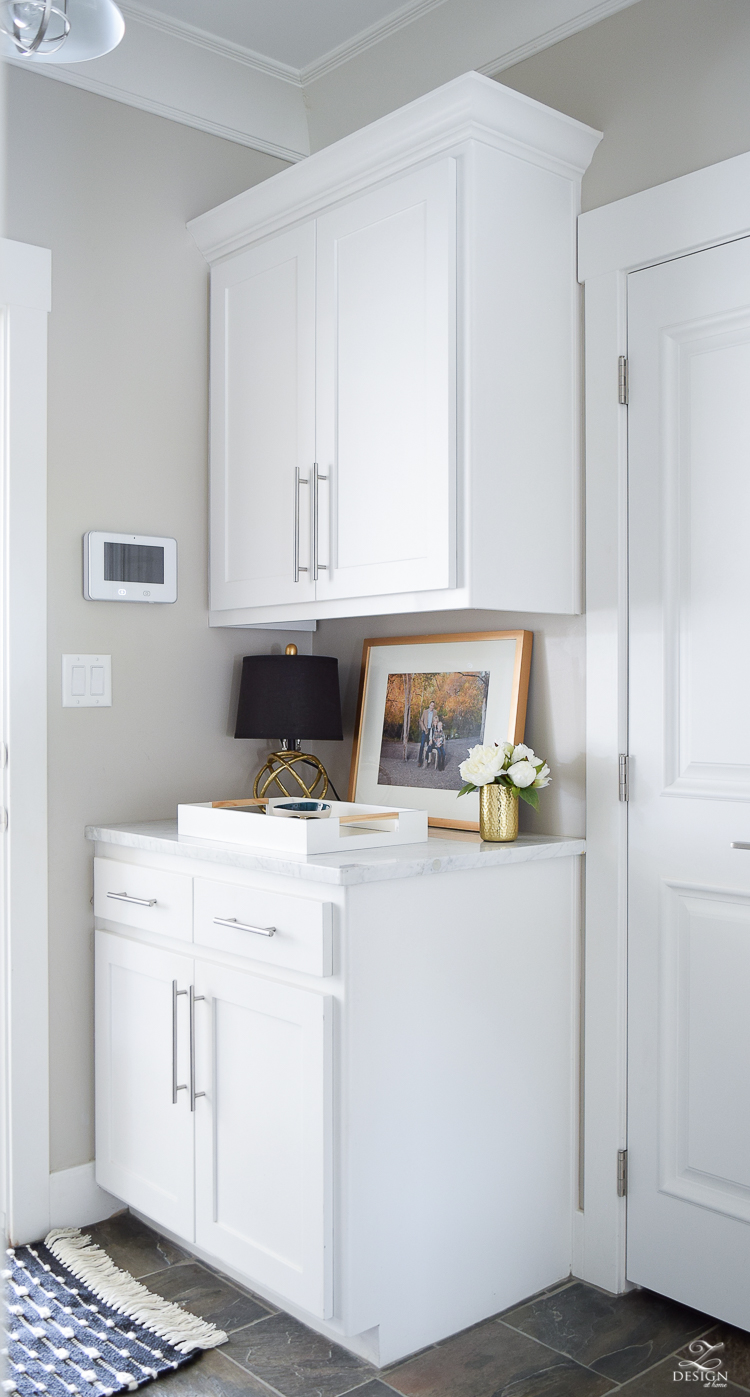 Make your bed 1st thing and have your kids make their own beds too!  I know this one sounds like a broken record but it is so true!  I have a solid commitment with myself that the bed will get made every day or at least at a minimum, Monday through Friday.  I either make it as soon as I jump out of bed (which is the easiest if you have time) or as soon as I get home from sending my son off to school.  This gives my husband and I a non-chaotic space to retreat to in the evening which helps us to rest easily.  On a side note, I do give myself a break on the weekends, especially since I usually change the sheets on the weekend but I always hold true to my Monday through Friday routine!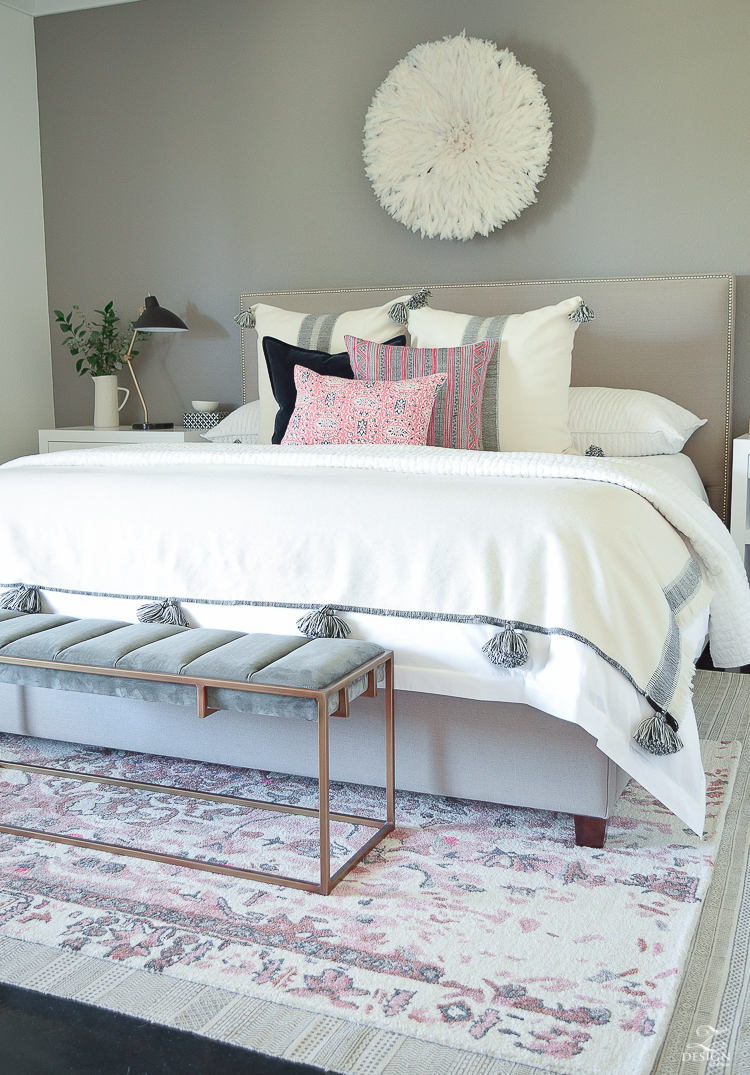 The best way to easily keep your kid's rooms clean is to have them make their own beds.  No matter how pretty it may not be when they make it, at least it's made and that's one less thing you have to do during the day!  It also gives them a sense of pride about keeping up their own space and teaches them responsibility.  I even taught my son from age 2 to put his dirty clothes only into the dirty clothes hamper so we never have a problem with his clothes being strewn all over his room.  If you will enforce these two things their room will stay tidy for the most part, most of the time.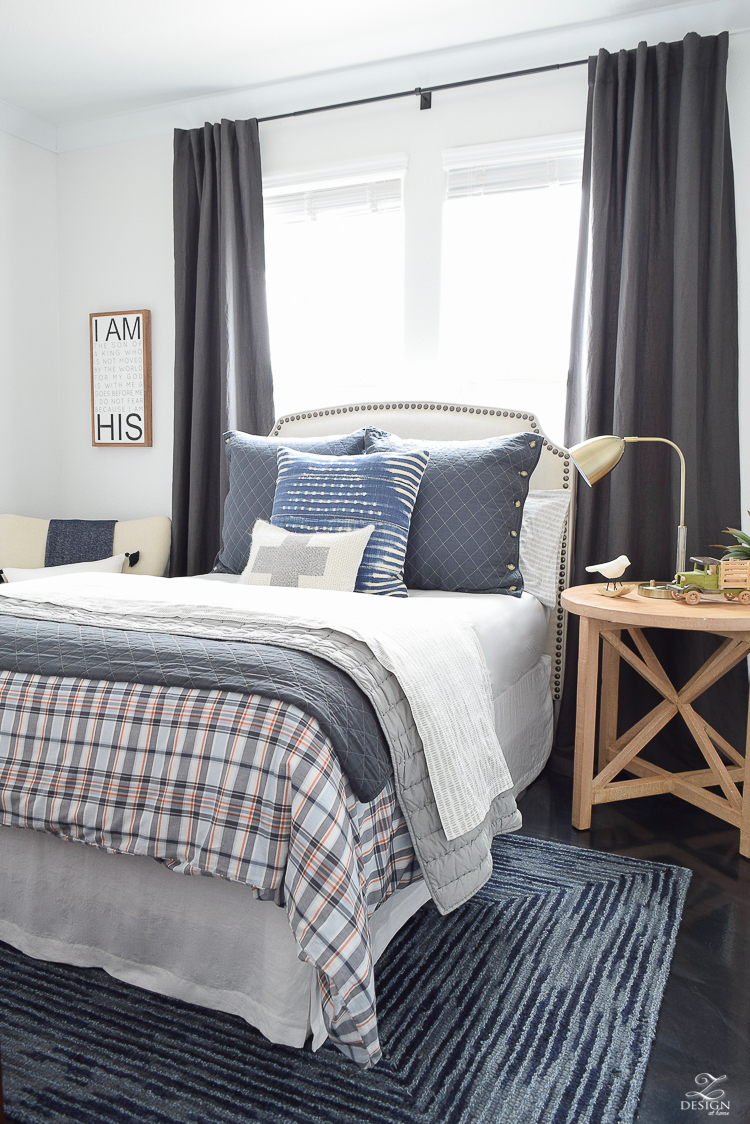 Don't let the dishes pile up!  The way to avoid letting the dishes pile up is by putting them straight into the dish washer when you're done eating.  This may be hard to do right after dinner because there are usually a ton of dishes after this particular meal but for smaller meals like breakfast, lunch and snacks, put those dirty dishes straight into the dishwasher vs. setting them in or around the sink.  Just make it a rule that everyone has to take their plate straight from the table to the dish washer (rinsing first of course if you or your dish washer requires that).  Another way to combat dish pile up is to clean as you go…this will keep your kitchen tidier and will keep the kitchen sink from getting back logged!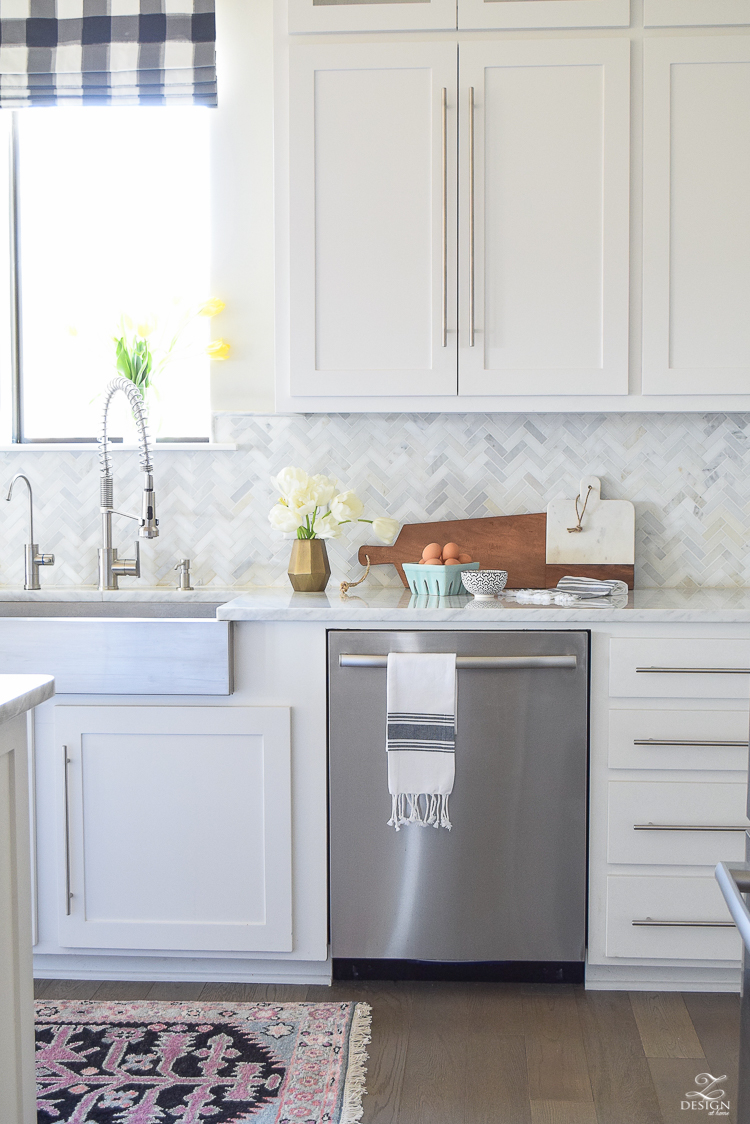 Keep kitchen drawers and cabinets organized with trays, bins and containers.  This is something that you'll have to spend some time setting up but by keeping your drawers and cabinets organized with bins, trays, baskets and containers this will help keep you motivated to use them and to put things away when not in use!  I could't live without my favorite drawer organizers and they make it so easy when I'm emptying the dish washer, need a place to stow those stray rubbers bands, or need to get the toys (dog and human) out of site!  They also make it easy to find things when you are on the hunt.  Remember – everything has a place and everything in its place!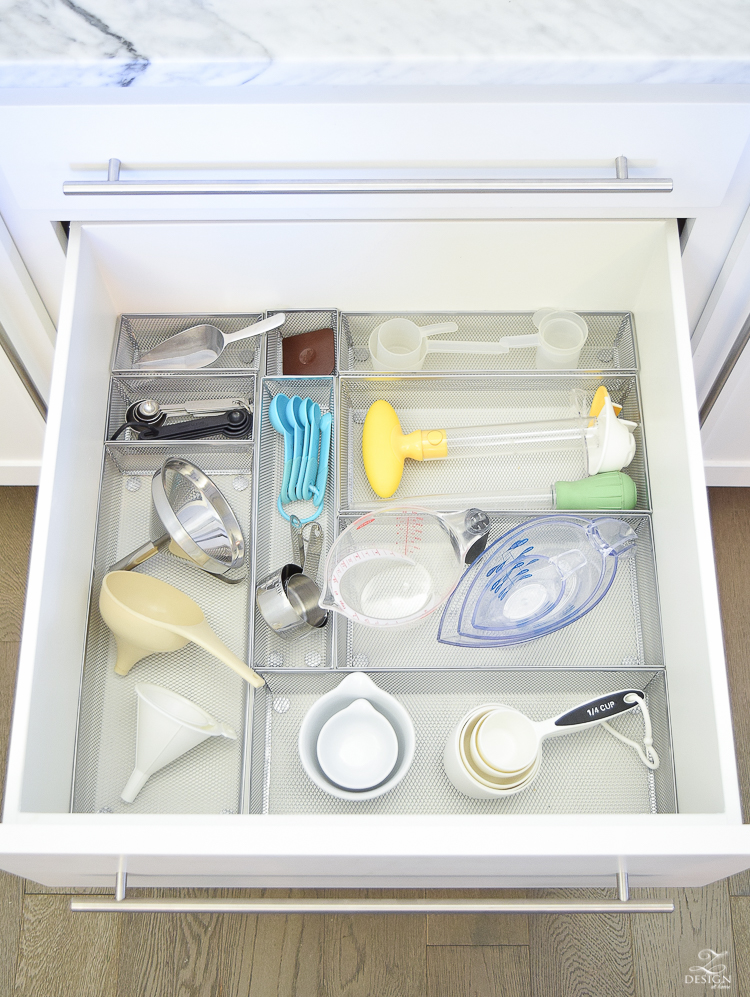 An organized junk drawer will change your life in regard to keeping your counter tops neat and tidy!  This is my previous kitchen because my current rental is too dark to get decent photos but I'll be sharing some simple tips for staying organized in the kitchen next week so stay tuned for that (you can now find my kitchen organization post HERE).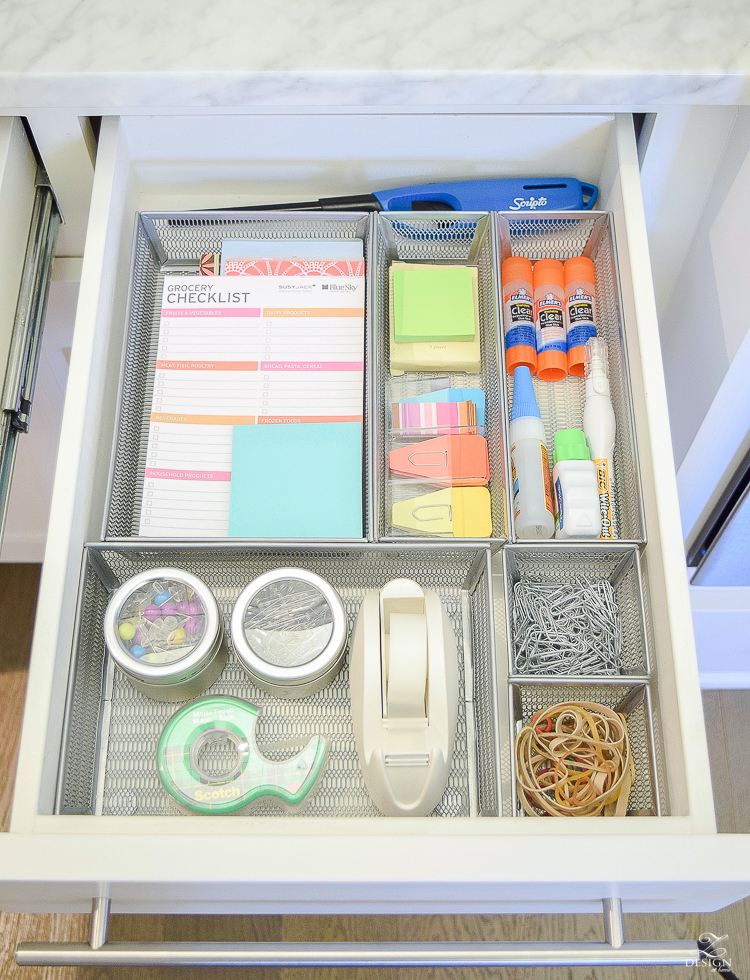 These baskets are the absolute best for not scratching up your cabinets on the inside.  They glide in and out easily and come in several sizes and colors.  I use them all over the house.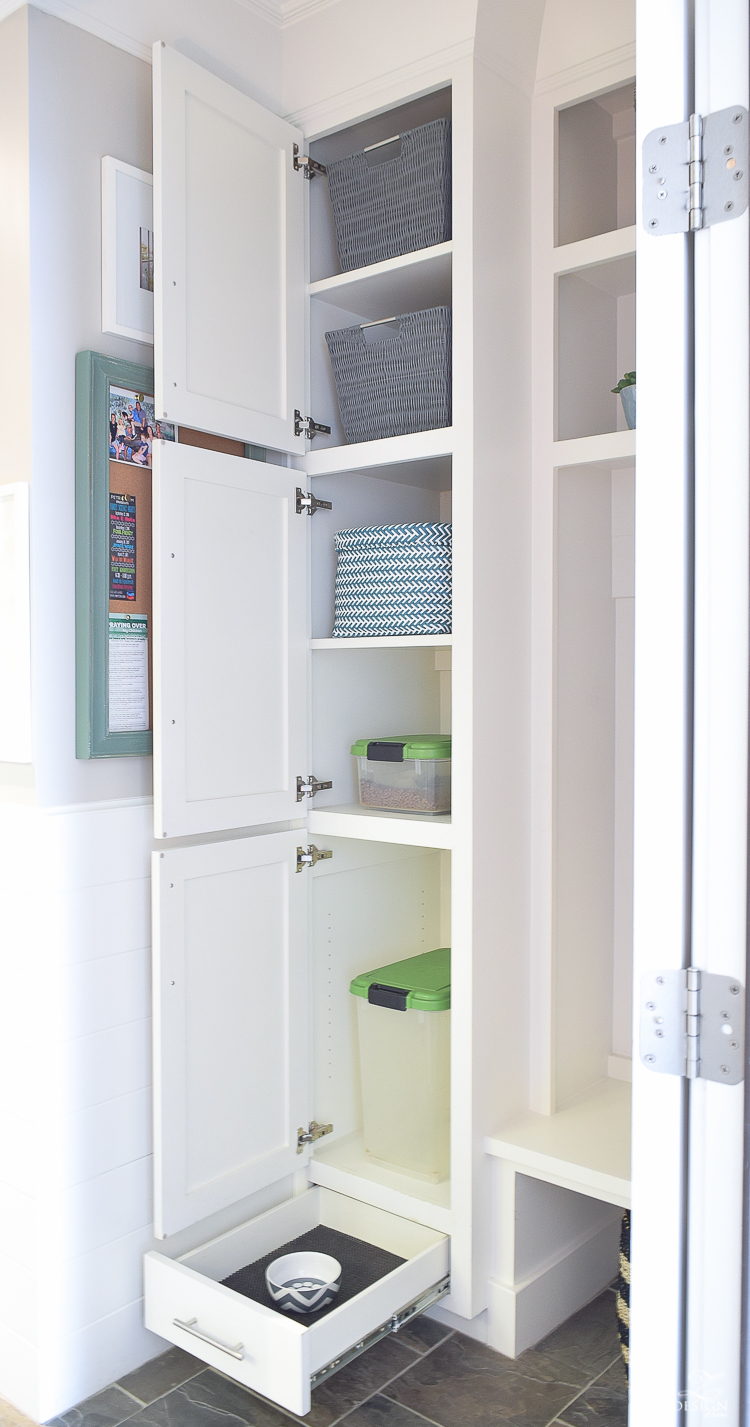 Keep a portable vacuum close by (and a large cork board).  Whether it's electric or not, keeping a portable vacuum close by for those spills and messes on the floor can also help to keep your home neat and tidy.  After we moved into our home I had an electrician come out to install an electrical outlet inside the pantry so I would have a place in the kitchen to charge our favorite cordless Dyson vacuum (yes I said favorite…we like them so much we have 3 of them).  This basically changed my life because now I'm not having to sweep up messes (which takes much longer) and can vacuum the whole kitchen in about 3 minutes or less.  And on a side note, when we sold our home recently, this was actually one of the details the buyer appreciated most about our home.
Keeping a cork board in the pantry (see left side of photo below – sorry no way to get a full photo in this tight space) is also one of my secret weapons for keeping papers out of the kitchen, off the counters, and organized where I can see important things and events coming up.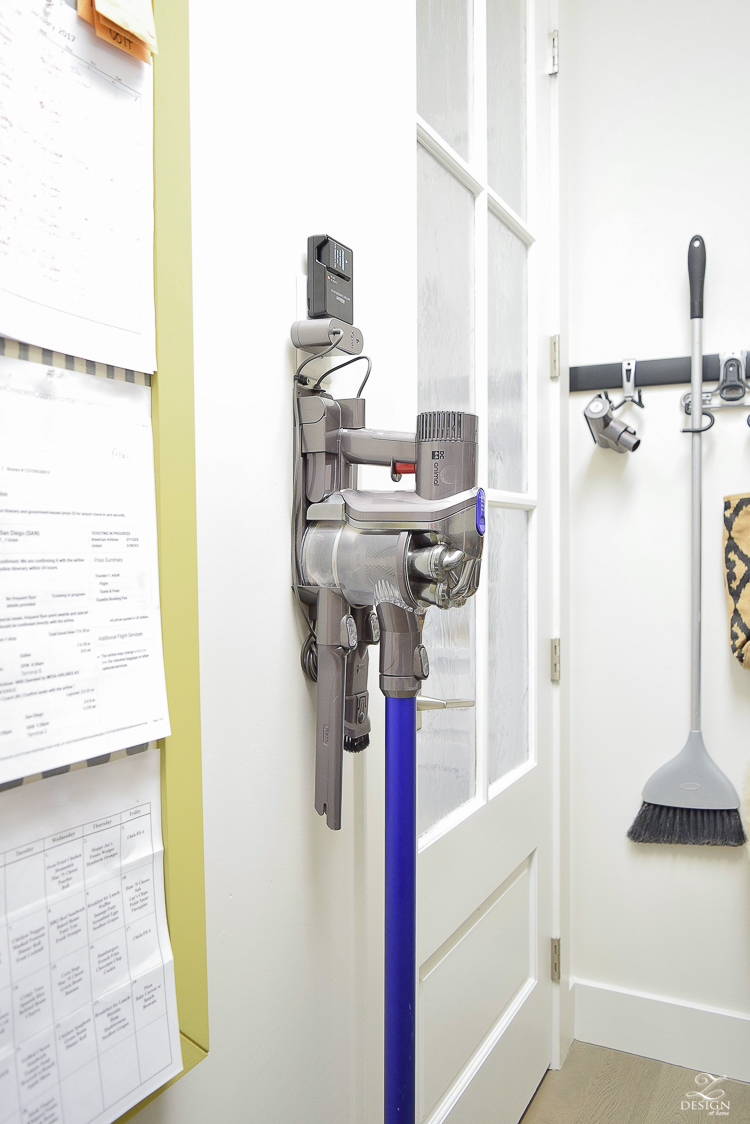 Use drink cups with lids (especially with kids around).  Sure, we have nice glasses we use periodically and that we pull out when we have company but to help keep the house tidy from spills on the daily we just use a good ole tumbler with lid most of the time.  It's not like we are walking around with soppy cups in hand but in the event a drink is knocked over or dropped it is nice having the reassurance there will basically be no spill and you can move on with life without spending lots of time doing clean up.  And, as you know there are so many cute cups available now with lids that it can be fun to use your favorite, stylish lidded cup on a daily basis.



Baskets, baskets, baskets!!!  And last but not least (I know, this one is a no brainer but it's so true!) using baskets around the house will give you a quick, easy place to stow toys, throws and other things out of site.  We make it a rule each night before we retire to the bedroom to place throw blankets and other things in baskets so that when we wake up the next morning the living room is nice and tidy!  See below to shop some of my favorites.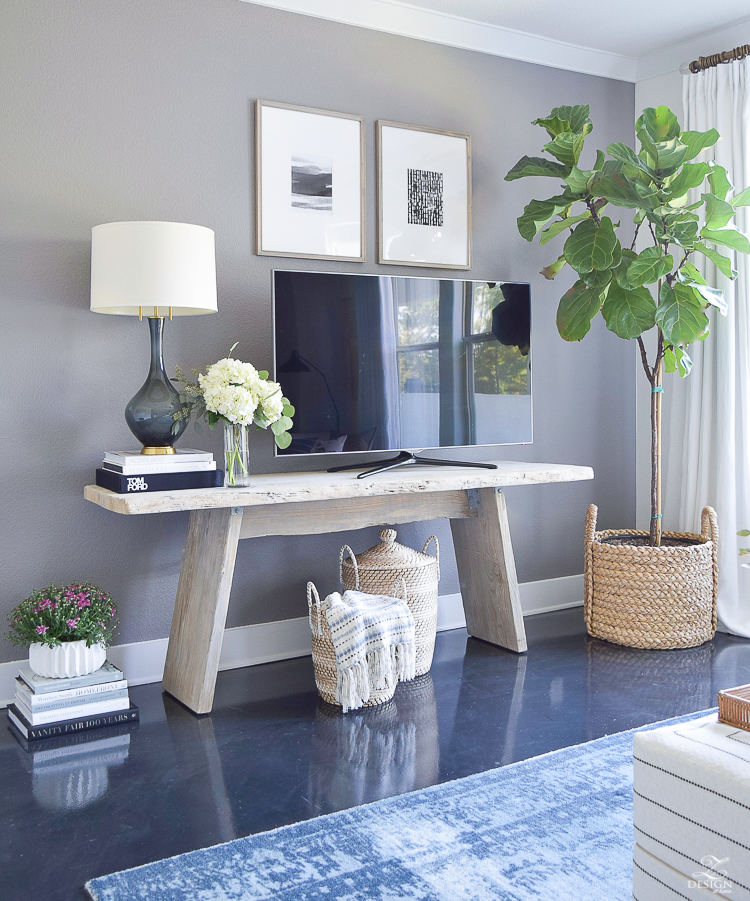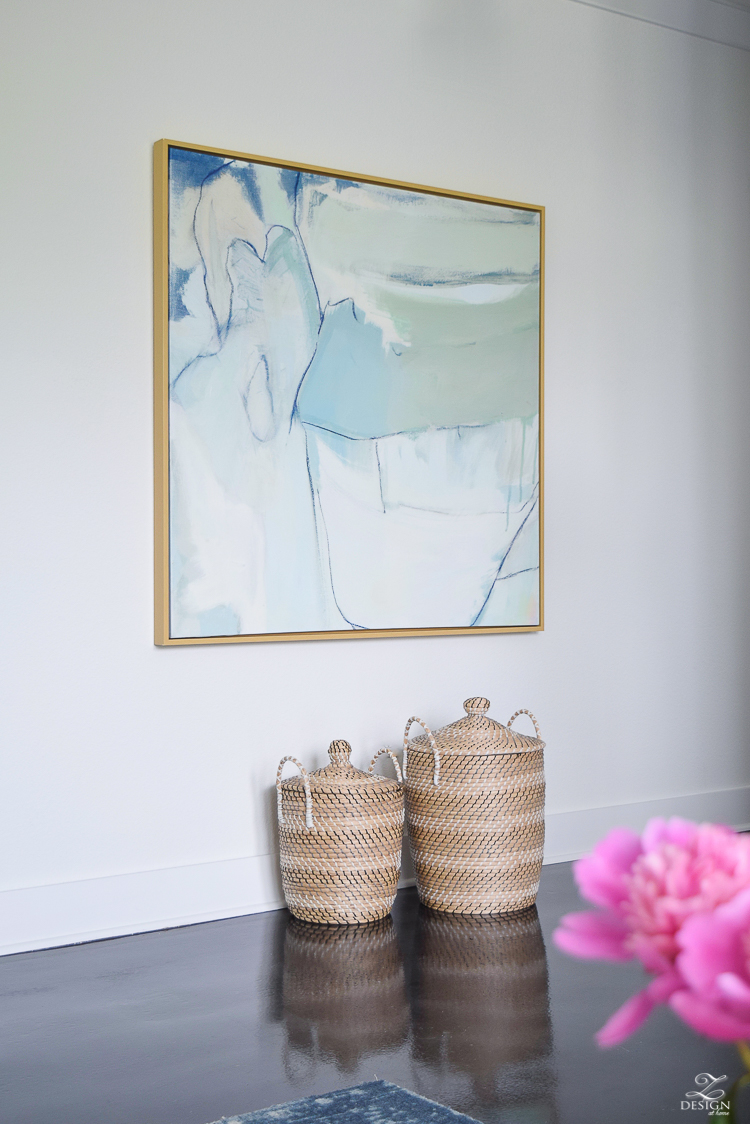 We use them in the bedroom for stuffed animals…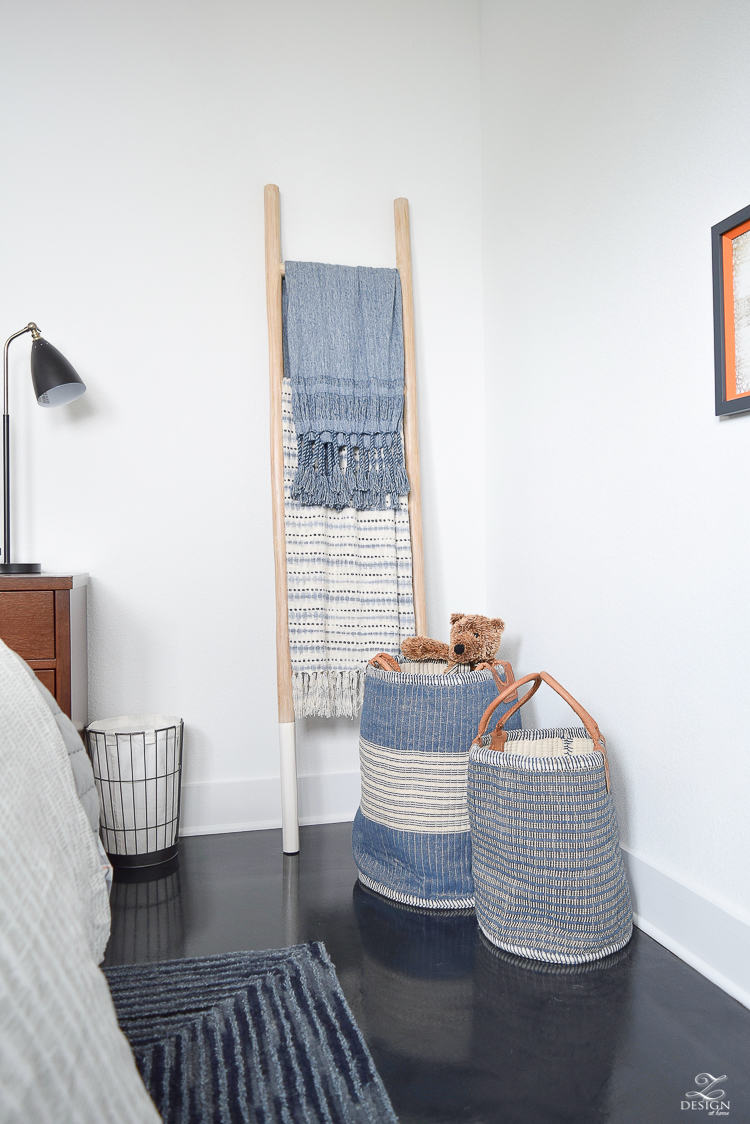 And for books too!  When reading time is over just throw them back in the basket…easy peasy!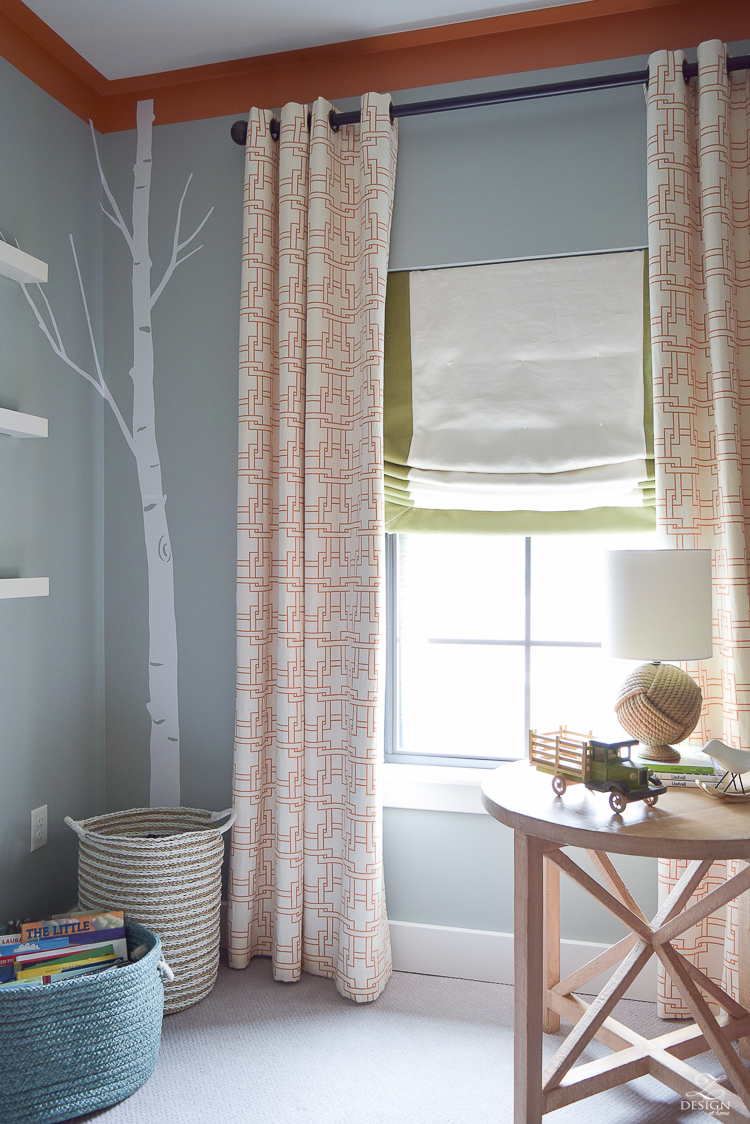 If you will take the time to set up some of these systems in your home, train your family, and stick to your guns on the rules, I promise these things will help you to keep your home neat and tidy on a daily basis!  Even if you don't do all of them but at least do some of them I know it will make a positive effect in your life.
Thanks for stopping by this week and don't forget to sign up for my weekly news letter if you have't yet had the chance yet!  You can do so by clicking the image below…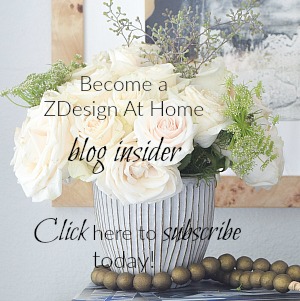 Entry


Bedrooms


Kitchen


Drawer & Cabinet Organization


Pantry


Baskets 


Other