Bar Stool Basics (+ my faves)
Before I get started I thought I would quickly cover some bar stool basics on bar height vs. counter height and how to know when to use what height.  Standard counter height is 36″ which means you will need a bar stool that is approx. 23″-28″ in height.  Standard bar height is 42″ which means you will need a bar stool that is approx. 27″ to 33″ in height.  There are also occasionally taller heights and I've covered that as well in my chart here to to illustrate what to use when: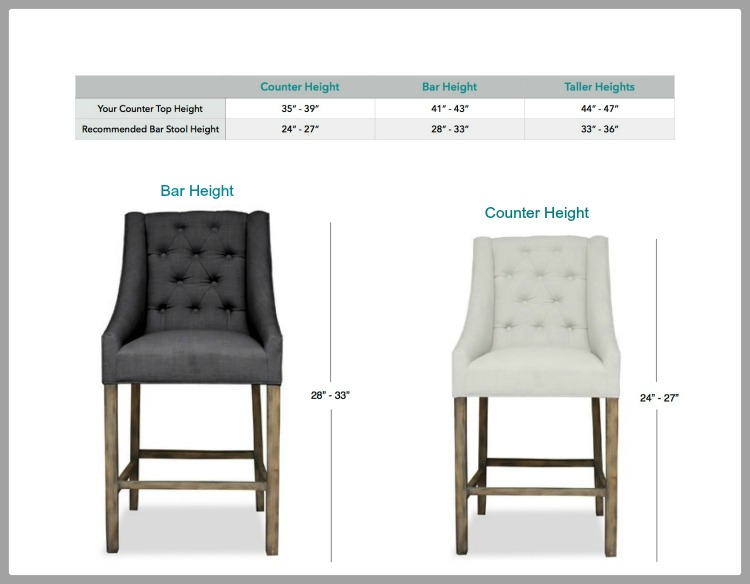 Other measurements to consider when choosing a bar stool are 1). the space between the top of the seat and the underside of your counter top &  2). the space between each stool.  additionally you need to consider whether or not the bar stool you are looking at has arms and if it does, you need to make sure you have enough clearance for that.  You will see below that I'm a rule breaker and didn't follow the rules in this area (I'll talk more about that later) but if you don't want your arms to bump into the side of the counter and/or if you want your bar stools to be able to be pushed all the way under your counter then I would make sure to pay attention to your counter top height vs. the height of the arms before purchasing.  If you have a tight space you are working with it's best to buy bar stools that will slide all the way under when not in use so they are not sticking out farther than they have to like mine.  I have enough space and I love the arms on mine (favorite feature of my bar stools) so I was cool with it but normally I think it's best to use a stool with arms only when there is room for the arm under the counter top.
Back to other measurements to consider…there is nothing worse from a visual and/or comfort standpoint to see a bunch of bar stools crammed too tightly together at a bar or counter top so to allow for appropriate amounts of space between stools you should allow 24″ – 32″ from center to center of your stools.  This will not only look better when they are not in use but, it will be most comfortable and functional when they are in use.  In addition to proper spacing between stools, make sure you have enough leg space under your counter (between the top of the seat and the bottom of the counter) and that measurement can range anywhere from 8″ – 12″ which should be enough for most people to feel comfortable.  I have found that most retailers label their stools as bar vs. counter and most give measurements so I would make sure to pay close attention to all of those measurements before you purchase to make sure they will fit your space properly.
So I get a lot of questions on Instagram about my stools like where I purchased them, what finish they are, etc so I thought I would share some resources along with the good, bad, and ugly about my stools.  But first, here they are and you can also see them in my kitchen tour post here!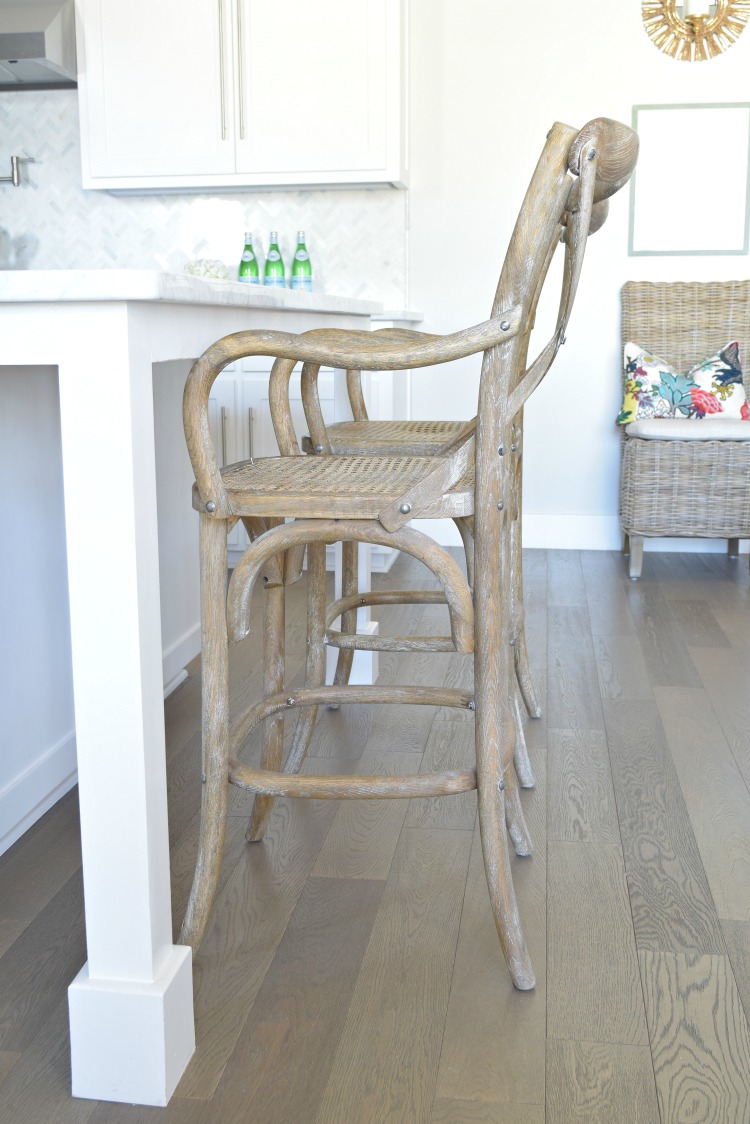 I said previously in this post that I would talk about why I broke the rules on my stools so here goes…I saw these bar stools at HomeGoods and absolutely fell in love!  I had seen them at Restoration Hardware and just adored their gracious curves, their driftwood finish, and I knew they would be the prefect juxtaposition in materials to our all white kitchen.  We were in the market for bar stools (with our new build almost complete at this point) and I knew the arms would pose a problem but didn't care because they were so gorgeous and I decided to bring them to the new house just see if they would work.  Well, they worked (at least in my mind) and I just couldn't return them even though my hubby was against them because he knew the arms would bump into the side of the bar and ruin the paint over time.  I love this bar stool but just don't love the version without the arms so these had to stay! Especially since others I was looking at at the time had a higher price tag than HomeGoods.  I have to say that we use them daily and I even sit in them at my kitchen counter to work and the arms are what make them so comfortable for me so I was ok with breaking the rules and you should be too if you find something you love!!  All of that said, they haven't held up the best and I'll explain that soon after a few more shots of these gorgeous chairs…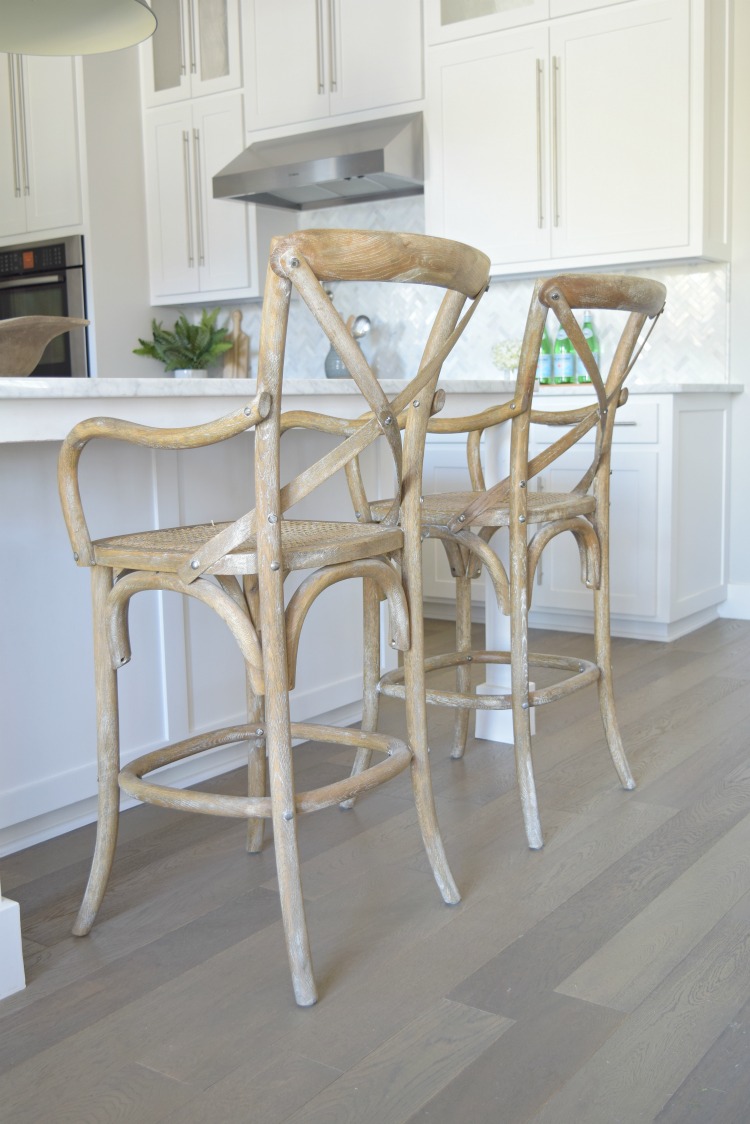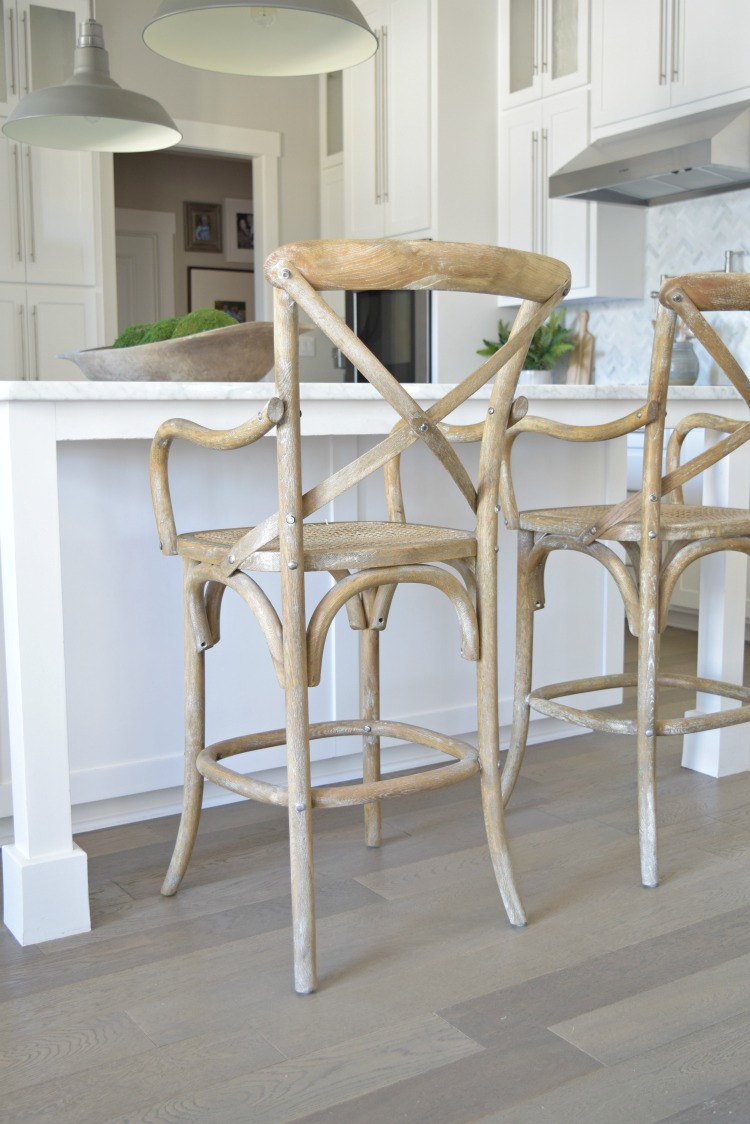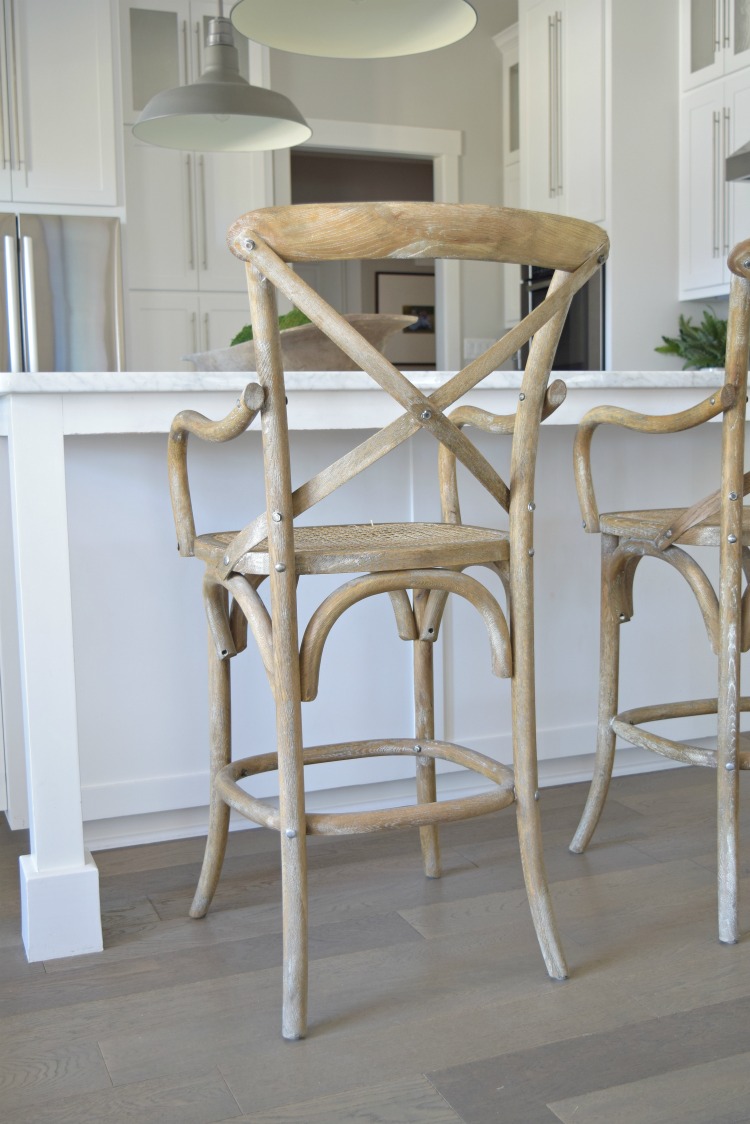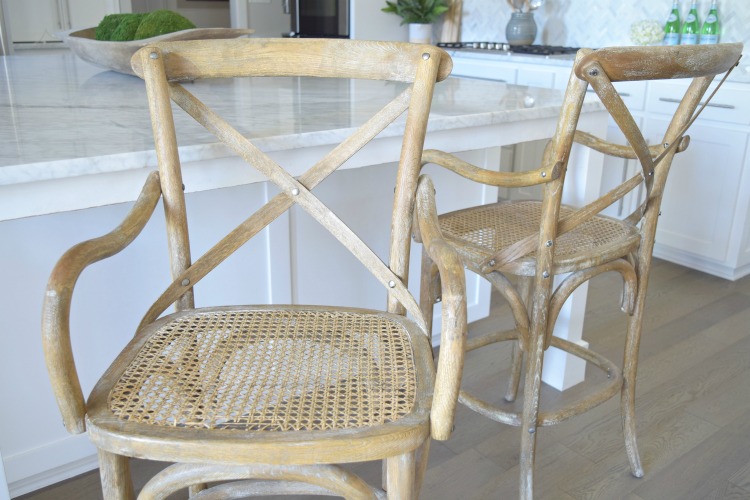 You may have noticed in the last photo that the cain seating is starting to pull away from the sides of the chair and you would be correct!  And, on the other chair to the right there is a hole that has started to form in the middle of the chair so I'm sad to say it won't be long before I'll have to replace them (insert that crying emoji here with tears running down both sides the the face…you know the one;).  Here's a close up of the damage on one of the stools (boo hoo!)…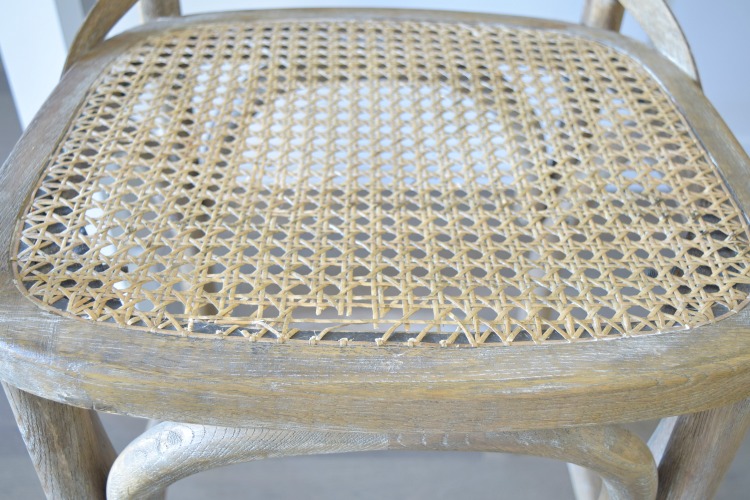 I'm going to try and get all that I can out of them before I do replace them but once I'm no longer in denial and am forced to replace them I've already stalked out all of my options and found this one that I will most likely end up ordering.  It comes in 4 different finishes and 2 heights and you can find it here if you love this stool just as much as I do!  Mine are closest in color to the Limed Gray Oak or the Natural Oak in the link provided.  Hopefully you can see from the photo below that the seat on this one is made out of rattan vs. the cain seating so I wouldn't expect the seating to do the same as my current bar stools.  I have also had this situation happen with the same chair (from Restoration Hardware) I previously used for a client and RH was gracious enough to replace all of the chairs for the same chair but with a leather seat.  All that said, I don't think it is the quality of the chair or a reflection of any retailer as much as I just think it's the nature of the beast with this type of seat if you are going to be using them daily!  I have made the decision not to have them repaired because there is no one locally that has the skills to repair them and I would have to drive 5 hours to take them to someone that can repair them which would include a lot of gas and a hotel room so in my case it will be less expensive unfortunately to just replace them.
Here is my potential replacement and then farther down I have several other options I'm looking at as well…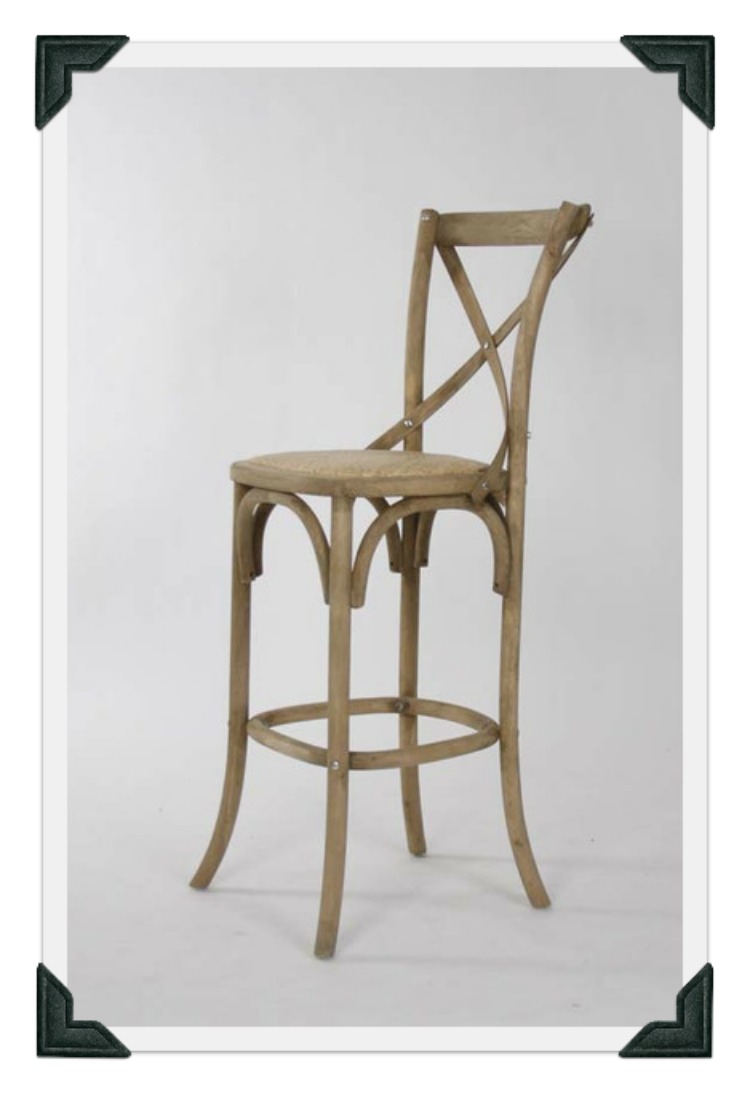 Get the Look

And just in case I decide to go with an upholstered bar stool or something entirely different next time, I've rounded up some other great options that I LOVE.  My roundup includes stools that will go with many different styles of decor as well so there is something for everyone, if you are in the market. I would love to hear your favorite pic in the comments section below for my space and would certainly appreciate your feedback!  You can see the whole kitchen here so that you can get a better idea of the setting they will be in (*affiliate links used in this post).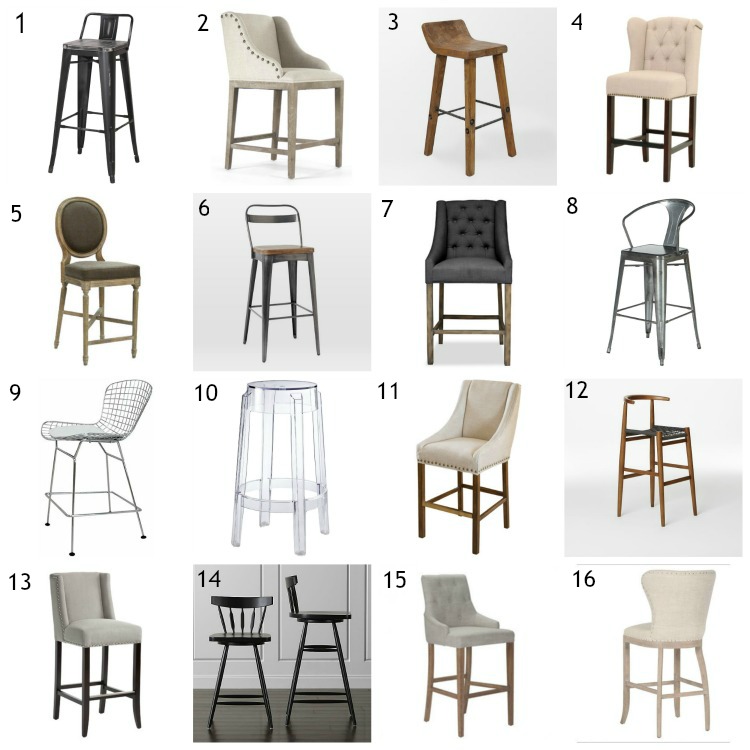 UPDATE:  Please check HERE to find out which stools I ultimately chose to replace my existing ones:)
I hope you enjoyed this post and that it was helpful if you are in the market for bar stools at the moment.  Can't wait to hear what your pick might be for my kitchen so don't forget to leave a comment!  And please don't forget to sign up to be notified of future posts from the blog.  Thanks for stopping by and please also let me know if you have any questions about this post or about my current bar stools!!

For a full tour of this space please go HERE.
Click to shop accessories & Lighting

Xoxo, Bree