Simple, Modern Fall Decorating Ideas
I am always looking to keep the aesthetic clean and somewhat modern in my home.  Not super modern but what I like to call transitional modern which is more of a cozy modern to me.  In keeping with that concept I like to decorate my home for the seasons in simple yet modern ways and today I'm sharing my best fall decorating ideas with you for a modern fall home.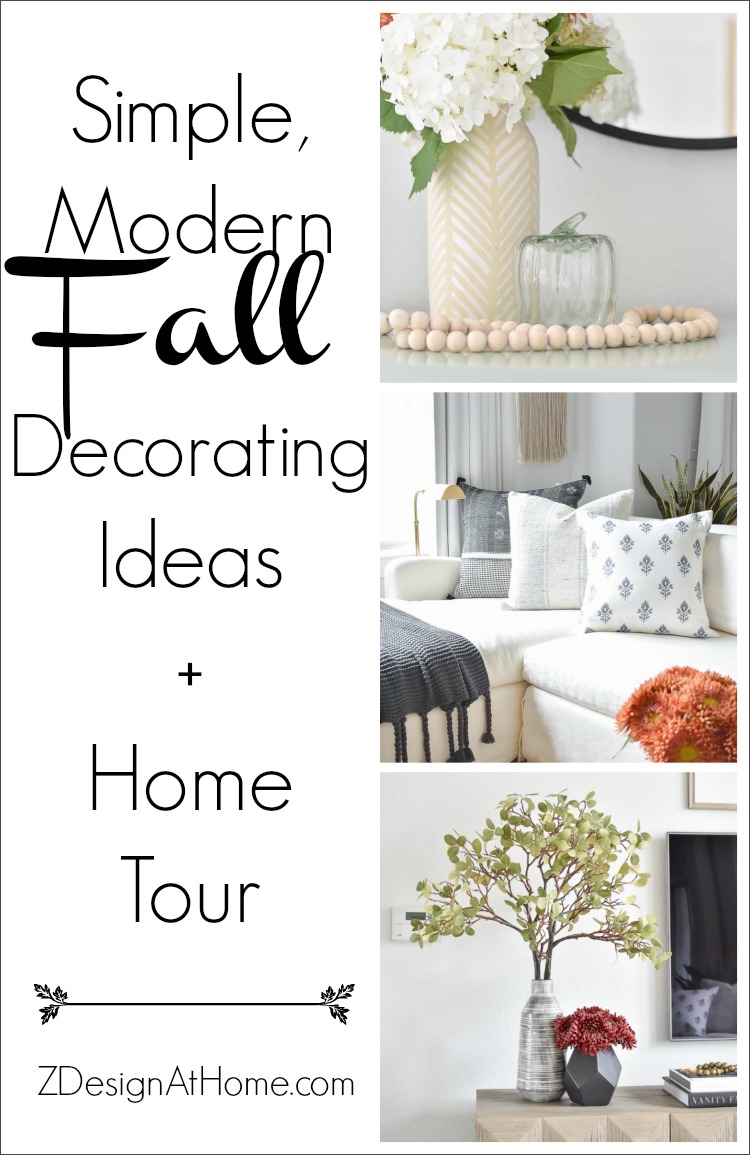 I have to say it can be a challenge at times finding modern seasonal decor.  I love pumpkins just as much as the next person but I don't necessarily love pumpkins on my pillows.  The point is, there are always ways to use your everyday decor with a twist to make it feel more seasonal which is exactly what I've done this year without spending a ton of money on new things.
For fall, using black accessories (especially right now) is such a smart idea.  The richness of the color black adds contrast and creates warmth in your space, like my geometric vase here.  Adding some dark red mums to my vase gives this vignette that rich, moody and modern fall look I was going for.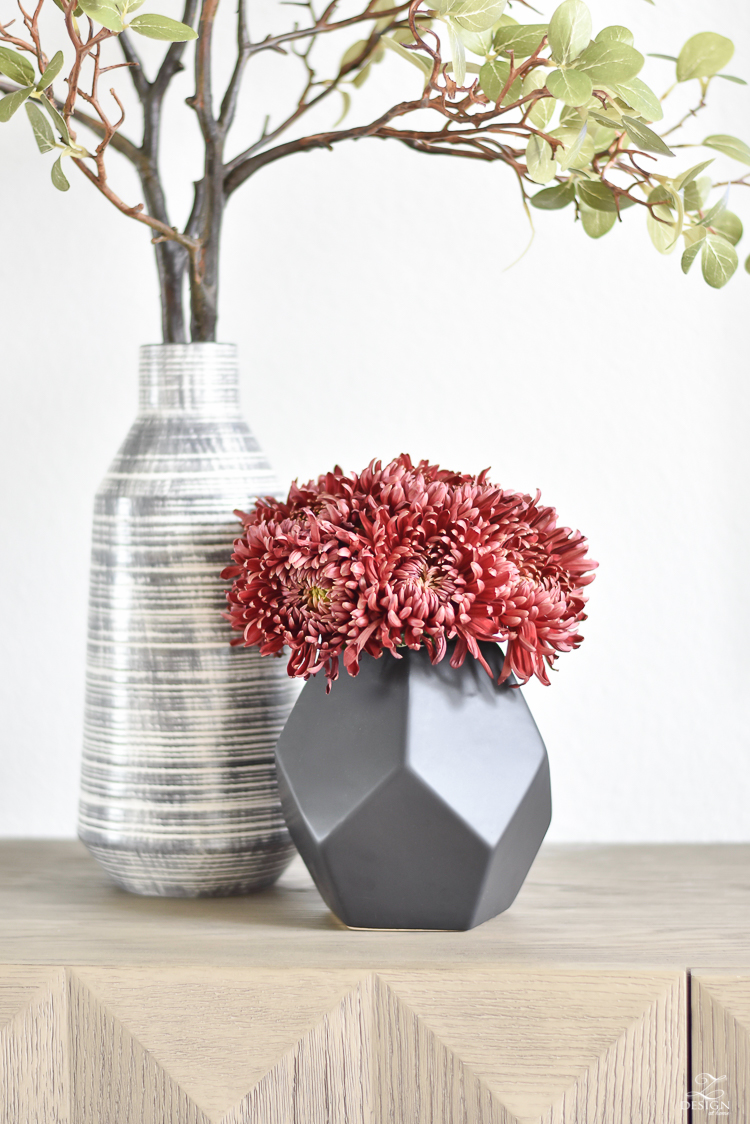 Modern branches such as olive branches or these Manzita branches in a black and white vase can also give your fall decor a modern feel.  If you like to decorate for Halloween the black and white colors are perfect to transition from fall decor to Halloween decor.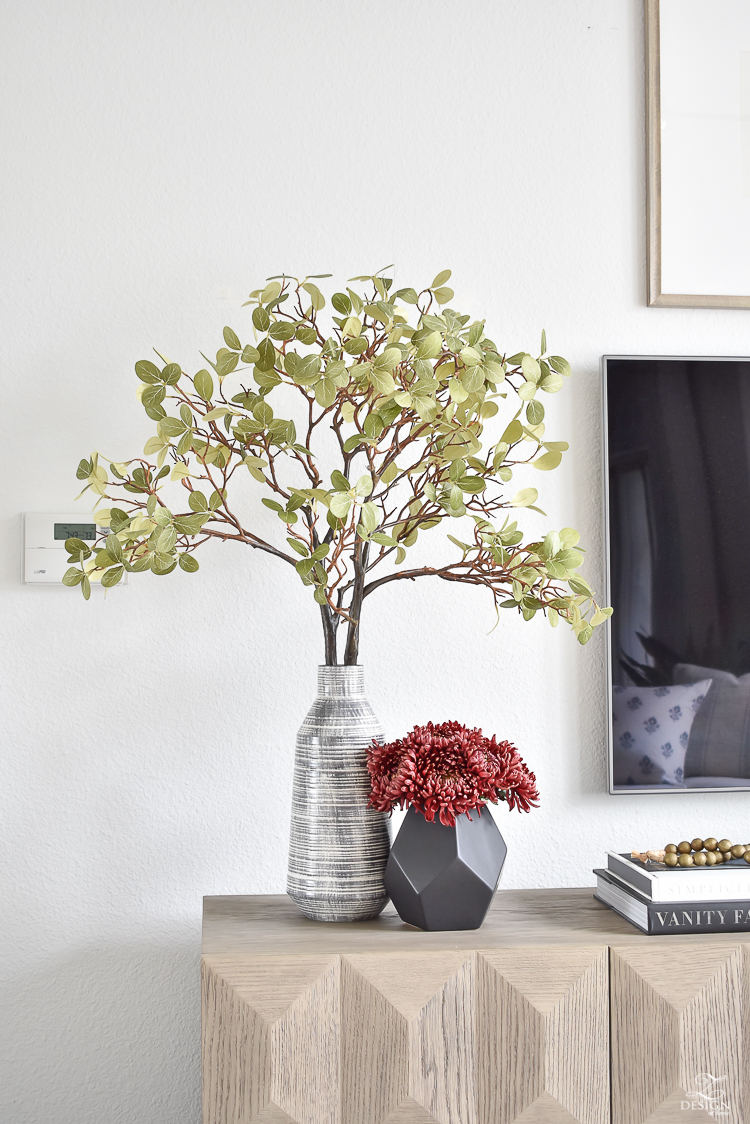 Simple black and gold accessories can also make your space feel like fall and they can transition seamlessly into Christmas decor.  For fall I've added some gold wooden beads (similar), a black decorative bowl and a black and gold lamp in the corner for a change from my faux fig tree (we needed more evening light in here).  I also switched out my prints with prints that have more of a cool weather feel, that I already had on hand (pinecone here & birch trees here).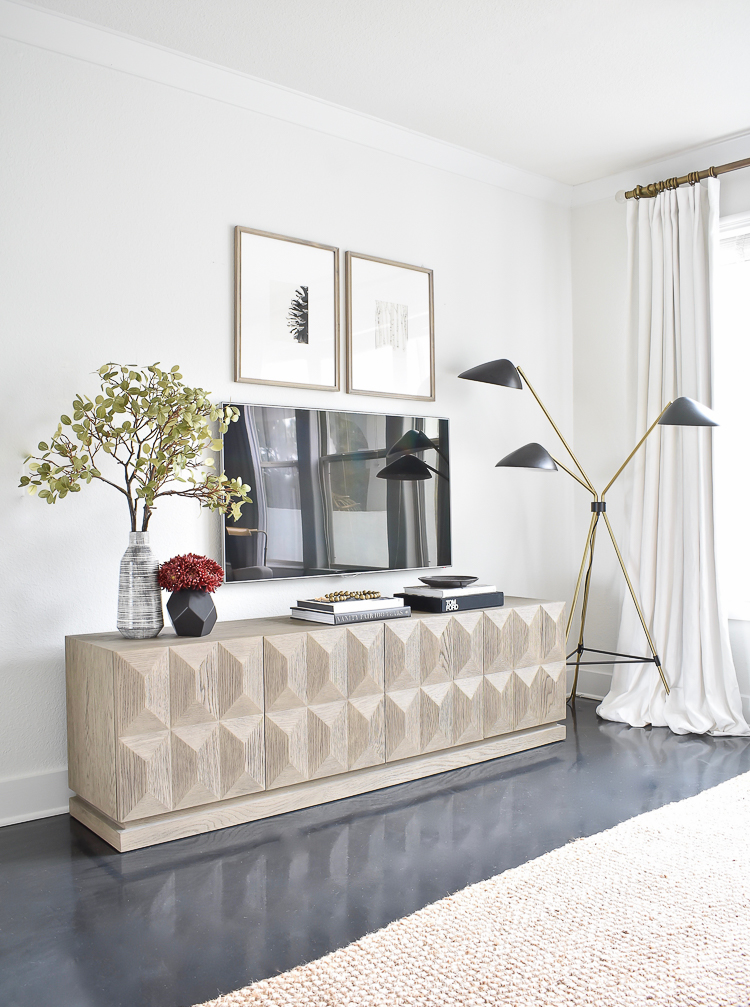 More black on the opposite side of the space but balanced by just a couple of velvet pumpkins.  Pumpkins are lovely but for modern decor, just a few is enough.  A wooden or brass tray (or a combo of both like my tray) can also bring warmth and a modern feel to the space.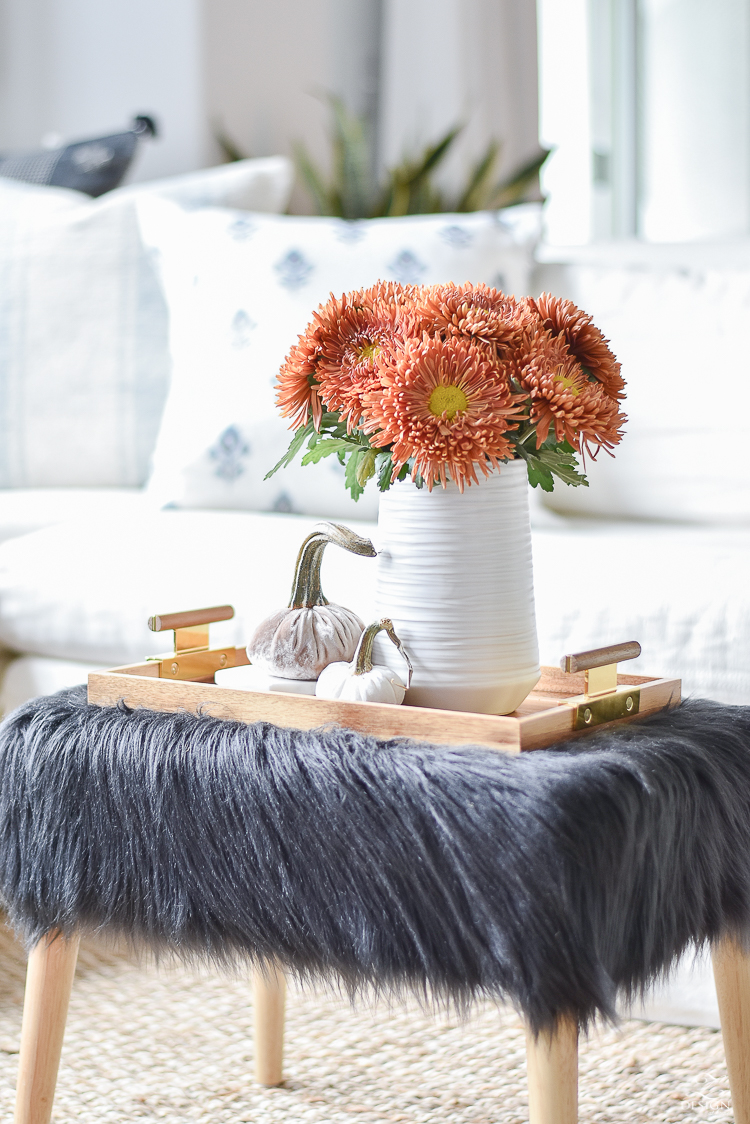 A chunky gray throw and pillows with black and blue accents also make the space feel fresh, modern and more like fall.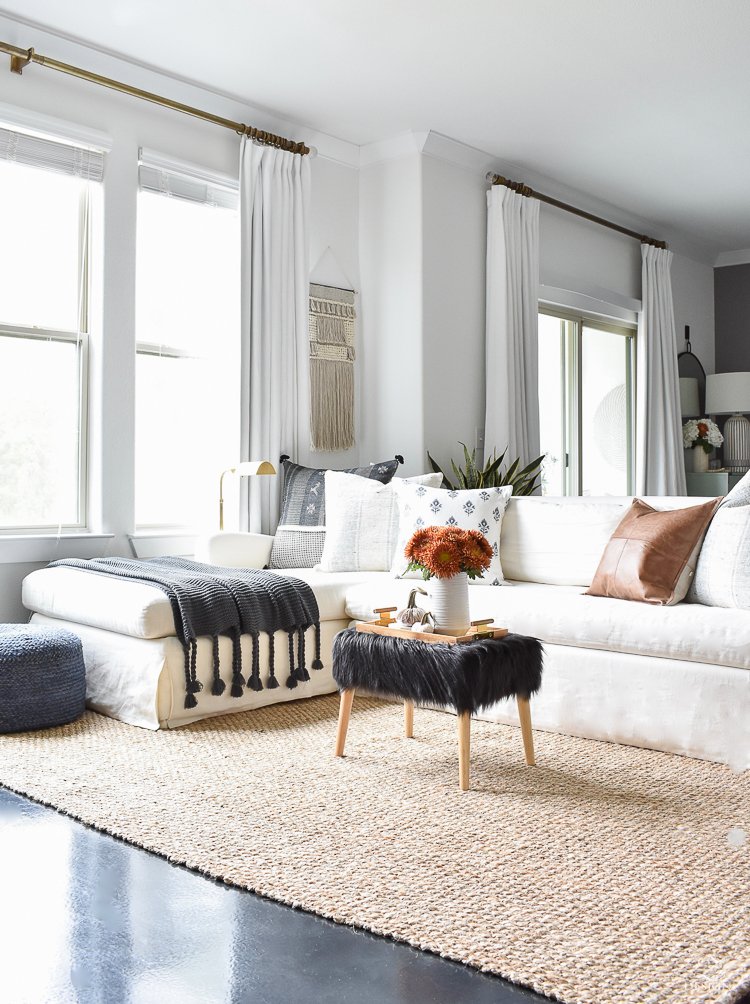 Adding leather to your decor is definitely a way to encourage a modern fall look as well.  I've had my leather pillows for a couple of years now and they go in out of my decor regularly but are typically a staple in the fall months.  Also this heavy textured grain sack pillow (picked up recently at Home Goods) is perfect for adding texture for fall, but with a simple, wide stripe pattern makes it feel more modern and less fussy (similar linked here).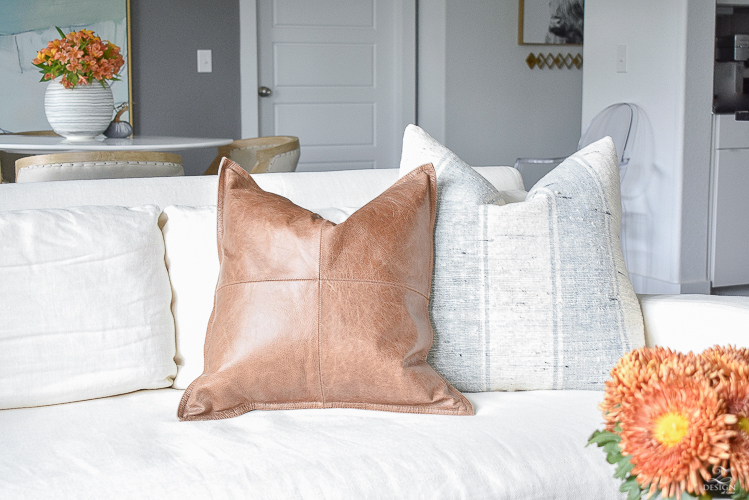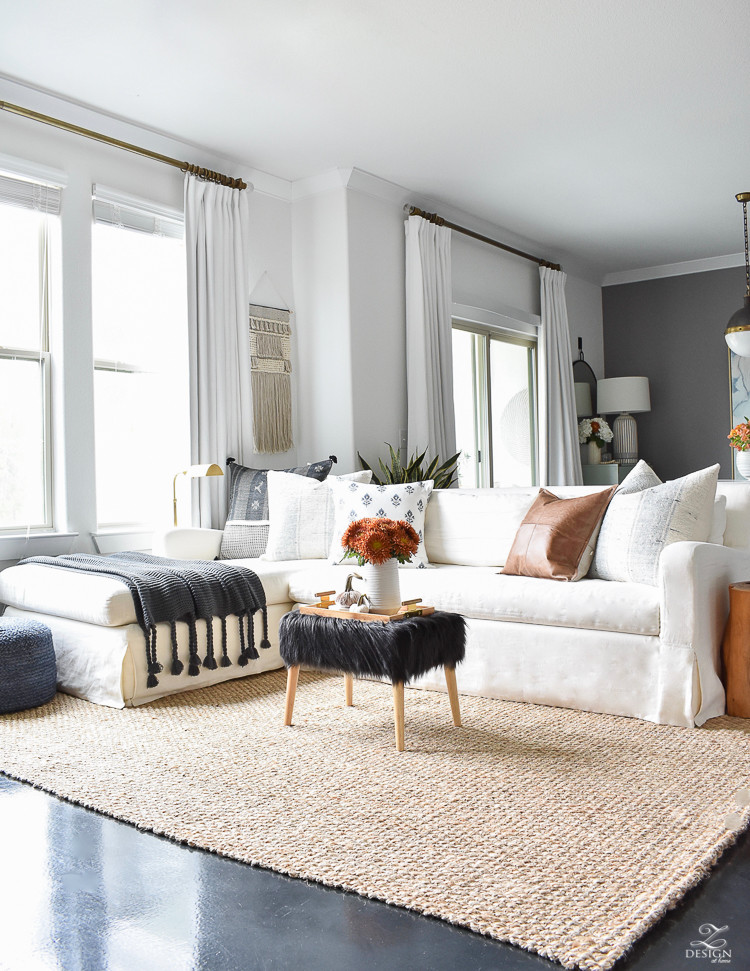 I'm still using this fun tassel pillow in black and white and the blue and white block print pillow is still an absolute favorite of mine for this time of year.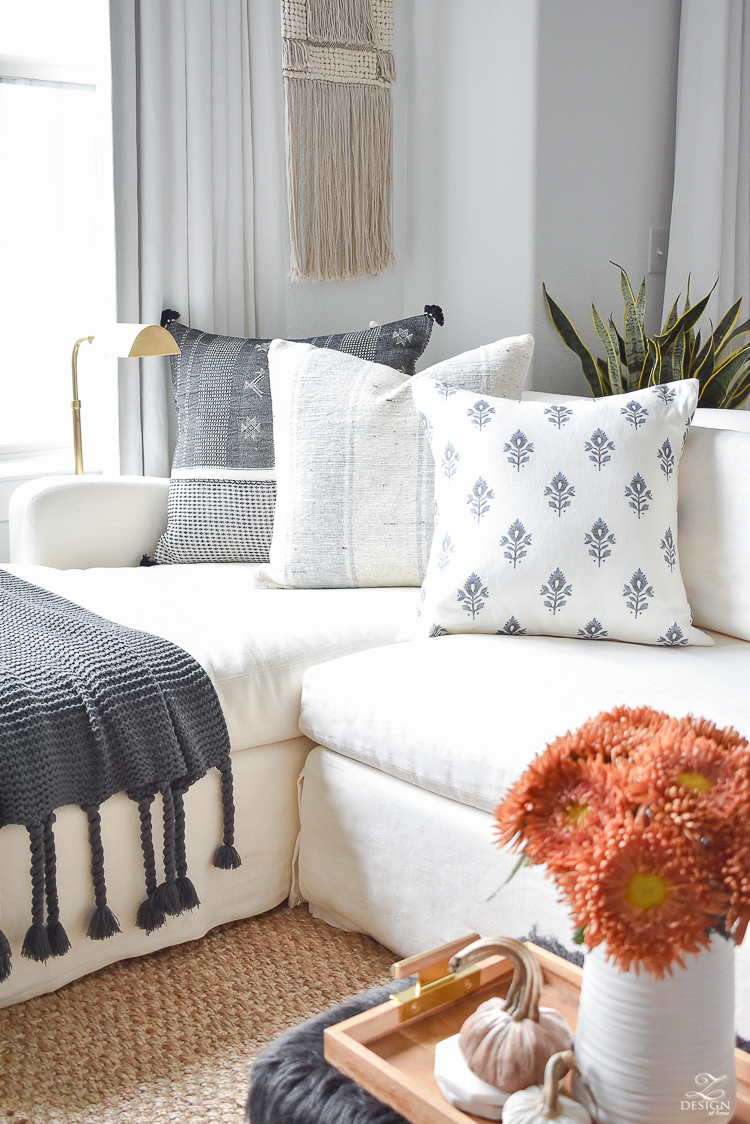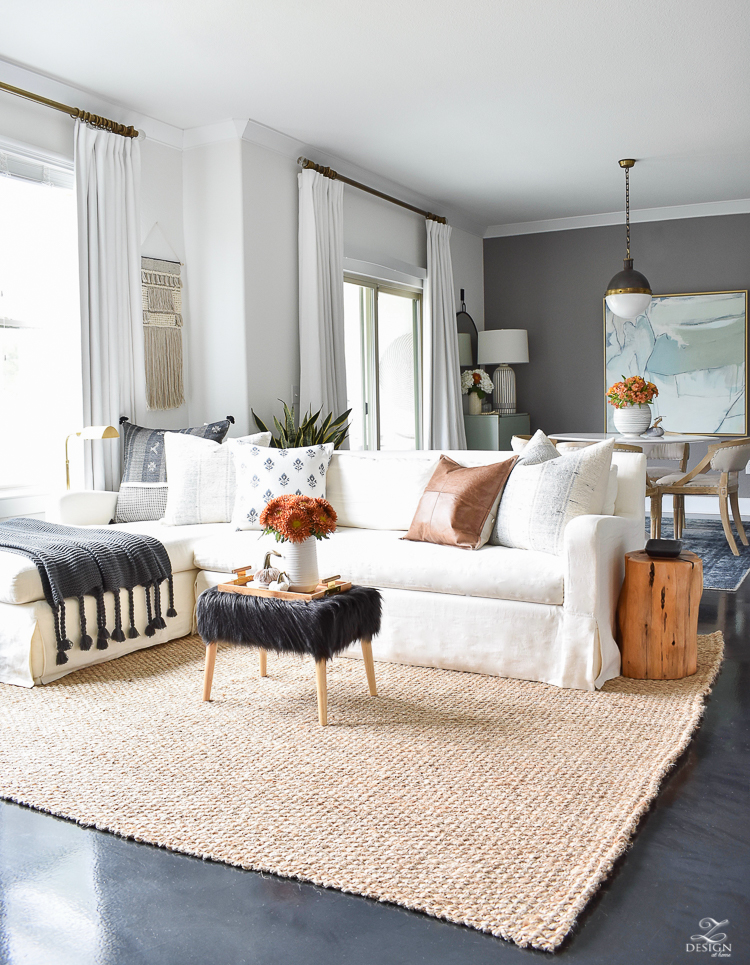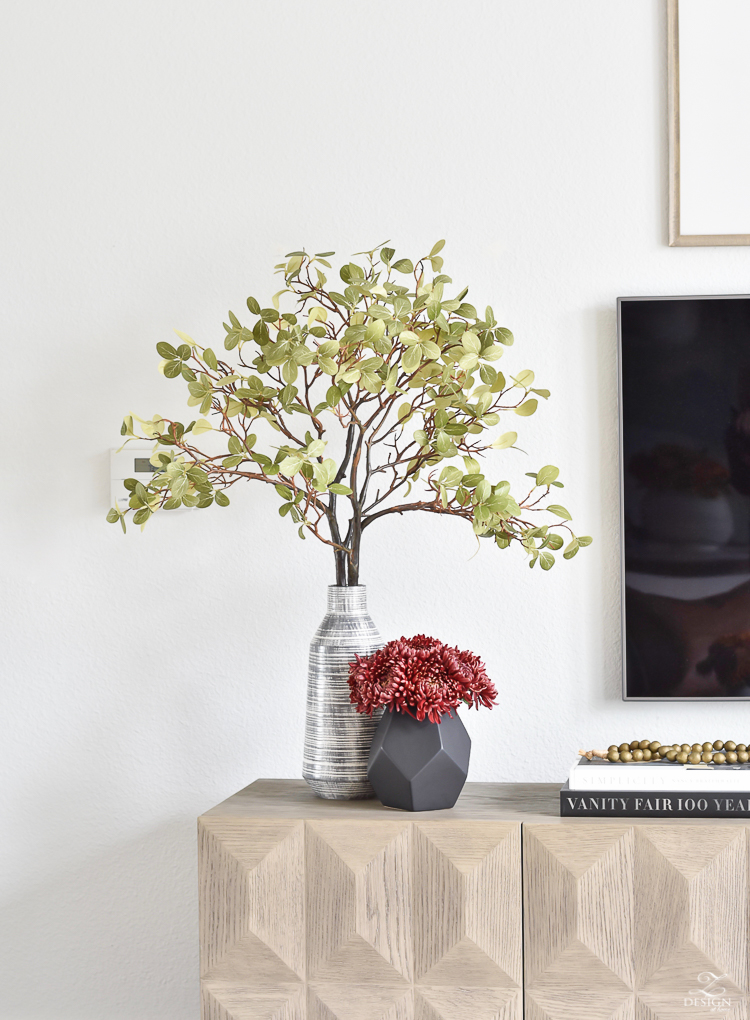 The natural wooden frames (here) I switched back to in here also add a modern feel and warmth with their clean lines, straight edge and natural wood tone.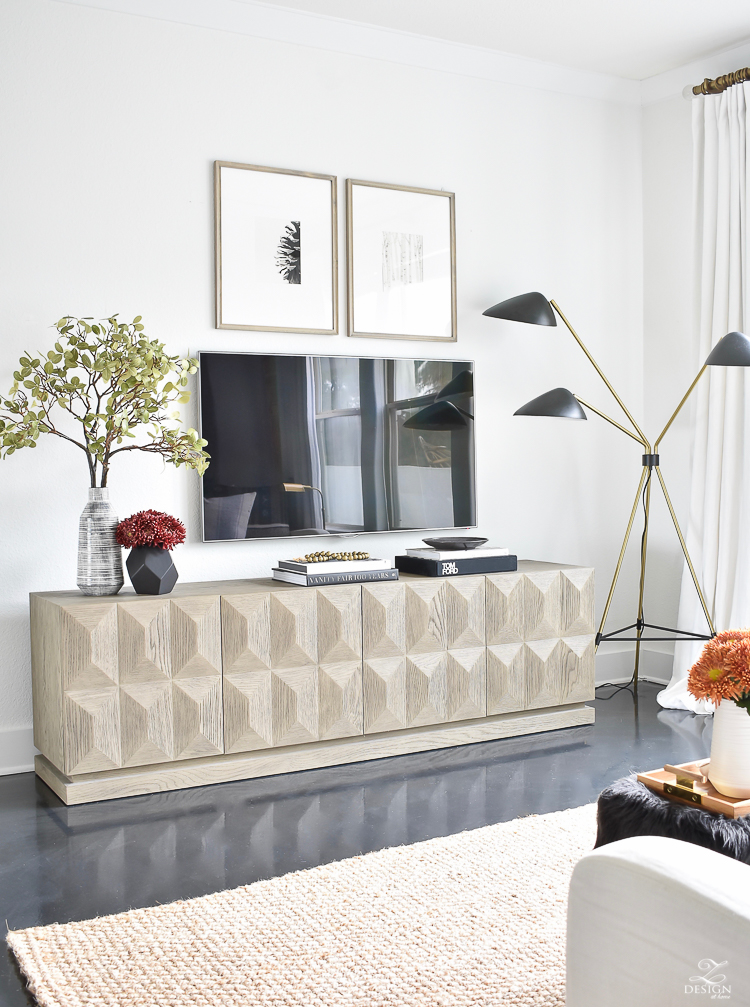 In the dining room I used modern vases with simple flowers in harvest colors and added one pretty velvet pumpkin to my centerpiece.  These are my favorite flowers (Alstroemeria) that I use all year round but using them in this pretty orange color gives it that fall feeling in here.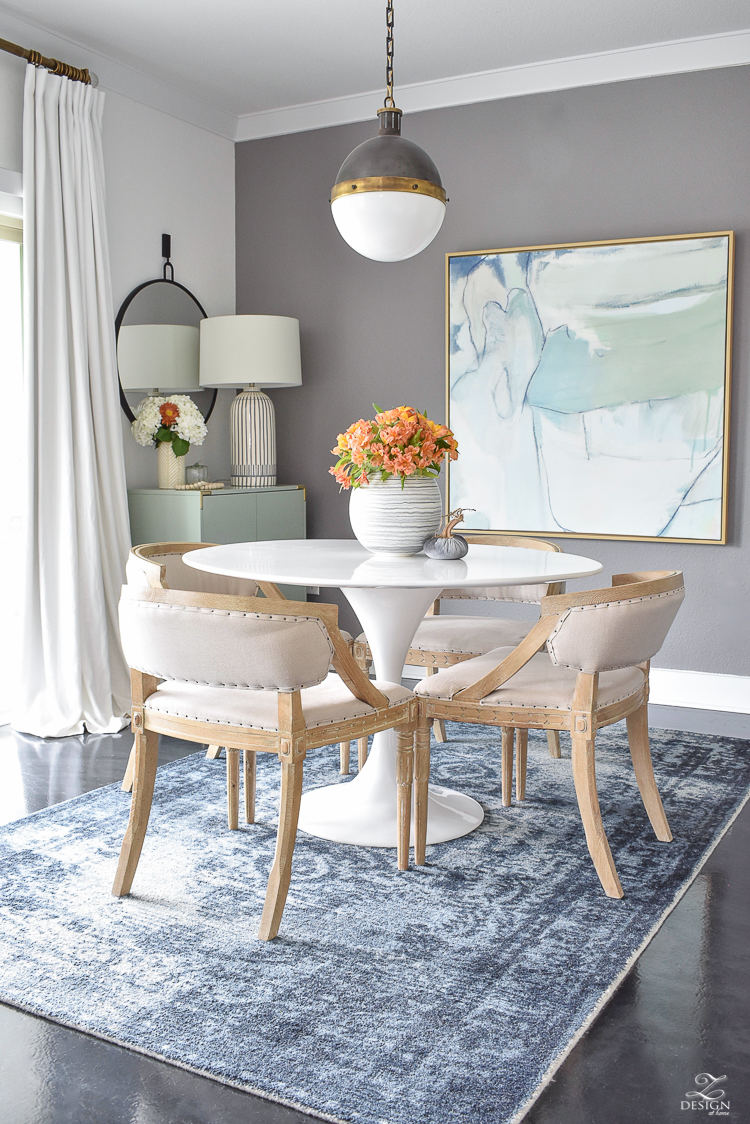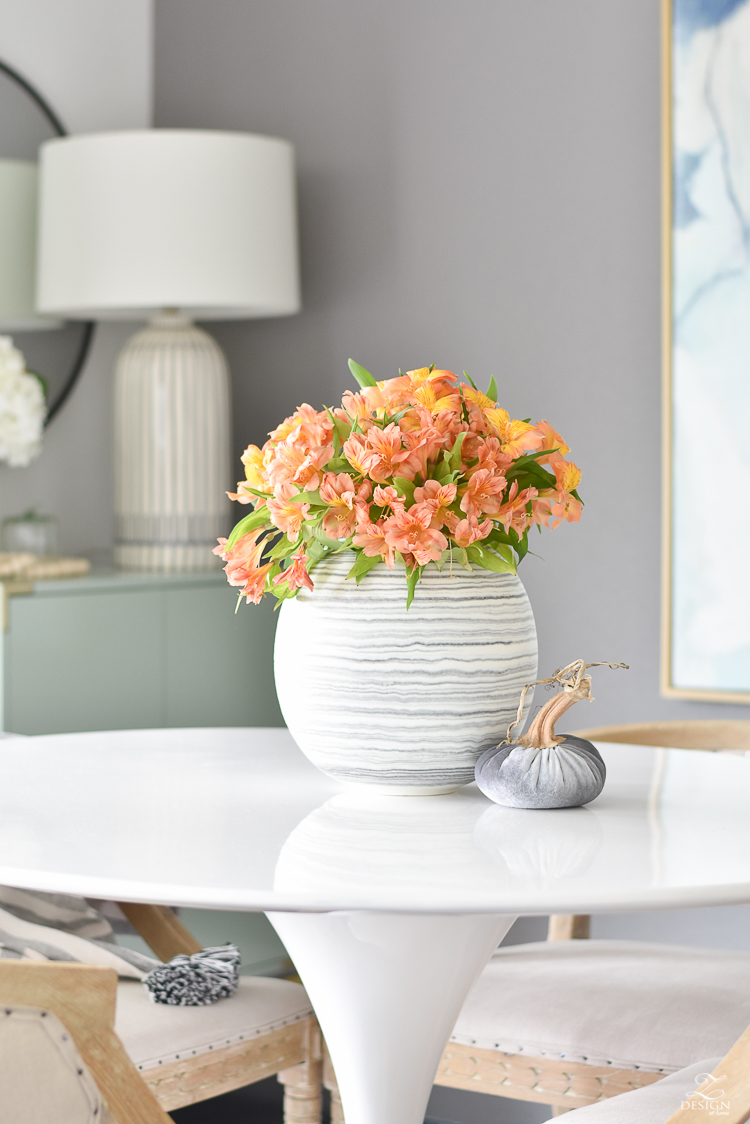 I added this wool rug over the summer but this was in preparation for the cooler months to warm things up in here.  We really love sitting here as a family (especially for our big southern breakfast on Saturday morning) to gather for a meal so it is important to keep toes warm while doing so, especially on this concrete floor in our rental!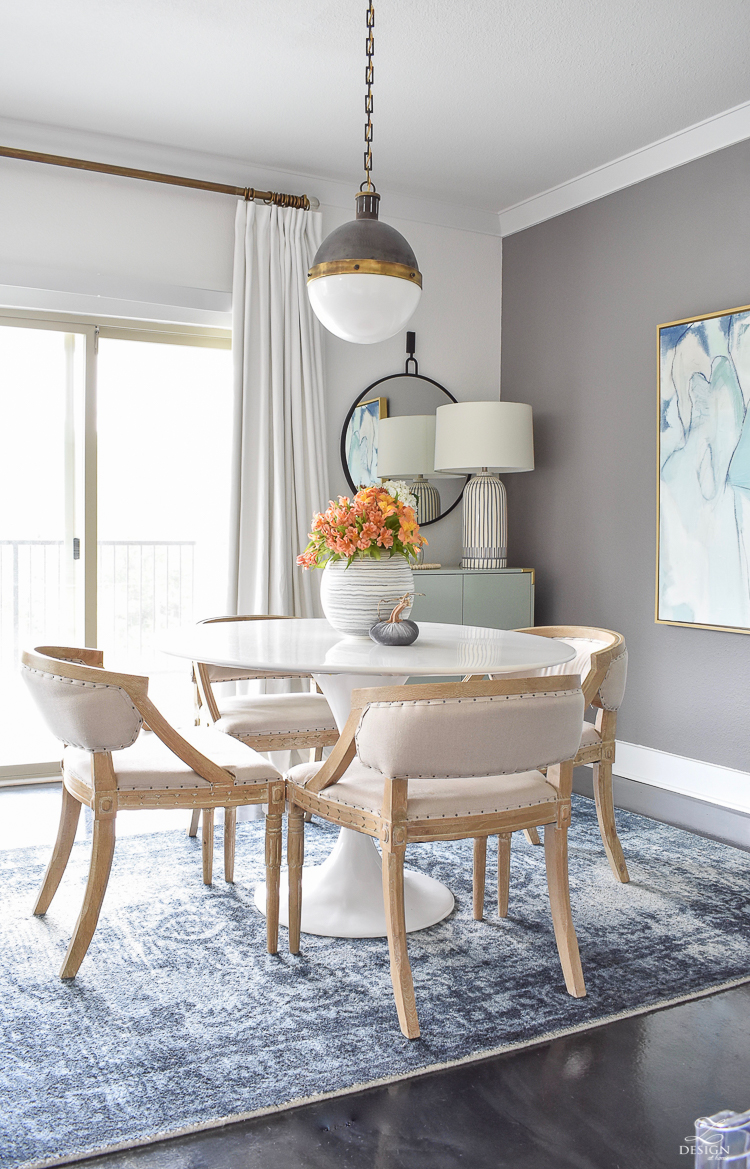 Changing out the more spring/summer rattan mirror that was here for this round black mirror gives this corner a more fallish feel but in a modern way.  The white hydrangeas are made to feel more fall by simply adding orange mums to my vase.  Another way to make hydrangeas to feel more seasonal is with seeded eucalyptus.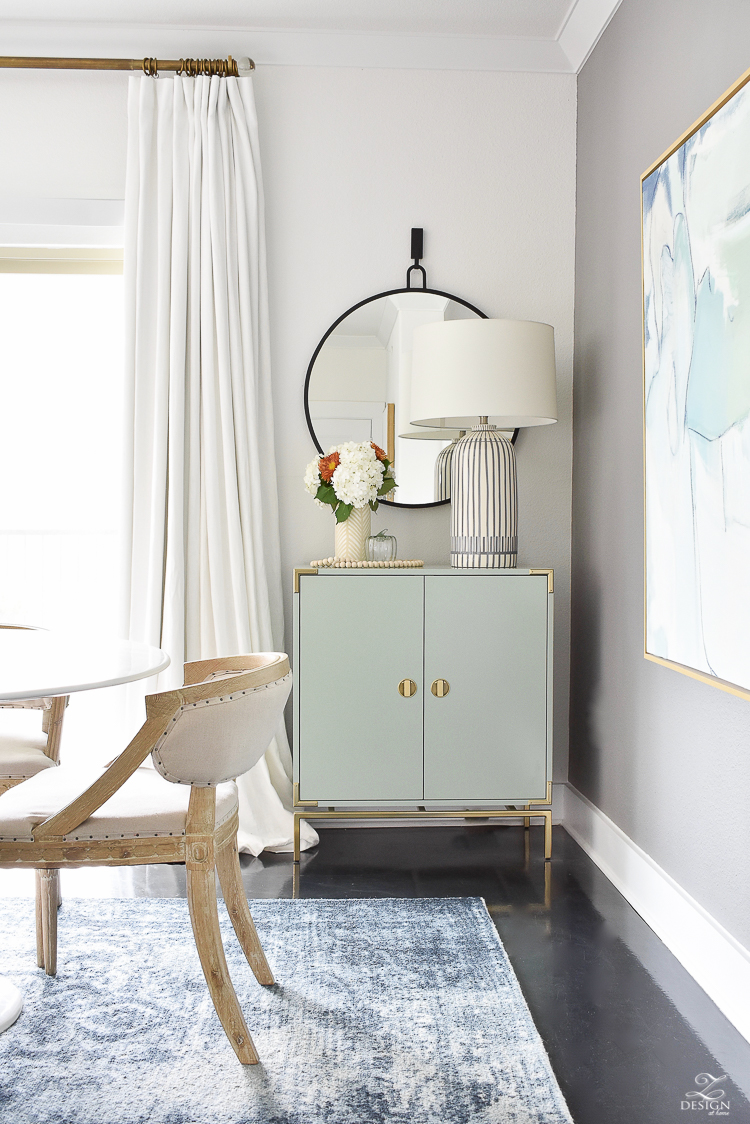 The mirror is a new favorite that I'm completely smitten with!  I waited so long for it to come back in stock and have been excited to share it with you.  The black gives things a fresh modern feel and it grounds the color of my bar cabinet (no longer available but a similar one can be found here).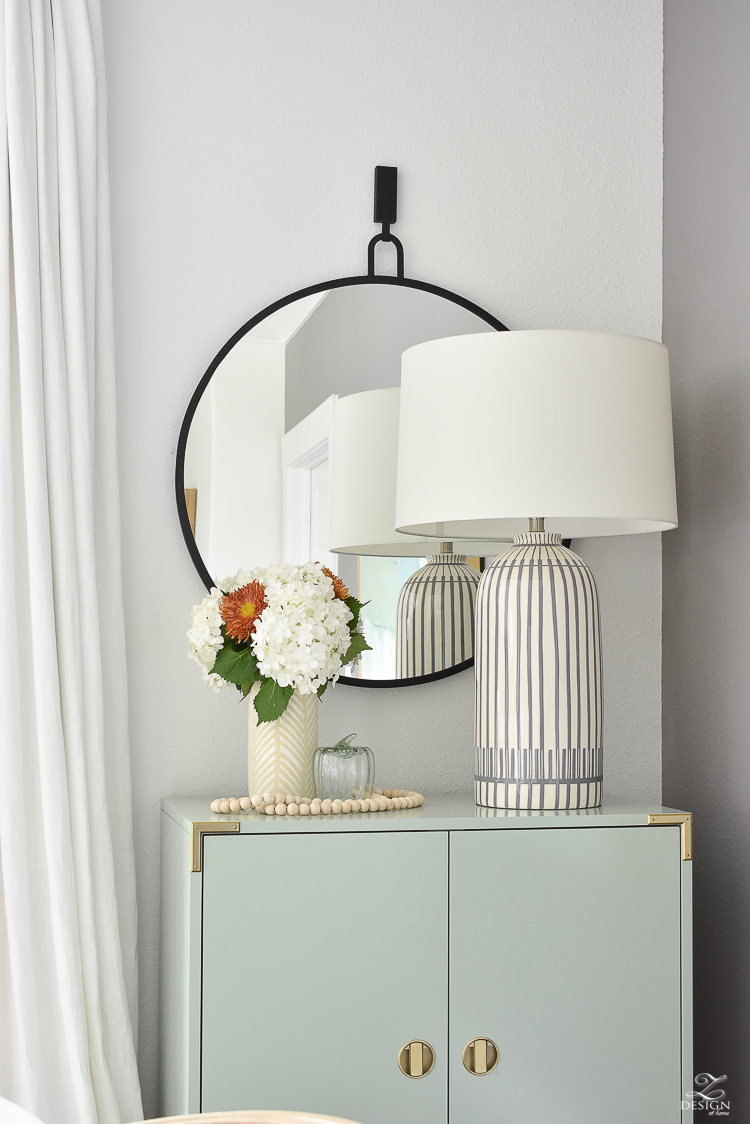 My absolute favorite accessory for modern fall decor is this glass pumpkin.  It says pumpkins without screaming it and gives your fall decor an elegant, subtle fall feel.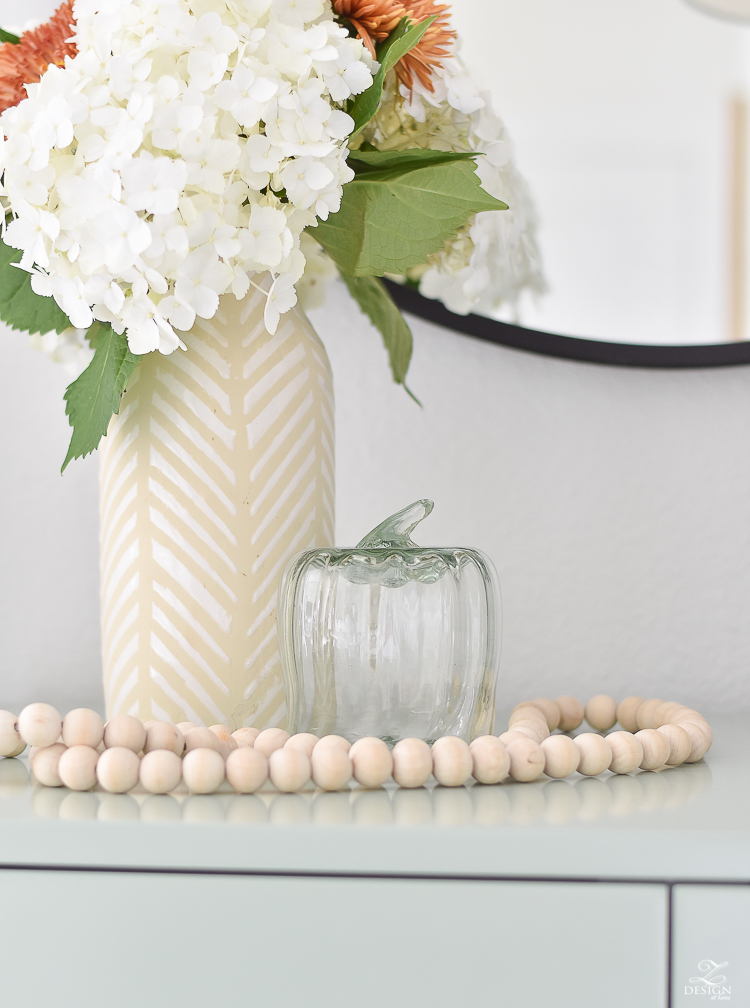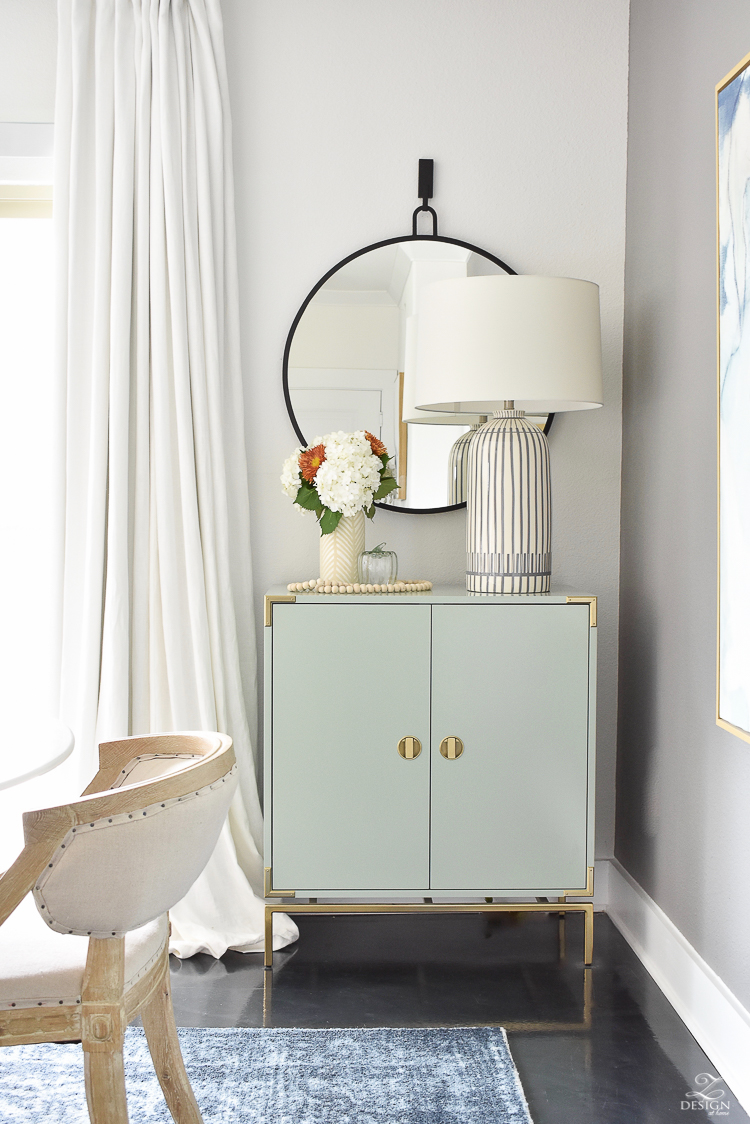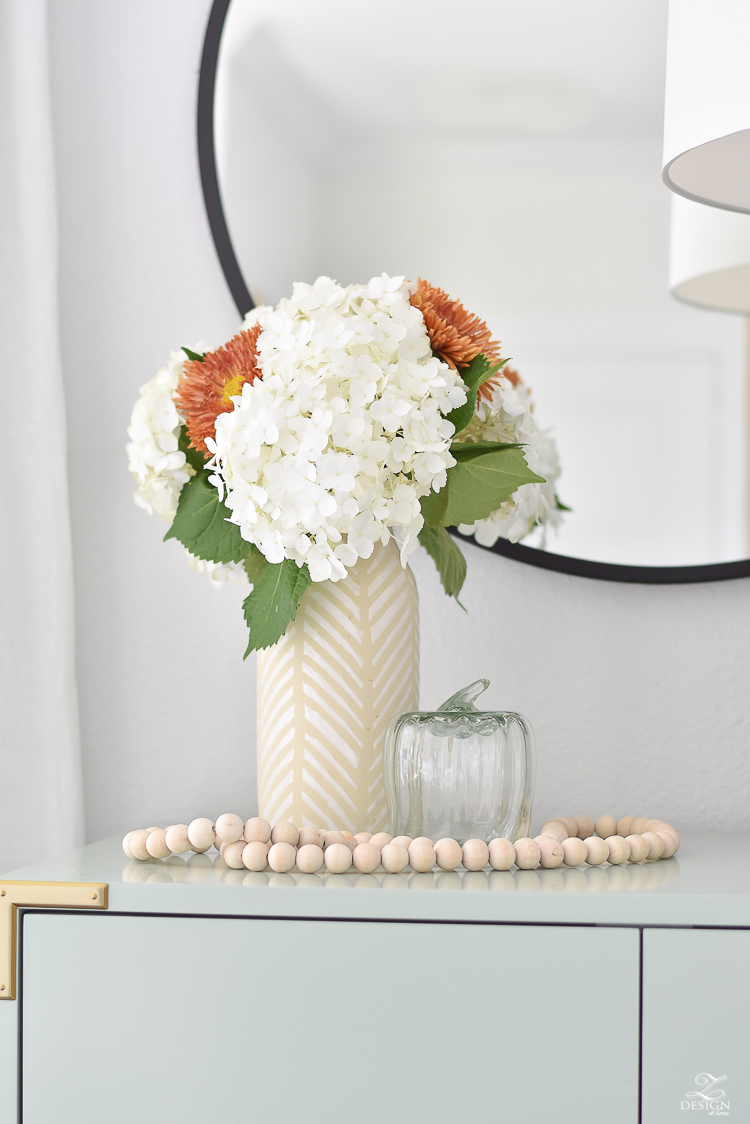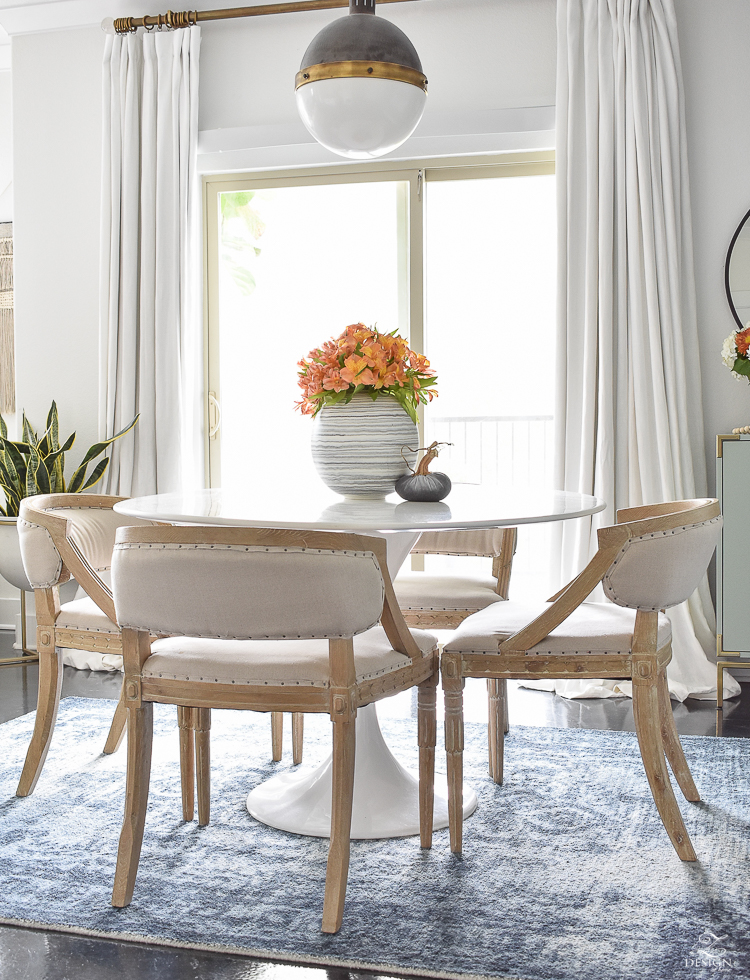 Using black accessories that aren't necessarily fall accessories can go a long way in your decor.  You can still use them year round to get the most out of them but they feel especially perfect for fall and for the holidays forthcoming.
Use modern vases for your fall flowers and branches – Just black or a black & white vase is a great choice for a modern feel.  Faux Olive branches, Silver Dollar Eucalyptus and Manzita branches are all great choices right now for modern fall branches.
Use harvest colored florals and/or add eucalyptus or moody mums to your hydrangeas to give them a fall feel.
Add leather to your decor in small doses, like leather pillows or accessories.  This packs a big punch, adds a modern feel, and warms up your spaces.
Use modern pumpkins, like my velvet and glass pumpkins for a fresh, unique feel for fall.  The glass ones are especially nice for a contemporary fall look!
Clip fall branches from outside or buy fresh eucalyptus or other greenery from your local grocery store and use them in a clear vase.  The clear vase gives a non-fussy, chic feel for the season.
Use blush in your fall decor – this year blush is especially the 'IT' color for fall!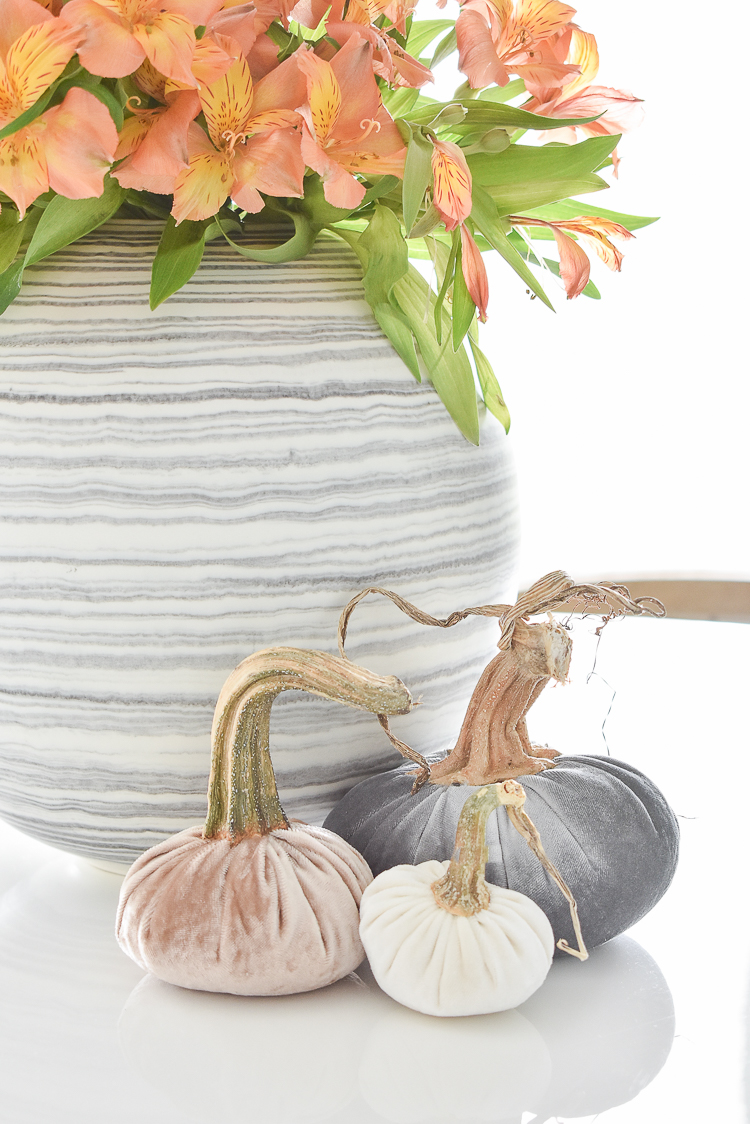 I hope you've enjoyed my ideas for modern fall decorating!  If you have, please subscribe to the blog below if you haven't already – I hope that you will!  I would love to hear also how you're giving your fall decor a more modern look and feel this year!
You can also shop all of my favorite fall decor this year below!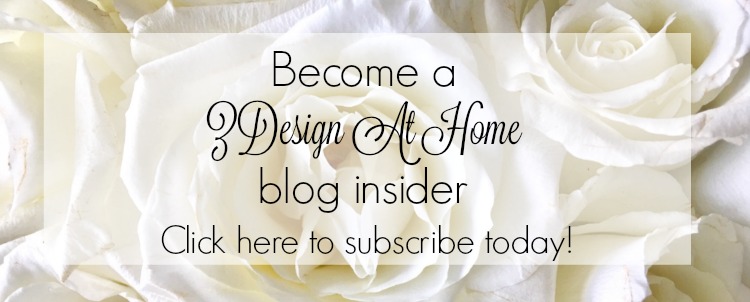 Living Room Sources:






Dining Room Sources:



Shop Fall Favorites: