Winter Home Tour + 7 Things I'm Loving For Spring
Hi All!  It's been a while!  I've been so busy working on selections for the new house that I've been a bit MIA around the blog but I finally got (most) of my winter home the way I want it so today I'm sharing a winter home tour.  Last year and the year before I shared my tips on how to keep your home cozy & inviting through the season – you can check those tips out here on How to Beat Those Winter Decor Blues & here on Creating a Cozy Winter Home with a Nod to Spring!
I haven't blogged yet about the house (but that's coming soon – I promise) but if you'd like to get caught up on the progress you can do so here on Instagram in my highlighted stories called ZDHBungalowModern1 & ZDHBungalowModern2.
*Affliate links used in this post.  Please find my full disclosure policy here.
Once the holidays are over and Christmas is put away, I like to leave things simple and clean for a week or so to help clear my design head before I begin to pull together a winter look and feel around our home.  The final week of January however this year signaled to me that I needed to get the house back to a warm and cozy state, and I can't wait to share it with you!
At the end of this post I'll be sharing some things I'm loving for spring so make sure to hang around for that too!
To pull my winter home look together I used only things I already had, except for one accessory.  My pillows, rug, jute pouf and everything else I've all had for some time.  I like to keep things warm while we're still in the winter season but always like to give a nod to spring, especially since it's my favorite season to decorate!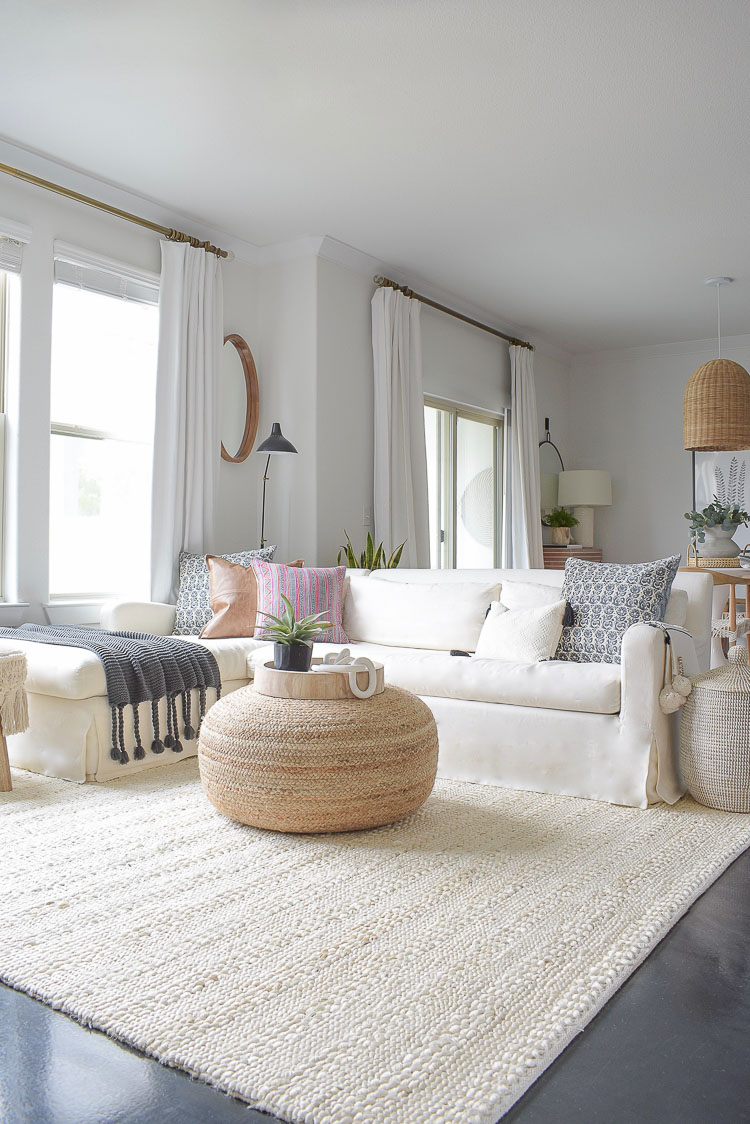 This jute pouf has turned into a staple around the house.  I use it here in the living room as a coffee table and at the end of the bed to add a little warmth to that space.  You can see it at the end of my bed here but I really love how versatile is.  I also have the smaller version of this pouf.  And I love the texture on texture here for winter.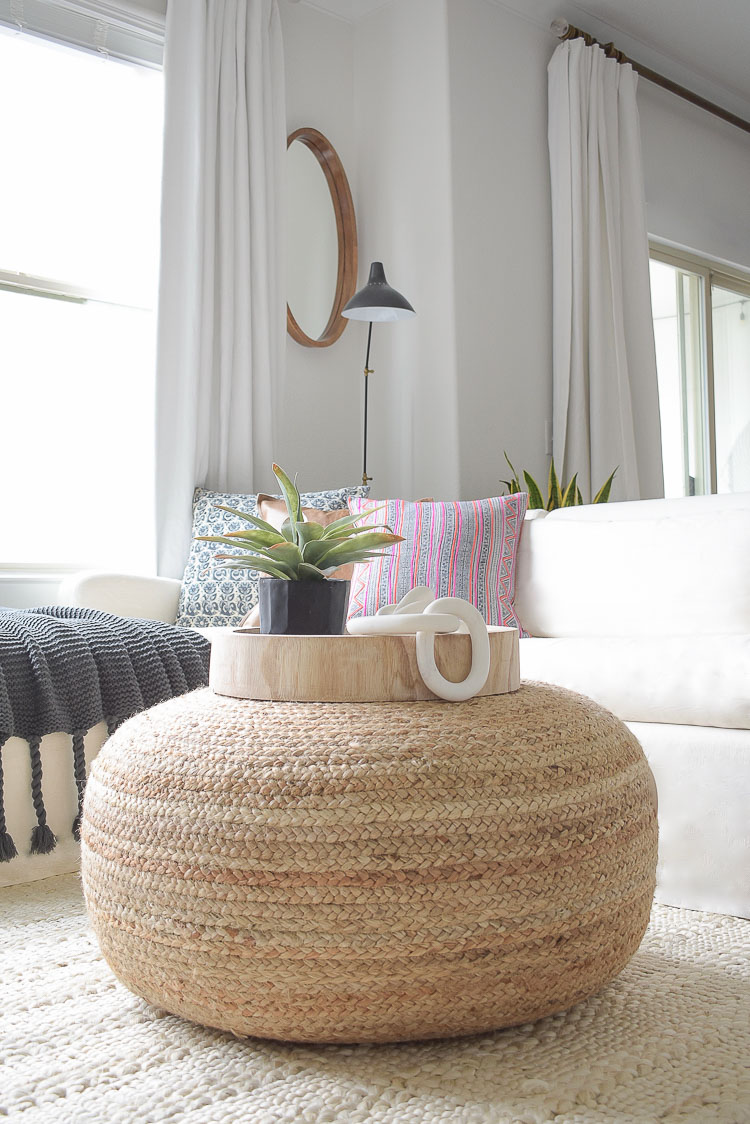 I used all pillows I already had but I'd love to point out that I always bring out these leather pillows at different times of the year.  They are especially great this time of year to add a little warmth to my space.  I reused my navy jacquard pillows and pulled out a fun boho pillow with a pop of color that I've had for probably 3-4 years now.  And, I'm still using this white textured pillow with black tassels non-stop!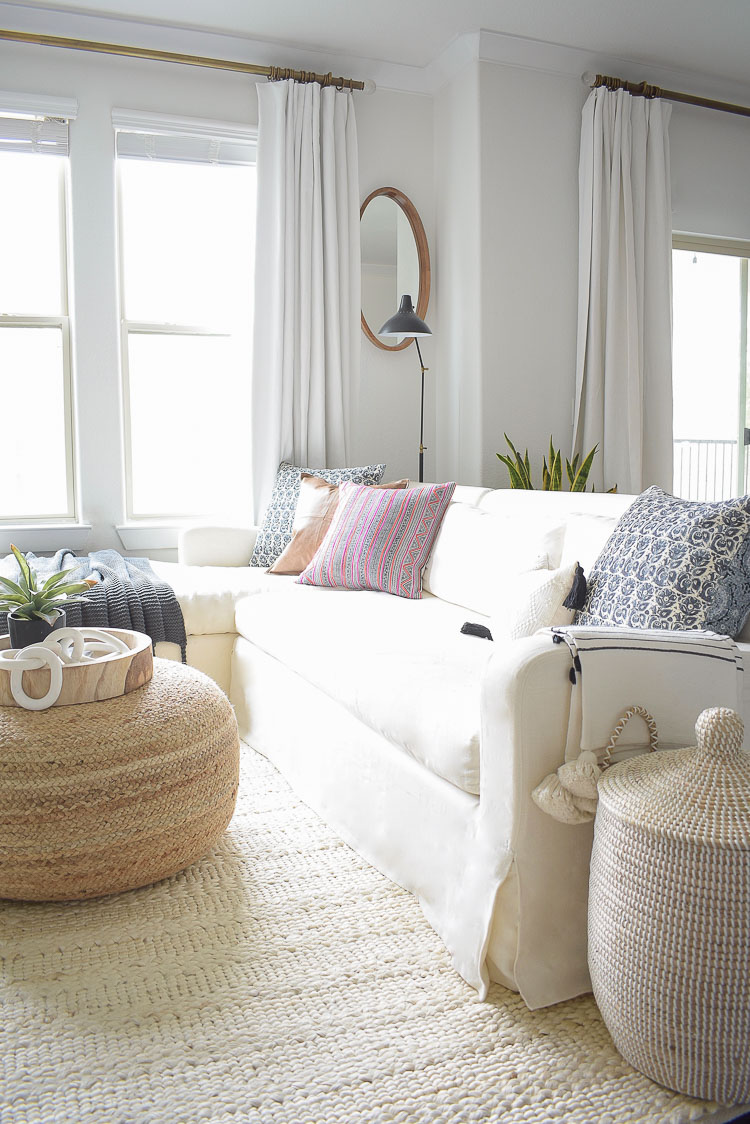 I also pulled from my Christmas bedroom, this chunky knit charcoal throw.  I have this throw in this color and cream and they are staples around my home always.  This rug that I love so much has been around since fall and it's still great here to keep texture in for the cooler months.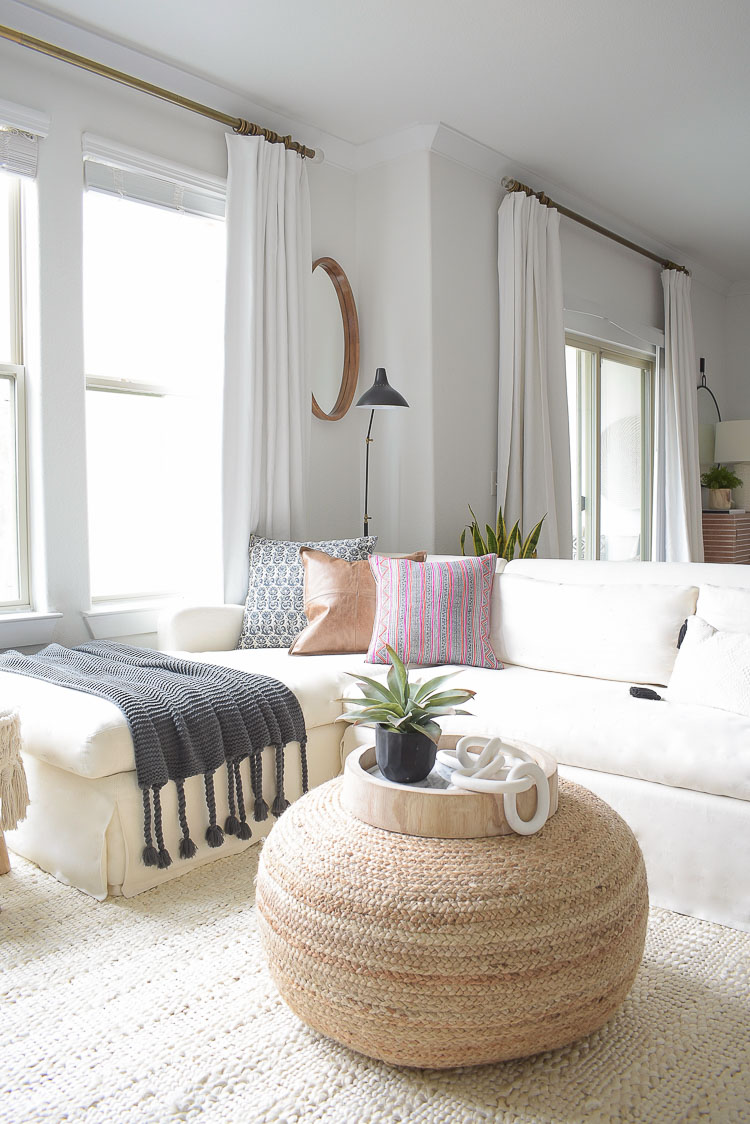 I really love how lightweight the velvet is on this pillow along with the print, and I love that it has a different print on the back so it's reversible!  That makes it a twofer, right?! Haha!!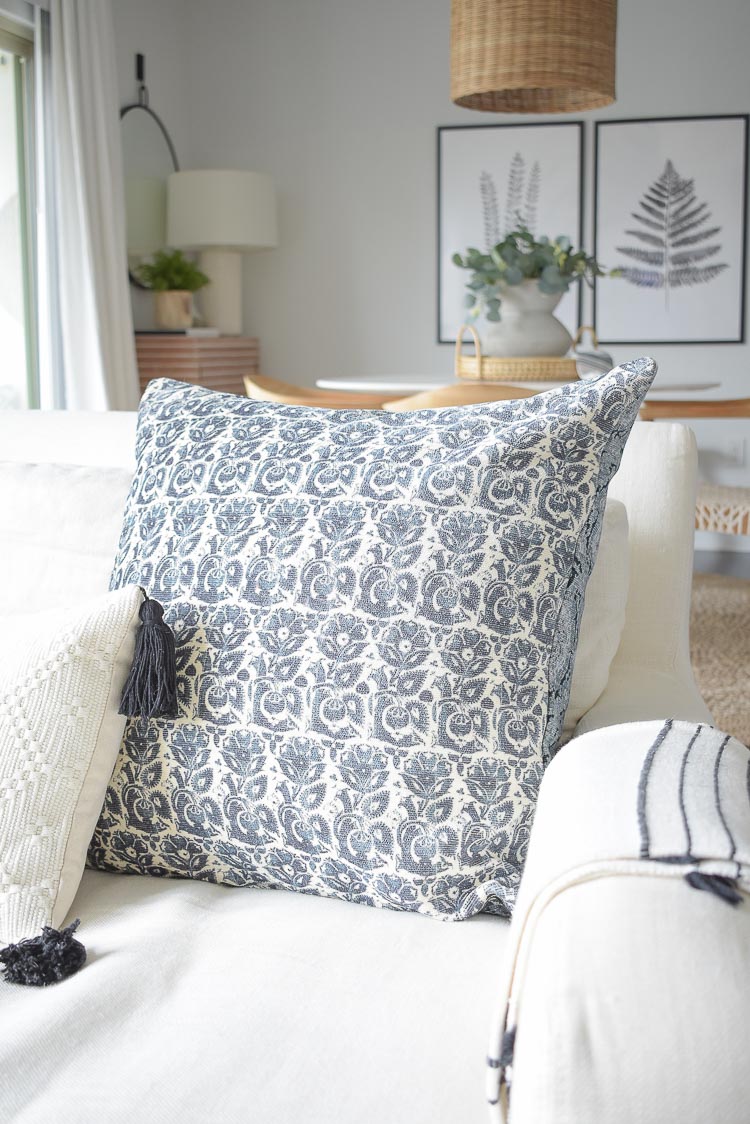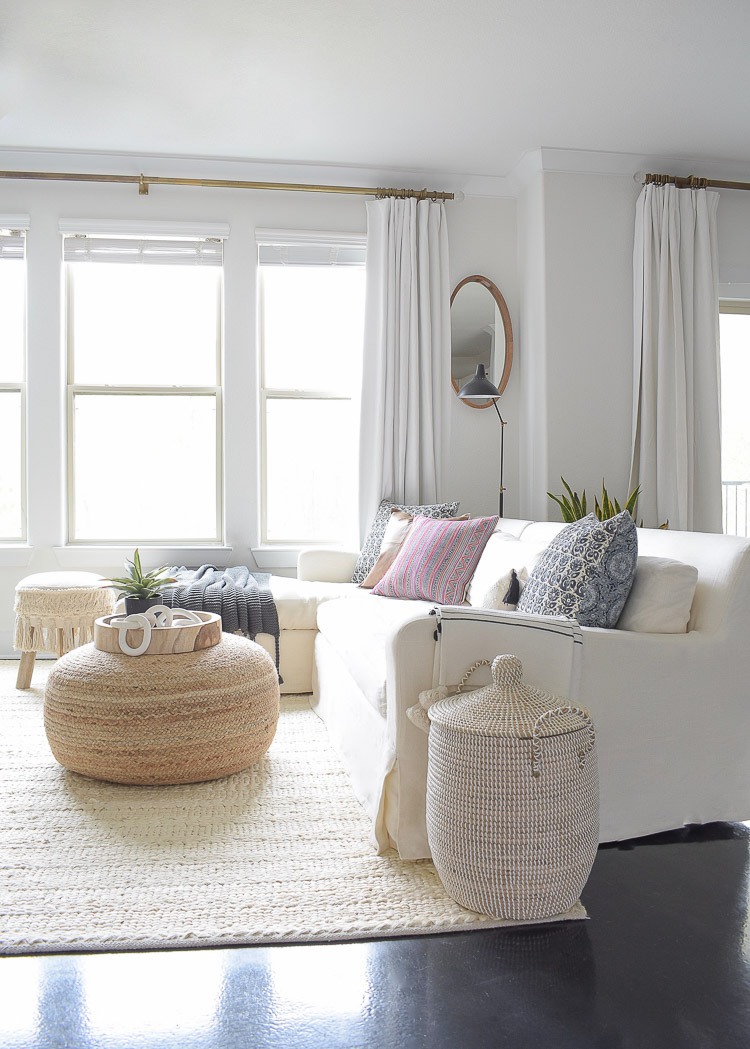 On the coffee table/pouf I chose simple accessories – a pop of color with greenery and one of my current favorite accessories, this white marble chain, in this round wooden tray/bowl.  Love this piece so much too and love how the warmth of the wood brings in another element to cozy up the room!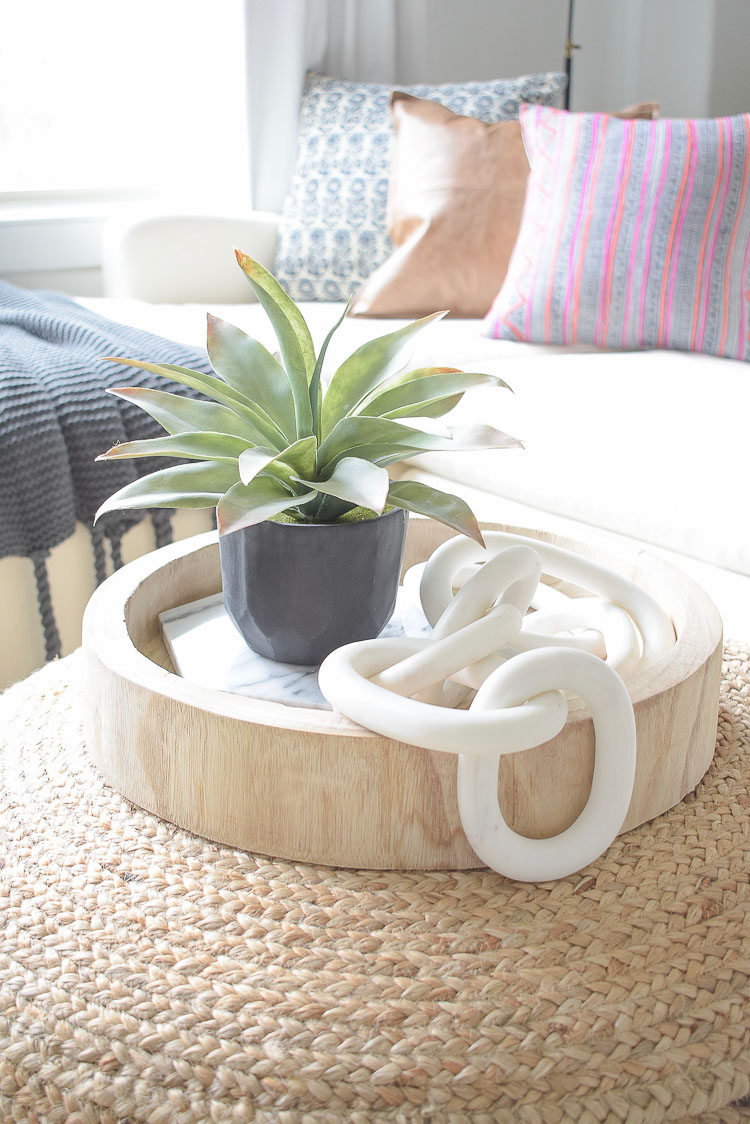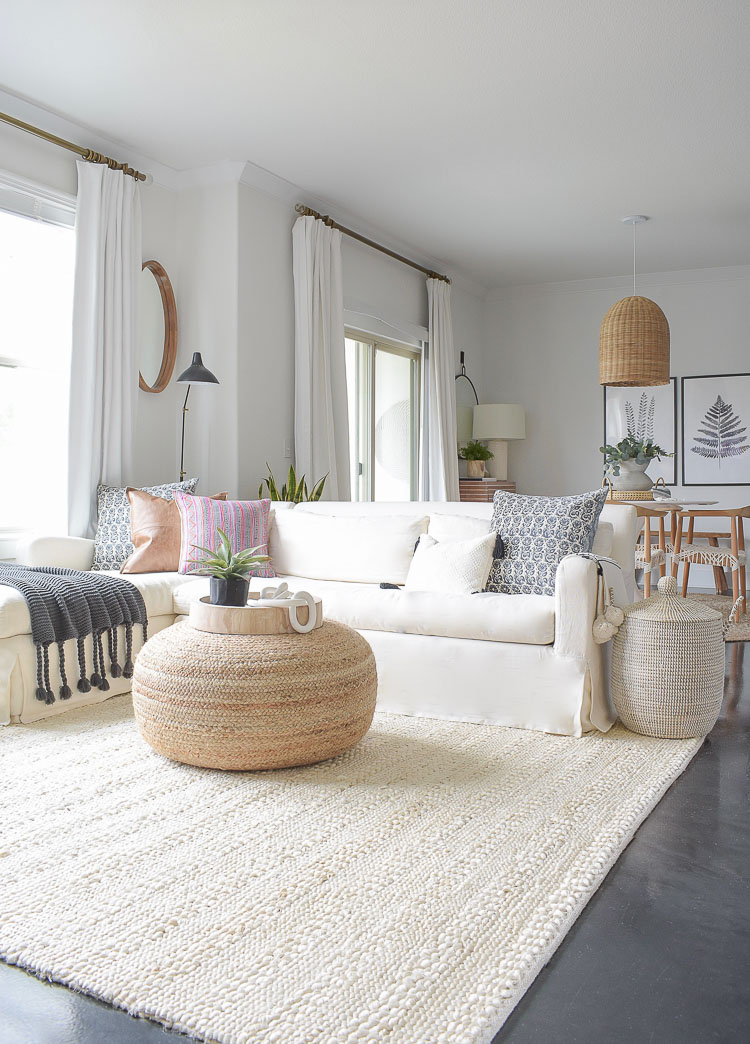 Moving on to the dining room.  I kept things really light and airy here, with a huge nod to spring.  But I do have a fun arrangement on the table, and a favorite new accessory!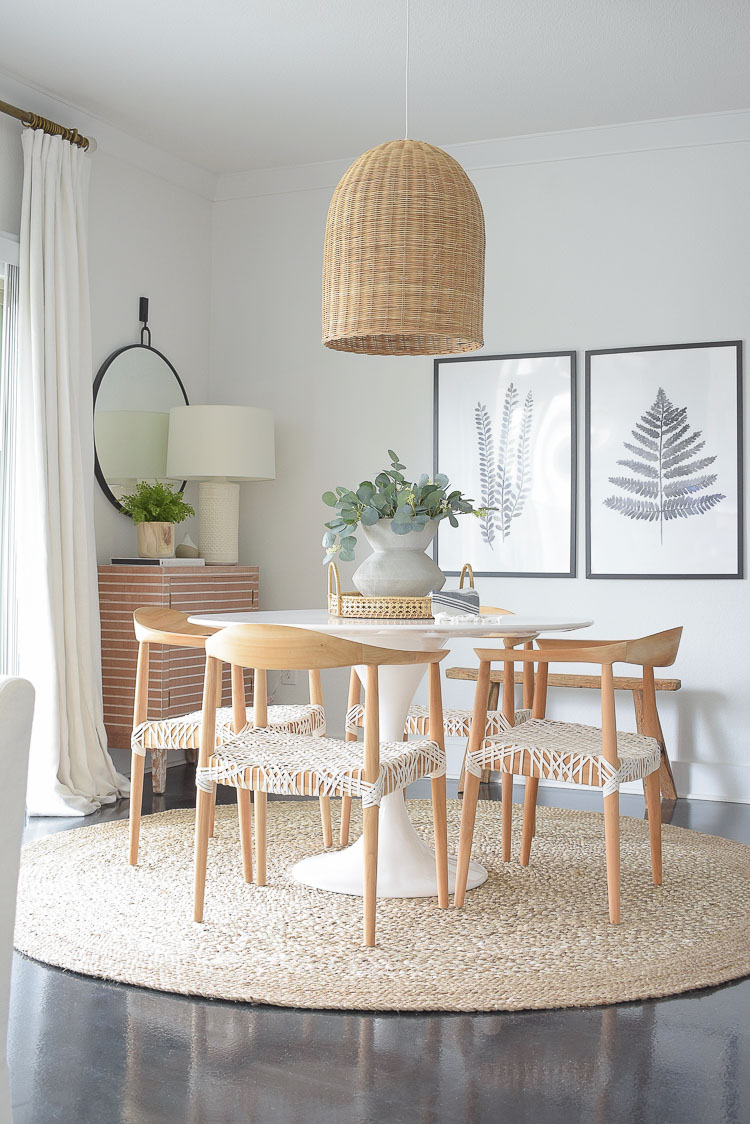 I got this gray scratch vase last fall and simply used it with my favorite eucalyptus stems and this new rattan tray.  I actually ordered this tray months ago but it finally just arrived and I absolutely love it!  Together they make the perfect center piece!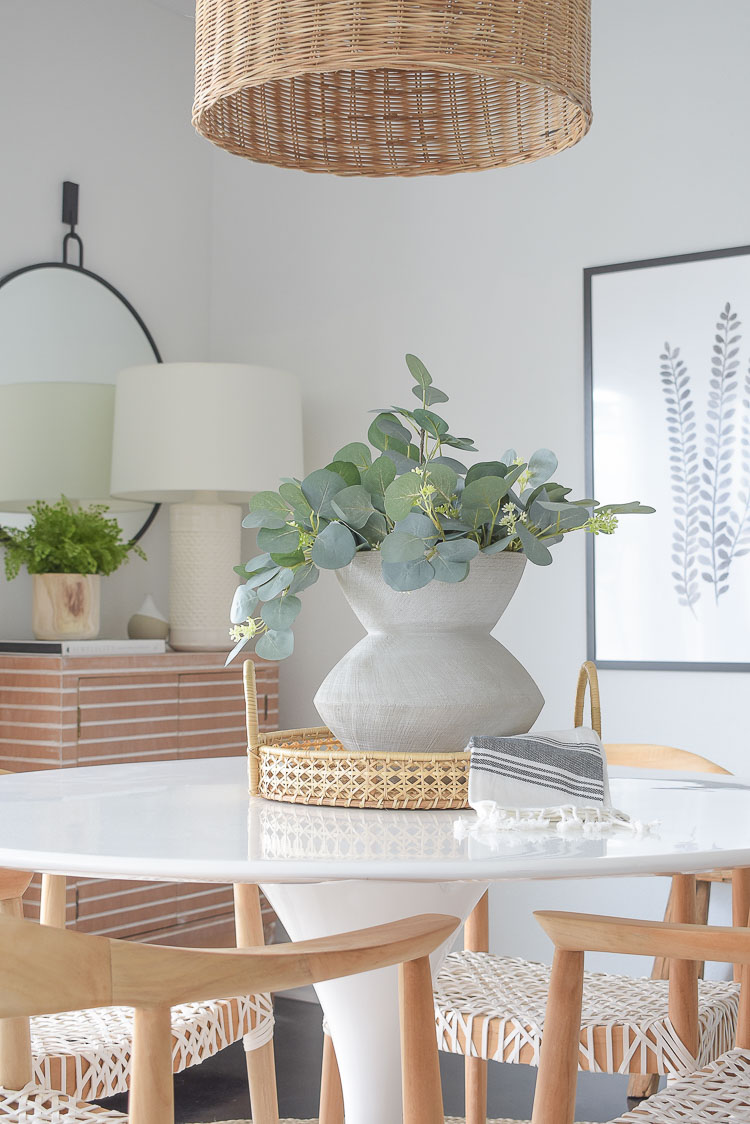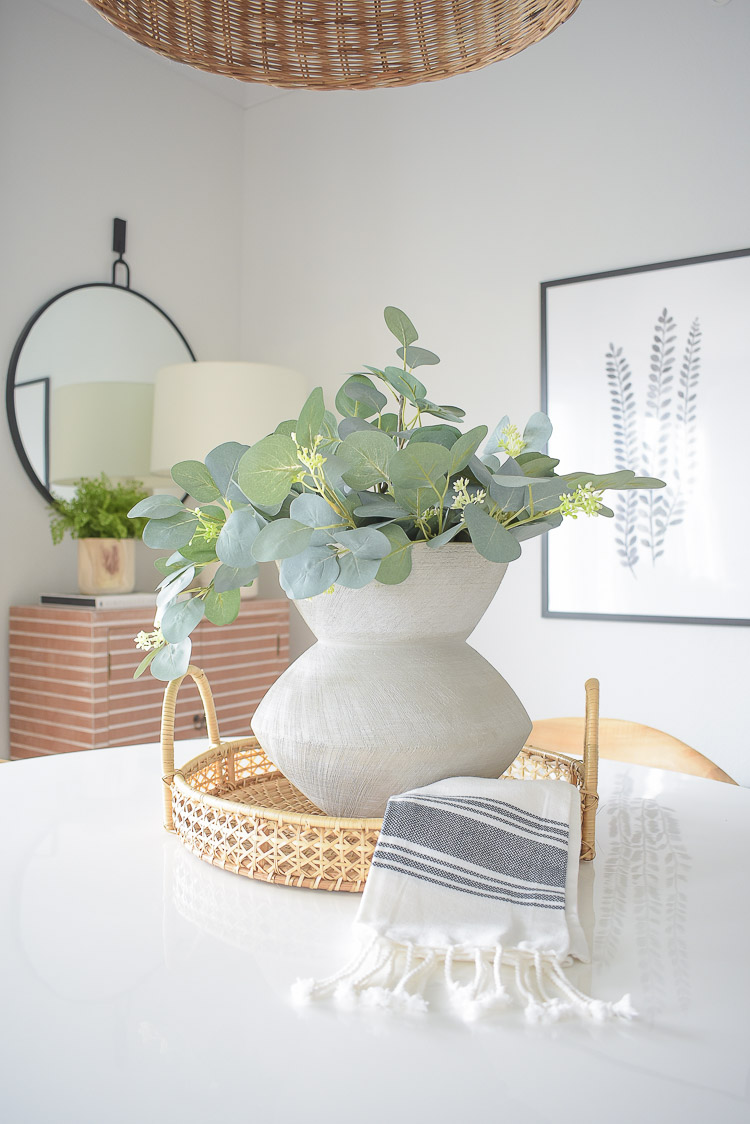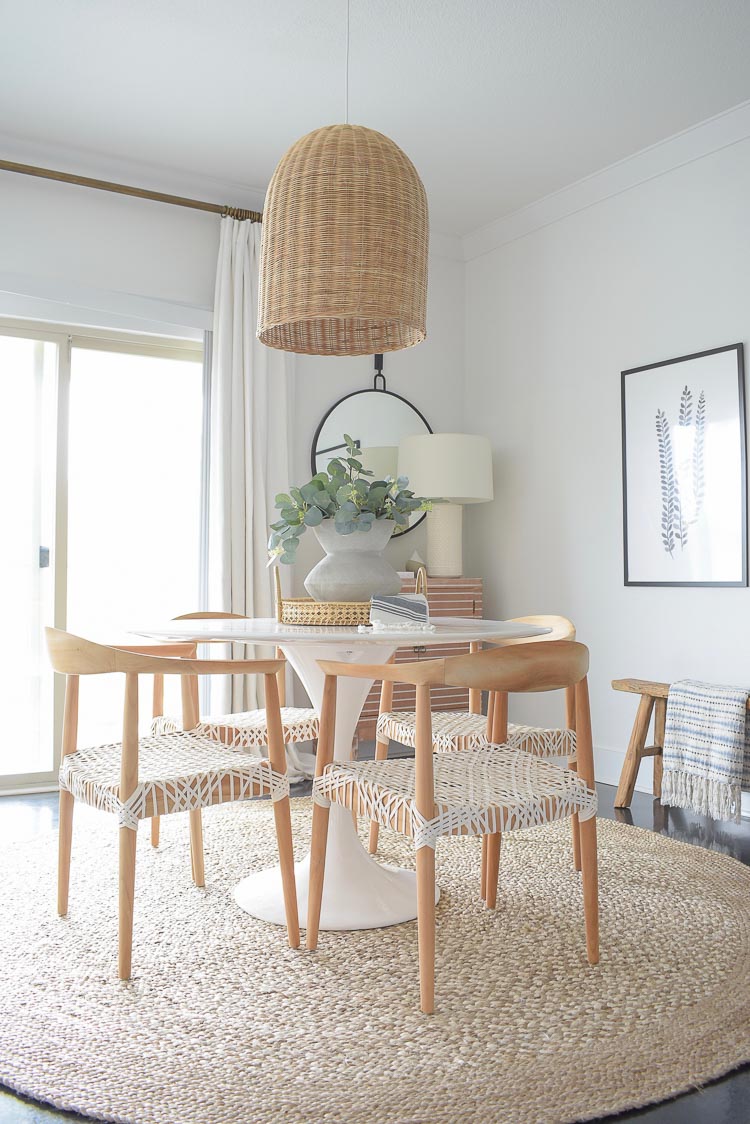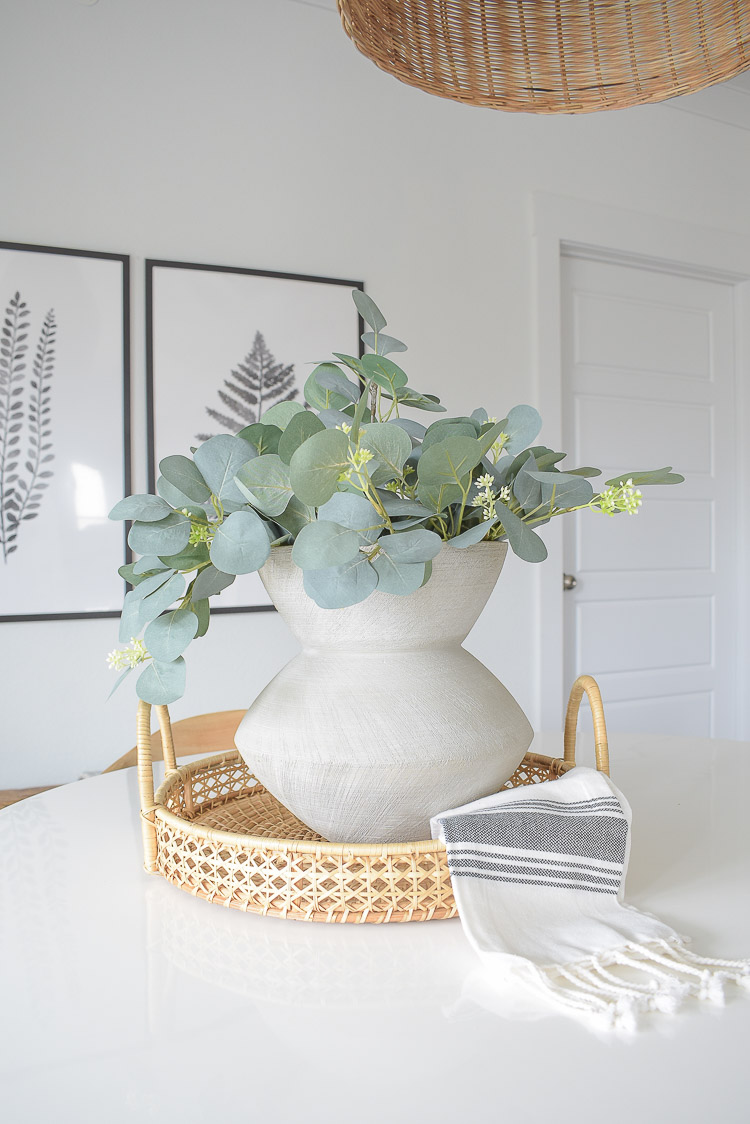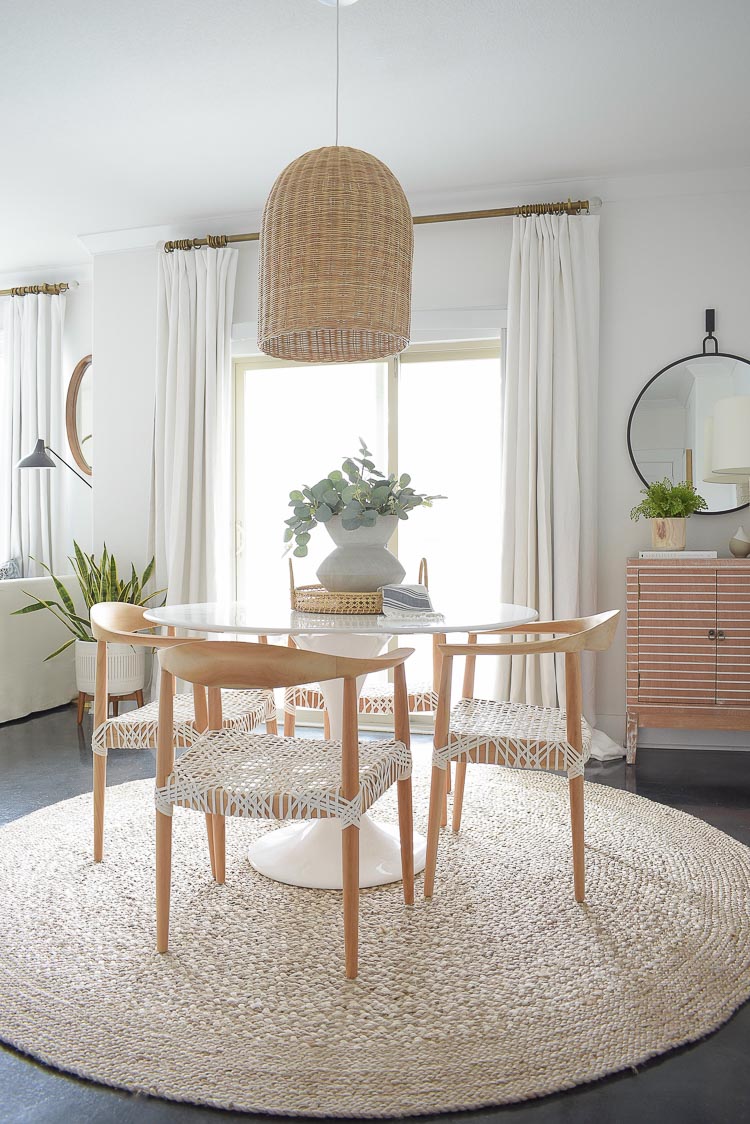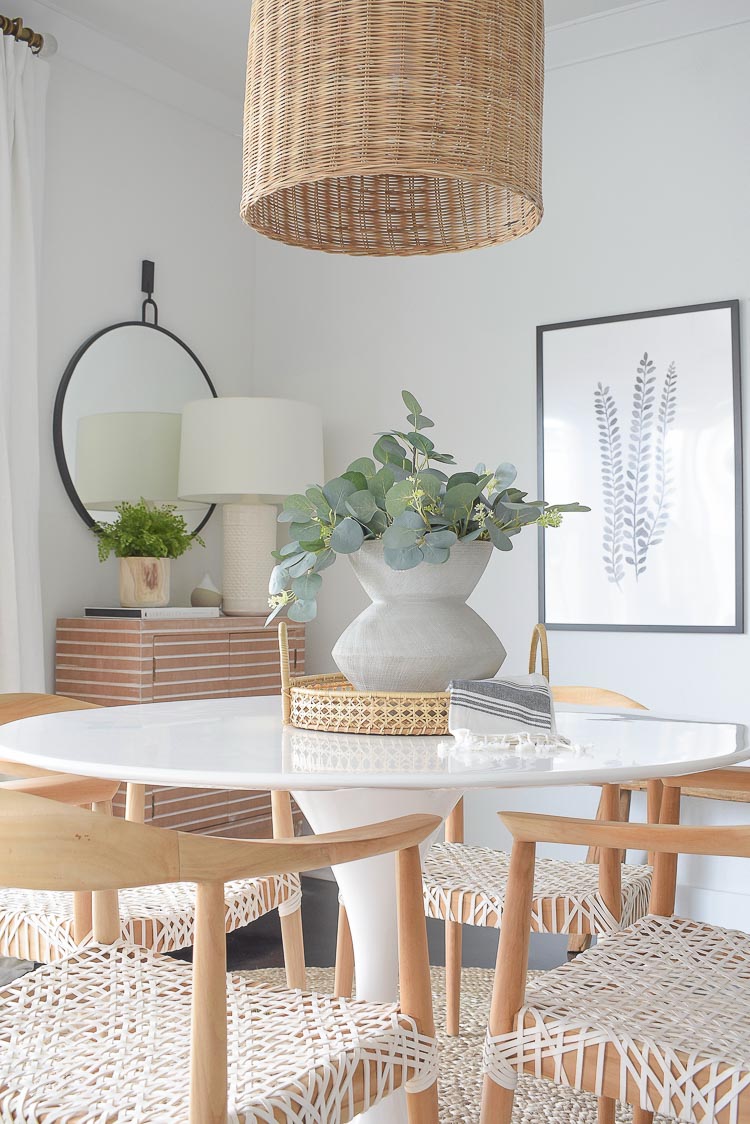 My favorite little corner of the dining room stayed simple as well.  Still love this white textured lamp and this faux fern in wooden pot from last year too!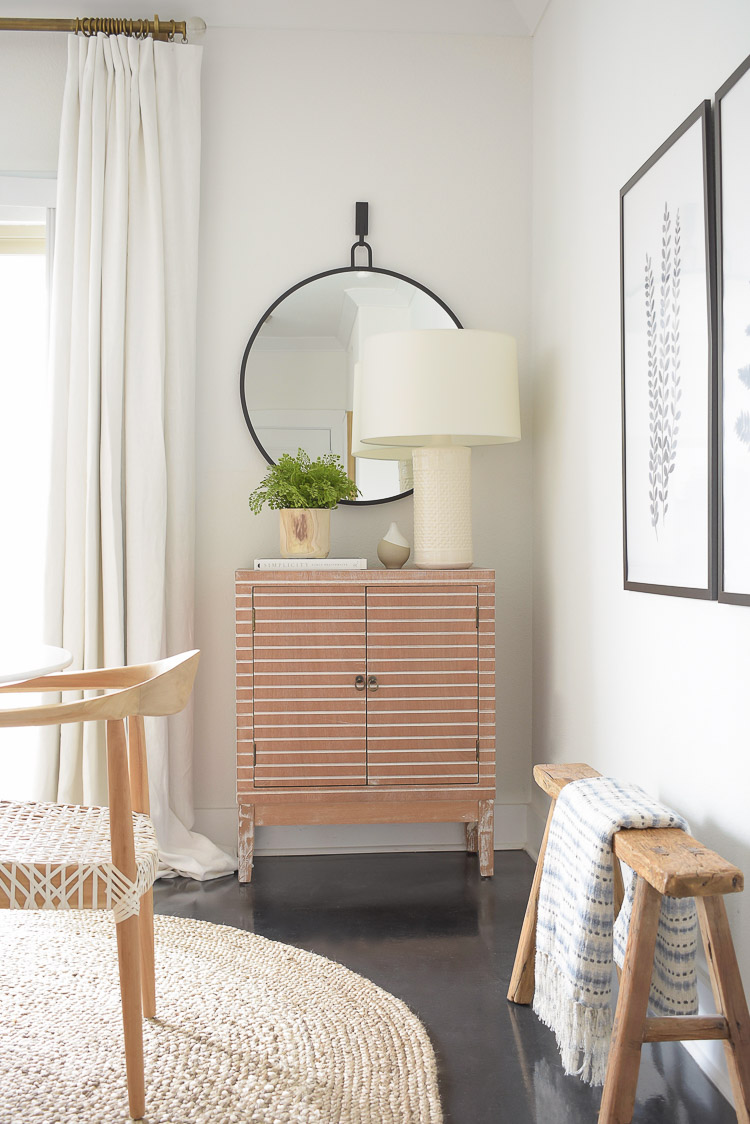 I do hope you enjoyed the tour!  Here is a look back but keep scrolling for some favorite pieces I'm contemplating for spring 2020!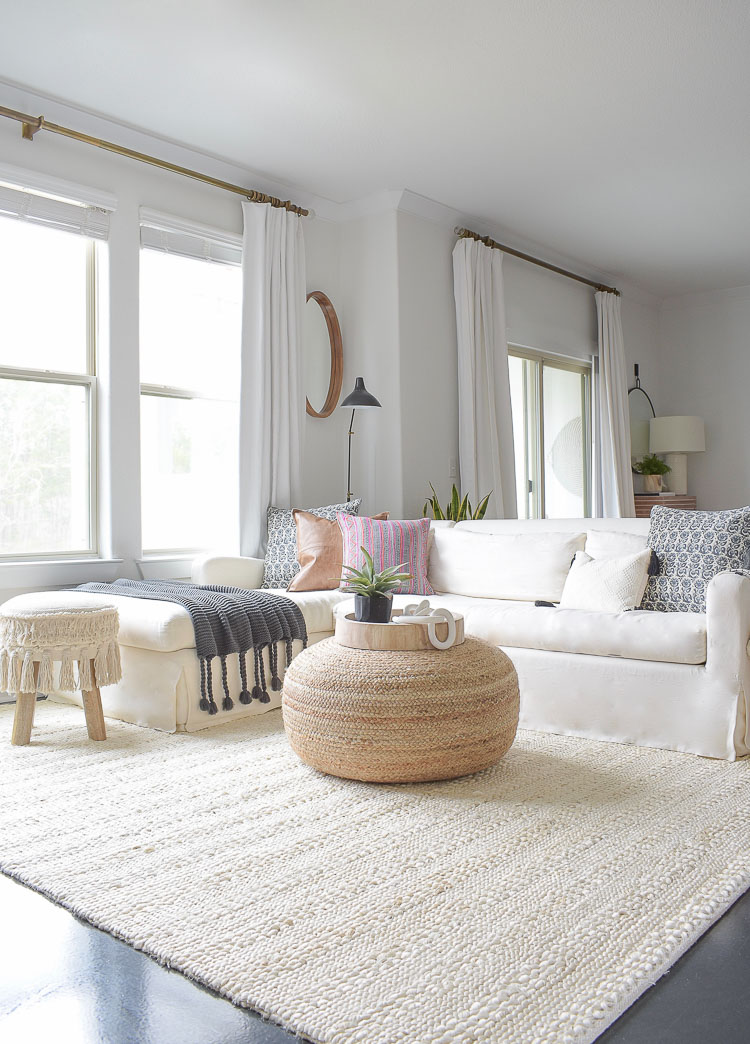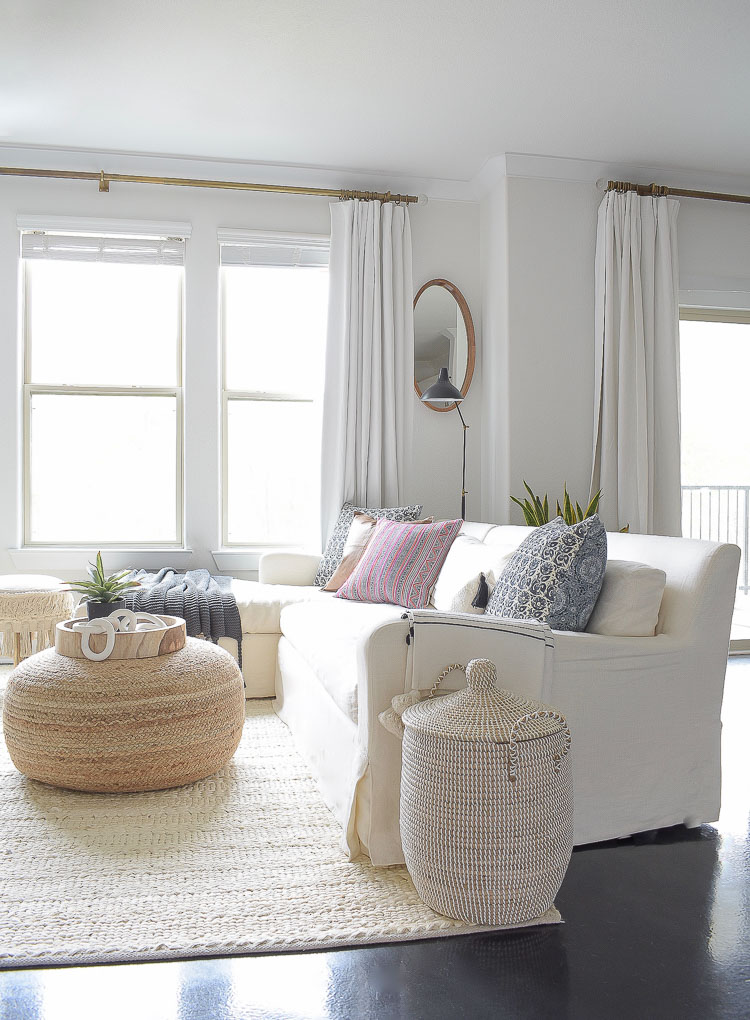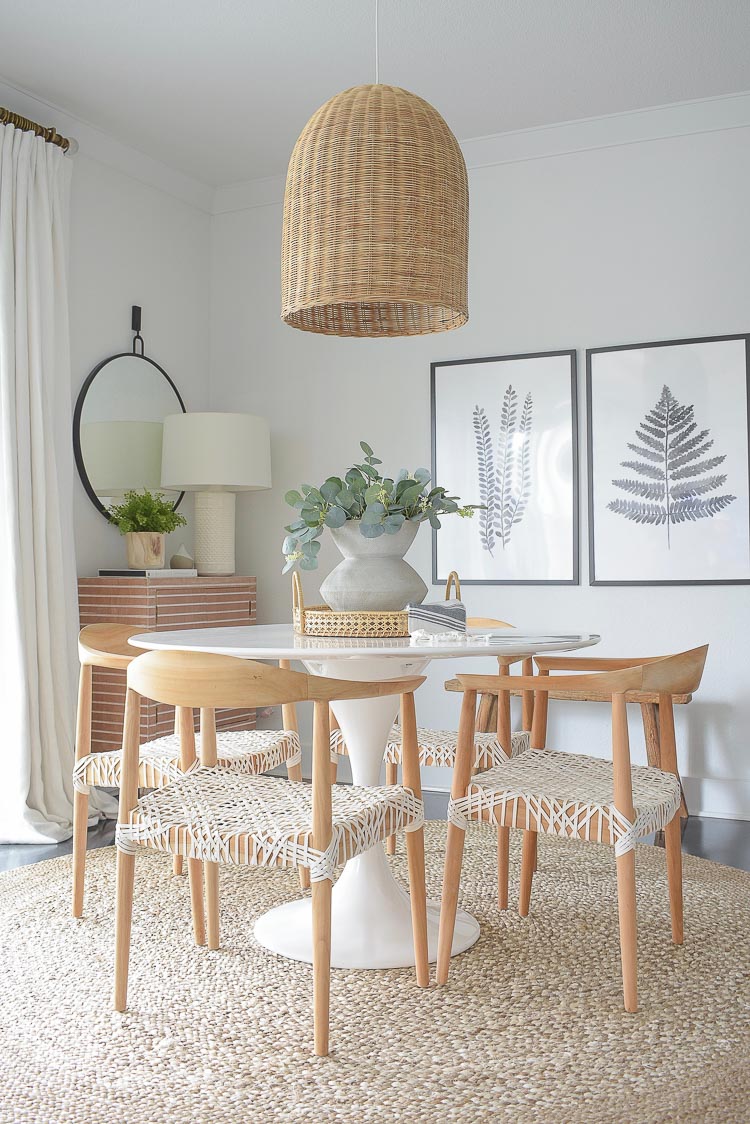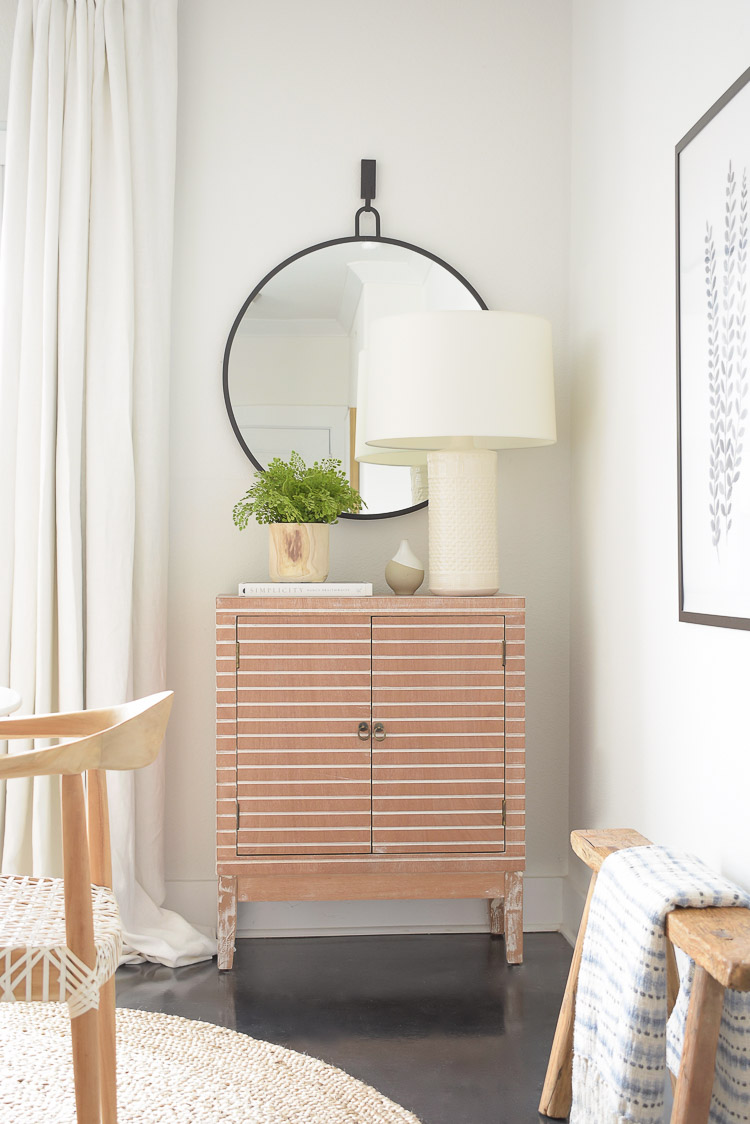 Now on to 7 things I'm loving for spring!
(Click the images to shop)
You already saw this amazing rattan tray I ordered a while back.  Well, it just came in and is on sale so I wanted to share.  I have no doubt this one will be a staple around here all spring and summer.  The handles are great and the print of the rattan is pretty great too!
2. Also really love this black decorative knot.  Black accessories are still in and I'm loving this piece too much – it's in my cart!!

3.  I've had my eye on this rattan coffee table for a bit!  Trying to decide if I can pull the trigger or not but need to make sure I'll        have a need for it in the new house before I do.  It's so good and I love that it has a large white removable tray that you can use for entertaining or serving as well.  The perfect spring/summer piece!

4.  Love, love these weathered white stone vases.  They are reminiscent of pottery and I love their aged, distressed look.  Will be so beautiful with spring flowers in them! 

5.  I also have these faux orange branches in my cart.  I've seen them in the store and they are so realistic and fun!  They also sell a potted orange tree in two sizes.

6.  I actually just purchased this modern lattice chair for our living room (I shared it in my Instagram stories the other day) and can't get over the price for the value and quality of this piece!  It's a faux leather but oh so good!  This is a year round piece, not necessarily a spring piece but if you need an occasional chair and are looking to make a modern update this is such a fabulous piece!!

7.  Another thing I can't get enough of is this colorful, affordable art for spring!  It's really a beautiful piece and I'm contemplating now where I can put it.  And the frame is great too with a light wood, modern look.


Let's stay connected…
Pinterest | Facebook | Instagram | Instagram