ZDesign At Home Main Living Room Reveal
Thank you for stopping in to see our Main Living Room Reveal! This space in our new home is by no means finished but I'm convinced at this point it will be next year before all decisions are made and everything arrives which made me realize last week if I keep waiting I'll be waiting forever to share it so I think now is just as good a time as any, right? I am currently waiting on a few items to finish the space but for now I wanted to show you the layout, how it relates to the spaces around it, and how I have it decorated up to this point so let's get started!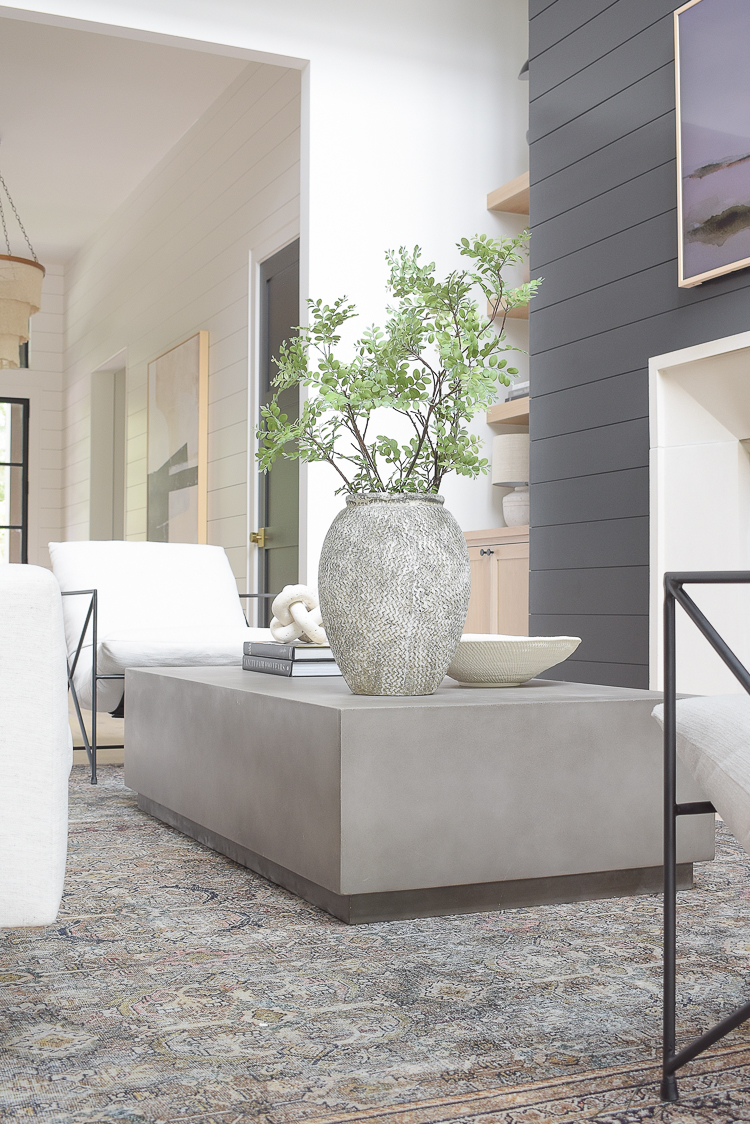 This post contains affiliate links and some products were sponsored by Emtek, my all-time favorite hardware brand! Please find my full disclosure policy here.
As you walk in the front door, you are greeted by a long entry hall with 12′ ceilings that feeds into other spaces and at the end of that hall (hall reveal coming soon!) is our main living room. I call it the main living room because we have another living space upstairs – I am currently working on that space in my head but it will be a while before it comes to fruition I think;).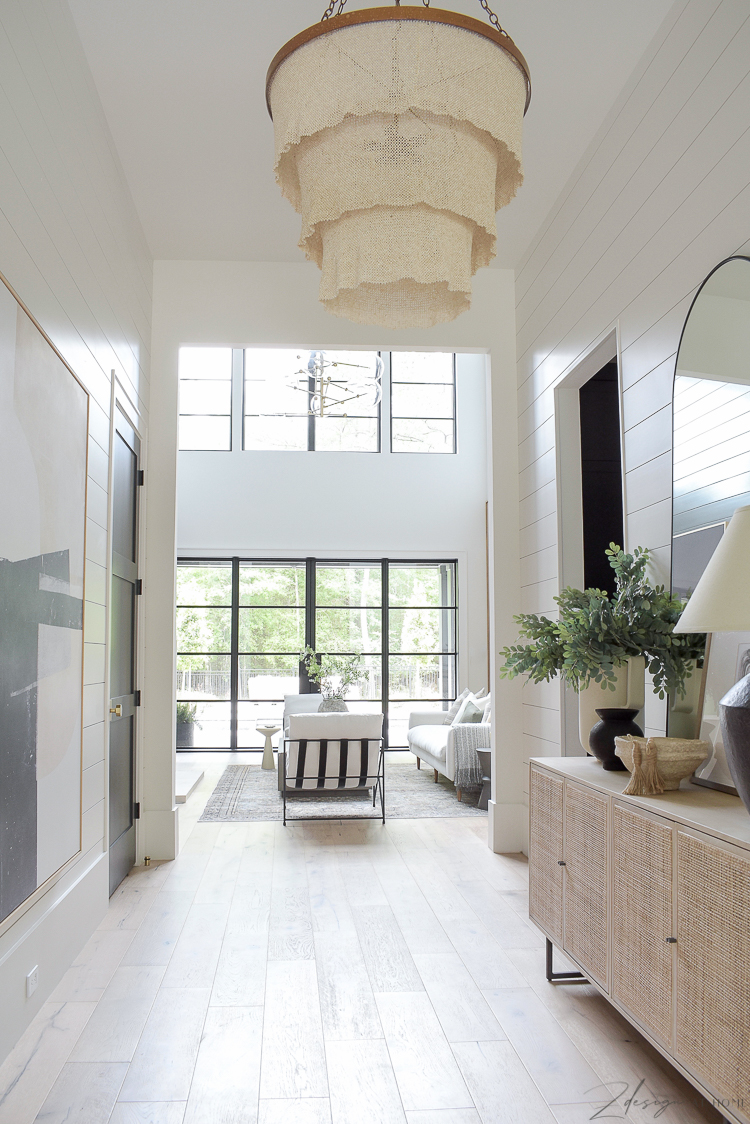 At the end of the entry hall is where you enter our main living room which has souring ceilings and is super airy! The windows in this space are incredible and let in a ton of light. We used Andersen windows with horizontal grids in our home that I had already wanted but that our builder commonly used so it was a win/win. I also love that you can see straight down the entry hall through the living room and into our outdoor living space. It feels so luxurious and amazing to take in that view everyday!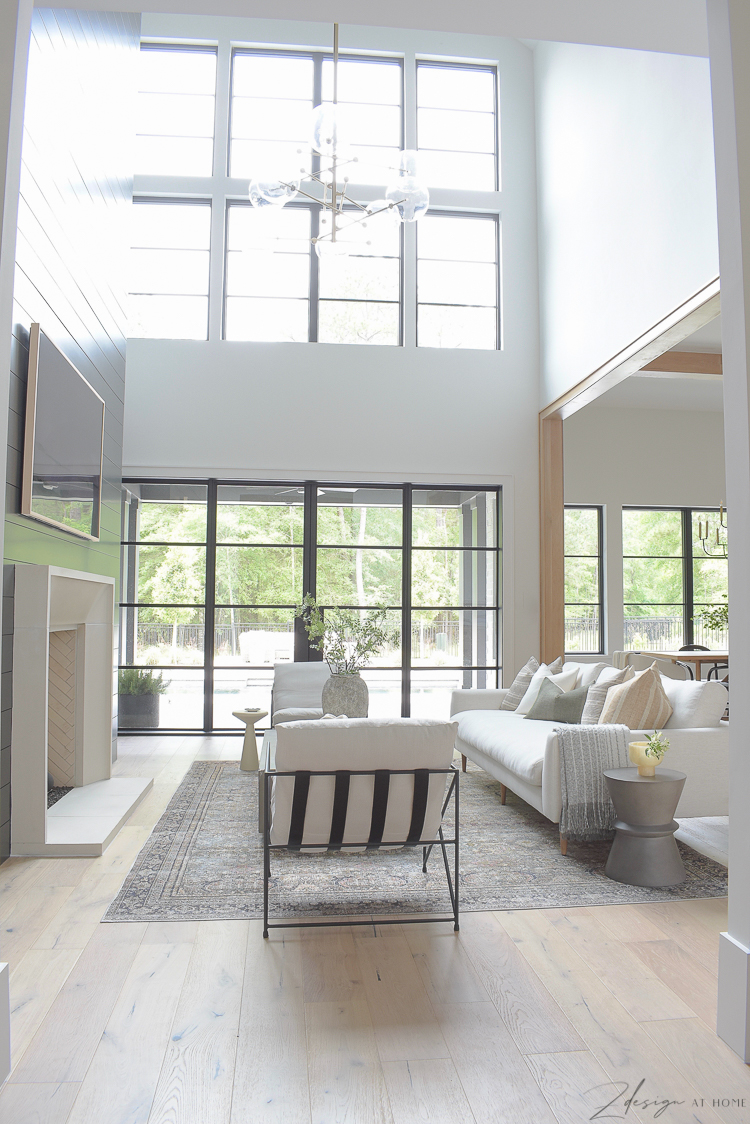 One of my favorite things about this space is the steel door unit I had custom made by Metro Steel out of Houston & Tyler, TX. I also partnered with Emtek on this gorgeous door hardware for our back door and master bedroom door hardware that are the same handleset. There is no comparison to Emtek based on my experience. I used their hardware in my last home and all over our new home for doors and some of our cabinet hardware. Here is a view of the hardware from the outside – if you are building or renovating I love the Baden Entry Handleset (or anything by Emtek) and highly recommend it!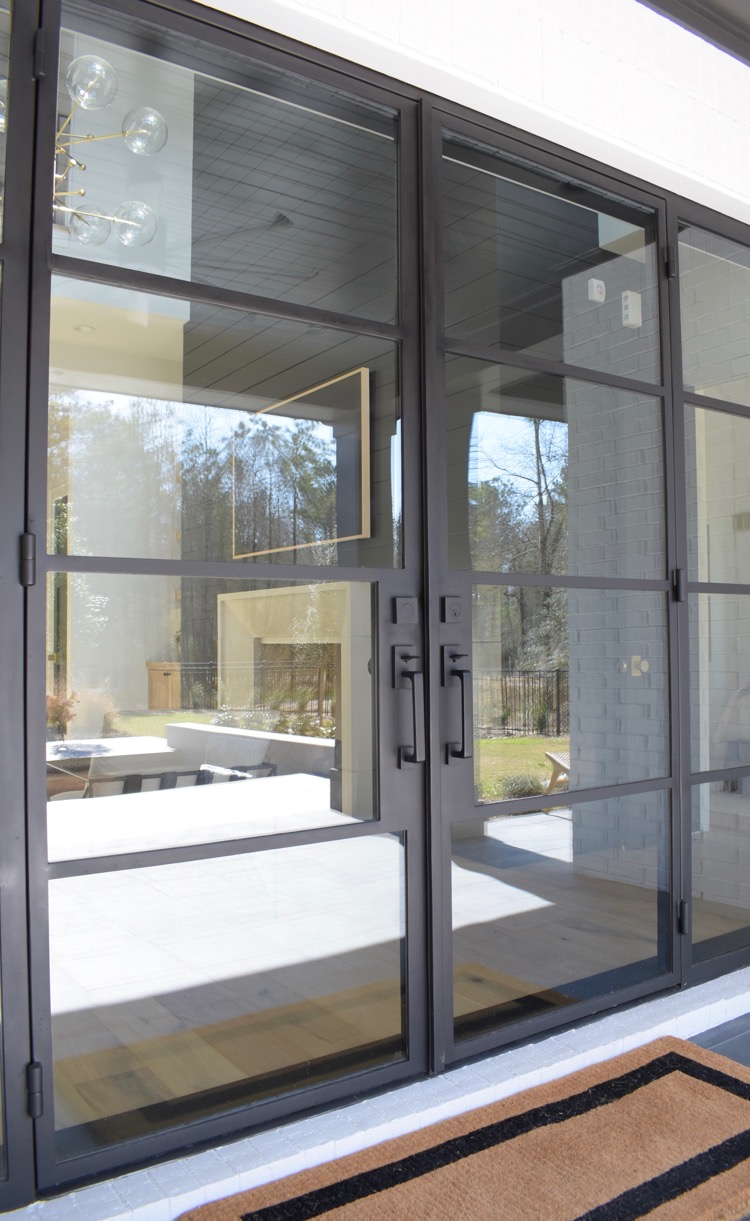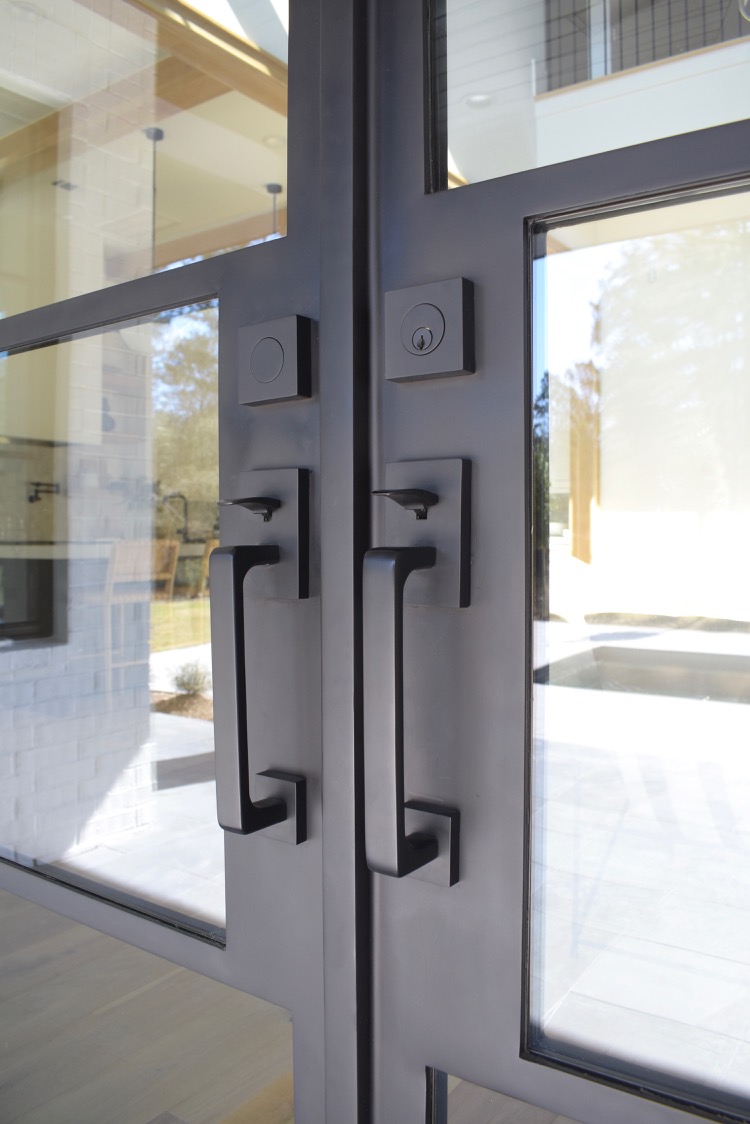 Another favorite feature of mine in this space is the white oak trim we did between the living and kitchen/dining area. As you can see the kitchen is to the right of our living space (and behind it) and the living room is caddy corner to our dining space.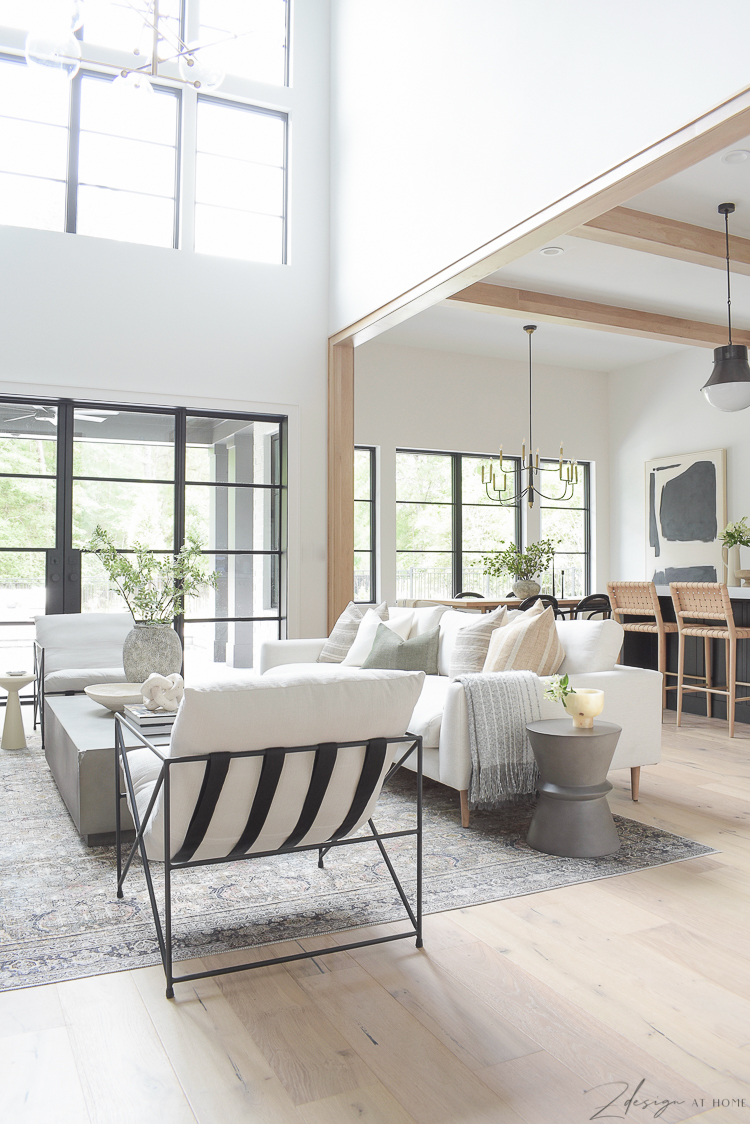 As you walk into the space, you are greeted by our comfy new sofa (I did a review of our new sofa HERE). This space is open on 3 sides with the fireplace on the wall to the left.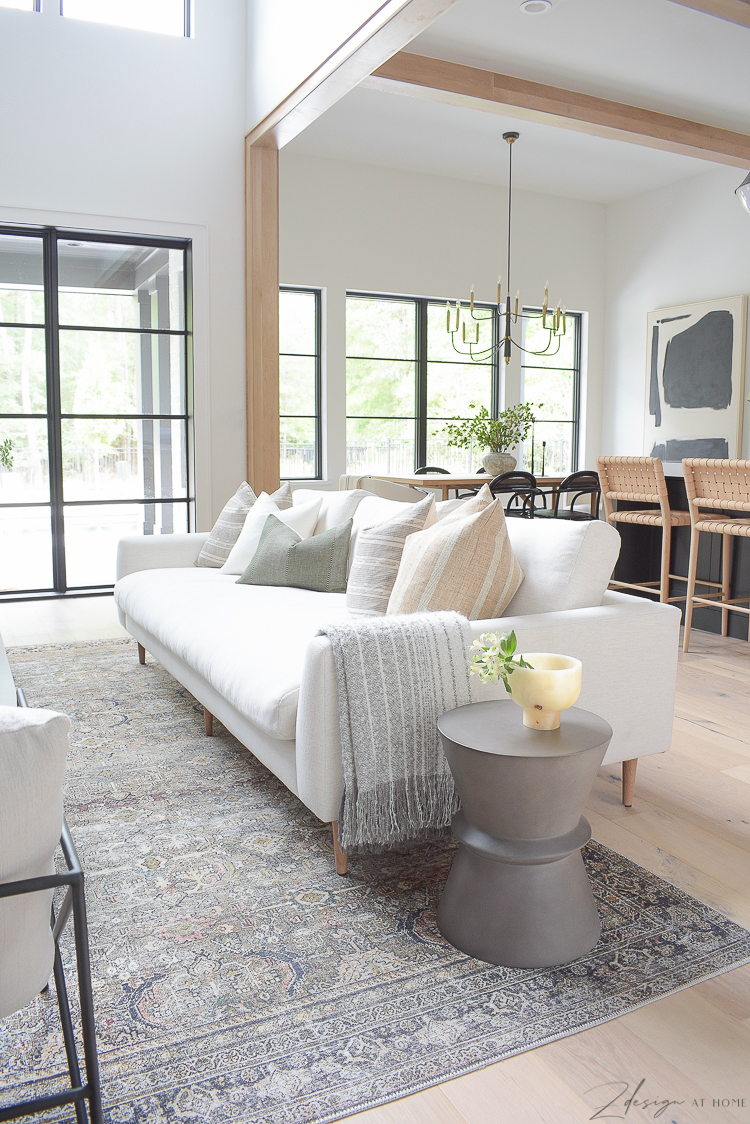 Once you enter the space you will see our gorgeous but simple black shiplap fireplace wall. I wanted to make a bold statement in this space by pairing the shiplap with something unexpected – a large, open Isokern fireplace with modern concrete fireballs and a cast stone mantle. This combination really warmed up the space and makes the room feel super cozy. It truly is a incredible focal point in the room! The black paint color is Iron Ore by Sherwin Williams – it's a soft, not harsh black (and that's what we love about it!).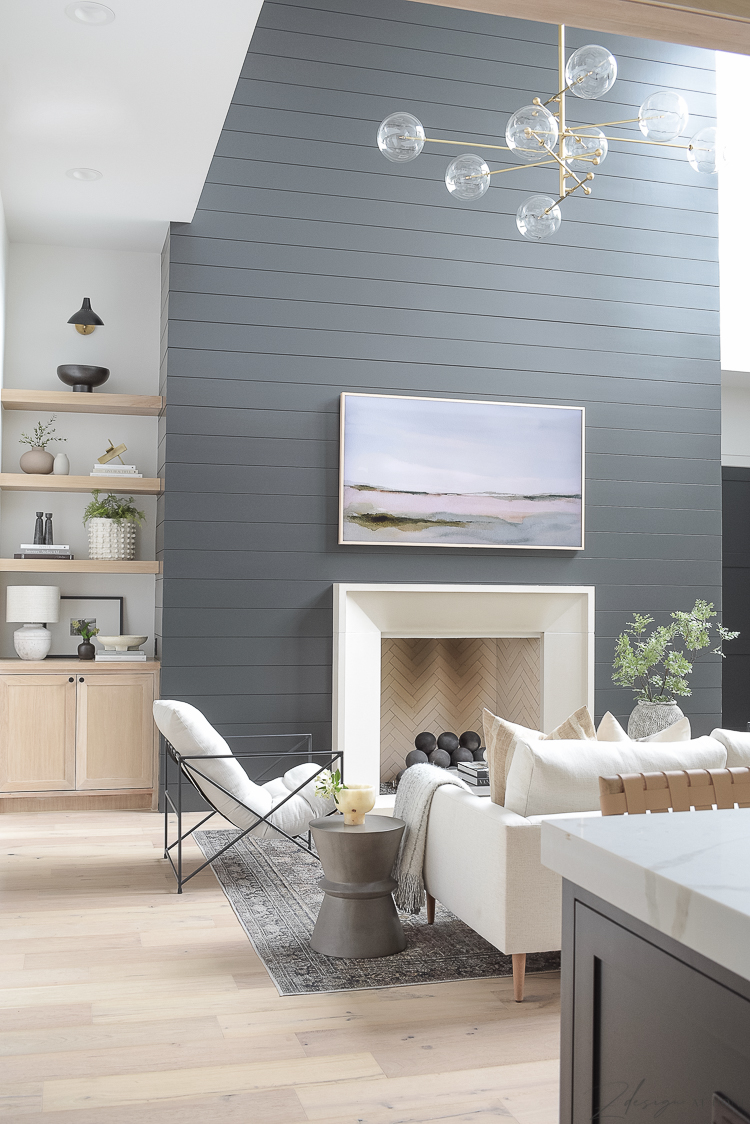 We also chose to go with The Frame TV which comes with several different frame options (I chose the natural) and a library full of photographs and artwork to choose from. In full disclosure one thing I've had a tough time with is getting the TV to not look pink or purple on camera but fortunately I found this Etsy shop that does a digital download for the frame TV…this helps to not make the TV look so glowy, if that's a word! If you are considering The Frame please know it's great in person but if you are a blogger and need to photograph it like I do for your job, it can be a challenge to get it right – I'm still working on it;).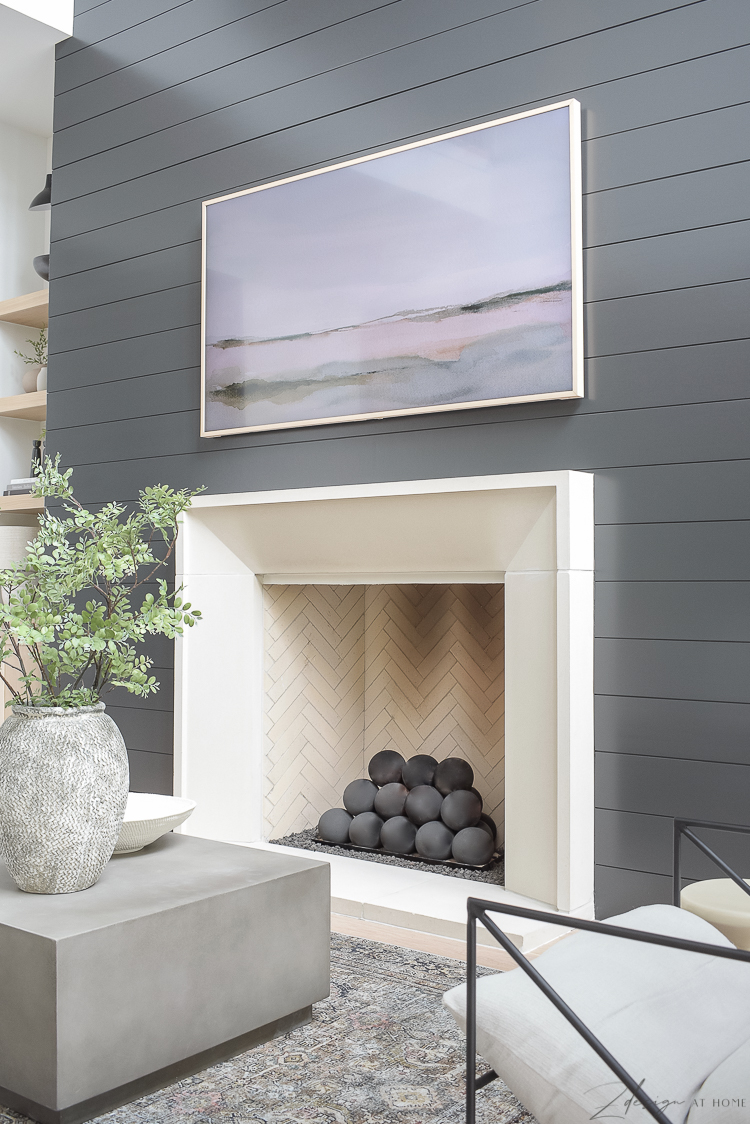 To the left of the black shiplap fireplace wall is a white oak bookshelf with cabinet below. I have had so much fun decorating and redecorating these shelves. Each shelf is 3″ H x 39 1/2″ W and they are spaced 18″ apart with the exception of the bottom shelf, it is 21 7/8″ above the cabinet. You can find all of my accessories here.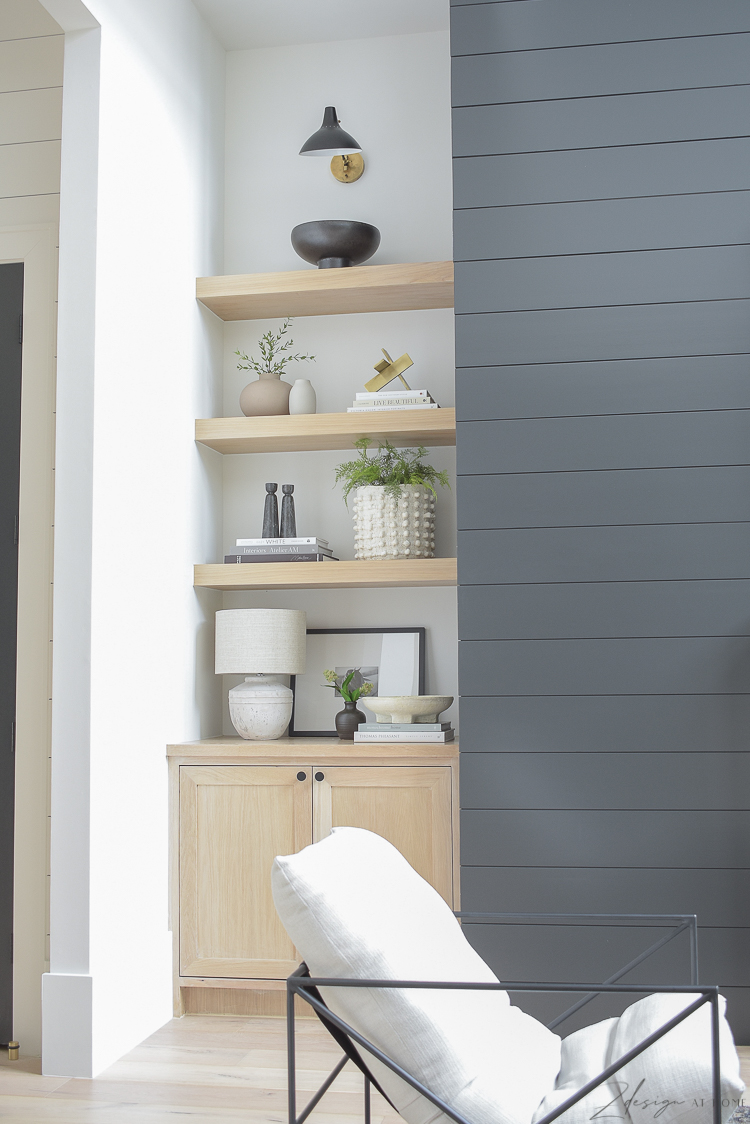 The stain for our white oak shelves is a clear stain with a little bit of white paint mixed in. My friend Shauna at The House of Silver Lining helped me with the formula but like she says, there is no exact formula or science unfortunately. I worked with my painter on sample after sample to get the stain just right and to my liking. And then my painter finished it off with 3 coats of a clear, matte varnish to seal it properly. I used a matte finish because I didn't want my cabinets to have a sheen to them.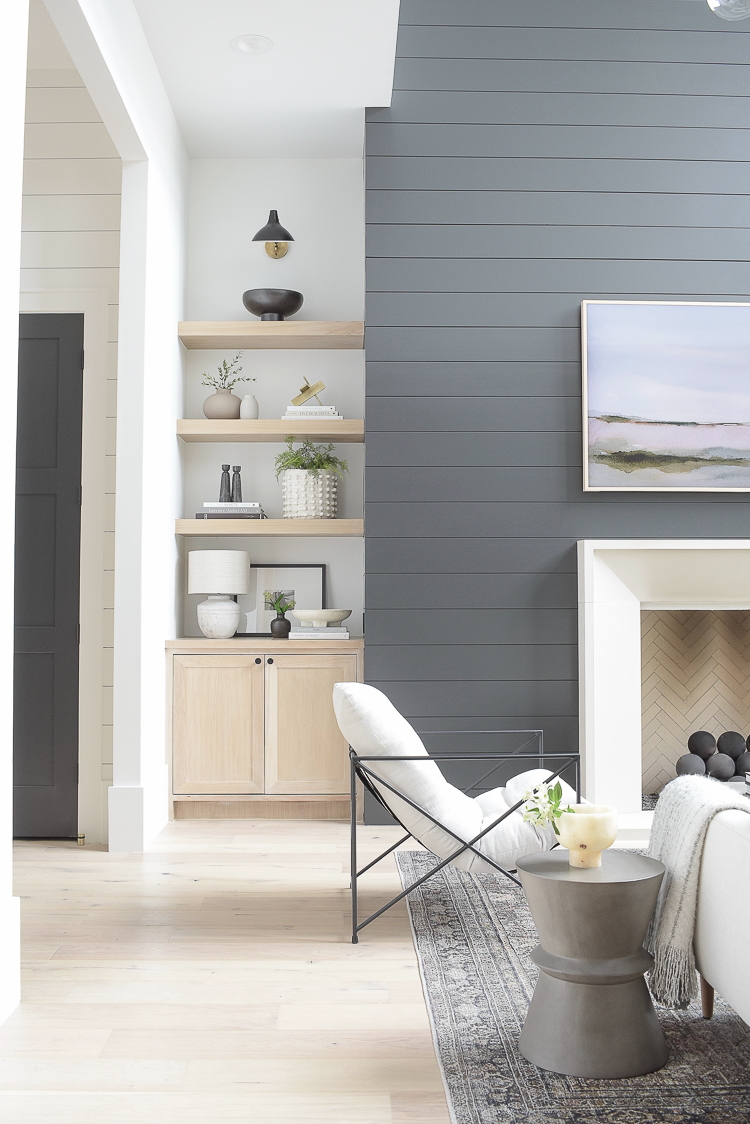 For seating other than the sofa, I chose for now to go with this metal chair with cozy cushion. In researching upholstered chairs it was literally going to take about 4-6 months to get anything I was looking at so I decided to go with this chair for now and boy were we pleasantly surprised! They are so cozy and comfy so they're here to stay a while and for the time being I haven't even bothered to order anything else since we like them so much! And the best part is that they were super affordable! This space isn't large so having furniture that is up off the floor and that doesn't take up a ton of visual space is preferred to make the space feel more roomy, although it's very cozy and we love it! Our second living room upstairs is more for spreading out and/or when my son has company over.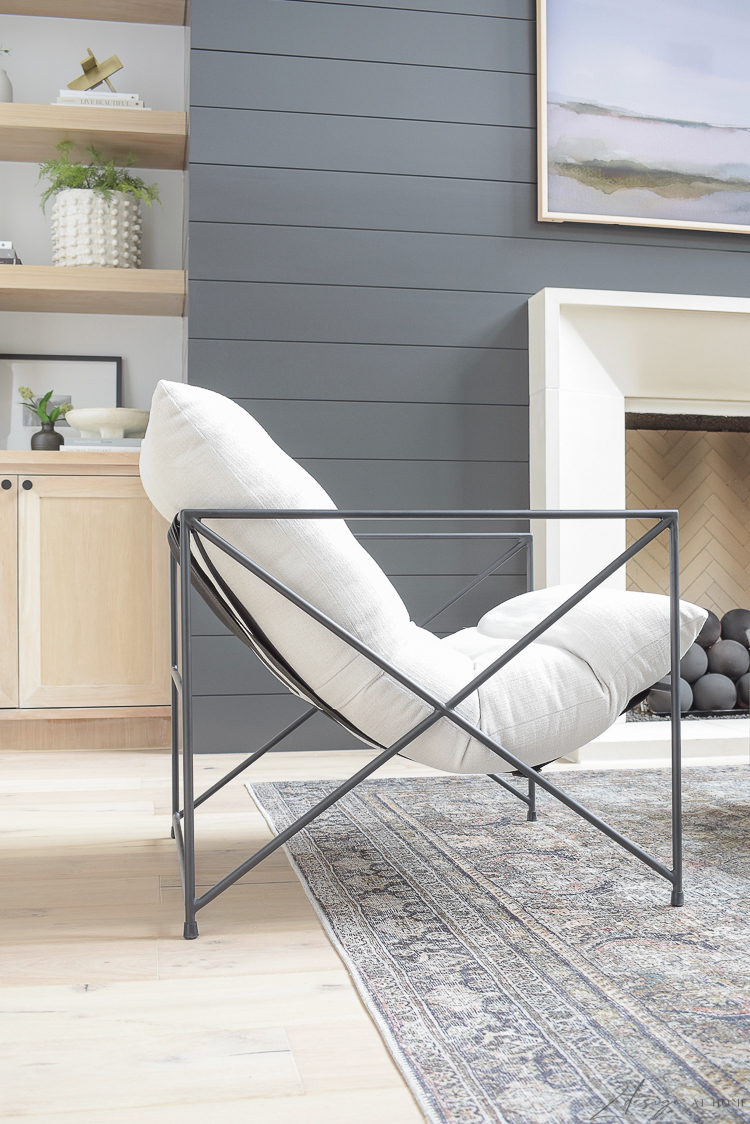 I really love how great this chair worked into the space and the transitional modern vibe they give off. I also added this small drink table next to the chair. This table comes in a set of two and I have the other one next to a chair in my bedroom – It's taller and more slender.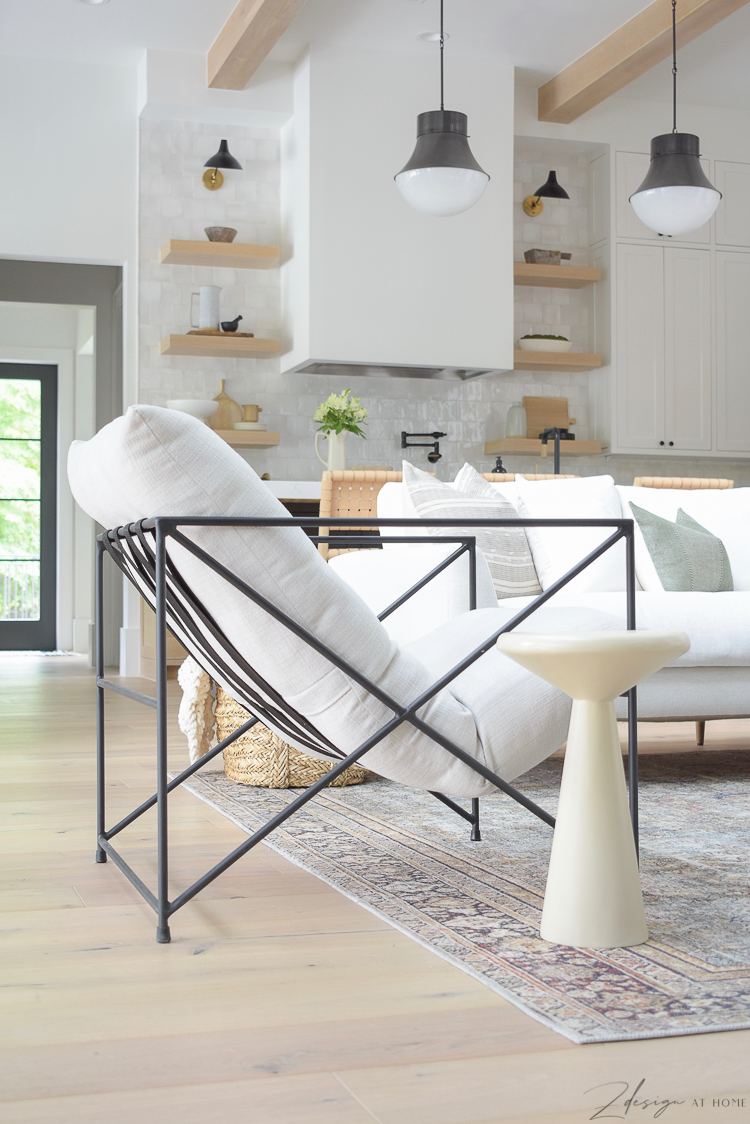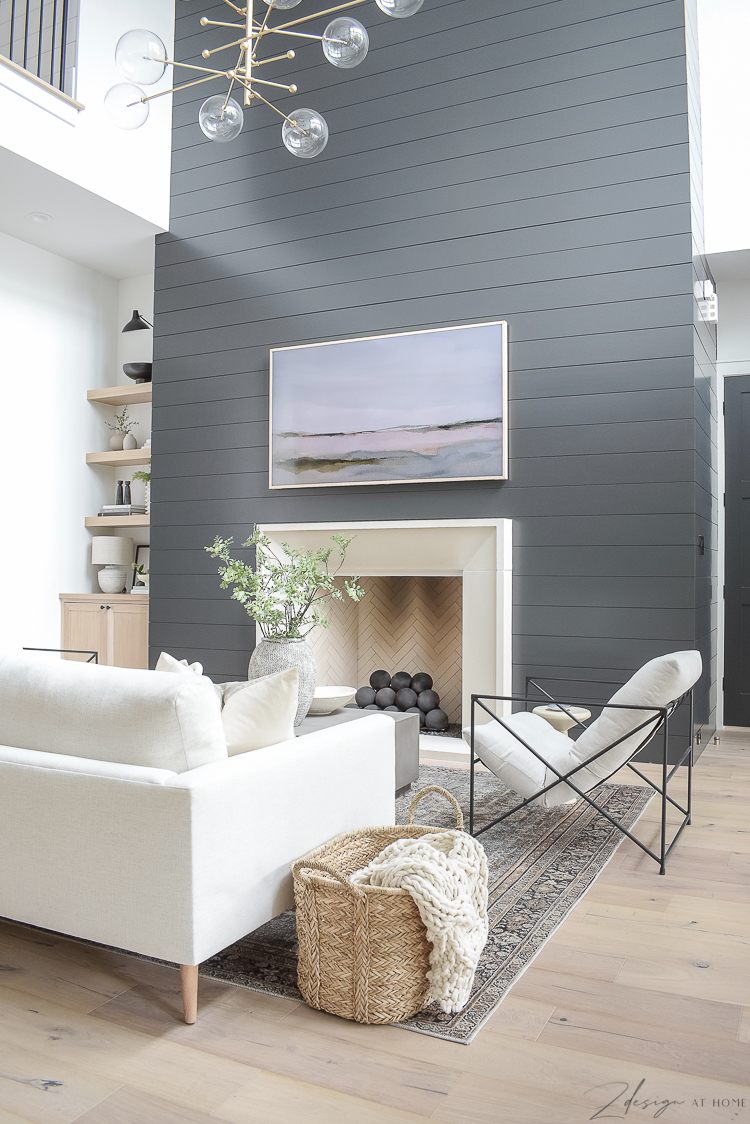 For the coffee table I chose this large concrete table to offset all of the wood in the space. It really is stunning in person and the perfect place to prop our feet up after a long day!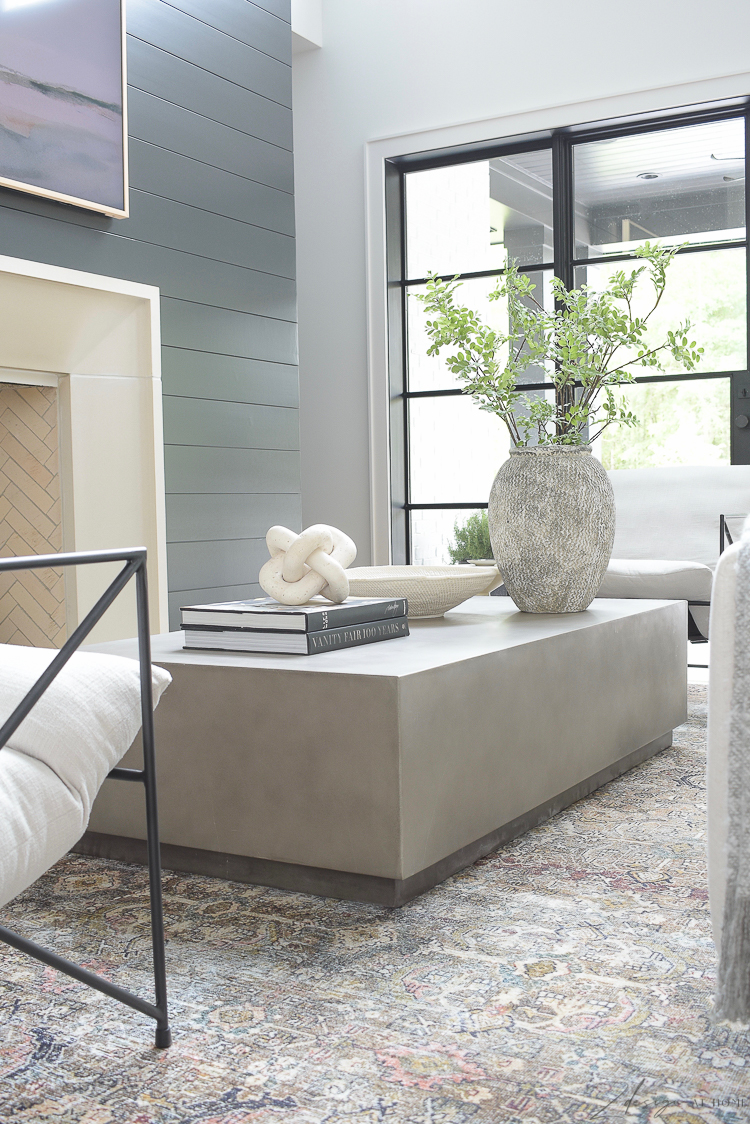 I'm sure you've also heard me talk this vintage inspired rug. It's super affordable and great quality, and we love the warmth that it brings to the space! It's olive and charcoal in color (with a bit of rust mixed in) and is soft and made well.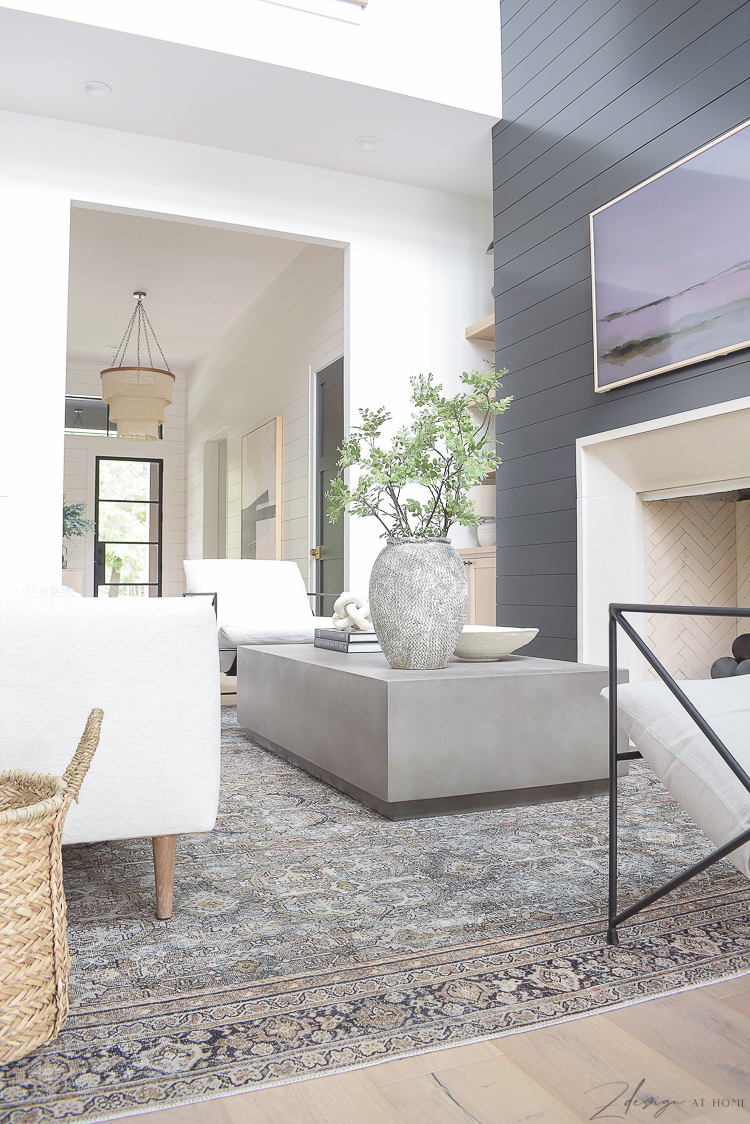 You've probably also seen this side table that I love so much. It blends well with the coffee table but I still need something in wood for the opposite side to balance the concrete pieces in the space.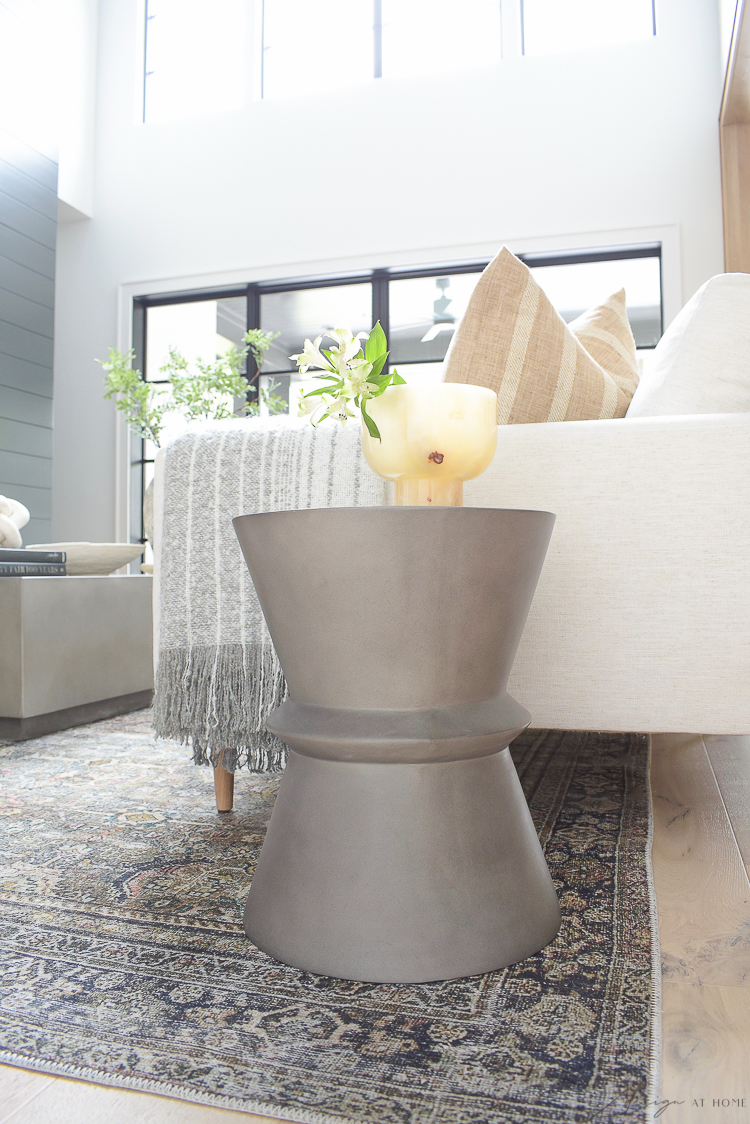 I love that the simplicity of the coffee table really shows off a few new accessories. I chose some textured statement pieces that catch your eye as you walk into the room. I am really, really in love with this large, gray textured table vase…so much so I have it in two sizes!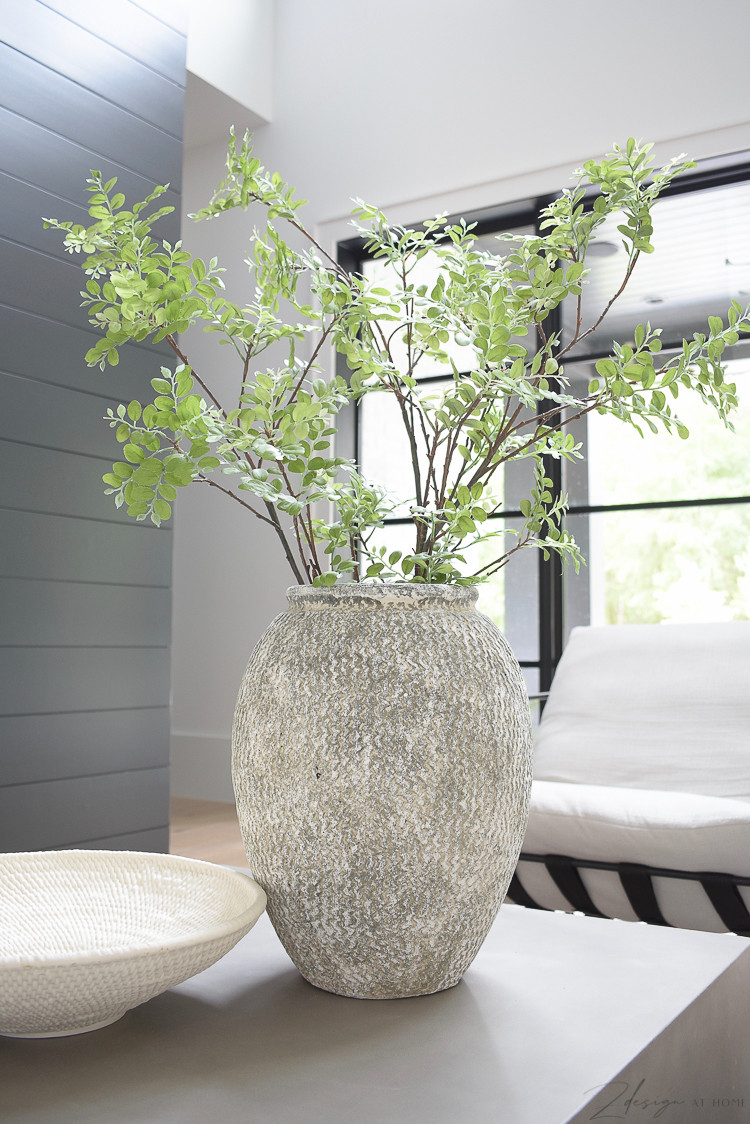 And this beautiful white textured bowl…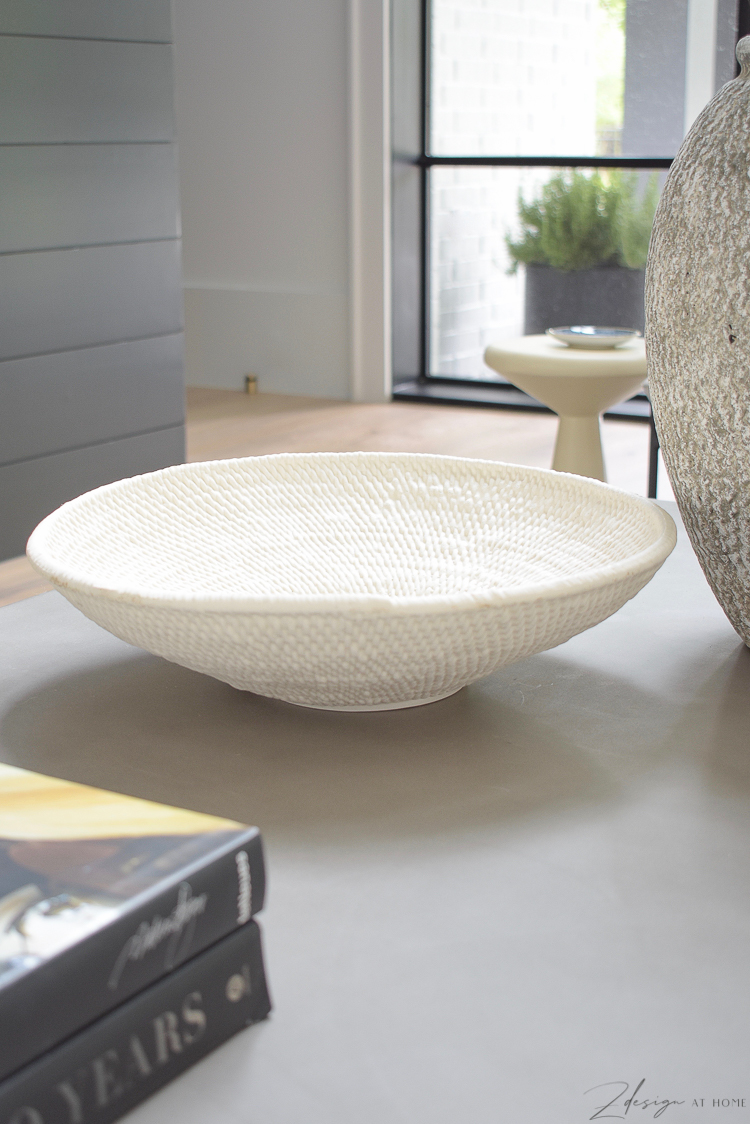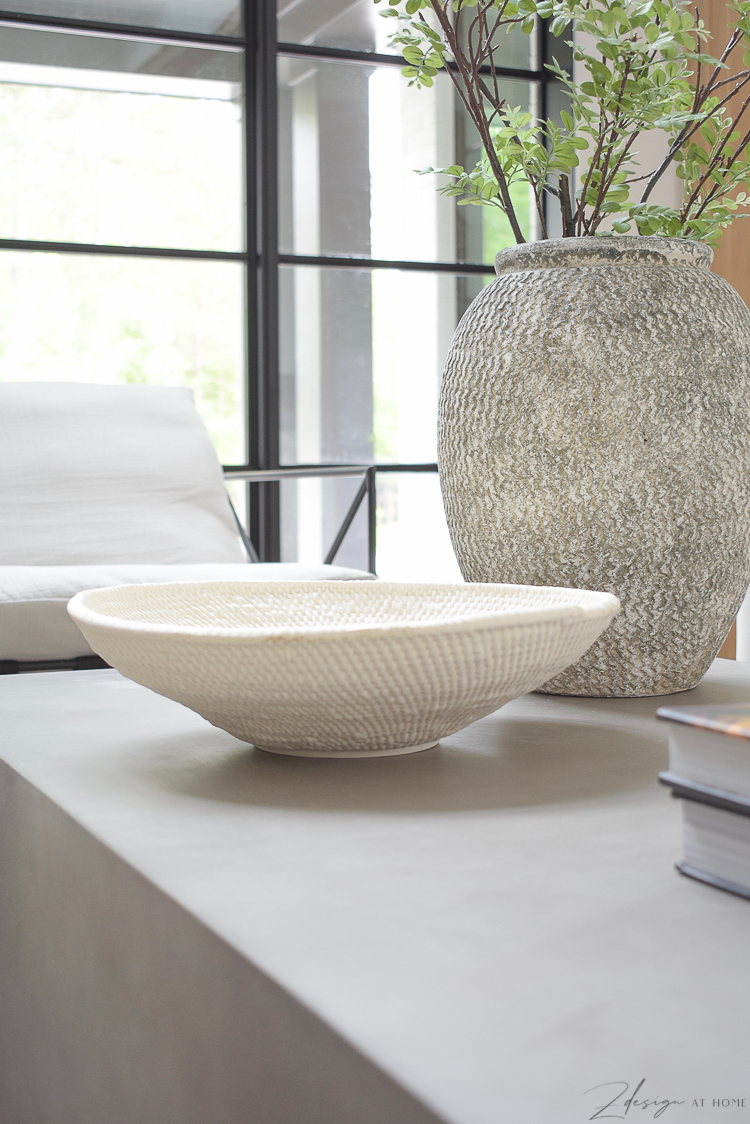 I also found this travertine decorative knot that perches perfectly atop some of my favorite home decor books. Everything is simple and clean, just the way I like it but I feel like I do still need a large basket or tray to place my books in – still searching for that perfect piece!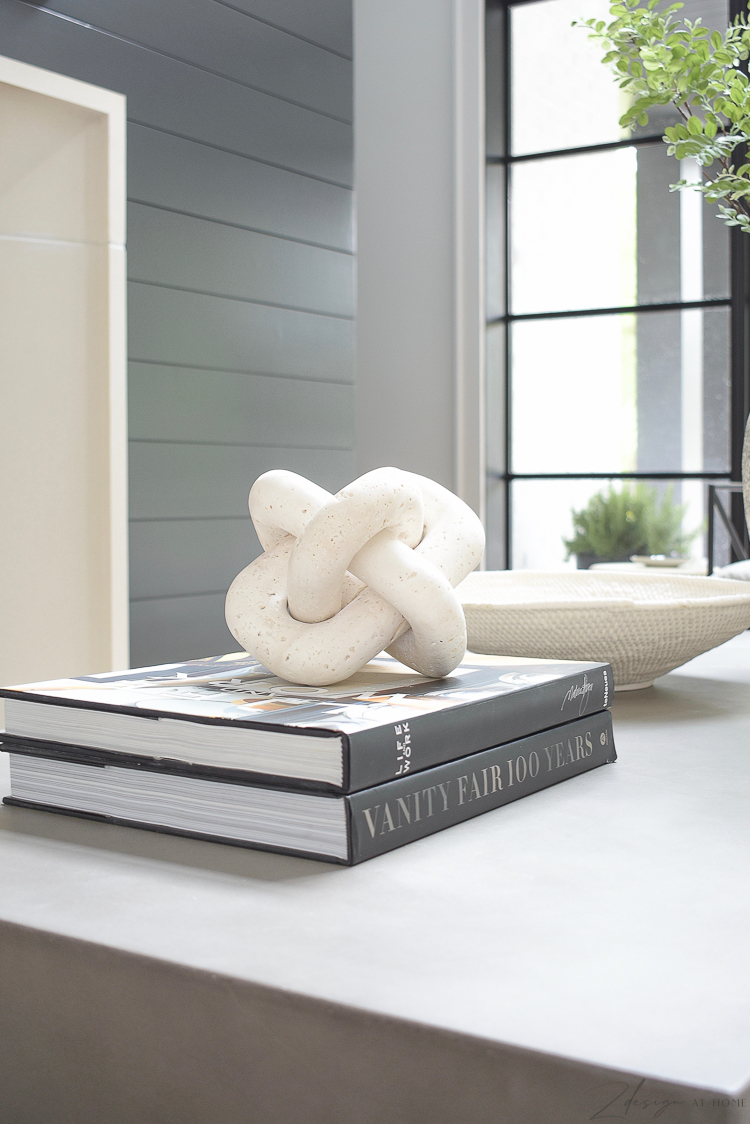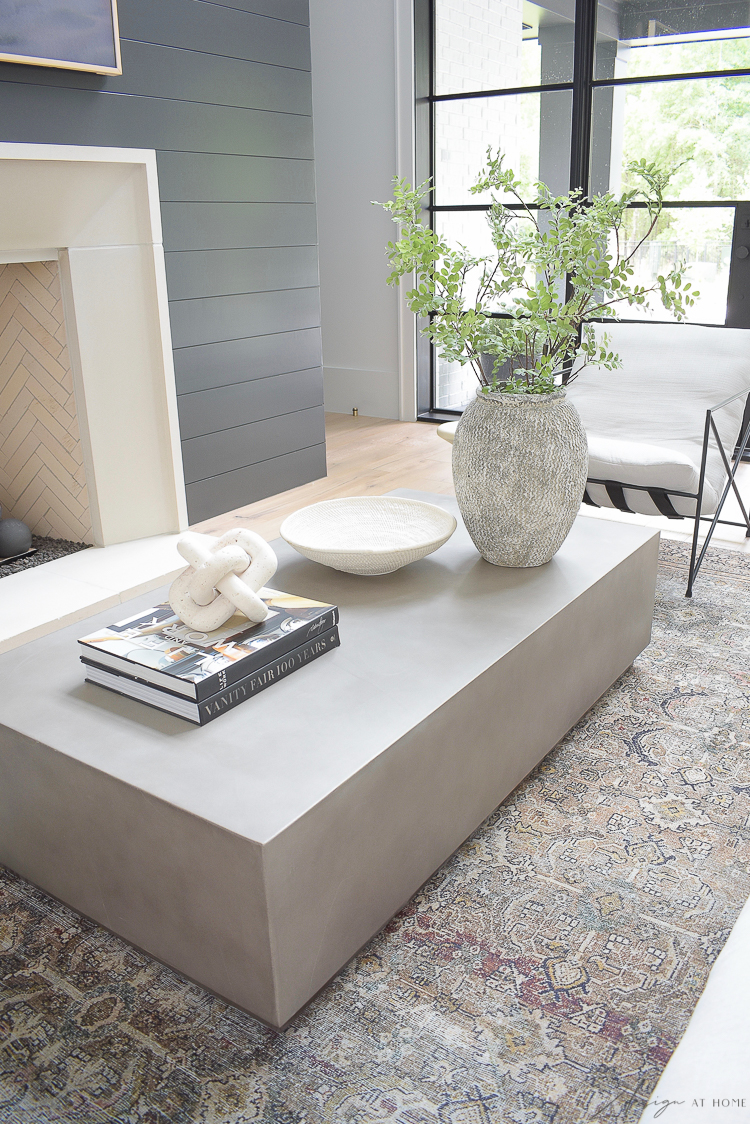 To give you a sense of how the space flows, this is the view from the dining space into the living room…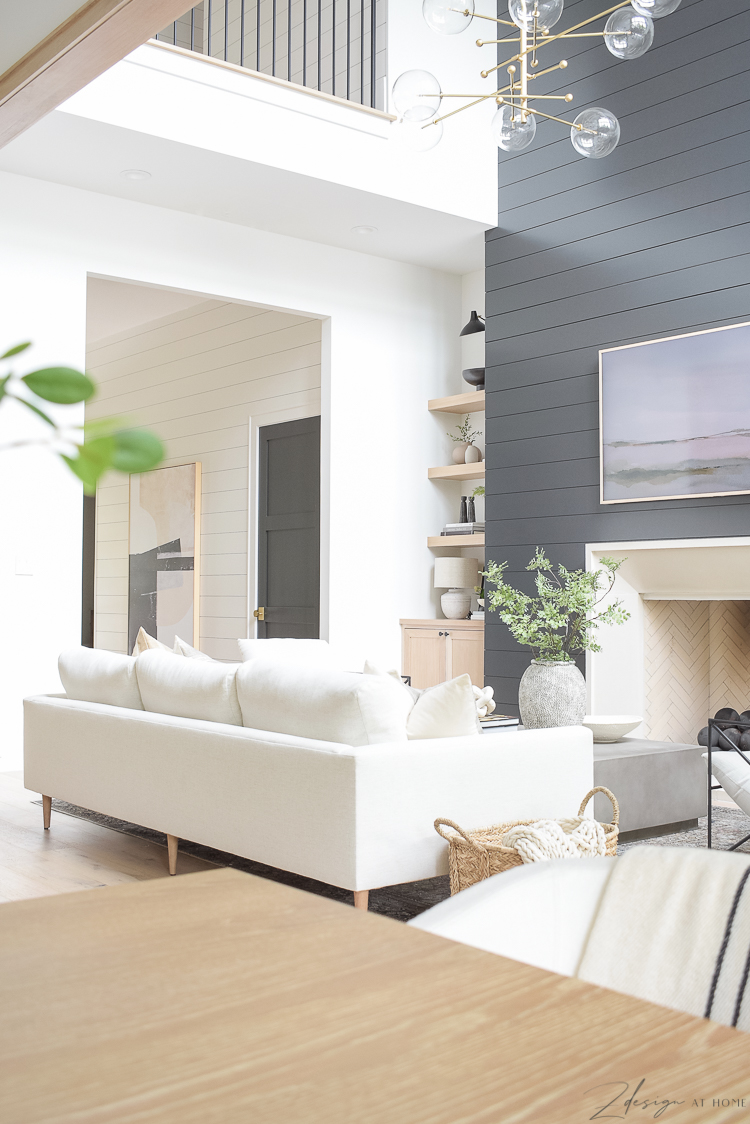 From the kitchen area to the living room…I have a question for you here – I am considering lowering the chandelier about 12″ to 18″ and would love to know your thoughts! When it was hung by the electricians the TV wasn't yet installed so it was hard to figure out exactly where it needed to go at the time. I think it will make the room feel cozier but what are your thoughts?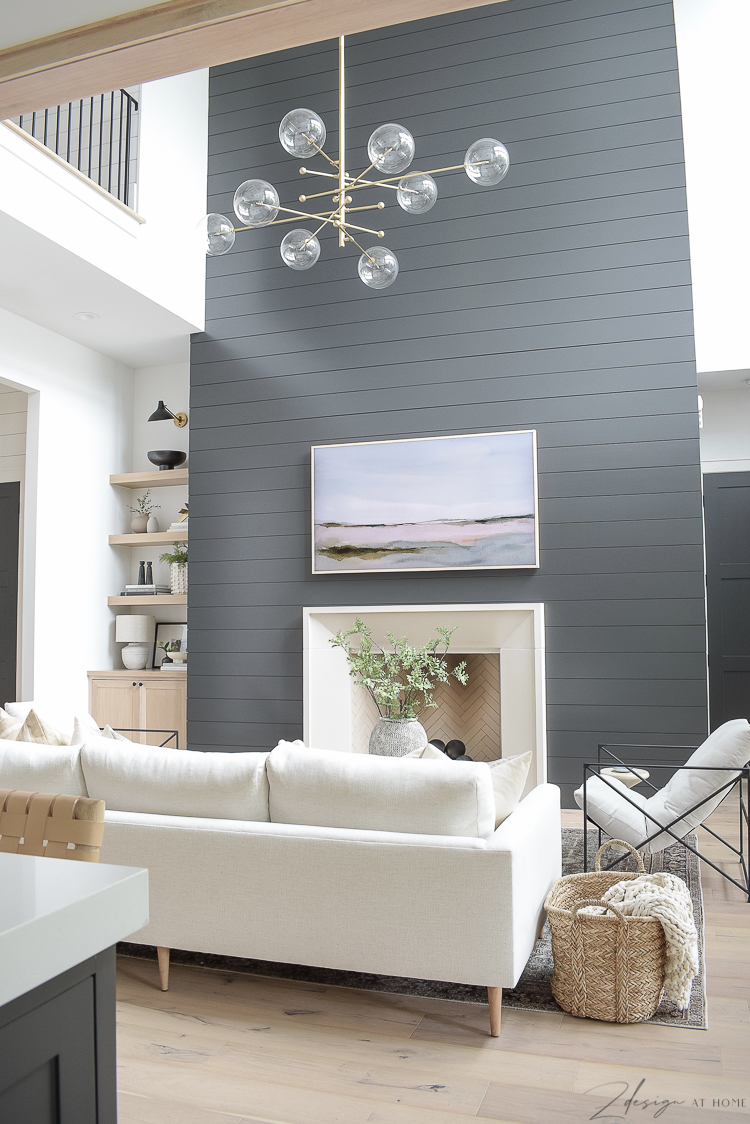 From the living to the kitchen – I love this view into our kitchen!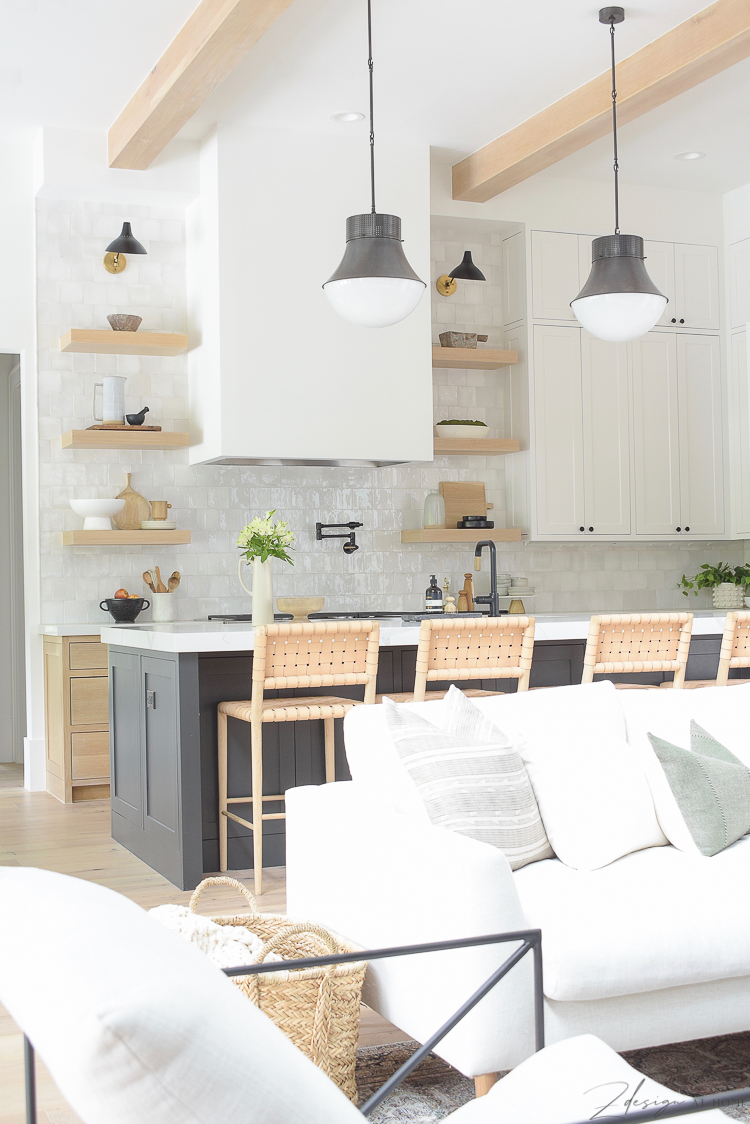 And lastly from the back door into the living space.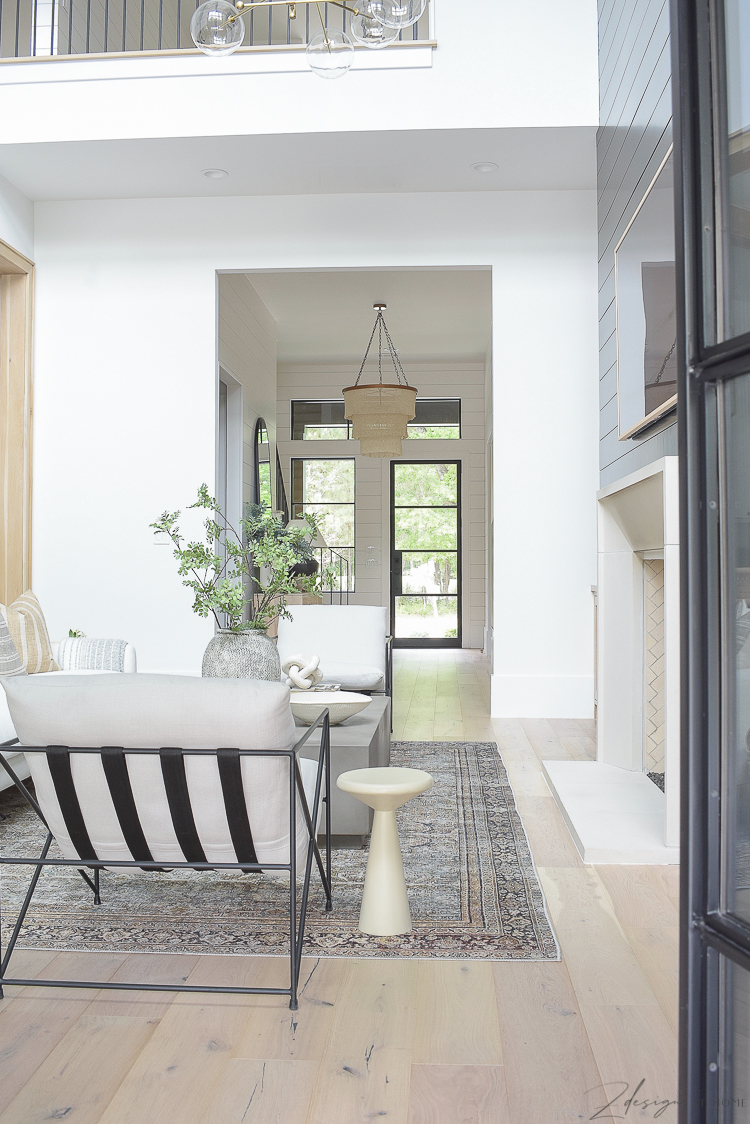 Thank you for stopping by to see our Main Living Room Reveal! Please leave any questions you have in comments below and I'll get back to you as quickly as I can and please see below for all sources and paint colors:).

Paint Colors & Hardwood Floor, etc:
Walls – SW Snowbound
Black Shiplap – SW Iron Ore
Floors – French Oak by Bella Cera / Collection – Monza / Color – Villalba
Door Hardware: Emtek – Baden
Custom Steel Door Unit: Metro Steel
Fireplace (via our builder): Isokern
Fireballs (via our builder): We purchased extras here
All other sources:
Olive Charcoal Rug | Coffee Table | Sofa | Chairs | Gray Side Table | Ivory Concrete Side Table | Large Gray Table Vase | Green Stems on Coffee Table | White Bowl | Travertine Knot on Books |Coffee Table Books 1 & 2 | Basket by Sofa | Throw | Bar Stools | Sconces | Kitchen Pendants | Faucet | Pot Filler | Similar White Oak Shelves | Foyer Chandelier | Art in Foyer | Marble Vase on Side Table | Green Lumbar Pillow | Brown/Cream Pillow | Vertical Stripe Pillow | White linen Pillow | Book Shelf Accessories HERE